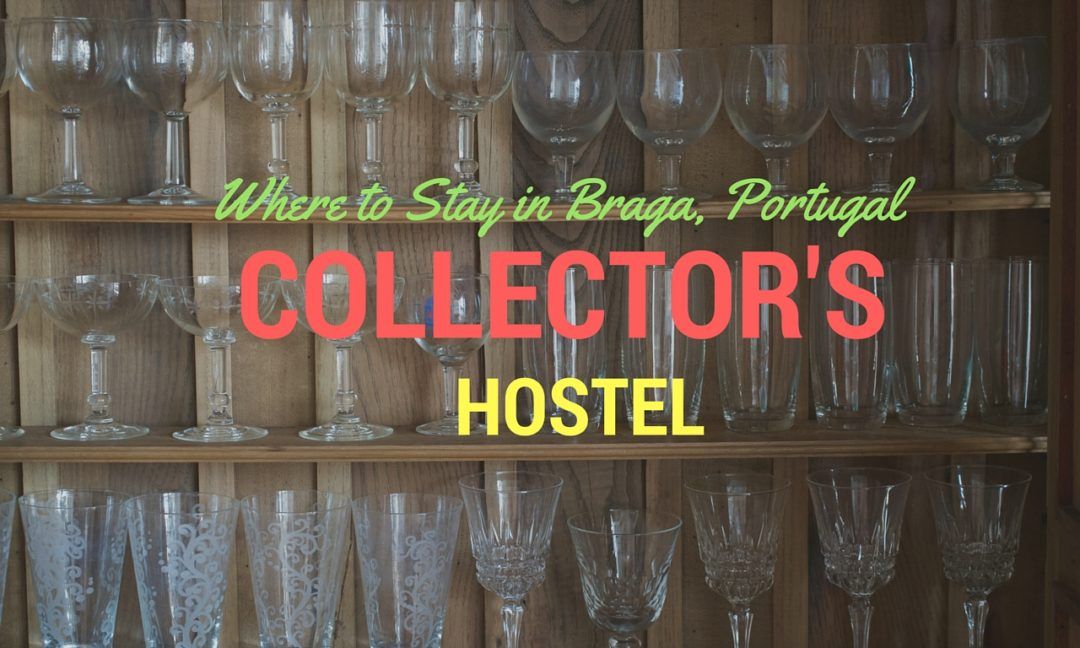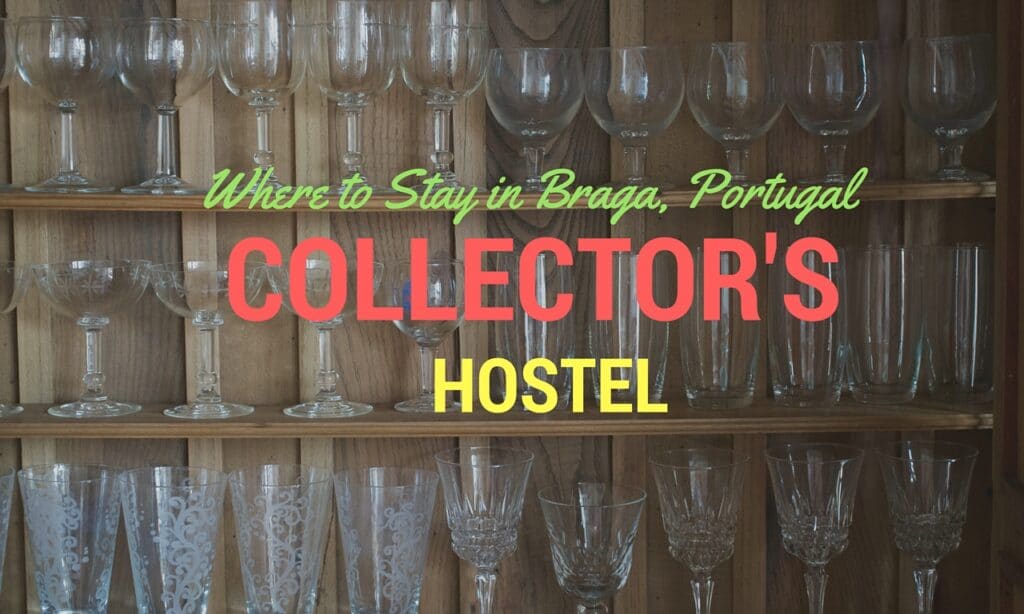 After a month staying in a teensy tiny Portuguese village of Arrouquelas, by the beginning of July, we were ready for some urban therapy. Having already visited Lisbon and Porto on a previous trip (and re-visiting Porto before our trip to Braga), we wanted to go somewhere we'd never been before in Portugal, and landed on Braga. Fortunately, we also decided to stay at Collector's Hostel (which gets exceptional guest reviews on Booking.com and TripAdvisor).
Run by friends Anna and Jo — two very fun ladies in their 30s who originally met while working at a restaurant in Paris, before opening up a hostel using their own blood, sweat, tears, laughter and sheer determination as the main building blocks — we immediately liked the place. That's largely due to Anna and Jo themselves, as well as the story of the place, which spans generations.
You see, Jo was born into the hotel business, with her grandparents running a successful hotel in Braga in the same property Collector's Hostel is on today (Residencial Inácio Filho). Her grandfather — in addition to running a hotel with her grandmother — was a collector. To be totally honest, he may have veered into hoarder territory, such was the volume of his collections of keychains, books, port wine, china tea cups, shells…the list goes on. When Jo and Anna decided to open up Collector's, they knew they had to keep as much of the original spirit and character of Jo's grandparent's hotel, including the collections!
And keep it they did. We spent two nights at Collector's, and heard countless stories of Jo and Anna recounting what it was like to re-open the property to guests, with their own unique take on things. They did all the work that was possible themselves, staying up to 3am some nights hauling furniture into the building, and overseeing the contractors to make sure everything was up to their own personal — and very high — standards. They kept as many original touches as they could, refusing to rip-out beautiful original flooring and tiles. And they did all the decorating themselves, right down to painting details on the walls and decoupaging bathroom fixtures.
Collector's Hostel Review
---
Collector's Hostel isn't a typical hostel. It's more like a cross between a bed and breakfast, and a design hostel. The guests who were staying there skewed older than the typical 18-year-old hostel/party crowd, and was comprised of both independent travelers and couples on vacation. If I had to specify who this hostel is for, I honestly wouldn't hesitate to recommend the place to someone like my mom, who is in her 60s and travels on her own and with friends, or to one of my friends in their thirties or forties, traveling with a partner, kids, or a friend. It's quiet, clean, and comfortable, but comes along with a social aspect that makes hostels enjoyable, and with the personal touch of being able to chat with Anna and Jo about the best things to do in Braga.
As soon as we met Jo and Anna, we had no choice but to love them, love their hostel, and love the city of Braga. That's how exuberant they are — actual balls of contagious energy — and how passionate they are about what they're doing. They care deeply about showing the best of Braga to their guests, and about encouraging more people to venture northward beyond Porto to visit and experience Braga. We allocated 2 nights in Braga, but we met so many people who were just stopping through for just a night. After spending 2 nights in the city, we can definitively say 1 night is not enough time, and we would have stayed an extra night if we could've made it work.
First Impressions of Collector's Hostel
We stayed at Collector's Hostel for 2 nights in July 2016, spending both nights in the Portuguese Saudade room, a private room with a full-sized bed, private bathroom just outside the door, and a glorious, glorious air conditioner that had been freshly installed!
Location — Collector's Hostel is smack dab in the centre of everything in Braga, about 5 meters off the main pedestrian street (Rua do Souto) that cuts through the centre of the historical centre. We arrived in Braga by train from Porto, and it took us about 10 minutes to walk from the train station to Collector's Hostel. Once we were there, we only had to leave the area once (we took the bus to Santuario do Bom Jesus do Monte, which is outside of town. The bus stop, however, is about 5 minutes from Collector's Hostel). Pretty much everything we wanted to see and do was within a 5-minute walk of Collector's Hostel, and there were plenty of restaurants, shops, bars and cafés within walking distance.
Reception & Staff — Arriving at the hostel, Anna and Jo met us and gave us a tour. The hostel really feels more like a B&B than a hostel, as it's in a two-story apartment-house with loads of character. There is a kitchen that guests are welcome to use, a lounge room and a dining room, and a balcony. Each room is full of collections from Jo's grandfather, and has a theme drawn from the collection.
The place itself is great on its own, and should get top marks. But I kind of suspect part of Collector's Hostel's success is also due to Anna and Jo themselves. Within 2 minutes of meeting them, they had convinced us that Braga is pretty much the best place in Portugal. Their passion for their city – and their ability to offer fantastic recommendations about what to eat, drink, and do in Braga is what makes Collector's Hostel extra special.
The Collections — When Jo and Anna decided to open up a hostel, they wanted to honour the history and character of the place, and thought displaying Jo's grandfather's collections was the way to do it. We became slightly addicted to the collections, wandering from room to room to see what treasures they held.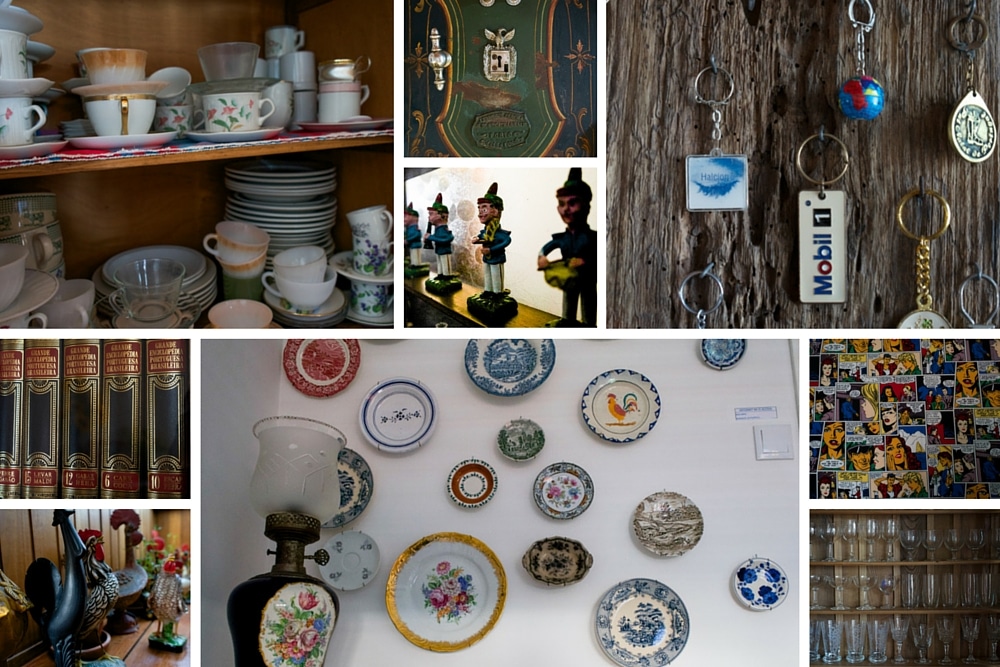 Collector's Hostel Rooms
Each room in Collector's Hostel has its own theme and collection.
We stayed in the Portuguese Saudade room, which was prepared by Anna and Jo to conjure up the uniquely Portuguese feeling of saudade, which is kind of like a longing or homesickness (but not only focused on home) that blends happiness and slight sadness together, in a pleasant way.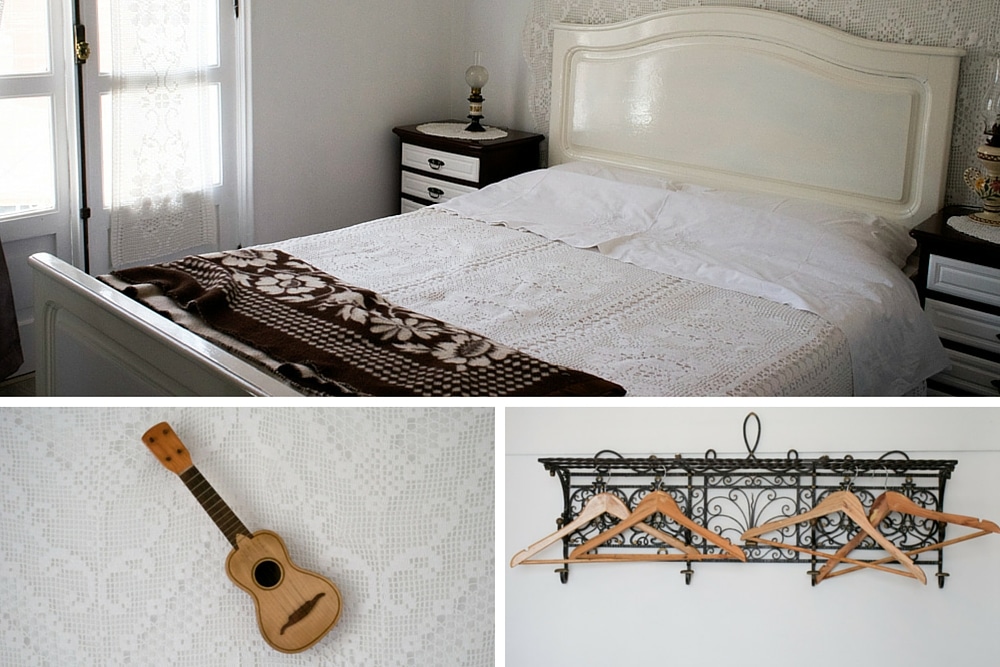 They also have an Alice In Wonderland themed room, a Robinson Crusoe room, a Boat room, and more.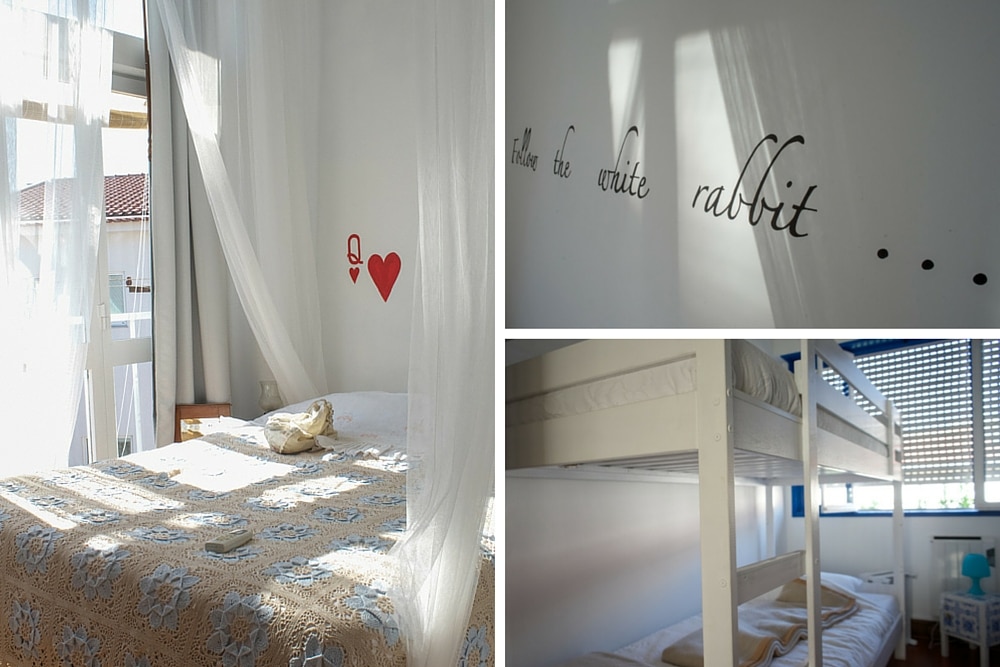 The Dorm rooms: In addition to private rooms, there are also dorm rooms with shared bathrooms. Each bed has a lockable drawer for keeping valuables, and each bunk has an electrical outlet wired into the end for charging devices.
Collector's Hostel Common Areas
All the common areas in the hostel feel like they're straight out of your grandma's house, and in a way, they are (straight out of Jo's grandparent's place, at least). There's a well-stocked kitchen that you're welcome to use, a lounge room and dining room, and a terrace, which is the perfect spot for a glass of Portuguese wine or a cocktail in the evenings.
And because Jo's grandfather's collecting didn't stop at objects, they also have a vast Port wine collection that you can sample for a fee. Note, Jo and Anna also stock premium gin, and make a mean gin and tonic, which is perfect for those hot summer nights in Braga. (They both actually took and passed a professional cocktail course in Lisbon, so you know you're in good hands!)
Collector's Hostel Amenities
Wifi — There is free wifi throughout Collector's, and it's pretty good. I did a speed test while sitting in tour room, and we got 35.54 Mbps download and about 4 Mbps upload.
Tours — Jo and Anna seem to know everyone in Braga, and have a good idea of which tours are worth your time, and which to skip. Right as we were leaving, they told us about an amazing-sounding tour seeing wild horses with a local guide in the nearby mountains. Filing that under "next time."
Breakfast — Breakfast is included, and is delicious. The team buys organic fruits and vegetables from the market, and then it's made fresh each morning with fresh-squeezed/blended fruit juice, fruit salad, and breads, meats, cheeses, yogurts, etc., as well as coffee and tea.
And — of course — breakfast is served using an eclectic collection of dinnerware and flatware from the collection.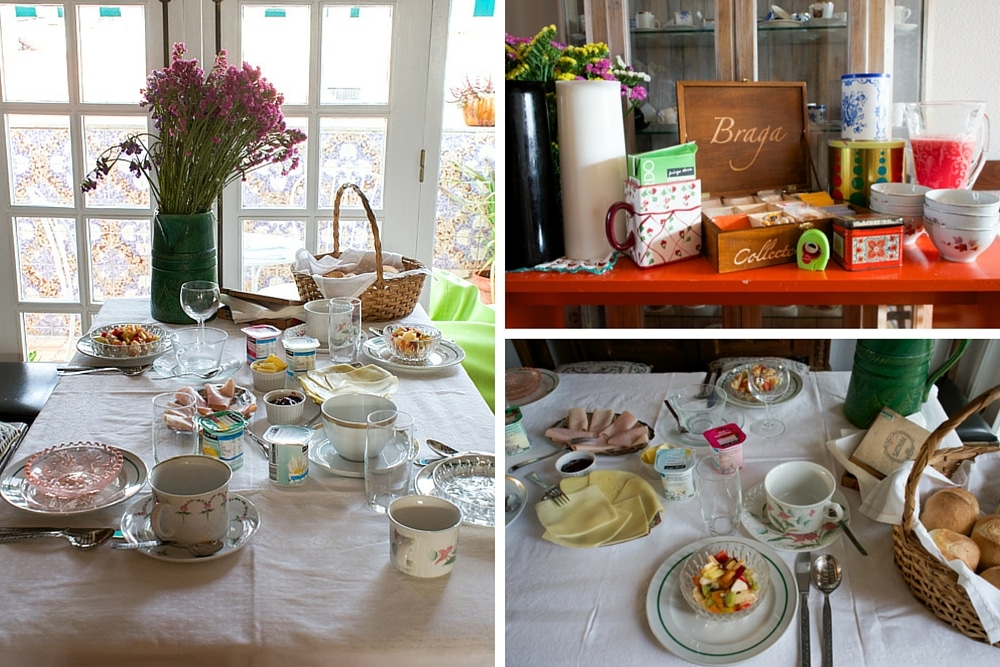 ---
Don't Take Our Word For It…Check Out The Exceptional Reviews on TripAdvisor!
---
Final Thoughts
We really enjoyed our time staying with Jo and Anna at Collector's Hostel…it was one of those places where we felt like we were at home, rather than staying in a hotel.
Probably the biggest piece of advice I have if you're considering going to stay at Collector's, is allocate enough time to really experience Braga. We stayed for 2 nights, but if you can swing it, 3 nights would be ideal in our opinion. As soon as we arrived, we wanted to stay longer. And as soon as we got to chatting with Anna and Jo, that feeling only grew. They truly are a wealth of information for the city and surrounding area, and genuinely want you to have a fantastic time in their city!
Check Availability
We were guests of Collector's Hostel, and want to extend a huge thanks to Jo and Anna for hosting us — we had so much fun with them, and really enjoyed our time in Braga. If you have any questions about Braga or Collector's, don't hesitate to get in touch with us…we're happy to help! Also note that some of the links in this post are affiliate links.
---
Pin it for Later