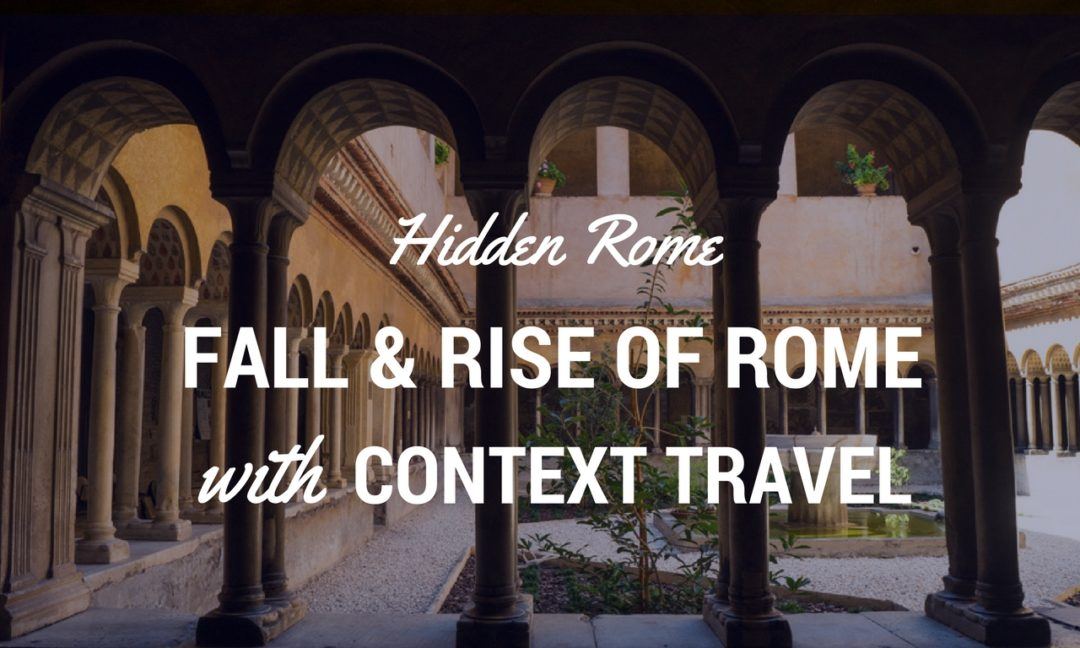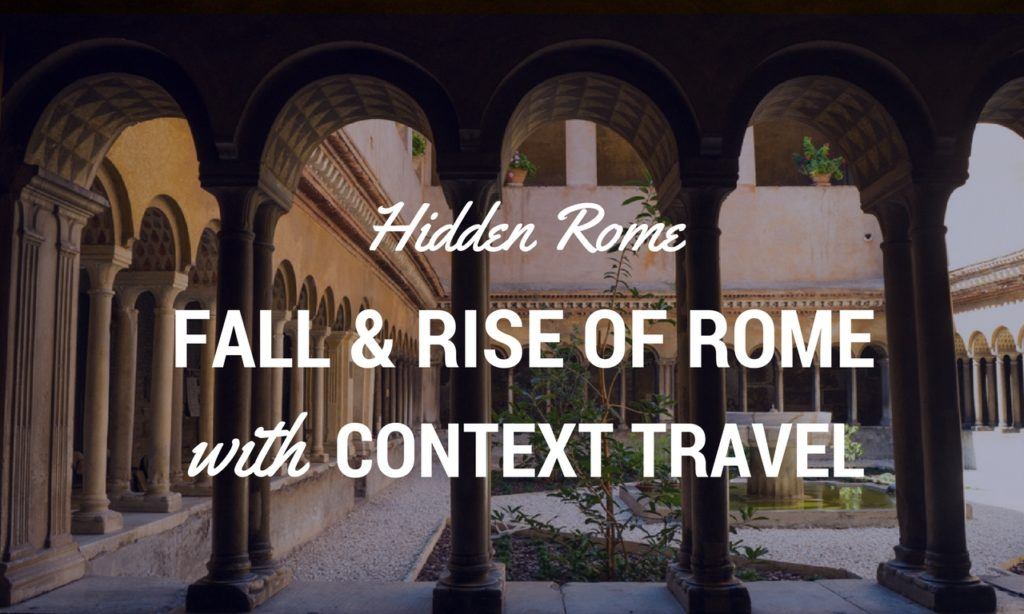 The Catholic Church is the ghost of the Roman Empire.
That's Philip, our guide/docent, on our Fall and Rise of Rome tour with Context Travel. The four of us – Geoff, me, Philip, and Betsy, our American tourmate – are standing on the ground level courtyard of San Clemente Church in Rome, and Philip is explaining the centuries-long process of reuse and recycle that transformed Ancient Rome into the Rome we can visit today.
San Clemente is the only site in the entire city where you can actually see and visit three levels, he explains. We'll visit the modern street level, the Roman street level below, and what would have been the basement level during Roman times.
He then goes on to introduce the concept of spolia — the practice of repurposing ancient stones, fragments, and architectural details for new use — and begins pointing out examples: pieces of the ancient church, hidden one level down, that have been re-used in the current structure; fragments of marble that decorate the churches you can visit today.
We begin to see that Rome's Churches — and indeed the city as a whole — are a mixed-matched construction of lego bricks that are in fact made of centuries-old marble.
The Catholic Church is the ghost of the Roman Empire.
Take a block from the bottom and put it on top: that's Rome.
Need Some Tips for Your Trip to Rome?
---
Most visitors to Rome focus on remnants and artifacts of the Roman Empire and the Renaissance, and with good reason: the Colosseum, the Forum, the Sistine Chapel…they're hard to miss.
But what of the transition between the two: the story of Ancient Rome's change from Republic to Empire, and eventual collapse — and the transition to the medieval period?
That's the story Philip tells us as we go through the 3 layers of San Clemente, and then on to the spectacular but little-visited churches of SS. Quattro Coronati and SS. Giovanni e Paolo.
Stories of loot and power, of rulers and everyday people, and of collapse and rebirth.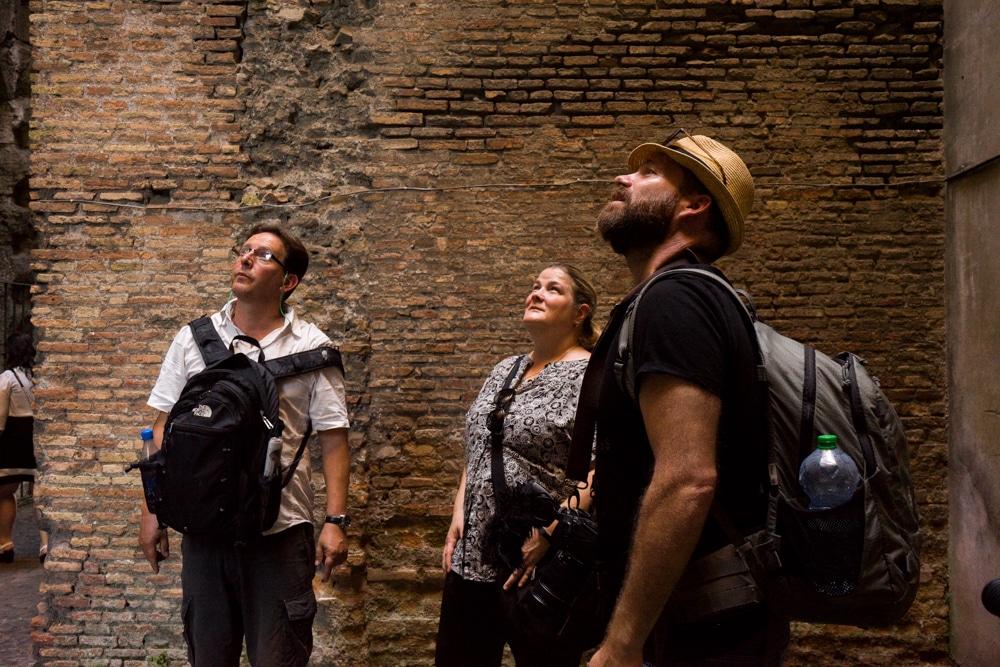 40 minutes into the tour, and we're two stories below the Church of San Clemente — what would have been the basement during Ancient Roman times — and Philip is telling us his theory about the rooms we're about to see.
During the Republic Period, and up until the assassination of Julius Caesar, the Romans kept all the loot in the Temple of Saturn, in the Forum, he says. There was a mint on the Capital Hill, which was next to it. All of that is widely accepted. But at some point, the Republic started changing. They'd conquered more countries, the population was rising, Rome was expanding, and they transitioned from a Republic to an Empire. At some point, the Temple of Saturn was no longer good enough, and they moved it.
I believe they moved it here.
With that introduction, Philip sets us free to explore the underground chambers on our own, to make independent observations about what we saw — much as if we were his students, rather than his clients — before coming back to discuss it together. Diagrams are involved, as are photos and illustrations of reconstructions and maps, helping us pull it all together.
We immediately notice the features for which he'd prepared us: walls made of thick stone slabs, the size of small tables, rather than the typical Roman brick we'd seen everywhere else; a lack of any noticeable entry or exit point to each room, other than the holes blown through by archaeologists during the site's excavation.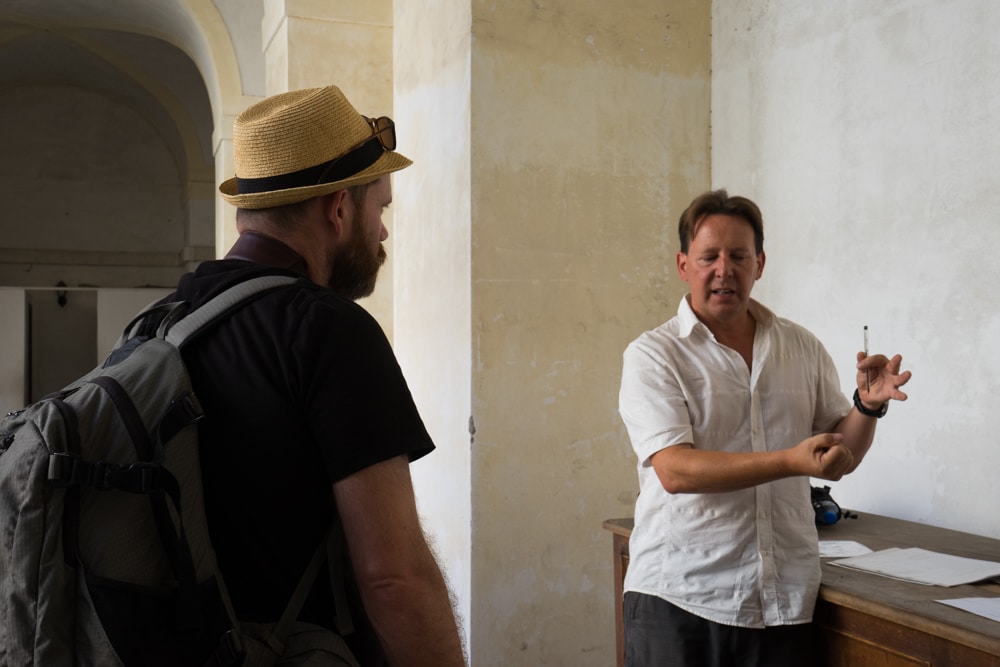 That's the thing about taking a tour with a scholar. Context calls their tours walking seminars, not walking tours, and Philip embodies this approach. Rather than tell us what we see, he approaches the sites we visit with critical doubt and questioning, presenting the evidence that backs up the prevailing assumptions, while asking us to make up our own minds.
This isn't an exact science, he says. This isn't black and white. This is hypothetical. We've got evidence, but then we have to draw conclusions. And it's not an exact science.
5 Highlights from our Fall & Rise of Rome Tour
---
St. Sylvester Chapel at Santi Quattro Coronati
The Church of Quattro Coronati doesn't have the feeling of being on the beaten path in Rome; in fact, we spent about 30 or 40 minutes wandering around, and only saw one other couple during our explorations. On the exterior, it looks more like a fortress than a church, rebuilt as such after being burned to the ground by Norman invaders in the 11th century. But inside, it has 2 hidden treasures, the first of which is the Chapel of St. Sylvester.
Walking into the front courtyard of the Church, you'll see a door on your right. If you walk through the door to a small room, and ring the bell next to the grated window, an Augustinian nun will appear to sell you tickets to the Chapel (€1 each).
Once inside, you'll see the chapel itself is tiny, with a beautiful marble floor and decorations. The main event, however, is the medieval frescos that line the walls, chronologically telling the story of Emperor Constantine's leprosy and cure by Pope St. Sylvester.
While the story in itself is fictitious, the frescoes offer a window into the political power struggle between the Roman Emperor and the Catholic Church for supremacy and relevance in the 1200s.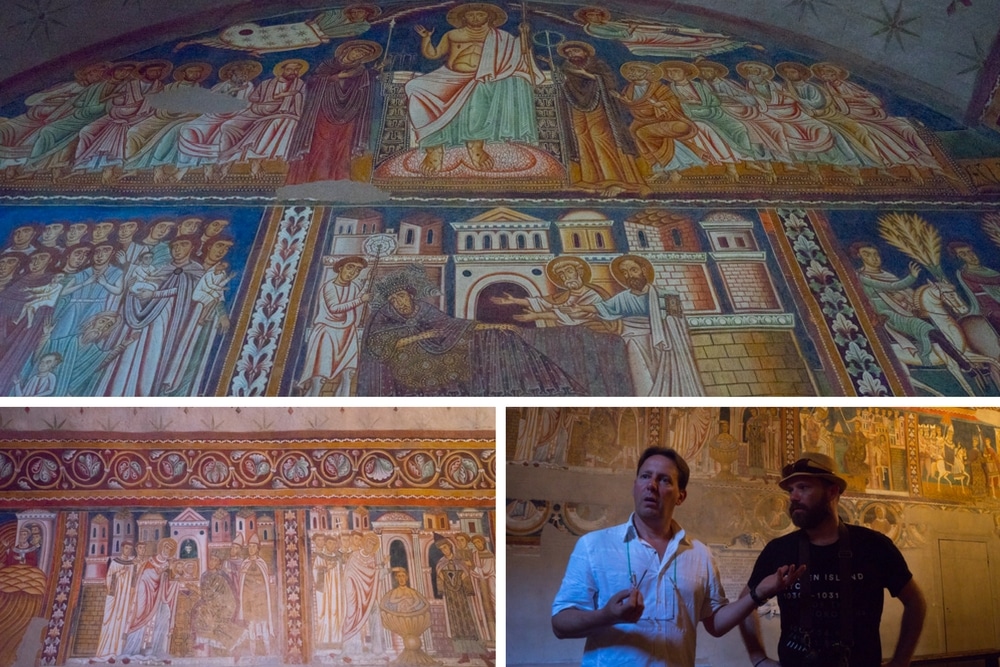 The Cloister at Santi Quattro Coronati
After exploring the chapel, enter the church and you'll see a door to the left you can ring and be let into a cloister (again, tickets required but quite cheap). Inside, you'll find a contemplative and peaceful garden and fountain, surrounded by porticos and archways. It all feels rather Game of Thrones.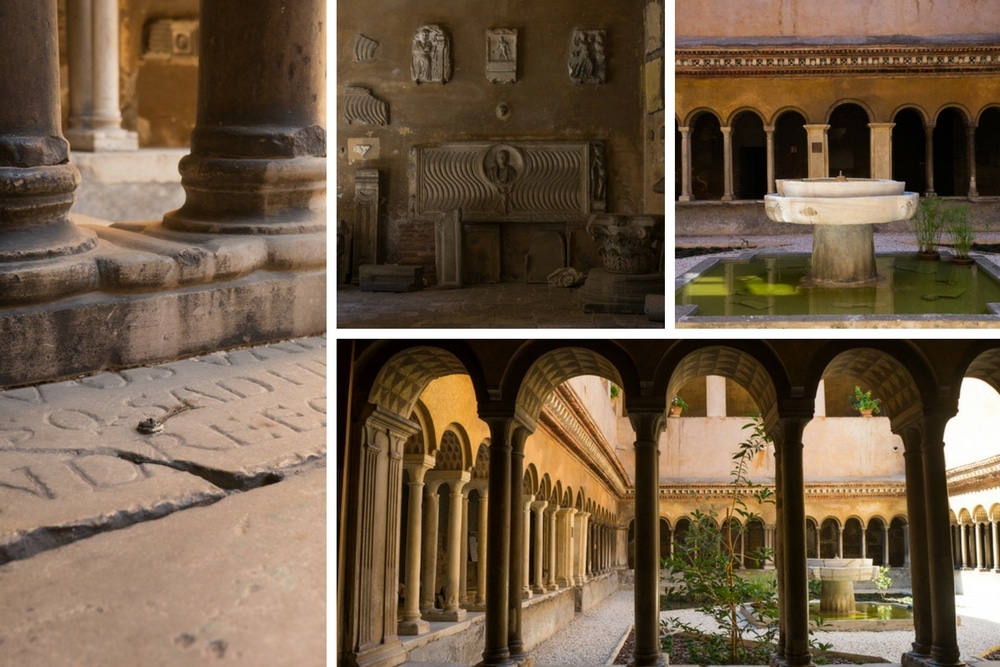 The Church of Quattro Coronati is also a convent to no more than a few dozen Augustinian nuns who, once they enter the order, do not leave — including going outside — until death. They've lived in this church since the mid-1500s, and it's easy to imagine them enjoying moments of solitude in this cloister.
The Suspected Mint & Federal Reserve Under San Clemente
There's no way we would have known to go three floors underground to visit this underground area of San Clemente Church if we hadn't been with Philip. Even if we had gone beneath, we wouldn't have known what we were looking at, in both the first iteration of the church (one level down – ancient Rome's street level) or in the suspected mint and federal reserve, which is next to a home and ancient Mythraic temple.
For any underground activities you decide to take in Rome, we'd strongly recommend joining a tour such as this one to San Clemente Rome, which have expert guides to help you understand what you're seeing.
Stories of Rome's Marble Floors
This isn't unique to the Fall and Rise of Rome tour. On each tour we went on with Context Travel, our docents pointed out the extraordinary marble in the sites we visited: the Pantheon, the Vatican, the Churches of San Clemente and Quattro Coronati.
The multi-coloured marble floors you can see all over Rome today are often made from marble spolia re-used from the time of the Roman Empire. Each color is a different type of marble, and they come from all over the Roman world. The deep reddish purple stone, for example, is porphyry, prized during the Empire. The yellow stone – Numidian marble – is Tunisian.
Like so many things about Rome, what amazed us the most is that this centuries-old marble was still in use, and mostly in remarkable condition.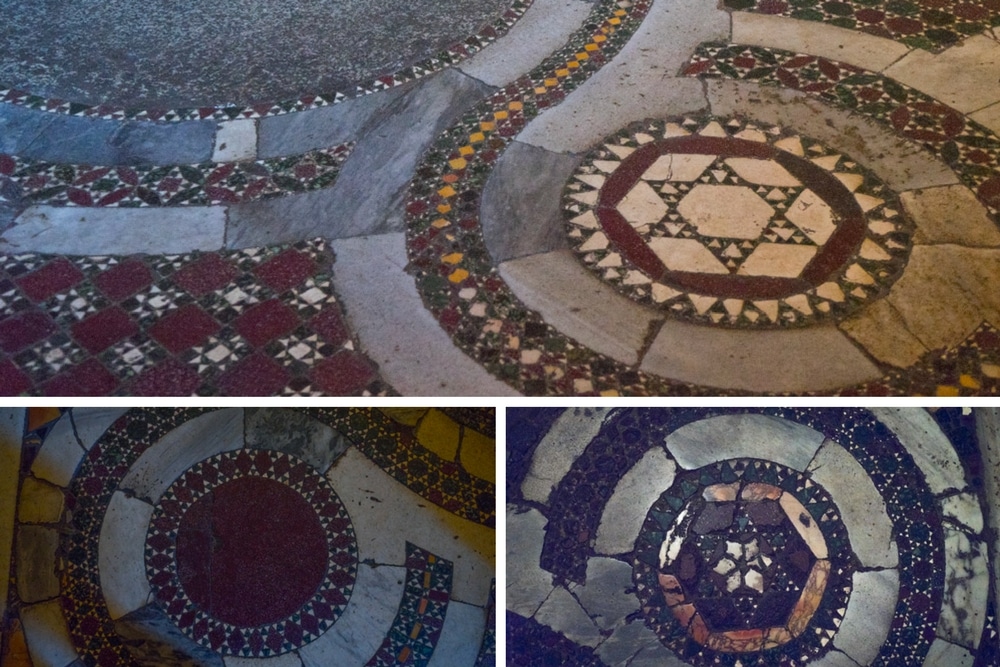 Spolia
Spolia is a word neither of us had heard before taking this tour, and once we knew what it is, we saw it everywhere in Rome: Roman columns set into the side of a building's exterior near Campo di Fiori, necropolis used as the bases for pillars. It's fascinating to think about how many lives and uses each piece of stone has had over the course of the centuries.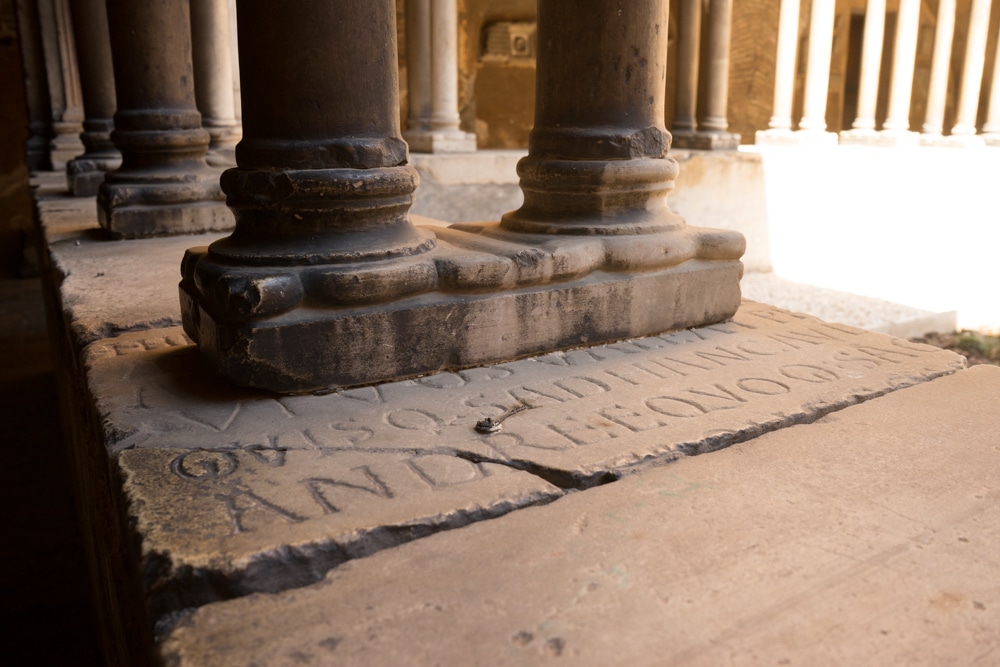 Heading to Rome? Check Out Our Rome Adult Coloring Book to Stay Busy on the Flight!
In addition to writing this travel blog, and helping you plan your vacation, Geoff and I (Katie) made travel-themed adult coloring books! All the books are based on our travel photographs, which we have hand-traced to create really beautiful line drawings showing a time and place around the world (they are realistic, not imaginative).
In summer 2016, we teamed up with Context Travel to make a Rome-themed book. We spent 10 days in the city, taking as many of their tours as we could fit in, and photographing a portrait of Rome that served as a base for our book.
You can see all the photos that made it into our Rome adult coloring book here, and read a bit more about why we decided to make travel-themed adult coloring books here.
And if you need something to do while you're on the long flight to Rome, you can pick up a copy of Travel Between the Lines Coloring Rome on Amazon.
If you're interested in taking the Fall & Rise of Rome tour with Context travel, you can book with Context Travel on their website, or, if you're the researching type, check out TripAdvisor Reviews here (affiliate link).
Note, this post was brought to you by Context Travel, which offers very small group tours led by scholar experts for intellectually curious travelers. We were guests of Context in Rome, and experienced 4 different Context Tours during our 10 days in the city: Ostia Antica, Caesar and Empire, The Fall and Rise of Rome, and Evening Vatican Tour — all of which we found to be excellent. Opinions are our own.
If you like it, Put a Pin on It