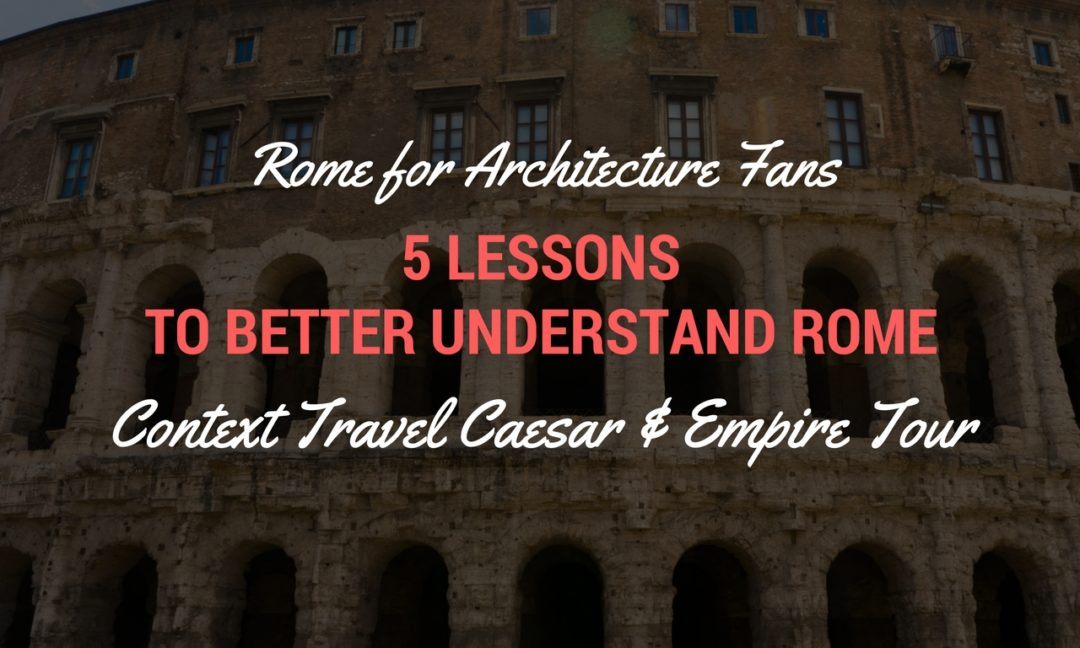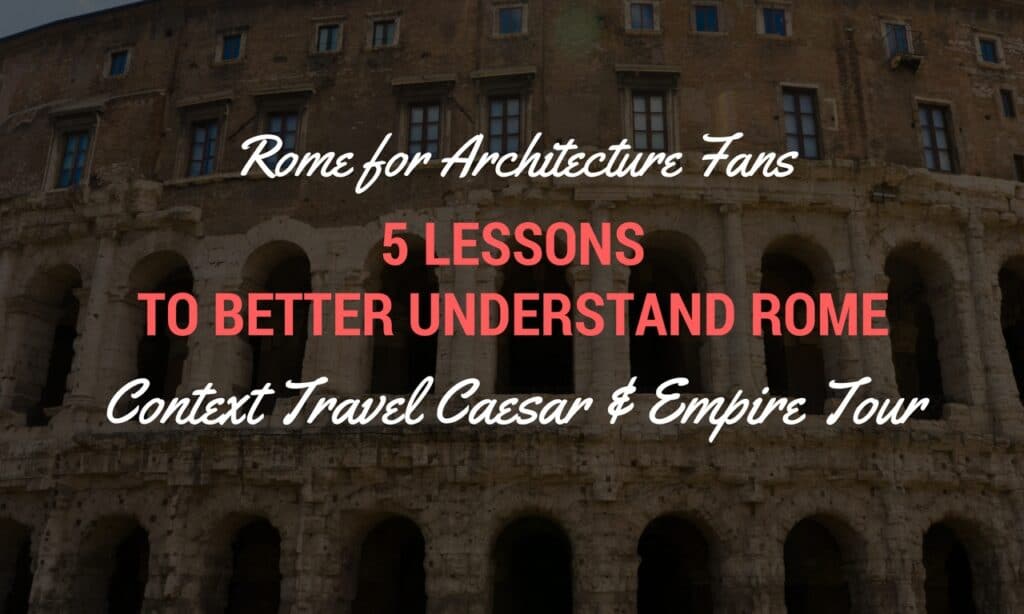 We met Liz at Café Antica near Teatro Marcello.
Red-faced, dripping with sweat, and snipping at each other after a stressful hour combined with crashing blood sugar levels, we climbed out of our Uber to find Liz chatting animatedly with our two Canadian tour-mates, and felt better almost immediately.
Bubbly, fun, and warm, it's hard to be grumpy around Liz. (Bonus points, she knew the way to our hearts was to let us quickly grab a Snickers bar)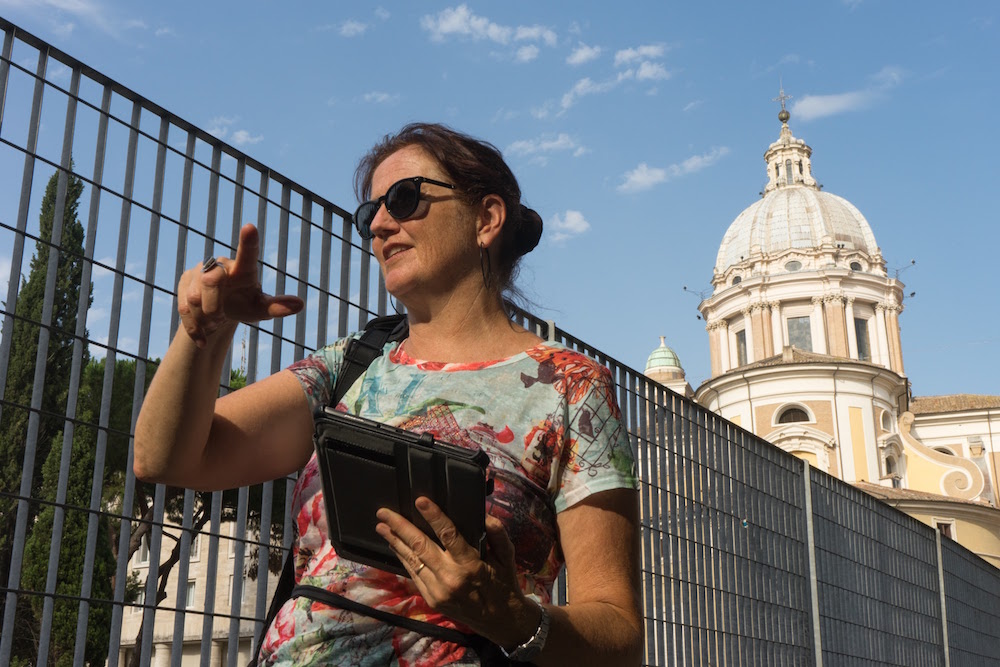 An American architect who's been living in Rome for decades, Liz faced a wall of strict architectural rules and control when she moved to Rome and looked into practicing.
Not one to be deterred, she re-trained locally as a Restoration Architect, and now spends her time crawling around under Rome's modern city, trying to understand ancient building foundations and looking for sources that will help her understand the historical relevance of a building in a city where there's never enough time, money or space to restore all that's here.
Lucky for us, Liz also leads the Caesar and Empire Walking Tour of Rome, combining her love for and knowledge of Roman history and Rome architecture with walking tours.
And that's how we found ourselves learning about Rome architecture, in Rome, with a practicing Roman architect.
---
Need Some Tips for Your Trip to Rome?
Check Out Our 16 Best Rome Travel Tips
---
If Liz had a catch phrase, it'd be HECK YEAH!!!!
Said in all caps. With multiple exclamation marks.
The woman is clearly passionate about her craft, a fact made clear by her propensity to use her catch phrase anytime you ask a question about Rome.
Is there significance to the columns in Rome architecture? HECK YEAH!!!!
Is this Tunisian marble? HECK YEAH!!!!
If we dug below this street, would we find parts of Ancient Rome? HECK. PERIOD. YEAH!!!!
It's basically impossible to not get excited about Rome, history, and architecture when you're with Liz, such is her enthusiasm.
Just as importantly, it's impossible not to learn something when you're on one of Context Travel's Rome walking tours with Liz. The woman is a deep and endless fountain of knowledge, and after three hours together, we felt like we'd completed a mini-course in Ancient Roman architecture and history.
5 Essential Lessons From Our Caesar & Rome Tour
Following our time with Liz (and especially when combined with our tour of Ostia Antica earlier that morning, and our Fall and Rise of Rome tour later in the week), we felt like we had actual tools to apply during our remaining time in the city; tools that helped us appreciate Rome on a deeper level.
And this is a really key point.
You see, I'd been to Rome before, on a rushed trip last year when I took the train from Florence after visiting with friends from home.
I had two nights in the city before flying back to Prague, and there was a metro strike on. I essentially spent a day-and-a-half randomly wandering, using a free hotel map as my guide, and attempting to see as much as I possibly could.
It was a quantity over quality strategy, to be sure, and when I left, I honestly didn't much care for Rome.
But here's the thing, quantity over quality is not the way to experience Rome. And I'd challenge anyone who says they don't care much for Rome (I've heard this from quite a few people) to ask themselves whether the way they experienced the city shaped their opinion.
Because now that I know what I know, I really believe you have to go deeper in Rome than you do in other cities.
Seeing things in Rome isn't enough to appreciate them…you have to try to understand them.
And for us, Liz was a key component of that.
Rome is a City of Layers
To be honest, this took some mental gymnastics to understand, but once we got it, it really did transform the way we experienced Rome and provided us with a foundation for enjoying Rome in a way we didn't expect.
Modern Rome is built on top of Ancient Rome. That's why you'll often have to walk down, or look down into a pit or hole, to see the ancient structures.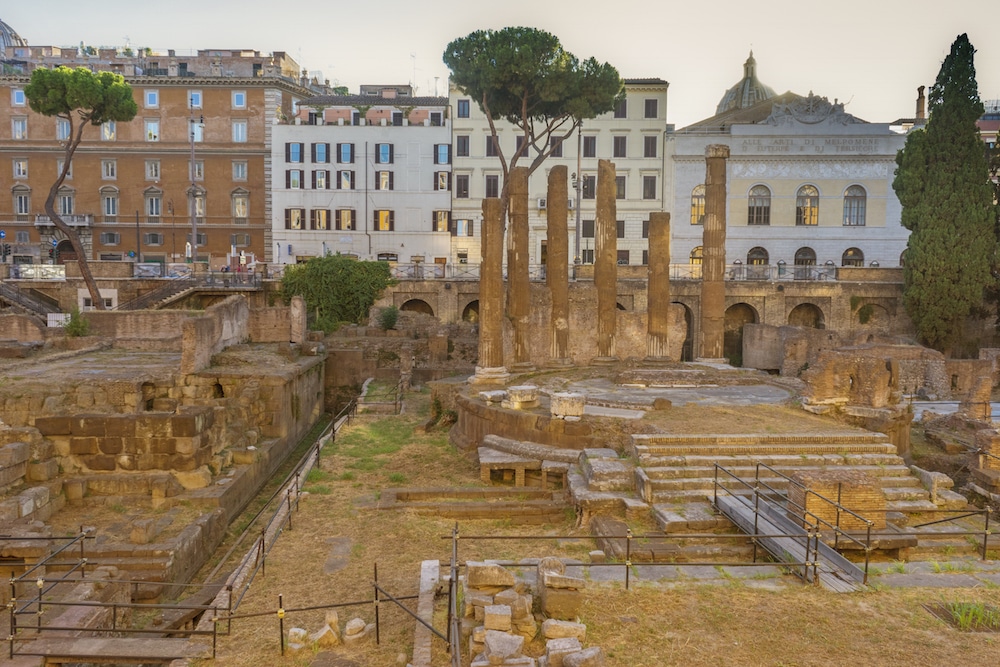 When I say "Modern Rome is built on top of Ancient Rome," I mean it quite literally.
Liz explains:
If you dug down about a storey-and-a-half deep anywhere in Rome, you'd hit the ancient city. You may not find an ancient building, but you'd find something; often what you find are ancient structures that have been re-purposed and used as the foundations for the modern city.
Another great spot to see Rome's layering is at Teatro di Marcello, where we began our tour. To get up-close-and-personal with the theatre, you have to walk down a small hill. Standing at the ancient street level, with your back to the theatre, you find yourself looking up to the modern city.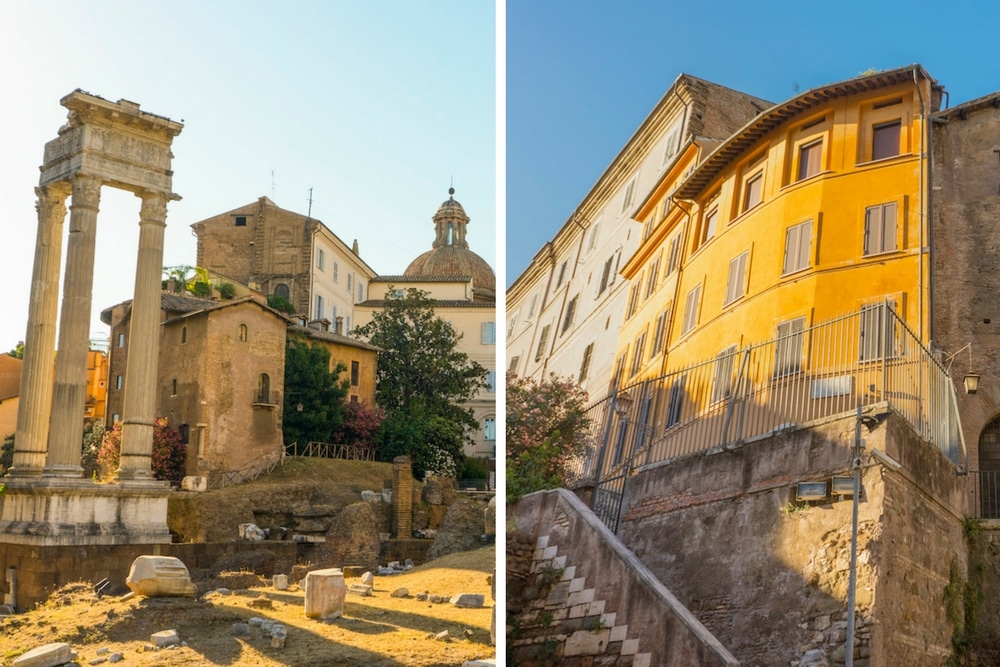 Continues Liz:
Understanding the layering of the city is essential in being able to read the city. Romans take it for granted, but those who come from a place where the cities are all new, where layering doesn't really exist…an introduction to Rome's layering helps you understand why you see pieces that are sticking out of the ground, and why you see ancient monuments that are below the modern city.
There's More to the Pantheon Than Meets The Eye
If you closed your eyes and imagined a large, ancient Roman temple, I'd guess you'd picture white marble columns holding up a roof, with a stately portico running along the front width or entire exterior of the building.
Am I right? What else do you see?
If you said stairs, you found the answer I was fishing for. When I think of a "Roman Temple," I imagine a grand set of stairs leading up to the columns and portico, like at the Parthenon in Athens, the ruins in Evora, Maison Carrée in Nîmes, or the Temple of Augustus in Croatia.
But when you arrive at the Pantheon in Rome, the stairs are absent. So what's the deal?
Well…this all comes down to the point above: Rome is a city of layers.
The Pantheon that we see today? We're probably not actually seeing the whole thing, and in all likelihood, the steps are buried underneath Piazza della Rotonda.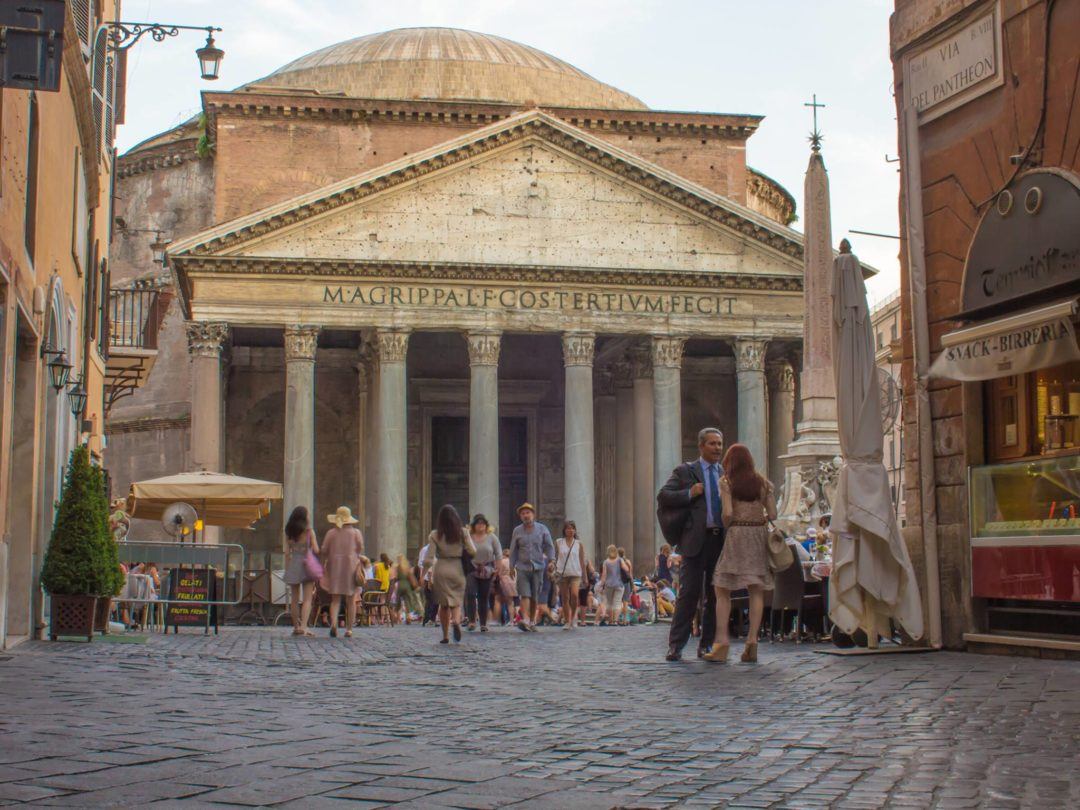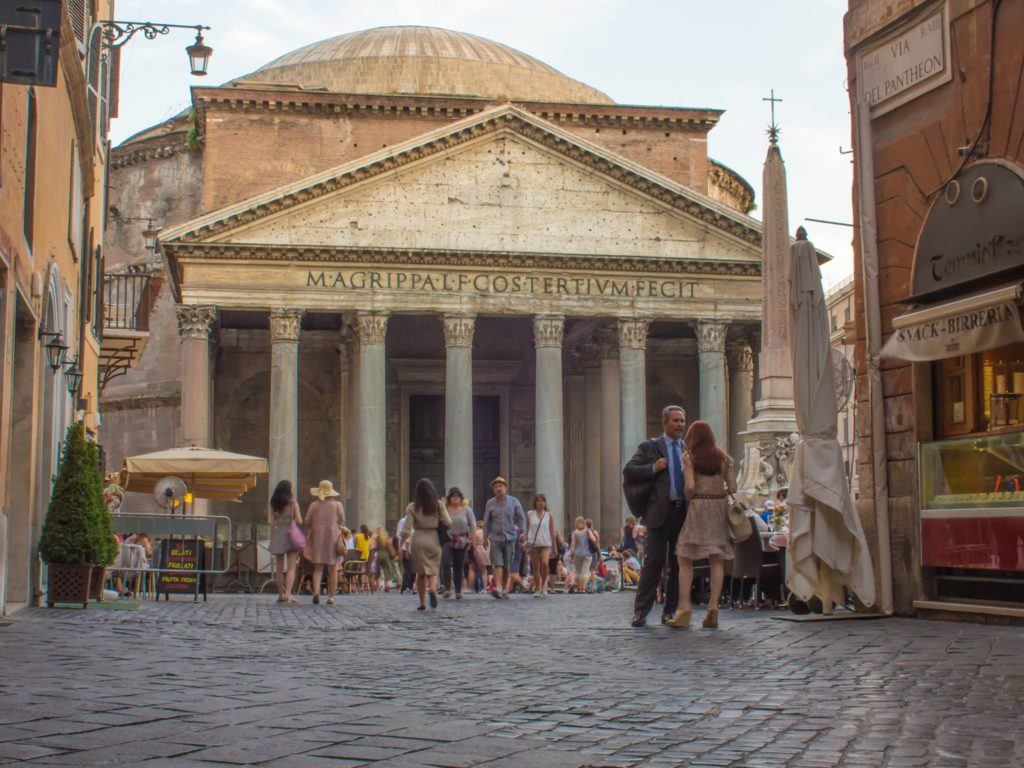 Just imagine what else is buried under Rome…
Romans are the Ultimate Recyclers
Modern Rome shouldn't necessarily be confused with "new" Rome. For one, much of what we see at the modern Roman street level is from the Medieval or Renaissance period, and is still 700 to 1000 years old, at minimum.
More interestingly, however, is that modern Rome was built with the recycled pieces of Ancient Rome.
There's spolia, which we learned about during our Fall and Rise of Rome Tour with Context, and can be seen all over the city. While walking around with Liz, we visited the courtyard of the Palazzo Mattei di Giove, where you see pieces of ancient statuary and sarcophagi literally stuck to the wall, re-used as decoration or part of the Mattei family's Rennaissance statuary collection.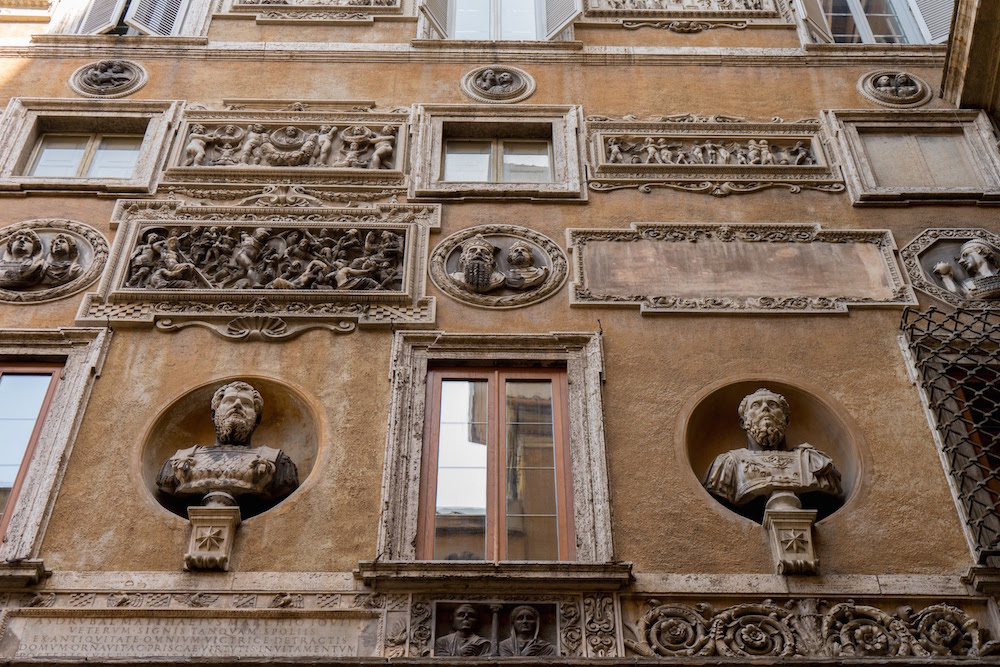 And then there's more extreme examples of re-use and recycling such as this building along Via Arco Della Ciambella, which englobes the Ancient baths of Agrippa into the modern building.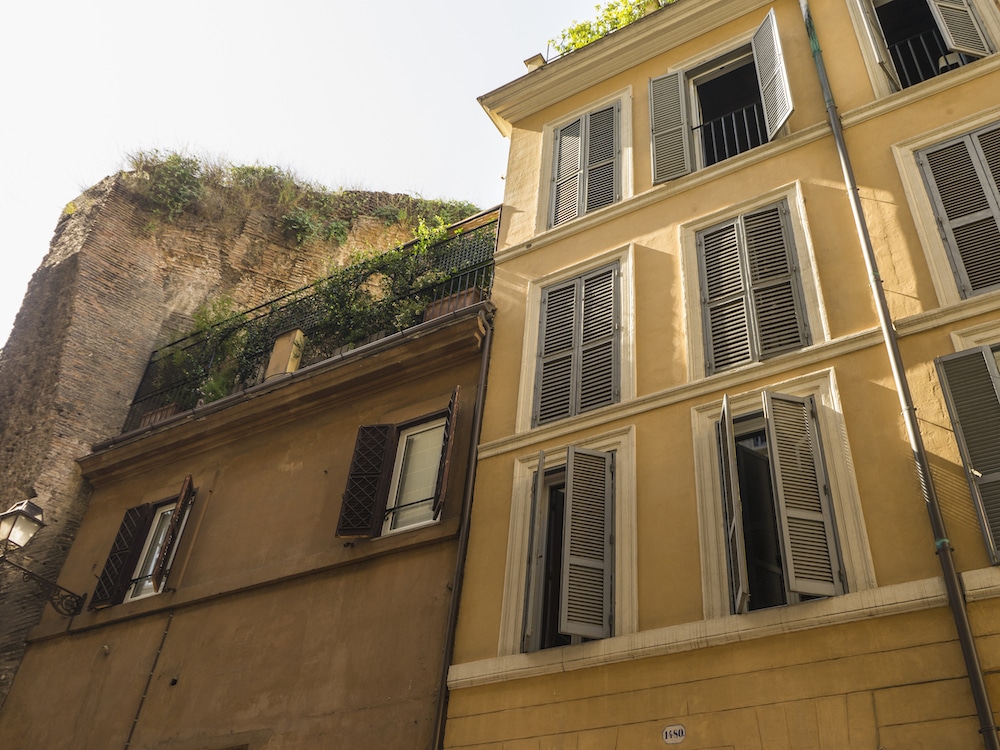 We saw examples of this all over Rome…pieces of the ancient city, re-used in the modern one.
Many Ancient Monuments Were Actually Status Symbols
Anytime someone won a war or a big event, they'd come back and build something big and impressive-looking.
Anytime a politician or general needed to curry political favour, they'd build something big and impressive-looking.
The Theatre of Pompey was a combination of a victory monument and an attempt by Pompey to cement his importance in the Republic and curry favour among ordinary Romans.
Three of the four temples and monuments at Largo di Argentina are most likely victory monuments, promised by Generals before they left for war, and built upon their victorious return.
Trajan's Column commemorates Emperor Trajan's victory in a great second-century battle in what is modern-day Romania.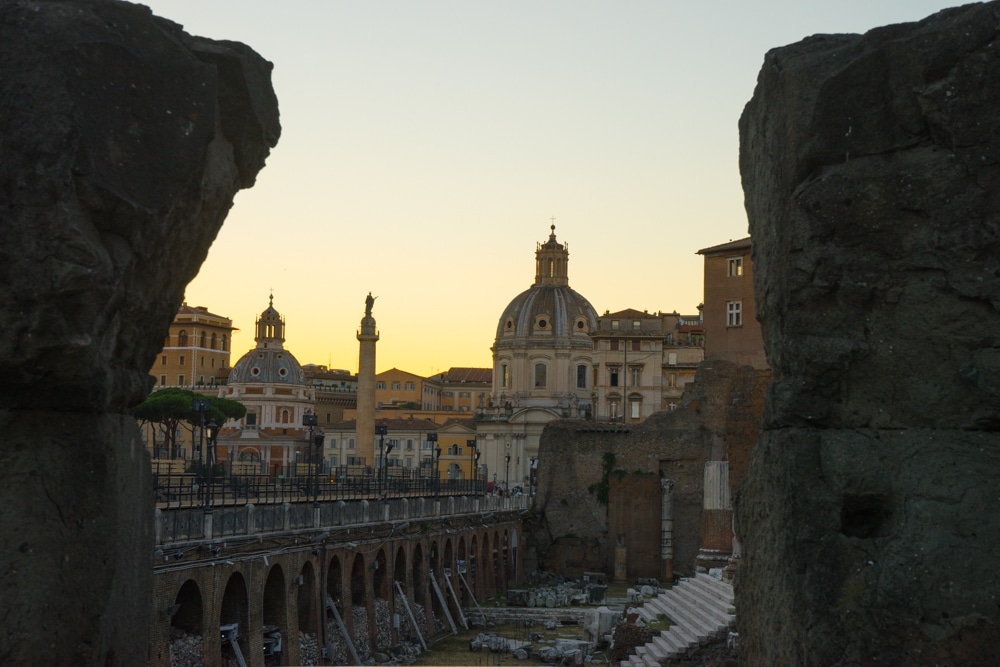 So yeah…the monuments of Ancient Rome (many of them, at least) are the result of an ancient, systemic pissing contest.
Yep. I said it.
Ancient Rome Was a Rainbow of Colour
When we think of Rome, today, I'd guess that most of us think of deep burnt oranges and yellows, and of the austere white marble of ancient statuary and monuments.
Turns out, that's all wrong.
The ancients loved them some bright colours.
Rome was brightly and (based on today's tastes) rather gaudily coloured, both in terms of the statues and the buildings and monuments. Even the Renaissance-age buildings we see today don't show the accurate colours of that time, and what we see today is the result of centuries of paint being layered upon one another, dirt and all.
(If you're interested in the statuary part of this, Smithsonian Mag and Harvard Mag both have articles about it, although they're focused primarily on Greek statues).
---
Want More Off-the-Beaten Path Rome?
Read About Our Trip to Ostia Antica
---
As with the other Context Tours we've done (at Ostia Antica, Ancient Rome's Port City, and the Fall and Rise of Rome Tour), our time with Liz felt more like a short university course than a walking tour, and that's why we loved it.
We were able to direct the discussion in a way that interested us, rather than listening to a script. And Liz was able to share her interests, which got us excited about things we never knew we were interested in (columns! cement buildings!).
And that's why we'll seek out Context Tours whenever we can.
Heading to Rome? Check Out Our Rome Adult Coloring Book to Stay Busy on the Flight!
In addition to writing this travel blog, and helping you plan your vacation, Geoff and I (Katie) made travel-themed adult coloring books! All the books are based on our travel photographs, which we have hand-traced to create really beautiful line drawings showing a time and place around the world (they are realistic, not imaginative).
In summer 2016, we teamed up with Context Travel to make a Rome-themed book. We spent 10 days in the city, taking as many of their tours as we could fit in, and photographing a portrait of Rome that served as a base for our book.
You can see all the photos that made it into our Rome adult coloring book here, and read a bit more about why we decided to make travel-themed adult coloring books here.
And if you need something to do while you're on the long flight to Rome, you can pick up a copy of Travel Between the Lines Coloring Rome on Amazon.
Planning a trip to Rome? We hope our post helped, but if you have any questions, don't hesitate to send us a Tweet, or reach out on Facebook! And be sure to pin the images for later!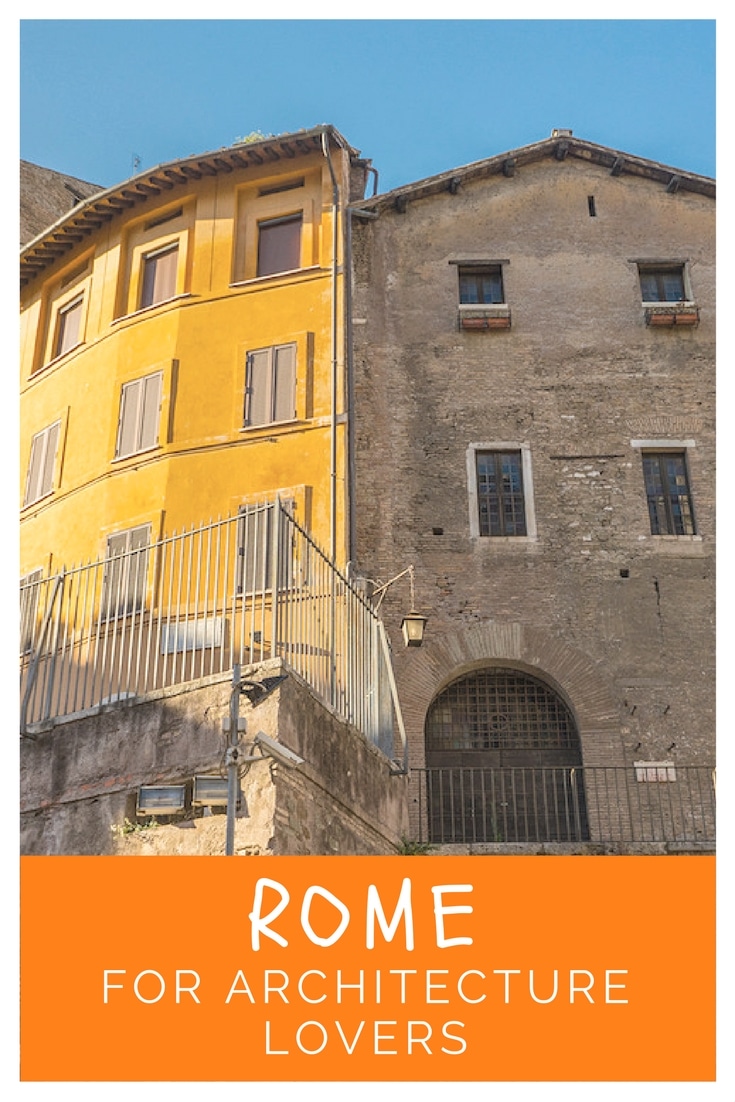 If you're interested in taking the Caesar and Empire Walking Tour of Rome with Context travel, you can book with Context Travel on their website, or, if you're the researching type, check out TripAdvisor Reviews here (affiliate link).
Note, this post was brought to you by Context Travel, which offers very small group tours led by scholar experts for intellectually curious travelers. We were guests of Context in Rome, and experienced 4 different Context Tours during our 10 days in the city: Ostia Antica, Caesar and Empire, The Fall and Rise of Rome, and Evening Vatican Tour — all of which we found to be excellent. Opinions are our own.