16 Rome tips for visiting the eternal city. What to pack, how to get around, the best spots, and more…these are our best Rome tips for visitors!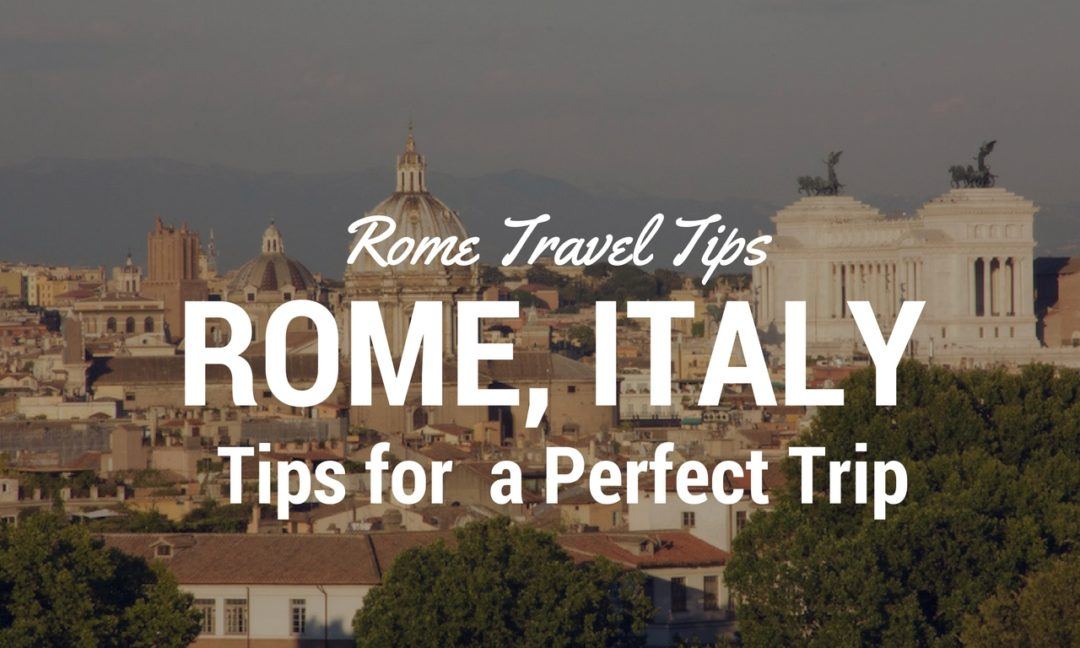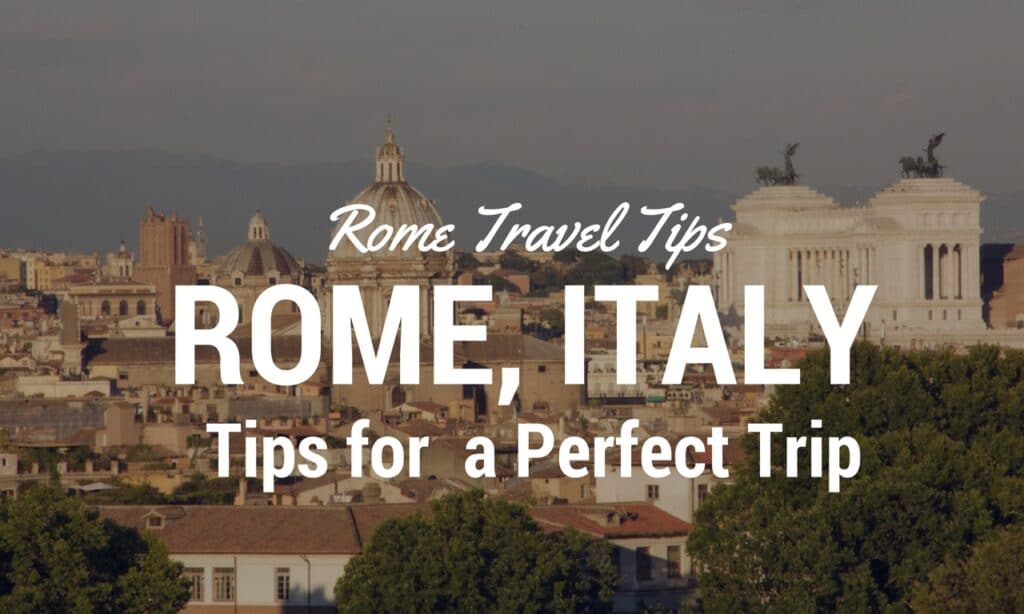 Disclosure: This post contains affiliate links. That means we earn a commission when you use the links on this site to book a hotel, book a tour, buy your travel insurance, and shop for travel essentials, etc.. You don't pay anything extra. If you'd like to learn more about how this works, you can read more under our Disclaimer page.
***
When we told friends and readers we were going to Rome in July, we got similar a response from friends, family and readers, which basically went like this:
Awesome! Rome is a great city!
Followed by…
Oh…you're going in July? Are you crazy?
Rome in summer seems to get a bad wrap, and frankly, I think it's exaggerated and undeserved. Yes – it's hot. And yes – it's crowded. But is it possible to have a fantastic holiday in Rome, even in the summer? Absolutely.
During our time in the city, we learned a few things – this is a summary of the Rome tips I wish someone had told us (for some of them, people did tell us – and we were glad they did) before we traveled to Rome.
Our best Rome tips are below. Once you've found the best tips for you, start planning your trip with this 48-hour Rome itinerary from our friend Paula of Contented Traveller.
Rome Tip #1 – Carry a Water Bottle & Fill Up at Nasoni
If you've never heard the word nasoni before, pay attention: this is something you'll want to hear! Going back to Ancient Rome, the eternal city has placed great efforts into ensuring the city has clean, high-quality drinking water for all its citizens. That tradition continues to this day, and is evident in the beautiful and functional nasoni drinking fountains you'll find all over the city.
A presence in the city since the late 1800s, the word nasoni is a play on the Italian word for nose. Yep – Romans refer to their fountains as little noses! And yes, you CAN drink from the nasoni, bringing us to our first Rome tip: carry a water bottle, and fill it up as you need when you spot a nasoni. If you don't have a water bottle, many of the fountains have a small hole you can plug with your finger, re-directing the water into a stream you can drink straight from.
We carried water bottles every single day in Rome, and would recommend you do the same.
If you're short on space, pick up a BPA-Free Collapsible Water Bottle
before your trip, which take almost no room, weigh next to nothing, and will collapse when you're not using them.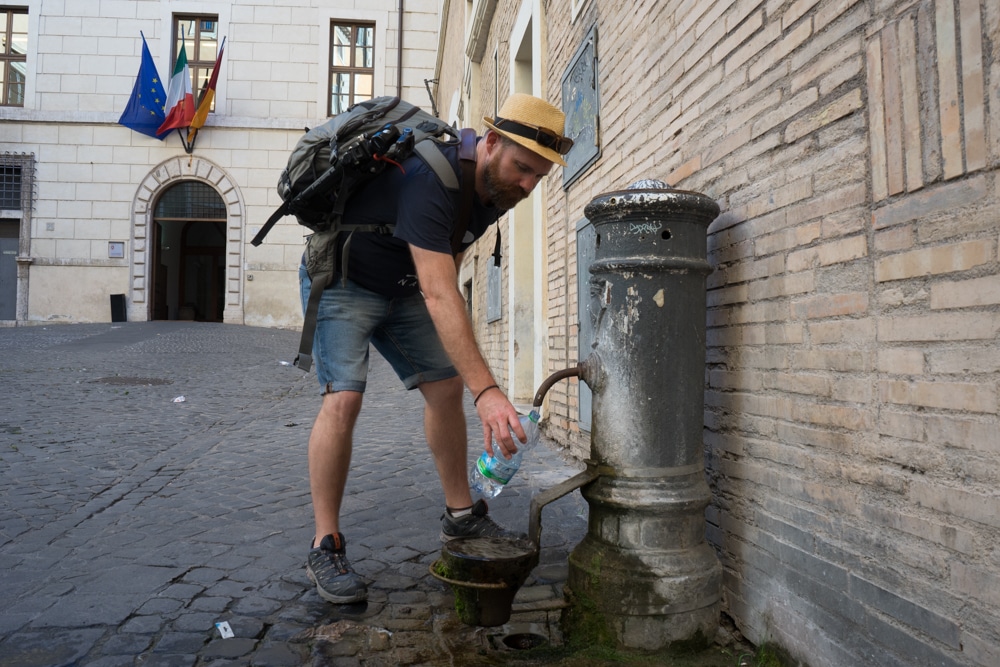 Interesting fact: on all the nasoni, and indeed in many, many other places in Rome (even on some of the art in the Vatican museums), we spotted the initialism S.P.Q.R., which stands for Senātus Populusque Rōmānus, or the Roman Senate and People. Taken from ancient times, today it's the symbol of the municipal government, and more or less means "all the people of Rome."
Rome Tip #2 – Embrace Early Mornings and Late Evenings, & Siesta In Between
While you certainly don't need to wake-up at 5am to enjoy Rome, there's something spectacular about having the Trevi Fountain or the Colosseum almost to yourself, or enjoying the morning Roman tradition of a cappuccino e cornetto (cappuccino and croissant) in front of the Pantheon, when no one else is around. And that's why our second Rome tip is to wake up early at least once on your trip.
In the summer, sightseeing in the middle of the day means you'll have to fight both heat and crowds. One reader tweeted me about our decision to go to Rome in July, and used the hashtag #isthatmyfleshbaking as a joke…or was it a joke?
Even if you visit Rome during the off-season, you're unlikely to ever have the big attractions to yourself – unless you make a point of visiting early in the morning, or late at night.
We got up early almost every morning we were in Rome, came back in the heat of the day to rest (and enjoy air conditioning) and then returned to explore in the afternoons, after 4pm or so.
With a reward that looks like this, it's hard to complain about the alarm clock!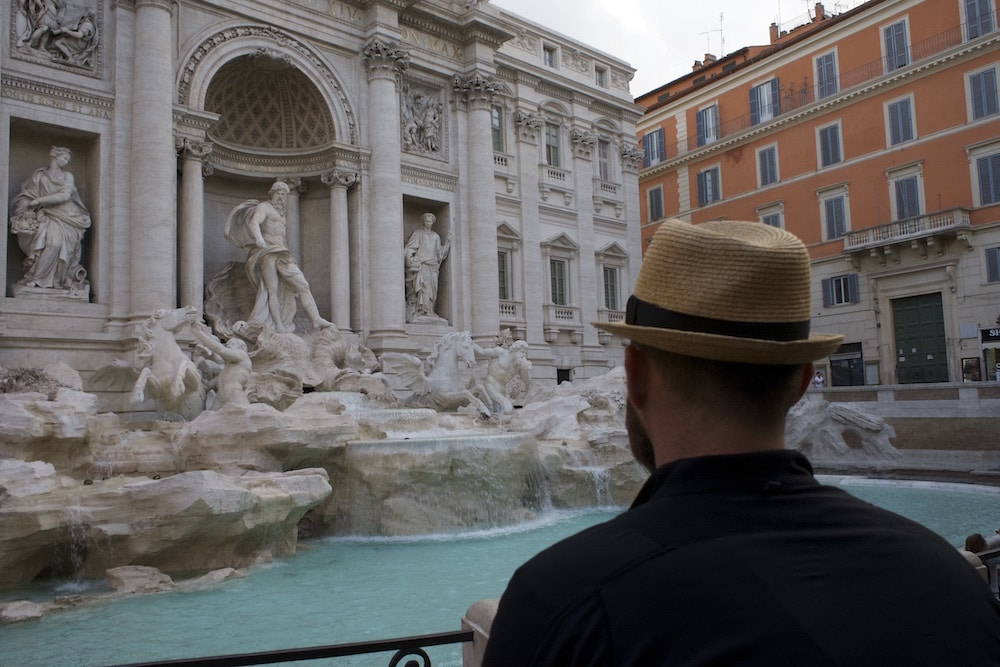 Rome Tip #3 – Pack Appropriately & Follow the Rome Dress Code
For the most part, I'm a fan of wearing the same things while traveling as you do while you're at home; in my opinion, that's the surest way to feel comfortable on your trip.
However, many of the attractions in Rome have a strict dress code, meaning your Rome packing list really does require a bit of forethought.
The Vatican dress code — and indeed the guideline for what to wear in most of Rome's historical (read: religious) attractions — is no shoulders, no upper arms, no legs (below the knees is okay), and definitely no cleavage or midriff.
While Geoff was fine wearing a t-shirt and long shorts that covered his knees, my wardrobe of capped-sleeve shirts and sundresses required a bit of thought.
In general, I hate the idea that you have to spend money or go shopping before a trip. However for Rome, I actually did go shopping ahead of time, because I knew the clothes I had (which – to be fair – are pretty limited) wouldn't fly when it came to 1) keeping me cool, and 2) being church appropriate.
Which brings me to Rome Tip #3 — something my mom used on her trip to Rome years ago, and still works today. Bring a light-weight wrap, shawl or cardigan in your purse, and use it to cover up when you go into a church or museum with a dress code.
A Lightweight Wrap – Look for something that's wide enough and long enough that you can cover your shoulders and chest, if your clothing is deemed inappropriate (…or you feel uncomfortable…or you need some extra sun protection!).
A Lightweight Fitted Cardigan – Depending on what you're packing, a fitted cardigan may be a better option. Pro tip: make sure it's machine washable and easy to maintain. If you're on a longer trip, you'll need to do laundry, and the laundrymats we've encountered on our travels don't exactly treat your clothing kindly :)
Travel Infinity Scarf With Pocket
— I ended up using an infinity scarf, because 1) I already had one, and 2) my clothing didn't require that much covering up. Basically, I wanted something to drape around my shoulders when I was wearing cap sleeves, and give a bit of extra coverage when I was wearing sundresses.
Beyond having a scarf or shawl with me at all times, my Rome wardrobe mostly consisted of the following:
Shoes: my current travel shoes are a ballerina-style flat made by Crocs (the Kadee flat). As I only own 3 pairs of shoes (runners, ankle boots, and everyday flats), my criteria for travel shoes are pretty stringent: they have to be comfortable to wear all the time, in all weather, and look fine with whatever I wear, dresses included. So far, the Kadee flat fits all those criteria. I've had them since December, and pretty much wear them all day, every day.
Bottoms: I alternated between stretchy capris pants and black leggings.
Tops: Embroidered cotton shirts/tunics, and sleeveless long tunic tops paired with leggings were my go to uniform.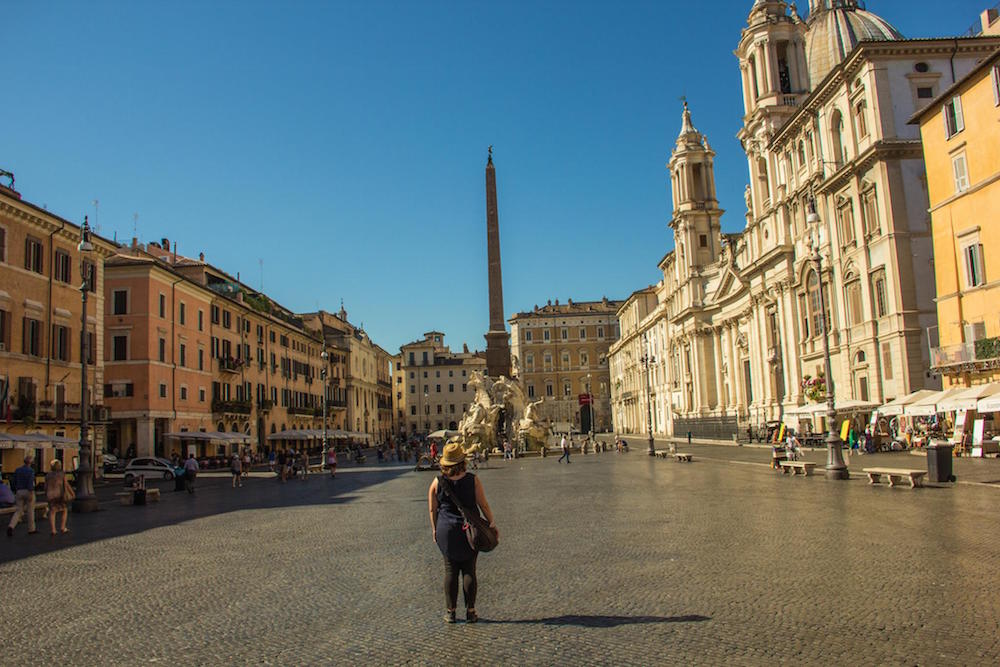 Rome Tip #4 – Bring a Bandana or Towel in You Bag
Speaking of packing, consider packing a cooling towel or bandana if you're visiting Rome during the peak summer season. The city regularly hits 35ºC / 95ºF during July and August, and honestly feels even warmer when you're baking under the sun in a massive group of tourists or trying to cram yourself into the last available corner on the metro.
Suffice it to say, we got hot and sweaty, and would regularly come home and notice our clothing was covered in salt stains from all the sweat! Having a bandana to dry our foreheads, or a cooling towel to stick under a cold stream of water, would have been very welcome.
(Plus, you can use them as a napkin for gelato and pizza mishaps…which you know you'll have at some point).
---
Check Out Our Where to Stay in Rome & Best Things to Do Guides
Where to Stay in Rome / Things to Do in Rome
---
Rome Tip #5 — Use Public Transit Wisely
Rome's public transportation isn't the best in the world, but it's not bad either, especially considering the city is massively hampered by all the antiquities that lie underground. After 10 days in the city, we felt we really got a knack for knowing when to use transit (and how) and when to walk.
Here's what we learned about taking public transit in Rome:
Tickets – You

can't

buy transit tickets from bus drivers, so stock up on tickets when you can using the machines at Metro stations (and some bus stops – mostly the transit hubs) or at tobacco shops/newsstands. The tickets aren't valid until you validate them onboard by stamping them, so it's no problem to buy in bulk and save them until you need them.
The metro is insanely busy. There are currently only 2 lines, and there were times we couldn't even board the train it was so busy. Then we recalled a Rome tip some friends had given us: the cars at the front and the back of the train are much less busy. If we got to the train and it was too busy, we'd let the train go and then walk down to the end of the platform and wait for the next one. It was well worth the wait.
Traffic can bring buses to a standstill. During rush hour, get off the bus and walk across the bridges, then get on another bus on the other side of the river. Drivers are – ahem – aggressive when it comes to making it through a red light, and don't seem too concerned about blocking the intersection and completely mucking up the entire flow of traffic. Unfortunately, we learned this lesson while on the way to meet a friend and were 40 minutes late as a result! The entire gridlock took place over the bridges, only. Had we gotten off the bus and walked across the bridge, and then caught a different bus on the other side, we probably would have made it on time.
Google Maps is your friend. We used Google Maps to navigate most of the time, and it was exceptionally accurate when it came to recommending the best bus and metro routes to take (other than being unable to calculate delayed buses…see bullet point #3).
Rome Tip #6 – Join A Small-Group Tour At The Busiest Attractions
We took 4 tours with Context Travel during our time in Rome. Besides being absolutely fantastic, and giving us far greater depth and insight into the city and its history, they allowed us to enjoy the city much more than we could have on our own, for the simple fact that were following someone who knew what they were doing, and what to see and what to skip. In other words, by joining the tours, we were able to experience some of the best places in Rome efficiently, rather than randomly wandering in the heat and crowds.
The tours we took (and would 100% recommend to anyone planning a trip to Rome), included:
Ostia Antica – A visit to the ruins of Ancient Rome's port city. Our docent for the experience was a trained archaeologist who has excavated some of the most important sites in Rome (Read more about our experience here).
The Fall and Rise of Rome, which explored the fall of the Roman Empire and the rise of the city (and of Christianity) during Medieval times. This tour was led by a PhD-level historical archaeologist.
Caesar and Empire, which was led by an American Restoration Architect who has lived, trained and practiced in Rome for more than 2 decades.
Evening Vatican Tour, which allowed us to see some of the most important pieces in western Art with a PhD-level Art Historian guiding us. We also got to skip-the-line and sail past the line-up of tired, impatient people, and go straight inside.
It's probably pretty obvious that we're partial toward Context: we know the company and staff; love their mission of creating small-group tours for intellectually curious travelers; and believe in the product based on our personal experience. And while we absolutely recommend you take a Rome tour with them, if you don't, at least consider taking some sort of tour.
Rome is actually massively overwhelming as a destination. It's basically a gigantic live-action archaeological dig swarmed by millions of people and cars. We found that having a knowledgeable guide to help us navigate that experience made a significant difference.
Really, our Rome tip here is that Rome is one of those cities where going it alone isn't always the best option.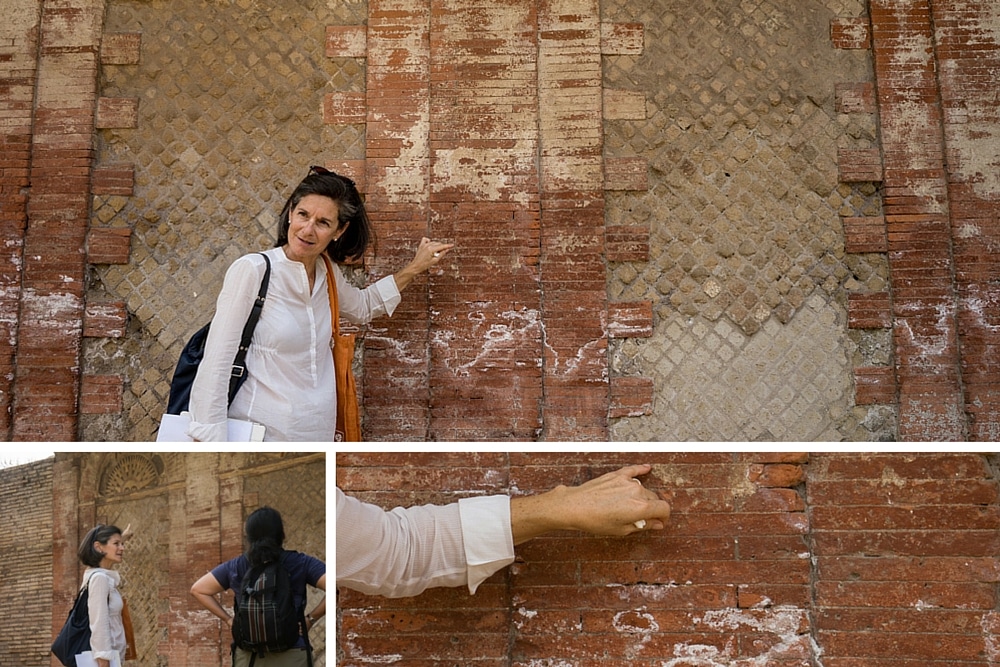 Rome Tip #7 — Stay Connected
While I certainly understand the temptation to disconnect from email and social media as much as possible while on vacation, we found having data for our phone invaluable while in Rome.
We used Google Maps exclusively for navigation, and the "transit" feature never failed us in terms of choosing the best bus or metro line to get around. When we had an unexpected hiccup on our trip (like when the motherboard on Geoff's camera died…yes, that happened), we were able to immediately find a camera repair shop and call an Uber to get there quickly.
Rome is a large enough city that I really can't imagine not having internet access while in the city to help navigate, choose restaurants, check exchange rates, find ATMs, and deal with last minute and unexpected things that come up.
The question is, of course, how can you stay connected while in Italy?
We bought a SIM card and a pre-paid data plan from Vodaphone, but it was honestly a bit inconvenient. For one, they required our passports to get the SIM card, which isn't a big deal, but seems like overkill if you're only in Italy for a week. Secondly, the cheapest plan we could get with Vodaphone was €40 for 3GB. Finally, I wasn't even able to use that 3GB for 2 days, because it stopped working, meaning we spent over an hour in Vodaphone's shop over the course of two days, trying to figure out what was wrong.
If you're only visiting Italy for a week or so, or are border-hopping on a larger Euro trip, a better option is an international SIM card (if your phone is "unlocked") or a mobile hotspot device (if your phone is "locked" to a specific carrier in your home country).
Keepgo Global Lifetime Data SIM Card
(for unlocked phones) — A data-only option for people with unlocked phones. It gets excellent reviews from past customers on Amazon, and the only negative review (2-stars and 3-stars) are from people who had difficulty connecting in Brazil and China, and people who had to reboot when travelling between regions. This doesn't seem to be an issue if you're planning a European holiday, and all reviews from those who have used the card in Europe give it a thumbs up. The purchase price includes 1GB of internet data, which you can re-fill as needed, and it's valid across Europe (including Italy and Vatican – see this link to Amazon for more comprehensive info).
KnowRoaming SIM Sticker (for unlocked phones) is unlike KeepGo in that it's not actually a SIM card – it's a sticker you adhere to your existing SIM card. You buy it, install it, and then activate it and load it with credit, but it doesn't actually do anything until you get to your destination in a foreign country.
Unlike KeepGo, KnowRoaming is data + text messages and phone. Like KeepGo, you only pay for the credit you need. You have the option of buying a set amount of data, which is used against a country-specific rate, or you can buy unlimited data plans for $7.99 per day. Rates in Italy are $0.15/MB and $0.21/SMS (to send – free to receive).
KeepGo mobile hotspot with SIM card will do the trick if your phone is locked. Basically, you insert the KeepGo SIM card into the hotspot device, instead of into your phone. Then you connect your phone to the Wifi network created by the hotspot + SIM combo.
WIth the same coverage as the KeepGo SIM only option, it will allow you to get connected quickly around the world, and the Wifi connection it creates isn't limited to your phone: you can use it for your computers, tablets, etc., as well, connecting up to 10 devices at a time. When the original 1GB of credit is gone you can refill, with current rates as follows: 100MB/$10, 500MB/$25,1GB/$45,3GB/$99,5GB/$159, 10GB/$299. For more info, check their Amazon listing.
Rome Tip #8 – Stay Cool Like The Locals, & Order Some Cocomero
This may seem like a strange Rome tip, but if you go to Rome in summer, you might notice that Romans in cafés and restaurants are often eating massive hunks of ice-cold cocomero — watermelon. Watermelon is an awesome way to cool down in the heat of a Rome summer, and we got into the habit of ordering a big hunk after lunch, or as a snack.
Just don't be surprised when you are presented with a quarter or half a watermelon – no small slices here!
Rome Tip #9 — Venture Beyond the Most Touristy Areas & Experiences
Despite visiting Rome in July – one of the busiest months for tourism in the city – we found that when we were willing to venture beyond the Top 5 sites in the city, we had them almost entirely to ourselves.
A fantastic example of this is Ostia Antica (Ancient Rome's port city), a place we truly think everyone should include on a visit to Rome. Much closer to Rome than Pompeii, Ostia Antica offers a window into how everyday Romans lived during ancient times, and how Ancient Rome — as a city and empire — survived and functioned because of its port, which was the key point of entry for food and goods from across the empire.
We had the site almost entirely to ourselves because most visitors to Rome don't venture beyond the most popular sites. We think that's a shame, and recommend you absolutely consider visiting some of the lesser known sites in Rome.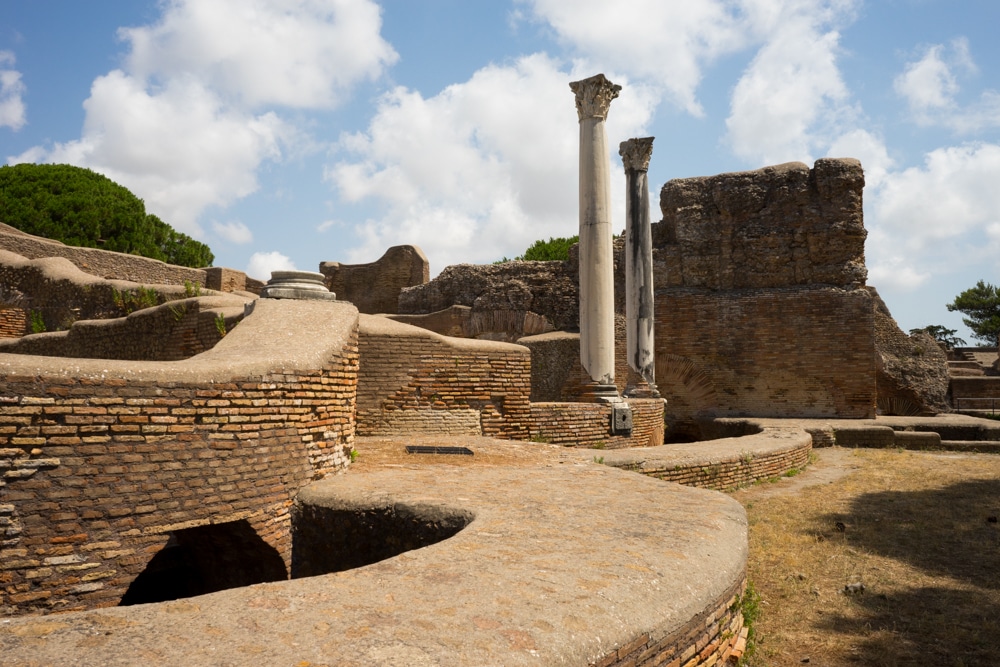 In addition to getting beyond the most touristy sites, try to experience the city and culture beyond the typical experiences. Blogger friends Sean and Jen have a great post about their experience Cooking with Nonna, which brings you into an Italian grandmother's kitchen. If cooking feels like too much, try a market walk with a local food historian or chef.
Rome Tip #10 – Experience Rome's Layers
Here's a fun fact: modern Rome is built atop Ancient Rome, which is when you go to see many – although not all – sites, you need to look or walk down to do so. Case in point, the Teatro Marcello: when you're standing at the base of the theatre with your back to it, look up at the houses and buildings and you get a small idea of the layers of Rome. Same goes for Largo Argentina: you need to look down to see it.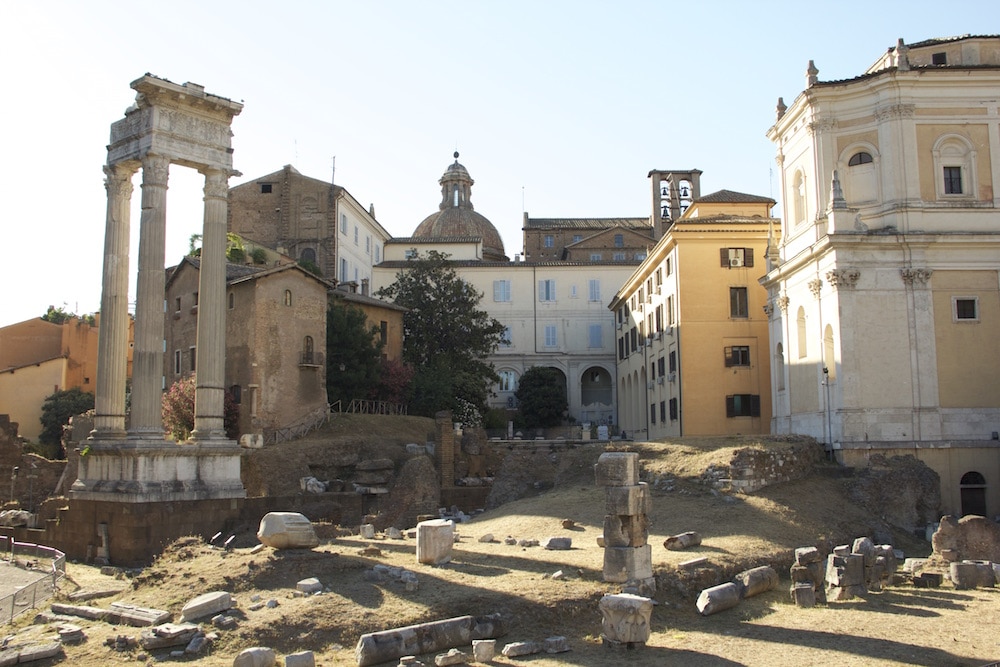 Once you understand this basic piece of information about Rome, you can start to enjoy the layers all around the city, and they're not only outdoors. San Clemente Church, for example, has three layers, all of which were at one point separate churches or structures, built on top of each other.
due città–two cities
Rome Tip #11 — Don't Carry a Massive Bag
Large backpacks and bags are forbidden in many of Rome's sites, meaning you may be forced to leave your bag with security (or come back another day) if you show up with something deemed too large or bulky.
Our daypack of choice these days is the FjallRaven Kanken because 1) it's really lightweight, making it practical to stuff in our main luggage when we're not using it, and 2) it's my personal believe that any time you wear something that's made in Scandinavia, you'll instantly look more stylish :)
I also have the LowePro Passport Sling Bag, which I use all the time as a purse/camera bag combo. It's quite discrete, in that it doesn't look like a camera bag, and it comes with an inner protective inner cube to put your camera in.
Rome Tip #12 – Catch the View from the Eight Hill of Rome
Ancient Rome was built around seven hills, but it's the eighth hill – the Gianicolo/ (or Janiculum, depending on the spelling) – where you'll catch the best view.
Our tip is to take the bus up (put "Passeggiata del Gianicolo" or "Cannone del Gianicolo" into Google Maps, otherwise Google sends you to the gardens below, which you have to pay to enter), and then stroll down. Pack some food, and maybe even a bottle of wine, and enjoy the view from the top, or at any of the lookouts on the walk down (walk down toward the Vatican, not Trastevere to get more views!)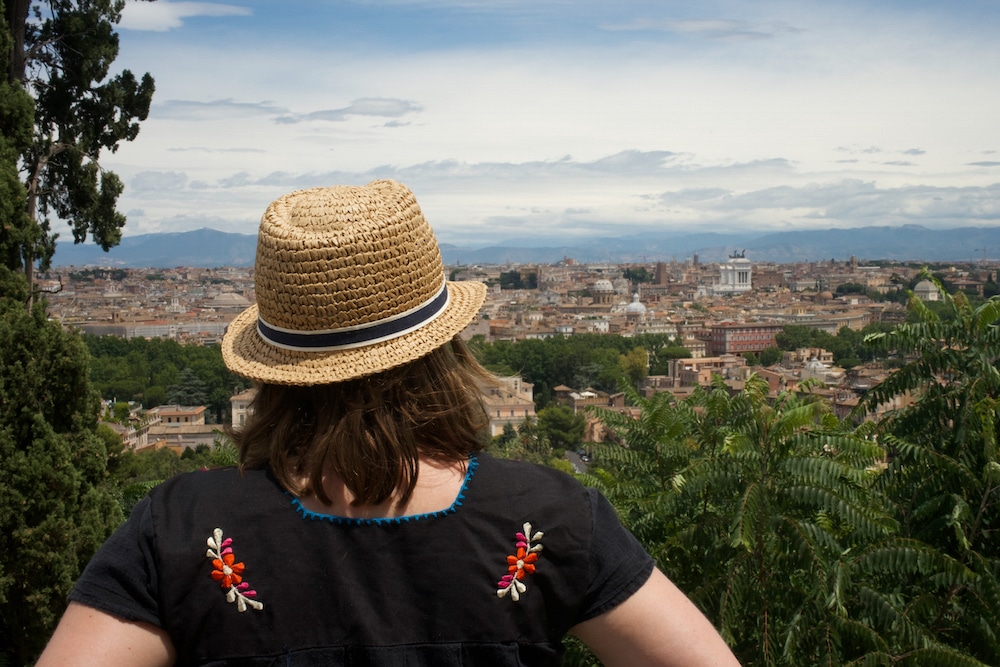 Rome Tip #13 – Be Wary of Skip the Line Touts
The bed & breakfast we stayed in in Rome (Finestre di Luz – highly recommended!) happened to be near the Vatican. Every time we walked from the B&B to the metro, we passed crowds and crowds of touts offering their skip-the-line and guide services for the Vatican. A
And it wasn't just the Vatican that we saw these touts. While we absolutely endorse experiencing the highlights of Rome with an experienced guide, we would never hire one of these touts: seeing treasures of humanity such as the Sistine Chapel or the Colosseum is probably a once-in-a-lifetime experience: do you really want to entrust that experience to someone who hustles up business on the street corner, with no ability to check quality before committing?
Also: not everyone can skip-the-line…it's simply not possible. I'd be worried those touts wouldn't be able to deliver on all their promises.
Rome Tip #14 – Visit the Vatican on Friday Night If You Can
This is one of the best Rome tips we have: if you visit Rome during the summer high season, you can visit the Vatican Museums on Friday night, which is far less busy and stressful than doing it during the day.
We took Context Travel's Evening Vatican Tour led by Roberta Bernabei, an art historian who has literally written books on the art of Rome. It was a fantastic experience, (starting with the fact that we actually did get to skip the line), because Roberta knew exactly how fast we needed to go to get through the entire museum (8 miles of hallways!) with enough time to appreciate the Sistine Chapel at the end. She rushed us through some areas, and slowed us down in others, pointing out the most spectacular pieces and their stories along the way. Because of her depth of knowledge, she was able to tailor the discussion to our interests, rather than recite a script.
If you opt to go on your own, you can buy tickets in advance, which means you won't have to wait in line (except for going through security). And if you aren't in Rome during the summer, or during a Friday, try to visit first thing in the morning to avoid the crowds.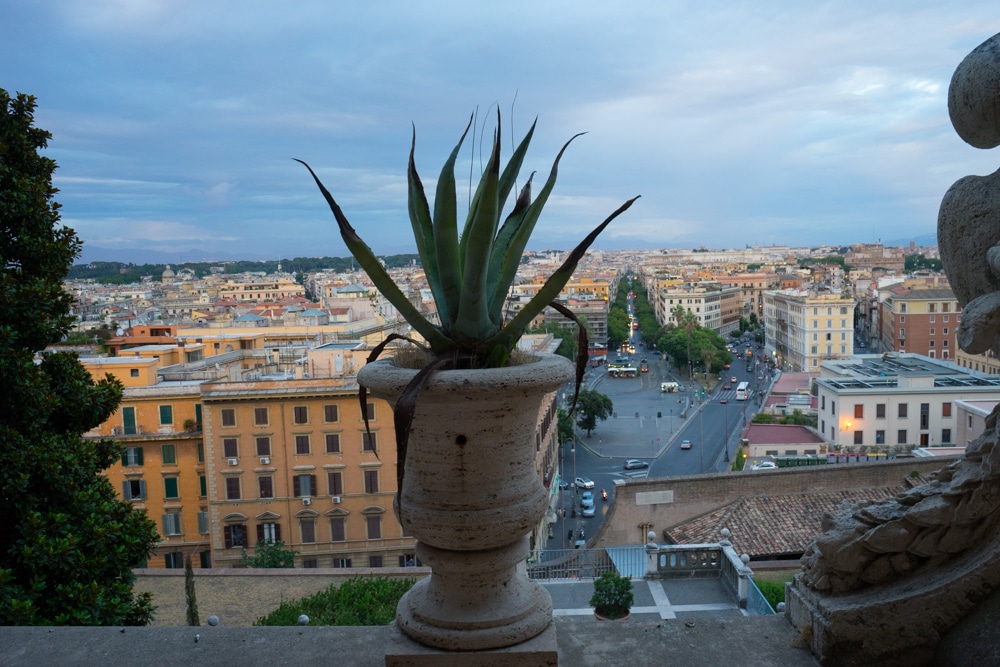 Rome Tip #15 – Buy Colosseum Tickets at the Palatine Hill
Tickets to the Colosseum, Palatine Hill, and Roman Forum are combined – one €12 ticket gives you access to all three sites. As it happens, most people don't seem to know this, and since the Colosseum is the most popular of the three attractions, that is also where the ticket sales lineups are the longest.
Instead of lining up at the Colosseum to buy your ticket, go to the Palatine Hil ticket office, just around the corner.
Rome Tip #16 – Enjoy an Evening of People Watching Outside
Dining outside, drinking outside, early sunrises and late sunsets! Not everything about visiting Rome in the summer is something to be endured, and if you find yourself in Rome during beautiful weather, be sure to take advantage of it!
When you're finished sightseeing for the day, head down to one of Rome's many piazzas or sidewalk cafés for Appertivo, or head down to the River (near Ponte Sisto) to have an Aperol or cold beer at one of the riverside bars and restaurants. We also saw many people drinking from beer bottles while sitting on the steps of a fountain or piazza. You can buy cheap bottles from the mini markets, and ask them to open it for you.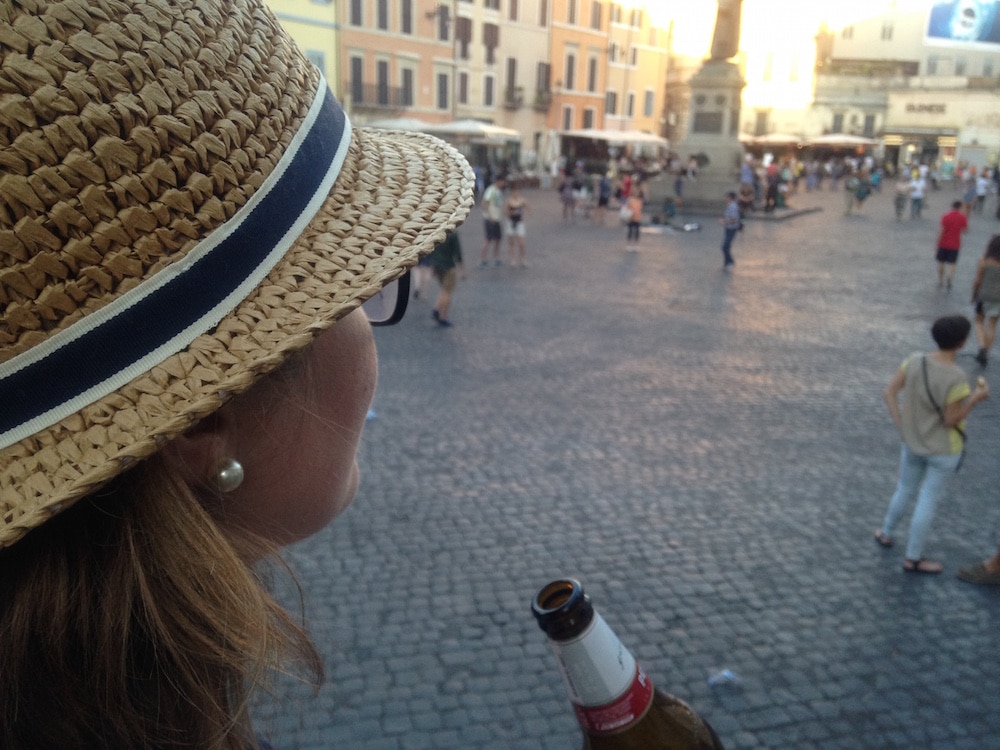 Heading to Rome? Check Out Our Rome Adult Coloring Book to Stay Busy on the Flight!
In addition to writing this travel blog, and helping you plan your vacation, Geoff and I (Katie) made travel-themed adult coloring books! All the books are based on our travel photographs, which we have hand-traced to create really beautiful line drawings showing a time and place around the world (they are realistic, not imaginative).
In summer 2016, we teamed up with Context Travel to make a Rome-themed book. We spent 10 days in the city, taking as many of their tours as we could fit in, and photographing a portrait of Rome that served as a base for our book.
You can see all the photos that made it into our Rome adult coloring book here, and read a bit more about why we decided to make travel-themed adult coloring books here.
And if you need something to do while you're on the long flight to Rome, you can pick up a copy of Travel Between the Lines Coloring Rome on Amazon.
That's it for our 16 Rome Tips! If you're looking for more, our blogger friend Mellissa has a similar (and great) post with some great tips about visiting the eternal city! And if you have any to add, please get in touch and we'll update this post over time!
Finally – if you're planning a trip to Rome in the future…
Pin This for Later!