My son has been asking to ride an ATV since pretty much the day he learned to talk. So of course we had to find a way to squeeze an AT ride into our most recent Costa Rica vacation. As we were based in Tamarindo, staying at the Tamarindo Diria Beach Resort, a trip to Diamante Eco Adventure Park was a natural choice.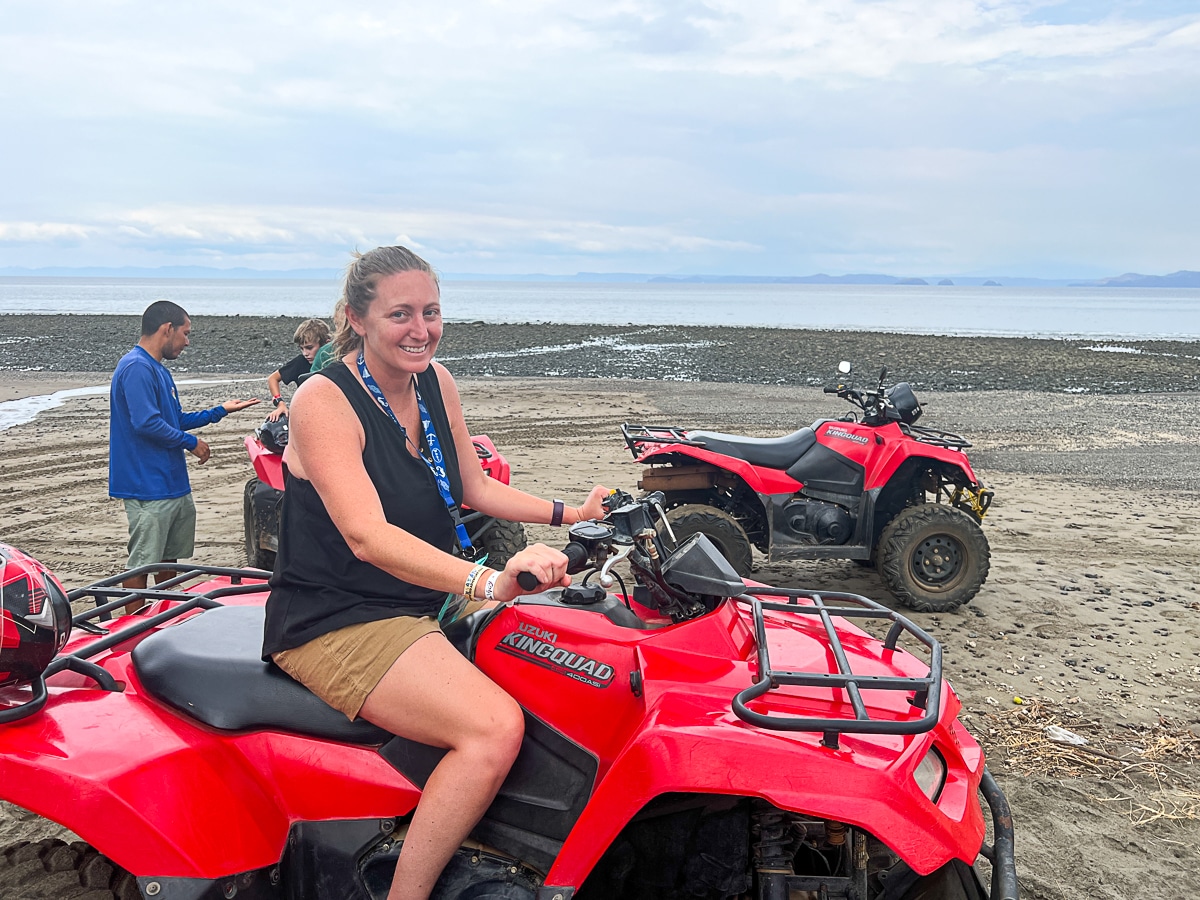 Diamante is a fun filled adventure park with all kinds of activities including ziplining, horseback riding, ATV rides, an animal sanctuary, and more. So we figured this was a fantastic way to spend a few hours of our day.
The Ticket Options – Explained
When I was planning our visit to Diamante, I found the ticket options a bit confusing. So I thought I would break it down for you. Here are the choices:
There are some additional pass types that will give you access to just the cultural experience, just the wildlife sanctuary, or both. But I honestly wouldn't suggest going for just those things. It's only worth the trip out there if you plan to do at least one of the adventure experiences – zip lining, horseback riding, or ATV tour.
We actually didn't want to zip line but wanted to do the ATV tour, the wildlife sanctuary, and the cultural experience. They were kind enough to let us book the Adventure Pass and then substitute the ATV tour for the zipline adventure. So if that sounds appealing to you, be sure to ask, as it can save you a few bucks over booking those items individually.
Getting to Diamante Eco Adventure Park
So let's just start off by saying that getting there was half of the adventure. According to our trusty Google map, it would take us roughly one hour from Tamarindo. And that's where we made our first mistake – following Google maps in Costa Rica. :-D
Let's just agree that the roads are a lot less… developed… than what we're used to in the USA. It's very common to find roads closed or washed away by flooding, and these events are just not going to be updated in real time on any online map. So a little advice – when driving long distances around Costa Rica, it's best to stick to the large paved highways as much as possible, even if it looks like a longer route. Then start making your way via local roads when you are much closer to your destination.
Of course, that isn't what we did. So about 40 minutes into our drive we came across our first road closure. With no viable detour – it was just closed. So we backtracked our way back out to try another route. And quickly came upon a very washed out dirt road. A few brave 4×4 vehicles were attempting to ford the flooded road, but I don't recommend trying that out in your rental car!
By the time we backtracked, rerouted, and reached Diamante, the one hour drive had taken us more like 90 minutes and we had very much missed our tour time. We tried calling while enroute, but the number wouldn't connect. Not sure if it was an issue of poor signal or their phone system was just down.
But nonetheless, we did eventually get there. And they were very kind and understanding about our late arrival. In fact, they didn't seem the least bit surprised, which tells me we are not the only tourists to encounter this adventurous drive. They scheduled us into the next ATV tour and gave us the scoop on the rest of the park amenities so we could check them out afterwards. So onward we go…
ATV Tour at Diamante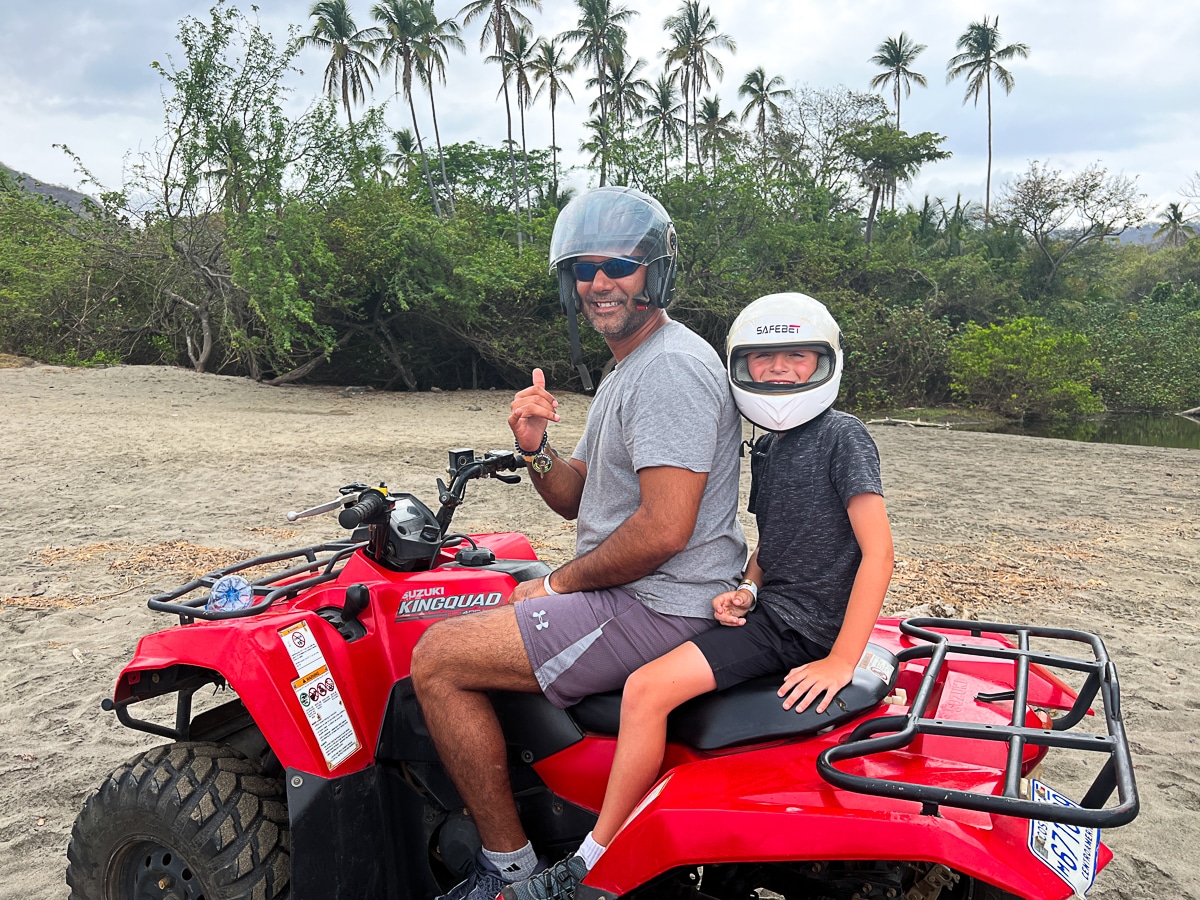 First up was the ATV tour, which was the motivation for our visit. We met our tour guide, Diego, for some instructions and safety information first. Now I admit that I was actually pretty nervous about driving an ATV. When we booked, I actually meant for my husband and son to go on their own. But my husband booked a ticket for me anyway, so I figured I would give it a try.
Diego was extremely patient with me! He even had us practice driving in short loops around the parking lot to make sure everyone was comfortable before we set out. Our group consisted of just our family and another dad with his young son. This was perfect as it meant we could go at a family friendly speed and everyone would be happy!
Then we were off. And it was way more fun than I expected it to be. We rode down some very pretty trails through a wooded area and ended up on a lovely stretch of beach, where we got to really open up those ATVs. Riding fast down the empty beach was definitely the most fun part!
As we made our way back, we stopped to take pictures under a massive banyan tree. I can't even imagine how old this tree is. Fun fact – Banyan trees are actually poisonous! We ended the tour on a fun series of twisty, turny trails. Diego said he saved these for last so we could get the hang of driving the ATVs first.
Lunch at Diamante
By the time we were done with the ATV tour, we had worked up a real appetite so we opted to have lunch at the on site restaurant. The restaurant is in this big elevated structure that feels a bit like being in a giant treehouse, and has a great view of the zip lines!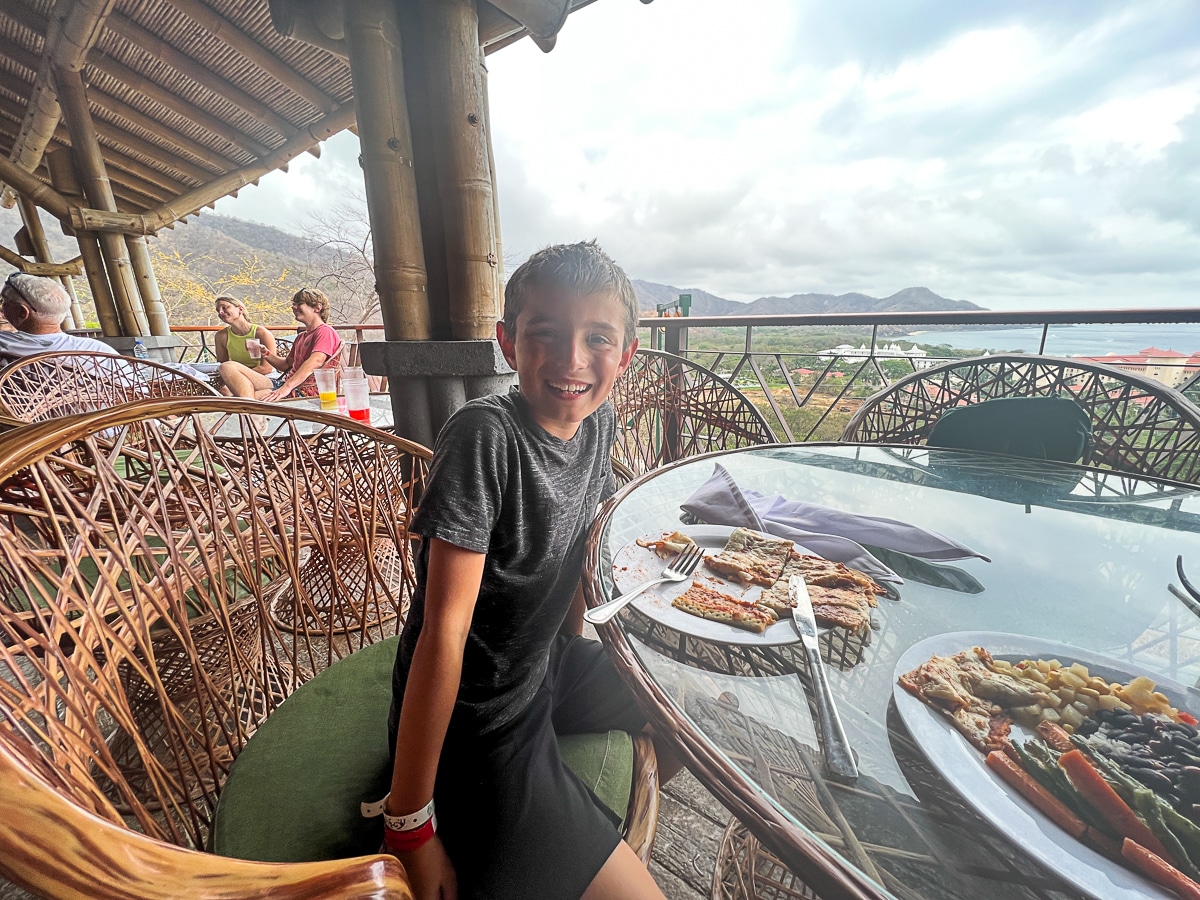 Lunch is a buffet – there are no other options. There was a salad bar, chicken, rice and beans, and… pizza. Can you guess what my son ate? Yep, basically every kid I saw ate the pizza. It wasn't the greatest food ever, but it's the only restaurant on site and it was good enough. And it was fun to watch the zipliners while we ate.
The Ziplines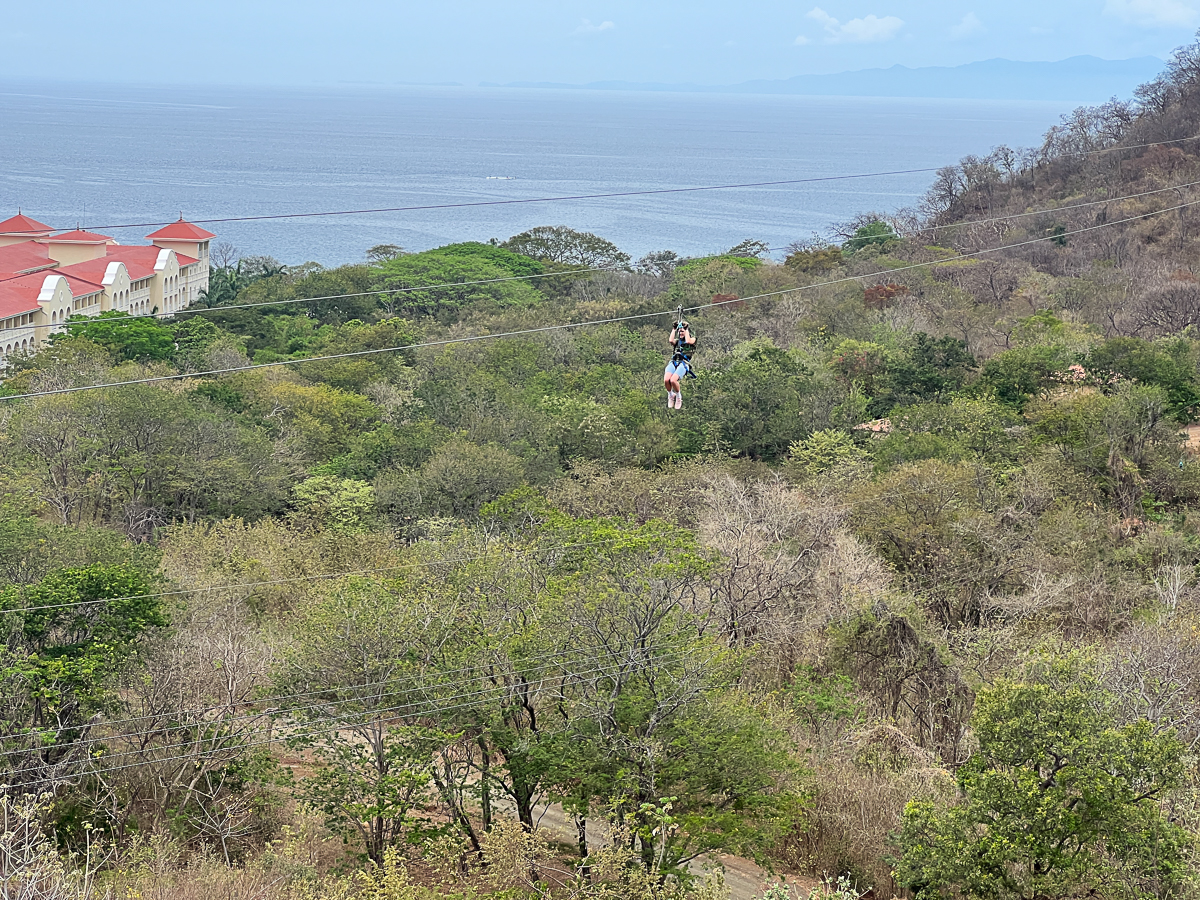 We actually didn't do any ziplines on our visit to Diamante, even though that is really their big claim to fame. My son was not big enough for the larger zip lines which had a minimum weight requirement, and wasn't too keen on the smaller kid sized ones. We also had limited time to work with, and the ATV tour was more of a priority.
But if you are into ziplining, this is sure a great place to try it out. There are several sets of ziplines that move you throughout the park, with the most famous being their Superman line, where you fly through the air with your arms outstretched like Superman!
The Animal Sanctuary
We did save some time to stop by the animal sanctuary. It was neat, but I would probably just call it a zoo, rather than a sanctuary. I found myself wishing the animals had more space to roam. They do claim that the animals were rescued, and that may very well be the case. I guess I'm just a natural skeptic.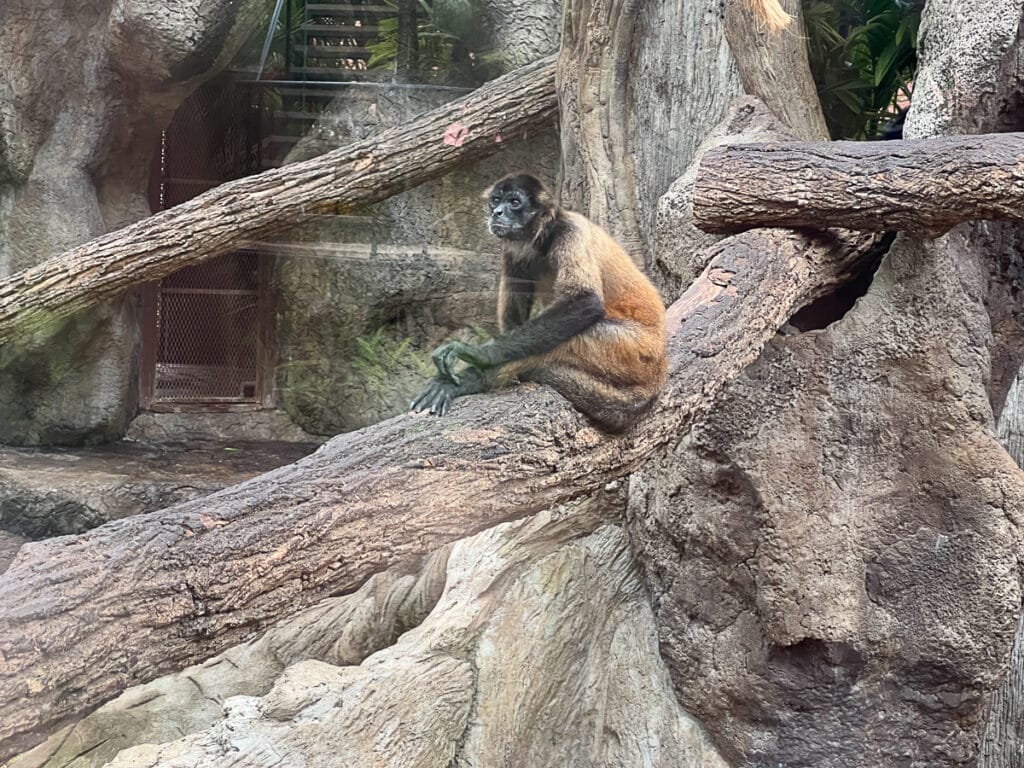 But nonetheless, it was a great place to see some of the Costa Rican wildlife, especially after our estuary tour that was notable devoid of wildlife. There were jaguars, sloths, several varieties of monkeys, and a whole collection of reptiles. There is also a bird aviary with some very cool tropical birds, and a butterfly observatory that was just teeming with butterflies.
If you're into wildlife watching, be sure to take a turtle nesting tour while you're in the area as well!
Cultural Experience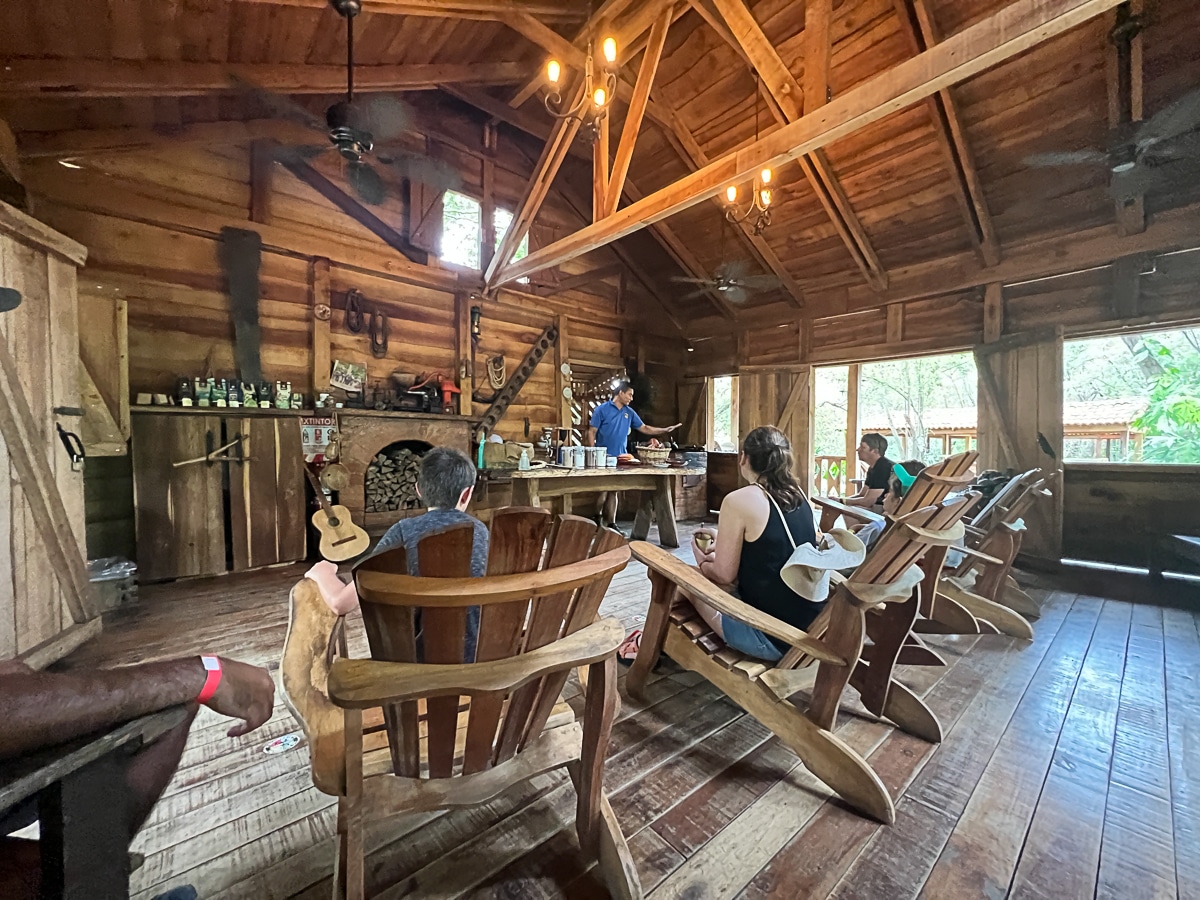 We also stopped in for what is dubbed the "Costa Rican Cultural Experience", which is a fun little demonstration where you learn about both coffee and chocolate. It started off with some education on the history of coffee in Costa Rica, a demonstration of some brewing methods, and a chance to try local coffee.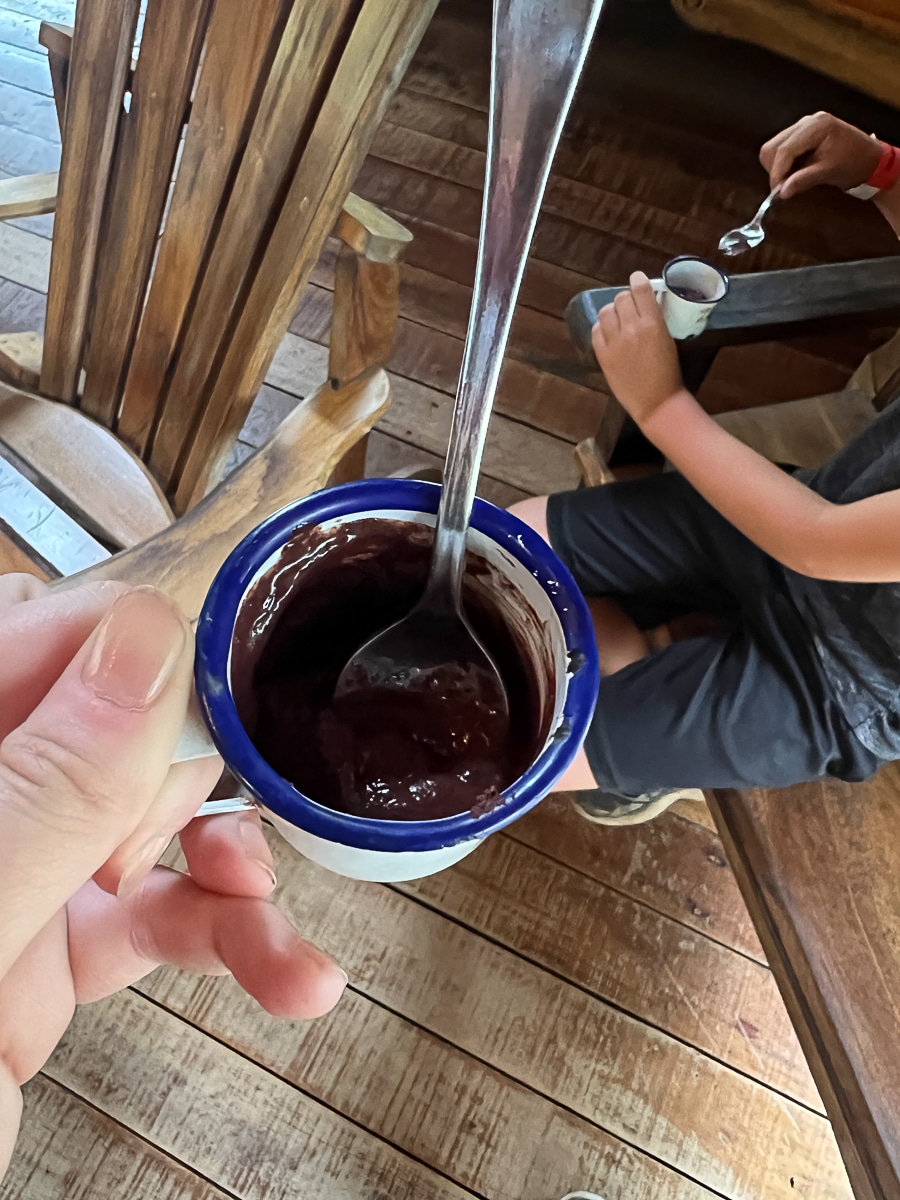 And then it moved to what I thought was the best part – the chocolate! The guide taught us a bit about how chocolate is made from the cocoa plant, and then we got to try our hand at making our own chocolate concoction. We started with ground cocoa and added our own mixture of sugars and milk to create a delicious treat!
This didn't take too long and was definitely worth the quick stop after the wildlife sanctuary.
The Playground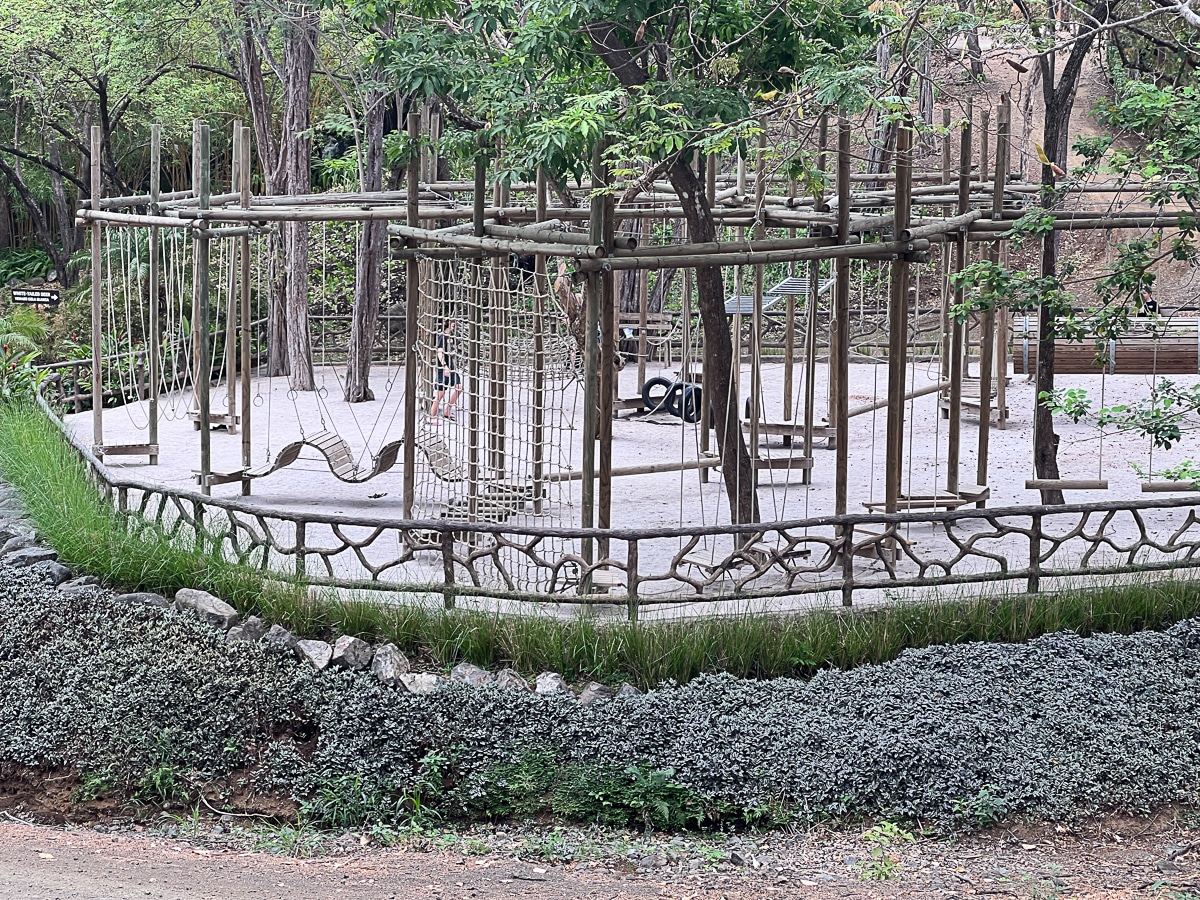 I would be remiss if I didn't mention the totally awesome playground that you can find just outside the wildlife sanctuary. If you're travelling with little ones, this is a great spot to take a break and let them run wild. It's jam packed with climbing structures and obstacle courses – one of the best playgrounds I've seen anywhere.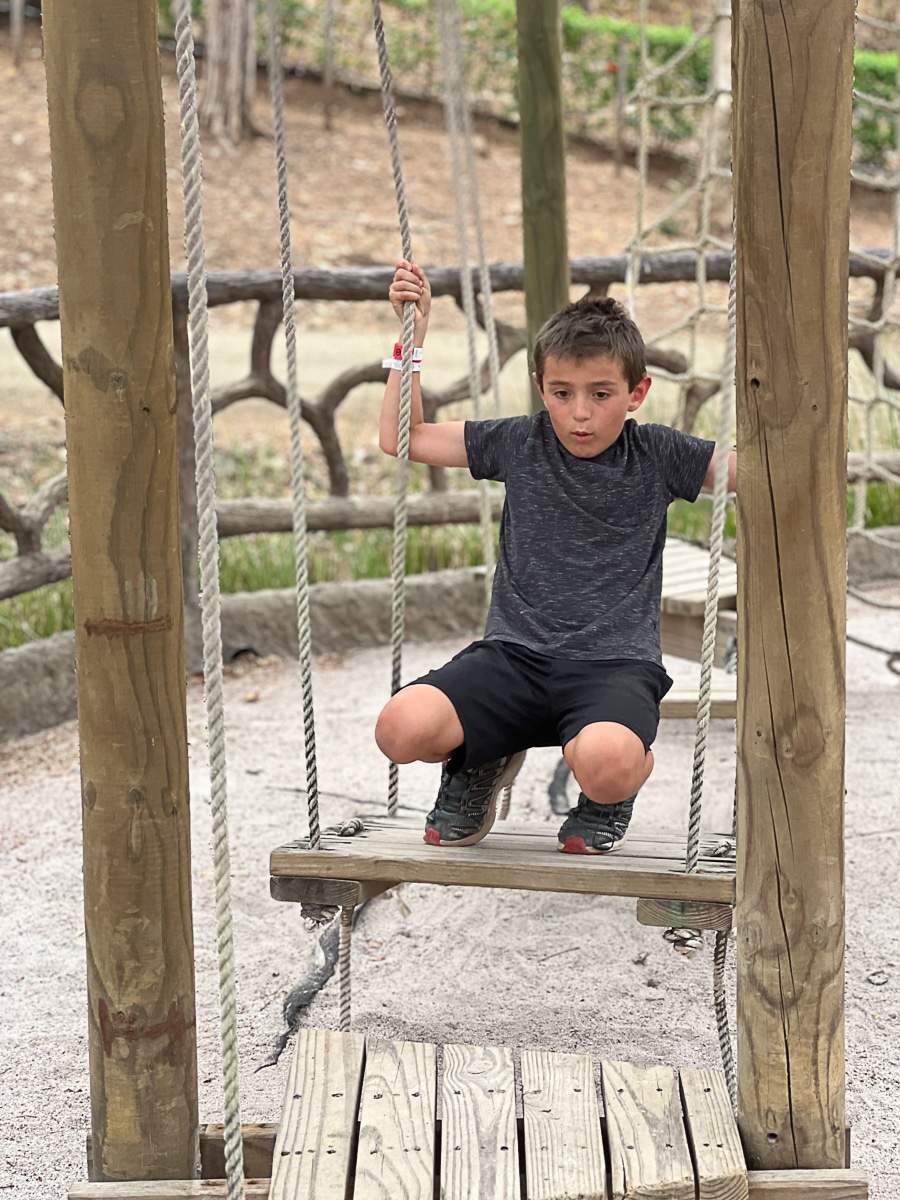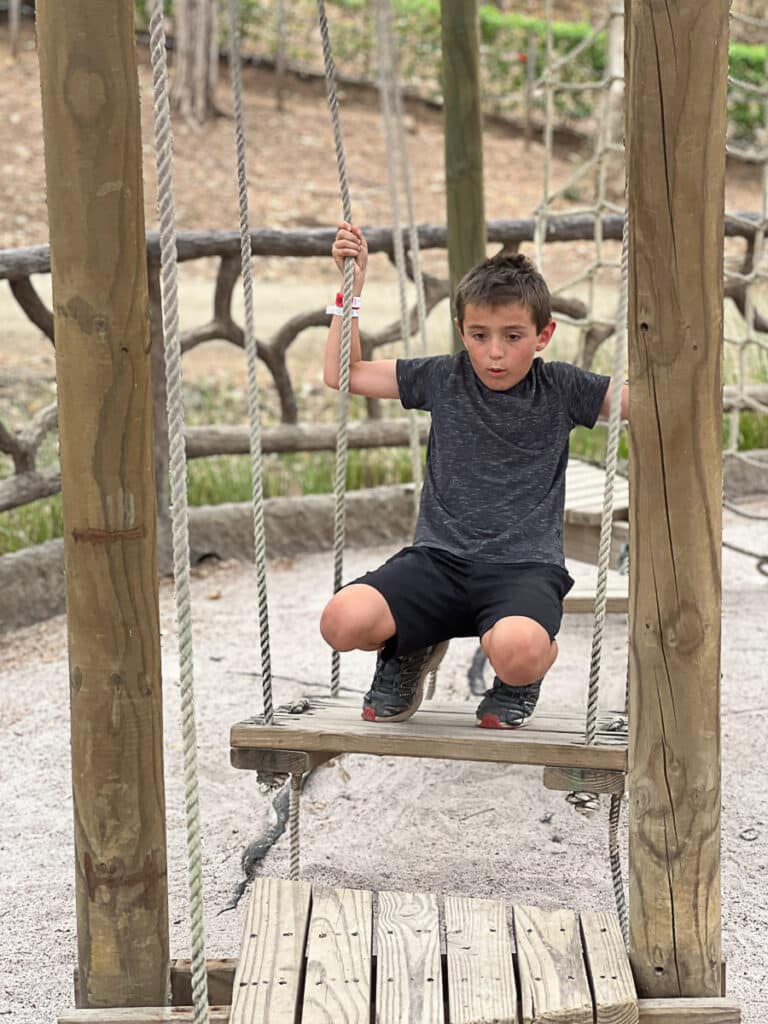 Tips for Visiting Diamante Eco Adventure Park
If you're planning on visiting Diamante Eco Adventure Park, here are a few tips to keep in mind:
Wear comfortable clothing and shoes: You'll be doing a lot of activities, so it's important to wear comfortable and appropriate clothing and shoes. I would opt for athletic type tops and shorts, and pack a bathing suit if you plan to visit their beach area.
Bring sunscreen and bug spray: The sun can be strong, and there are mosquitoes and other insects in the area, so it's important to protect yourself with insect repellant.
Book in advance: The park can get busy, especially during peak travel season, so it's a good idea to book your activities in advance, especially if you are hoping for a particular tour at a particular time of day. Activities like ziplining, horseback riding, and ATV rides run on a set timeslot.
Arrive early for the Adventure Pass: If you're booking the all day Adventure Pass, note that the time you book is your schedule time for the ziplines. You can arrive earlier and see the rest of the park at your own pace.
Was it worth it?
Yes, Diamante Eco Adventure Park was worth a visit for us! We really enjoyed the ATV tour, and it was far superior to the crowded tours being offered near our hotel in Tamarindo. And we also had a nice time walking through the wildlife sanctuary and making our own chocolate. It was worth spending a few hours of our precious vacation time.