I've been cruising for over 25 years, but until recently I had never sailed on a Disney Cruise. That all changed last weekend, when I took a three night cruise on Disney's newest addition to the fleet, The Disney Wish. Here's my extensive review of the ship and my answer to the burning question – have I been converted to a Disney cruiser?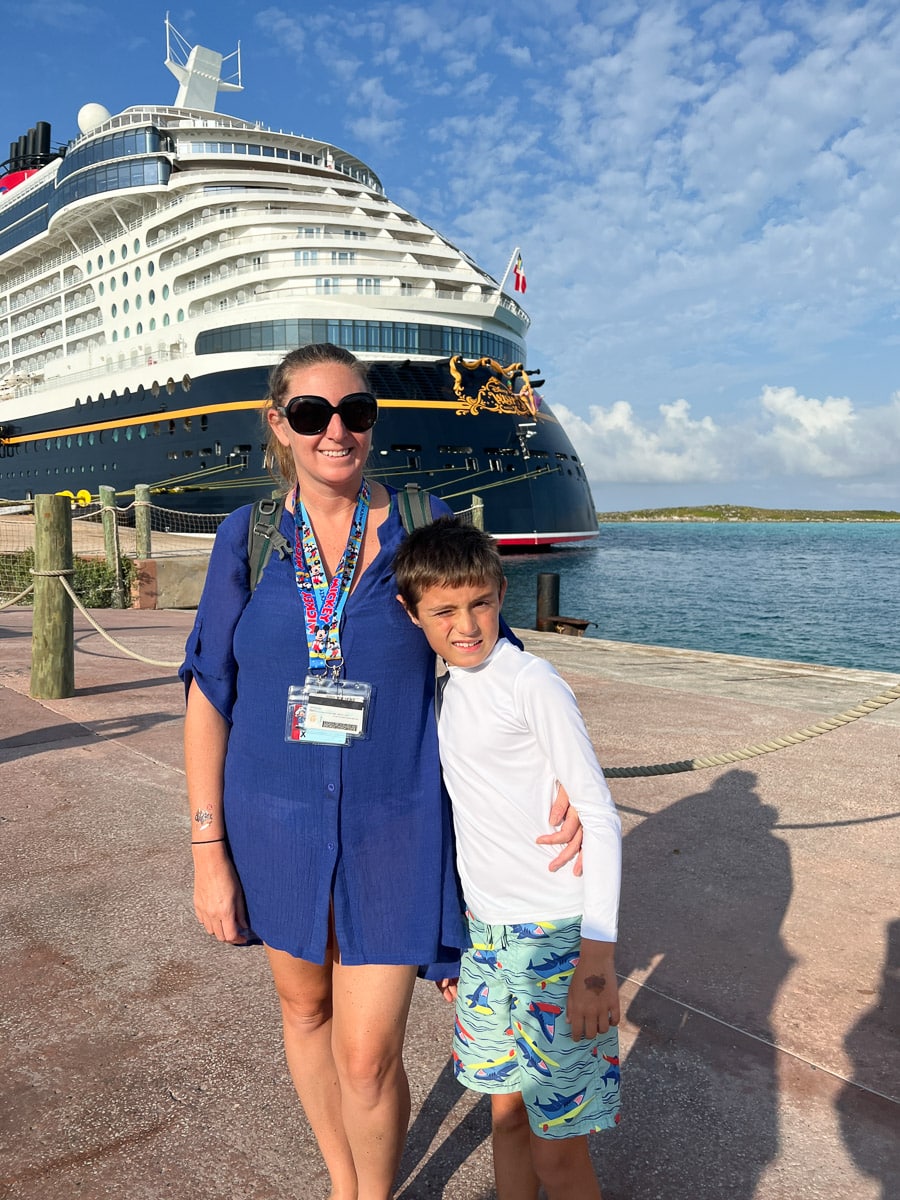 So let me preface this whole review by saying that I am not actually a huge Disney person. Don't get me wrong, I love a good Disney movie as much as the next person. And I fully appreciate the incredible creativeness and elaborate design that goes into the Disney theme parks.
But I am not one of those "Disney adults" that decorate their homes with Mickey paraphernalia and spend a week sweating it out at the theme parks every year.
So if you ARE one of those people, you may totally disagree with this review and that's okay. There are lots of ways to travel and none of them are wrong! 
With that being said – this was my first taste of Disney cruising and while we had a very fun weekend, I don't plan to book another Disney cruise anytime soon. Read on to see all the details that we loved (and didn't love) aboard the Disney Wish.
Who am I to write this review anyway?
Okay, so in order to put my review into proper perspective, you should know a little about me. I took this cruise solo with my eight year old son, along with a friend and her daughter. So I'm writing from the perspective of a family travelling with elementary aged kids.
I am not reviewing the adult only spaces, because that's not the type of trip this was for me!
We are all very experienced cruisers, but it was our first time on a Disney Cruise. I've cruised with Royal Caribbean 20+ times, and have sailed on most classes within their fleet. And I've also sailed with Norwegian Cruise Lines and have a Carnival cruise coming up shortly.
So while I tried my best to evaluate this Disney Wish cruise on its own merits, I will also make some comparisons to other lines and ships that I've sailed.
The Ship: The Disney Wish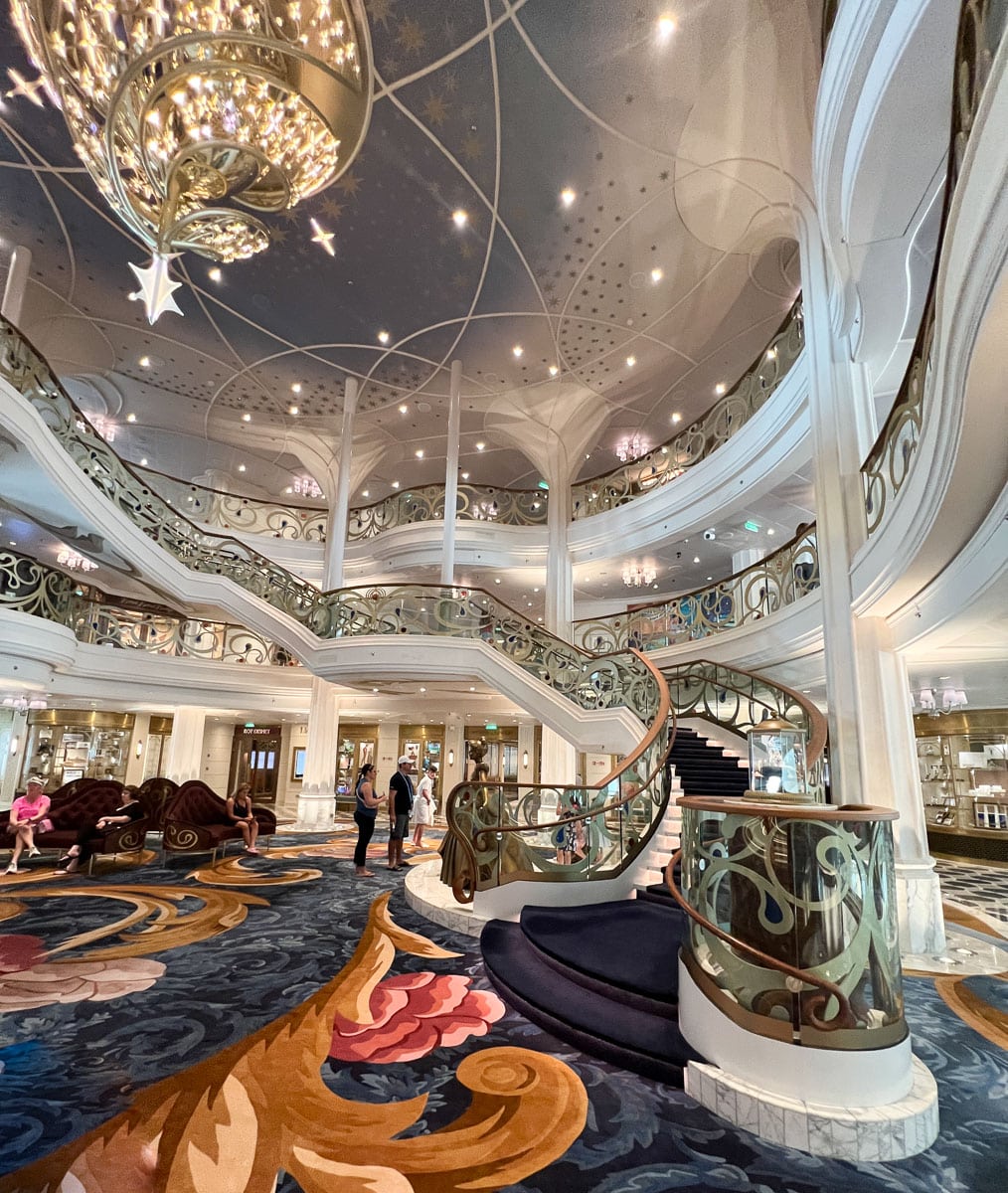 We sailed on the Disney Wish, the newest addition to the Disney Cruise Line fleet. And I have to say, it was really beautiful. Everything is incredibly well done from a design standpoint, and you'll find little Disney easter eggs hidden everywhere you look. From the wallpaper in the elevators to the carpets in the halls to the artwork decorating the walls – everything has a little touch of Disney inspiration. It's easily the most beautiful ship I've sailed on.
Regardless of how into Disney (or not) you may be, you have to appreciate the attention to detail and sheer world building that Disney is so famous for. It's my favorite thing about their theme parks too!
The Staterooms
Much like the rest of the ship, the staterooms were beautifully done and felt brand new. They practically are brand new, as the ship has been sailing for less than a year while I write this!
We stayed in a balcony room, which is what we typically choose on all cruises. We were in cabin 10158 and the exact category was "Deluxe Oceanview Stateroom with Verandah" in Category 5A.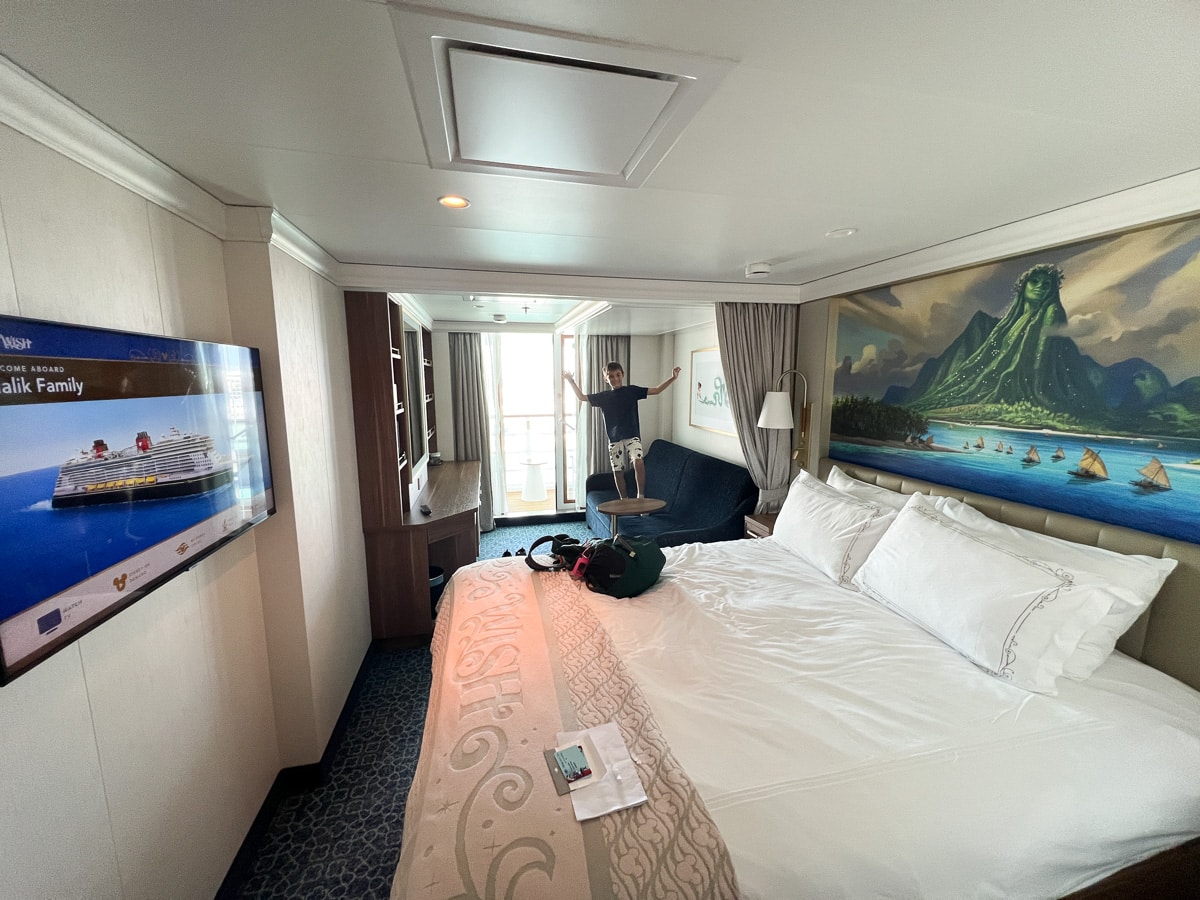 The interior layout of the room was very similar to what I've encountered on other cruise lines – there was a king sized bed, a single sized sofa bed, and a bunk bed that pulled down from the ceiling. It's meant to sleep up to four people.
The Wish also has some cabins with a double sized pullman beds that fold out from the wall – in rooms that are meant to sleep five guests. That's also a nice option to have for larger families and something I haven't seen offered on other cruise lines.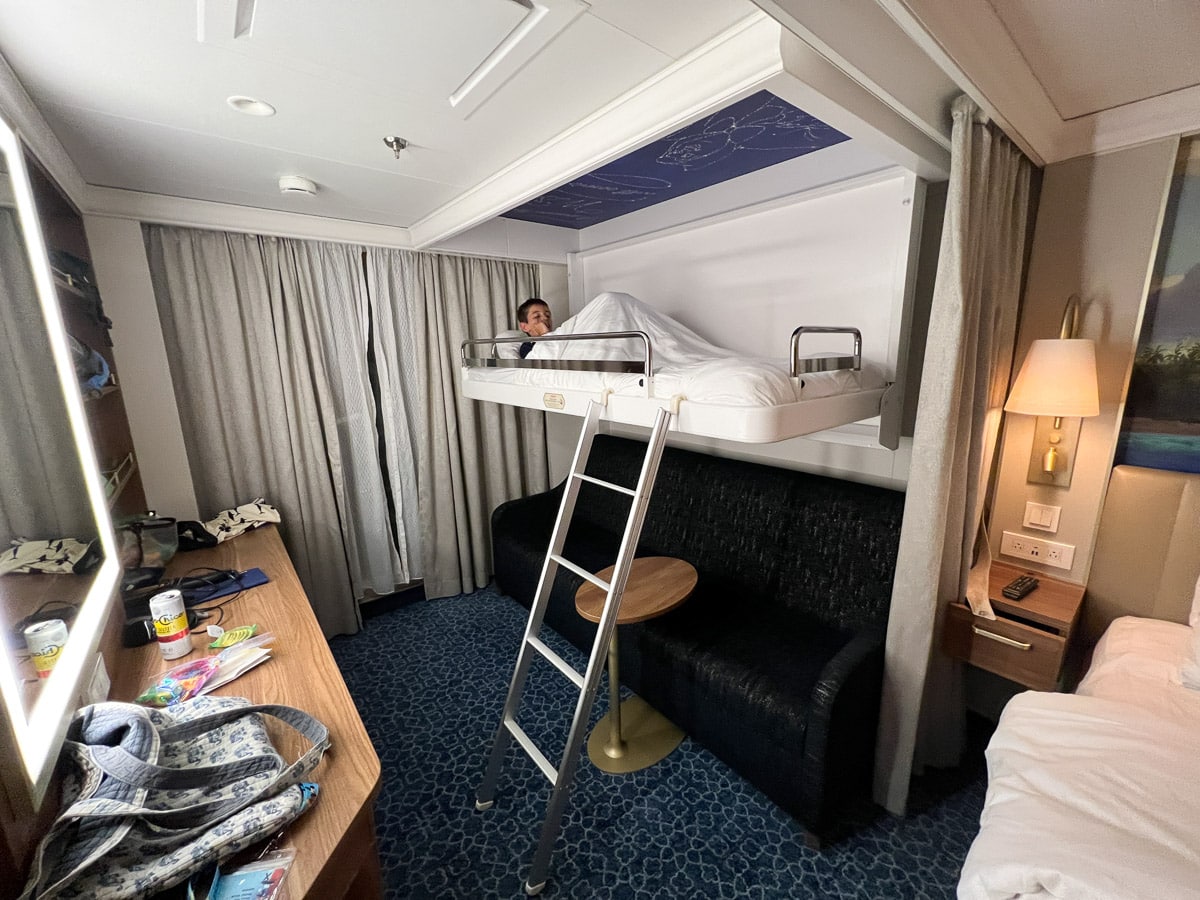 For this cruise, it was just me and my son, and he was absolutely delighted to sleep in the bunk bed! Our cabin steward stowed the bunk away each morning and set it up again each night, so it wouldn't be obtrusive during the day. Very thoughtful of her!
The balcony was a pretty typical size, and had two chairs and a small table. I love to sit on the balcony with a glass of wine in the evenings and really enjoy being able to watch as the ship pulls into port.
But the most unique thing about the room was the layout of the bathroom. They call it a "split bathroom", which actually consists of two small rooms. One is a water closet with a toilet and sink. The second has an additional sink plus a bathtub/shower combo. It is very unusual to find bath tubs in non-suite cabins on other cruise lines – so that's a really nice bonus when travelling with kids!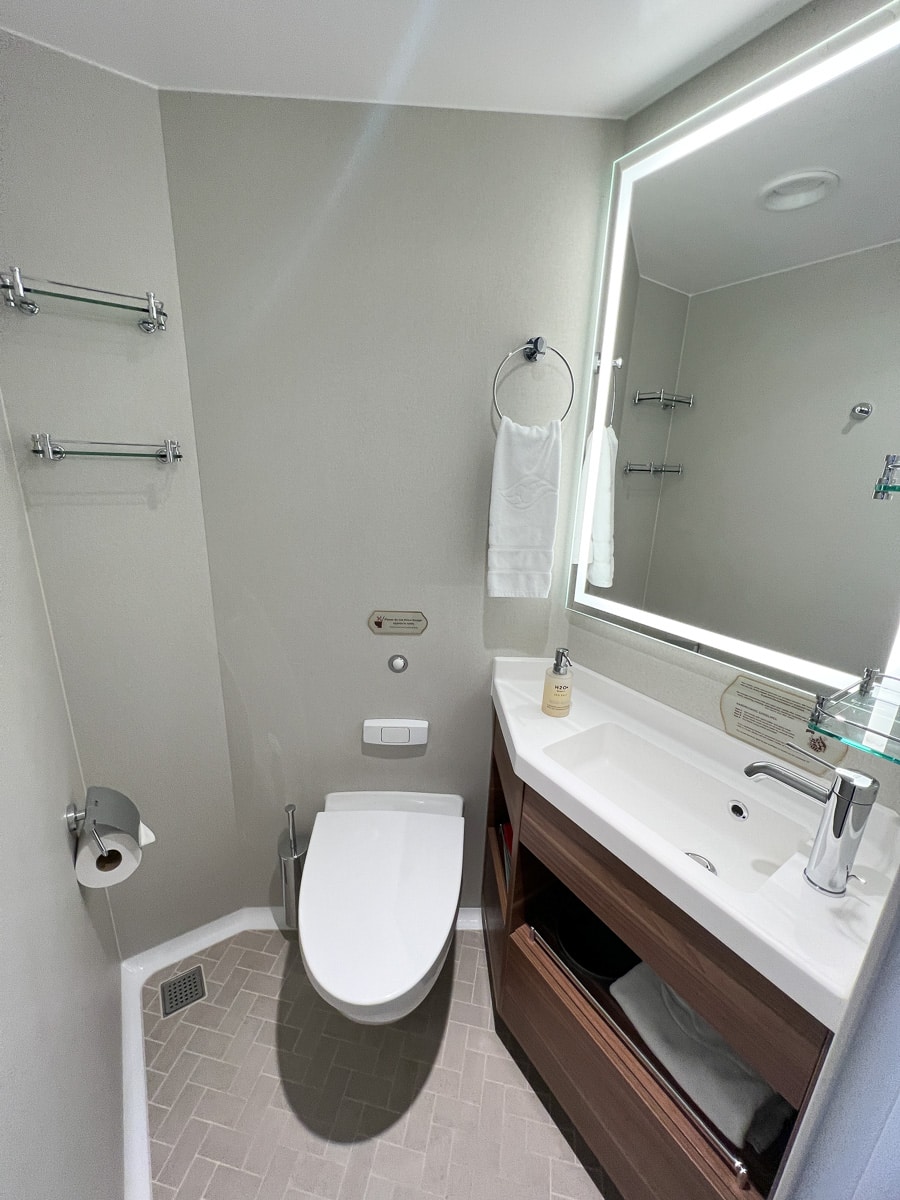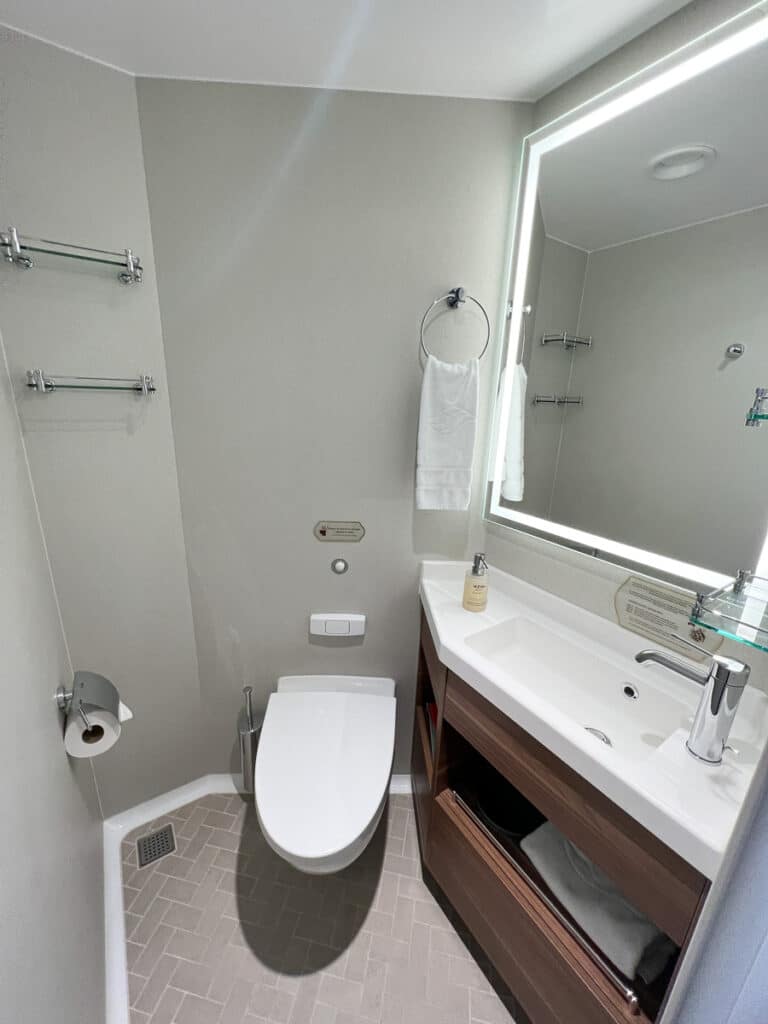 The room also had lots of little creature comforts. There were USB charging ports on both sides of the bed, plus a light and charging port in the bunk bed as well. There were outlets at the vanity, a real hair dryer (not the wall mounted kind), and they even provided a heat resistant mat to set your hot styling tools on. And the bathroom had great toiletries that you would actually be willing to use on your hair – definitely better than I've had on other cruise lines.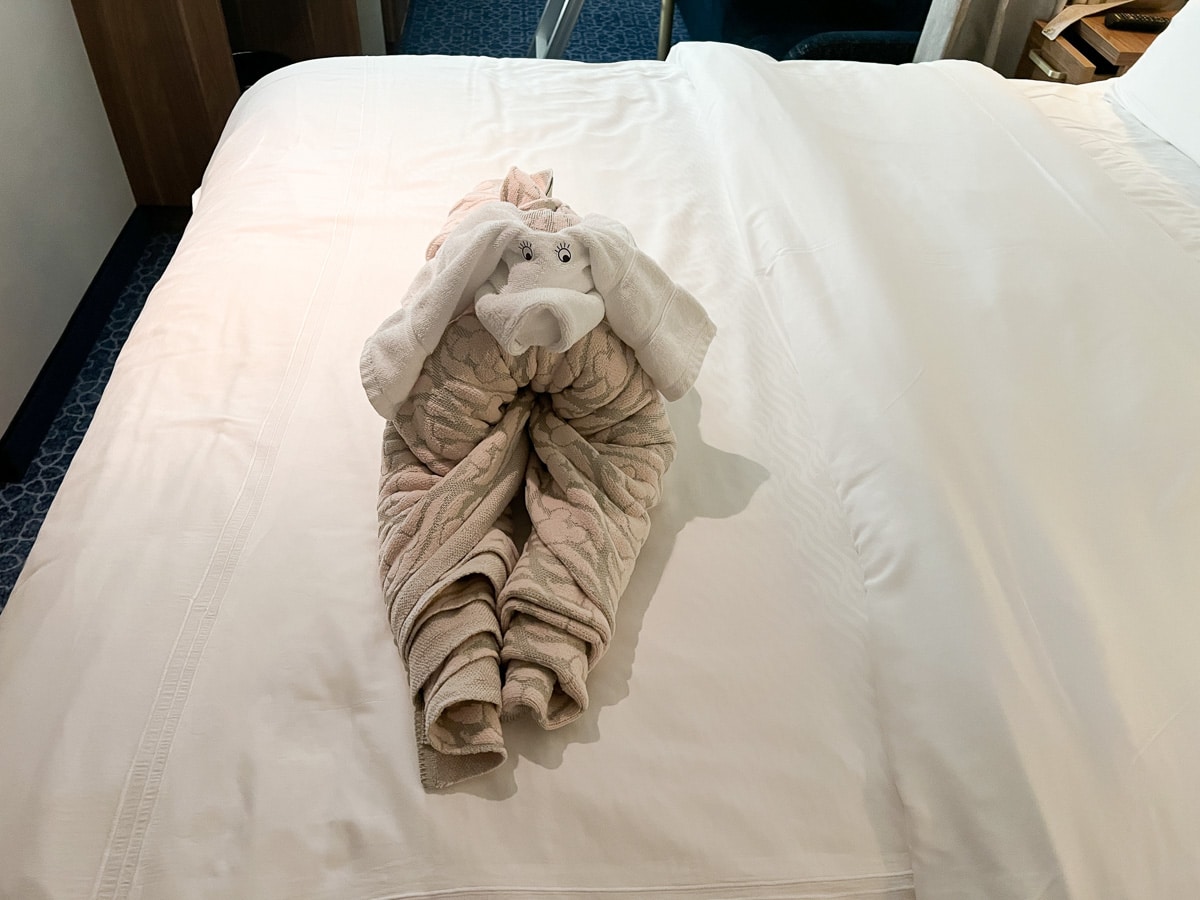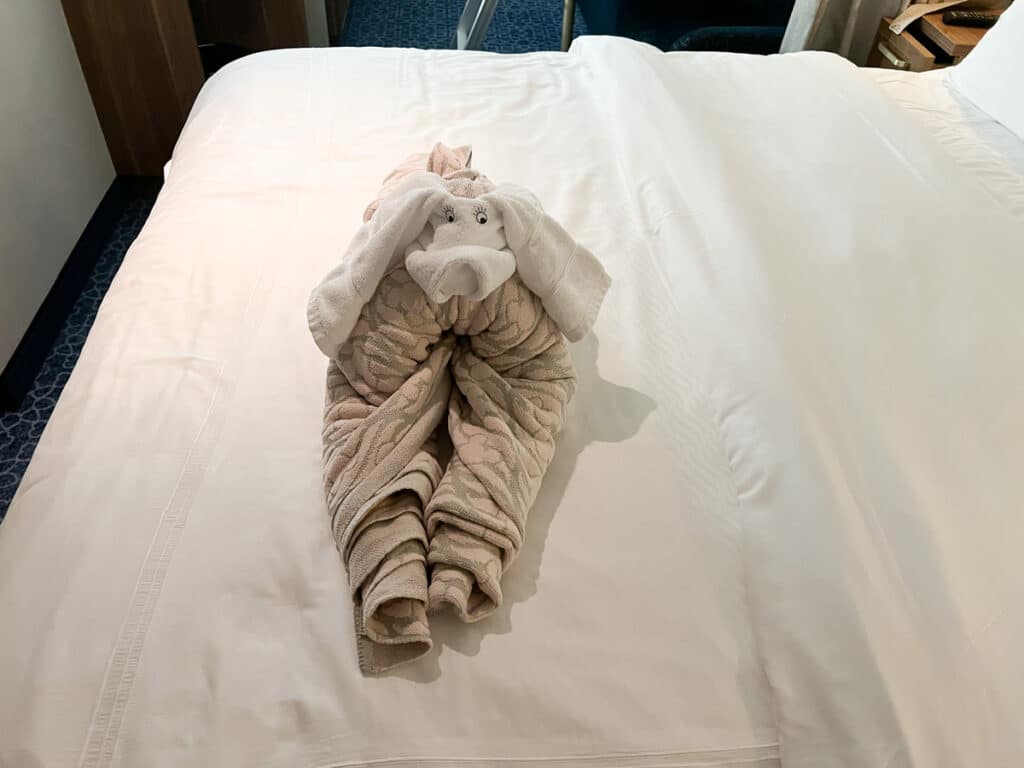 Our cabin steward was fantastic. She serviced the room twice per day, making sure we had fresh towels and putting the bunk bed up and down. And every evening, she left us a new towel animal and chocolates. Many other cruise lines have cut back to just once per day, so it is nice that Disney has kept this extra service level in the cabins (so far).
The Weird Disney Wish Pool Deck
Now here is where my first complaint comes in. (Sorry – it had to happen.) The layout of the pool deck on Disney Wish is very… let's say odd. There is no main pool at all. Instead there are several small sized pools sort of scattered around the deck area.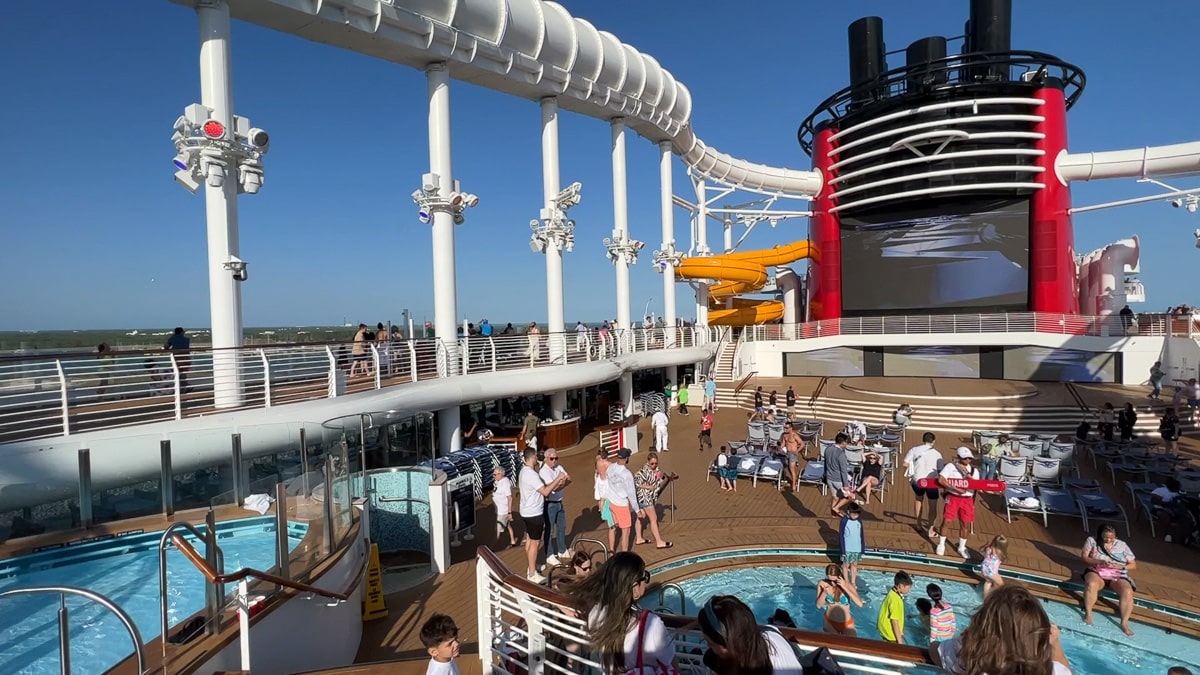 This means there is really no ability to sit by a pool and watch your kids. You can sit in the middle of the "pool deck" and watch a movie on the big screens, but you won't be able to see the pools very well at all. Or you can go in the crowded and very much kid-sized pools with them.
There is also nowhere that you could really sit to watch kids on the water slide or Aqua Mouse (I'll explain what an Aqua Mouse is in a minute!). The only way to supervise is to go stand next to the slide in the middle of a walkway. Not very relaxing at all. 
Ok, so let's say you are fine with your kids being out of sight. There are life guards after all. You're going to plop your behind in a lounge chair in the middle of the deck anyway. Well… have fun sitting in the half sized chairs. Yep, they aren't lounge chairs at all, since there is no bottom part for your feet. I guess they do fit a lot more chairs on the deck that way – but they are not comfy at all.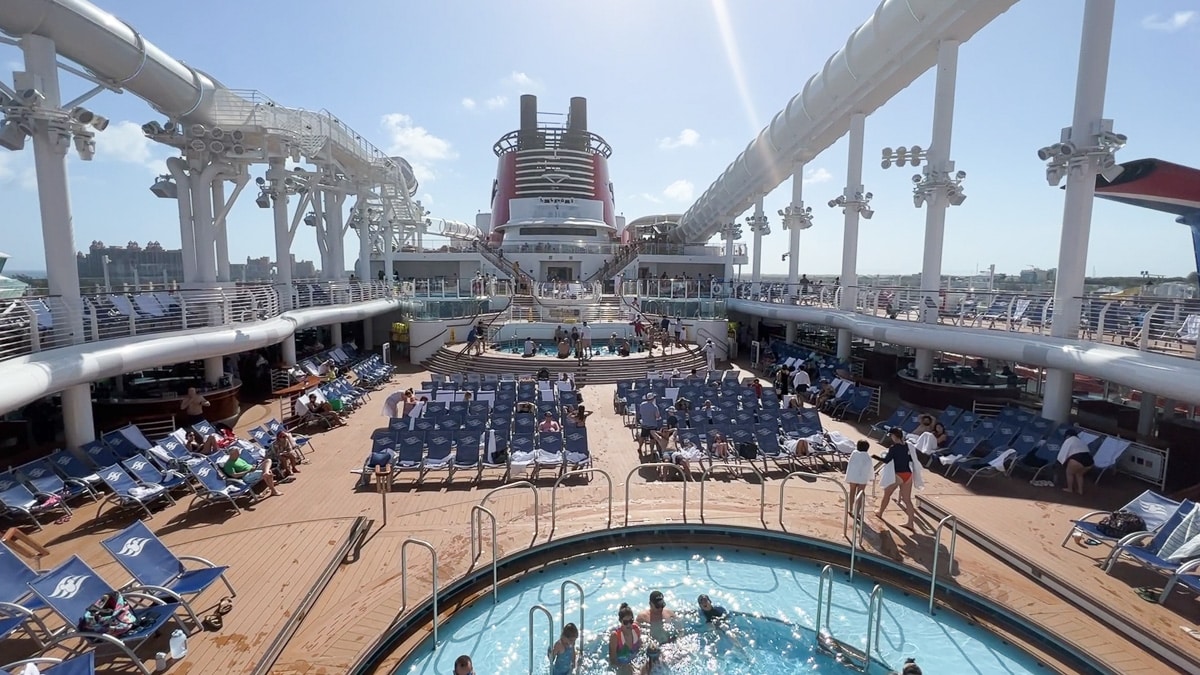 We ended up not spending a whole lot of time at the pools because the layout was just so weird and uncomfortable. That was a bummer, as we had expected our first full day on board to be mostly a pool day.
Note that there is also a larger adults only pool area on The Wish, but since we like to actually spend time with our kids on vacation, we didn't get a chance to check that out.
Also – no hot tubs in the family friendly areas either.
Oh, one thing I need to mention here is the towel situation. If you've cruised other cruise lines, you are probably used to having to "check out" towels with your room card and check them back in. I hate this. I hate having to keep track of a dirty towel so I don't get charged some obscene price for losing it. Well Disney simply has a cabinet full of towels to use as you wish. No checking them in or out. I love that.
The Onboard Activities
Alright, let's move on to the other onboard activities. The big feature of the Wish is the AquaMouse which Disney bills as the first "Disney attraction at sea". It's essentially a floom ride. You ride in a two person raft through an enclosed tunnel where there is a movie showcasing a story about Mickey and Minnie, and then ride through a clear tube around the outside of the ship.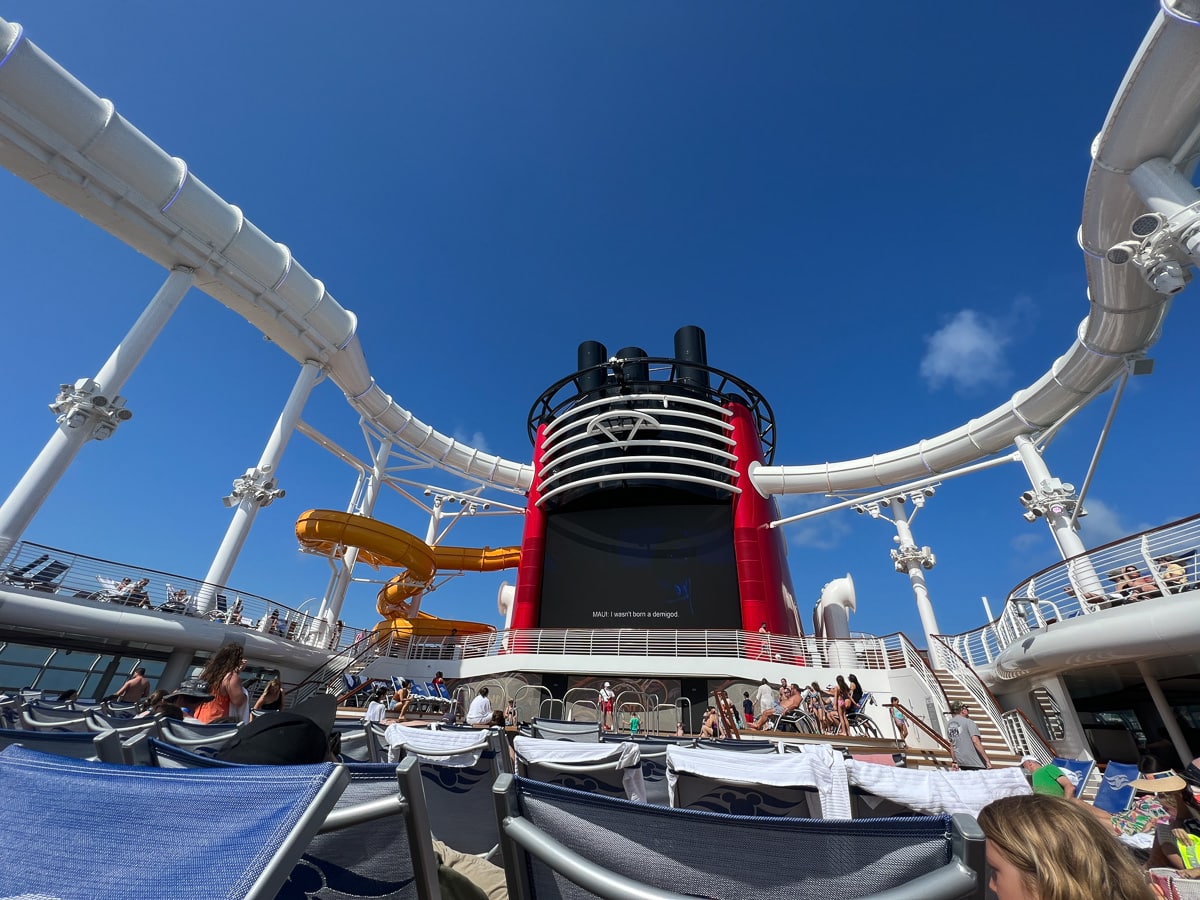 The AquaMouse is neat. I can't really say it's mind blowing, but it is definitely a novel idea. But like most theme park attractions – you can expect to wait in line. A long line. It was over an hour wait to ride for most of the three day cruise. If you want to ride it with the shortest wait time, go immediately when it opens up in the morning.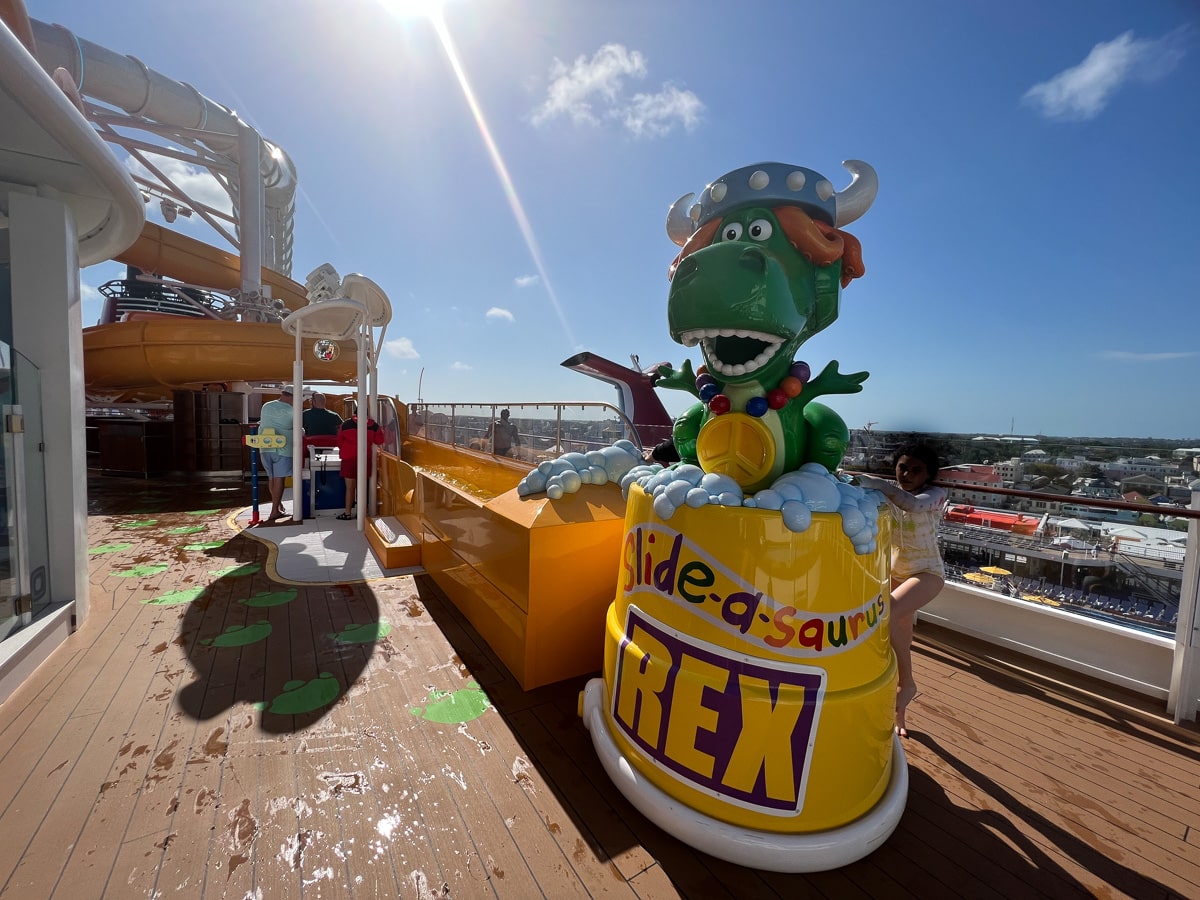 Besides the AquaMouse, there is the Slide-a-saurus Rex, a more classic spiral water slide. That one also had some wait times but nothing too crazy – but it was also on the slow slide. My son went down a few times and then lost interest, which was also a bummer.
For babies and toddlers still in diapers, there was a small enclosed water play area with some small slides and splash pads. Like all cruise ships that leave from the US, kids in diapers can not use the swimming pools at all.
There was also a huge movie screen out on the pool deck, which was playing Disney movies practically all day and night. I personally would have liked some island jams at the pool instead, but your mileage may vary.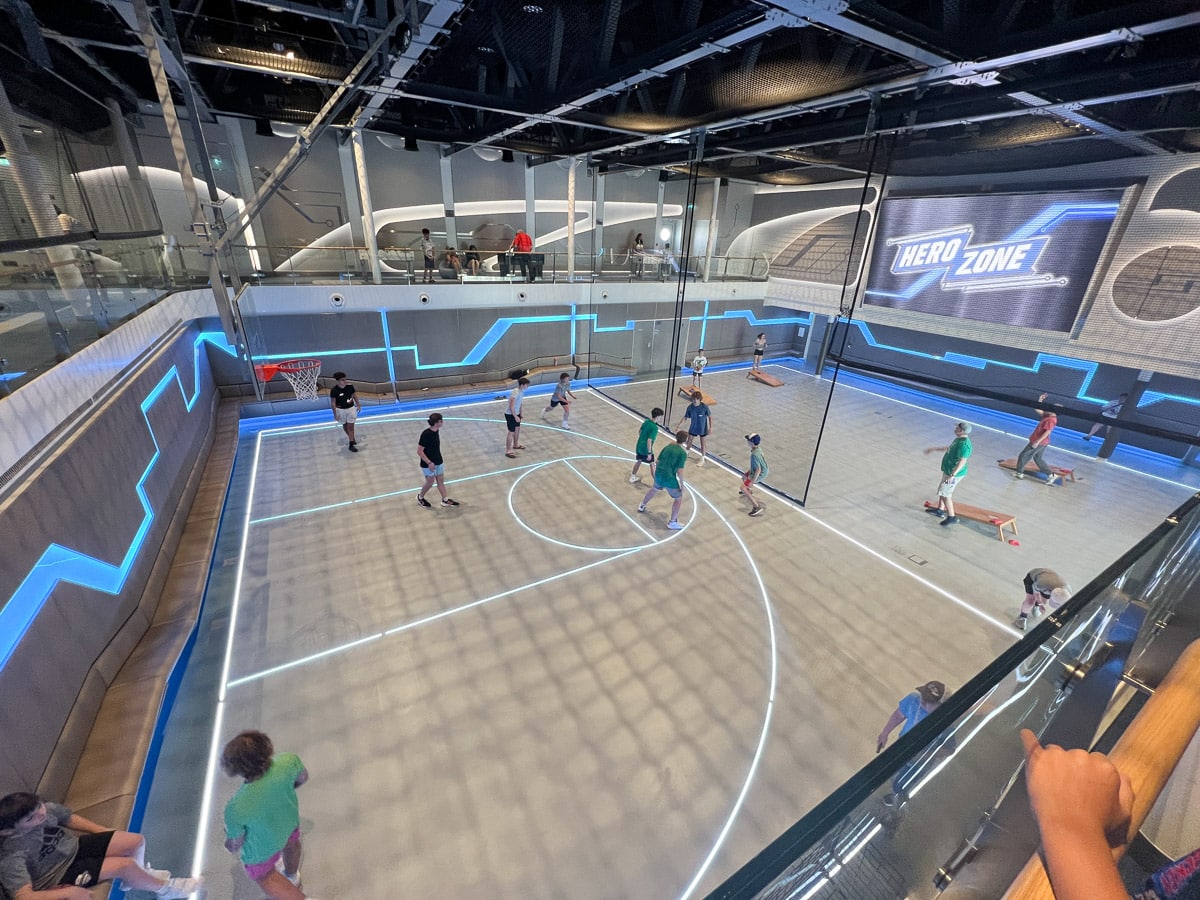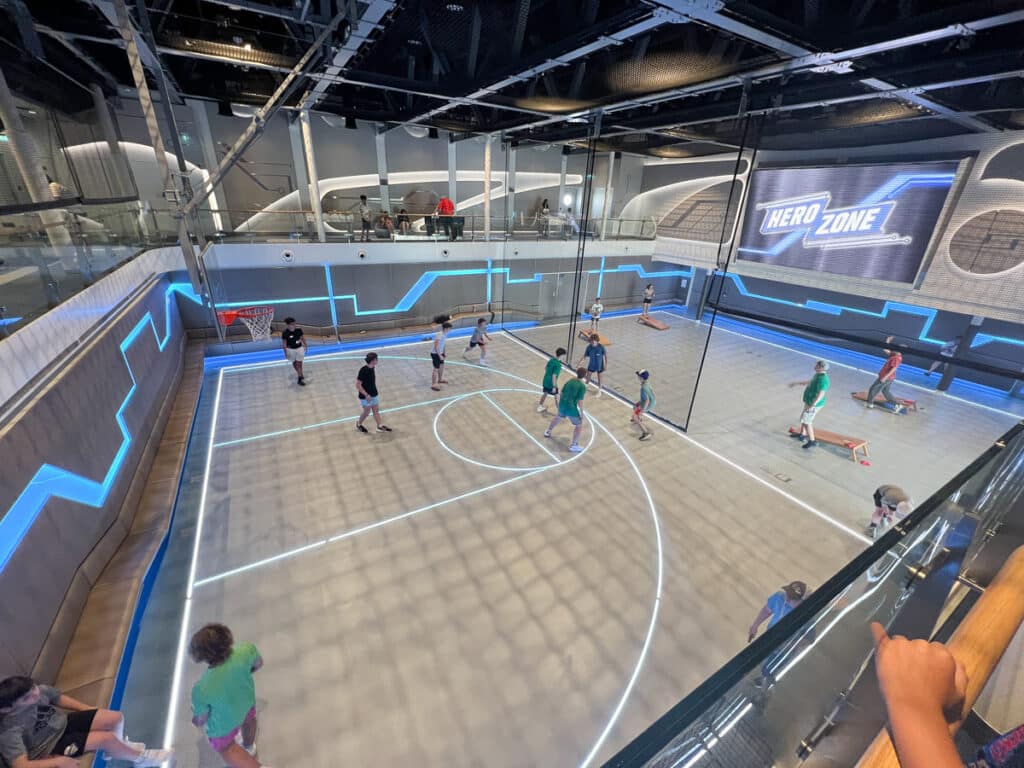 Moving on from the pool area, my son's favorite spot on the ship was the Hero Zone. For you experienced cruisers, this is what we would call the "sports deck". There was an open area for basketball and other sports on the lower level, an upper level with foosball and air hockey tables (although all of the air hockey tables were out of order), and a room full of table tennis tables.
This was definitely a fun spot for kids to hang We played about a gazillion games of foosball, and that is the one thing we never had to wait in line for.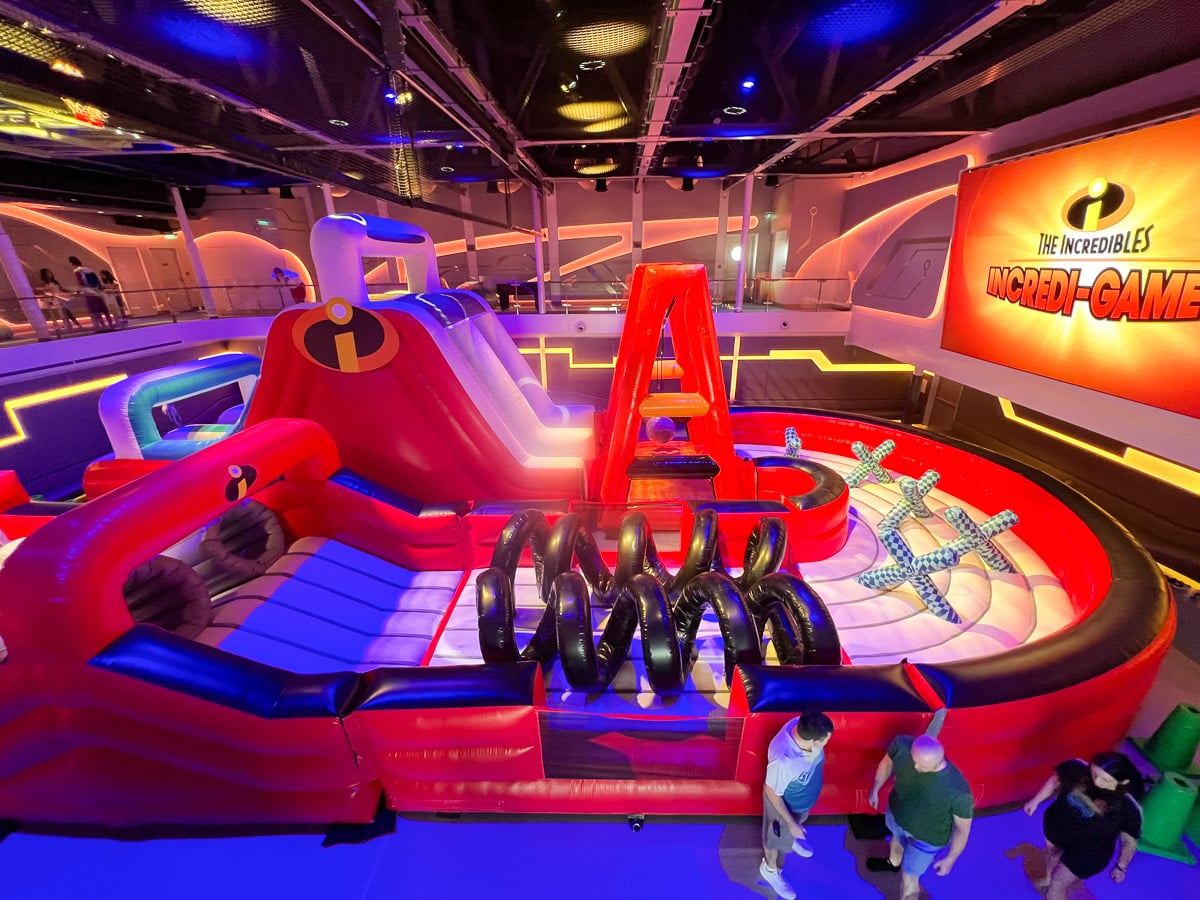 On Day 2 of our cruise, they offered The Incredibles course, which is a big inflatable obstacle course. This was really fun! But it is important to note that this gets set up in the sports deck. So it is only available for the one day and takes that space out of commission for the day as well.
Regardless, it was fun and my son and his friend did it a few times before the line got too long. Again, go as soon as it opens for the shortest wait times. We learned that Disney people like to queue up early.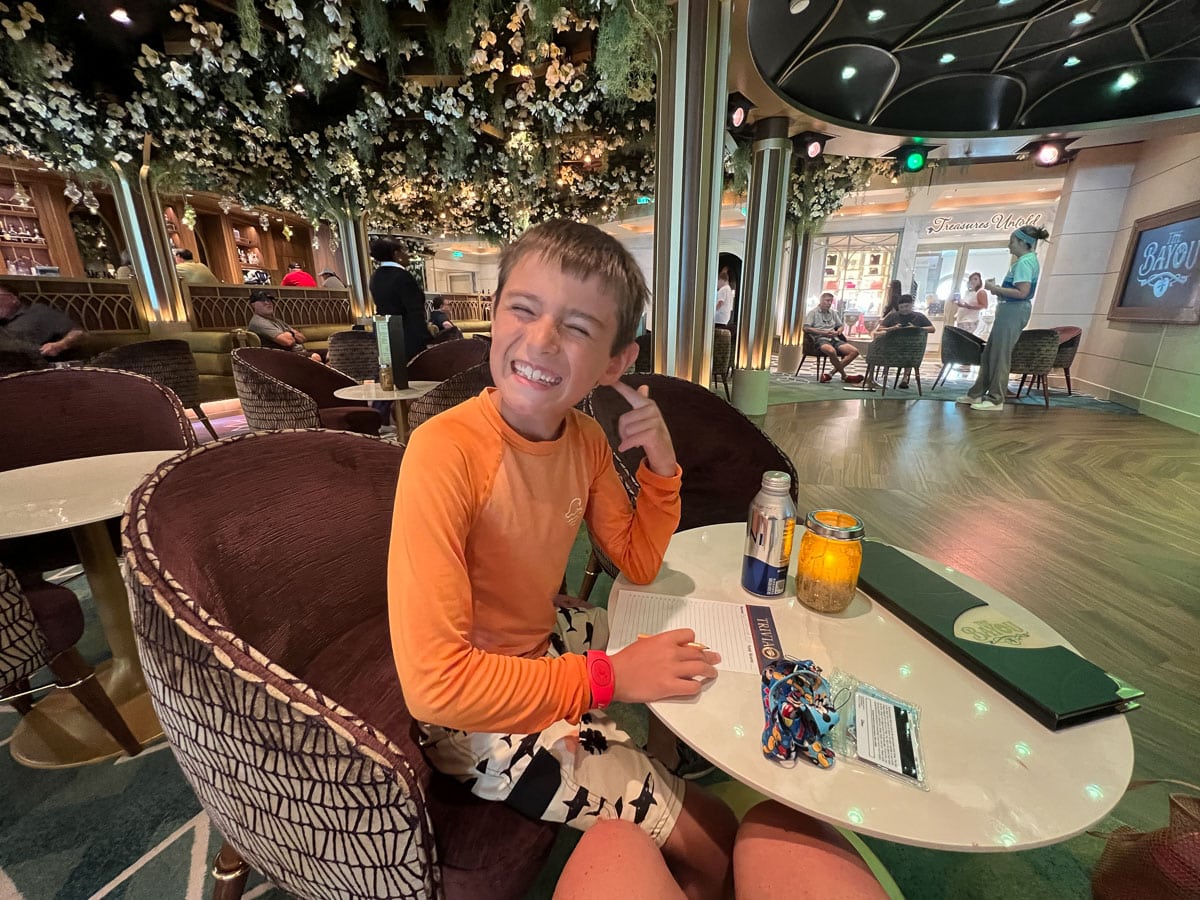 Besides these activities, there were the usual cruise ship goings-on like Bingo and trivia games. We did both. Most of the trivia games were Disney themed, so brush up your Disney facts before going.
And Bingo was actually much more fun than I anticipated. They held Bingo in the Luna lounge and the lady organizing was very funny and entertaining. It did cost me $50 to participate though – so plan accordingly!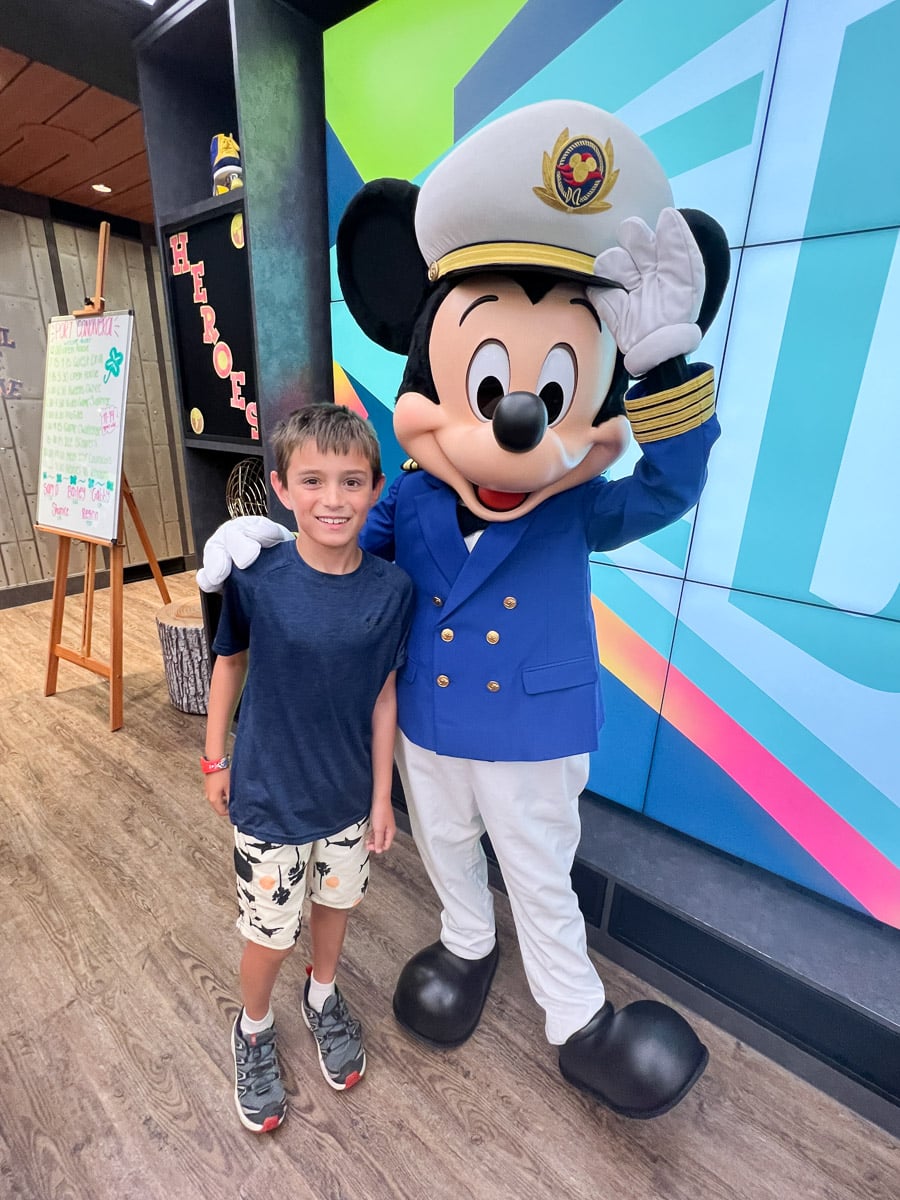 There were also character interactions and meet-and-greets around the ship. My son is not into that at all. But there were times listed in the schedule and guests queued up very early for these as well.
The times slots for character photos are frequent but pretty short – and they cut the line off after a certain number of guests. So if your kid is dying to meet a particular character, make sure to get there early.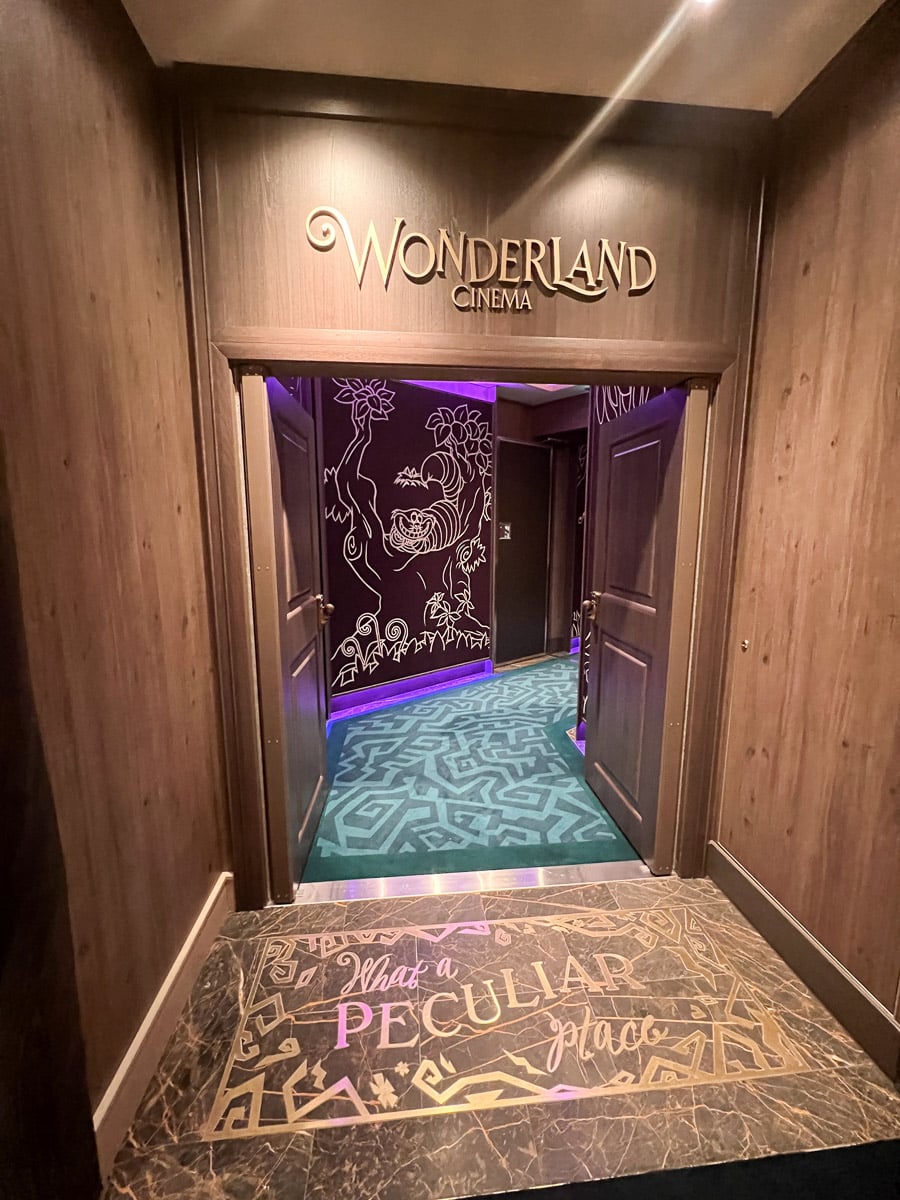 Oh, and there is also a movie theater on the ship, screening Disney movies all day long. Unless you find yourself with a rainy day, I can't imagine sitting inside a dark movie theater on vacation, but it's there if you're into that sort of thing.
One important thing to note is the very conspicuous absence of a casino. That's fine with me, as I'm not a gambler. But for many people, cruising is synonymous with gambling, so good to know that there are no casinos on Disney cruise ships! There is also no arcade, which I appreciate, since I hate spending money in those too.
The Evening Entertainment & Activities
Now let's talk about the evening entertainment options. The big selling point here is the Walt Disney Theatre, and they definitely live up to expectations with this one. Each night there is a headliner show with two showings, one for the early dinner seating guests and one for late dinner seating.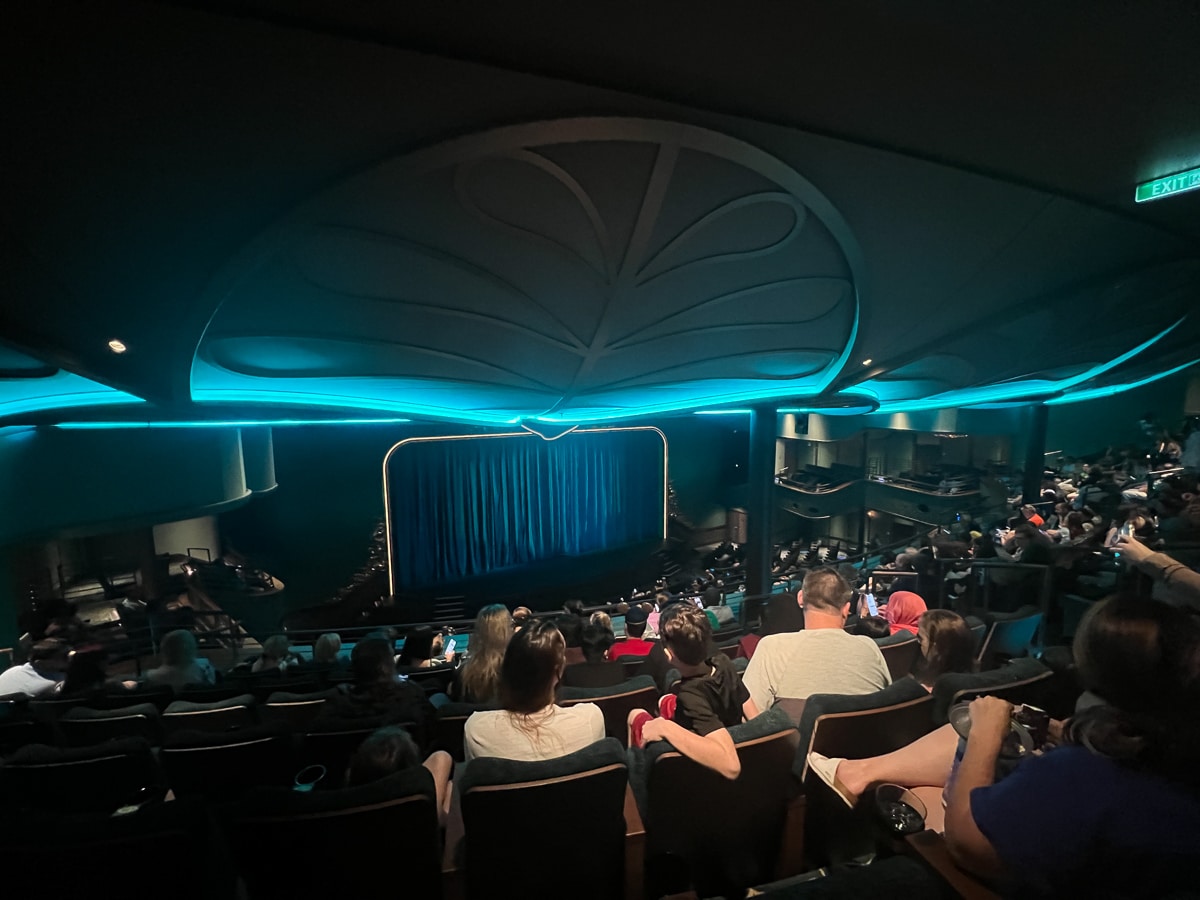 The first night there was a welcome aboard type show hosted by Captains Mickey and Minnie. It was very cute and only about 30 minutes, so a good length for kids. The second and third nights featured The Little Mermaid and Aladdin respectively, which were each about an hour long.
My son wasn't into the shows, but there's no doubt that the production quality was what you would expect for Disney. Really impressive and beautifully done. On most other cruise lines, you'll find that the headliner shows are more geared towards adults than families with kids, even on very family friendly cruise lines like Royal Caribbean. So it was nice to see high quality productions that were meant for the kids. This is an area where Disney shines!
Besides the featured show each night, there were a number of late night activities. I actually think they did a great job with this. There were family friendly versions of many of the games you find on other cruise lines – like a G rated version of the popular Quest scavenger hunt game. We participated in a bunch of activities like the scavenger hunt, name that sound, and even ended up on stage in the Family Time Game Show. 
Compared to other cruise lines, there were a lot more family friendly activities going on in the after dinner hours, and I loved that.
Pirate Night!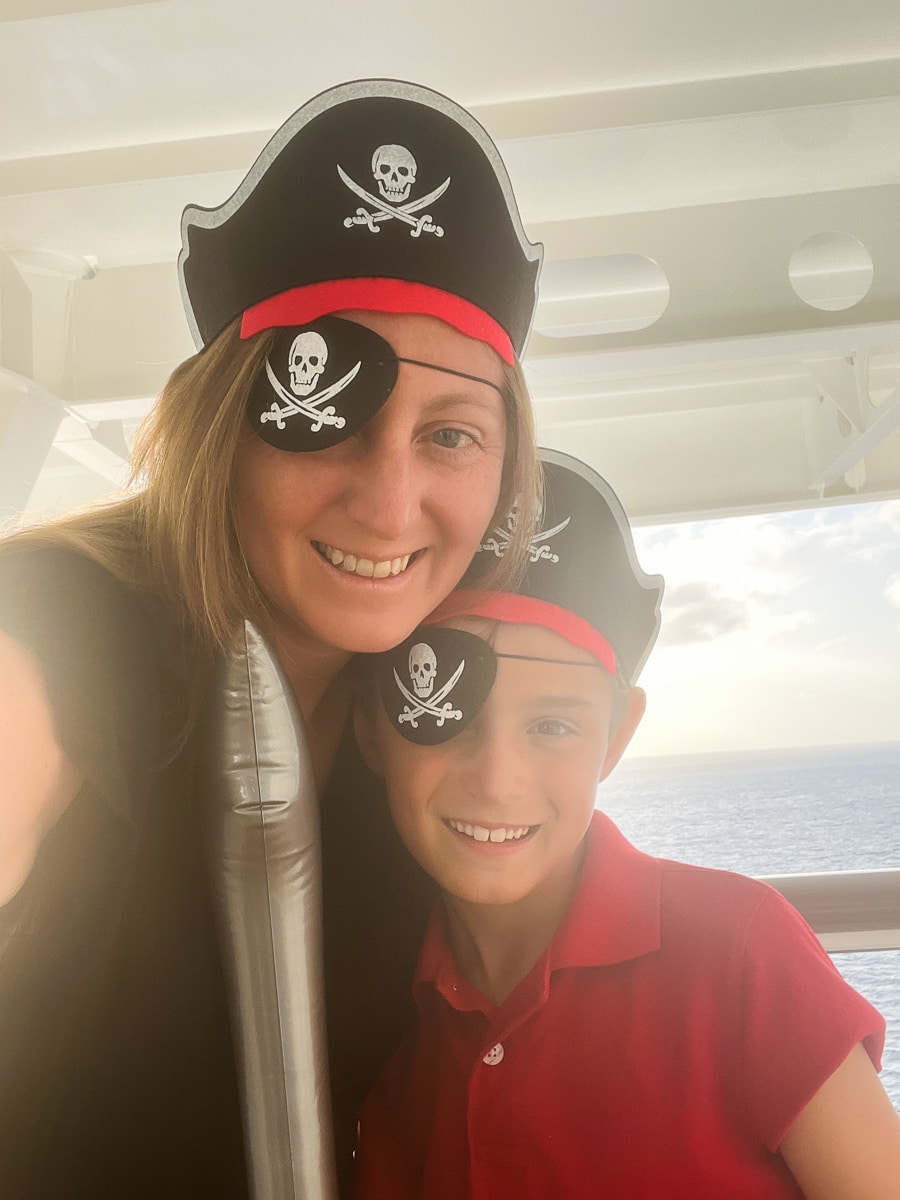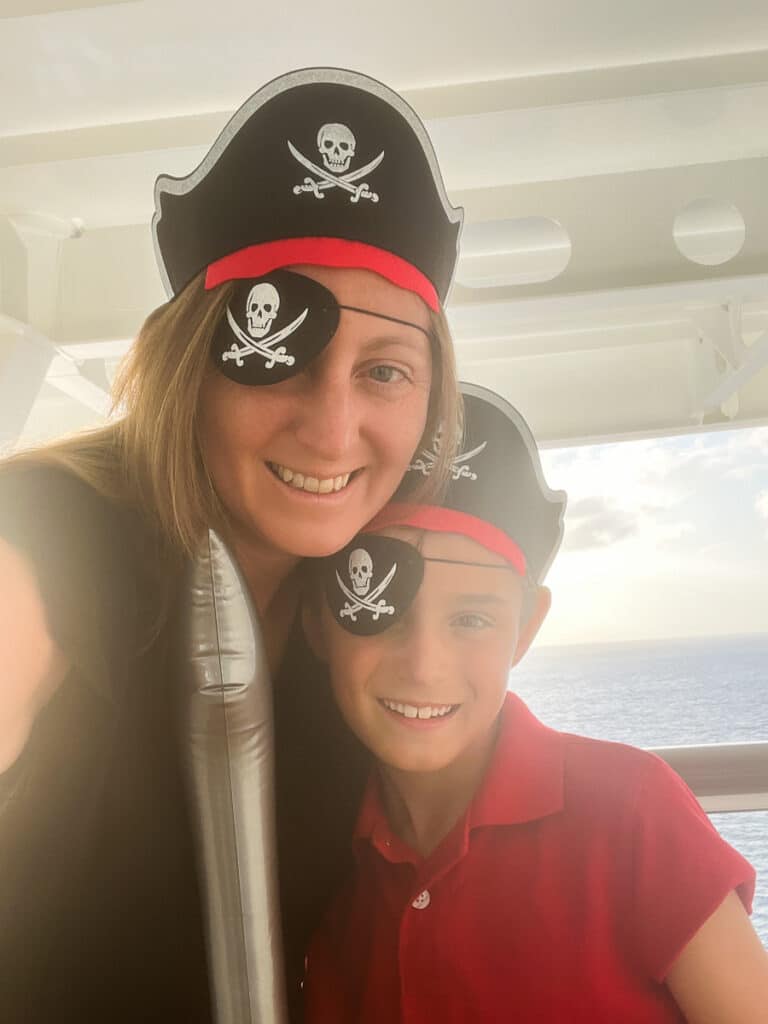 The "big event" for our sailing was Pirate Night, which happened on the second night of our cruise. And pirate night is a big deal on Disney cruises! You are going to want to dress up or you will feel left out for sure.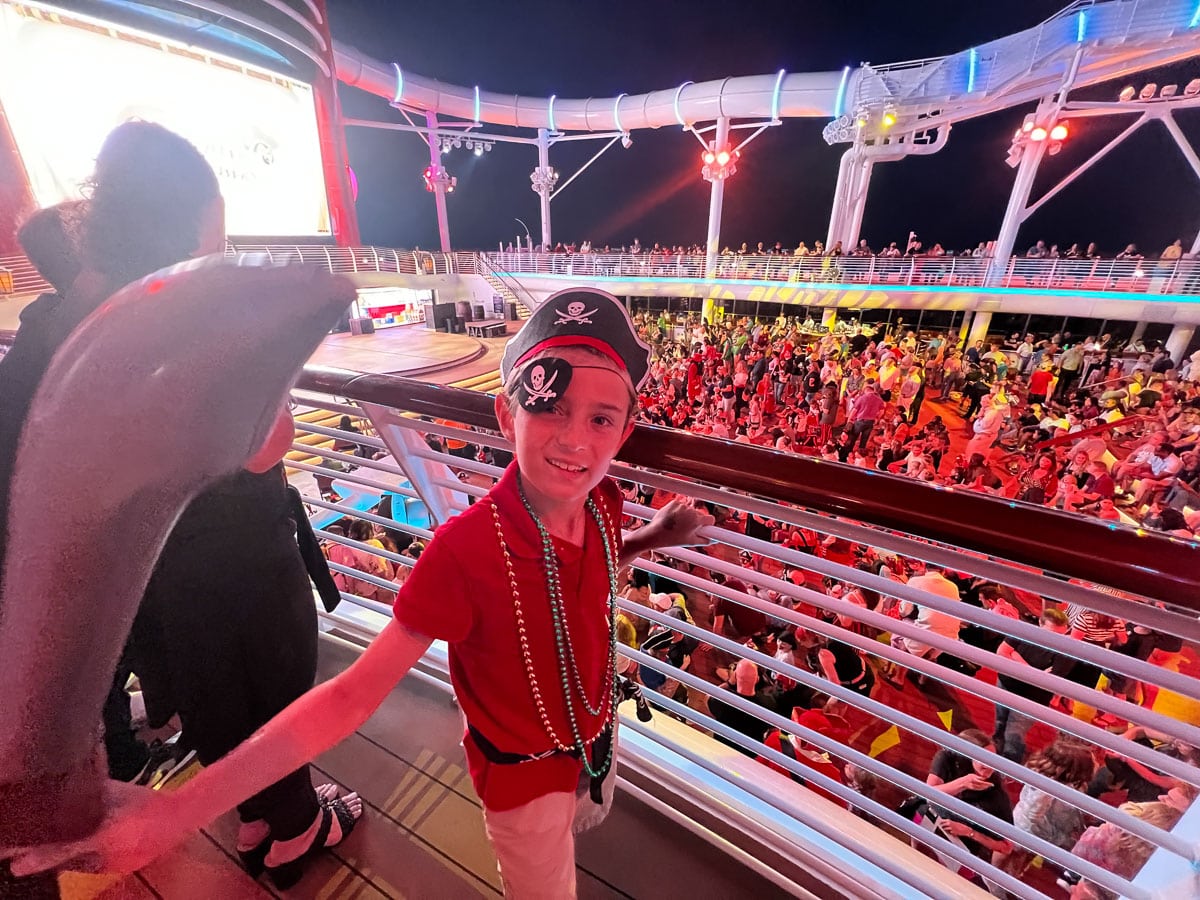 This was really great fun for the kids. We dressed up in our best pirate regalia, complete with pirate tattoos, and hit the pirate party on the pool deck. After dinner there were even fireworks – definitely the first fireworks I've ever seen at sea!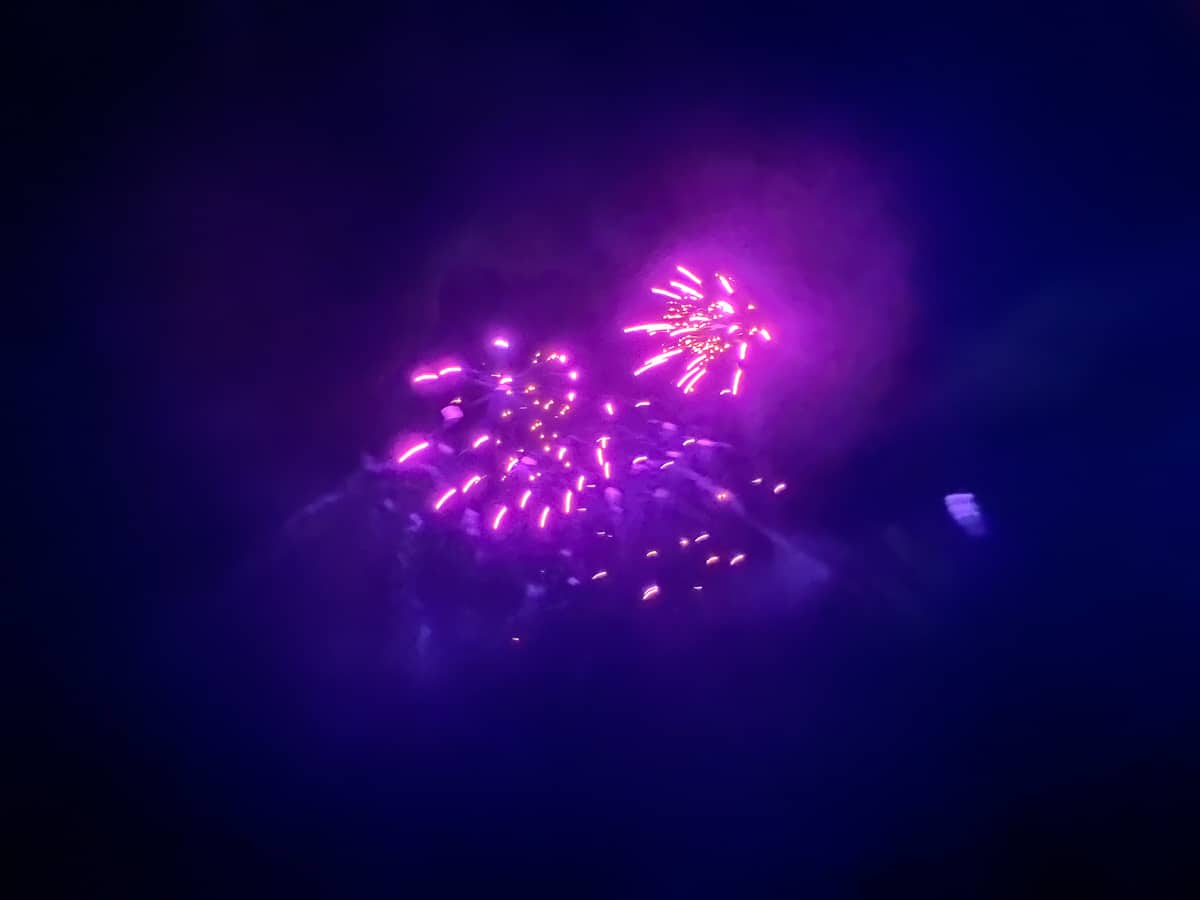 All About the Food on Disney Wish
So I have long heard from loyal Disney cruisers about the spectacular food on Disney cruise ships, so I had really high expectations here. And unfortunately, this was a disappointing area for me.
Breakfast
So let's start with breakfast. You have two main options here – there is one sit down restaurant open for breakfast and there is a buffet at Mercaline Market. Most cruisers opt for the buffet.
The buffet line was absolutely insane by 9am, so be sure to get up and go early. The food is behind glass and servers plate it for you, so it is rather slow and awkward to get through the line. (Although more hygenic!) Definitely not what I'm used to. There were a couple stations where you could grab some cereal or a bagel on your own without waiting in the whole buffet line.
The Mickey waffles were adorable of course, and all the food was decent. But compared to the buffet on Royal Caribbean ships, it felt like there were half the options and three times the wait time.
There is also nowhere on the ship that you can grab just a quick pastry or fruit cup or something without going to the buffet, which is a big miss versus most other modern cruise ships. A few grab and go items at the coffee shops would have gone a long way.
Oh, and while there is 24 hour room service, there were no breakfast items on the room service menu. I was told by another guest though that there was supposed to be a card in the room to hang on the door for a continental room service breakfast. We didn't see one of those in our room and this information was not listed in the app, so we missed out on trying that option. 
Lunch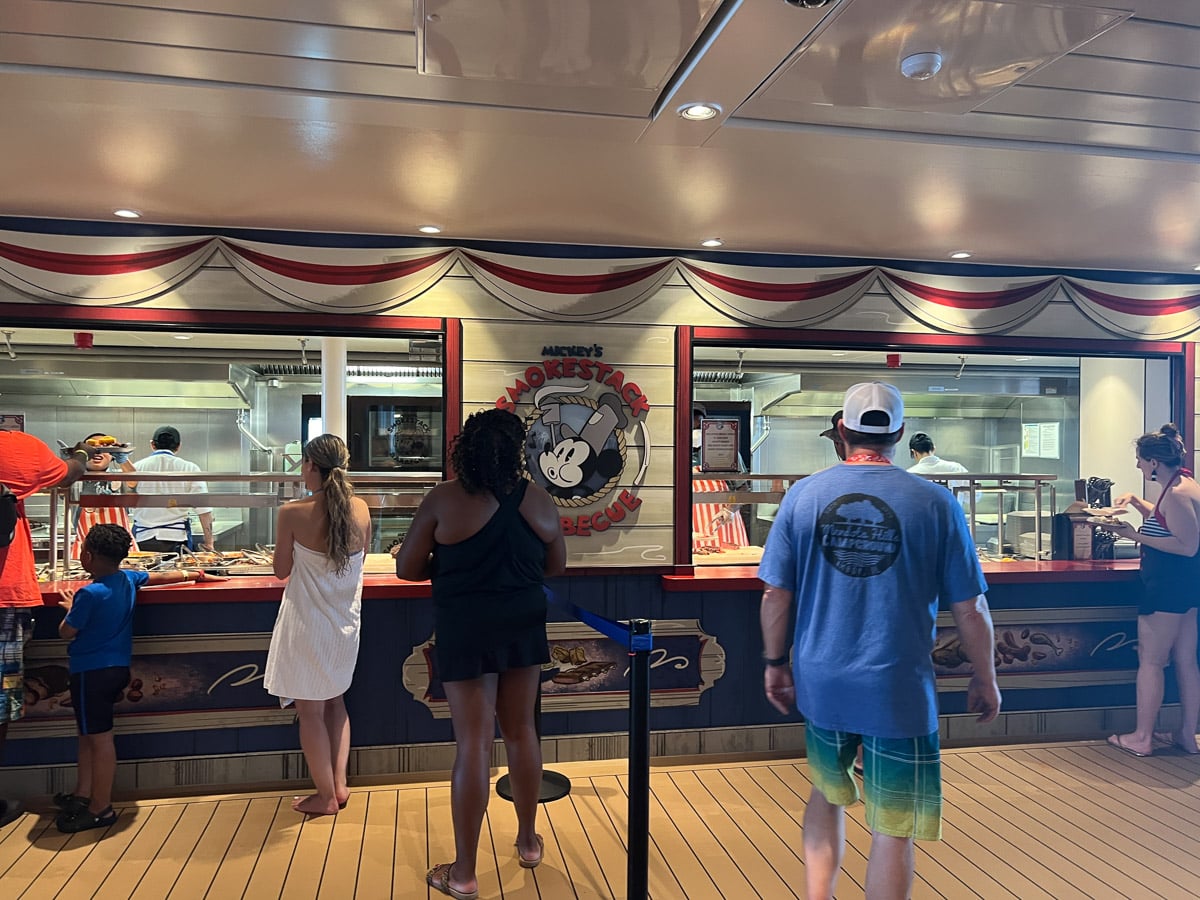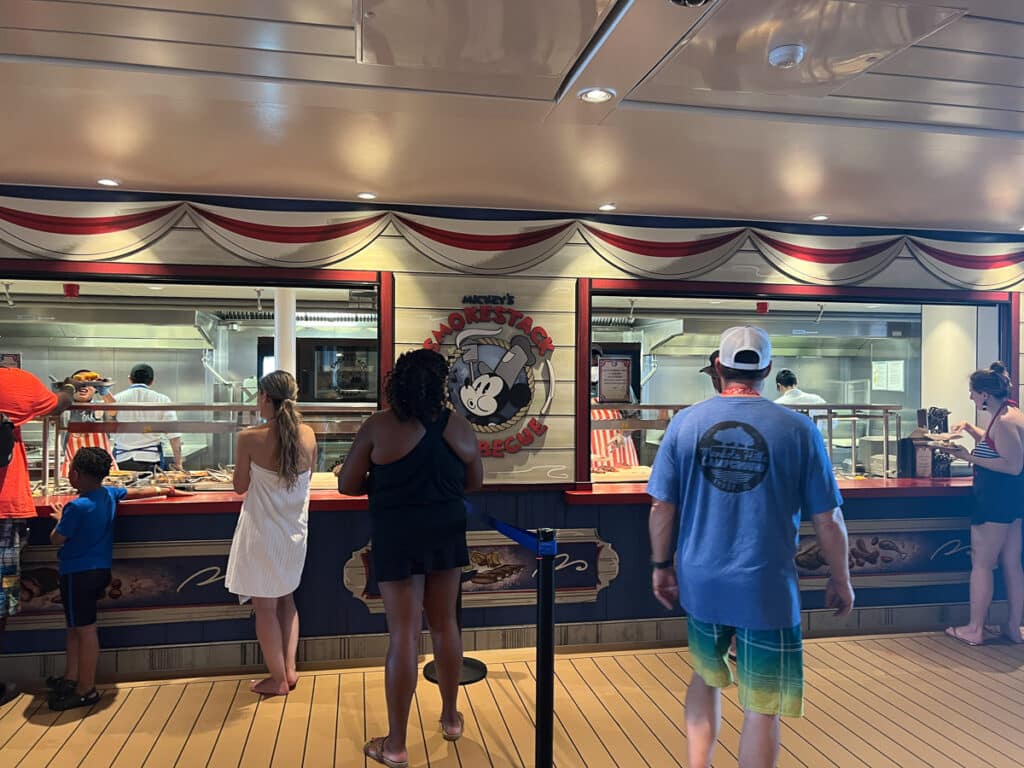 Now let's talk lunch. In my opinion, this is where The Wish had the most variety of options and best availability. There was one sit down restaurant open for lunch each day, the buffet at Mercaline Market, and several quick service options at the pool deck. The pool deck food stations had thing like pizza, chicken fingers, and barbecue.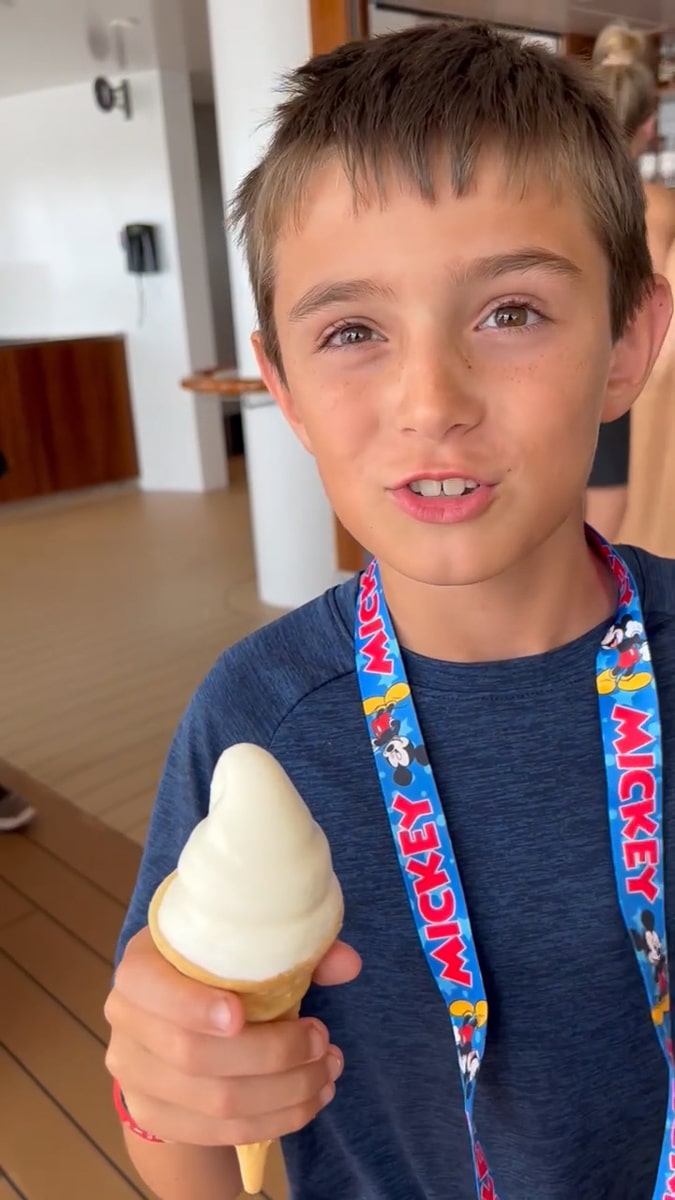 And of course there are free flowing ice cream cones on the pool deck as well, from early morning to late night. This is a cruise ship staple and is just as much fun on the Disney Wish as every other ship.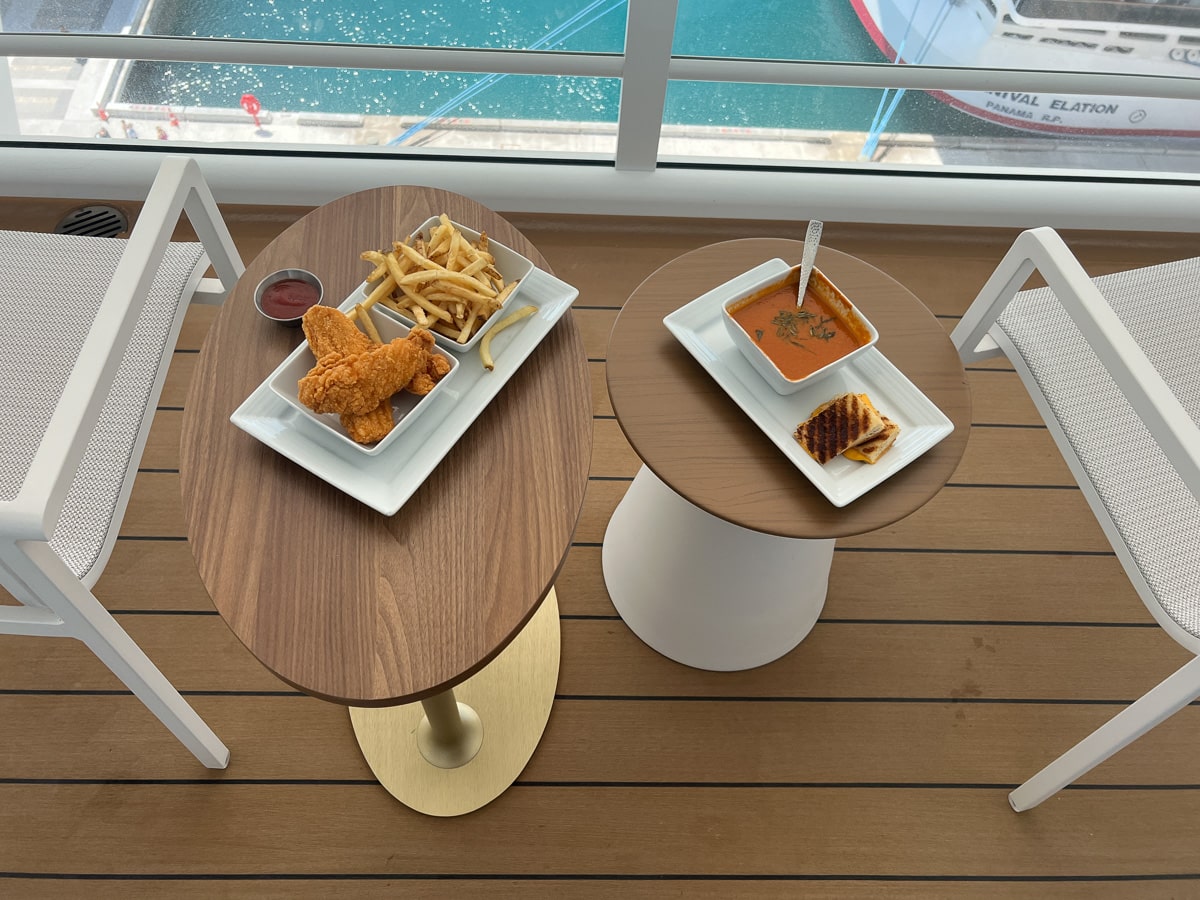 We actually tried out room service for lunch one day and enjoyed eating out on our balcony! This may have actually been the best tasting food we ate all weekend. And it came really quickly. Room service food is free on Disney cruises, but remember to tip the delivery person!
Rotational Dining for Dinner
So let's move on to dinner, which we all know is really the most important meal of the day. Dinner is usually one of the big highlights on cruise ships. But sadly, dinner on The Wish was a big miss for us.
First, let's talk about the restaurants themselves. Disney does what they call "rotational dining" on The Wish. There are three main restaurants and you eat in each one once on your three night cruise (one gets repeated with a special menu on the four night sailings). You get assigned your dinner rotation when you board the ship. This is definitely a fun concept, and we were excited to try it.
The Marvel Restaurant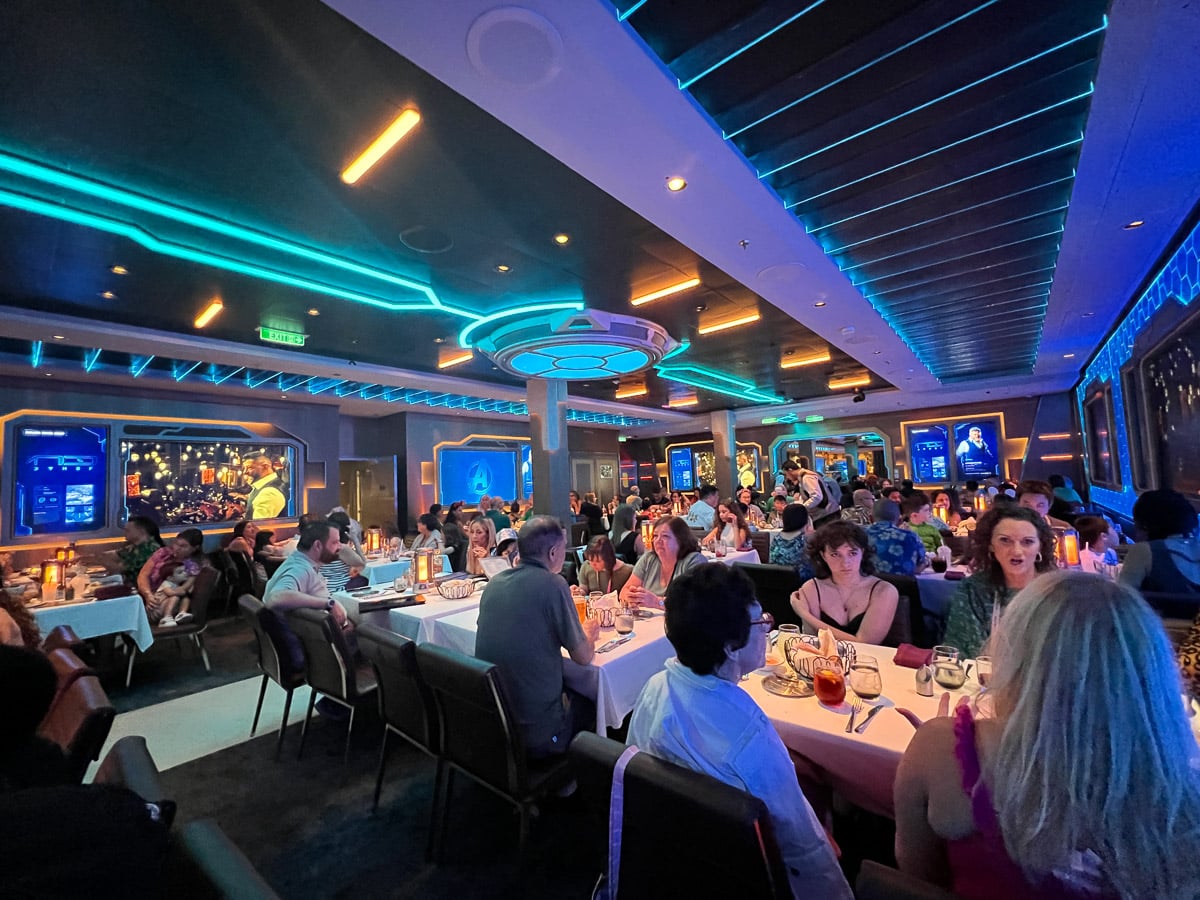 The first night, we dined in the Marvel restaurant. It as a fun space with an interactive show playing on the TV screens, and the kids had fun pushing the buttons to the table lanterns to participate. This was my favorite of the three restaurants.
Here are the menus from Marvel. (You can click them for a larger view.) :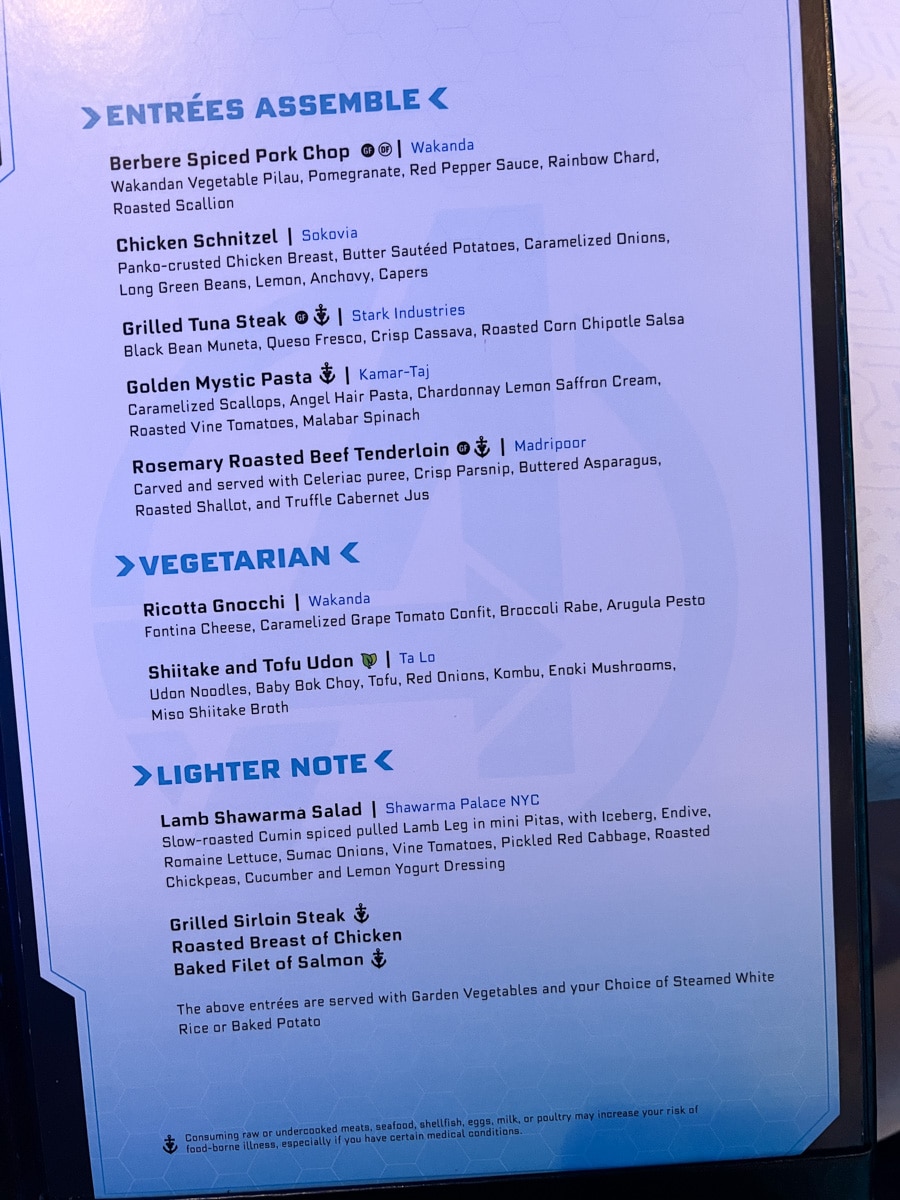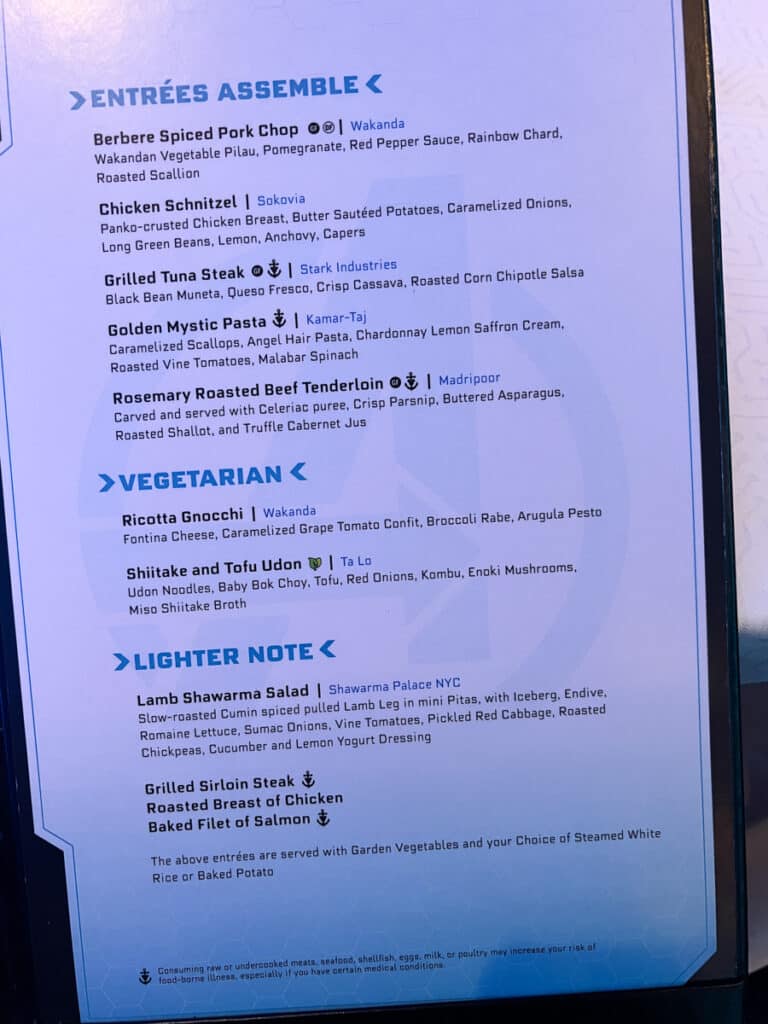 And here's a look at our food. I ordered the gnocchi and my son had a burger and grilled cheese. Mine was tasty enough, although the portion is a little small. My son loved the mac and cheese.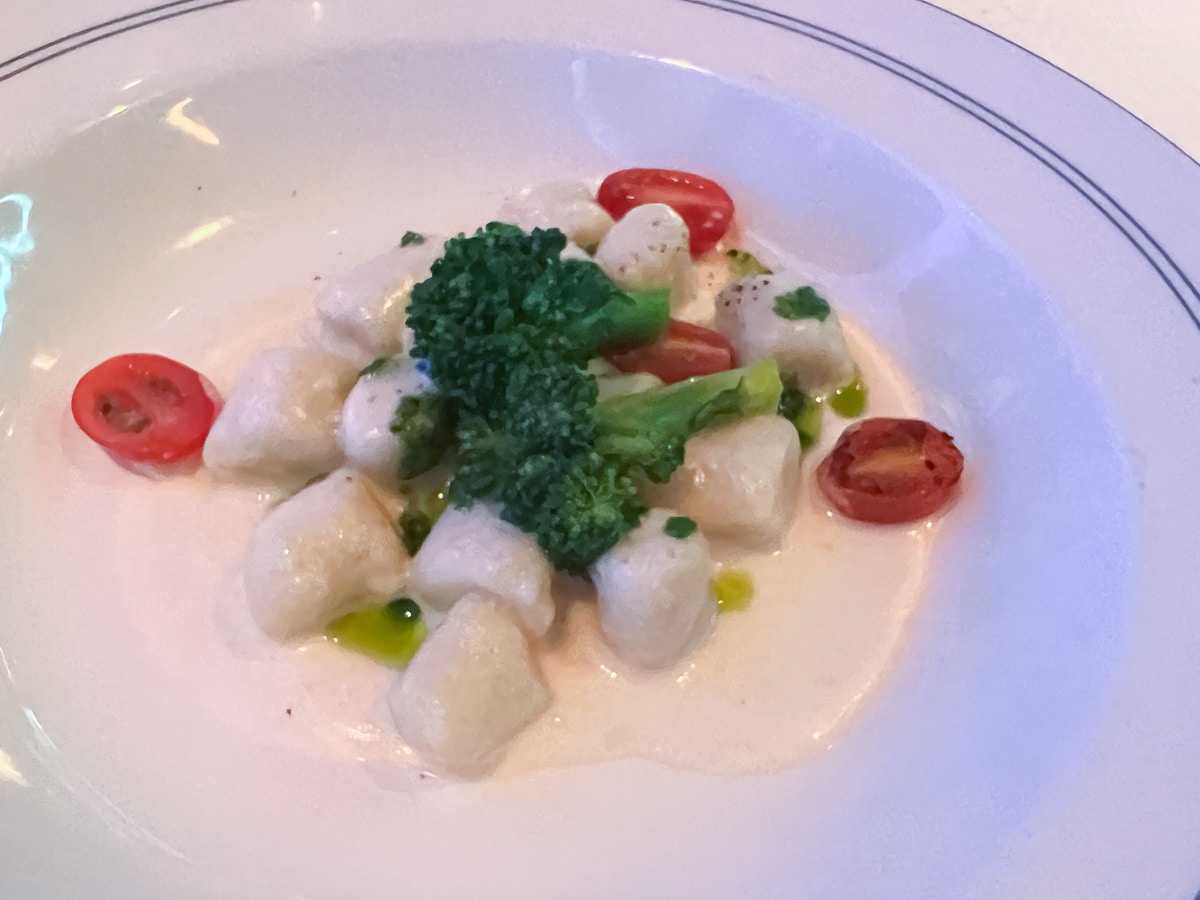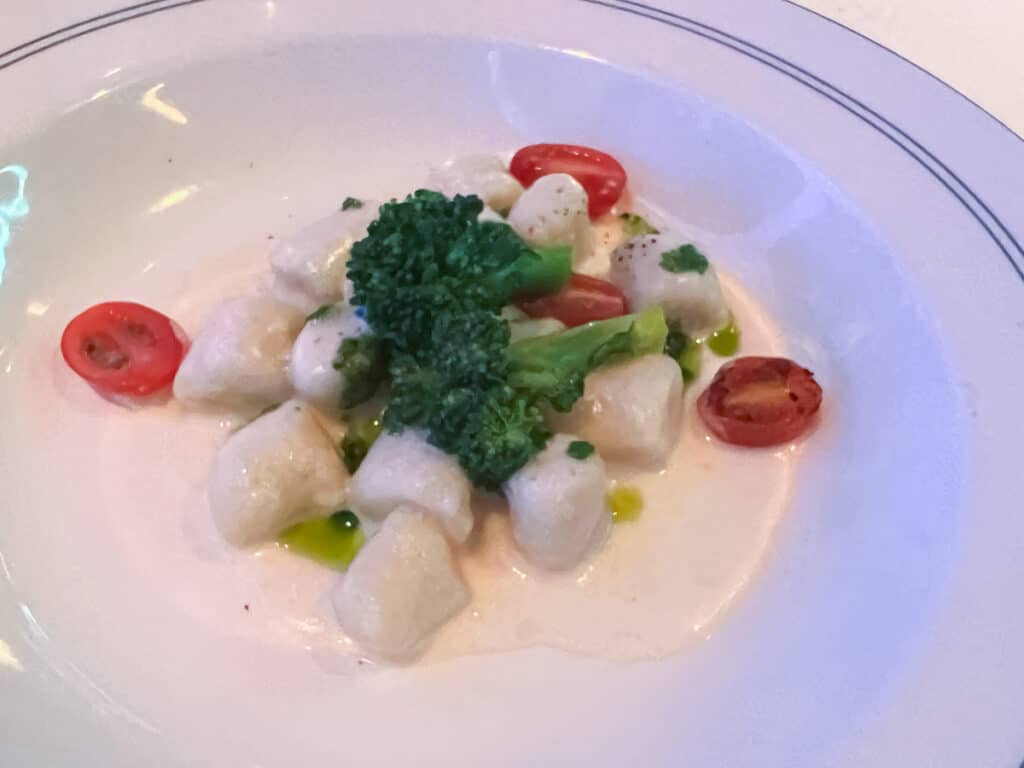 The Arendelle Restaurant
The second night, we moved on to Arendelle, created to feel like the famous castle from Frozen. There was a show with live performers here, meant to feel like you are at Anna's engagement celebration. The design and decor was all really well done.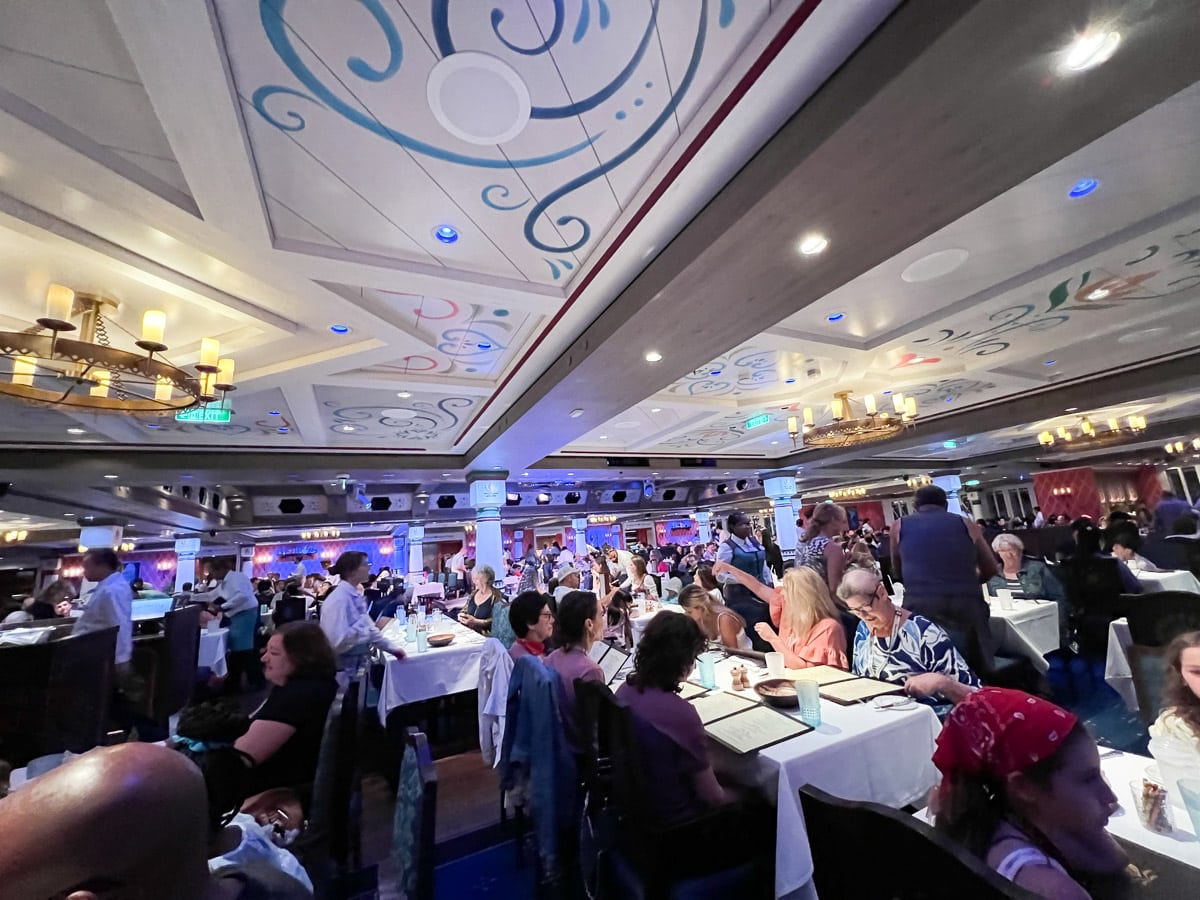 The performers sounded great, but it was nearly impossible to watch the show unless you were seated in one of the few tables right next to the stage. I'm not sure why they didn't build the stage on a higher platform. But the characters did walk around and greet kids at many of the tables.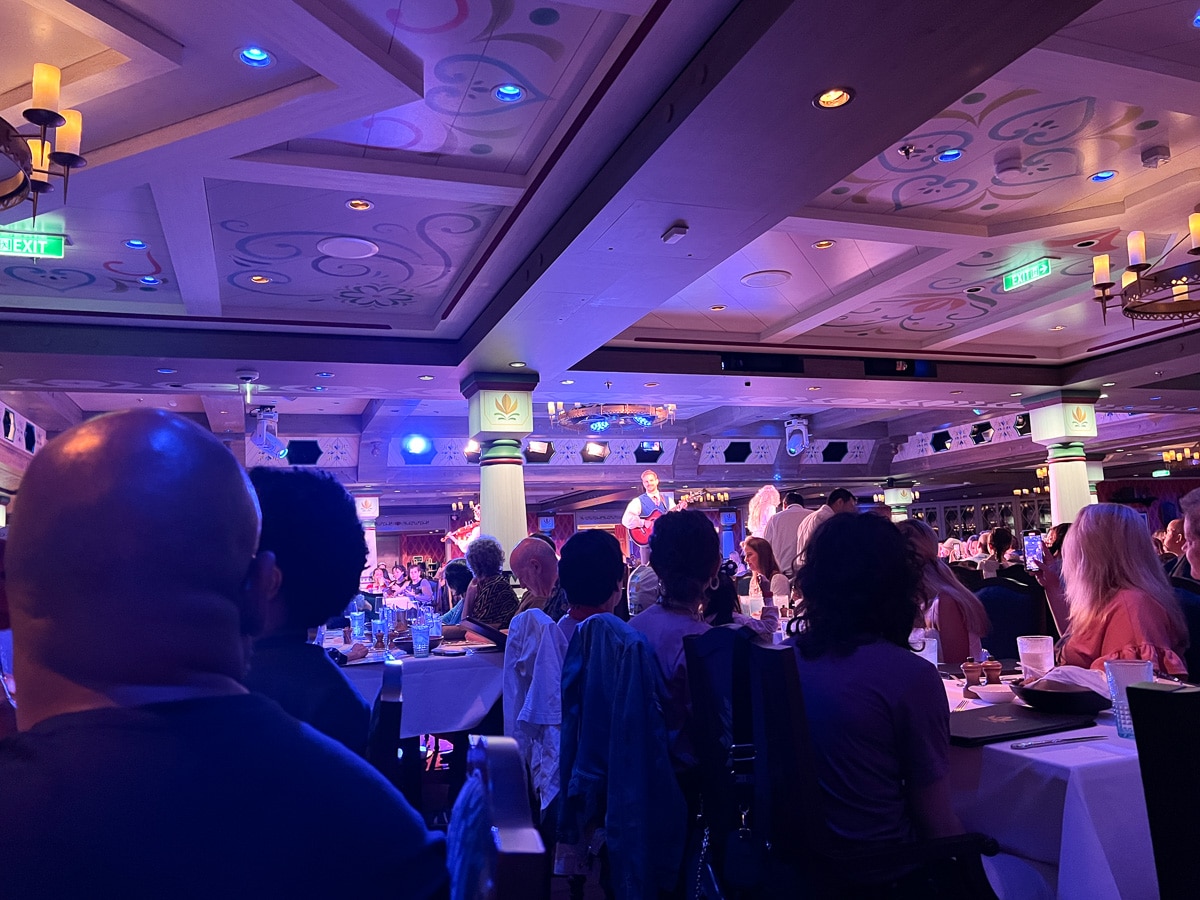 Here is a look at the dinner menus from Arendelle – again you can click to zoom in. :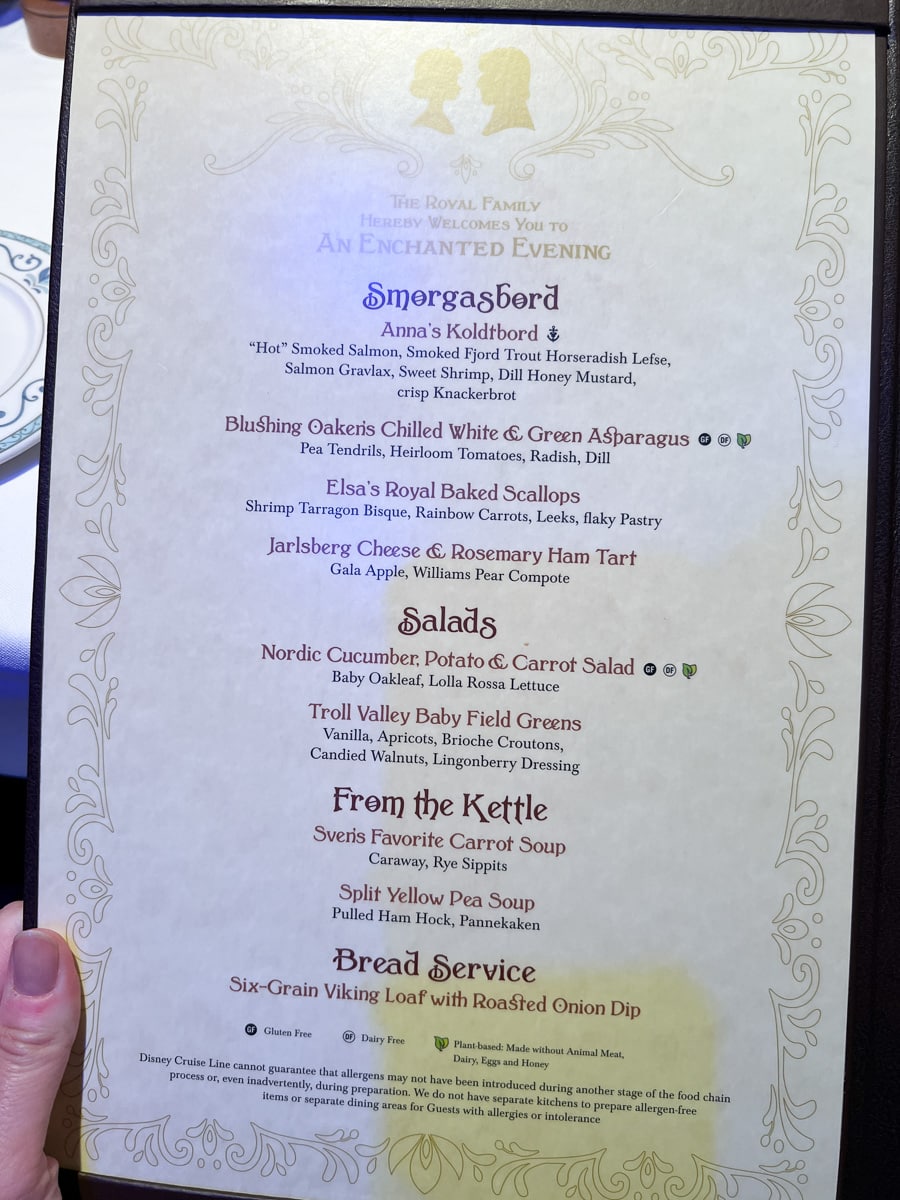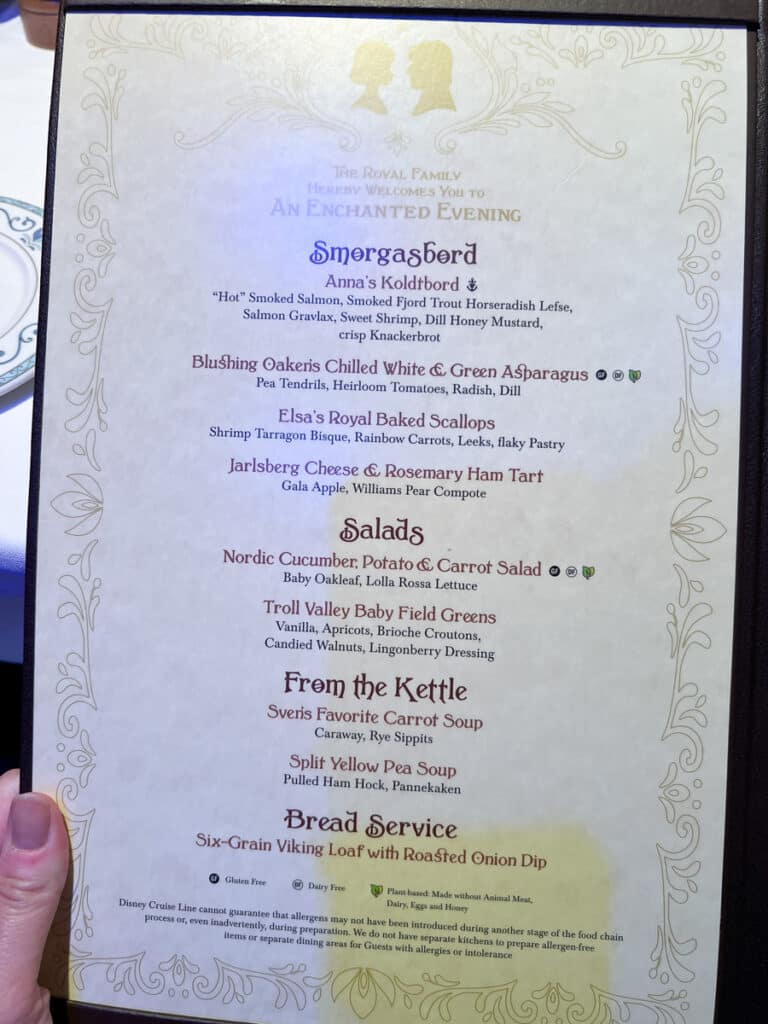 And here is a peek at some of our food. I had the carrot soup and potato lefse. The soup was pretty good. The lefse – not so much. And my son requested just a regular old mac and cheese, as he wasn't keen on the kids menu options here. We stuck around for dessert this night, and it was the best part of the meal.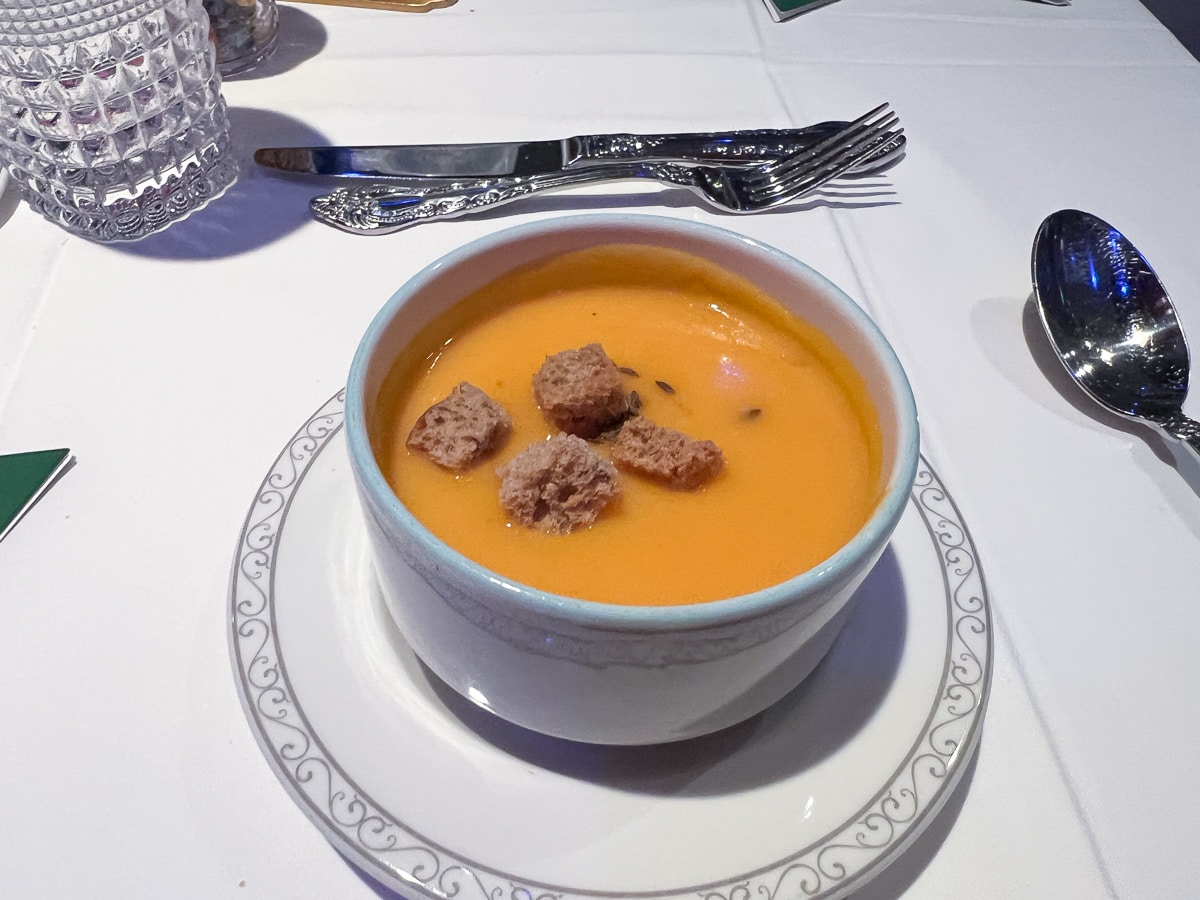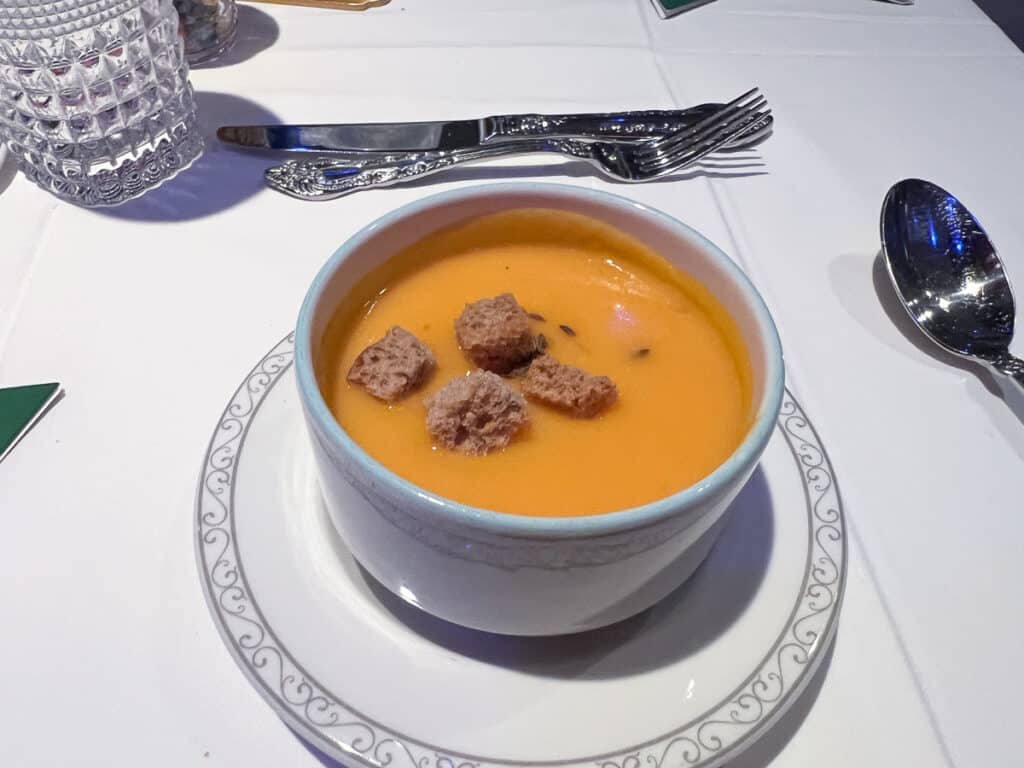 The 1923 Restaurant
And the final night, we were in 1923, designed to celebrate Disney's 100th anniversary. It's a fancier themed restaurant meant to look like a classic diner, and decorated with beautiful Disney artwork. Very pretty, but not entertaining for the kids in any way.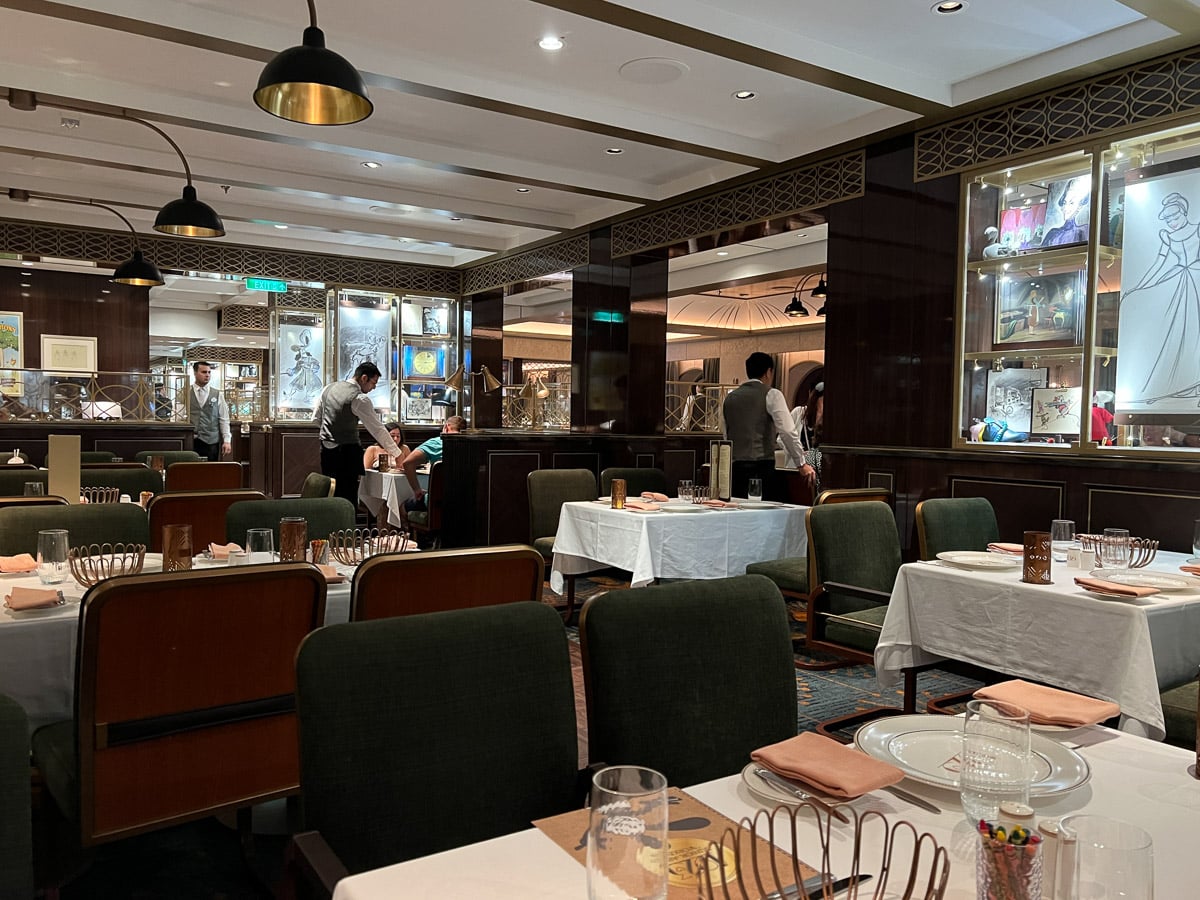 This was unanimously everyone's least favorite restaurant in our group. The food was fine, but the atmosphere was boring and the service was just so painfully slow with no entertainment to be had. We were all pulling our hair out by the end of our two hour dinner here.
Here is a look at the 1923 menus. Once again, click to zoom in closer! :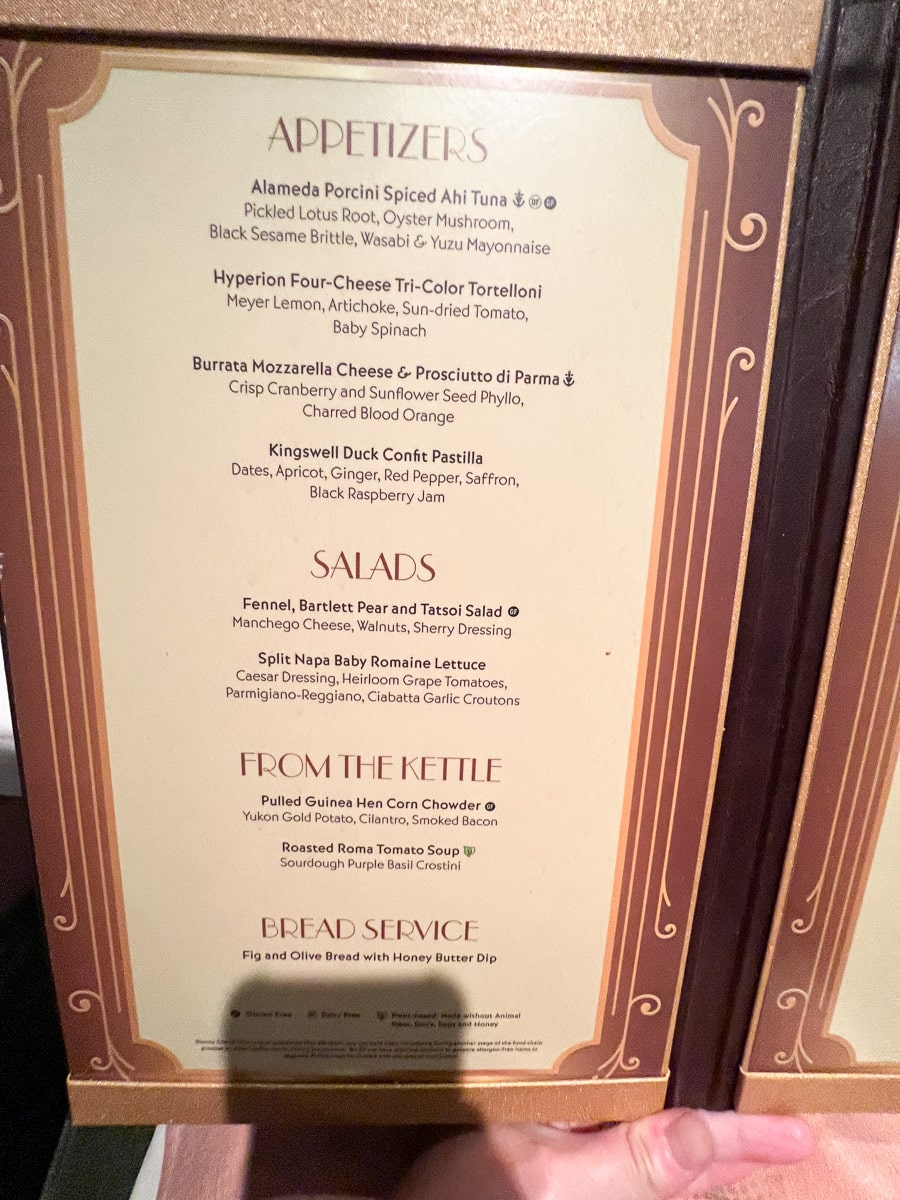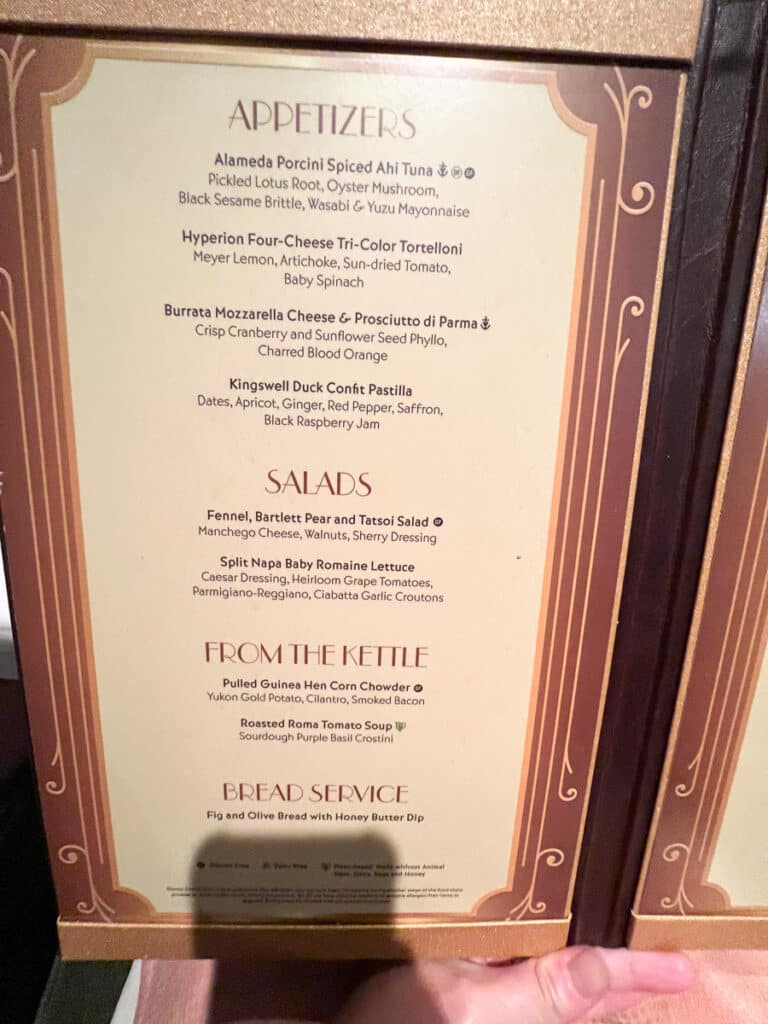 And here is a look at our food. I ordered the tortelloni appetizer and the Moroccan Spiced Squash and my son went with the pizza and… surprise… mac and cheese again. The tortelloni was very tasty – but they sure could have given me a few more pieces! The squash was just okay.
I didn't get any dessert here because I couldn't stand to sit there any longer and wait for another course.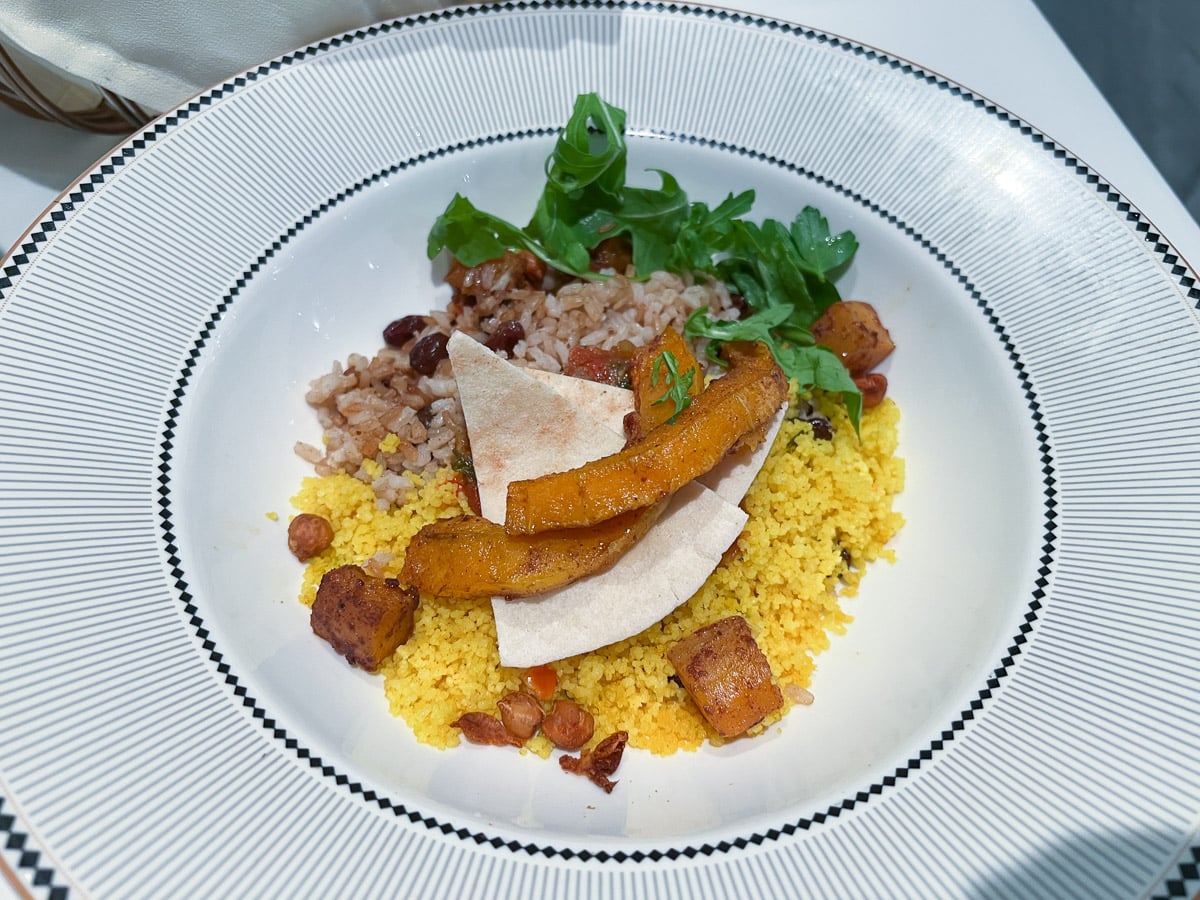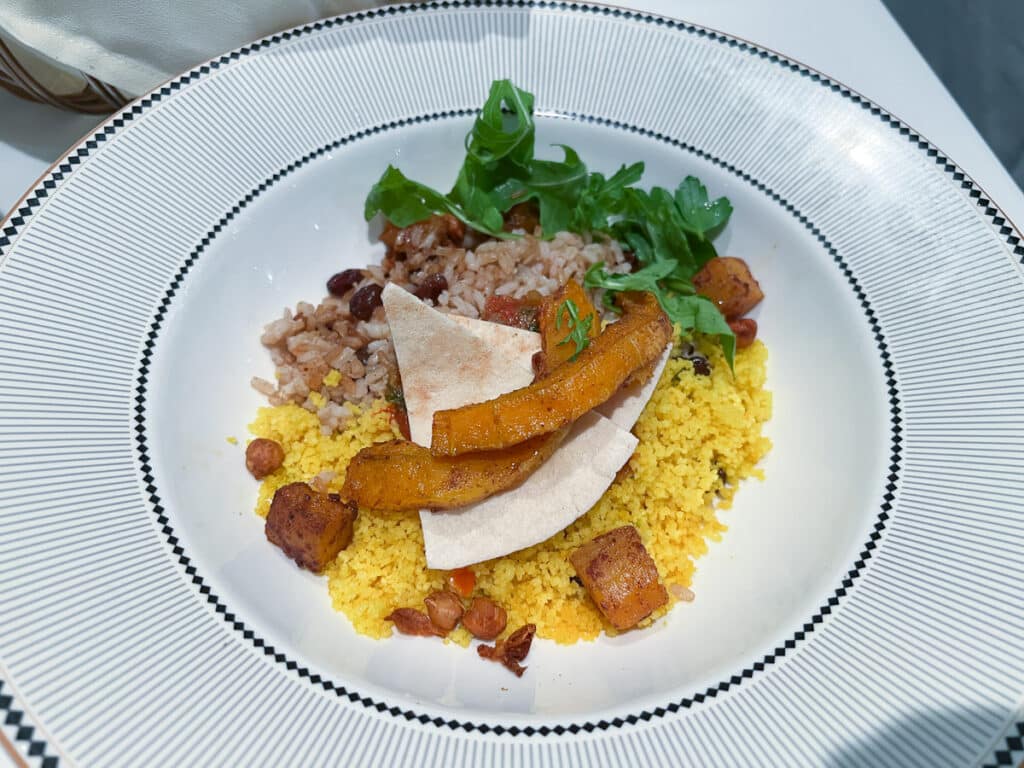 My Thoughts on the Rotational Dining Service
So the restaurants themselves and the idea of rotating through them are a really neat concept and we enjoyed trying the different spaces. But the food and service were a little bit of a downer. The food was fine. I've had both much better and worse food on cruise ships, so I would say it was pretty average.
But I've never had service as incredibly slow, impersonal, and inefficient. If you've cruised before, you know that you typically get to know your wait staff pretty well throughout a cruise. We hardly interacted with our servers at all – they just seemed to be running from table to table with no time to chat. It felt like it was an inconvenience if we weren't quite ready with our order the first time they came around. 
We are pretty low maintenance but even just simple requests like needing a straw for a kid or getting some dinner rolls for the table went unanswered. They would say "no problem" and just never come back with the thing you asked for. I wouldn't mention this if it just happened once or twice – but it was consistently like this every night.
And no matter how we tried, we could not get things to speed up at all. Now I expect cruise ship dinners to be long. I have been on many cruises – I know the drill. But it was a minimum of two hours every night. And we only ordered one appetizer and one entree per person.
The kids meals did come out first, but then the adult dinners didn't come until the kids were completely done with their meals and ready to leave. So for an 8:15 dinner, we would order immediately, and still not get our meals until 9:30ish. That's insanity. We skipped dessert most nights because we simply didn't have time to eat it and still get to the evening entertainment. 
I never could figure out if the dining staff was being tasked with way too many tables, or if our servers just weren't very good.
It honestly made every night a little bit miserable. And the worst part – you have no alternative choice. At least not any good ones. Unlike every other cruise line I've sailed, the buffet is not open for dinner. So you have to go to your assigned dining room if you want to eat dinner.
The only alternative is the one single quick serve food station that stays open on the pool deck until 10pm. That place had burgers, chicken fingers, hot dogs, and fries. So not exactly proper dinner fare. Or I guess you could order room service and eat in your room. Basically, if you want a real meal, you're in for a two hour sit down dinner.
And if you're in the early dinner seating and think you're getting a late night snack after karaoke – you're not. There is no food available after 10pm, except room service. Another odd choice.
Maybe if I didn't have anything to compare this cruise to, I would have thought the dining experience was okay. But I've just had so many wonderful meals (both food and service wise) on other ships and cruise lines, that this was a big disappointment. 
Note that there are also two specialty restaurants that you can book at an additional cost. But you shouldn't have to pay extra to get a decent meal and service with the incredibly high premium Disney already charges compared to their competitors, so we didn't try those out.
The Drink Situation
Unlike the other major cruise lines, you won't find any "drink packages" available on DCL. At least not the type you're probably thinking of, where you pay a flat rate per day for nearly unlimited alcoholic drinks. 
But there were plenty of bars around to grab a cocktail, and there were also a few drink deals being touted. The best deal seems to be the cooler bag. You purchase the bag, filled with beers or seltzers and get a discounted price when you refill it. I believe it was 6 drinks for the price of 5. I didn't partake since I was solo parenting on this cruise, but the bag is kind of cute.
I also highly recommend that you get yourself one of these delicious Dole Whips. The frozen pineapple treats has a cult following among Disney people and is one of the most popular treats in the theme parks. And of course the adult cruise ship version comes with rum.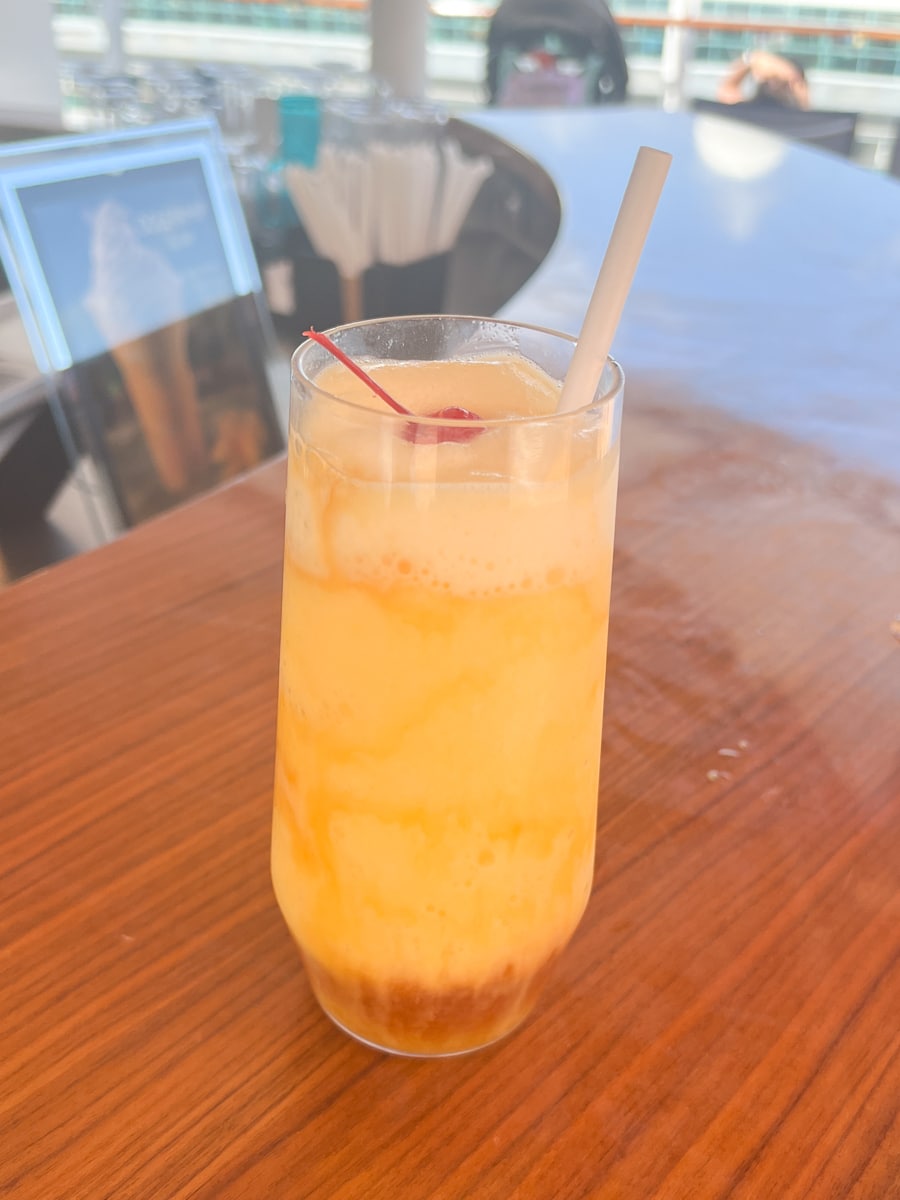 Another thing I really liked is that soft drinks were included! And that's something that is charged for on most other cruise lines. We aren't big soda drinkers but my son likes it as a treat, especially on vacation. On the pool deck and in the buffet area, there were drink stations with freely available filtered water, sodas, and juice. Very nice!
The Itinerary & Disney's Castaway Cay Island
We sailed on a three night itinerary, which included two stops – Nassau, Bahamas and Castaway Cay, Disney's private island.
In Nassau, we actually opted to stay aboard the ship. The thinking was that since the itinerary didn't include a sea day, we would make our own "sea day" and give the kids a chance to enjoy the pools and onboard activities on The Wish, which they would otherwise not have time for.
In hindsight, this wasn't the right decision for us. As I mentioned, we didn't wind up loving the pool area on the ship and the lines for Aqua Mouse were intense. So we wound up doing indoor activities most of the day, which wasn't the best use of our vacation time.
We did get a chance to do The Incredibles course, which we would have missed out on entirely if we went ashore, since it's only available that one day. But I would have preferred to visit Atlantis or Baha Mar for a water park or beach day instead. 
The next day, we visited Castaway Cay, which is Disney's private island, and we had a really nice beach day here. The water here, like everywhere in the Caribbean, is absolutely stunning. Aqua blue and crystal clear.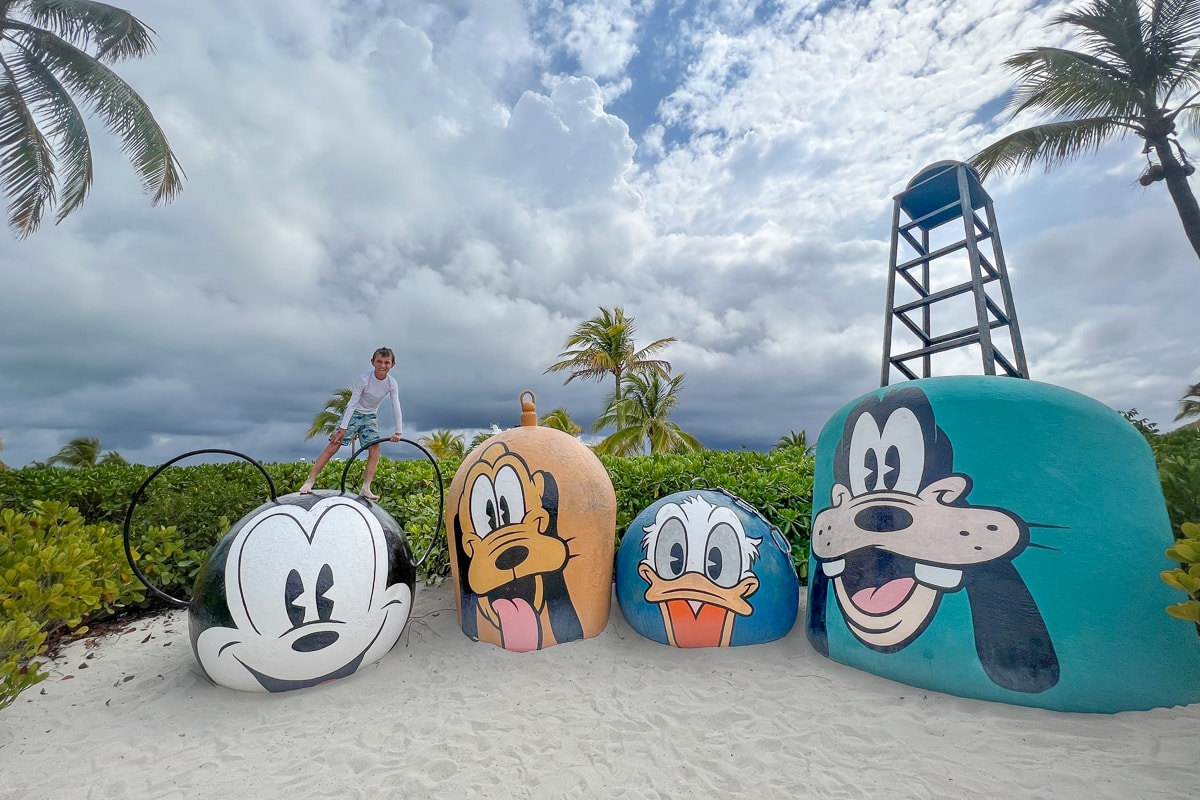 My favorite part of the island was the snorkeling area. Just know that you need to swim out pretty far to get to any of the good stuff. There are sunken boats, submarines, and statues of Disney characters down there – and plenty of tropical fish to check out. Very fun! You do need to wear a life vest, but they are available to borrow at no charge.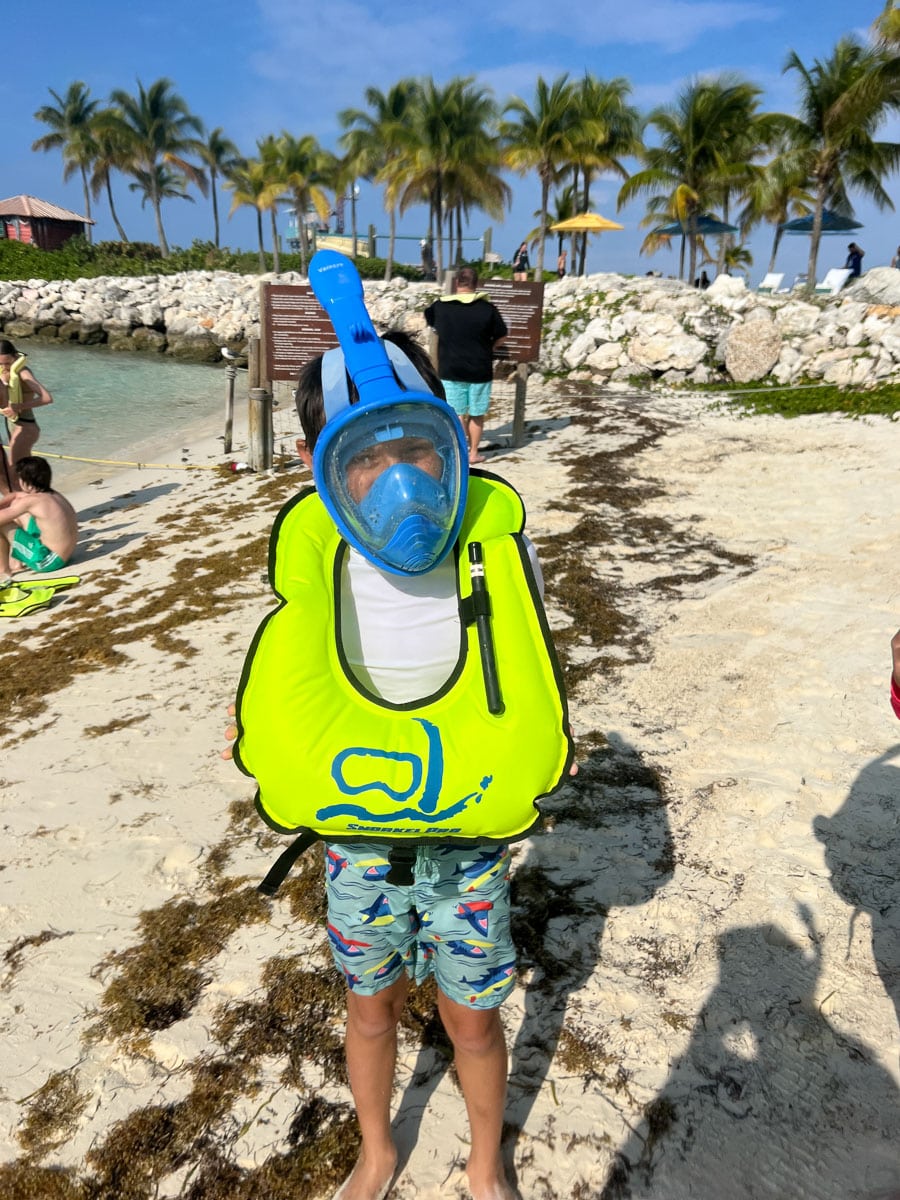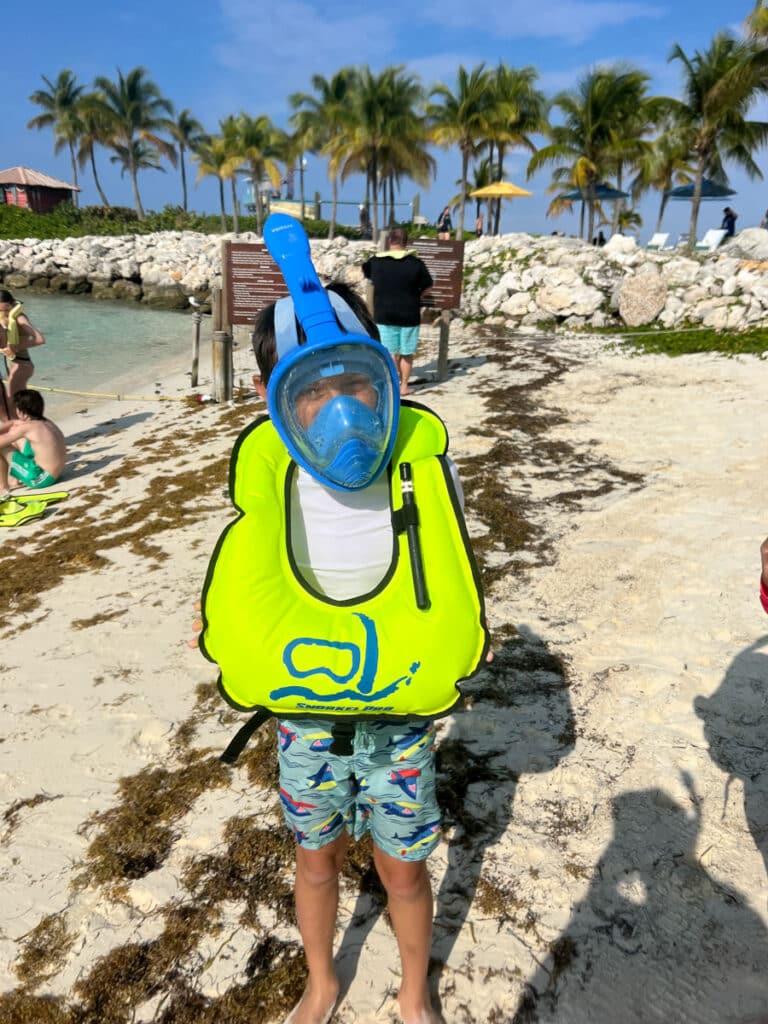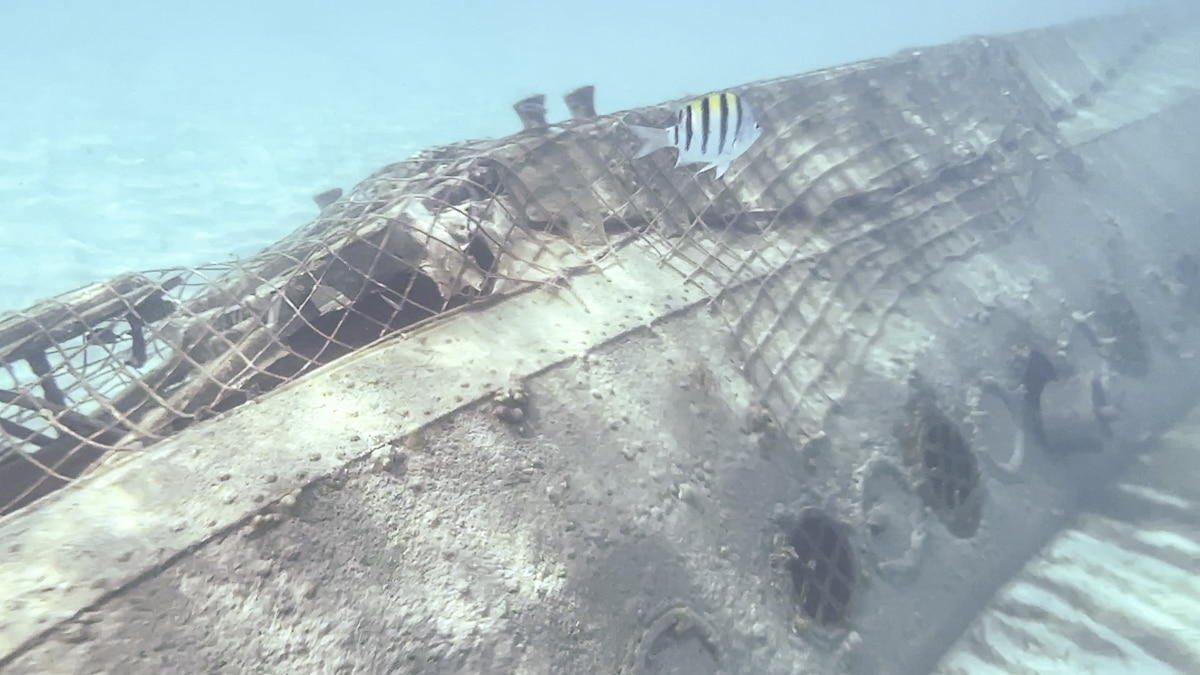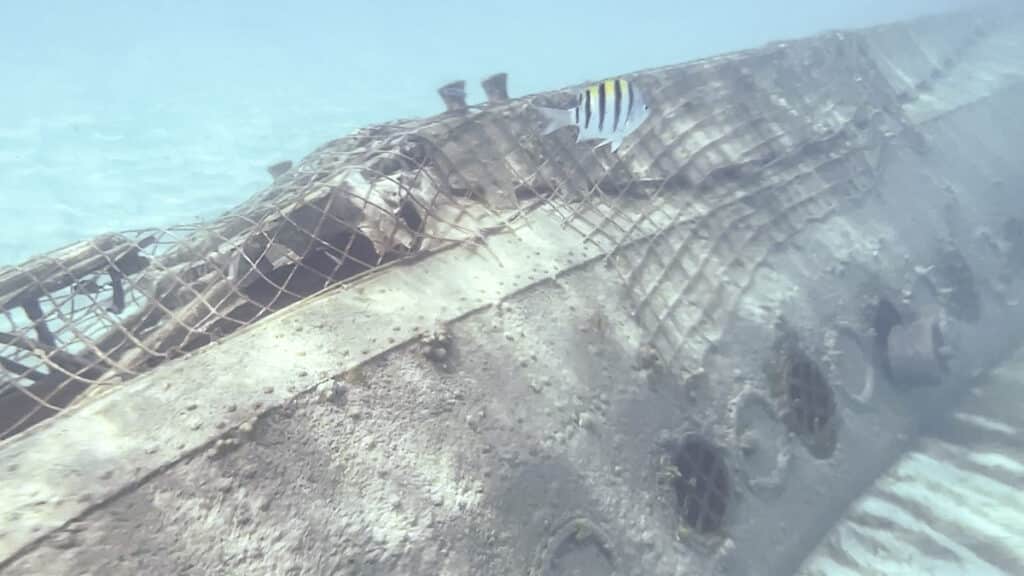 The beach itself was nice too, but felt kind of small and crowded for the amount of people on the ship. There are two beach areas for families but then there is also a beach area reserved for cabana guests and another reserved for adults only. So there is lots of beach space not accessible to families with kids, making the two family beaches very congested. Personally, I think that was a disappointing choice for a cruise line that explicitly caters to families with young kids.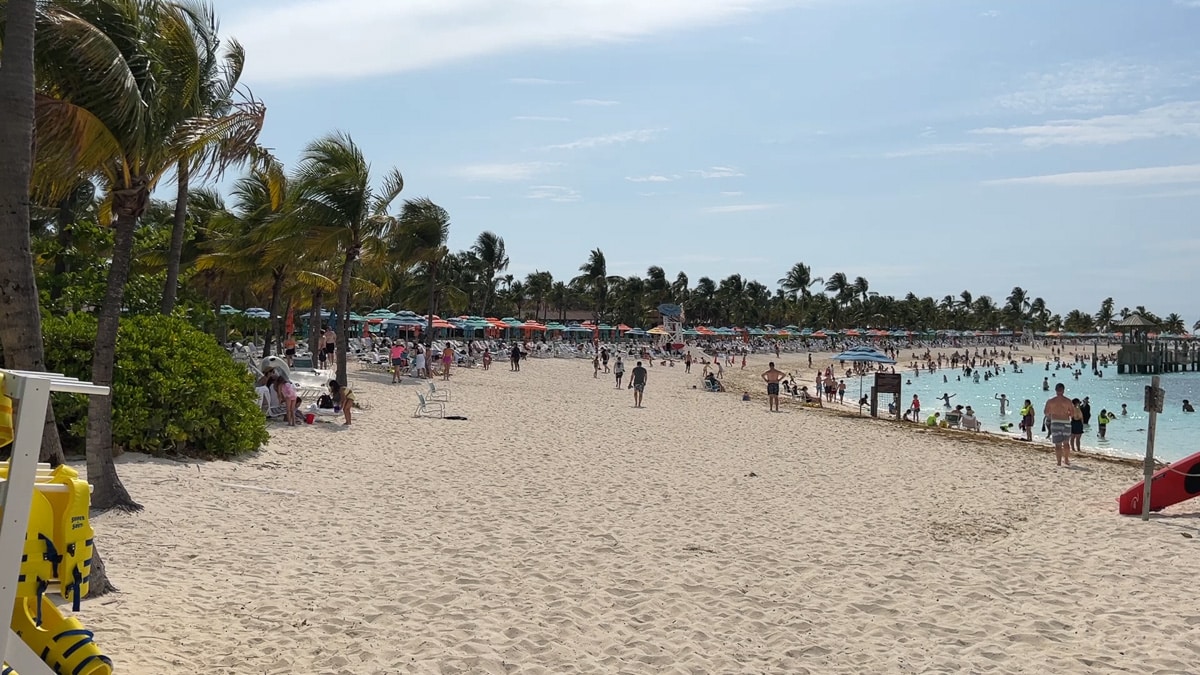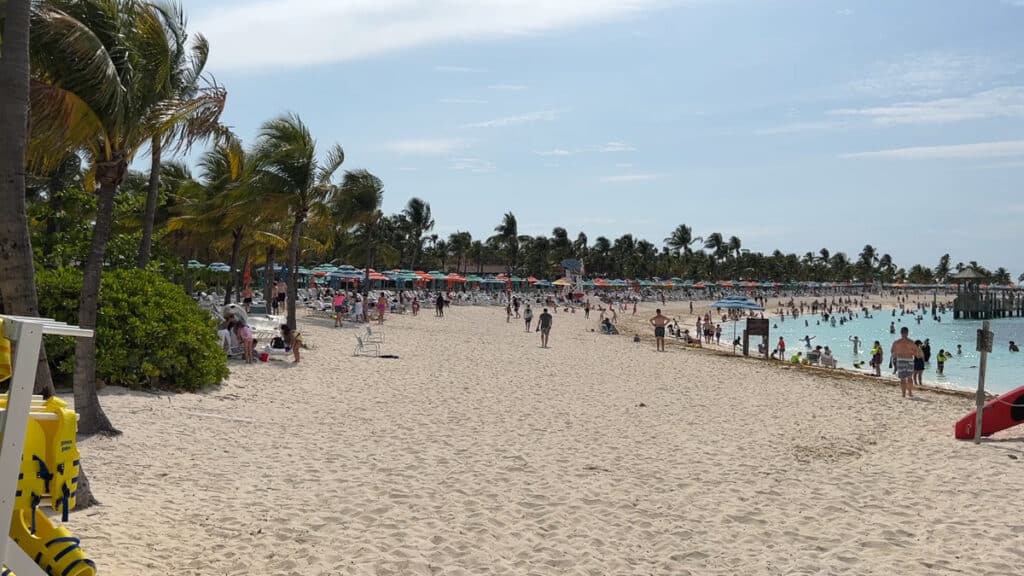 But there were some awesome play structures in the water! On one of the family beaches there was a great rope bridge climbing structure and on the other was a tower with two water slides. Both were really fun and I've never seen anything quite like those on other cruise lines' islands. So two thumbs up there.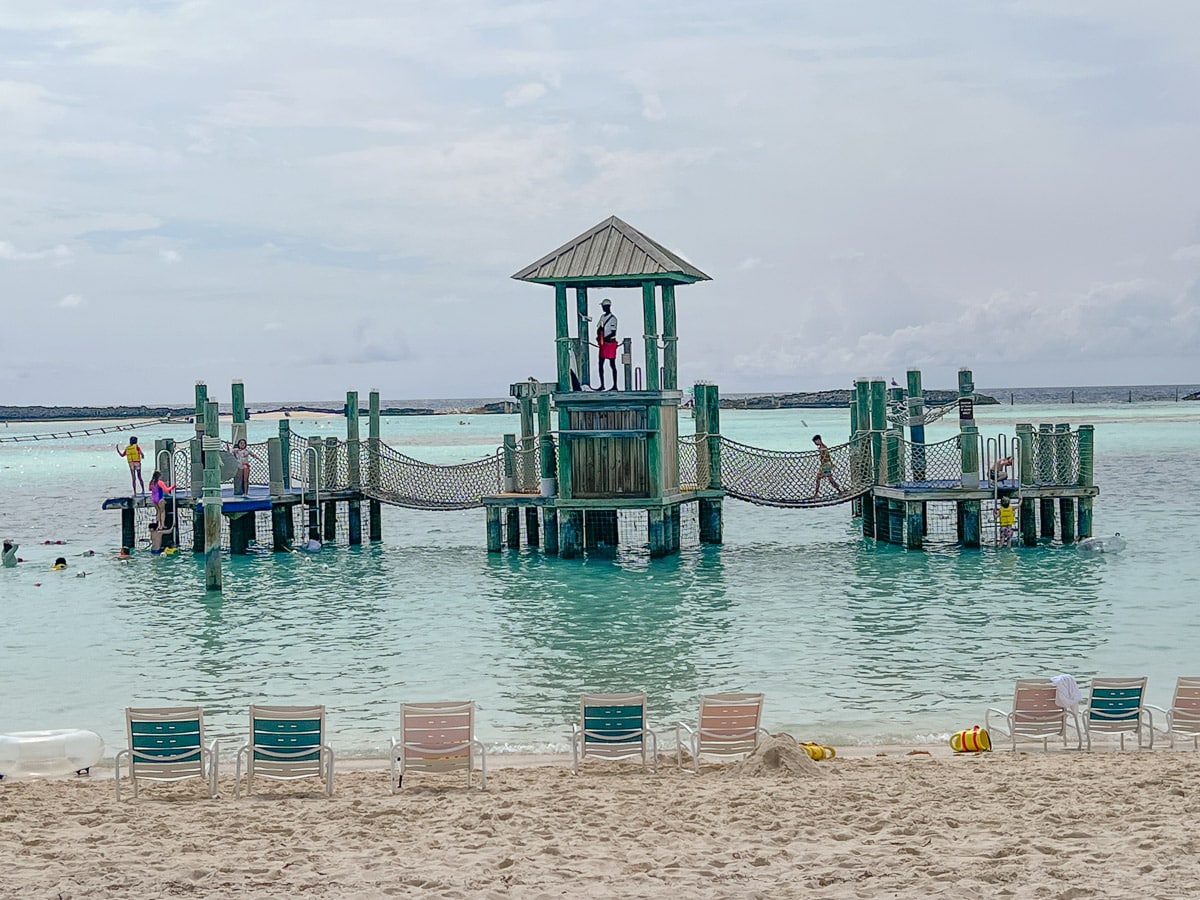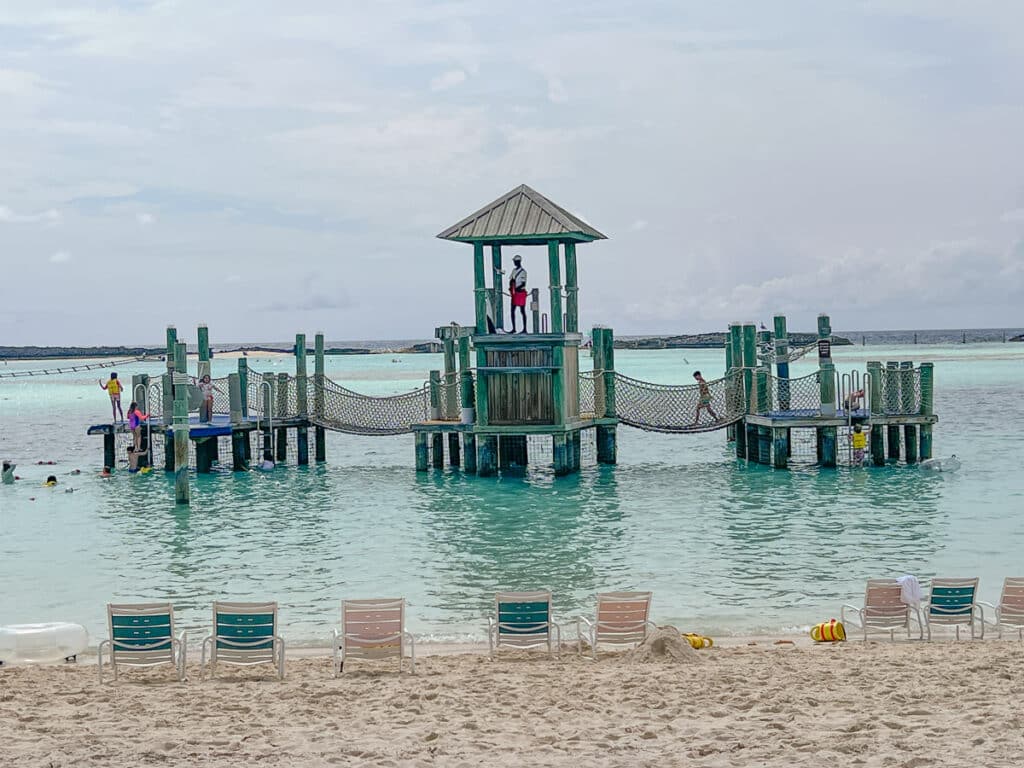 We also had a chance to rent bikes for an hour and explore the short bike trail. We went out to the lookout tower, which we climbed up to see the view. And then rode down to a pretty beach viewpoint at the end, although it was blocked off so you couldn't actually access the beach there. God forbid we swim without the watchful eye of Disney lifeguards, I guess.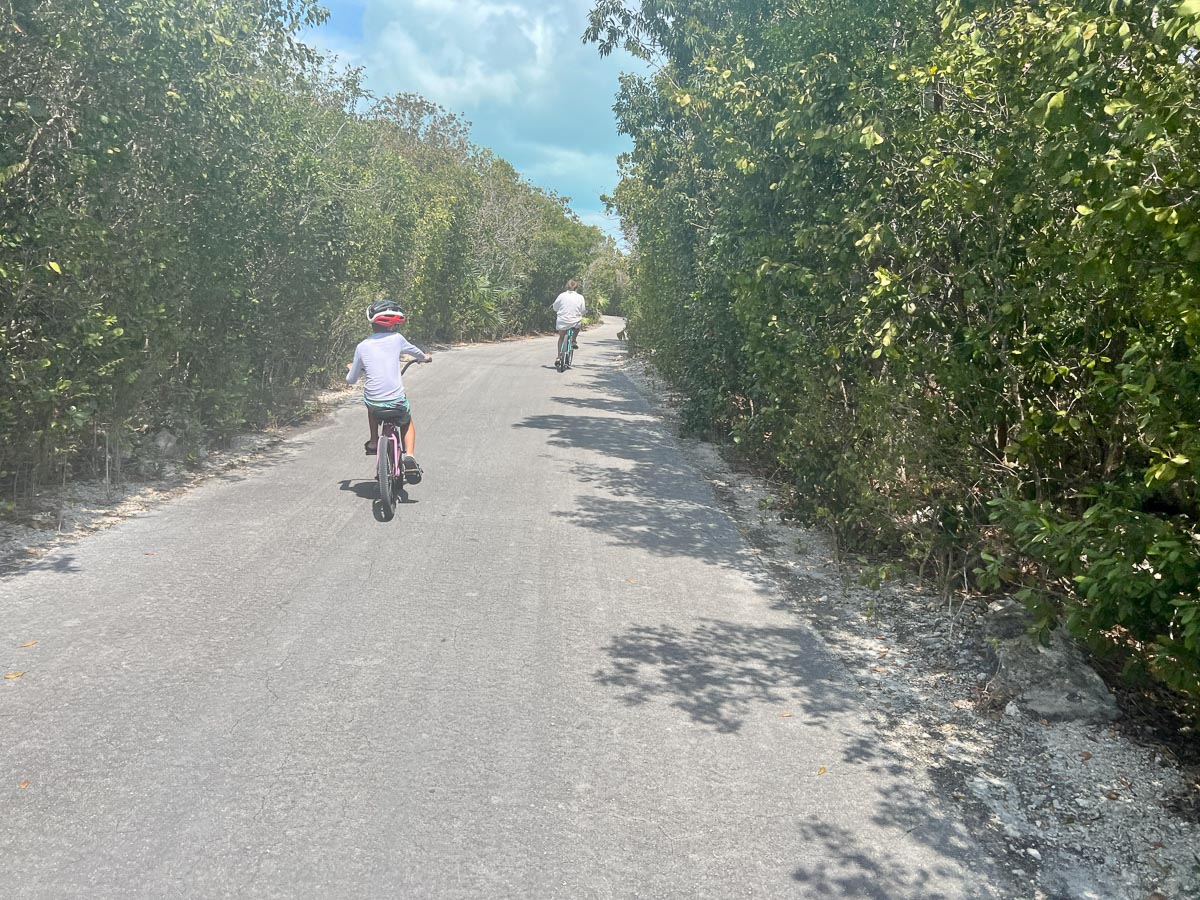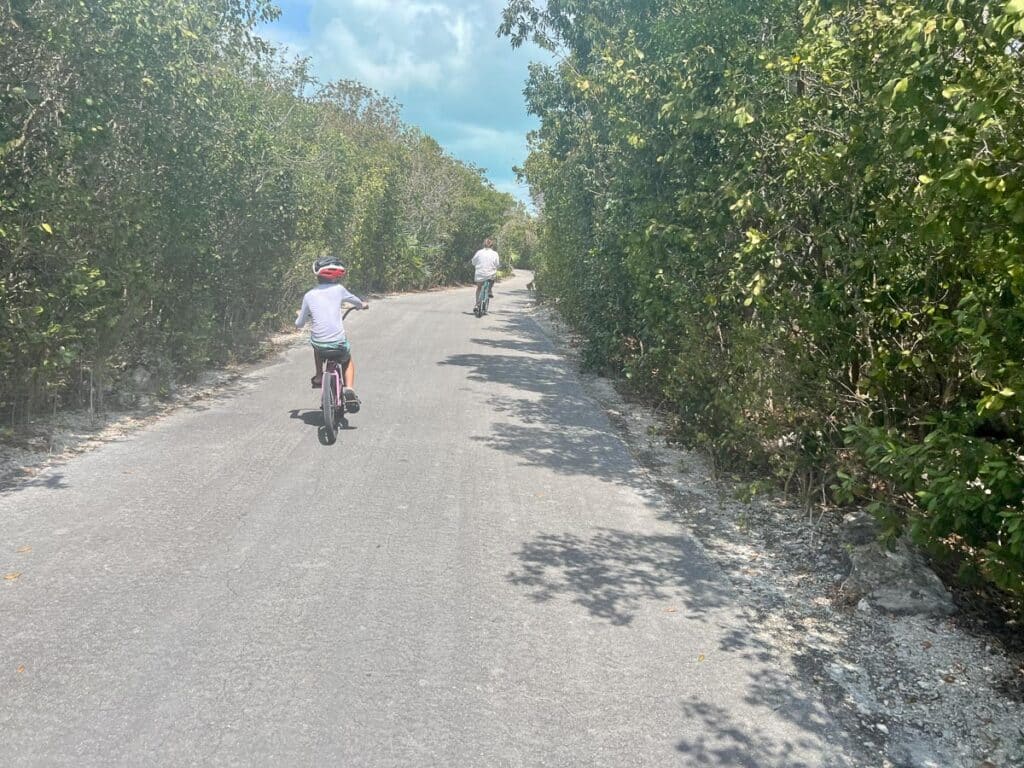 And there are quite a few other activities you could sign up for at the island – sailing, banana boats, peddle boats, sting ray swimming, and probably more that I can't recall. There was a lot of wind during our visit with high seas, so many of those activities were cancelled, but there was plenty to choose from. Most activities do sell out, so you should book ahead of time if you have your heart set on something.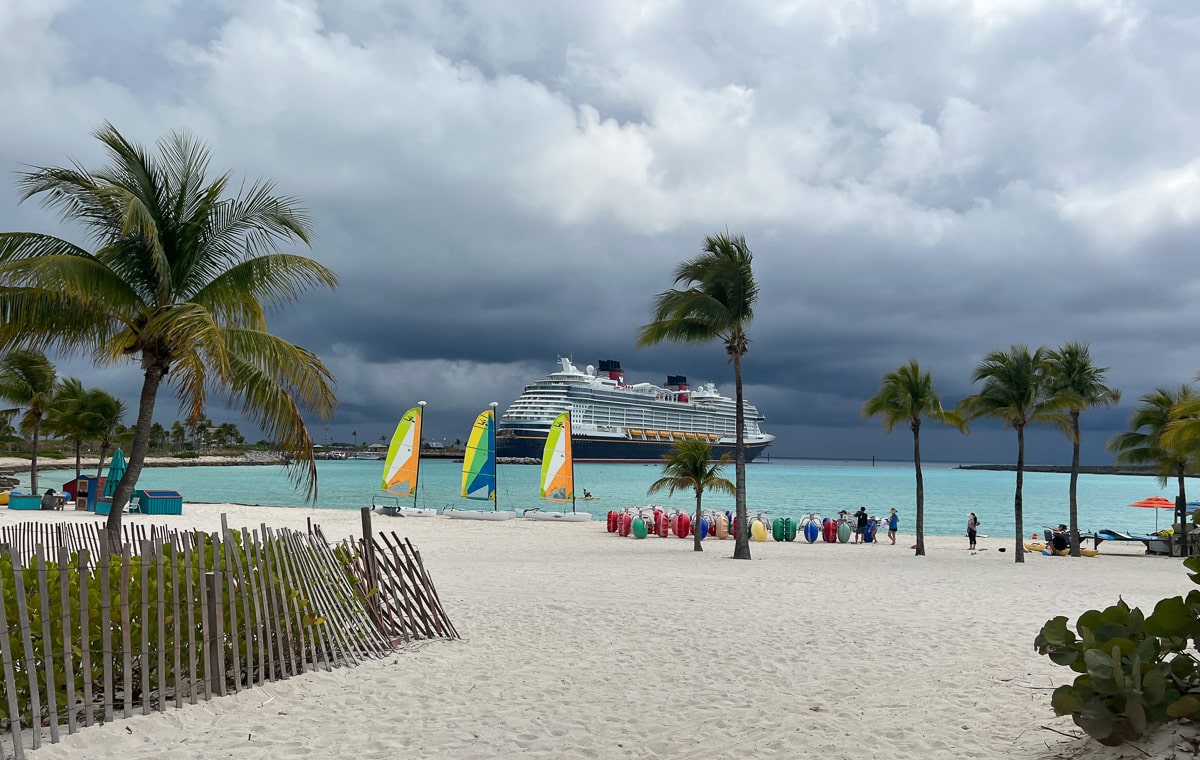 Note that there is a very small freshwater splash pad for little kids as well, but there is no freshwater swimming pool on the island.
Overall, we had a great time at Castaway Cay. It's not nearly as elaborate as some others (like Royal Caribbean's Cococay), but it is still quite nice and makes for a great beach day.
Oceaneer's Club (Disney's Kids Club)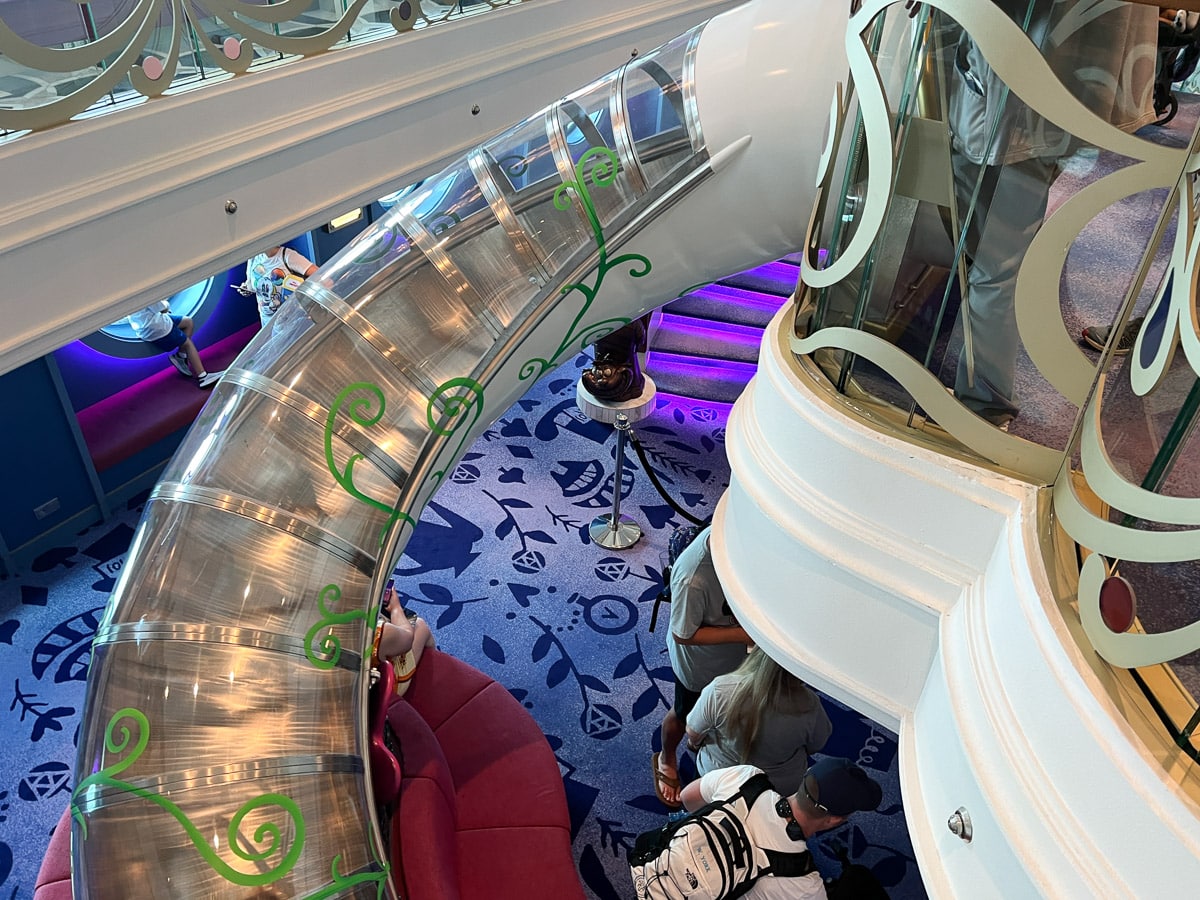 On boarding day of the cruise, there was an open house at the kids club, where parents could walk through with their kids and get them registered. If you've never been on a cruise, the kids club is where you can drop off your kids to play while you enjoy some adult time on the ship.
And I have to say, this kids club is the most elaborate one I have ever seen. It's a huge space on deck 2, with a variety of themed areas for the kids to play. There was a Star Wars area, a Marvel Superheroes area, and the Imagineers studio. You check the kids in and they can go back and forth between all the areas as they wish.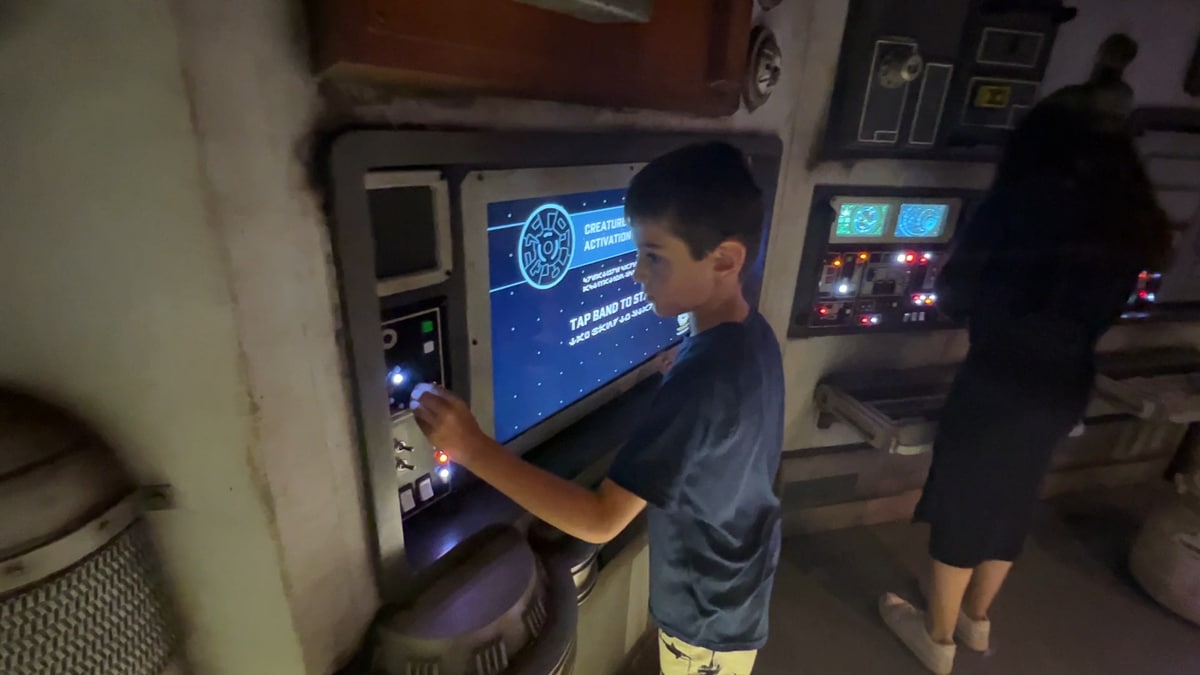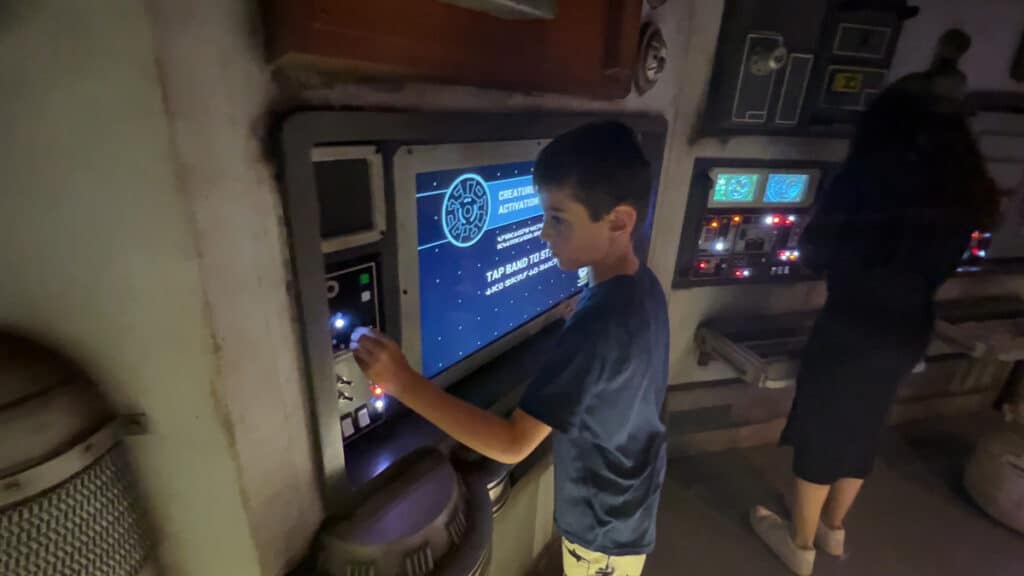 When they are ready to be picked up, they can have a staff member message you on the app (more on the app below). I have had to run back and forth checking on my kid on some other cruise ships, so I appreciate the convenience of that. Given that this was such a short cruise and I actually like to hang out with my kid, we didn't end up using the kids club beyond that open house session. But it did look fun!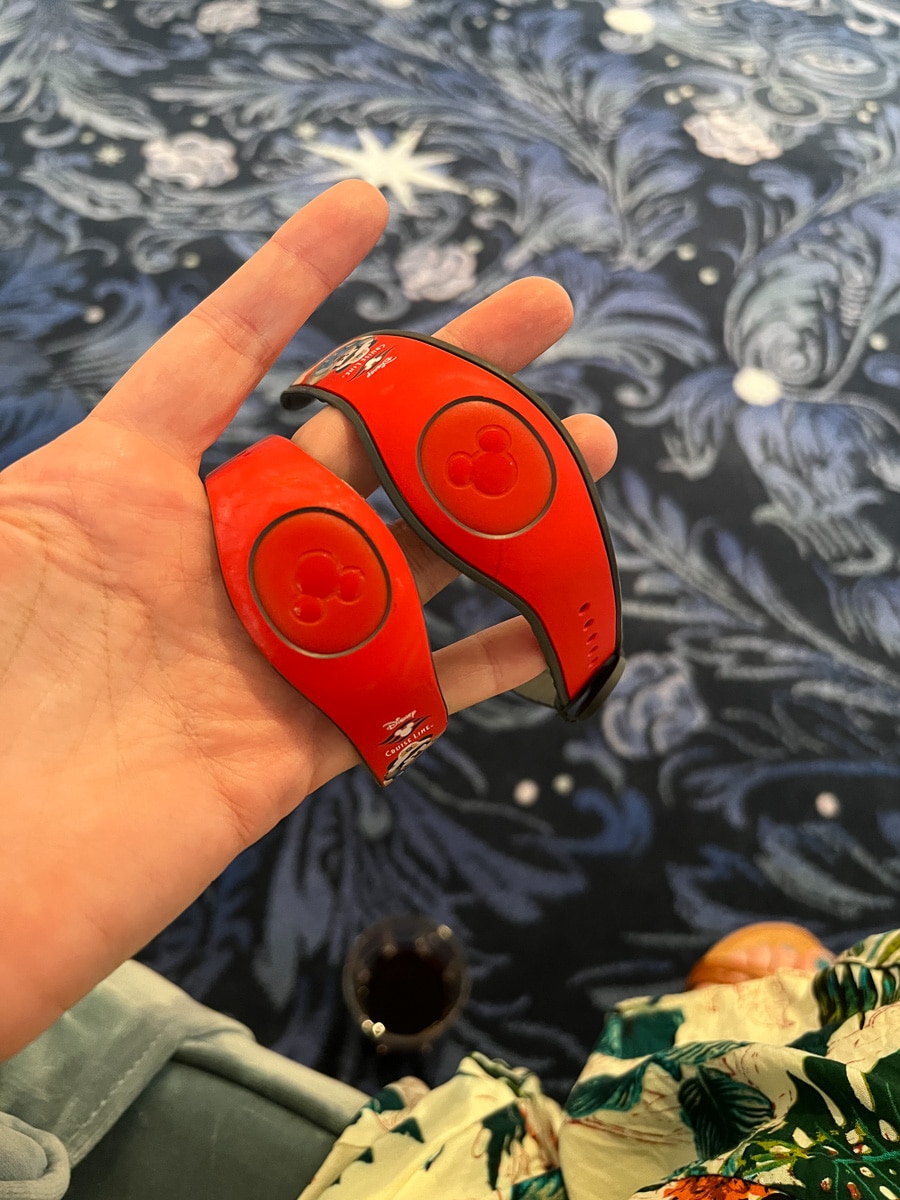 One thing to note is that your kids will be issued a Magic Band to wear at kids club. You will get charge $12.95 for this band, and that gets refunded if you return it before the end of the cruise. This was never explained to us, so I had to figure it out after seeing the charge on my account.
For kids over 3 years of age, the kids club is completely free of charge. In comparison, Royal Caribbean charges for late night hours in the kids club, so there is definitely some value here if your kids spend a lot of time in the club. For kids under 3, there is a nursery available for an extra fee. 
Door Decorations, Fish Extenders, and Pixie Dusting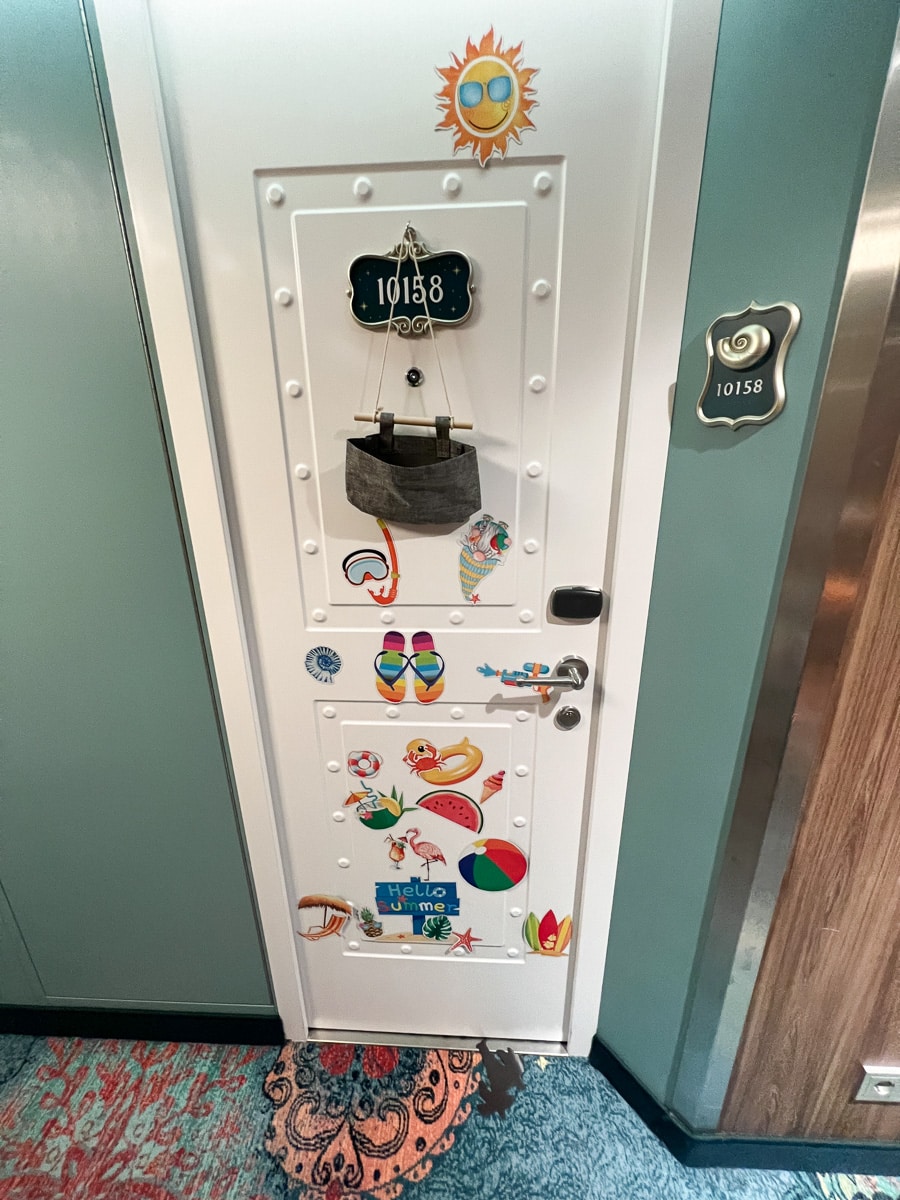 What the heck is all that? Well, let me explain. Cabin door decorations are something that you see on just about every cruise line, but people really take it up a notch on Disney. You'll see all kinds of colorful magnets, whiteboards, even strings of fairy lights decorating cabin doors. We picked up these summery magnets to get in on the fun!
Next, people hang out these little fabric pouches which they call "fish extenders". (The strange name started because the hooks outside the cabin doors where they get hung used to be shaped like fish.)
You can search for a Facebook group or Cruise Critic roll call group for your specific cruise sailing (just search the name of the ship and your sail date), and you will likely find someone organizing a gift exchange. People take turns leaving gifts in each other's pouches, and some groups can get really elaborate making things like customized tumblers and handmade ornaments!
I wasn't ready to commit to all that, so we participated in what Disney cruisers call "pixie dusting", which means giving out little surprise goodies without being part of an organized gift exchange. We gifted pirate tattoos and dolphin keychains randomly to other cabins and some extra pirate gear too.
And my son and his friend were excited to find little treats like candy, stickers, and even little Disney activity books in their fish extenders. I love this concept and we had a lot of fun participating!
We saw many elaborate fish extenders and you can even buy custom made ones on Etsy. But I went with these inexpensive ones from Amazon to keep thing simple, and they worked out great. I hung them with these magnetic hooks, which will also stick to the walls in your stateroom.
The Muster Drill
Ok, here is another genuine gripe. Disney is still running old fashioned muster drills. Now, if you've never cruised before, you're probably wondering what that even means.
A muster drill is a mandatory safety briefing that takes place before the ship sails from its home port. You gather up at your muster station, along with every single person on the ship, so you know where to go in the event of an emergency. Makes sense, right?
Well, during the last few years, most cruise lines have thought better about gathering thousands of people in small spaces and started doing the muster drills digitally. You watch a video on your phone, then go check in at your muster station before the ship sails, so you know where it is. Much better – less stressful, less crowds, basically everything about it is better.
But Disney has reverted back to the old in person style. It's miserable. There's no two ways about it. Crowded, hot, lots of fussy people, and the hallways and elevators before and after are an absolute mosh pit. I can't understand why they would go backwards in this area.
A few other things to mention about communication. First, you have to download the Disney Navigator app on your phone before you go to the cruise port. You can download it here from the app store.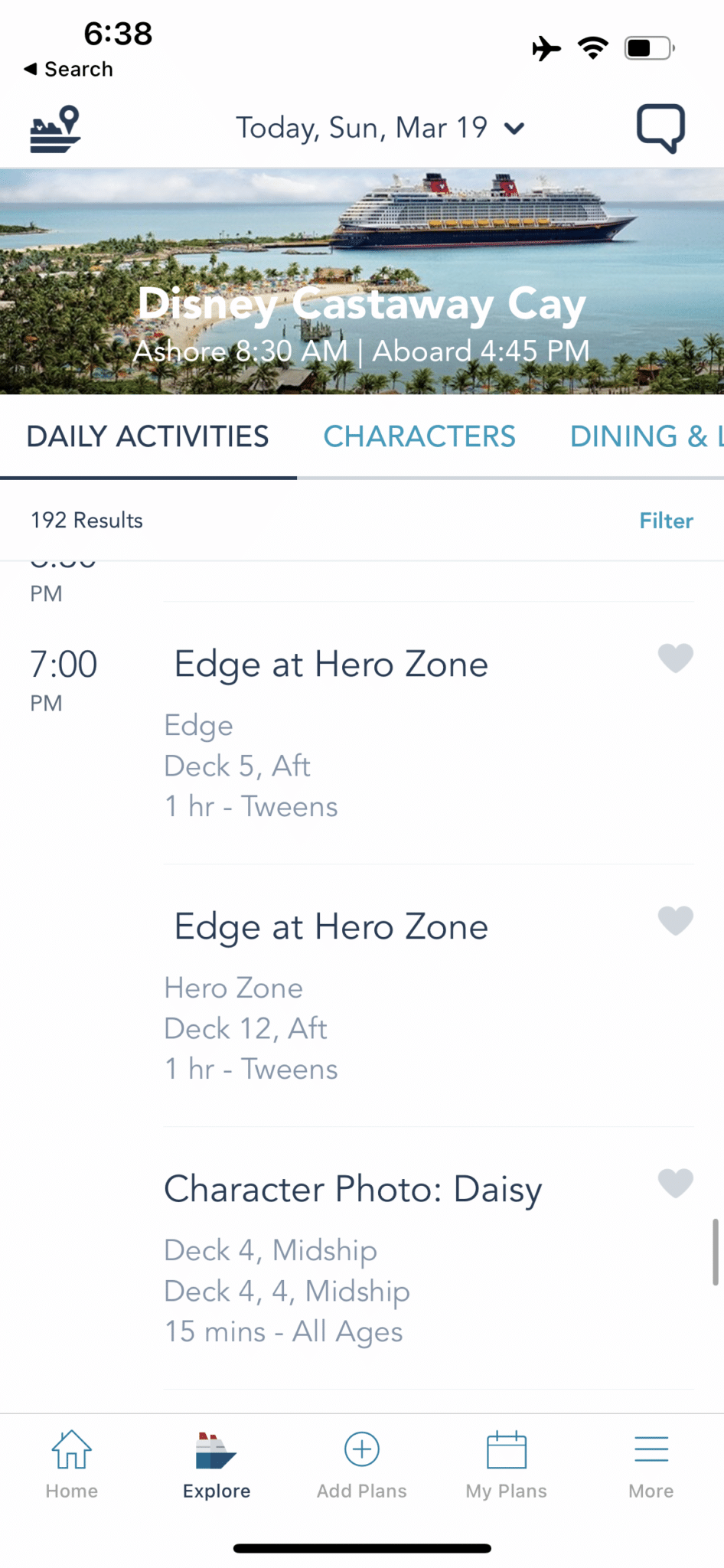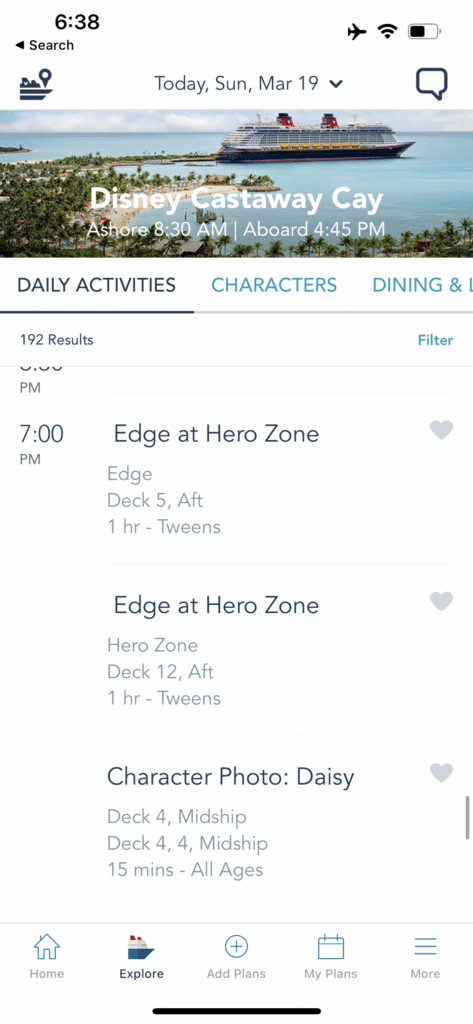 Back in the day, you used to get a paper itinerary placed in your stateroom for each day of the cruise. But now you are forced to carry your phone around like a third appendage while on vacation. This becomes extra annoying if you want to do an activity like ride the AquaMouse, where phones are banned. Have fun hiking back to you second floor cabin from the eleventh floor pool deck to stow your phone away before waiting in line for an hour.
And yes, I did ask if there were paper itineraries and got an "I don't thiiiink so…" in response.
Now all the major cruise lines are doing this, so it's not really a Disney specific gripe. But I think all of us cruisers should insist on not being wedded to our devices on vacation. It's great that they have an app these days, but they could at least make the paper itineraries available somewhere on the ship.
Now what I do like about the app is the free messaging function. You can connect with your travel party and text each other through the app to stay in touch. Very handy!
The app, including the messaging, is free to use! Some lines do charge for their messaging app, so that was a nice feature. If you want full Wi-Fi access, there are internet packages you can purchase as well. I did purchase Wi-Fi, since I need to continue running this website while I travel, and found it worked really well everywhere except on the island.
Oh, and your folio (all your onboard charges) is available on the app as well. But be sure to download it and email it to yourself before you disembark the cruise ship, because if you don't, you won't have access to it again. They do not print a paper copy and put it in your stateroom like they used to either. Seriously guys – I like saving trees, but I also like having receipts.
So was the service better on Disney than other lines?
One of the things Disney's theme parks are known for is the incredible customer service, and so I guess my expectations were really high. I've always been told by my Disney loyalist friends that once I sailed with Disney, I would never want to go back to another cruise line.
And I would say that the service was perfectly fine. But there wasn't anything outstanding about it – the staff actually seemed a little more aloof than on other ships I've sailed. And the dinner service was decidedly some of the worst I've experienced. But my cabin steward was one of the best I've ever had. So I guess it netted out about… average.
I was also really surprised that the staff didn't really know the answers to any basic questions throughout the sailing. It seemed like nearly every time we asked a cast member a question, they couldn't answer.
Communication in general wasn't all that great. For example, upon boarding, we checked "the app" to find our muster stations. But it only listed a muster station letter – didn't say the location. If that information was anywhere in the app, we sure couldn't find it. So we asked a cast member where it was. They had no idea and told us to "check the app". We showed them the app and they couldn't figure out the location either. Also didn't offer to find out. We wound up just googling it and finding a list that some other cruiser had posted because they ran into the same problem onboard.
This kind of thing played out just about any time we had a small question. Even just asking for directions to something, I was often just pointed to the closest map. I was really surprised given how helpful the cast members in the theme parks typically are. Perhaps this has something to do with being a newer ship with newer staff. I can understand that. But they should at least be trained to answer questions as critical as "where is my muster station?".
The Disney Way = Crowds and Lines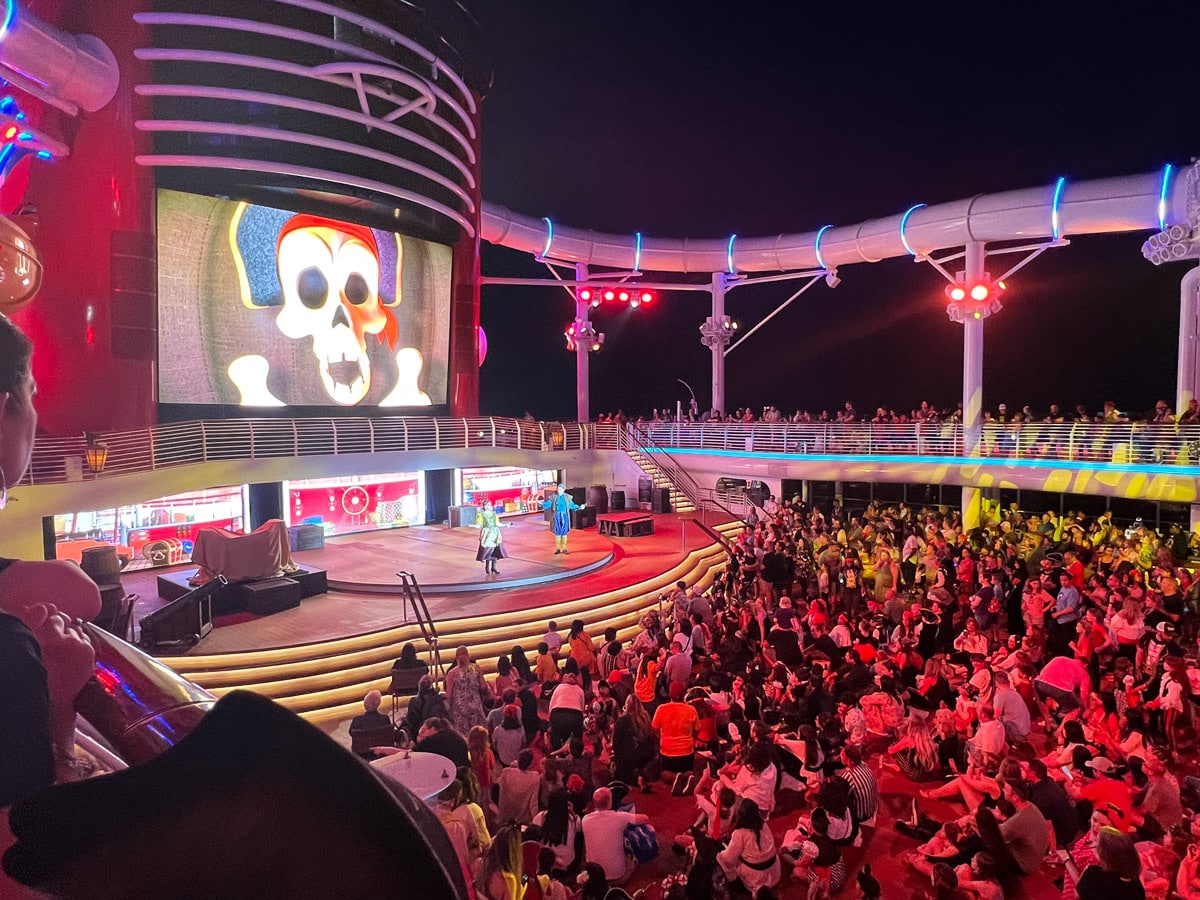 In general, it felt like Disney just does a terrible job of spreading people out around the ship. There was often just one major thing happening at a time and if felt like the expectation was for all 5,000 guests to attend. Like the pirate party. It was a really fun activity, but also just an insanely crowded mass of humanity.
Likewise, all the lunchtime food options (save for one sit down restaurant) are clustered on deck 11. So at lunchtime, you will find the entire ship there trying to get a meal. It felt like we were just constantly being herded from one place to another, and I've never really felt like that on another ship.
People queued up early for just about everything. Line up 30 minutes early for a character picture. Line up for an hour to ride Aqua Mouse. 20 minutes for the water slide. Oh, you're hungry? Line up and wait for the dinner restaurant doors to open at precisely 8:15. You get the idea. It felt a little too much like a theme park experience rather than a cruise experience.
Heck, even checking in for the cruise online required waking up at midnight and refreshing my browser continuously to secure a "good" boarding time slot for embarkation.
If you're a theme park person, and can roll with that sort of thing, you'll be fine. If that makes you want to pluck your own eyelashes out, maybe a Disney Cruise isn't right for you.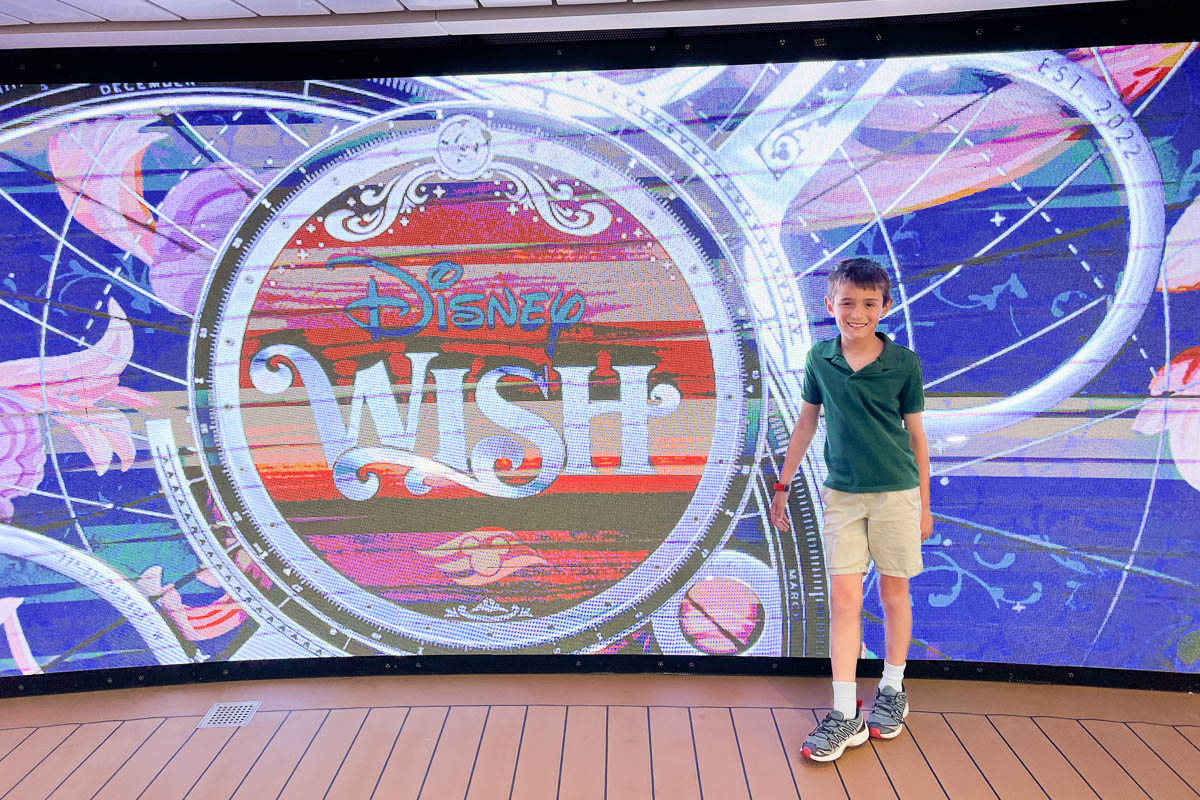 So would I do another Disney cruise?
Honestly, no, I don't think so. We had a fun weekend and of course all of the criticisms above are real first world problems. We consider ourselves lucky to be able to go on any vacation, and have a good time wherever we are. But Disney cruises come at a very big price premium compared to the other mass market cruise lines they compete with like Royal Caribbean, Carnival, and Norwegian. And for us, the added value simply wasn't there.
Where this Disney Wish cruise shined was with the evening shows and activities, the access to Disney character interactions, and the really expansive kids club. And we really liked the whole pixie dusting thing too! But it lacked a lot in terms of the dining experiences, daytime activities, and we really didn't enjoy the pool deck on this particular ship.
We also prefer more active activities on cruise ships – like the bigger water slides, mini golf, and rock wall found on the competing Independence of the Seas. We don't use the kids club much on any cruise, so while it is incredibly well done, it's not a big factor for my family. And we simply aren't into Disney enough to fully appreciate the access to character greetings and Disney themed headliner shows (even if they are very well done).
So for our vacation money, this wasn't the best choice for us and we will probably stick with other cruise lines. But I do think it could be worth every penny for a family with much younger kids that fully appreciate things like the Oceaneers kids club and having a Disney princess stop by your dinner table. So choose wisely. And whatever you decide – happy sailing!