The Atlantis resort on Paradise Island in the Bahamas is known for its luxurious accommodations, stunning beaches, and thrilling water park. Among its collection of hotels is The Reef, an all-suite property that offers a more residential feel. With its spacious suites, fully-equipped kitchens, and prime beachfront location, The Reef is a popular choice for families looking for a little more space and privacy. But is it worth the splurge?
We've just returned from a three night stay at The Reef, celebrating our son's birthday with a little family vacation, so here's a closer look at the hotel and our honest review of this high-end resort.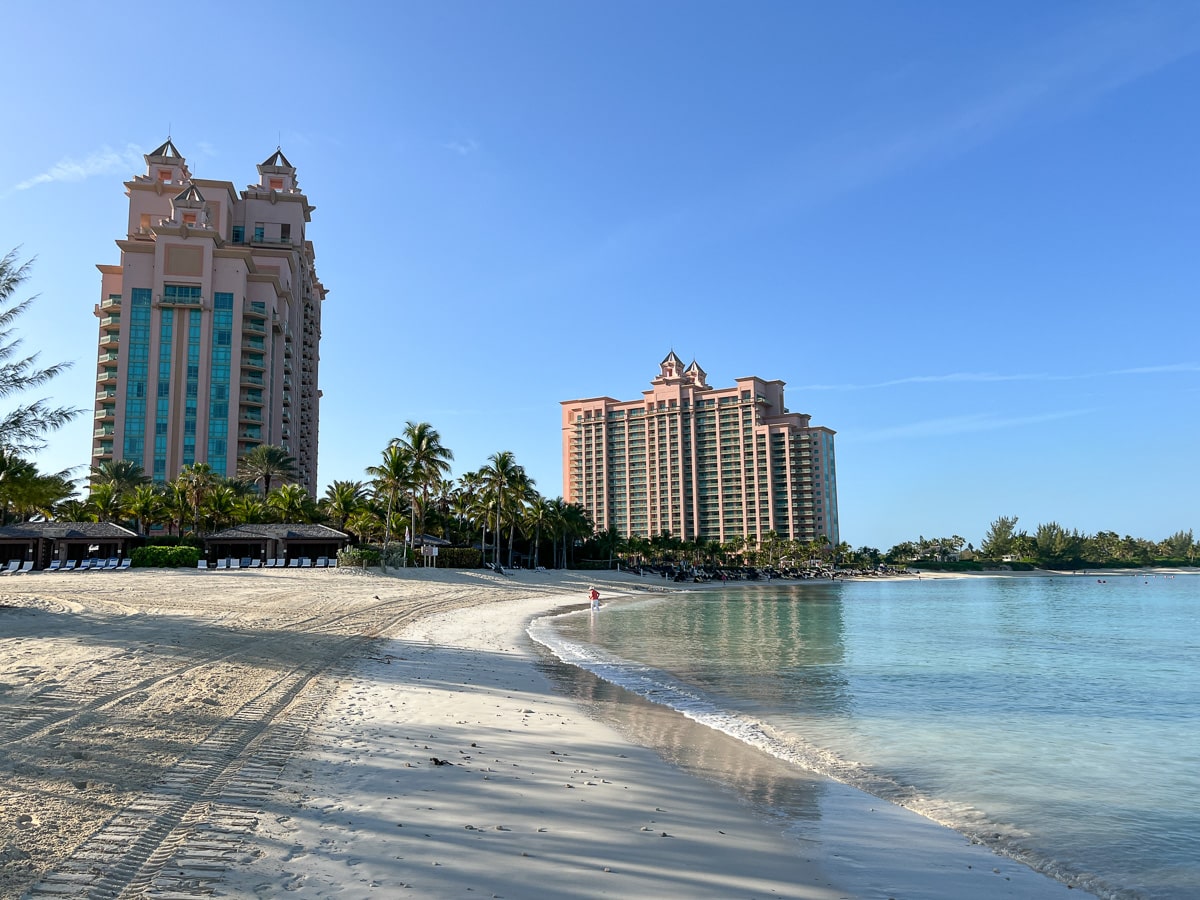 The Reef – Pros and Cons
If you don't care to read the full review, here's a quick glance at the things we loved most about The Reef, and the things we weren't so crazy about:
What We Loved
Spacious suite-style rooms.
Kitchenette with fridge and microwave.
Direct beach access.
Great pool area.
What We Didn't Like
Far from other resort amenities, like water park and restaurants.
Long lines and waits for everything.
Hard to get beach chairs.
Pools close early, and limited evening activities.
Ready to check rates and availability? I strongly recommend checking rates directly on the Atlantis Resort website and on Booking.com (my preferred hotel platform due to their great cancellation policies), and seeing which has the better deal for your dates. You can also check out my side-by-side comparison of all the Atlantis hotels here.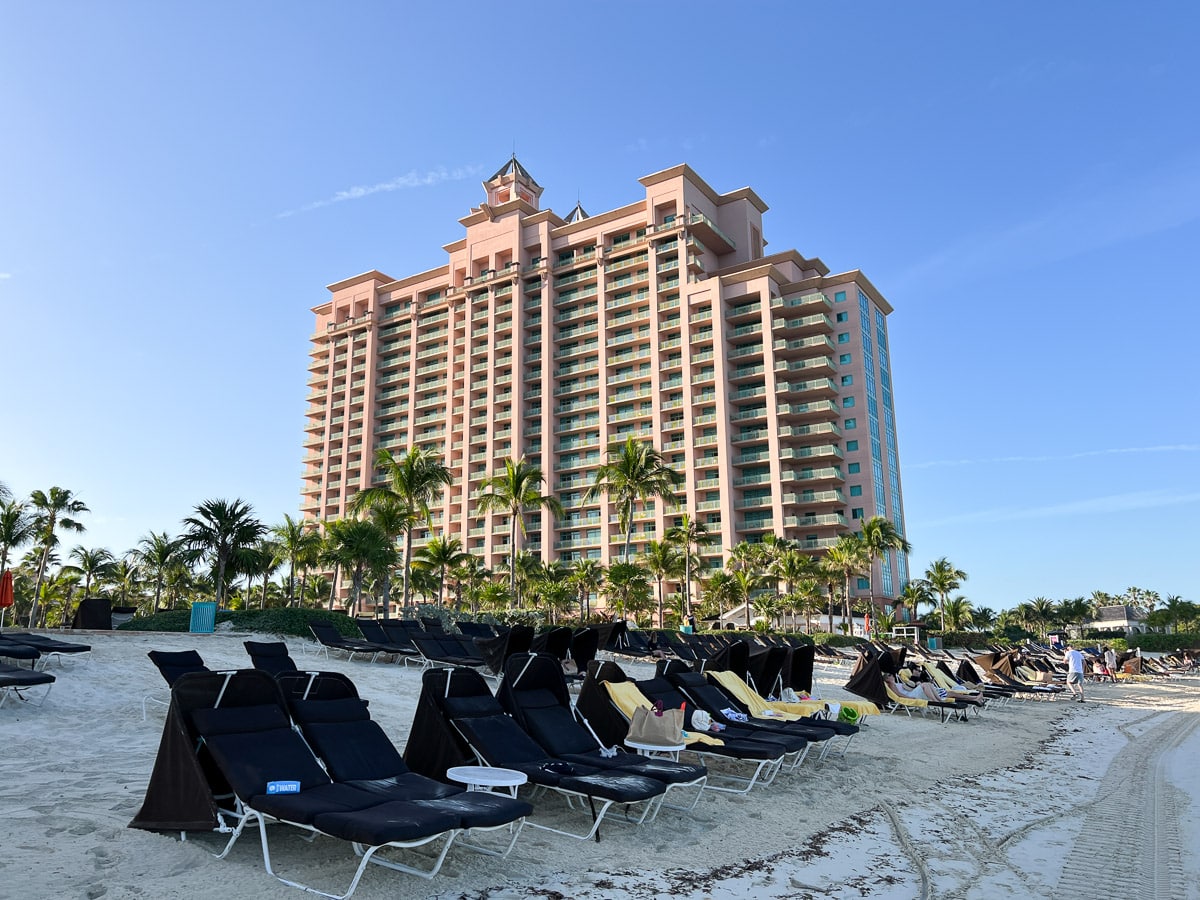 Choosing a Room
You'll find several types of rooms at The Reef, ranging from studio style rooms with small kitchenettes to larger one and two bedroom suites with full kitchens. There are also several view types to choose from – harbor view, terrace view, and ocean view.
The harbor view rooms are on the back side of the hotel and while they do look at the harbor, you'll also be looking at shipping containers and industrial areas, so it's the view I would recommend least.
The terrace view rooms are located on the lower floors, although the ones on the fourth floor will probably get you a glimpse of the ocean.
And the ocean view rooms are going to get you a full ocean view, most of them looking out over the Cascades pool to the beach beyond.
All About The Room – King Studio with Ocean View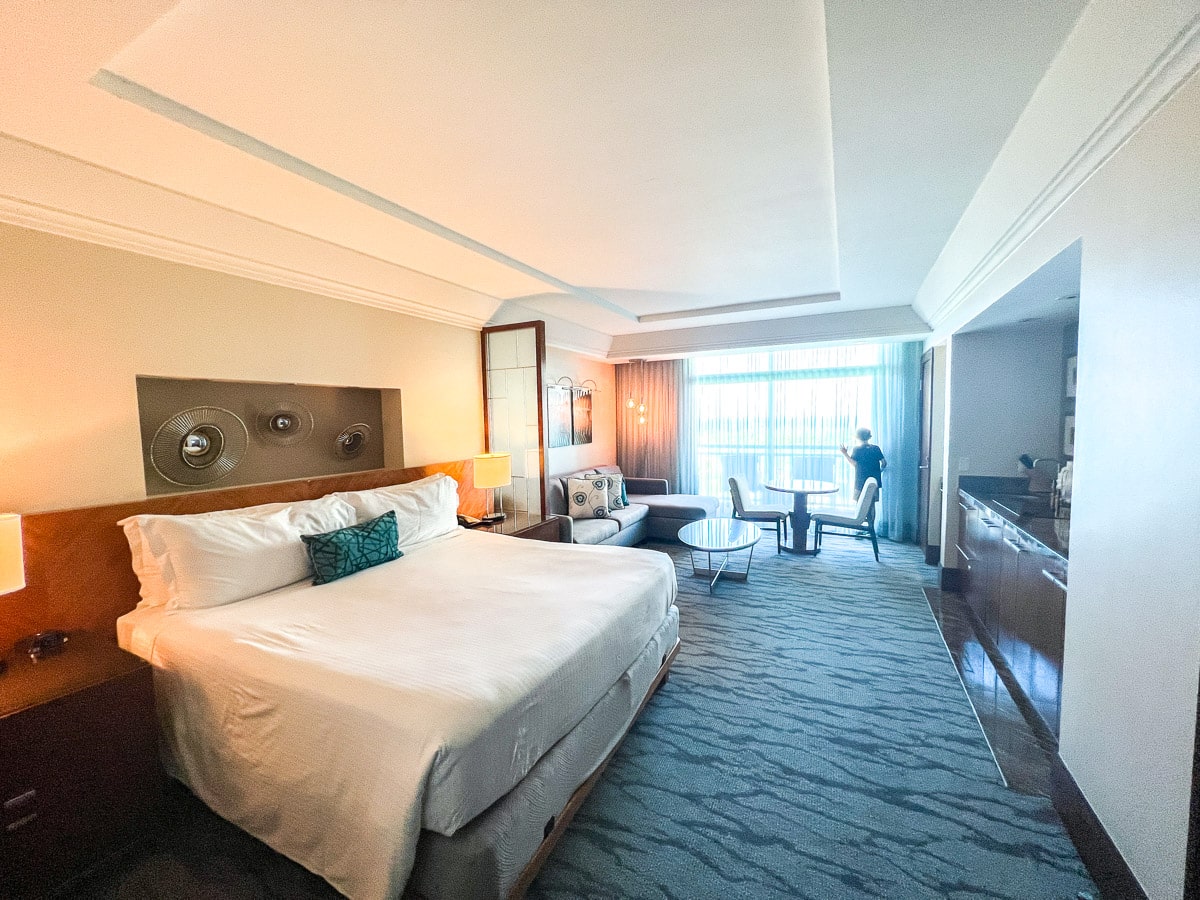 We stayed in a King Studio with Ocean View (which we booked from booking.com), which was the perfect size for our family of three. We really enjoyed the balcony and the lovely view of the Cascades Pool and Paradise Beach. The balcony had two chairs and a small table – perfect for having a glass of wine at night.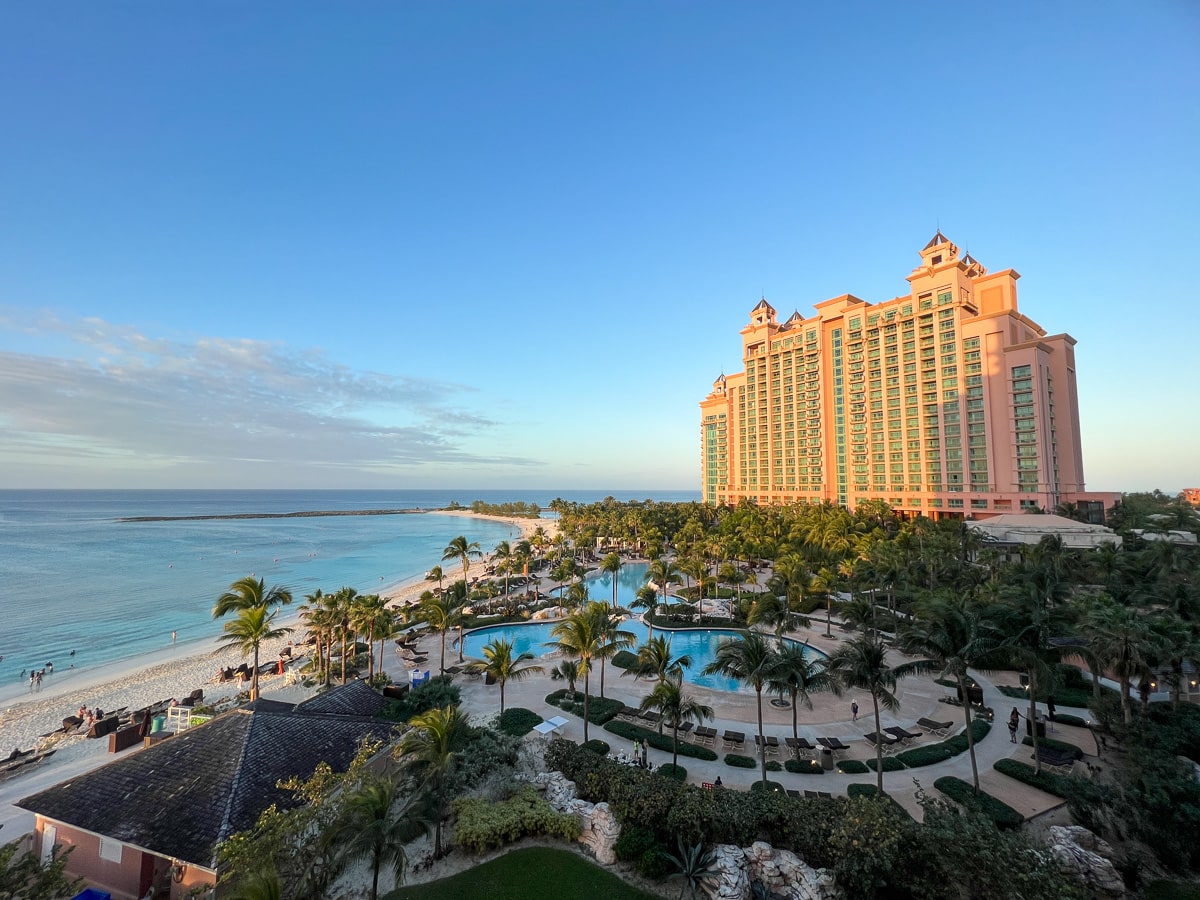 The room featured a King size bed, plus a pull out sofa that was perfect for my eight year old. Everything was very clean and comfortable – no complaints there!
The bathroom was enormous, with double sinks, a walk in shower, and a large soaking tub. Complete with the odd feature of a window that opens up into the bedroom. My son thought this was fantastic.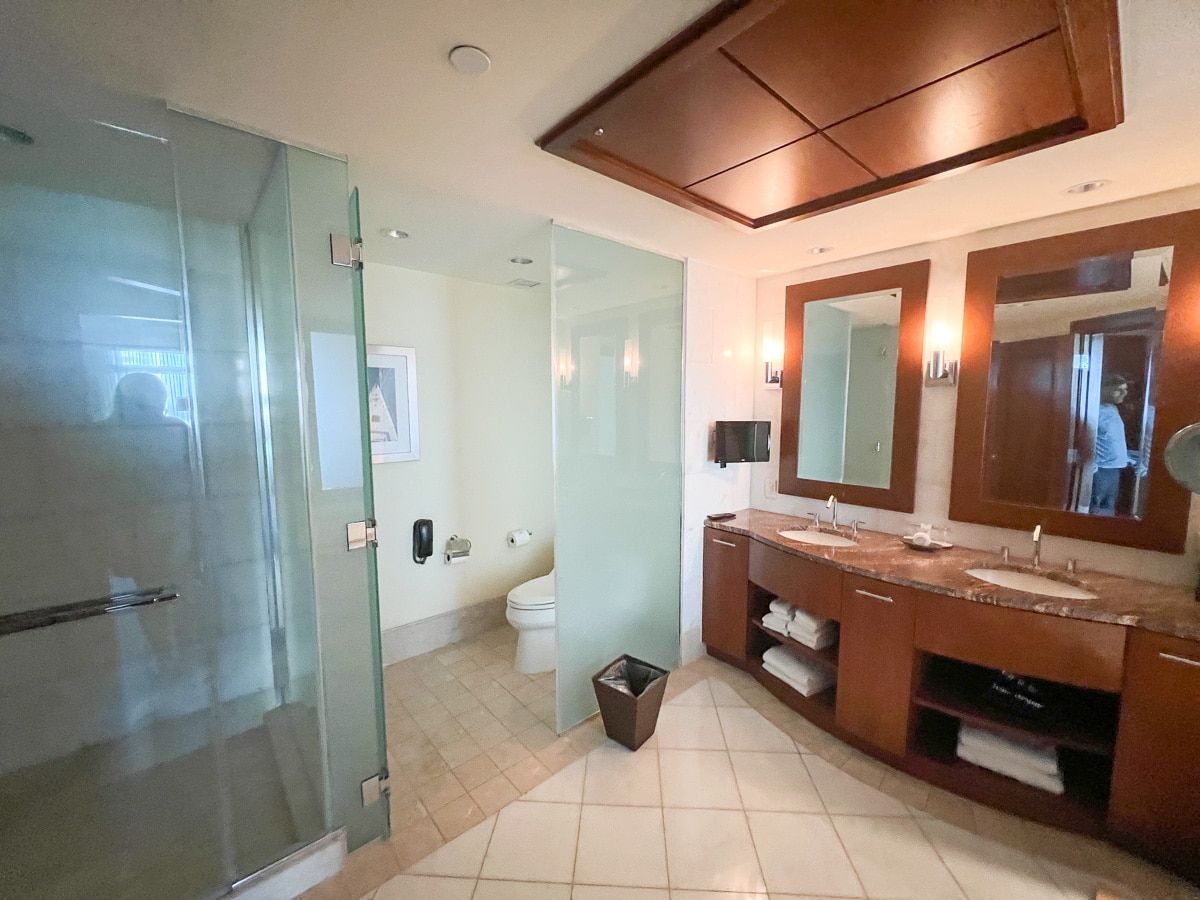 There were complimentary toiletries in the bathroom and a hair dryer- the standard stuff you would expect. I packed along my own shampoo and conditioner so that my hair didn't feel like straw after the beach and pool.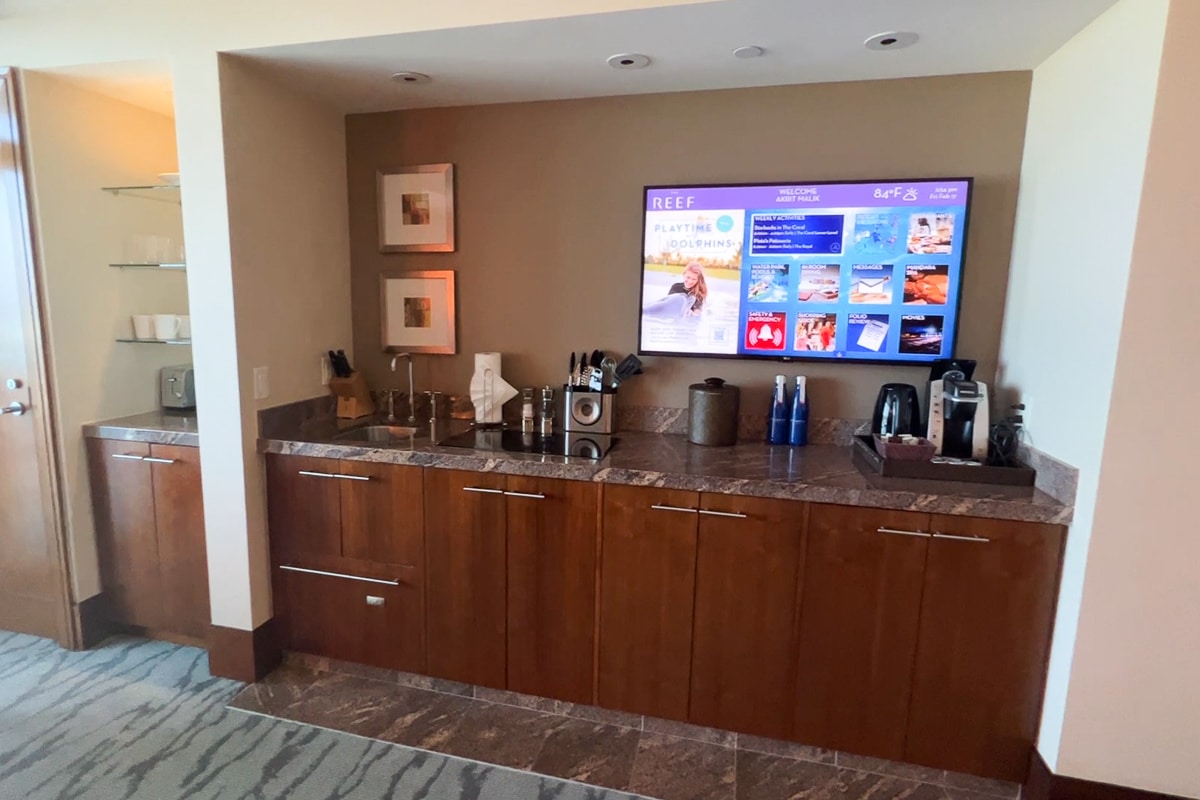 Our room featured a kitchenette, and it was so convenient! In the kitchen, there was:
Small refrigerator (no freezer section)
Microwave
Glass Cook Top
Toaster
Dish Washer (pull out drawer style)
Keurig coffee maker
Dishes and utensils
Pans, knives, and cooking utensils
Glasses and wine glasses
Additionally, there was a small safe for valuables (located in the closet) and there was even a laundry basket which we used for our wet and sandy beach clothes.
The Reef Pool & Beach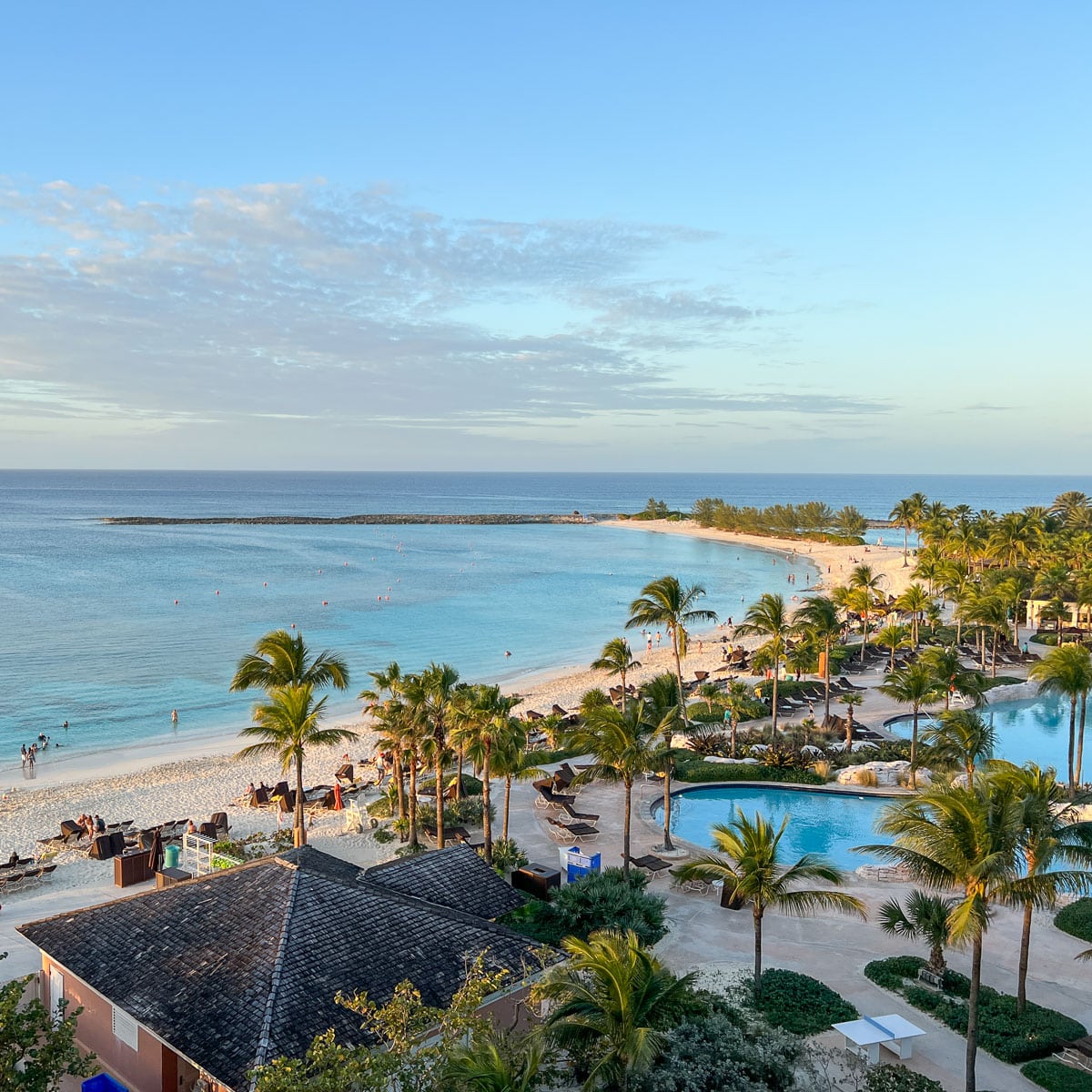 The Reef and Cove hotels share access to the Cascades Pool. This is supposedly private for just guests of The Reef and Cove, but that was definitely not the case. There was no one checking this, and any Atlantis guests can easily use any pool (with the exception of the one adults only pool for Cove guests). However, it was still a great pool area that was much quieter than the ones found over in the main waterpark.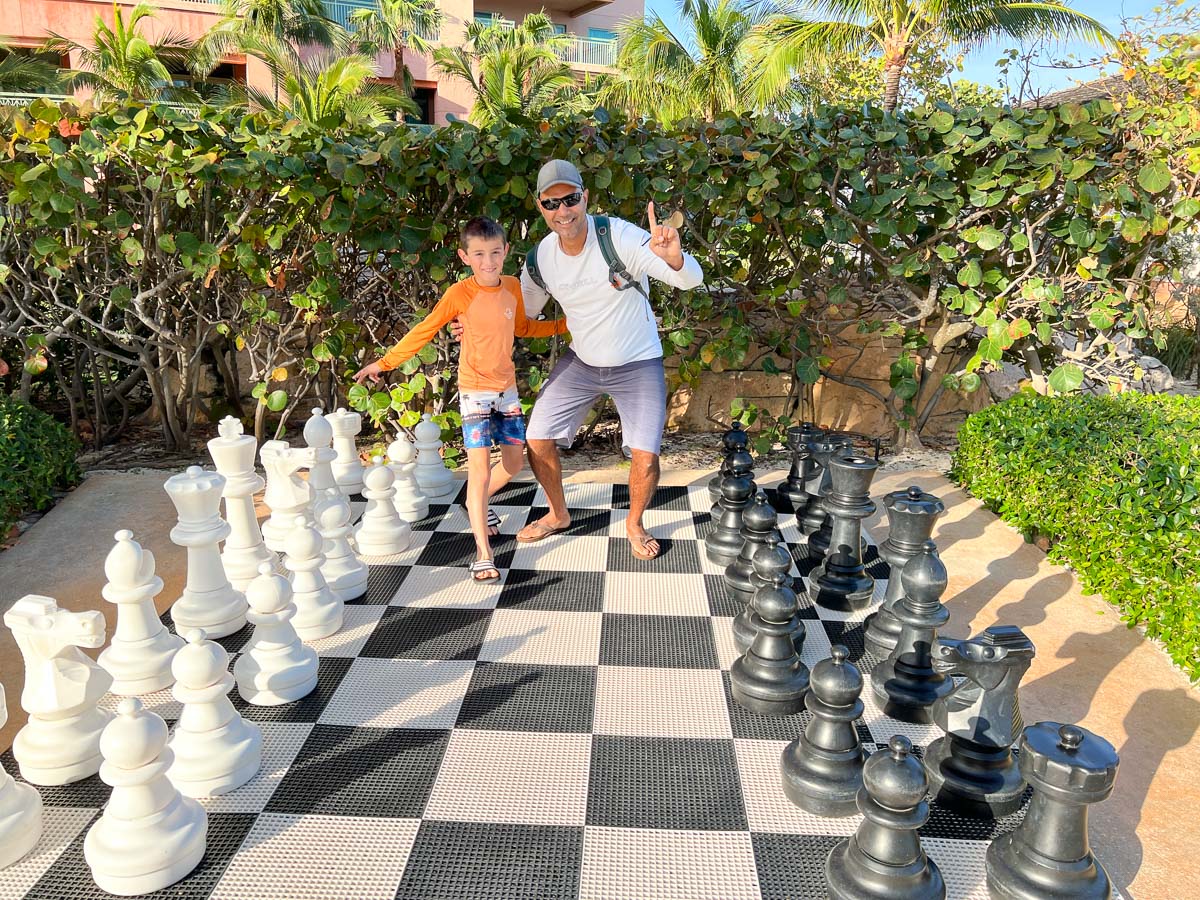 By the poolside, you'll also find a few activities like table tennis and a giant chess set. And in the grassy area in front of the Reef entrance, you'll find some comfy hammocks and Adirondack chairs.
The Reef is directly adjacent to Paradise Beach, which I personally think is the best beach Atlantis has to offer. This area (or at least the beach chairs in this area) is also supposed to be private to Reef and Cove guests. But again, that was definitely not the case. The beach was certainly beautiful though – much better than I expected it to be. And that is coming from a native Floridian who has seen more than her share of beaches.
The sand is soft and the water is aqua blue and crystal clear. We had fun swimming and snorkeling there, and even saw a sting ray.
But there are a couple negatives too. The beach chair game is serious business over here. By 8am every day, there were guests down at the beaching claiming their chairs. In fact, some mornings they started even earlier. By 9am, there was not an unclaimed chair in sight. I personally hate this and find it the antithesis of a relaxing beach visit, but if you want to sit on the beach, go early!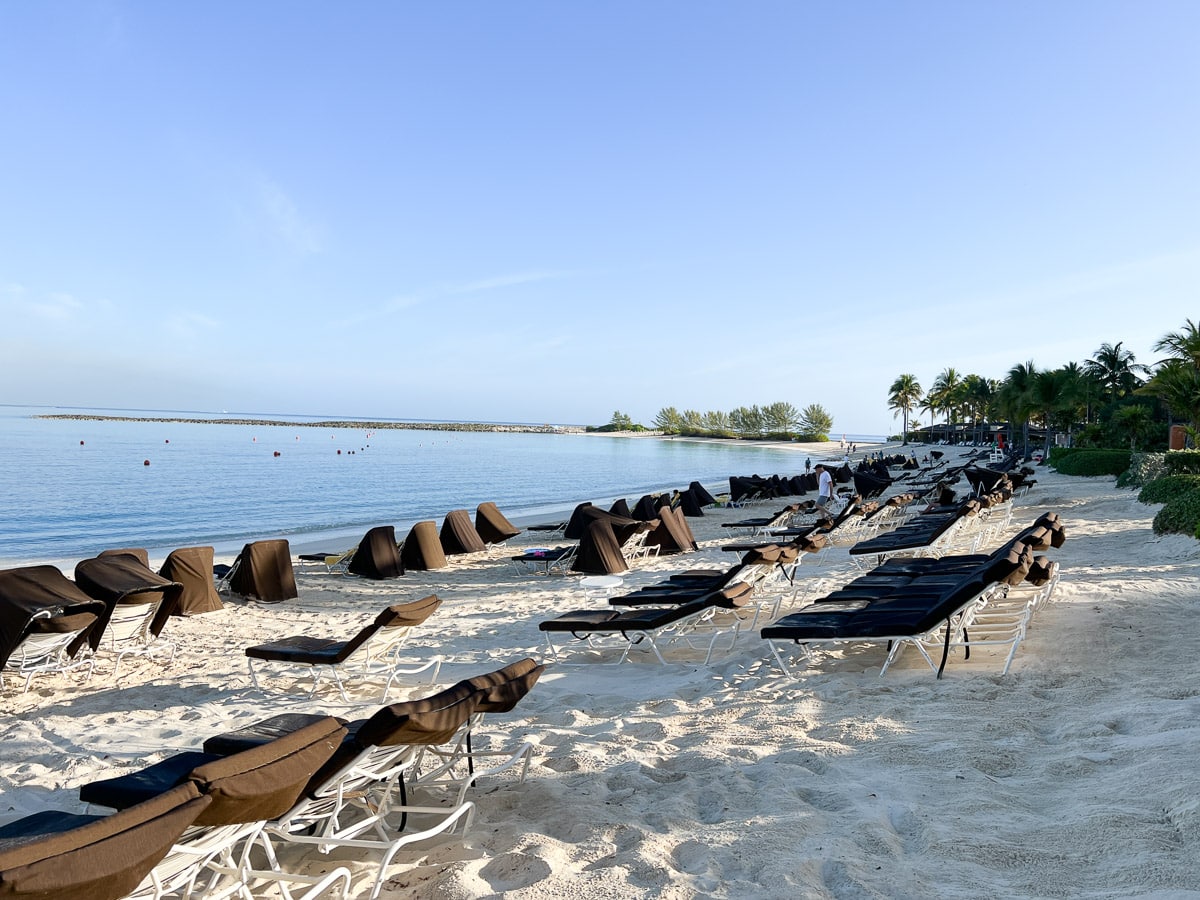 And while these super comfy padded lounge chairs with sun shades are very cool – they so sort of destroy the beach view for anyone not lucky enough to end up in the first row for the day.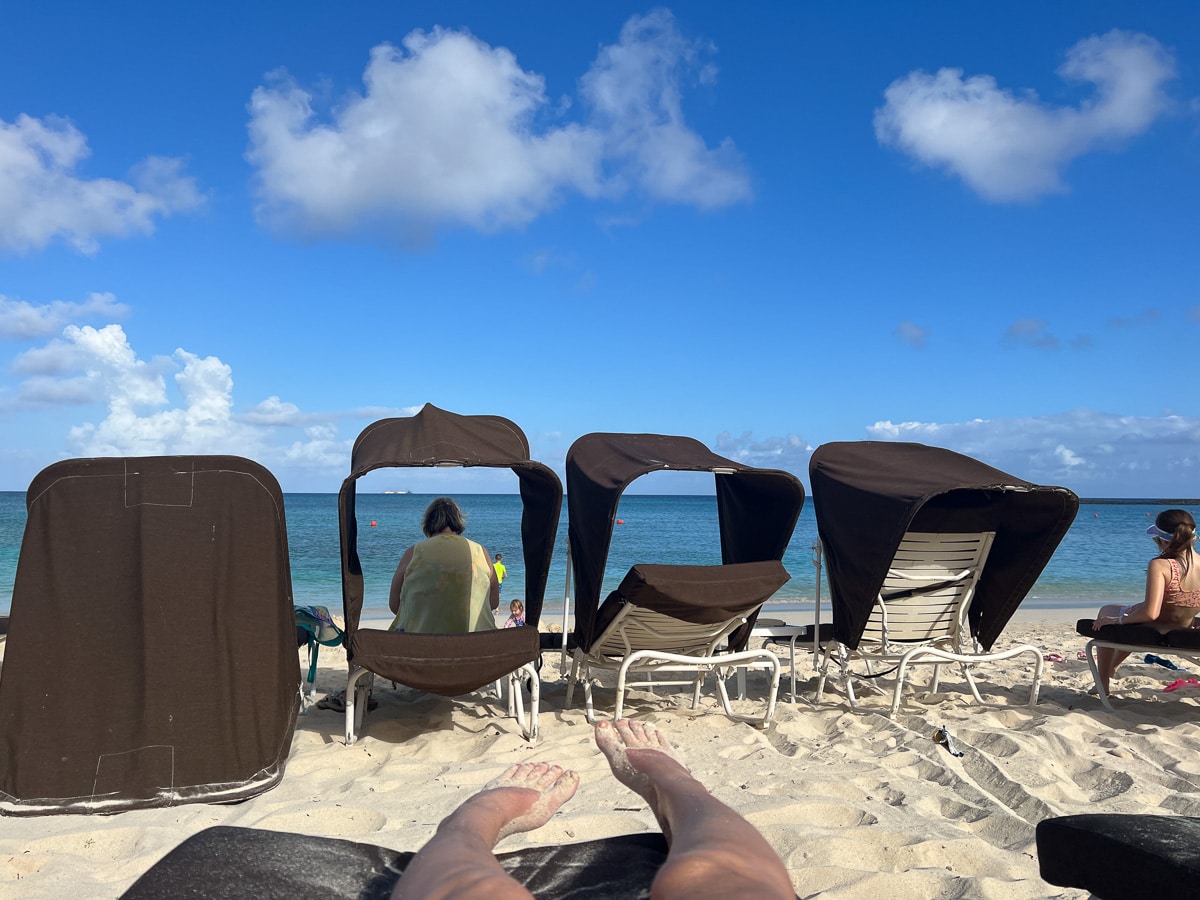 Another really important thing to note is that the pools close early – every pool at Atlantis closed at 5pm on our most recent stay! I expected the water park attractions to close at sunset, but really didn't expect the regular pools to close up as well, and that was a big disappointment for us. There's not much to do in the evening hours at the resort, and we would have really enjoyed a nighttime swim.
The hours do fluctuate depending on the season, so they can be open as late as 7pm in the summer months. But that's still bizarrely early for a beach resort to close up its pools. As a Florida native, I'm used to seeing pools close at 9-10pm at beach resorts. And even then, most will let you carry on if you aren't being disruptive.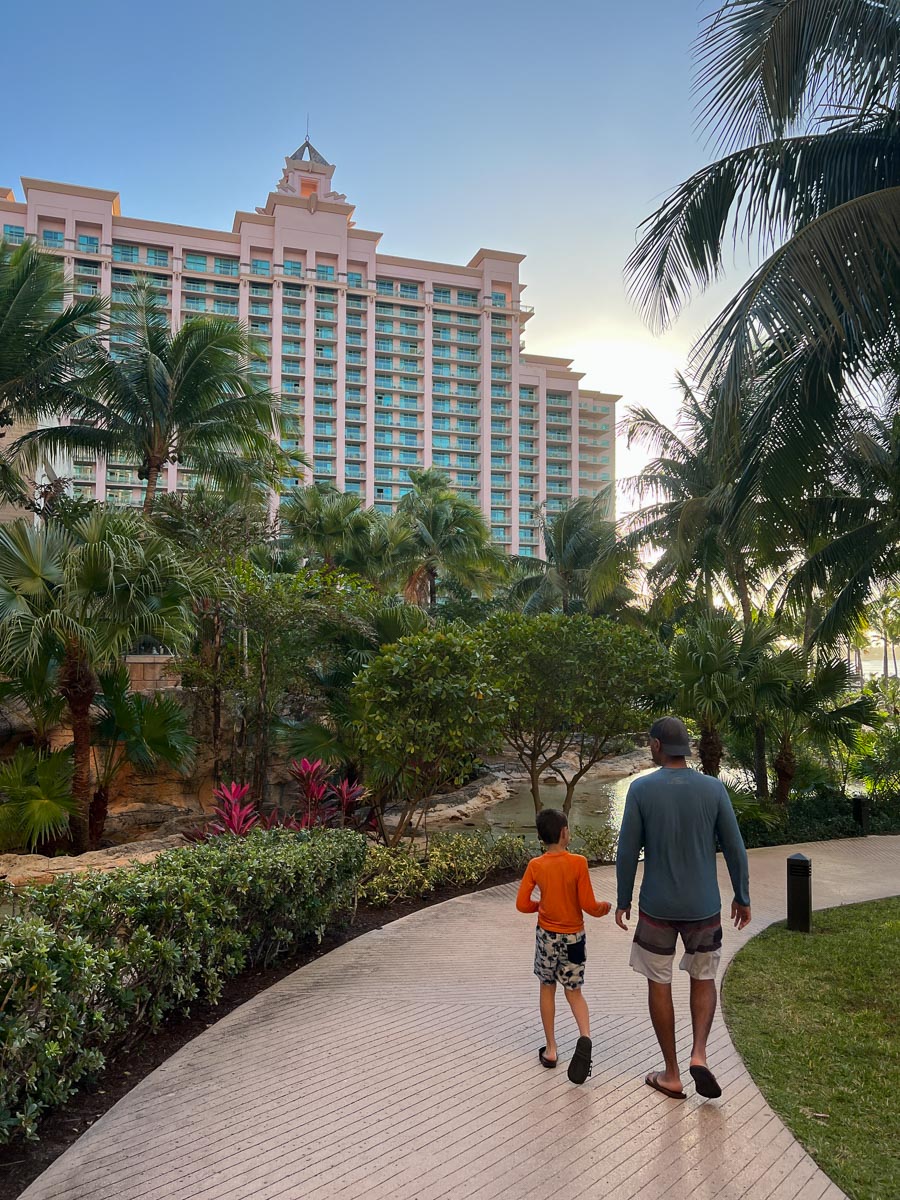 Location & Other Amenities
The Reef is located on the far side of the Atlantis property. This puts it adjacent to what I think is the nicest beach at the resort. But it also means it's quite a hike to the water park and the restaurants and bars over in The Royal Towers and Marina Village. There is a shuttle service that runs regularly, but the trek did get old by the third day.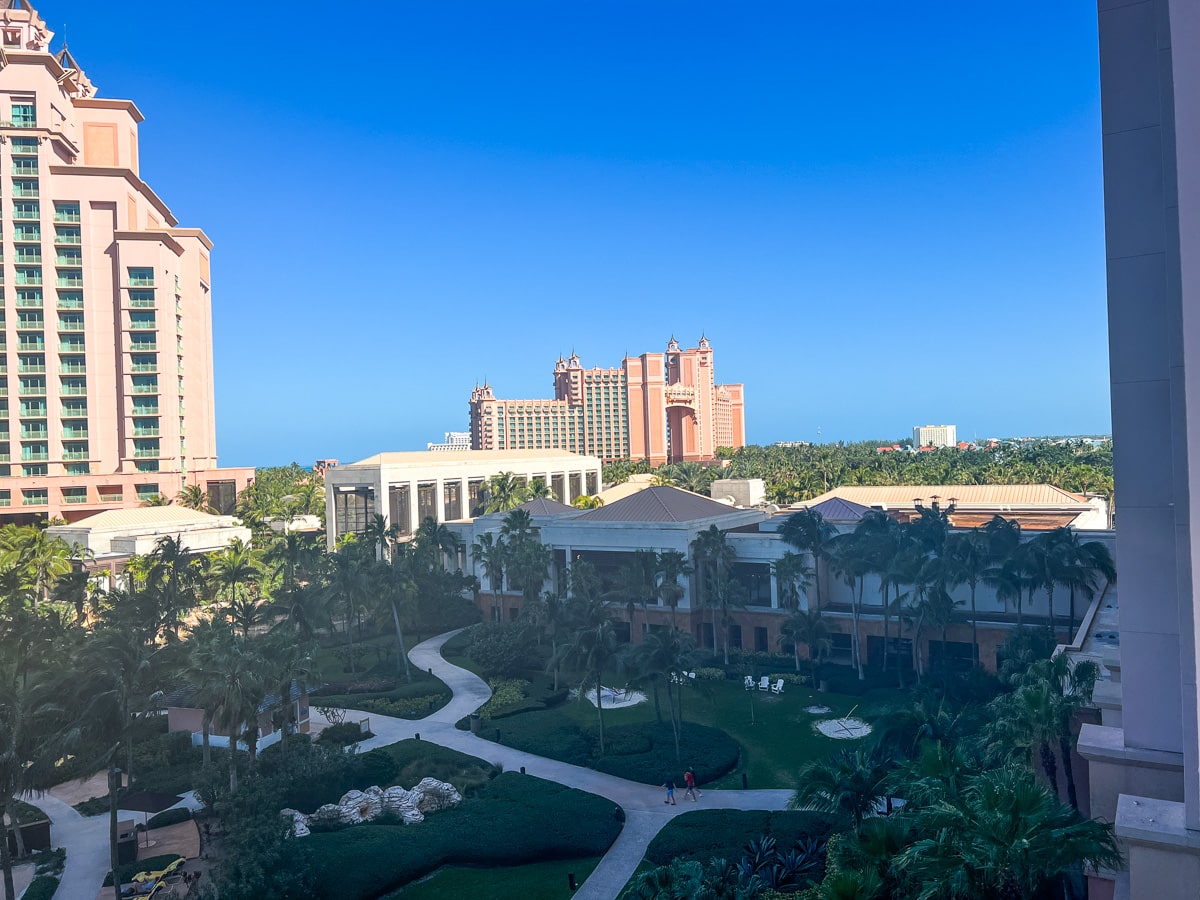 In the Reef lobby, you'll find a Starbucks, which is great for breakfast. But be warned – the line is going to be insane. It took 30-45 minutes to get a coffee there each day. So if you're not that particular about your caffeine, stick with the Keurig machine in your room. Note that you also can't use your Starbucks app or rewards here.
There is also a small sundry shop in the lobby, which has some beverages and packaged grocery items available. We brought along a bottle of vodka, thinking we could pick up some club soda in one of these shops at the resort. But nope – no club soda or tonic water for sale anywhere on the property. They obviously don't want you to be able to mix your own drinks. I didn't want it badly enough to make a store run, so got stuck drinking $16 vodka sodas all weekend. Well played, Atlantis. Learn from my mistake and pack what you want to have available.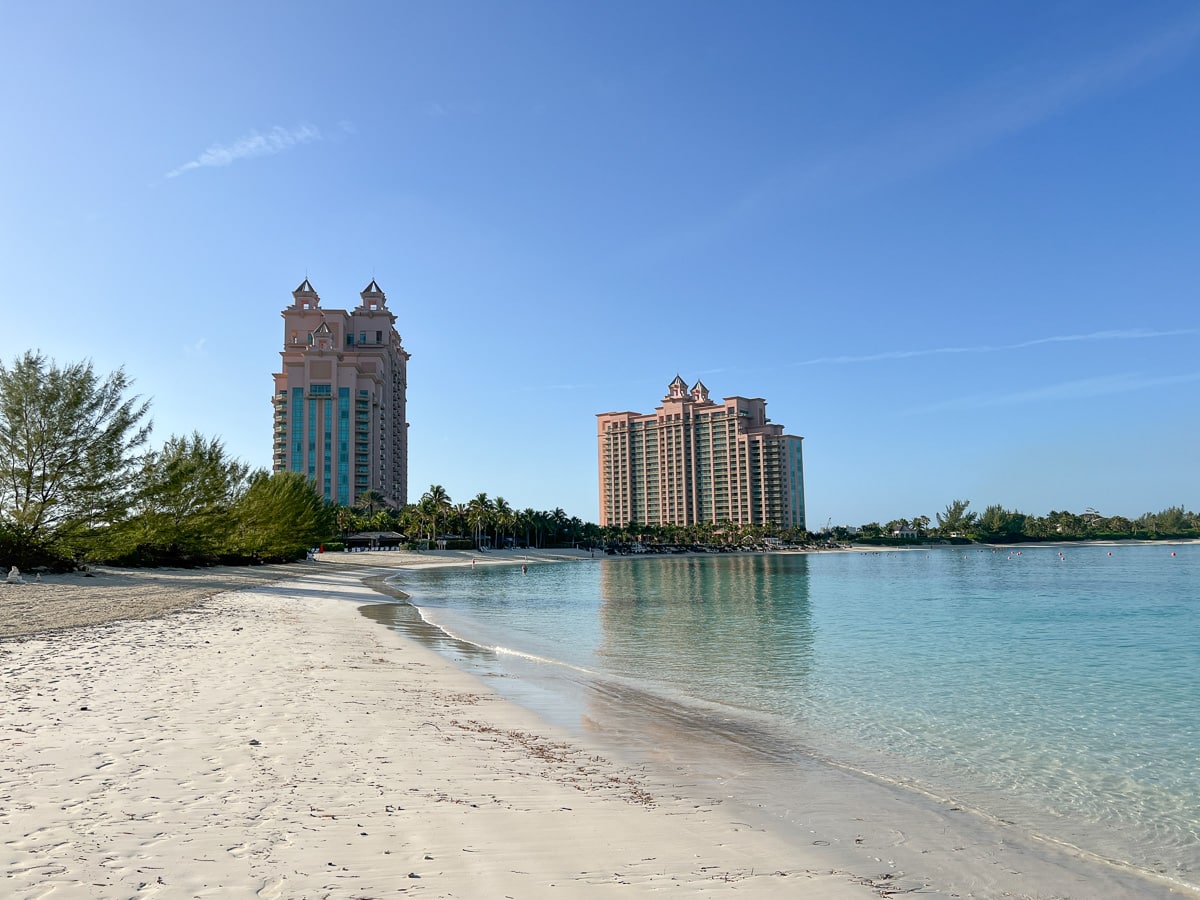 Service at The Reef
I was a little concerned reading the many reviews complaining about service at Atlantis, but we didn't really encounter any issues. In general, the staff throughout the resort were all friendly and helpful.
At The Reef specifically, we did encounter some issues with room charges. We had another guest's charges showing up on our bill, and it did take three different visits to the front desk to get the issue sorted. In fact, I'm still not entirely sure whether our final bill was correct. So be sure to keep an eye on your folio – you can view it on the TV screen in your room.
There was security by the elevators leading up to the rooms at pretty much all times. To be honest, no one really asked to see my room key, so I'm not sure how much they were checking. Maybe I just don't look that suspicious with my eight year old and mom bag in tow. But at least the presence of security is a good deterrent to anyone up to no good.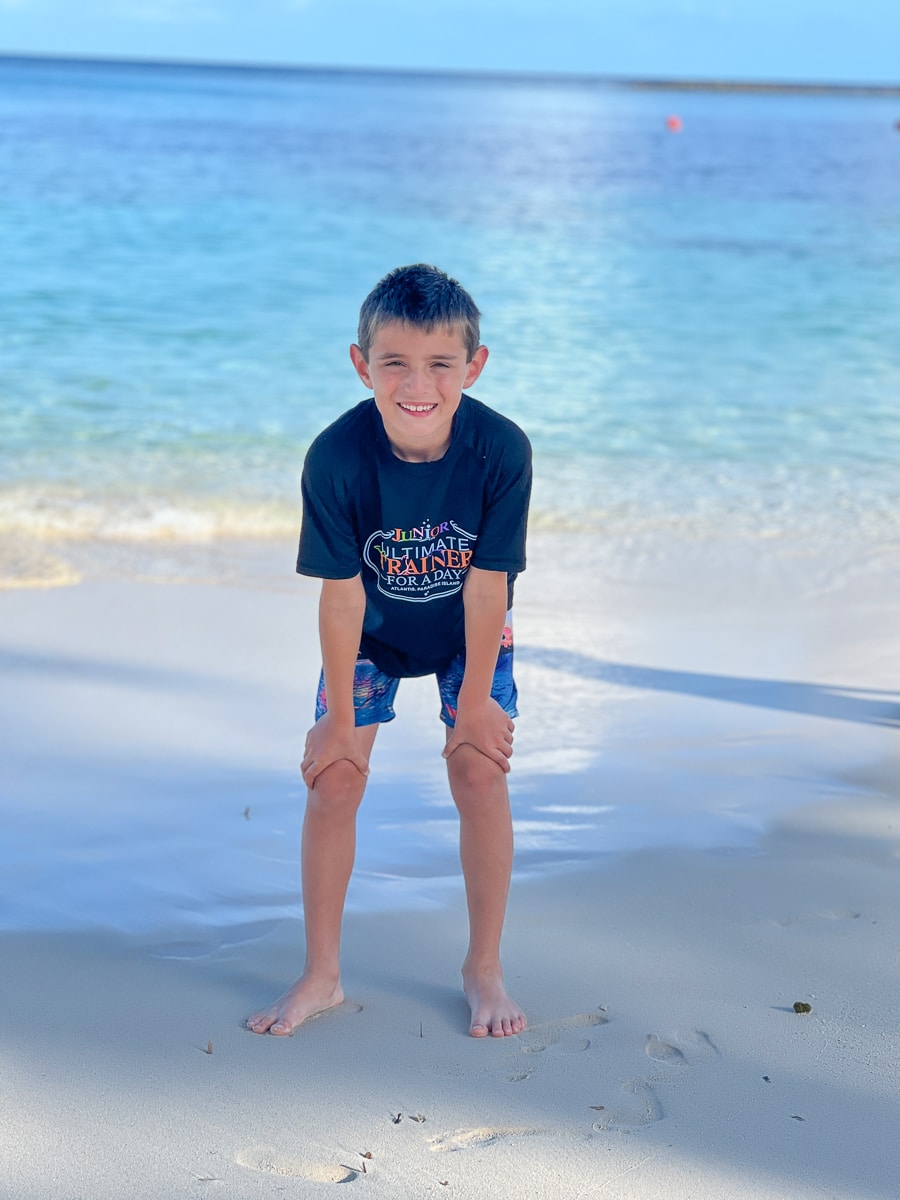 Tips for your stay at The Reef
Make a grocery stop on the way in.
One of the main selling points of the rooms at The Reef is the fridge and kitchen (or kitchenette). This is a big bonus, especially for families with kids, as being able to prep a quick meal or snack in the room will save you a ton of time and money. There is a small sundry shop in the lobby of the hotel that has some grocery items, but we were really disappointed by the selection (i.e. no club soda or other mixers to be found!). So hire a taxi from the airport, and ask them stop at a grocery store for you, for an extra charge.
Pack snacks and basics.
Even if you're stopping for groceries, it's not a bad idea to pack along some snacks for the room. The brand selection in the Bahamas is much more limited than home and the prices are much higher. We brought along some Easy Mac cups for the microwave, some Keurig coffee pods in our preferred flavors (these are my fave), and some packaged snacks. And check out my packing list for more tips on what to bring along.
Let's talk water.
If you're reading other reviews that say bottled water is provided, they are outdated. The hotel is currently providing each room with two reusable water bottles which you can fill at the many refill stations throughout the property. I applaud the effort towards conservation. But… the water is lukewarm at most of the refill stations and tastes pretty nasty (smells like chlorine) unless it's cold. You'll find an ice machine on the second floor at the Reef. I recommend filling your bottles with ice before you head out each day so you can have cold water instead!
If you prefer to buy bottled water, know that at the hotel all you are going to find is liter size glass bottles for $10 a pop. Yep. So grab some on your grocery stop if you want them.
The wristband situation.
You need to be wearing a resort wristband to access the water park and pool areas. You can get those at any of the towel stations throughout the resort. Here's the thing – if you keep it on, you can wear the same wristband for your whole stay. If you remove it, you will need to stop each morning when they open at 9am and get a new wristband. The line can be very long at opening when everyone is trying to do this. So if the bands don't bother you, just keep it on.
Download the app.
You'll want to download the Atlantis app before your visit for a couple features. It contains the daily newsletter with info on all the activities being offered each day. (Here are the top 25 things not to miss at Atlantis!) And it also has a resort map, that will give you directions from the spot your standing to any attraction on the property. You will need it – this place is massive.
There's a laundry room.
I didn't realize there was a laundry room available at the hotel until our last day. But this is a great feature if you are staying for an extended vacation. Be sure to bring along some laundry pods (or these laundry sheets!), because they were not readily available.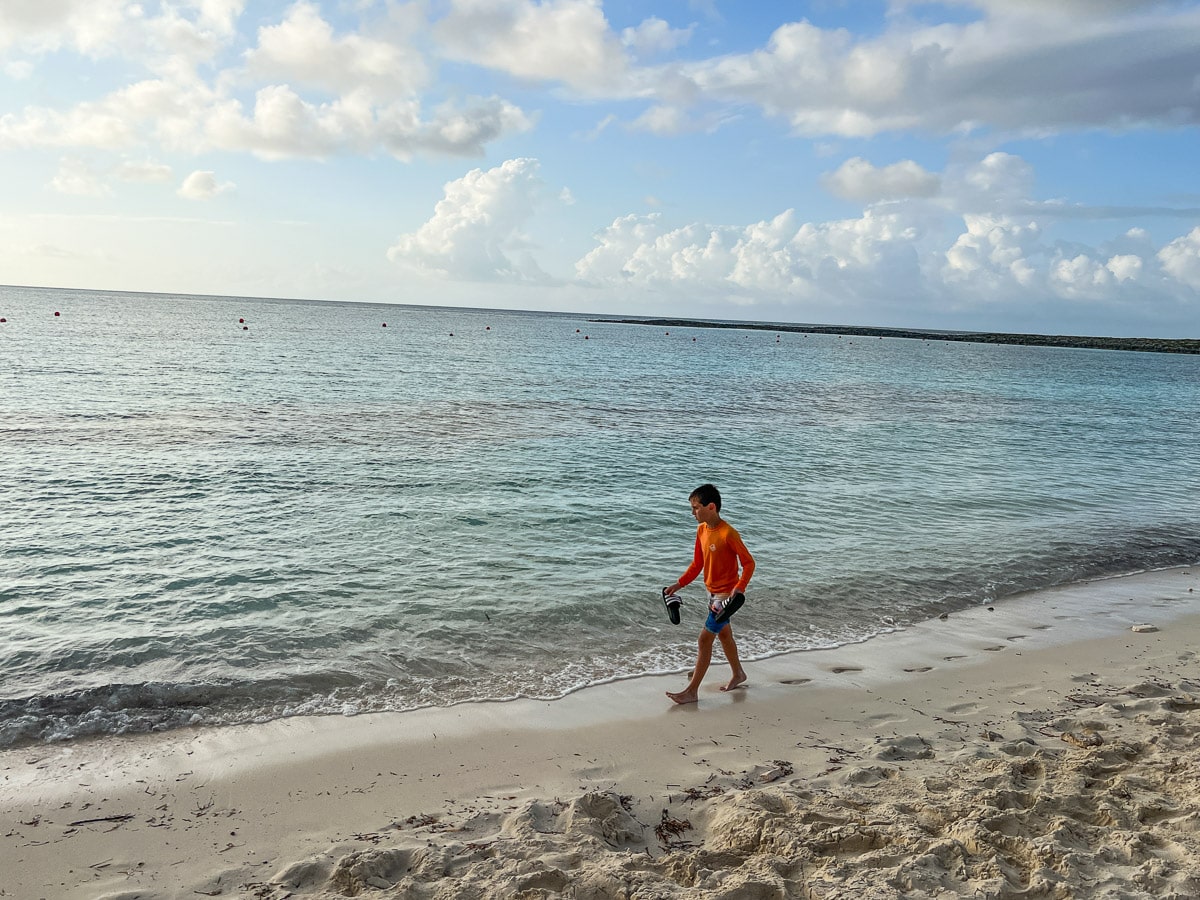 FAQs about The Reef at Atlantis
Does the Reef at Atlantis include the water park?
Yes, all of the Atlantis hotels include access to the Aquaventure water park and other resort amenities.
What is the difference between The Cove Atlantis and The Reef Atlantis?
The Reef and Cove are the two higher end hotel towers at Atlantis. They share access to a private family friendly pool, and both have direct access to a beautiful beach. The Reef features upscale suite style rooms with kitchens or kitchenettes. The Cove features upscale rooms (no kitchens), and also includes access to a private adults only pool area.
Has The Reef Atlantis been renovated?
Yes, The Reef was renovated in 2019.
Is The Reef Atlantis all-inclusive?
No, none of the Atlantis Bahamas hotels are all inclusive properties. There are some dining plan options available that cover meals at select restaurants, for an additional fee.
Do all the rooms at The Reef Atlantis have kitchens?
Yes, all of the rooms at The Reef have either a small kitchenette or a full size kitchen.
Can you go to the Cove pool if you stay at The Reef?
No, the adults only Cove pool is exclusively for use by Cove guests.
Are kids allowed at The Reef Atlantis?
Yes, kids are allowed at all of the Atlantis resort hotels. The Reef is an especially good option for families thanks to the kitchen/kitchenette areas in each suite.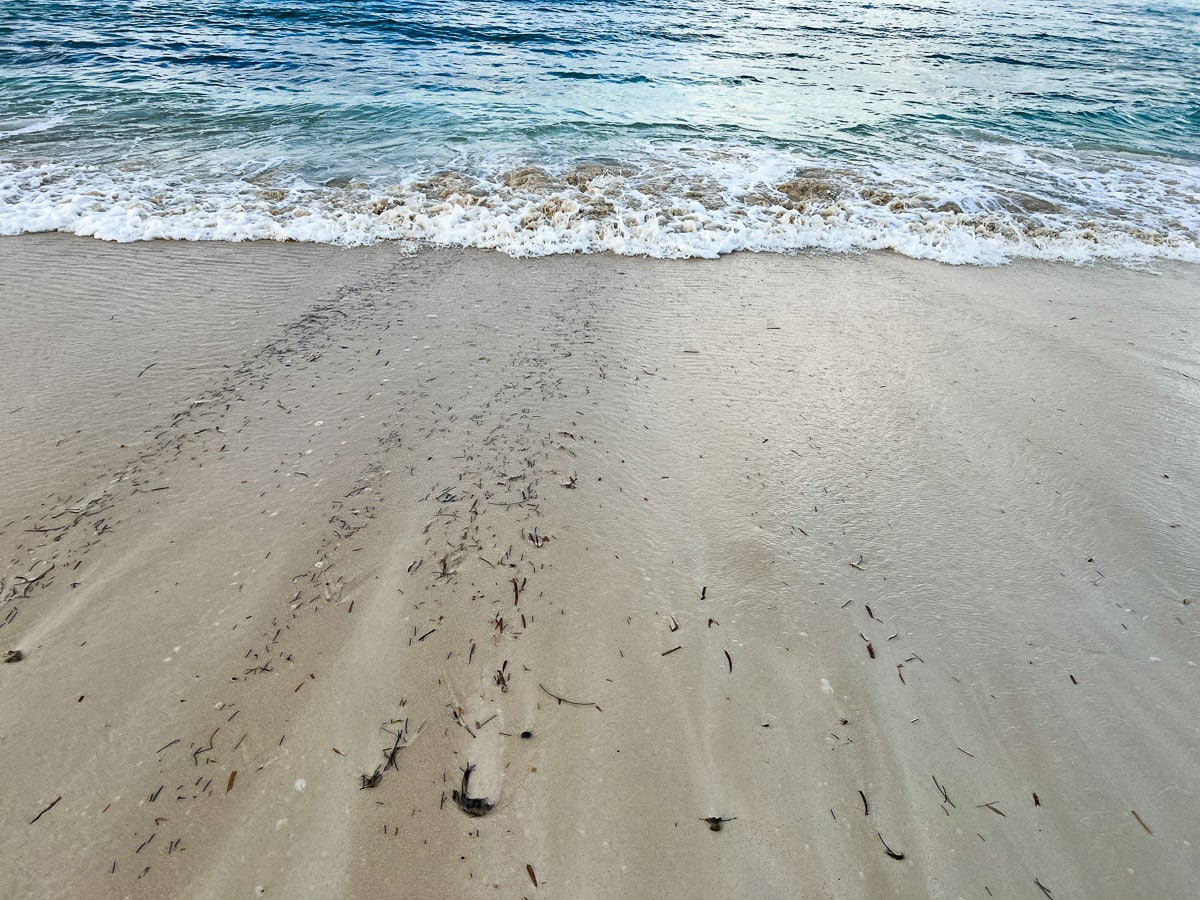 Would we stay at The Reef Atlantis again?
Yes, if we return to Atlantis we would stay at The Reef again. However, it will probably be a while until we make another visit. Atlantis is just one of those places – you either love it or hate it. There's no denying that it's a truly stunning resort with perfect pools and beaches, but the steep prices and overcrowded spaces can be a big turn-off. The chaos of the resort as a whole (long lines, battling for lounge chairs, etc.) was not quite our style.
Regardless, we had a really fun weekend and I'm glad that we braved the crowds to show my son a good time on his birthday. The Reef is a particularly good choice for families with its spacious suites and family-friendly amenities, and does keep you at least a bit more insulated from the crowds. I think it was by far the best choice of Atlantis hotels for our family!
More Atlantis Trip Planning Guides