Are you planning your first visit to Universal Studios Orlando? Here are a few of my top tips to get the most out of your visit to Universal Studios and Islands of Adventure.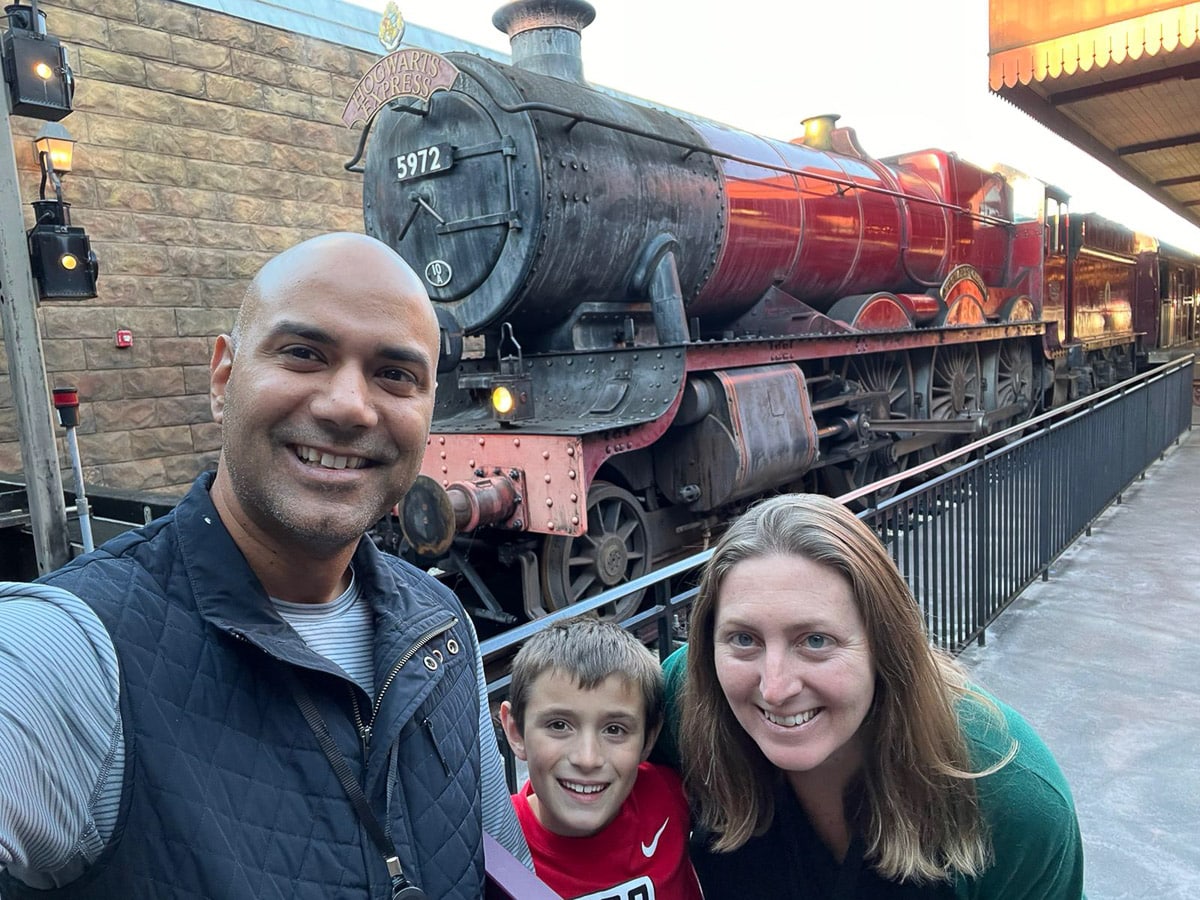 1. Get Park to Park tickets.
Universal sells both single park tickets (which give you access to just one theme park for the day) and park-to-park tickets (which allow you to move back and forth between the parks each day). The park-to-park tickets will give you the most flexibility to move around between the parks and avoid some of the crowds. It also is the only way you can ride the Hogwart's Express, which connects the Harry Potter themed areas of the two parks to one another. And in my opinion, the train ride is a highlight of the Harry Potter experience.
2. Don't stop at the first attraction.
Both parks are designed in a big circle, so you can enter the park and walk one direction or the other around a loop. Don't get sucked into stopping at the first attraction you pass (unless it's one of your must-see items). In my experience, everyone coming into the park without a plan will stop at these first one or two rides, making for really long lines for attractions that might not really be on your list. For example, we made this mistake once and waited 45 minutes for the Minions ride upon entering the park. It's a cute ride – but not that cute. And if you're travelling with kids, be sure to check out my picks for the best kid friendly attractions at Universal.
3. Pick your must-see attractions in advance.
Be sure to browse the Universal Studios app in advance and save your favorite attractions, so you know which ones you should prioritize when you get into the park. These parks are simply too big to see everything in one visit. So you don't want to show up without a plan, and realize halfway through that you haven't hit your favorite rides yet and now the waits are an hour or more. I suggest having everyone in the family pick one "must do" attraction, hitting those first, and then filling in with the nice to haves.
4. Don't carry a bag.
You'll find plenty of articles listing all the things you should bring for a day at Universal. But if it's at all possible, I actually recommend that you go without a bag for the day. Most rides will not allow you to carry on any loose items like purses or backpacks, so you will need to put them in a locker before riding. There are free lockers available for small bags (larger lockers have a charge), but it's still a pain to stash your stuff before each ride.
Personally, I go to the parks with just my cell phone and a small pouch for cash, ID, and credit card, which fits in my pocket. (I'm a fan of these Chums wallets!) On our last visit, I also wore a hoodie with an inside pocket to hold the wand that I knew we would purchase for my son. I didn't need to use a locker at all.
Another option is a fanny pack. I know – very cool. But a small fanny pack is allowed on many rides even when larger bags are not. But you should still expect to stash it in lockers a few times throughout the day. If you're going that route, something like this small belt bag is a good choice. In fact, bag choice is so important that I have an entire article on the best bags for Universal Studios.
And regardless of whether you carry a bag, you're going to want to add a lanyard to your Universal packing list. You will need quick access to your park tickets and Express passes (if you get them) throughout the day, and a lanyard is the easiest way to manage that!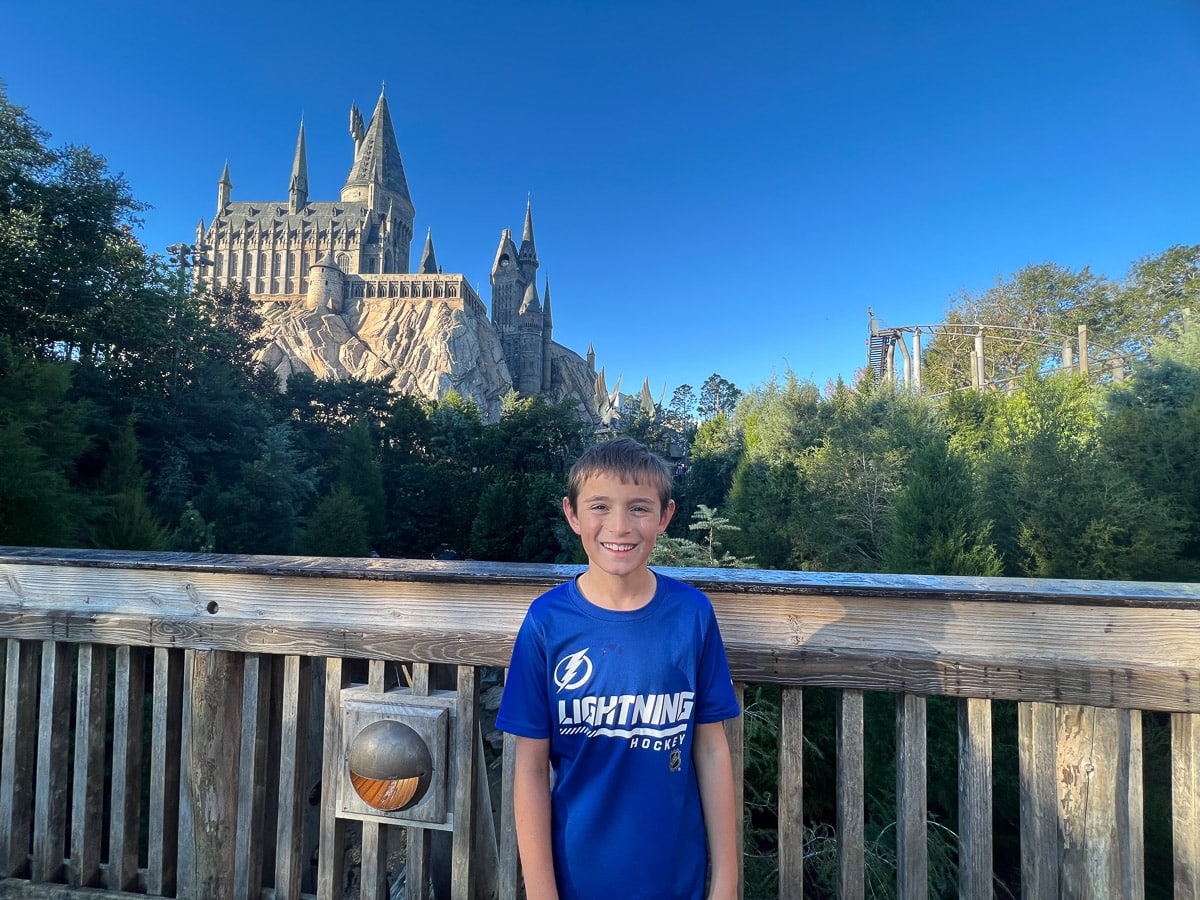 5. Let's talk about Hagrid's.
Hagrid's Motorbike Adventure is by far the most popular attraction at Universal, and the line can easily be over three hours. When the park opens in the morning, guests queue up an hour in advance, and then literally run to get in line for Hagrid's. In my experience, this means the wait first thing in the morning is often even worse than at other times of the day.
I personally don't want to see any ride badly enough to wait in that kind of line. But if you're going to do it, know that you may find better wait times during the lunch or dinner hours, or in the last couple hours before closing for the day. In general, anything under 120 minutes is a good wait time for this ride.
Note that because people are racing to the most popular attractions like Hagrid's and Velocicoaster first thing in the morning, it's a great time to hit slightly less popular (but still very busy) attractions like Escape from Gringott's. We saw waits up to 150 minutes for Gringott's on our last trip, but were able to walk right on at 9:30am. It's also a nice time to simply walk through the Harry Potter areas and enjoy them with less crowds.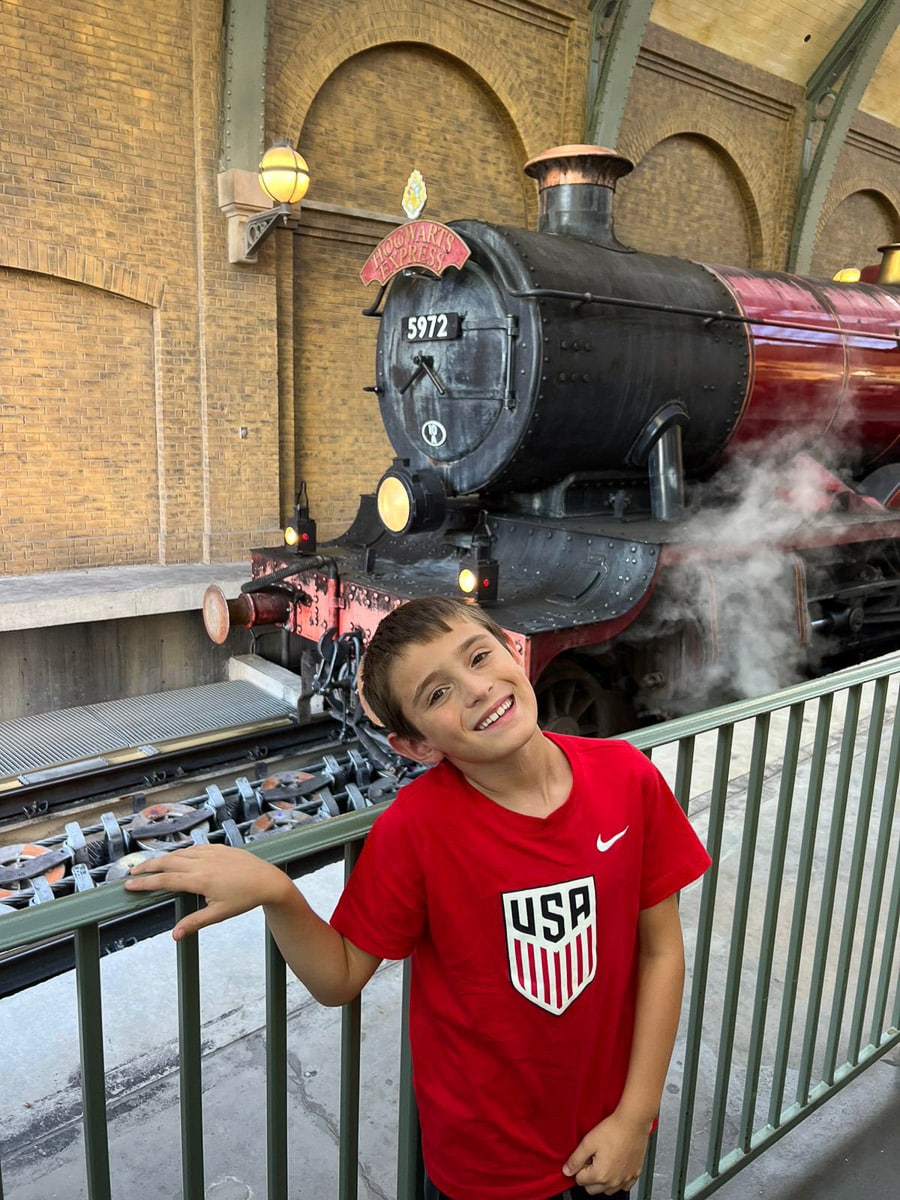 6. Ride the Hogwart's Express in the morning.
The train ride between the two Harry Potter theme areas is definitely one of the highlights of the Harry Potter Experience. But here's a tip – ride it first thing in the morning. Later in the afternoon and evening, the line can be an hour or more to ride the train between parks. But early in the day, most guests are not switching parks yet, so it will be nearly empty.
You can ride it back and forth from one park, which is worth doing because the show is different in each direction. Or you can enter from one park, ride the train first thing to the other park and spend the day there. Note that you must have park-to-park tickets to ride the train.
7. Don't waste time on food.
Seriously, there are no restaurants in the parks that are worth taking time away from your visit. I strongly recommend getting a quick lunch at one of the many grab and go restaurants that are all over the park. You'll find quick service restaurants and food stalls literally everywhere. And if the lines are long, you can preorder from the Universal app and pick up your food to go.
If you really want to eat lunch at a sit down restaurant, you must make a reservation in advance to avoid a long wait. (If you do this, I recommend Mythos.)
8. Get the Express passes, if you can.
Universal offers Express passes for an extra fee, which will allow you access to a shorter Express Pass line on most attractions. This is worth every single penny. Without express passes, you need to be prepared to wait.. a lot. Even with Express passes, there will be a fair amount of waiting in line, and a few of the most popular attractions don't have an express lane available.
You can even get Express passes for free if you stay at one of Universal's Premier hotels, like the Loew's Royal Pacific Resort. If you're on the fence about whether they are worth the extra cost, go read my article on whether Express passes are worth it.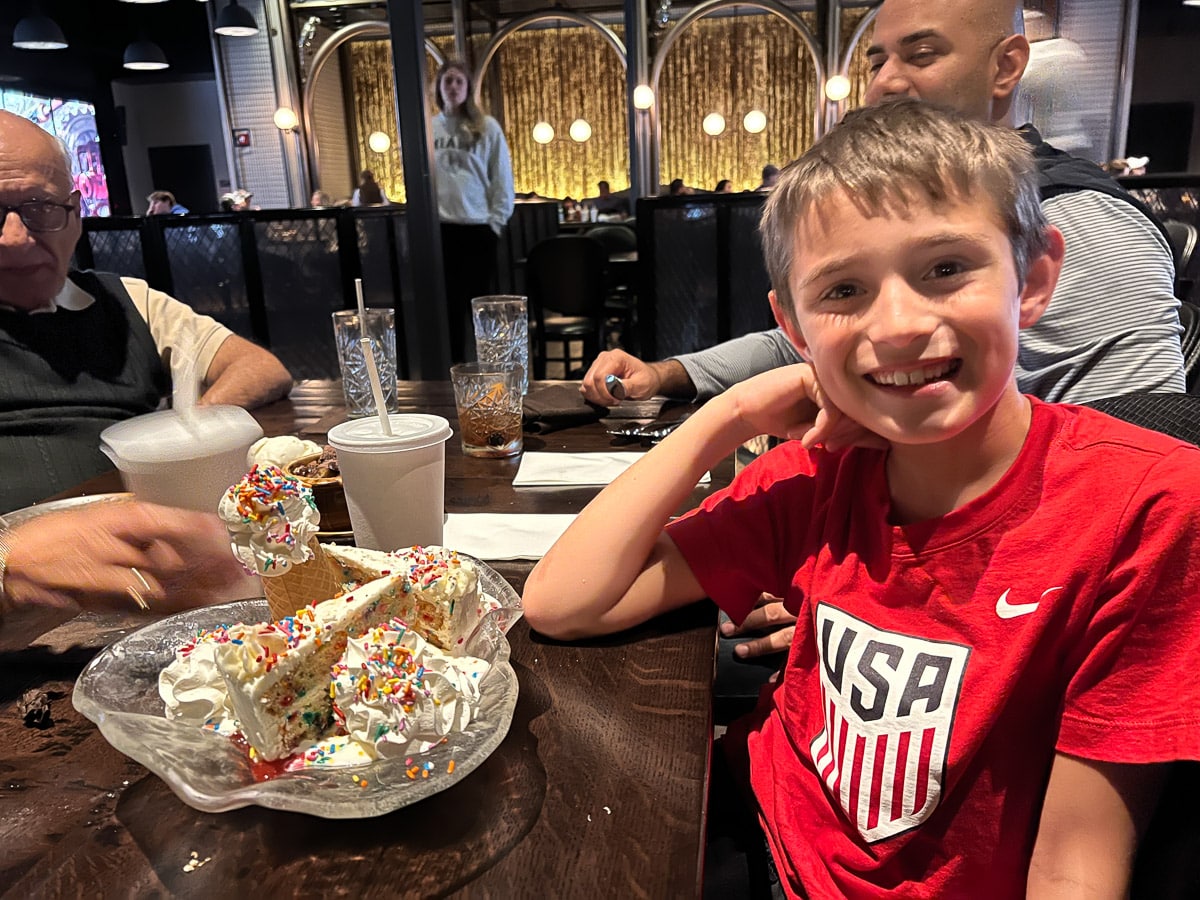 9. Make Dinner Reservations in advance.
Now I said don't waste time on lunch, but dinner is another story. After walking literally all day long, you're going to want to sit down for a nice meal (and probably a few drinks). The best place to do that is in CityWalk, Universal's entertainment district that links the two theme parks. But you'll need to make reservations in advance – at least a few weeks ahead of time for the more popular restaurants.
10. Embrace Harry Potter.
The Harry Potter areas really are the highlight of the Universal Orlando parks, and by far the most popular attractions. We are not big Harry Potter people, but can still appreciate the truly incredible design and theming. It is pretty spectacular. If you have Harry Potter fans in your crowd, feel free to go all in. You will see guests wearing Harry Potter robes, scarves, shirts, hats.. the works. (Here are some great ideas for Harry Potter gear!)
And of course, you can purchase a wand that allows you to cast spells at interactive exhibits in both parks. Very fun for the kids! Buy the wand at Ollivander's Wand Shop (there's one in each park) for the most authentic experience.
More Universal Studios Trip Planning Resources
And if you need more ideas for your trip to Universal Orlando, check out these other helpful guides: