We've just returned from a three night stay at what is possibly the most famous resort in the Bahamas – Atlantis Resort on Paradise Island! This special trip was to celebrate my son's eighth birthday, so we did our best to pack in as much fun as possible for a long weekend. So was Atlantis worth it? Here are all the best (and worst) things about the Atlantis!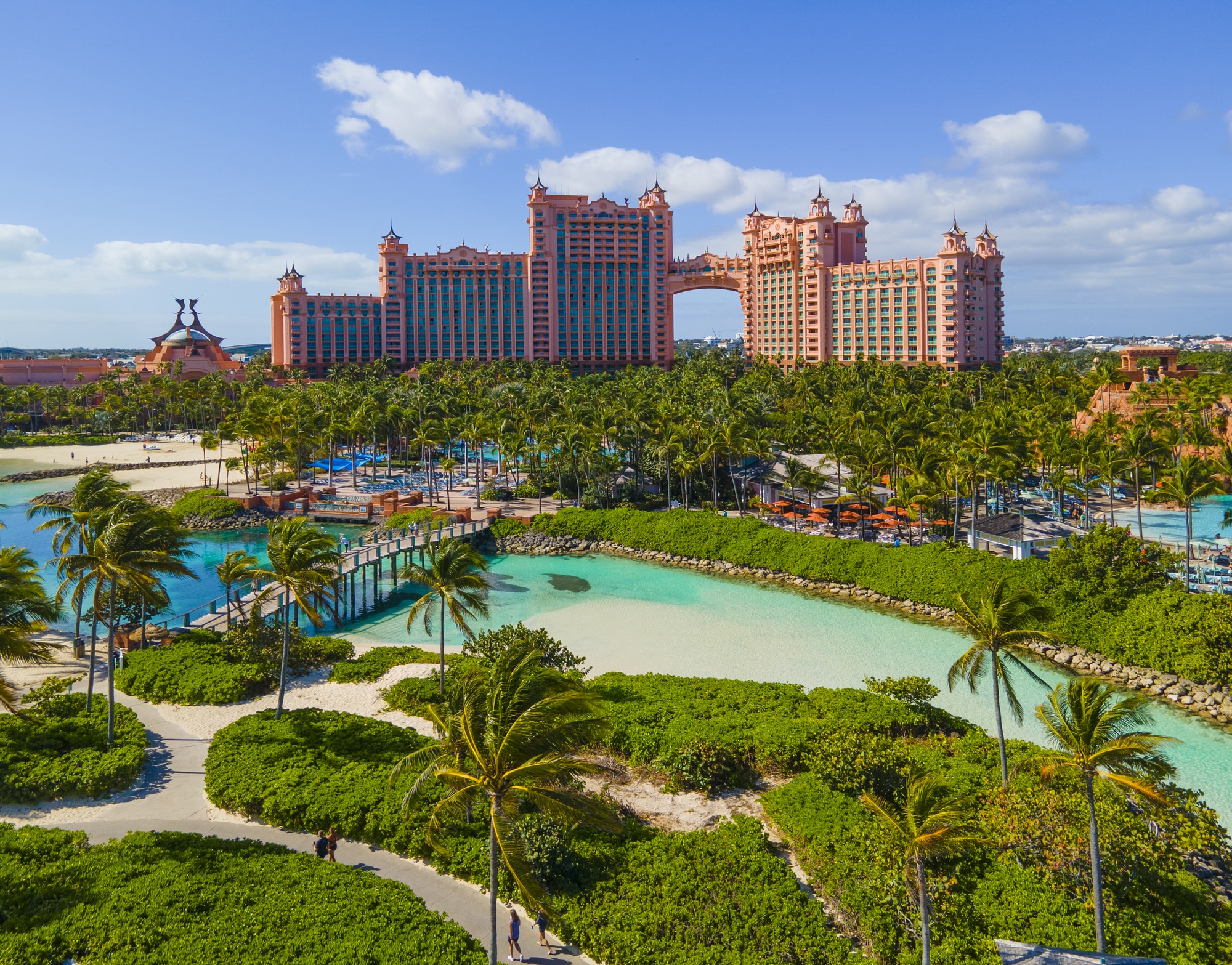 Atlantis Bahamas Location & Resort Map
First of all – where is Atlantis? While most people think the resort is in Nassau, it actually sits on Paradise Island, a smaller island that sits just offshore from the main island of New Providence. Tucked in between the two, you'll find the cruise port where the major cruise ships dock each day. Here's a map of the area surrounding the Atlantis Resort.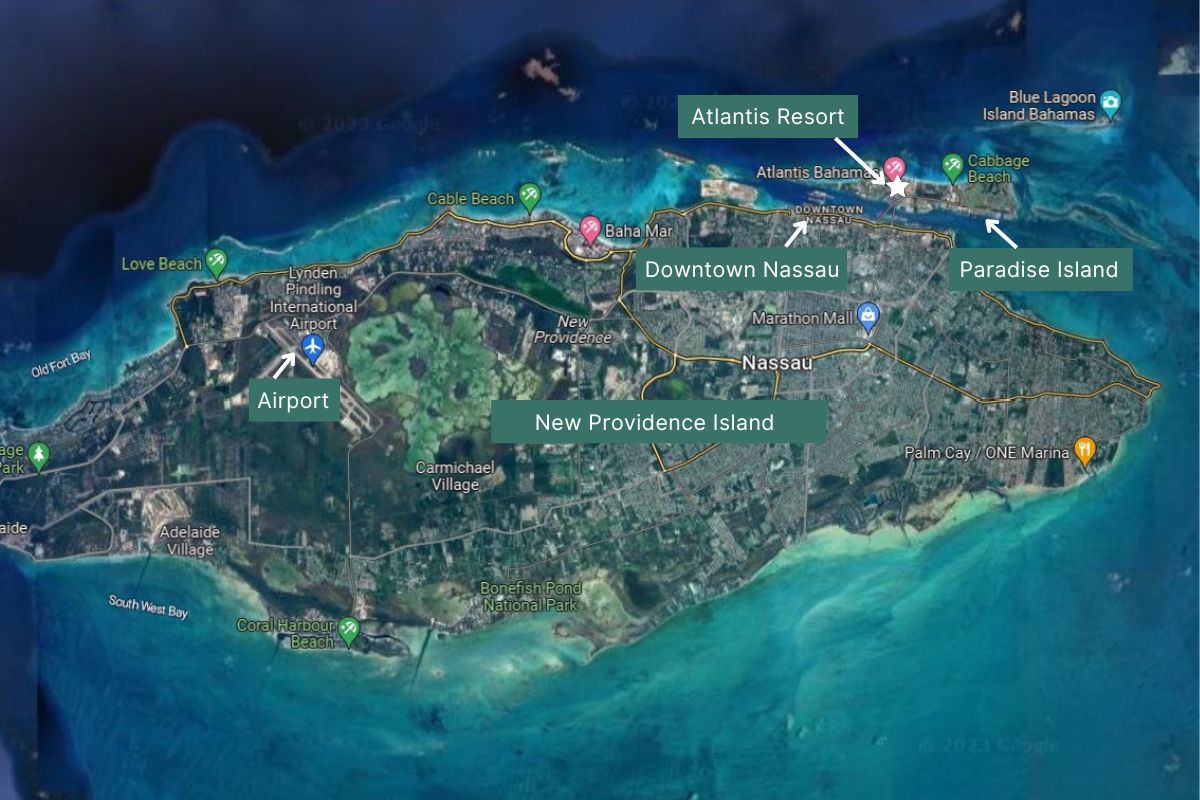 The resort itself is massive as well, five hotel towers are sprawled across the property, which includes an amazing 140+ acre waterpark. Here's a map of the property from our most recent visit. The easiest way to navigate the resort is by downloading the Atlantis app, which has a built in map – very handy.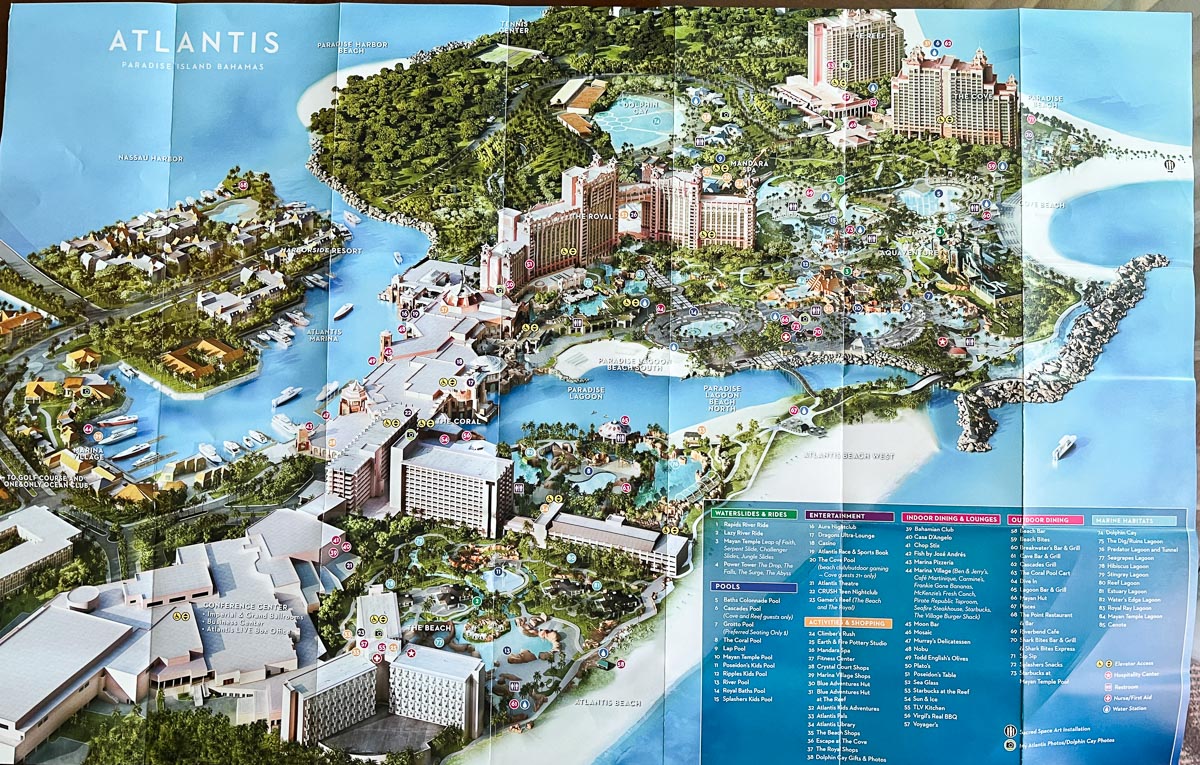 Getting to Atlantis
If you arrive at Atlantis on a cruise ship, you can easily grab a water taxi across to Paradise Island or just hop in a regular cab. From the airport, it's easiest to get a taxi, as there are always plenty waiting as you exit baggage claim. There is no need to book a transfer ahead of time, unless you have some special needs (like wheelchairs or car seats).
The Five Hotel Towers (and some money saving options)
Now once you've decided to make a trip to Atlantis, you have another decision to make. Which specific hotel should you stay in? Atlantis consists of five unique hotel properties, all sharing the same resort grounds. Every hotel has access to the shared pools, water park, aquarium, and other amenities. Here are all the Atlantis hotel options!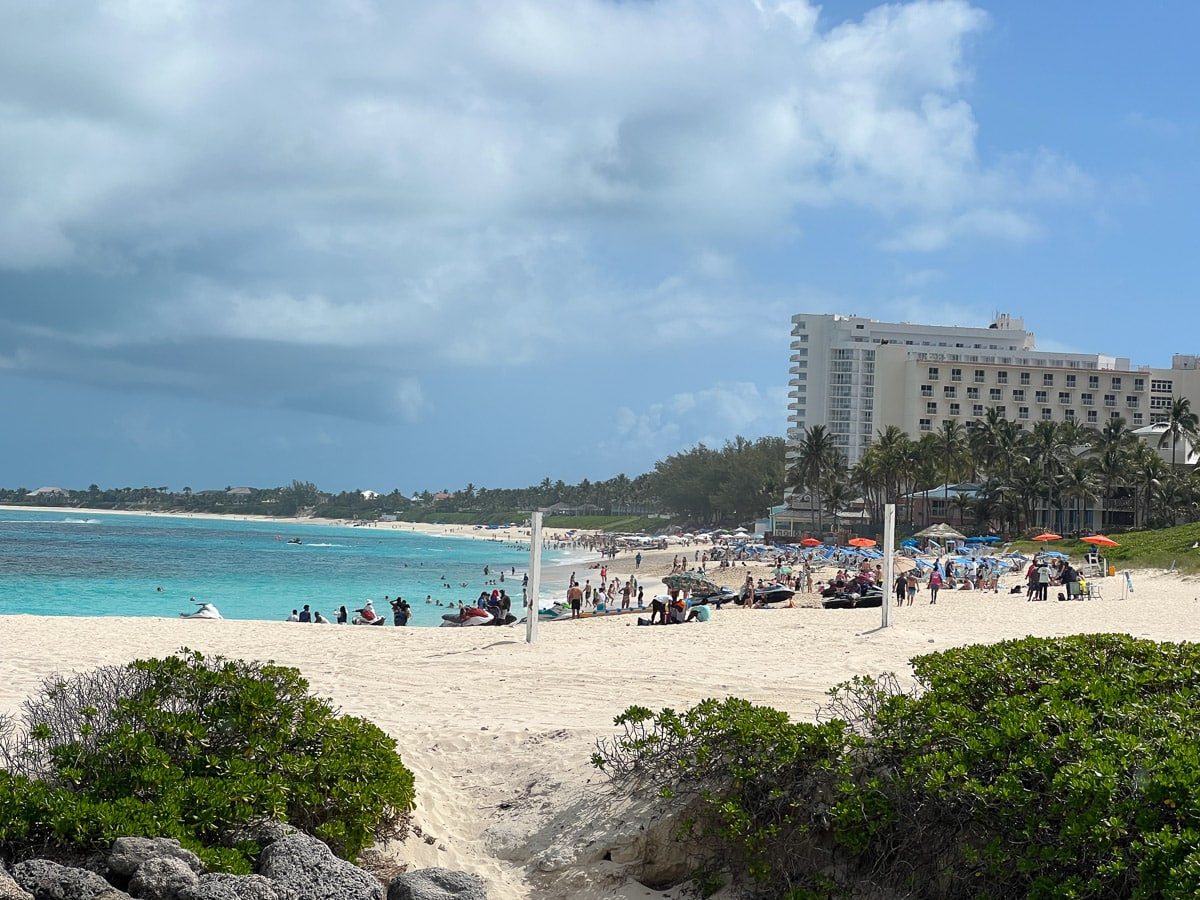 Coral Tower – The Coral Tower is the most value oriented option available on the property. It's close to the restaurants and shops found in the Royal Towers and Marina Village. And it has a really great pool area (with a swum up bar!) and easy access to Atlantis Beach. But it's definitely an older tower, and can feel a bit dated. It's also a fairly long walk to reach the water park, other pool areas, and the nicer (in my opinion) beaches on the other end of the property.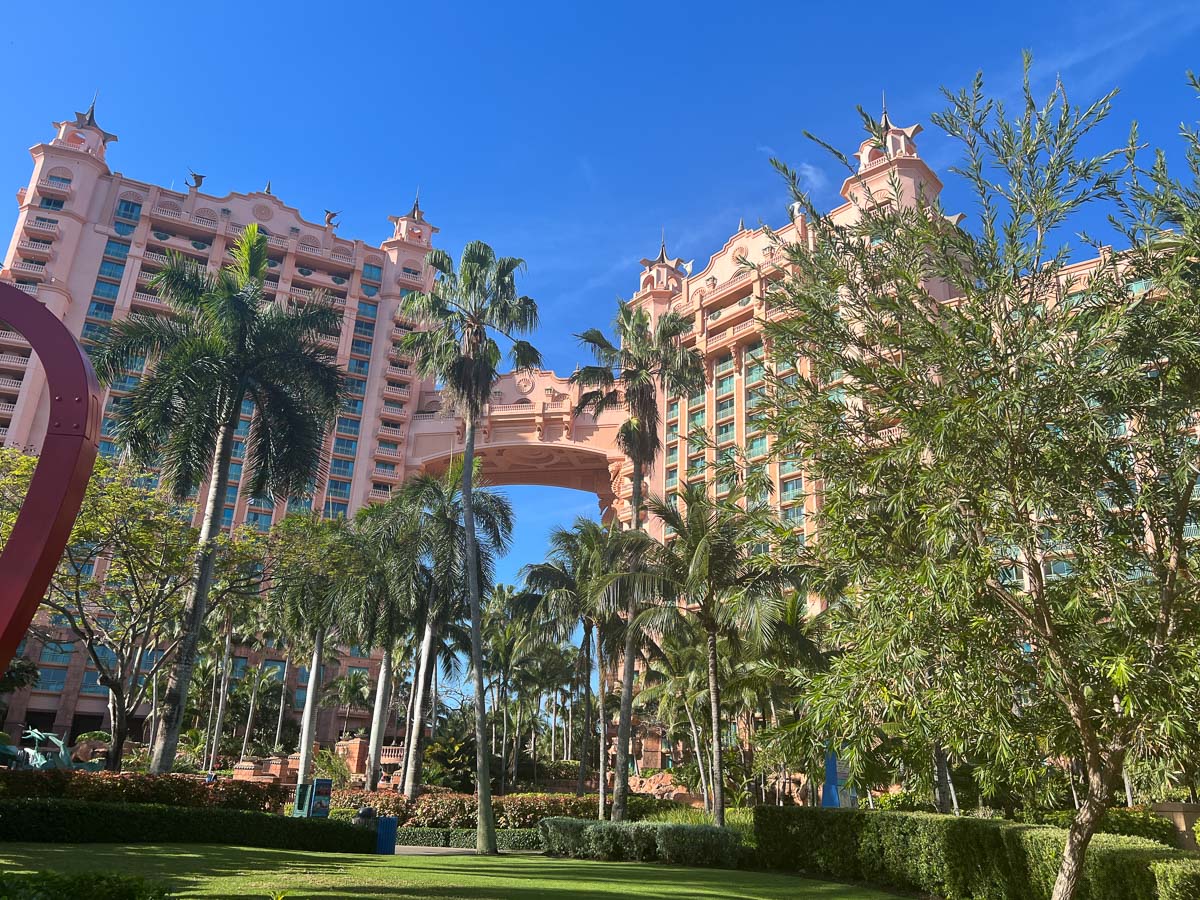 Royal Towers (East and West) – The Royal Towers are the classic pink towers with the connecting bridge that you know from pictures. This is where you'll find the casino, most of restaurants and nighttime venues, and it's the hotel with the most convenient access to the water park. Many of the rooms were just renovated in 2022, and the remaining are scheduled to be updated in 2023.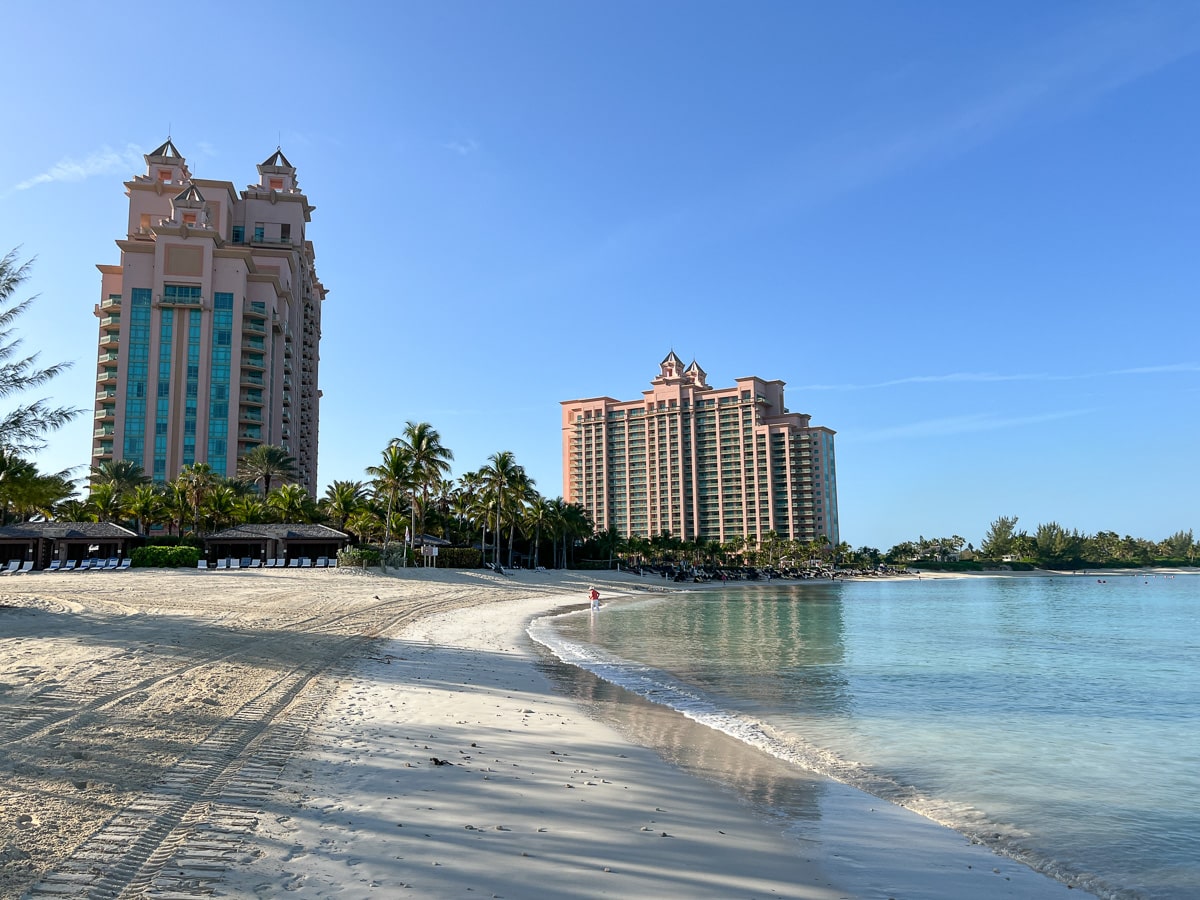 The Cove – The Cove and The Reef are located on the far side of the property, and are both an upgrade from the Royal. Cove is home to upscale suites and features access to an adult only pool area (although the hotel itself is family friendly).
The Reef – The Reef offers upgraded studio style rooms with kitchenettes and larger suites with full kitchens, making it really comfy for longer stays or families with kids. The Reef and Cove also share a private family-friendly pool area. We recently stayed at The Reef for a family vacation – you can check out our full Reef Atlantis review here.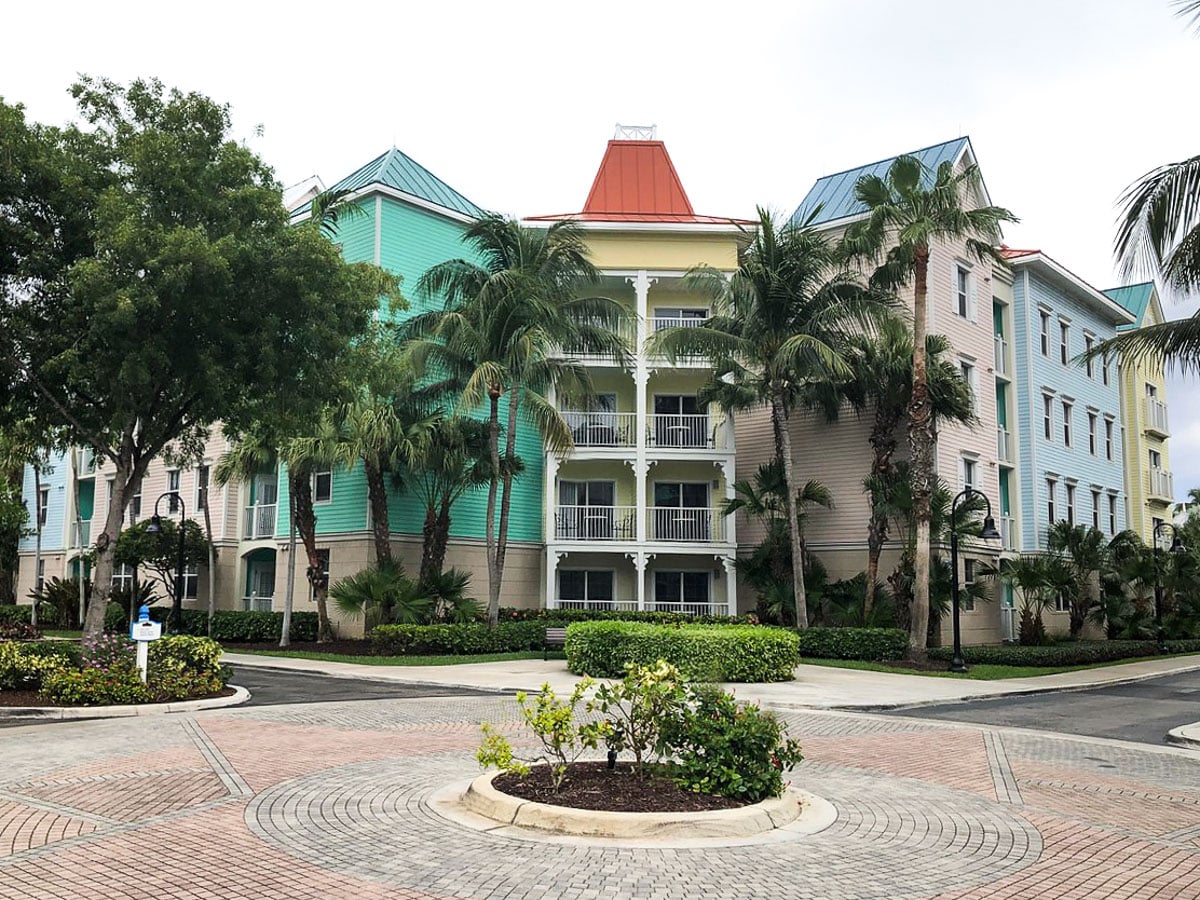 Harborside Resort – Harborside Resort is part of the Atlantis Resort, but it's located just outside of the main property. It's connected by a shuttle service to the main resort. This option features apartment style accommodations which are great for larger families. And while it is still quite expensive, it's typically a better value than booking two rooms at one of the on site hotel towers, which you will need to do if you have a party of five or more.
What happened to the Beach Tower? – The Beach Tower was the resort's value option for many years, but is currently closed. The Beach Tower and surrounding amenities are being redeveloped into a new hotel called Somewhere Else, in partnership with Groot Hospitality and the singer Pharrell. It's scheduled to open in 2024!
Want all the details? Check out my full side-by-side comparison of all the Atlantis Bahamas hotels here.
A Money Saving Hotel Option:
Comfort Suites – Another budget friendly option is to stay at the neighboring Comfort Suites Paradise Island, which includes access to the Atlantis resort amenities, including the beaches and water park. It's a little less convenient, but can save you quite a bit of money if you're willing to walk or shuttle into the resort each day.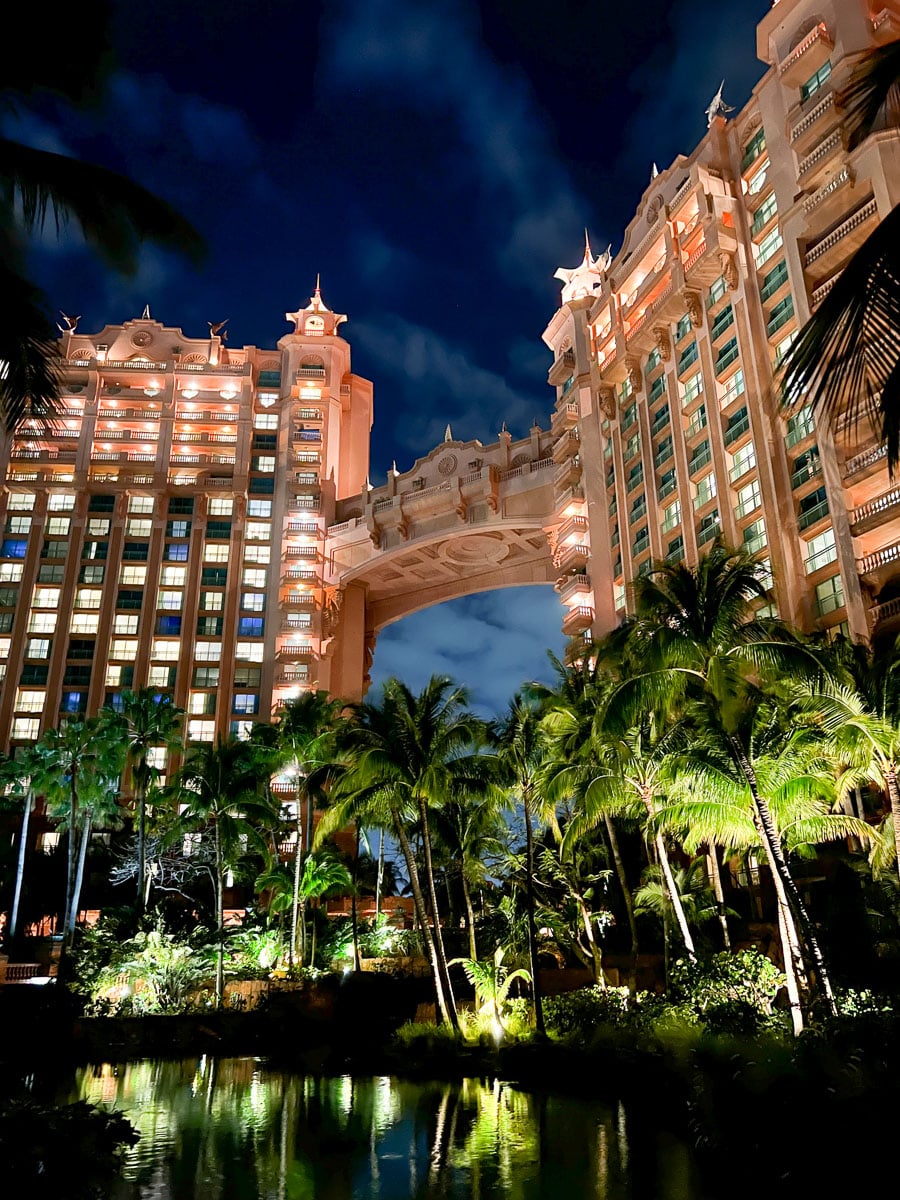 Fun Fact: The Michael Jackson Suite
Did you know that the bridge connecting the Royal's East and West Towers is actually a hotel room? It's a luxurious 5,000 square foot suite, nicknamed the Michael Jackson Suite for the singer who supposedly spent much time there. The suite reportedly rents for $25,000 per night, so you won't catch me reviewing it anytime soon. It's often visited by celebrities – so keep your eye on that balcony! You can peek inside here.
Our Room at the Reef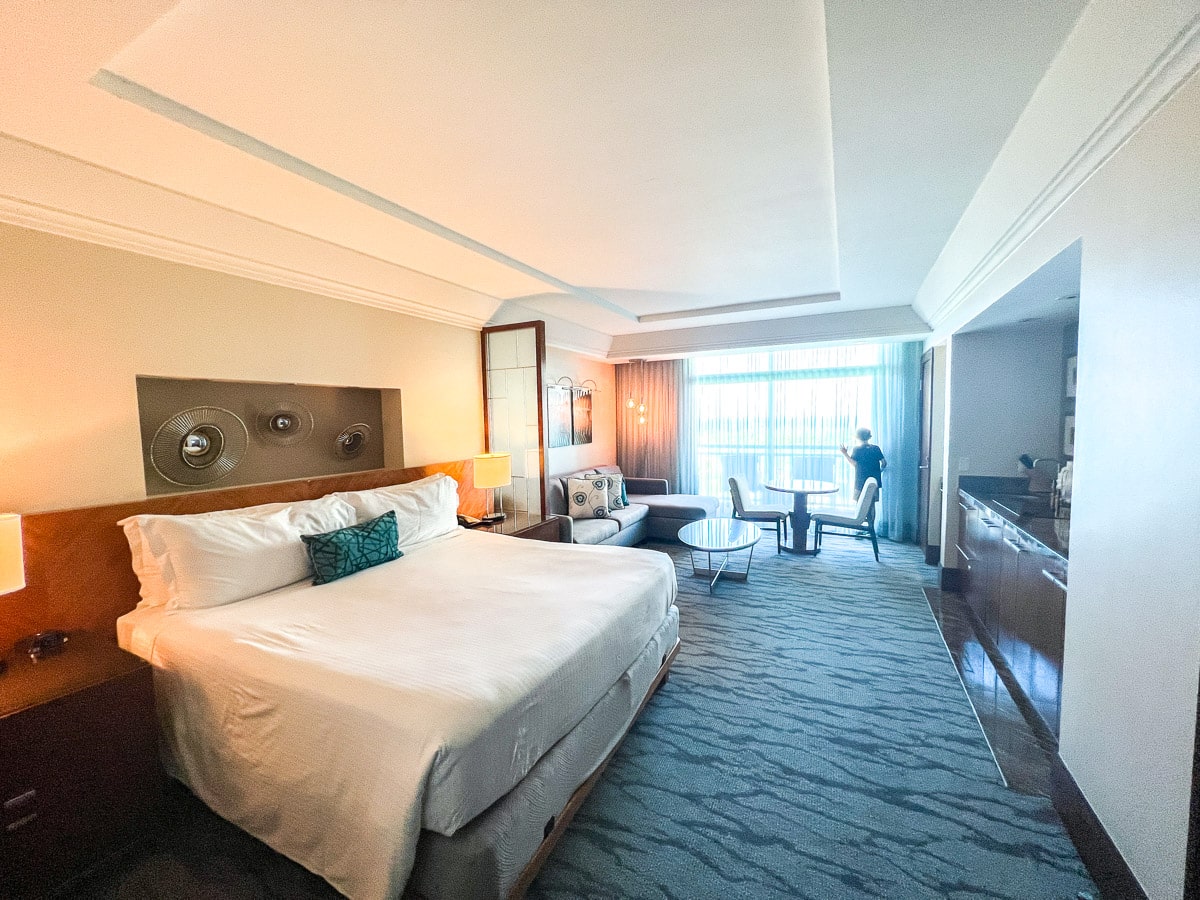 We opted to stay at The Reef for this trip, as it was a special occasion. And I have to say that it was worth the upgrade! We stayed in a King Studio with Ocean View, and it was very clean and comfortable.
We had a king size bed, plus a pull out sofa that was perfect for my son. The kitchenette area had a mini fridge, a cooktop, and a microwave. Plus a small assortments of pots and pans and cookware. Very convenient for preparing a quick meal or snack for hungry kids. And the bathroom was huge, with double sinks, a separate shower, and a giant soaking tub.
There was a nice balcony area with a great view of the pool and the beach beyond. You can check out my full review of The Reef Atlantis for all the details.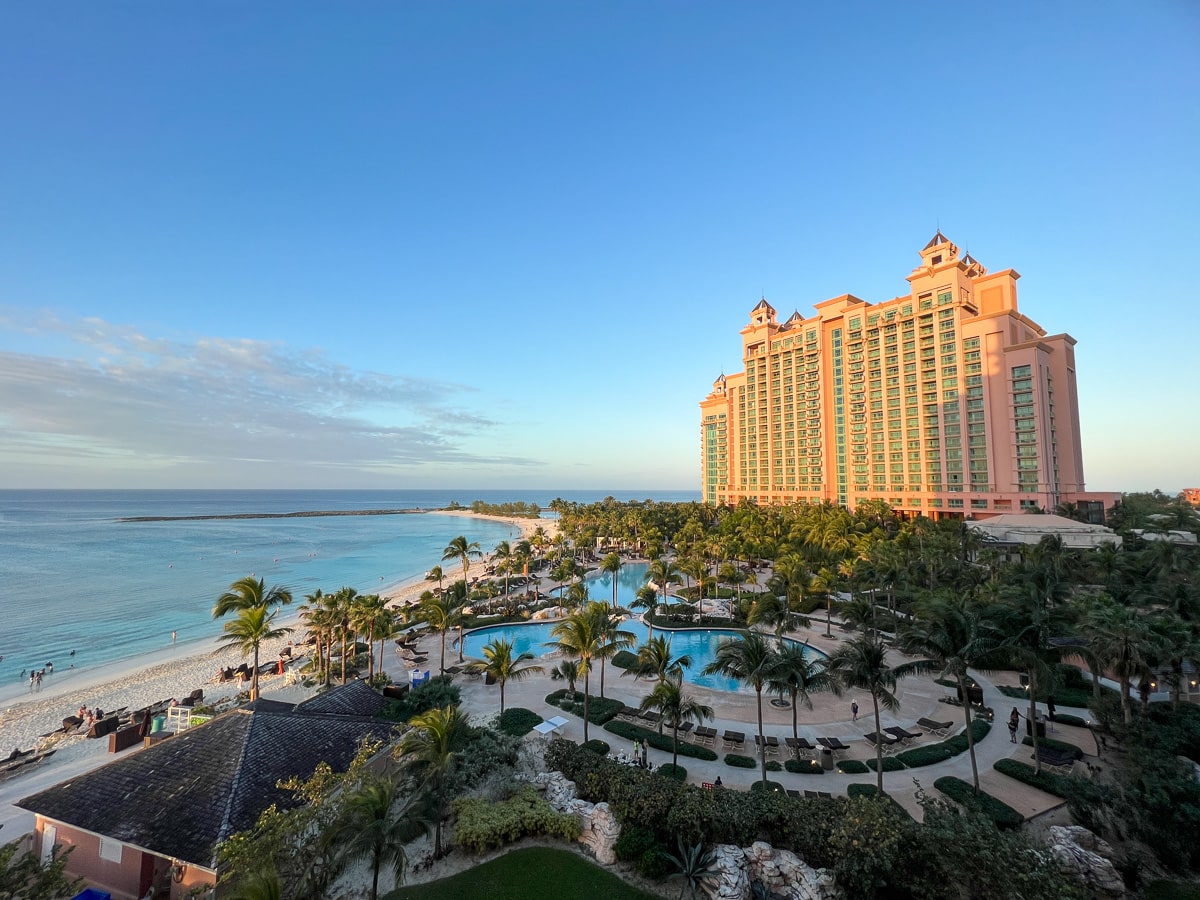 The Food & Restaurants
There are 20+ restaurants right on the resort property, so you certainly aren't going to go hungry on your stay. However, they are definitely on the pricey side. Especially considering many of them are relatively simple food.
But it's hard to beat the convenience of eating right inside the resort, so we tried a few different options on our stay. It was also a special trip for my son's birthday, so we were in search of a good dinner place to celebrate.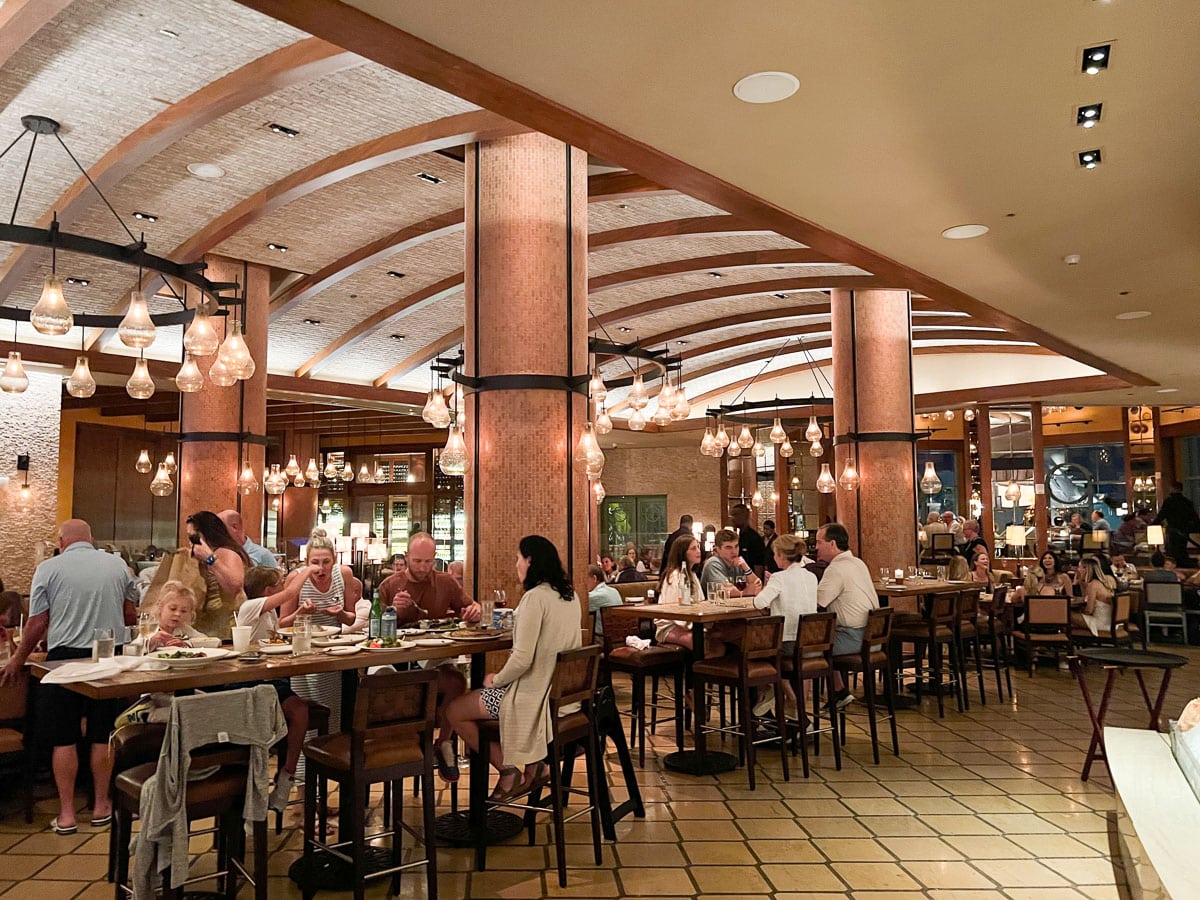 We did dinner at three Atlantis restaurants on our recent stay. Here's what we thought:
Olives – Olives was the most expensive, and unfortunately the most disappointing dinner of our trip. We were hoping for great seafood, but it was really very mediocre. In fact, my dish was outright bad. And at $50+ for an entrée, I definitely expected something special. The best part of this meal was the olive tapenade appetizer. Oh, and it's located inside the very noisy and smoky casino.
Chopstix – Chopstix was our favorite dinner of the trip! The dishes were simple but very tasty – we had a few dim sum appetizers and I had a delicious veggie fried rice that really hit the spot after a day of drinking in the sun. It was also my son's birthday night, and they sang him a fun birthday song and served him ice cream with a candle to blow out. Very fun!
Marina Pizzeria – We had planned on Bimini Road for our final meal, but were pretty wiped out so we opted to grab pizza at Marina Pizzeria instead. This is a great casual option, but it was jam packed! So if you're planning to do this, go before 6pm, and consider just sending one person to grab a pizza as take out.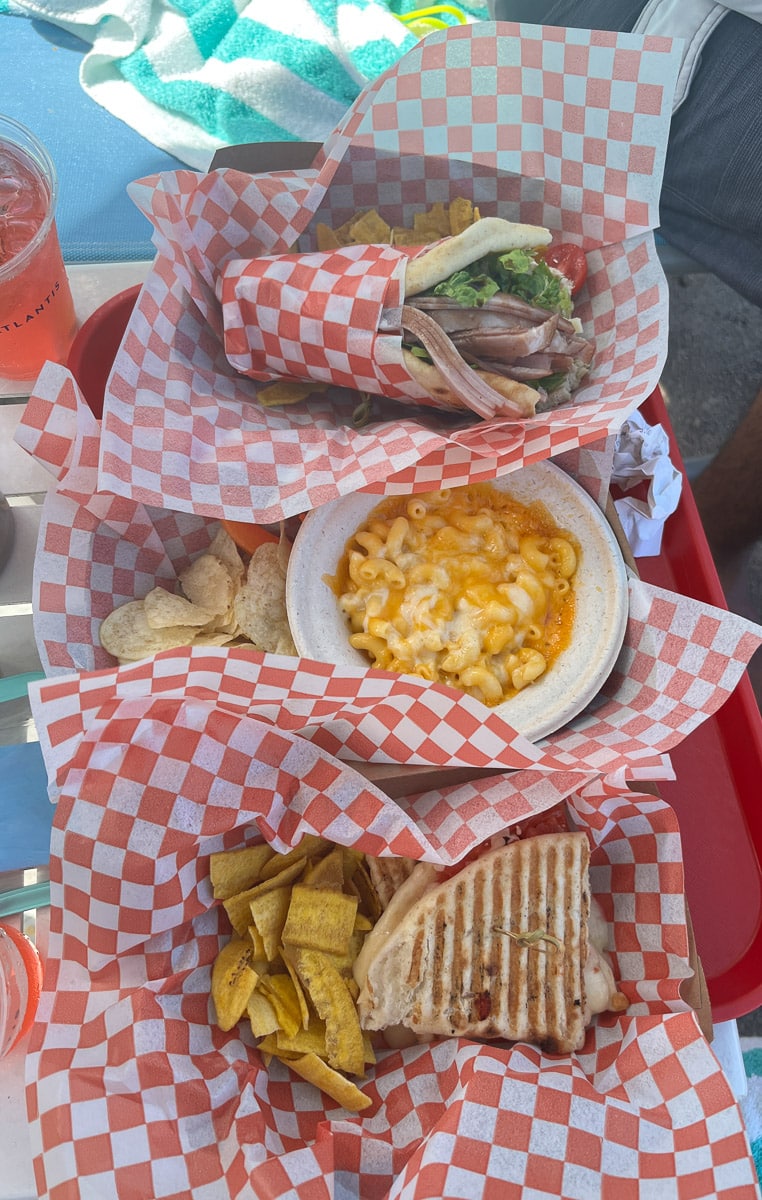 For lunch, we stuck to the grab and go options by the pools, like Shark Bites and Triton's. We also grabbed some falafel from a small food stand called Pita (by The Cove) one afternoon, which was better than expected!
If you prefer to venture offsite for dinner, there are some other good options to be had nearby or in Nassau – and it will save you some money too. Try Margaritaville, The Poop Deck, or head over to the Fish Fry (one of the most popular Nassau activities) for some more local fare.
The Drink Situation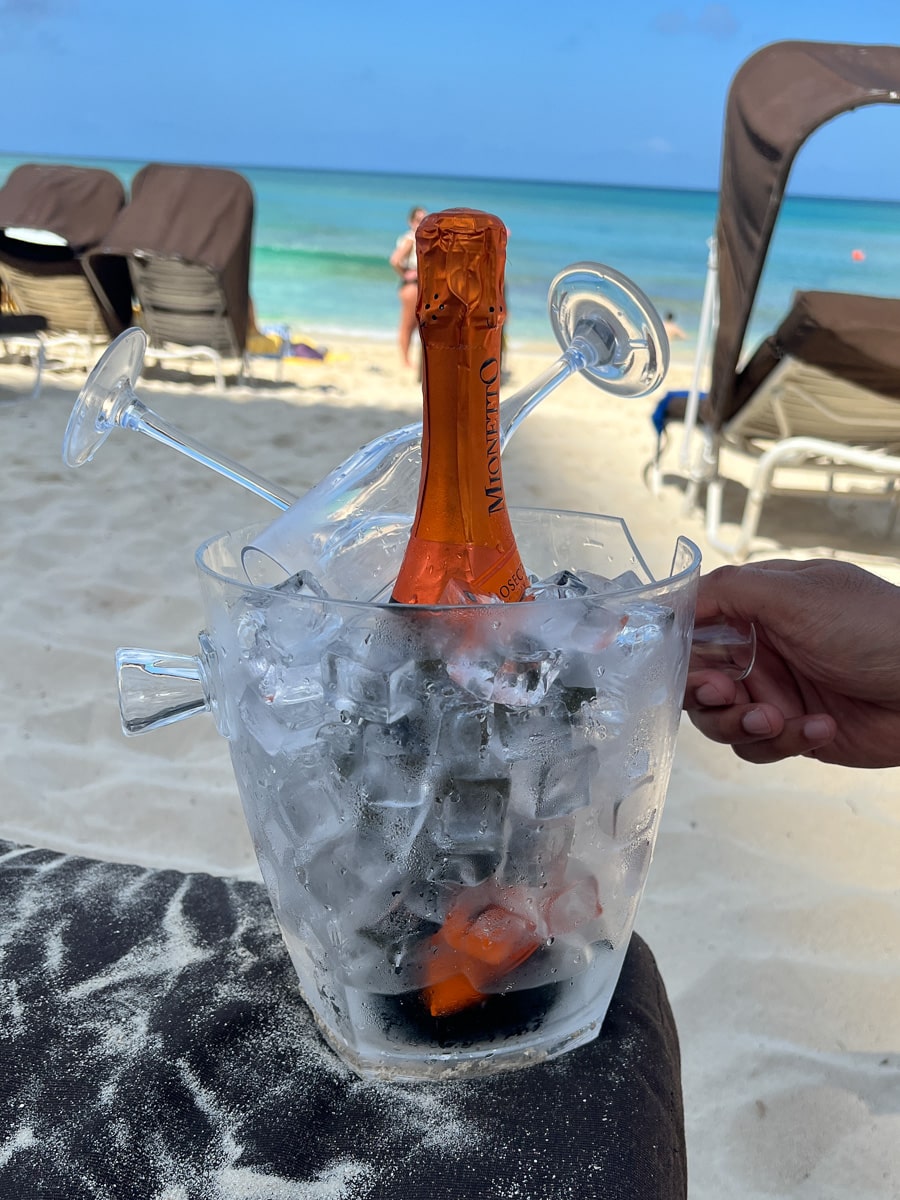 So, if you're anything like me, you probably want to indulge in a few cocktails on your beach vacation. Be prepared for the prices though – simple mixed drinks (like vodka soda) were ~$16 each! That adds up really fast.
So here's a pro tip: Stop at a grocery store on the way into Atlantis and stock up on your own drinks and mixers for the room. This is an especially good idea if you're staying in The Reef, where you'll have a fridge and kitchenette.
We decided to bring along a bottle of wine and a small bottle of vodka from home, figuring we would be buying drinks at the pools for convenience, but could at least mix our own drinks in the evening while chilling on the balcony.
There are several sundry shops in the hotel that sell snacks and small grocery items, so we assumed we could buy some mixers there. But there was no club soda to be found. Anywhere, at any store on the property. Clearly they were two steps ahead of us on this one. So… well played, Atlantis – I brought my Tito's back home with me. Plan accordingly! Pack what you need or stop at a store on the way to the resort.
And be sure to check out my Atlantis Bahamas packing list for more tips on what to bring along!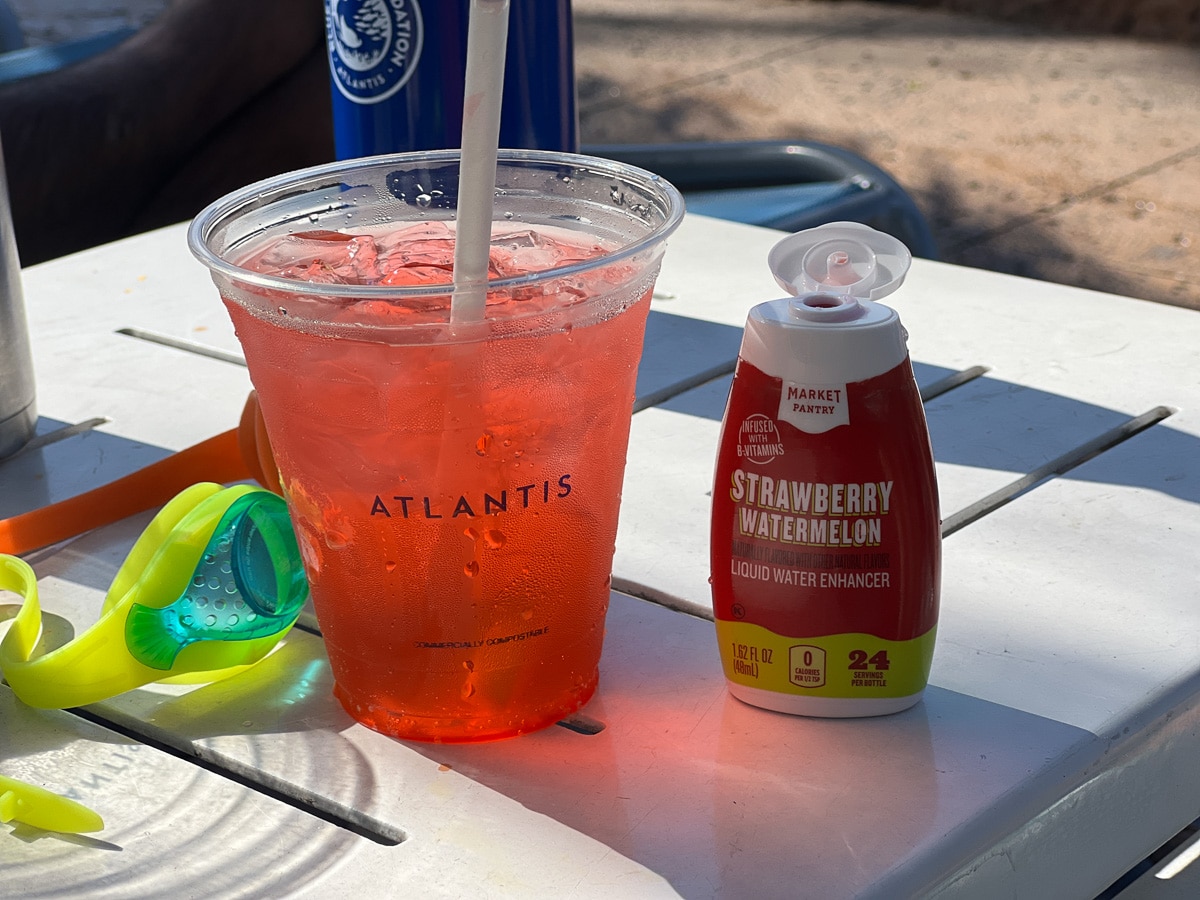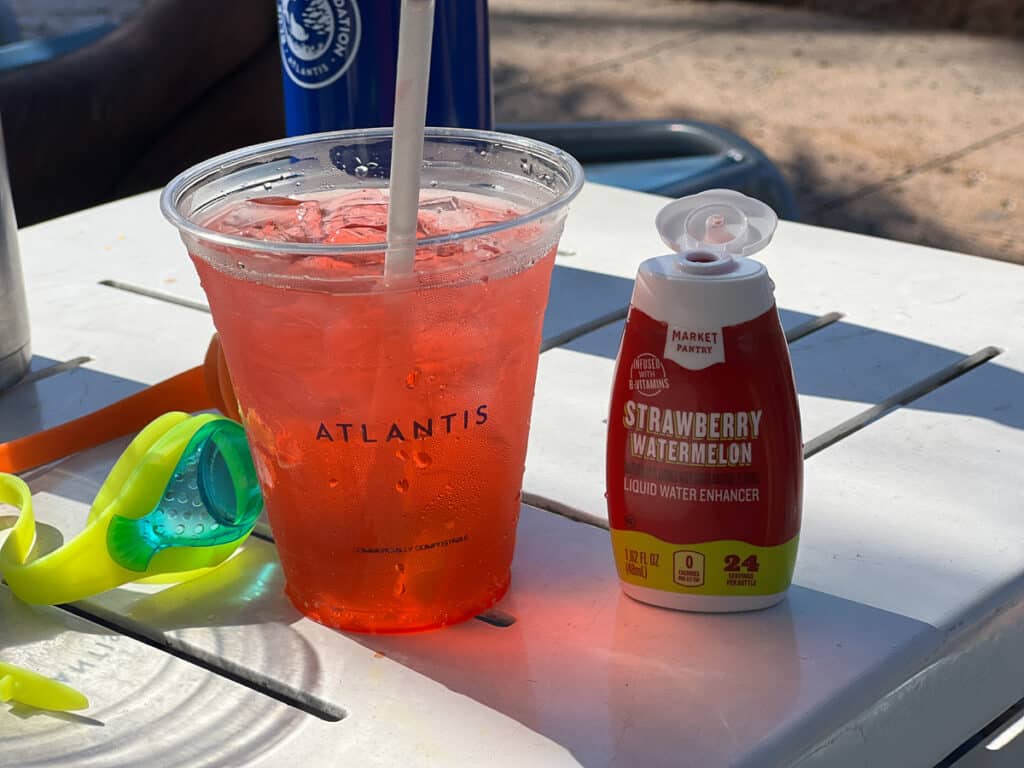 The Service
I was a bit concerned after reading the many online reviews complaining about the service – particularly negative attitudes from staff. I have to say that we really didn't encounter this. For the most part, everyone working there was friendly and helpful. So I will chalk those reviews up to getting back what you give out, if you know what I mean.
What we did run into was long wait times for just about everything. I'm talking 45 minutes to get a coffee from Starbucks, 30 minutes to grab a sandwich from the walk up snack bar… you get the idea. In general, everything was just undersized and understaffed for the volume of people moving through the resort.
We also ran into some issues with room charges. We had a couple unauthorized charges show up on bill and we also had some of our charges that appeared to go to another room. We went to the front desk several times but they never did get the issue sorted out, so I still don't really know if we were charged correctly. I was disappointed that the front desk staff wasn't more helpful with addressing this while we were there.
Bottom line, if you're expecting five star service, this probably isn't the place. (Check out the Rosewood at Baha Mar or Four Seasons for that!) But if you are happy with just generally friendly service and understand that you're walking into a crowded resort environment, and everything that goes along with that, you should be just fine.
Activities at Atlantis (the best part!)
Now this is what we really came to Atlantis for – the fun-filled waterpark and the beautiful beaches. Here are a few of the best things we did at Atlantis:
Aquaventure Water Park and Pools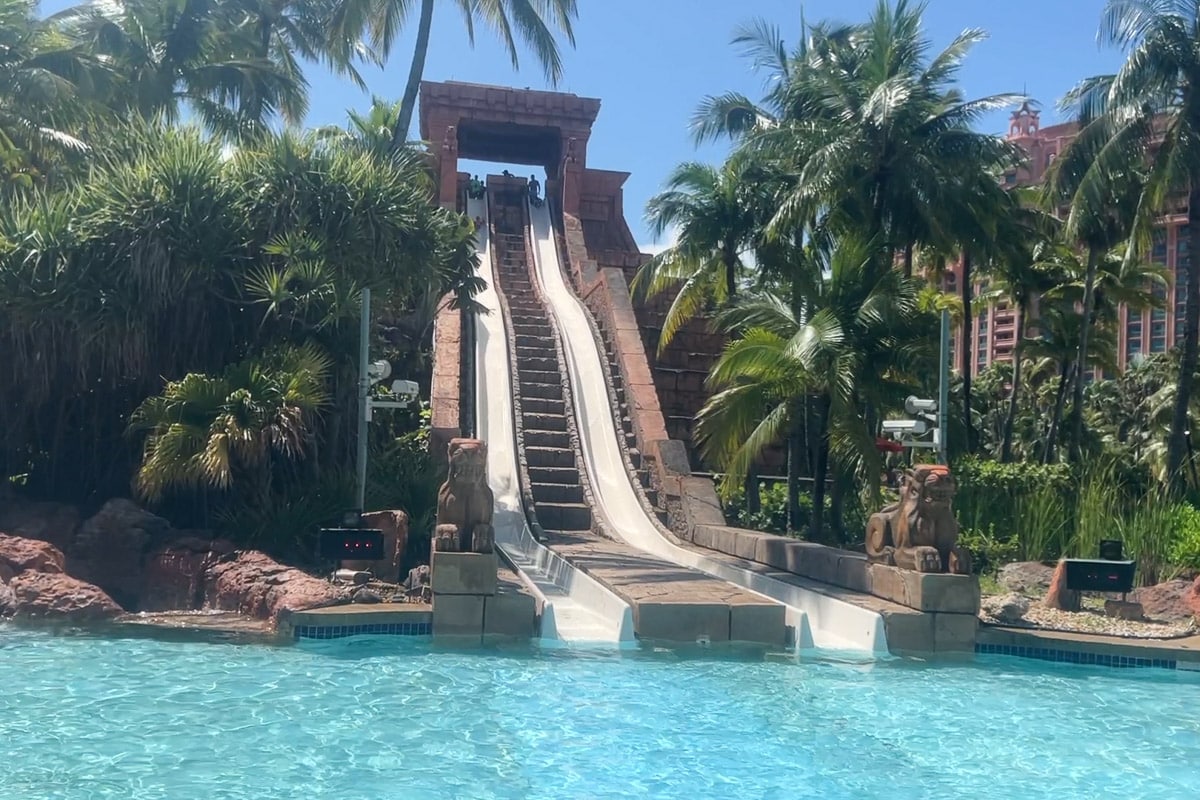 In my opinion, the Aquaventure water park is really the highlight of the resort. There are water slides for all levels of adventurousness (from kiddie slides to terrifying tower drops) and more pools than you could possibly enjoy in a day. The real treasure is the Rapid River – and it is rapid, not a lazy river at all. We rode it at least eight times on this visit!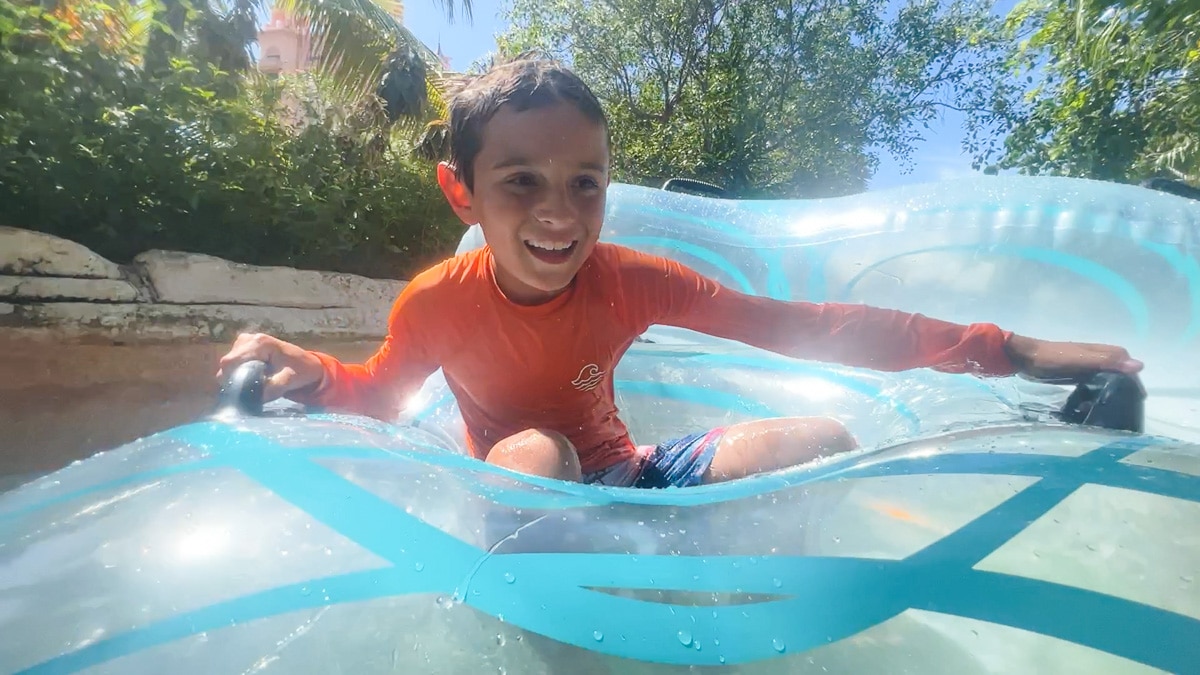 Note that the majority of the water slides require kids to be at least 48″ tall, so that's something to consider if bringing younger kids along. We held off on staying at Atlantis until our son was tall enough to enjoy everything.
There is a really great pool and water play area for younger kids called Poseidon's Playground. Even my eight year old had a great time climbing the fort and playing on the sprayground.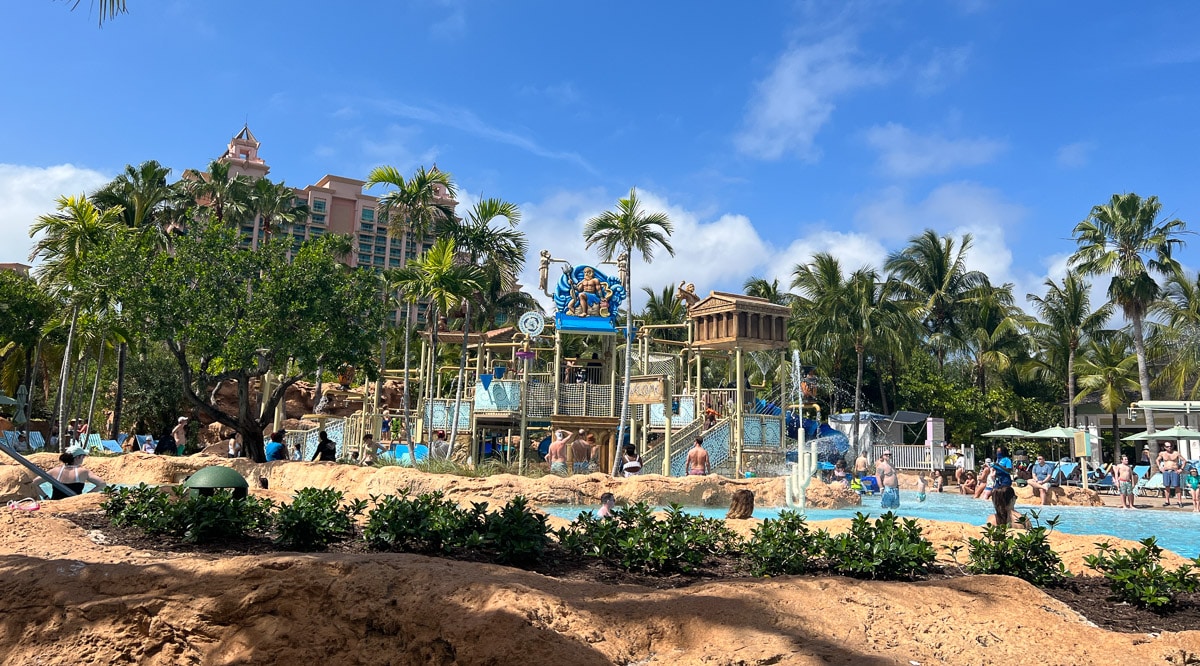 The one big disappointment here was that the water park attractions and all the pools closed at 5pm. I expected the water slides to close up at sunset, but not the pools.
My understanding is that this fluctuates with the sunset time, so can be as late as 7pm in the summer. But no matter how you slice it, that is just a ridiculous time to close up the pools at a beach resort. No night swimming at Atlantis! We were left with very little to do in the evenings, and that was probably the biggest disappointment of the weekend for us.
You can get all the details and tips for Aquaventure water park over here.
The Beaches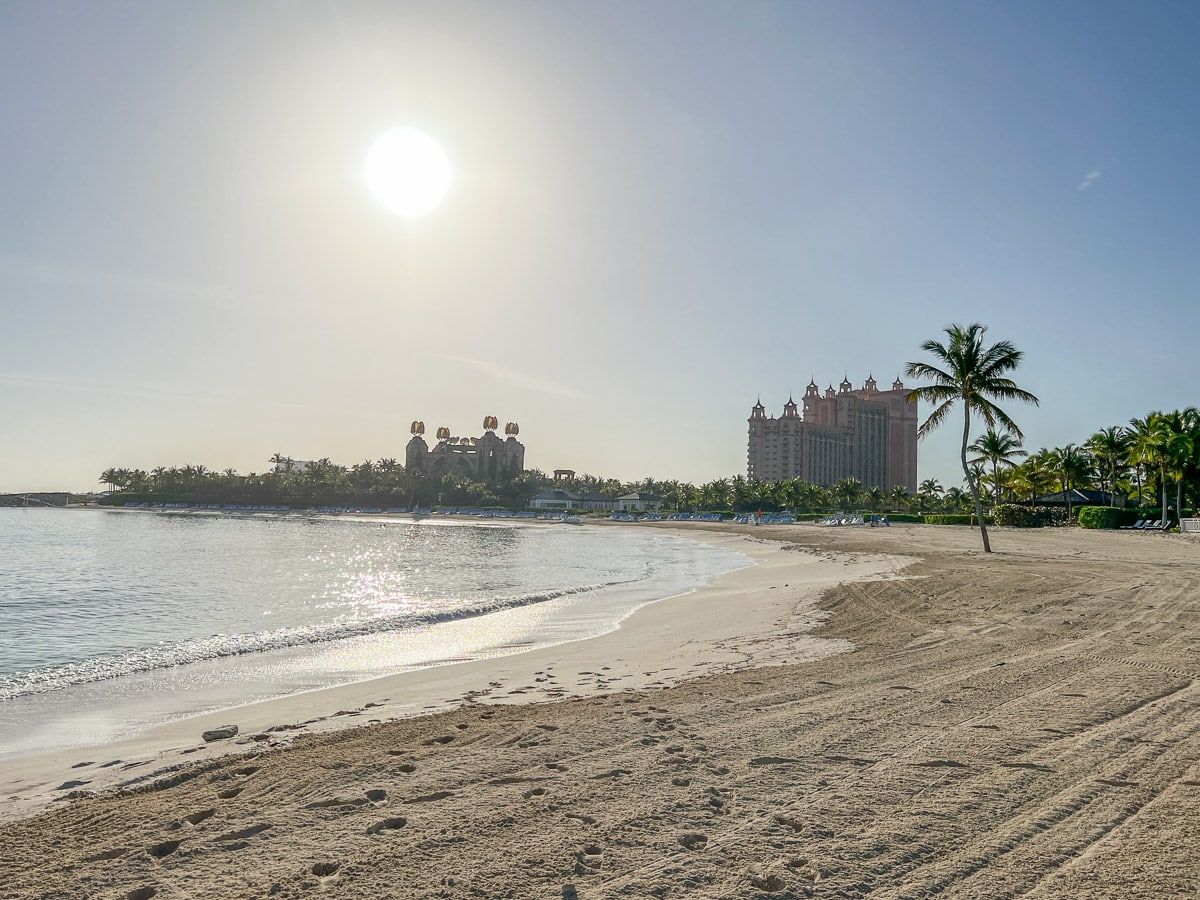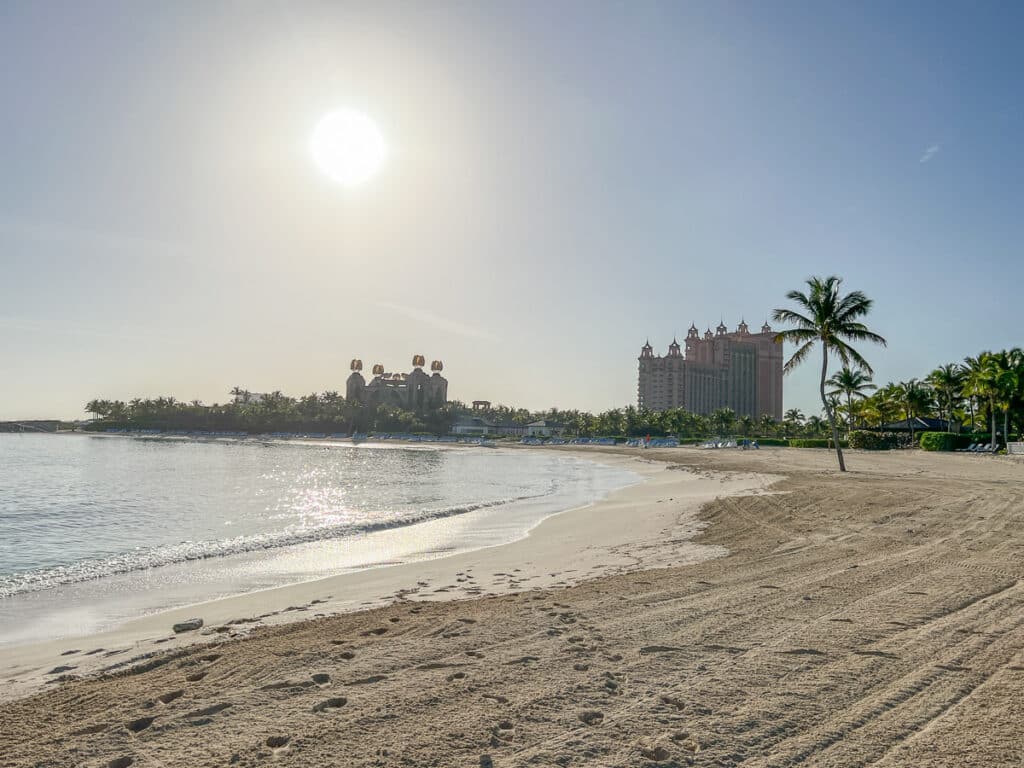 The water is truly amazing in the Bahamas, and that's coming from a native Floridian. Aqua blue and crystal clear. We loved the Paradise Beach and Cove Beaches, and it's worth planning at least a half day to sit on the beach and enjoy it. Bring snorkel gear – we saw lots of fish and even a sting ray! (There are some snorkel recommendations on my Atlantis packing list.)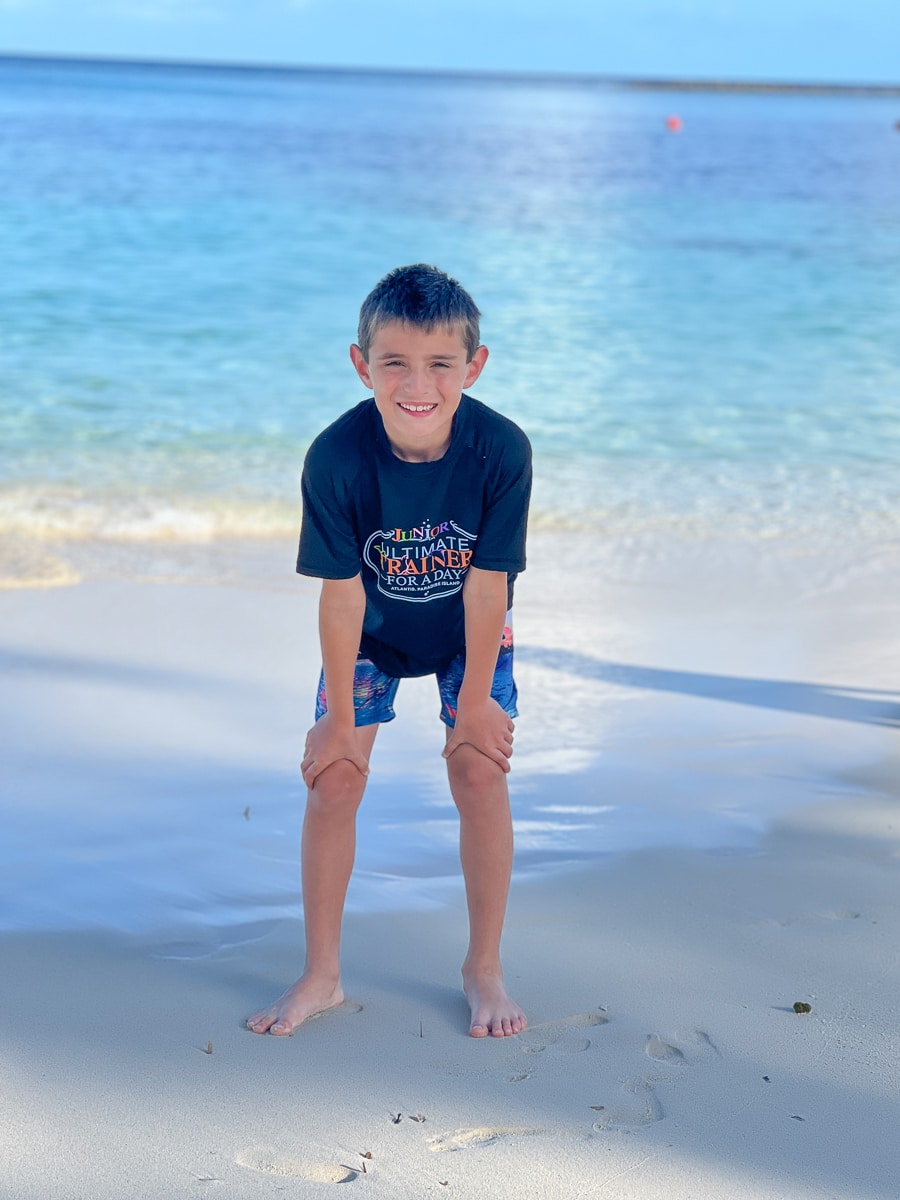 The only thing that soured our beach experience a bit is the chair situation. The chair vultures were circling by 7am every morning – and by 8:30 there was not a chair to be found on the beach at all. Same thing around the most popular pools. So while I despise the whole chair claiming practice, be prepared to do it anyway if you want a seat on the beach here.
Another note- towels are not available until 9am and then there is always a long line when the towel stands first open, as it's also where you get your wristbands for the day. So get fresh towels and take them to your room at night if you plan to hit the pool or beach early. They also ran out of towels completely at several points during our stay.
Dolphin Cay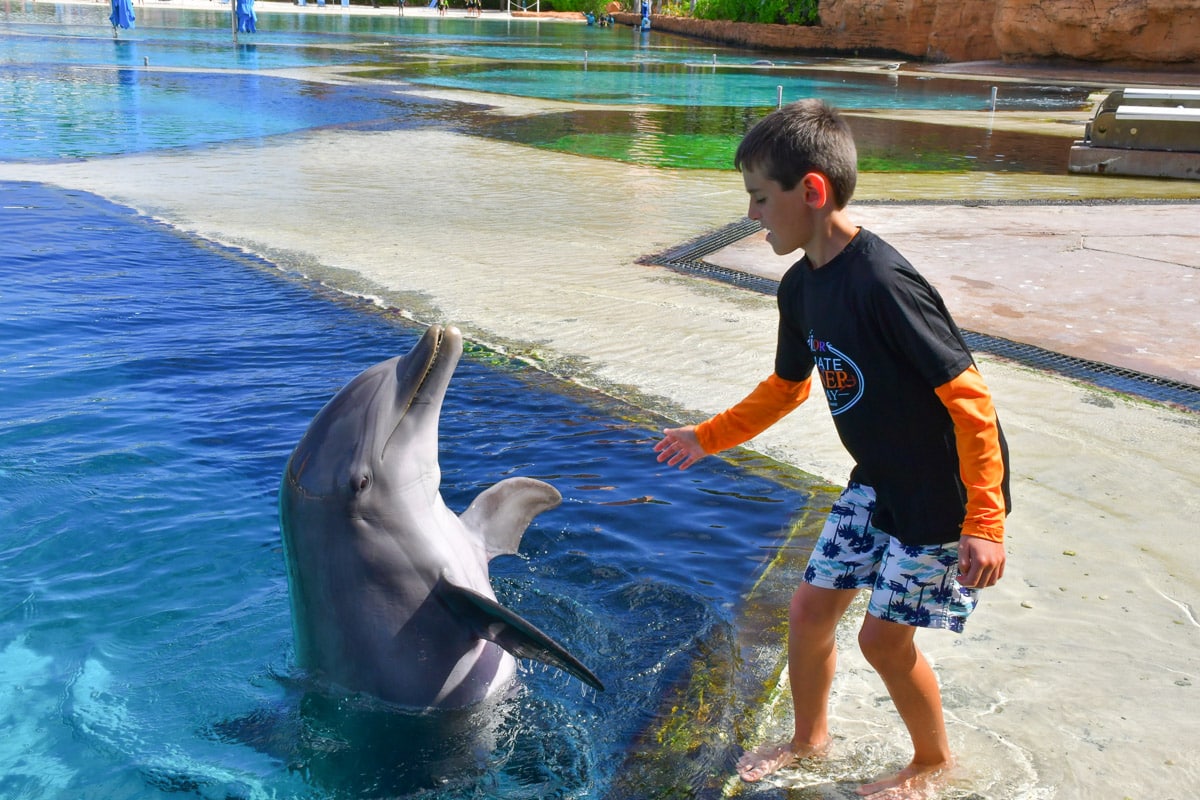 Dolphin Cay is where Atlantis run all of their interactive programs with the resident dolphins and other marine life. We've actually been to the facility a few times now, and I am always impressed. The trainers genuinely seem to love their jobs and take great care of the animals. This is definitely one of the very best things to do at Atlantis.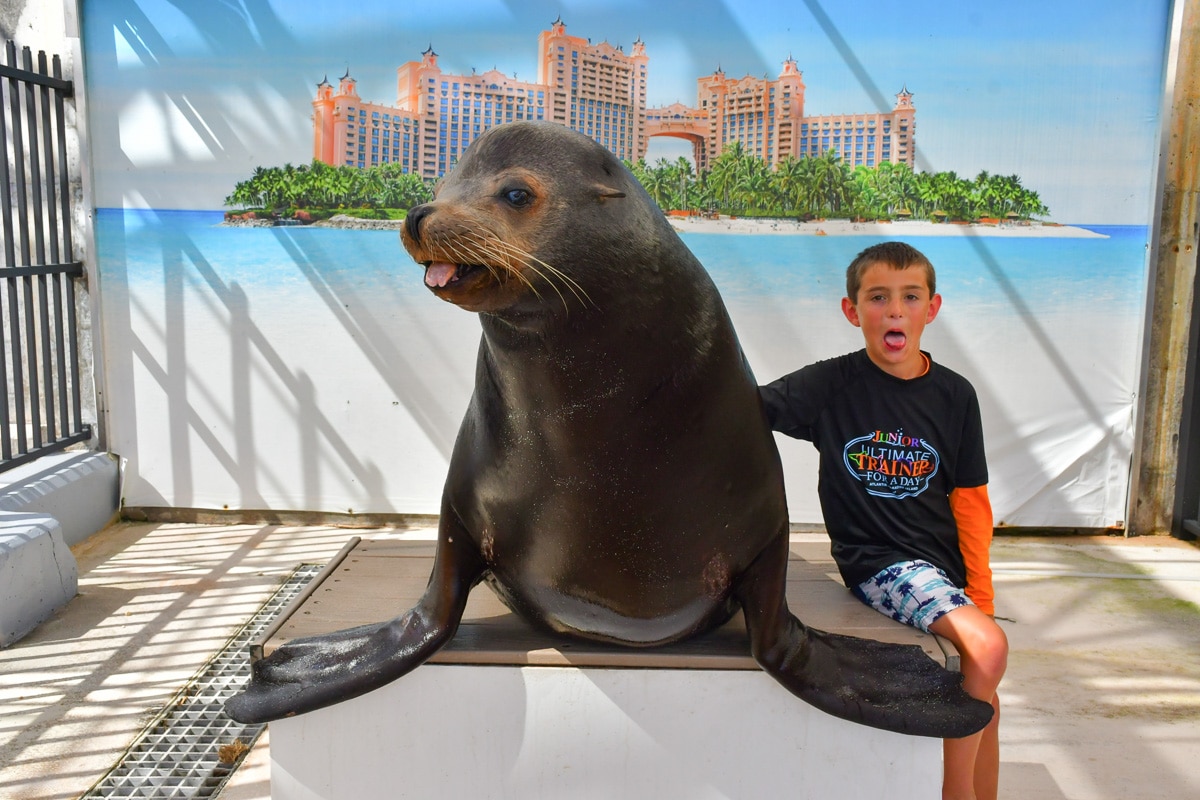 On this trip, my son did the Junior Trainer for a Day program, a four hour kids only program that had them interacting with dolphins, sea lions, tropical birds, turtles, and more. It was pricey but worth it as a birthday treat! On a previous visit, we did one of the Dolphin Encounters and that was also a great time.
Note that they do charge for access to the beach area at Dolphin Cay ($30/person on our last visit), so be prepared to pay extra if you want to watch your kids do an activity. I do think that is rather stingy of them considering the price of the programs. But there is a small patio area that you can sit in for free – which is not close enough to take any decent pictures.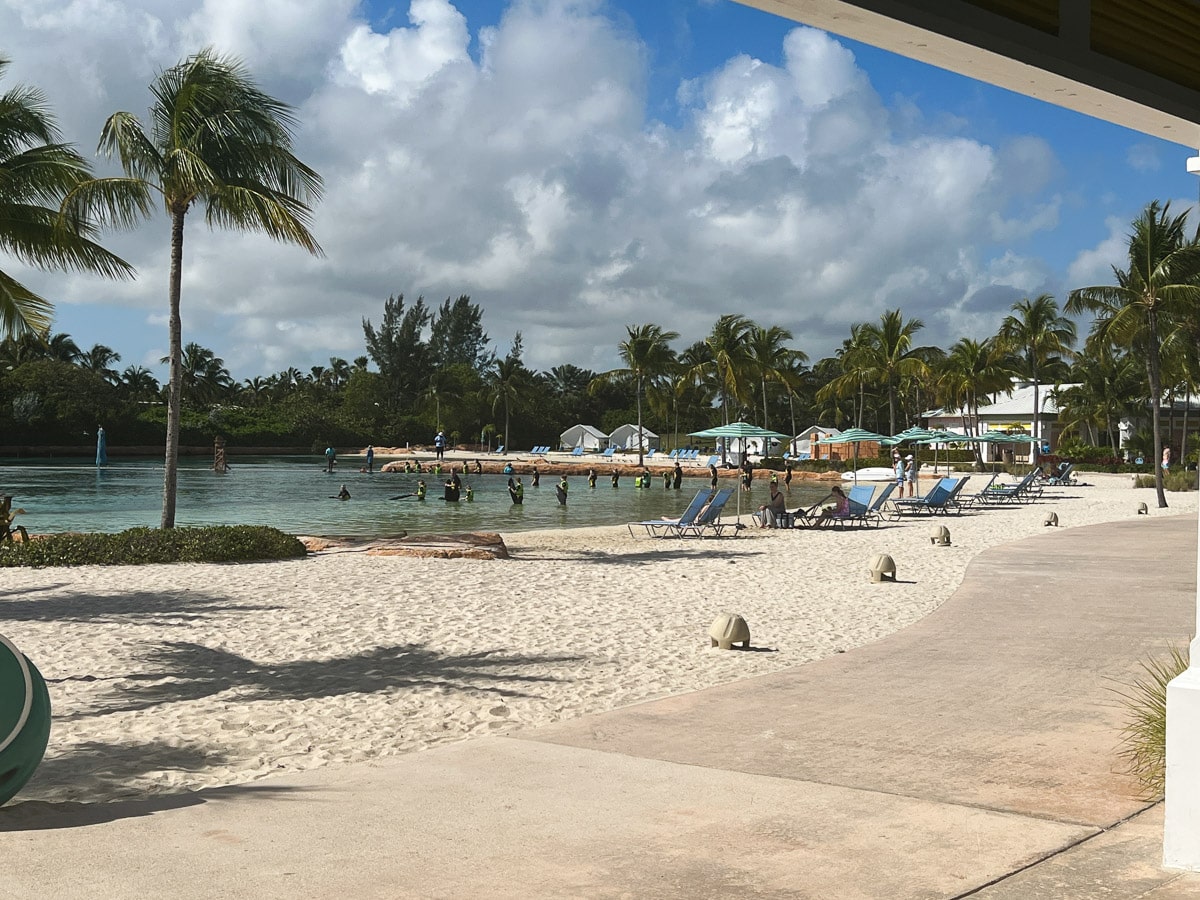 There are photographers for all of the animal encounters, and you can purchase the photos after for an extra charge. (They really nickel and dime you on this, but you are going to want the photos, so just budget for it.) At least the Junior Trainer program did include the pictures, so that was a nice benefit!
The Dig Aquarium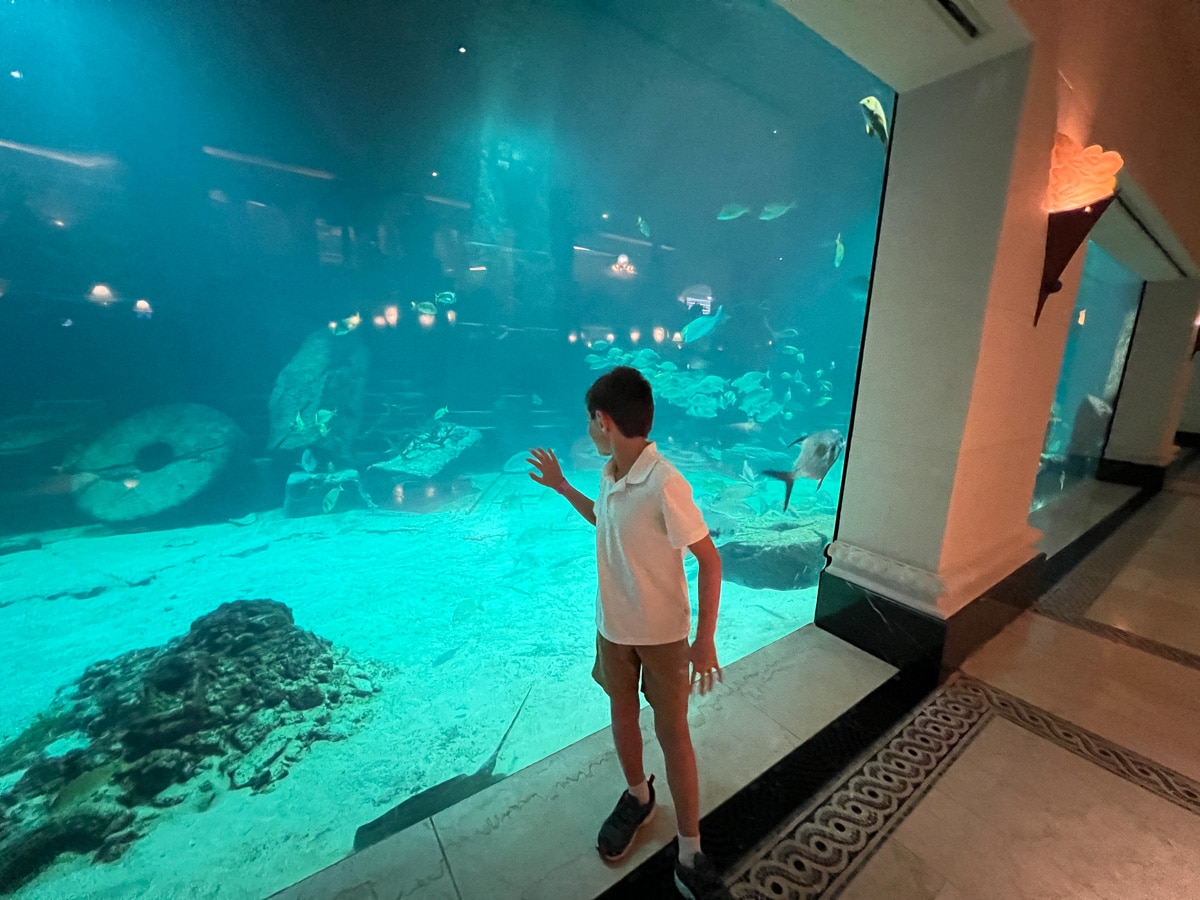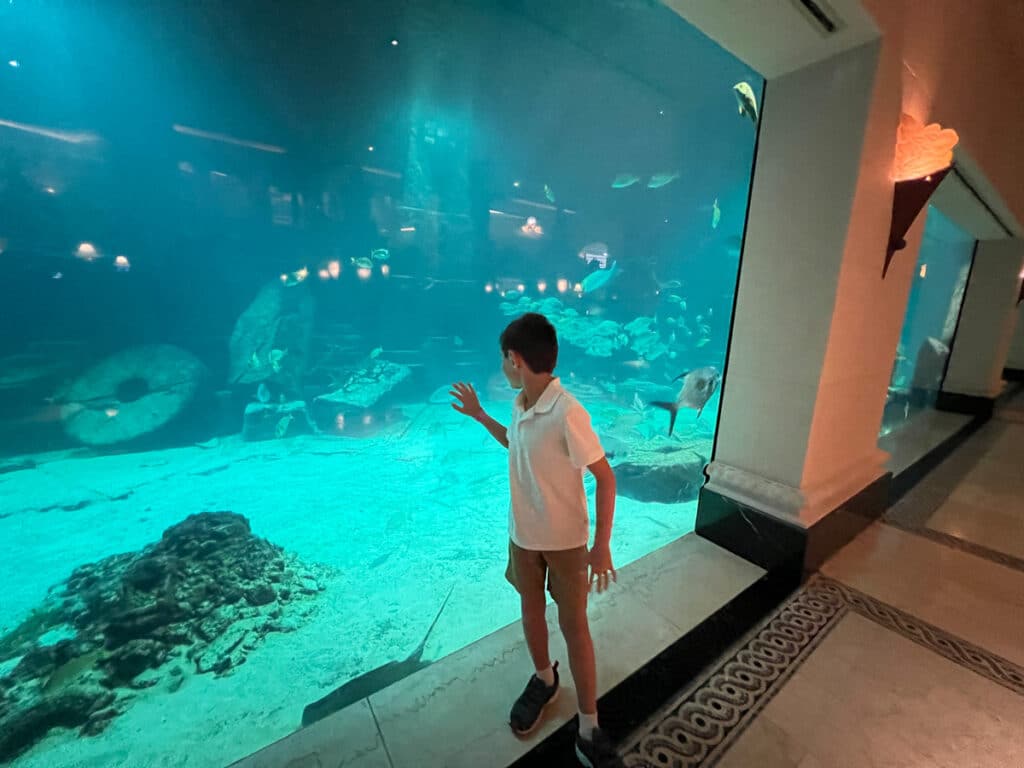 The resort features a great aquarium with incredible theming made to look like the sunken city of Atlantis. You'll find enormous floor-to-ceiling fish tanks right in the lobby of the hotel. Then look for the tunnel into the "underground" and you can walk through the full exhibit, which ends outside near the waterpark. It seemed to be open all day and night, so you can just take a stroll through when it's convenient.
Marina Village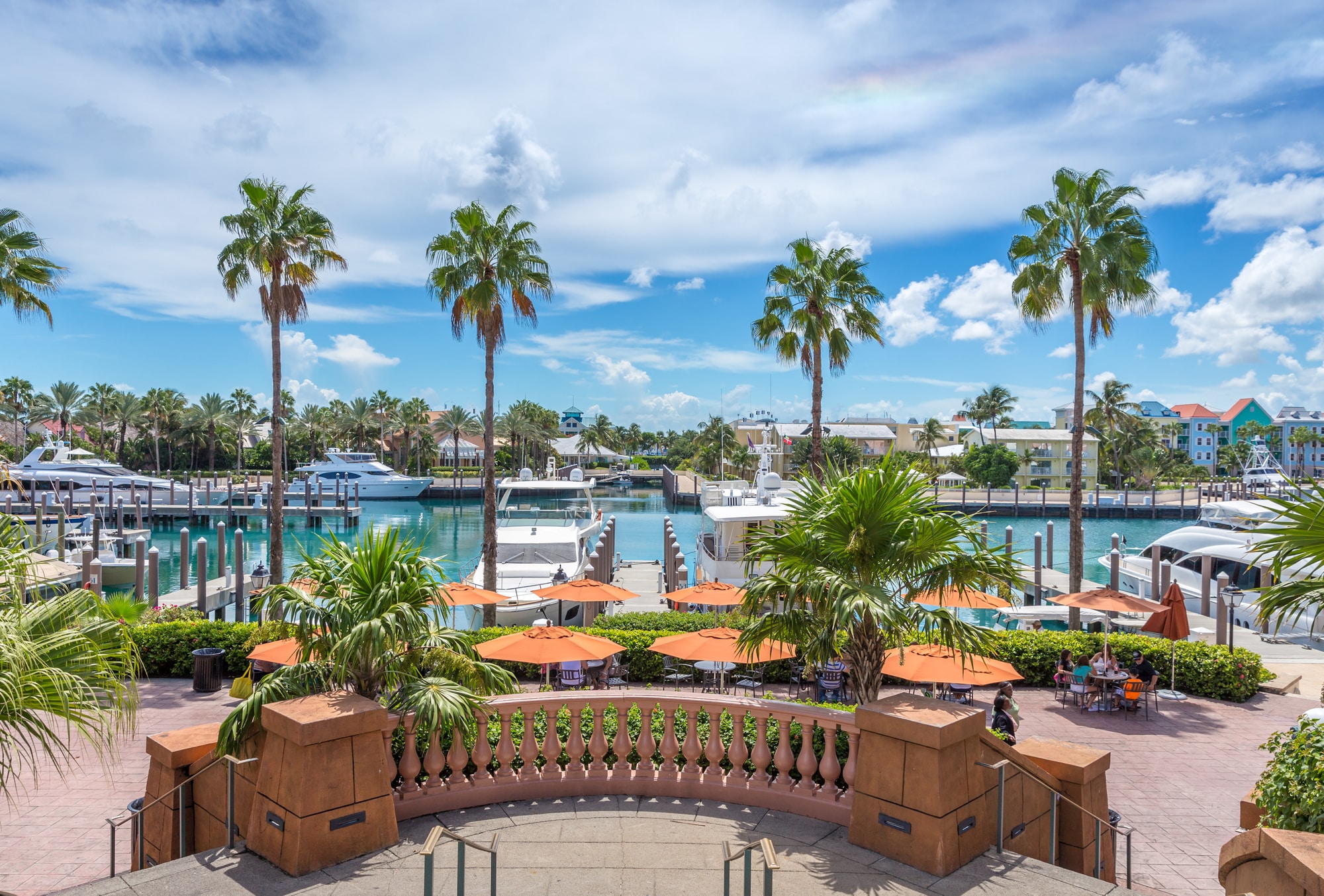 The marina area (near the Royal and Coral Towers) is definitely worth a stroll, as this is where you'll find all the fancy private yachts that dock at Atlantis. We enjoyed ogling them while eating our pizza from Marina Pizzeria.
There is also a Ben & Jerry's ice cream shop and on some nights they hold a short parade through the area too.
There are some shops in the village as well if you're into that sort of thing. We aren't big shoppers so we didn't browse much in this area.
What We Liked Best & Least About Atlantis:
Overall, we enjoyed our trip to Atlantis but there were some definite hits and misses throughout the weekend. Here are the things we loved, and the things we didn't like so much.
The best things about Atlantis:
The water park – especially the rapid river!
Beautiful beaches.
Junior Trainer Program at Dolphin Cay
Impressive property – really well done!
The worst things about Atlantis:
The prices! Even worse than expected – and I expected to get ripped off.
Lots of crowds and lines.
Pools closed at 5pm!
Very little to do in the evening.
Is Atlantis worth it?
Well, I think the question is really whether Atlantis would be worth it for you. Overall, we had a wonderful family vacation and it was perfect as a way to celebrate my son's birthday, as he was absolutely enamored with the water park activities. So if your main reason to visit Atlantis is to take advantage of the water park and marine life activities, then it's definitely worth a trip. But the three nights we spent were plenty for us – I wouldn't want to make this a longer trip.
If you're visiting with the expectation of a serene and relaxing beach vacation, I would opt for something a bit quieter with less crowds and less hustle and bustle. And if you're looking for a good value, it's not going to be found here.
So Atlantis was worth it for us, for this particular trip. But we probably will explore some other beach resorts before we make a return trip or stick to simply visiting on a day pass when we cruise through the Bahamas again.
More Atlantis Trip Planning Guides