A trip to the Grand Canyon isn't complete without a bit of hiking. And lucky for us, there are plenty of family friendly hiking trails within Grand Canyon National Park. Whether you're looking for a leisurely stroll around the canyon rim or a full day adventure – these are best Grand Canyon hikes to take with kids!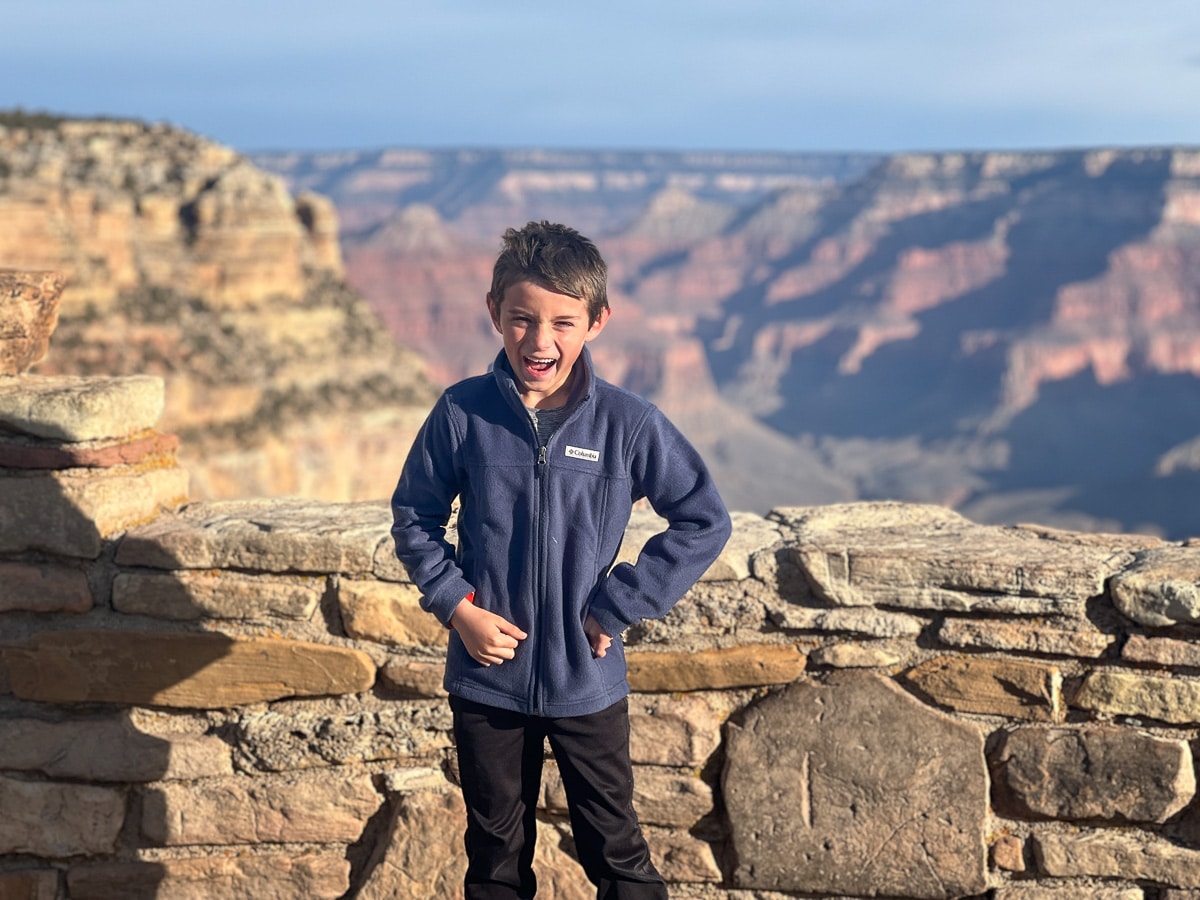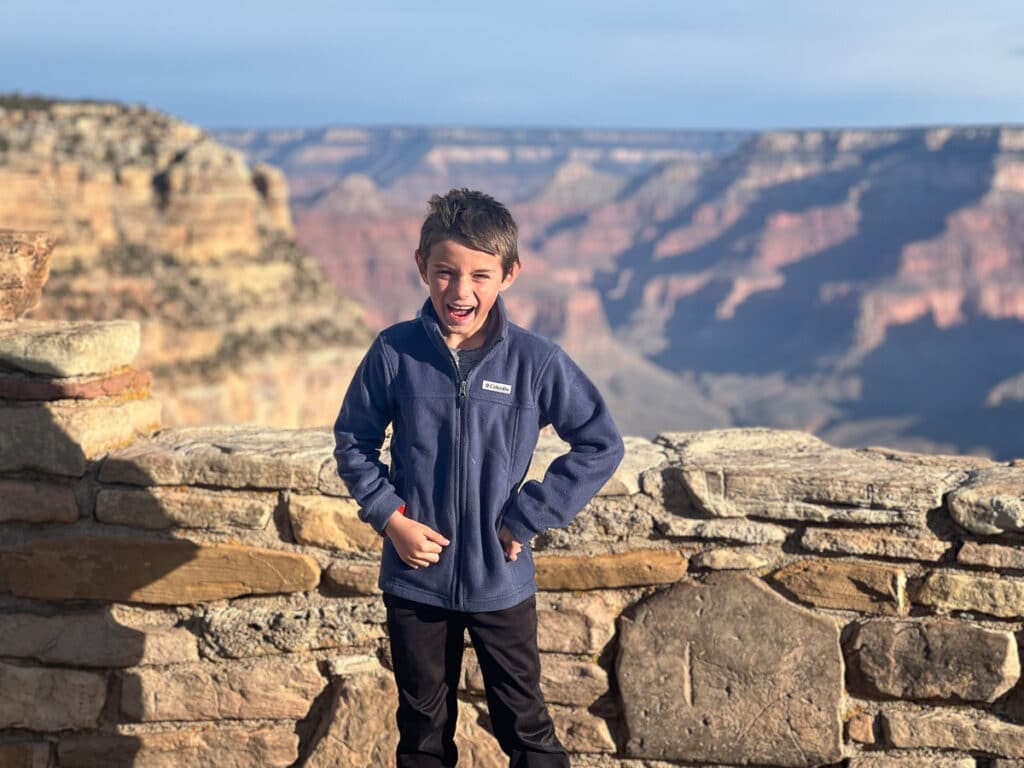 South Rim Trail
The South Rim Trail can only loosely be called a trail. It's really more of a paved walkway – a very long and beautiful sidewalk. But that kind of makes it perfect for exploring with kids. In fact, this trail is even suitable for a stroller.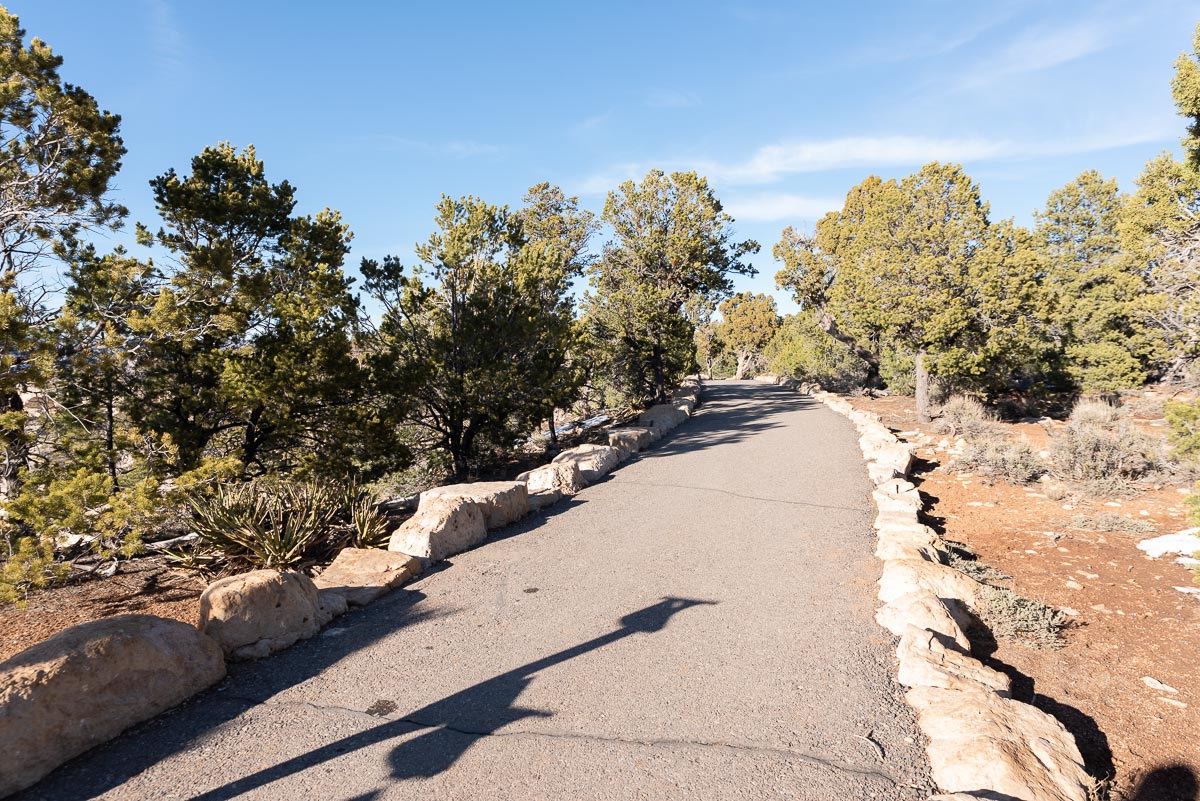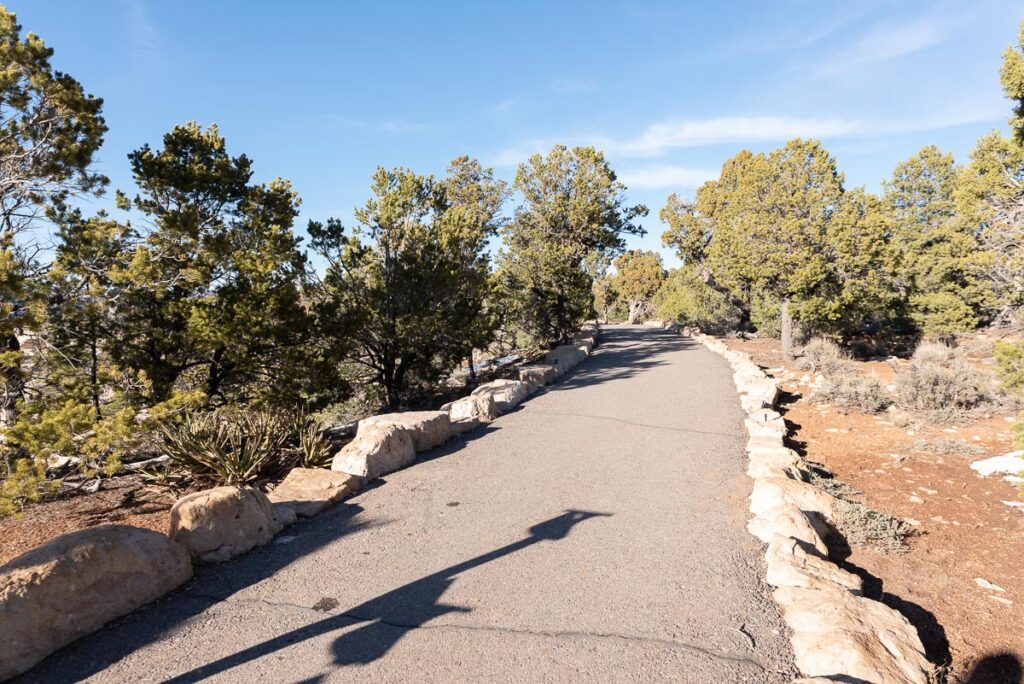 The trail stretches a full 13 miles along the canyon's rim – from Hermit's Rest in the west to the South Kaibab Trailhead in the east. You can pick and choose the parts that you would like to explore, and even use the park's free shuttle service to move between points on the trail.
You'll find plenty of beautiful views and easy photo spots along the way!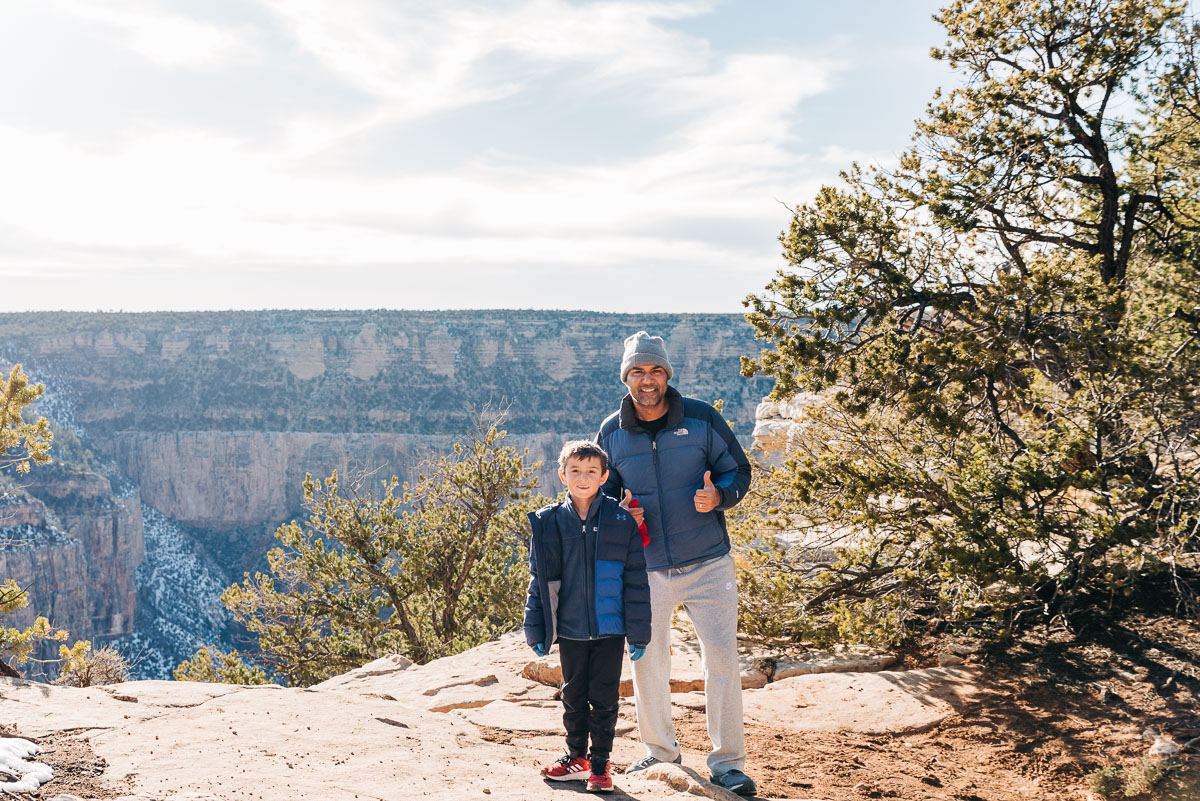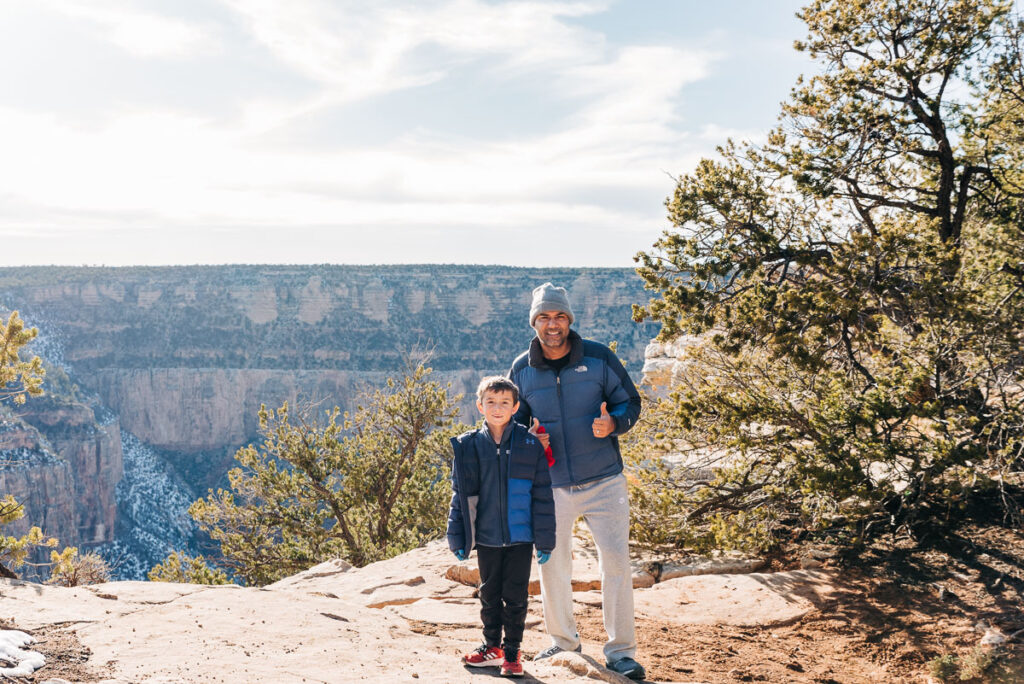 On our recent family trip to the Grand Canyon, we hiked the Rim Trail from Grand Canyon Village to the Visitor's Center (roughly 2.5 miles). This was a really fun walk that only took about an hour or so, including stops.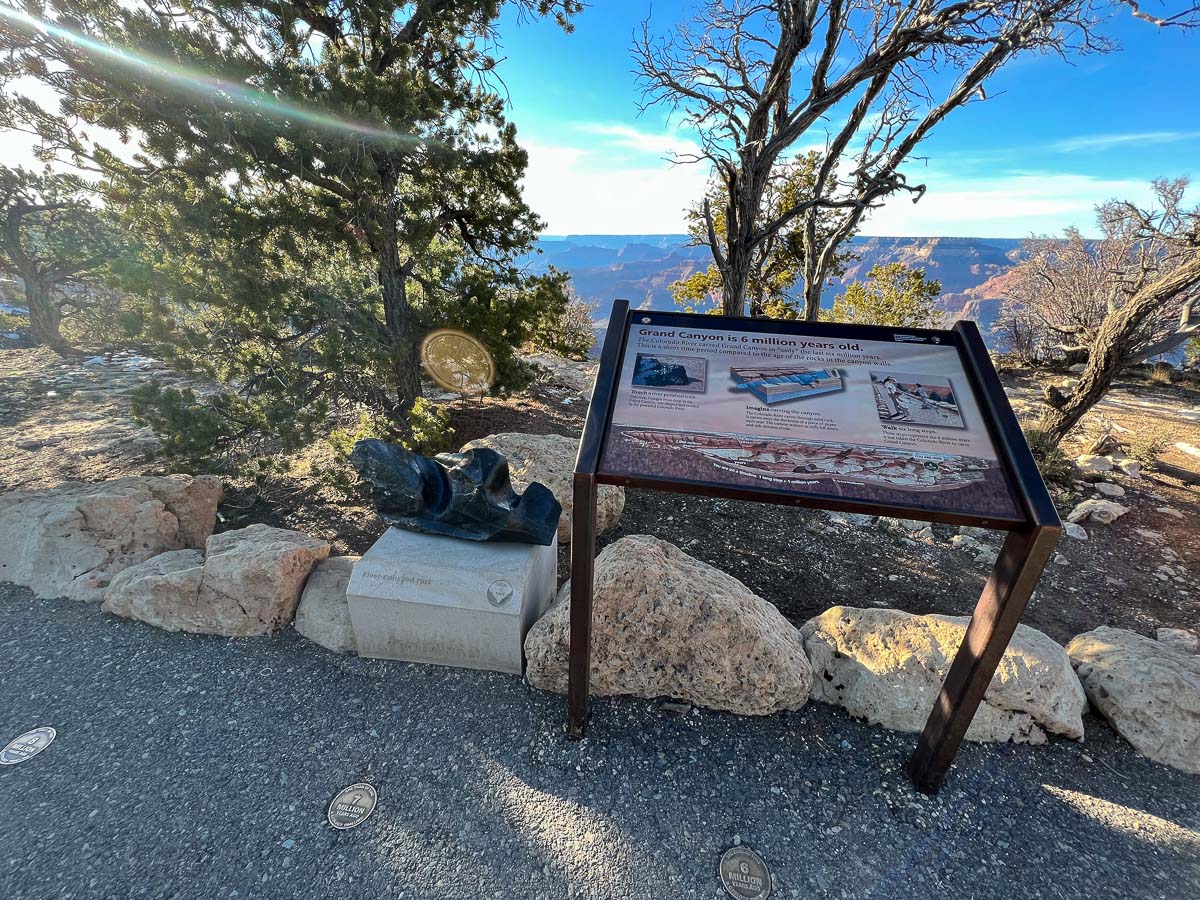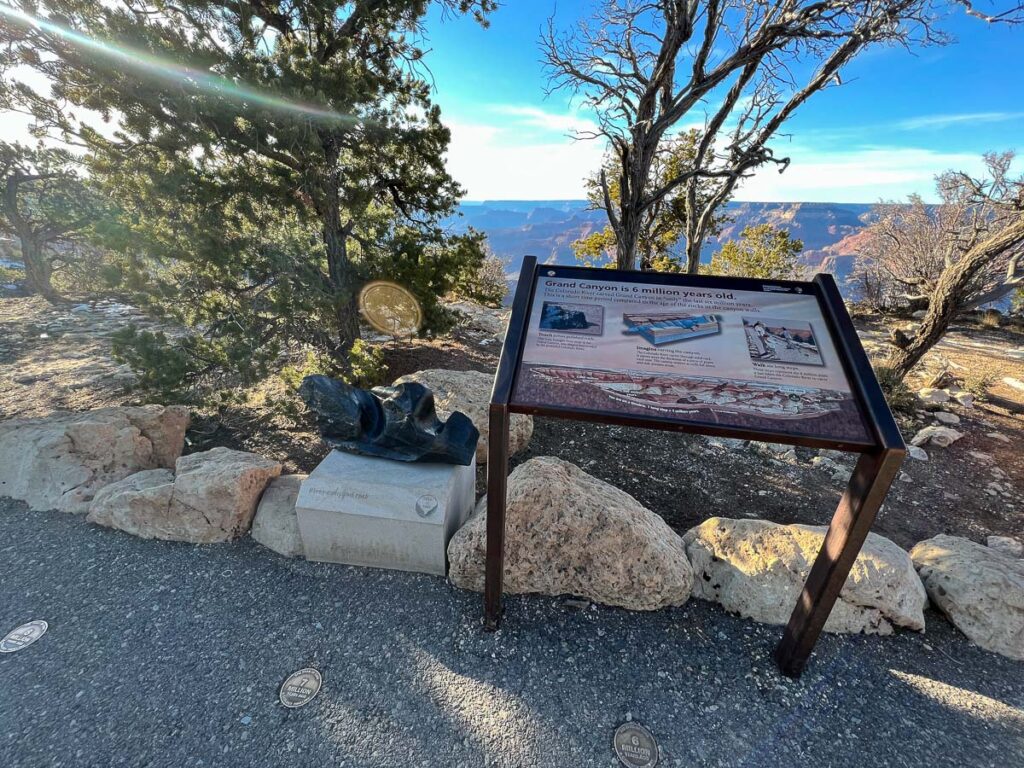 From Grand Canyon Village, simply set out towards the east on the Rim Trail which takes you through the Trail of Time. There are fun little exhibits along the way, showing off the geology of the region and how the landscape has changed over time. My son loved the big rock samples, and had fun comparing him to the ones in his rock book.
There were even a few exhibits to interact with, like these scopes that helped you to spot the different rock layers in the canyon!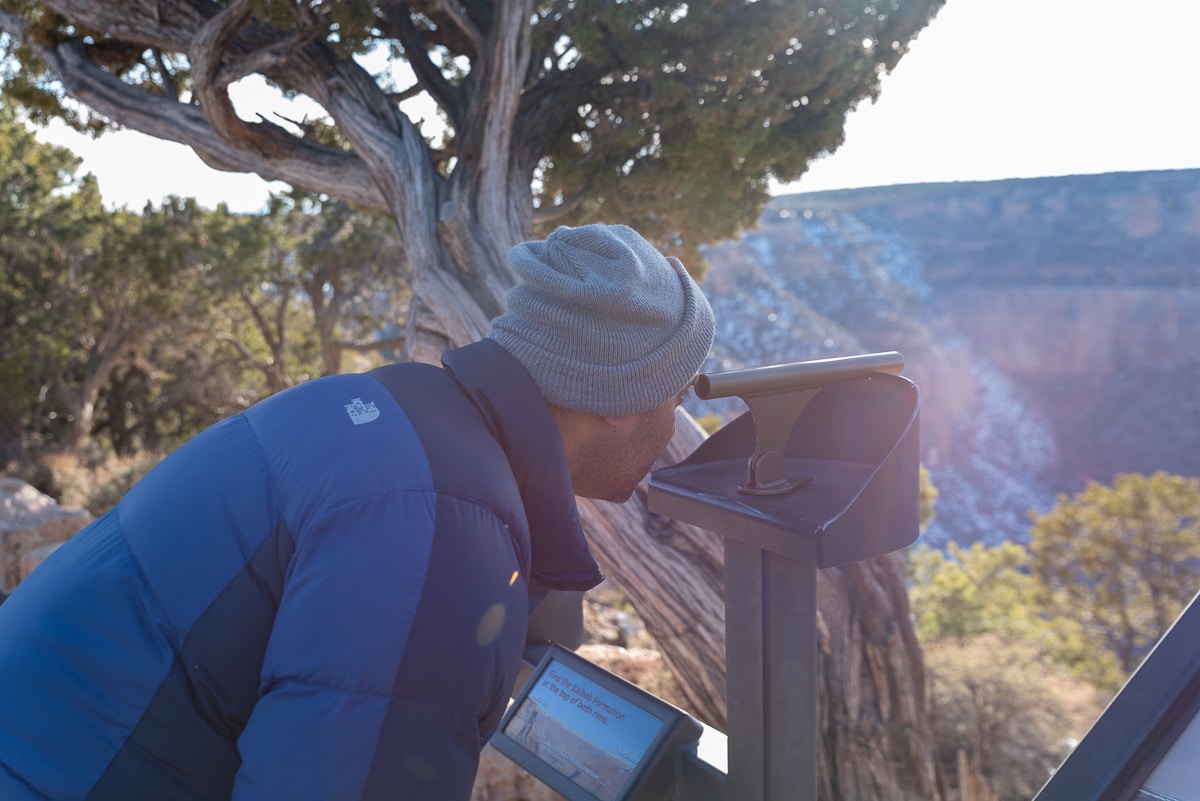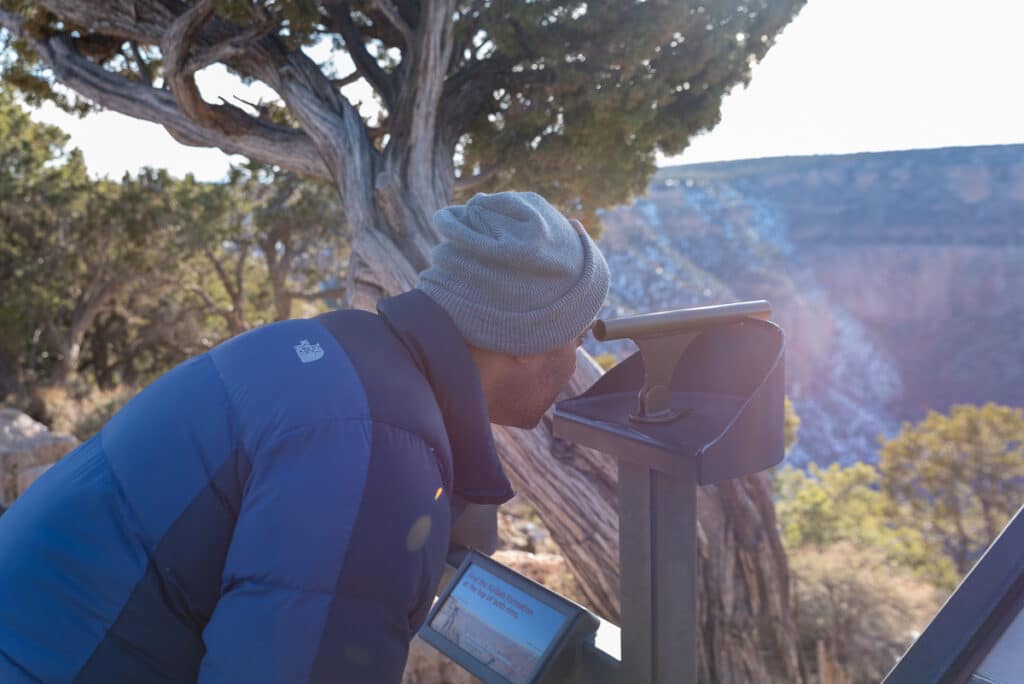 Next, you'll come to the Yavapai Museum. It's a small museum which some interesting exhibits including a scale model of the canyon. And it has a really spectacular view.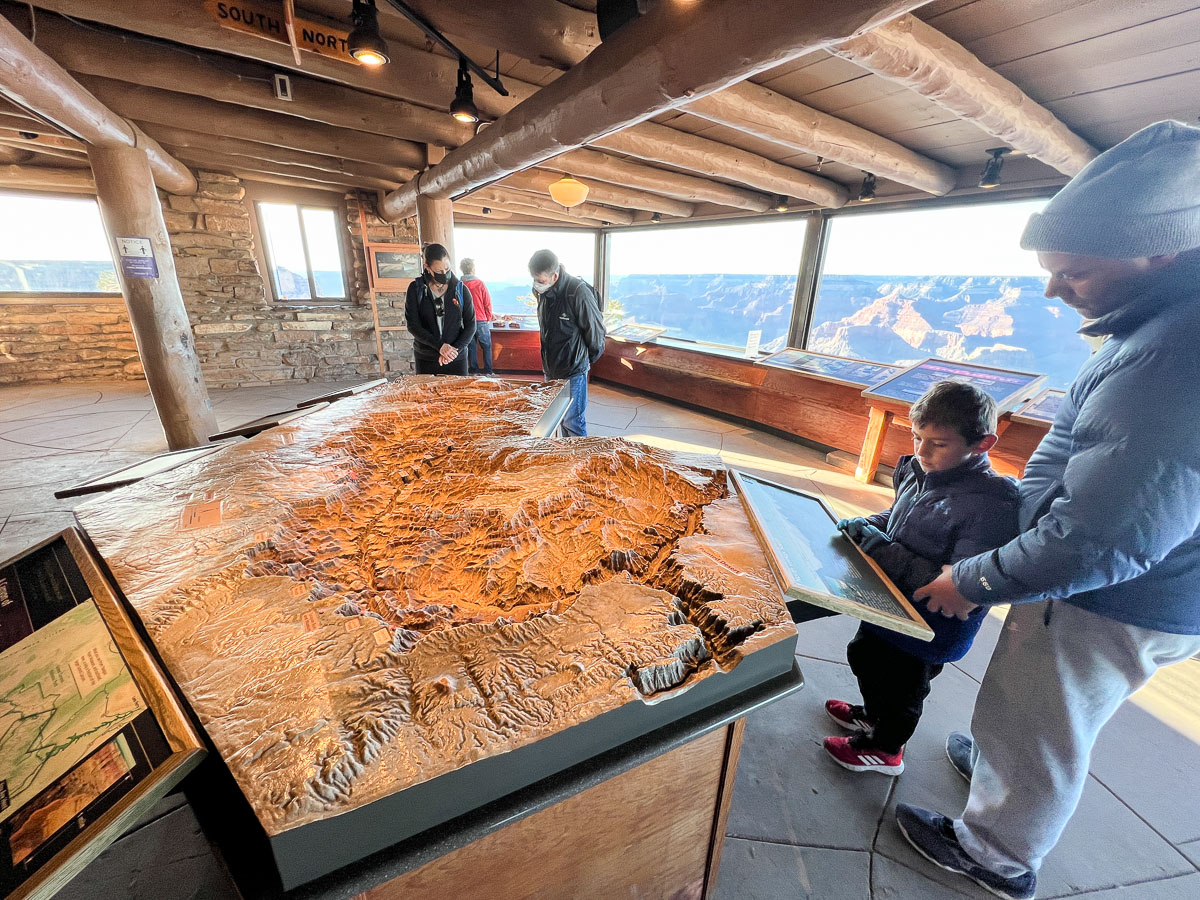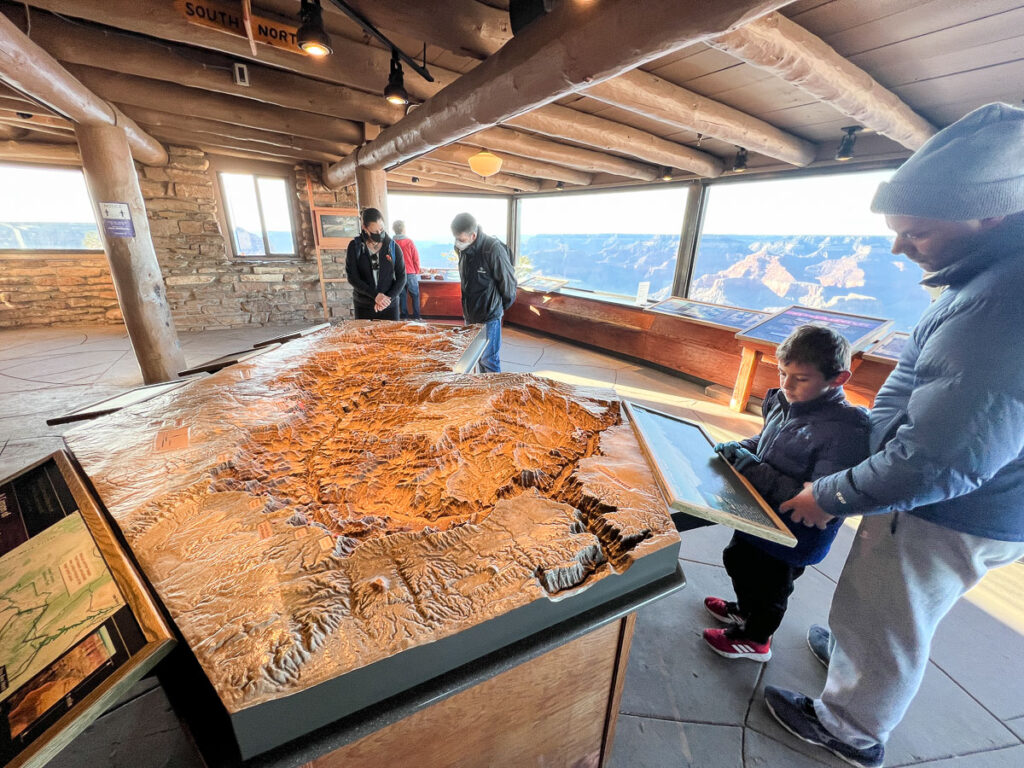 Adjacent to the Yavapai Museum, you'll find a small outdoor amphitheater where the park rangers do their educational talks. If you're interested in catching one of these ranger talks, check the schedule and time your visit accordingly. (This is also one of the Junior Ranger activities!)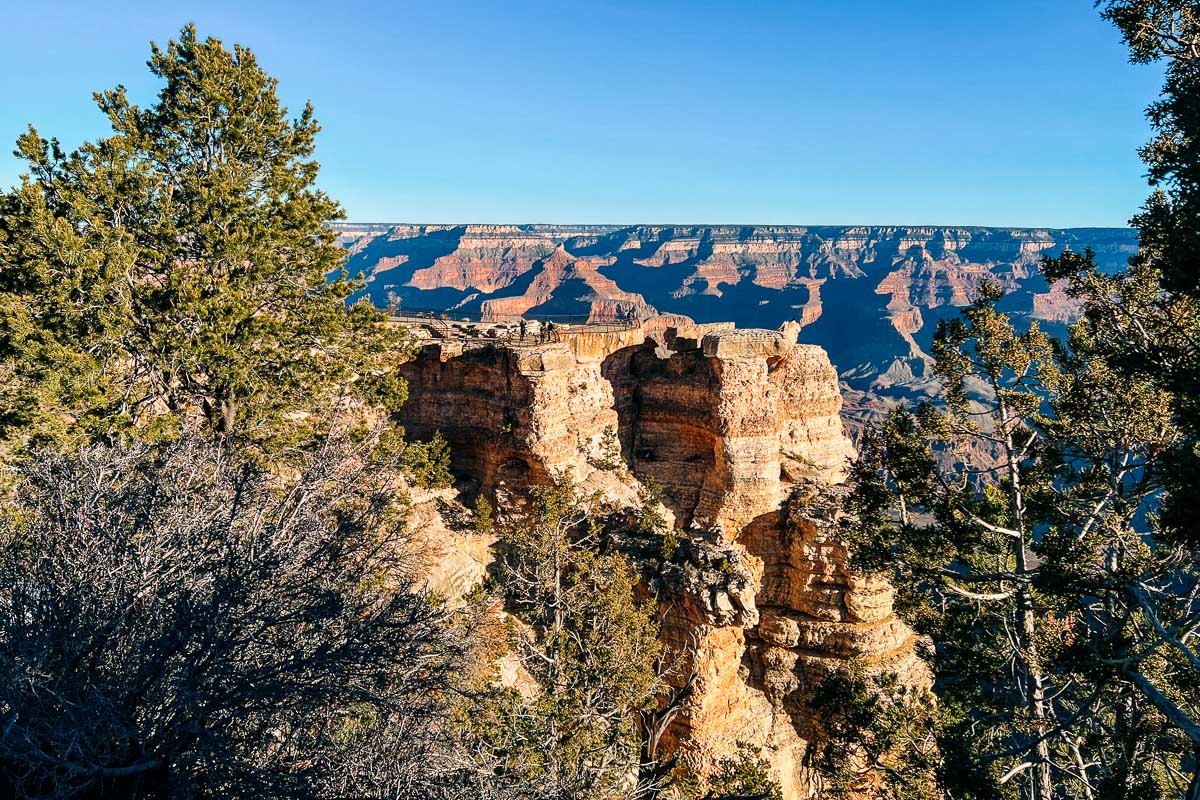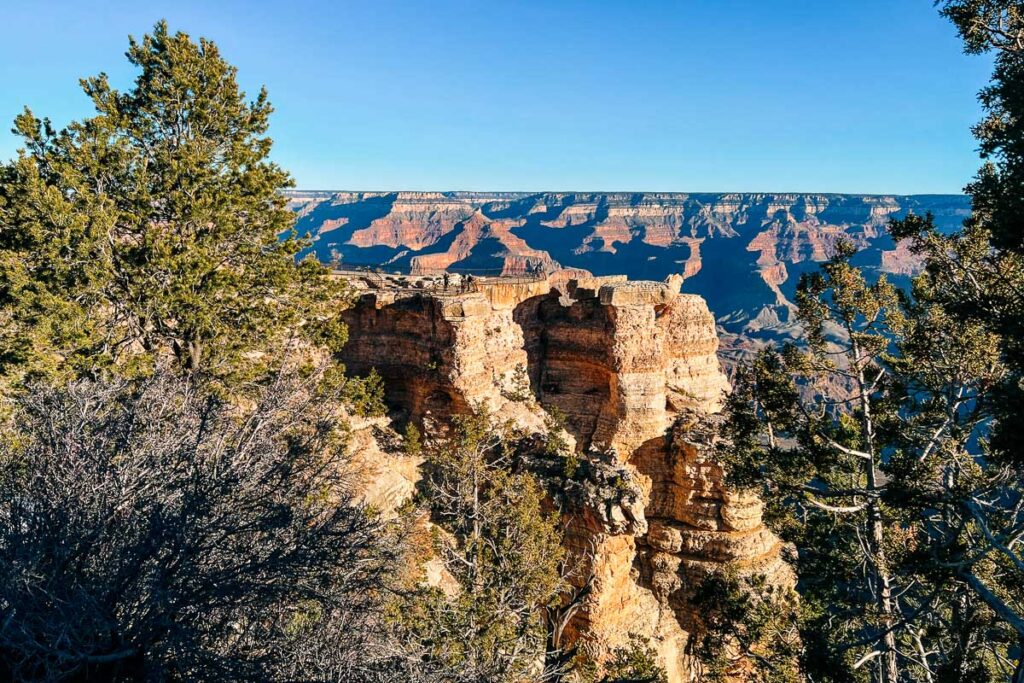 From there, if you continue east on the Rim Trail, you will reach Mather Point. This is one of the most popular lookouts in the park, and is especially famous for its sunset views. It's definitely worth stopping here for some family photos!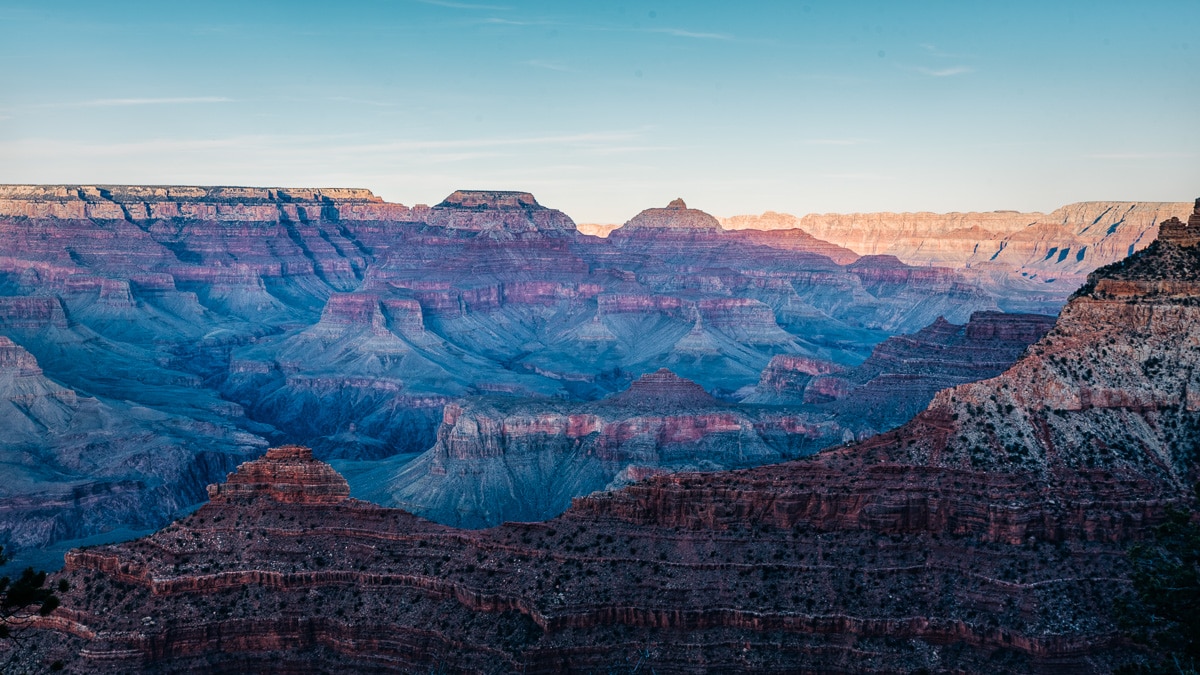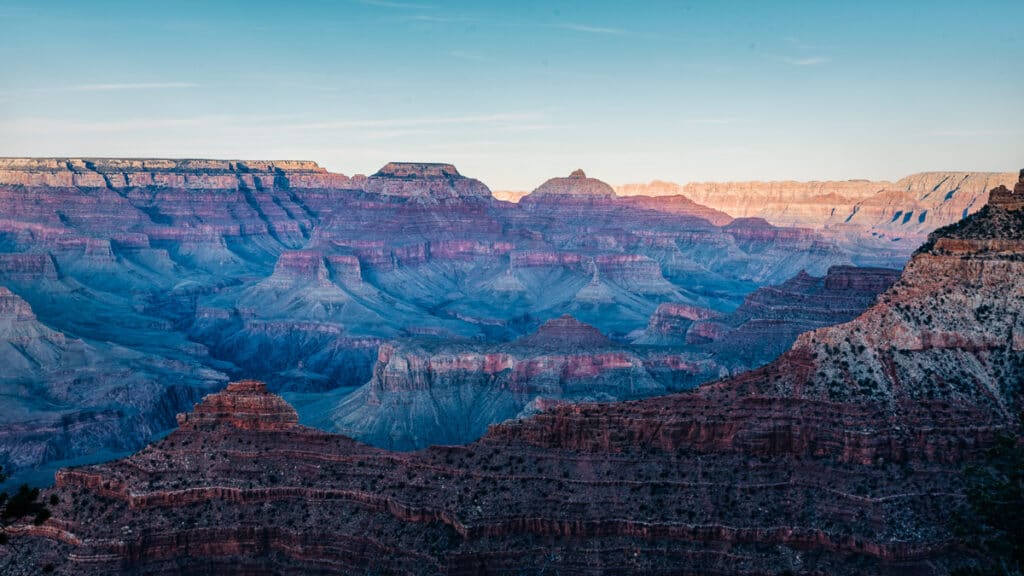 Then make your way over to the Visitor's Center. This is where the kids can pick up Junior Ranger booklets. They can complete the activities and return the to the gift shop, where they can receive a badge and be sworn in as Junior Rangers.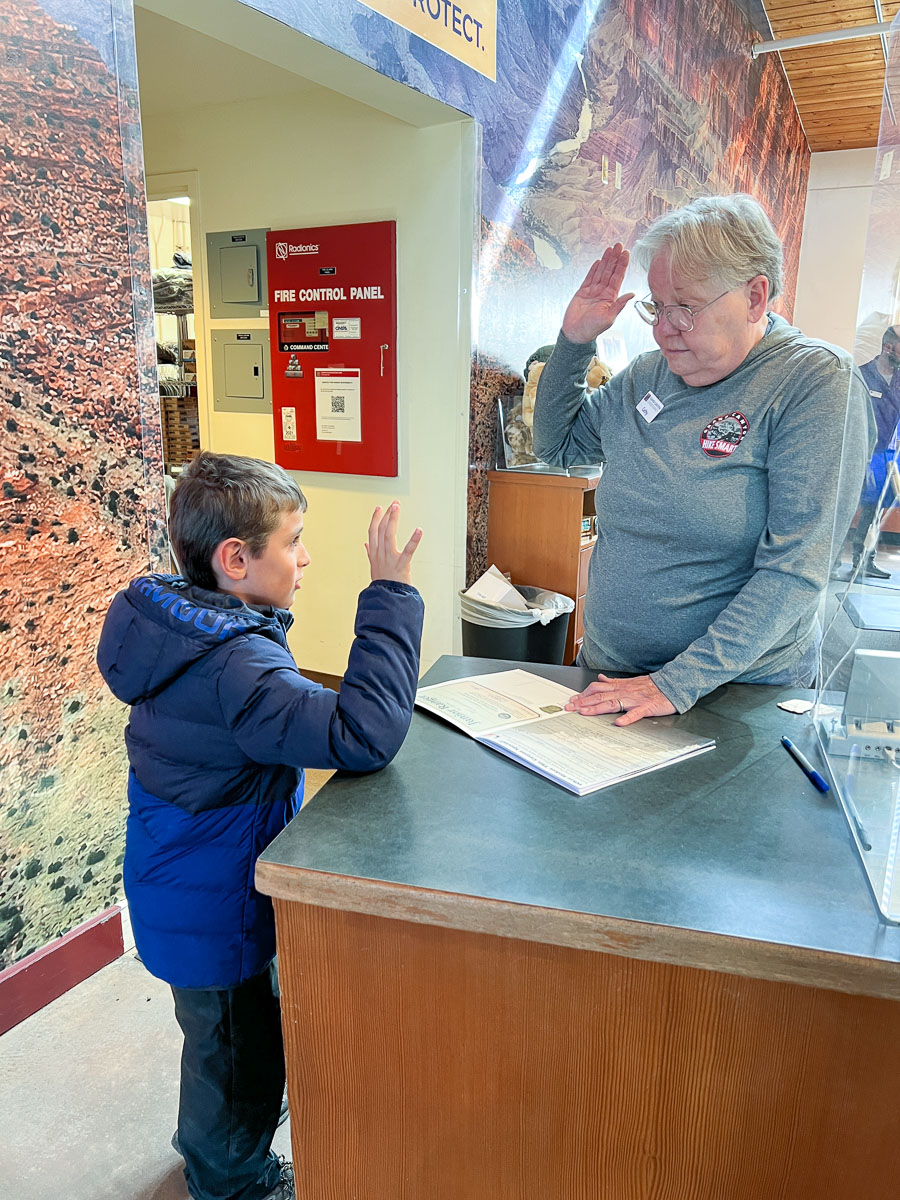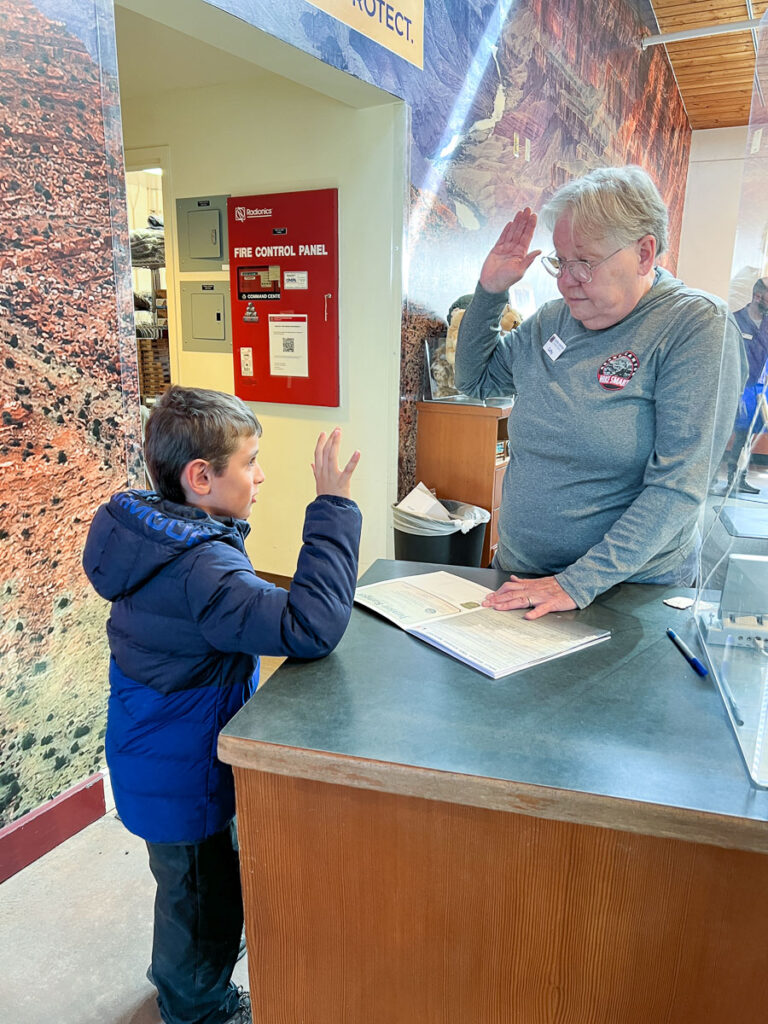 You'll also find a great gift shop and a small cafe with snacks and drinks at the Visitor Center. From there, you can hop on one of the shuttles to take you back to the Village or on to another destination in the park.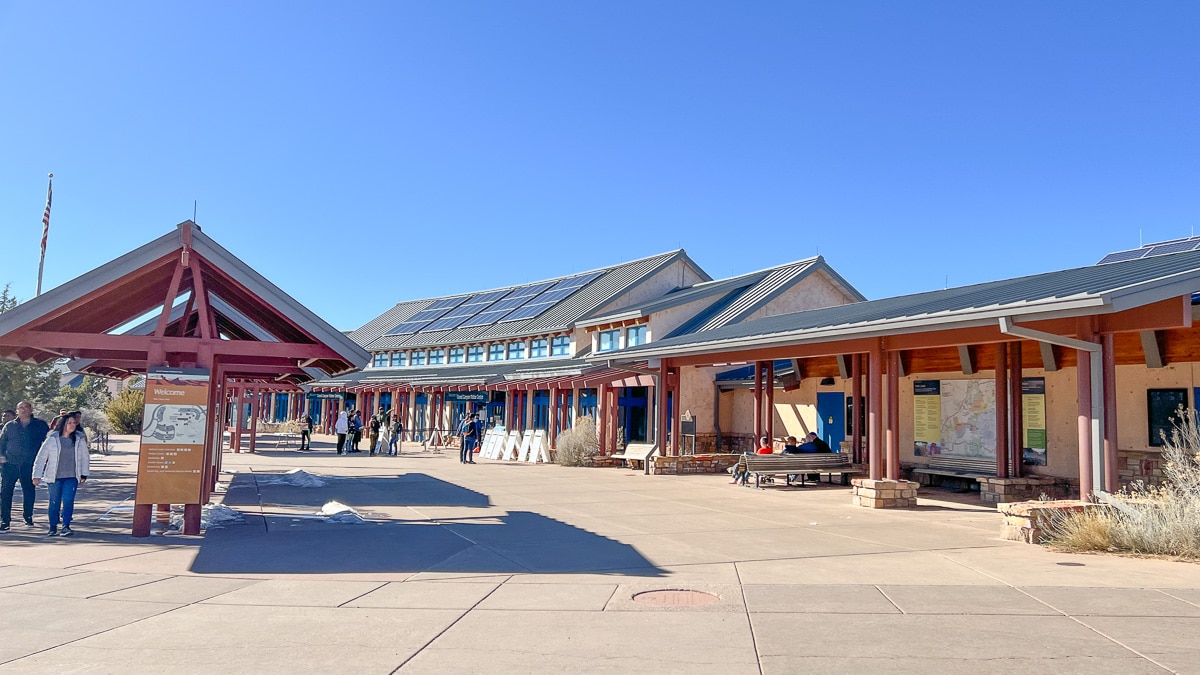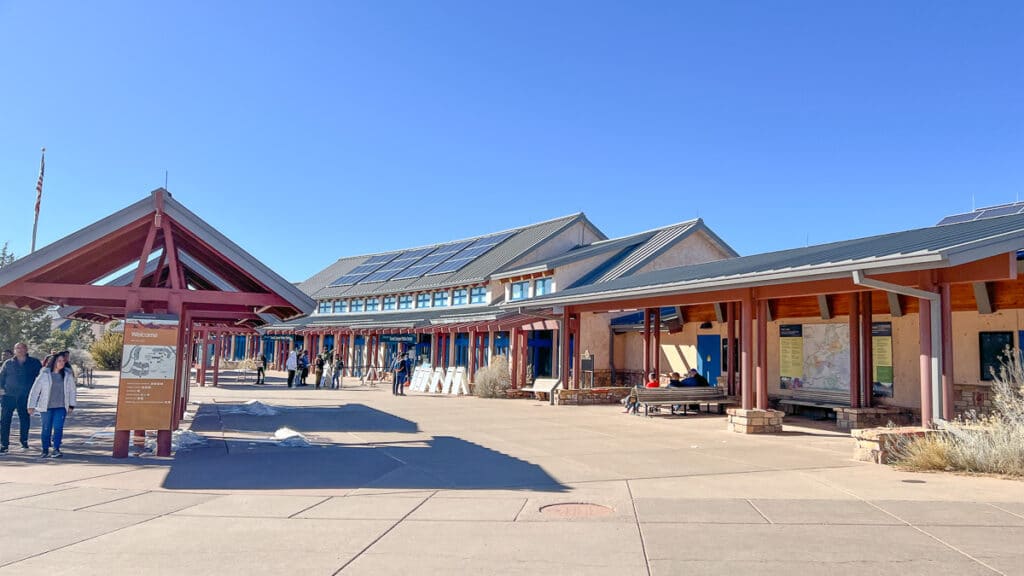 Bright Angel Trail
After South Rim Trail, which is more of a walkway, the Bright Angel Trail is the most popular hiking trail in the park. That's probably largely due to its incredibly convenient location – the trailhead is right in Grand Canyon Village.
This is a great hike to do as a family as it starts off relatively easy and there are several different marked stopping points that are all suitable for hiking with kids.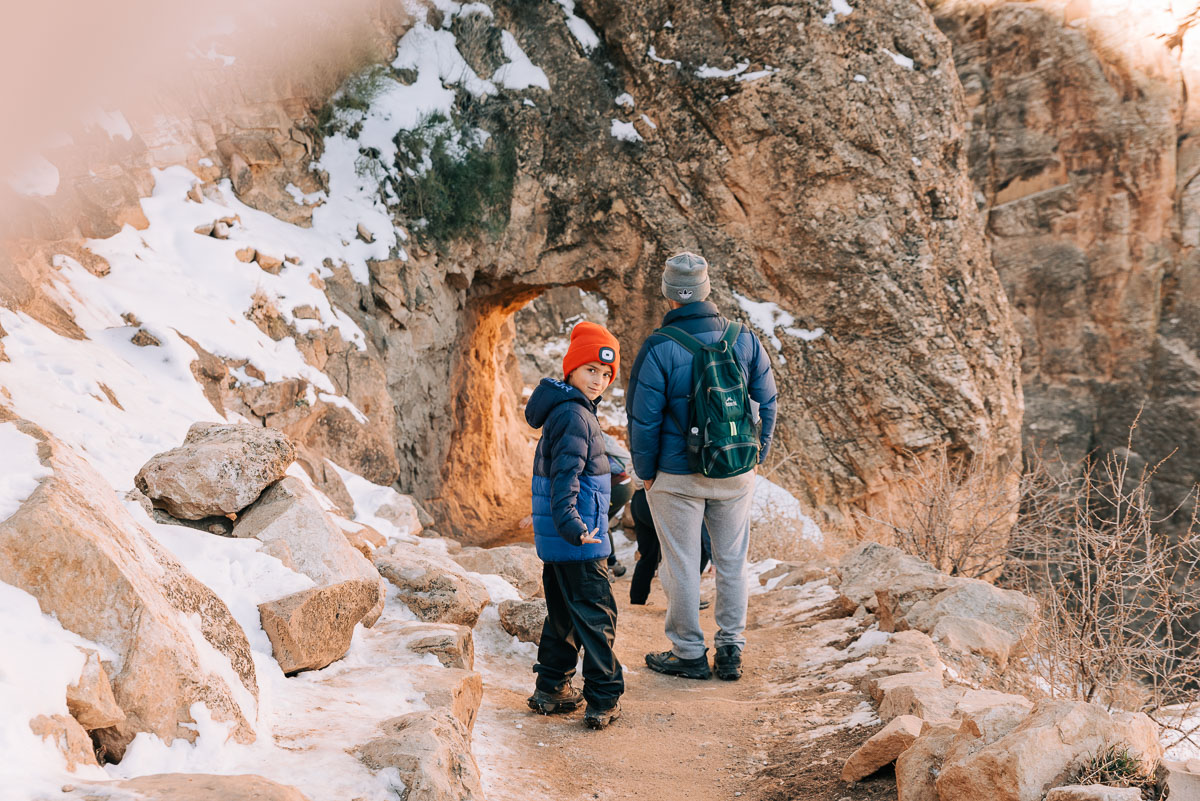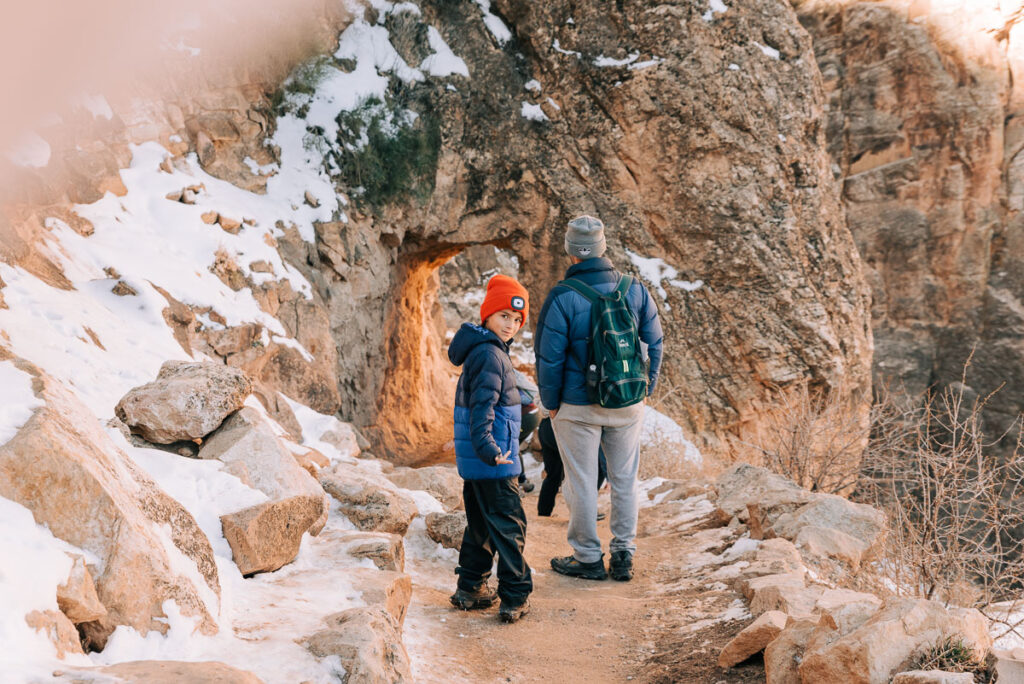 First, I'll caution that this trail gets very crowded in the afternoons. So I strongly recommend going early in the morning to avoid the bulk of the crowds. I personally feel a lot more safe on a trail when we have plenty of space and aren't being crowded about by (mostly inexperienced) hikers.
We didn't find the trail all that difficult to manage with a seven year old. That being said – he is a very active kid and he was well prepared with appropriate clothing and crampons on his boots.
To give you an idea of the terrain on the trail…
You'll find that many parts of the trail have steps built in. These were the easiest parts to navigate.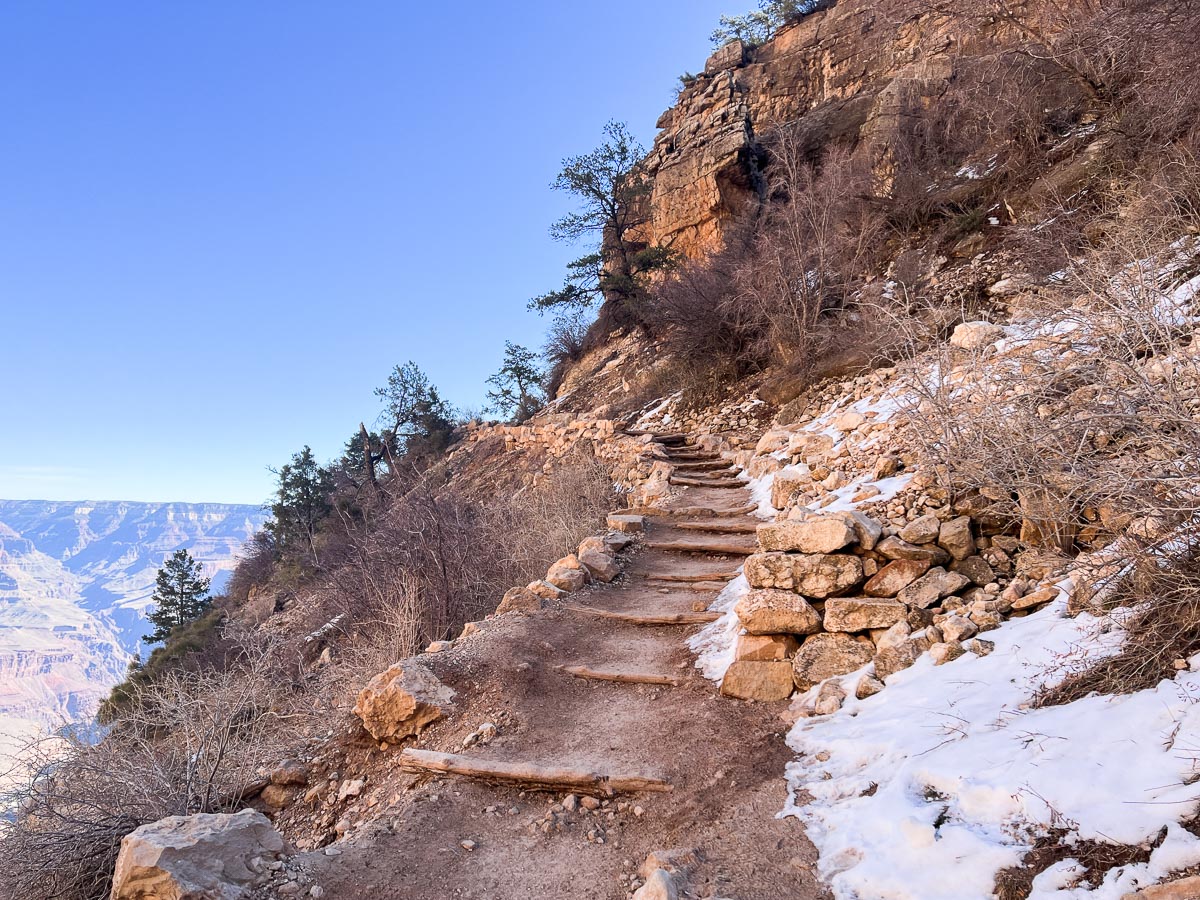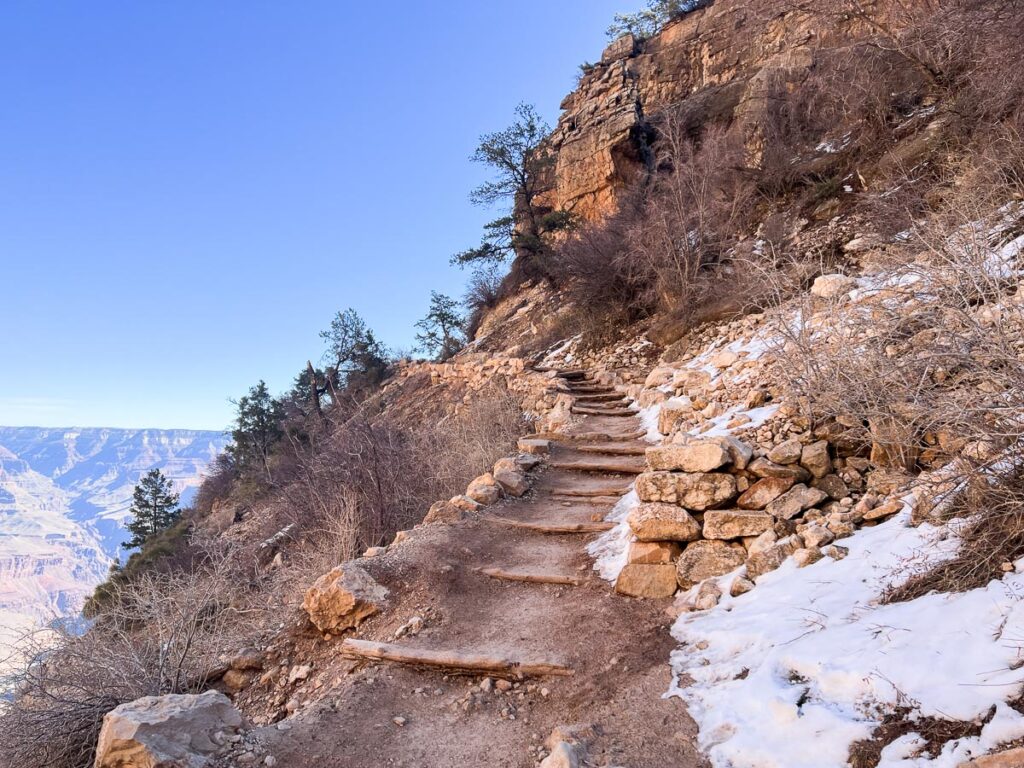 Yet other parts will just be sloped with no steps. Some of these areas were quite narrow and a little slippery, but we never really felt in danger of falling off the cliff or anything like that!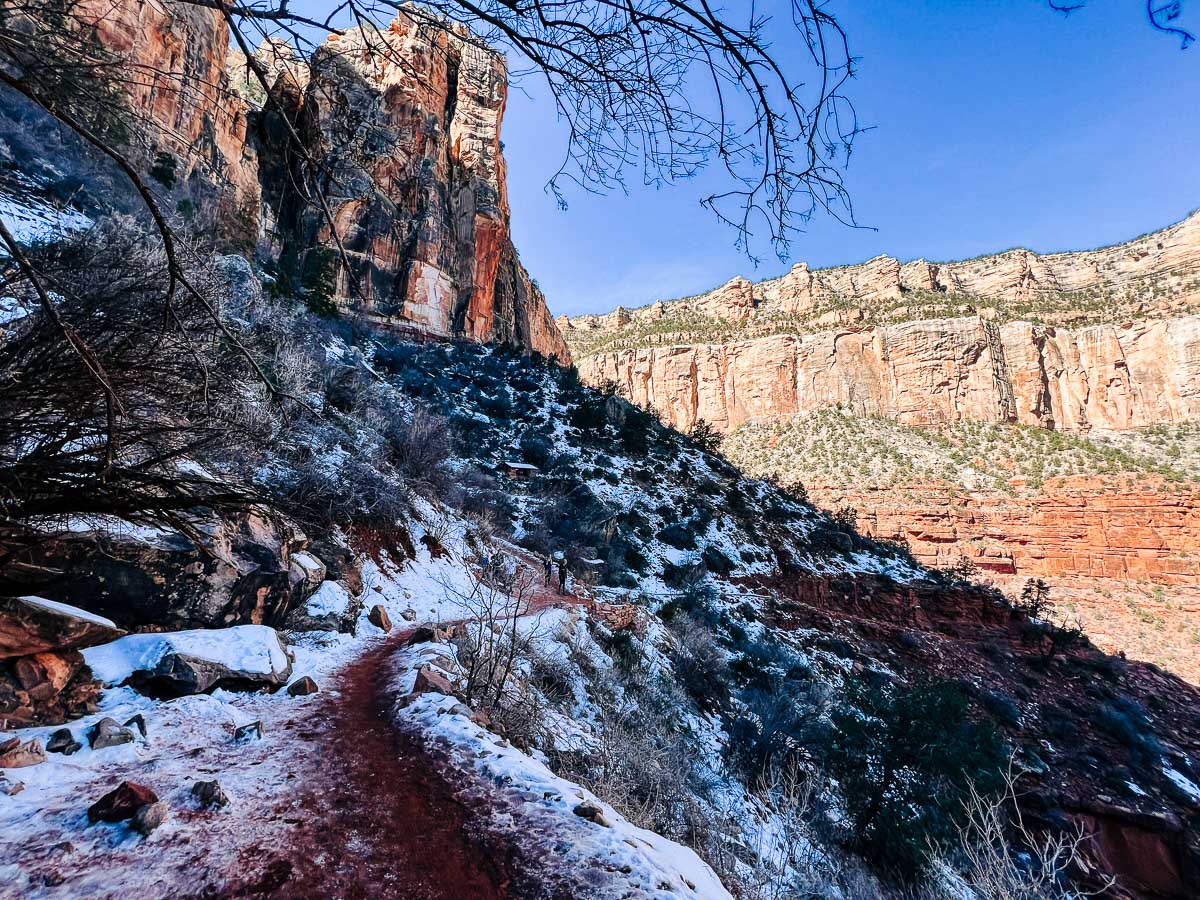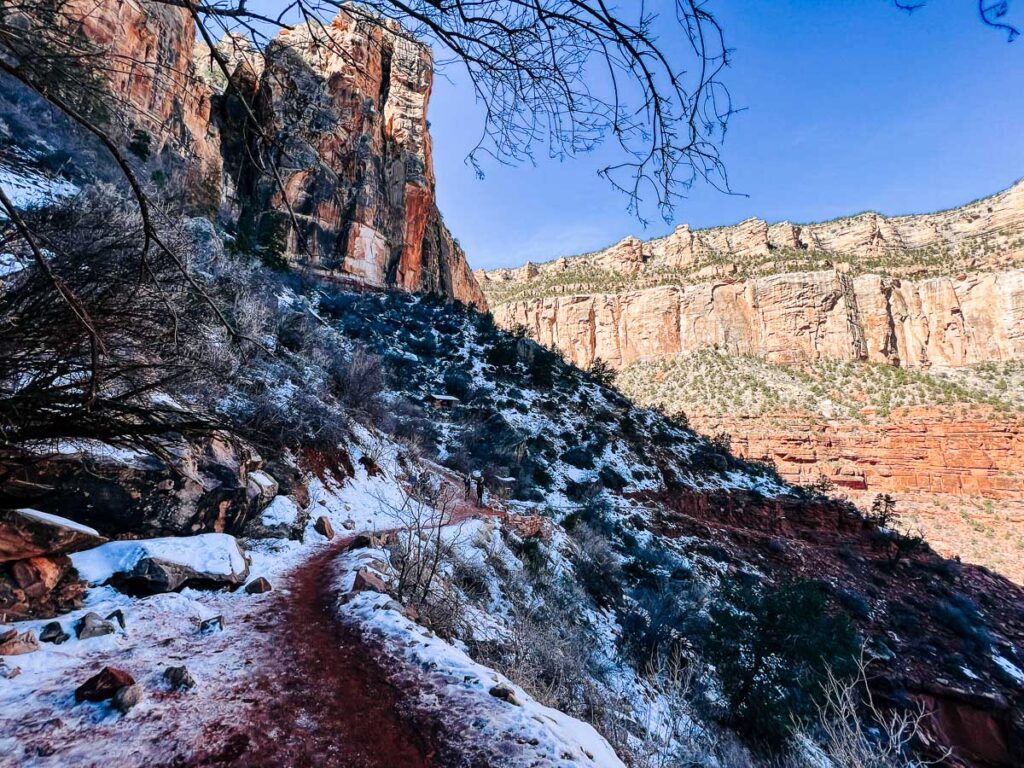 And if you're going in a colder season, be prepared for the trail to be covered in snow like this. Do NOT hike on these snowy or icy trails without crampons.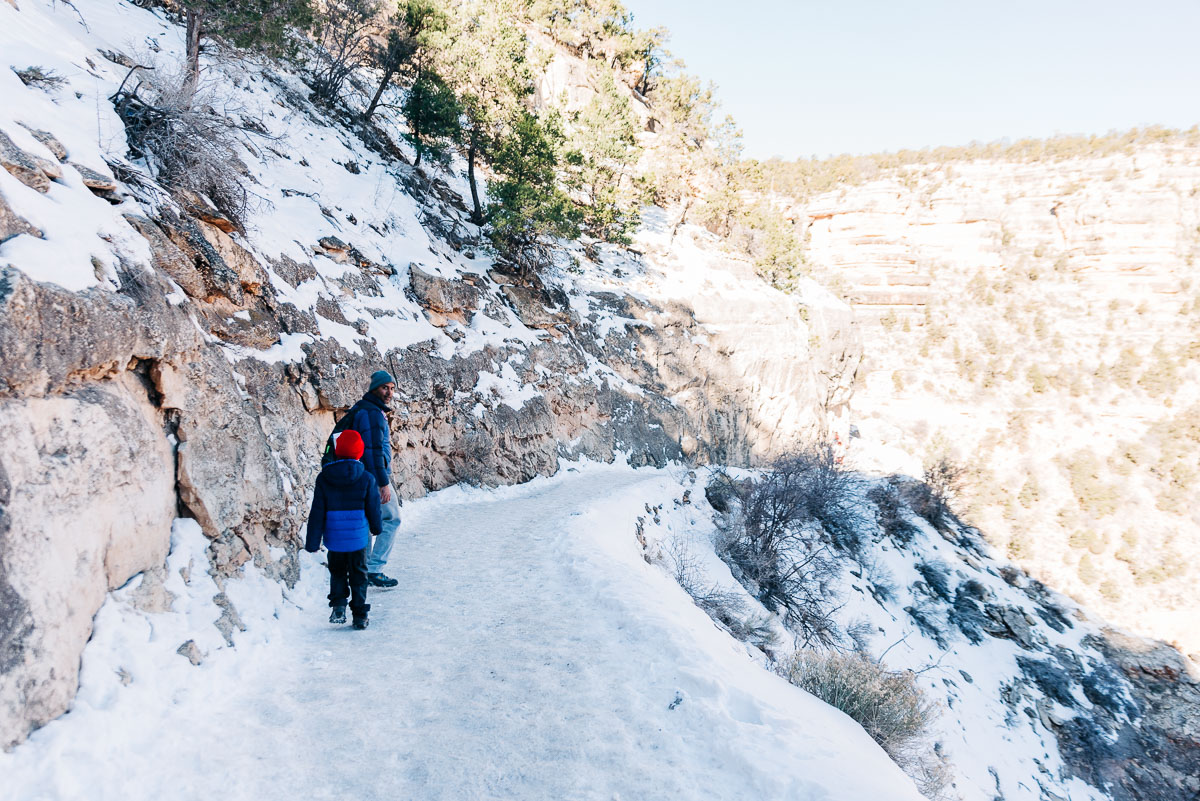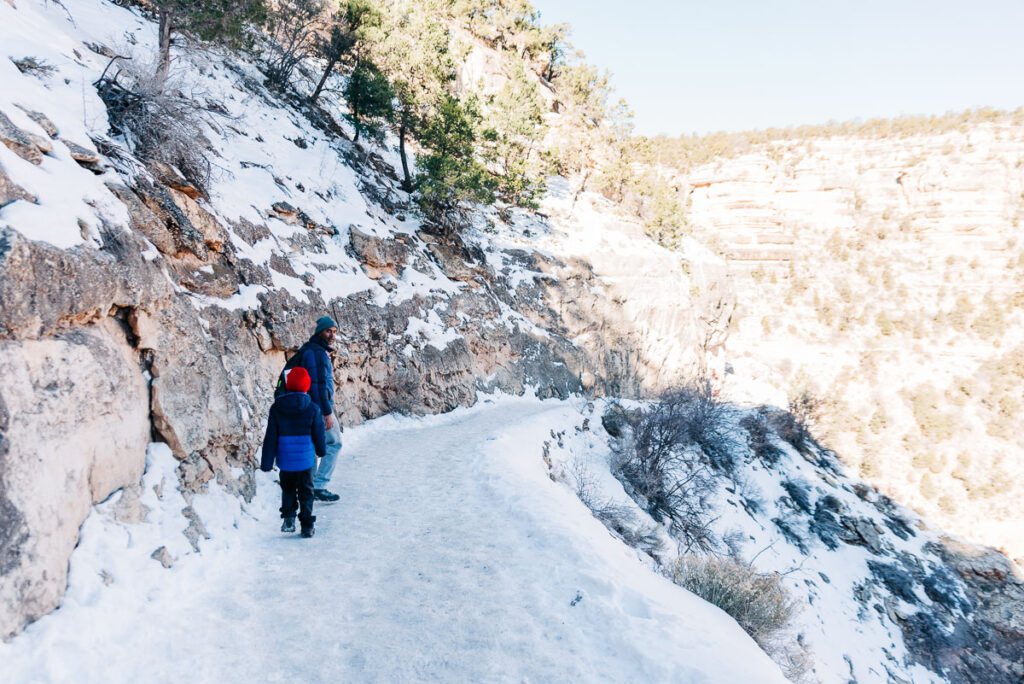 We encountered a large family group that was fully unprepared and they were attempting to move up and down the steep trail by sliding on their behinds. One with a baby carrier on his back. It was not a good idea. Just buy the crampons.
I am happy to say we saw that same family emerge from the trail – many hours later – but they all appeared to have survived. ;)
Bright Angel is an out and back trail – which means you go as far as you want and then turn back around and hike back up. You have a few options for stopping points:
First Tunnel – You'll come across two tunnels on the Bright Angel Trail. If you turn back at the first tunnel, you'll have a 0.1 mile roundtrip hike. I'm not really sure that even counts as a hike. You can literally see the first tunnel at the top of the trailhead. :- D But if you have really young kids and just want to get a quick peek at the canyon from below the rim, you can certainly turn back here.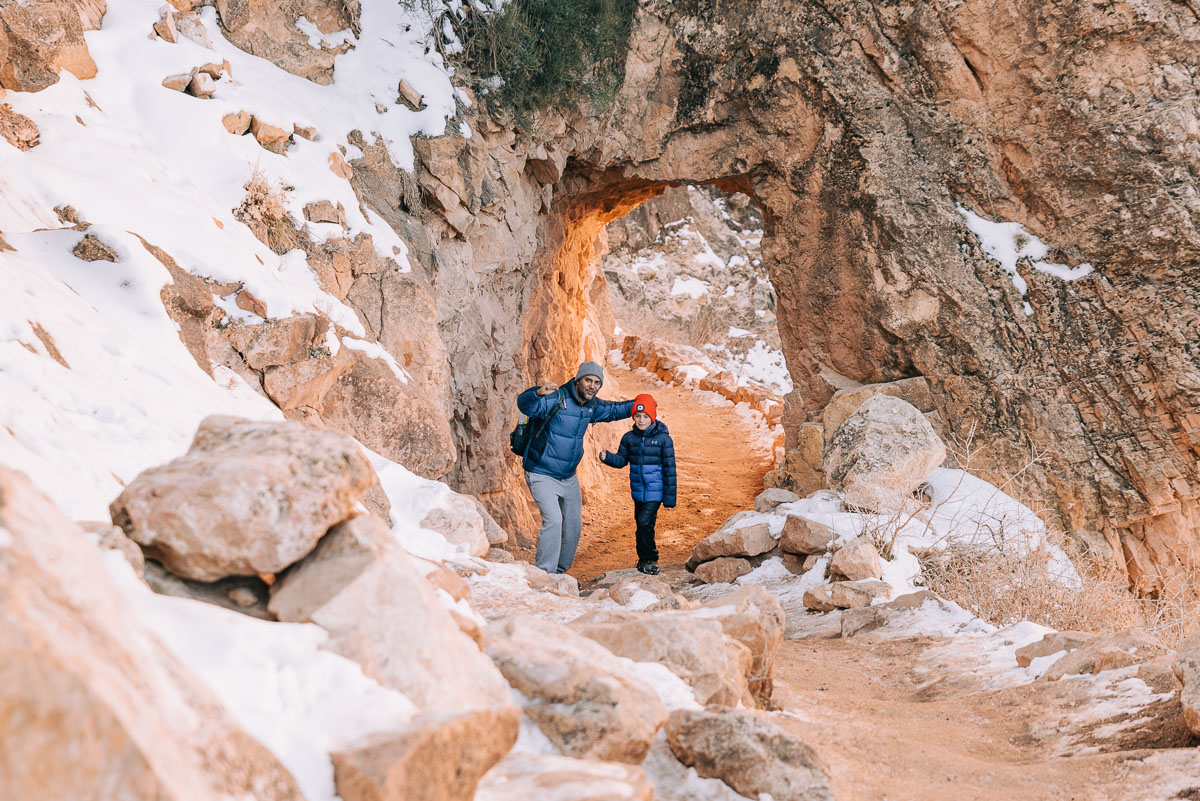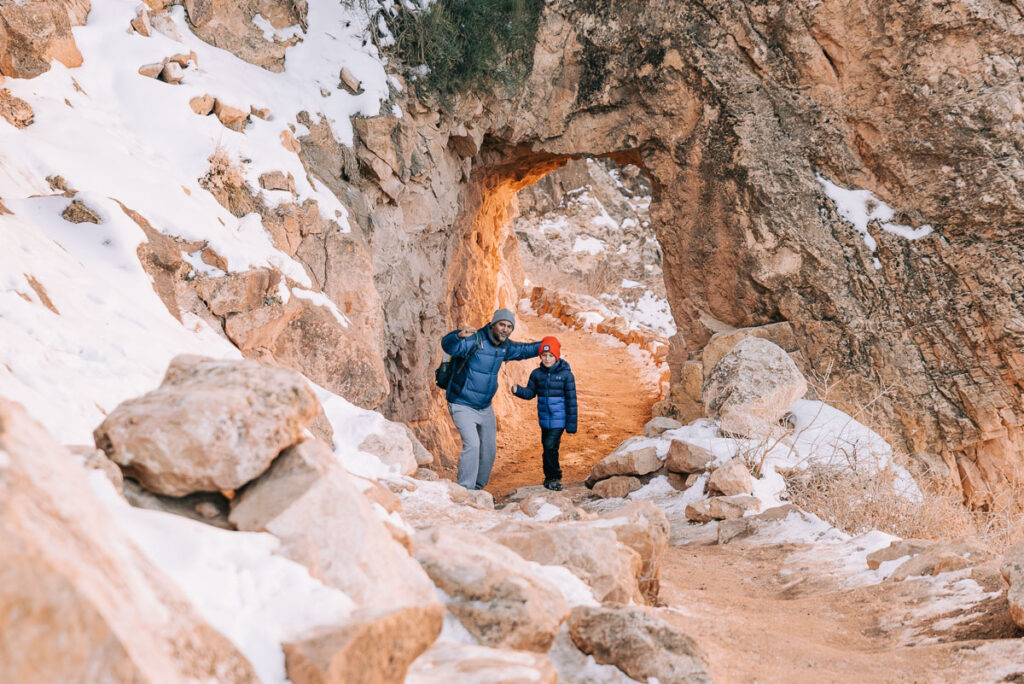 Second Tunnel – If you turn back at the second tunnel, you'll have a 1.8 mile roundtrip hike. This is a fairly popular stopping point for families with kids or first time hikers. You'll get to experience some really fantastic views!
1 1/2 Mile Resthouse – If you can make it to the 1 1/2 Mile Resthouse, you'll have a 3 mile roundtrip hike. This is what we did on our recent trip with our 7-year old. It took us about 45 minutes to reach the resthouse and about 1 1/2 hours to hike back up. The view really was spectacular and worth the effort for us!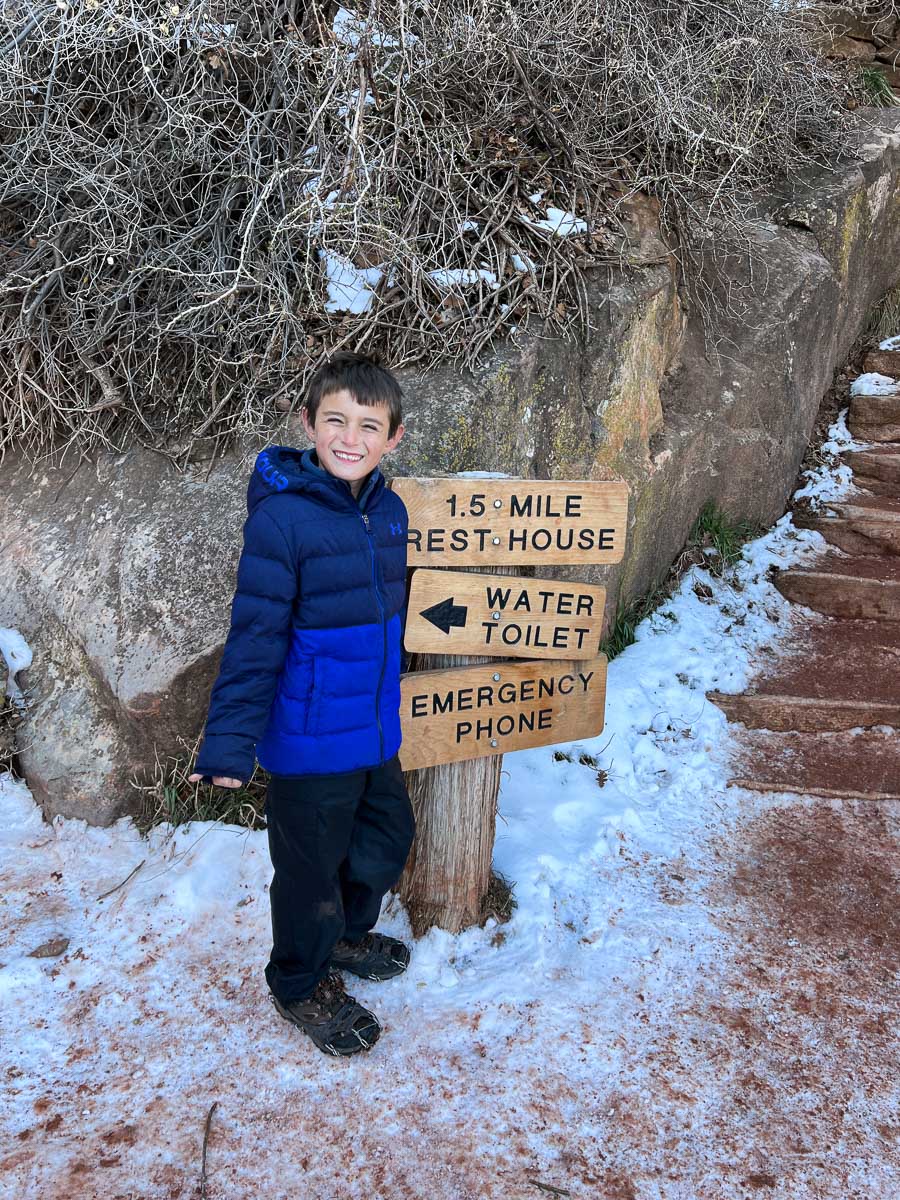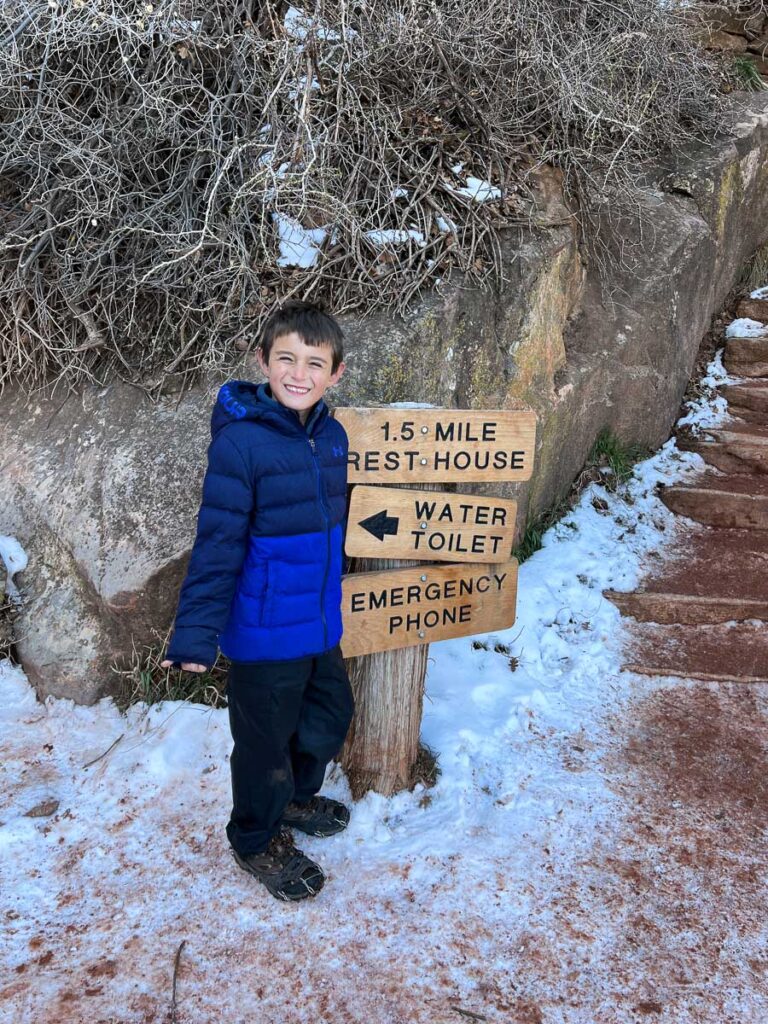 There was a bathroom at the 1 1/2 mile resthouse – and it was the nastiest bathroom I've ever been in. So try to avoid that with the little ones if you can. There is also water available here at certain times of year, but you should really plan to bring what you need with you.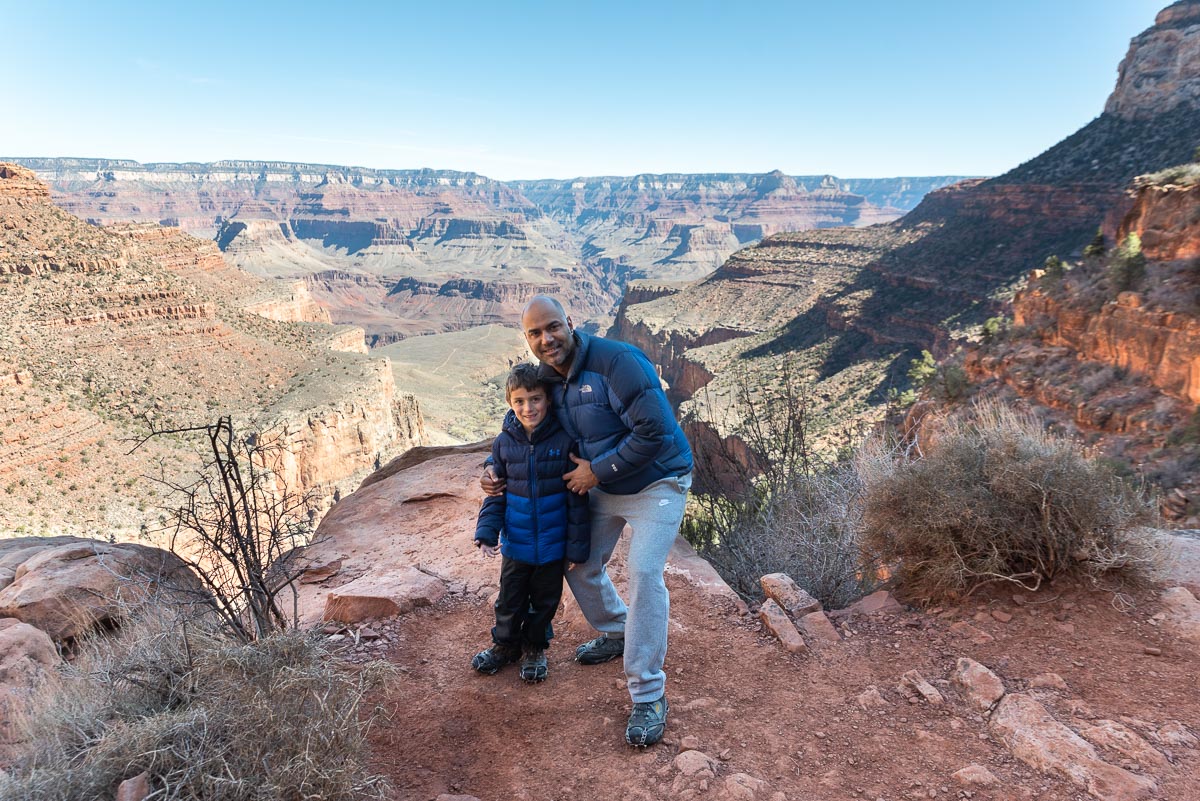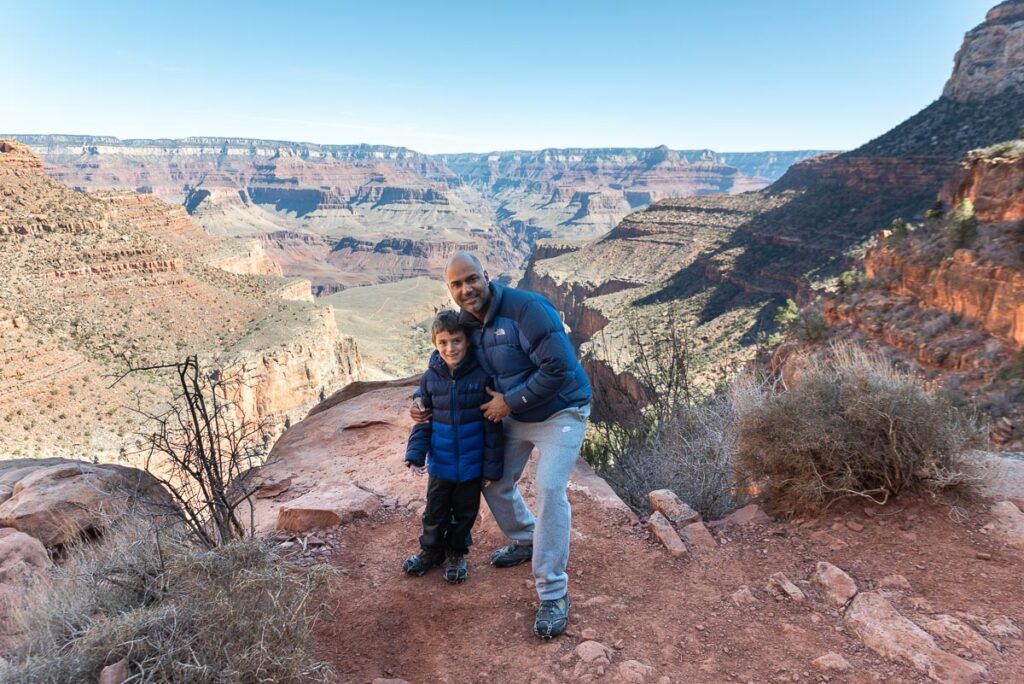 If you're a more experienced hiking family, there are also stops at the 3-Mile Rest House (6 miles roundtrip), Indian Garden (9 miles roundtrip), or Plateau Point (12 miles roundtrip). These are more advanced hikes that are not going to be suitable for most families, and the latter two are not recommended as day hikes. Don't try them unless you really know what you're doing, and talk to a park ranger first.
South Kaibab Trail
South Kaibab Trail is the next most popular below-the-rim trail. The views from both trails are amazing – but South Kaibab may be even a little more amazing than Bright Angel!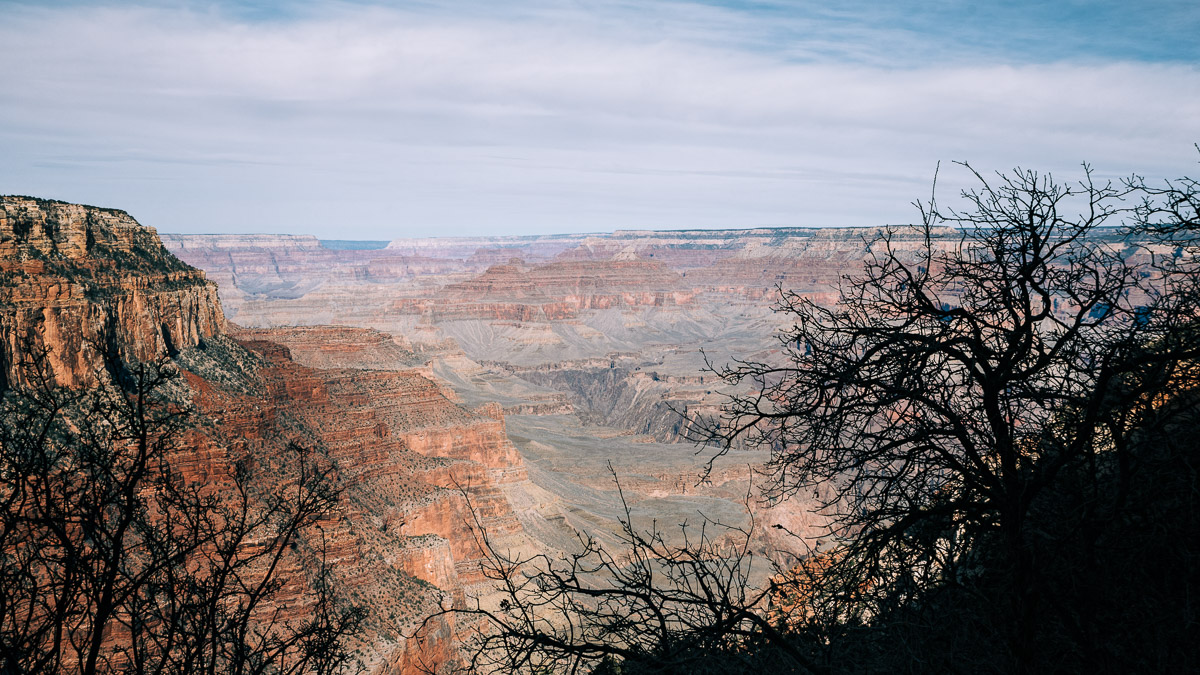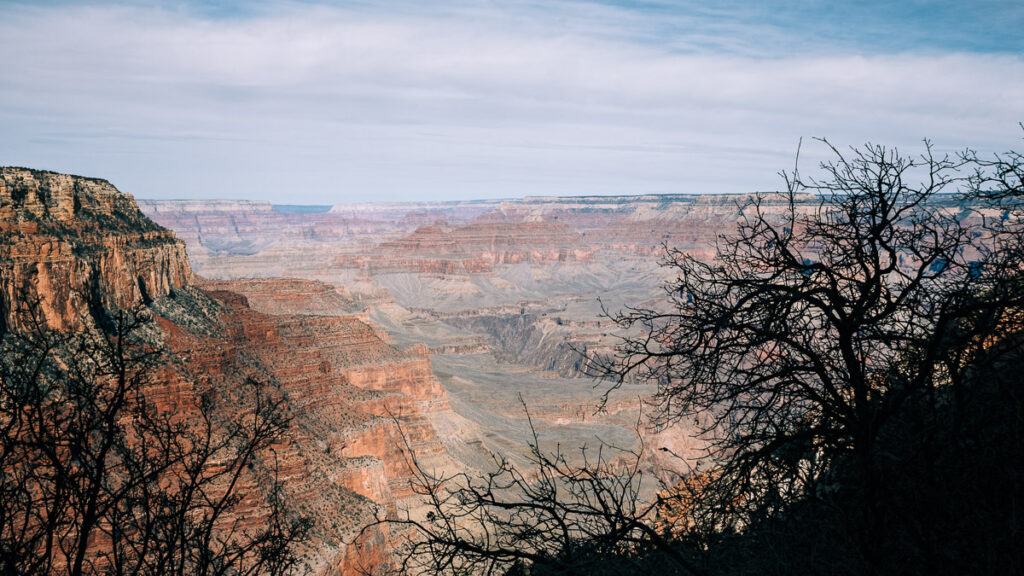 I found this trail to be a little more difficult. It felt like there were more steep areas and the wind was absolutely fierce, as the trail is a little more exposed. But it could also simply be that we hiked this one first and I wasn't sure what to expect yet!
To reach the South Kaibab Trail, you'll need to take one of the free shuttle buses in the park. There are no private vehicles permitted on the road to South Kaibab. You'll find a restroom and water filling station at the top of the trailhead.
To give you an idea of the terrain on this one…
This is the entrance to South Kaibab Trail. Take a look at those sloped switchbacks in the background.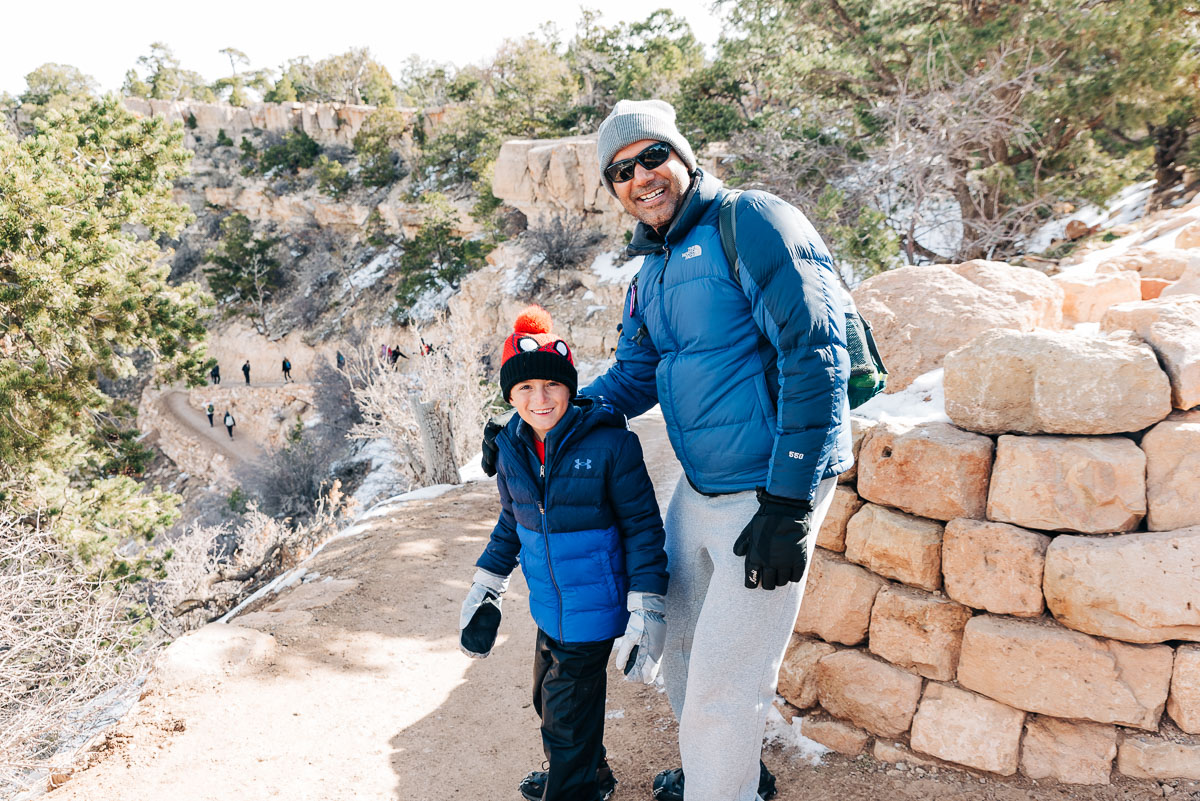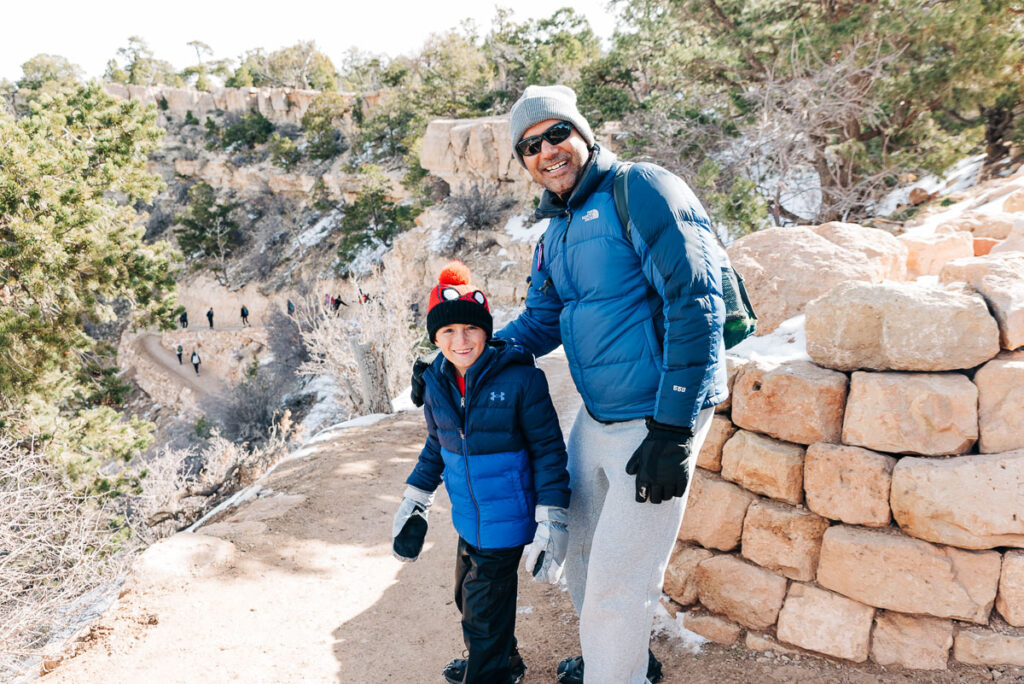 Another view with a set of those sloped switchbacks behind us. Not too bad, but some parts were rather steep and narrow.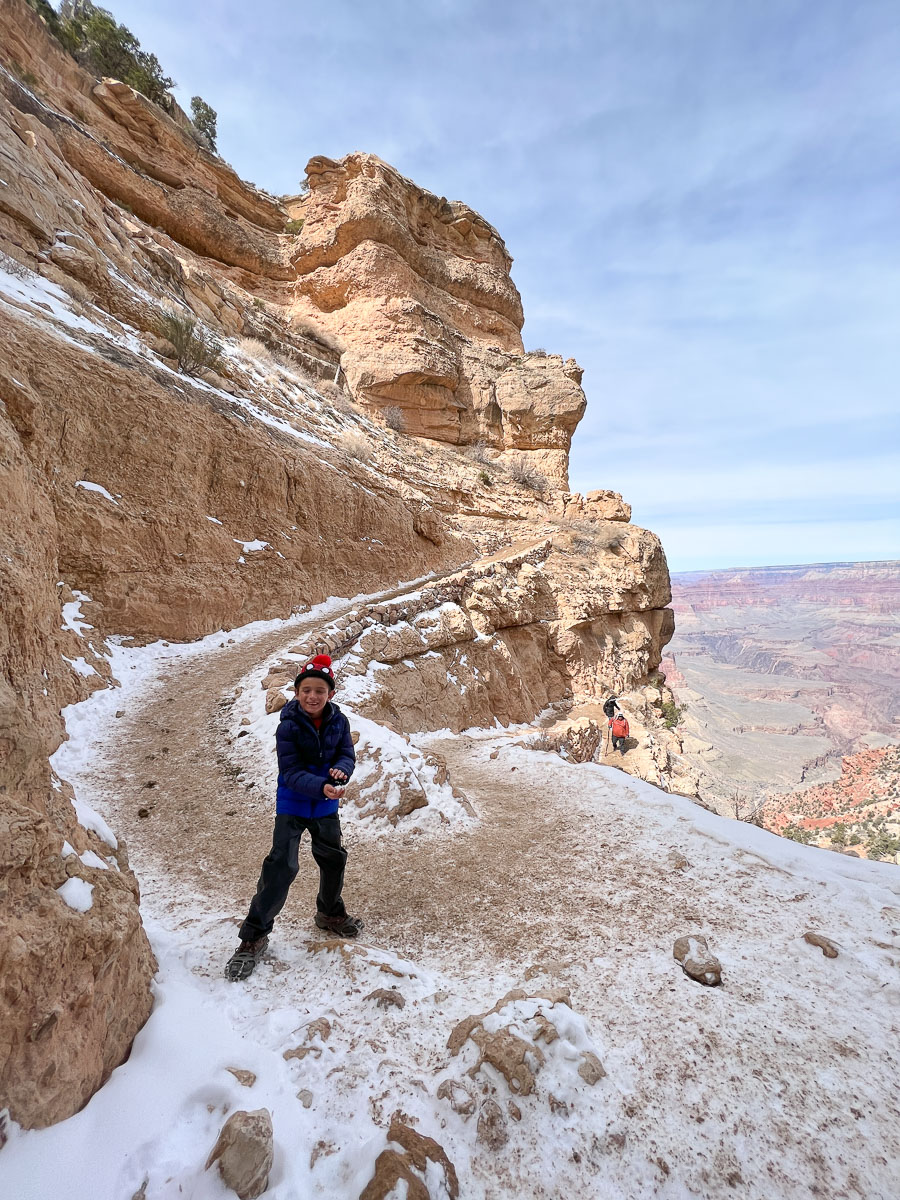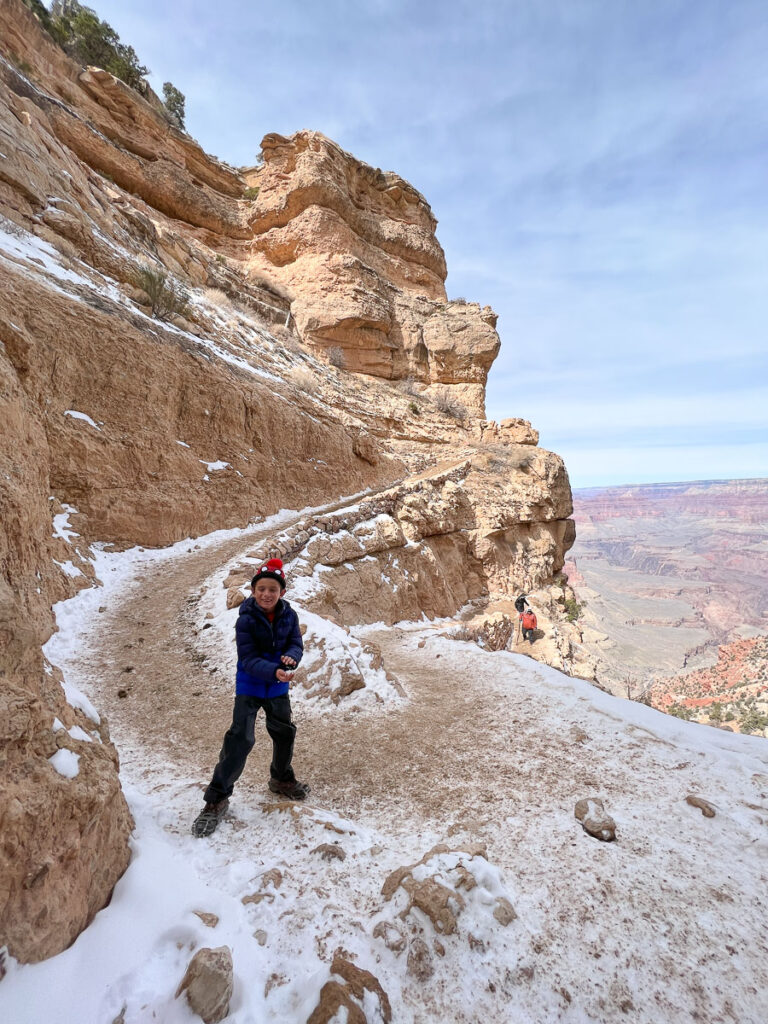 There are stairs in some of the steepest parts of the trail, which made it much easier to get down. But remember that you have to climb those stairs back up!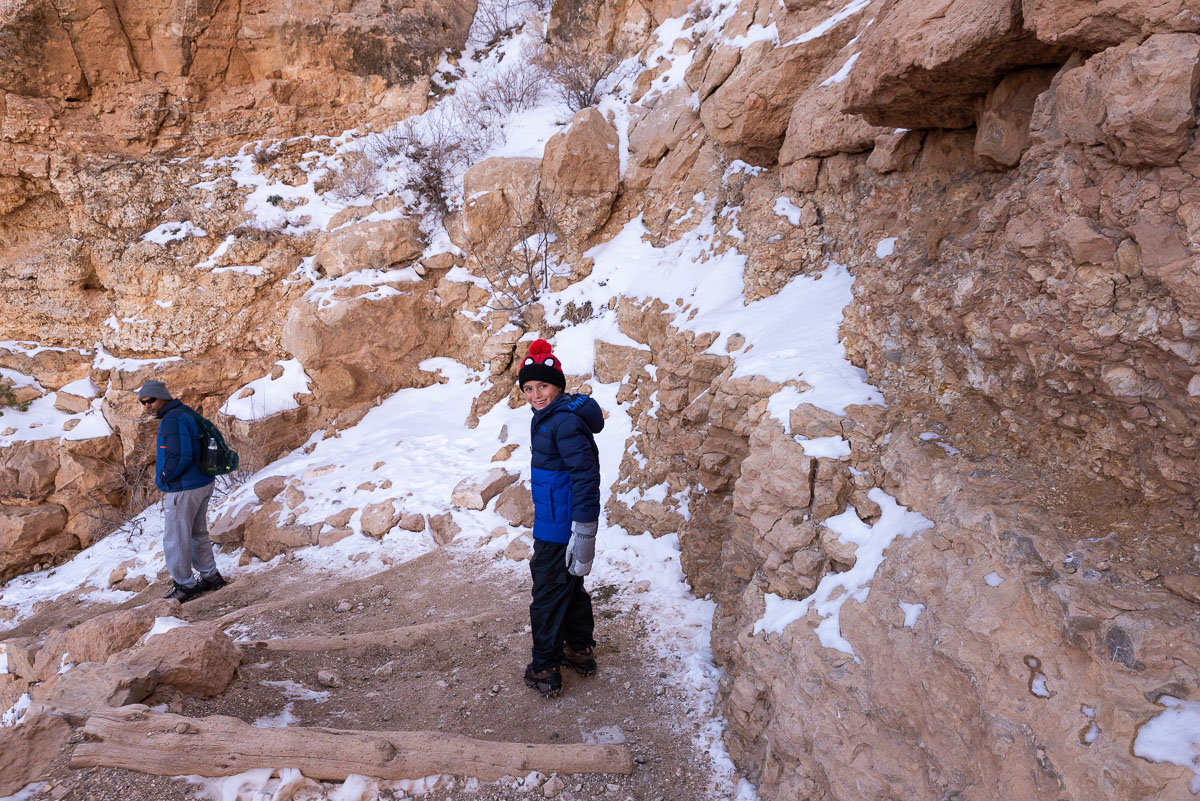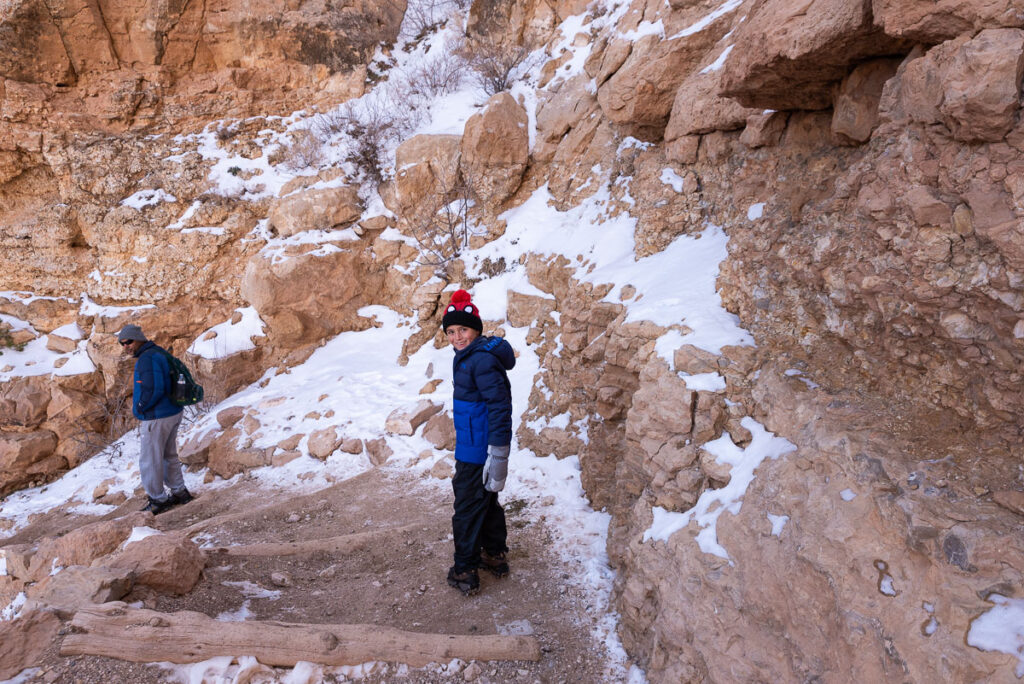 And of course the payoff is these amazing views. (But take note of that crazy steep switchback in the bottom left corner!)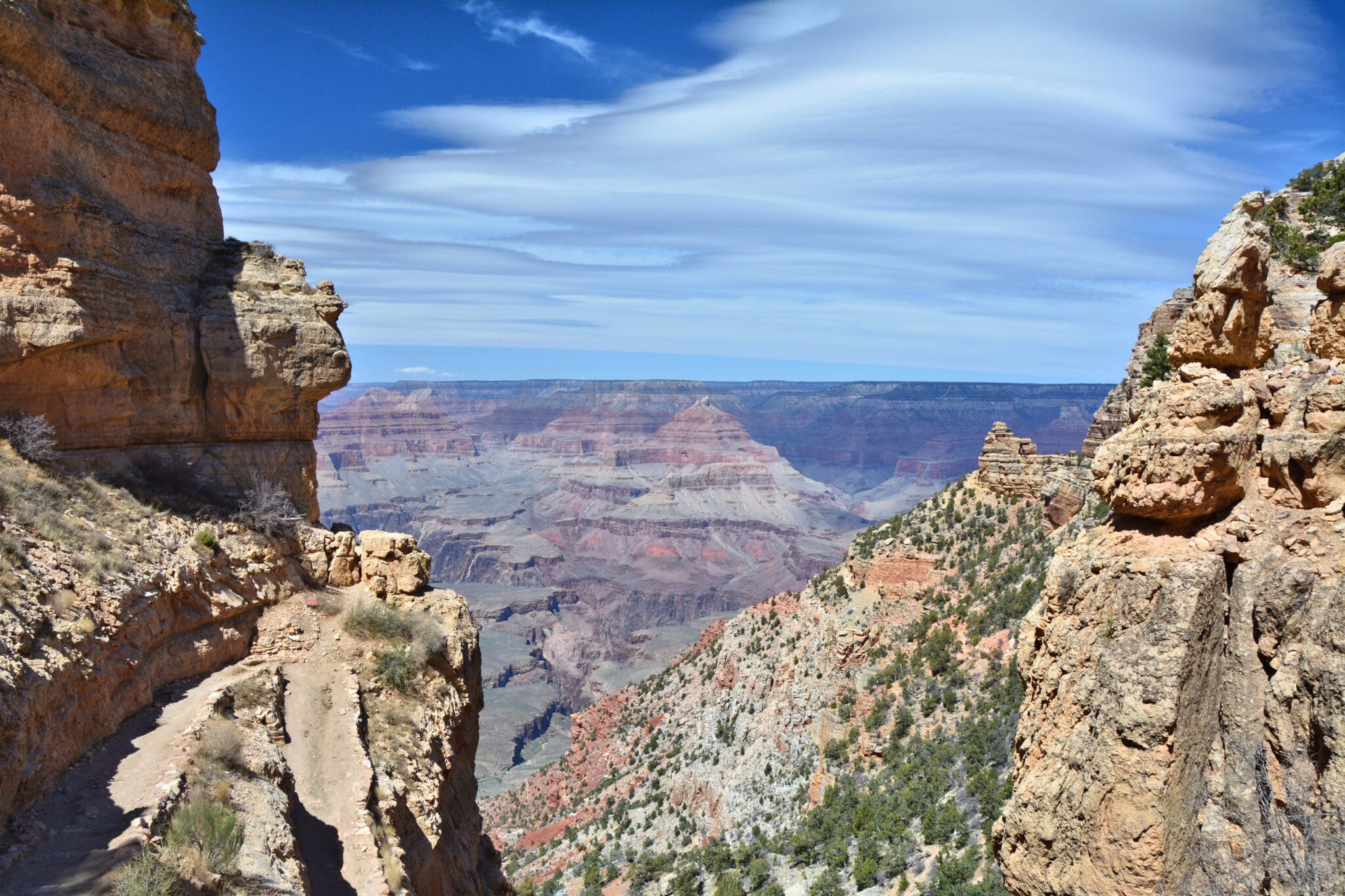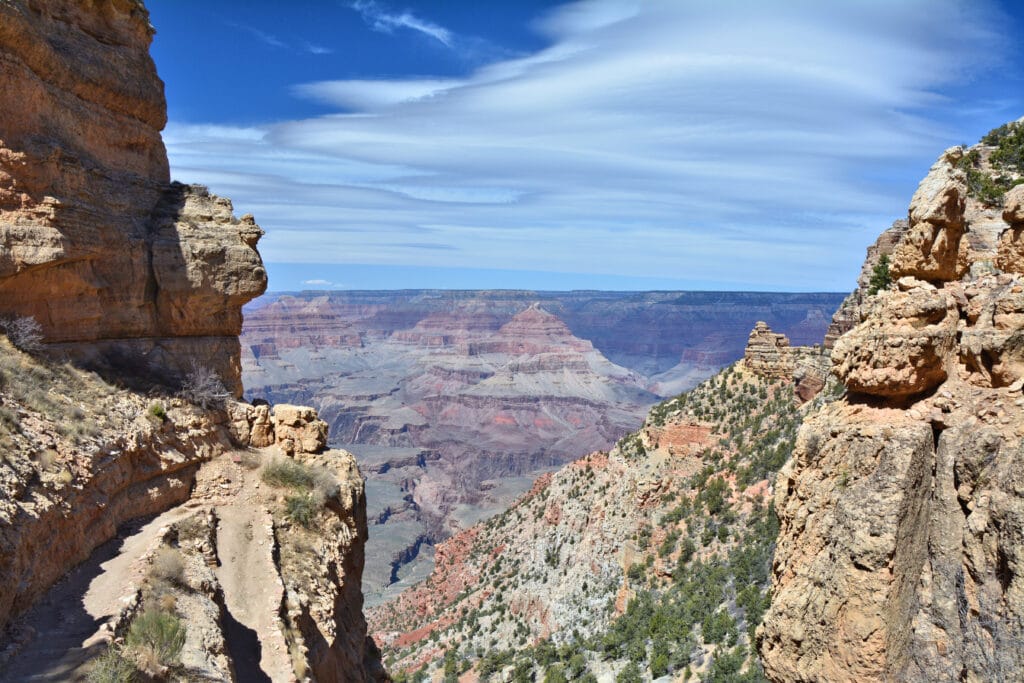 This is another out and back trail with a couple good stopping points for families with kids:
Ooh-Ah Point – This is by far the most popular stopping point and where most families turn back. It's a 1.8 mile roundtrip hike. That's what we did on our most recent trip! The view is just as spectacular as the name suggests. It took us about 40 minutes to hike down and about 90 minutes to hike back up.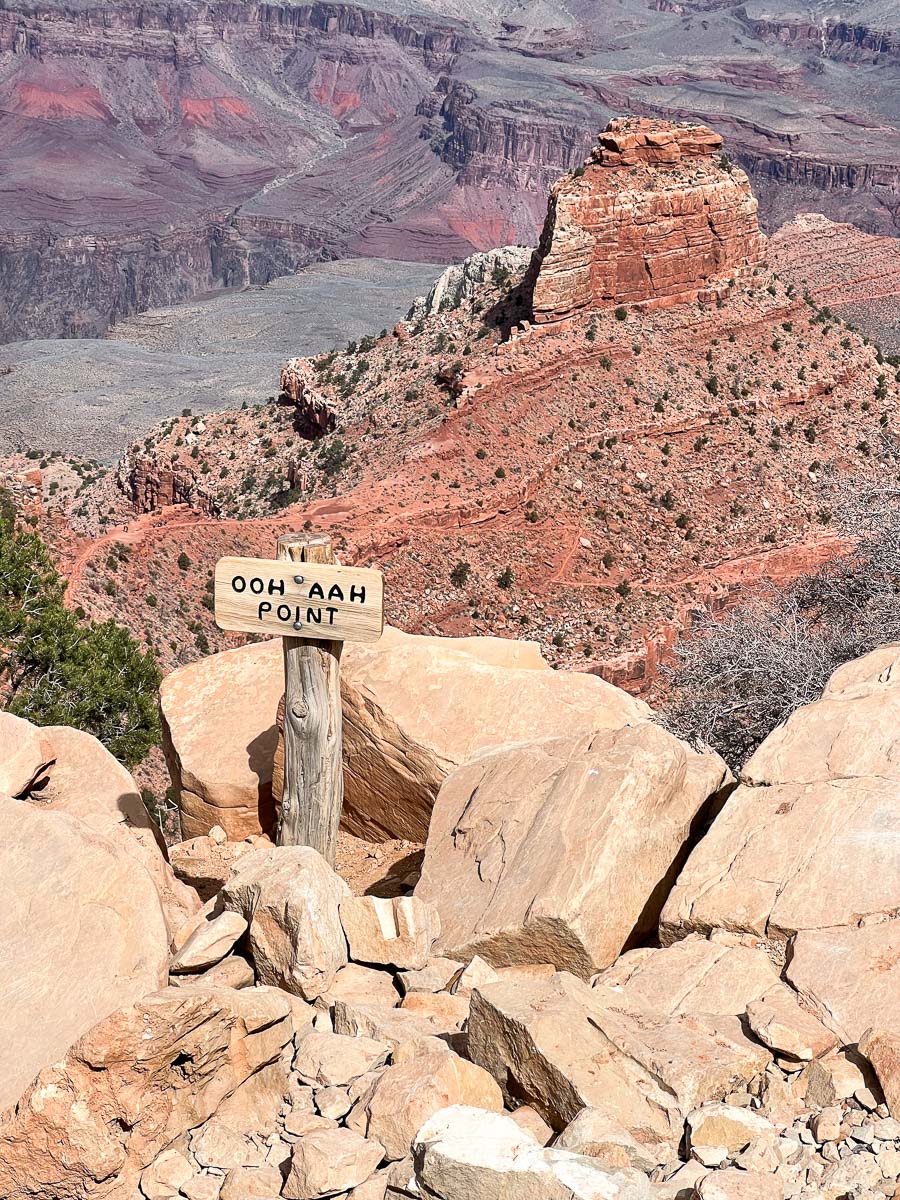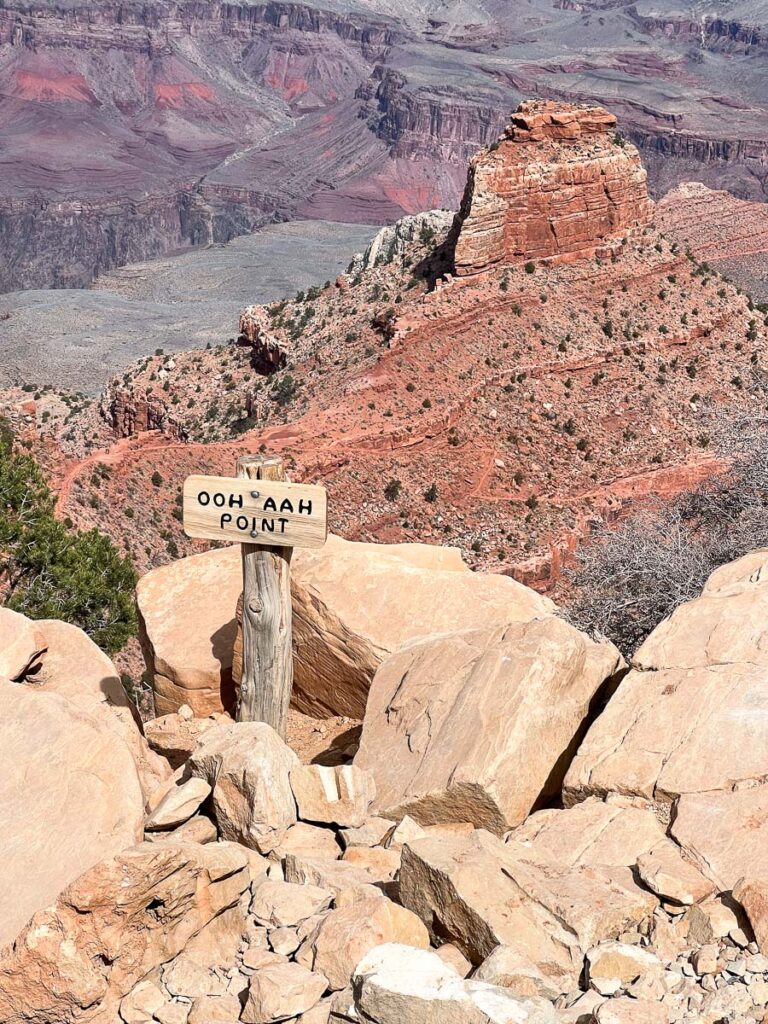 Cedar Ridge – The next stopping point is Cedar Ridge, which is a 3 mile roundtrip hike. In hindsight, I wish we would have gone all the way to Cedar Ridge. But we did this hike on our first day, and weren't feeling too confident yet!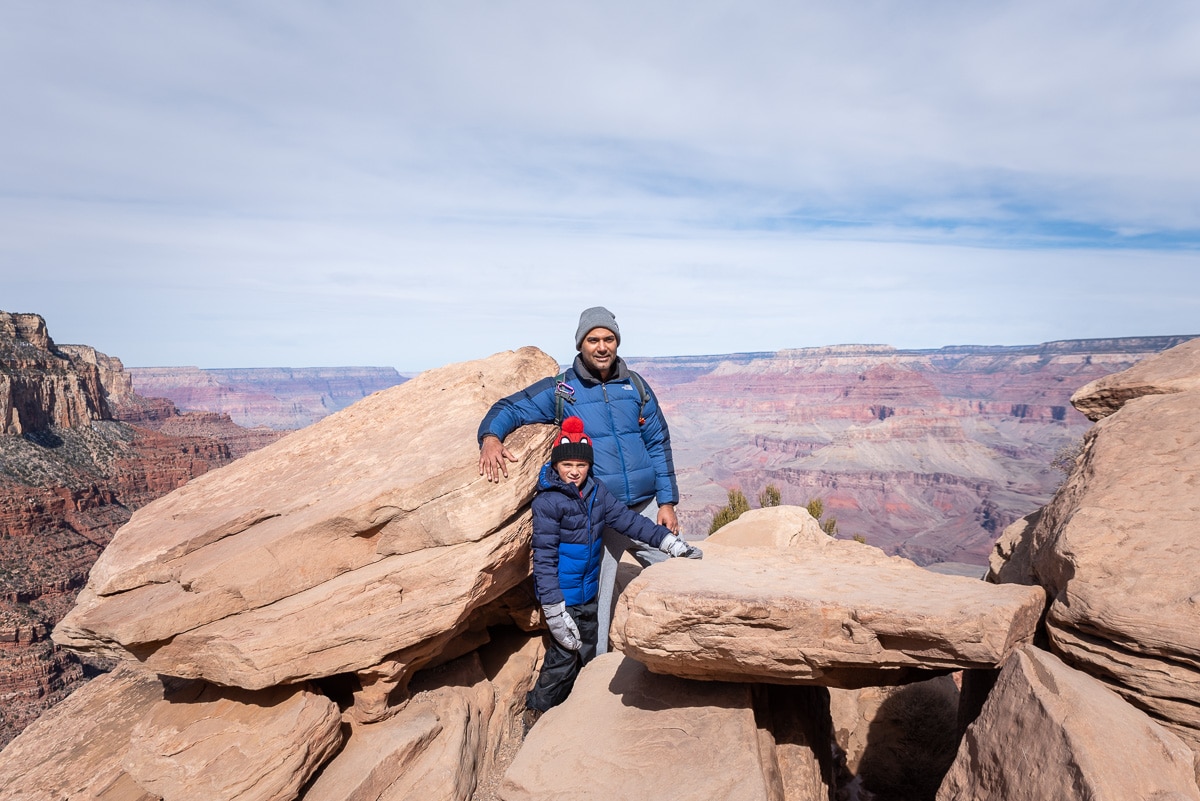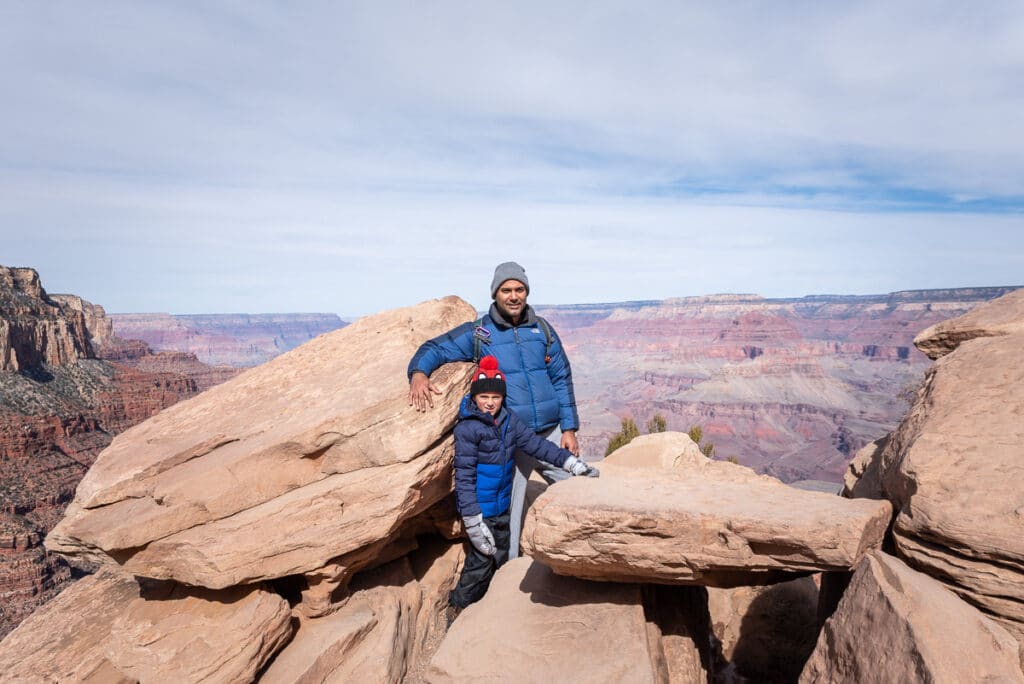 The further stopping points are really for more advanced hikers. There is Skeleton Point (6 miles roundtrip), The Tipoff (9 miles roundtrip), and Phantom Ranch at the bottom of the canyon (15 miles roundtrip). The latter two can't be done as day hikes and require overnight permits – so don't get crazy and try to keep going down!
Shoshone Point Trail
Shoshone Point Trail is a lesser known trail with way less crowds, and is a really great option for kids. If you're looking for something less taxing or are just wary of taking the little ones down the steep below-the-rim canyon trails, this is a very good option.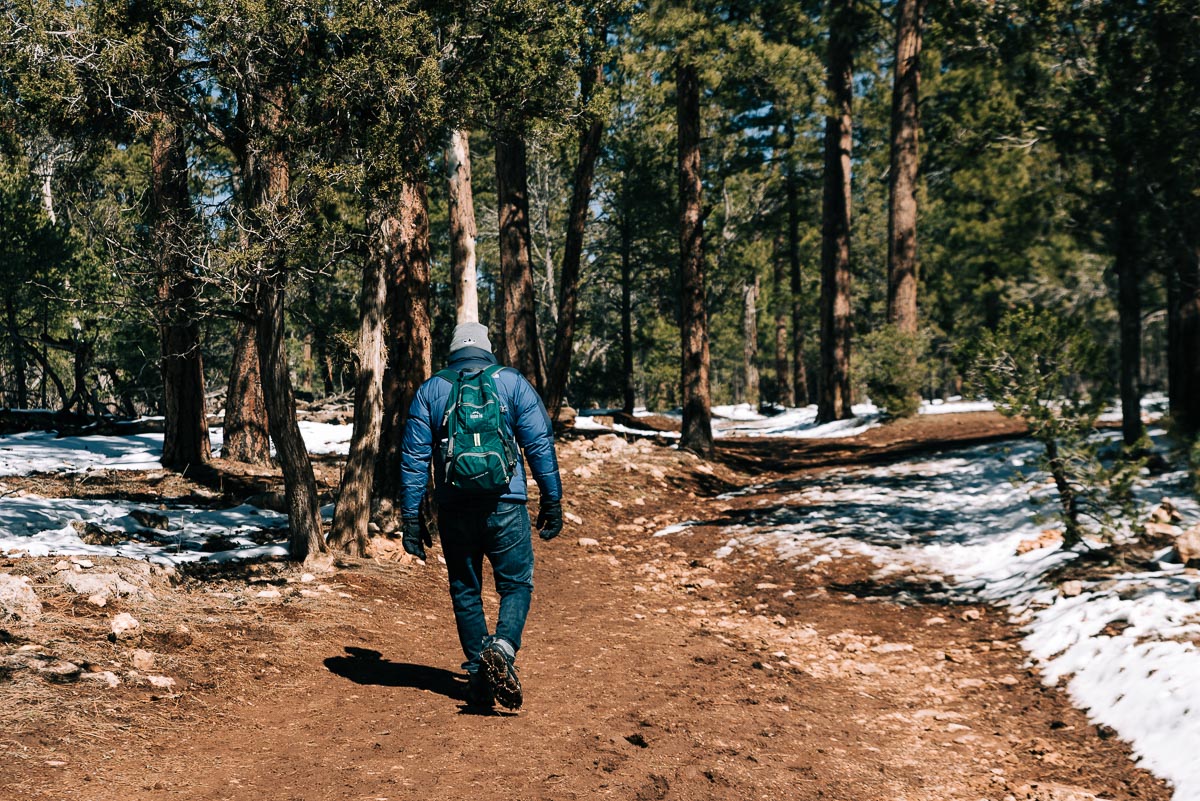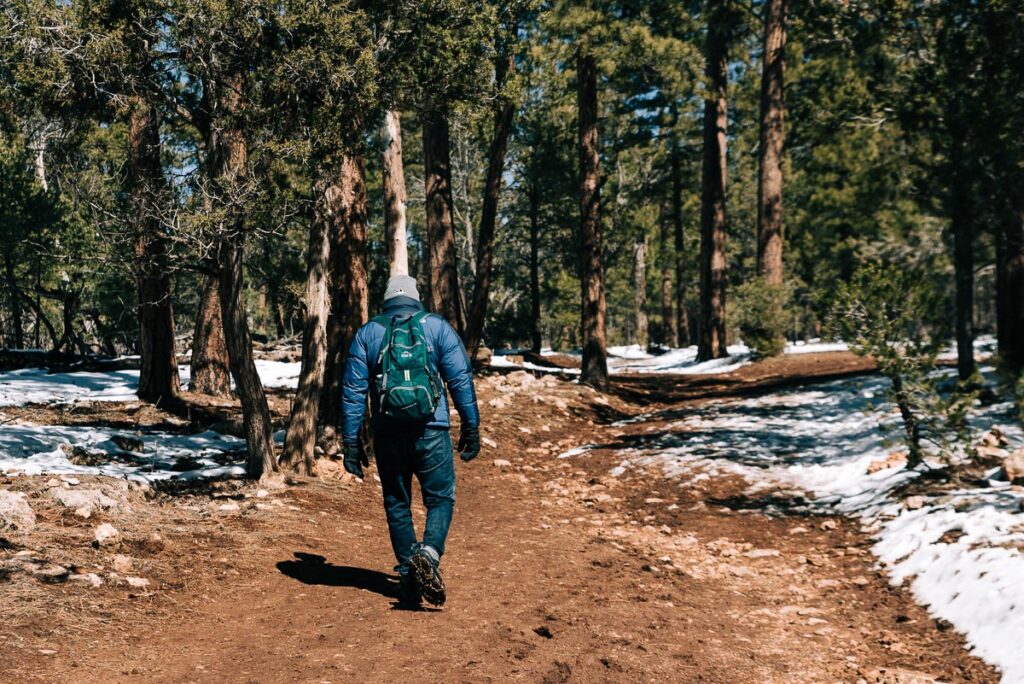 The trailhead can be found off of Desert View Drive, and you'll need a private vehicle to get there. If you're heading east from the Visitor's Center, you'll see the unmarked grassy parking area on the left. Pull in there and park, and walk towards the gate that marks the trail entrance.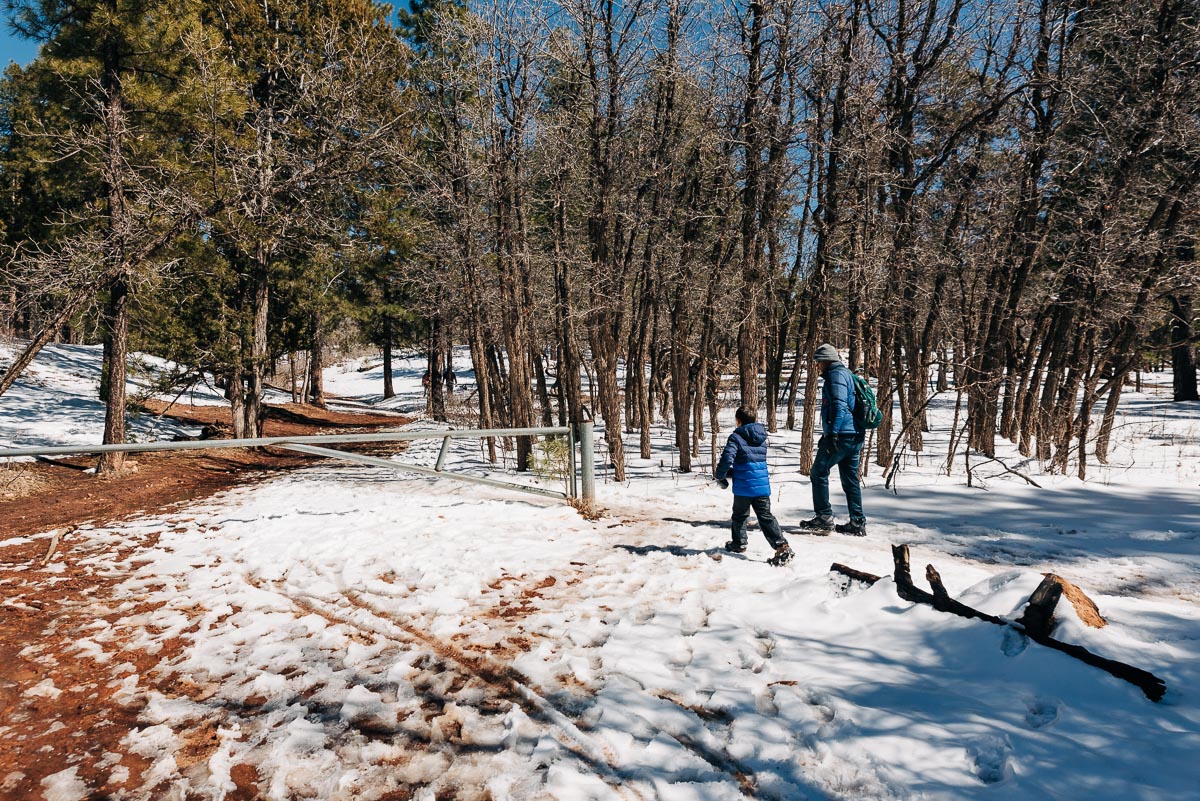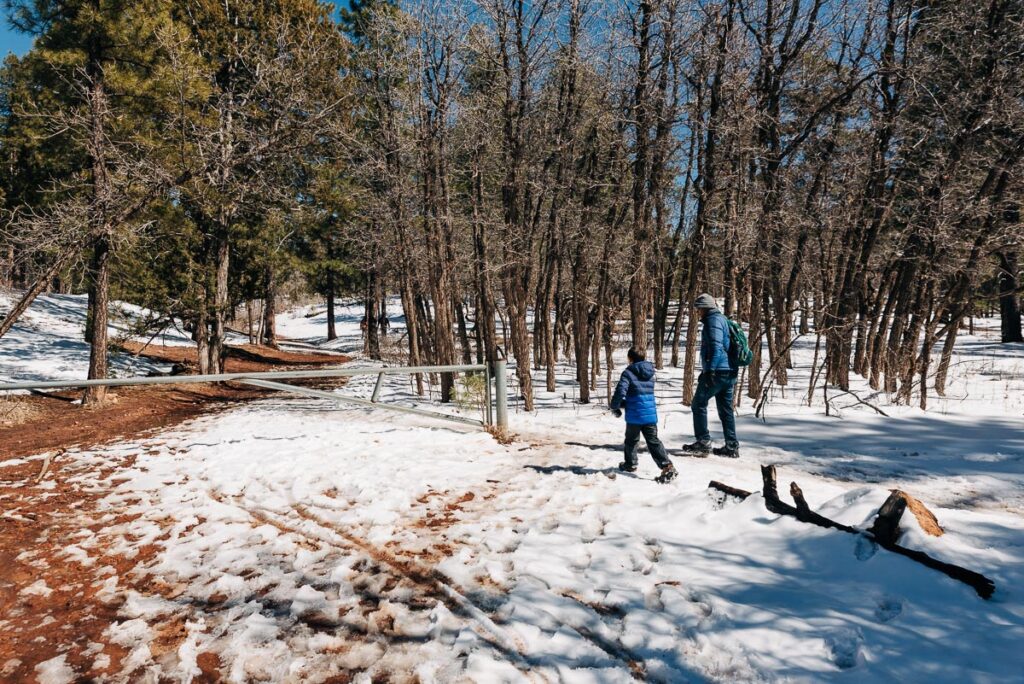 The trail is a 2.1 mile out and back trail. Most of the trail winds through a forested area and is very flat. Nothing challenging here – but the kids will have fun exploring the woods!
My son had a blast just running around in the forest- throwing snowballs and using the fallen tree limbs as balancing beams.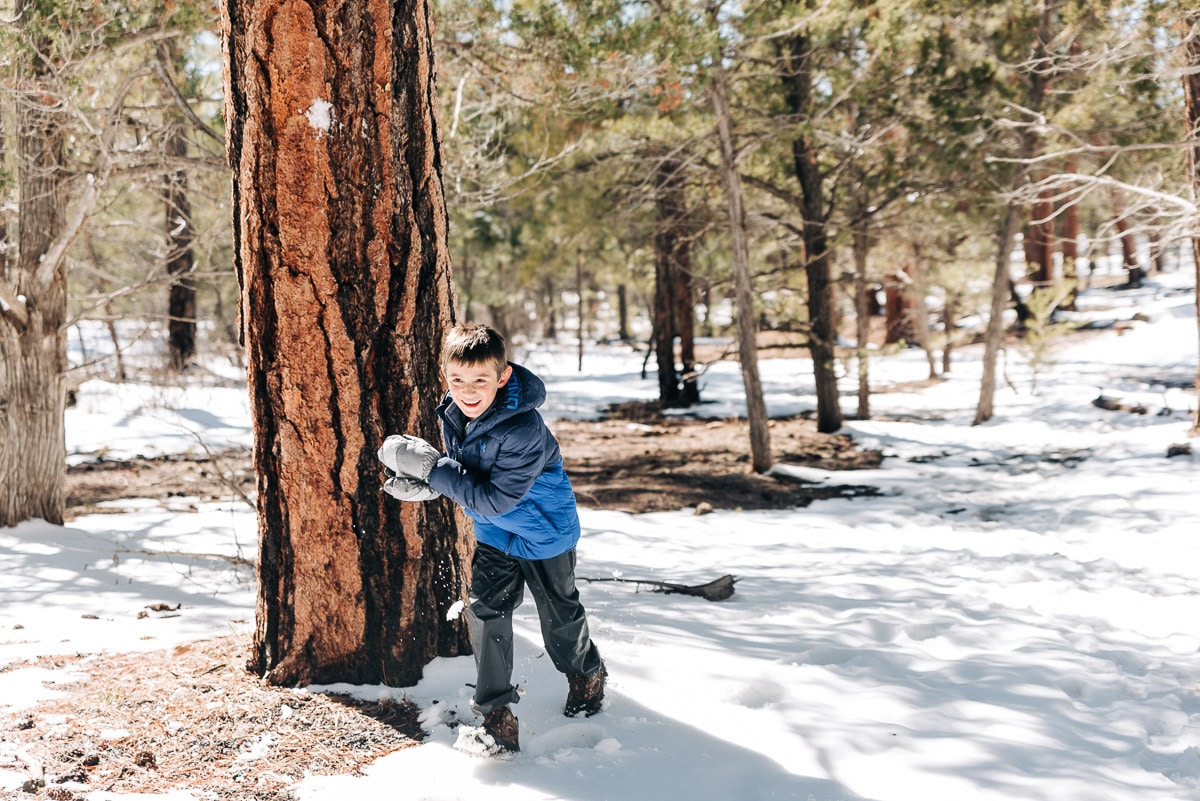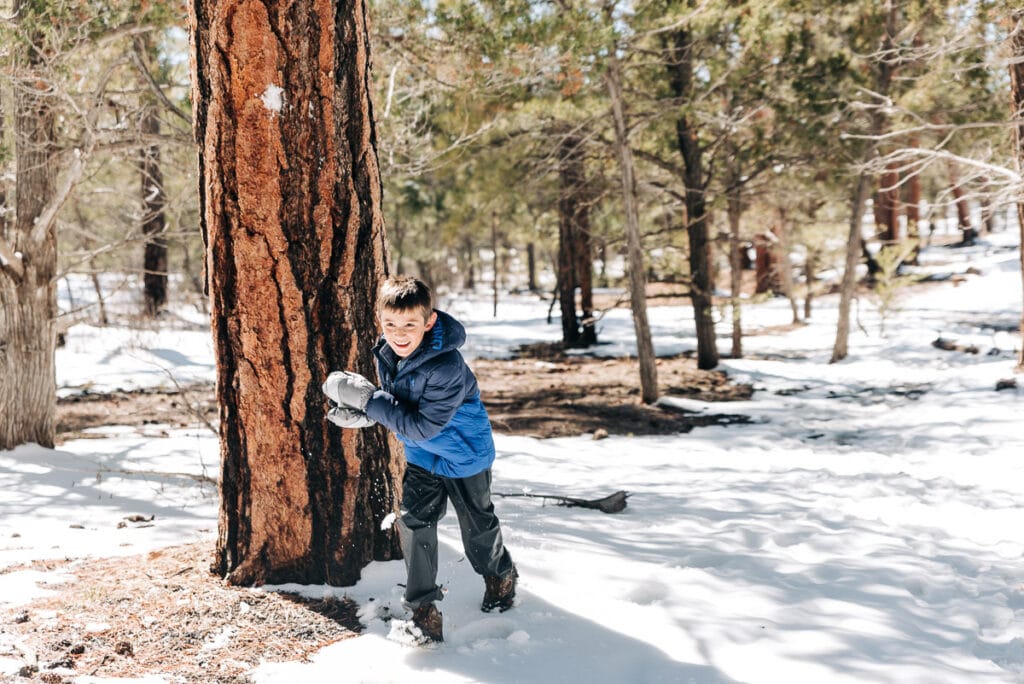 The trail ends at a lovely little park area in front of Shoshone Point. There are restrooms and picnic areas, so this is a great place to bring a packed lunch.
But make sure you don't miss the main attraction at the end!
When you reach the picnic areas, keep going.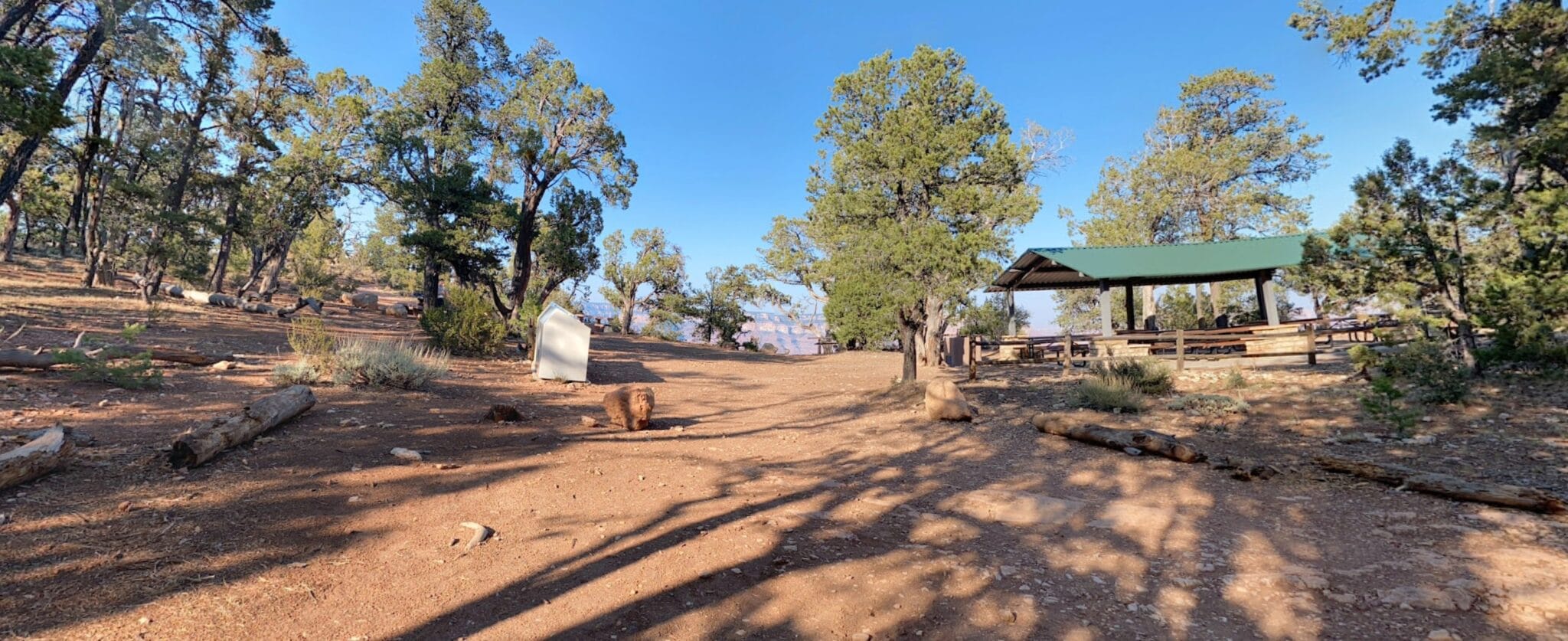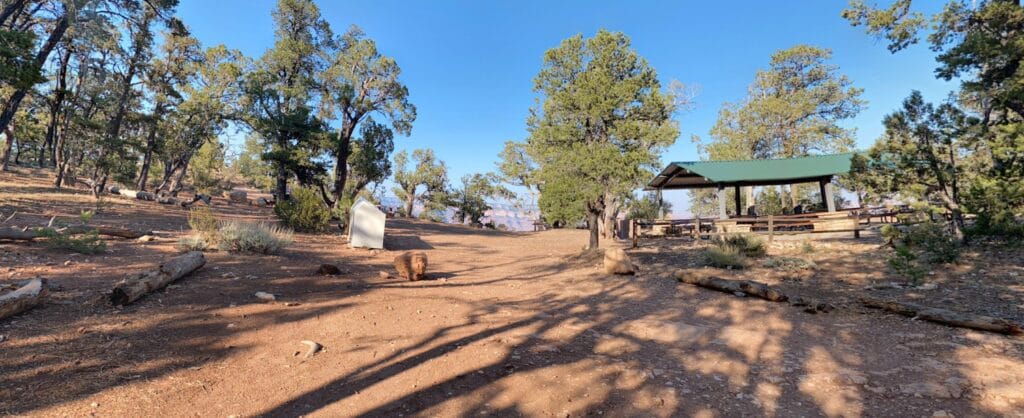 We saw lots of people turn back before we realized that they didn't understand that Shoshone Point is just out of view at the end of the trail. You'll see a big rock pile at the end of the picnic area. Go around it!
And you will be greeted with this view of Shoshone Point.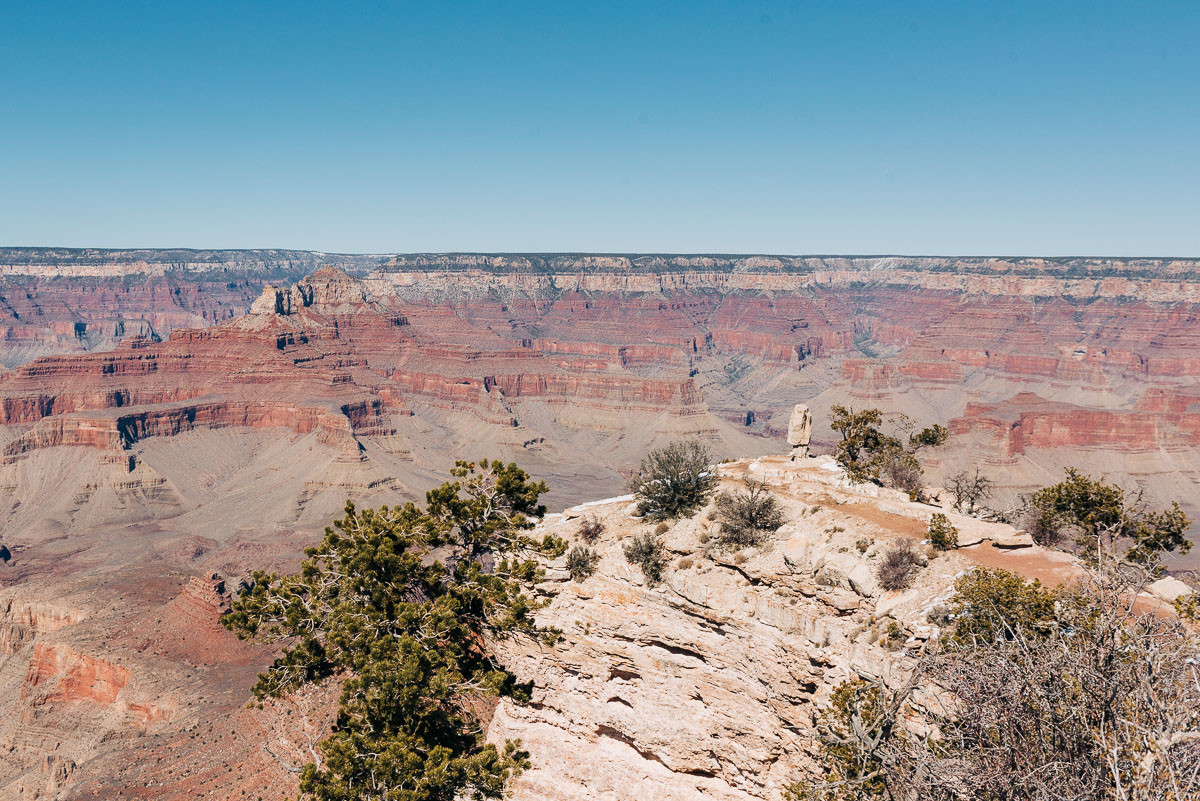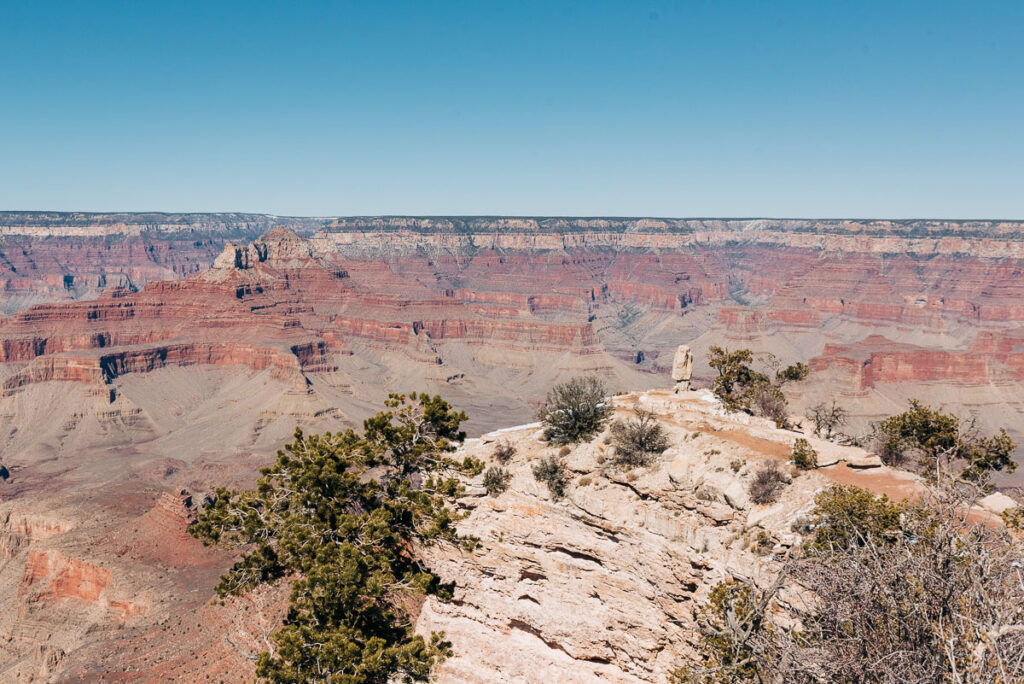 But still don't stop here – you can go all the way out there! Look for the small pathway to your right and follow it down the little stone steps. Yes, this part felt a little precarious, but it was worth the trouble.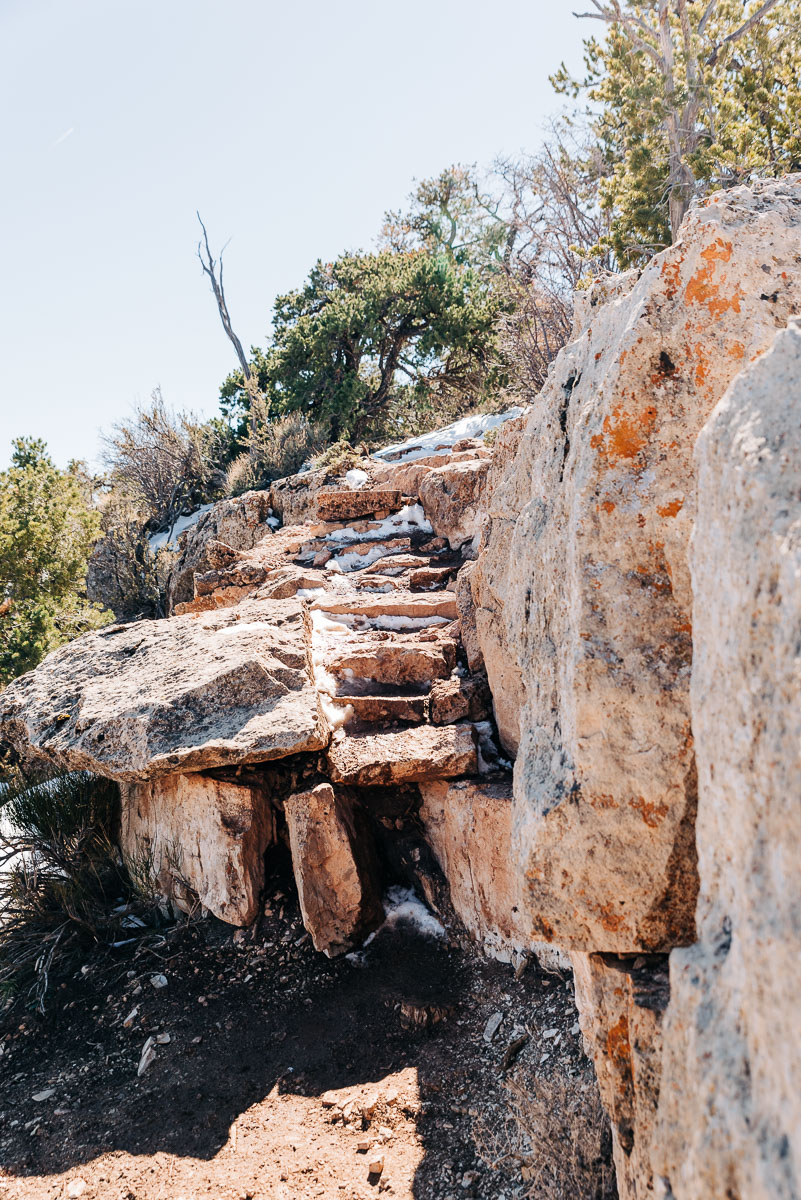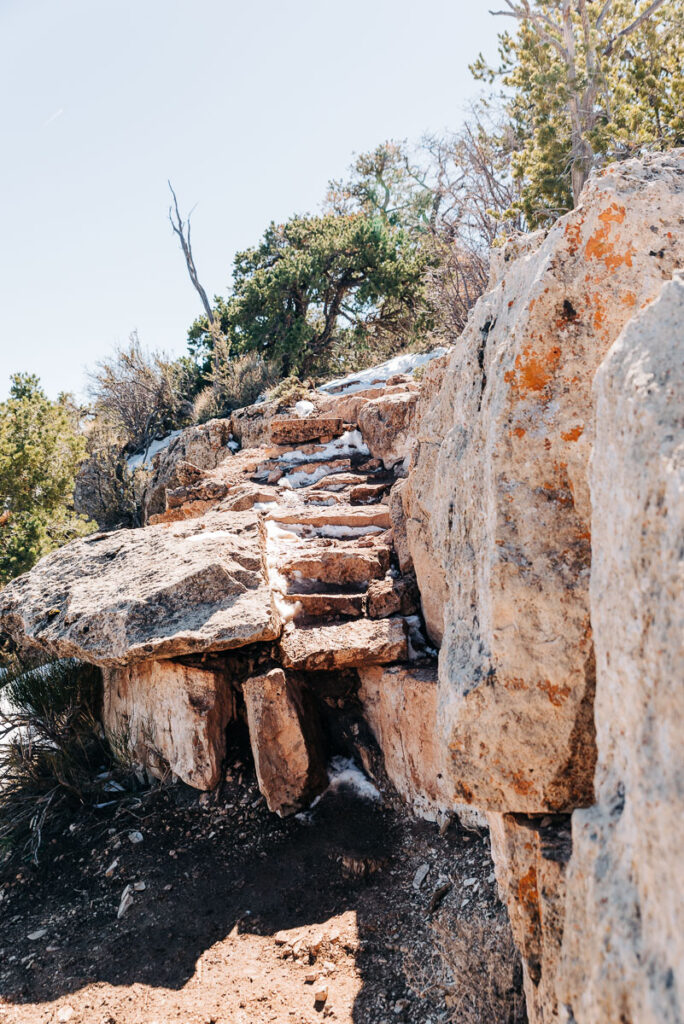 And you can walk all the way out to that cool rock formation!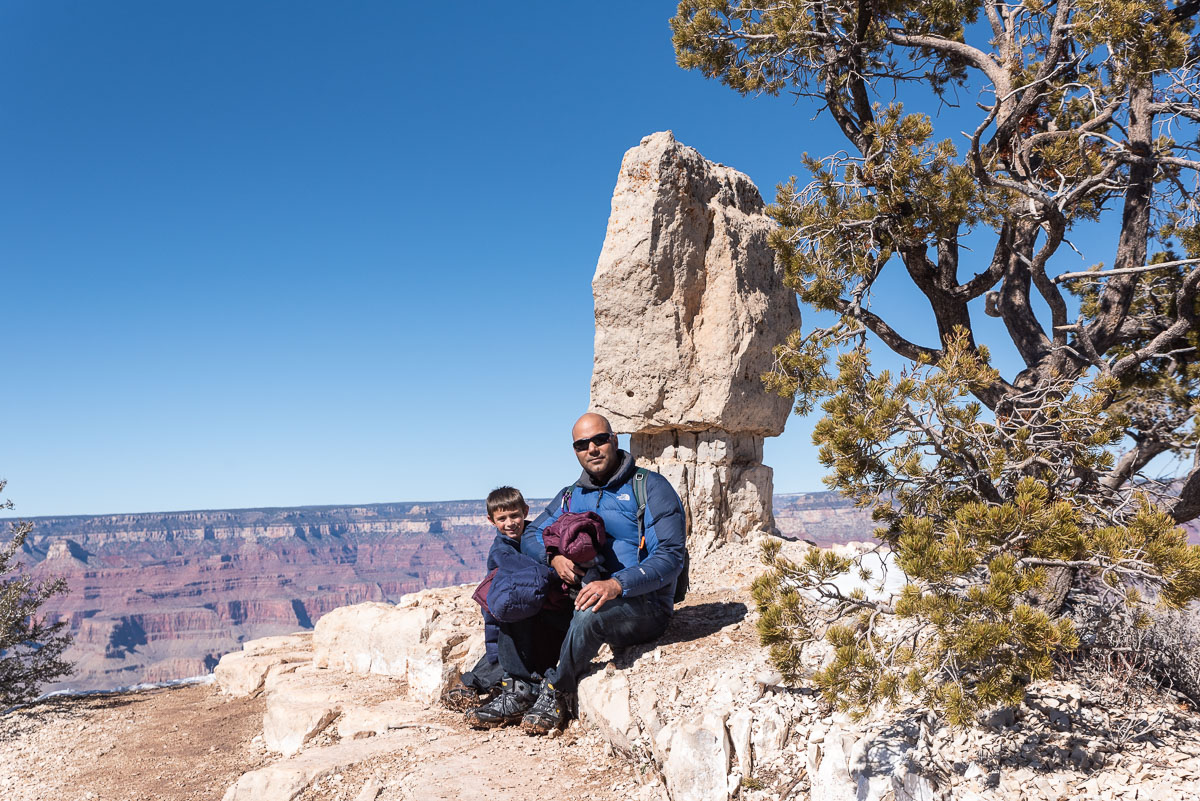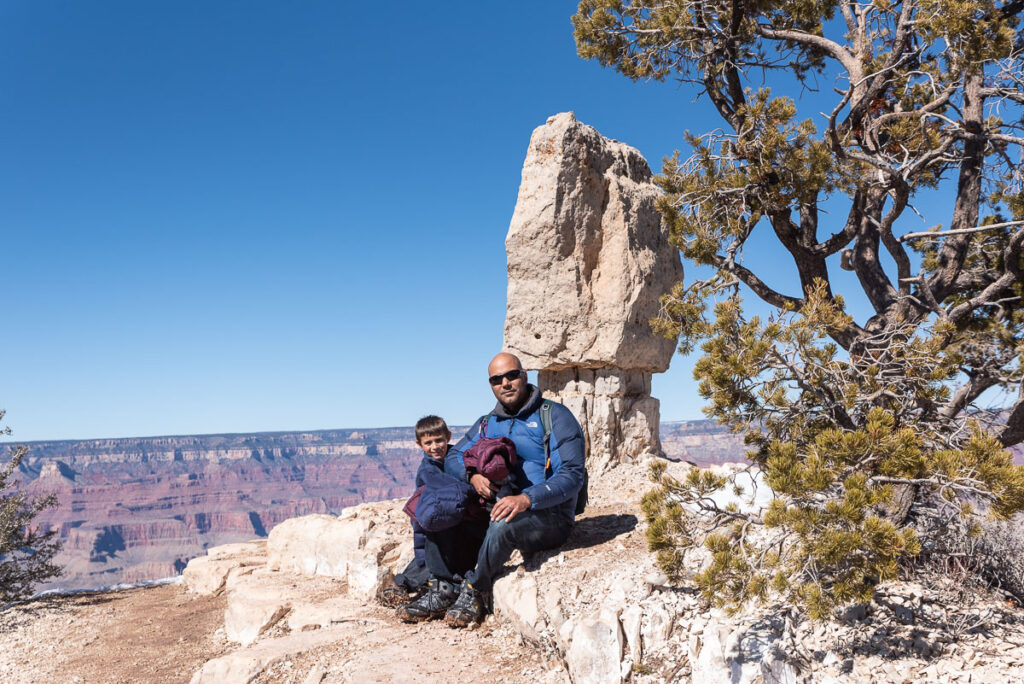 This is the perfect spot to take a little break and enjoy this magical view.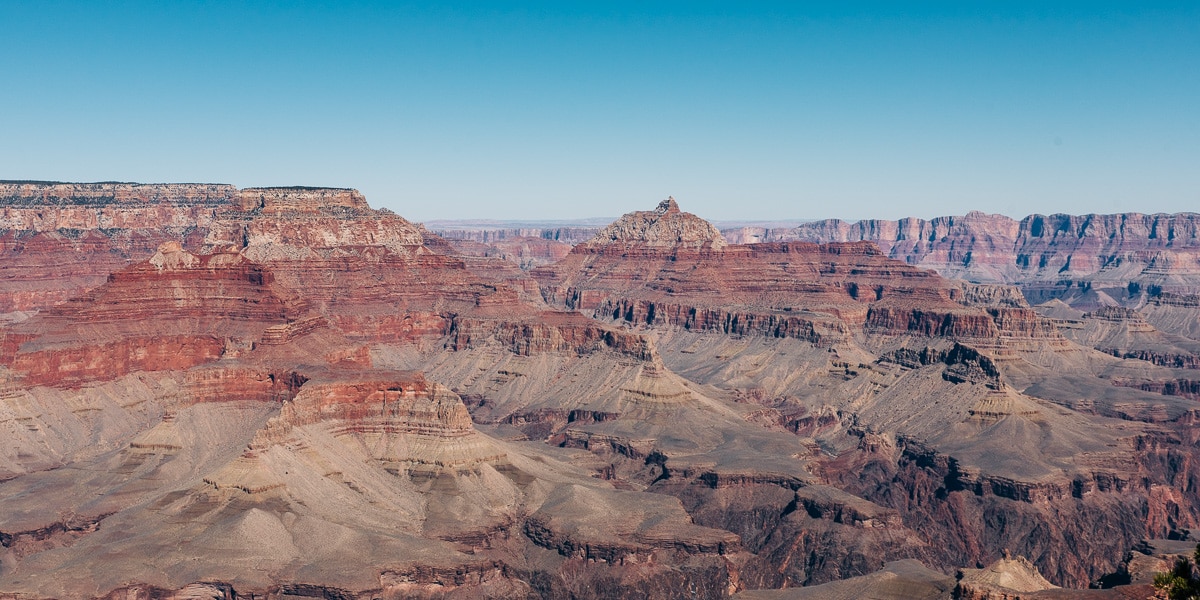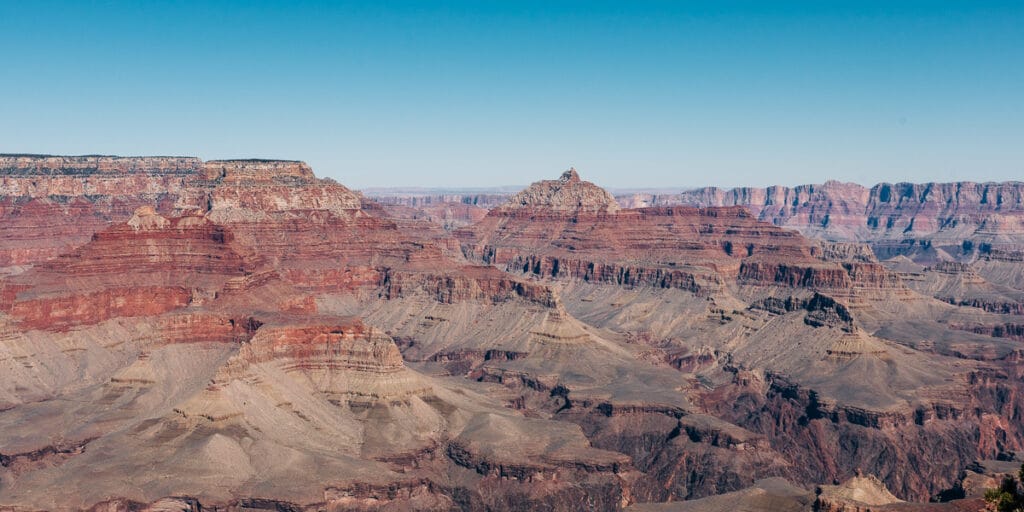 You can skip walking out there if it makes you too nervous with the kids, but my seven year old navigated it with no problems whatsoever. (With mom or dad in arms reach, of course.)
More Grand Canyon Trip Planning Resources
Here are a few more resources to help you plan the perfect trip to the Grand Canyon.