If you're day tripping into the Grand Canyon National Park for just a single day, you'll want to pack in as many sights as possible. Here are my suggestions for one full day at the Grand Canyon – from sun up to sun down.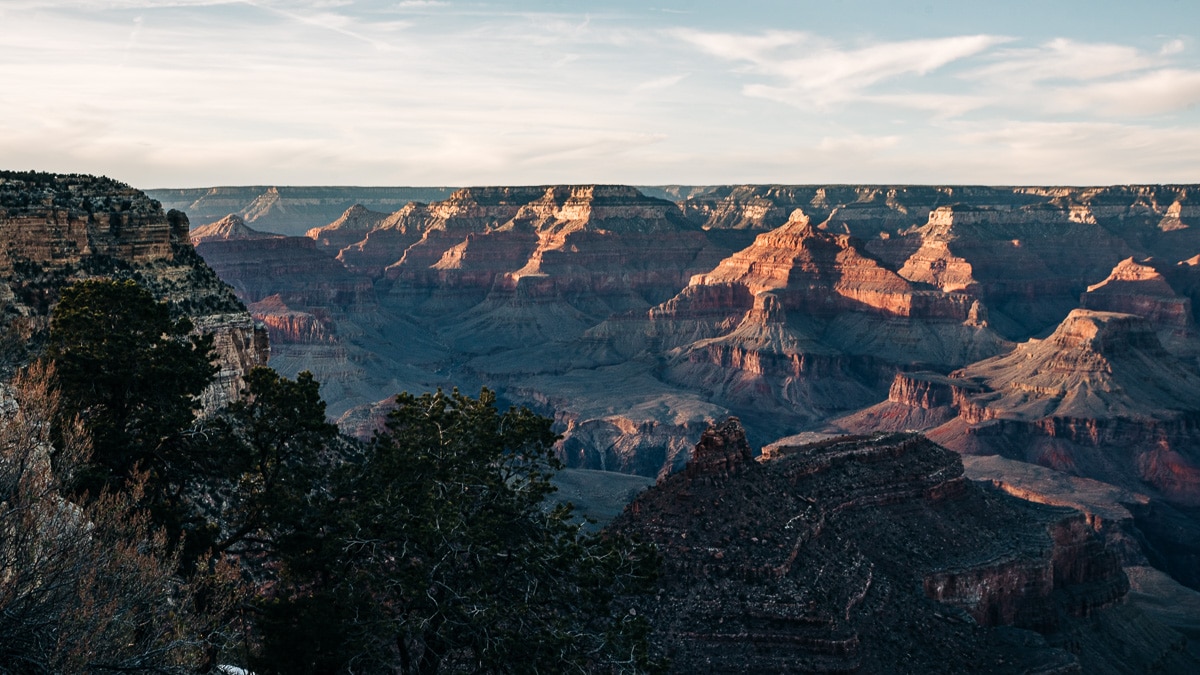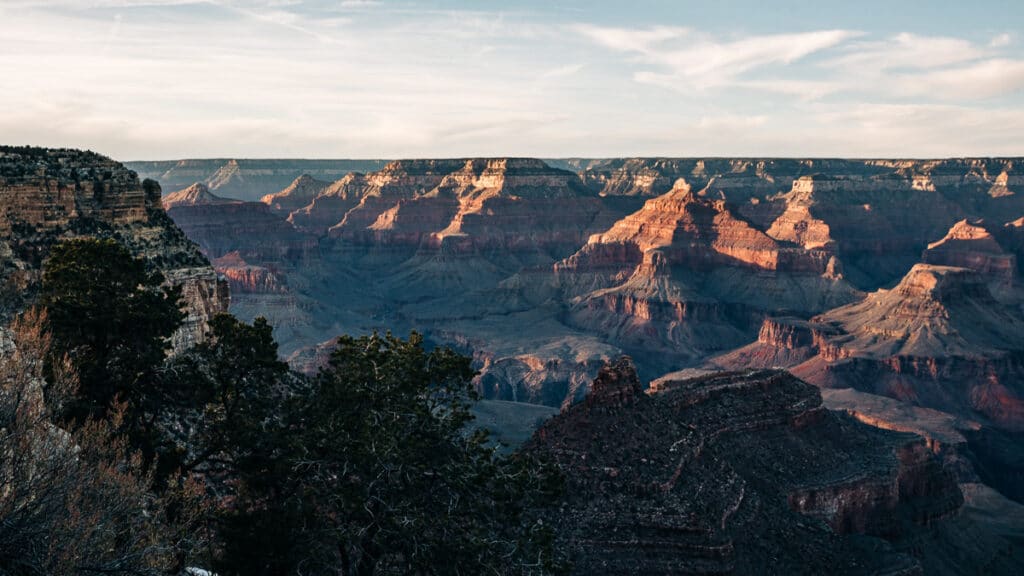 This is a very condensed itinerary that doesn't have you venturing too far into the park. That's because if you only have one day, you don't want to waste time waiting in shuttle lines. These highlights will give you a nice flavor for the Grand Canyon, without wasting any time.
1-Day Grand Canyon Itinerary
Coffee at Bright Angel Fountain (30 min)
Be sure to arrive at the park nice and early to avoid waiting in any entrance lines and battling for a parking spot. I suggest being there between 8-9am at the very latest. In the afternoon during peak tourist seasons, lines to enter the park can easily reach two hours or longer.
Once you make your way into the park, find parking near Grand Canyon Village and head over to Bright Angel Fountain to grab a coffee and get your bearings. You can enjoy your first views of the expansive canyon while sipping a little caffeine. And you're definitely going to need it.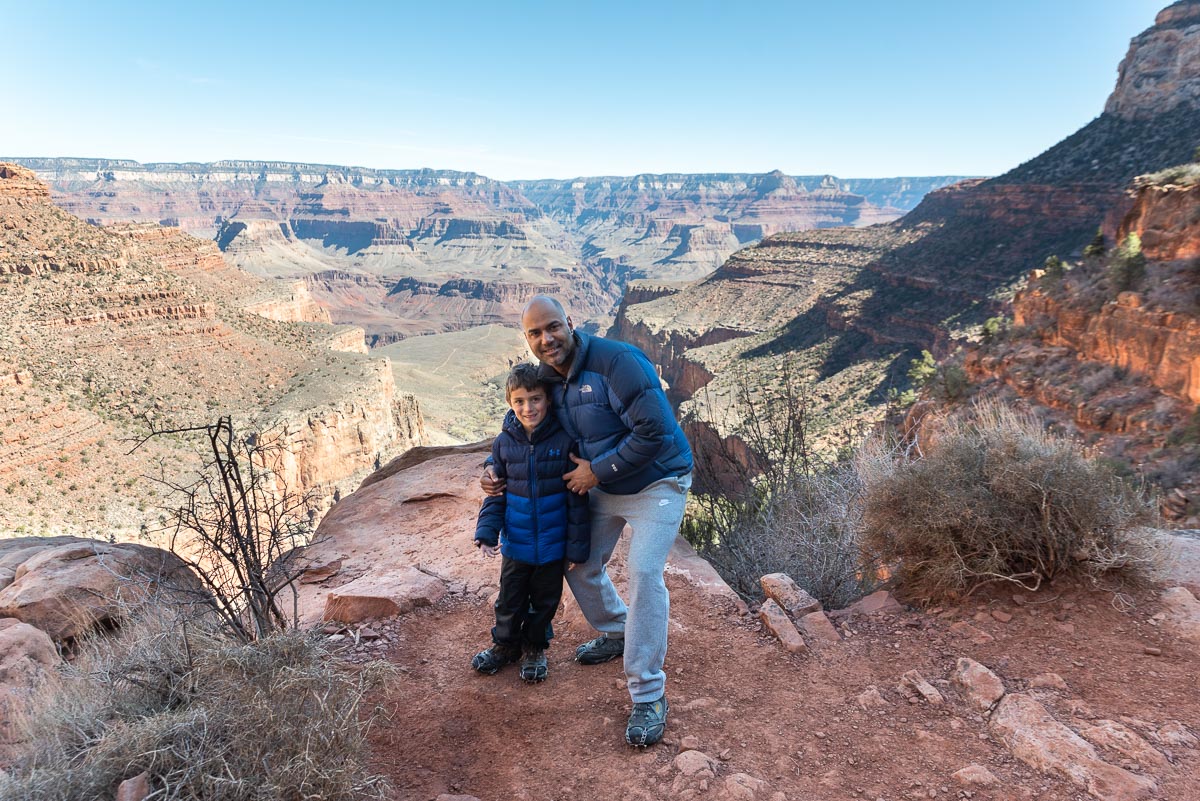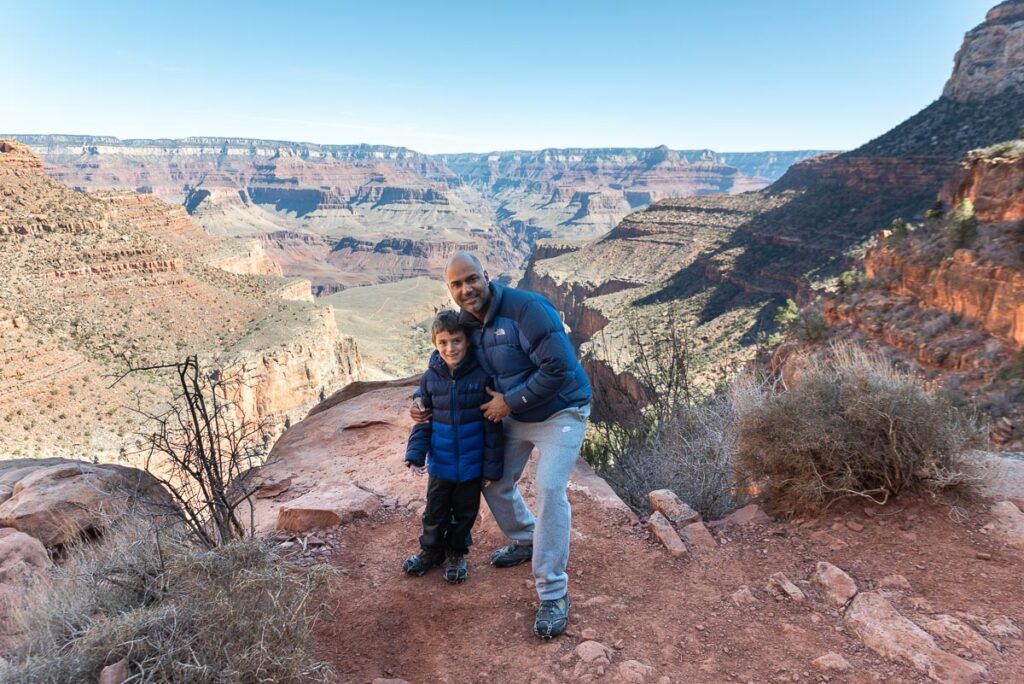 Bright Angel Trail (1-2 hours)
If you plan on hiking, it should be your first order of business. (After coffee of course.) With only one day at your disposal, the Bright Angel Trail is the obvious choice. It's a popular, and very scenic, trail with a trailhead that leaves right from Grand Canyon Village.
I recommend targeting the 1.5 Mile Resthouse as your stopping point – which will get you some incredible views, a bit of a workout, and still leave you with time to see some other areas of the park in the same day.
If you're travelling with kids, you can check out our recommendations on the best family-friendly hiking trails at the Grand Canyon.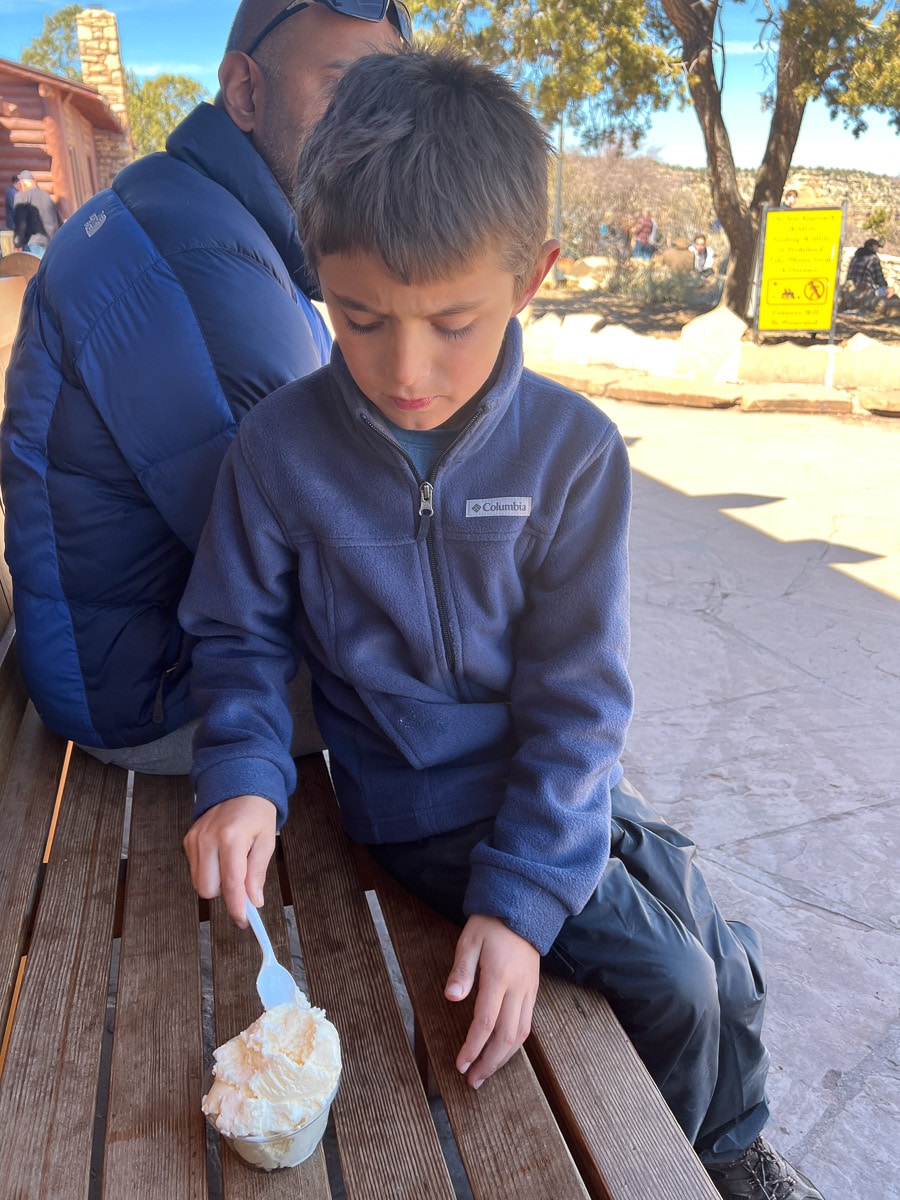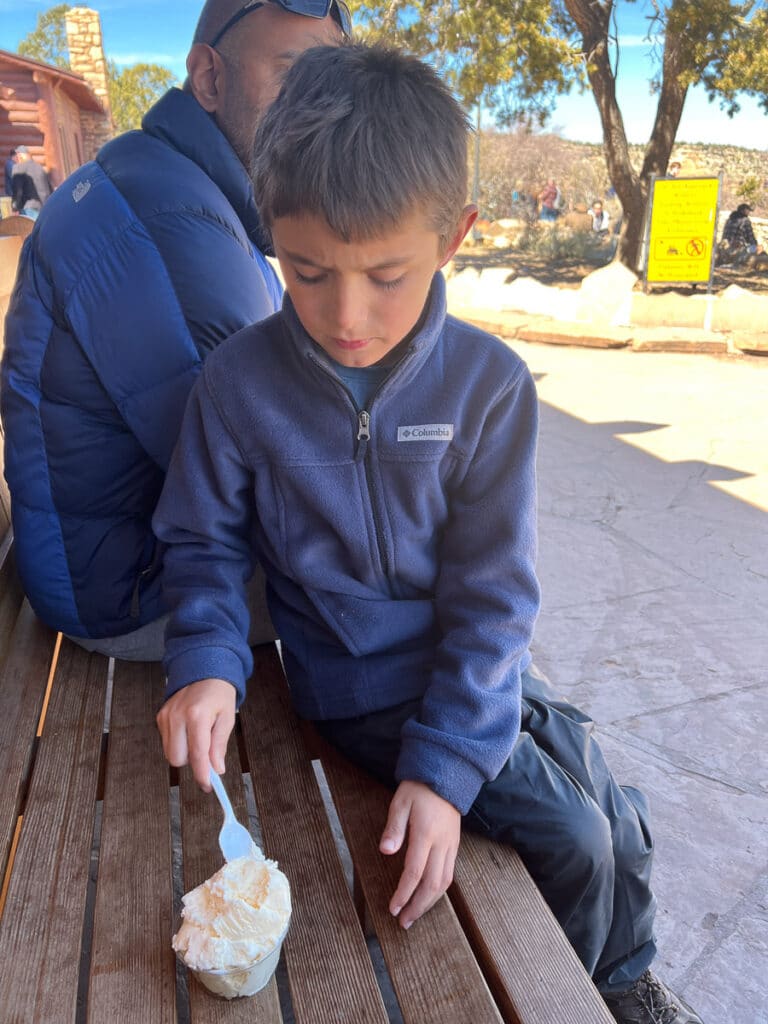 Ice Cream at Bright Angel Fountain (30 min)
After you re-emerge from the Bright Angel Trail, I strongly recommend making your way straight over to the Bright Angel Fountain for some ice cream. (This is doubly true if you have kids in your group!)
Enjoy your frozen treat by the side of the canyon, and keep enjoying that crazy view,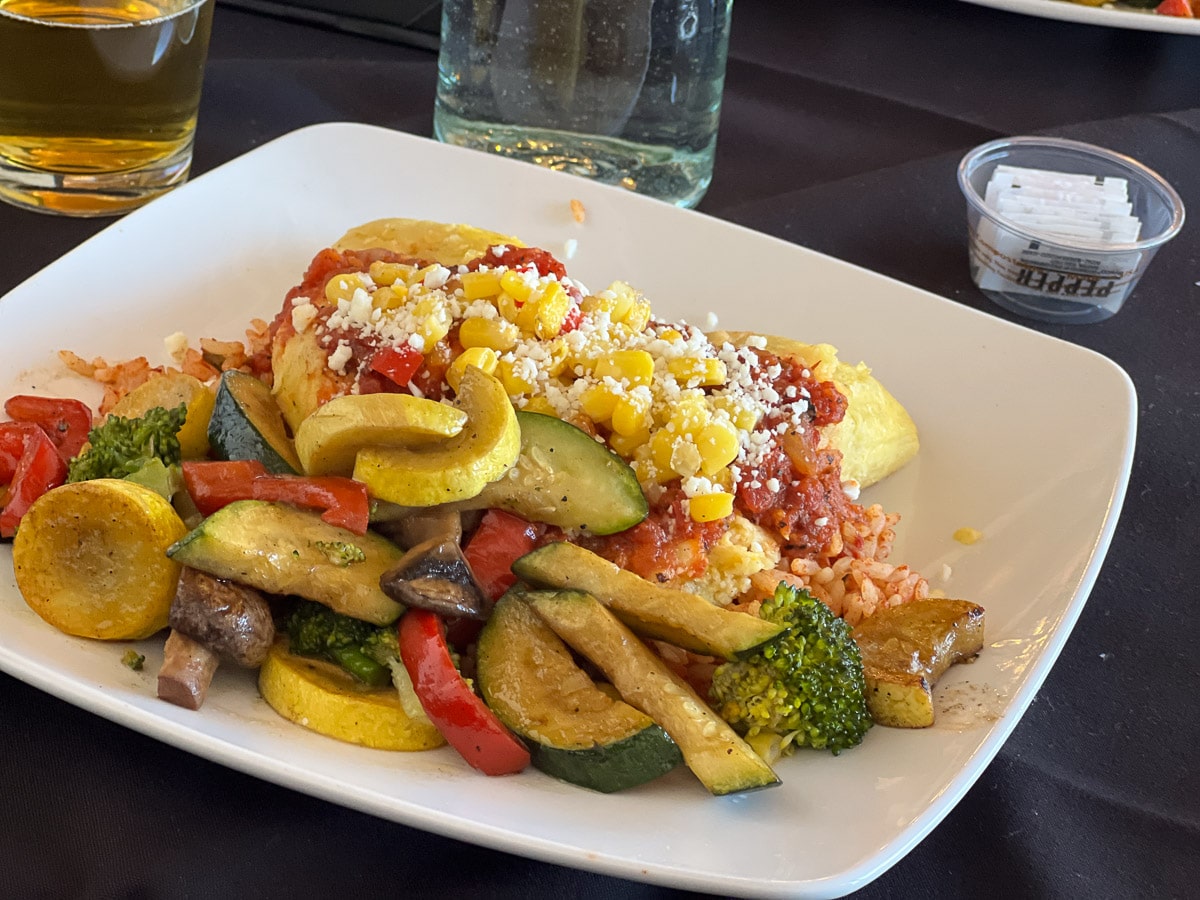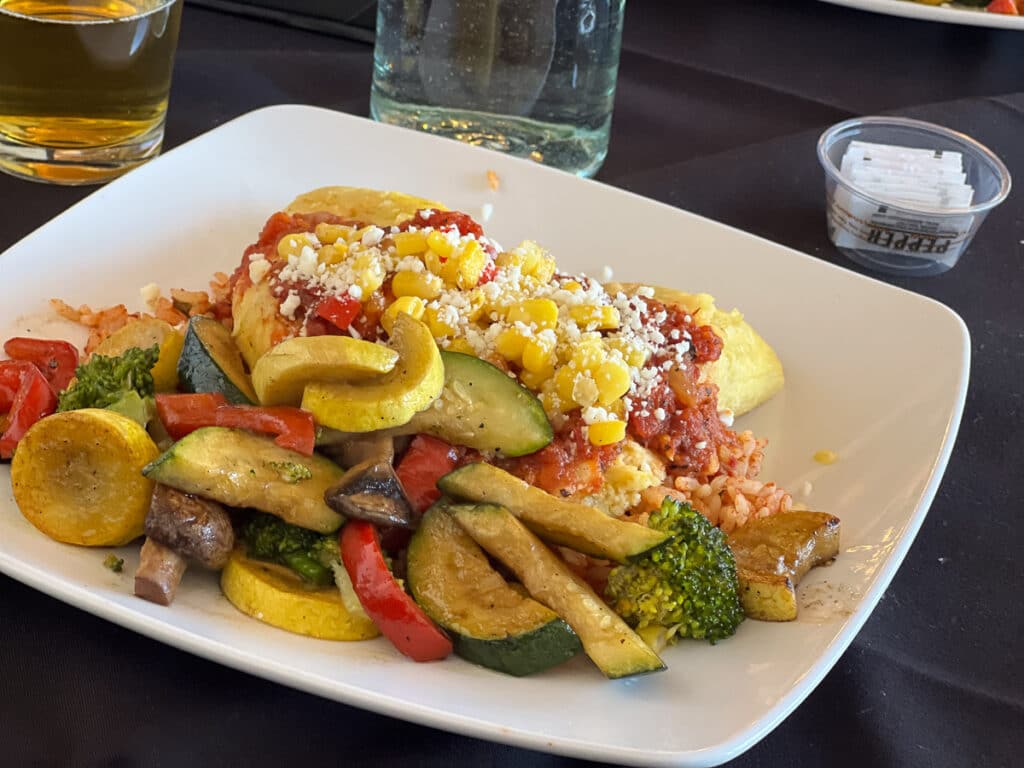 Lunch at Arizona (45 min – 1 hour)
You've probably worked up an appetite by now, and I strongly recommend Arizona for lunch. It can be very tricky to find lunch at the park during busy season, so it's always a good idea to have a lunch reservation.
If you find that you would rather just keep moving than take a long lunch break, you can always cancel the reservation and get a grab-and-go lunch from Bright Angel Fountain or the cafe at the Visitor's Center. Just be aware that even these can have limited choices and long waits during peak tourist season!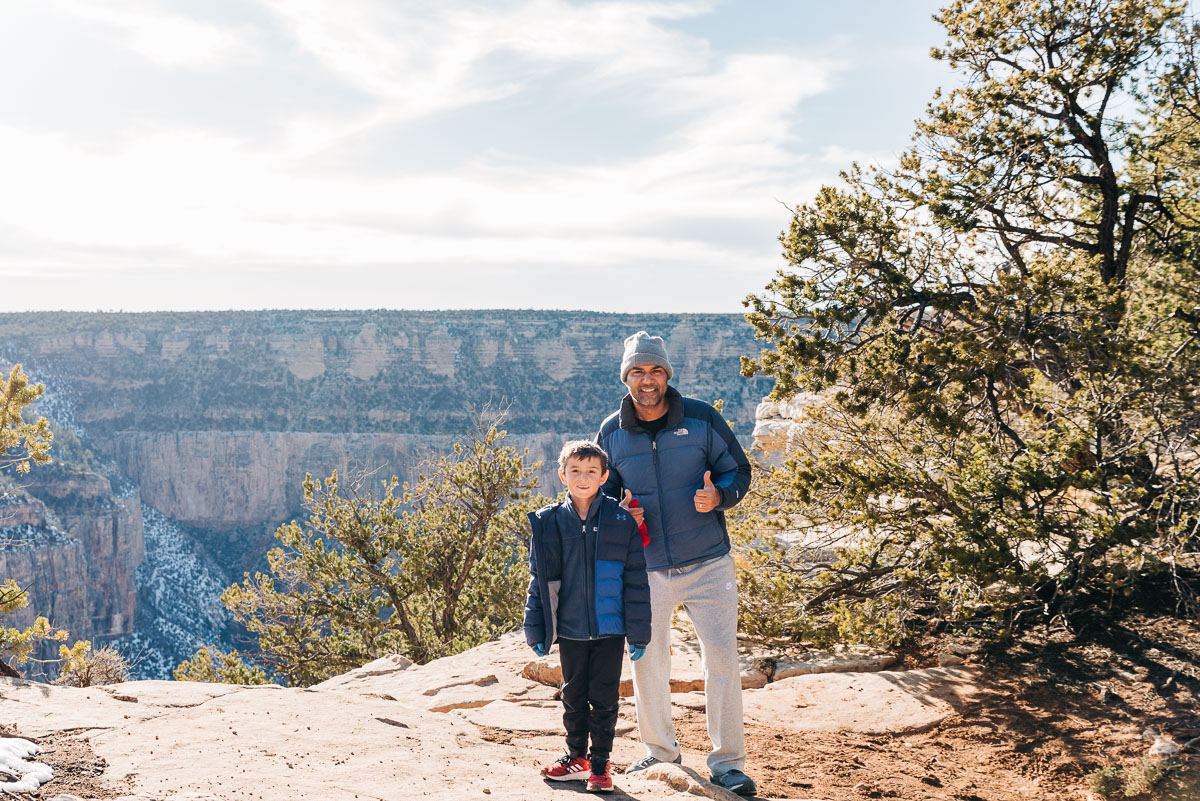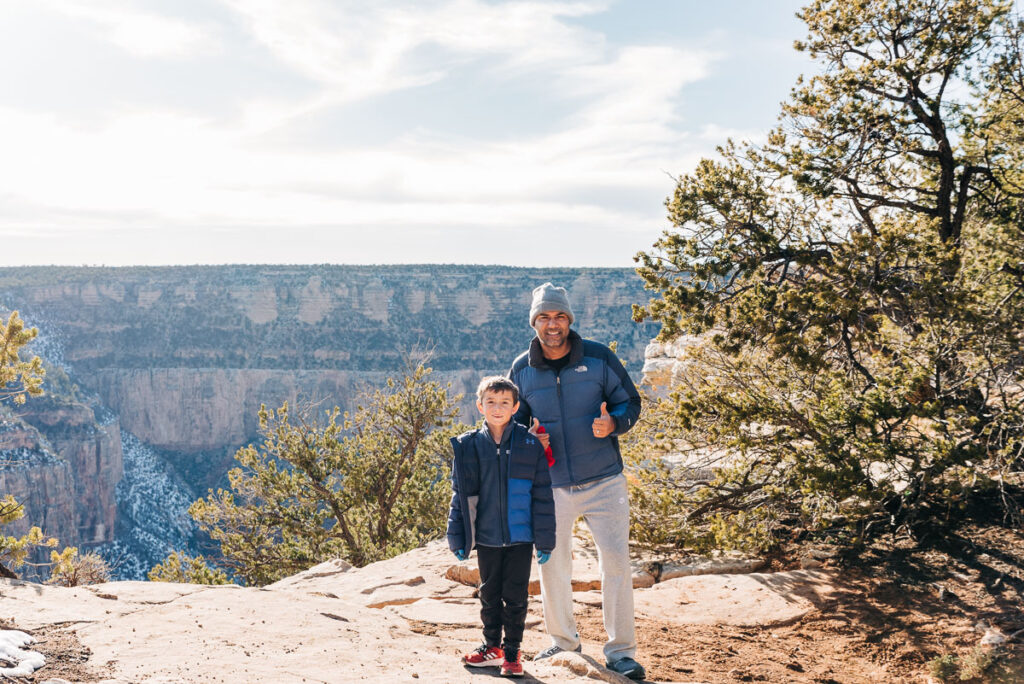 Rim Trail to Yavapai Museum and Mather Point (1-2 hours)
Once you've finished you lunch, you'll be all fueled up for a little more exploring. At this point, you'll be on the Rim Trail, so this is the perfect time to hike the trail from Grand Canyon Village over to the Yavapai Museum.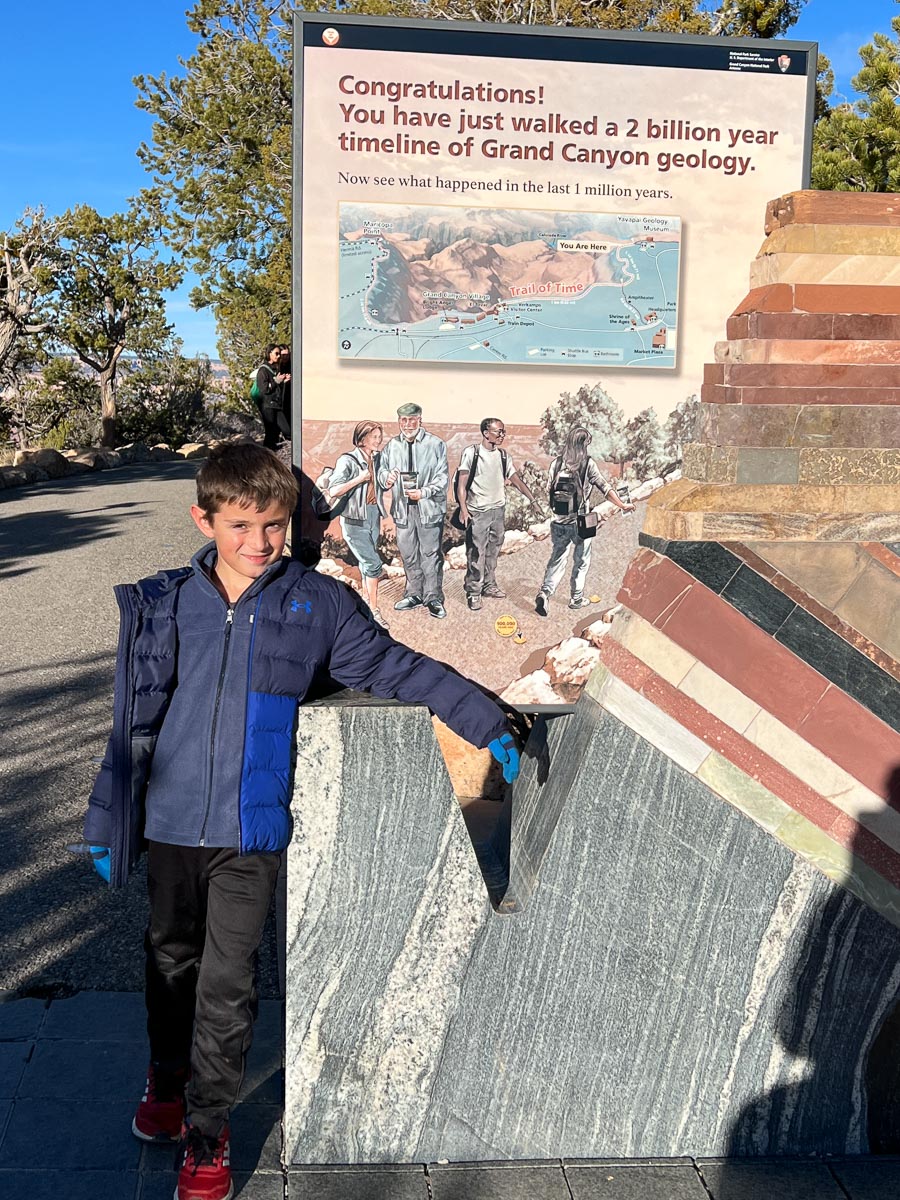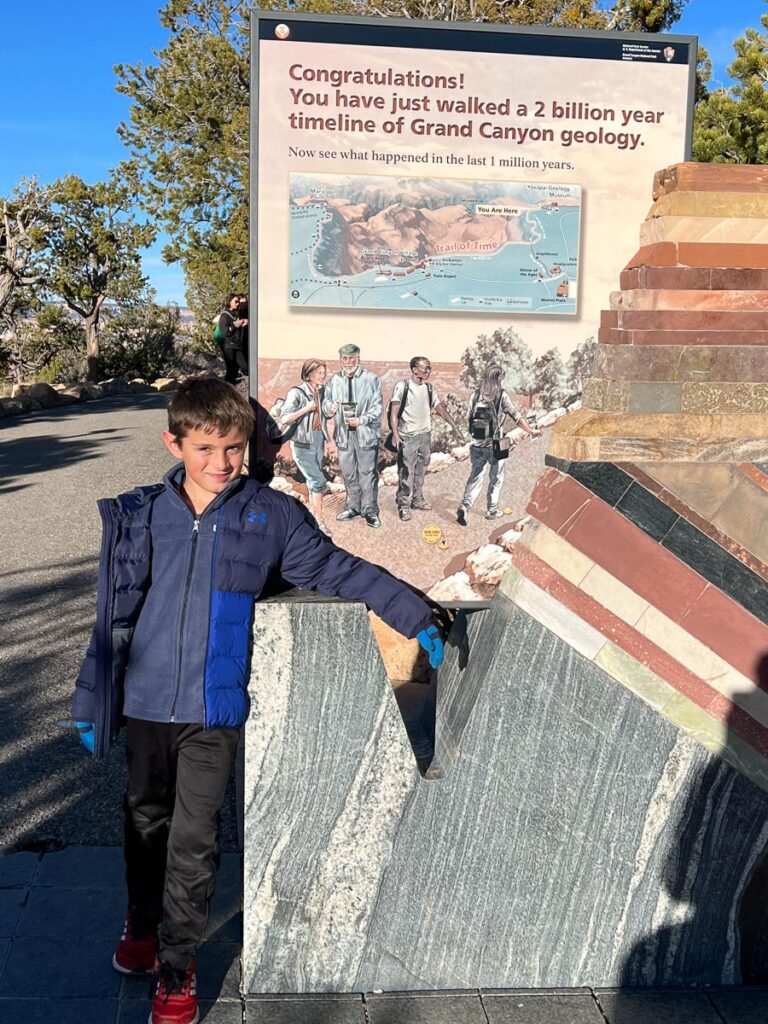 This part of the trail is known as the "Trail of Time" and you'll find some really cool exhibits along the way, and of course beautiful views of the canyon from the rim.
The trail will take you to the Yavapai Museum. It's a small museum with a few interesting exhibits and a breathtaking view of the canyon. Next to the museum is a small outdoor amphitheater where the rangers give their daily talks. Check the schedule if you're interested in catching one!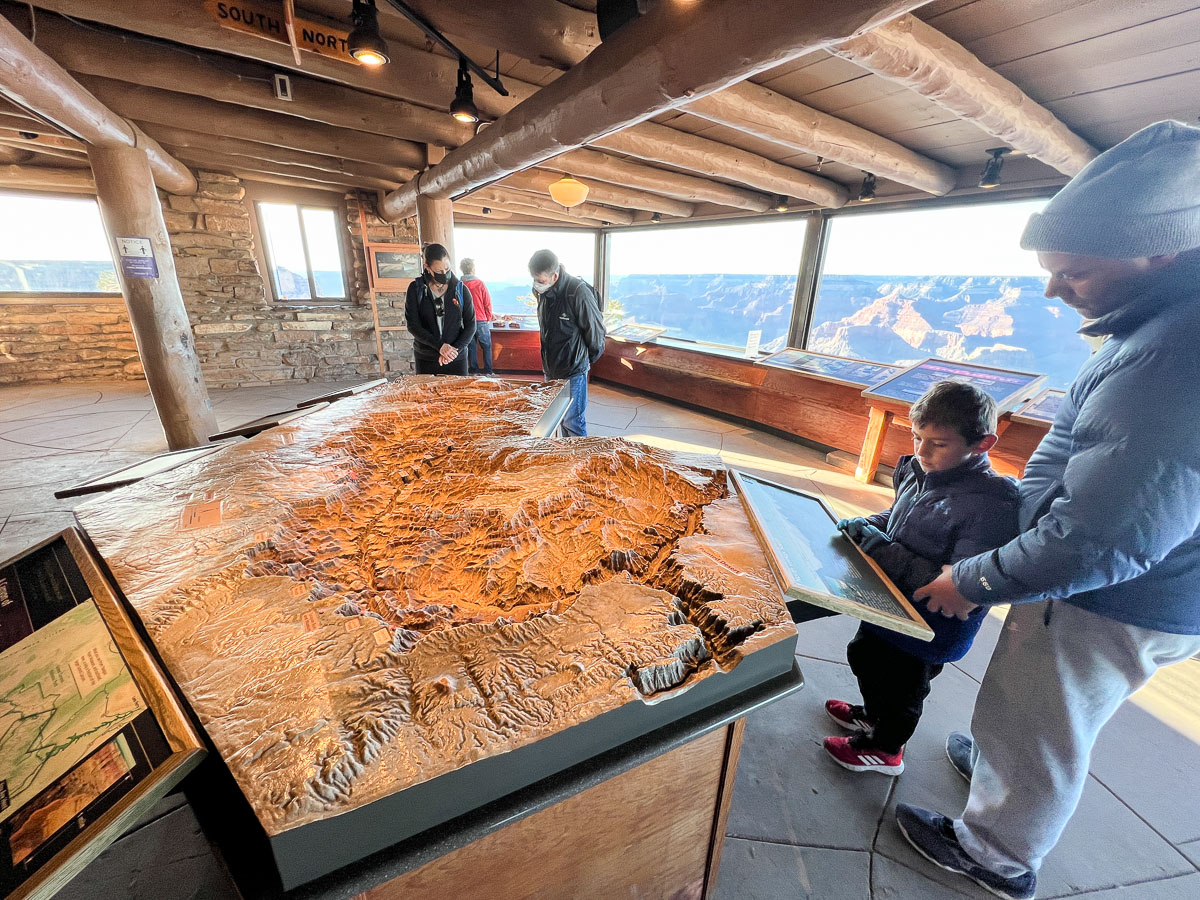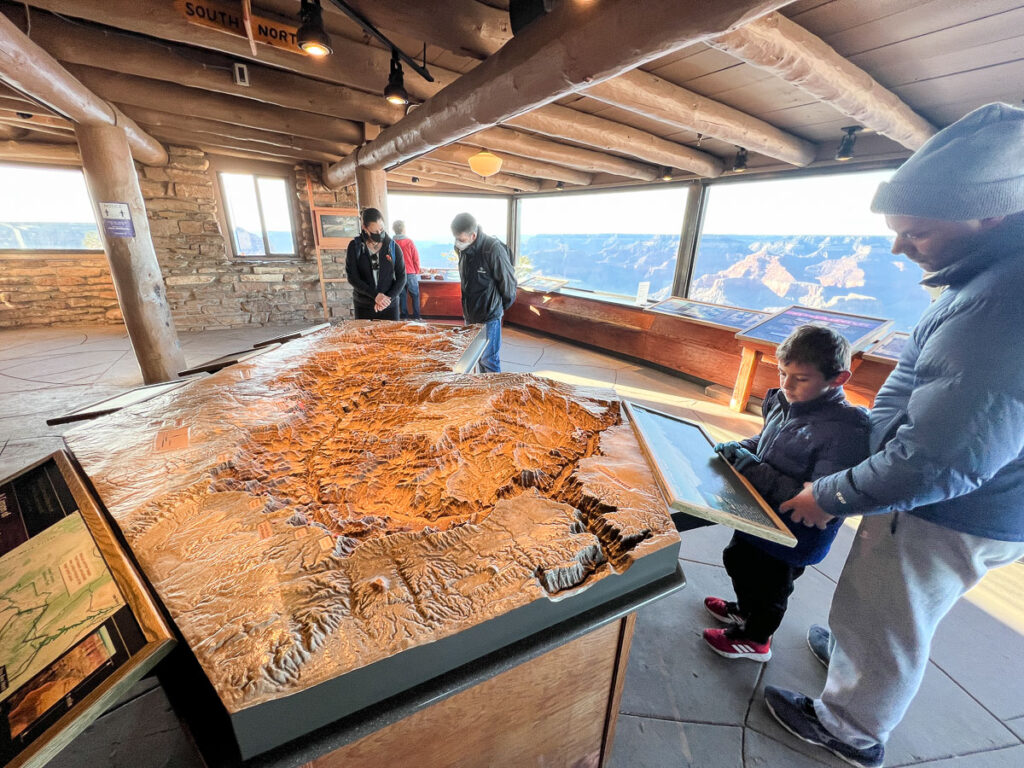 After the museum, continue on the Rim Trail to Mather Point. This is one of the park's most famous lookout points, and is especially popular for sunset. It's a great place to stop for a few photos and take in the view.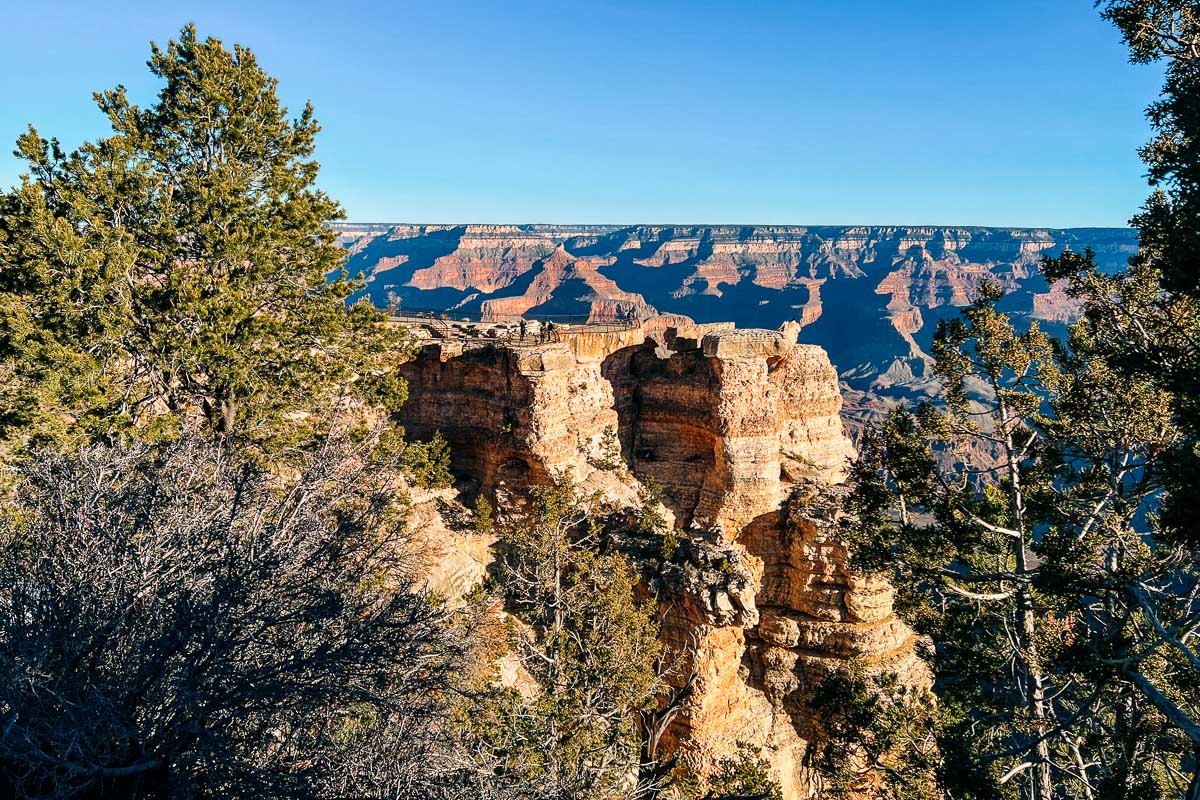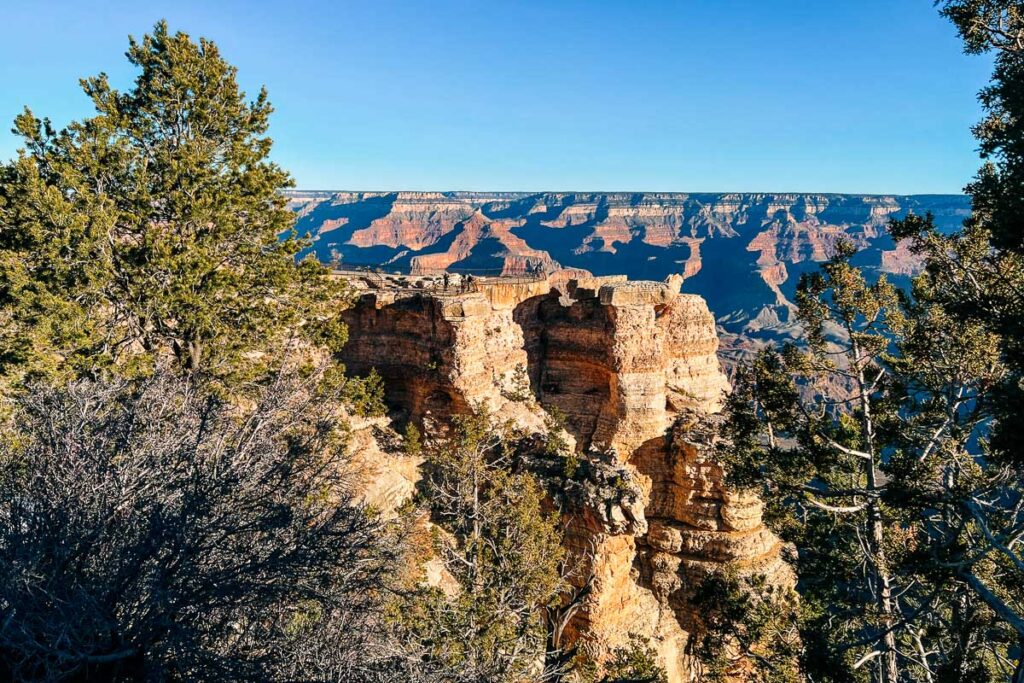 Visitor Center and Junior Ranger/Gift Shop (1 hour)
Continue along the Rim Trail to the Visitor's Center – at this point it is just a short walk from Mather Point. The Visitor's Complex is a great place to stop for a break. Check out the extensive gift shop and grab a snack at the small cafe (near the bike shop).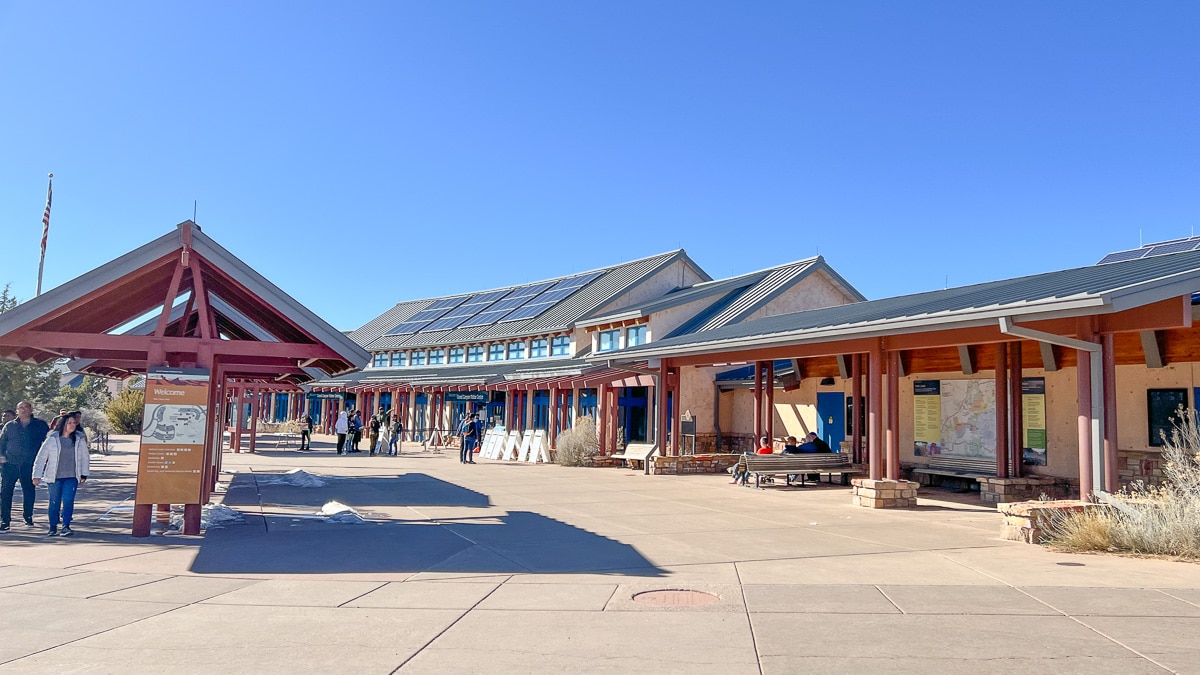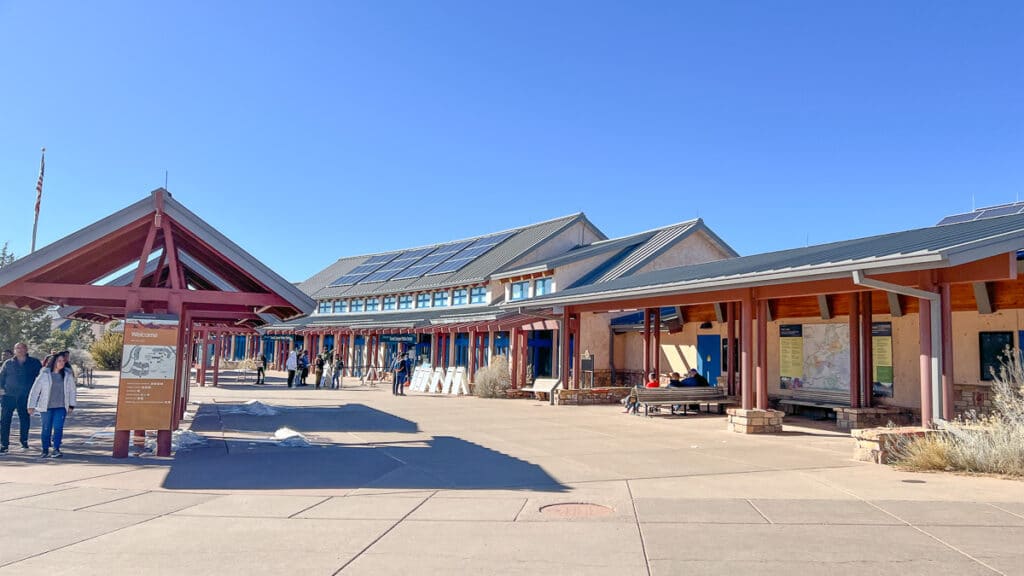 If you have any kids in your group – this is also the time to stop and grab a Junior Ranger booklet for them to complete! Have them complete their booklets while you have that snack, and take it to the bookstore to have a staff member review it and give your little ranger their official badge.
Note that the activities for junior ranger do change from time to time, and sometimes include attending a ranger talk. So if it's a BIG deal to your kiddo, you could also swing by the Visitor Center upon entering the park to grab the book, to ensure you can work any required activities into your day. Then when you come back in the afternoon, have them turn in the book!
From the Visitor's Center, hop on one of the free shuttles and take it back towards Grand Canyon Village.
Sunset and Dinner at El Tovar Dining Room
Spend a little time relaxing and enjoying the view from the Rim Trail at Grand Canyon Village. Explore some of the unique shops, or grab a drink at the El Tovar Lounge. Enjoy the sunset from the lovely viewpoint just outside of El Tovar.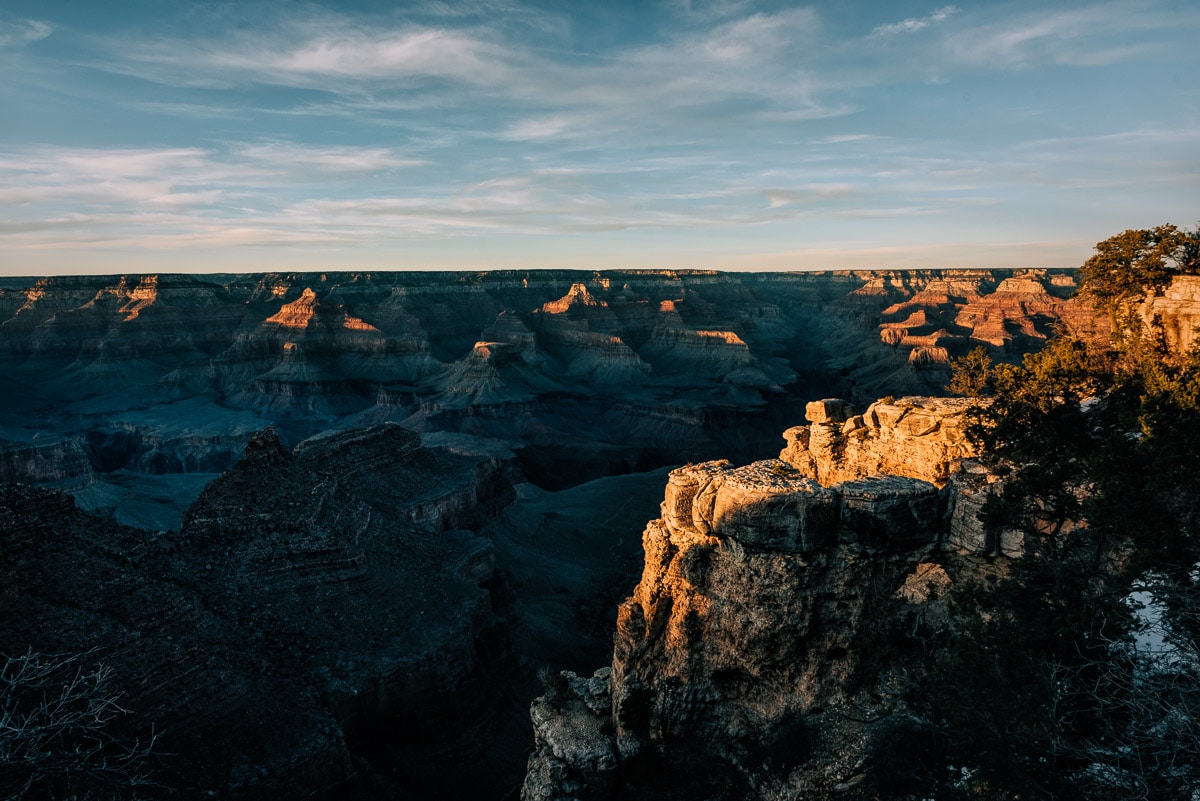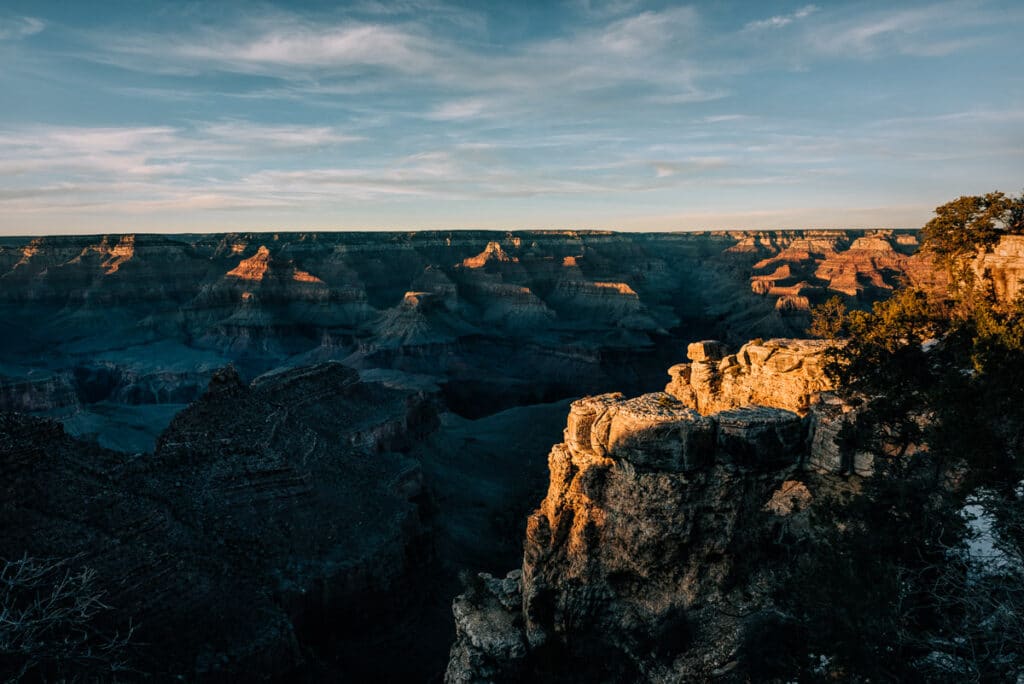 And then finish up your day with a delicious dinner at El Tovar Dining Room. This is the place to eat in the park. Now don't expect a five star dining experience – you are in a lodge in a park after all. But their food is genuinely good, the atmosphere in the historic building is really cool, and it it's definitely the nicest spot for a sit down meal in the park.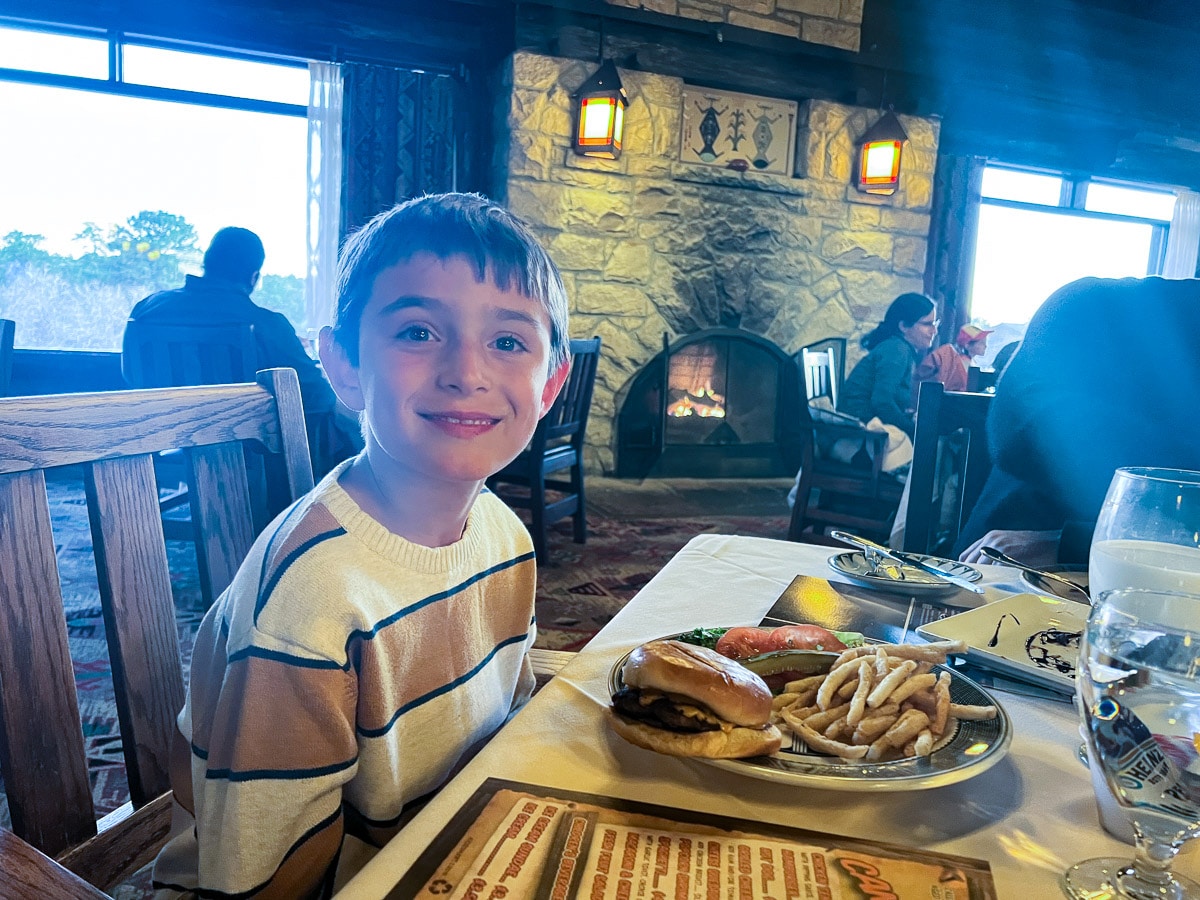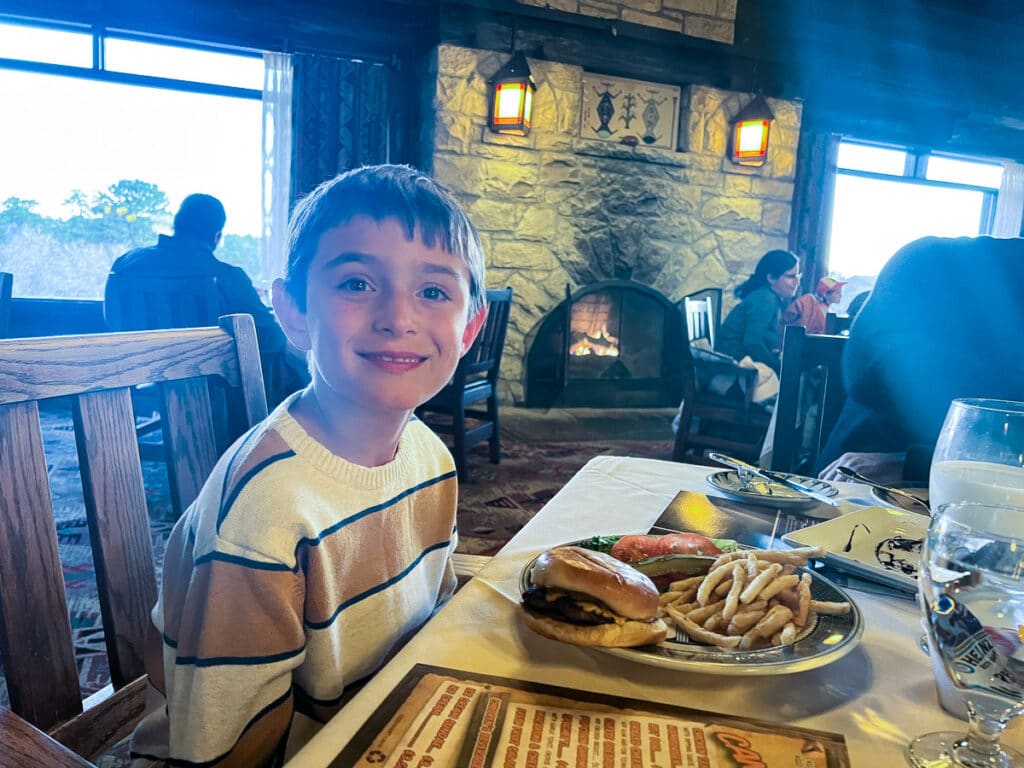 You absolutely must have reservations for dinner at El Tovar – it fills up most evenings. Reservations open up 30 days in advance (more for hotel guests), and you need to book pretty much immediately when they become available.
(Note that sunset viewing might be best suited for after dinner depending on the time of year you visit, so be sure to check the sunset time when you make your reservations.)
Tips for a Perfect Day
The Junior Ranger Program
If you are travelling with kids (like us!), then you are going to want to include the Junior Ranger program in your itinerary. The kids visit the rangers at the Visitor's Center to pick up an activity book full of age appropriate activities. They complete it throughout their visit to the park, and bring it back to the Visitor's Center to get a special Junior Ranger Badge. What's not to love?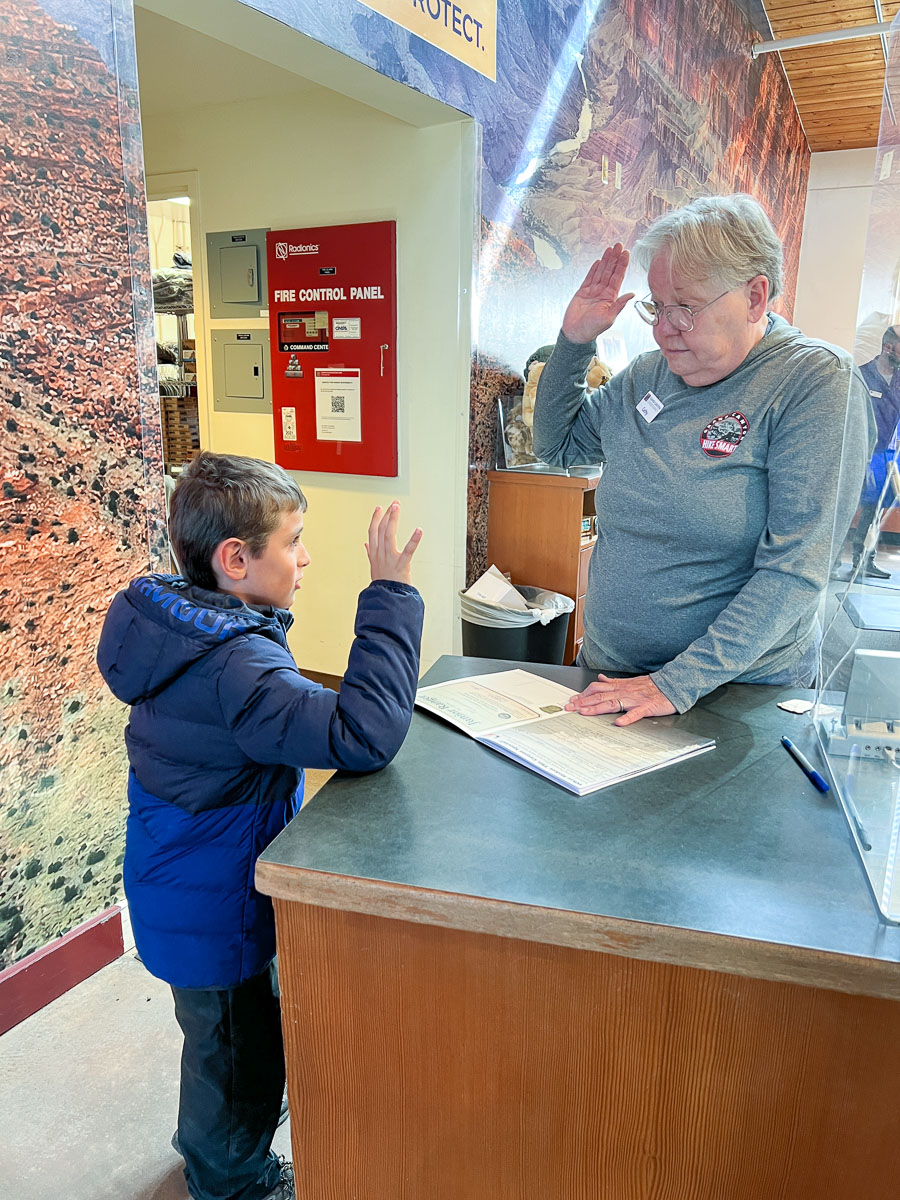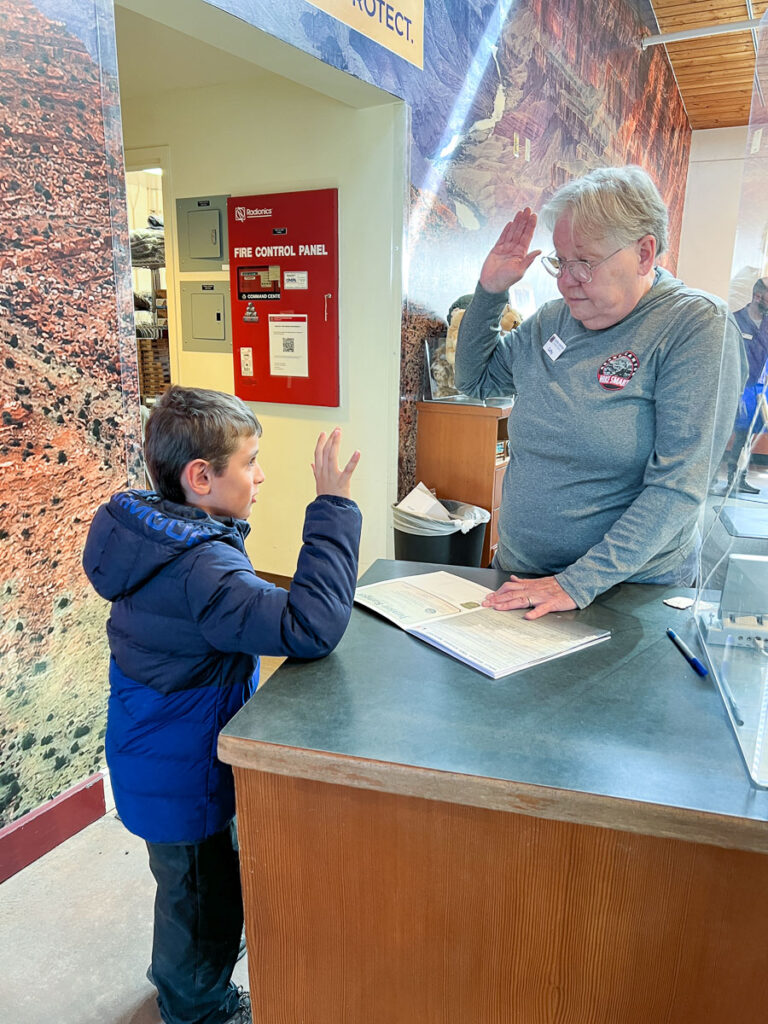 Note that the types of activities can change from time to time, and that sometimes the kids are required to attend a ranger talk as one of the activities. We have done the program at two different parks at this point (including Grand Canyon) and in both cases the ranger talk was optional. The booklet was something my son was able to complete while sitting and having a snack at the cafe.
But if you want to have the chance to do the activity book throughout the day and attend the ranger talk, then you should swing by the Visitor's Center first thing upon arrival to the park to grab a booklet, and then continue with the itinerary above.
What time should I arrive at the Grand Canyon?
Earlier is better. I recommend arriving by 9am at the latest, especially if you are travelling during a popular time of year. In the afternoons during peak tourist season, the wait to enter the park can be 2-3 hours!
We arrived around 9am and entered the park without any wait, and that seems to be what most visitors report.
Parking
If you arrive at the park by 9am as suggested, you shouldn't have too much trouble finding a parking spot. But note that you want to park and leave your car there for the day – don't try to drive between attractions inside the park if you are only there for the day. You likely won't find another spot in the afternoon, and you will lose the one you had in the process.
The one day itinerary above starts out at Grand Canyon Village, so try to grab a parking spot in one of the smaller lots there. If you are not able to do that, you can park at the Visitor's Center (where there is a huge parking lot) and take the free shuttle to the village.
Lunch and Dinner Options
We found eating in the Grand Canyon National Park to be a pretty aggravating experience. On our visit during Spring Break, many of the quick service restaurants were actually running out of food, so we were basically out of luck without a lunch reservation. So do plan ahead!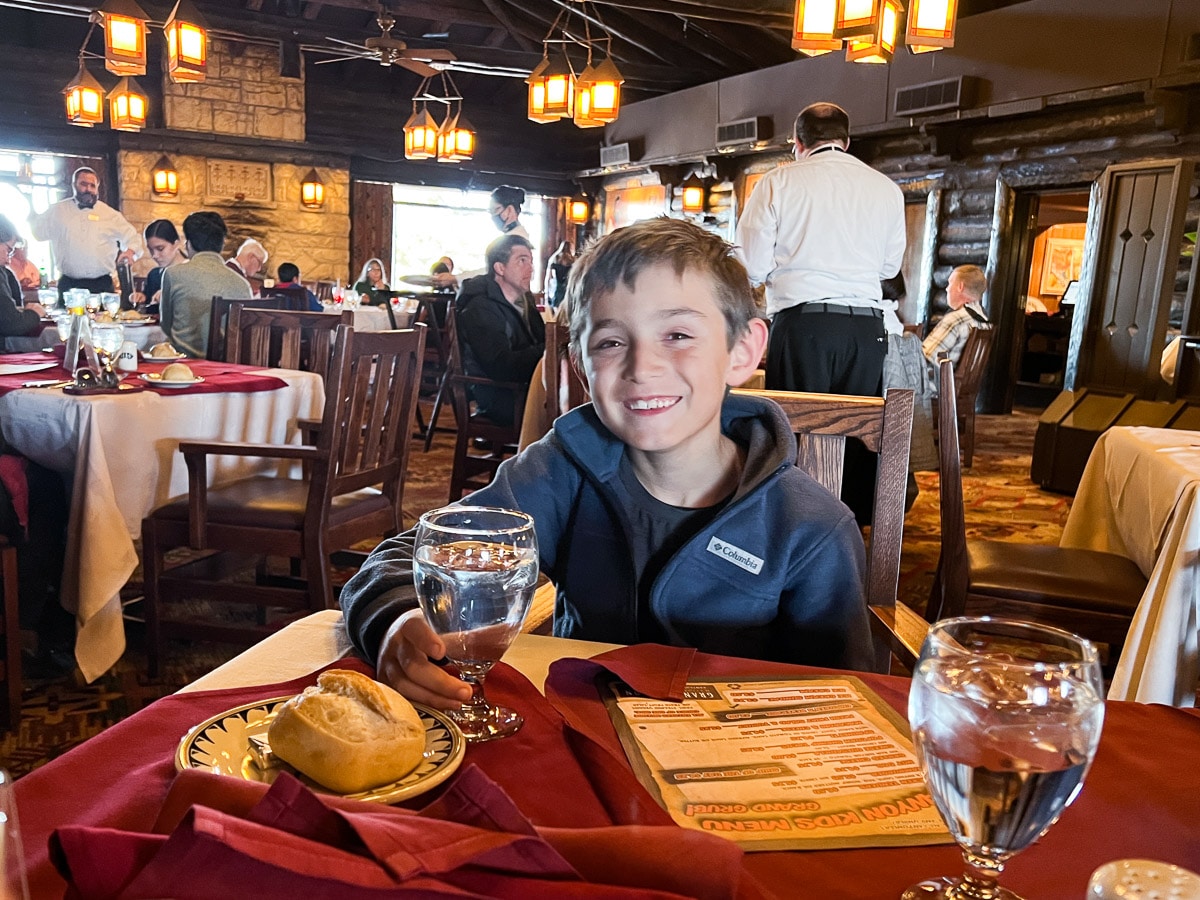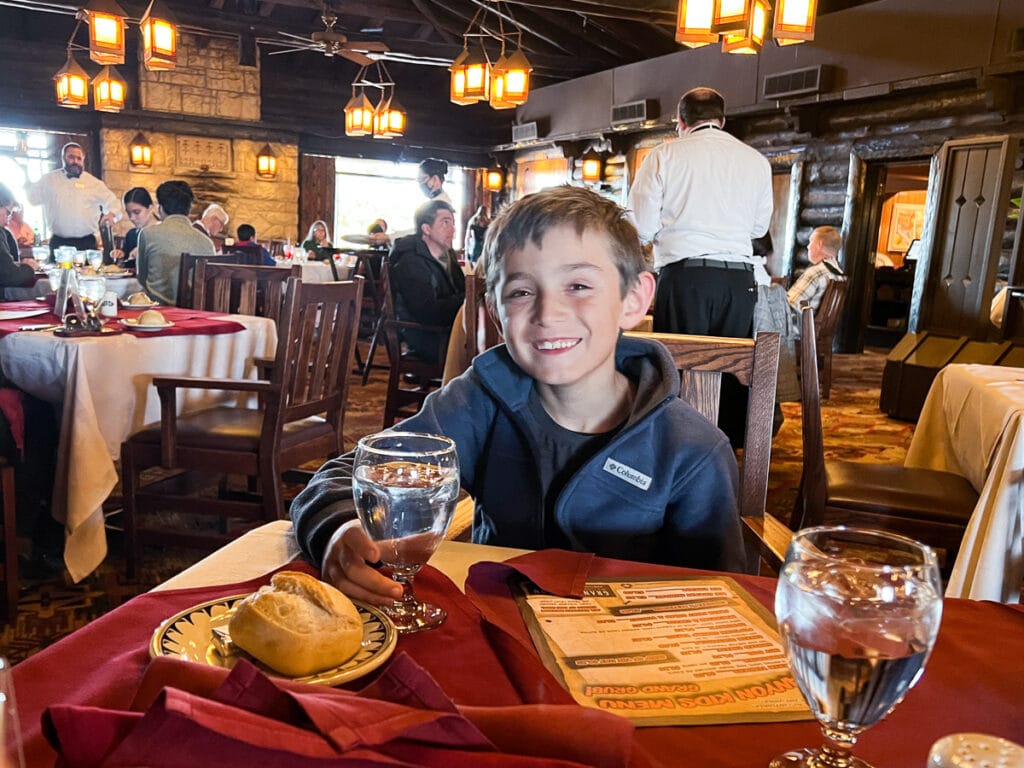 A few options to consider:
Pack a Lunch – If you're just coming into the park for a day, packing a lunch is actually a really great option. You'll have food ready when you are, without wasting time waiting at a restaurant. And there are endless beautiful places to plop down for a picnic with a view of the canyon.
Arizona Restaurant – Lunch only. They do take reservations during the busy season. I recommend making a reservation here, and just cancelling if you decide to grab a quick service lunch elsewhere.
El Tovar Dining Room – Lunch and Dinner. But note that they close in between lunch and dinner service. They do take reservations year round, and they are mandatory for dinner. This is the most popular restaurant in the park, and if you want to eat dinner there, you will need to make a reservation immediately when they become available (currently 30 days in advance). If you stay at El Tovar Hotel, you can make reservations earlier.
Bright Angel Fountain – This quick service restaurant is a great choice for a grab-and-go lunch (think a hot dog and ice cream). And this is definitely what I would recommend so you don't waste too much time on lunch. BUT we have seen them run out of food well before noon on more than occasion. They just can't seem to keep up with the busy season. So I can't recommend relying on this option, which is why I now recommend making a reservation somewhere.
These are your best options that fit well within the itinerary above. But there are a few other choices in the park, including Fred Harvey Burger in Grand Canyon Village (doesn't take reservations) and a quick service café at the Visitor's Center. Availability of all restaurants can vary by season as well, so it's good to check the park service site to see what is in operation during your visit.
Have more than one day?
If you have more than just one day at the Grand Canyon, be sure to check out the rest of our Grand Canyon Itineraries. We've recommended the best family itineraries for 2, 3, 4, or 5 days at the Grand Canyon!
More Grand Canyon Trip Planning Resources
Here are a few more resources to help you plan the perfect trip to the Grand Canyon.