Planning a trip to the Grand Canyon? Let me help you find the perfect home base inside Grand Canyon National Park or in one of the beautiful nearby towns.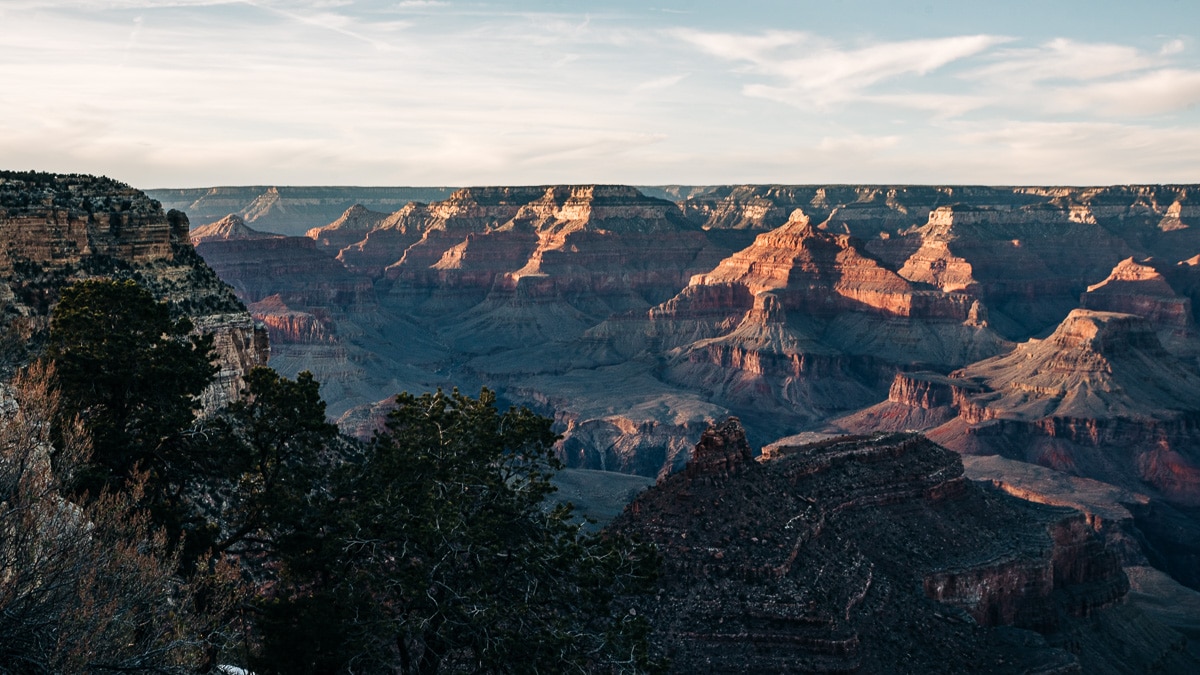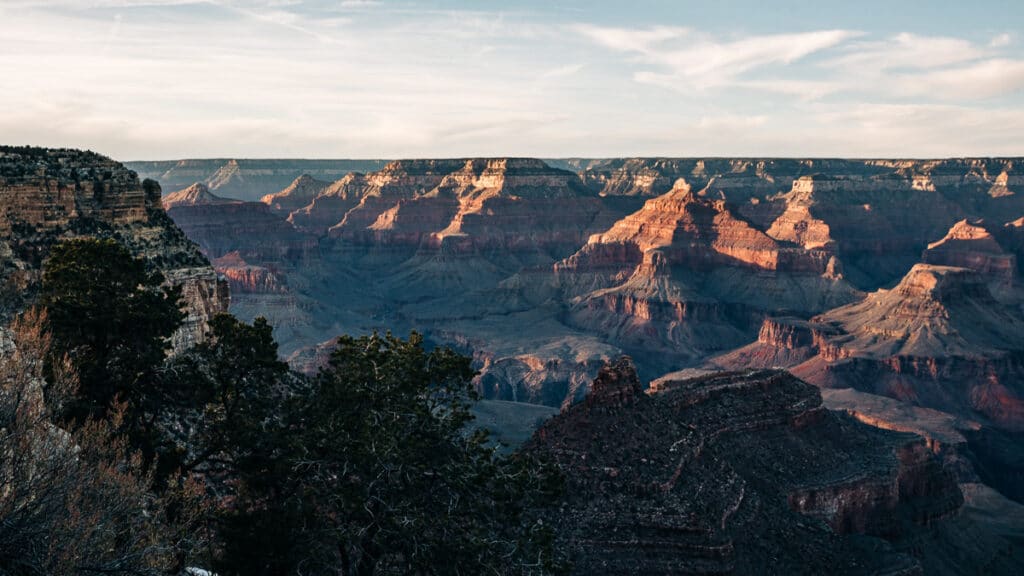 We've had the Grand Canyon on our bucket list for so many years, but we finally made it a reality this past year. And I don't know why we waited so long to dive in! The park truly is spectacular – with breathtaking beauty and more activities than we could fit into our five day trip.
And we did a ton of research to plan it – so here is everything I've learned about the best places to stay while visiting Grand Canyon's South Rim.
Staying Inside Grand Canyon National Park
There's no question that staying right inside the Grand Canyon National Park is the most convenient option for… well.. seeing the Grand Canyon.
And they actually have a surprising number of options to choose from- more than we have experienced at other national parks like Zion. Note that the park lodges fill up FAST, often up to a year in advance. So if you have your heart set on staying right in the park, start planning early.
When we plan a trip to one of the national parks, we book our hotel first. Then we will in the rest of the trip details. The hotel is the hardest part to book and the easiest to cancel, so just get it done.
If you're settled on staying inside the park, you have a few good options:
El Tovar Hotel (Top Pick!)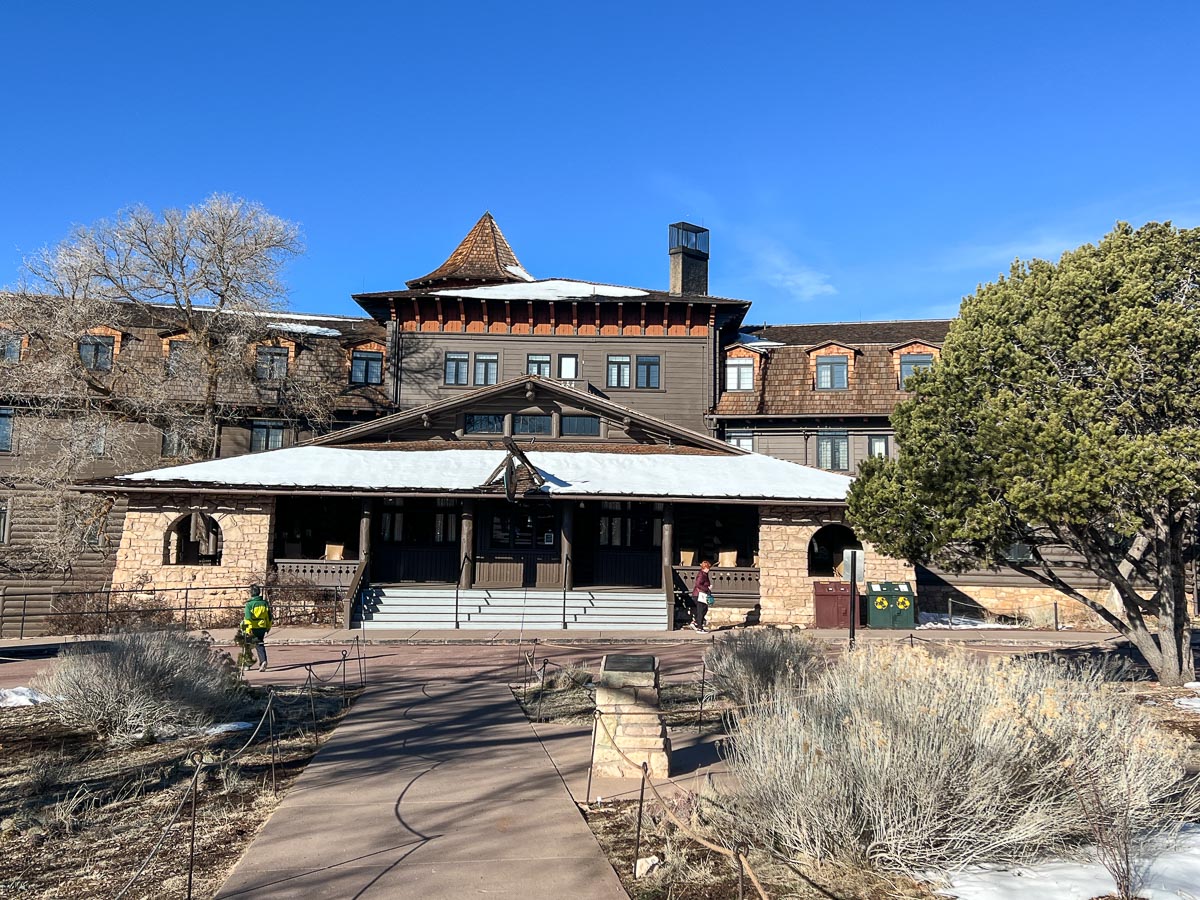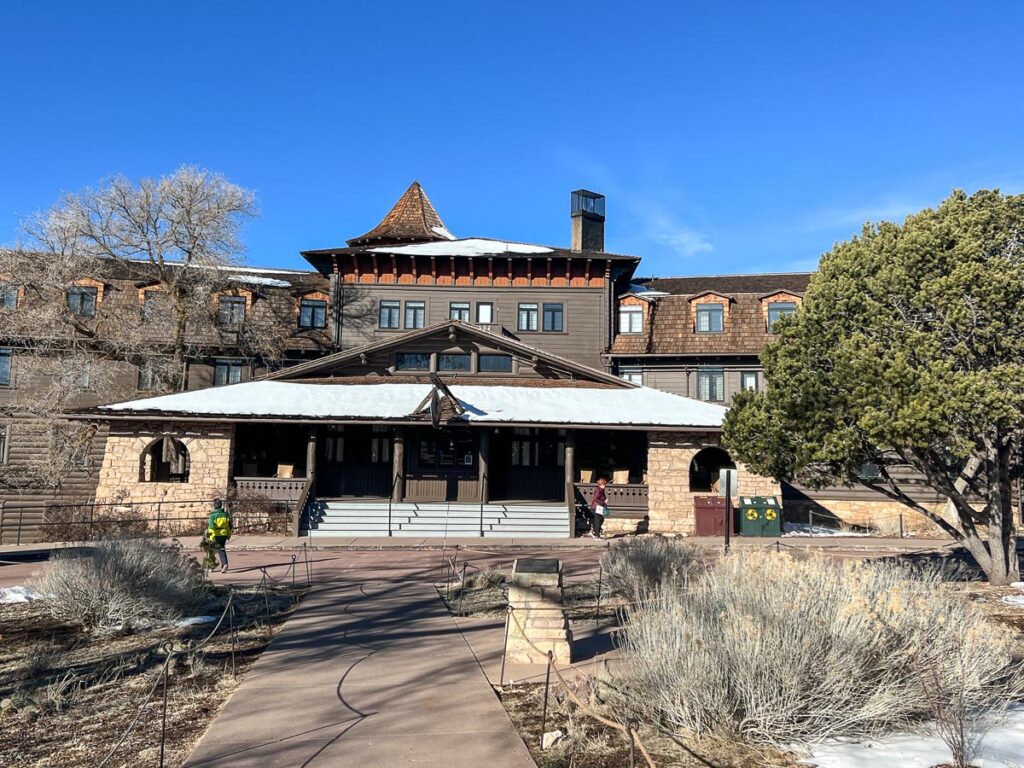 The El Tovar Hotel is the highest end option within the park, and it's where we stayed on our own spring break trip to the Grand Canyon.
It's important to understand that while the El Tovar is a luxury option compared to the other in-park hotel options, it is certainly not a five star hotel. It's still a hotel within a national park, run by Xanterra. If you've stayed at the lodges in any of the other national parks, you should have a pretty good idea of what to expect. You are paying a premium for the incredible location, the building has a lot of historical charm, but the rooms are dated and the service is kind of average.
Now that said, the El Tovar does have an incredible amount of charm. The hotel itself is over 100 years old, and the historic building really is quite gorgeous. There's wood everywhere, cozy fireplaces, a cute sitting room, a charming front porch, and plenty of rocking chairs.
And of course the main selling point – the El Tovar is perched literally at the edge of the Grand Canyon. There's not much better than being able to grab a glass of wine at the bar, step outside the hotel doors, and sip while watching the sun set over the canyon. Amazing!
The dining room at El Tovar is also the most coveted dining spot in the Grand Canyon, with reservations that fill up months in advance. If you choose to stay at the hotel, you can request dinner reservations ahead of the public's 30 day reservation window. This is actually a big benefit since dining options in the canyon are really limited – you can hear about our food experience in my full trip report.
You can check rates at El Tovar here.
Thunderbird Lodge & Kachina Lodge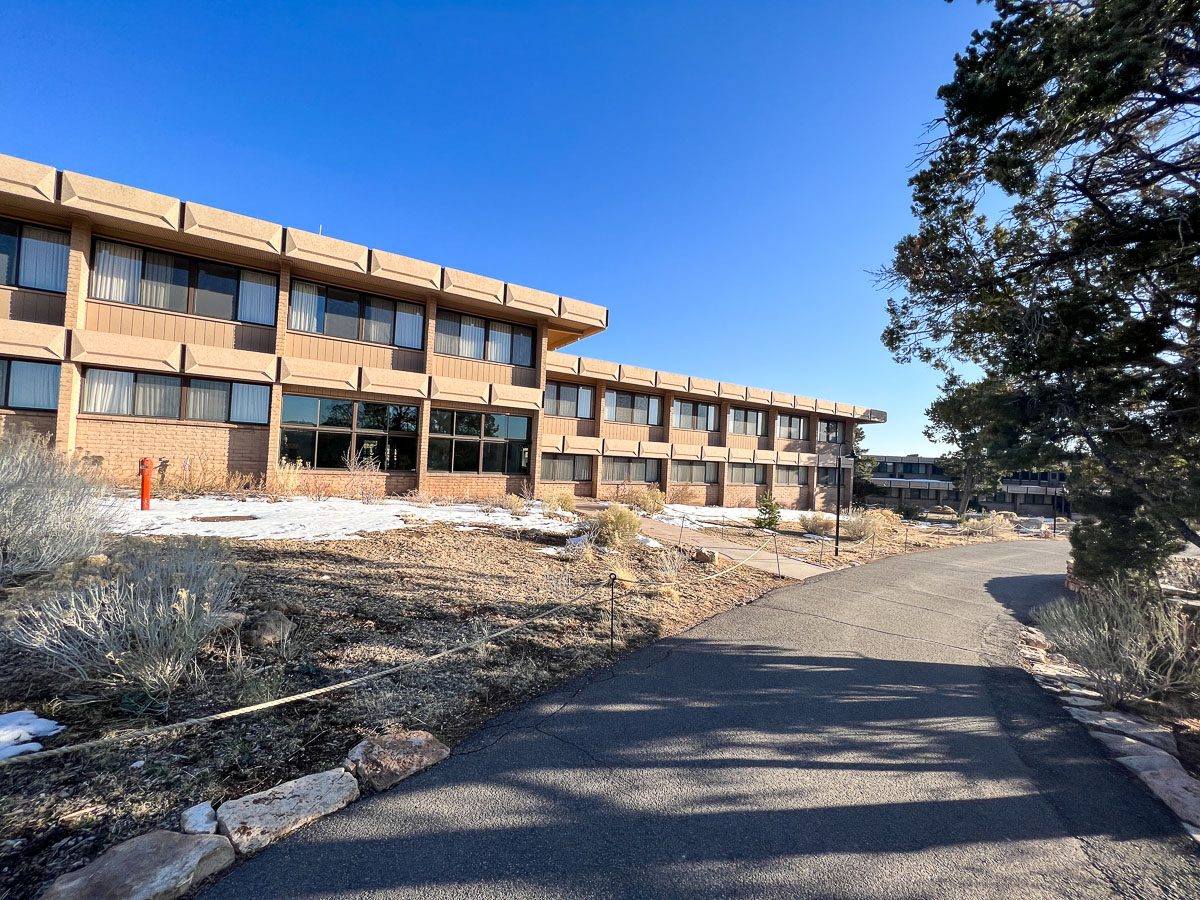 These two sister properties are adjacent to one another and are basically identical hotels. Honestly, I don't know why they gave them two different names rather than just making it one hotel with two buildings… but no one asked me.
Regardless, if El Tovar is not available (or you don't like the price tag), this would be my next choice within Grand Canyon Village. The hotels are located right next door to El Tovar. So while they lack the charm of the historic El Tovar, they do they share the same convenient location.
The thing I like best about these two properties is that about half of the rooms actually have canyon views! Technically they are partial canyon views, as they look out onto the Rim Trail. But that is still nicer than the parking lot view we had at El Tovar.
Bright Angel Lodge & Cabins – Cheapest Grand Canyon Village Option
If you're looking for the best value in Grand Canyon Village, then definitely take a look at Bright Angel Lodge. This is usually the property with the lowest rates among the hotels that are right in the main village area. But do note that the rooms are very basic – and there is no air conditioning or TVs in the rooms. I repeat – no air conditioning.
The location is at the far west end of Grand Canyon Village, so it's about a five minute walk from the heart of the action. But that's still very convenient.
There's a burger restaurant at the Bright Angel, although it doesn't take reservations. This is also where Arizona Steakhouse is located, which does take lunch reservations as some times of year. And there's the Bright Angel Fountain, which is a great place to grab coffee in the morning and ice cream in the afternoon. So this actually a very convenient location for getting fed!
So you miss out on some creature comforts, but you still get a great location inside the park for a pretty cheap price.
You can check rates at Bright Angel here.
Maswick Lodge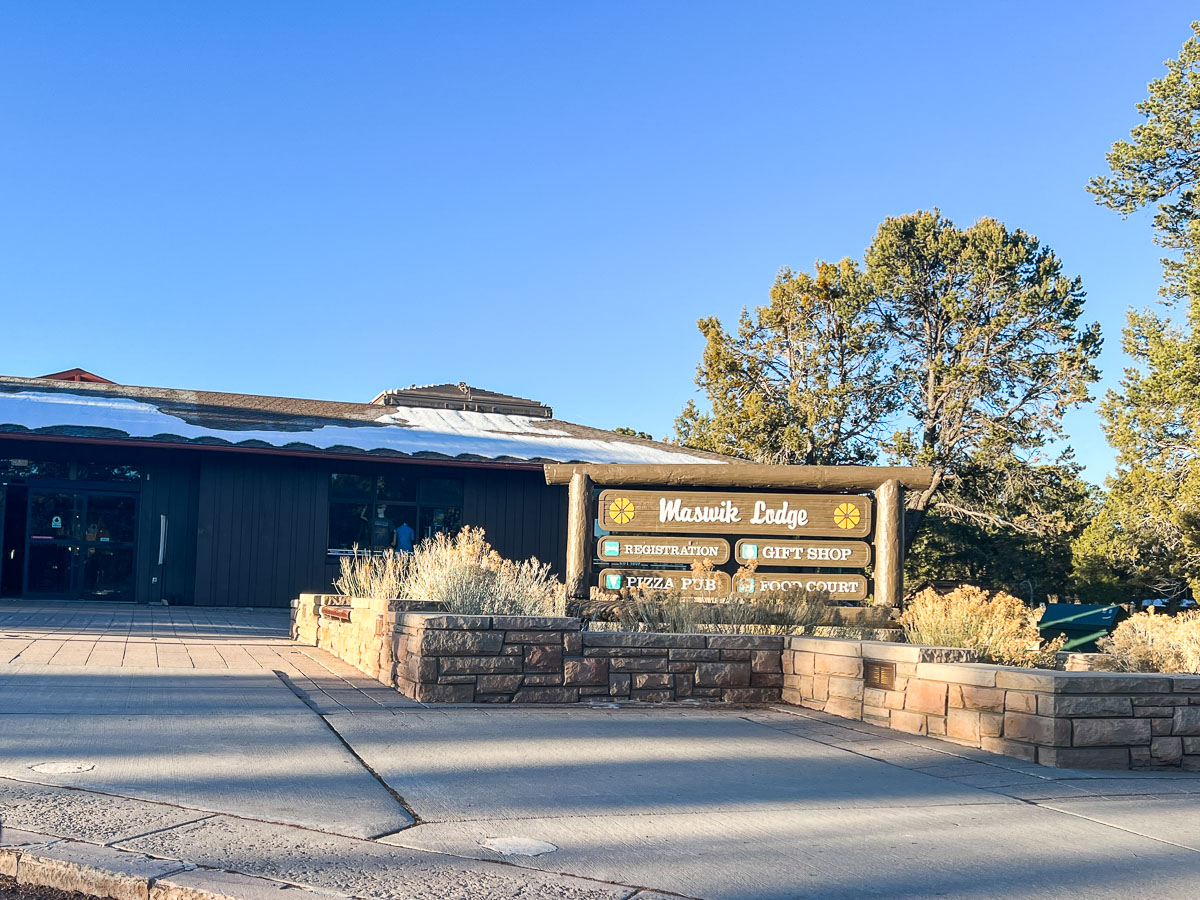 If none of the hotels right in Grand Canyon Village are available, you could take a look at Maswick Lodge. Maswick is a 10-15 minute walk from Grand Canyon Village and the canyon rim, so not quite as nice of a location but still fairly convenient to accessing the main sights.
On the plus side, Maswick is adjacent to the Maswick Food Court which includes a pizza pub, making it convenient to grab a bite to eat. Although I will warn you that it's not exactly gourmet pizza.
You can check rates at Maswick Lodge here.
Yavapai Lodge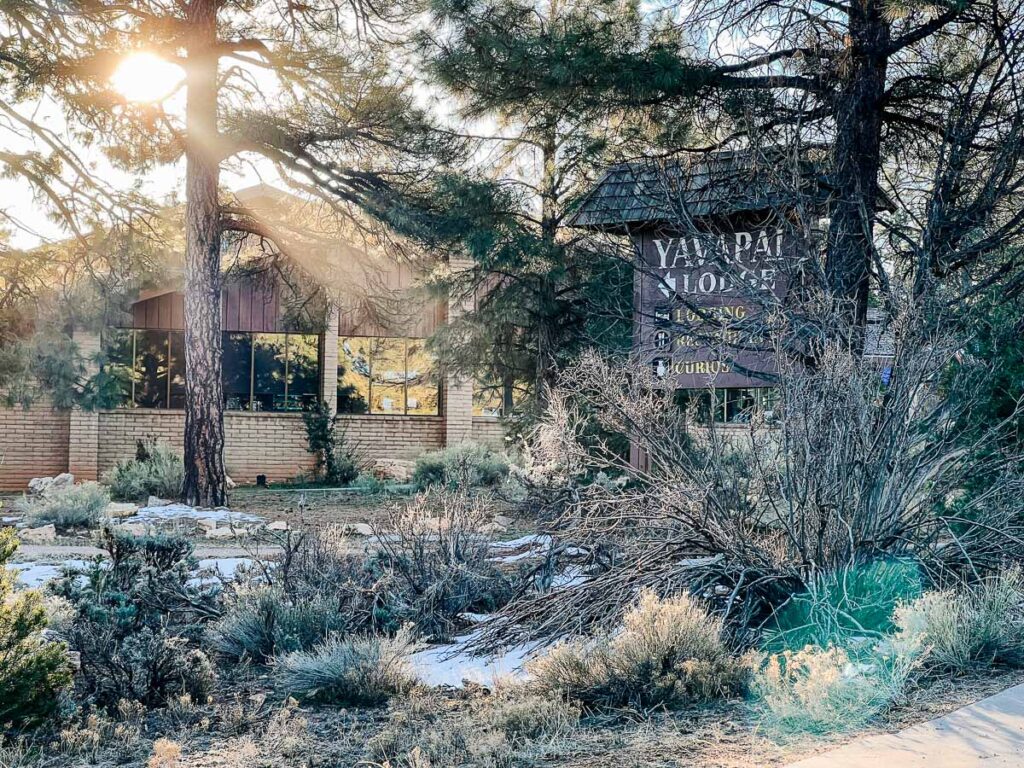 And finally, there's Yavapai Lodge. Yavapai Lodge is located in a completely different area of the park. This one will require use of the free shuttle buses to get to the Visitor's Center and Grand Canyon Village. It is not walking distance.
It's not nearly as convenient (in my opinion) as El Tovar or Bright Angel, but it's still a heck of a lot more convenient than staying outside the park.
The rooms are pretty basic – but there is air conditioning. And it is located right next to the Market (basically a grocery store) and has its own restaurant, Yavapai Tavern. Just keep in mind that it will be a lot more effort to get away from the hotel for meals and exploring.
You can check rates at Yavapai Lodge here.
Camping in the Park
For a more adventurous (or budget friendly) option, there are several different campgrounds within the park as well. But camping at the parks is really not my thing, so I'll just point you towards a few resources if you're interested in going that route:
And if you're very adventurous, there are even backcountry camping options that will get you right out into the heart of the canyon. As a designated dark sky zone, there's no better place to try sleeping under the stars!
Stay in Tusayan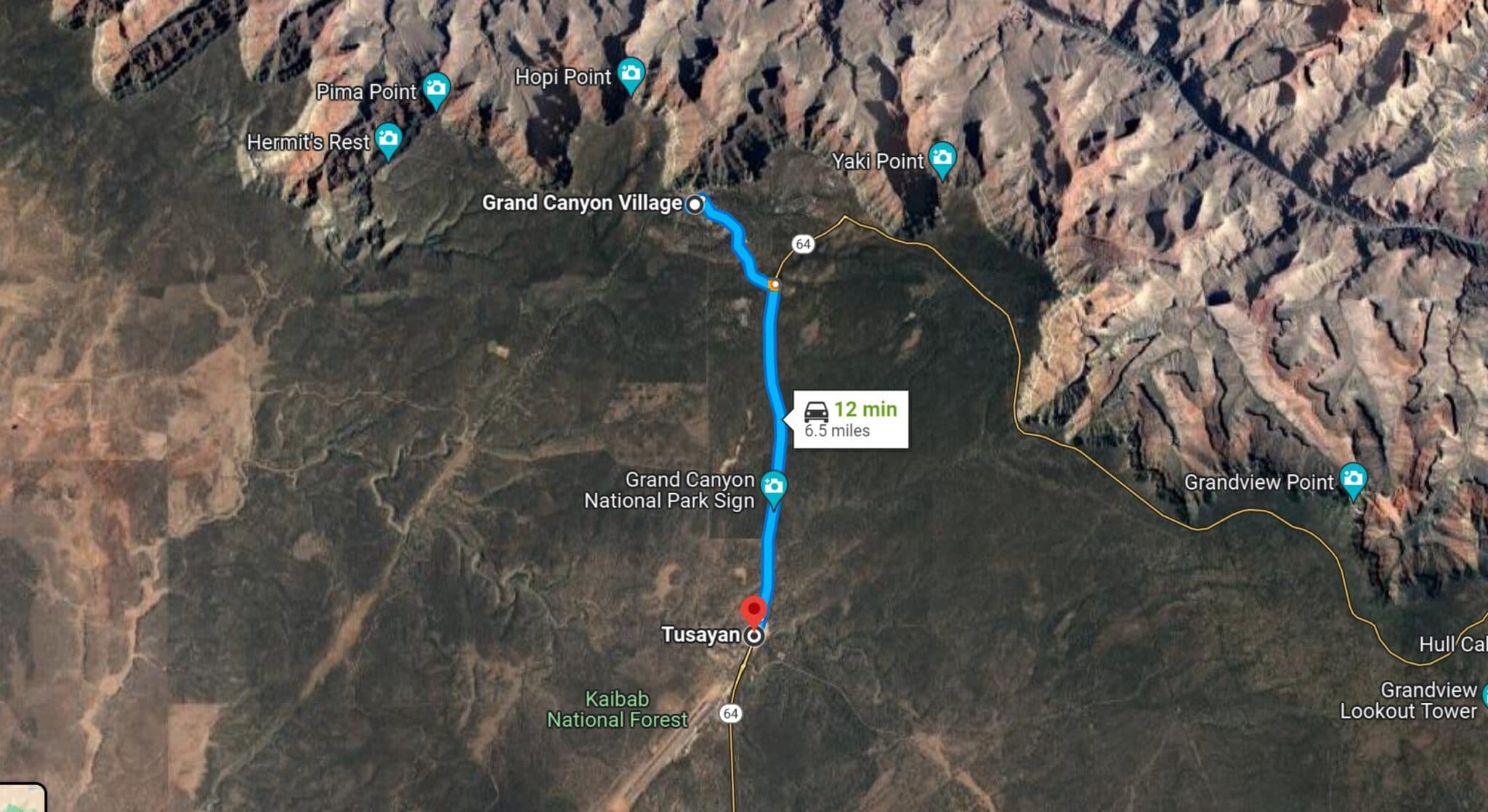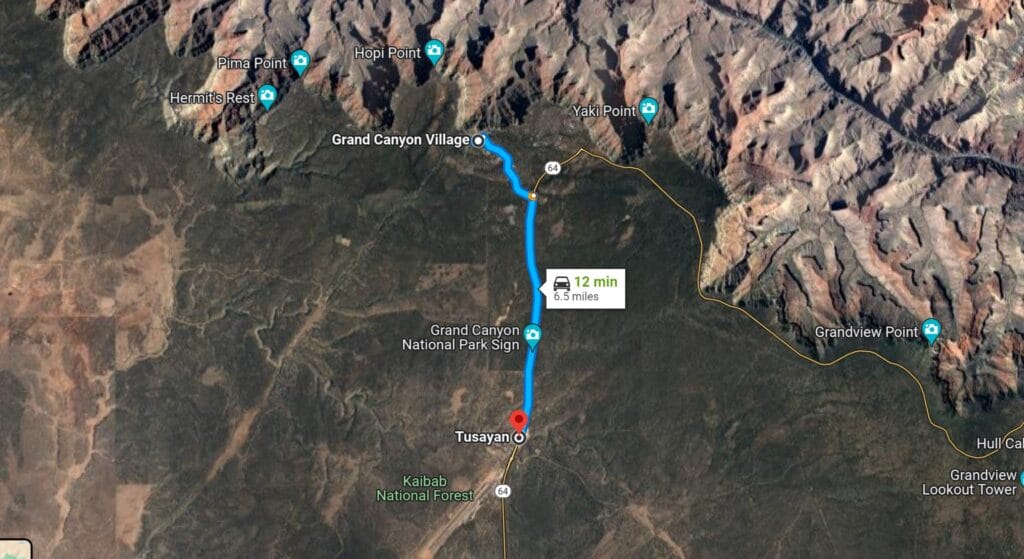 If you re not able to snag a spot at one of the coveted hotels within the park, or are looking for more amenities than the park lodges have to offer, your next closest options will be found in Tusayan.
Tusayan is the town just directly south of the park, and is where you will find the park's South Entrance (which is the main way of entering the South Rim area). It's about a 15 minute drive from Tusayan to Grand Canyon Village.
In some parts of the year (typically late May thru early September), there is a shuttle option from Tusayan into Grand Canyon National Park, so you can avoid the hassles of parking inside the park, which can be quite a feat during busy seasons!
Some of my favorite hotel options in Tusayan are:
Take the Train from Williams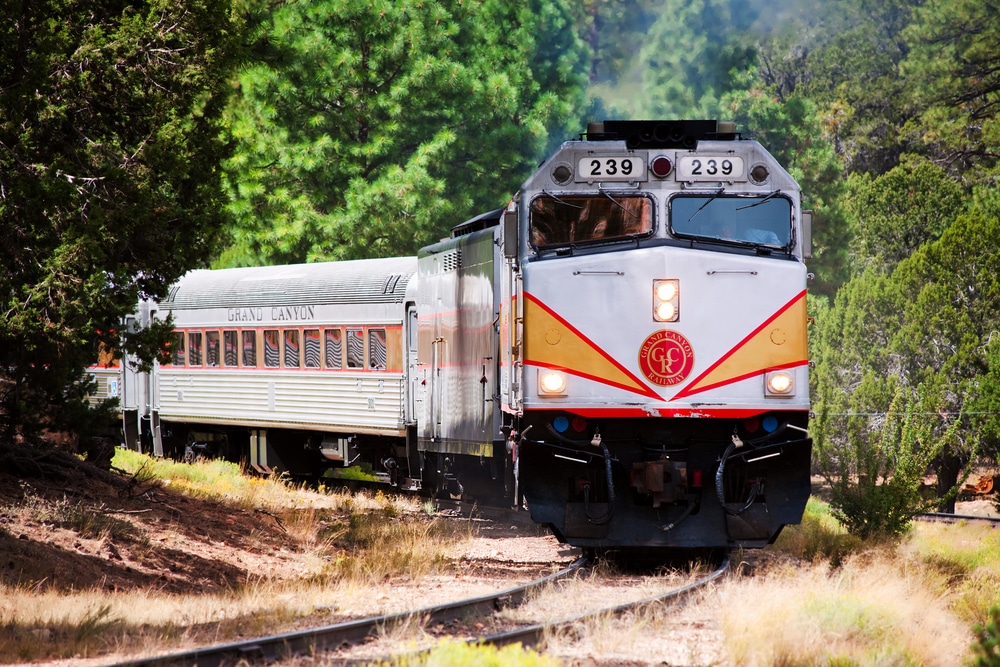 Another fun option for a short visit to the Grand Canyon is to take the train from William, Arizona on the Grand Canyon Railway. Yes, this is an absolute complete tourist trap. But it is a fun tourist trap nonetheless.
This can be a fun option with kids, as the train ride is filled with kid friendly entertainment. There's a sort of skit with staff pretending to be train robbers and other silly antics. It's basically a show on wheels.
If you're visiting as a day trip, you can stay the night at the Grand Canyon Railway Hotel in Williams, than take the train in to Grand Canyon in the morning and return to Williams the same evening. This works well if you are staying elsewhere (like Sedona or Flagstaff) and just want to add a quick day at the canyon to your trip, without a ton of driving.
There is also an option to book your return ticket on a different day, so you could opt to take the train into the park, stay a night or two at a park lodge, and then return via train. This lets you visit the canyon without a car, which means you don't need to deal with the parking issues. But it also means you won't have a car to access certain parts of the park, like Desert View Road or Hermit Road (during times of the year when there is no Hermit Road shuttle).
You can check availability and rates for the Grand Canyon Railway and Hotel here.
More Home Base Options
Flagstaff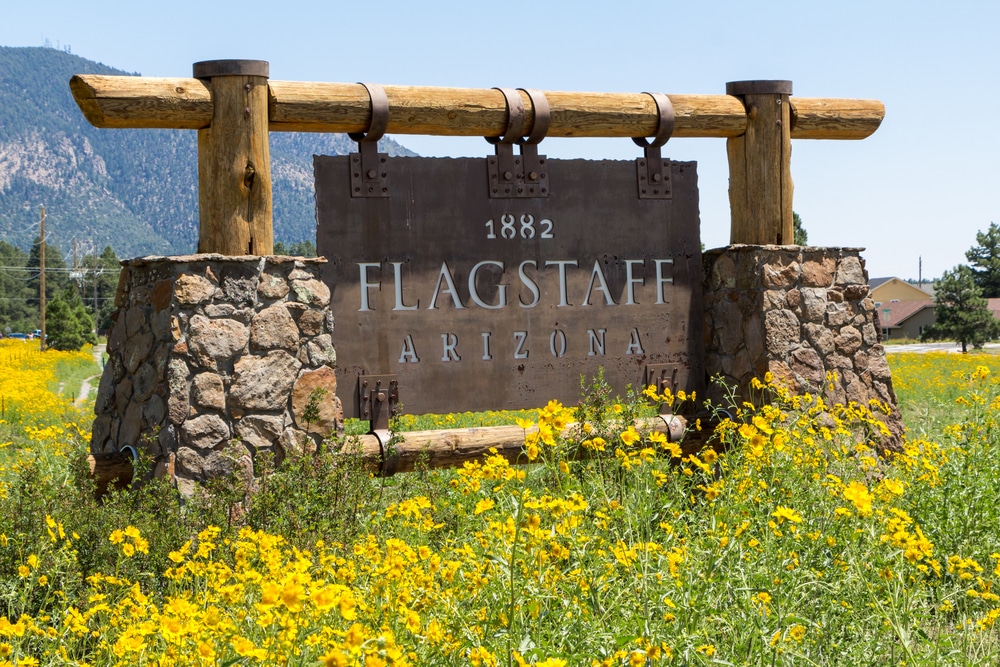 Flagstaff is roughly a 90 minute drive from both the South and Desert View entrances to Grand Canyon National Park. There are definitely plenty of people that use Flagstaff as their home base for a Grand Canyon trip – driving in and out of the park each day.
Personally, I wouldn't do it that way. We actually started our recent Grand Canyon trip in Flagstaff and spent a fun day there. But I wouldn't want to drive 3+ hours round trip each day.
In my opinion, a much better plan is to travel from Flagstaff, spend 1-2 nights inside the park, and then continue on your trip. Of course, if you are visiting Flagstaff for other reasons (such as visiting the university) then it makes a good home base for a Grand Canyon day trip.
If you do opt to stay in Flagstaff, I strongly recommend the Residence Inn by Marriott Flagstaff. It's a great location near the best of Downtown Flagstaff, and the rooms are huge with full kitchens.
Sedona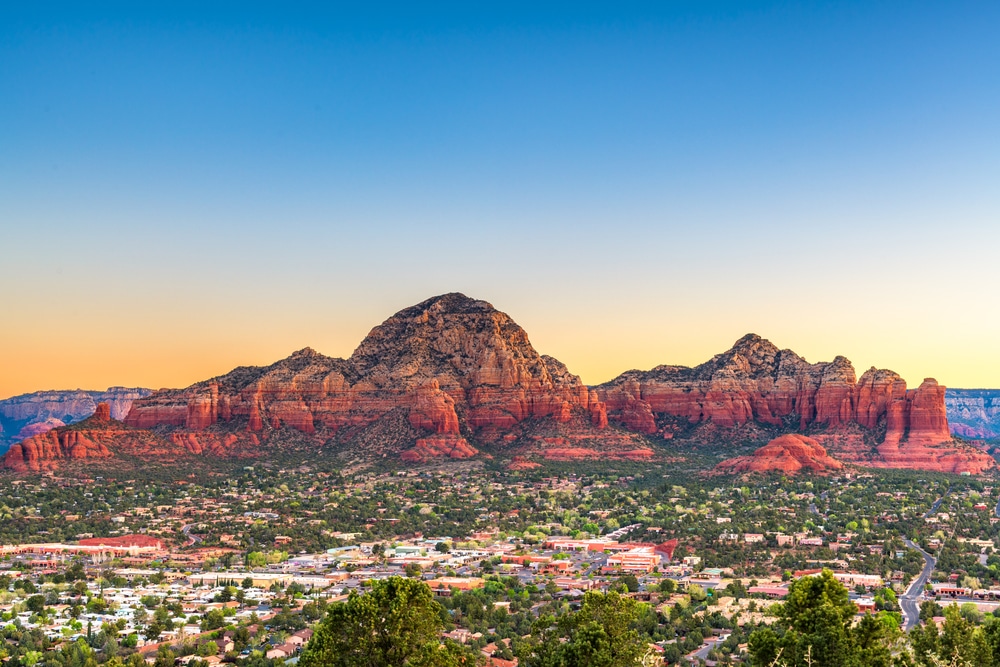 Sedona is another popular home base for Grand Canyon day trippers. It's approximately 2 hours from Sedona to the Grand Canyon National Park, but the area is quite a bit more vacation-y than Flagstaff.
It's a vacation destination in its own right, with beautiful red rock landscape and plenty of beautiful resorts.
Again, it's a long drive in and out of the canyon. So it's best suited for a one time day trip rather than a multi-day canyon adventure.
If you opt to stay in Sedona, some of my favorite Sedona hotels are:
Vegas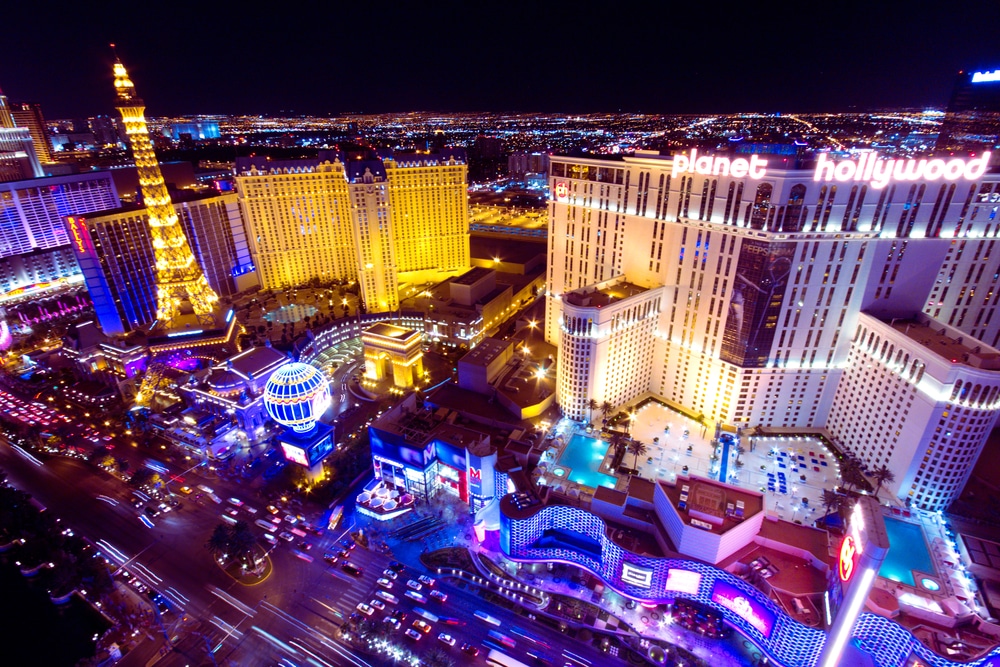 And finally, there's Vegas baby! While Vegas is one of my fave destinations, it's not actually my top pick for a Grand Canyon visit. The drive from Las Vegas to the Grand Canyon's South Rim is about 4 hours!
So while you will find plenty of tour companies willing to sell you a day tour to the canyon, you will spend most of that day in a tour bus travelling back and forth.
Now Las Vegas can make a perfectly fine starting point for a Grand Canyon road trip, especially if you plan to visit Zion or any of the other famous national parks in the area along the way, and spend a few days at each destination.
More Grand Canyon Trip Planning Resources
Here are a few more resources to help you plan the perfect trip to the Grand Canyon.