Are you planning the ultimate family vacation to the Grand Canyon? Whether you have 2, 3, or 5 days to spend at the Grand Canyon – I've got the perfect itinerary to keep both the adults and kids happy!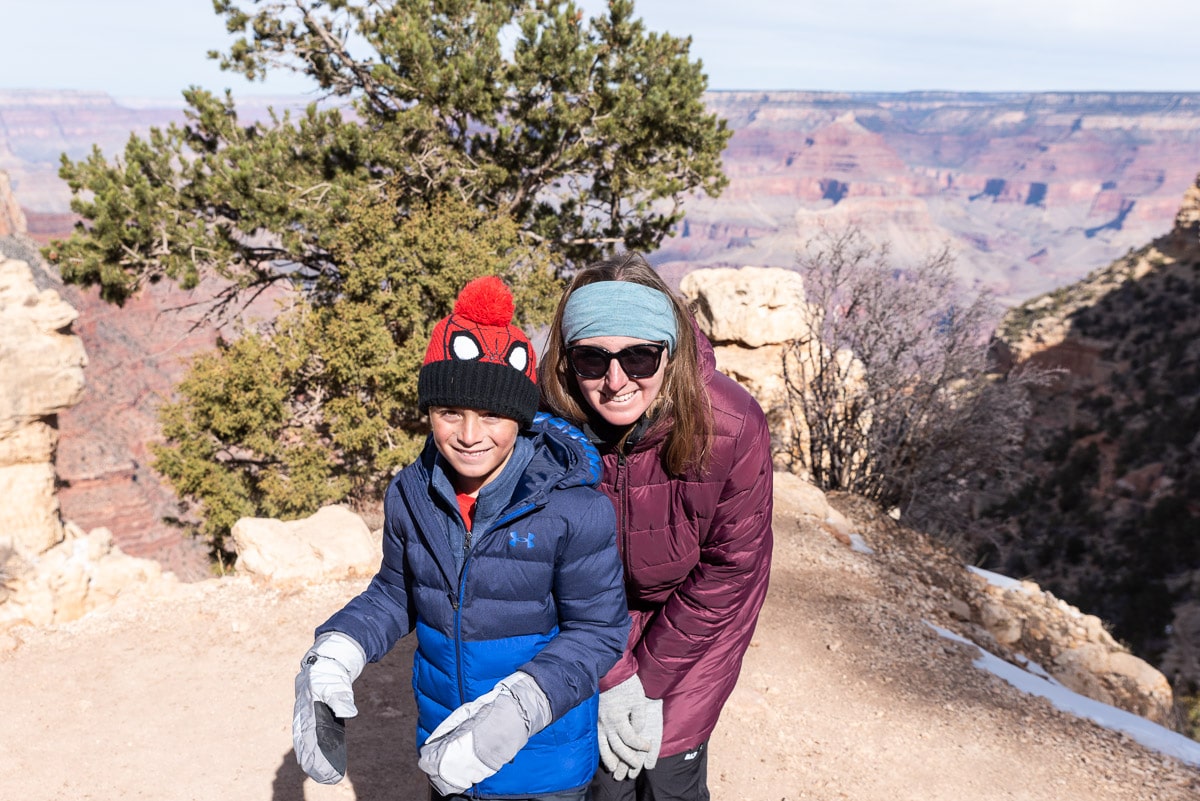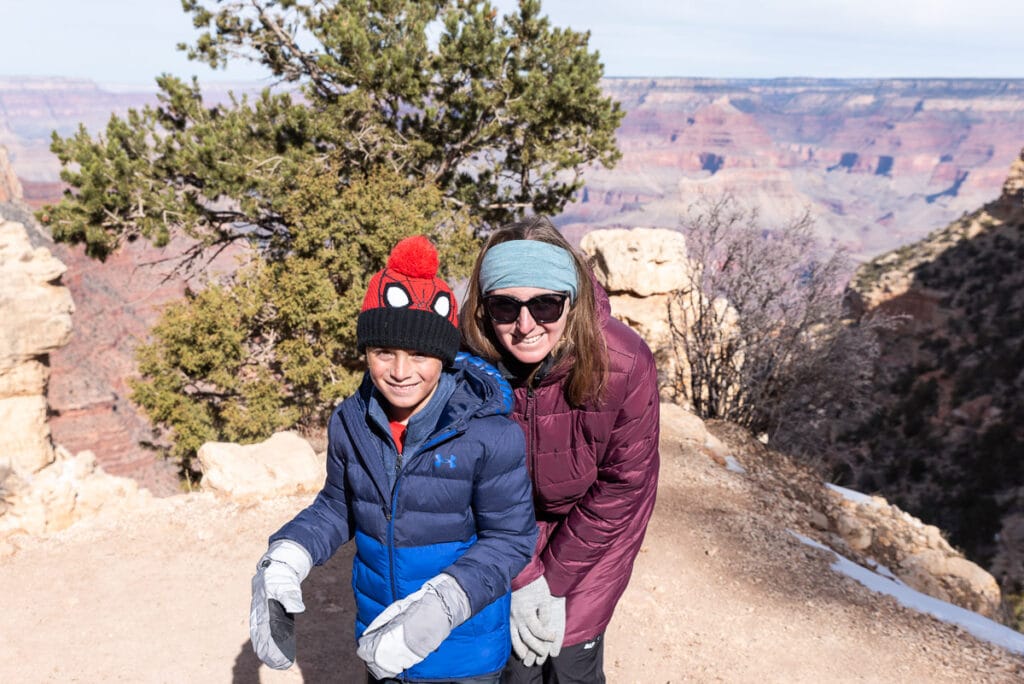 The Grand Canyon has been a bucket list trip for my family for as long as I can remember. So when we finally committed to taking the trip last year, I spent a completely crazy amount of time researching. Hotels, activities, tours, hikes, packing lists – you name it. I read about it. For hours. And hours. And hours.
Seriously… I'm sure my family things I'm a bit crazy sometimes with the amount of trip planning.
But the point is that I'm pretty sure I explored every possible way we could spend the 5 days of our trip. And I have to say – it turned out pretty amazing. (Check out the full trip report here!)
So I've compiled everything I've learned into these simple family friendly itineraries. Whether you have just 2 days to spend at the canyon or or a fully 5 days (or more), here are my top recommendations for how to spend that precious time.
(And if you only have a single day available to spend at the Grand Canyon, head over to my one day Grand Canyon itinerary. Otherwise, let's get exploring!)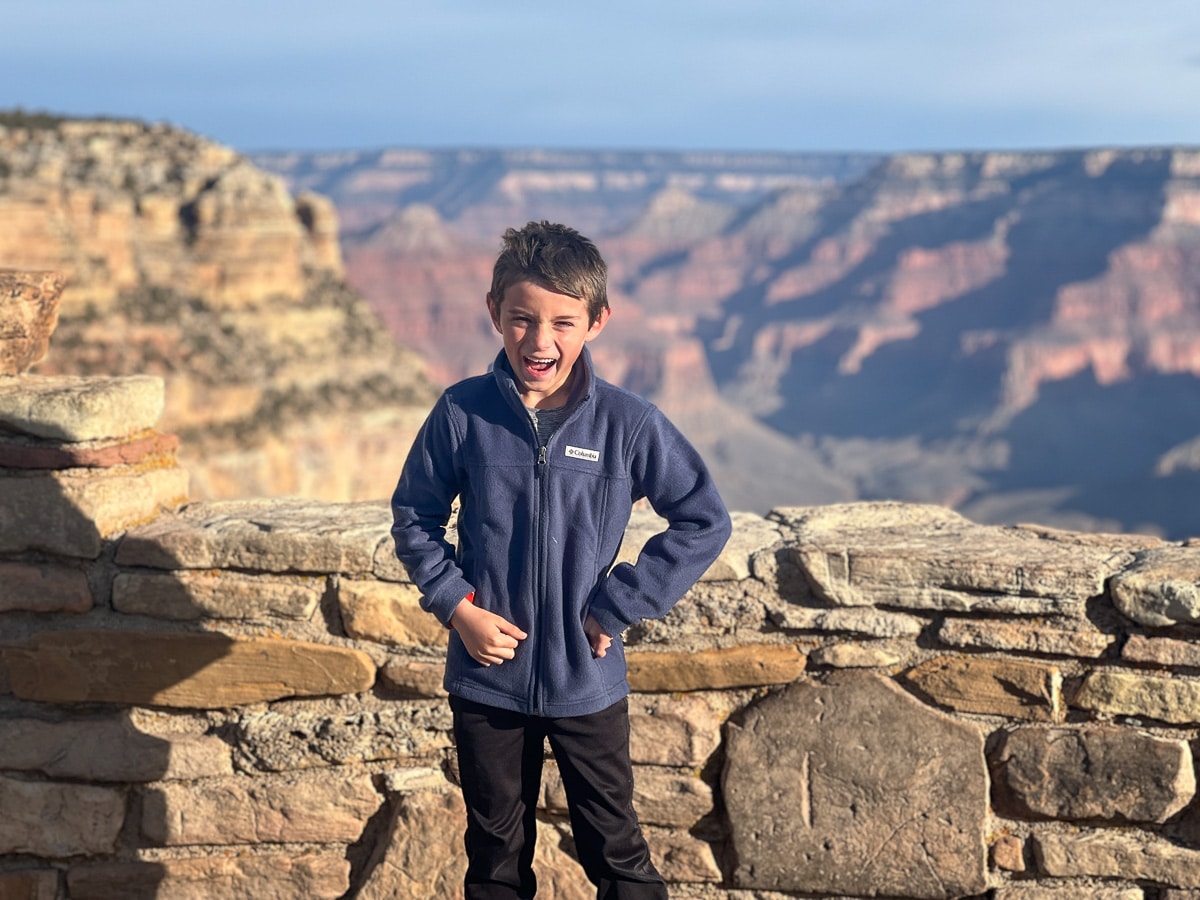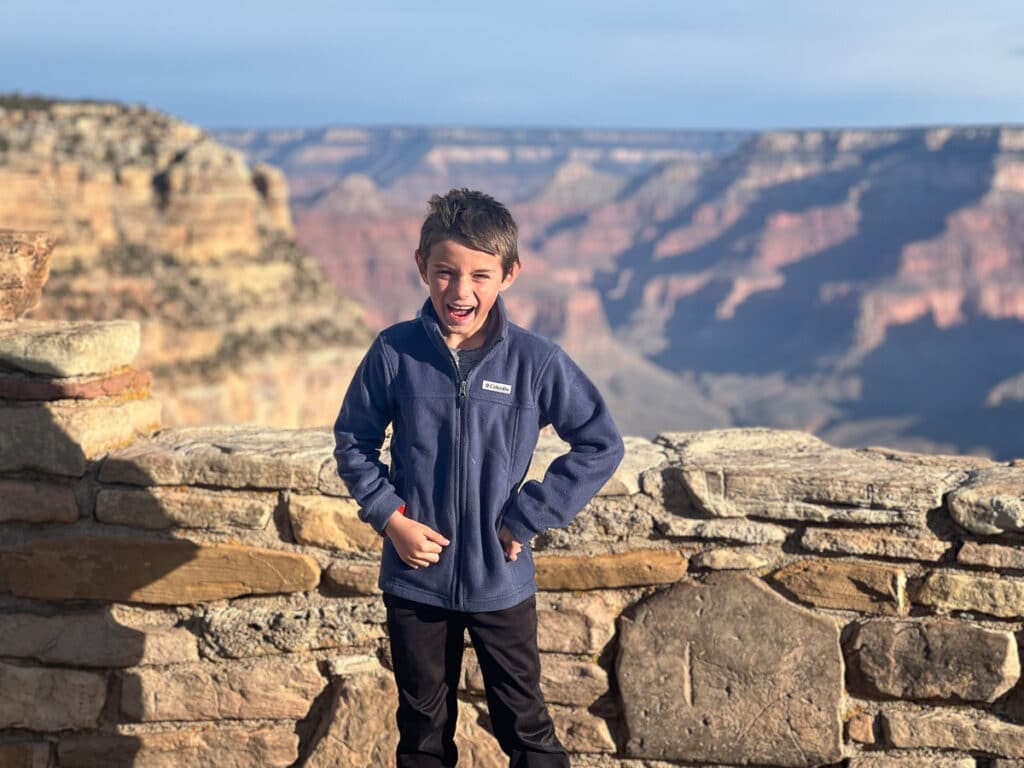 If you have 2 days at the Grand Canyon…
If you have two full days at the Grand Canyon, here are my recommendations for a perfect 2 day itinerary. This lets you get in an iconic Grand Canyon hike, as well the chance to experience the beautiful Desert View Drive.
Day One: Desert View Drive
I strongly recommend you reserve one day to see the sights along Desert View Drive. This part of the park is only accessible in a private vehicle, which means it is considerably less crowded, and it also has some of the very best views in the entire South Rim.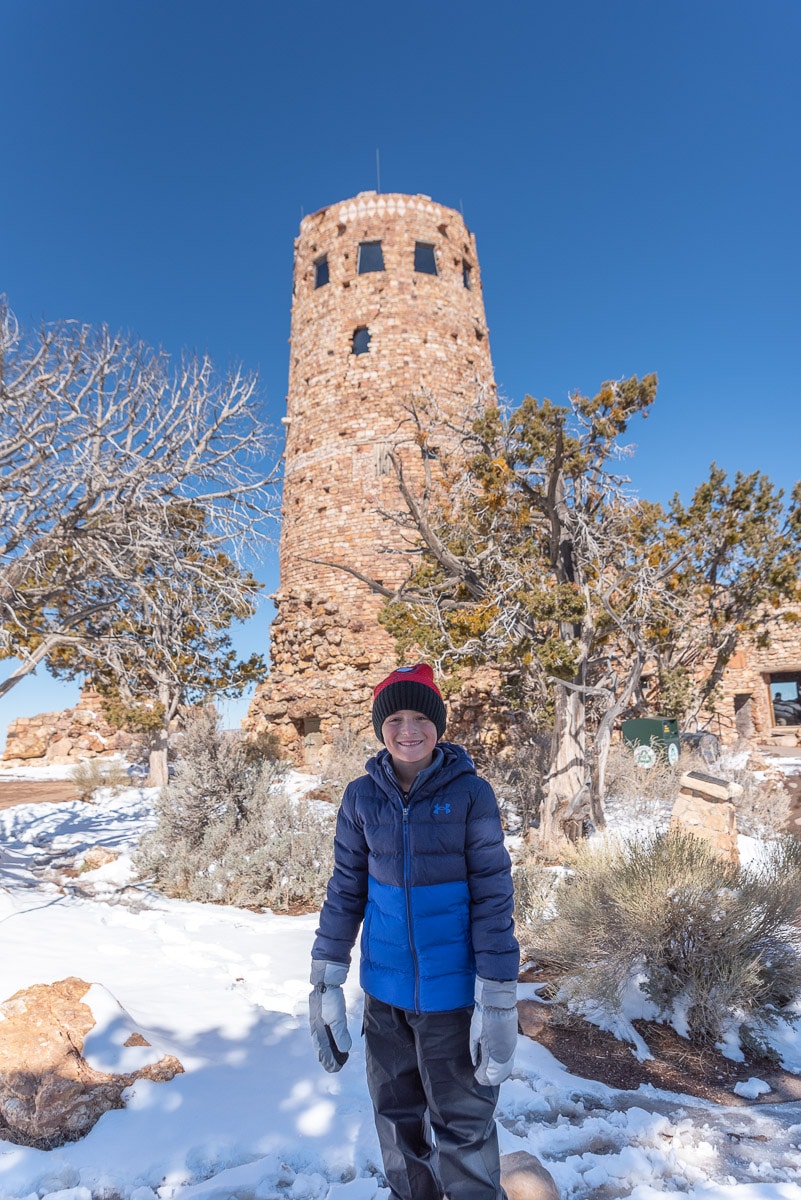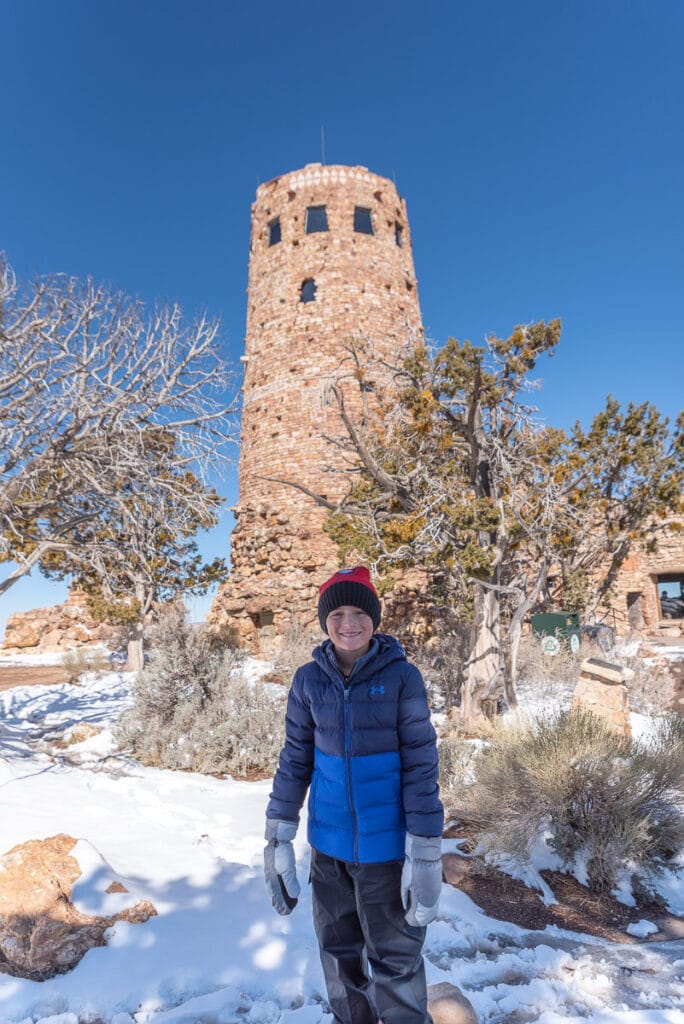 The best way to work this into your itinerary is to enter the park on day one from the Desert View Drive entrance (rather than the South entrance). Plan to spend the majority of the day driving along the 23 mile scenic road, stopping at all of the viewpoints, including the beautiful Desert View Watchtower.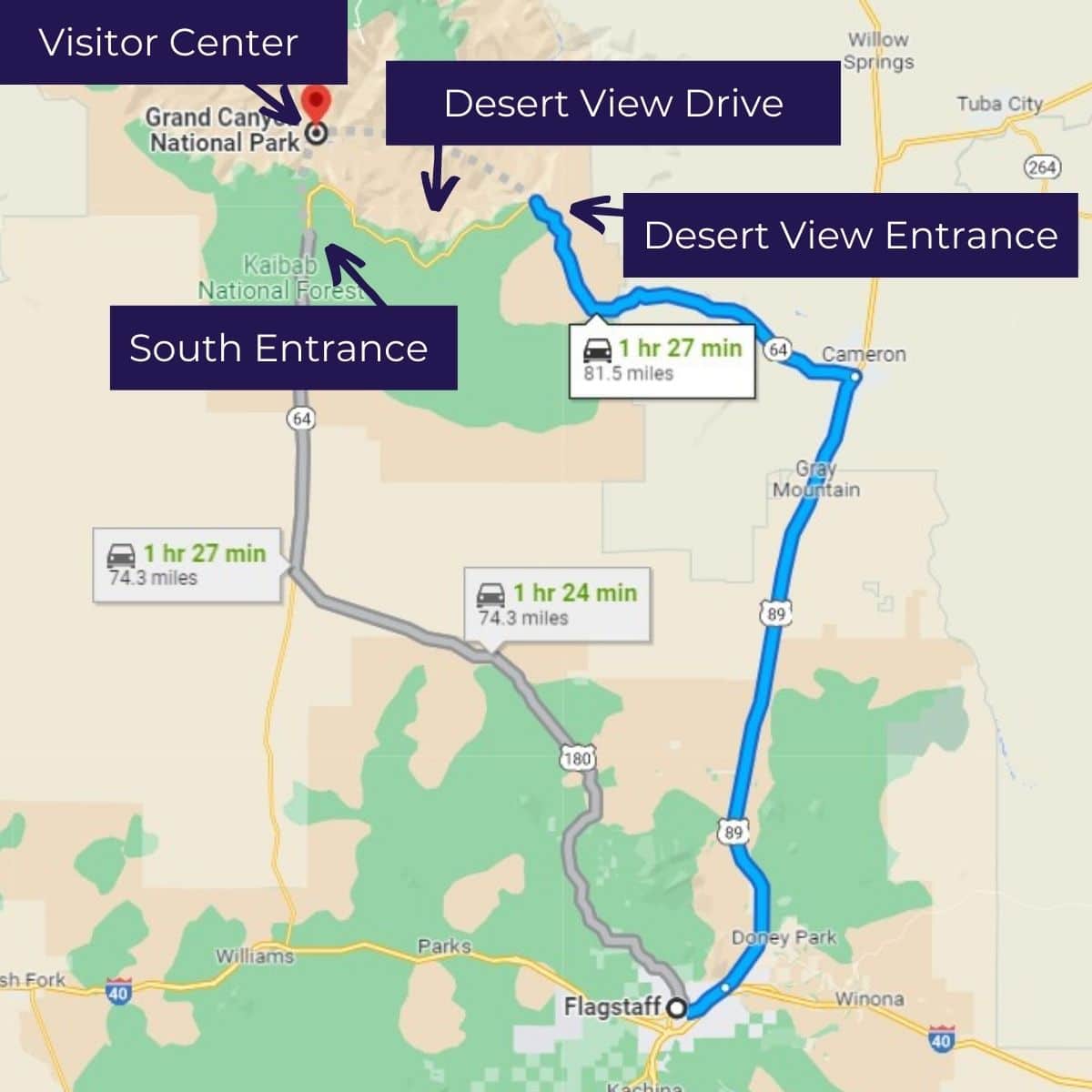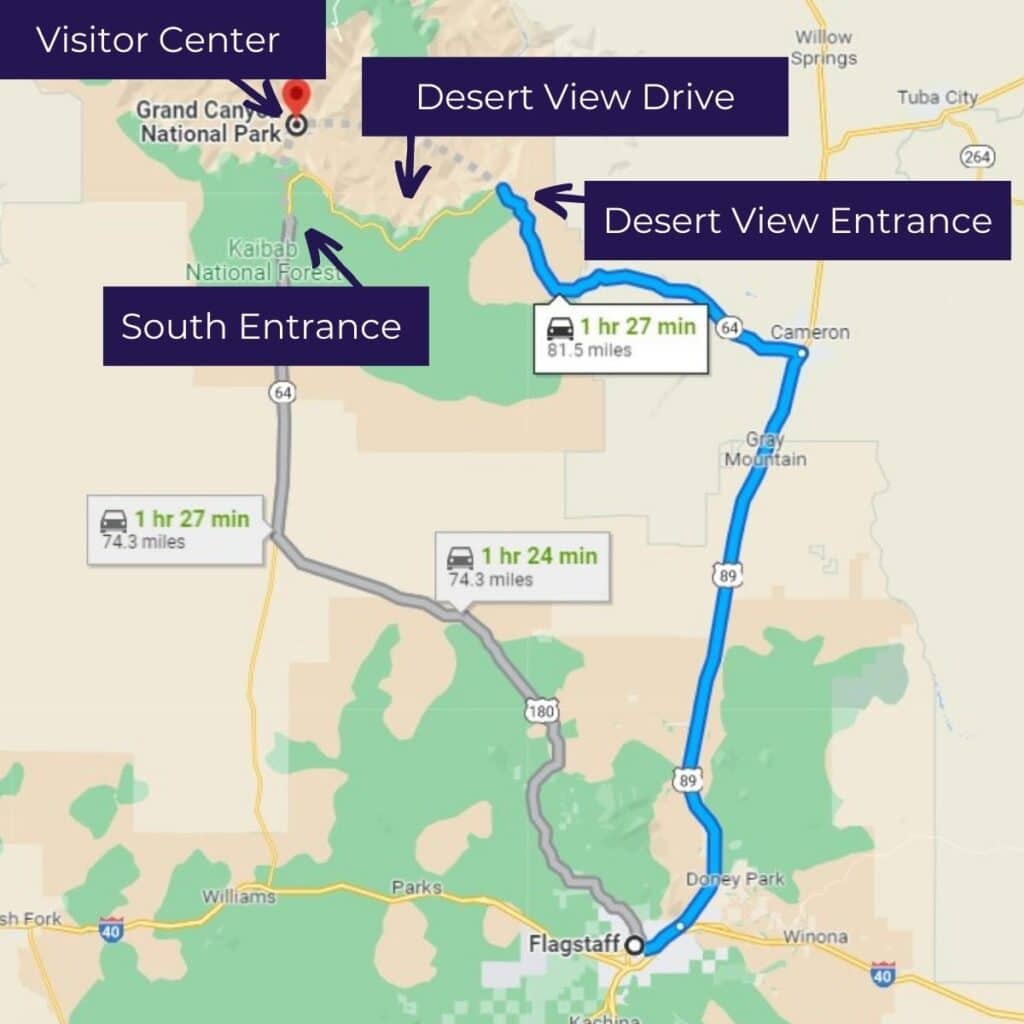 If you're thinking you don't want to be in a car with kids all day – don't worry too much. You will only be in the car for a few minutes in between each viewpoint. Most of your time will be spent outside walking around the viewing areas.
And it's actually kind of nice to have the car as a moving home base where you can keep drinks and snacks for the kiddos. (See my full Grand Canyon packing list here!)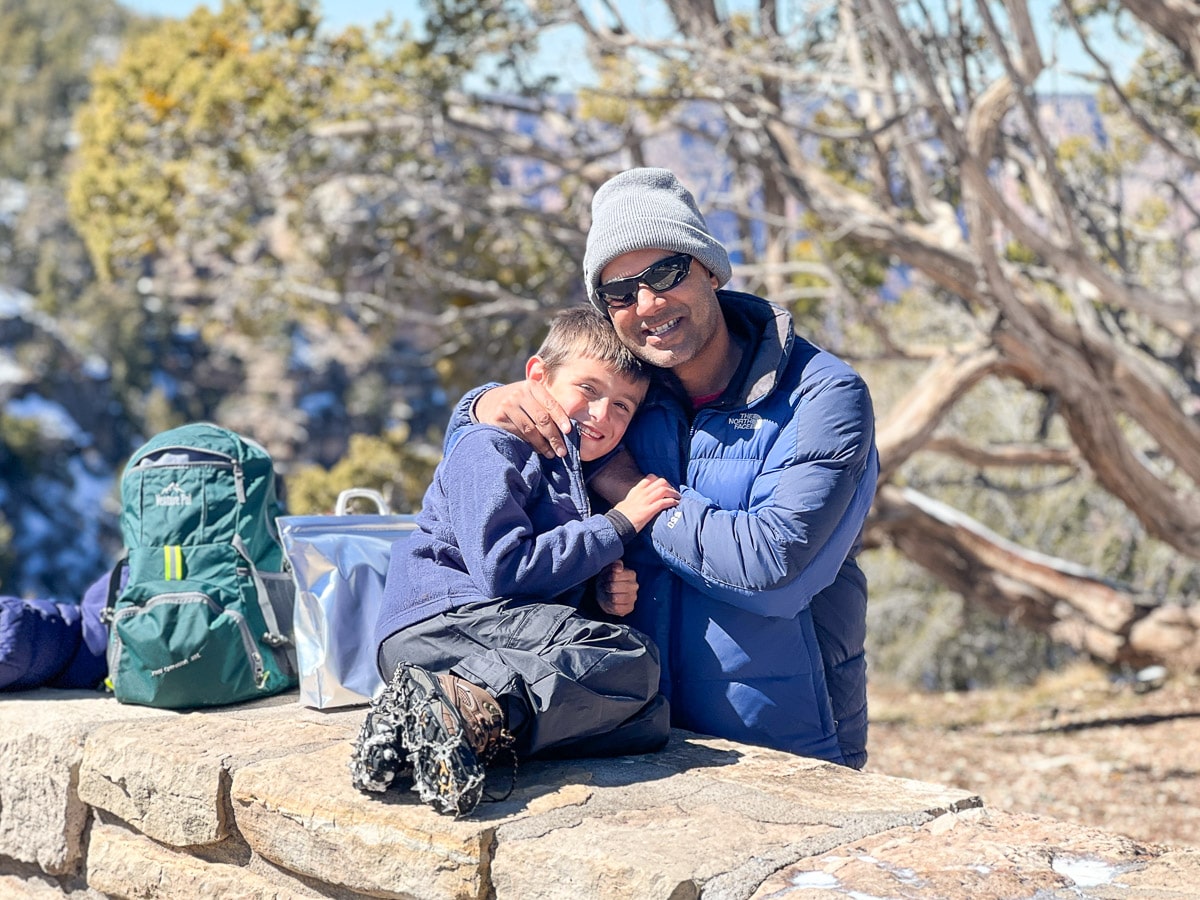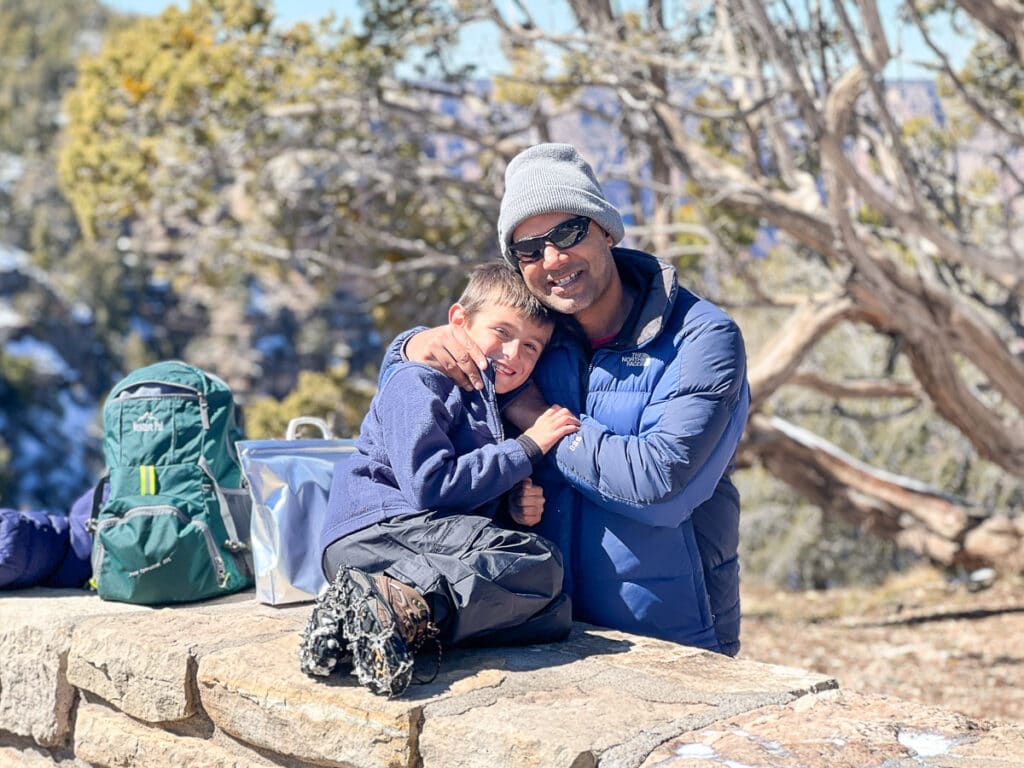 Bring along a picnic lunch or grab some supplies at the small market at Desert View Watchtower (the first stop!), and you can take a picnic break at any of the viewpoints. This was by far our most relaxing day at the canyon on our recent trip. It's far less crowded than the rest of the park, and truly beautiful.
The full Desert View Drive route is 23 miles long – with 6 designated viewpoints and another 5 unofficial pull outs. There are some truly spectacular views to be had as you slowly make your way into the heart of Grand Canyon National Park.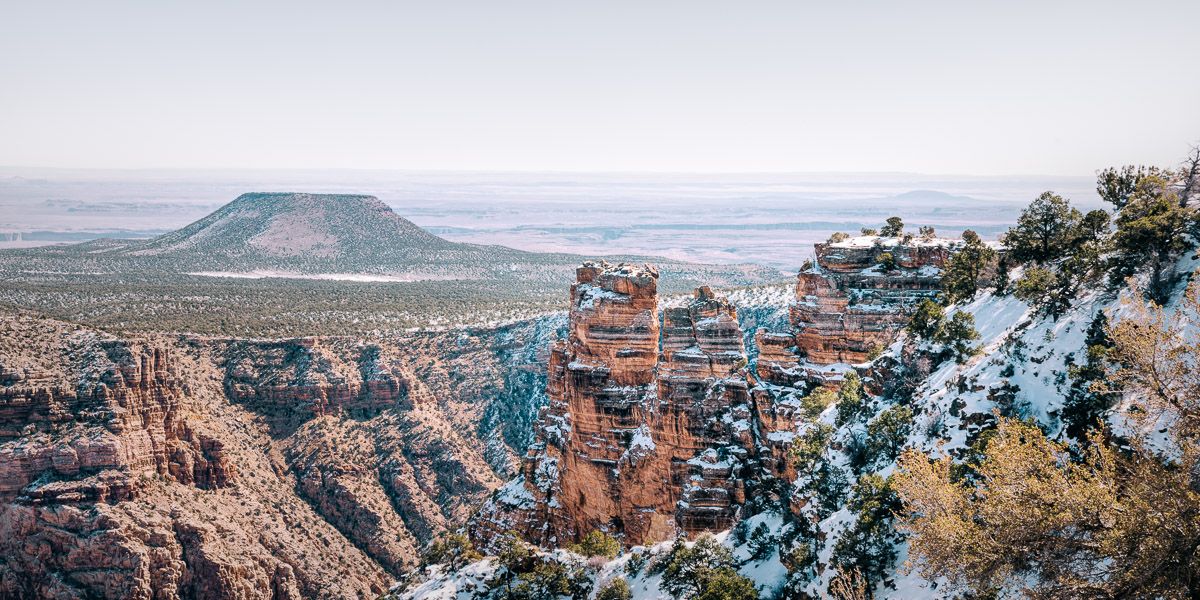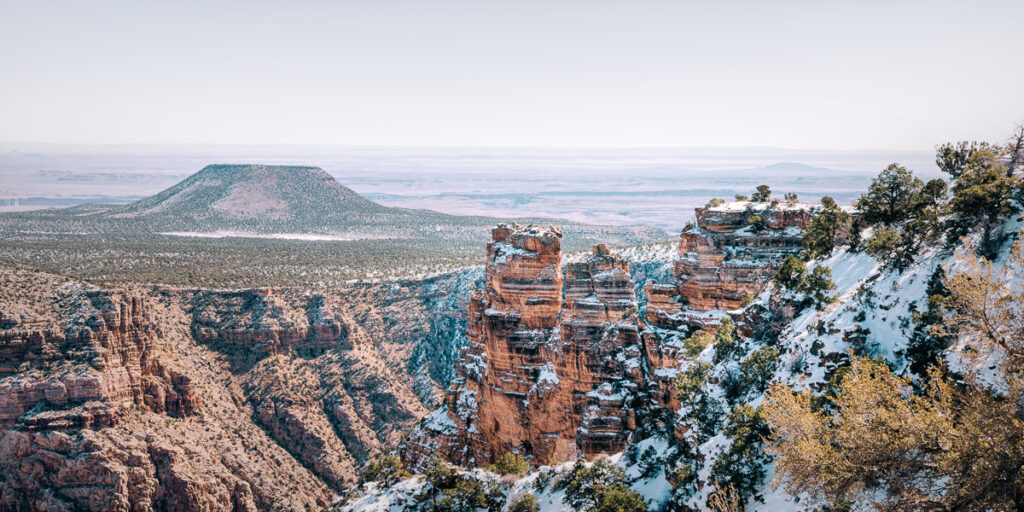 If you're feeling ambitious, stop at the Shoshone Point Trailhead near the end of your drive, and hike the two mile out and back trail to Shoshone Point. It's a very easy hike with a beautiful view at the end. This is one of the easiest and most family friendly trails at the Grand Canyon.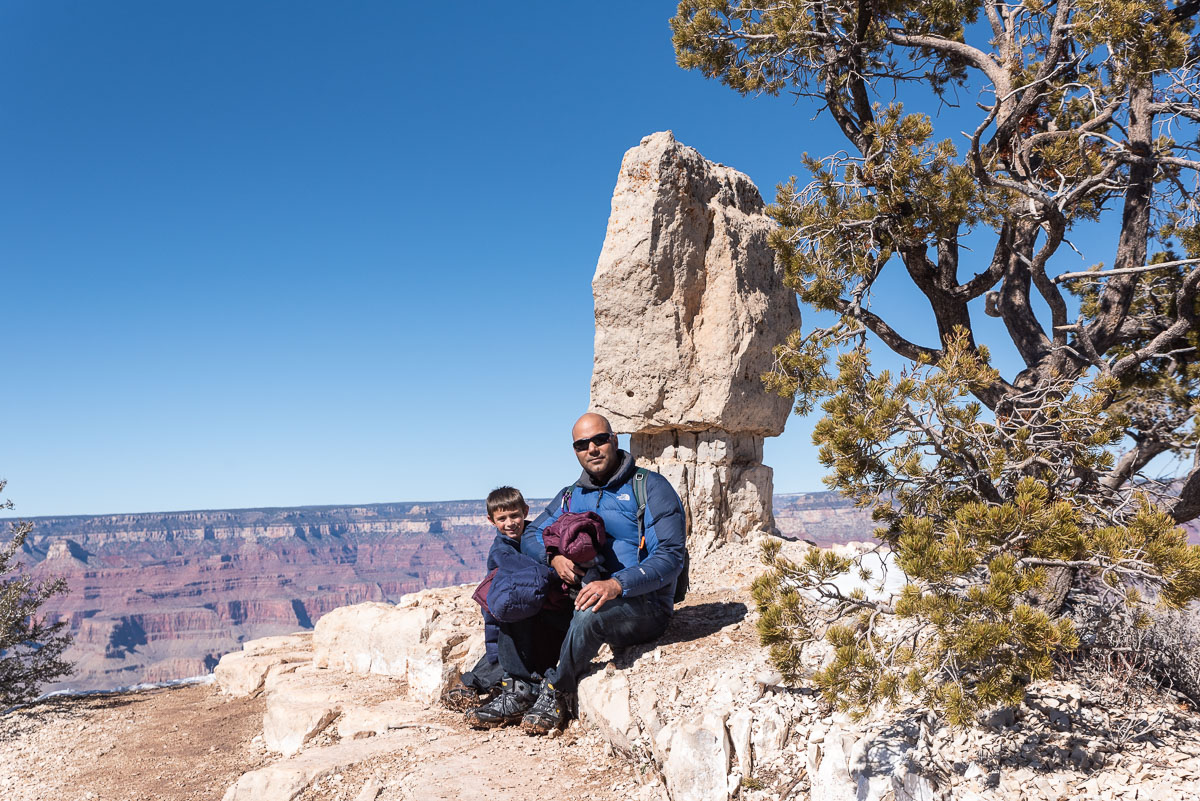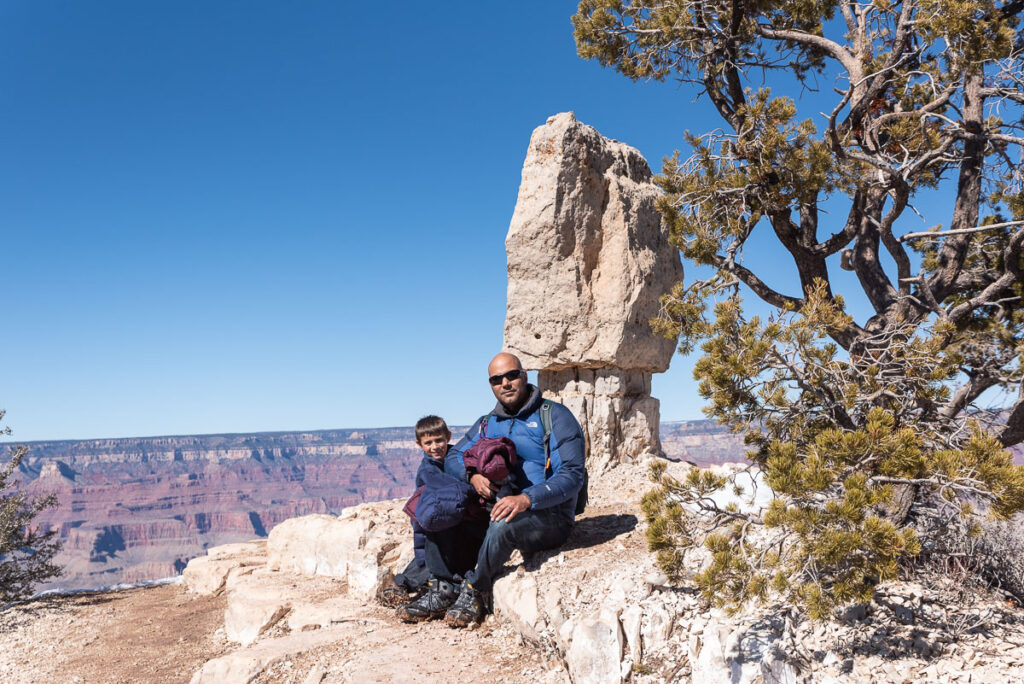 Next, head over to the Visitor's Center. This is a good place to take a break, grab a snack at the café, and browse the gift shop. This is also the place to grab a Junior Ranger activity book for the kids! They can complete the activities throughout your visit and bring it back to the bookstore for a Junior Ranger badge.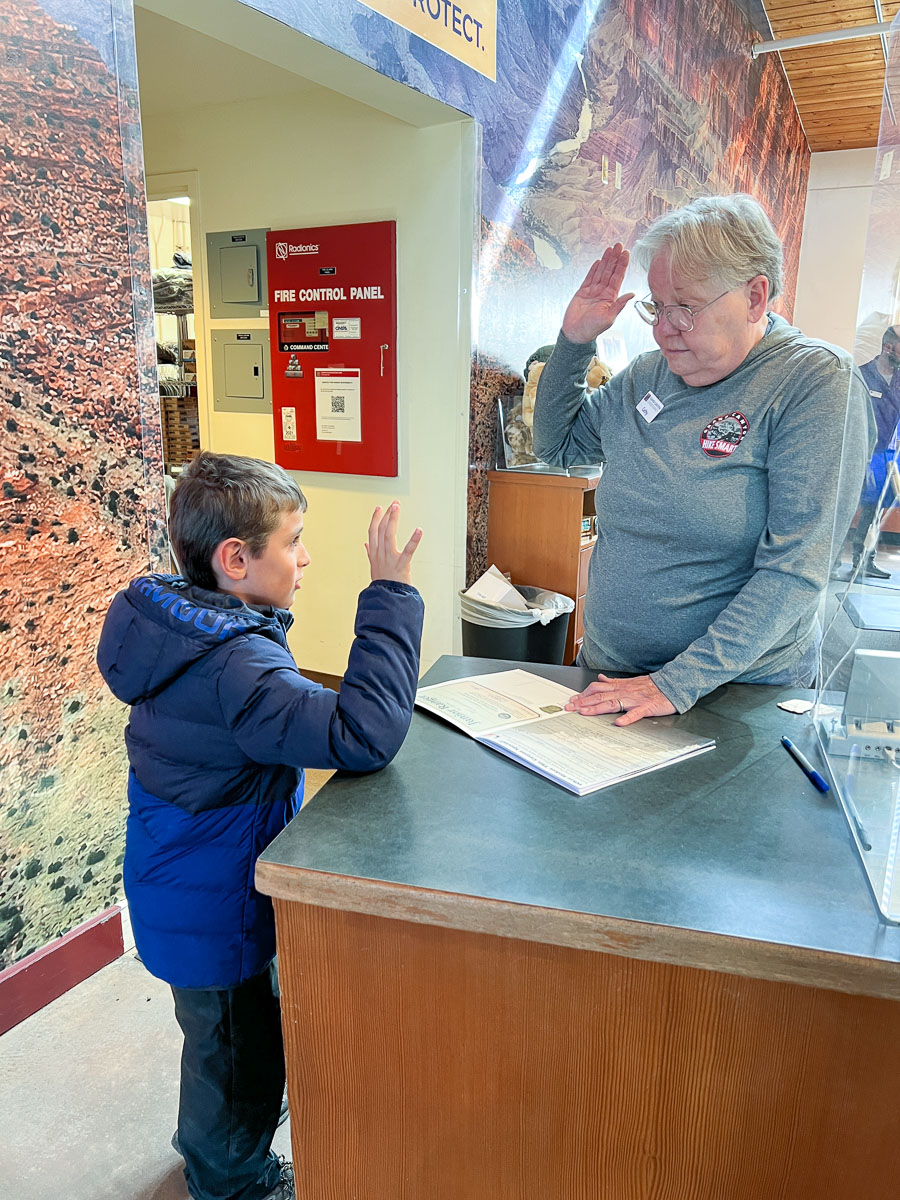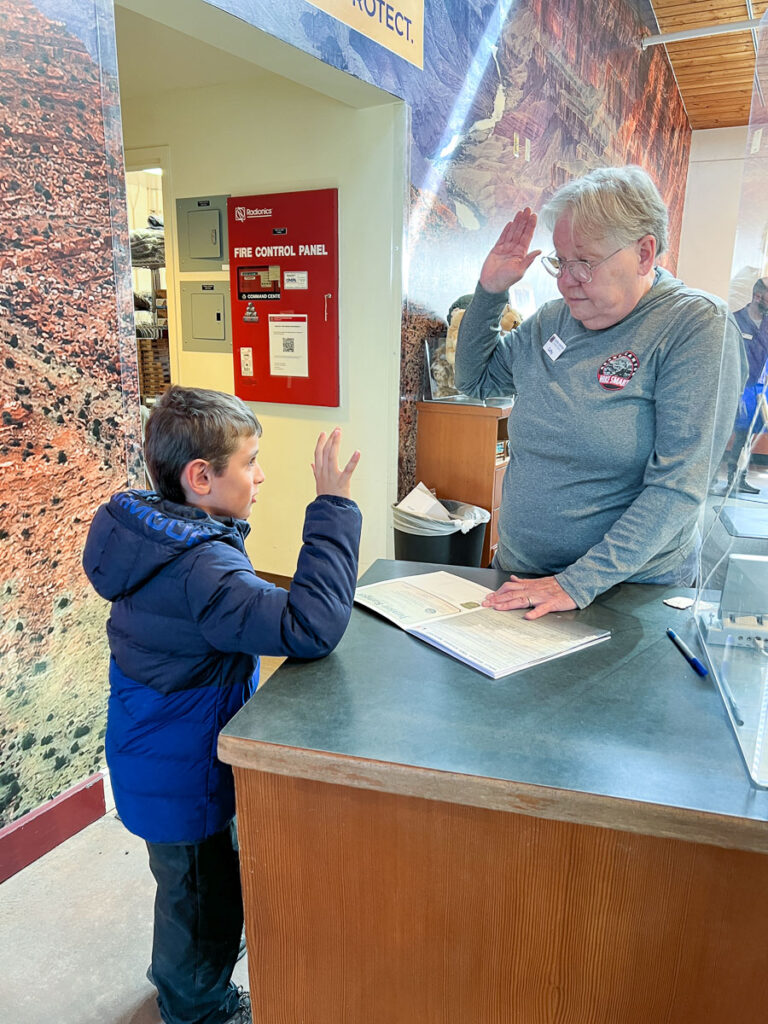 Finally, head over to Grand Canyon Village to wrap up your day. If the park is busy, you may find it easiest to leave your car at the Visitor Center's large parking lot and take their free shuttle over to the village.
Explore the village, enjoy a sunset view from the canyon's rim, and grab some dinner at the famous El Tovar Dining Room. (Be sure to make a reservation ahead of time!) Then head to your hotel and get some rest for tomorrow.
Day Two: Bright Angel Trail and South Rim Trail
No trip to the Grand Canyon is complete without some hiking! You really do have to get down below the canyon rim to truly appreciate the expansiveness of the whole thing. And luckily, there are several trails that can easily be tackled by families with kids!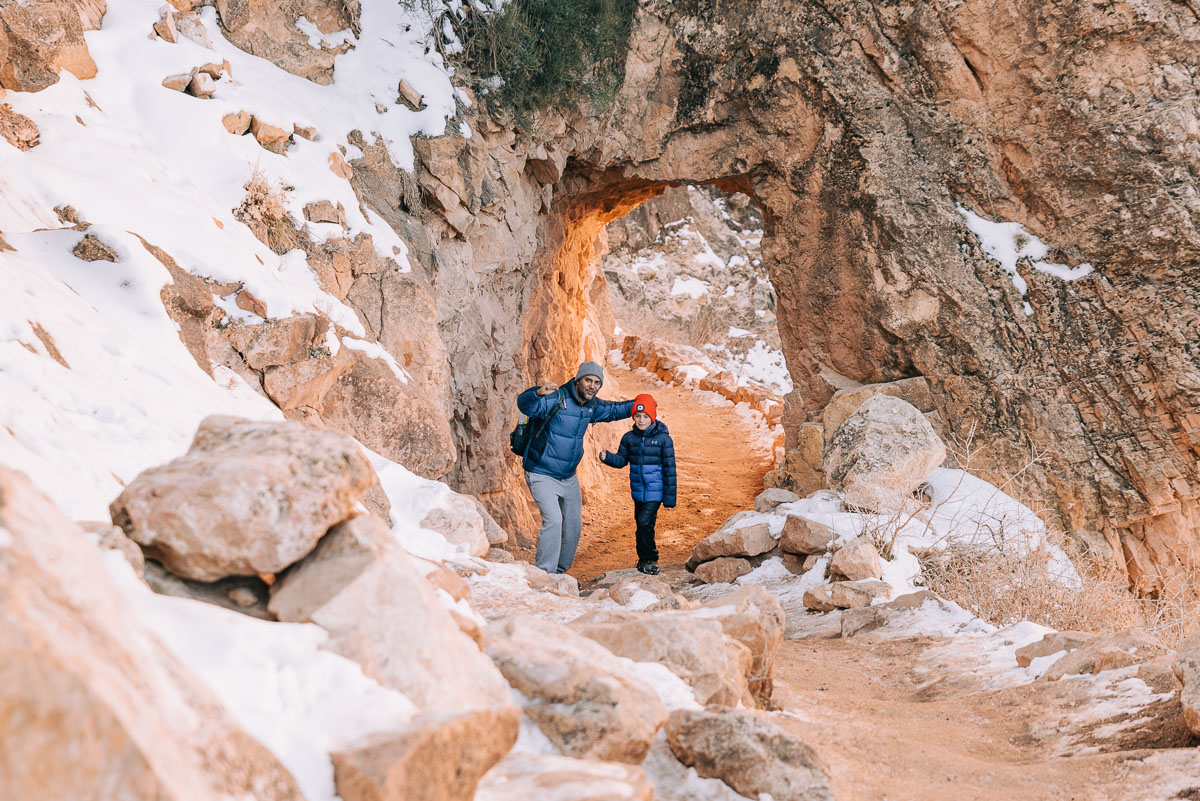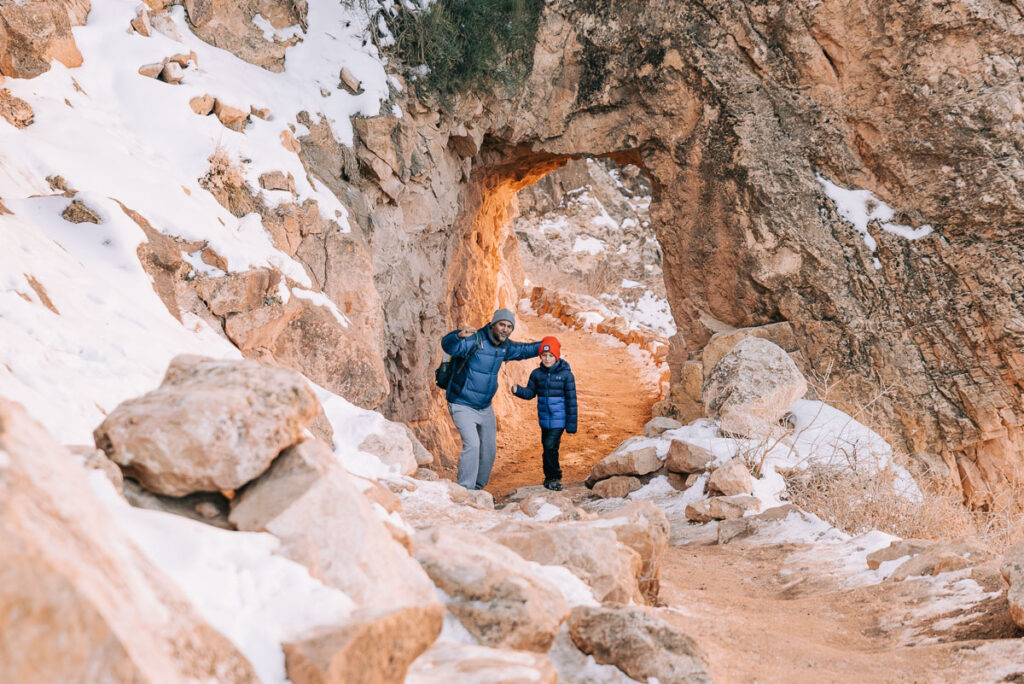 With a short trip of just two days, I'd recommend sticking with Bright Angel Trail. This is the park's most popular trail, with the trailhead being accessible right from Grand Canyon Village.
The views really are amazing. You just can't fully appreciate the scale of the canyon unless you hike down below the rim a bit.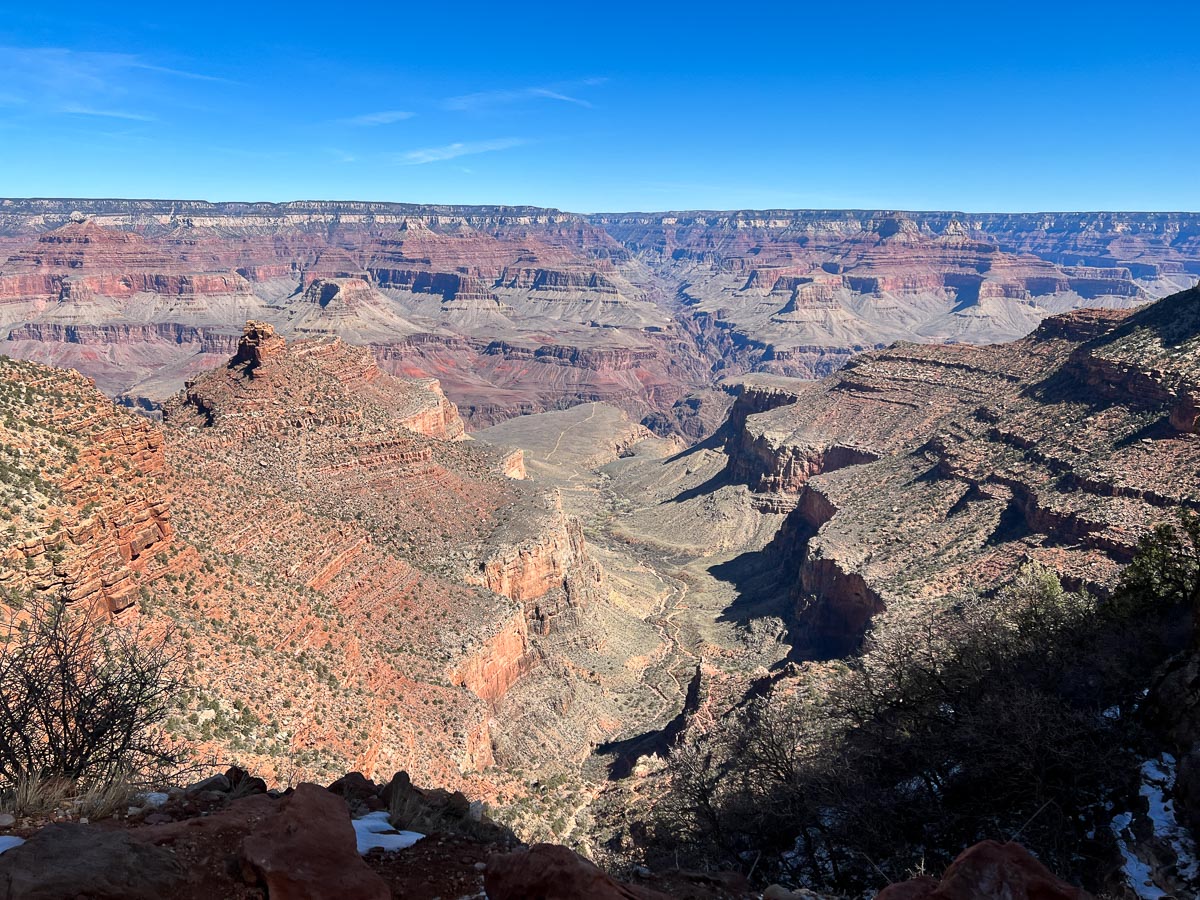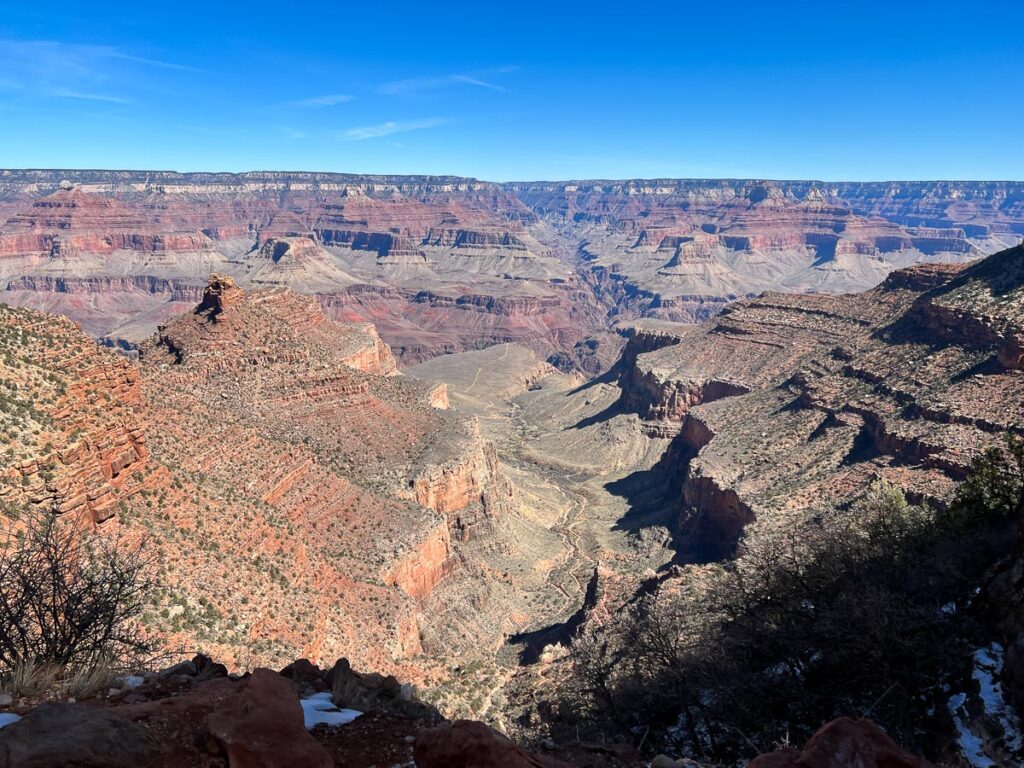 The thing with Bright Angel Trail (and most of the trails in the canyon) is that they can be as easy or difficult as you make them. An expert hiker could hike the full 15 miles all the way down to the Colorado River. (Don't try that!) Or you can turn back at one of the many marked stopping points for a fun, family friendly hike.
We hiked with our seven year old son, and made it down tot the 1 1/2 Mile Resthouse (so a 3 mile roundtrip hike). That took us about 1 1/2 hours round trip. Remember that you are hiking at steep elevations, so it's a lot more difficult than walking that same distance. As a rule of thumb, estimate that it will take you twice as long to hike back up as it did to go down.
Here's the view from a lookout just beyond the 1.5 Mile Rest House.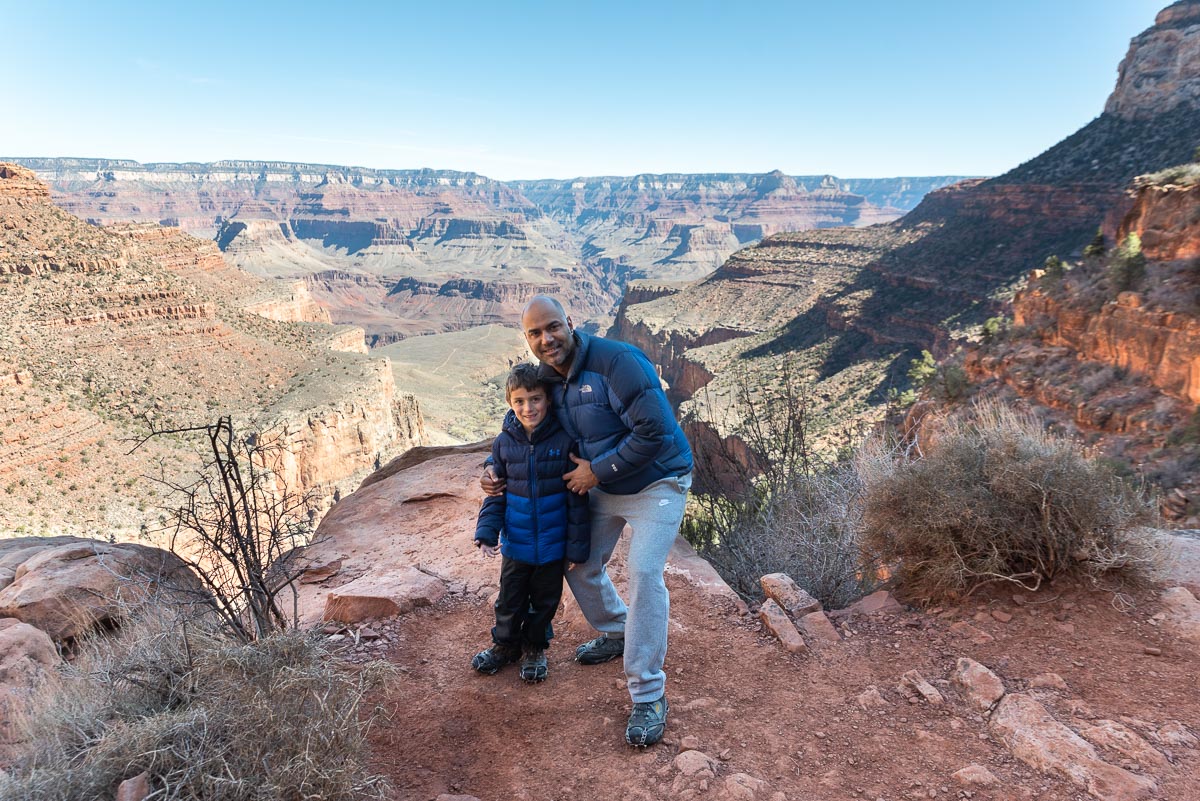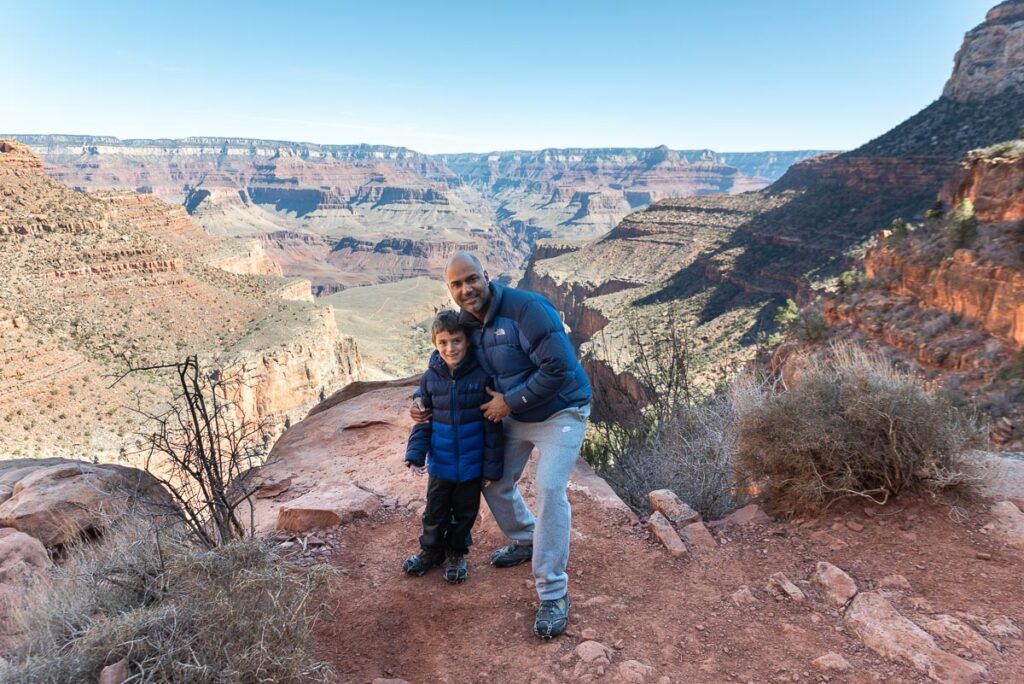 And here's the view if you look back up from the 1.5 Mile Rest House. Yes, we started way up there at the top!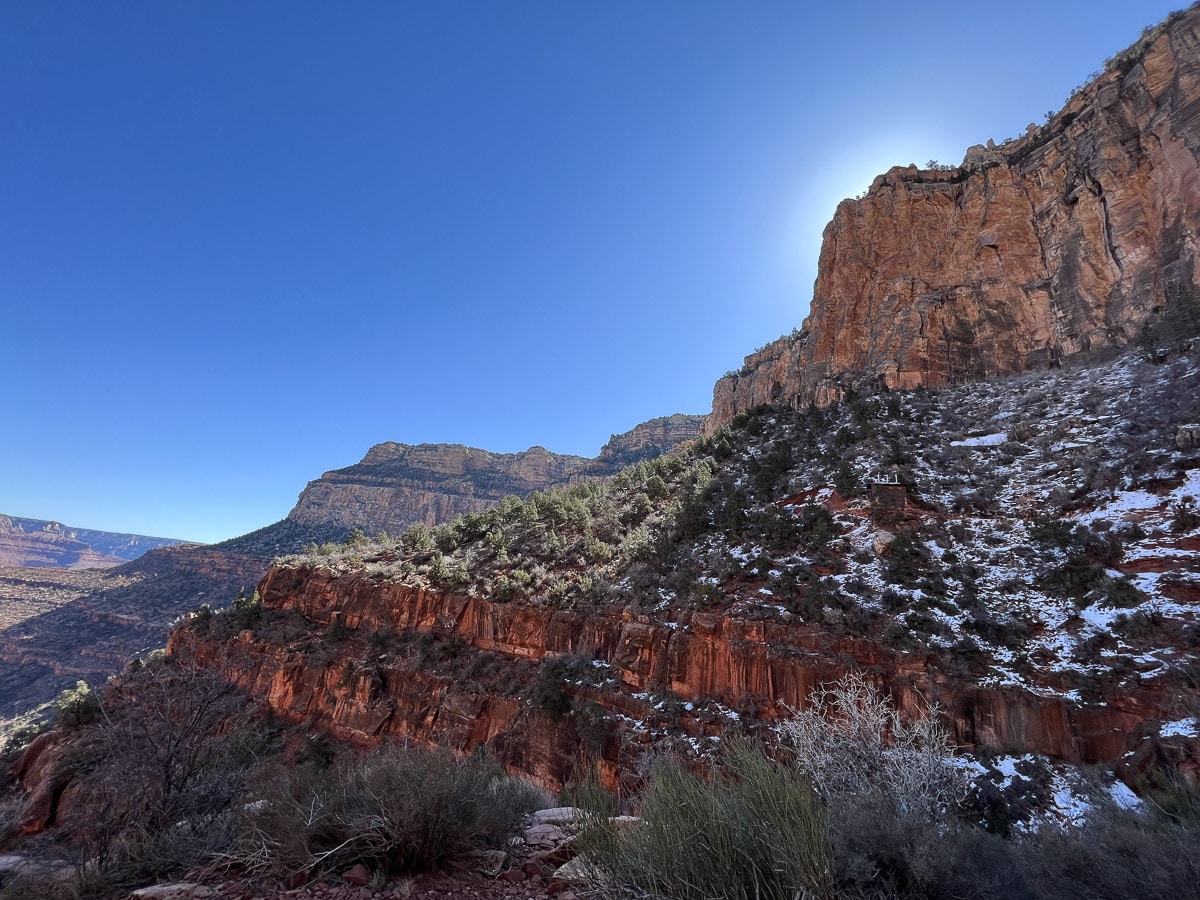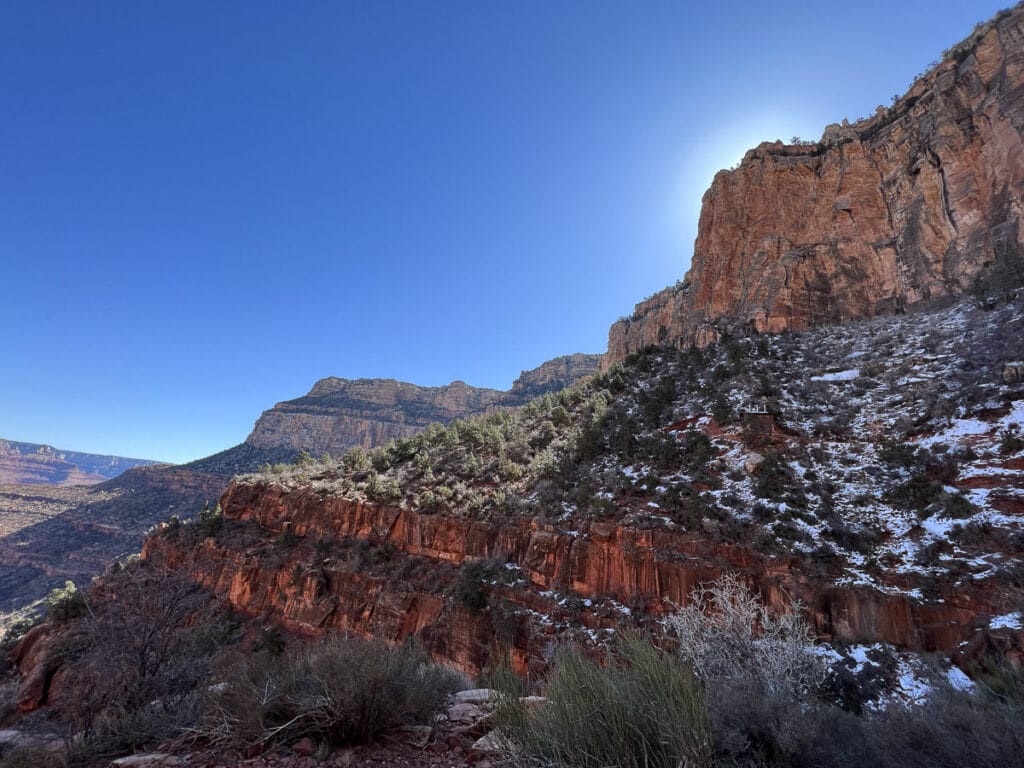 If you want an easier trip you can turn back after the second tunnel for a 1.8 mile roundtrip. Or you could even just pop onto the trail until the first tunnel which is just a 0.1 mile roundtrip if you just want a little glimpse of the canyon from below the rim – you can literally see the first tunnel from the trailhead. ;)
After your hike, go grab some ice cream at Bright Angel Fountain along with some lunch. Note that lunch at the Grand Canyon can be problematic during the busy season with the quick service restaurants running out of food and the sit down restaurants filling to capacity. I suggest either making lunch reservations at Arizona (you can always cancel if you end up grabbing lunch elsewhere) or packing your own lunch.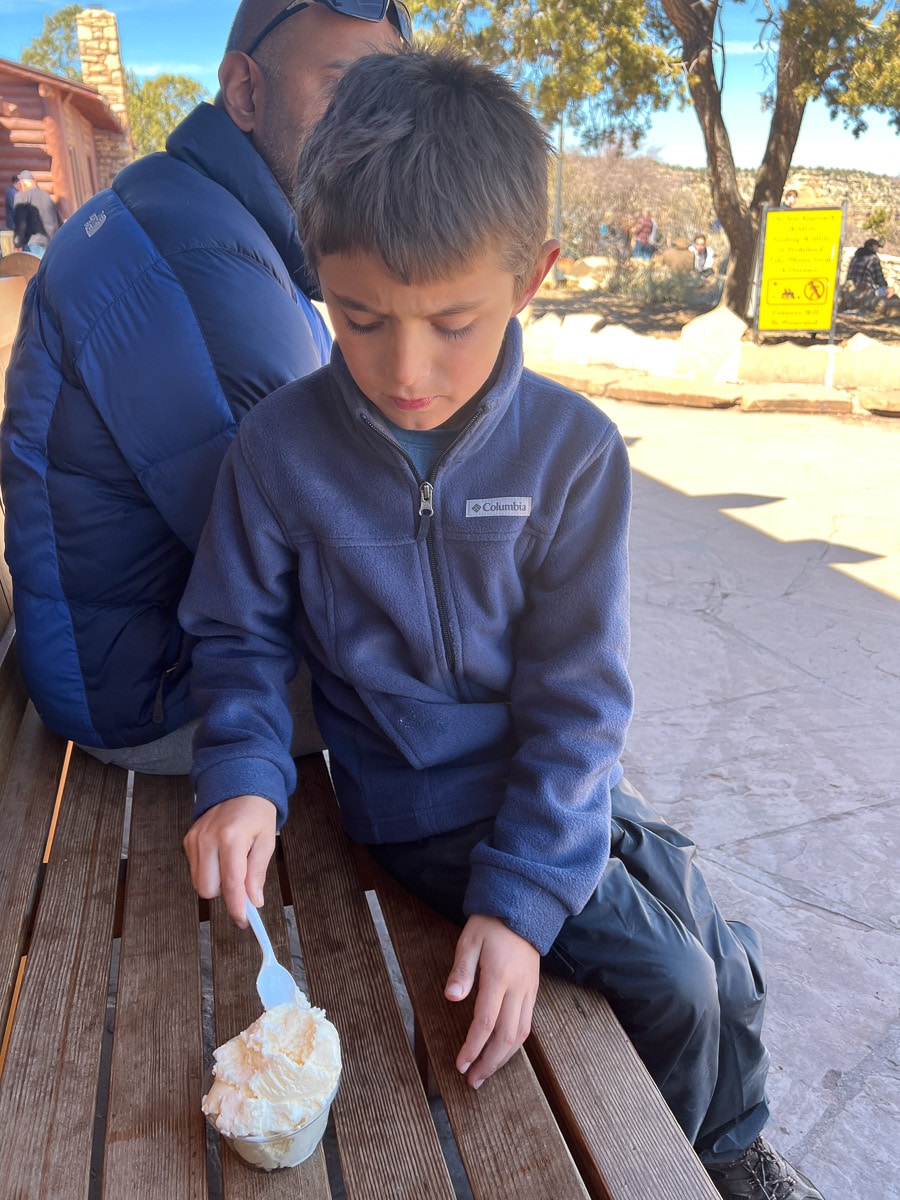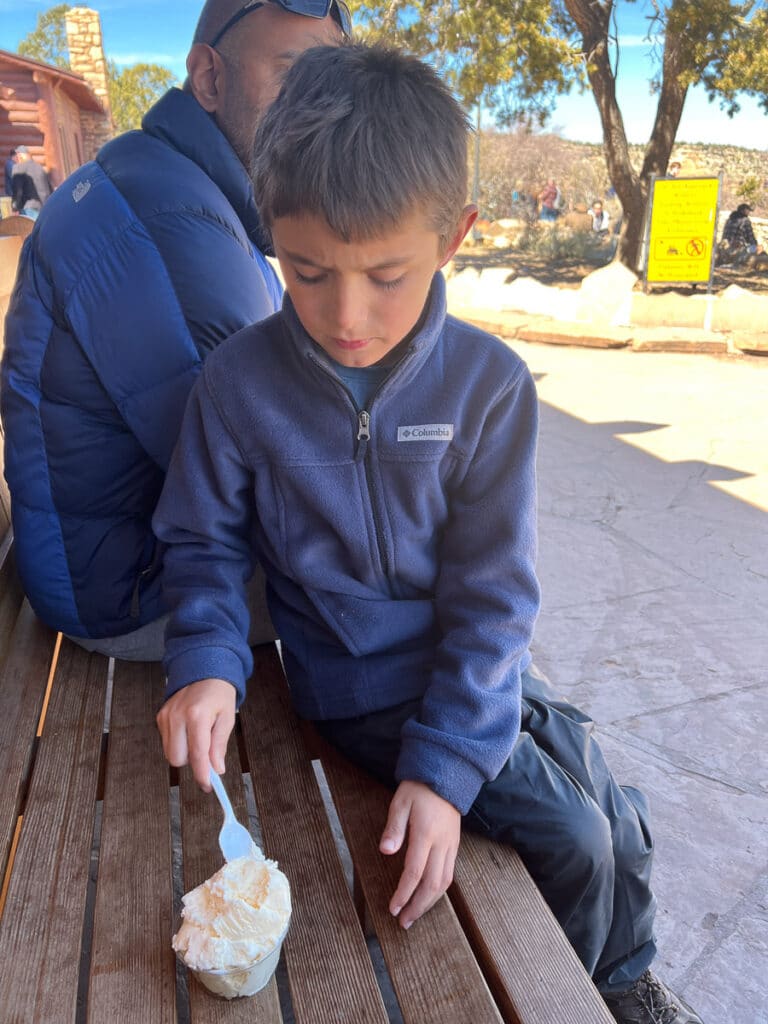 After experiencing the lunchtime problems on our first day, we stocked our hotel room fridge up with sandwich fixings and snacks so we wouldn't have to waste time on the lunch chaos every day.
Now, depending on how much time you spent hiking, this could be a great opportunity to walk the Rim Trail. The Rim Trail is a very flat, easy trail. More of a sidewalk really – you could even take a stroller on it.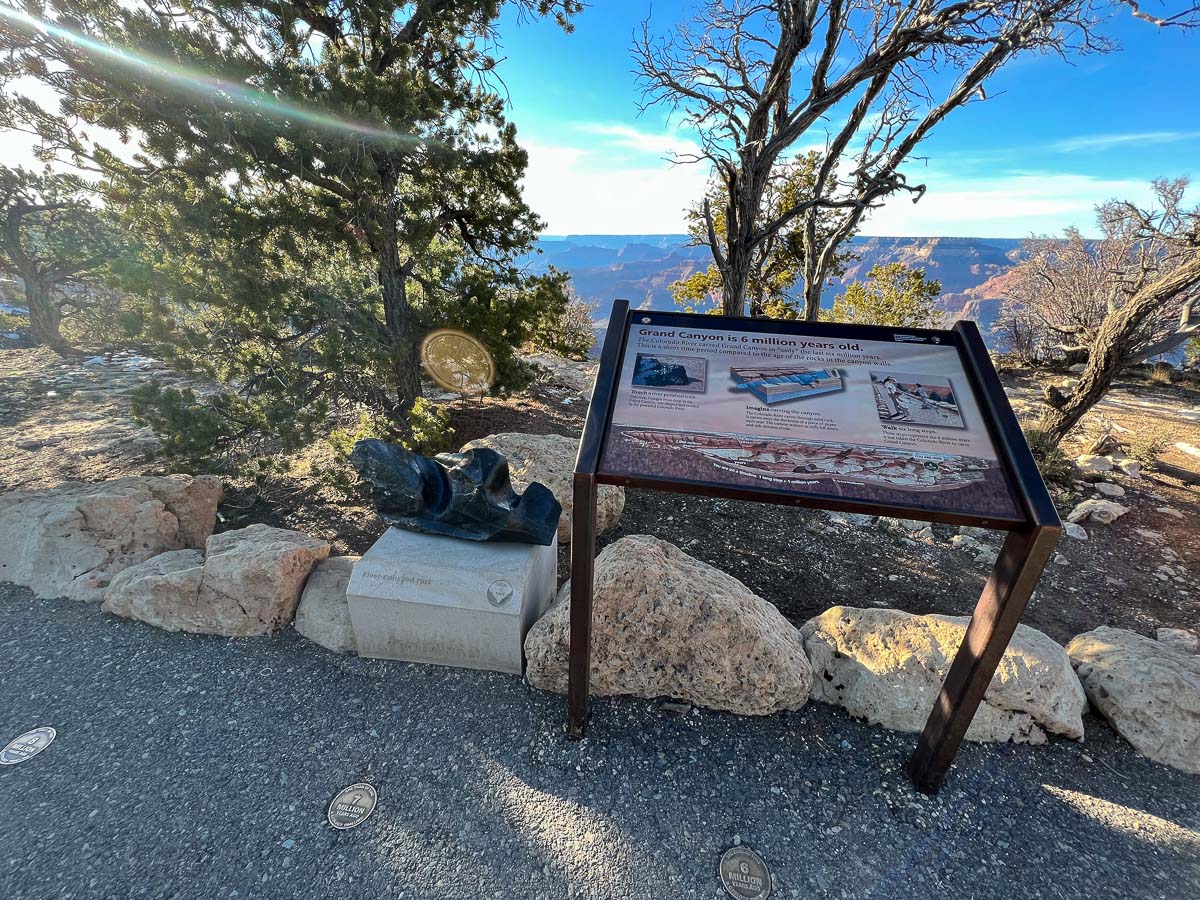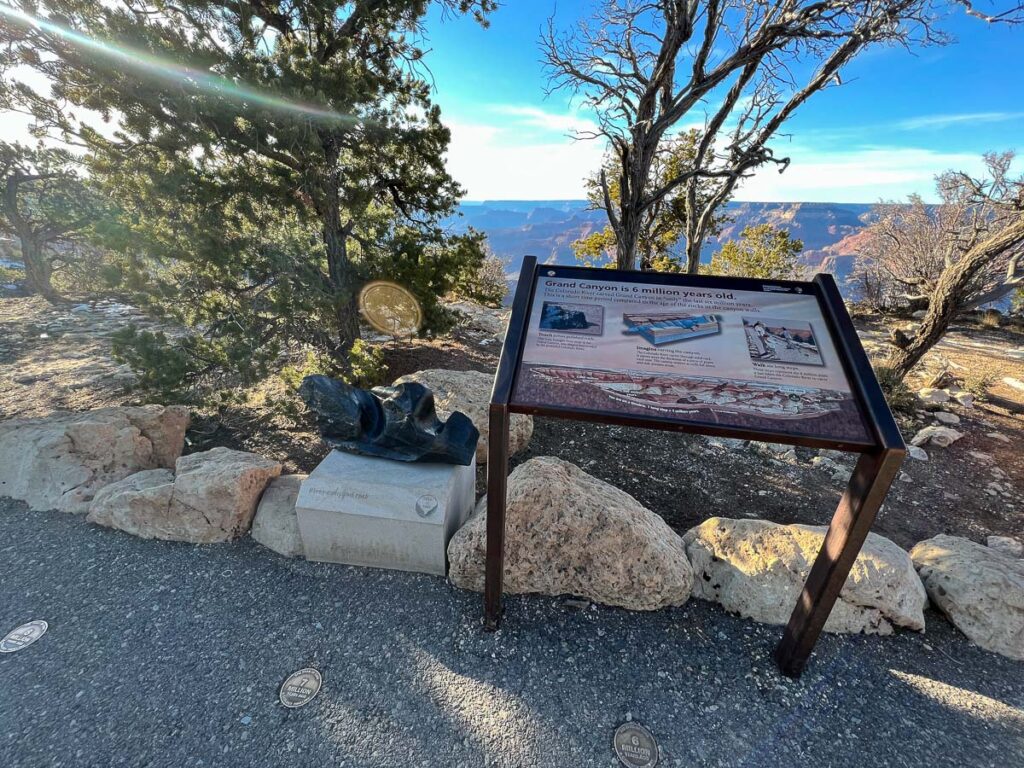 If you walk east from the village, you will go through the "Trail of Time" which is packed with fun little exhibits. My son really enjoyed seeing the big rocks, representing all the different layers of the canyon and showing how the landscape has evolved over time.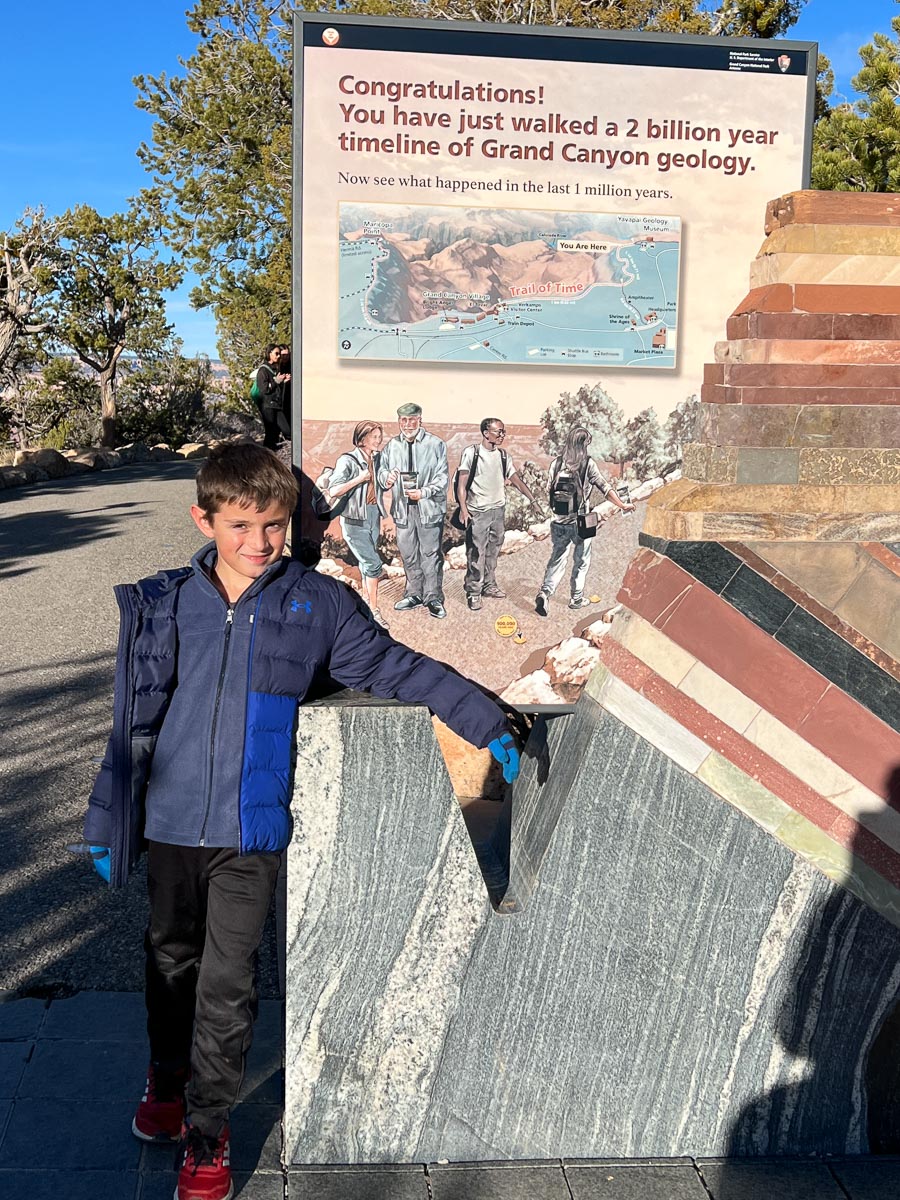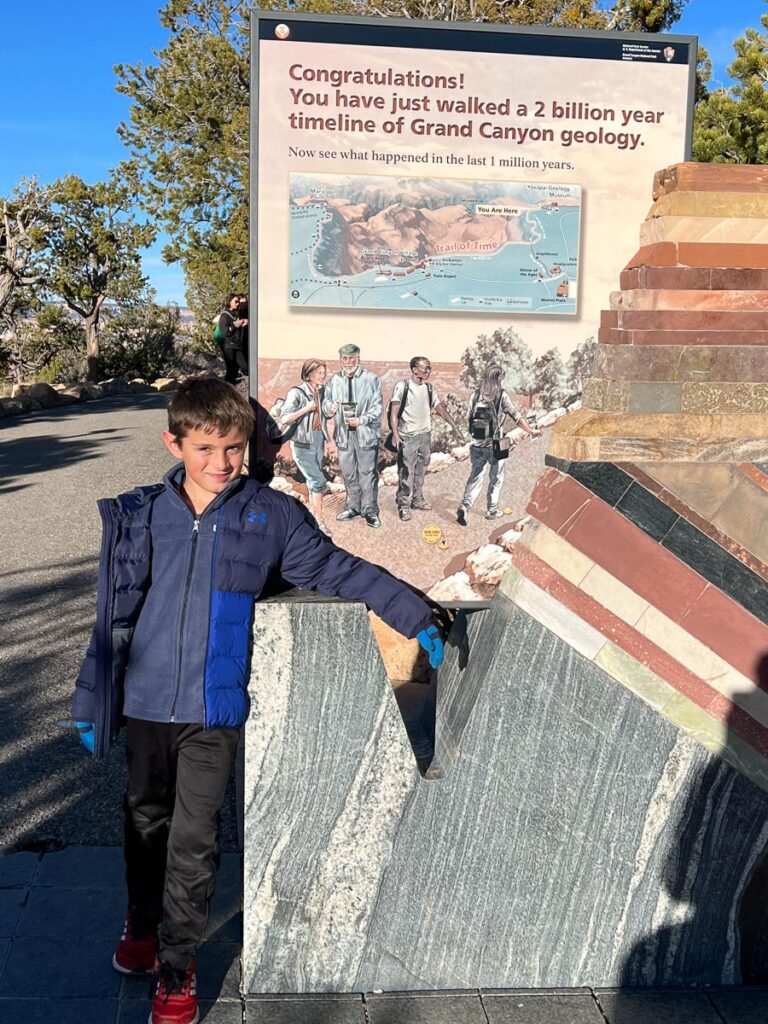 The trail will take you to the Yavapai Museum, which has some additional exhibits focused on the geology of the canyon. It also has a terrific view! And this is also where you'll find the small outdoor amphitheater where the rangers give their talks. (Check the kids' junior ranger booklets and see if they are supposed to attend a ranger talk!)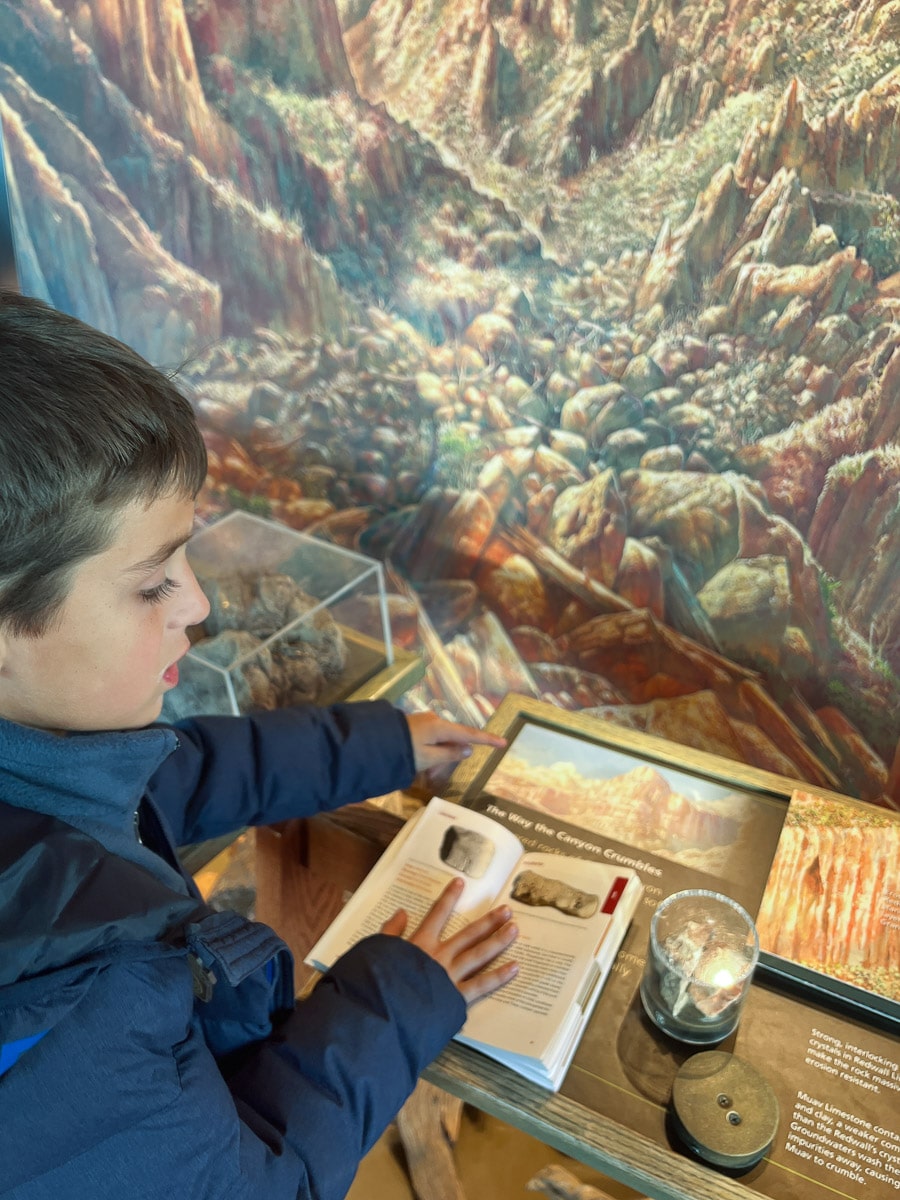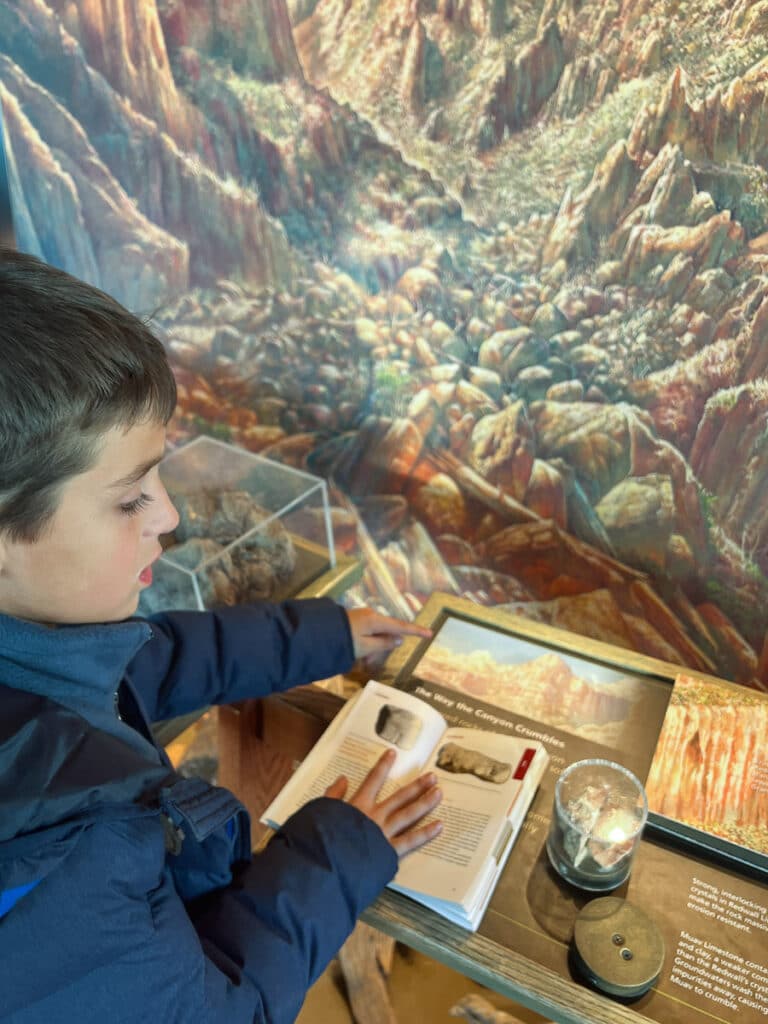 From there, you can either grab a shuttle to your next destination or continue on to Mather Point. Mather Point is one of the most popular viewpoints in the park, and is especially popular as a sunset viewing location. It does have a spectacular view – and also has spectacular crowds. So make your decision accordingly.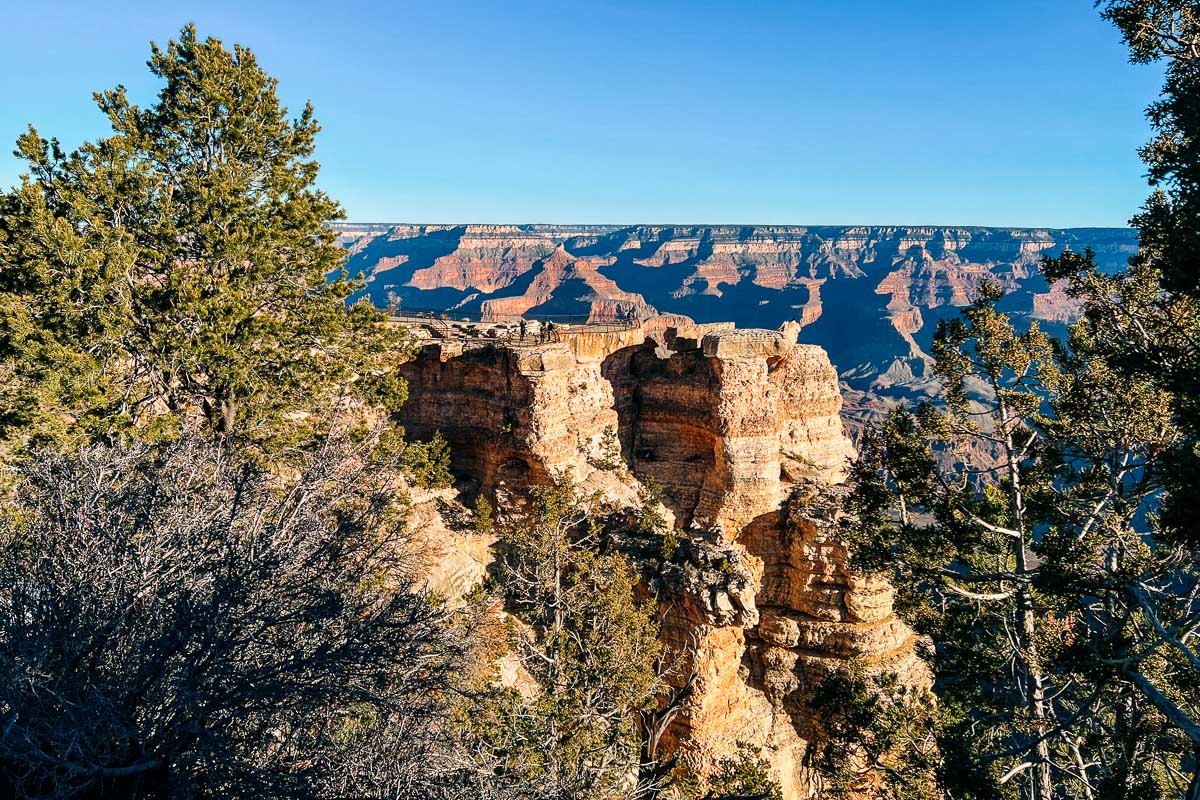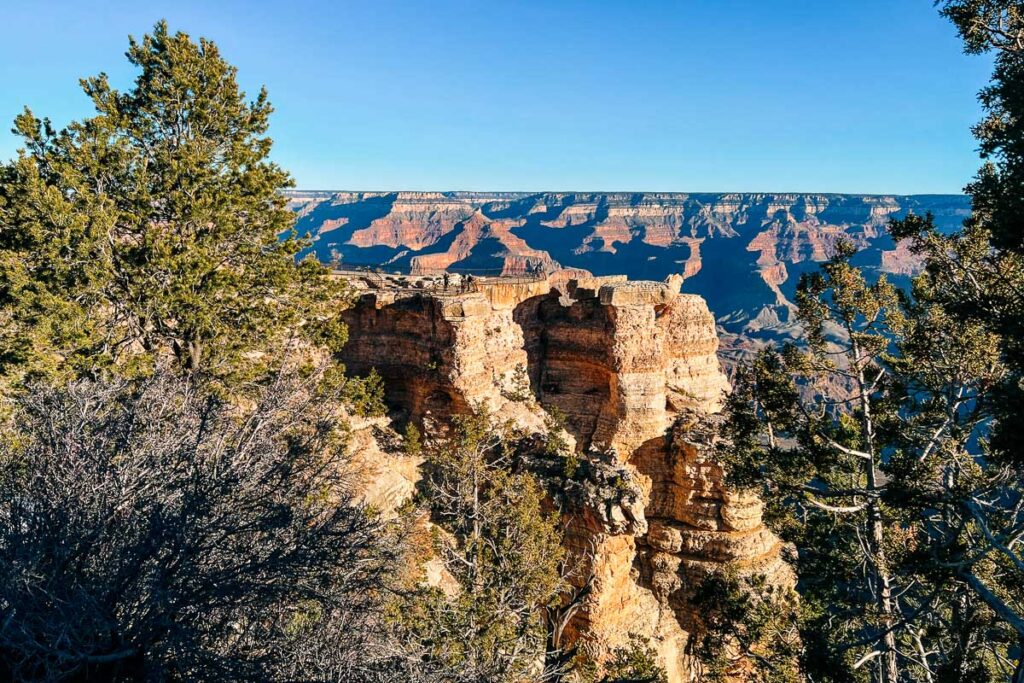 After Mather Point, you'll continue on to the Visitor's Center, which is just a short walk. This is the time to have the kids turn in their junior ranger books at the gift shop – they will get sworn in as Junior Rangers and receive their badges!
It's also a good spot to grab a snack or coffee at the café and take a little rest. You can grab one of the free shuttles to return you to Grand Canyon Village for dinner and sunset!
If you have 3 days at the Grand Canyon…
If you have a third day to spend at the canyon, you could simply slow down the pace of the itinerary above, saving the Rim Trail sights and Junior Ranger activities for the third day. But if you are up to a little more adventure – I suggest adding in a day to bike Hermit Road!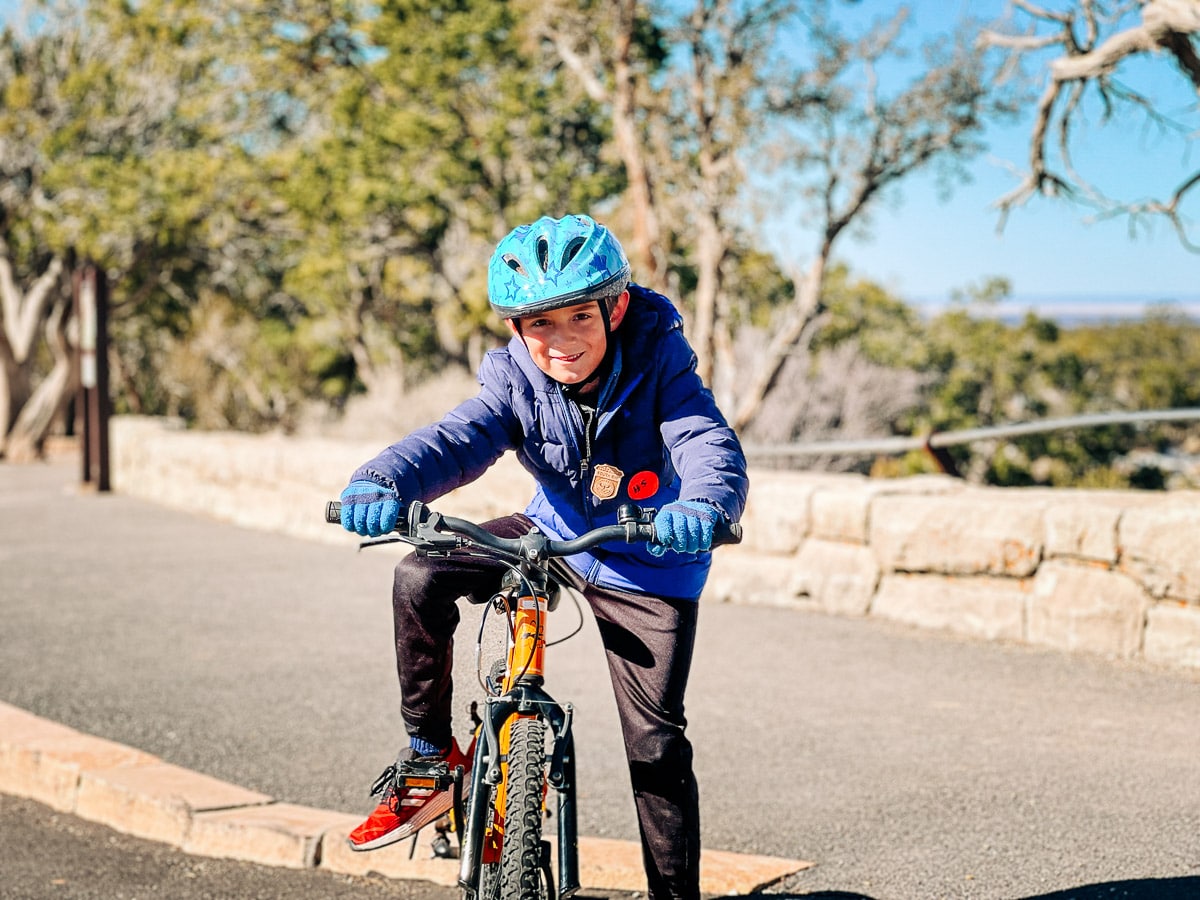 Day Three: Hermit Road
My son spotted the bicycle trails almost immediately upon entering Grand Canyon National Park. And so we discovered how incredibly cool it is to bike in the Grand Canyon! You can rent bicycles or book guided bicycle tours from the bike shop at the Visitor Center. I do strongly recommend making a reservation in advance to avoid any disappointment or waiting around in long lines.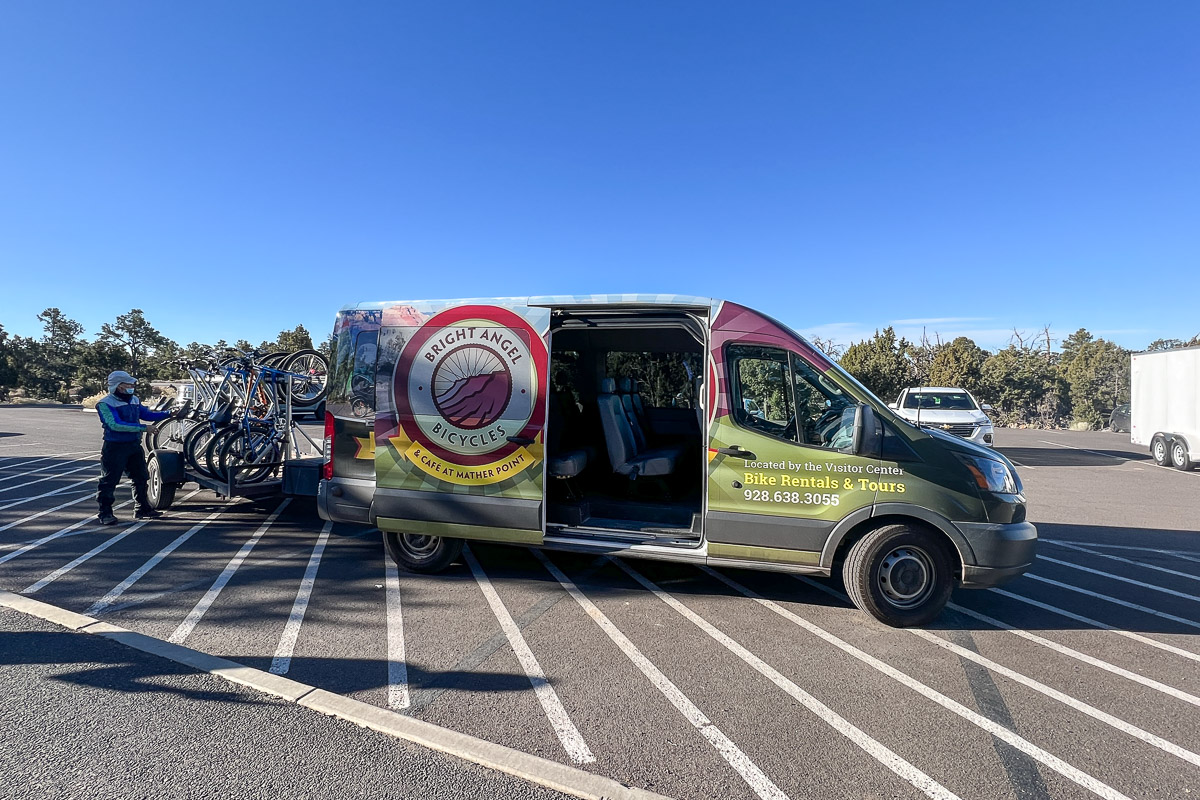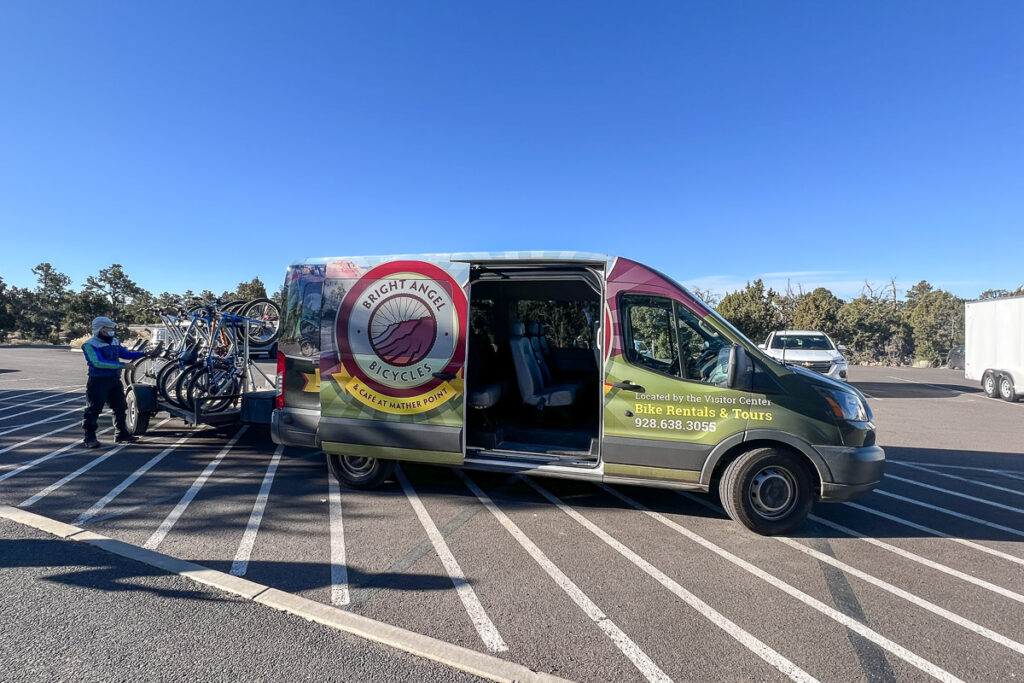 The best place to bike in Grand Canyon National Park is Hermit Road. I recommend booking the Hermit Road Shuttle Package for the easiest experience with kids! They will shuttle you and your bicycles out to Hermit Road on the west side of the park, conveniently skipping the areas with road traffic and the initial long uphill climb at the start of the road.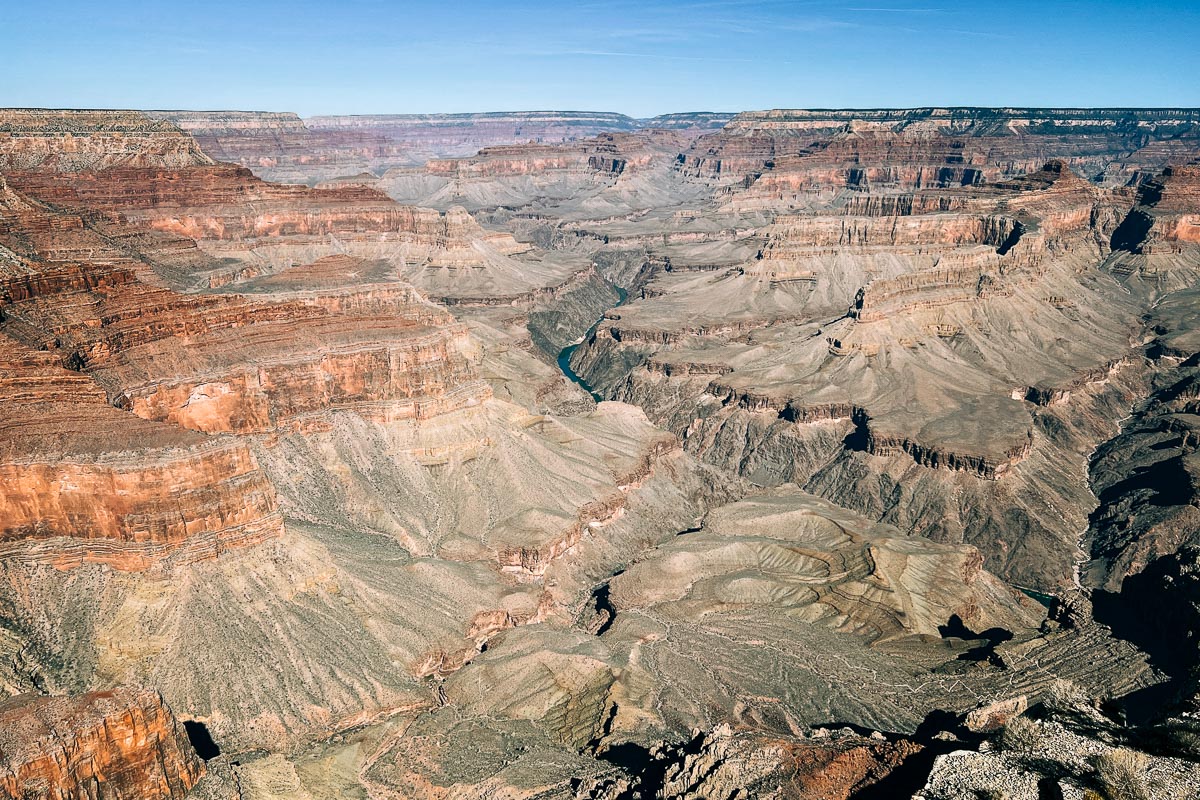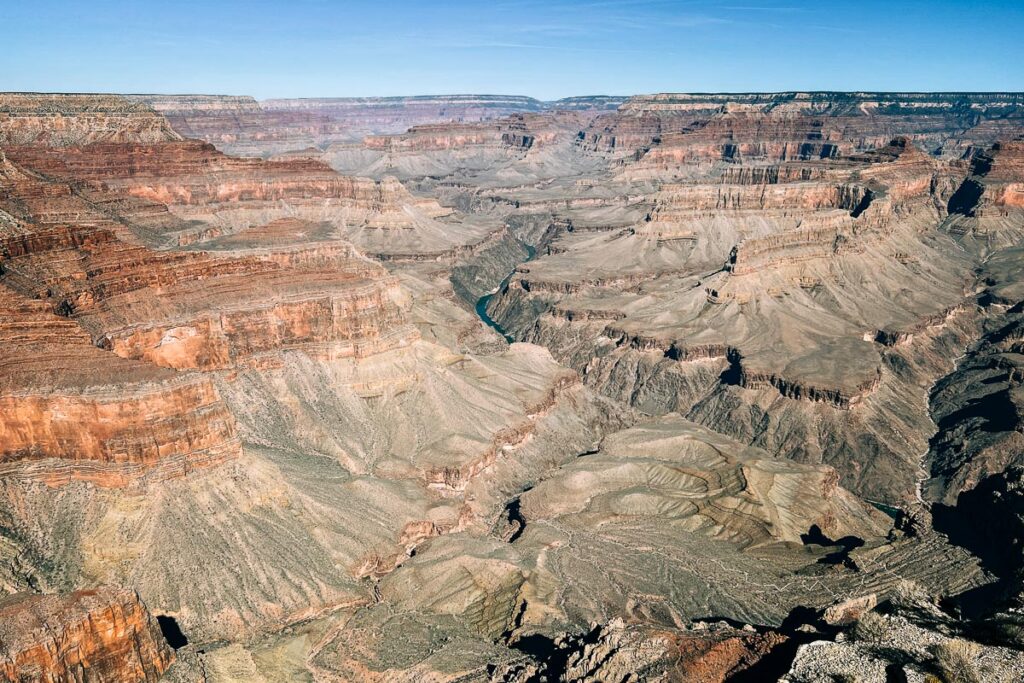 Then you can leisurely bike the last six miles of Hermit Road – which features some spectacular viewpoints. The ride is pretty easy with some parts on the roadway and some parts on a bicycle path. But for much of the year, Hermit Road is closed to private vehicles, so you are only sharing the road with an occasional park service shuttle bus.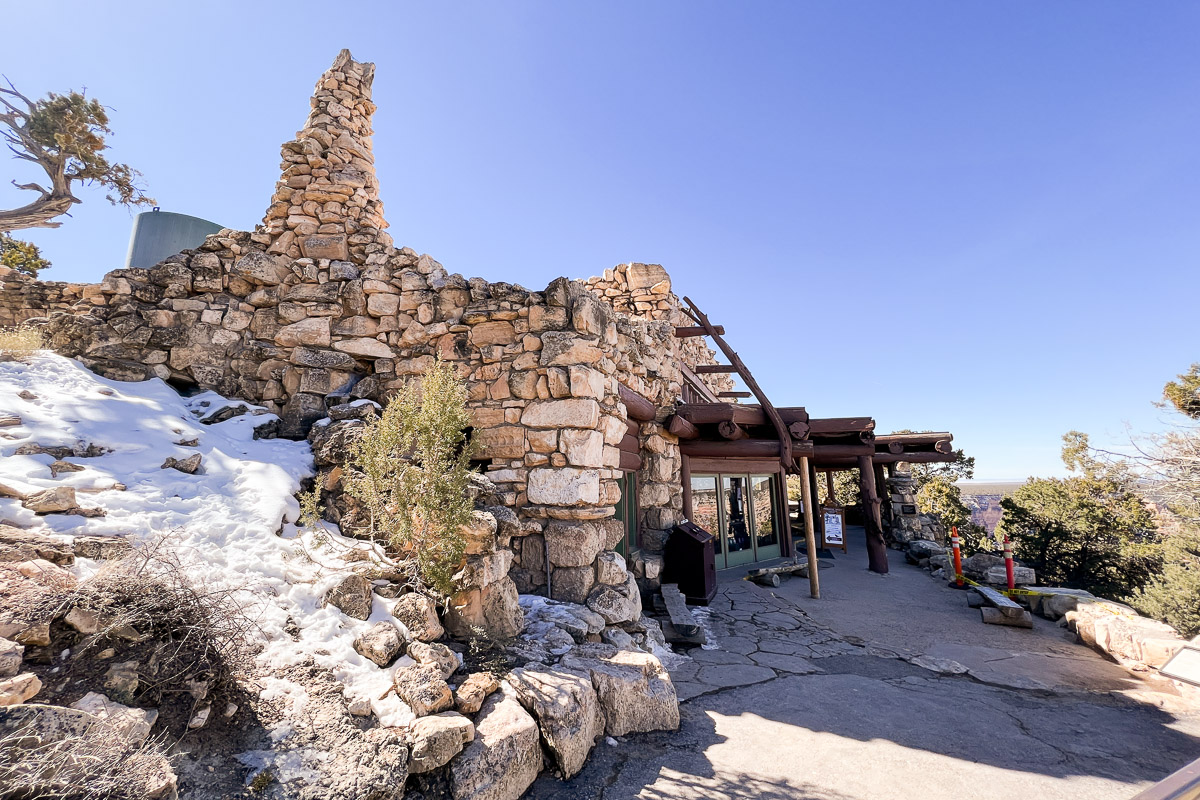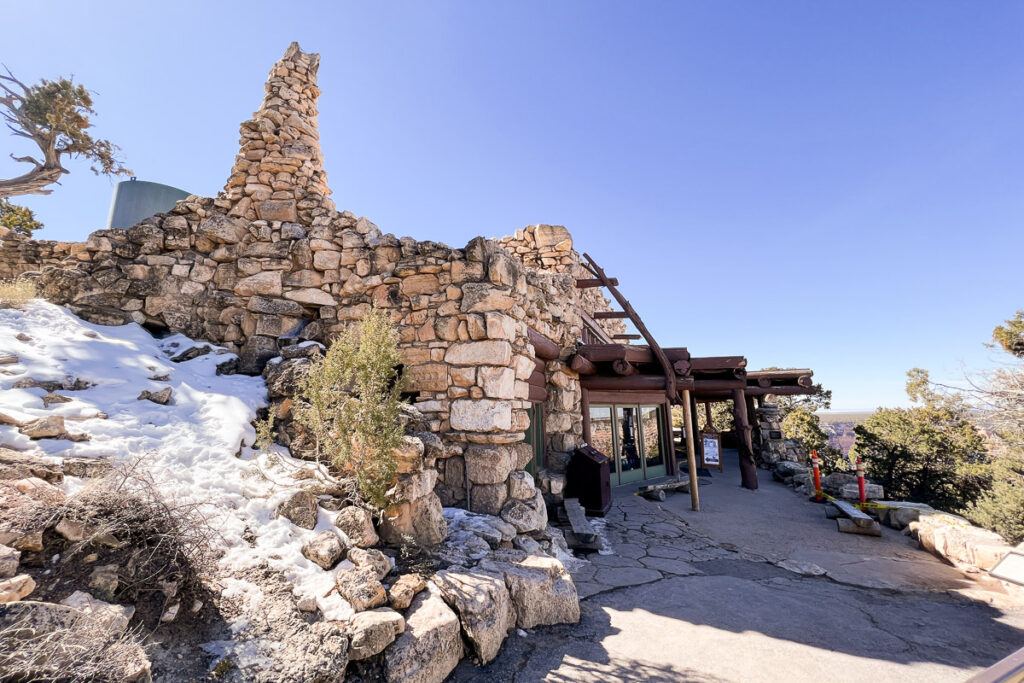 The bike trail ends at Hermit's Rest, which is a nice little resting point. There's a cute gift shop that also sells totally delicious fresh baked cookies – definitely grab yourself one of those! The shuttle picks you up from there and returns you to the Visitor's Center.
We did this bike trip with our seven year old, and it felt perfectly safe for us. He is a good biker – as in he can hold his own riding around the neighborhood – but we aren't experienced cyclists by any means. It was a pretty leisurely ride. The bike shop also had bike trailers and tag-alongs available for younger kids.
If you have 4 days in the Grand Canyon…
If you are lucky enough to have a fourth day in the canyon, then I strongly you suggest you use it to add a second hiking day. After all, that's the very best way to appreciate all the beauty of this magical place.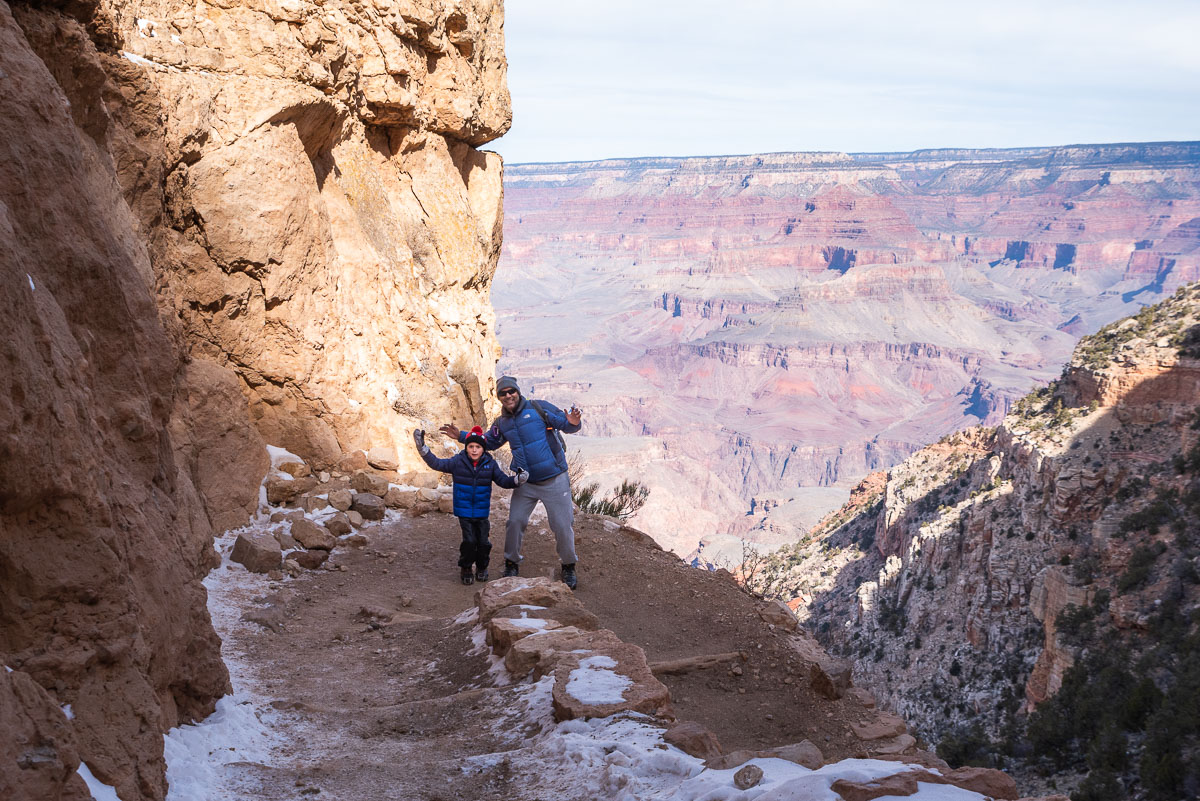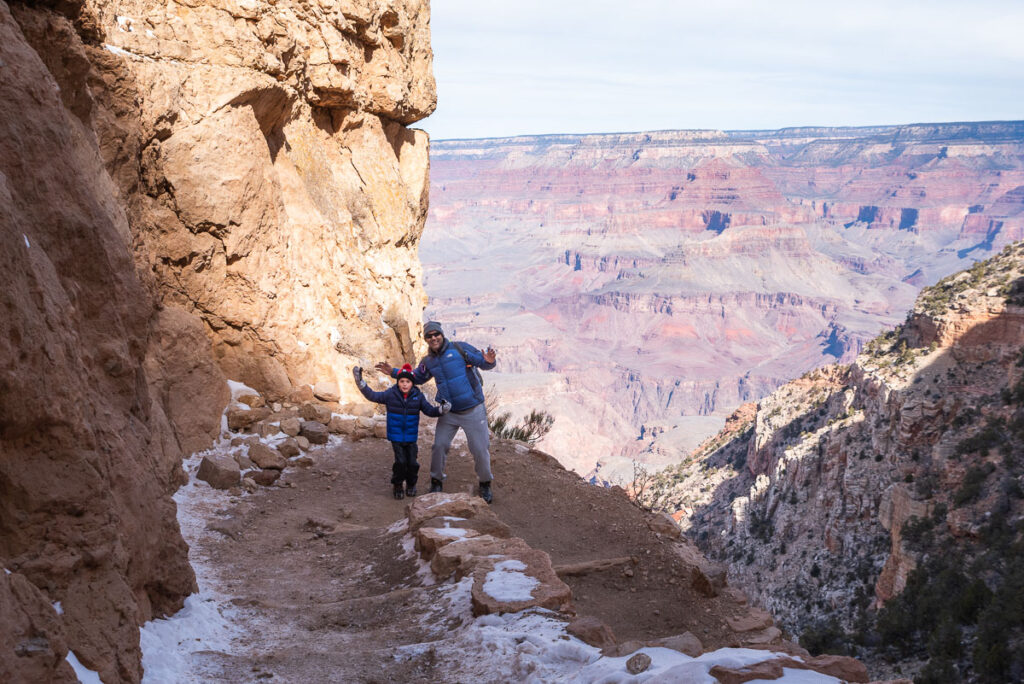 Day Four: South Kaibab Trail
I recommended Bright Angel Trail as your first taste of hiking in the Grand Canyon. But if you get a chance to add a second hiking day – you should make it South Kaibab Trail. South Kaibab is the next most popular trail in the park, and is also suitable for families, provided you pick a reasonable stopping point to turn back.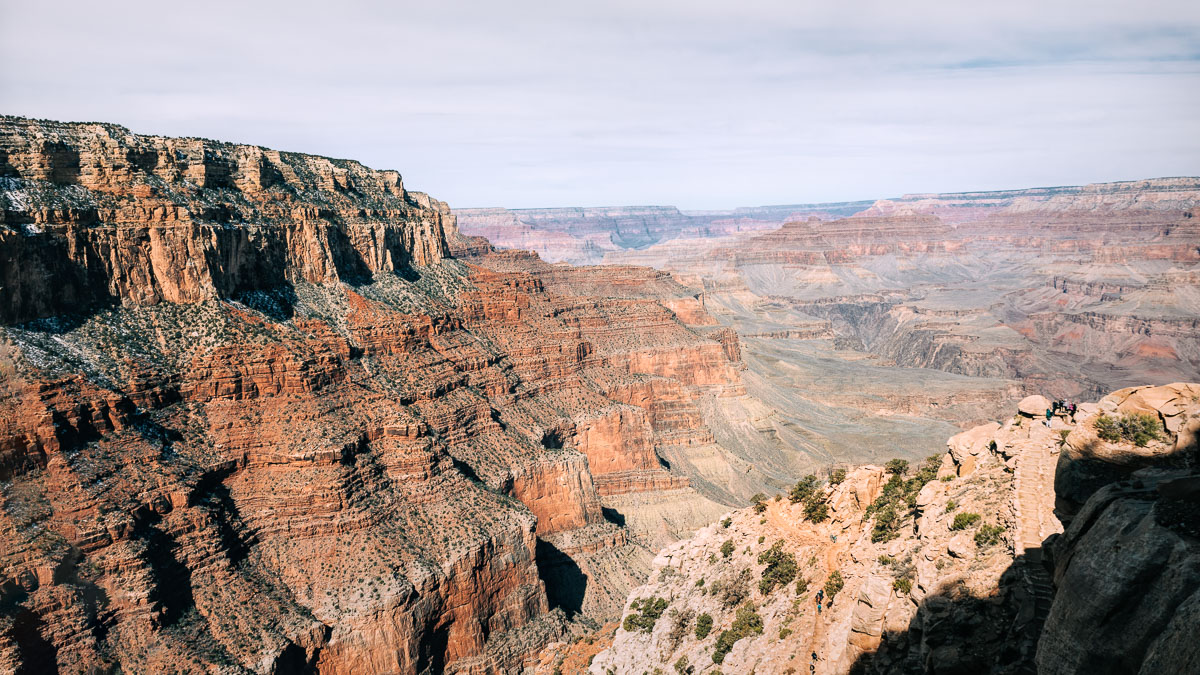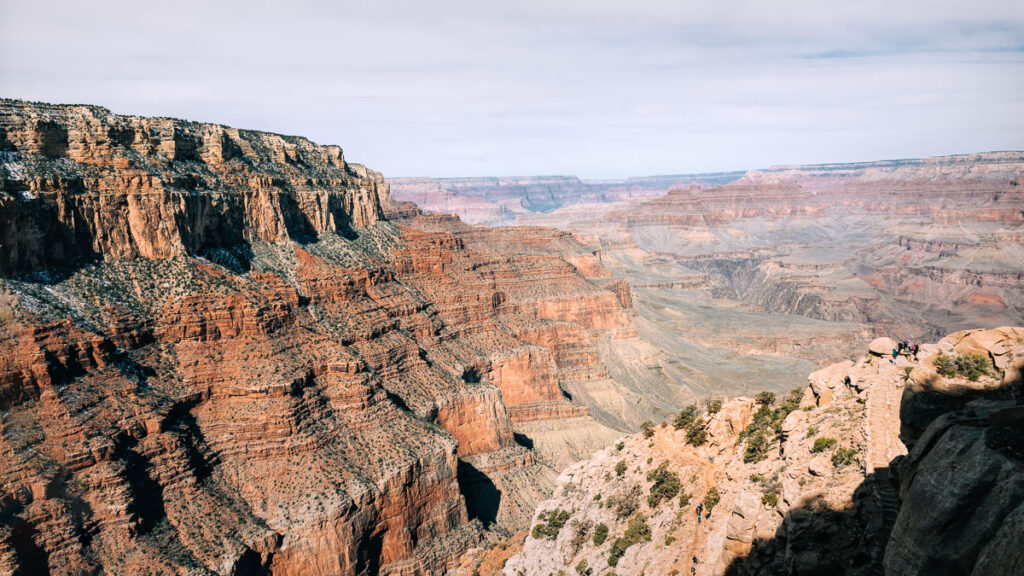 To reach South Kaibab Trail, you will need to utilize one of the free shuttle buses in the park. Private vehicles are not permitted on the road to the trailhead. You'll find restrooms and picnic benches at the start, so take a minute to get the kids situated before you head off.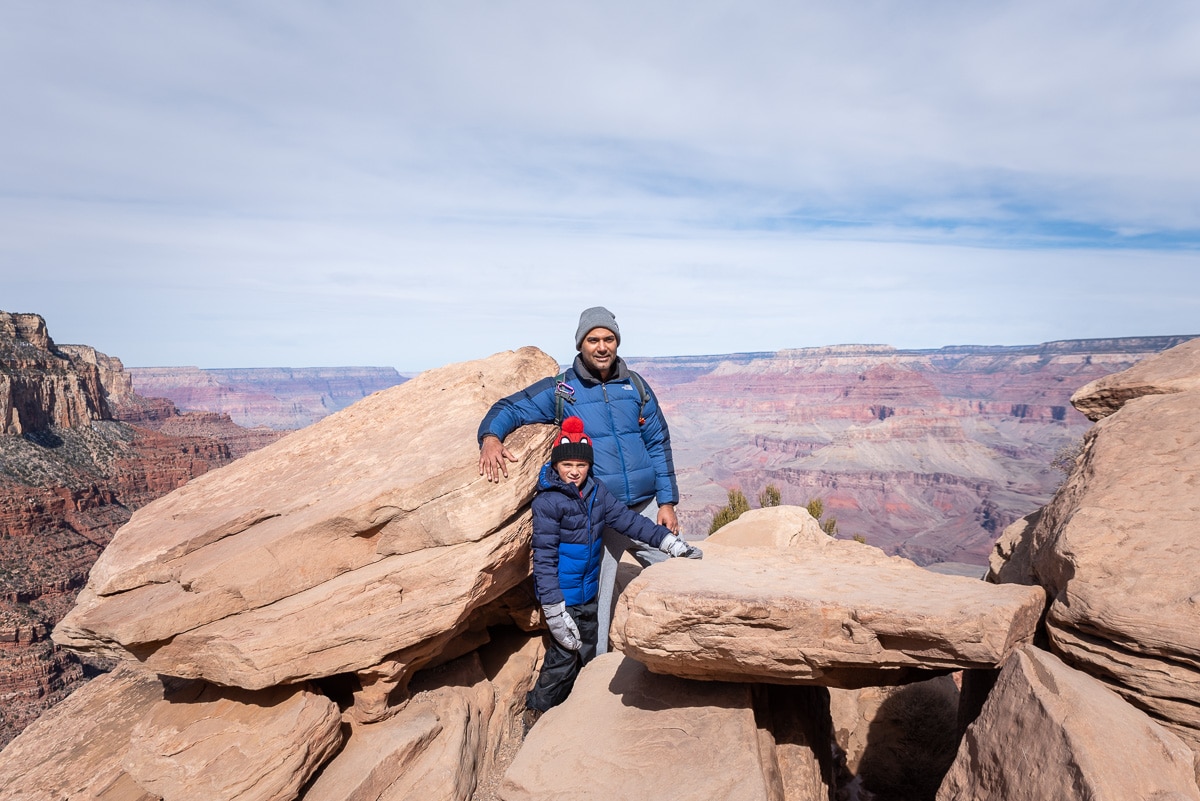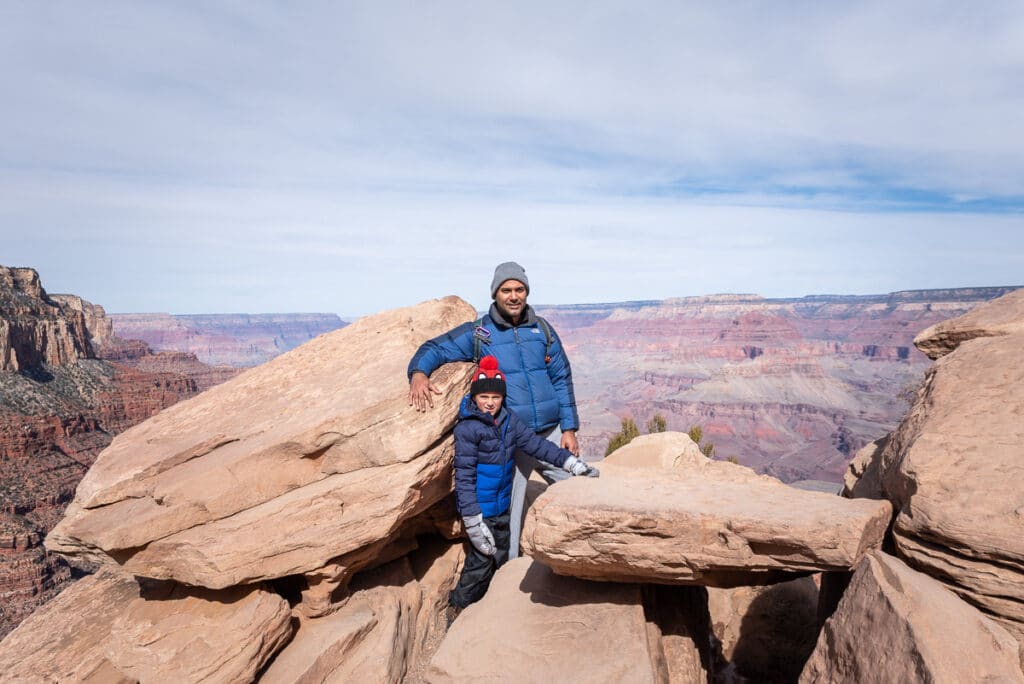 Most families opt to hike to the famous Ooh-Ah Point, which is a 1.8 mile roundtrip hike. This is the first marked stopping point, but of course you can turn back at any time since this is an out and back trail.
We stopped at Ooh-Ah Point as the winds were really picking up that day and my son was starting to get a little… ummm… whiny. But in hindsight, I think we could have made it all the way to Cedar Ridge (3 miles round trip) and kind of wish we tried. You have to use your own judgment on that one.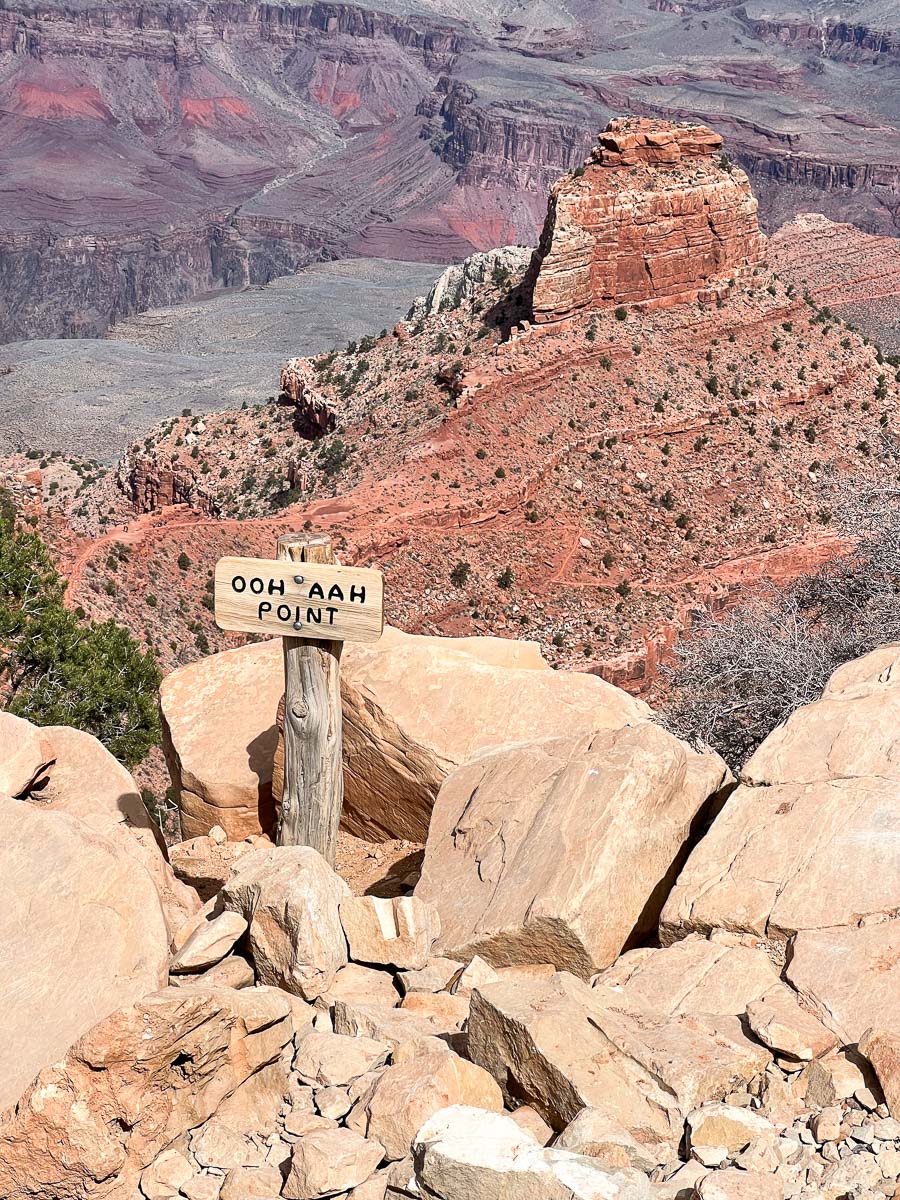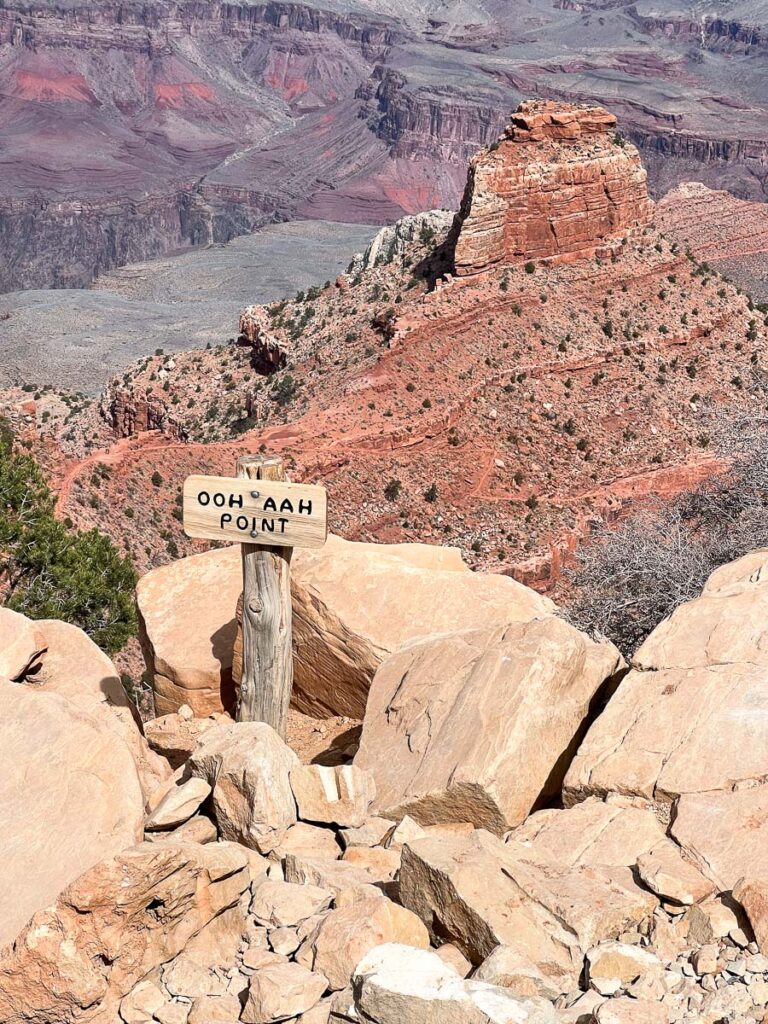 Again, remember that you will not find food or water available along the trail, so bring everything you need. Especially with kids – bring snacks and lots of water! It took us about 1 hour and 40 minutes to hike round trip to Ooh-Ah Point.
If you have 5+ days in the Grand Canyon…
If you have five or more days in the Grand Canyon (lucky you!), you have quite a few more options. Some ideas you should consider with the extra time.
Take it slower. You could simply do the itinerary above at a slower pace. If you're travelling with very young kids, this can definitely be a good option. You could easily spend one full day just walking the Rim Trail and visiting the museums, exhibits, and shops. There are attractions such as Kolb Studio that are definitely worth a stop if you have the time to take it slow.
Flightseeing or Helicopter Ride. If you have older kids or teens, and the budget to accommodate this, a small plane or helicopter tour can be an absolutely amazing way to view the Grand Canyon and definitely worth using a day in your intinerary.
Mule Trek. A mule ride is perhaps the most iconic way to descend into the Grand Canyon. You can opt for a two hour scenic mule ride or an overnight trip that descends all the way down to Phantom Ranch on the canyon floor. The latter is a serious adventure, best for older teens! For all the mule rides, kids have to be at least nine years old and meet certain height and weight requirements. Check out the details here.
Rafting Trip. It's possible to book a white water rafting trip from the South Rim. It's a 12 hour endeavor that includes a flight from Grand Canyon National Airport to Page, Arizona. These trips allow kids as young as 4, but I would only recommend for older kids or teens.
Make it a road trip. Consider adding 1-2 days at another destination such as Sedona, Flagstaff, or Zion National Park.
Notes – If you don't have a car, consider doing both South Kaibab Trail and Bright Angel. Or replace with a leisurely day walking the full length of the Rim Trail.
More Grand Canyon Trip Planning Resources
Here are a few more resources to help you plan the perfect trip to the Grand Canyon.