With a stony and rocky coastline to the west and dramatic mountains to the east, it's definitely no secret that Big Sur is one of the most scenic and iconic drives globally.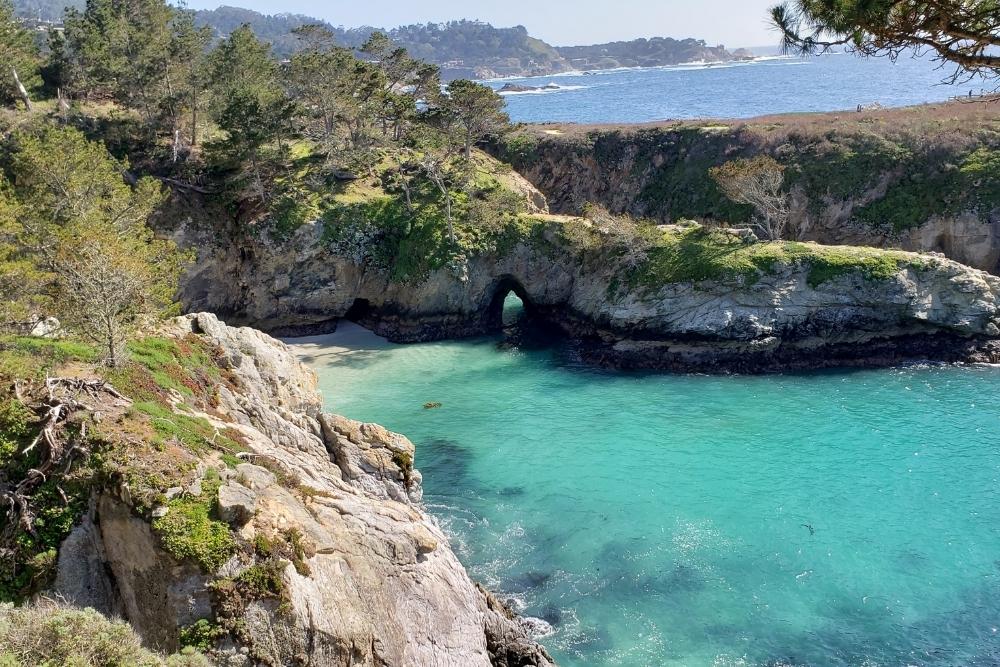 Even though the drive is technically short (just 90 miles), you could easily spend a week dedicated to your Big Sur road trip! And that's what I recommend if you want to take the time to soak up all the wonderful stops along the way truly. After all, a Big Sur road trip is all about the journey rather than the destination!
If you're feeling overwhelmed planning your Big Sur itinerary, here's a perfect route for you! Not only will this get you to see the very best Big Sur has to offer, but you can also change up the number of days you want to spend on each site depending on how much time you want to dedicate to the trip!
The Ultimate Big Sur Road Trip Itinerary
Before you dive into planning your route, you should do a few things. First, ensure that your vehicle is in excellent working condition on the road trip. It's a good idea to take it in for a tune-up and look over it just to be sure. In addition, pack snacks, create a few playlists, and tell someone your plans. Now let's explore and plot the most epic Big Sur road trip.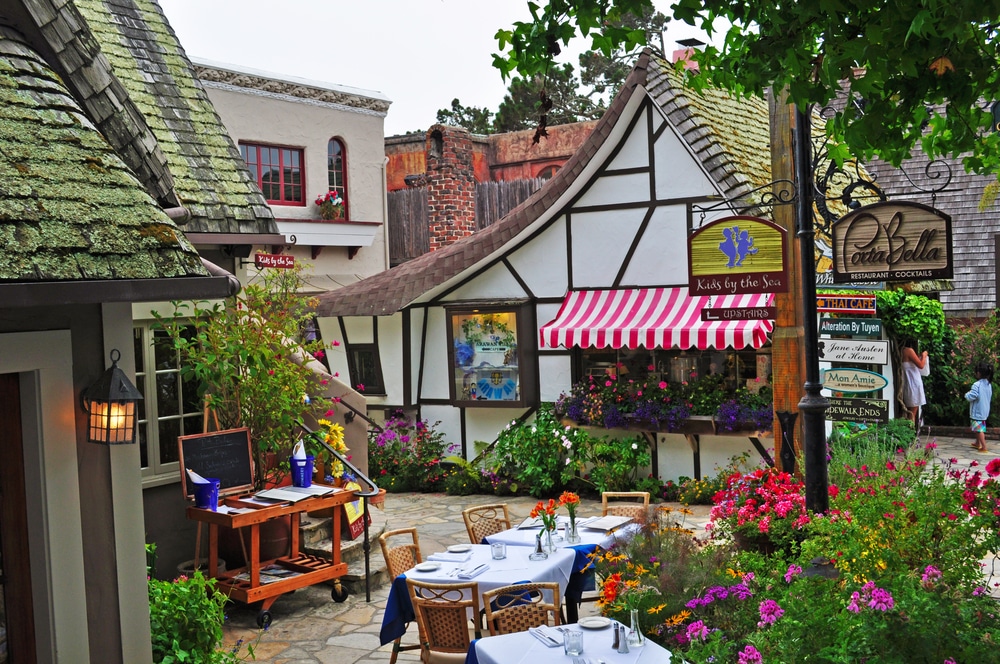 Carmel-By-The-Sea
The road trip begins in the cutest, most magical little beach town called Carmel-By-The-Sea.
This quaint little town is famed for its narrow cobblestone lanes, tiny cottages coated in flowers and greenery, and charming boutique shops selling all sorts of local goodies. So put together (plus the sea right by its side), Carmel boasts a magical atmosphere that will make you feel as though you've arrived in an enchanted fairytale town.
Where To Stay In Carmel-By-The-Sea
There are several lodging options in Carmel-By-The-Sea perfect for every type of traveler. The beach town offers luxury stays with incredible views, fireplaces, spectacular gardens, and more laid-back places packed with family-friendly amenities. Because Carmel-By-The-Sea is a small town, each place is close to the water.
La Playa Carmel – This luxury lodging venue is gorgeous. It features fireplaces, elegant and modern rooms, and more.
Carmel Valley Ranch – Though the ranch is laid back in its atmosphere and vibe, don't let that deter you. It's still packed with comfortable and cozy features that make it worth a second look. Guests can enjoy hiking, biking, tennis courts, and fantastic saltwater swimming pools.
Tally Ho Inn – The Tally Ho Inn is situated less than ten minutes from the beach. Its rooms feature comfortable beds, flat-screen TVs, and oversized Jacuzzi tubs. The Tally Ho Inn also serves buffet and continental breakfasts, making it a great choice for families.
Casa de Carmel Inn – If you're looking for comfortable, affordable accommodations and close to shops, boutiques, and restaurants, then Casa de Carmel Inn is perfect for you.
Things To Do In Carmel-By-The-Sea
Carmel will have you feeling like you stepped foot into a fairy tale. The streets resemble the pages of your favorite childhood storybook, and the number of things to do in the tiny town is enormous. The town is very pedestrian friendly and can easily and comfortably explore on foot. Many boutiques, galleries, and restaurants are a must-experience while you're in Carmel. And, of course, you must spend time at the beach.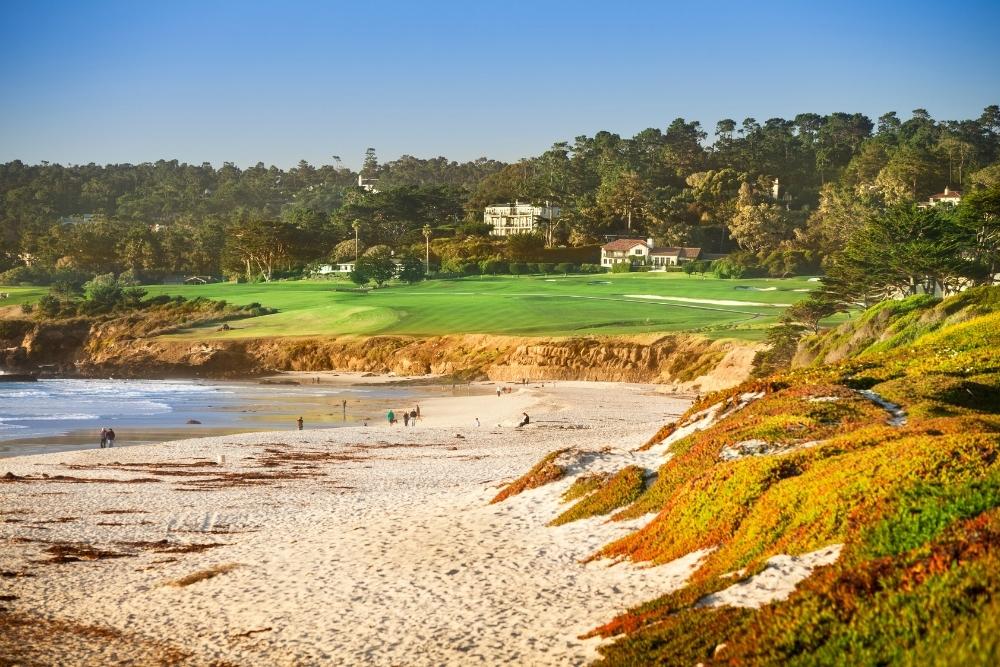 Carmel Beach – Prepare for the softest white sand you've ever felt! While this beach isn't ideal for swimming, it's still a terrific place to hang out, play beach volleyball, and enjoy the insanely gorgeous scenery.
Carmel Mission – If you're a fan of intriguing architecture, then make sure to plan a stop at Carmel Mission. The grounds and exterior are incredible, and the inside is meticulously decorated.
Point Labos State Natural Reserve – This area has a ton of scenic hiking, marine animals and glorious turquoise waters. It's tranquil, peaceful, and stunning in its natural beauty.
Where To Eat In Carmel-By-The-Sea
Though the town is small in its size, it certainly doesn't lack divine cuisine options! Here are a few I recommended you try during your stint at Carmel-By-The-Sea:
Aubergine – This elegant restaurant is perfect for a date night, special celebration, or dazzling evening. It serves up an exquisite menu paired with fantastic service!
Valley Kitchen – This restaurant combines amazing views with a cozy but still chic vibe, tossed with freshly grown organic produce to make an incredible, unforgettable experience and terrific, satisfying dishes.
Carmel Belle – This restaurant is equal parts rustic as it is chic.
Time needed: 1 to 2 days.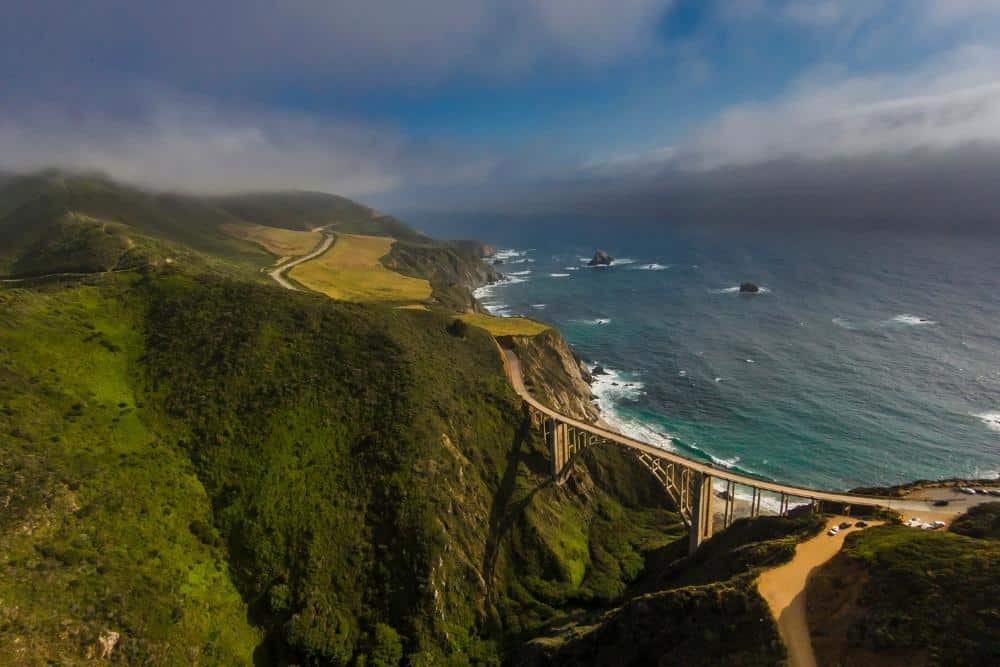 Bixby Creek Bridge
Offering 360-degree views of the coastline, Bixby Bridge is one of the most Instagrammable spots in California, thanks to its unique location that provides canyon views to one side and the Pacific to the other. Even though it's not a destination, stopping here to snap a few pictures at this iconic spot is a non-negotiable! Visitors marvel at the incredible engineering while embracing the dramatic views on every side. Because the bridge was built within crumbling cliffs, it has a unique design and has become an icon in the engineering world. The bridge is 714 feet long and has been featured on postcards, advertisements, magazines, and more because of its intense beauty.
Time needed: A few minutes – a few hours
Point Sur State Historic Park
While driving Big Sur, a stop at Point Sur State Historical Park is a must. The Point Sur light station sits high at 361 feet above the Pacific Ocean. It's set on a gigantic volcanic rock and is open to guided tours so visitors can explore and embrace the history of the land. The light station was first lit on August 1, 1889, and has remained in continuous operation ever since!
Time needed: A few hours.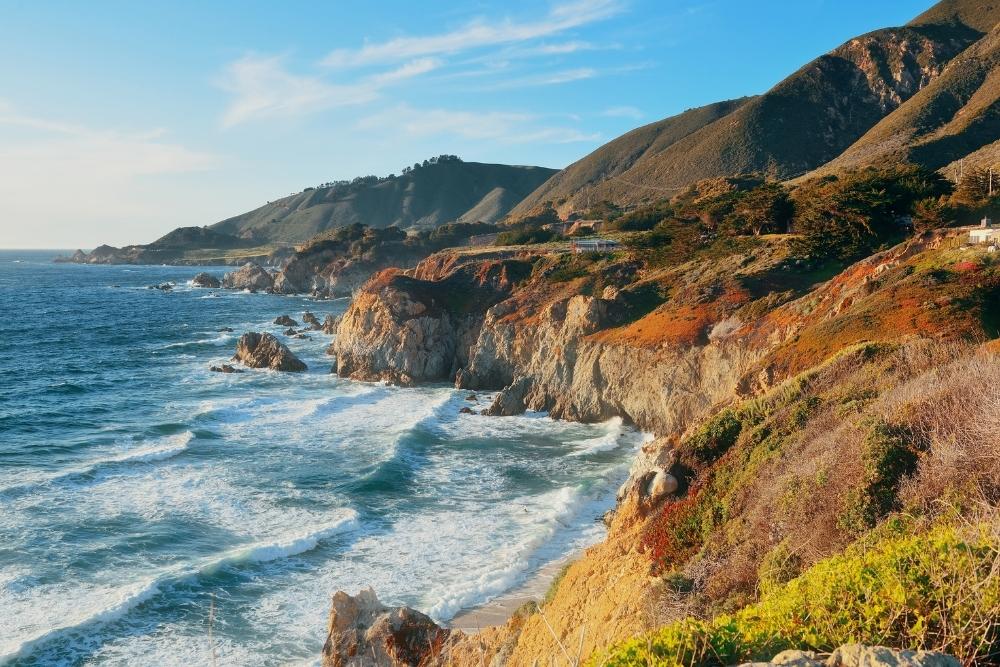 Andrew Molera State Park
Compared to the other parks along the Big Sur area, Andrew Molera State Park is pretty undeveloped and offers a super authentic immersion into the area's nature (along with spectacular views of Monterey Bay). Even though you could technically opt to spend a day at the beach here, the recommended way to explore the area is by tying up your shoelaces and getting up close and personal with a trail or two. Picture thick meadows, hilltops, beaches, and bluffs to get an idea of what hiking at Andrew Molera is all about!
The Bluffs Trail is a terrific choice for a relatively easy trail that provides both beach views and nature. However, if you're keen on a challenge, you can continue onwards to Panorama Trail, a little steeper but rewarding your efforts with the most incredible views of Big Sur. While you're visiting Andrew Molera State Park, plan a stop at Cooper Cabin, the oldest standing structure in Big Sur. The park is also home to the Andrew Molera Ranch House Museum and thrilling camping opportunities.
Time needed: 1 to 2 days.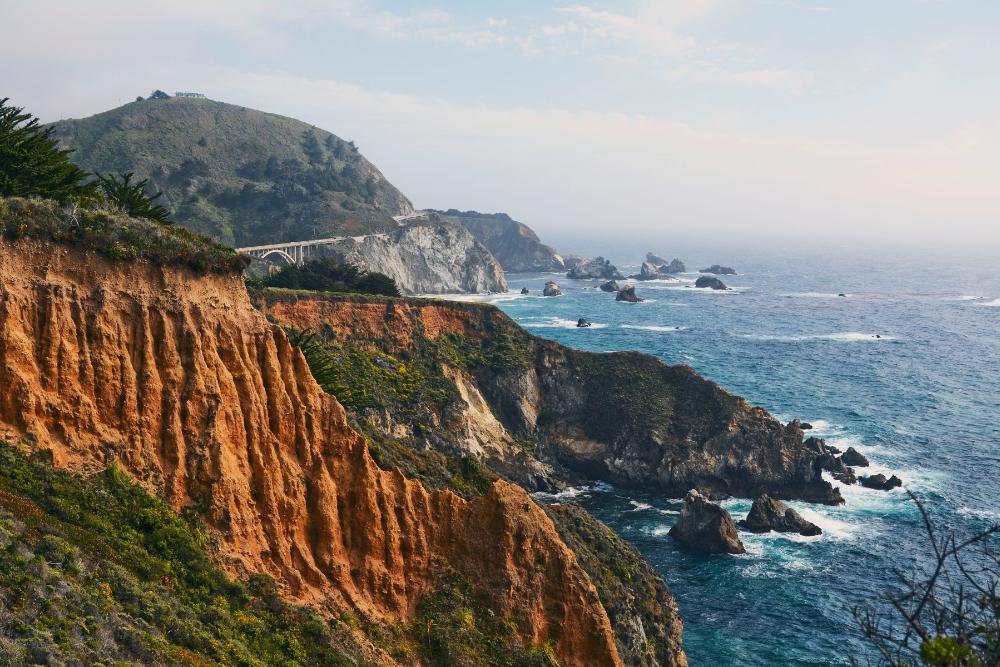 Pfeiffer Big Sur State Park
Even though a Big Sur road trip is about killer views of the Pacific Ocean, a few spots with no ocean around are worth visiting. Wondering a perfect example? Pfeiffer Big Sur State Park!
The park is set on the western slope of the Santa Lucia Mountains. A visit to this state park is abundant with hikes along the river, getting lost among gigantic redwood trees, conifers, maples, and more. For wildlife enthusiasts, this is probably the best place to spot fauna like bobcats, black-tail deer, and a huge variety of birds! Pfeiffer Big Sur State Park has a ton of scenic trails to explore and incredible views.
Pro tip: This is an incredible place to stay if a night in the forest sounds like your jam. There's a campground on-site and the Big Sur Lodge, which offers a magically rustic stay deep in the middle of the woods.
Time needed: 1 to 2 days.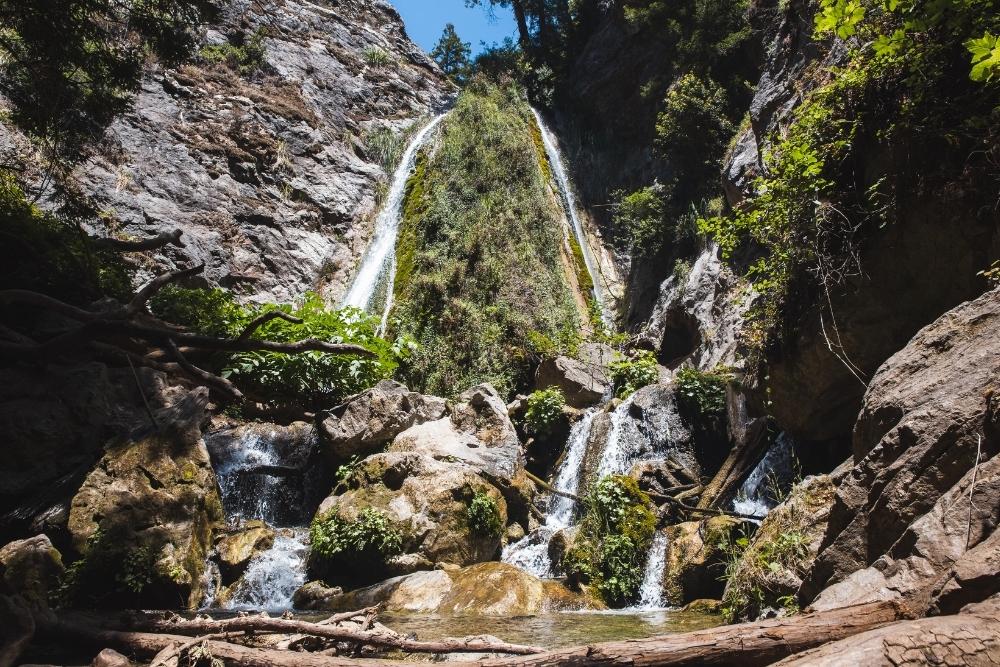 Limekiln State Park
Limekiln State Park is stunning. Guests can enjoy the beach, explore the redwood forest and see the 100-foot limestone waterfall called Limekiln Falls. The state park is an absolute must-see on your Big Sur Road Trip.
Time needed: 1 day
Silver Peak Wilderness Area
Plan a stop at Silver Peak Wilderness Area, especially if you're a hiking and outdoorsy fan. The area has many hiking trails, beautiful plants, and opportunities to spot wildlife right in its own natural habitat.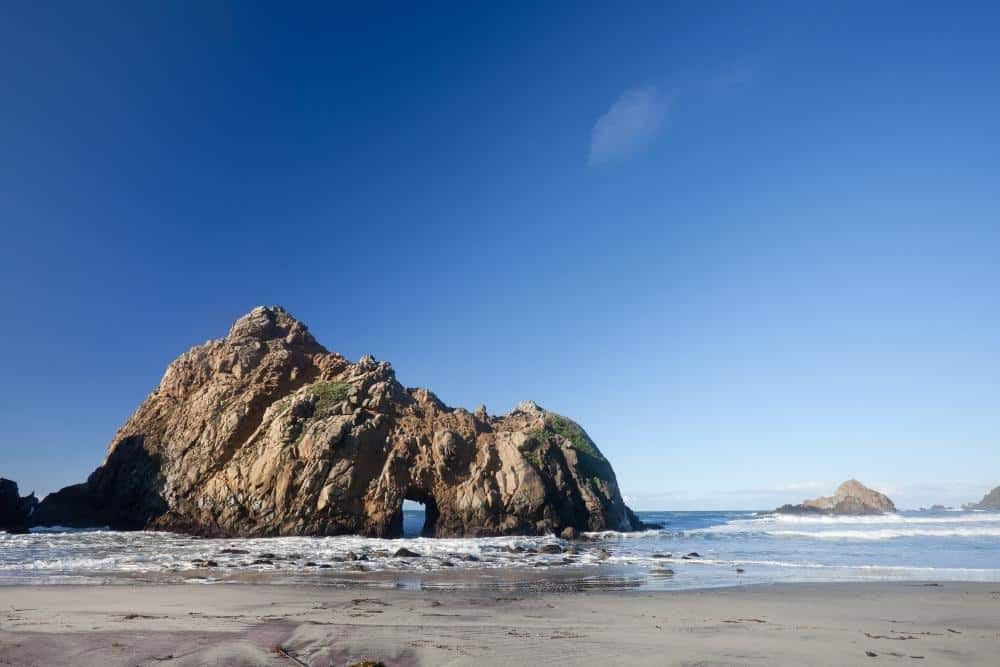 Pfeiffer Beach
Want to feel purple sand and see a striking rock arch? Yes, please! Pfeiffer Beach is a unique and beautiful place to visit during your Big Sur road trip, especially if breathtaking sunsets are your thing.
You'll find Pfeiffer Beach about two miles south of Pfeiffer State Park (just south of Big Sur Station), and while the drive is relatively short, it does require some skill as the road is twisty and narrow. However, once you get there, you'll be greeted with sand dunes, a stunning natural arch, and purple sand on the beach's north, making every curve worth the challenge!
Pro tip: Visit Pfeiffer Beach for sunset, when the last rays of sun pass right through Keyhole Arch, creating the most magical view ever!
Time needed: Half day.
Julia Pfeiffer Burns State Park
Easily one of the world's most charming stretches of coastline, Julia Pfeiffer Burns State Park is a destination like no other, making it the perfect place to end your Big Sur road trip in a truly dramatic way.
Think hidden coves, lush forests you can hike through, the famous 80-foot McWay Falls crashing down from cliffs right into the ocean, and some of the most exceptional vistas Big Sur offers.
While McWay Falls is the main reason road trippers pay this gem of a park a quick visit, make sure you dedicate at least an entire day to getting to know it fully. On the menu are wonderful coast-side hikes, walking through dreamy forests, and even searching for an authentic shipwreck whose remnants can still be explored.
Time needed: 1 day
Still, Have Time To Explore?
If you're not pressed for time, then consider checking out these stops on your Big Sur Road Trip too!
Morro Bay
Kirk Creek Campground
Montana de Oro State Park
Bishop Peak
I hope this itinerary helped you plan the perfect Big Sur road trip. The great thing about driving down this area of California is the fact that every location is pretty close to the next. So you can easily adjust the amount of time you want to spend in each place and get to see as much as possible even if you're short on time!