Travellers are flocking to the once unsafe city of Medellin, Colombia. Find out what there is to love about Pablo Escobar's former stronghold, as well as the best things to do in Medellin, where to eat and stay, and key safety tips in this Medellin Colombia travel guide.


Disclosure: This things to do in Medellin Colombia post contains affiliate links. That means we earn a commission when you use the links on this site to book a hotel, buy your travel insurance, etc.. If you'd like to learn more about how this works, you can read more under our Disclaimer page.
This is a guest post from Daniel of Destinationless Travel
***
Colombia is the new must-visit destination in South America. This once dangerous country is now a safe place for travelers and tourists to visit and people are coming from all over the world to see the true Colombia. At the centre of it, is the infamous city of Medellin.
Medellin is one of Colombia's largest cities. Together with Bogota, Cali, and the Coffee Region, it's one of the most popular places to visit in Colombia.
At one point, Medellin was also one of the most dangerous places in Colombia. However, these days the city has transformed itself into a vibrant place that visitors love. During my trip through South America, Medellin was the place that shocked me the most.
It just simply wasn't what I expected…it was so much more, and I loved it.
I fell in love with the food, the culture, and most importantly the people of Medellin. It is without a doubt my favourite place in South America!
Of course, a visit to the once most-dangerous city in Colombia doesn't come without questions. So here's everything you need to know about visiting Medellin, Colombia.
Getting to Medellin
Flying into Medellin
Medellin's international airport is located 35km from the city and major flight routes operate from this airport. While Medellin is a large city, it's not the capital of Colombia – Bogota is. For this reason, most international flights will land in Bogota.
From Bogota, it's very easy and cheap to get a domestic flight to Medellin. If you're on a more budget conscious trip, you might also consider an overnight bus.
Taking the Bus to Medellin
Colombia's bus network is vast and there are countless options available. Surprisingly, the best is usually not much cheaper than flying, and the bus journeys are generally really long. From Bogota to Medellin by bus, expect a 20-hour trip. That being said, buses are generally pretty comfortable and VIP options exist, too, which might allow you to get some sleep!
Getting Around Medellin City
The easiest way to get around Medellin and visit most of the tourist attractions in the city is via the train/metro. Medellin is said to have one of the cleanest train networks in the world and it's also very cheap. A standard ticket will cost less than 1 USD. With the train, you can get from most places in the city and surrounds.
Uber is also widely available in the city. We loved using Uber in Medellin because our Spanish isn't the best (actually, it's terrible!) and with Uber all the information the driver needs is on his phone – no need to communicate.
Another popular way to travel is via cable car. Medellin is home to several cable cars that transport locals to houses on the outskirts of the city. It's also a very cheap way to get around. Taking a cable car is also one of the more popular things to do in Medellin as a tourist attraction.
5 Things to do in Medellin
Speaking of things to do in Medellin, there is so much to do in Medellin it's hard to even know where to start! But, I've managed to narrow it down to my top 5 picks for the city.
1. Free walking tour
Medellin is home to the best free walking tour in South America. I know that sounds strange as most free walking tours can be very average. But trust me on this, the Medellin free walking tour is well-worth it and highly rated by most travelers (not just me!)
The tour runs for 3 hours and dives into Colombia's people, culture, dark past, as well as its bright future. The trip visits government buildings as well as the locations of bombings. Politics are discussed and open conversation is encouraged. If you ever had questions about Pablo Escobar (or even how true the TV series Narcos is) this is the place to ask as the guide is open to discuss!
With free walking tours, the tour is free but tips are expected at the end. I took my tour with Real City Tours.
2. Watch a Colombia Football Match
Colombians, like all South Americans, love their football. It's like a religion and you can't visit Medellin without going to a match.
These days the football games are very safe and the police presence is huge. In fact, there is no alcohol allowed at the games as a way to prevent any sort of violence or problems.
If you still don't feel up to going alone though, consider joining a tour. These tours will take you to and from the match with a local guide as well as organize the tickets for you.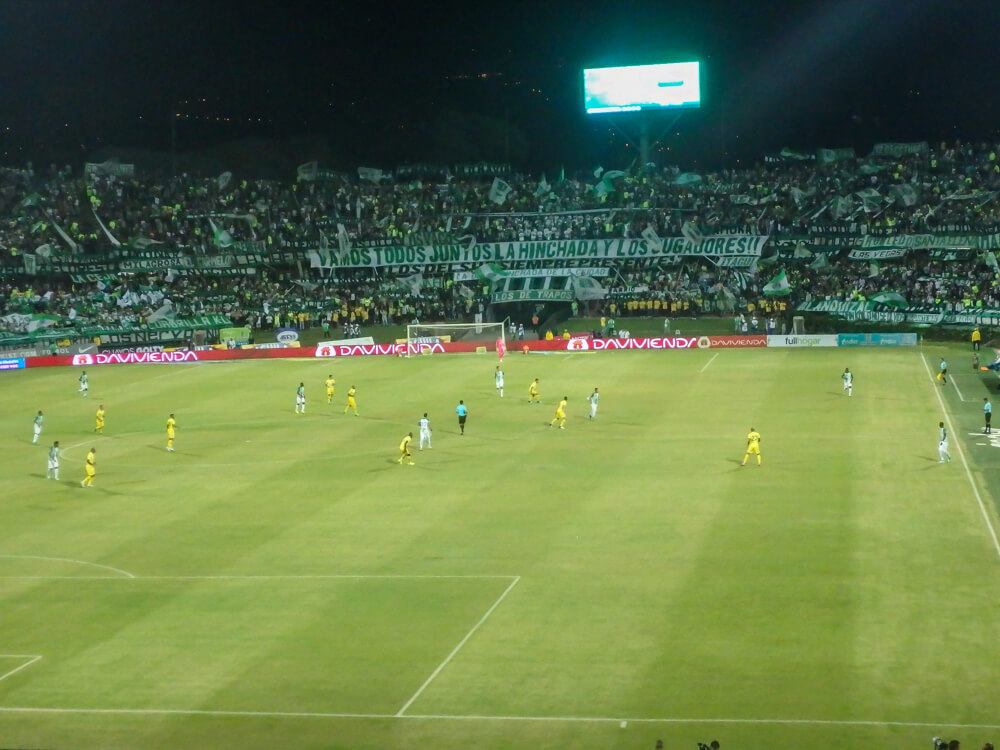 3. Day Trip to Guatape
Guatape is a famous town located 2 hours from Medellin. Guatape is home to a few attractions such as El Penol – a large monolithic rock. El Penol is said to be the best viewpoint in the world by locals. Although that's not necessarily true, it's still a beautiful place to explore.
The main attraction is the town itself though. Everywhere you look as you walk around Guatape is painted bright colors – it's like walking amongst a rainbow! The town is picture perfect and a great day trip.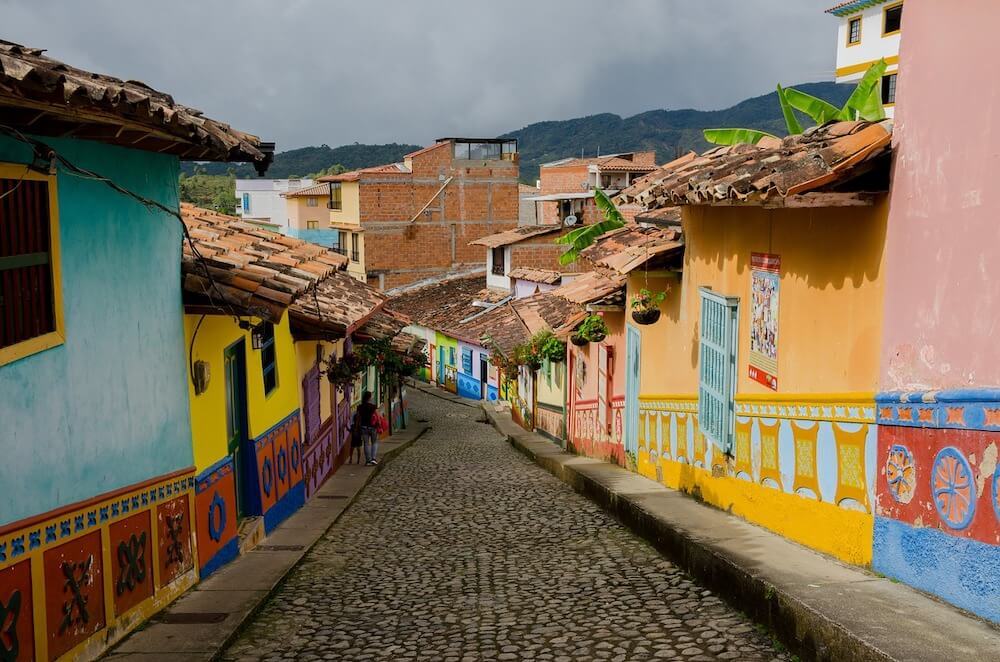 4. Party the night away in Poblado
Poblado is the most vibrant part of Medellin and also the most popular place for tourists. It's a very modern part of the city and is filled with great bars and restaurants showcasing food and drinks from all over the world.
Poblado is also a safe place to explore late at night and there are many awesome places to visit! Locals and tourists mingle in Pablado and your choice of places to drink are almost endless! You're sure to have a great night out here.
5. Visit Comuna 13
Comuna 13 was once one of the most dangerous places in Colombia. Nowadays though, it's much safer and is home to much of Medellin's most famous street art. Visiting Communa 13 promises a glimpse into Medellin's past while seeing for yourself the changes that have occurred.
This part of the city is much safer than it once was, however exploring is best done on an organised tour just to be sure (or, at the very least, in a group). It's also still unsafe to visit at night.
Where to Stay in Medellin
El Poblado
The best place to stay for tourists in Medellin is El Poblado. Not only is Poblado the safest part of the city, but it's also where the majority of the best accommodation and restaurants are. In El Poblado tourists are free to wander the streets without much worry at all.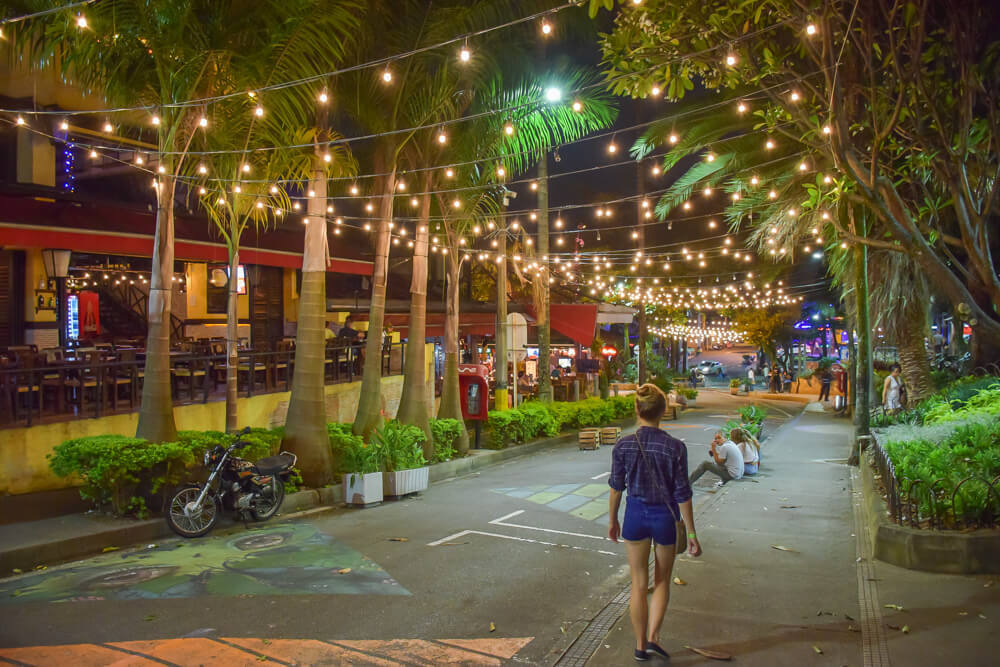 El Centro
Another area that is a good option for where to stay in Medellin is El Centro. El Centro is the city centre and although considered safe, is not as safe as Poblado. In this part of the city, pickpocketing is very common and after dark it's best not to wander the streets. With that being said, many tourists safely stay here without a problem.
Search for a Hotel in Medellin
Where to Eat in Medellin
The selection of restaurants in Medellin is vast and the quality is high. On the streets of Poblado, there are so many great places to eat, ranging from street stalls to fancy restaurants from around the world.
The best restaurant I ate at in Medellin was Café Zorba. This vegetarian pizza restaurant is well off the tourist trail and is a local gem. They serve gourmet wood fired pizza and the somewhat "strange" flavour combinations are a treat for the taste buds! They offer live music, great pizza and even better cocktails. It's located in the heart of El Poblado on a quiet street and is a must visit.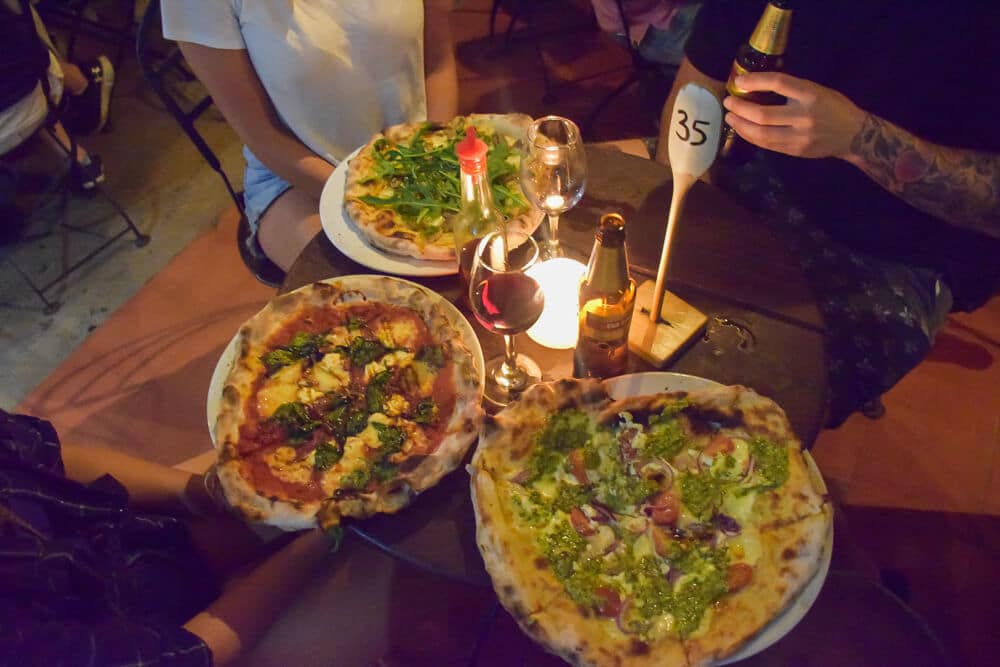 Besides restaurants, while in Medellin be sure to try a few different places to eat, including street carts. The street food in Colombia is very good and you can't miss it. Expect to see lots of empanadas and guacamole; can you ask for anything more?!
Safety in Medellin
Editor's Note: While Colombia is generally safe,
a friend of ours
was recently robbed at gunpoint in Medellin for his iPhone (and this was the second time he'd been
robbed in Medellin
). Another well-known blogger was recently knifed in Medellin for his phone. As a general rule of thumb, you should avoid showing any signs of wealth while out in public, and that includes using your phone or camera, unless you're in a tour group. While two people's experiences don't necessarily reflect a trend, it's worth knowing there are two sides to the coin of the safety situation in Colombia. We've personally traveled in Colombia with no problems, as has this guest author. That said, you really need to be aware of using expensive belongings in public, and keep your wits about you.
In recent years Medellin has transformed from a "no go" travel zone to a vibrant and rather safe city. Within the main tourist area of Poblado, the city is fairly safe and there are few dangers especially during the day. However, some barrios (suburbs) are unsafe for travelers, and the outer edges of the city should be avoided unless on an organised tour.
On trains and buses pickpocketing is common, but these crimes can be avoided by paying attention to your surroundings and travelling in groups. These crimes are almost always non-violent.
The people of Medellin are now beginning to put their city on show and during my stay the locals were more than happy to help tourists at every turn. I personally never felt unsafe while in Medellin and felt welcomed by the people who lived there.
Overall, Medellin is a beautiful city full of culture. The people are friendly and there is much to see and experience. I have yet to meet a traveler who disliked Medellin. In fact, most people (myself included) get trapped in Medellin and end up staying much longer than they originally planned. Even now after I've left, I can't stop thinking about Medellin and am already planning my return next year!
Like this Post? Pin it for Later