Cleveland, Ohio is an underrated city that offers a lot more to do than most people realize. If you're interested in spending a weekend in Cleveland, Amanda from Cleveland Traveler shares how to spend your time and money.


Disclosure: This post contains affiliate links. That means we earn a commission when you use the links on this site to book a hotel, buy your travel insurance, etc.. If you'd like to learn more about how this works, you can read more under our Disclaimer page.
***
You may not immediately think of Cleveland, Ohio, when you think of the top places in the US for a weekend getaway. But Cleveland is an extremely underrated city that offers a lot more to do than most people realize.
Cleveland has great museums, a thriving food and craft beer scene, and a beautiful lakefront location – but without the tourist crowds you'll find in many larger US cities.
If you find yourself with a reason to be in Cleveland for a weekend, here's an idea of what you can get up to in two days:
DAY 1
Morning: Coffee and architecture downtown
Start your first day in the heart of downtown Cleveland. Even though this part of the city may seem like your typical "downtown" with tall buildings and sports stadiums, there are a lot of cool local businesses and architectural details to enjoy here.
Grab breakfast at Phoenix Coffee, a local coffee roaster that now has five cafe locations around the city. Phoenix's E. 9th Street location is central, and also serves up bagels from The Cleveland Bagel Co.
After getting fueled up, you can take a stroll down Euclid Avenue to admire some of Cleveland's downtown architecture. Some must-sees here include:
Heinen's – This grocery store at the corner of E. 9th and Euclid is housed in the old Cleveland Trust Co. Building, which dates back to 1907. Go into the rotunda food court and look up to marvel at the Tiffany-inspired dome and murals.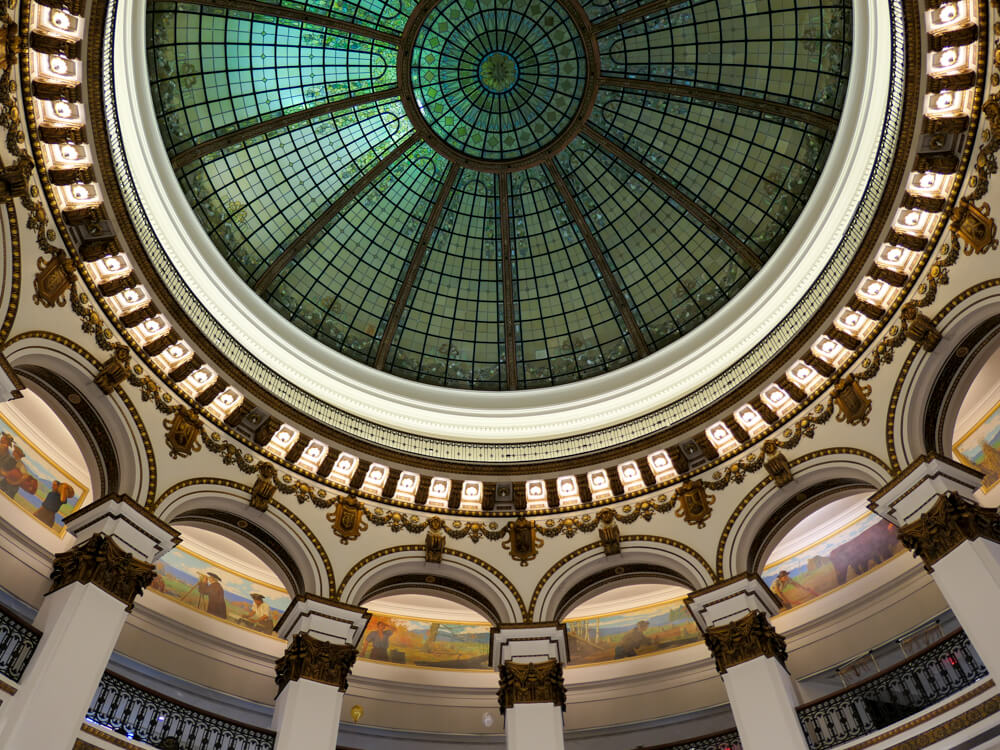 The Arcade – Stretching between Euclid and Superior, this historic shopping arcade looks like something plucked straight out of Italy. It was partially financed by John D. Rockefeller (who is buried in Cleveland!), and is said to have been one of the first indoor shopping malls in the world. Across the street, also pop into the 5th Street Arcades for more great architecture and local shops.
Public Square – End your stroll at the newly-designed Public Square, where you can see the Terminal Tower, the Soldiers' and Sailors' Monument (which has a cool Civil War memorial/museum inside), and the historic Old Stone Church.
Afternoon: Get your museum on
After seeing some of Cleveland's downtown highlights, it's time to hit up one of the city's excellent museums. My top two picks are always the Rock and Roll Hall of Fame and the Cleveland Museum of Art.
The Rock Hall is a comprehensive museum spread out over 7 floors; the Cleveland Museum of Art is usually regarded as one of the best art museums in the United States – AND it's free to visit.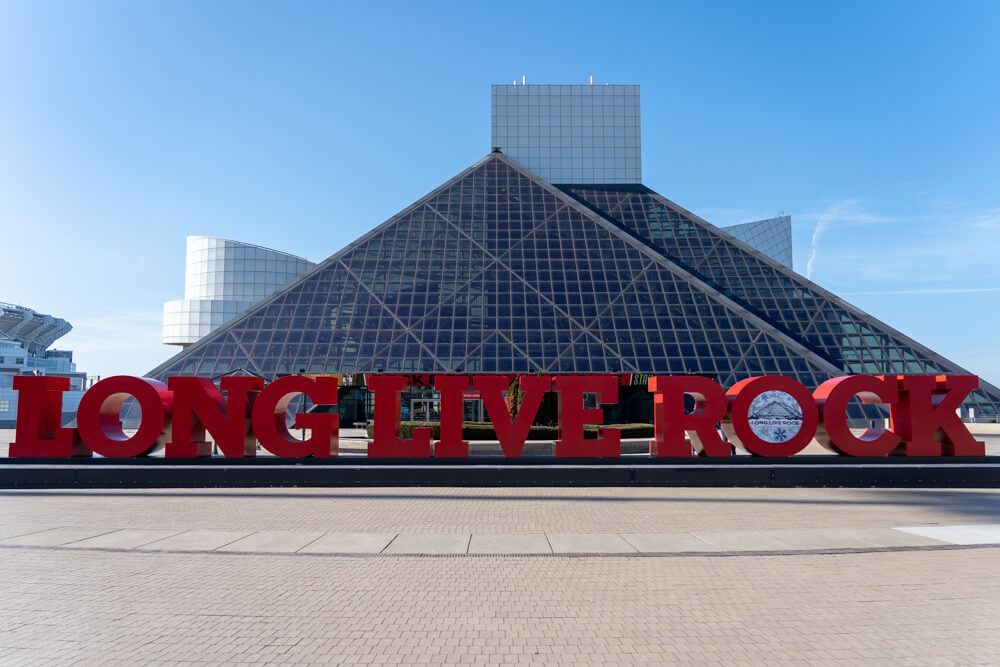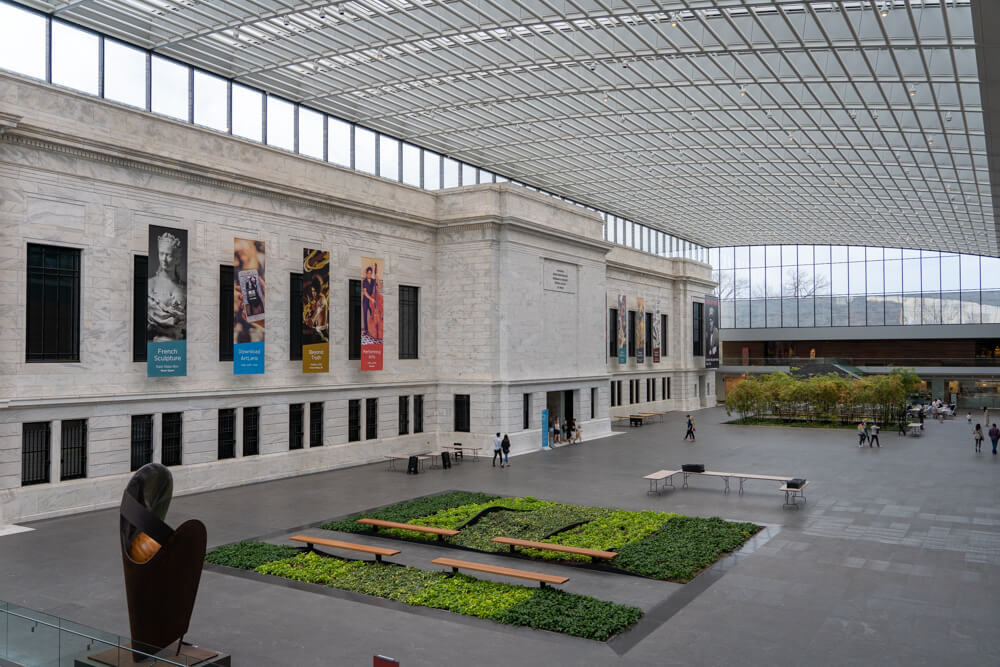 Some other Cleveland museums of note include:
Cleveland Museum of Natural History – A good pick if you're traveling with kids.
Museum of Contemporary Art (MOCA) Cleveland – Also free to visit.
Great Lakes Science Center – A hands-on educational museum that's also great for kids.
Many of Cleveland's museums are located in the University Circle/Uptown area, which has several places to grab a quick lunch. Both the Rock and Roll Hall of Fame and Cleveland Museum of Art have on-site cafes of their own that serve up good eats, too.
Photo tip
One of my favorite Cleveland photo locations is near the Rock and Roll Hall of Fame. Across North Coast Harbor from the Rock Hall is Voinovich Bicentennial Park, where you'll find one of the 6 Cleveland Script signs that were installed around the city by the tourism board. The script sign here has one of the best backdrops.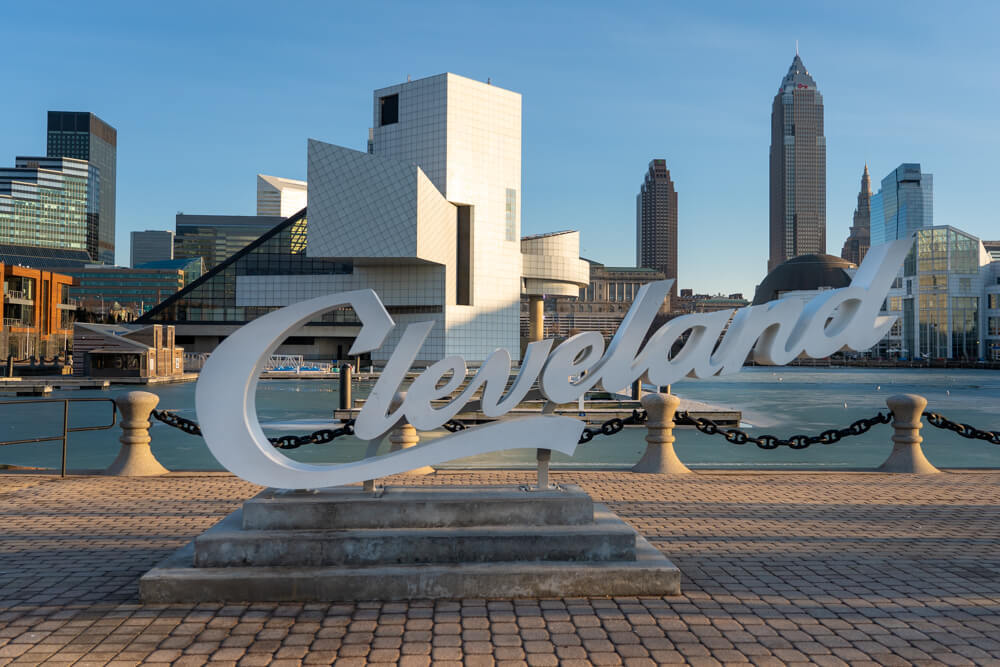 Evening: Get to know Lake Erie
Even though you can get glimpses of Lake Erie from many downtown spots, it's worth getting a closer look at a spot like Edgewater Park. This park – complete with pier and city beach – was taken over by the Cleveland Metroparks several years ago, and now is a beautiful spot to enjoy Lake Erie within view of the Cleveland skyline.
After spending some time at Edgewater, you'll be close to Cleveland's Detroit-Shoreway and Gordon Square Arts District neighborhoods, which are both great for drinks and dinner.
Grab a beer and donut at Brewnuts or order a wine flight at Flight Cleveland, and then consider spots like Spice, Toast, or Luxe Kitchen & Lounge for dinner. Afterwards, head over to Sweet Moses for dessert at an old-fashioned soda/ice cream shop.
DAY 2
Morning: Markets and murals
Start your day in Cleveland's Ohio City neighborhood, which is across the Cuyahoga River from downtown. Ohio City used to be a completely separate city from Cleveland, but is now one of the city's most popular neighborhoods filled with good food, craft breweries, and colorful street art.
If you need a spot to grab breakfast, check out Jack Flaps or the West Side Market Cafe.
Then, it's time to explore the West Side Market, Cleveland's oldest public market. The market building dates back to 1912, though there's been a market here since the mid-1800s. Wander through the market stalls, admiring everything from pasta to pastries.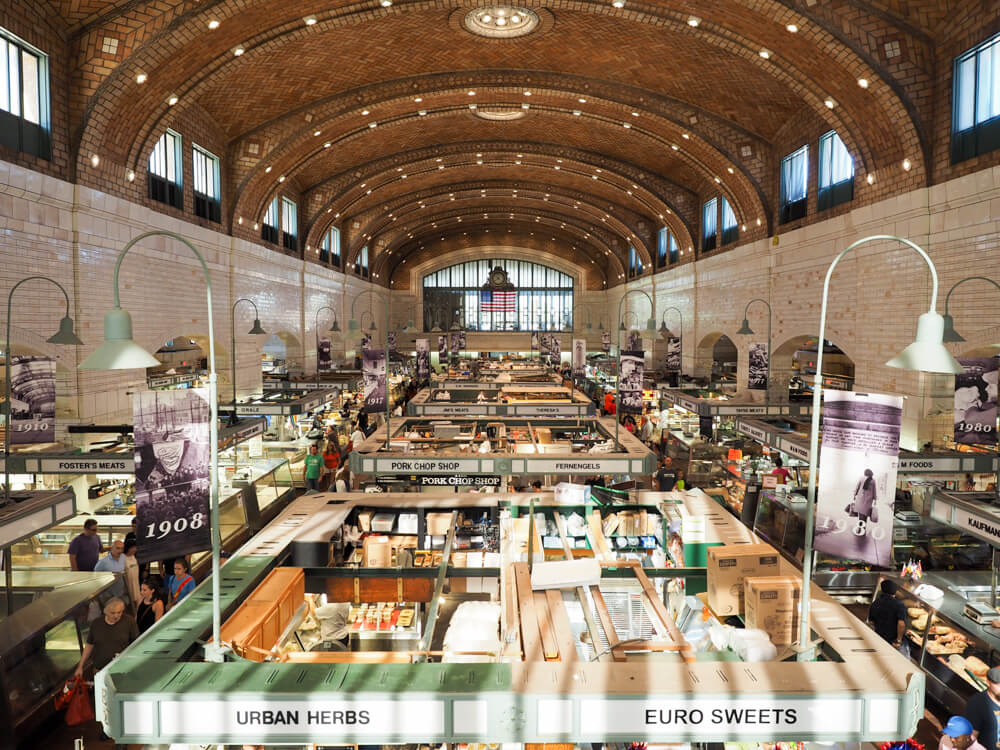 Next, you can make your way towards Hingetown, a part of Ohio City with a large concentration of murals. (Check out this guide to Cleveland murals to learn more about them.) Grab a coffee at Rising Star Coffee Roasters at the corner of W. 29th and Church Ave., or head across the street to Cleveland Tea Revival if you prefer leaves to beans.
If you're still in a museum mood, this neighborhood is home to both SPACES and the Transformer Station art galleries.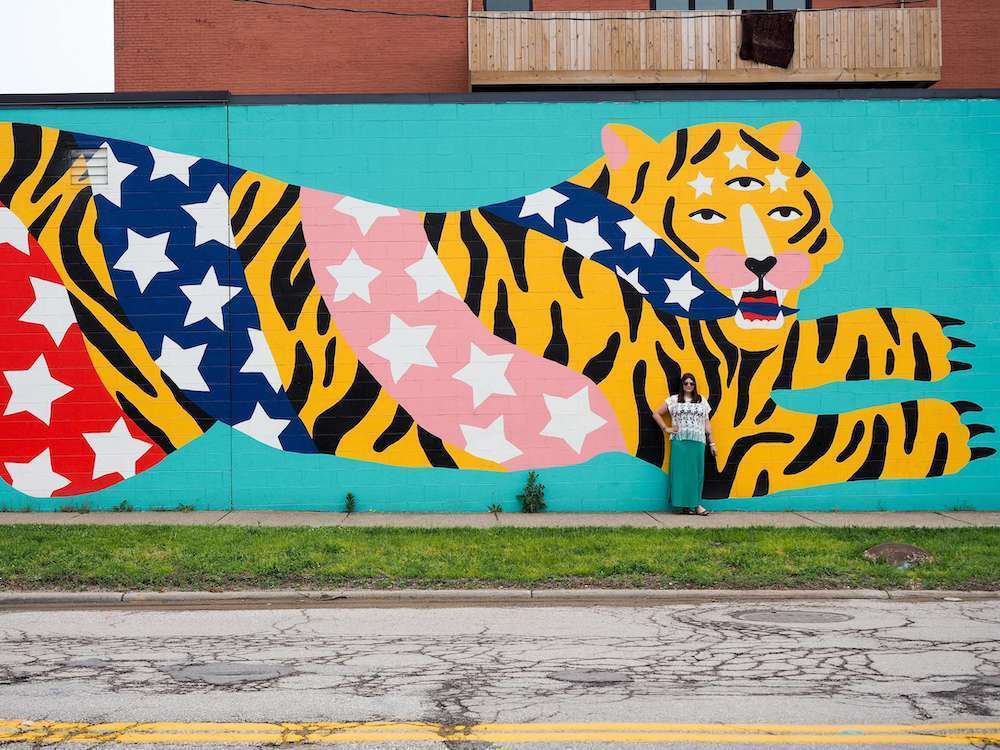 Afternoon: DIY brewery crawl
For lunch, you can either check out the offerings at Ohio City Galley (a restaurant incubator), or head back towards the West Side Market to eat at TownHall, which is one of my favorite restaurants in the area. Then maybe grab an ice cream from Mitchell's Homemade Ice Cream, which is housed in a renovated silent movie theater.
After lunch, put together a little do-it-yourself brewery crawl. There are more than 30 craft breweries in the Greater Cleveland area, and more than half a dozen of them are within a few blocks of one another in Ohio City. Check out the original Cleveland craft brewery, Great Lakes Brewing Co., along with others like Nano Brew, Hansa Brewery, Bad Tom Smith, and more.
Evening option 1: See a show
Cleveland has a robust performing arts scene, from theater to music. If you want to go all-out, you could see a concert at Severance Hall performed by the Cleveland Orchestra (one of the "Big Five orchestras" in the US), or book a ticket to a play or musical at Playhouse Square. Playhouse Square is the largest performing arts venue in the US after Lincoln Center in New York.
Or, if a more low-key show is more your speed, Cleveland has a couple historic theaters like the Capitol Theater and the Cedar Lee that screen a mix of classic and newer films.
And if none of those options appeal, you can always head back downtown and enjoy one of Cleveland's great rooftop bars like Punch Bowl Social (casual) or the Azure Rooftop Lounge (upscale).
If you have more time…
At the risk of sounding like one of those infomercial salespeople… but wait, there's more!
If you have more than just a weekend in Cleveland (or if you aren't crazy about some of the suggested things on this itinerary), a few more things worth checking out include:
A Christmas Story House – This house in Cleveland's Tremont neighborhood was used in the holiday classic "A Christmas Story" and has been renovated to look exactly as it did in the movie.
Lake View Cemetery – Celebrating 150 years in 2019, Lake View Cemetery was built to resemble the grand garden cemeteries of Europe. Along with a chapel designed by Tiffany and a grand memorial to James A. Garfield, the cemetery also boasts some incredible sculptures and famous graves like that of John D. Rockefeller.
Cuyahoga Valley National Park – It's not IN Cleveland, but Ohio's only national park is just a short drive away. Go for a hike or bike ride, visit some waterfalls, or even take a train ride through the park.
Where to Stay in Cleveland
Most of Cleveland's accommodation options are located downtown. My top picks include:
Hilton Cleveland Downtown – The downtown Hilton has rooms with floor-to-ceiling windows offering up panoramic views of the lake and city.
Metropolitan at the 9 – This trendy boutique hotel is a good luxury pick. It has an on-site restaurant, as well as two bars: a cocktail lounge, and the swanky Azure Rooftop Lounge I recommended earlier.
Glidden House – Glidden House is a full-service boutique hotel/B&B located in an historic mansion that dates back to 1910. It's consistently rated one of the best places to stay in Cleveland.
***
Amanda Williams is a professional travel blogger based near Cleveland, Ohio. In early 2019 she launched Cleveland Traveler, a niche travel blog that seeks to highlight all the unique things to see, do, and eat in Cleveland.
***
Like this Post? Pin it and Save it for Later!