From ancient Incan cities to sand boarding down mountainous dunes, Peru is a diverse and beautiful destination. If Peru is on your itinerary, these are the 12 best places to visit in Peru.


Disclosure: This post contains affiliate links. That means we earn a commission when you use the links on this site to book a hotel, buy your travel insurance, etc.. If you'd like to learn more about how this works, you can read more under our Disclaimer page.
This is a guest post by Naomi Beemsigne from Eatloveexplore.com
***
A small country on the west coast of South America, Peru is best known for the world wonder, Machu Picchu. But Peru has so much more to offer travelers, and there are tons of other amazing places to visit.
Peru has an immensely diverse landscape with beaches, deserts, cities, snow-capped mountains, and even the Amazon rainforest. It's rich in history and has many ancient Incan cities in the high Andes mountains, including the Sacred valley, the Inca trail, and Machu Picchu.
I travelled through Peru for over five weeks, and it wasn't nearly enough time to discover all of the hidden gems. Peru is an incredible country. Even after visiting over 40 countries, it stands out and has become one of my favorite countries, ever.
Over five weeks we visited many cities and this is my list of the best places to visit in Peru.
The Best Places to Visit in Peru
Máncora
Mancora is a small beach town on Peru's northwest coast, which is slowly gaining popularity among travelers.
With good weather all year round, amazing waves for surfing and some of the freshest ceviche in the country, it's not hard to see why. Mancora is still relatively tourist free, and it's possible to have a great time in this beautiful beach town.
If you want to learn to surf, Mancora is the perfect place to do it. While it has good surfing conditions all year, the best times are November through February.
Mancora is also great for beach time. The beach is clean and goes on for miles. You can rent umbrellas and chairs or just use your towel if you prefer. While there are some beach vendors, they're not too aggressive, so you can still enjoy a relaxing day on the beach.
In town, restaurants and cafes line the main street, and there are also lots of dining options on the beach. Menu del dias (3-courses meals) cost from $4 to $15 depending on the place.
For a refreshing dessert try a cremolada – a delicious icy treat that's a mix between a slushie and sorbet. I definitely had way too many while I was there. They are SO good!
Mancora is the perfect beach town to relax and do nothing, surf all day (or party all night), while also enjoying the beautiful Peruvian coast.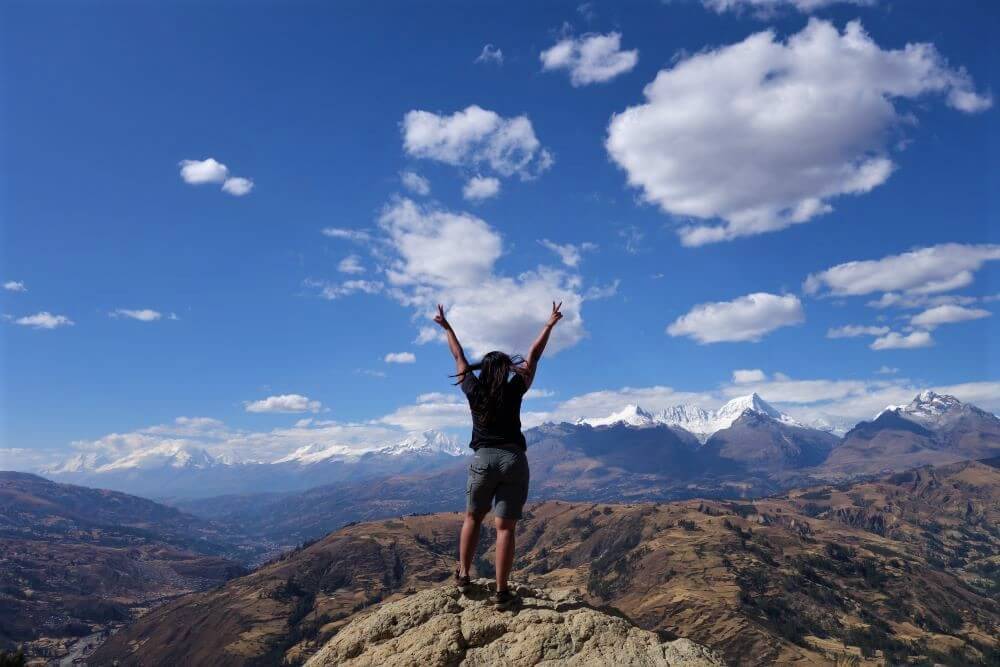 Huaraz
Huaraz is a small city located in Peru's northern Callejón de Huaylas valley. It sits at high altitude – 3000m (9842 feet) – and is surrounded by the beautiful snow-capped mountains of the Cordillera Blanca range.
If Patagonia is a little out of your price range, Huaraz is a great budget alternative. You'll save hundreds and still get to witness remarkable nature and landscapes for less than half the price of a trip to Patagonia. You can also get up close and personal with a glacier if you take a Pastouri Glacier day tour.
Avid hikers and outdoor enthusiasts in particular will love it here. It's not hard to see why it's been dubbed Peru's hiking capital. You can see the mountains from almost anywhere in the city, and it's jaw-droppingly beautiful.
There are plenty of 1-day hikes available, some of which you can do on your own or with a cheap tour. Since Huaraz is located at high altitude, give yourself a day or two to acclimate before heading out on any multi-day treks or more challenging hikes.
While getting acclimated, I recommend doing the Laguna Wilcacocha hike. It's "only" 3000m and has a beautiful lake at the top. There are even cute dogs who will keep you company while you're having a snack. At the top, you'll be treated to epic views of the Cordillera Blanca. This was the first time I ever saw a snow-capped mountain range, and it was unbelievable. The mountain range goes on for miles and is truly something special to see.
Alternative one-day hikes/tours I recommend are Laguna Churup, Laguna Paron, Laguna 69 and the Pastouri Glacier.
If you're a thrill-seeker and want to do something more adventurous, you can go for multi-day hikes through the Cordillera Huayhuash or head out on the Santa Cruz trek. While you can do these hikes alone, I don't recommend this unless you have a lot of experience. They're incredibly tough, but so worth it for the views and experience.
Huaraz was truly an incredible experience and I highly recommend adding it to your trip itinerary!
Lima
Lima is the capital city of Peru, and is located on the country's Pacific coast. As one of South America's biggest cities, it is full of world-class bars and restaurants.
If you have the budget, I definitely recommend dining at one of the best restaurants in the world: Central. It's located in the Barranco District and has some of the best food in the world, for half the price you would pay anywhere else.
Free walking tours are available in Lima, and are a great way to get to know the city and learn about the history from a local.
Lima also has the Parque de la Reserva, a unique place showcasing Circuito Magico del Agua. At night there is a spectacular light and water fountain show. It's definitely worth a visit.
If you like to shop or people watch, Larcomar is a mall that has been built into the side of a Located in the Miraflores neighborhood, it has amazing views of the ocean and you can even watch surfers and paragliders from above.
After that, walk to the Park of Love – a beautiful park with a kissing sculpture and mosaic walls. It reminded me of Park Guell in Barcelona.
There is so much to see and do in Lima, but if you're short on time, I recommend only staying a day or two here.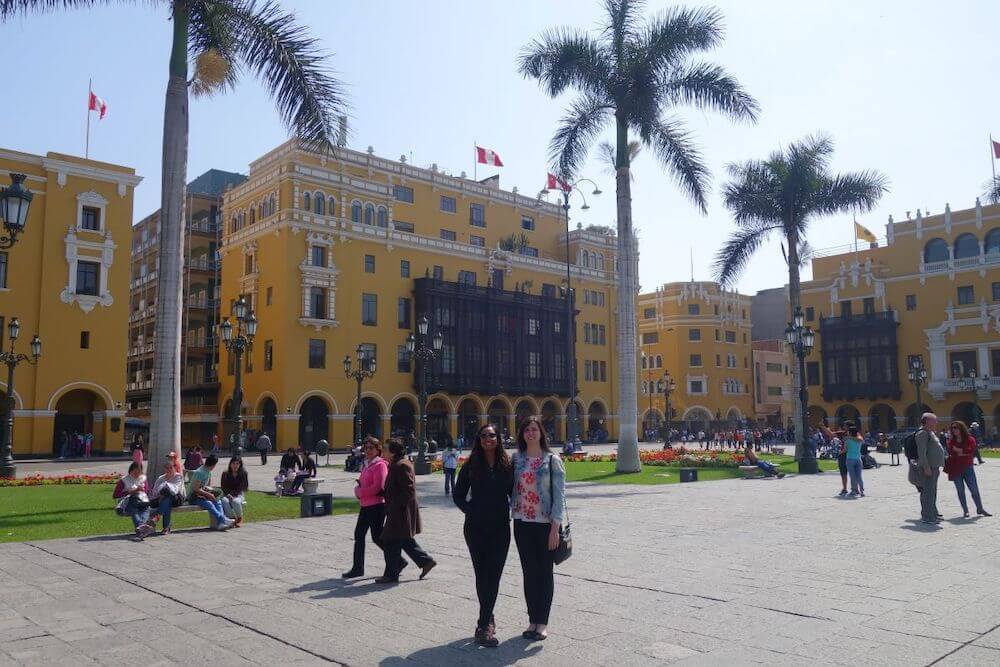 Paracas
Paracas is located about 3 hours south of Lima. Many people come here to visit the Paracas National Reserve, and specifically to see the Islas Ballestas, a short boat ride away.
Islas Ballestas is known as the poor man's Galapagos Islands because you can see a huge variety of seabirds, sea lions and even Humboldt penguins! You can't actually walk around the islands and tours are done from a speedboat. It's a really great experience for nature lovers.
Most tours will also take you to see the Paracas Candelabra geoglyph. It's an ancient, mysterious shape that has been etched into the hillside of the Paracas Peninsula – similar to what you'd see at Nazca.
Ica
From Paracas to Ica, head to Ica. The journey is quite short and only takes a little over an hour.
Ica is the Peruvian wine and pisco region. While in Ica, you should definitely go on a wine and Pisco tour. Pisco is a white brandy made in Peru from muscat grapes. It's the star of Peru's national drink, the Pisco Sour.
Tours usually include 2 to 3 different vineyards, and you'll get to try unique flavors made by wineries. All the vineyards are beautiful, but I especially loved the Tacama vineyard. It's one of the oldest wineries in South America and is gorgeous.
Pisco is definitely an acquired taste, but if you sample all the shots, you're pretty much guaranteed to have a lot of fun on this tour :)
Huacachina
This incredible desert oasis is a tiny village about a ten minute drive from Ica. It looks like an imaginary place straight out of the book, The Alchemist. It's unlike any place I've ever seen before.
A beautiful lagoon sits in the middle of the desert and is surrounded by towering lush palm trees. You can see sand dune mountains all around, and there are lots of bars and restaurants to explore.
The main thing to do in Huacachina is a desert tour, which take place in the morning or afternoon. The tours include sand boarding and dune bashing. On the afternoon tour you'll get to watch the sunset from the desert.
You only need a day in Huacachina to experience the dune bashing fun, but it's definitely worth the stop.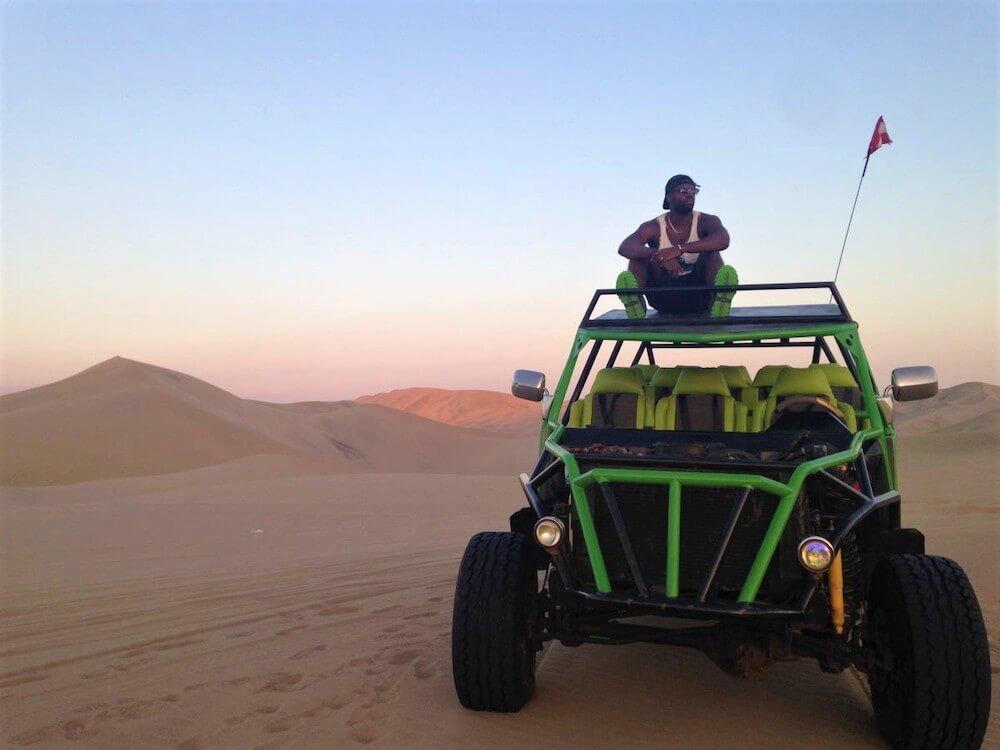 Nazca Lines
The famous Nazca lines are mysterious geoglyphs etches into the Nazca desert. They're over 2,000 years old, and no one knows how they were created or why they're there. The mystery is still unsolved, and adds to the magic of the place!
The Nazca lines are spread over 80km of desert, so the only way to truly see and appreciate them is by taking a flight.
Flight tours are usually between 30 and 60 minutes long, and range in cost from fifty dollars to well over one hundred dollars.
While it's a little pricey if you're traveling on a budget, it's worth it to see this part of ancient Peruvian history.
(Note: it's worth taking the time to choose a safe airline for this flight, as there have been issues in the past. Geoff and Katie took this flight in 2010, blissfully unaware of the safety issues at the time. Our friends Pete and Dalene of Hecktic Travels took a flight around the same time, and the next day a fatal crash took place. The government has made strides to make the industry safer, but it's still worth asking questions and doing your research ahead of time).
Arequipa
Arequipa is a stunning colonial town known as the white city because of its beautiful white walls made of volcanic rock. It's surrounded by 3 volcanoes: Chachani, Misti and Pichu Pichu.
The most popular volcano is Misti, and if you love a challenging adventure, you can climb it. To get to the top it'll take 3 days, and you'll go up to an altitude of almost 6000m.
In the city, you can explore the stunning red-walled Monastery Santa Catalina. It was built in 1579 and is located in the historical center. It's absolutely huge. This 20,000 square-meter complex will make you feel like you've entered a completely different city within the city. The architecture and landscaping is stunning, and it's a great way to spend an afternoon.
For sunset, visit the Katari Hotel rooftop lounge, which overlooks the historic Plaza de Armas and offers mind-blowing volcanic views. Be sure to make reservations ahead of time because they get booked quickly.
Colca Canyon is one of the main attractions easily accessible from here. It's only an hour away and has a depth of 3400m – more than twice the depth of the Grand Canyon – making it one of the deepest canyons in the world.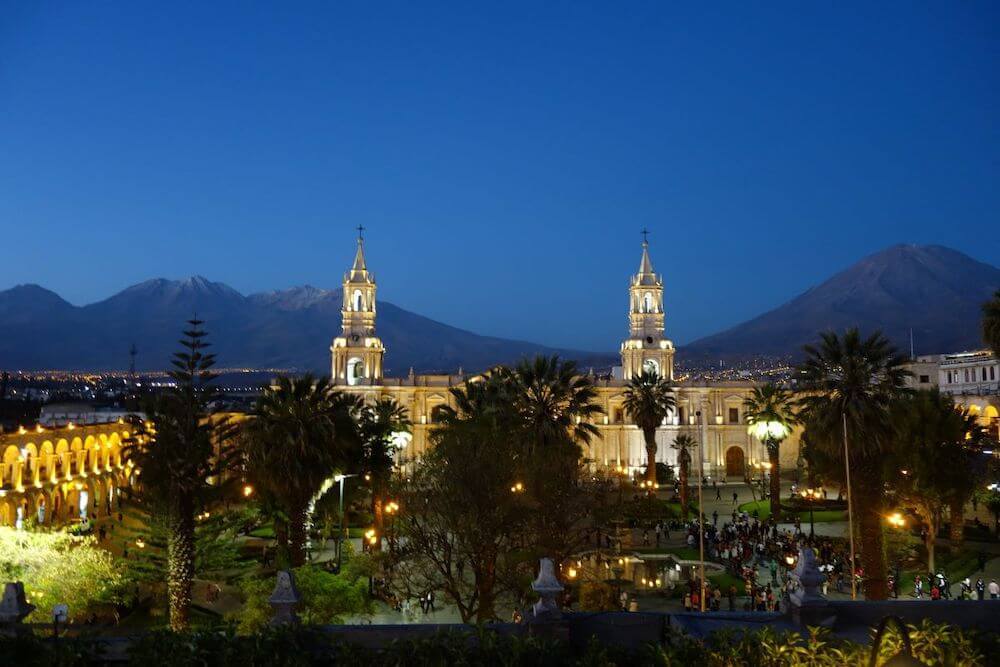 Colca Canyon
One of the main reasons for visiting Colca Canyon is getting the chance to see the Andean Condor in its natural habitat. Condors are gigantic birds with the largest wingspan of any bird at over 10 ft wide. Witnessing them flying around is a seriously awesome experience.
You can also hike down into the canyon if you prefer a more adventurous experience. Hiking trails can take 2 to 3 days depending on the route you take. It is challenging and can be hard on your knees while going down, but people who've done it absolutely loved it.
Cusco
A list of the best places to visit in Peru would be incomplete without mentioning Cusco.
Cusco is one of my favorite cities in the world as there is so much to see and do. It's located in the Peruvian Andes at 3400m so be sure to give yourself time to acclimate to the altitude.
The mystical energy of this city is palpable as it was once the capital of the Inca Empire. You can easily spend a day getting lost in the cobblestoned streets, admiring the red-shingled roofs and mountain backdrop.
It's one of the main tourist cities and there are lots of modern and local restaurants – even a McDonald's, KFC and Starbucks, sigh – near the historical Plaza de Armas.
If you're looking for something differet, try Peruvian Chinese fusion food at Kion. The atmosphere is great and while it's a little more expensive than some restaurants in Cusco, it's worth every penny.
Cusco is where most people start their journey to Machu Picchu, but it's actually located near a small town called Aguas Caliente.
Budget travelers can have an adventure on their way to this magical Incan city. You can get to Macchu Pichu by taking a bus from Cusco to Hidroelectrica and then hiking for 2 hrs along the train tracks into Aguas Caliente town.
If you have less time, a bigger budget, or don't want to do that, then you can take a train directly to Aguas Caliente. Either option is fine, because you'll have to spend the night in Aguas Caliente and then head to Machu Picchu the following day.
Machu Picchu
Machu Picchu is one of those famous places that truly lives up to the hype. Walking through the ruins, you can't help but be in awe of what the ancient Mayans accomplished here.
In addition to regular entrance tickets, you can opt for a ticket with the option to climb the Machu Picchu Mountain or Huayna Picchu. Both of these hikes will be challenging because of the high altitude, but you'll be rewarded with unreal, mind-blowing panoramic views of the area.
I did the Machu Picchu Mountain, and while I hated my life during the climb (because the altitude made it really difficult to breathe), the views and memories more than made up for it.
The Inca Trail is another popular option for getting to Machu Picchu. If you want to do the 3-4 day Inca trail, you must reserve at least 6 months in advance because there are a limited number of tourists allowed. It's also very expensive at approximately $500-700 USD.
However, there are alternate treks that you can do for a much lower cost. An increasingly popular trek is the Salkantay trek which also goes along the Inca trail but for much less – only around $200-$300.
In addition to Machu Picchu, there are other amazing day trips from Cusco including the insta-famous Rainbow Mountains and the Sacred Valley.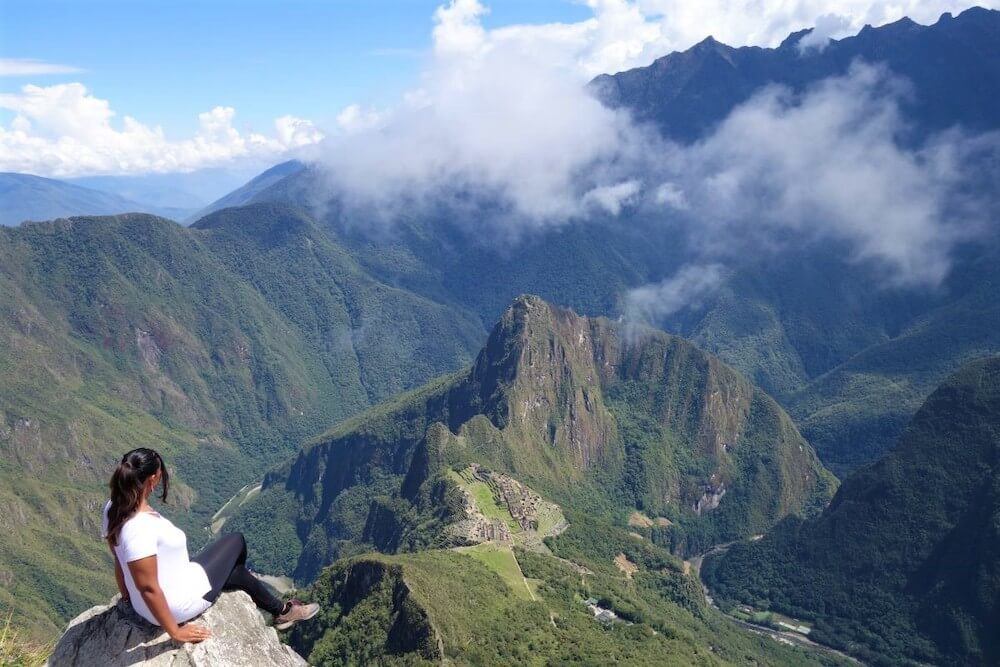 Iquitos and the Amazon
Iquitos is perfect if you've ever wanted to explore the Amazon jungle. It's the world's largest city completely inaccessible by road, so you must fly in or arrive by boat. It's definitely one of the best places to visit in Peru, as well as the most unique.
To explore the Amazon, you can take daily river cruises where you can go deep into the jungle and get the chance to see animals like pink river dolphins, scarlet macaws, monkeys, sloths and caimans (the less aggressive cousin of the crocodile) to name a few.
If you're feeling brave, there are some really cool Amazon lodges you can stay in to give you a true jungle adventure experience.
From Iquitos, there are many things to do on nearby islands or villages. You can take a boat to Monkey Island where, as the name suggests, you can see over 200 monkeys.
To experience local life in the Amazon, be sure to check out the floating neighborhood/market in Belen.
If you want to get closer to aquatic wildlife, consider making the trip to the Manatee Rescue Centre.
Experiencing the untouched nature of the Amazon jungle is an unforgettable experience and is definitely one of the best places to visit in Peru for a unique and adventurous experience.
After traveling through South America for 6 months, and visiting over 7 countries, Peru clearly stands out as one of my favorite countries. The people are so warm and friendly, there is so much to see and do, it's extremely affordable for any budget, and the landscapes are incredibly diverse.
We spent five weeks there and barely scratched the surface. You could easily spend months here discovering something new everyday.
The most remarkable feature of Peru is that one day you can be surrounded by snowcapped mountains in Huaraz, and a short bus ride later, you can be sandboarding down gigantic desert dunes.
From the lush Amazon rainforest to the snowy glacier peaks in the Andes, from dining in world-class restaurants in Lima to experiencing the rich cultural traditions – Peru is the ultimate travel destination.
Peru truly has something for everyone. I hope this has inspired you to explore beyond just Machu Picchu in this astounding country.
---
Like This Guide? Pin it for Later!