Have a vacation planned that requires you to up your style game? This guide is here to help you find the best lightweight travel blazer for men! We've compared 5 top-rated men's travel blazers, and outlined what you should look for when buying your own.


Disclosure: This best lightweight travel blazer review contains affiliate links. That means we may earn a small commission when you use the links on this site to book a hotel, buy your travel insurance, shop for travel essentials, etc.. You don't pay anything extra. If you'd like to learn more about how this works, you can read more under our Disclaimer page.
Depending on your travel style, destination, and the type of trip you have planned, a lightweight travel blazer for men can be a must-pack travel item. The best mens blazers will keep you looking smart and stylish throughout your trip and across a variety of scenarios, while also being comfortable to wear and relatively easy to care for (even if all you have access to is a hotel bathroom or cruise ship sink). Despite being one of those men's travel essentials every man should have in his suitcase, finding men's travel blazers that tick all the right boxes isn't necessarily an easy task.
When looking for a traveler blazer, we recommend finding something that's highly versatile so it can worn across multiple situations. From presenting yourself at the airline or hotel check-in desk (where looking smart goes a long way in terms of possible upgrades), to in-destination dining or evenings on a cruise ship, mens travel blazers need to be suitable for a wide range of situations. In many European countries, looking the part by wearing a good quality travel blazer means you're more likely to blend in as a local (rather than standing out as a tourist).
We've put together this guide to help you (or your travel companion) find the best blazer for travel. In addition to outlining what to look for when shopping for the best men's travel blazer, we've highlighted a few of the currently-available options on the market, with a focus on highlighting those that – in our opinion – are the best options out there right now. We've also included a short packing guide; follow our tips on how to pack a travel blazer like a pro, and you'll ensure it stays in top condition during your big trip!
---
Table of Contents: Find the Best Travel Blazer for Your Trip
---

01. What is a Travel Blazer, How is it Different from a Normal Blazer & What Do You Need to Consider Before Buying One?
---
Unlike the everyday blazer you wear to the office or out for dinner and drinks in your home city, the best travel blazers are built with suitcases, epic flights, long days of sightseeing, and hotel sink washes in mind. Unique to the best travel blazer, these features ensure you not only look good when you first get dressed on Day 1 of your trip, but that you still look good after hours of travel and at the end of your 3-week, 10-city epic Spain itinerary!
That's right: if you go to the trouble of investing in one of these made-for-travel wardrobe essentials, you can count on the fact that the best mens travel blazer will remain relatively wrinkle-free despite being worn for hours (or stuffed in your suitcase), will be easy to care for while you're on the road, and will pass muster when you need both a casual and more dressy look.
So what should you look for in a lightweight travel sport coat for your next adventure?
Wrinkle-proof, machine washable and generally easy to care for
Lightweight construction and material
Suitable for a wide range of climates and temperatures
From a well-known and reputable brand, with a reputation for great customer service and after-sales support
We've outlined more information about each of these essential features of a quality travel blazer below.
1.1 Men's Travel Blazer, Wrinkle Free: So You Don't Have to Spend Your Vacation Ironing
First, a reality check: after spending X number of hours on a plane, train, or automobile in transit to your destination, it is pretty unlikely you'll arrive at your destination with your travel sport coat wrinkle free … even the best wrinkle free travel blazer will eventually succumb somewhat to the rigours of travel. The point is to find something that will bounce back quickly from the wrinkles, that's easy to shake out so it looks presentable again ASAP, and that generally keeps you looking smart no matter how long you have been travelling for.
And the key is buying one of the wrinkle free blazers made with specially-designed fabrics to do just that. While we aren't fashion designers or fabric scientists, from the best we can tell these fabrics are constructed with tightly-packed molecular strands that instinctively return to their original state, regardless of how much they are twisted or pulled. This technical fabric means a wrinkle free sports jacket should look good whether it's been worn for hours on end or been packed away in a suitcase…making it the perfect choice for all types of trips.
1.2 Machine Washable Blazer, Mens Best Friend: Because Learning How to Say 'Beer' in French Seems Way More Fun Than Learning the Word for 'Dry Cleaning'
Unless you're in one place for a long while, we're guessing you don't want to spend your vacation searching for the nearest dry cleaner, and avoiding a complicated laundry regime makes a machine washable sport coat essential. If you buy machine washable blazers, you can simply arrange for your hotel's front desk to wash the blazer with the rest of your clothes, or if you're feeling particularly bold (and have a quick dry travel blazer), you can DIY in your hotel sink.
Way more convenient (and cheaper) than searching for a dry cleaner, or waiting until you're back home to wash your travel blazer.
1.3 Lightweight Blazer, Men's Back's Best Friend: Because No One Wants to Haul a Heavy Suitcase Up Three Flights of Narrow Hotel Steps
Let's be honest: travelling is way easier and much less stressful when you're travelling light, which is why it's important to look for a lightweight men's blazer when shopping for your travel blazer.
While the weight you'll save by going for a lightweight travel blazer for men doesn't seem like it will make a difference at the beginning of your trip, you'll thank us when you're trying to make room for that bottle of small batch Irish whiskey … without pushing your luggage going over the airline's weight limit.
Worth noting, lightweight doesn't necessarily mean it won't keep you warm. If you are travelling to a cool climate, look for a men's lightweight blazer made from warm yet lightweight fabrics…they do exist, and are perfect for city trips throughout the winter and Christmas river cruises.
1.4 Travel Style and Climate: Different Strokes for Different Folks
Just as there are different strokes for different folks, there are different blazers for different trips. And while that's not quite as catchy as the more popular saying, it is worth considering your personal travel style and the type of climate you're visiting when shopping for a travel sport coat.
Whether you purchase a lightweight cotton blazer or lightweight wool blazer really depends on where you're going (and, to a lesser extent, what you plan on doing while you're there). A cotton travel blazer is better suited to a tropical vacation, but will wrinkle more than wool or a technical fabric, unless it's made from a heavier cotton. A wool blazer can work in most climates, and is more wrinkle-resistant than many fabrics. Microfiber blazers are also a good option; a good quality microfiber travel blazer is wrinkle resistant, packs well, and looks just as refined as cotton and wool.
1.5 Brand Reputation, Good Customer Service, Returns and Product Guarantees: Get a Travel Jacket Blazer That Will Go the Distance
To ensure you're getting the best mens blazer (that will last you well beyond your current trip), it's worth investing in a travel blazer from one of the top blazer brands. When shopping, stick to one of the best blazer brands (think well-known brands like Haggar, Orvis, or Eddie Bauer, or any of the other good blazer brands featured below) … that way, you'll know your purchase will keep you looking great on trips years down the line.
With the top blazers brands, you aren't just getting a high quality product, but you should also get excellent customer service, including after sales service in the event there's a fault with your blazer. Before hitting the buy button, read a few reviews about the type of customer service past customers have received. Products aren't perfect, and there's always a chance you'll get a lemon, so it's good to know how the company has responded in the past before you commit.
02. How to Pack a Blazer for Travel:
---
Although the best men's blazers for travel are designed to withstand wrinkles, it's still worth taking care when it comes time to pack a blazer in your luggage.
Just like those pesky fitted sheets at home, figuring out how to fold a blazer for travel isn't the most intuitive. Ideally, you'll wear your travel blazer on the plan, and then lay it across your luggage in the overhead compartment for the duration of your flight. That's the kindest way to take care of your new garment.
If, however, you want to pack it, this is how to fold a blazer for travel…
Lie your blazer on a flat surface with the back facing up.
Fold one shoulder towards the middle of the back and then turn just the shoulder section inside out.
Working on the same side of the jacket as the shoulder you just turned inside out, fold the front section to the centre of the blazer's back.
Bring the other shoulder to the center of the blazer's back and neatly tuck it inside the shoulder section you created in Step 3, above. Your blazer should now be neatly folded in half.
Fold your blazer in half again.
And there you have it … how to pack a blazer for travel to minimize wrinkles and arrive with a blazer that looks great!
03. Five Travel Blazer Reviews: How to Find the Best Travel Blazers for You
---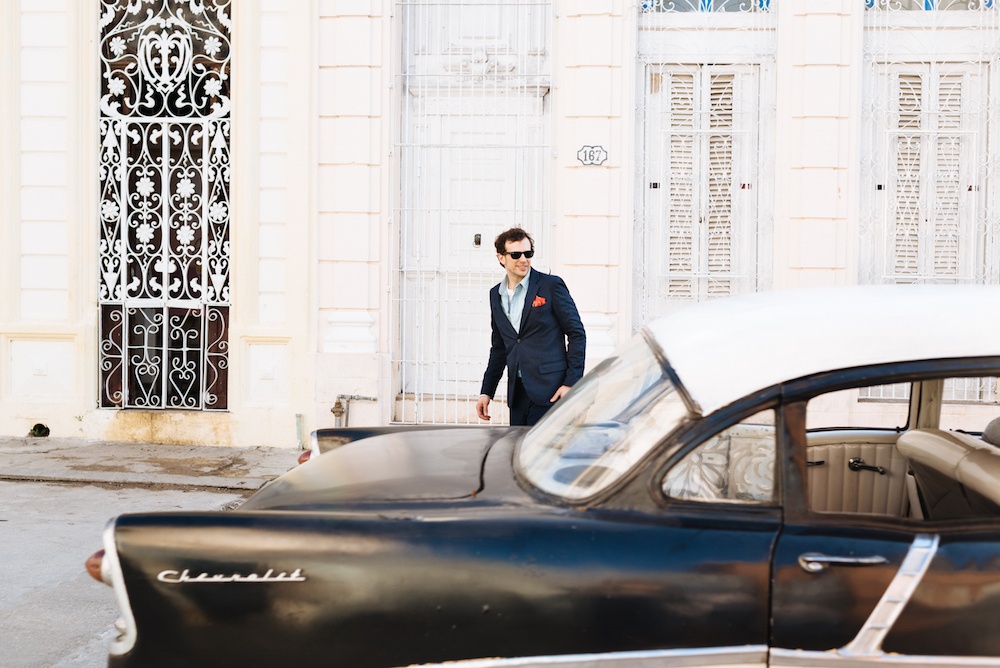 ---
What Do You Think? Do You Have a Favorite Travel Blazer You'd Recommend? Let Us Know in the Comments!
---
Pin This Post!