Visiting Terezin Concentration Camp is possible as a day trip from Prague or an overnight stay. Find out how and why you should visit this important historical memorial near Prague.


Prague Trip Planning Resources: Where to Stay | Things to Do | What to Pack
Suffice it to say that a visit to a concentration camp will not be the feel-good trip of the year.
That said, visiting sites like the Terezin memorial can play a huge role in putting the Nazi's horrific Final Solution into perspective. If you have a bit of extra time, Terezin makes an educational and somber day trip from Prague – one that's well worth the time and effort.
By far the easiest way to visit the Terazin Concentration Camp and Memorial is by booking a guided tour. I highly recommend this Full Day Guided Tour from Prague. It's a full day tour that includes transportation from Prague, admission to all of the sites at Terezin, and a local tour guide.
Introducing Terezin: A Former Concentration Camp nearby Prague
Terezin never had the scale of Dachau in Germany, or Auschwitz in Poland.
Due to this relative obscurity, it feels like it's been less curated than other concentration camp memorial sites.
When touring the "small fortress," one gets a feeling the guards flung the doors open at the end of the war and ran as fast as they could away from the place, hoping to forget what happened here.
History of Terezin Concentration Camp
The Hapsburgs began construction of the Theresienstadt fortress at the beginning of 1780. The installation, named after Austrian Empress Maria Theresa, was built to protect from invading Prussians.
The complex consists of two parts, a citadel – the "small fortress" – on one side of the river, and a walled town – "the main fortress" – complete with a floodable moat, on the other side of the river.
A quick look on Google maps will show you the star-shaped, bastion, fortress design. Military history buffs may appreciate this aspect of the fort.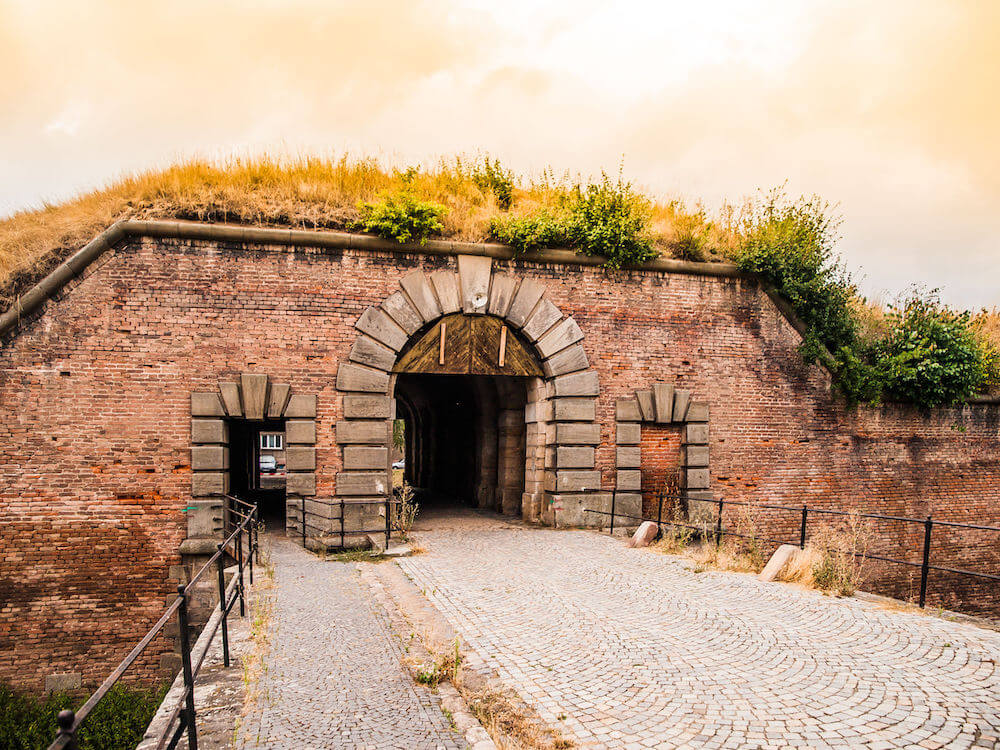 During World War I, the Austrians used the fortress as a prison for perceived Russian loyalists. Gavrilo Princip, Emperor Franz Ferdinand's assassin, died there.
When WWII and the Holocaust came around, the previous use as a prison made it an easy choice for the Nazis, who were in the habit of converting old military garrisons, like Auschwitz, for other uses.
The Germans used the small fortress mainly as a Gestapo prison and the main fortress as a ghetto.
While not styled as an extermination camp, tens of thousands of the more than 150,000 people who passed through Terezin died.
The Germans would use the camp as a holding area before sending some prisoners off to other extermination camps. They would also use the ghetto as an example to the world of how "humane" their prisons were.
Terezin is also one of the destinations of Vladek, the main character of Art Spiegelman's popular graphic novel Maus. Maus recounts the reluctant tale about the painful journey of a Polish Holocaust survivor. (It's worth a read – grab a copy here.)
The entire town has a somber feeling. It's quiet and lacks bustle. Even the birds seem to know they live in a profound memorial.
An advantage for visitors over camps like Auschwitz or Dachau is that you can take your time, without huge crowds, to privately reflect on the gravity of past tragedies.
Getting to Terezin Concentration Camp from Prague
Terezin is 65km (40 miles) from Prague's city center.
Driving there takes about an hour depending on traffic. For adventurous souls, it's easy to get there on your own.
However, there are also a few tour outlets in Prague offering day trips to the camp. This is by far the easiest option you could choose. I highly recommend this full-day guided tour, which includes transportation from Prague, a tour guide, and admission to the sites.
Driving to Terezin from Prague
Hiring a car is one way to get there. It's an easy drive through the beautiful Bohemian countryside and you can go at your own pace. You can check rates on rental cars here.
A stop at Terezin can also easily be added to a longer trip up to Dresden, Germany. Parking at the small fortress memorial is an affordable 10czk per hour.
Taking the Bus from Prague to Terezin
Taking the bus to Terezin might be the most painless way to go. There are many buses going there, and they will drop you either in the Terezin city center or at the small fortress citadel. The two are only 1km apart; walking from one to the other is totally doable.
Nadrazi Holesovice is the best place to find buses to Terezin and the metro goes straight to the station. Generally, buses leave every thirty minutes from 8:00 A.M. to 6:00 P.M.
The trip takes about an hour and costs roughly 470czk (18 EUR) for a round-trip ticket.
Inside Nadrazi Holesovice there are many bus companies, which presents even more options. Getting a ticket is as easy as either going to an independent bus operator stand in the station, or buying a ticket from the Czech Transport counter. Most of the time you won't have to wait very long for your bus.
If you take the bus, we suggest touring the small fortress first and the other museums in the main fortress second. This is because there are more options for departure buses back to Prague from the "bus station" at the city center square. It's really just a street with bus stops on it.
Keep in mind that the last bus back to Prague usually leaves at 6:00 P.M.
Getting from Prague to Terezin Concentration Camp by Train
There is also a rail option for traveling to Terezin, but you will have to go to Bohušovice nad Ohří instead of directly to Terezin. The Bohušovice nad Ohří rail station is 4km away from the memorial, so plan to do some more walking if you choose this option.
Trains leave every two hours from Prague Hlavni Nadrazi and a round trip ticket is 540czk (21 EUR). It's best to plan ahead for a rail trip though, as there may not be an available return ticket for the same day.
What to See at Terezin Concentration Camp
The three most popular things to see are the Ghetto Museum, the small fortress memorial, and the Magdenburg Barracks.
A ticket to the small fortress costs 180czk and includes a visit to either the Ghetto Museum or the Magdenburg Barracks, but not both. For 220czk you can visit all three places. Guided tours are available in many languages and are included in the ticket price, but you must make a reservation.
If you book a guided tour like this one, admission to the main sites will be included.
The Small Fortress Memorial
In the small fortress, after passing the memorial cemetery to get to the entrance, you'll be able to see things fairly unchanged from how they were decades ago.
Bunks and prison cells lay bare with their doors open for you to explore. There is a 500-meter long path through the fortress walls that takes you down to the moat where you can explore even more.
The Ghetto Museum
The Ghetto Museum is part Holocaust memorial and part history lesson. It's right off the main square and hosts some permanent exhibitions as well as some rotating temporary ones.
Magdenburg Barracks
At the Magdenburg Barracks, you can see a representation of how people lived in the ghetto. There are exhibitions depicting the living conditions and aspects of everyday life.
You won't see rooms full of shoes or other discarded items from prisoners, like at the Auschwitz museum, but it's sobering nonetheless.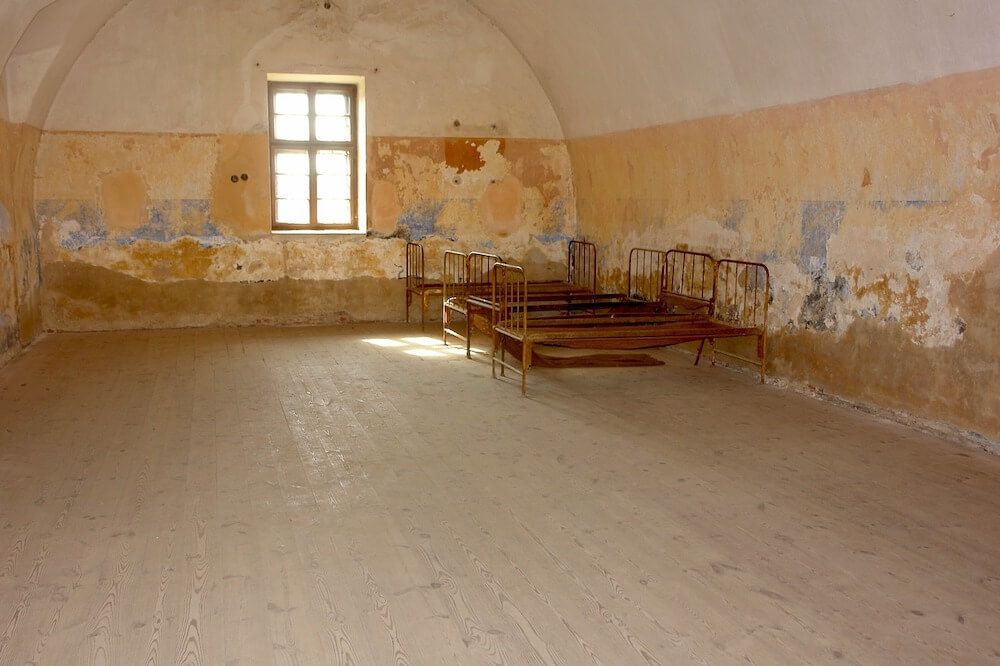 Crematorium and Cemetery of Soviet Soldiers
South of the main fortress (about 1.2km) is the Crematorium and the Cemetery of Soviet Soldiers.
This was a prison camp more than an extermination camp, and prisoners of war were held at Terezin.
As the Crematorium complex is essentially a Jewish cemetery, the building is closed on Saturdays. It is possible to explore the outside on the Sabbath though.
A walk from the city center to the Crematorium will allow fortress buffs to get a really good look at the moats and structure of the fortress.
It also takes you past the Columbarium, another memorial site dedicated to the ashes of those who died at Terezin. Most of the ashes were unceremoniously dumped in the river by the Nazis.
Pevnost Terezín Museum
For those who are more curious about the fortress before it was a prison, the Pevnost Terezín (Fortress Terezin) museum is dedicated to the design and use of this impressive example of a bastion fortress. Their website offers some more information, but it's all in Czech so bring your Google Translate!
Restaurants at Terezín
The economy hasn't been kind to the city over the last few decades. As a result, there are only a handful of restaurants.
In fact, there are only two ATMs in the town.
The town of Litomerice to the north has more options, but if you're worried about making the bus back, staying in town might be the best choice.
Don't expect lavish decor when dining in Terezin: just traditional Czech cuisine prepared in small-town style.
Restaurace M (Palackého 144) does a great job with Czech staples and is open until 10 P.M.
Restaurace Atypik (Máchova 91) is also an excellent choice and they close at 9 P.M.
Pizzerie Na Obzoru (Dlouhá 24) is a great choice with over 40 different pizza options and pasta too.
Where to Stay in Terezín
Parkhotel Terezin is your only bet if you want to stay overnight. They have three stars, a restaurant and are reasonably priced if you're stuck in town.
Anyone who wants to plan an overnight might be better served looking to Litomerice to the north – there are a lot more options. Click here to check out the hotel options in Litomerice.