Letna Park is a quirky park, offering fantastic views of Prage's Old Town and a chance to view a one-of-a-kind giant working metronome!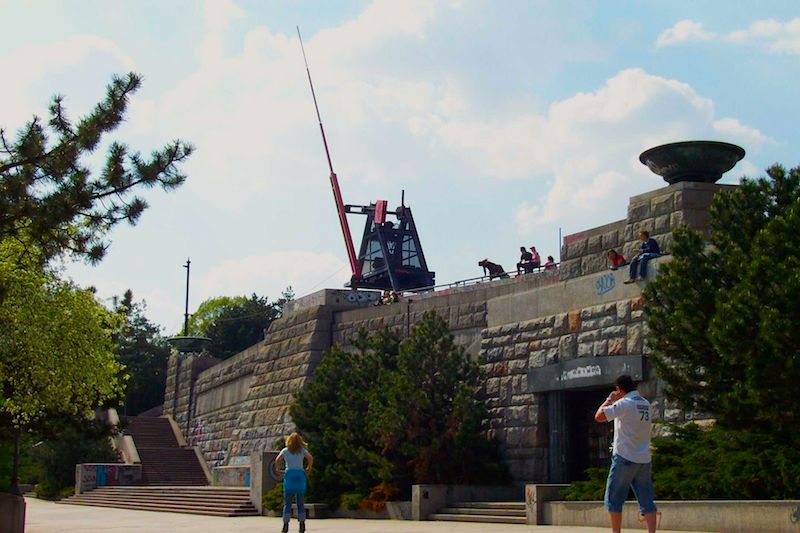 Prague Trip Planning Resources: Where to Stay | Things to Do | What to Pack
Proudly overlooking the Vltava River at the foreground of Prague's Letna Park, peering down upon the magnificent Czech capital is…wait for it…a metronome!
Wait…what? There's a giant metronome in Prague?
Why yes, yes there is, why wouldn't there be a giant metronome here?
It stands in the place where a giant statue of Stalin once stood. The stone dictator kept an evil eye over the city until it was destroyed in 1962, but an empty hole remained as a kind of 'scar' on the city.
A big giant base is required for a big, giant statue and it looked a bit weird and embarrassing with nothing on it.
The 'what-do-we-do-with-this-giant-stone-plinth' pickle was finally solved in 1991 when Prague artist Vratislav Novak designed the aforementioned metronome to go proudly atop 'stone' Stalin's former pedestal.
Whether it symbolizes the changing of the times or keeping time steadily moving forward may be open to interpretation, but one thing is for certain, this photo opportunity is one of the most quirky things to do in Prague.
The metronome is at the entrance to Letna park, which is quite a large park, and quite awesome in the summer months. It boasts a pretty swell beer garden, if I may say so myself!
If you've climbed the stairs up then definitely then DO reward yourself with Czech's very own Pilsner. (And if that sparks your interest, consider a day trip to Pilsen!)
The area around the metronome has fallen into a bit of disrepair lately and has become used as a bit of a skate park. But camera wielding folks like us, always hungry for awesome Prague photo opportunities, will not be disappointed!
Getting there: Take tram #17 to stop Čechův most or simply walk from Old Town, or take the metro (Line A – green) to station Staroměstská and walk to Letna Park from there.