After spending 15 months living in Prague, we've seen our share of the best views in Prague. In this guide, we pick the very best photo spots in Prague- and show you exactly how to find them and get incredible pictures for yourself!


Prague Trip Planning Resources: Where to Stay | Things to Do | What to Pack
How Can I Choose the Best Views in Prague When the City is Full of Them?
To say that Prague is beautiful is an understatement of epic proportions. It's more like a jaw-dropping, ooooooooh-inducing, knock-your-socks-off and leave you breathless and in need of a cigarette kind of town. Yes – it's that pretty.
While there's plenty of things to do in Prague that don't involve ogling its red roofs and skyline, jaw agape, chances are you'll always feel you want to sneak in just a bit more ogling.
And to that end, we're more than happy to help.
After spending more than a year living in the Golden City, we got into the swing of things seeking out the best views in Prague.
We are BIG into photography – so finding the best photo spots in Prague was at the top of our to-do list. And because there are so many great Prague views, we never got bored.
Sauntering around the city in search of the perfect photo, we got a chance to visit many of Prague's neighborhoods while we were at it.
And, man…did we experience some seriously awesome views of Prague.
Because the best things in life are better when shared, we figured we'd spread the love here, and put together this list of the 17 best views in Prague. It wasn't easy to whittle the choices down to just 17, but we figured we'd give it a try.
We hope you agree that we chose the best Prague views for this list!
The 17 Best Views in Prague
1. Letná Park Beer Garden
(Czech: Letná Zahradní restaurace)
Whether you visit Prague in warm weather or are lucky enough to see Prague in the snow, you really need to make the trip up to the Letná Park beer garden for its one-of-a-kind Prague viewpoint (with beer if you time it right).
No word of a lie: it offers one of the best views in Prague, and is one of our favorite spots in the city.
In summer, the beer garden is open, and you can grab a Pilsner and take a load off at one of the picnic tables dotting the grounds. In winter, the beer garden is closed – insert sad face here – but the view makes the trip worth it all the same.
The Letna Beer Garden offers a panoramic Prague view featuring the Old Town. The Vltava river snakes along beneath your feet, the red roofs of Prague explode across your field of vision…it's all rather delightful.
If seeing a breathtaking view of Prague is on your to-do list, start here. It's one of my personal favorites!
2. Letná Park "Prospect"
(Czech: Letenská vyhlídka)
In the southwest corner of Letna Park, there's a small pavilion/restaurant called Letenská vyhlídka. You can find it on Google Maps, west of the Prague Metronome.
I've never actually been inside the building, but can say the view from the front of the building is insane!
This is one of the best spots to get that classic Prague view: Prague's many bridges crossing the Vltava as it meanders back and forth, into the horizon.
Prague's bridges are one of the most famous components of its skyline, and the view from this corner of Letna Park lets you see at least four of Prague's iconic bridges in one sweeping view.
3. Chotkovy Sady Tram Stop
This is one of those underrated gems that you won't see on other "best views in Prague" lists.
While I'll admit it isn't the most spectacular view on this list, it's still darn pretty and worth a photo stop. And it provides an altogether different view over Prague's Mala Strana neighborhood than other viewpoints.
If you take tram 18, 20, or 22 to or from Letná Park, it'll stop at the Chotkovy Sady tram stop. Get off at the Chotkovy Sady stop, walk down the road (not the walking path) a little toward Malá Strana, and you'll find this stretch of road with a nice view of Malá Strana.
If you're on your way to Letna Park, you can then turn around and continue on your way by foot. This route will take you to the Letenská vyhlídka side of the park.
Is this the best view of Prague? Admittedly not. But it's still a pretty little stretch that's worth checking out if you find yourself in the area.
4. The Starbucks at Prague Castle Square
(Czech: Hradčanské náměstí)
It's rare you'll see me adding Starbucks to a list of must-visit places in a city, but the Starbucks near Prague Castle is an exception. And that's because it offers an exceptional view of Prague!
This Starbucks location sits on the southern edge of Castle Square. You enter via the rooftop terrace, which is where the views are. In winter, the terrace is closed, so you don't need to feel bad about taking your pictures without shelling out for a coffee.
In summer, however, they sometimes set up a rooftop barista station and cashier. Last time we were there, we could still go take our pictures and be on our way, but there's always a chance they'll change it.
Just be prepared to buy a coffee or tea if needed in order to enjoy this Prague view. I promise it's worth it!
5. St. Vitus Tower in Prague Castle
Get ready for another take your breath away kind of Prague view. That's honestly saying a lot in a city like this; there are just so many fantastic views in Prague, it's hard to prioritize!
If you're up to the challenge, the view of Prague from Prague Castle's St. Vitus Cathedral Tower is worth the effort.
As a reward for climbing the 287 steps, you'll be treated to a sprawling, 360 view of Prague and an up-close look at the Church's bells and spires.
The absolute best way to visit Prague Castle is with these Skip The Line Tickets, which comes with a guided tour. Another great DIY option is to get a Prague Card, which includes admission to the castle and most of the other popular tourist sites in the city. There's an extra fee to climb the tower, but you get a discount with the Prague Card!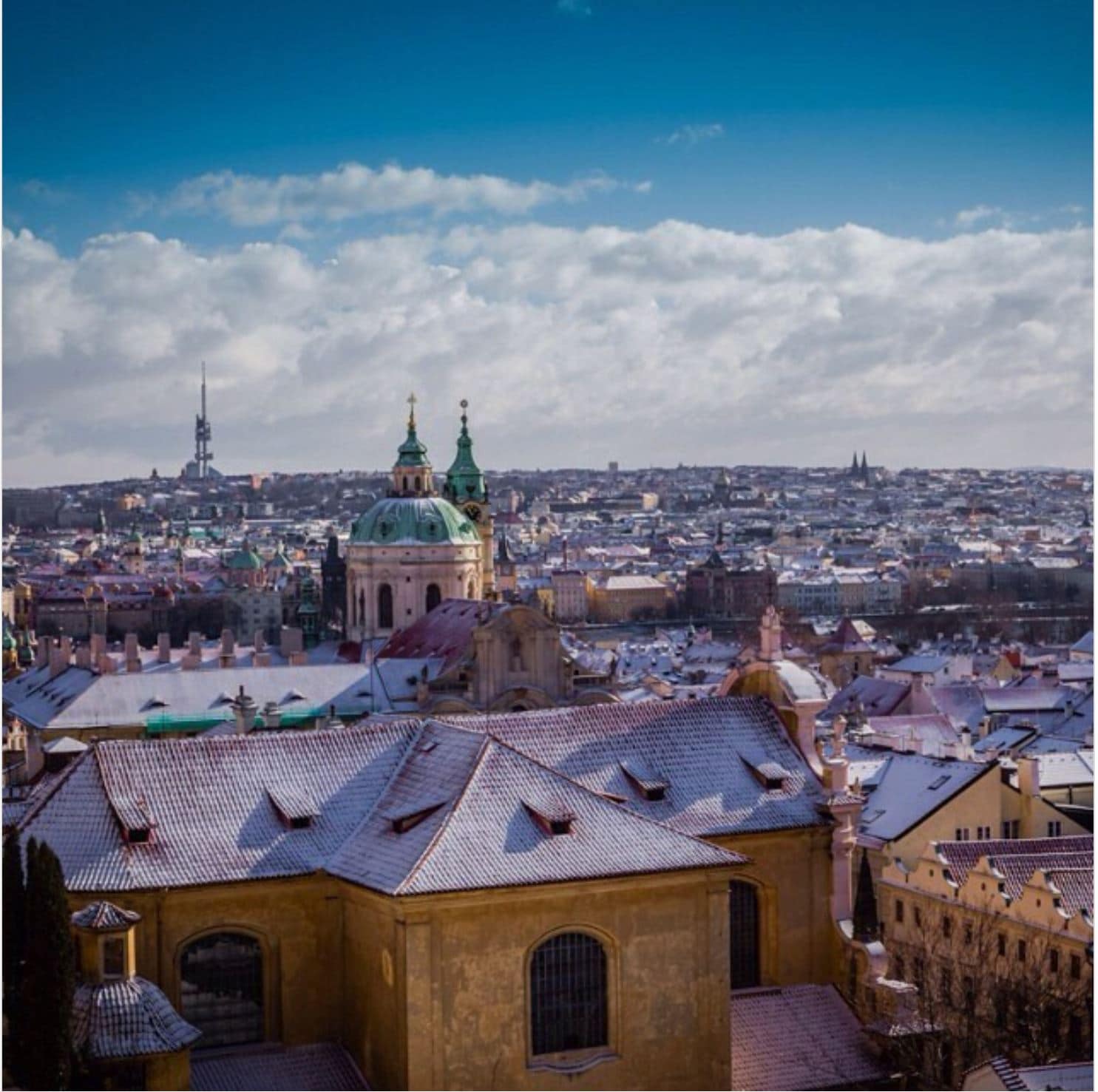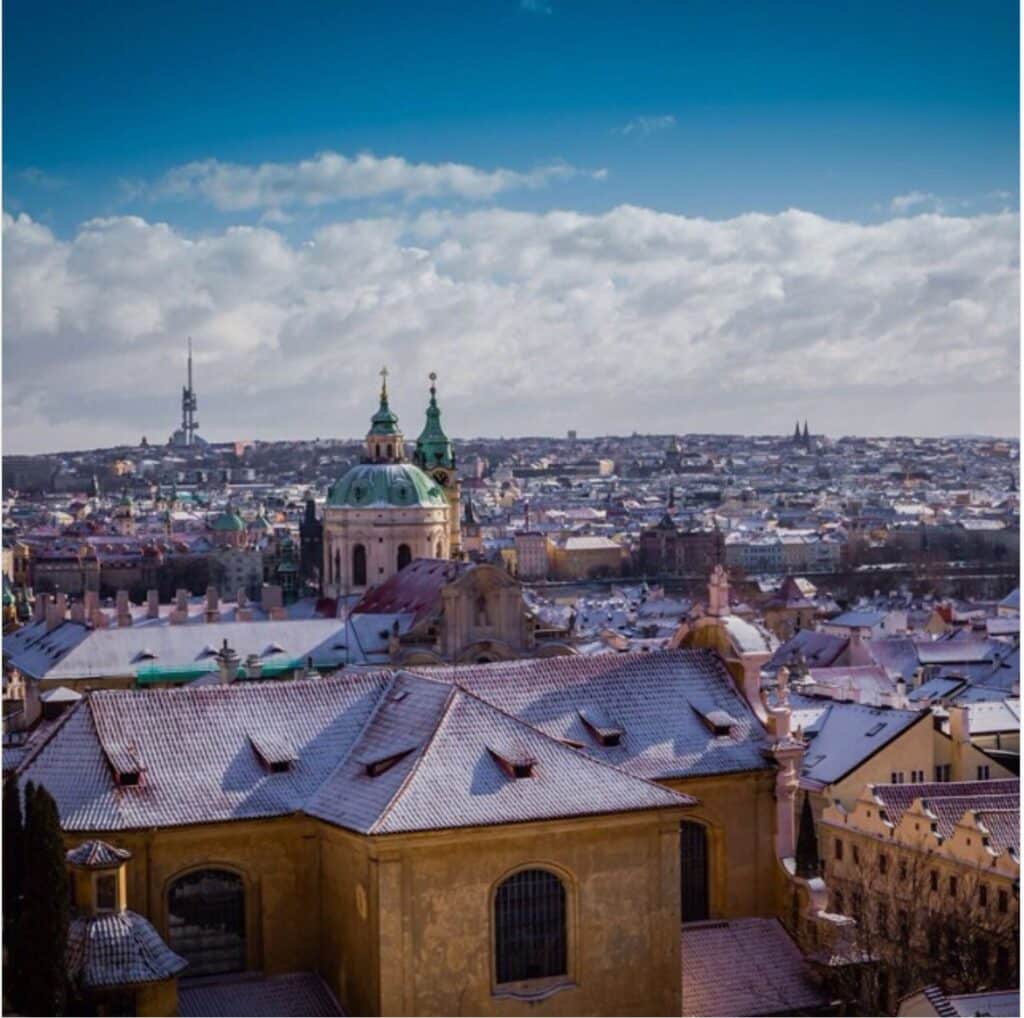 6. Petrin Orchards Near Strahov Monastery
Nestled between Petřín Hill/Park and Prague Castle, one of Prague's most beautiful views can be found on the ridge just below Strahov Monastery.
Whereas the views from Letná are all about seeing Prague's bridges and Old Town, the view from the side of Strahov Monastery is panoramic. You can pretty much see all of Prague's main landmarks in one sweeping view.
This is the perfect place to get a panoramic photo of the city!
The closest tram stop is Pohořelec, but you can also get here by walking from Prague Castle. Alternatively, you can take the funicular to the top of Petřín Hill, and then follow the signs toward Strahovský klášter – it's about a 15-minute walk.
7. Petrin Tower
The Eiffel-Tower-looking-thing atop Petřín Hill is, in fact, a loose copy of the Eiffel Tower.
Built in 1891, it was built to be one-fifth the size of the Eiffel Tower. The tower itself is only 63.5 meters tall (or 299 stairs to the top).
However, because it's on top of Petřín Hill, the observation deck actually sits at the same altitude as the real Eiffel Tower.
This Prague view is unique from the others, in that it also offers great views of the region (Bohemia). If you visit on a clear day, you can see a fairly big chunk of Bohemia lying beyond the city limits!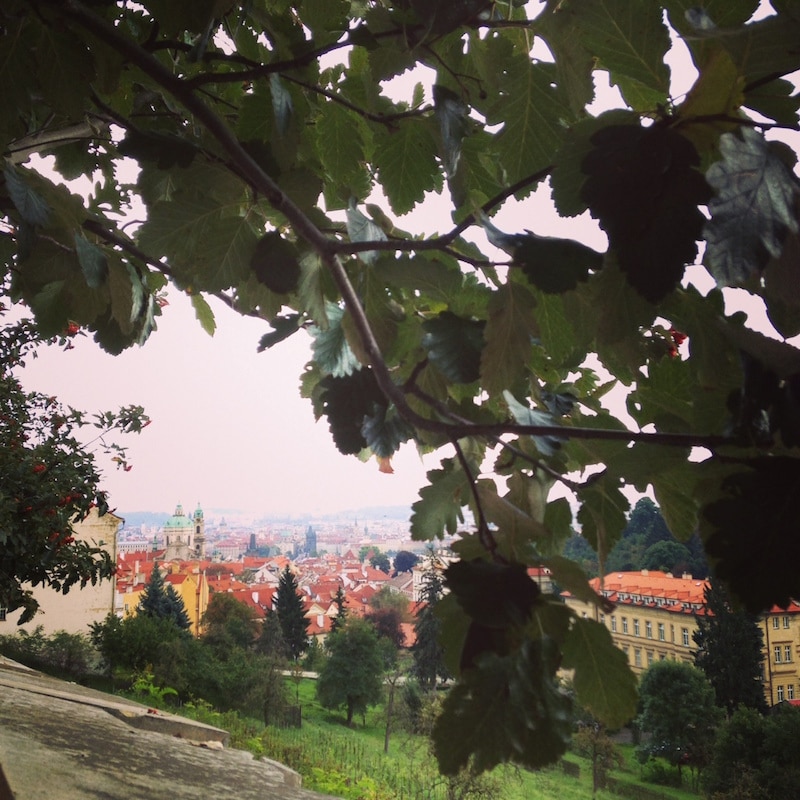 8. On the Banks of the Vltava, Near the Kafka Museum, Looking Back at Charles Bridge
Of course, you do have to cross the Charles Bridge at least once while in Prague. And if you're not sick of climbing stairs yet, you should climb the Old Town Tower for great views of Prague, as well (see below).
But, truthfully, some of the best views of Charles Bridge aren't actually from the bridge. They're in nearby nooks and crannies, looking back at the bridge in all its glory.
One of my favorites is from the Kafka Museum area. From the courtyard of the museum, you can find your way down to the bank of the Vltava. Looking back at Charles Bridge, you get some gorgeous up-close views of Prague, Charles Bridge, and the banks of the river.
There are often swans hanging out in this section of the river too, which add some next-level picturesqueness to the scene.
When you're passing through the Kafka Museum courtyard, don't miss the animatronic Piss sculpture: one of Prague's most bizarre sculptures (which is saying a lot).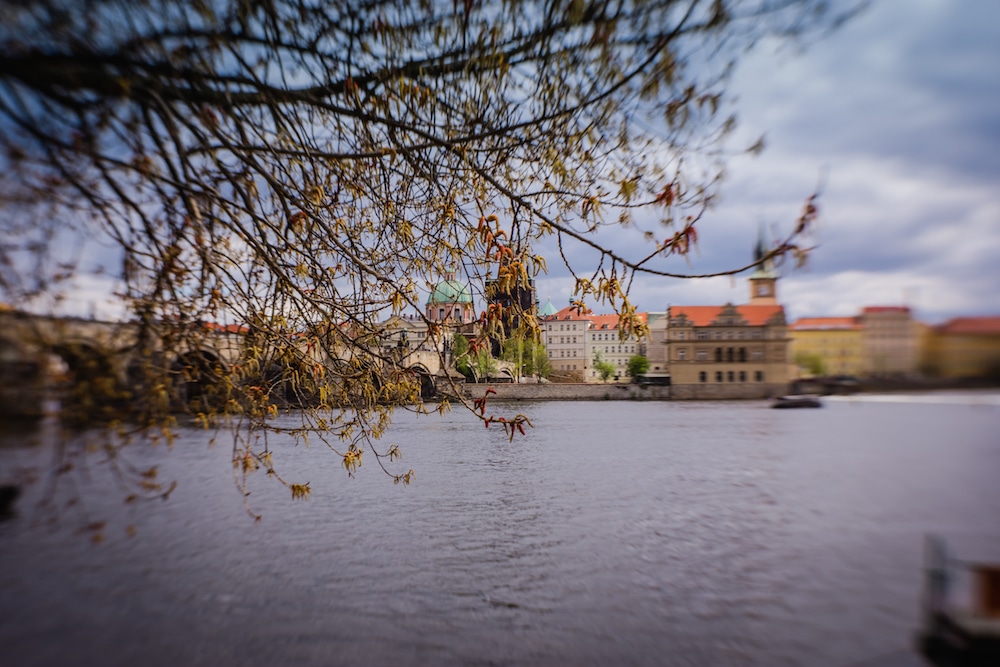 9. Old Town Bridge Tower (Charles Bridge)
Charles Bridge has two towers: Old Town Tower has the best views.
Old Town tower was built by Charles IV in the late 1300s. It was meant to serve as a symbolic gate through which Czech kings passed during their coronation, as part of the Royal Route.
It's 138 steps to viewing gallery, and it's a bit of a narrow go. But, there are little windows on the way up that also offer nice views, so if it's not too busy, you can stop and catch your breath.
Whereas other Prague views are mostly panoramic, this one offers a gorgeous view of Charles Bridge itself. And, of course, the surrounding area.
If you purchase a Prague card, the tower admission is 50% off and entry to the Charles Bridge Museum is free!
10. Old Town Hall Tower
Finally, a tower with an elevator, amiright?
The Old Town Hall tower sits smack dab on the edge of Old Town Square, and is part of the Astronomical Clock complex. It's so convenient to visit, it's pretty much a no-brainer.
Unfortunately, pretty much every other tourist to Prague will also want to visit it.
The tower can get pretty darn busy, which can make it tough to enjoy the view. If you're at all afraid of heights (raises hand), it can feel a bit scary when you're jammed elbow-to-elbow with 100 of your closest new buddies.
My advice is to visit around opening or around sunset. It's busiest mid-day, from around 10am to 3pm, so avoid those hours if you can. The tower is open 09:00 to 22:00 Tuesday to Sunday, and 11:00 to 22:00 on Monday.
I expect nighttime would be lovely too, but tougher for getting photos, if that's important to you.
You can purchase your tickets in advance to help cut down on the wait times.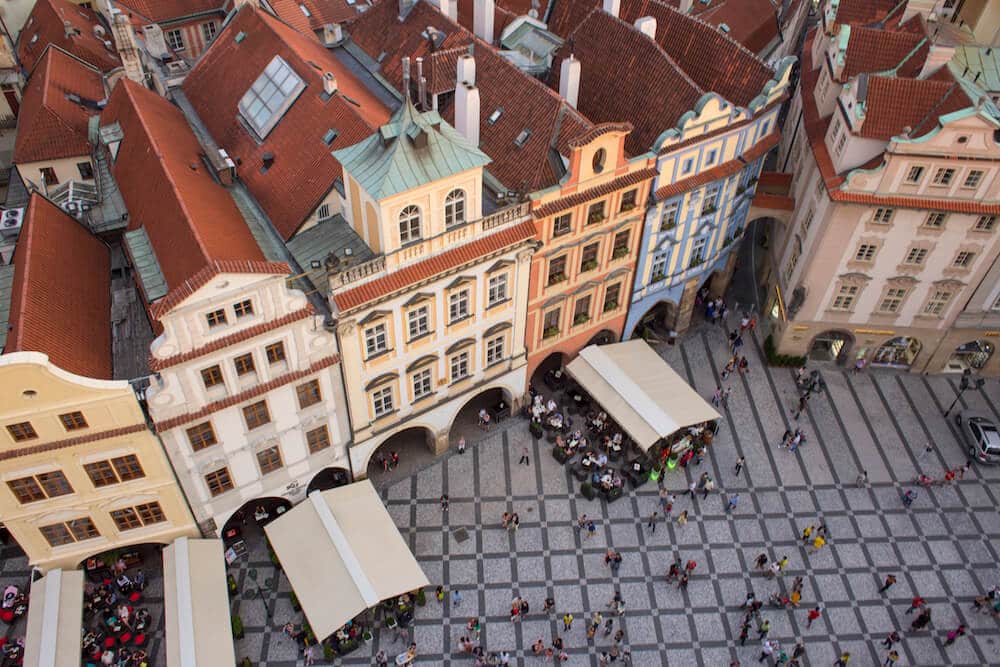 11. Riegrovy Sady Park
A favorite in the Prague's Vinohrady neighborhood, you'll find this park near Náměstí Míru and Jiřího z Poděbrad (or JZP) on Metro Line A (Green) or the Italská tram stop.
Riegrovy Sady has a stunning, west-facing view stretching from the National Museum at the top of Wenceslas Square all the way to Prague Castle.
Once you're in the park, find the sports track/field, and then walk around the edge until you see a sloped clearing filled with locals sitting on the grass!
The park has an awesome beer garden too, in case you get thirsty after all the Prague ogling.
Such a nice Prague castle view from here!
12. Havlickovy Sady Park/Grebovka
Prague's second-biggest park, Havlickovy Sady has a neo-renaissance villa/former grand summer home that has great views over the city, complete with a gazebo where you can grab a glass of vino with a view!
Get there by taking a tram to Jana Masaryka from Náměstí Míru.
13. Vyšehrad
South of Prague's main attractions, on a hill above the river, the view from the northern part of the western edge of this fortress looks north along the Vlatava River and at Prague Castle.
Because Vyšehrad is one of the lesser known things to do in Prague, you'll likely only have to share the view with locals and a few adventurous visitors.
If you want to spend some more time checking out this unique part of the city, you can book a guided tour of Vysehrad Castle. Or take this cool e-bike tour of the city which stops at some of the most scenic viewpoints, including Vysehrad.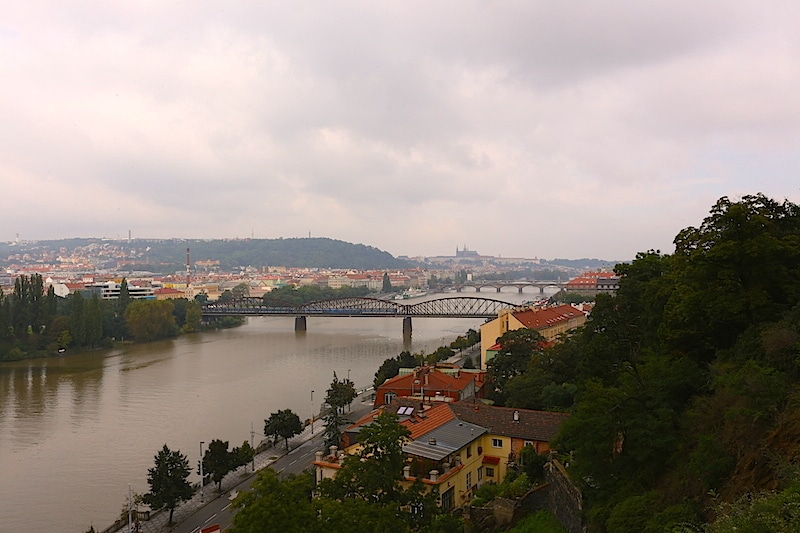 14. Dancing House Café
The Frank Gehry-designed "Dancing House" is on the east bank of the Vltava River. Checking out the building from the outside is one of the popular things to do in Prague, but it also offers nice views looking north at Prague Castle from inside.
The restaurant is a bit pricey, but for the price of a cup of coffee you can enjoy the view from the strangely-mirrored café with near 360° windows.
There's also an option to go out on the rooftop terrace, but it'll cost you a bit more. You can book tickets here if you want the full experience, or you get a discount with the Prague card.
15. Žižkov TV Tower
I actually found the view from Žižkov TV tower a bit disappointing, especially considering the price (180 Kc). (Discounted entrance with a Prague Card.)
However, it did provide a different perspective from the other views we've recommended, which is kind of neat (and is the reason I kept it on this list!).
Rather than looking at the usual suspects — Prague Castle, Old Town, etc. — it is a Prague city view that gives you an idea of what Prague's residential areas look like from above.
It also sits in Prague's Žižkov neighborhood, which is one of the city's coolest areas to explore.
While I didn't try this, I've been told if you go to the bar, instead of the viewing platform, you'll get the same view without paying the entrance fee. Try it, and let me know how it works!
16. Kotva Department Store/Restaurant T-Anker Terrace
The ugly-looking Kotva department store, located just across from the Palladium mall at Náměstí Republiky (Metro Line B, Yellow), actually has a surprisingly cool view of Old Town. It makes for a really great photo spot.
Don't go into the main entrance. Instead, walk along the outside left edge of the department store until you get to an elevator.
Head up to the 5th floor, grab a beer, and enjoy!
Náplavka at Dusk
One of our favourite places in Prague is Náplavka, the river walk south of the Dancing House.
Nothing beats grabbing a cheap pilsner at one of the hole in the wall bars or barge boats, and sitting back to watch dusk settle in over Prague Castle. This is the best Prague night view I can think of!
If you want some more gorgeous night views, our friend Fotoeins put together this awesome list of the best night views in Prague.
---
Pin This for Later!