Roma Heritage Tour Bucharest: Exploring Roma Heritage and Culture in Bucharest, Romania — and having our prejudices busted — on Open Door Travel's Roma Heritage Tour


We meet Livia in Bucharest's old town on a quiet, sunny Saturday morning. The narrow, cobbled streets are mostly abandoned, save for delivery trucks rumbling by, restocking the bars for the Saturday night ahead.
In her mid 20s, if I had to guess, Livia is tall and slim, and dressed in a flowy, bohemian outfit: a colourful wrap skirt, simple white T-shirt, and black cardigan. With dark hair, dark eyes, and olive skin, it crosses my mind: maybe Livia is Roma?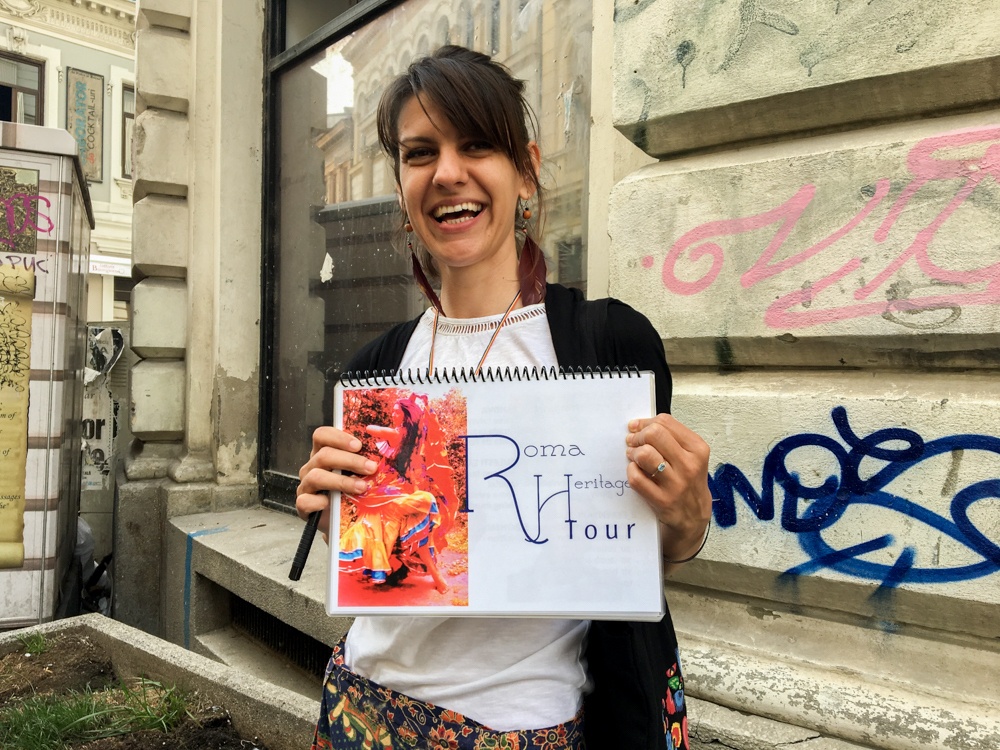 When it's time to go, we set out down the cobbled streets of Old Town. As we walk, Livia tells us she's nervous: this is a new tour, not even listed on the tour company's website yet, and the topic is controversial. She's passionate, it's clear to anyone who's paying attention, and she wants to dispel the myths associated with Roma people; to do a good job. Walking and talking, Livia continues:
One of my youngest memories is Roma people collecting scrap iron for sale. Every morning, but especially on weekends, you'd hear them on the street. They had such a loud voice, and announced it in such a dragged out way, it sounded like a song to me. I loved it. But the image I had of them was so different from what others told me; there is such a stigma about them. That's how I first became interested in Roma culture and people.
The Roma Culture and Heritage Tour in Bucharest is operated by Open Doors Travel, and can be booked directly with the company via their contact form. It includes stops around Bucharest's Old Town, a stop at a social enterprise shop selling Roma-made goods with a contemporary twist, a visit to the Bucharest Flower Market, as well as a bus trip through Ferentari, a poor neighborhood of Bucharest with a large Roma community, and a visit to the Roma Culture Museum, a Roma-led initiative. We stayed at the Hilton, which is in a nice part of town, about 10 minutes' walk from Old Town.
Our first stop is St. Anthony's Square, a popular tourist stop in the Old Town, but also the location chosen by Nicolae Gheorghe — the Roma Martin Luther King, we're told — to launch a coordinated social movement advocating for Romania's Roma people in the '90s.
Gheorghe chose this location to launch his movement because of its symbolism, both in name and history: St. Anthony is the patron saint of lost things, and Romania's Roma have most certainly experienced loss. It's also home to Bucharest's oldest church — St. Anthony's — a nod to the Romanian church's role in enslaving the Roma.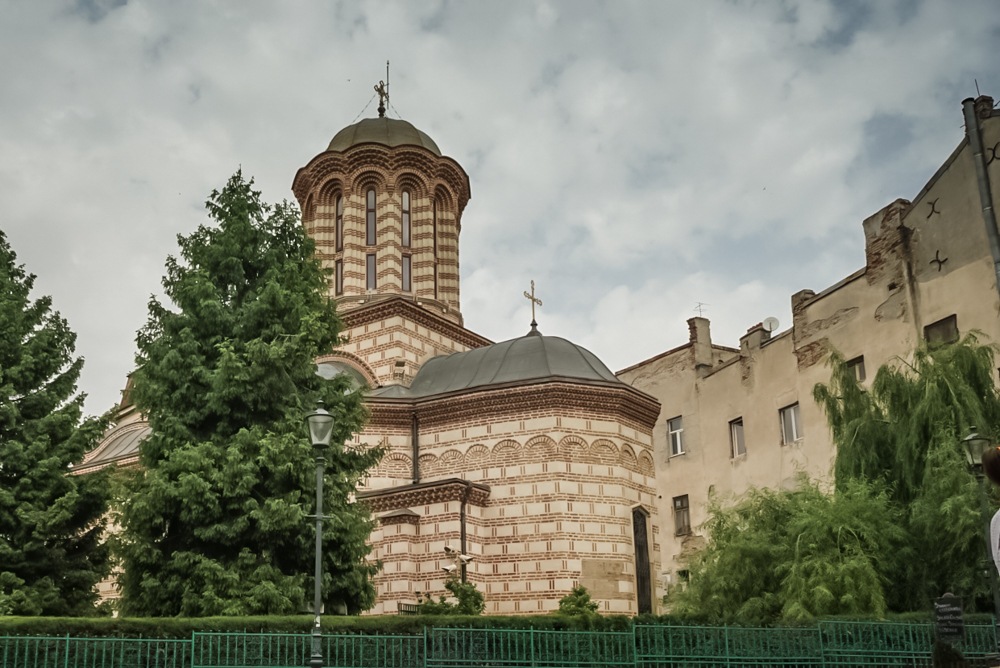 At this point, our special guest interjects. Ana is a local Bucharester who works for a Romani community development NGO, and is lending her time today to offer expertise on Roma history and heritage. A picture of opposites next to Livia, she has wavy blonde hair that's pulled back from her face in a tight bun, and bright green eyes that pop against her fair skin. Ana tells us she's been working with Roma people to protect and advocate for them, as well as create development opportunities for their communities.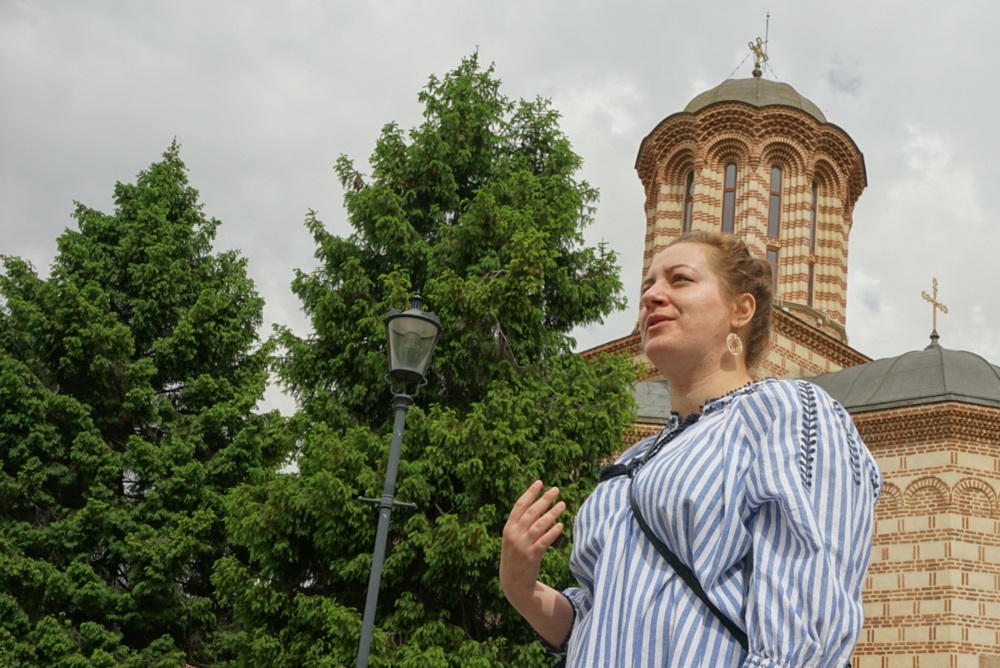 'Gypsy,' Ana interjects, means Slave. Roma means 'human.' And with that, Livia and Ana introduce the history of Roma people in Romania.
Arriving as 'gifts' to the monasteries as early as the 1300s, Romania's Roma lived as slaves up until the mid-to-late 1800s, when they were finally liberated 500 years later.
As is the story throughout many parts of Europe, ethnic purity and nationalist movements began to gain steam in the 1930s and 40s, and the country's Roma — who'd lived relatively free of discrimination for 80 or 90 years — became targets of mainstream Romanian society once again. It became illegal for non-Roma to marry Roma. Forced sterilizations occurred. And between 20,000 and 90,000 Roma were forcibly deported to Transnistria, an officially-part-of-Moldova region on the border with Ukraine. Moved in horrible conditions, many of the deported Roma died from illness, cold and shortages.
Like This Post? Pin It for Later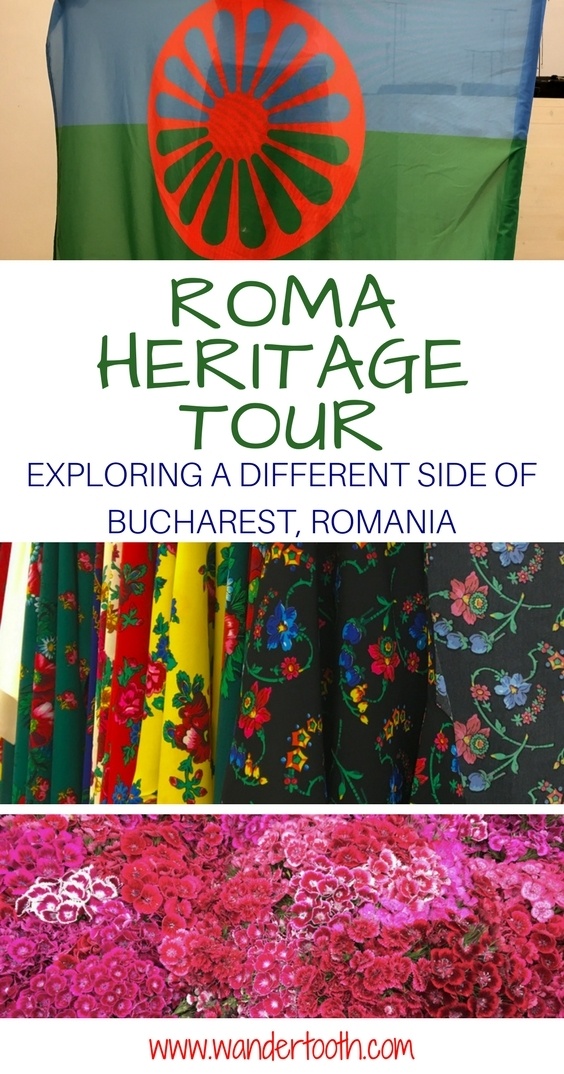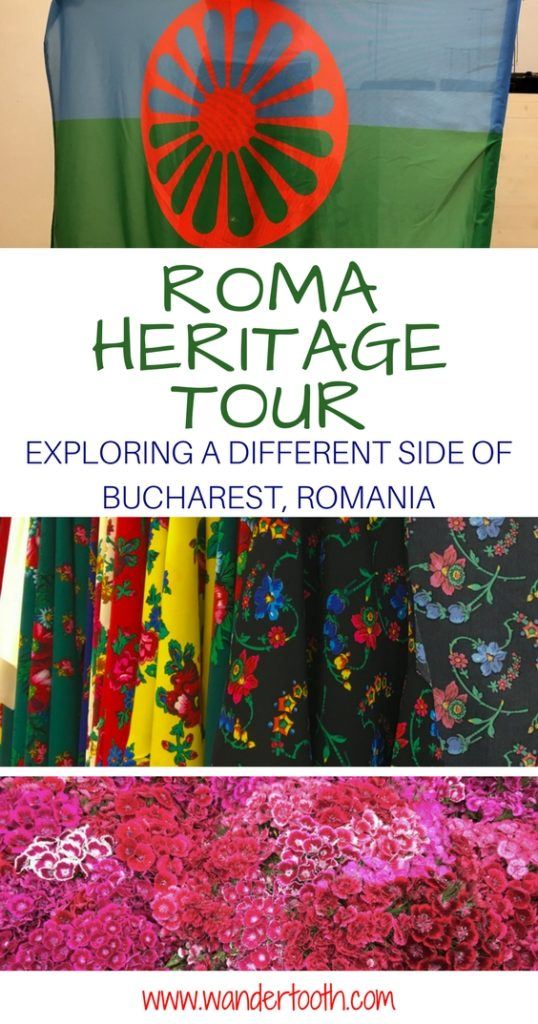 Leaving St. Anthony's Square, Livia guides us further through Old Town. Left, right, another turn — I have no idea where we are, and I can't seem to orient myself on my map. The beautiful, classical buildings fade away, these new streets lined with graffiti-covered, decaying buildings, some of which look abandoned, others filled with life.
Livia waves her hand at the dilapidation, Just 6 or 7 years ago, this is what all of Bucharest's old town looked like, she tells us.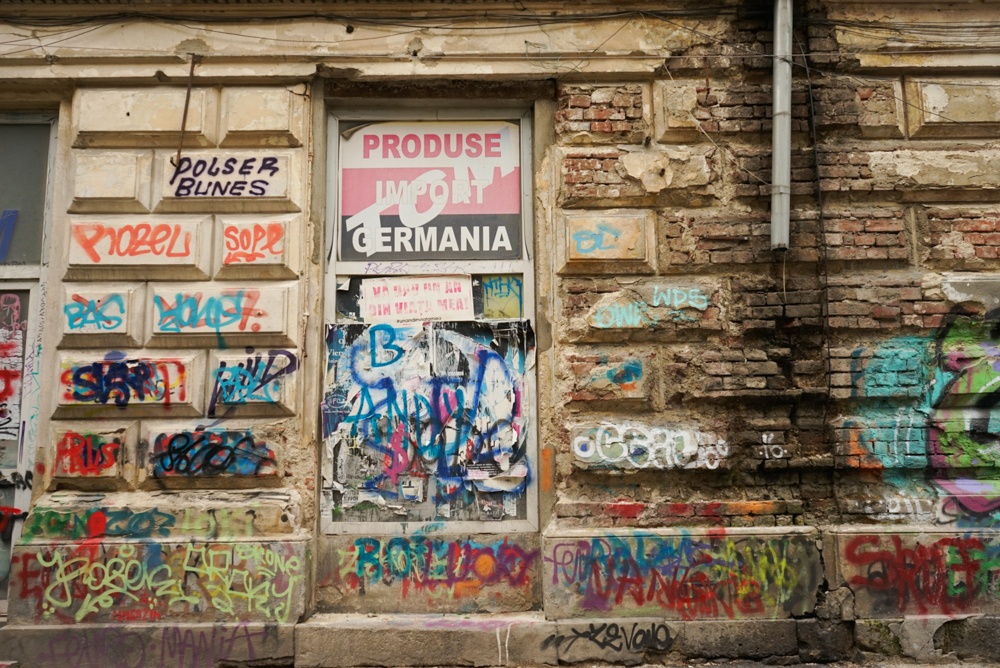 During the communist regime, distinctions ended, and Roma, as a concept or category, didn't exist. Property was nationalized, and many of the buildings we're passing now were used by Roma people. When Ceaușescu was executed in '89, and Romanians began the long and laborious process of putting their country back together. Former owners wanted their buildings back, creating conflict with the Roma tenants that continues even today.
As we walk, Ana tells us about the forced evictions of this past winter, in which Roma families were given just 20 minutes to leave, in the middle of winter, and moved to the outskirts of town or left on the streets.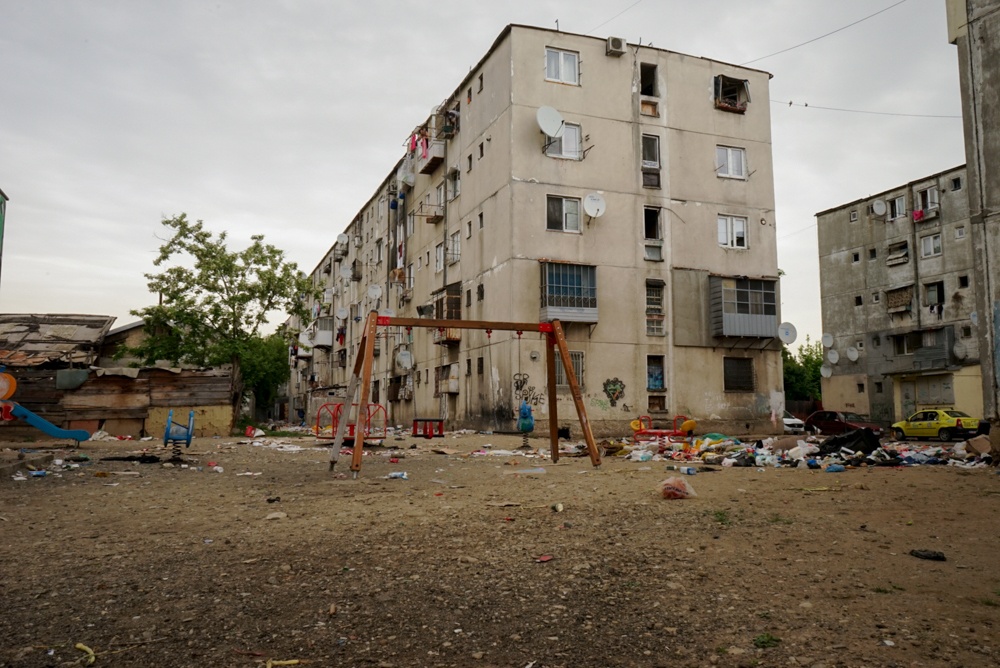 Arriving at University Square, Livia explains this place is the symbol of the new generation in Bucharest, the place where young people are meeting to demand social and political change in their city and country: people like her, and Ana.
Standing next to each other, smiling, they set up the big reveal they surely must have been planning all along.
What do you think, they ask. Which one of us is Roma?
Livia, with her dark eyes and hair, and olive skin. Ana, fair and blonde. They know their appearances fit the stereotypes perfectly, but as it turns out, Ana is Roma, not Livia.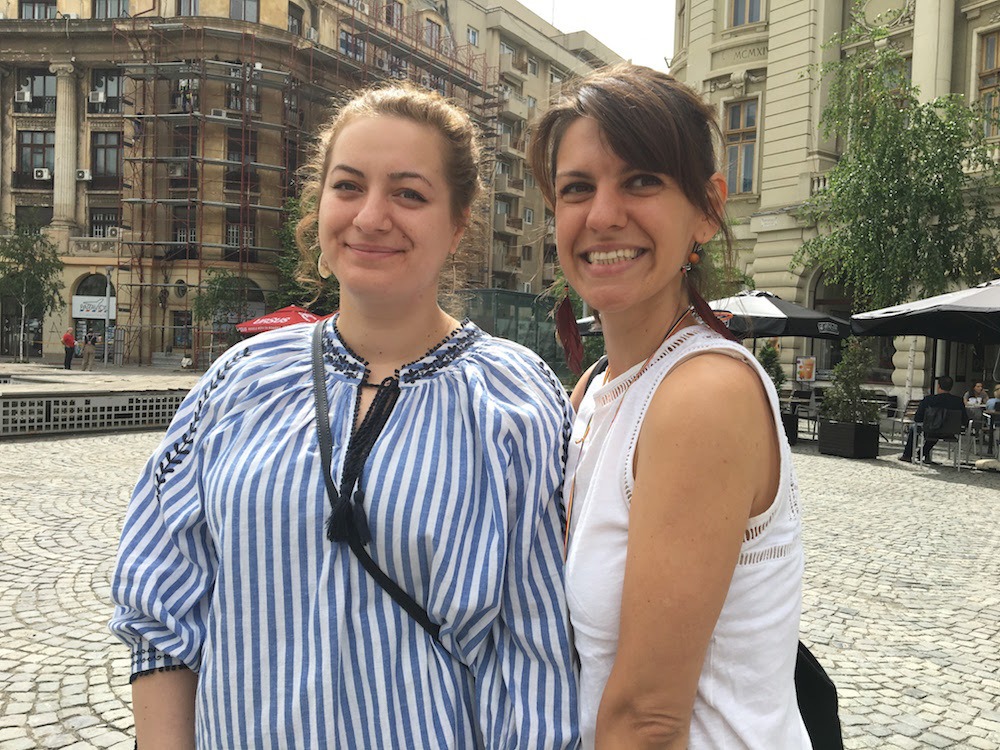 Despite our group – educated travellers, most of us under 40 – they knew instinctively that we, too, had been shaped by the mainstream prejudice the Roma face every day; stereotypes that must have seeped into the back of our consciousness over the years, without us noticing, until we were confronted with how incorrect we'd been, in the form of this blonde, fair-skinned, and highly educated woman, in the place that symbolizes the new generation's hopes for their city and country.
Open Doors Travel's Roma Heritage Tour is all about breaking down some of the prejudices Roma people face in Romania, by introducing Roma culture to guests, and directly confronting and correcting stereotypes about the Roma culture, and the way Roma live today.
This kind of education and direct interaction seems sorely needed: in surveys of Romanians, 79% say they wouldn't want a Roma neighbor. When Geoff and I visited Romania a few years ago — shortly after the EU expanded freedom of movement to Romanians and Bulgarians, and England erupted in the hysteria that served as a precursor to Brexit — several Romanians told us as 'jokes' that Roma are Romania's greatest export.
Despite nearly 80% of Romanians not wanting a Roma neighbor, probably 60% of them actually have one, according to Livia. Only 3.3% of Bucharest's population have declared themselves Roma, with many remaining undeclared for fear that identifying as Roma will lead to discrimination and prejudice. Within some Roma families, people go to great lengths to not be identified, even forbidding their children from speaking the Romani language. Generations have been brought up being told to never admit their heritage, with an immense loss in terms of identity and culture.
Our tour ends with two experiences, both completely opposite in the impressions they leave.
First, we board a mini bus bound for Ferentari, Bucharest's poorest neighborhood, considered a 'no-go' zone to many Bucharesters. Just a 10-minute drive from the city centre, Ferentari has so much poverty, some of its residents almost never go to the city centre, because it's too expensive to get there.
The neighborhood doesn't wear its poverty well: drab blocks of concrete flats that are falling apart; garbage strewn everywhere, with kids playing amongst it; and, on the way out, getting flipped off by a resident as our bus drives away.
This is how many Roma in Romania live now, Livia tells us. No skirts, no bonfires, no caravans.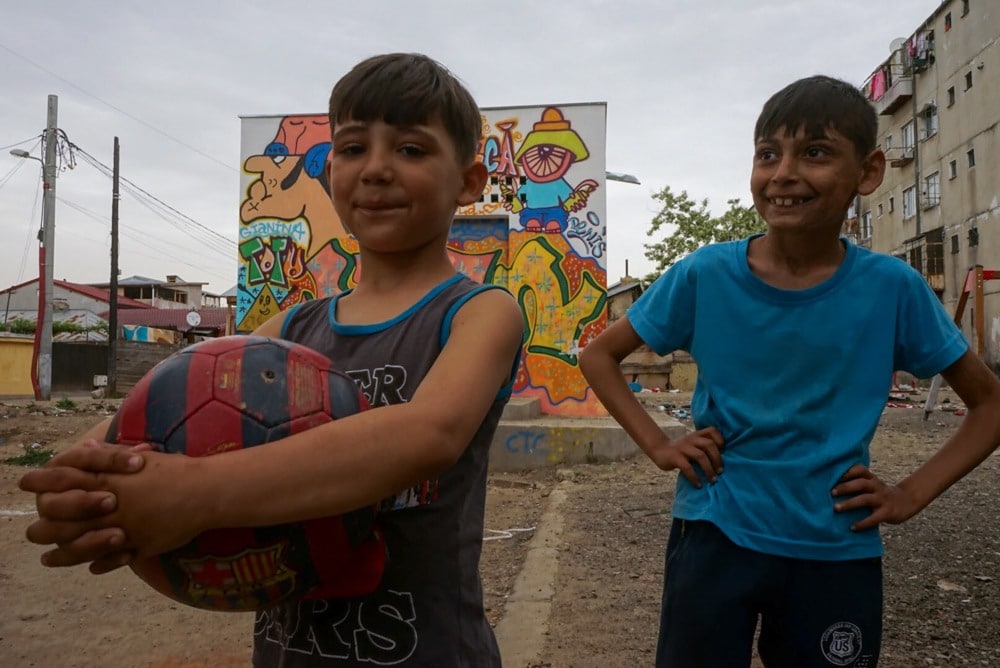 We ended on a more hopeful note, at the Roma-created and Roma-led Roma Culture Museum, just a few minutes' drive away in Bucharest's largest Roma community, Giulesti Sarbi.
Here, we met and had lunch with Nicoleta Bitu, the late Nicolae Gheorghe's wife, and her colleagues, and heard about their work as Roma and human rights activists in Bucharest. Nicoleta has been fighting for Romania's Roma community rights for 20 years now, advocating for tangible rights and benefits, fighting stereotypes, and stepping in to provide services where the government is letting Bucharest's Roma community down.
I ask Nicoleta which stereotypes about Roma she wishes would die, and Livia's words come back to me — no skirts, no bonfires, no caravans. Nicoleta echoes this, and reminds us that most Roma today aren't travellers anymore, falling victim to policies of forced settling over the years. Stereotypes of the exotic, the other, the thieving traveler – those are what she hopes will go away.
I hope participating in this tour makes a small step towards achieving those goals.
Read More
Check Out These Related Posts Below, or Click Through to our Romania Home Page to Plan Your Trip!
Questions? Comments? Let Us Know By Leaving A Comment Below, or Joining Our Facebook Community!