Street Art Bucharest: Getting to know Romania's capital through a Bucharest street art tour. Learning about Bucharest and Romanian society and culture through street art, and how street art plays a role in social protest and change.


Maybe street art will be our salvation, says Elena, pointing to a piece of modified Obey graffiti scratched on the wall of an alley in central Bucharest. I really believe it will be.
Admittedly, I'm skeptical. I don't really get what she's saying, although I'm open to understanding why I'm wrong. And over the course of the next three hours together, Elena manages to convince me: she shows, she tells, she makes me see how street art could, in fact, be Bucharest's salvation: a place where, I'm learning, I don't know what I don't know.
Let's start with the Obey sign. To the casual observer, it's pretty ugly; a casually scratched-out symbol on the side of a building; a piece of thoughtless vandalism that's certainly not beautiful to look at.
But it's not the symbol that really matters here. It's the story behind it. And to someone who grew up in a place where state secularism is so damn obvious, no one feels the need to talk about it, the story is almost laughably hard to believe.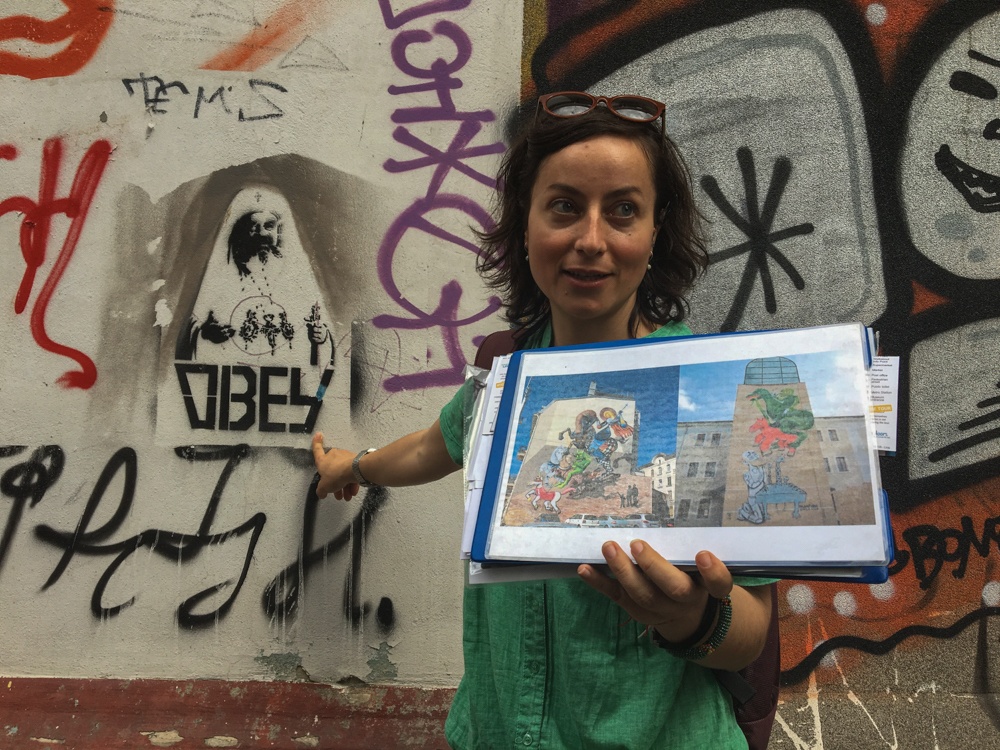 The artist and the building owner agreed to create a mural here, Elena gestures to the wall behind her before presenting a transparent page protector with a photograph inside.
The mural that was here showed a saint fighting the devil. But when it was finished, people started complaining almost immediately. 'I don't want to look at the devil everyday' they said. And after just one month, it was painted over."
The story here is one of church and state…in bed together. So many of my conversations in Bucharest come back to this cluster of topics: the power of the church in contemporary Romanian society; the fact that it touches and influences absolutely everything; and the government corruption that goes right along with all of it.
That ugly, adapted Obey symbol stencilled on the side of the building? Far from being a piece of casual vandalism, this is a protest against the church, and by extension, the government. A statement that says, you may be powerful, but you won't control us.
Visiting Bucharest? Find the Best Area to Stay in Bucharest Here
The Bucharest Alternative Tour is operated by Open Doors Travel, and can be booked via their website for 30 lei (about US $7 / €7 at current rates). While the tour is broadly about getting off the beaten path of tourist sites in Bucharest, it's really a street art Bucharest tour, with a slant towards the intersection of graffiti with politics, culture and society. While it may seem like a tour that's mostly interesting for young travellers, I think it's good for all ages, and is a way to experience Bucharest and start to understand the city and its society through the lens of a young medium…I can definitely think of some 60-something travellers I think would enjoy this tour! We stayed at the Hilton, which is in a nice part of town, about 10 minutes' walk from Old Town.
Slowly, Elena's words begin to make sense in the context of this place I'm in. On the surface, Bucharest seems so familiar and comfortable: the way it looks; the conversations I have with young Romanians; the beautiful shops and hipster cafés; the raw energy and feeling of change. But it's also full of complexities I can't quite grasp or understand, like the influence of the church, the audacity of the government, and the sheer determination of the young to keep their country from running off the rails.
All this from a street art tour seems like a stretch, I admit.
But Elena is no ordinary guide. And as she talks, I start to see the hope, the humour, and the raging defiance in both the beauty and the ugliness of Bucharest's street art. It's in everything we see and everywhere we go.
It's in the protests of January and February 2017, when Romania erupted in a fury, and 500,000 people took to the streets to demand the government repeal a brand new law that decriminalized government corruption up to 200,000 Lei (about US $50,000). Yes, that really happened (see above: the audacity of the government).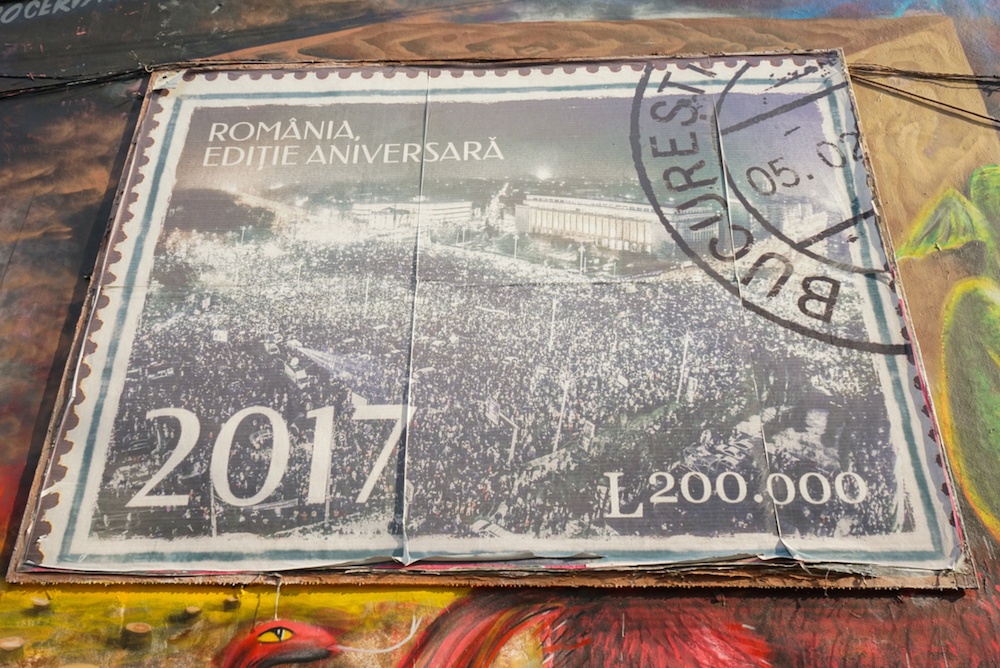 It's Beyond the Facades, a group of rogue photographers who sneak into long-closed-off, heritage-listed buildings to photograph their beautiful, sometimes crumbling interiors.
Showing how they look ensures they can't be changed; it also serves as a reminder: Hey, look! There is beauty in our city, right here, right now, and it belongs to all of us.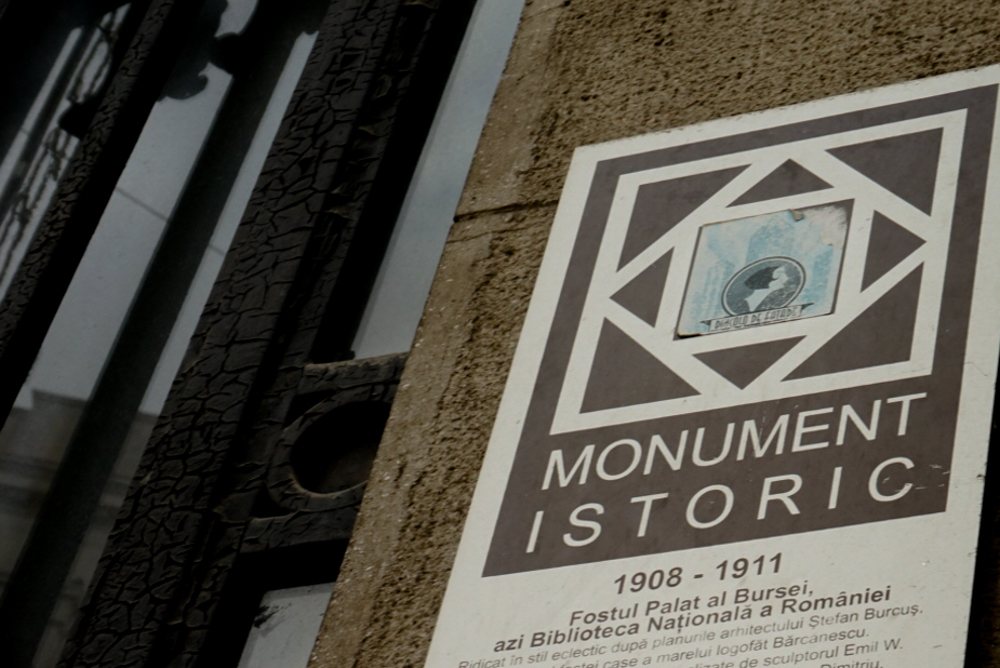 And it's the social messages stenciled on Bucharest's walls, and meant to change hearts and minds.
Racism destroys life. Feminism exists in Romania. Listen to the Oldschool. We shit on homophobia.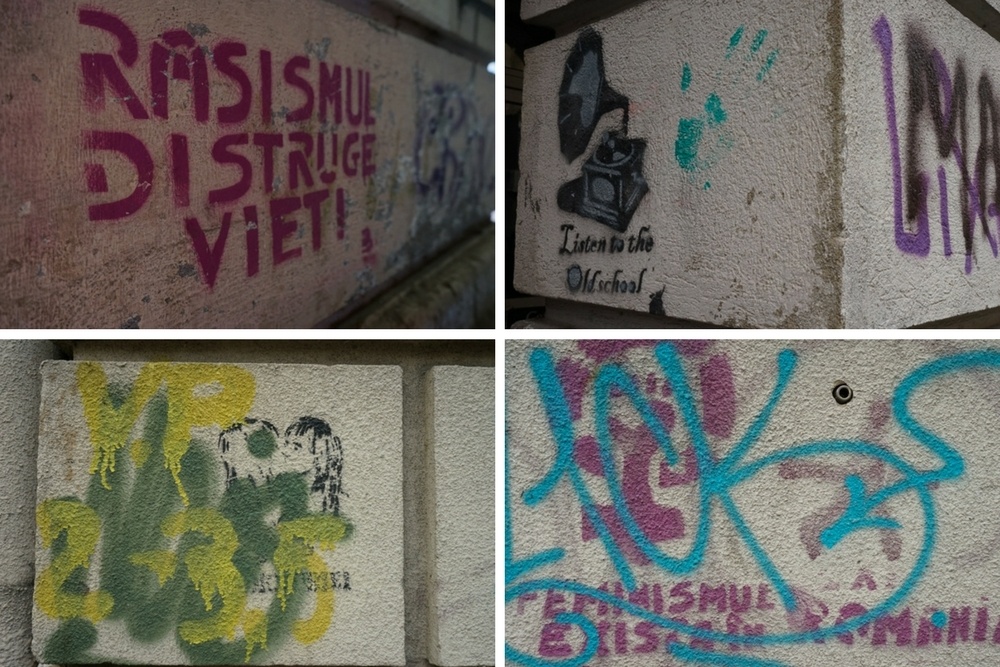 Of course, it's not really about the street art, but about the next generation of Bucharesters, asserting themselves and their power in ways big and small, in a way their parents' generation never could have imagined.
Maybe street art WILL be their salvation.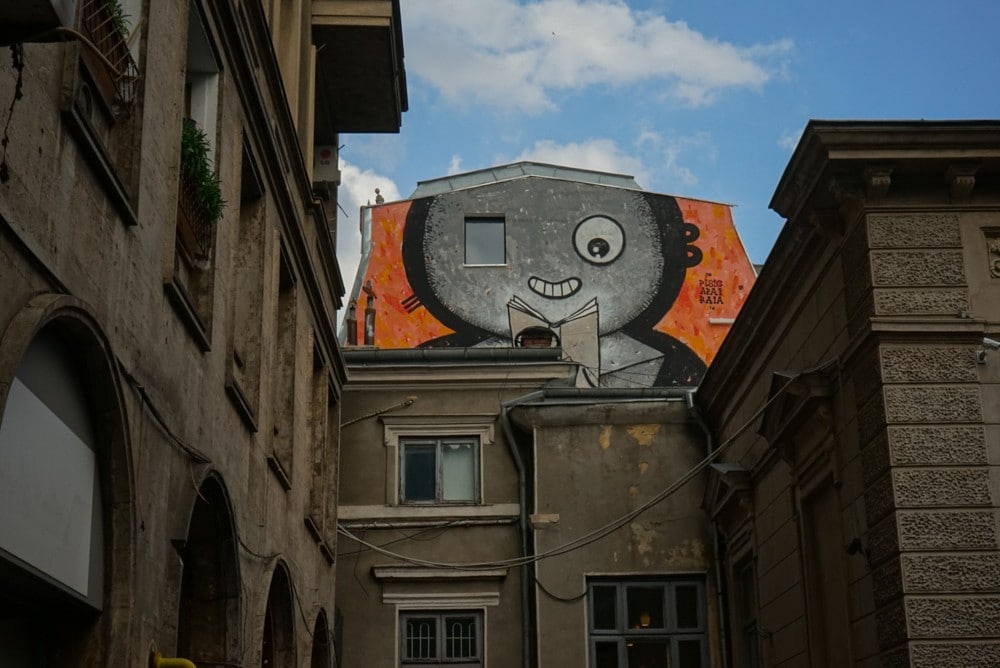 Like This Post? Pin It for Later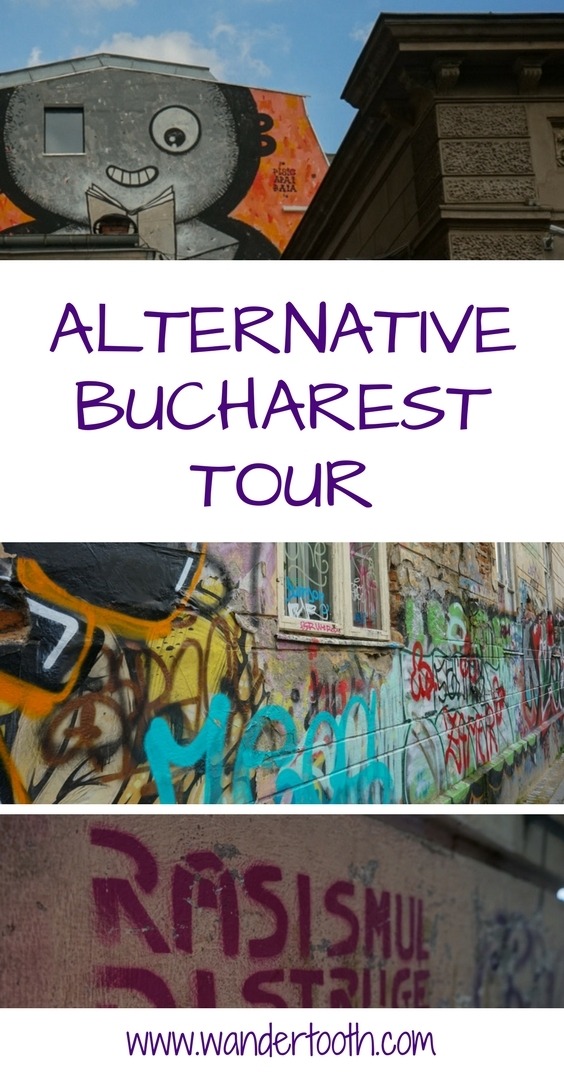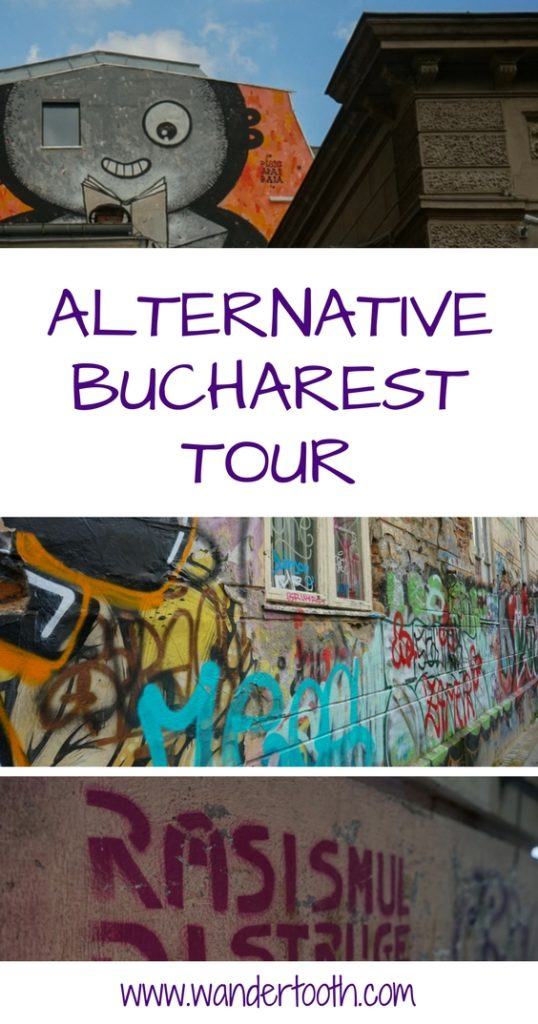 I must admit, I hesitated signing up for this tour. Street art, I'd always thought, is nice to look at, but that's about it. Add to that, I was in Bucharest on a blogger trip — which comes along with expectations that I write about my experiences — and wondered what the story would be; what's the angle?
Elena overcame my skepticism quickly, and opened up a new way of seeing her city, one I'd never considered before. She brought it all to life for me; made it real. The tragedy of Romania's communist legacy, and the present political situation, yes. But more than that, the hope. Through her clear passion for street art, I began to understand things about this city and country that, without her, I never would have. It's what all tours should do, but few actually achieve.
In Elena's own words, what I like about graffiti is the young people are trying to change things. Thanks to Elena, I can see that now, too.
While I can't say I'd recommend anyone go out and book a street art tour in any city you're going to, I can honestly recommend you book this one, with Elena, in Bucharest.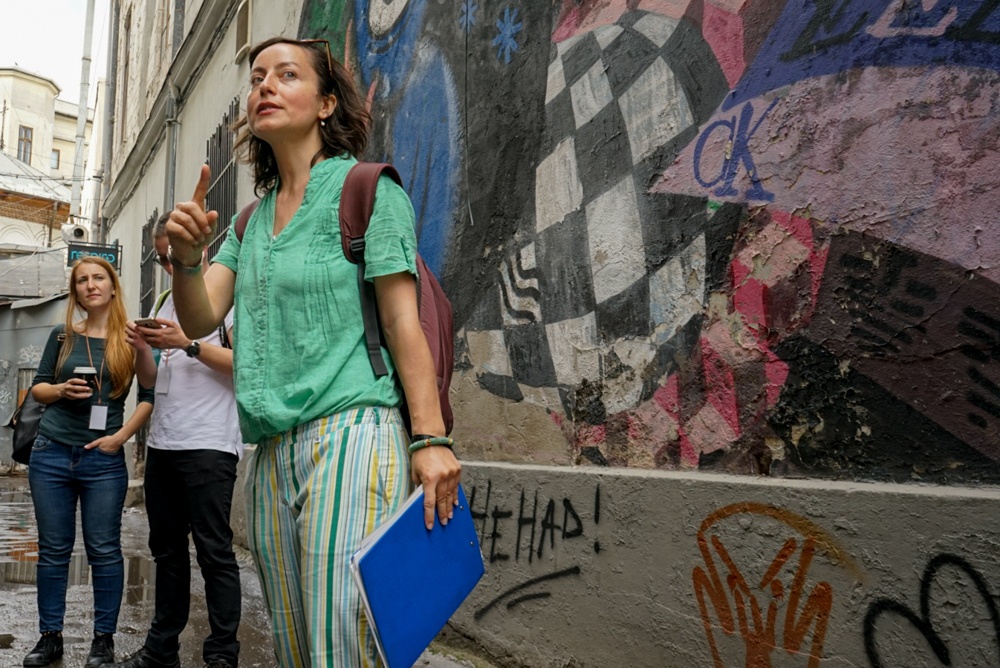 Read More
Check Out These Related Posts Below, or Click Through to our Romania Home Page to Plan Your Trip!
Questions? Comments? Let Us Know By Leaving A Comment Below, or Joining Our Facebook Community!