As a long time Tampa resident, I've had the chance to stay at just about every hotel in Clearwater Beach. Yes, all of them. And no I'm not exaggerating. So when I finally got the chance to cross the Sandpearl off my list last weekend, I jumped at the chance.
And I have to say it was a pretty great experience – the Sandpearl is definitely going on the list of my favorite hotels in Clearwater Beach.
Note: If you decide to book a room at Sandpearl Resort, I strongly recommend checking the rate on Booking.com. I always prefer to book through the site for ease of changes or cancellations!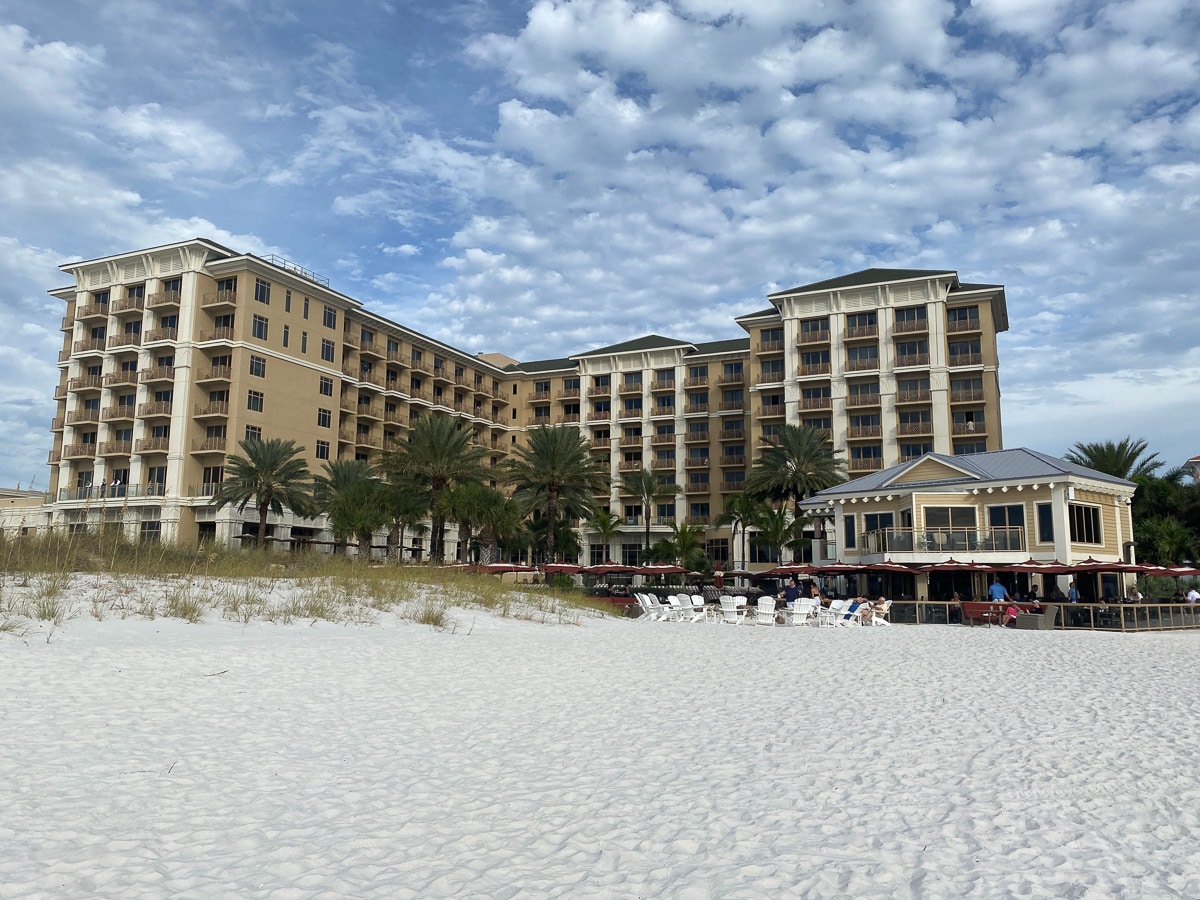 The Location
Let's start with the location first, because this is really the most important thing when choosing a hotel in Clearwater Beach. Any of the large resorts will have similar amenities, so the location on the beach is one of the main differentiators.
Sandpearl turned out to be a great option. It's located directly on the white sand beaches of Clearwater Beach, which is ranked as one of the best beaches in the US. So you can simply walk right out from the hotel to the sandy beach. That is a definite advantage over some of my other favorite hotels, like the Hyatt Regency, where you have to cross over the (small, but busy) main road to access the beach.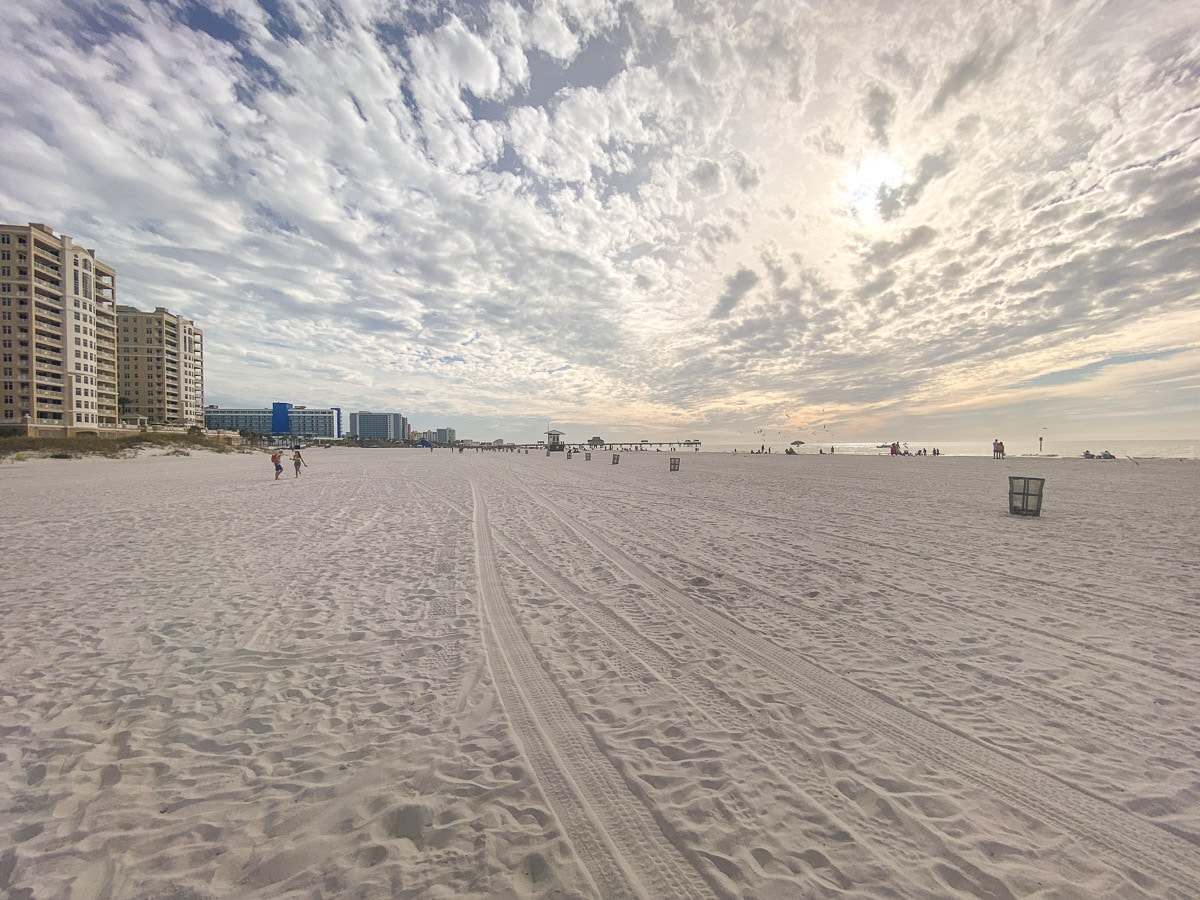 The Sandpearl is a short walk down to Pier 60 (that's the long dock you see in the distance above), which is the heart of the tourist activities on the strip. There's a huge pier, park, and playground there. And it's the location of the nightly sunset celebrations, which include music, activities, and even some rides for the kids.
So the Sandpearl is a great location for walking down there in the evenings. Here's a more in depth guide to the goings-on at Pier 60, if you want to learn more!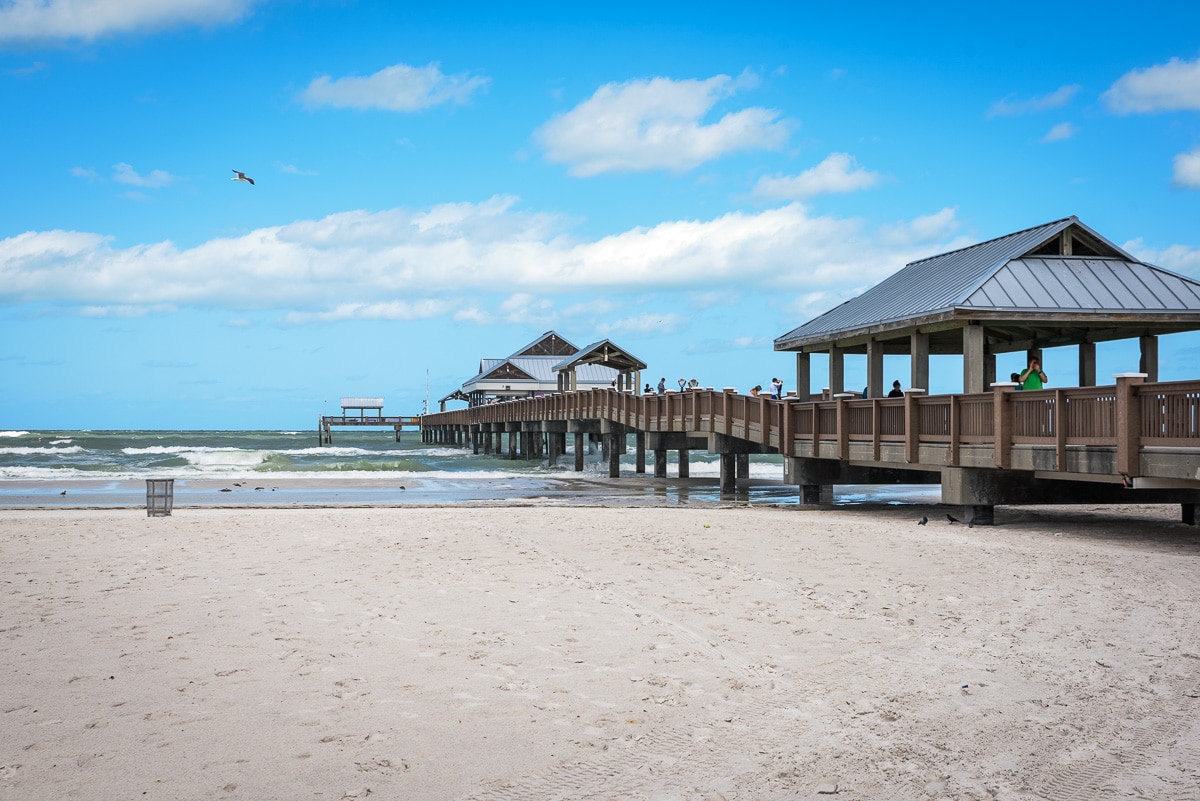 Of course, there are other hotels that are even closer to Pier 60, such as the Hilton Clearwater Beach. But after staying at The Sandpearl, I think it's definitely worth the short beachside walk to take advantage of their seriously nice amenities. Now on to the hotel property itself!
The Property and Amenities
So as I mentioned, The Sandpearl is located right on the white sandy beaches of Clearwater. And the best part of that is their beachfront pool! This is easily the nicest pool on Clearwater Beach.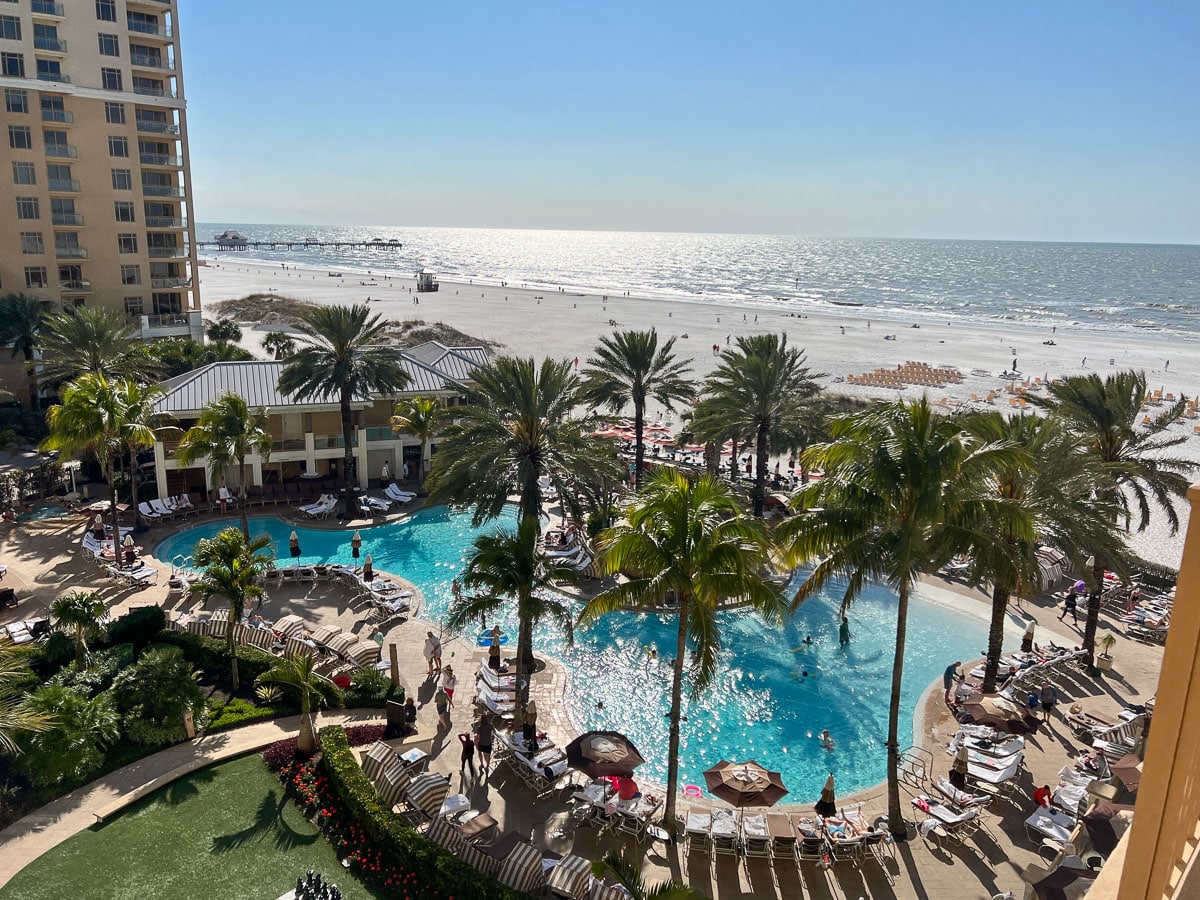 My other favorite hotels are the Hyatt Regency and the Wyndham Grand, but they are both situated just across the main road from the actual beach. And while their pools are nice and very fun, there is nothing quite like swimming right next to the ocean.
I love being able to hop back and forth between the beach and pool easily. Oh, and it's heated too.
There is also a huge beachfront fire pit in front of their beach bar (keep reading more for more on the food options!) which is lit every night, and is a super fun spot to hang out in the evenings.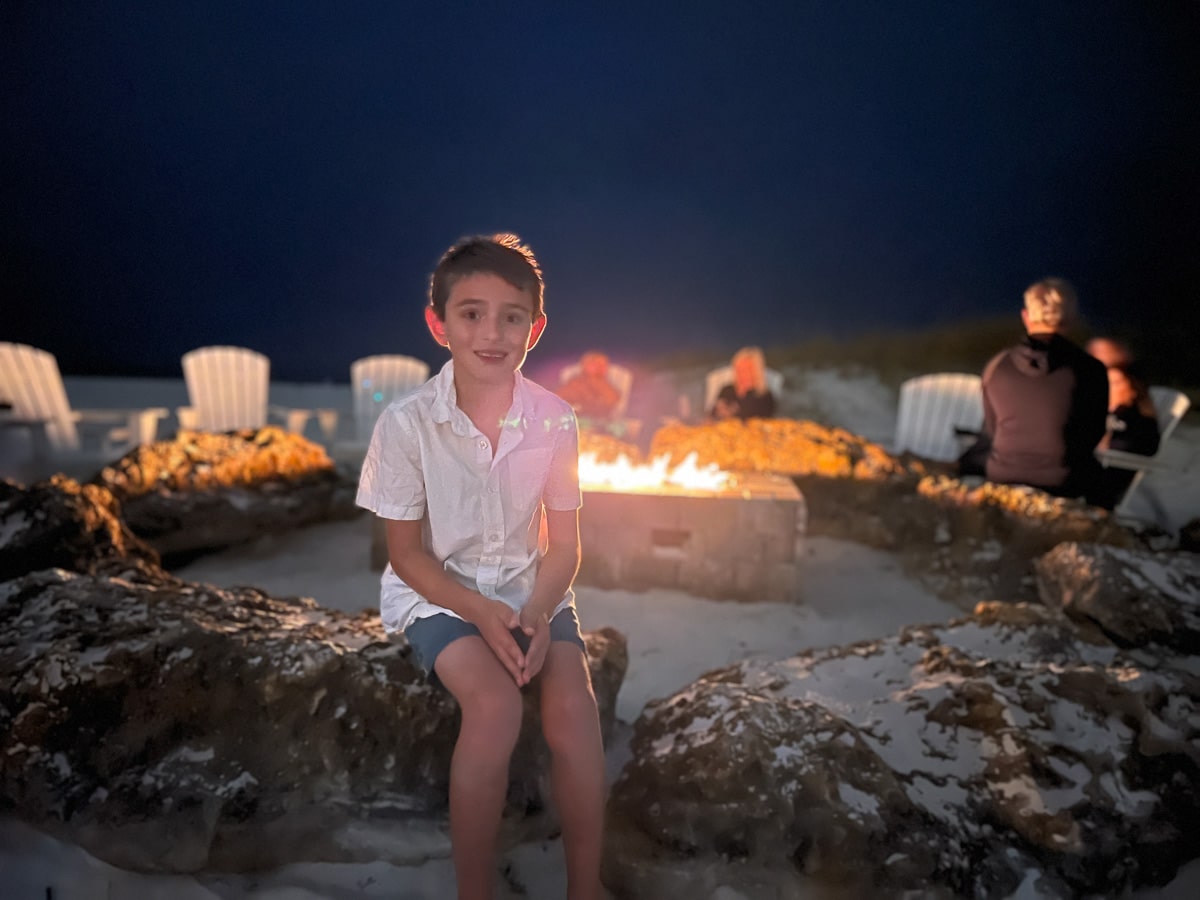 Of course, The Sandpearl has all the usual amenities you would expect as well. There is a fitness center and a full day spa.
The resort fee includes beach chairs and towels, but they will charge you extra to rent an umbrella. And you will need an umbrella if you're going in Florida summer. I do think that's a bit greedy on their part. If you're local, you may want to just bring your own chairs and cabana, and set up away from the private area. You will have a lot more space as well.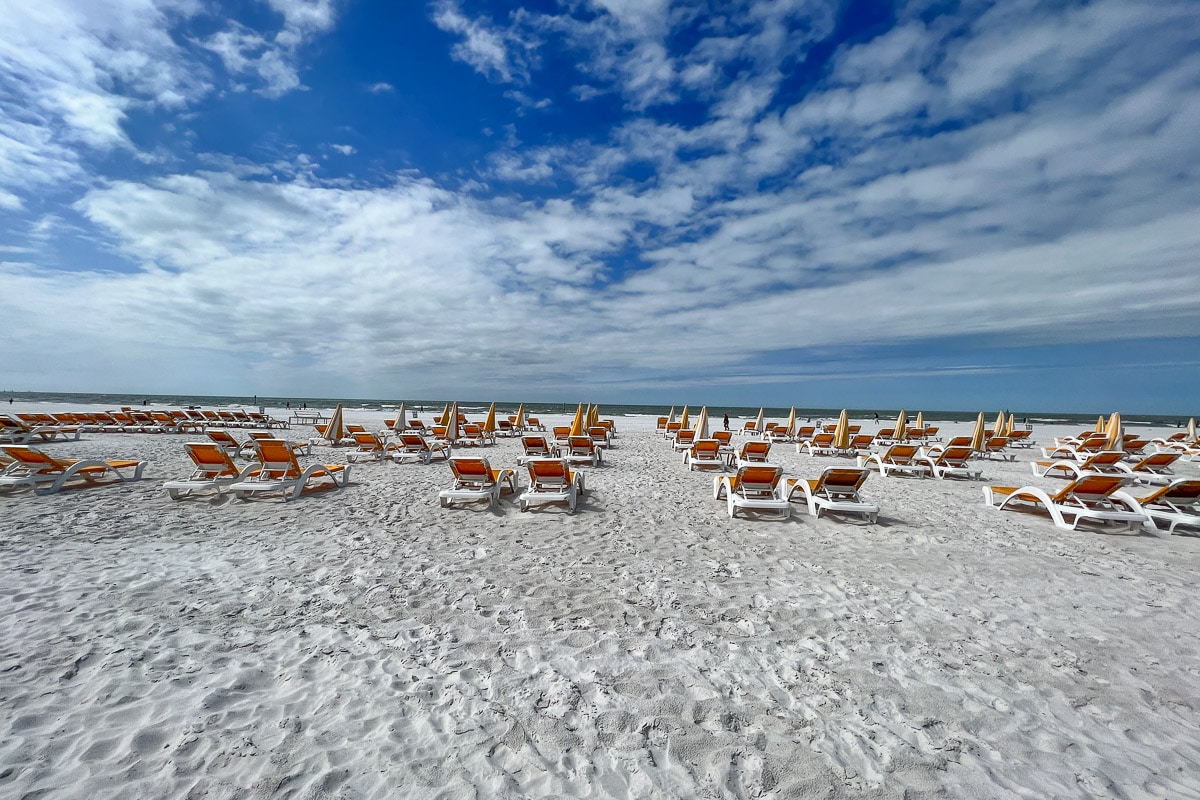 Additionally, there are watersports rentals available from vendors on the beach such as jet skis, paddleboards, and kayaks. And lots of little activities available at the resort as well – table tennis, volleyball, a giant chess set, and lots and lots of comfy hammocks to lounge in.
There is an activity desk at the pool – you can get the scoop on all the goings on for your visit there!
And there is a kids club called Camp Ridley! We don't typically use the kids clubs on vacations, with the exception of cruises, but I've heard good things about their club from other moms in the area.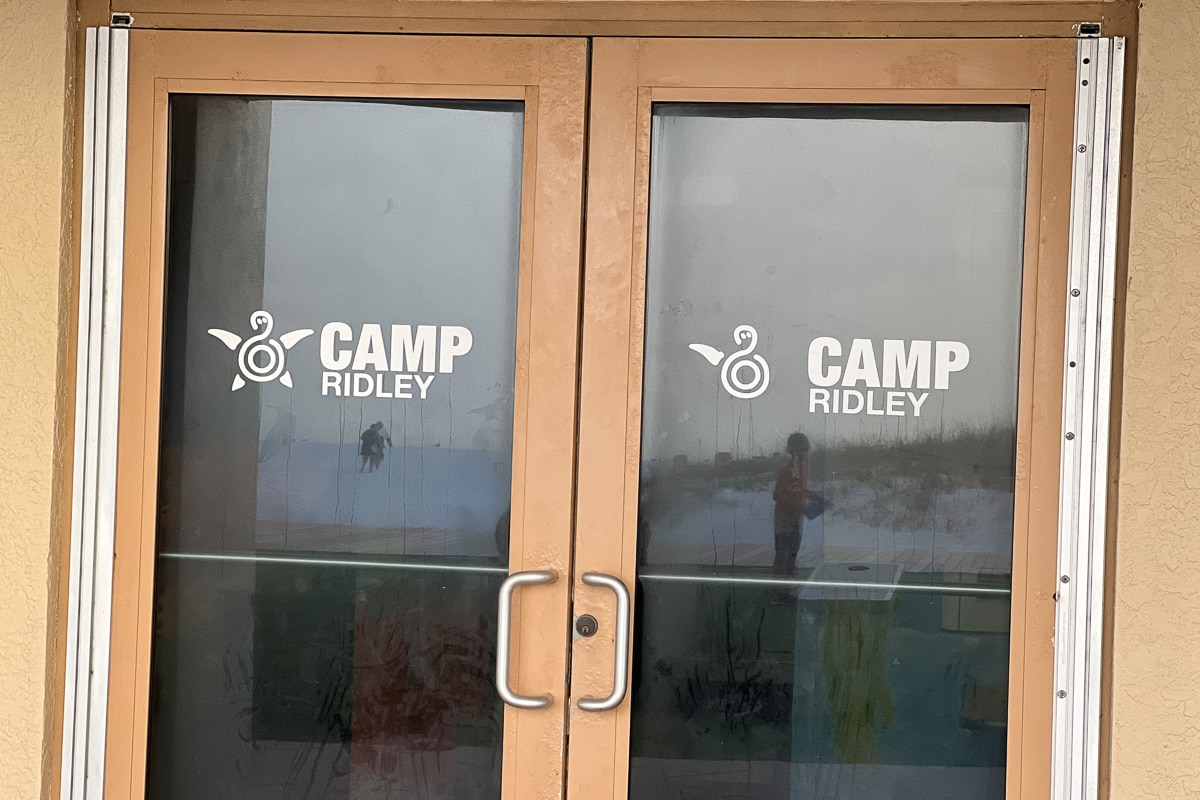 On our first visit there was daytime child care available at the kids club for a fee. But on our second visit, they had the club area available for families to use with their own kids, but weren't offering the supervised sessions. So if that is important to your visit – definitely call ahead and ask what the schedule will be for your visit.
I also noticed that they had a big pile of beach toys available for the kids to use at the activity desk. We are local so had our own, but that is always a nice perk for traveling families. We did borrow one of their beach balls to toss around in the pool!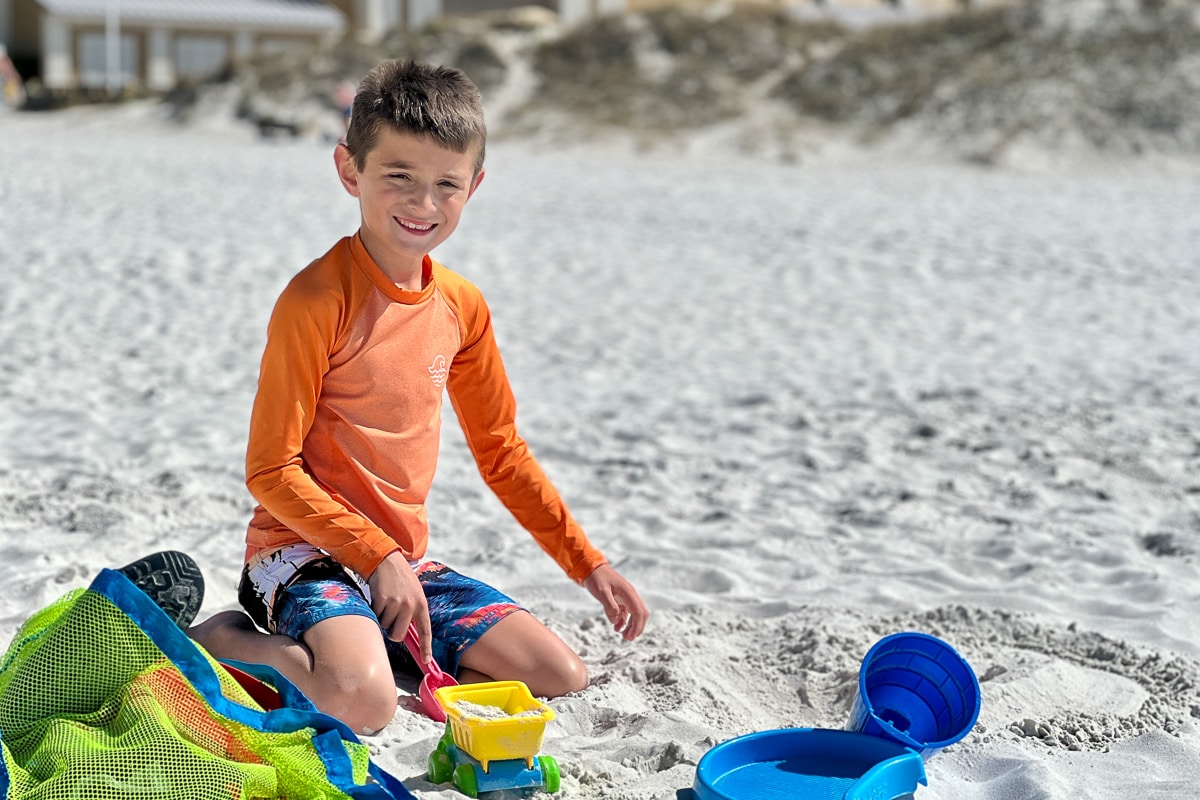 There is a small café area inside the hotel lobby called The Marketplace, where you can get coffee, snacks, or buy some snacks and things to keep in your room. Very convenient with families.
Parking is valet only and was $25/night when we stayed. There are other parking areas nearby, but you will pay for parking anywhere you go in Clearwater Beach. So we just opted for the convenience of valet.
Of course, Clearwater Beach is jam packed with tourist activities outside of the resort as well. Check out my favorite things to do in Clearwater Beach here.
The Restaurants and Bars
The Sandpearl's main restaurant, Caretta's, is actually incredibly good. It's one of the few four star restaurants on the Clearwater Beach strip and has really great, fresh seafood. And I am very picky about seafood.
I completely neglected to take a photo of the restaurant. Probably because I was too busy digging into my food. But that below is my salad – and anyone that wraps my salad up in a handmade cucumber bowl is okay in my book. ;)
You can see the menu and make reservations here. Be sure to make a reservation if you're planning to go for dinner – they do get full.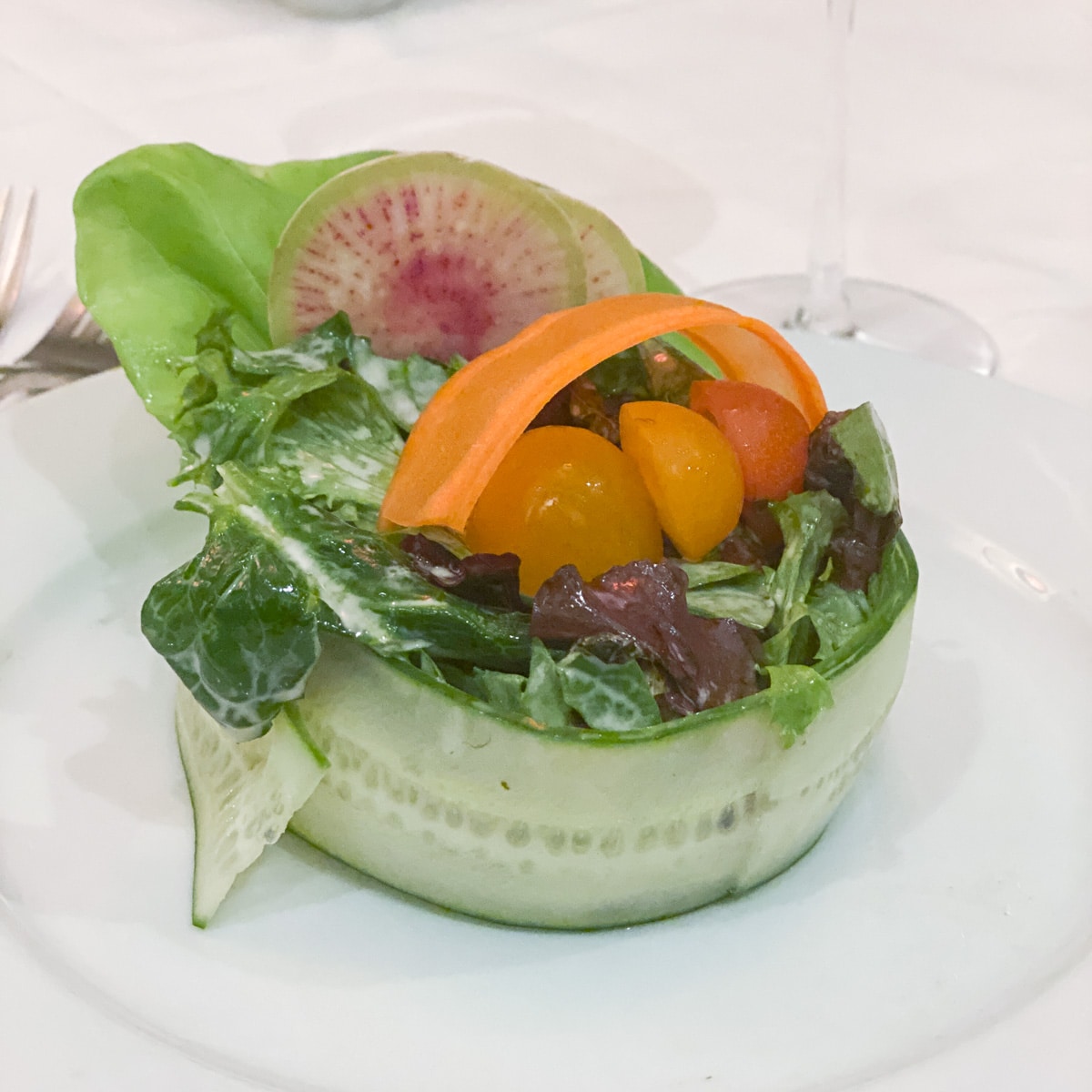 In addition, there is a beachfront bar and restaurant called Tate Island Grill which is much more casual. This is where they host the bonfire each evening, and is a great place to grab a burger and a drink or some poolside snacks. And there's a kids menu, too.
Tip: Their grouper nuggets are the best thing on the menu, and their french fries are awesome.
You can check out their menu here. They don't take reservations, but we've never had a problem getting a table. They also serve drinks and food poolside.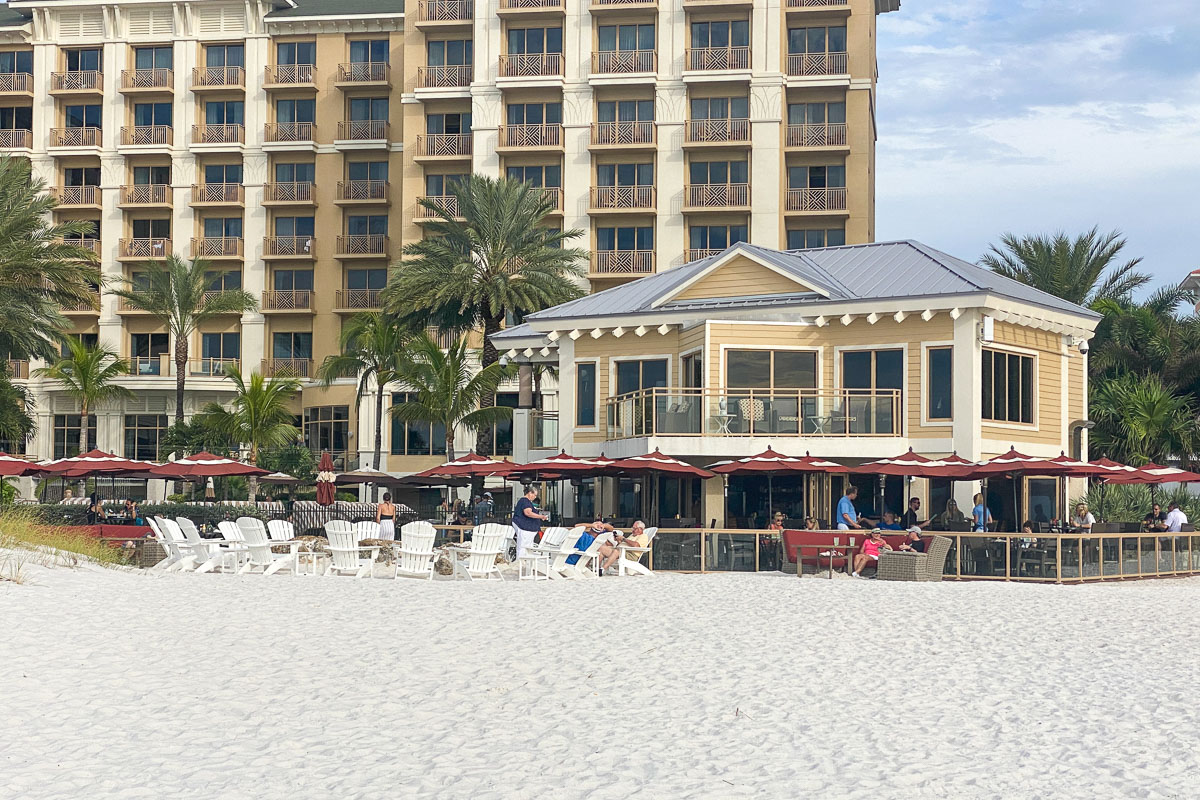 And as mentioned above, there is a small marketplace (not so cleverly called The Marketplace) in the hotel lobby where you can get quick service snacks and coffee. I found it really convenient when I just wanted a quick breakfast sandwich or a snack for my son, without spending time at a real restaurant.
P.S. They serve Starbucks coffee and make most of their drinks. (Hello, Iced Caramel Macchiato!) So no need to hike down the street to the real Starbucks, which always has a line.
Beyond the resort, the Sandpearl is also right next to Frenchy's Rockaway Grill, which is one of the best places to eat in Clearwater Beach! And on the other side is Clear Sky Cafe, which is hands down the best breakfast place on the strip. Check out more of my favorite places to eat in Clearwater Beach here.
The Rooms
The Suites
The Sandpearl has a variety of room types. On our first visit, we stayed in a One Bedroom King Suite, which we were lucky enough to get as a complimentary upgrade from a regular room. And it was amazing!
These suites are really set up for longer stays and are absolutely perfect for families travelling with kids. There is a full kitchen, equipped with everything needed to cook simple meals.
This lets you keep snacks and easy meal stuff on hand so you aren't forced to sit through an hour long restaurant fiasco when all your kid really wants is a cheese sandwich. ;)
It was fully equipped with everything we might need to do some basic cooking – cookware, utensils, dishes, etc.
And the suites have a separate bedroom area, which is great to give mom and dad a little privacy too.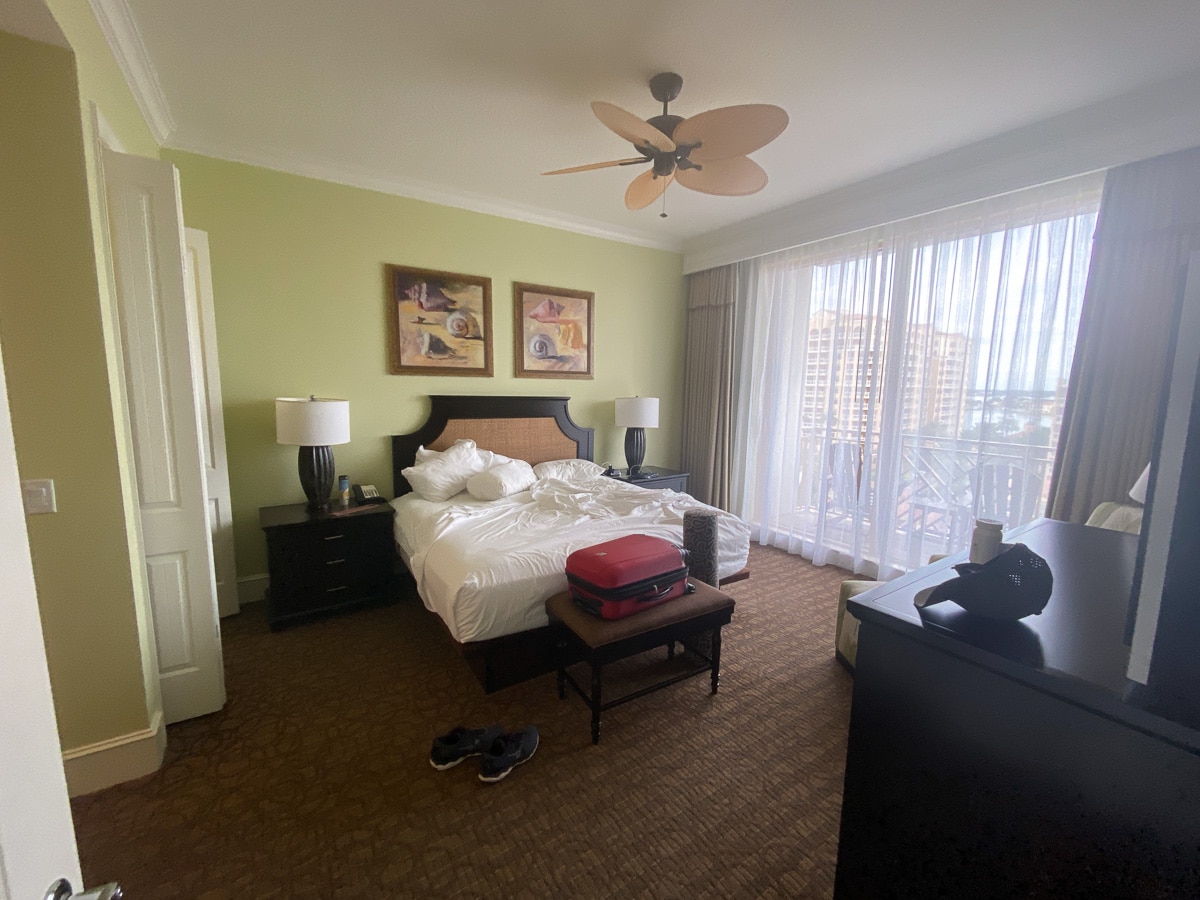 The bathroom was absolutely huge, with a walk in shower and a jetted tub. And it was even equipped with a stacked washer and dryer – again very helpful for a longer vacation!
As far as the room location goes, I would suggest getting a room on the beach/pool side if that is an option. We were in a "city view" room, and while it was cool to check out the nightlife, there was a lot of noise from the street at all hours. It wasn't that big of a deal for us, but we would have preferred something a bit quieter.
The Guest Rooms
On our next visit, we opted for a Gulf View King Room, which was also a very nice choice for us. Note that there are quite a few different options available in terms of view when you select your room (with differing price tags).
Here are the different gulf view options you'll see when booking:
Partial Gulf View – These rooms are on one side of the building or the other. Some of them have a balcony and some just a large window. The problem with these rooms, and the reason I didn't choose this, is that one side is way better than the other. The rooms on the south side of the hotel have a decent partial view of the beach and/or intracoastal. The rooms on the north side of the hotel have a much less appealing view of…. a parking lot, dumpsters, and the loading dock. Lol. I wasn't willing to risk it, so I traded up.
Gulf View – These rooms have a view of the pool, with the beach and gulf on the other side of it. (Works for me!) These rooms all have a balcony also.
Gulf Front – These rooms supposedly have a clear beachfront view without looking over the pool.
Anyways, I went with the gulf view, and this is what we got. It was pretty and quiet and worked out very well for us. It had a great view of the pool area and the beach behind it.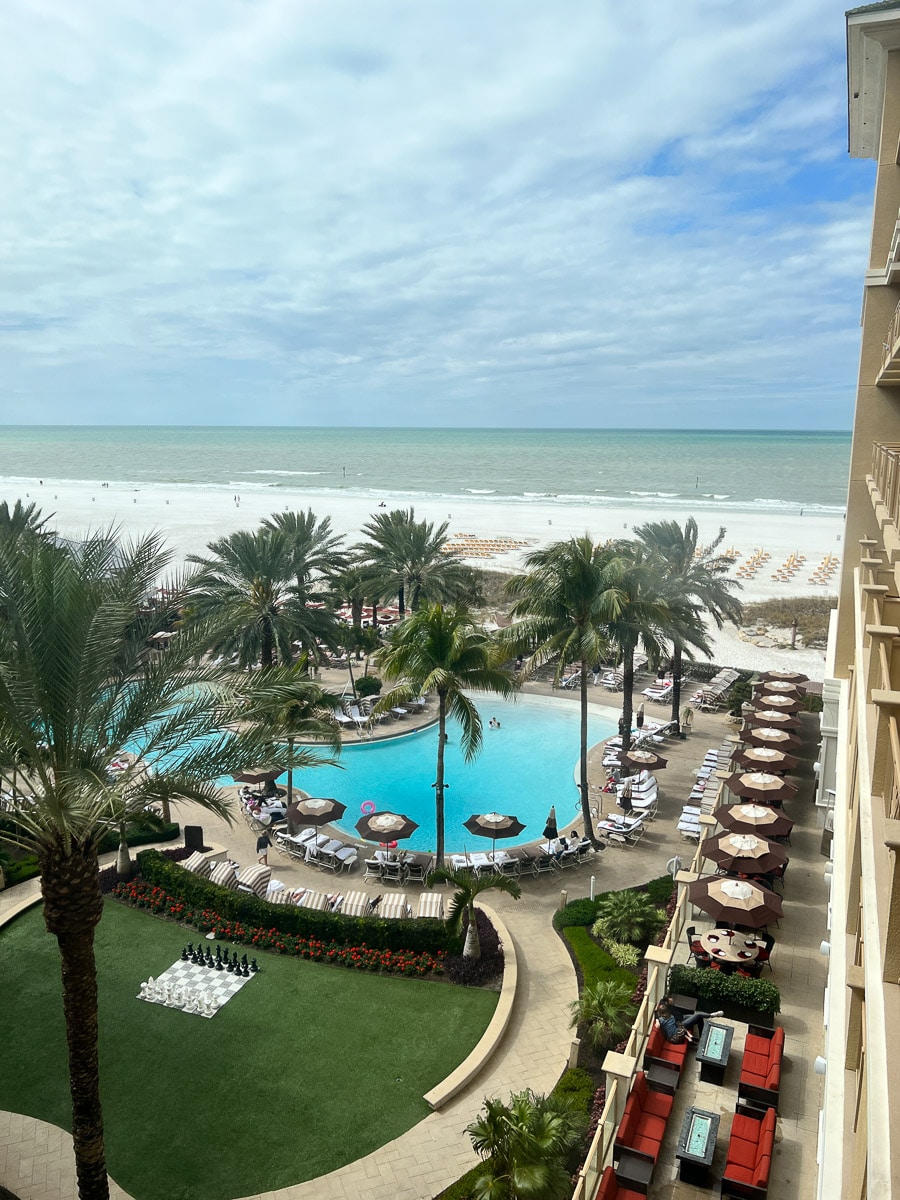 Now obviously, these rooms don't have the same type of space and amenities as the suite we stayed in the first time. But it did very nicely for the two short nights we spent there.
We had two queen size beds (you can also choose one king), and they were plenty comfortable.
The room was equipped with a mini fridge, which was perfect for keeping snacks and cold waters. And there was a pod coffee machine as well, which was convenient in the mornings. They kept us stocked up with free bottled water too!
Book a Room at Sandpearl
If you do decide to book a room at Sandpearl Resort, I recommend checking out the rates on Booking.com. It's my first choice for hotel reservations, due to their great customer service and ease of making changes or cancellations.
FAQs
Who should stay at the Sandpearl?
The hotel is a great choice for anyone, but it's especially perfect for families with kids thanks to all the family friendly amenities. It will also work well as a relaxing spot for couples, although their sister property, The Opal Sands is a bit more suited for an upscale couples retreat. You can check rates for the Sandpearl here.
What is in the kitchen at Sandpearl?
In our one bedroom suite, there was a fully equipped kitchen. That includes a full size refrigerator, stove, microwave, dishwasher, and Keurig coffee maker. It was also equipped with a basic set of pots and pans, cooking and eating utensils, dinnerware, and glassware. Check out the pictures in the article above for a peep inside the cabinets.
Is there a kid's club at The Sandpearl?
Yes, there is a kids club available for an extra fee. On our first visit, there were two sessions available per day (1-5 pm and 6-10 pm) at a cost of $50 per sessions. Siblings could be added for $25 each. On our second visit, there were no supervised sessions being offered. So be sure to call ahead if this is important to you!
Is the Sandpearl pet friendly?
Yes, the Sandpearl allows dogs under 30 pounds. There is a pet fee of $75 per night for each dog and pets are only allowed in the guest rooms and lobby, not throughout the resort. But of course, you can walk the dog throughout town and you will find plenty of places to sit outside and eat with your pet too. It's important to note that dogs are not allowed on Clearwater Beach. The closest dog friendly beach is at Honeymoon Island State Park.
What are the restaurants at The Sandpearl?
The main restaurant is Caretta's, which is an upscale seafood restaurant. And it's very good! There is also a beachside café available by the pool called Tate's and a Marketplace in the lobby for quick bites and coffee.
Should I stay at the Opal Sands or The Sandpearl?
These hotels are sister properties. In my opinion, The Sandpearl is a better choice for families or couples looking to spend a relaxing time on the beach. The Opal Sands is a better option for folks looking for a more luxury experience, or looking to enjoy more of the nightlife scene.
Is there parking at The Sandpearl?
There is valet parking available at the hotel for $25/night. There is not a self parking lot, although there are several paid public parking areas along the beach. There is very little free parking in Clearwater Beach, and their valet is the most convenient option.
Is the Sandpearl Resort all inclusive?
No, this is not an all inclusive property.
Who owns Sandpearl Resort?
The Sandpearl is part of Opal Collection, which also owns the nearby Opal Sands Resort and several more properties on the gulf coast.
How far is the Sandpearl Resort from Tampa Airport?
The Sandpearl is about 20 miles from the Tampa airport, and the drive takes around 45 minutes. This can be way longer at rush hour or busy tourist days, so plan accordingly.
How can I get from Tampa Airport to the Sandpearl resort?
If you have a rental car, it's an easy drive from the airport to Clearwater Beach. If you're not planning to rent a car, taxis or rideshares are readily available from the airport.
What is the best way to book a room at Sandpearl?
I always recommend checking the rates on Booking.com. I prefer to make my hotel bookings there when possible, as they make changes and cancellations very easy and stress free!
Clearwater Beach Trip Planning Resources
If you're planning a trip to Clearwater Beach, be sure to check out these additional resources as well: