Glasgow Travel Guide: If you're asking yourself, Should I Visit Glasgow, the answer is a resounding YES! Creative, lively and uber cool, Glasgow is Scotland's hippest city. Find out why you should visit Glasgow, and our recommendations for the best things to do in Glasgow.
Disclosure: This Should I Visit Glasgow Travel Guide contains affiliate links. That means we earn a commission when you use the links on this site to book a tour, book a hotel, buy your travel insurance, etc.. You don't pay anything extra. If you'd like to learn more about how this works, you can read more under our Disclaimer page.
***
Should I Visit Glasgow? Heck, YES!
One of the things I love about Glasgow is how thoroughly it suprises visitors, unceremoniously stamping out any pre-conceived notions you might have had of it being a boring, slightly rough and gritty post-industrial city, and replacing them with a general desire to linger, explore, and stay longer than you'd planned.
Back in the 1970s and 1980s, the city's slums, gangs and industrial decline created an unsavoury reputation of a place you'd never want to go. Today, half-a-century later, Glasgow is undeniably hip and vibrant.
Spend a few days in Glasgow, and it's clear to anyone with eyes it's a city on its way to becoming one of those cool cities everyone wants to visit before the word gets out. And while the secret is out in the UK, Canadians and Americans seem to still overlook Glasgow in favor of its admittedly more majestic sister, Edinburgh. (We're no different: back in 2014, on our first trip to Scotland, we too asked ourselves, should we visit Glasgow? Thankfully we did!).
When we were in Glasgow this fall, our contact at People Make Glasgow told us she thought of Edinburgh as pretty, and Glasgow as handsome. It's an observation we'd agree with…and we could probably take the comparisons further. If Edinburgh was a royal princess, Glasgow would be the fun-loving commoner who the princess runs away with. Edinburgh is all buttoned-up; Glasgow is as unpretentious as it gets. You get the idea.
While we're not saying you should skip Edinburgh – you definitely shouldn't – we ARE saying you should visit Glasgow. Build enough time into your Scotland itinerary to give both Edinburgh and Glasgow a fair shake, and see what makes them each so interesting, and so different.
So, should you visit Glasgow? Absolutely.
If you're thinking to yourself — okay but WHY should I visit Glasgow? — check out what we love about Glasgow below.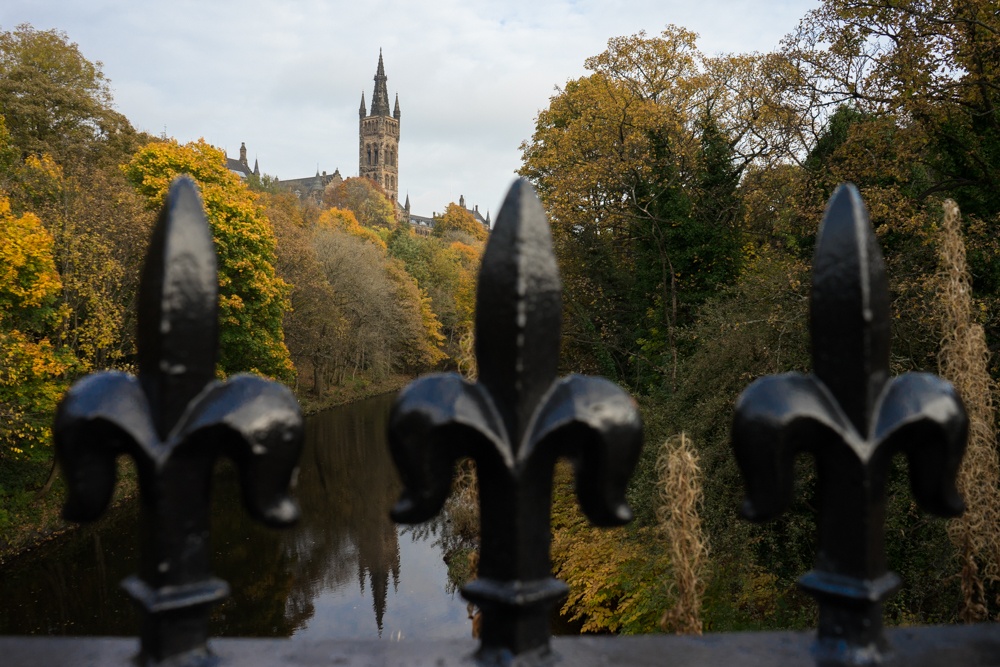 Glasgow Is An Uber Creative City
It's impossible to ignore the influence the arts has played in revitalising Glasgow, and it's one of the things we love about the city: Glasgow has fully embraced the role of artists and creatives in its story of transformation, to the point it even has a label: the Glasgow Miracle.
With the Glasgow School of Art (GSA) at its nexus, Glasgow has produced an entire generation – going on two – of acclaimed artists and creatives.
Some GSA grads have become world-famous Turner prize winners, and others have simply honed their craft and decided to stay in Glasgow, contributing to a creative economy and scene that's hard not to love.
While it's impossible not to notice the creative vibe of Glasgow just by wandering around, if the topic interests you, consider taking the Miracle of Glasgow Tour with Context Travel. Led by an art scholar or practicing artist, it's a 3-hour walking tour that offers a deep-dive into Glasgow's contemporary art scene, and provides context to understand how the Glasgow Miracle has shaped the city.
In our opinion, one of the best reasons to visit Glasgow is the creative energy of the city!
Glasgow is an Entrepreneurial City
A combo of affordable living and a massive population of graduates who decided to stay in (or move to) the city has seemed to create a perfect storm for entrepreneurialism and makers. Small shops, new food and drink brands, and creative products are blossoming in Glasgow, making it possible to focus any shopping, eating and drinking you do on Made in Glasgow gems.
Brands worth checking out include:
Trakke, which creates locally-manufactured brushed canvas bags for the outdoors, city exploration and travelling. Trakke was founded by Alec Farmer, a GSA grad who started the company by recycling found materials. He's since built Trakke into a brand with loyal fans the world over (they've even sent bags to Antarctica). We got to visit their "production line" in Glasgow, and can happily report it consists of a few cool people dedicated to making awesome bags.
The Glasgow Distillery — the first new distillery in Glasgow in more than 100 years — which is in the business of making small-batch gin, with whisky hitting the shelves in March 2018. Try a tipple of Makar at Gin 71 or Alston Bar & Beef. And if you're interested in exploring more brands of Scottish gin, People Make Glasgow has a list of the best gin joints in the city.
Risotto Studio, home to Gabriella Marcella's fun, bright, Marimekko-esque pop-art style prints. Along a similar vein is Laura Spring textiles, which you can find at the GSA Shop and a few other stockists in Glasgow.
We love meeting entrepreneurial types, creatives and makers in the different cities we visit, and Glasgow has many to offer. It's a great spot if you love supporting local shops and brands.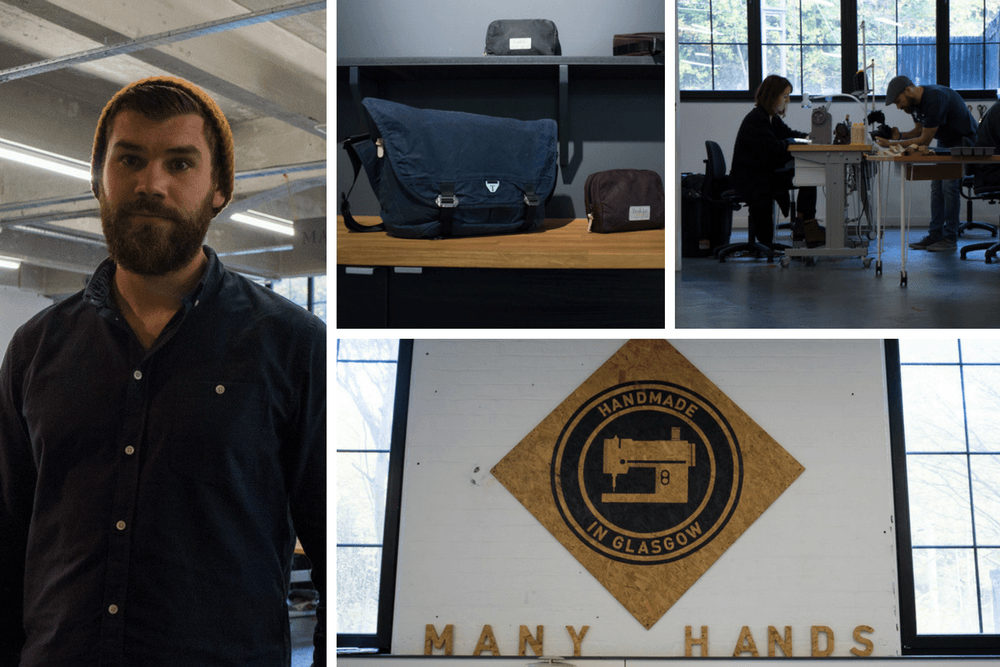 Glasgow is Unpretentious as it Comes
There's no denying Glasgow is gentrifying, and neighbourhoods that used to be dead zones are now the hippest spots in the city (points to Finnieston).
But unlike the conversations we have with locals about Kreuzberg, Brooklyn, or Shoreditch, gentrification doesn't seem to be a dirty word in Glasgow. Glaswegians seem to be proud of their city's transformation, and happy to go along on the ride.
In our experience, there wasn't much grumbling or jaded cynicism among Glaswegians. Nor was there any hint of pretentiousness.
Yes, every city has its own set of problems, but the Glaswegians we talked to seemed to be generally happy with the direction their city is going, and happy to enjoy all it has to offer, without much self-consciousness or pomp.
Even in the fancy spots, Glaswegians seem casual and not too fussed who you are or what you're wearing. We went out for a nice dinner in jeans, and no one batted an eyelash.
Glasgow felt like a cut loose, don't worry about it kind of place…which makes it really enjoyable to visit.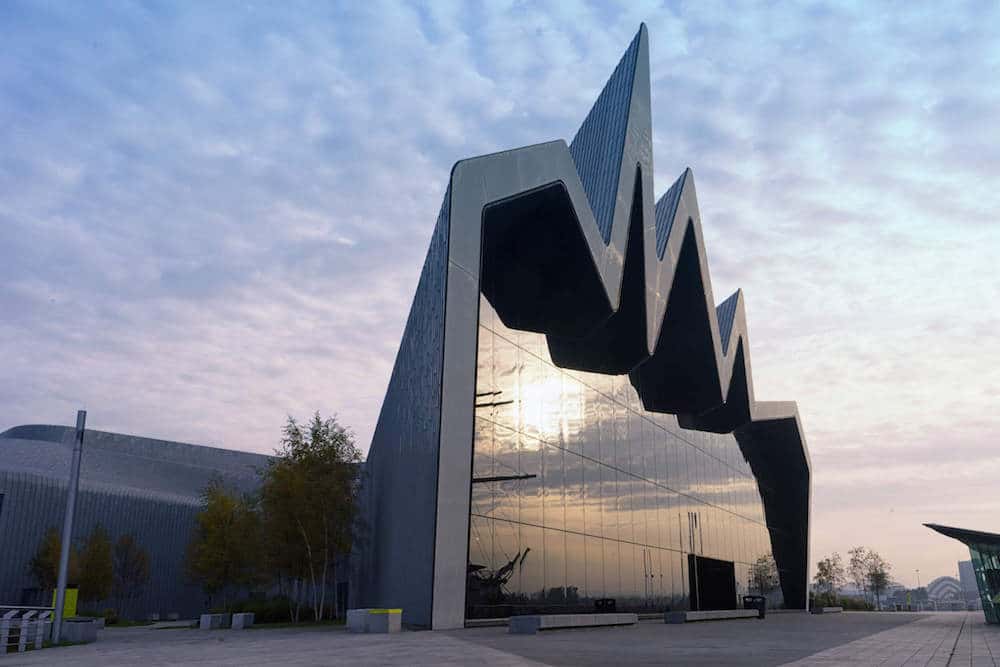 There Are MANY Interesting Things to Do in Glasgow
A creative and lively vibe is admittedly an intangible reason to visit Glasgow. Luckily, there are loads of tangible things to do in Glasgow as well. A few of our favorites are below…these are the greatest hits if you're in Glasgow for a day or two!
Kelvingrove Museum and the Riverside Museum are — in our opinion — the two don't miss museums in Glasgow.
Kelvingrove is absolutely massive, and deserves a half-day of your attention, more if you love to read the details. A mix of a history, natural history, local and art museum, you can see a Dalí, an Asian Elephant and a Spitfire fighter plane in the span of a few minutes. In other words, there's something for everyone!
The Riverside Museum is as interesting outside as it is in: the building was designed by Iraqi-born starchitect Zaha Hadid. Inside, it's mostly transportation-themed: old trams you can climb into, a metro car from Glasgow's original subway system (the third-oldest subway system in the world), and double-decker buses from the past. My favorite spot in the museum is a recreation of an old street in Glasgow, complete with shops you can go into.
We also really enjoyed walking around the Glasgow Necropolis, which sits above Glasgow Cathedral a short walk from the centre. The most interesting thing about the Necropolis is reading all the inscriptions and reflecting on the obviously hard times Glasgow has faced throughout its history. The gravestones and beauty of the place gives Paris' Pere Lachaise a run for its money.
GSA grad Charles Mackintosh is one of Glasgow's most famous sons, and the city has capitalized on its collection of Mackintosh artifacts with tours and shops. Take a short cab to House for an Art Lover in the morning, and then jump on a Mackintosh tour of Glasgow in the afternoon (or vice versa) to get a feel for how Mackintosh and the Glasgow Four shaped the city's identity.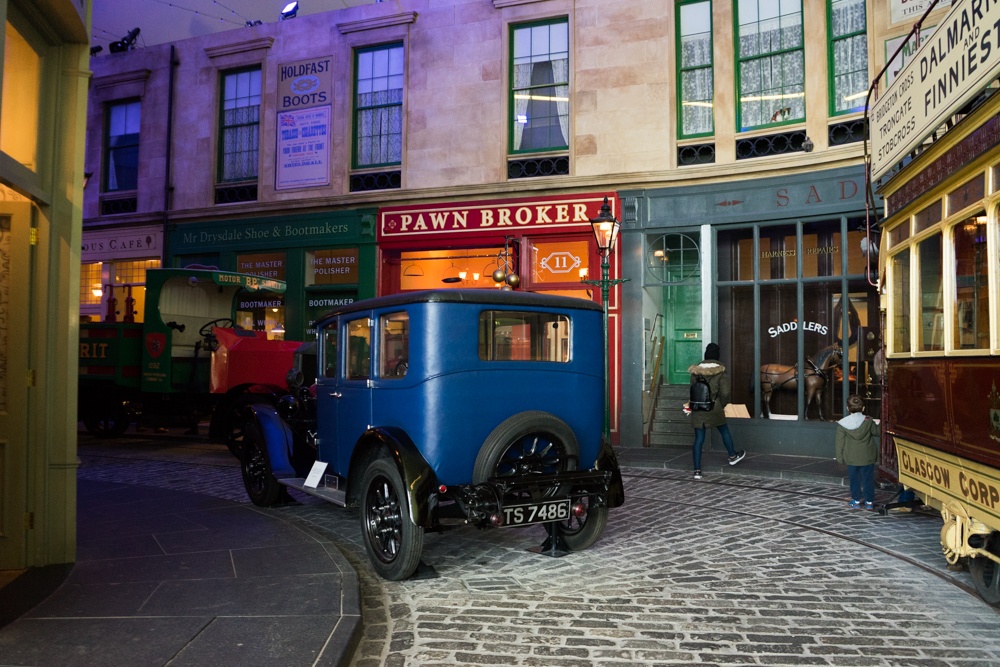 Glasgow's Food & Drinks Scene is Exceptional and Affordable
That combo of a population comprised of young creatives and affordable commercial space has resulted in a creative foodie and bar scene that will keep you busy every night in Glasgow.
Ashton Lane is a Glasgow classic. It's an uber cute, almost village-like laneway off of Byres Road in the West End, and is filled with bars and restaurants stacked on top of one another. With cobblestones under your feet and fairy lights replacing the night's sky, it's a fun place to grab a bite and do a wee bar hop.
The Anchor Line is a cocktail spot with a great story. In a great, central location right near the Queen Street Train Station, Anchor Line sits in the former first-class ticket office of Anchor Line passenger ships, which cruised across the Atlantic in the 19th and 20th centuries. The owners have done a great job at restoring the building with an elegant and grand shipping vibe, and you can see original memorbilia and artifacts around the space.
For a taste of modern Scottish food with global twists, pop over to Stravaigin, which has both a casual café and a more upscale (but still pretty casual) restaurant. We went on a Monday night, and it was full – definitely a positive sign. While I'm not an adventurous eater, my meal (lamb) was melt-in-my-mouth delicious, and we'd definitely return to check out the café side of the operation next time we're in Glasgow.
For more café, bar and restaurant recommendations, People Make Glasgow has a great food and drinks section on their website.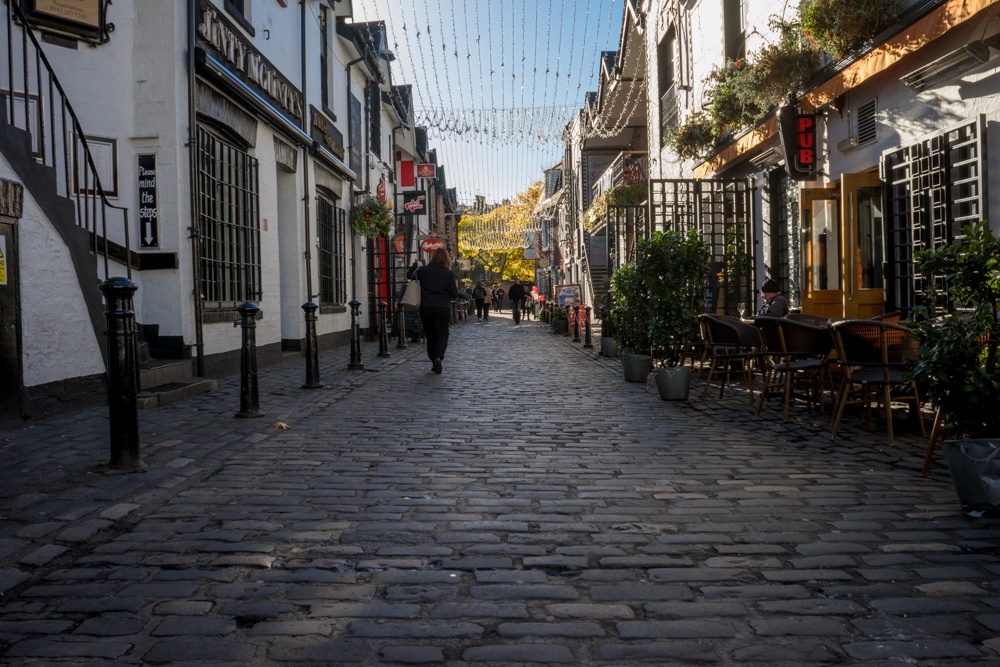 Need Some Inspiration? Check Out the Best Places to go in Scotland
Where to Stay in Glasgow
When it comes to choosing the best area to stay in Glasgow, we'd recommend staying in the City Centre, and exploring areas like the West End and Finnieston during the days and evenings.
The benefits of staying the city centre is convenience: arriving in Glasgow by train, you can walk to your hotel. While you're exploring the city, you can walk to many places, and take an Uber, taxi, or public transportation to the few spots that aren't walkable. There's loads going on, many cafés, bars, restaurants and shops to keep you busy, and a generally lively and fun vibe.
If you choose to stay in the City Centre, we can't recommend Grasshopper's Hotel highly enough. It falls squarely in that "affordable boutique" category – not budget, but not luxury, with lots of charm and unique features. Your stay comes with a free, home-cooked breakfast, optional (costs extra) dinners at the hotel, and all the cupcakes and homemade ice cream you can eat (which in our case was a lot). Check availability, prices and reviews of Grasshopper's on Booking.com and Trip Advisor.
Other hotel options for the City Centre:
Blythswood Square (Luxury Boutique)
Blythswood Square — One of the best-rated luxury hotels in Glasgow, this place gets rave reviews from past guests. Great location in the city centre, beautiful decor, and nice added touches, like a 10,000 square-foot spa facility with 2 pools, an on-site movie theatre, and an on-site restaurant and bar.
Check availability, prices and reviews of Blythswood Square on Booking.com and Trip Advisor.
Citizen M (Affordable Design Hotel)
Citizen M — We've stayed in Citizen M hotels before, and are big fans of the chain. They are uber modern, and we always feel like we're checking into the future. What they are not, however, is private: showers have glass doors, so not really the place to stay with a family member or your BFF, unless you get separate rooms.
Check availability, prices and reviews of Citizen M on Booking.com and Trip Advisor.
ibis Styles George Square (Cheap & Cheerful)
ibis Styles George Square — Modern, simple and fresh, we've always had good experiences with ibis' 'boutique-inspired' budget line of hotels. This one gets good reviews for comfort, location, and staff friendliness…it's one of Trip Advisor's top-rated (by past guests) hotels in Glasgow!
Check availability, prices and reviews of ibis Styles George Square on Booking.com and Trip Advisor.
---
Need more suggestions about Where to Stay in Glasgow? Check our our neighbourhood guide, outlining what we think are the three best areas to stay in Glasgow, complete with hotel suggestions!
---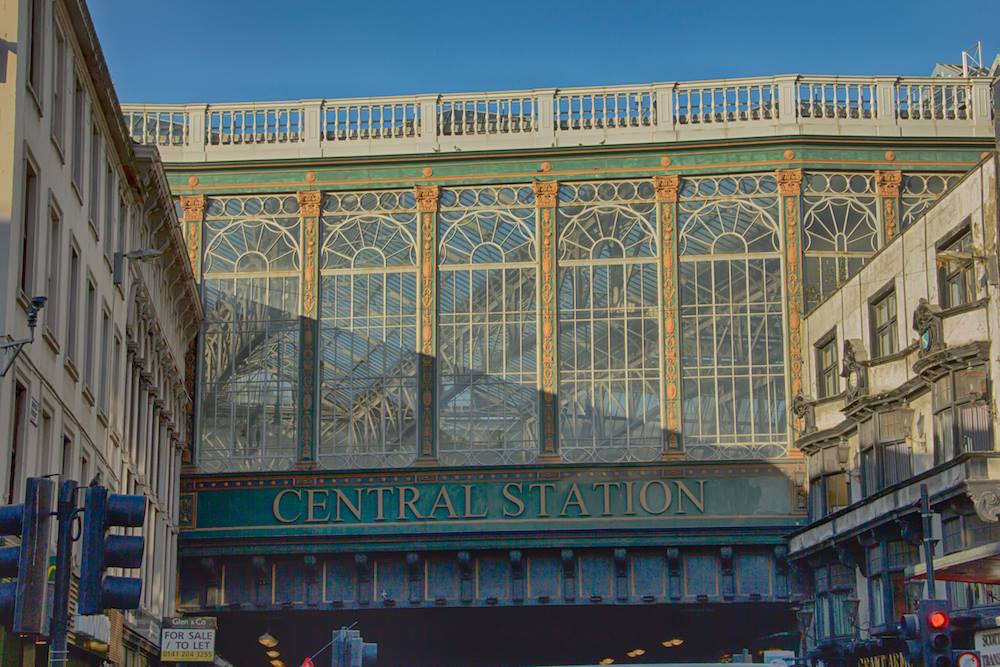 Getting to Glasgow: How Long Is It From Edinburgh to Glasgow?
If you're wondering how to visit Glasgow from Edinburgh, it's pretty easy. And it doesn't take long to get from Edinburgh to Glasgow – about an hour.
By train, you can go from Edinburgh Waverley or Haymarket to Glasgow. There are multiple trains per day, all day long, so there's no need to buy a ticket in advance – just show up. Note, however, that travel between Edinburgh and Glasgow is significantly cheaper in off-peak hours (after 09:15 and before 16:30, and after 18:15), so try not to travel during rush hour. You'll also get a discount if you're travelling with others and buy a group ticket!
---
Special thanks to Glasgow City Marketing for hosting us on our visit to Glasgow. For more info, please check out peoplemakeglasgow.com
---
Like This Should I Go to Glasgow Guide?
Pin it for Later!