House for an Art Lover is a hidden surprise in Glasgow, perfect for cultural travellers who enjoy art, design and architecture. Add it to your Glasgow itinerary on a rainy day or a sunny one, and allot a few hours to wander the grounds and the house, and to enjoy some treats or a meal in the on-site café (reservations recommended).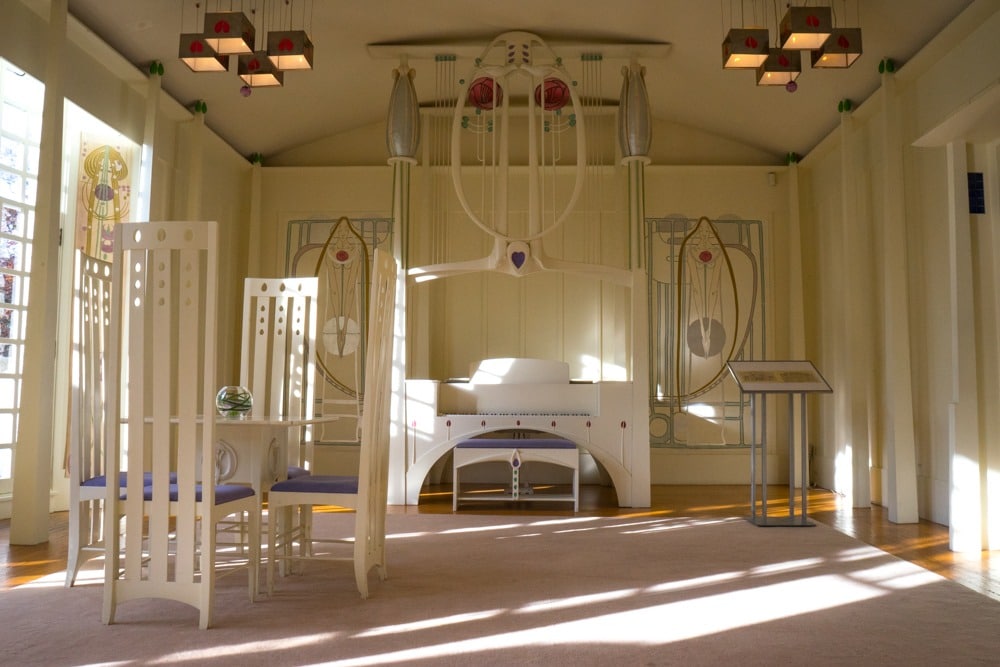 Disclosure: This post contains affiliate links. That means we earn a commission when you use the links on this site to book a hotel, buy your travel insurance, etc.. You don't pay anything extra. If you'd like to learn more about how this works, you can read more under our Disclaimer page.
***
If I had to pick a catch phrase for Glasgow, it'd be can do. After going through some tough times over the years, and suffering through the consequences of an urban planning 'don't' that gave rise to gang problems and an unsavoury reputation, today's Glasgow is a thriving place filled with creatives, small businesses, and an awesome food, design and drinks scene. Everywhere we went in Glasgow, it seemed we met people who were taking advantage of the city's relative affordability, and Glaswegians' warm embrace of local businesses and makers, to create something unique and cool.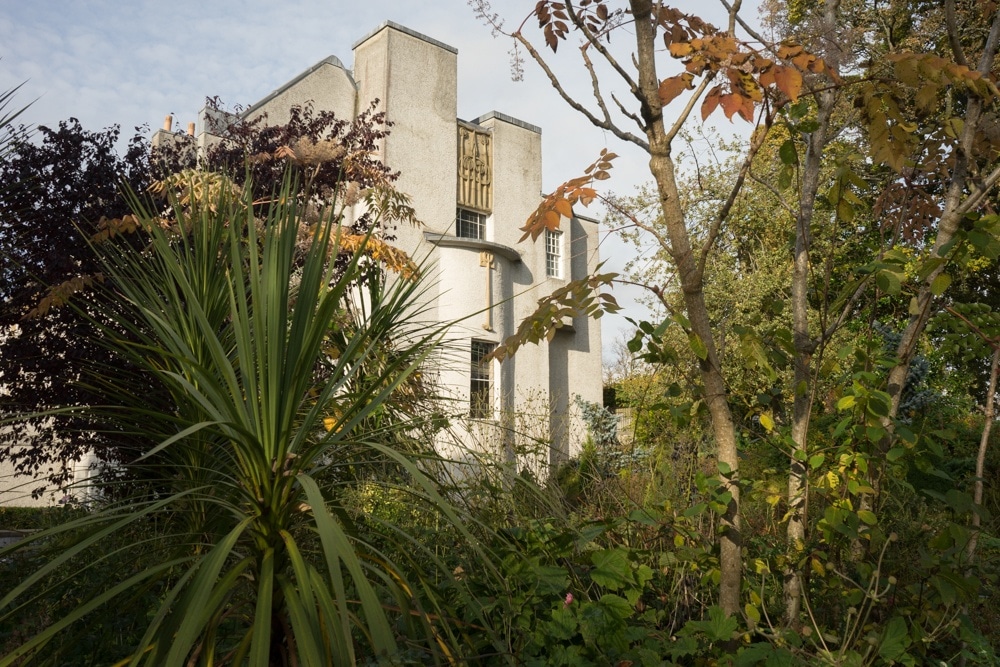 House for an Art Lover is a perfect example of this can do spirit of Glasgow. Conceptualized by spouse creators (and Glasgow School of Art grads) Charles Rennie Mackintosh and Margaret MacDonald as an entry into a 1901 architecture and design competition, House for an Art Lover looked for decades to be doomed to the life of an unrealized idea.
Enter Graham Roxburgh, a Glaswegian engineer who, in 1989, took up its cause and became a champion for the house 88 years after it was first designed! The house you can walk through today wouldn't exist without Roxburgh's determination in seeing Mackintosh and MacDonald's designs brought life, and to me is representative of Glasgow's creative and (sorry in advance for this corporate cliché) just do it attitude.
What makes House for an Art Lover so special, and why should you spend a few hours visiting when you're in Glasgow? Here's my argument in favour of visiting House for an Art Lover while in Glasgow.
1. House for an Art Lover Presents Art as Integral
The original competition brief from Zeitschrift Fur Innendekoration (the German magazine that ran the competition) was to design a home suitable for an art lover. While Mackintosh and MacDonald's designs were disqualified on a technicality, the judges were so impressed by the design they granted a special commendation.
The genius of Mackintosh and MacDonald's professional partnership is they thought through everything to the smallest of details.
House for an Art Lover's beauty isn't only about the structure of the house, but also the way light enters and exits the rooms, the wall hangings, the gesso panels, the textiles, the furniture and wood carvings, the metal work…it's all art, and it all fits together. The patterns and the symbolism throughout the house cross-link and support one another.
In other words, House for an Art Lover showcases Mackintosh and MacDonald's view of how a holistically artistic way of living would look.
It's not a house to hang art in, but a house to live amongst art.
2. House for an Art Lover was Innovative and Modern
If you visit House for an Art Lover today, you might at first (and I really stress the at first part) find it a bit unimpressive. It's nice, don't get me wrong, but at first glance it's hard to see what all the fuss is about.
Then you start to learn about the place, and about Mackintosh and MacDonald's unique partnership, and about the time in which they lived and worked, and you too find yourself impressed by it's genius (in case it's not clear, this is the trajectory my visit took!).
There is nothing Gothic, Renaissance, or classical Greek in the building, making it a complete departure from the architectural and design styles of Victorian Scotland. Both the exterior and interior represent a complete departure from everything that came before it, drawing instead on Art Nouveau / the Glasgow style, and foreshadowing Art Deco.
There are also technical aspects of the design — for example, the vaulted ceiling in the dining room — that would have been completely unusual for the time.
Geoff and I often talk about how art really has to be appreciated within the context of the time it was created, and this is a perfect example.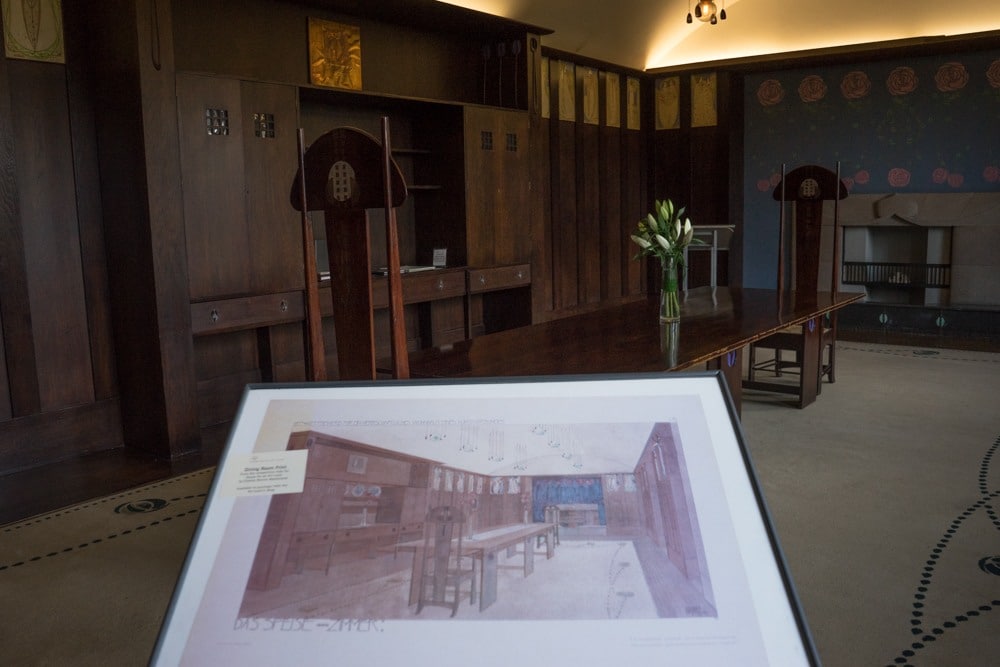 3. House for an Art Lover was Riské…oh so Riské
Mackintosh and MacDonald were serious rebels for their time, and their desire to push against the Victorian era's restrictive sexuality and gender-role norms is clear in the symbolism and layers of images throughout House for an Art Lover.
Growth, rebirth and femininity are common themes, and they made use of symbols that would have been taboo at the time. While they're subtle for the time (and barely noticeable to my modern eyes), there's little doubt they are political statements about the role of women in society.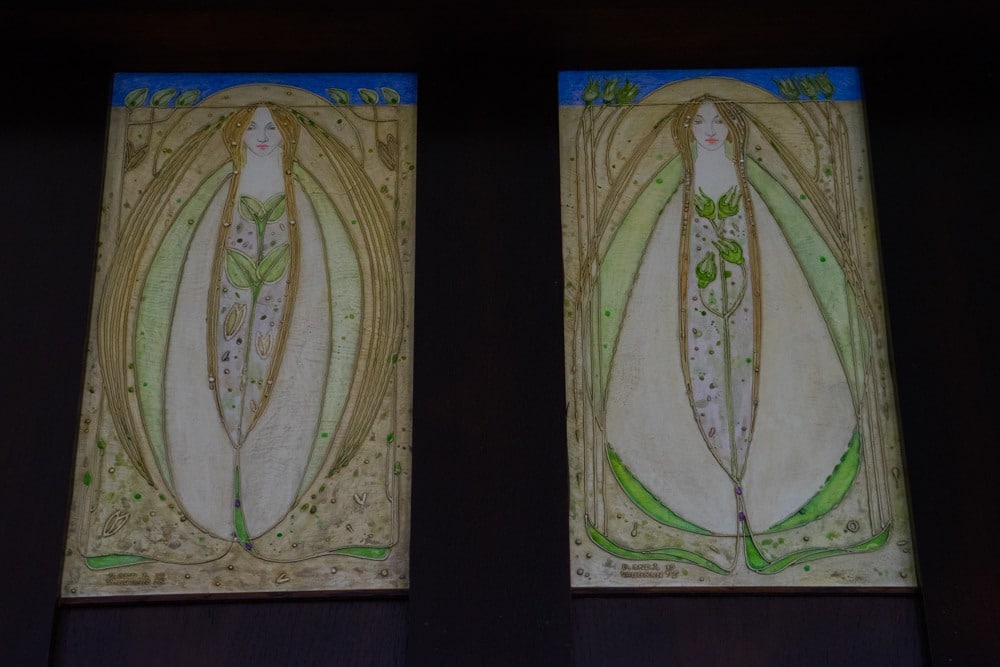 4. Light is a Character, in and of Itself
Mackintosh buildings make brilliant use of light, and tend to have dark, sombre rooms in the north, with dramatic changes in the light as you move through the space. He played with light and scale so as to draw attention to it….taking the ordinary and emphasizing it in a way that made it impossible to ignore.
At House for an Art Lover, you enter through a dark and narrow entry way, which feels almost claustrophobic. From there, you enter a grand, double-height hall, and can't help but notice the difference. The dining room is dark, with dark wood that would have made the Victorian-era clothing styles and colours pop against the wood. The music room is airy and light – a complete departure from the dining room.
When we took a Glasgow School of Art tour the next day, we realized Mackintosh's GSA building plays with light in much the same way, and very deliberately.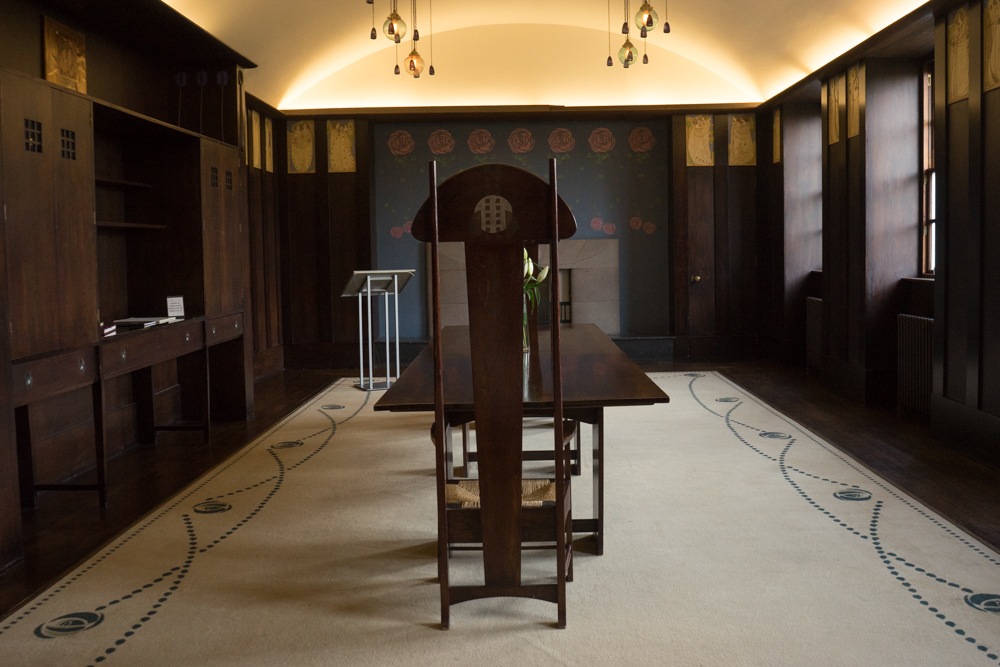 5. House for an Art Lover was Created as a Partnership
While Mackintosh often gets credit for House for an Art Lover, MacDonald deserves just as much.
They had a deep and fruitful partnership throughout their life, both personally and professionally. And there's evidence to suggest many of the concepts in House for an Art Lover were in fact MacDonald's, which Mackintosh translated architectonically to the built environment.
To me, it feels like the ultimate insult to MacDonald — a feminist far ahead of her time who railed against the restrictiveness and repression of Victorianism — to not explicitly acknowledge her role as an equal partner.
6. House for an Art Lover is a Living Research Project
When we were in Rome over the summer, we realized Rome is very much a living museum, constantly being excavated, studied and changed as experts use the fragments they uncover to piece together what used to be.
House for an Art Lover is the same: it's a live and ongoing piece of art history research, and this is the aspect I personally found the most fascinating.
With only 14 original drawings to work from, Roxburgh and team had to build an entire home…one that is impeccable inside and out. Art historians and technique specialists had to source materials and techniques authentic to the time, and as they uncover new information, so they make changes to the house.
The building is an ongoing evolution as historians study and learn more about the period.
7. Leave Lots of Time for the Music Room
This is less a 'case for visiting' than a piece of advice for your visit: leave extra time for the music room, which was far and away my favourite part of the house.
Bright and airy, the music room is full of layers and symbols, and quite unlike anything that would have existed back then.
Take note of the following spots and features in the music room:
The posts that run along the exterior edge of the room resemble trees, complete with leaves at the top. You can look through this interior 'forest' to the real trees outside.
The two ends of the room are each unique and beautiful, serving as an opposite to one anther: The fireplace wall is square and geometric, and the piano wall is fluid and organic.
The window wall seems to bring the outside in, and vice versa. When you look at it from different angles, it seems to disappear.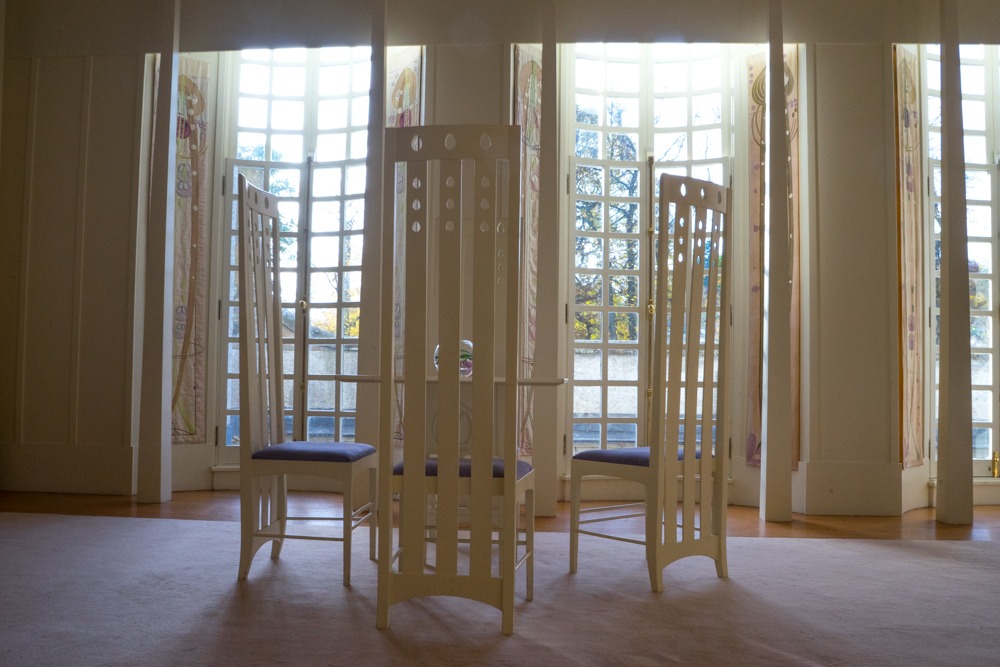 Practical Information
---
Getting to House for an Art Lover
The one downer about House for an Art Lover is it's a bit out of the centre, requiring a taxi or an Uber to get there, or public transport plus some walking. If you take a taxi, they'll know where it is. If you want to take public transportation, it's a 10-minute walk from the Ibrox metro stop.
Hours & Tickets
In general, House for an Art Lover is open daily from 10am to 5pm. However, at times it's completely closed for weddings and special events, so it's worth contacting them ahead of time to double check.
Tickets are £4.50 for adults, and less for children. That said, this probably isn't the type of place a kid would enjoy. There's a fantastic play area and park outside, so if one adult wants to explore the House while another adult stays outside with the kids, there's something to keep the kids quite happy on a sunny day!
Where to Stay in Glasgow
We stayed at Grasshoppers Hotel and have nothing but heavy praise and compliments about the place.
It's uber central (right above the central station), has a modern boutique-cool vibe to it, and they have free cupcakes! It's not ultra luxury but it's not a budget choice either – I'd describe it as a cozy and very friendly affordable boutique hotel.
Check availability and prices on Booking.com / Read reviews on Trip Advisor
---
Thanks to Glasgow City Marketing Bureau for hosting us in Glasgow, and arranging a complimentary visit to House for an Art Lover.
If you're heading to Glasgow, check out their website, People Make Glasgow, for more ideas to keep you busy. You can also read about our past trips to Glasgow: The Glasgow Film Festival, the Necropolis, and Eating Haggis Pakora in Glasgow!
Like this Guide? Pin it for later!