This First Time Guide to Siem Reap will help you plan your trip to Cambodia's enchanting northern city, including how long to spend in Siem Reap, what to do in Siem Reap, where to eat and drink in Siem Reap, where to stay in Siem Reap, and best time of year to visit. 
This is a guest post by Crystal of Castaway With Crystal

Introduction to Siem Reap
Cambodia is a popular country for travellers, attracting both backpackers doing the South-East Asian trail and luxury-seekers alike. It's an interesting country full of lovely people who, despite living with a horrible recent history, still seem to smile brightly every day.
Siem Reap is the gateway to the Angkor Wat temples, making it an extremely popular and busy tourist destination year-round.
Pin this Post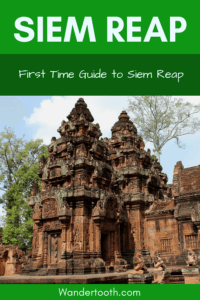 ---
How Long to Spend in Siem Reap
Travelers should spend 3 days in Siem Reap, which will give you enough time to explore Angkor Wat in some depth, and enjoy the city itself.
Once you have spent a few days exploring the Angkor Wat temples, there isn't that much in the way of other attractions to keep you in Siem Reap longer. There are several smaller temples in the surrounding areas that you might like to explore over a few extra days. If you like to party and socialize, you may want to spend more time exploring the restaurants and bar scene. There is also a yoga and meditation retreat nearby called Hariharilaya, which is what kept me in the area for about a month.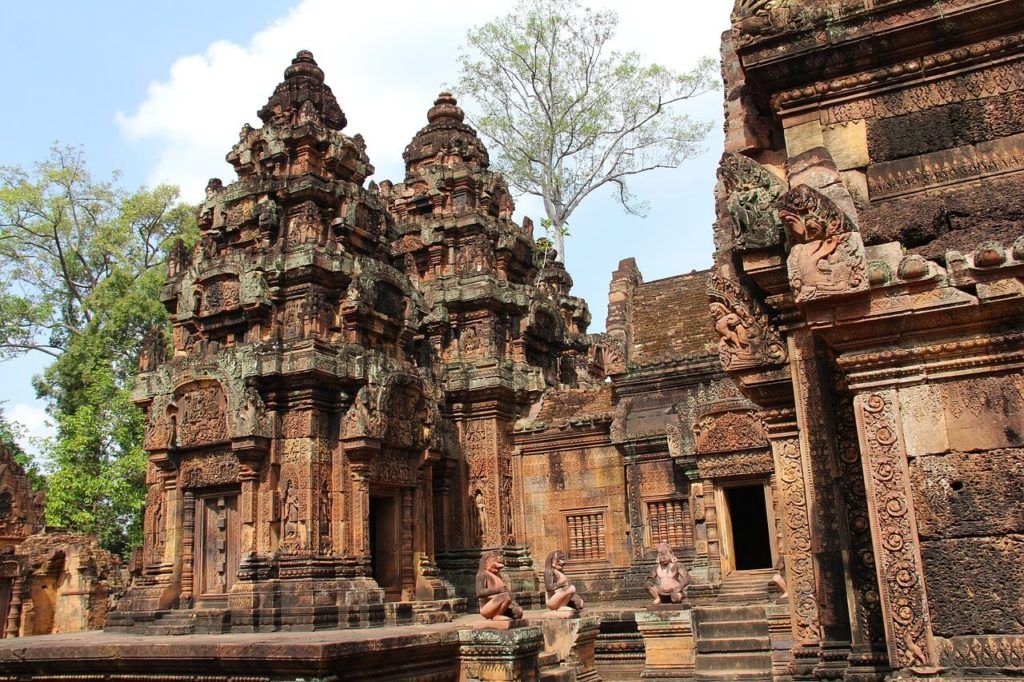 What to Do in Siem Reap
The Angkor Wat temples, the incredibly beautiful UNESCO site, are the biggest draw for tourists heading to Siem Reap.
Passes for the temples are sold in lots covering consecutive days; the options are One-Day ($37 USD), Three-Day ($62 USD) and Seven-Day ($72 USD) passes. I highly recommend you visit the temples for a minimum of two days. One day simply is not enough time to fully explore these mind-blowing ancient ruins.
If you like to exercise or aren't interested in hiring a tuk-tuk driver to take you around the Angkor Wat Temples, another popular way to get around the area is by bicycle. This is a great way to experience the ruins, especially if you have more time (say, a week) so that you can slowly make your way from temple to temple and not overdo it trying to see everything in too short a time.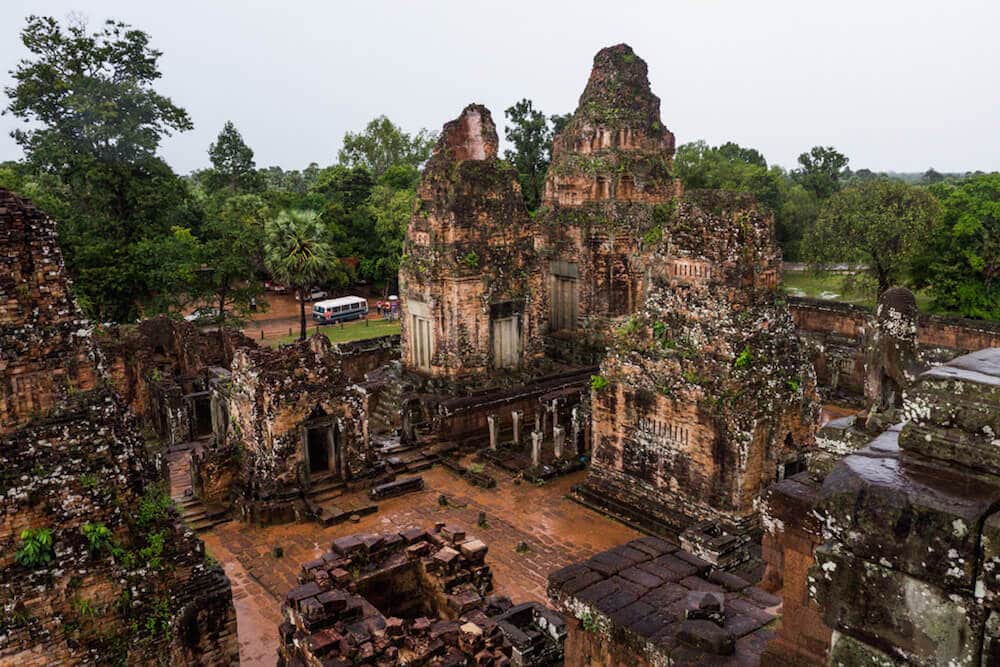 Where to Eat and Drink in Siem Reap
Cambodia is bursting with delicious foods for you to try. With both Thai and Vietnamese influences, there's something for everyone!
Lok Lak (my favorite) is a beef stir-fry made with onions, garlic and a few spices and comes with a really nice dipping sauce.
There are also curries, fried rice and soups, and chicken or beef on sticks that you really must try!
Cambodia also boasts an array of street food like snake, spiders, insects and duck embryo (the last one I actually quite liked!) you may like to taste.
Pub Street must be experienced while in Siem Reap. It's a collection of nightclubs and bars all on the same street, which is cut off from traffic in the night. This results in people spilling out all over the small street, mingling together and dancing to all the different tunes going on in each place.
Because of Pub Street, Siem Reap has become somewhat of a party destination for backpackers. However, it's a great destination for all types of travellers, so don't be put off if you're a bit older or lean more toward luxury than budget.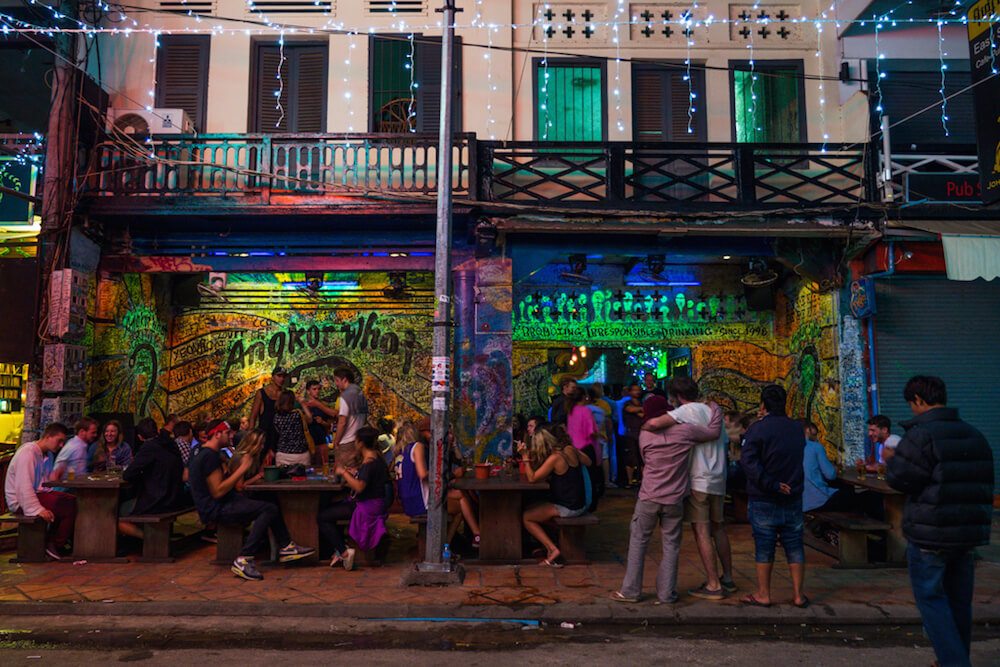 Where to Stay in Siem Reap
Siem Reap is relatively compact and it's also really easy and cheap to get around on tuk-tuks. This means you can pretty much stay anywhere in the city center, and have it be convenient.
If you like bustling busy areas right in the middle of everything then grab a hotel in the Angkor Night Market / Pub Street area.
If relaxing riverfront hotels are more your thing and you still want to get into town easily, then pick somewhere in Siem Reap Riverside.
If you have a lot of money and just want to stay somewhere peaceful as close as possible to Angkor Wat, then book somewhere along Charles de Gaulle Boulevard.
Best Time of Year to Visit Siem Reap
Siem Reap is quite humid year-round, so the best time to visit is up to you. That said, there is a definite wet season and dry season.
Would you prefer dry and cooler temperatures but hordes of people? Or do you not mind if there is an afternoon shower every day in exchange for beautiful tourist free photographs?
The dry season is November to April and usually has much more comfortable temperatures.  April to October is monsoon season, so expect humidity and afternoon showers most days.
How to Stay Safe in Siem Reap
Cambodia is sometimes referred to as "Scamodia," due to the amount of scams you may encounter when traveling. Cambodia is a developing country and many of its people are extremely poor, which means some will try anything to get a bit of extra cash. The following are a few things you should know about safety and travel in Cambodia and Siem Reap:
Cambodia accepts USD. If you are told by anyone that you need to exchange to the Riel (the local currency), move along. they are lying.
Be careful when exchanging money and ALWAYS count your money after any exchange transaction.
There is a border between Thailand and Cambodia that many travelers cross that is full of scams. Including scams conducted by border officials and visa agencies. I wrote an entire blog post about this border cross to help people identify what they need to pay and what they do not.
In Siem Reap there is a common scam where Cambodian women will walk around at night with a baby (sometimes not even their own) and ask for you to buy milk or medicine from the shops for her sick baby. After you buy her milk, she will sell it back to the shop and pocket the cash.
Many of the touts outside the Angkor Wat temples will lie to you to try to sell you water, food and guidebooks at a higher price than inside. Just ignore them and avoid buying anything until you are inside the area.
I heard several reports of snatch and run thefts around Siem Reap. Mostly happening to women walking with shoulder handbags. People on motorbikes would grab the bag and speed off. If you intend to walk with valuables around Siem Reap put them in a backpack or hide under your clothes with a money belt.
Budgeting your Trip to Siem Reap
Cambodia is a cheap country to travel. During my time in Cambodia, I was able to live on between $15 – $30 USD per day as a budget backpacker. However, for $100 a day, you would definitely travel in comfort and style.
---