A full review of the Bluffworks Gramercy Men's Travel Blazer – and why I think it's the best travel blazer for men. Machine washed, ironed, packed, stuffed in an overhead bin, and worn in 4 countries, I put this men's travel blazer through the wringer. And I loved it
This Bluffworks Gramercy Men's Travel Blazer Review contains affiliate links. That means we earn a commission when you use the links on this site. You don't pay anything extra. If you'd like to learn more about how this works, you can read more under our Disclaimer page. We received the Gramercy Men's Travel Blazer free from Bluffworks, however, all opinions are my own after wearing and testing.
Fact: Better Dressed People are More Likely to be Upgraded!
Okay…that may not be an actual fact. But I have to believe there's got to be some truth to this widely quoted piece of travel advice, right?
When I was a kid, my parents told me I had to wear a collared shirt and neatly pressed cotton trousers anytime we took an airplane. Back then, it's just the way it was.
I'm not sure when that changed, but gone are the days when people dressed up for air travel. Generally speaking, more casual clothes are more comfortable. But I also kind of long for the days when people made an effort to look smart for travel. That's probably one of the reasons I love the Gramercy men's travel blazer. I throw the blazer over top of a t-shirt and jeans, and I look (and feel) a hundred times better.
I got my Gramercy blazer in September, and was excited to test it out on our upcoming 3 month trip from Budapest to Amsterdam to Reykjavik to Vancouver to Calgary (and back, with land travel in between). I stuffed it my suitcase, in the overhead bin on multiple airplanes, had my 4-month old daughter throw up on it (on a long haul, to boot), machine washed it in a dodgy holiday apartment washer, ironed it, and wore it through 4 airports. Then I did it all again on the way home (without the vomit, happily).
This thing stood-up to the rigours of my trip with no problem, and passed with flying colours. So I figured I might as well ask Bluffworks for a discount code to spread the joy (spoiler: they said yes):

(It's worth noting here that I received the Gramercy men's travel blazer for free from Bluffworks. I was under no obligation to write a review, and certainly under no obligation to sing its praises. I decided to write this review because I actually liked this travel blazer. I waited over two months before putting pen to paper [or fingers to keyboard, as it is], because I wanted to be sure I put the blazer through a proper test).
I never used to wear a blazer when travelling. In fact, I typically stay away from any clothing labeled 'travel,' as I generally find men's travel clothing to be too touristy looking, too 'travel' looking, too bulky, and oftentimes just plain ugly.
Happily, the Gramercy doesn't have that problem. Although this travel blazer is meant for exploring the world, I could easily wear this to an event or restaurant, and not look out of place. It has a minimalist, clean look to it, and feels like a proper light-weight wool blazer. In other words, it is nothing like a typical travel garment. If you're serious about travel fashion, also check out these travel styles for men.
What I Love Most About the Bluffworks Gramercy Men's Travel Blazer:
Machine washable
Wrinkle resistant
9 pockets (10 if you count the pen pocket)
Lightweight
Feels like wool
Excellent stitching
Contemporary, clean lines and slim-fit tailoring.
I have now washed and ironed this travel blazer multiple times, and it still looks great. And while 9 pockets may seem excessive, I actually used 9/10 of them on my travels!

Take a Look at the Blazers Here

Here's what my Gramercy men's travel blazer looked like after shipping: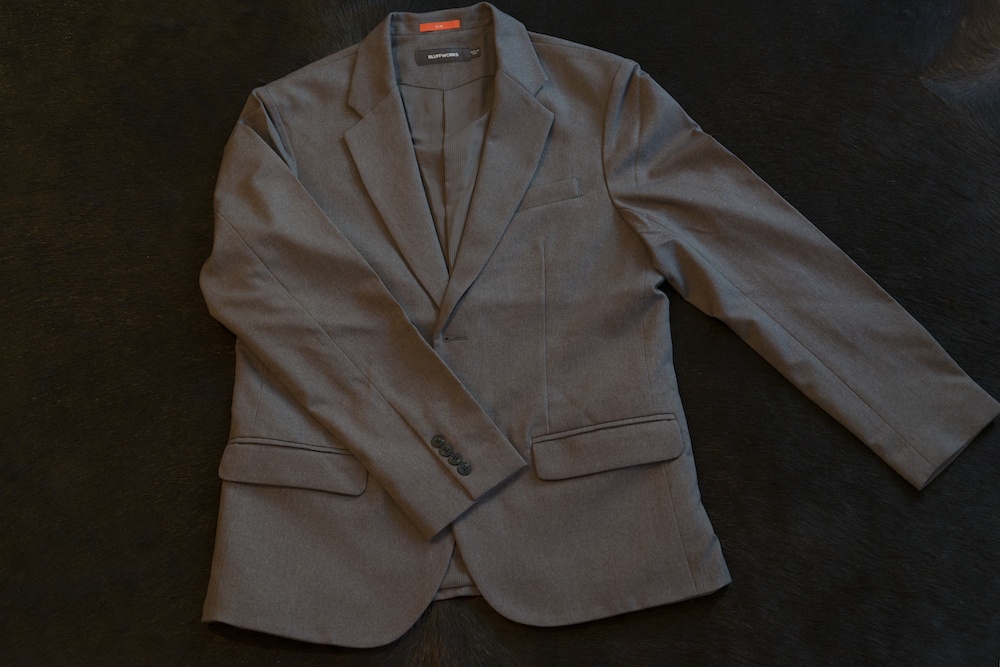 A few wrinkles right out of the package but they came out in the wash.
Straight out of the package, there were a few wrinkles. They came right out in the wash with a light ironing. I noticed right away that the stitching is excellent. There weren't any loose threads like you sometimes notice on poorly-made garments.
Here's what my Gramercy men's travel blazer looks like on me, without any tailoring: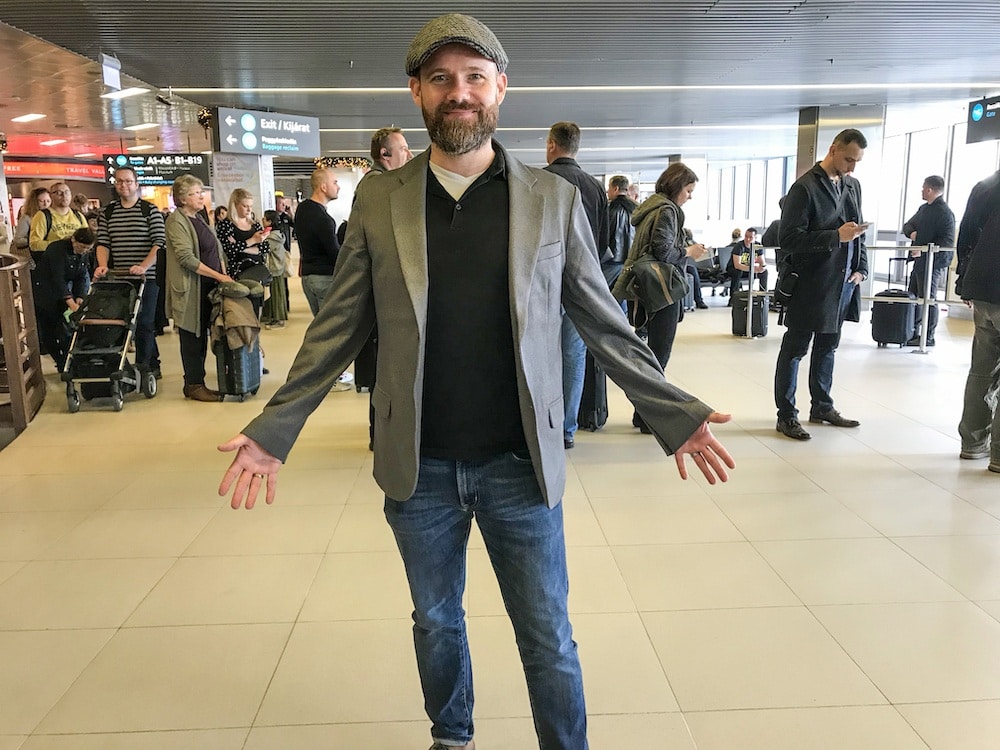 The sleeves are a bit long for me, so I took it to a tailor in our neighborhood in Budapest. Unfortunately, I waited until the last minute before our trip, and there wasn't enough time to take the sleeves up before we traveled. However, the tailor told me the buttons on the cuff are non-functioning buttons. That's great news, because it means the sleeves can be easily tailored if you need!
Shop For Your Gramercy Men's Travel Blazer Now
Packing the Bluffworks Gramercy Men's Travel Blazer
I wore the Gramercy on air travel days. To me, the point of a travel blazer is looking nice on the airplane, as well as in your destination.
However, we did a fair bit of overland travel on this trip, too. On those days, I packed the blazer in my bag. This trip was our first time traveling with a baby, and it was pretty hectic when we were trying to get out of the hotel in the morning. That means my suitcase was way less organized and tidy than I usually like it to be. As a result, the blazer was pretty much crammed into my suitcase most days. Perfect for testing out its wrinkle-resistance, right?
Once again, the Gramercy performed really well. The wrinkles shook out easily. If you're worried about wrinkes, check out this folding guide to help keep it the best possible shape.
On a few legs of our trip, I managed to properly pack my suitcase. For me, that means rolling my clothes. I found the Gramercy rolls up nice and tight and is quite lightweight. It was pretty easy to pack.
Washing the Bluffworks Gramercy Men's Travel Blazer
I've machine washed this blazer multiple times now.
The first time, I was definitely nervous. I've always taken my blazers to get dry cleaned, and it felt wrong to throw it in the washer, so I chickened out and put it on a delicate cycle with cold water.
After that first time, I got a bit braver. I now wash it on a regular cycle with other items. I still put it on a cold water cycle, but we do almost all our laundry that way. Bluffworks suggests anything up to 104F (40c) is fine.
In terms of drying, Bluffworks says a medium heat tumble dry is okay. In our Budapest apartment, we don't have a dryer, so I hung to dry. Since it's polyester, I found it dries really quickly, so I never felt the need to use the dryer when the option was available.
Find Your Gramercy Men's Travel Blazer Here
Ironing the Bluffworks Gramercy Men's Travel Blazer
I've only ironed the blazer once. When it was shipped, there were a few stubborn wrinkles from the package. I think a warm water wash would have taken care of these, but as I said above, I washed it in cold water.
A professional ironer, I am not. When I started to iron the blazer, I think I had our iron on too high a heat at first. It felt like the iron was sticking to the fabric. I pulled the iron off, turned it to a lower setting, and let it cool down a bit before continuing. It was fine, and there was no damage to the blazer. It also got rid of the remaining wrinkles no problem.
Bluffworks suggests you only use a low iron setting on this blazer, and I now understand why. Be careful if you bust out the iron, and if you can't get rid of shipping wrinkles, try a warm water wash instead of cold water.
Look and Feel of the Bluffworks Gramercy Men's Travel Blazer
The fabric is a very breathable stretch polyester. Before you roll your eyes, I promise you the fabric doesn't look like polyester. It has the look and feel of lightweight wool.
Style-wise, it's contemporary and minimalist. It doesn't look like a functional blazer. It looks like something you'll actually want to wear, and you'll get compliments on.
I wouldn't think twice about wearing this men's travel blazer to a function, out for dinner, to a show, etc.
I also really like the color choices. I went for Northwest Grey, but Blue Hour and Gotham Grey are also sophisticated and classic.
Functionality of the Bluffworks Gramercy Men's Travel Blazer
The sheer fact that this blazer is machine washable, wrinkle resistant, and lightweight for packing makes it functional in my books. But it also comes with some other great features.
The inside pockets were my favorite feature. I used all but one of them for one thing or another, and I found them to be large enough and well placed for easy access. I kept boarding passes, passports and my cellphone in separate inside pockets so I could quickly access one or the other without risk of anything else falling out.
The only pocket I haven't used is the large zippered pocket at the back. This pocket is hard to access, which I think is the point: there's little chance a pickpocket would be able to get whatever you're keeping in there.
These days, we don't do a lot of travel that requires hidden pockets, but I can totally think of past situations where it would have come in handy. It's a nice and secure place to keep an emergency stash of cash, a hotel room key, or passports. It's also nice that it's built into the lining, which makes tailoring the jacket easy.
Features of the Bluffworks Gramercy Men's Travel Blazer
Machine washable
Lightweight
Wrinkle resistant stretch polyester
10 pockets
Minimalist exterior, looks like a regular blazer
Easily tailored
Sizing and Fit of the Bluffworks Gramercy Men's Travel Blazer
The Gramercy men's travel blazer is available in regular and long lengths, and 36″, 38″, 40″, 42″, 44″, 46″ and 48″ in both classic and slim fits. Refer to their handy fit guide, to make sure you get the one that fits you best.
Get Your Gramercy Men's Travel Blazer Here
Ease of Care of the Bluffworks Gramercy Men's Travel Blazer
I think I drove this point home above, but I have found this men's travel blazer to be extremely easy to care for. No dry cleaning or worrying about accidentally destroying it in the wash. Just use caution with an iron, okay?
Pairing the Bluffworks Gramercy Men's Travel Blazer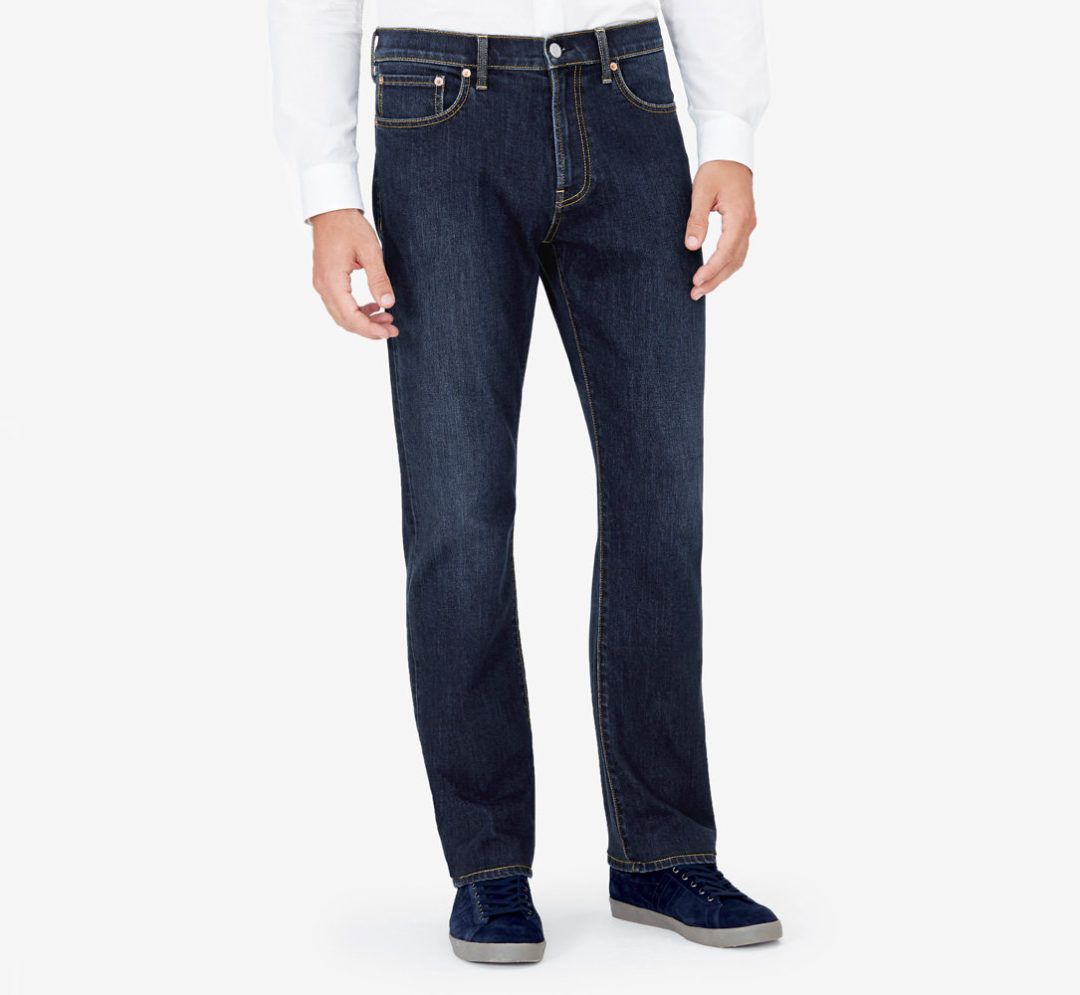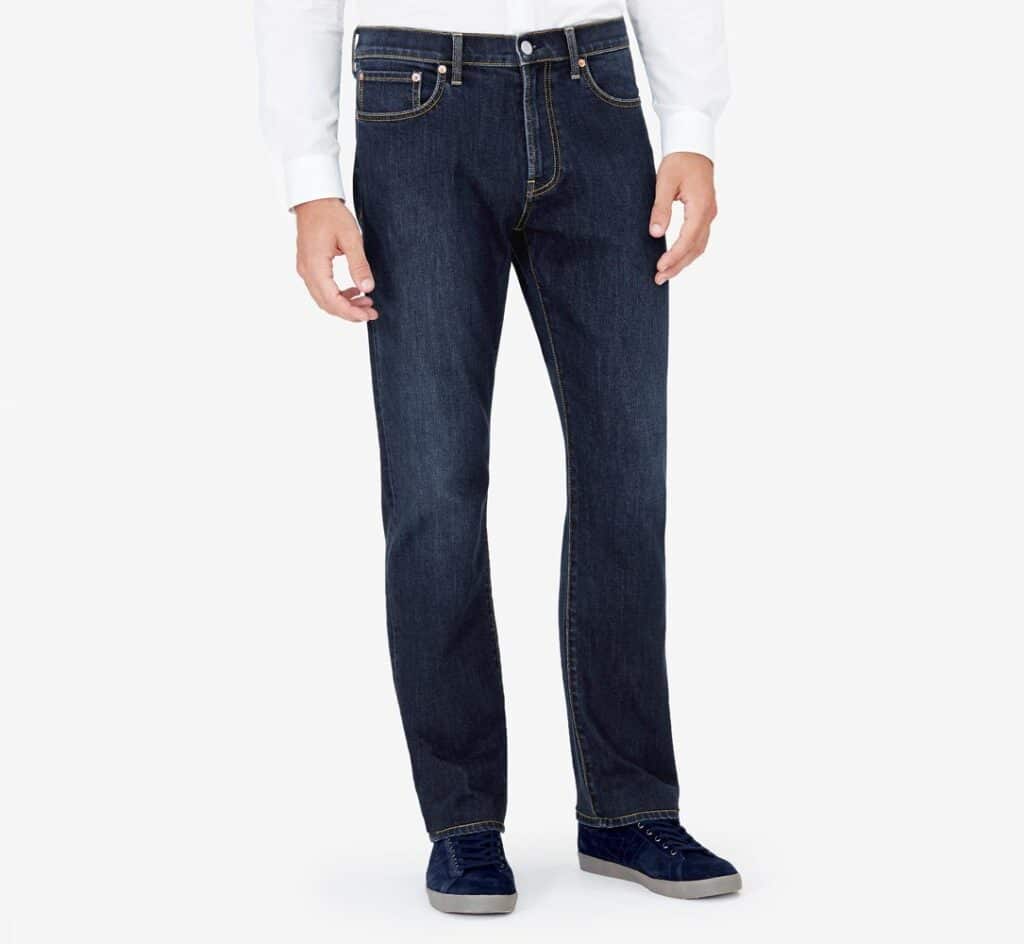 Departure Travel Jeans, stretchable, moisture wicking travel jeans with hidden zippered pockets.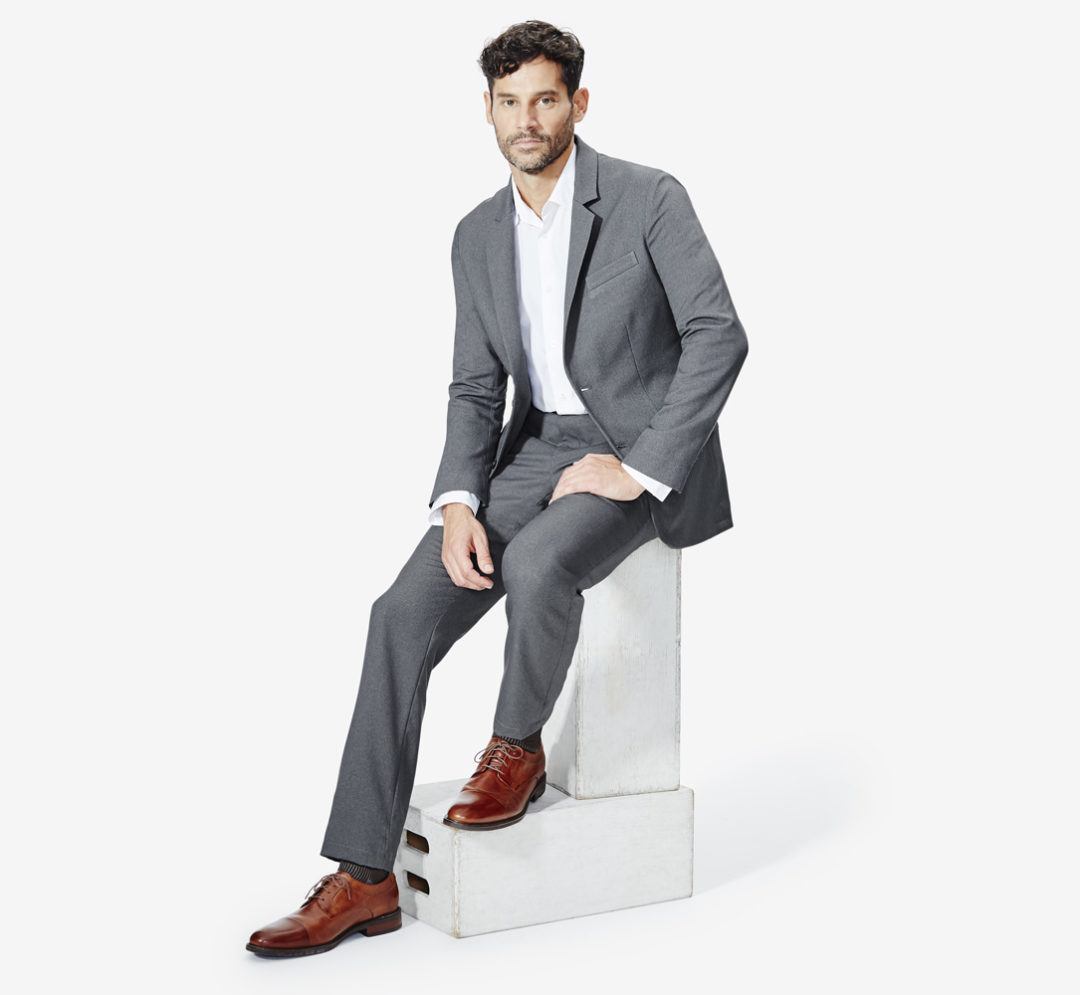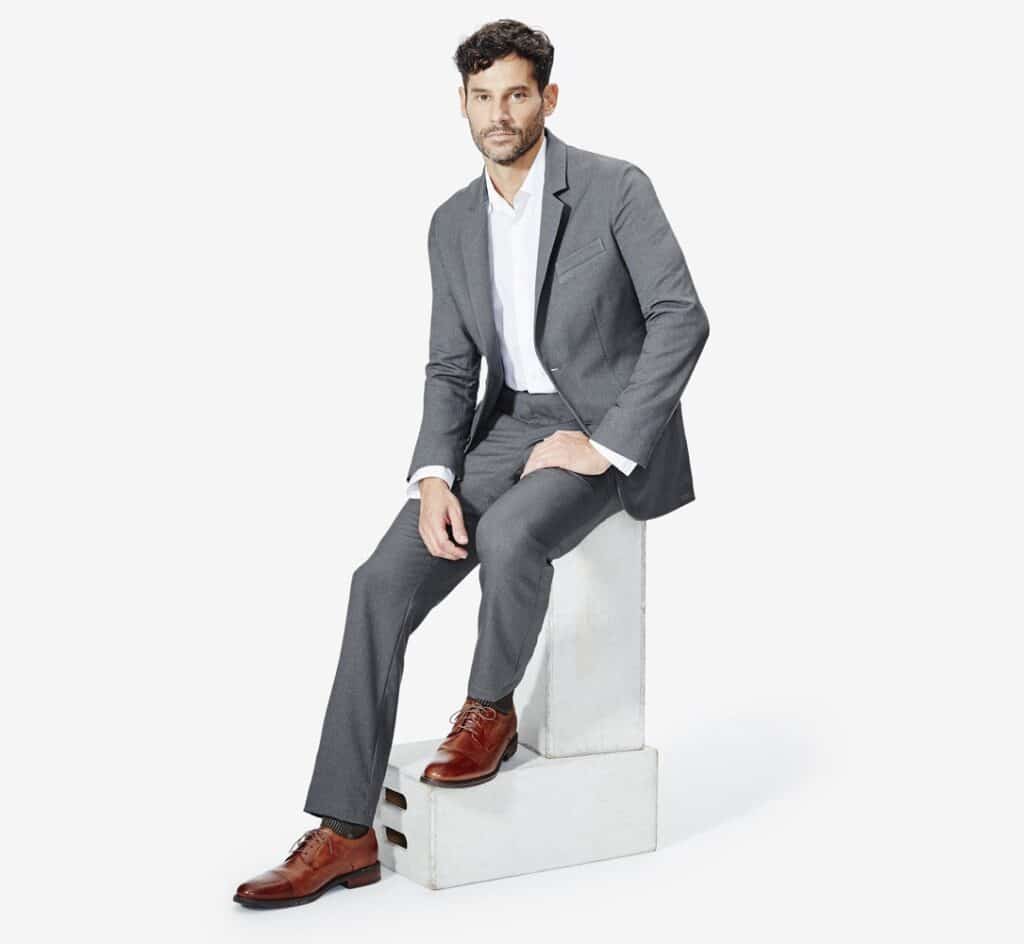 Make it a suit! Pair with wrinkle free, machine washable Gramercy pants complete with hidden anti-theft pockets.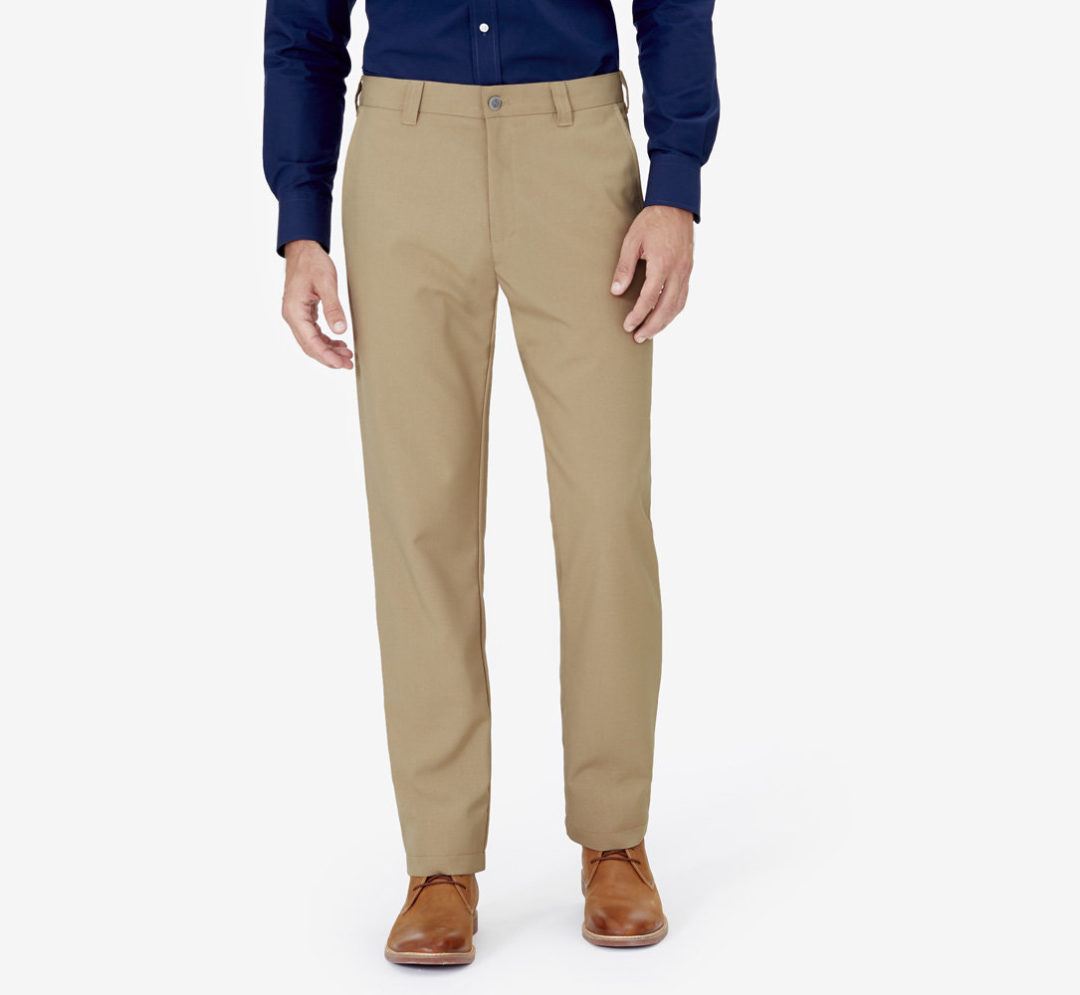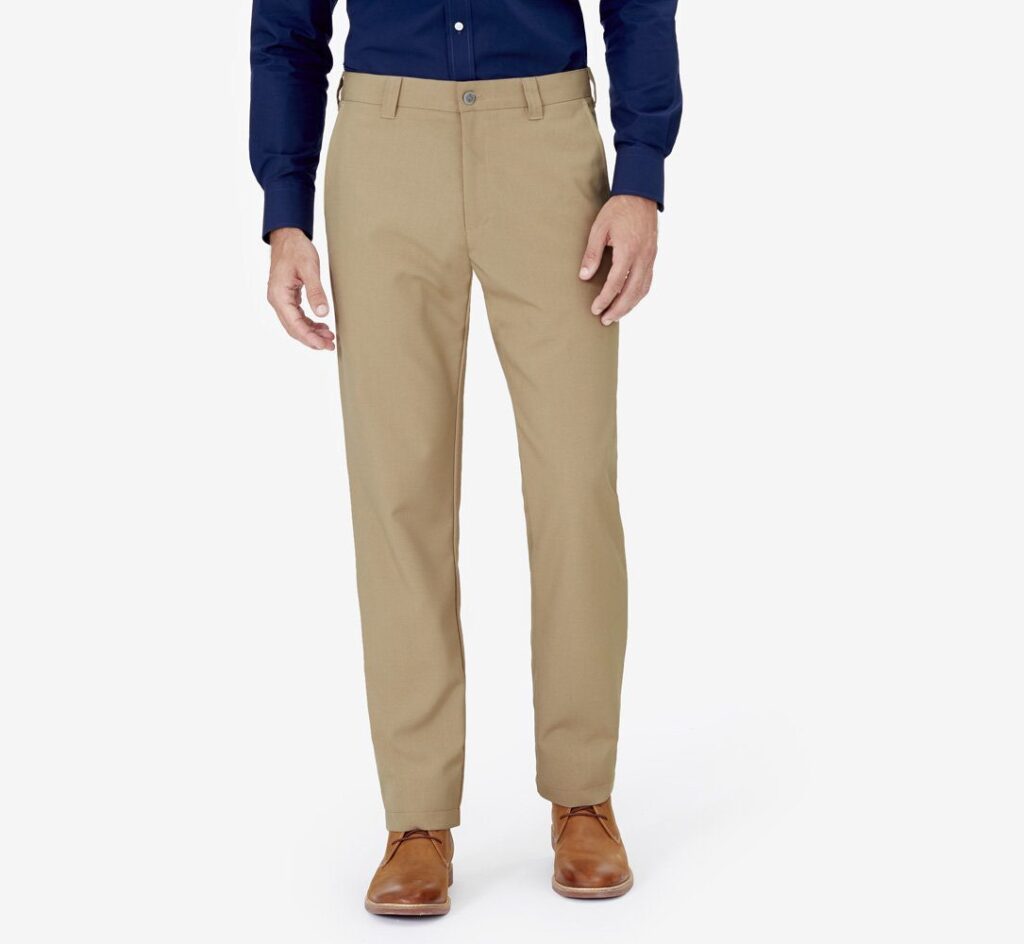 These khakis also have hidden anti-theft pockets and are ready for travel.

---
If you want to compare the Gramercy men's travel blazer to other top selling travel blazers, consider checking out our Best Lightweight Travel Blazer for Men post where we take an in depth look at five different best selling men's travel blazers.
Pin This Post!