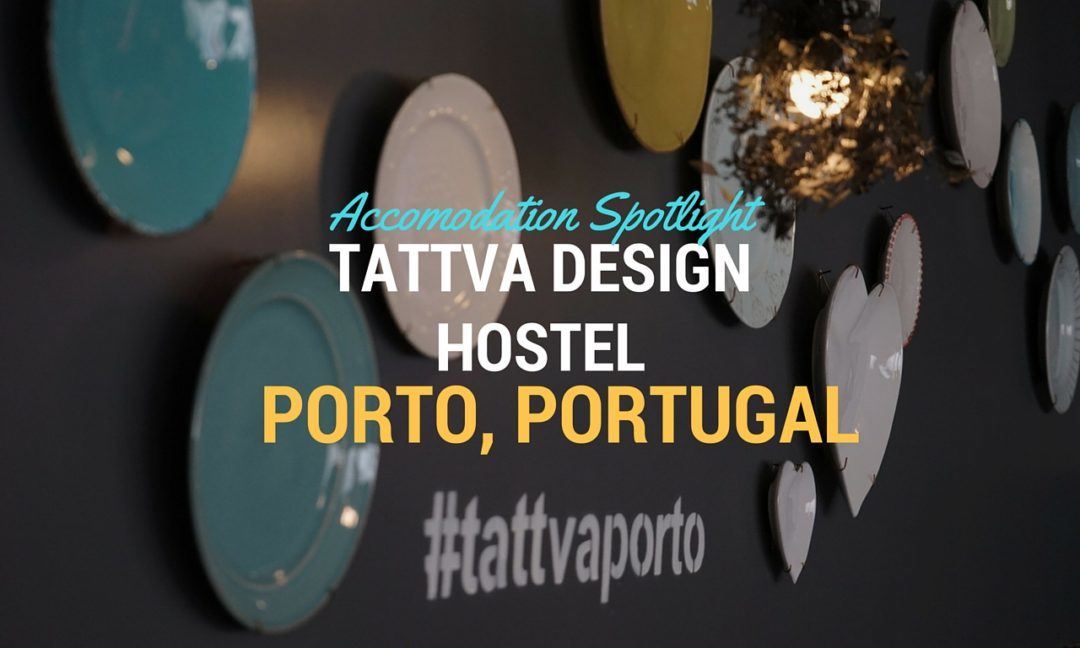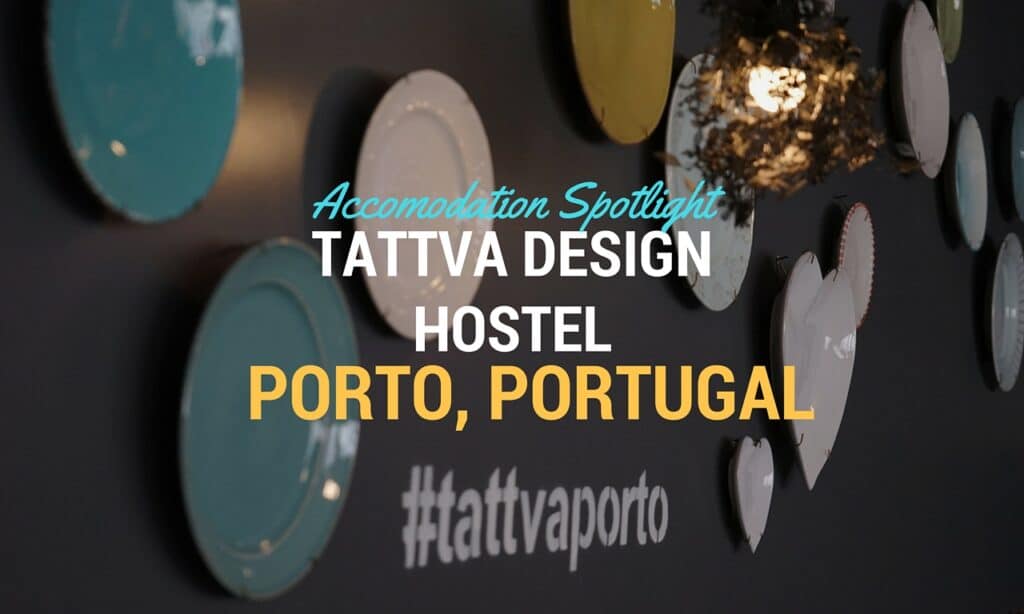 **2019 Update – Tattva is now called Cats Porto!
When we quit our jobs to travel back in 2013, our first stop was Portugal. After a few jet-lagged days in Lisbon, we took the train to Porto, a smallish city in the north that's famous for Port wine, beautiful architecture, and a lovely riverfront scene offering views of the city and its sister across the river, Vila Nova de Gaia.
In both Lisbon and Porto, we stayed in hostels, trying out both dorm rooms and private rooms as we travelled around. And in both Lisbon and Porto, we were massively impressed by the quality of hostels on offer.
Apparently, we're not the only ones that think this way, as we've met loads of other travelers throughout the years who all agree that Portugal does hostels right. In our experience, the best hostels in Portugal are some of the best in the world, with a focus on being clean, comfortable, and stylish, with little touches everywhere that make you want to stay and hang out for awhile.
When we found ourselves with 10 unexpected free days to spend in Portugal, we decided to spend it checking out some of Portugal's best hostels, with a focus on design hostels.
And our first stop was Porto, where we stayed at Tattva Design Hostel for 3 nights. Check out our review below!
What Is A Design Hostel?
Design hostels are a relatively new concept, kind of like the love-child born of a traditional hostel and a stylish boutique hotel. They're often more expensive than a traditional, bare bones hostel, but you get a lot more value for paying just a little extra: beautiful furnishings, great coffee, a nice restaurant and bar, rooftop terrace…that kind of thing.
Design hostels are a good option for people who want to travel on a budget, but aren't on a budget that's too tight, and are willing to pay a little bit more for style and comfort. In our experience, design hostels also tend to attract a different kind of crowd than a "youth" hostel: people of all ages, solo travellers and couples, young and not-so-young, single and with kids.
Tattva Design Hostel Review (What You Can Expect If You Stay At Tattva)
---
First Impressions of Tattva Design Hostel
We stayed at Tattva Design Hostel for 3 nights in July 2016, splitting our time between two different dorm rooms (an 8-bed room, and a 10-bed room). While we would have preferred to stay in a private room, we booked last minute and Tattva was totally sold out of private rooms.
Location — Tattva Design Hostel is convenient for those arriving in Porto by train. In our experience, trains from Lisbon will drop you at Campanhã Train Station, and then you can switch to a local train (using your same ticket) to get to São Bento station in Porto's historical centre. From São Bento, you can walk to Tattva Design Hostel in about 3 minutes.
Reception & Staff — Walking into the hostel, it's warm and inviting, with modern colors and features. We checked in quickly, and the staff gave us a tour of the common areas: kitchen, lounge, restaurant and bar, and rooftop terrace. They then helped us up to our first dorm room, carrying linens and towels for us.
Elevator — In our experience, it's rare to find old, beautiful buildings in Europe that also have elevators, but Tattva has one. The hostel is 5 floors (the main floor, plus 4 floors of rooms), which makes the elevator a welcome touch!
Little Touches — Everywhere we went in the hostel, there were cool touches that we appreciated. The wifi password was posted throughout; the free computers allow you to print your boarding pass for free; and they've done a great job with decor…hearts made out of wine corks, chalk-board signs, etc.
Basically, the hostel is really cute.
Tattva Design Hostel Dorm Rooms
It became pretty obvious to us almost immediately that Tattva was designed by people who genuinely care about guest experience, and aren't just in it for profit. They've thought about pretty much everything, and have included loads of little touches that made our stay really comfortable.
The Beds: Tattva has probably the best hostel beds we've stayed in on our travels. Here's what we loved about them:
The bunk beds are made of a solid wood construction, meaning they don't shake too much when someone is climbing into the top bunk, or thrashing around unable to sleep on the bottom bunk.
The mattresses are high quality and comfortable, and every mattress has an extra mattress pad as well.
Each bed has a 360-degree curtain around it, giving you as much privacy as you can possibly expect when you're in a dorm room.
Within your bed "envelope" there are some great touches: a reading light, a powerful fan, a shelf to keep your small items on (glasses, water bottle, earplugs, etc.), and 3 electrical outlets, allowing you to safely charge your devices while you're sleeping.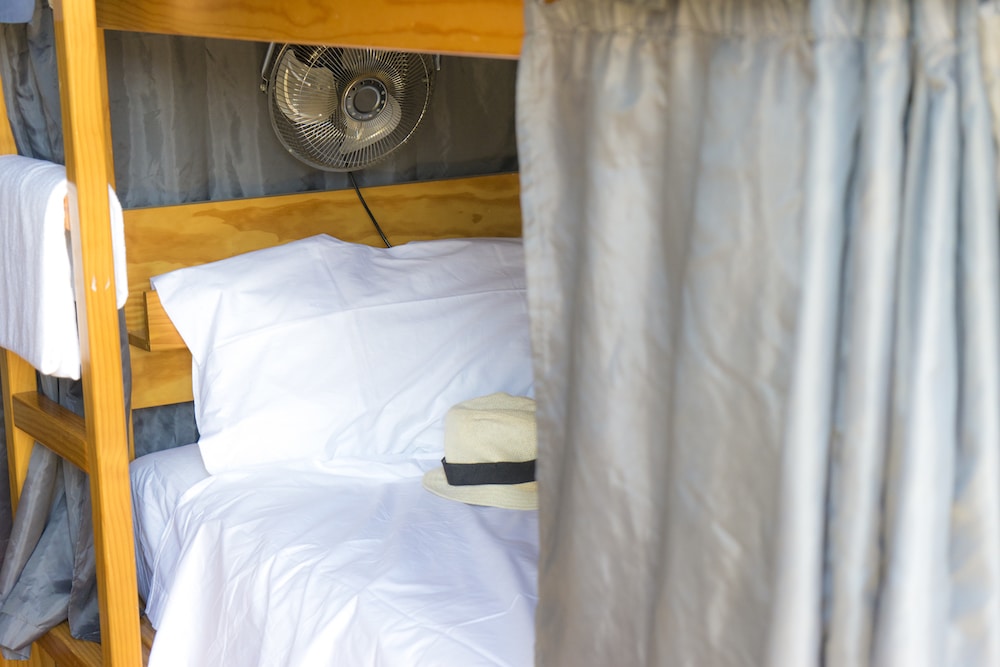 The Lockers: Each bed comes with a massive, built-in wooden locker underneath that you open with your key-card room key. The lockers are big enough that you should be able to fit everything in them — we just pushed our entire suitcase into the wooden locker, as well as our electronics. In addition to knowing that everything was safe, the lockers have the added benefit of keeping the hostel room relatively tidy, as everyone's belongings are tucked out of the way.
The Bathrooms: Each dorm room has its own en-suite bathroom. Both dorms we stayed in had two clean shower stalls (with a rain shower) and two clean toilet stalls, as well as a washing area. The showers had good water pressure and plenty of hot water, and we never had to wait to use either the toilet or the shower.
Tattva Design Hostel Common Areas
The Kitchen — The common area kitchen right next to reception was bright, spacious, and — most importantly — clean. There are two full-size fridges, and big, family-style tables to eat and socialize. There is an adjacent hang-out room with beanbag chairs.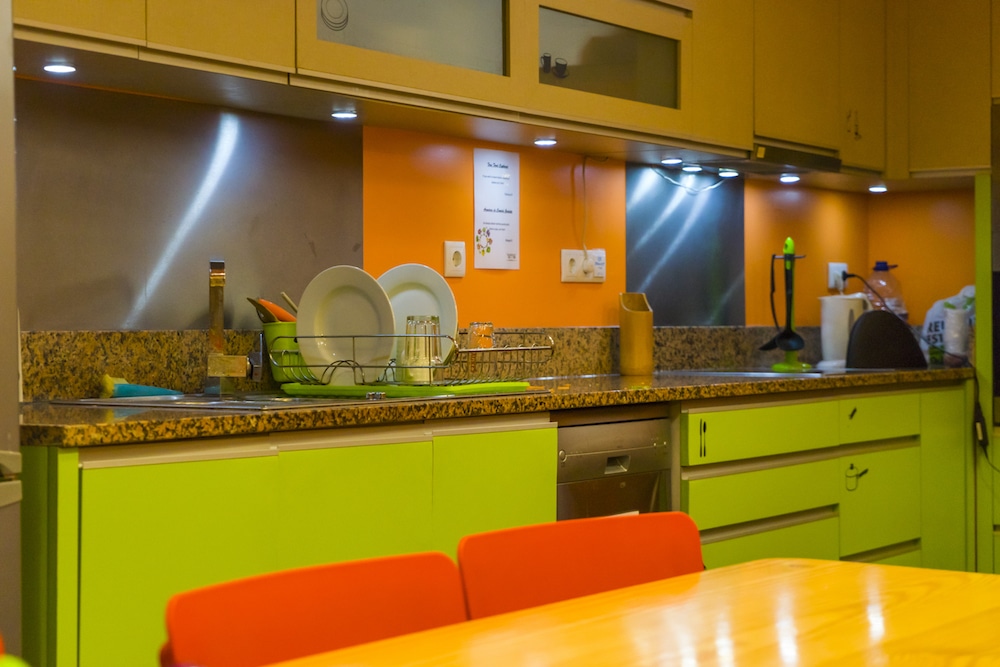 The Aquarium Lounge — Also on the main floor, there's a second lounge area with chairs, a table, and four computers for guest use. There's a massive aquarium with tropical fish, and a liquor cabinet where you can buy port and wine.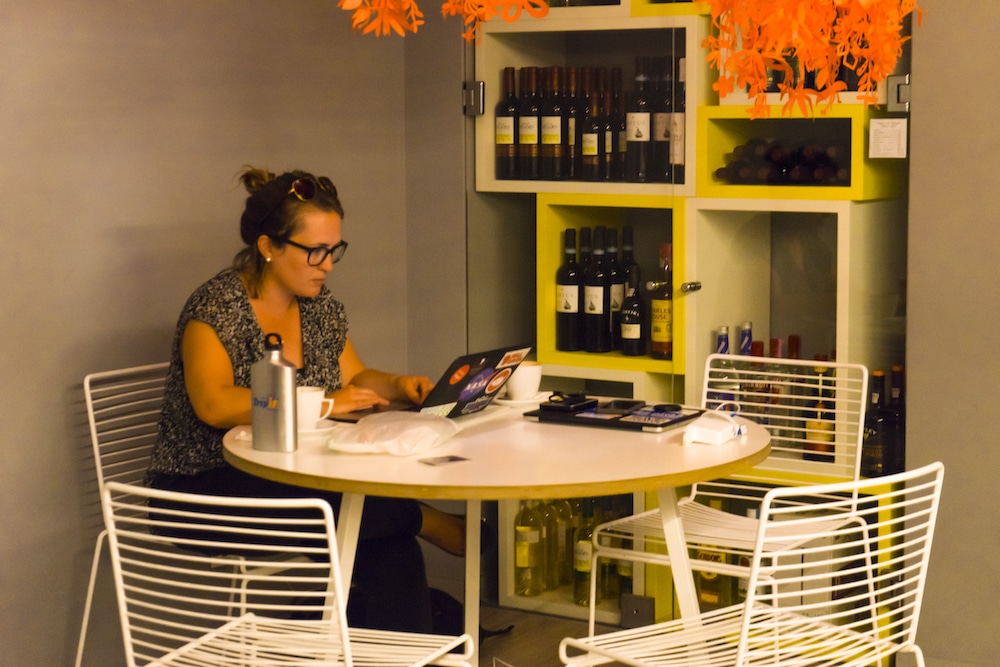 The Restaurant — Tattva includes a decent breakfast in the price of accommodation: cereal, DIY pancakes, bread, fruit, and a few hot options, such as hard-boiled eggs and sausages. Tattva also offers lunches and dinners for extra, as well as happy hours and espresso coffees.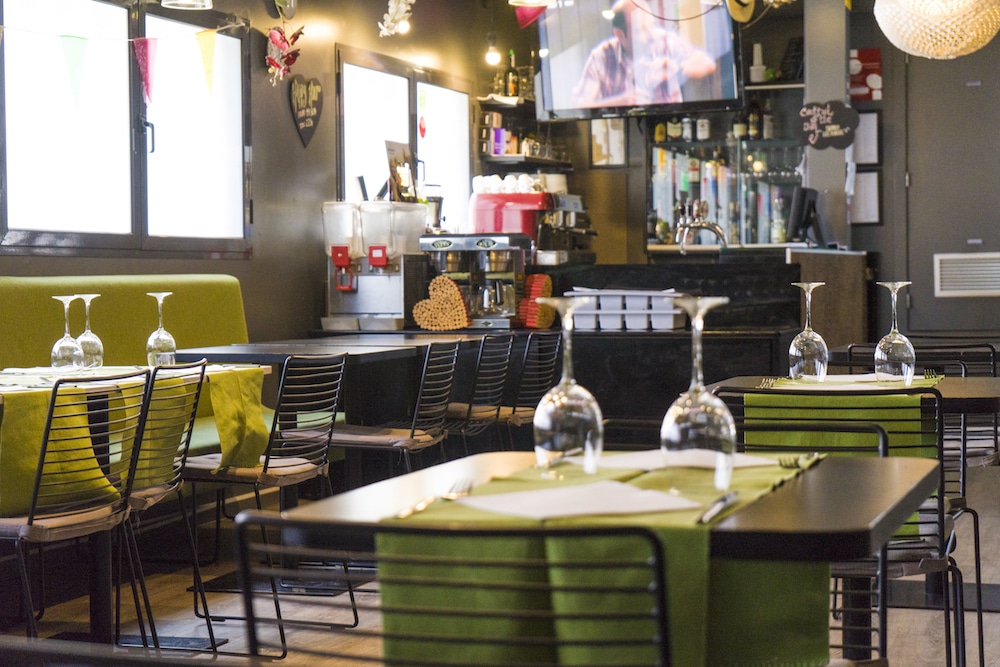 The Terrace — Above the restaurant/bar area there's a rooftop lounge which gets beautiful late-afternoon sun, and is a nice spot to unwind at the end of the night. The hostel is quite well-designed in that the bar section is totally separate from the bedroom section, meaning the noise from the bar doesn't carry up to the rooms at night.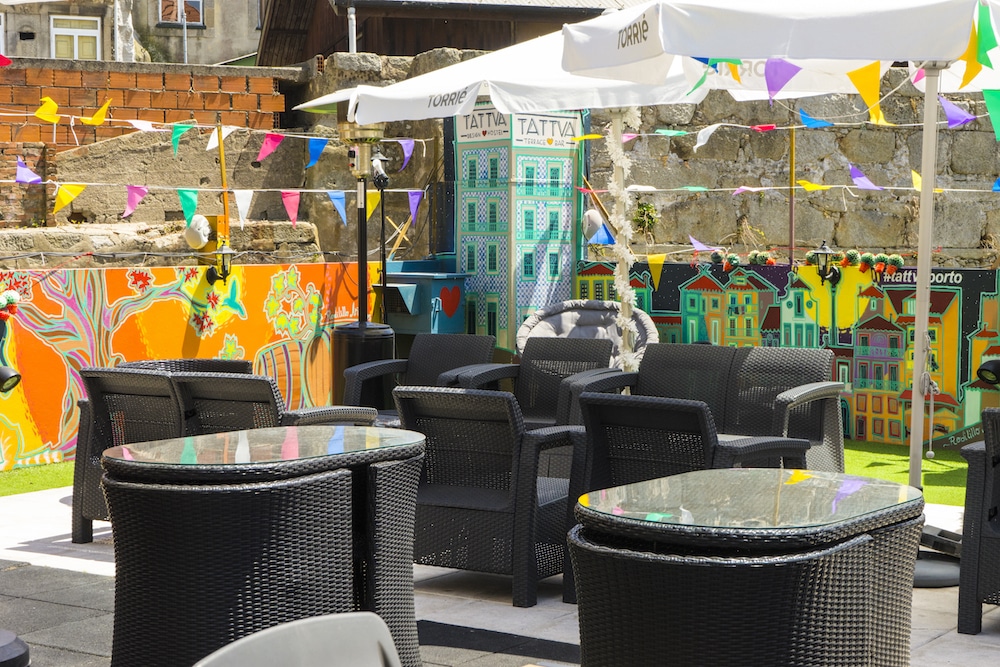 Tattva Design Hostel Amenities
Wifi — There is wifi throughout the hostel, and it's pretty good, especially when you consider how big the hostel is. It was a bit spotty in our room and on the rooftop terrace — it cut in and out a bit, and we weren't able to stream Netflix. But in the main areas, we had absolutely no problems, and everything loaded fast. I did a speed test while sitting in the Aquarium Lounge and we got 12Mbps download and about 1 Mbps upload.
Laundry — The hostel offers laundry service for Euros 8 per load.
Tours — If you want to check out Porto's wineries and port scene, the hostel can help arrange this for you.
---
Don't Take Our Word For It…Check Tattva's TripAdvisor Reviews!
---
Final Thoughts
It's probably pretty obvious we liked this hostel…they do so many things right that it's hard to think of much they could improve on. This probably shouldn't be much of a surprise, as they've won quite a few awards for being a top hostel.
Of course, anytime you're staying in a hostel dorm, you're going to have to accept the fact that some people are inconsiderate jerks. Is it Tattva's fault that Geoff got an unexpected show from a naked, half-cut Australian man at 2 in the morning (true story!!!)? Of course not…but it's still good to be prepared with earplugs and an eyemask!
As with everything in life, with the bad comes the good, and there were loads of cool people staying at Tattva. We saw everyone from first-time backpackers in Uni to young families to couples in their upper 40s during our stay. Everyone seemed to be enjoying the hostel and the city, and 99% of the guests were awesome!
If we return to Porto and are in need of budget accommodation with great style, Tattva will be our first stop.
Check Availability & Prices
---
A huge thanks to Tattva Design Hostel for hosting us for three nights — we truly enjoyed the experience. All opinions are ours, and — as always — we're happy to answer any questions you may have, so feel free to leave a comment. Some of the links in this post are affiliate links.