Planning to visit Normandy? This list of the top things to do in Normandy France will help you plan what to see in Normandy France, including top attractions in Normandy, the best towns in Normandy, the best sights to see in Normandy France, and more. If you need help finding the best things to see and do in Normandy, read on!
This is a Guest Post from Chris at Explore Now or Never. Chris writes on authentic travel experiences for mid-life professionals.


Disclosure: This guide to Normandy contains affiliate links. That means we earn a commission when you use the links on this site to book a hotel, buy your travel insurance, shop for travel essentials, etc.. You don't pay anything extra. If you'd like to learn more about how this works, you can read more under our Disclaimer page.
***

With its sweeping ocean vistas, bucolic green pastures, and romantic half-timbered villages, Normandy has been tempting tourists from Paris for decades, and American, Canadian, ANZAC, and UK visitors in particular…as we pay tribute to those who fought and lost their lives in the fight for freedom on one tragic day on the Normandy beaches during World War II.
While it's possible to make a day trip to Normandy, the region is worth so much more than a long and harried day trip from Paris. Consider these 10 activities in Normandy as reason enough to base yourself here for an idyllic, restorative vacation that's far from the tourist hordes.
01. See the Memorials and Beaches from D-Day
02. Visit a Camembert, Calvados, or Cider Farm
03. Picnic near the Romantic Ruins of an Abbey or Monument
04. See the Famous Bayeux Tapestry
05. Make Friends with Locals
06. Visit Famous Chartres Cathedral
07. Taste All the Things
08. See Monet's Famous Garden Giverny
09. Plan an Overnight at Unforgettable Mont-Saint-Michel
10. See the Light at Honfleur
---
01. See the Memorials and D Day Beaches in Normandy: One of the Top Things to do in Normandy France
If you're American, or from one of the other countries that participated in the D-Day landings, expect to be deeply moved during your visit to see France's D-Day beaches (watch the TV mini-series Band of Brothers before you go!).
You'll need a full day minimum to tour top D Day sites in Normandy…and that's not even including a trip to the incredible Caen Memorial Museum (a must-see for WWII hobbyists). With more time beyond the American Sector, consider adding the D-Day Museum in Arromanches and the Memorial to Civilians in Wartime at Falaise.
You can read a complete review of my recommended D-Day Tour from Bayeux for an idea of how to find a quality tour operator.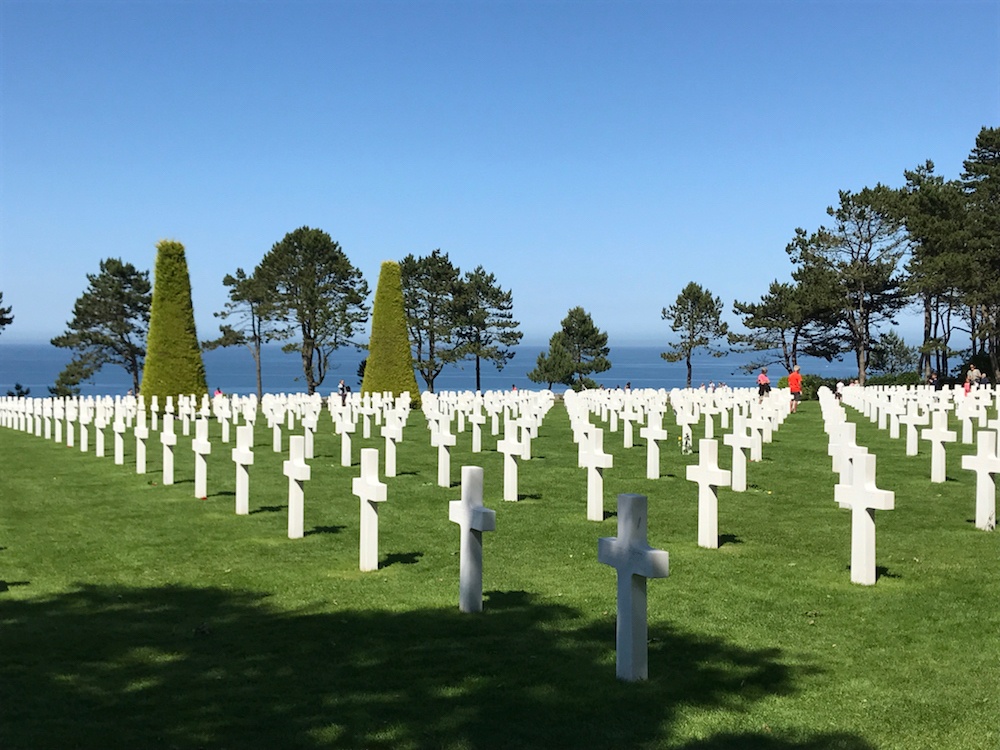 02. Visit a Camembert, Calvados, or Cider Farm: Going Straight to the Source is the Best Way to Experience Food in Normandy
Normandy is famous for its cheeses (Camembert comes from here), its Calvados (a traditional apple brandy), and its cider, among so many other things.
I recommend setting the Sat Nav in your car to avoid freeways in favor of small country roads, and setting out for a tasting at one of the hundreds of farms here.
Learn how to make cider. Taste the history contained within Calvados in a small farm cellar. Or stand in line with locals for a creamy camembert at the farm where it's made.
Staying in Paris? Read Our Where to Stay in Paris Neighborhood Guide!
03. Picnic near the Romantic Ruins of an Abbey or Monument:One of the Best Things to Do in Normandy on a Relaxing Day Out
Once you've stowed a bottle of wine, some Camembert cheese, and a baguette in your car trunk from your farm visit, look for a scenic spot for a picnic lunch. There's hundreds of them in Normandy, and chances are good you'll be the only ones enjoying it.
One of our favorite spots was the abbey ruins tucked into the leafy and park-like Saint Evroult Notre Dame du Bois — that's woods for English speakers. We almost drove past it when I screamed, "stop!" at full volume. Peaceful and idyllic.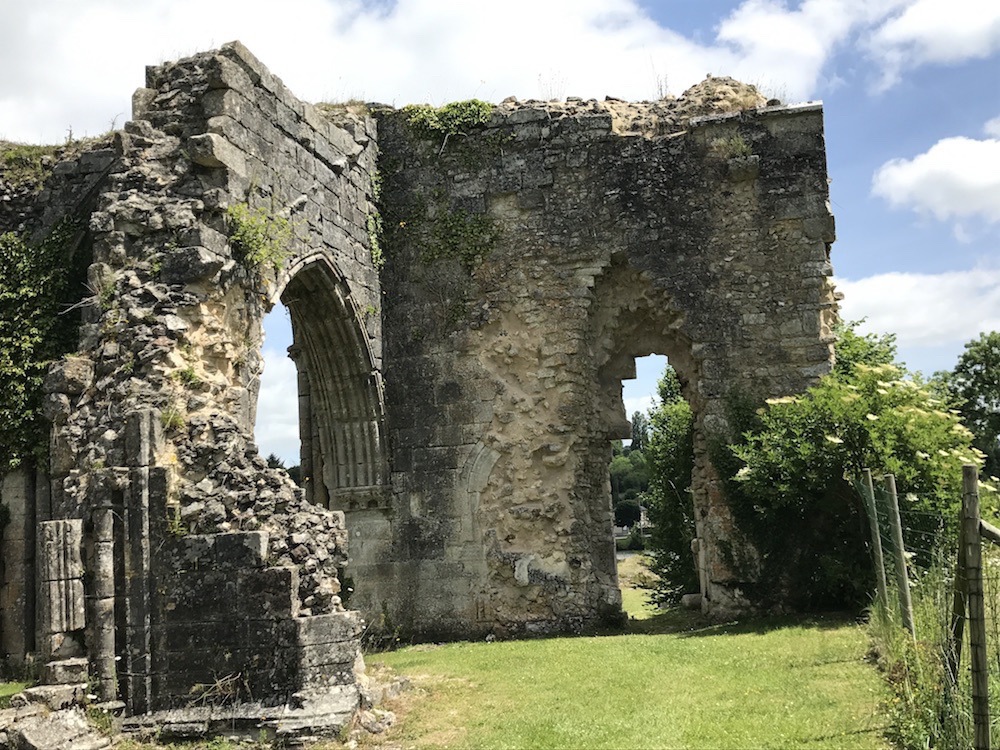 04. See the Famous Bayeux Tapestry: One of the Most Famous Things to See in Normandy is Truly Impressive
The best way to see famous artwork is without the crowds…which is why it's so incredible to view the Bayeux tapestry — 100 yards long, and the same length of an American football field, in fact — at the tiny Bayeux Museum in Bayeux.
This intricately embroidered medieval tapestry, which commemorates the famous Battle of Hastings in 1066, has a breathtaking history. It was hidden and hauled all over France during various epic battles, and is a miracle that it still survives today.
Don't miss the opportunity to see it for yourself.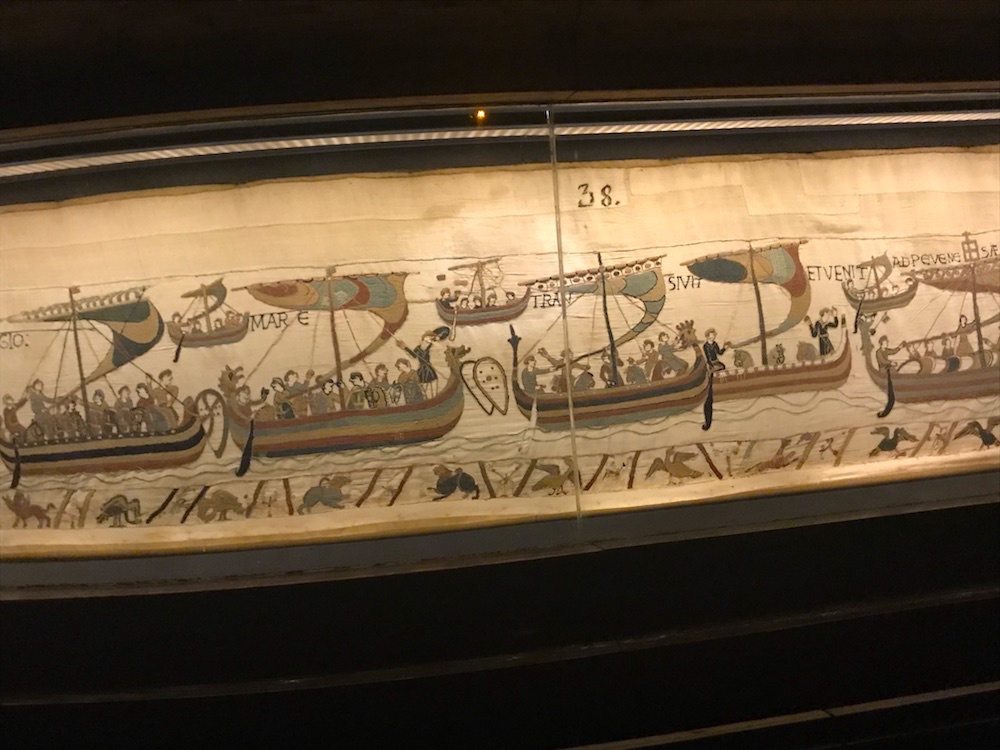 05. Make Friends with Locals: One of the Easiest Activities to Do in Normandy…Because People Are so Friendly!
The French have never forgotten their debt of gratitude to their American and other allies in the pivotal battle during Operation Overlord on the Normandy beaches. More than 70 years later, you'll still enjoy that same generous welcome in Normandy.
When a restaurant we had reservations at was short on space, we shared our table with a couple celebrating a wedding anniversary and were rewarded with fascinating stories and tastes of local specialties we hadn't thought to order. It was a reminder that you get so much more than you give when you reach out to connect with locals during your travels.
Self Driving through Normandy? Click here to find the Best Deal on Rentalcars.com
06. Visit Famous Chartres Cathedral: A Perfect Pit-Spot When Driving From Paris to Normandy
While technically just south of Normandy, Chartres makes a perfect overnight or half-day visit en route from Paris to Normandy. Ever heard of "Chartres blue?" That's the brilliant blue stained glass the cathedral is famous for.
Pilgrims have been coming to this famous cathedral since the 12th century to view an actual silk relic of the Virgin Mary's veil and walk the labyrinth in the long, deep nave of the church.
In summer, be sure to catch the free light show on the cathedral after dark. The way the modern color light illuminates the ancient architecture is memorable.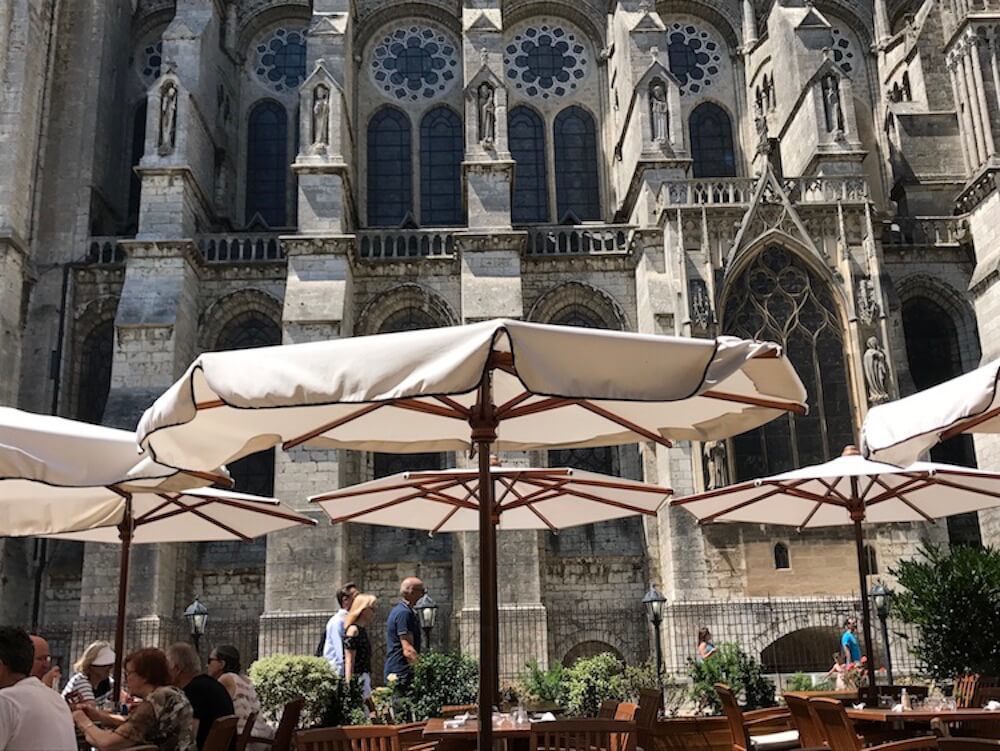 07. Taste All the Things: Experience Fantastic Food in Normandy Often
Normandy is a gastronomic hot spot in France, so don't end your experimentation after your DIY tastings at farms.
Look for restaurants that specialize in seafood, fish stew, poultry, pre salé lamb (lamb reared on salt), sauce a la crème, veal cooked in cider, and Teurgoule, a milky rice pudding. Apple candies and buttery toffees are big here too!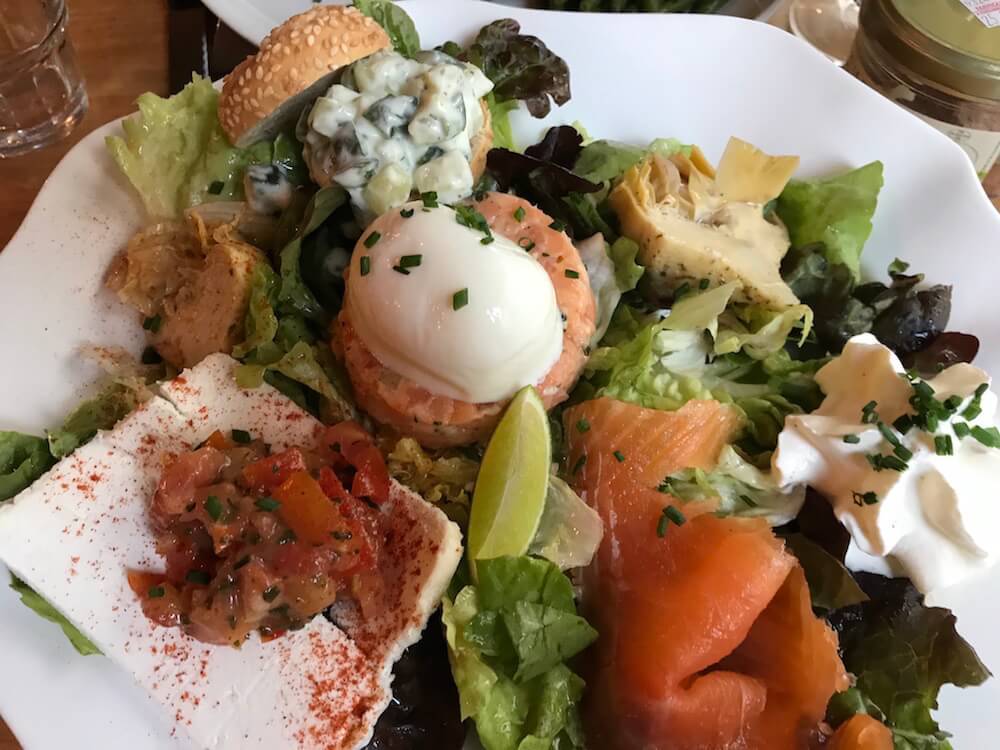 ---
Not Your Average Normandy Tour: Context Travel's Private Normandy Excursions
Context Travel is one of our (Geoff and Katie) favorite tour companies, because they don't feel like tours. Run by archaeologists, art historians, practicing architects, historians, and more, we've never gotten a pre-rehearsed script on a Context tour, but rather insightful debates and conversations that feel more like a fantastic university lecture, or a summer trip with your cnd professor!
Context has many small-group tours in Paris to choose from, but the Normandy tours are all private excursions meant for groups of up to 6. While not economical for individual's, if you're travelling as a family or as a small group of couples or friends, they can be a great way to get a custom experience, and add insight and learning to your vacation. Context currently offers the following private tours in Normandy:
---
08. See Monet's Famous Garden Giverny: One of the Best Places to Visit in Normandy for Art Lovers
I won't lie…there are mega crowds here any time of year, but don't worry! Everyone is drunk on the scent of roses and buzzing bees so it doesn't even matter. Like Chartres, Giverny makes another great overnight or half-day stop en route between Normandy and Paris.
Life really does imitate art when you snap a photo of the famous bridge and pond in these wild and beautiful gardens. Plan for lunch in the nearby town of Giverny, which is within easy walking distance, but buy your tickets online to skip the line.
If you want to visit as an organized day trip from Paris: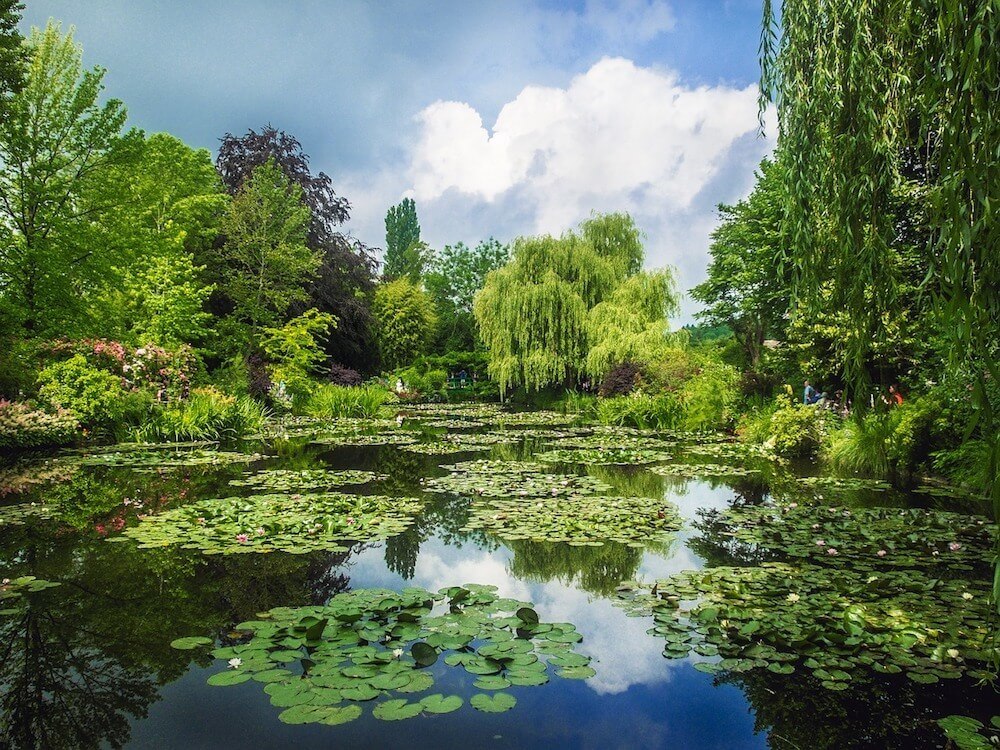 09. Plan an Overnight at Unforgettable Mont-Saint-Michel:One of the Most Popular Places to See in Normandy…with Good Reason!
Mont-Saint-Michel is a medieval monastery on a magical island at the edge of Normandy and Brittany. It's quite a sight standing sentinel high on the cliff at low tide. In fact, pilgrims have been here for more than a thousand years! You can have the same experience and see fewer tourists if you visit late in the day and spend the night.
Tours:
From Paris:
Stay the Night Right Next to The Famous Abbey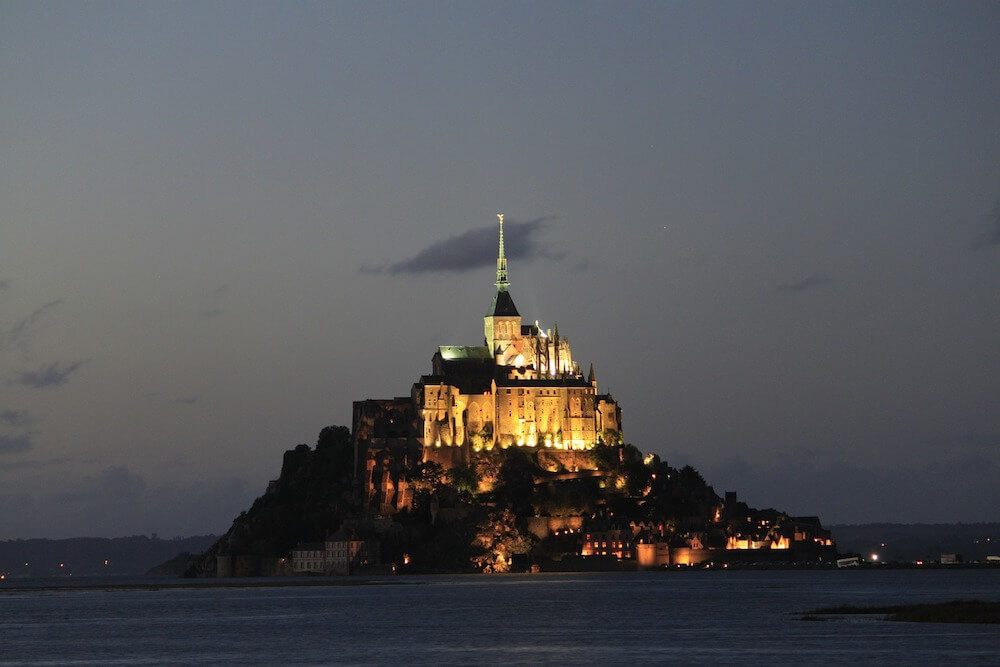 10. See the Light at Honfleur: One of the Best Places to Go in Normandy France
This colorful harbor town—where the Seine River meets the English Channel— has been welcoming sailors and impressionist painters for hundreds of years. Survey the scene for yourself from a cozy outdoor café with a coffee or glass of wine. Then duck into Saint Catherine's Church or hike up the hill to the lovely Nôtre Dame de Grace chapel.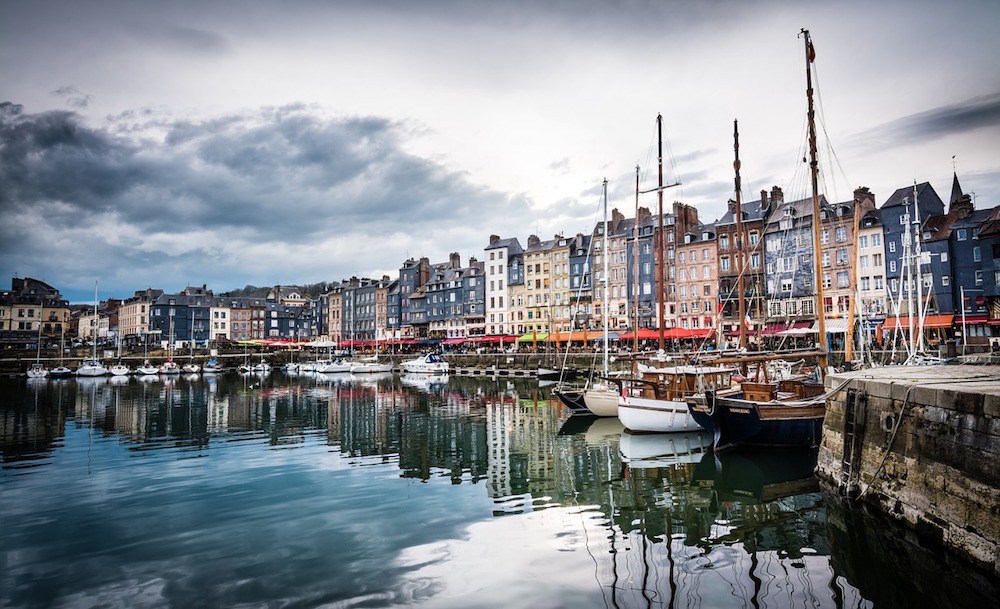 ---
Further Reading
Like This Guide? Pin it for Later!