Where to Stay in Belfast: Advice from a local expat and travel blogger about the best neighborhoods to stay in Belfast, Northern Ireland! (Plus 16 hotel and apartment recommendations)
We created this guide in collaboration with Daniela Castillo, freelance writer and blogger at The Dream Backpacker. Daniela currently lives in Belfast and works in tourism, where she's constantly advising visitors about the best things to eat, see and do in the city. We're thrilled to welcome her as our local city expert for this Where to Stay in Belfast Guide.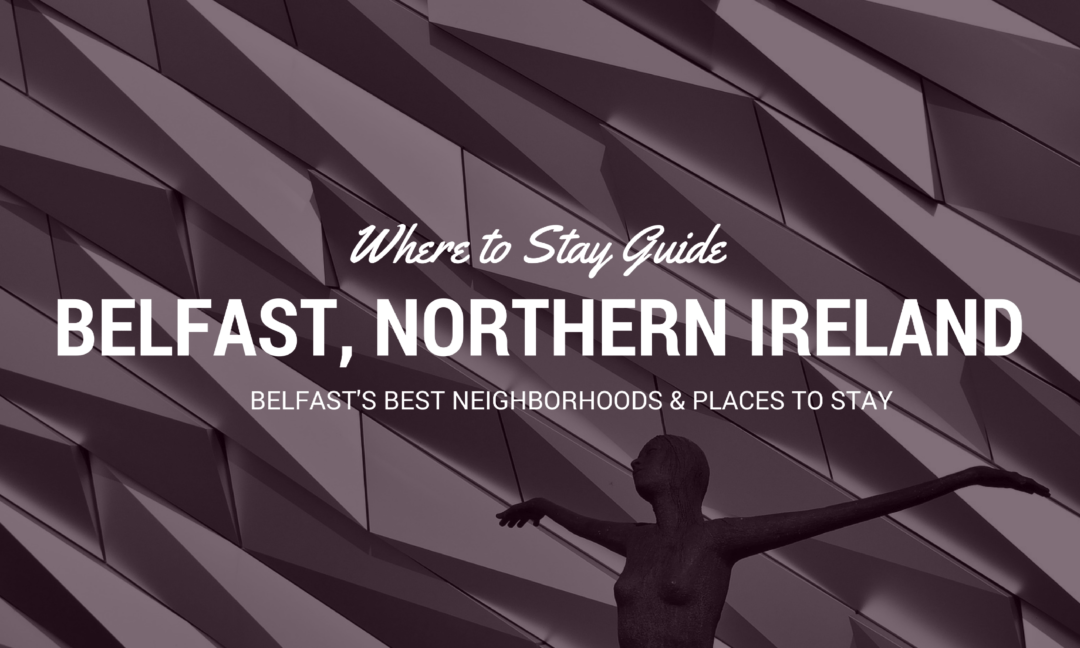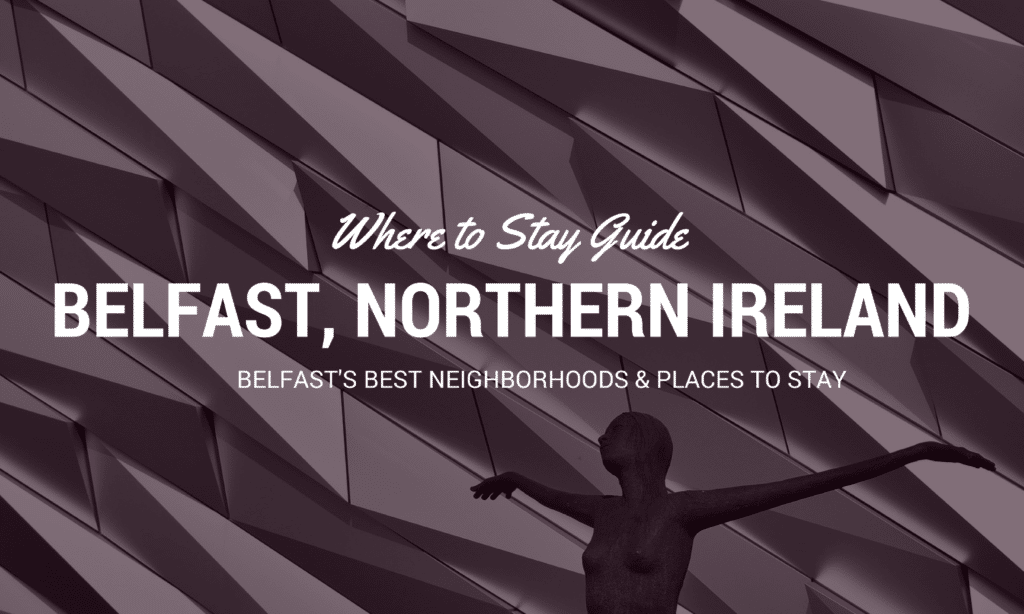 Disclosure: This Where to Stay in Belfast Guide contains affiliate links. That means we earn a commission when you use the links on this site to book a hotel, buy your travel insurance, etc.. You don't pay anything extra. If you'd like to learn more about how this works, you can read more under our Disclaimer page.
Where to Stay in Belfast: A Quick Guide to Finding The Best Area to Stay in Belfast
If you're planning a visit to the city and are wondering about the best places to stay in Belfast, start with this quick guide to Belfast's best neighborhoods.
We've added detailed info about all the best areas to stay in Belfast in this Belfast Neighborhood Guide later on in this post, but we also wanted to provide a quick-guide summary of our top where to stay in Belfast neighborhoods. Each of the neighborhood names is clickable, and will take you to more detailed info about that section below. But for now, here's a summary of Belfast's best neighborhoods!
Best Place to Stay in Belfast: The 3 Best Neighborhoods to Stay in Belfast
Central: Belfast's city center is the heart of the action, and is one of the best places to stay in Belfast for either a quick Belfast city break or a longer visit to Northern Ireland, using Belfast as a base. Filled with culture, architecture, and a great food and drinks scene, staying in Central Belfast will mean you have the best of the city at your fingertips.
The Cathedral Quarter: A short walk from Central, the Cathedral Quarter is still very central. It has more of an artsy and cultural vibe, and is slightly more relaxed than central. Still packed with fantastic pubs, restaurants, shops and cafés, the Cathedral Quarter is a lovely area to stay in Belfast.
Queens Quarter: A lively student area, the Queen's Quarter is a great area to stay in Belfast if you're looking for a younger and cheaper vibe, along with loads of non-student places and shopping. The University itself is also worth a visit.
Belfast Neighborhoods: 2 More Neighborhoods to Explore in Belfast
Titanic Quarter: Rejuvenated over the past decade, and in particular since the opening of Titanic Belfast in 2012, this is the most modern area of Belfast, and has a strong maritime theme, with mixed-use commercial and residential areas.
Gaeltacht Quarter: Recently re-branded from Falls Road to the 'Gaeltacht Quarter' to attract tourism, this is a largely Republican and Irish-speaking neighborhood with much less British influence than other parts of Ireland. With a distinctly Irish feel to it, be sure to visit the Gaeltacht Quarter for something a little different.
Belfast Travel Tips & Further Info
Belfast's Best Areas to Stay
From a no-go zone marred by decades of conflict to a party town with plenty of attractions for cultural tourists, transformation is the name of the game in Belfast.
With the troubles behind them, the city today is facing into the future, focused on developing a rash of attractions, promoting an exceptional food and drinks scene, and showing off its lovely waterfront and unique neighborhoods to UK and international tourists.
And by and large, they're doing a great job. The travel media consistently list Belfast on their top places to visit lists, and tourists are taking note. Today, Belfast's streets are filled with live music and mural art, and its Victorian and Edwardian buildings are on full display for the architectural tourists. Add to that a vibrant nightlife and many cozy pubs and restaurants serving up local and international treats, and you have a city that's on the front-end of some major international attention.
Despite all the changes Belfast has experienced in the first decade-and-a-half of the century, one thing remains by-and-large the same: Belfast is a city of neighborhoods (or, more accurately, quarters). Each quarter has its own unique vibe and flavour, and pros and cons for visitors.
While there are plenty of small neighbourhoods around Belfast, we wanted to focus on what we think are the three best quarters of to stay in Belfast as a visitor — Central Belfast, Cathedral Quarter and Queens Quarter — as well as two more Quarters you should visit: Titanic Quarter, and the Gaeltacht Quarter.
Where to Stay in Belfast: Central Belfast is the Heart of the City
Great area for: ✓ Sightseeing ✓ Nightlife ✓ Pubs and Restaurants ✓ Arts and Culture
Central Belfast is the beating heart of the city, and is where most things — nightlife, culture, food and drink, etc. — happen.
And the heart of Central Belfast is the majestic City Hall building. In addition to being architecturally magnificent, the building also plays host to a variety of events throughout the year, such as the Belfast Christmas Market in December, and various seasonal exhibitions open to the public.
If you're a music lover, be sure to wander the streets around Victoria Square, home to Belfast's many street performers, and check the schedule at the Grand Opera House, home to some of the best shows in the country.
The busy, commercial streets around the Golden Mile are ideal for an afternoon of shopping, and there is no better — or more quintessentially local — way to end your day than grabbing a pint at The Crown, one of the most emblematic pubs in the city, opened in 1885 and famous for its intricate detail and ornate interior (46 Great Victoria Street).
Lively, vibrant and full of options to entertain newcomers and locals alike, Central Belfast can't be missed by first-time visitors. It's also a great place to stay in Belfast if you plan on taking day trips to the surrounding towns and cities, as the train and bus stations are within walking distance.
The Fitzwilliam
The Fitzwilliam – A luxury five-star hotel with excellent reviews, The Fitzwilliam Hotel offers top-notch guest service and super-stylish rooms. The hotel is located in the heart of the city center, beside the Opera House and close to many of the main attractions in Belfast. Featuring bold colors and patterns, and a modern, sumptuous vibe, past guests love the beds topped with plush duvets and Egyptian linens. Don't leave without treating yourself to a cocktail at the bar, where you can choose from among 700 quality spirits!
Check Availability & Prices on
Booking.com
Europa Hotel
Europa Hotel – A 4-star historic property right in the heart of the city, Europa Hotel is all about traditional Irish hospitality and excellent value, right in the heart of the city. Mixing modern amenities with traditional room furnishings and decor, past guests mention the comfort, cleanliness, decor and friendly staff. Perhaps the most interesting thing about this hotel, however, is its history: it is known as the most bombed hotel in Europe, getting bombed 36 times during the Troubles. The on-site bistro and Piano Lounge get top marks.
Check Availability & Prices on
Booking.com
Ten Square
Ten Square – A funky small boutique hotel right across from City Hall, and within walking distance of the Opera and Victoria Shopping Centre, Ten Square gets fantastic ratings from past guests, and offers great quality for the price. All rooms have oversized beds, lovely design furnishings, and great bathrooms. Guests mention the comfort, decor, and quiet rooms, along with the top-notch staff. You can kick-start your day with a full Belfast breakfast (extra), or grab a bite in the on-site steak house at night.
Check Availability & Prices on
Booking.com
Holiday Inn Belfast City Centre
Holiday Inn Belfast City Centre – Offering clean, comfortable and contemporary rooms right in the city centre, the Holiday Inn looks like a great mid-range choice. Past guests mention the newly-refurbished and spacious rooms, the breakfasts, and the overall suitability for travelling as a family (family rooms available if you need the extra space). Bonus points for an on-site gym area, 24-hour room service, a grill restaurant, and a Starbucks coffee station.
Check Availability & Prices on
Booking.com
Park Inn by Radisson
Park Inn by Radisson – Value for money is the name of the game at this hotel, which is centrally-located just a few blocks from City Hall. A clean and comfortable 3-star, rooms are bright and colorful with flat-screen TVs and free wireless high-speed internet. After a long day out, you can take advantage of the on-site fitness center or sauna. Past guests mention the friendly staff, comfort, location, and great value of this place, along with the lovely on-site bar for unwinding. Only a few blocks from City Hall.
Check Availability & Prices on
Booking.com
ibis Belfast City Centre
ibis Belfast City Centre – A 3-star contemporary hotel situated in a great location just 10 minutes' walk from City Hall and the Opera House, Belfast's nightlife, restaurants and main sites are all within a short walk. Rooms are clean, modern and comfortable, with everything you might need during your visit, including free Wifi access and a tea and coffee maker. In the morning, you can choose between a cooked and a continental breakfast (extra), or grab a bite at one of Belfast's many cafés.
Check Availability & Prices on
Booking.com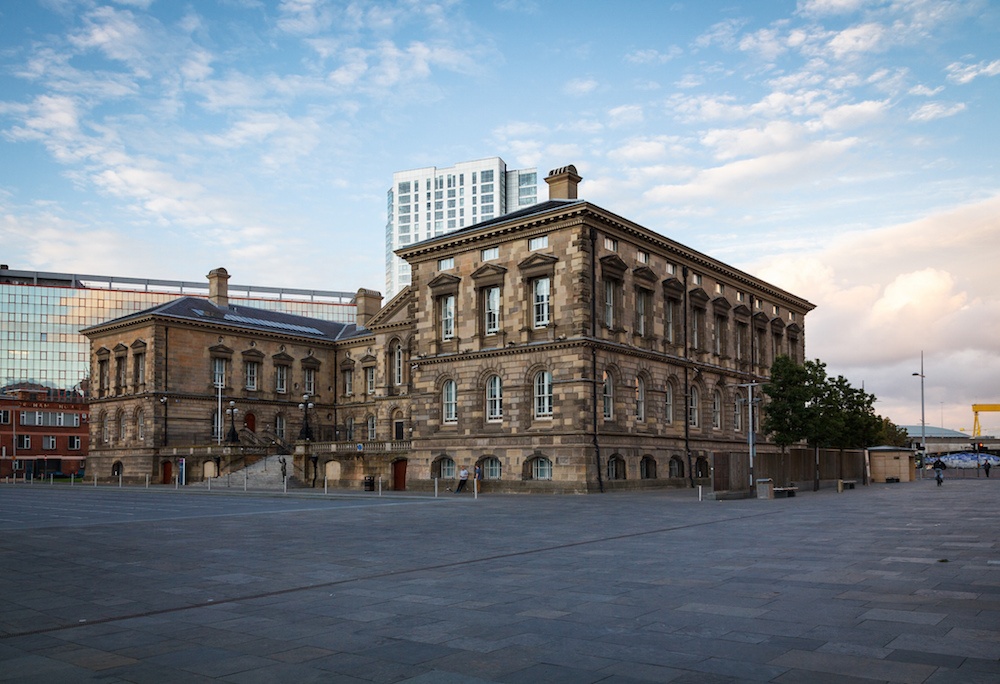 Where to Stay in Belfast: The Cathedral Quarter is Artsy Belfast at its Best
Great area for: ✓ Arts & Culture ✓ Architecture ✓ Food & Drink ✓ Sightseeing
If you are looking for more of an artsy vibe, the Cathedral Quarter is one of the best areas to stay in Belfast.
This quarter is home to the city's art scene, and many of Belfast's most famous street murals are found here. Throughout the year, you'll find plenty of open-air gigs and food and music festivals in the Cathedral Quarter.
The series of narrow alleyways (called entries) in this quarter are perfect for a wander. Commercial Court, one of the most famous entries of the city, has been home to all sorts of businesses over the years, including newspapers and a cock-fighting ring! If you get tired, stop in to The John Hewitt or the Duke of York, two historic pubs in the area.
And be sure to look up to enjoy the Cathedral Quarter's breathtaking architecture. Beyond St. Anne's Cathedral, from which the Quarter takes its name, Belfast Central Library and The Metropolitan Arts Centre are also worth a visit.
My recommendations for an afternoon in the Cathedral Quarter include a visit to one of its many cool cafés (check out Established Coffee at 54 Hill Street and The National Grand Café at 62 High Street), a trip to the Cathedral Gardens to admire the Buoy sculptures, and plenty of time to get lost among the many entries and abandoned buildings with a camera in your hand!
The Merchant
The Merchant – One of Belfast's most prestigious hotels, The Merchant is housed in an imposing and beautiful building dating back to 1860. Opulent rooms decorated with original artwork, marble bathrooms, and sumptuous decor, everything about this hotel screams luxury. However, the best part of the hotel is probably the rooftop area where you can relax in the hot tub, sauna and steam room while soaking up the city views. The hotel also offers a spa, a cocktail bar, and the Great Room Restaurant which all get top marks.
Check Availability & Prices on
Booking.com
Bullitt Hotel
Bullitt Hotel – A chicer and hipper younger sister to The Merchant hotel, The Bullitt has a trendy, buzzing atmosphere, going for affordable luxury and quirkiness throughout. While past guests warn the rooms are tiny, all have funky décor, super-fast wi-fi, and plush king-size beds. Breakfast isn't served, but every morning outside your door you'll find a Grub to Go bag filled with orange juice, a granola pot, and fruit. With a choice of 3 restaurants and bars, you won't go thirsty here. Ask for a quiet room, as some rooms overlook a bar that can get quite noisy.
Check Availability & Prices on
Booking.com
Malmaison
Malmaison – Just across the road from The Bullitt, Malmaison is about a 7-minute walk from St. Anne's Cathedral, and a 15-minute walk to the Titanic Quarter. A 4-star hotel in a converted warehouse, the decor draws on the building's past life, mixing opulent and industrial in a funky blend suited to a boutique hotel. Past guests mention comfortable rooms, albeit a bit dark, and give high marks to the staff and overall quirkiness. The rooms don't have air conditioning, but it's unlikely you'll need it in Belfast.
Check Availability & Prices on
Booking.com
Ramada Encore
Ramada Encore – If you're looking for a great value option with bright, modern and colourful rooms, this hotel is in a fantastic location for exploring the Cathedral Quarter, just steps from St. Anne's Cathedral. With a modern aesthetic that draws on funky boutique hotels, this Ramada is offering a no-frills experience at an affordable price, beating out many other Belfast hotels for value:price. Past guests mention the spacious and comfortable rooms and high value.
Check Availability and Prices on
Booking.com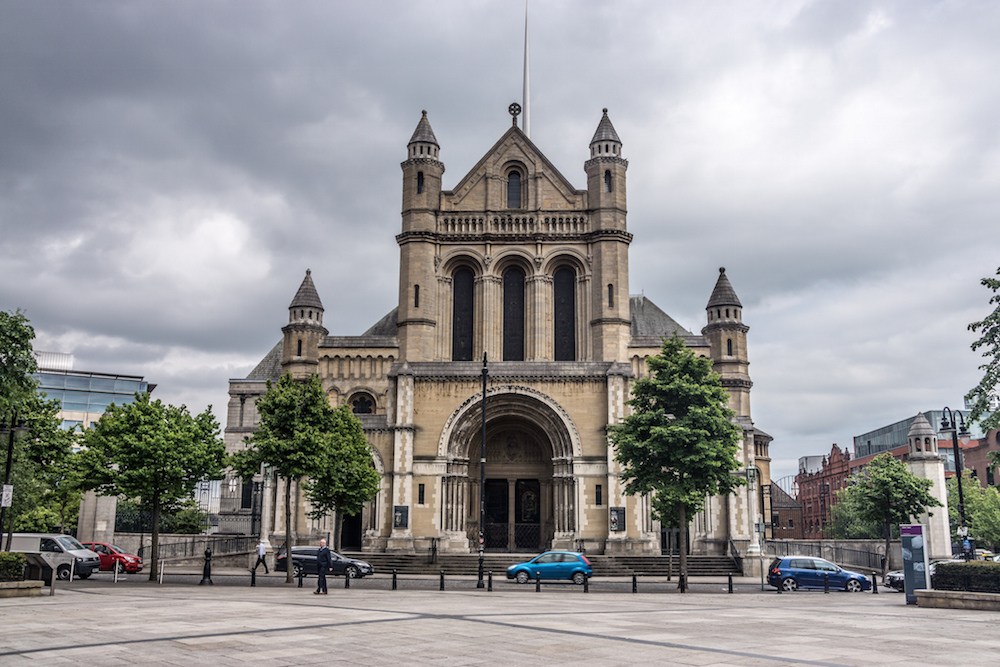 Where to Stay in Belfast: Queens Quarter is the Heart of Student Belfast
Great area for: ✓ Young and Fun ✓ Affordable ✓ Student Scene ✓ Botanic Gardens
Like many university neighbourhoods, Queens Quarter (named after Queens University) is considerably more affordable than surrounding areas, and has a young and hip vibe to it. Home to loads of vintage shops, eclectic cafés and second-hand bookstores, this part of Belfast is also home to two of the most popular attractions in Belfast: the Ulster Museum and the Botanic Gardens.
Both the Botanic Gardens and Ulster Museum are free (although a £3 donation is encouraged at the Museum), and well worth your time. The Botanic Gardens are the perfect spot for a peaceful stroll through neatly manicured green space, and offer an interesting look into Victorian-era tropical horticultural at Palm House. If you visit in summer, check the schedule for your specific dates, as there are often open-air concerts held on the grounds.
Ulster Museum is located at the Botanic Garden, and has a wide-ranging collection covering everything from natural history to war to art.
The University is also worth a visit, with Instagram-worthy architecture and a chance to catch excellent theatre productions and gallery exhibitions that are open to the public.
With a mainly student/young population, the vibe in the Queens Quarter is laid back and relaxed, with plenty of cool bars and pubs for a relaxed night out.
Duke at Queens
Duke at Queens – A 4-star boutique with an upscale feel, Dukes at Queens has an affordable luxury vibe just 20 minutes' walk from City Hall. Less than 5 minutes from the botanical gardens, and close to the Ulster Museum and Queen's University, it's in a great location. Recently refreshed and rebranded, the hotel boasts unique decor and pieces, and offers incredibly spacious rooms and bathrooms with either a large walk-in drench shower, a soaking tub, or both.
Check Availability & Prices on
Booking.com
Benedicts Hotel
Benedicts Hotel – With an upscale, traditional luxury feel to it, Benedicts is located on Belfast's Golden Mile at Shaftsbury Square, meaning you'll be well-located in an area bustling with bars, restaurants, and shops. Triple-glazed windows keep things quiet, and the stylish rooms offer 32" plasma TVs, lovely decor, and beautiful Italian marble bathrooms. The service is very attentive (hello, welcome drinks!) and breakfast is always complimentary. One of the best aspects of this boutique is its award-winning music bar.
Availability & Prices on
Booking.com
The Gregory
The Gregory – The Gregory is a charming B&B in a large home just off Lisburn Road and a few blocks from the Ulster Museum. With only 14 rooms, the service is attentive and the staff friendly. The rooms are charming and decorated with attention to details. The included breakfast is cooked-to-order, and you can choose between an Ulster fry, omelettes, bagel and smoked salmon, porridge, or a veggie option. The hotel has a guest lounge, and private parking makes it a great option if you're traveling by car.
Check Availability & Prices on
Booking.com
Harper's B&B
Harpers Boutique B&B – Housed in a lovely Victorian townhouse, this boutique B&B will make you feel at home. Breakfast is made fresh each morning with local ingredients, and past guests mention accommodating and helpful staff. Each lovely-looking room has its own thermostat and under floor bathroom heating. Located near Botanic Road, you'll be close to loads of restaurants and bars, and vibrant nightlife. From the hotel, it is possible to walk to the centre in just 20 minutes.
Check Availability & Prices on
Booking.com
Ibis Belfast Queen's Quarter
ibis Belfast Queen's Quarter – Another simple and affordable offering from Ibis, this 3-star hotel offers great value in the heart of a lively neighborhood. The rooms are basic but of a generous size, although past guests mention they can be a little noisy. They are nicely appointed with amenities such as flat-screen TVs and a tea and coffee maker. From here, it's possible to walk to the city centre in approximately 15 minutes, and it's just a short walk to the Botanic train station as well.
Check Availability & Prices on
Booking.com
Queen's Quarter Apartments
Queen's Quarter Apartments – If you'd prefer more space and a kitchen, these upmarket apartments get fantastic reviews. Located on a quiet road in the heart of the Queens Quarter, the apartments are also conveniently located near the Belfast Empire Music Hall and within walking distance of the city centre. Parking is easily available. The apartments can fit 4 to 6 people and feature a full kitchen, a bathroom with a bathtub, and a flat-screen TV. Bed linens and towels are provided, and the apartments are bright and airy.
Check Availability & Prices on
Booking.com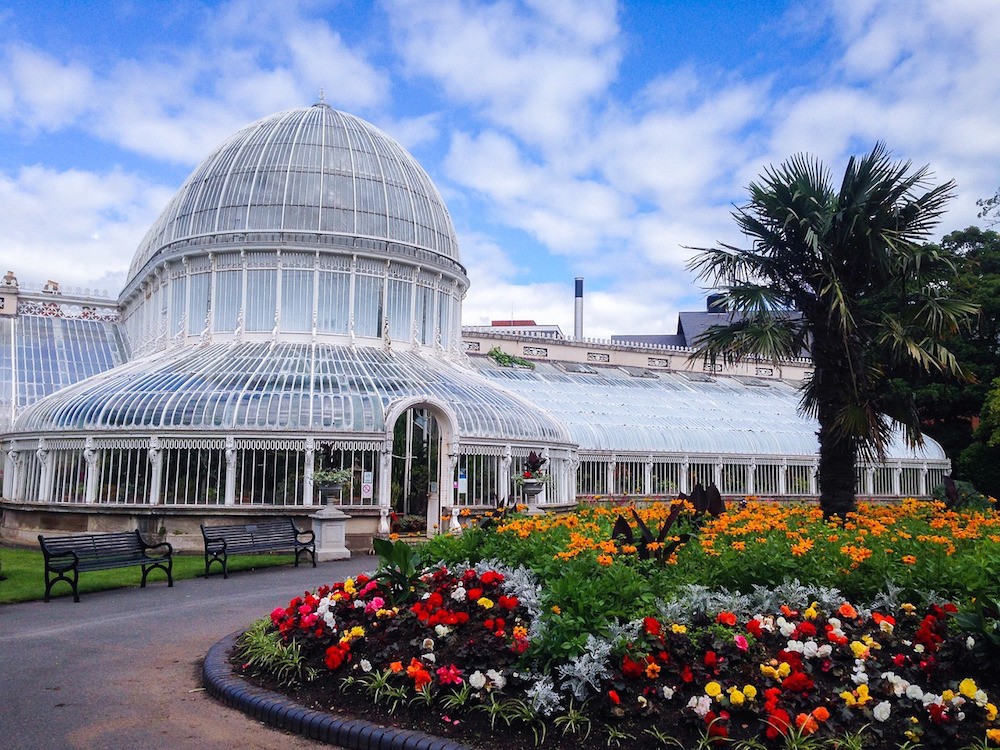 Belfast's Other Neighborhoods to Explore
While we wouldn't suggest staying in the Titanic Quarter or the Gaeltacht Quarter — mostly due to a lack of good accomodation options — that doesn't mean these two neighborhoods should be skipped. Indeed, both are interesting and different in their own right, and well worth your time during your Belfast trip.
Where to Stay in Belfast: Titanic Quarter is Modern and Urban
Great area for: ✓ Maritime Tourism ✓ Nightlife ✓ Family Activities
Belfast's seemingly odd obsession with the doomed ship seems to have been a focused strategy to boost tourism, and it's a bet that appears to have paid off.
Titanic Belfast, the relatively new museum that honours the history of the ship, is the main reason to visit this area, but as dollars flow in, the neighborhood benefits.
Compared to other more traditional neighbourhoods, the redeveloped Titanic Quarter is a very modern looking part of the city. It mixes residential, touristy, and commercial spaces suitable for both short-term and long-term visits, and has a general 'maritime' theme to it all.
If you're travelling as a family, you might want to check out the Odyssey Complex, an entertainment venue that hosts concerts, exhibitions and sporting events. It also has bowling, a cinema and plenty of eateries (and bars and nightclubs for those without a family). The W5 interactive discovery centre, basically a science centre, is a great place to take the family when you want to do something less touristy and more kid-friendly.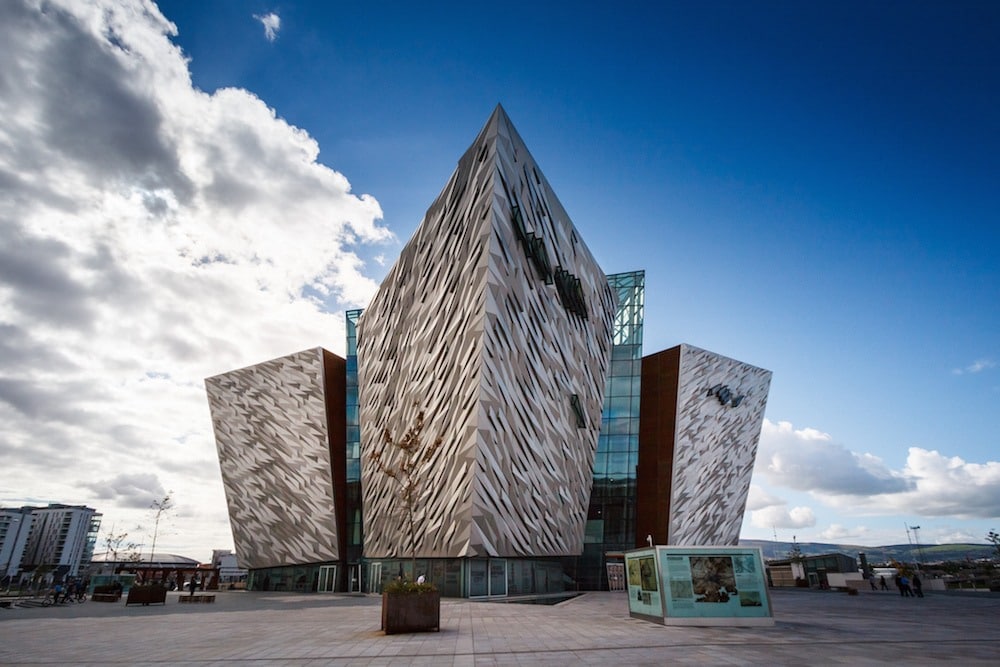 Where to Stay in Belfast: Gaeltacht Quarter is an Irish-Speaking Area
Great area for: ✓ Irish Heritage and Culture ✓ Unique and Different
If you're looking for a truly Irish experience, Belfast's Gaeltacht Quarter is a must. While other parts of the city have some British influence, the Gaeltacht Quarter is all about Irish history and heritage, and is home to a large Irish-speaking community. As you can imagine, this area is home to a large Republican community, and political sensitivity is a must.
While it's a relatively new quarter, it's gaining popularity among visitors for its authentic Irish feel. Most of the murals you'll find here depict the history of the area, and if you happen to be in Belfast around August, the Irish culture and heritage festival, Féile, has many events in the area.
If you want to catch a performance of Irish music, a poetry reading, or sample some traditional Irish food, head to the Culturlann MacAdam O Fiaich, an Irish language centre. And if you want to keep things a bit more low key, simply walk through the streets listening for the beautiful Gaeilge (Irish Gaelic) being spoken amongst the locals.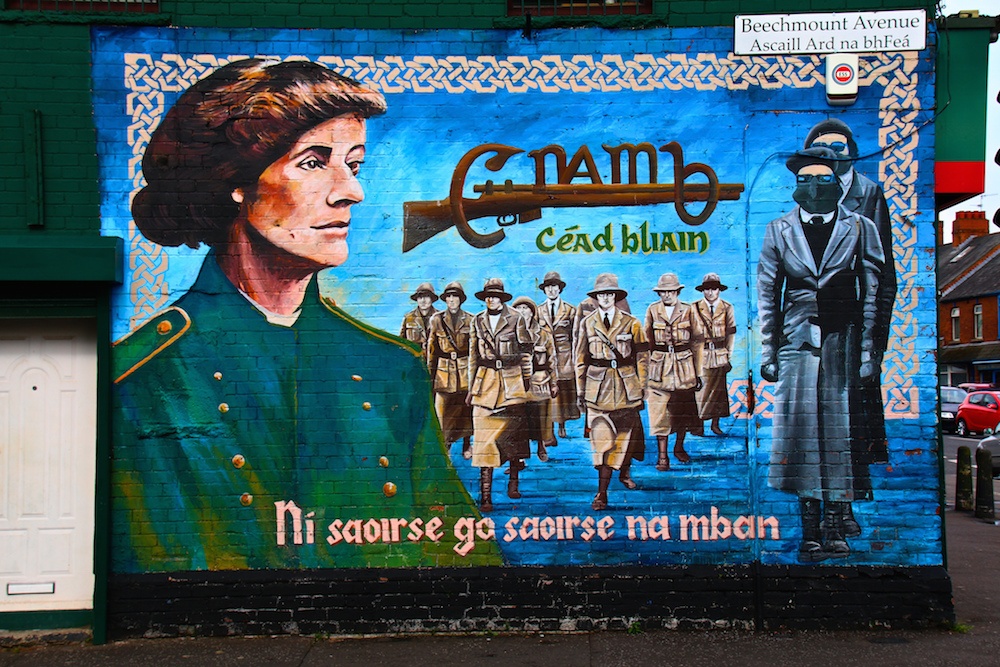 Where to Stay in Belfast: Travel Tips & FAQs
Hopefully, we're answered most of your Belfast neighborhood questions and given you an idea about the best area to stay for your trip. However, we've also included a few travel tips and answered some questions we know you'll probably be wondering about. As we get questions from more readers, we'll do our best to update this section over time.
Is Belfast Safe?
Disturbances between Nationalists and Loyalists are rare these days, but still a possibility. MI5 continues to rate Northern Ireland as 'severe' when it comes to terrorism-related dangers/threat level, a rating that is separate from the general UK terrorism threat level (which is also rated as severe at the time of writing…basically a 4 out of 5 on the scale).
After the Good Friday Agreement in 1998, most of the riots and political violence has evaporated, but you'll still see signs of the threat of violence, including barriers around police stations, use of armoured vehicles by police, and generally visible police presence (although, this is honestly very common through much of the UK and Europe now due to the general terrorism threat level).
So while Belfast is generally safe (and is, in fact, one of the safest cities in the world when you look at non-political crime), it's still worth keeping your wits about you, and being aware there are some areas best avoided.
The Holylands near Queens Quarter is one such area, and has a reputation for having some troubles and vandalism, especially at night.
The 'divided communities' are also worthy of some caution, particularly at night. Heavily Protestant and Catholic neighborhoods are divided by 'peace lines' (walls), which have played a key role in keeping the peace in the city. The Nationalist Falls Road area (the Gaeltacht Quarter) is separated from the Unionist Shankill Road area by a gated peace line, for example. While it's fine to cross during the day, the gates close at night and on Sundays.
As a general rule of thumb, it's a good idea to avoid wandering too far off the main roads of the divided communities at night.
Specific safety tips for Northern Ireland include:
Avoid wearing any clothing that identifies you with a specific side in the conflict. This includes soccer (football) jerseys for the local teams, the Celtics and the Rangers. It's also best to avoid wearing English, Scottish, Welsh or Republic of Ireland clothing as well.
Don't bring up local politics or religion in conversation, unless you're in an obviously safe situation where it's appropriate to do so, such as discreetly asking your tour guide to explain the history. This includes comments about the IRA.
As in almost all countries, stay away from demonstrations and overtly political groups and protests. Throughout the summer, political 'parades' are common (summer is known as 'the marching season'), and are occasionally accompanied by violence. In recent years, events have been much safer than in the past.
The police are generally very open and friendly to tourists. If you're unsure of where to go, and where to avoid, feel free to ask a police officer.
If you are renting a car, park it only in secured carparks, rather than on the street, and keep your valuables hidden.
Belfast Travel Tip: How to Get Around Belfast?
Northern Ireland is a very small country. You can cross from end-to-end in just a two-hour drive, which means its cities are pretty close together, and most are quite walkable once you're there.
Belfast is no exception. While you can visit most of its main neighbourhoods by foot, the public transport system is also quite efficient. The buses operate around the city from 6AM until 11PM, and most of the routes stop at Donegall Square in the city centre. You can buy a day pass from £3.40 or purchase a single ticket for £2.00. However, if you are planning to stay longer, I'd suggest purchasing a Smartlink MultiJourney card of 5, 10 or 40 journeys, as they'll save you up to 30% compared to the standard ticket fare.
Belfast Travel Tip: How to Get From Belfast Airport to the City Centre?
If you are coming from Belfast International Airport, the airport bus to the city centre leaves every 30 minutes (£7.50 single, £10.50 return). The same company operates in George Best Belfast City Airport, but buses leave every 20 minutes and are significantly cheaper (£2.50 single, £3.80 return).
Also, if you are travelling from Dublin, there are train and bus services that take you across the border in just two hours. Fares go from £8.00 for a single or £16.00 for a return ticket.
So Where Should You Stay in Belfast?
If you're coming to Belfast for the first time, and want to focus on sightseeing, the food and drinks scene, and Belfast's exceptional cultural attractions, Central Belfast and the Cathedral Quarter are the best neighborhoods in Belfast. Central Belfast is busier and more touristy, whereas the Cathedral Quarter is less touristy, with plenty of events. If you can't decide between the two, don't worry too much: it's only about a 12-minute walk between St. Anne's Cathedral and Belfast City Hall.
If you want to stay in an area that's younger, and has more of student nightlife scene, consider staying in the Queen's Quarter.
If you are looking to experience a more "Irish" part of town, be sure to visit the Gaeltacht Quarter. The Titanic Quarter is also worth visiting to see the Titanic Belfast Museum, and experience a more modern and urban version of Belfast, with plenty of nightlife. These two neighborhoods don't have many accomodation options, however.
Wherever you stay, most of Belfast's neighbourhoods are quite close to each other, making them all pretty convenient. Whichever of Belfast's best areas to stay you do choose, make sure to visit all of them at some point during your trip, to enjoy a wide selection of Belfast's live music, street art, delicious food and incredibly kind people.
A Note About Our Hotel Recommendations In This Belfast Neighbourhood Guide
Our hope with this Where to Stay in Belfast Guide (and our Where to Stay in Amsterdam, Where to Stay in Berlin, Where to Stay in Prague Guides…you get the idea) is to make it easy to find the best area to stay in Belfast for your particular travel style, goals and budget. That's why we only hire locals, or people who know a city really well, to write these guides. We are always on the lookout for experts who can impart their knowledge to make your trip better!
But, of course, locals don't live in hotels. And it's not realistic (or financially feasible) for us to send someone to 30 different hotels to try them out. In the past, we've simply outlined the neighborhoods, and left the hotel research up to you. But based on all the emails we received, people also wanted help choosing a specific hotel.
The compromise we've come up with is doing loads of research, and listing the hotels that — based on that research — we would love to stay in, or would be happy suggesting to a friend or family member. We haven't personally been to these hotels, but we've ask ourselves things like: Have past guests left fantastic reviews? Does it look like somewhere I'd like to stay? Does it seem to be in a great location for enjoying Belfast? If it ticks those boxes, we've added it to the list.
Really, we want to help you have a fantastic vacation to Belfast, be it a grand Ireland tour or a short Belfast city break. And, we want you to be able to do so without spending hours on the internet, reading reviews and cross-checking locations on a map. Hopefully we've succeeded…but please don't blame us if we haven't – at the end of the day, we expect you'll check the most recent reviews and specific conditions in the city, using our listings as a starting point and framework, and choosing then selecting the best hotel and area to stay in Belfast for your own trip!
Thanks to Our Belfast Expert, Daniela
When I first arrived to Belfast, I chose to stay in a place near the city castle. I figured it'd be close to the action, but it'd still keep that suburban charm of peace and quiet. I was wrong. Belfast Castle is located in a delightful residential area, but besides the former royal home and the zoo, there aren't many things to do around the neighbourhood. I was thinking about moving to a more central location when I got a job offer from a hostel in a town nearby, which required me to take guest groups around the capital, giving me a closer look at Belfast's city life and quarters. I've since come to know the city quite well, and hope my advice has helped you choose where to stay in Belfast on your trip. Happy Travels!
Like this Guide? Pin it for Later!