Where to Stay in Seattle: Advice from a local about the best neighborhoods to stay in Seattle, USA! (Plus 29 hotel and holiday apartment listings)
We created this guide in collaboration with Marcie Cheung, a lifelong resident of Seattle and local family and travel blogger. We're thrilled to welcome her as our local city expert for this Where to Stay in Seattle Guide.


Disclosure: This Where to Stay in Seattle Guide contains affiliate links. That means we may earn a small commission when you use the links on this site to book a hotel, buy your travel insurance, etc.. You don't pay anything extra, and it helps us cover our costs. If you'd like to learn more about how this works, you can read more under our Disclaimer page. Also worth noting, Entertainment.com provided us with a free 3-month membership so we could research the available deals for this and other guides on this site. All deals and info on this site is provided for general informational purposes. For more info and limitations, please read our Disclaimer.
I've lived in the Seattle-area since I was born, but it wasn't until I moved away during college that I realized how much I truly enjoy Seattle and everything the city has to offer (especially the green trees!).
Walk around any day of the year, and the smell of exceptional coffee will tempt you, wafting through the air everywhere you go. A city of fantastic dining options, Seattle was once named the Teriyaki capital of the U.S., and the array of excellent Asian food on offer has only multiplied in the past few years!
Add to that, the city is easy to visit as a tourist. Once described as a 'city of neighborhoods', each of Seattle's different areas has its own personality, and you could easily spend weeks going from neighborhood to neighborhood to get a proper sense of them all. When it comes to the areas of the city visitors are most interested in, we like to think of Seattle as being comprised of two long and skinny fingers, their tips almost touching like in Michelangelo's The Creation of Adam near Lake Union.
At the tip of the northern finger, you'll find the artsy neighborhoods of Freemont and Wallingford, the Scandinavian flavour of Ballard, and the University District.
On the southern finger, you'll find Queen Anne and Capitol Hill, and if you follow the finger further south, you'll run into Belltown, Downtown, Pioneer Square, and the International District / Chinatown. These neighborhoods are where you'll probably spend most of your time, and are some of the most convenient and vibrant areas to stay in Seattle.
For those interested in venturing a bit further afield, West Seattle is home to Alki Beach, and reachable from downtown via water taxi. Greenwood and Phinney Ridge are quieter, mostly residential neighborhoods that may suit longer-term visitors. And then there's Georgetown, an up-and-coming neighborhood that's still mostly industrial, but worth keeping an eye on.
Our Picks for the 6 Best Areas to Stay in Seattle
Downtown/Waterfront: The heart of the city centre, this where you'll find the Pike Place market and a gorgeous waterfront area facing Elliott Bay. Downtown is a best place to stay in Seattle if you're travelling on business, looking to do some shopping for big-name brands, or want to be in the heart of the action.
Pioneer Square: Just south of downtown's central business area, Pioneer Square is one of the best areas to stay in Seattle for nightlife. This is where Seattle's old centre was, and is home to the underground part of old Seattle that you can still visit on a tour. This is also a great area to stay in Seattle if you're visiting for a football or baseball game!
International District: The heart of Seattle's amazing Asian food scene, this is also known as Seattle's Chinatown. Still very central, the International District is a great area to stay in Seattle if you're a foodie, or if you're looking for a multicultural vibe.
Belltown: Just north of the central downtown area, Belltown is one of Seattle's trendiest areas, full of bars, boutiques, restaurants and cafés. It's also very convenient, and the south part of Belltown is a stone's throw from Pike Place Market.
Queen Anne: Lower Queen Anne is home to the Space Needle, the Seattle Center, Museum of Pop Culture, Children's Museum, and Chihuly Garden and Glass, and is only a 20-minute walk to Pike Place Market. If you're wondering where to stay in Seattle for sightseeing, Queen Anne is a good bet.
Capitol Hill: One of Seattle's coolest neighborhoods, Capitol Hill is diverse, young and fun, and LGBTQI friendly. Together with Belltown and Pioneer Square, Capitol Hill is also one of the best areas in Seattle for nightlife.
Ballard: Born from Scandinavian roots and maritime heritage, Ballard is another one of Seattle's coolest neighborhoods, attracting a diverse range of people and many under 50s. The main downside for tourists is it's a bit far from the centre — not a problem if you have a car, though.
University District: Home to the University of Washington, this is a relaxed area with all the trappings of a university neighborhood: cool shops, loads of cafés, and a lovely campus.
West Seattle: Another 'further out' neighborhood, West Seattle and the lovely Alki Beach is easily reached by water taxi, and is a lovely residential area for those who prefer local living.
Fremont & Wallingford: Two artsy and relaxed neighborhoods squished between Ballard to the west and the University District to the east, neither have much to offer in terms of top-rate hotels, but for travellers looking for a holiday apartment and a relaxed, hippy vibe, these could be a good bet.
Greenwood / Phinney Ridge: Quieter residential neighborhoods, the Greenwood Car Show in June and Seafair parade in August are two reasons to visit Greenwood. Nearby Phinney Ridge has the most famous burgers in Seattle!
Georgetown: An up-and-coming neighborhood, Georgetown is still very industrial – but set to change over the coming years.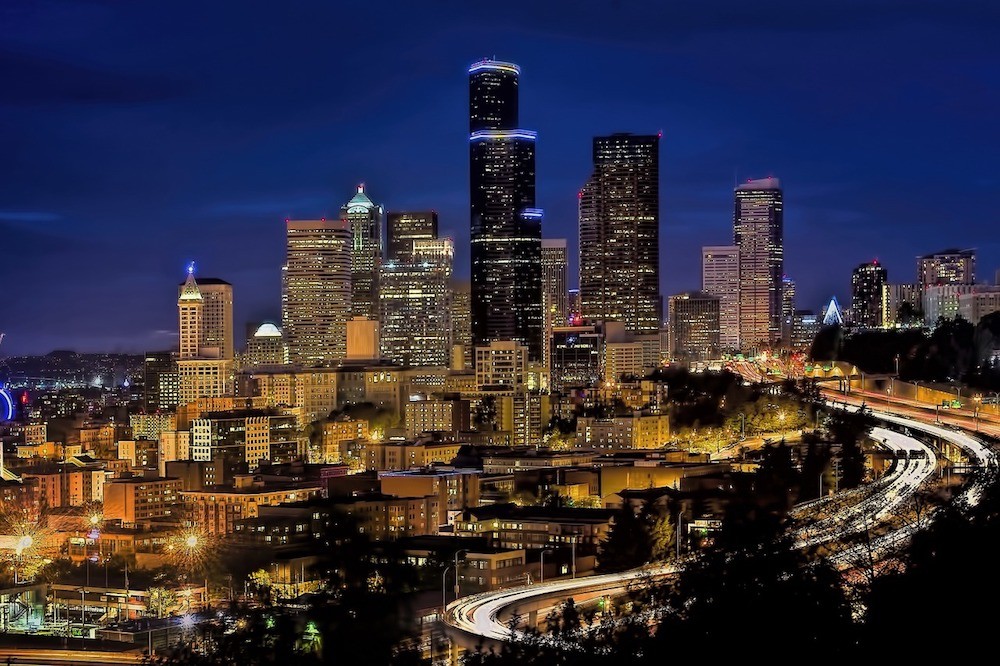 Get a Seattle City Pass and get access to top city attractions including the Space Needle, Seattle Aquarium, a Harbor Cruise and more, $79.00.
Seattle's Best Neighborhoods to Stay
Where to Stay in Seattle: Downtown/Waterfront
Great area for: ✓ Shopping & Dining ✓ Waterfront Scene ✓ Pike Place Market ✓ City Buzz
This is the heart of the city centre and business district; it's where you'll find Pike Place Market and a vibrant waterfront scene; and it's a convenient area for sightseeing and enjoying the best of the city.
If you love urban experiences, chances are you'll love downtown Seattle, which is full of shopping and dining options to keep you busy. For food and gorgeous views of Elliott Bay, the Waterfront is a great spot to start. Within walking distance of the famous Pike Place Market (home of the original Starbucks, fishmongers throwing fish, and Rachel the pig), as well of lots of great dining options, Elliott's Oyster House is a favorite place to take out-of-town guests. If the weather is warm, try to sit outside where you can watch ferries and the Argosy boats, or opt to join a sunset dinner cruise on the Argosy for tasty food and drinks paired with an unforgettable view of the Seattle skyline.
If you are planning on enjoying Seattle's theatre scene (Hamilton comes to the Paramount in 2018), head to Loulay for dinner, which is headed up by award-winning chef and Top Chef Master contestant Thierry Rautureau, aka 'the Chef in the Hat.'
In addition to Rautureau, chef Tom Douglas is another fixture on the Seattle restaurant scene. He owns multiple restaurants in Seattle, including Lola, Serious Pie, and Dahlia Lounge, which serve up an array of cuisines to suit any taste. The desserts in each of his restaurants are known for being particularly incredible!
For shoppers, downtown Seattle is where you'll find many international brands and US chains, such as Nordstrom, as well as a few boutiques and independent shops hidden here and there.
Skip ahead to Next Neighborhood ↓
Inn at the Market
Inn at the Market – Overlooking one of the most iconic 'must dos' in the city, this fresh and colorful boutique is the perfect spot to immerse yourself in the middle of Seattle's centre. Comfortable rooms offer views over Pike Place Market or Puget Sound, a highlight mentioned by many past guests. Located in the heart of Seattle, some of the city's best dining, sightseeing, and exploring is just beyond the doorstep of this hotel.
Check Availability & Prices on
Booking.com / TripAdvisor
Motif Seattle
Motif Seattle – A 4-star hotel offering an upscale, design hotel experience, past guests mention the comfortable, spacious rooms, modern bathrooms with large showers and granite countertops, and gorgeous views over downtown Seattle, Puget Sound, or the Olympic Mountains. Motif has a central location near Pike Place Market, the Paramount Theatre, and the original Starbucks location, and an overall 'contemporary chic' vibe.
Check Availability & Prices on
Booking.com / TripAdvisor
The Paramount
The Paramount – A contemporary hotel with quiet, clean and comfortable rooms, this property has an approachable and friendly vibe that reaches across the fitness center, on-site restaurant, and lobby area. Reviews highlight excellent and welcoming staff, a great location, and a top-notch overall experience. Also within easy reach of the iconic Monorail, making it extra convenient for travelling along the monorail line.
Check Availability & Prices on
Booking.com / TripAdvisor
Thompson Hotel
Thompson Hotel – A luxury boutique just a few steps from Pike Place Market, this property gets consistently excellent reviews for its sophisticated 'West Coast' atmosphere and eclectic décor. The devil is in the details here, and thoughtful touches such as diverse artwork, rain showers, and a customized movie library put this property a cut above many others. Add to that great views from many rooms, and a rooftop cocktail bar that will make your jaw drop, and you've got a beautiful, upmarket choice.
Check Availability & Prices on
Booking.com / TripAdvisor
Kimpton Alexis
Kimpton Alexis – The dark woods and deep fabrics used to decorate this 5-star hotel are matched by what past guests describe as a modern, comfortable atmosphere. Each room has Amazon Echo, a voice activated system to control lights, temperature and answer guest queries, and other touches such as complimentary wine during happy hour, an honor snack bar in the room, and free WiFi. The Seattle Ferry Terminal is one of the many conveniences located nearby.
Check Availability & Prices on
Booking.com / TripAdvisor
Four Seasons Seattle
Four Seasons Seattle – With a gorgeous rooftop infinity pool, hot tub, outdoor fireplace, and full-service spa, the Four Seasons sets the bar high for a relaxing and luxurious experience. Rooms are spacious, tranquil and elegant, with marble bathrooms, muted décor, and upscale amenities, and past guests frequently mention the friendly staff in reviews. Offering views of Puget Sound and the Olympic Mountains and a well-rated restaurant on-site, it's only a few steps from Seattle Art Museum and Pike Place Market.
Check Availability & Prices on
Booking.com / TripAdvisor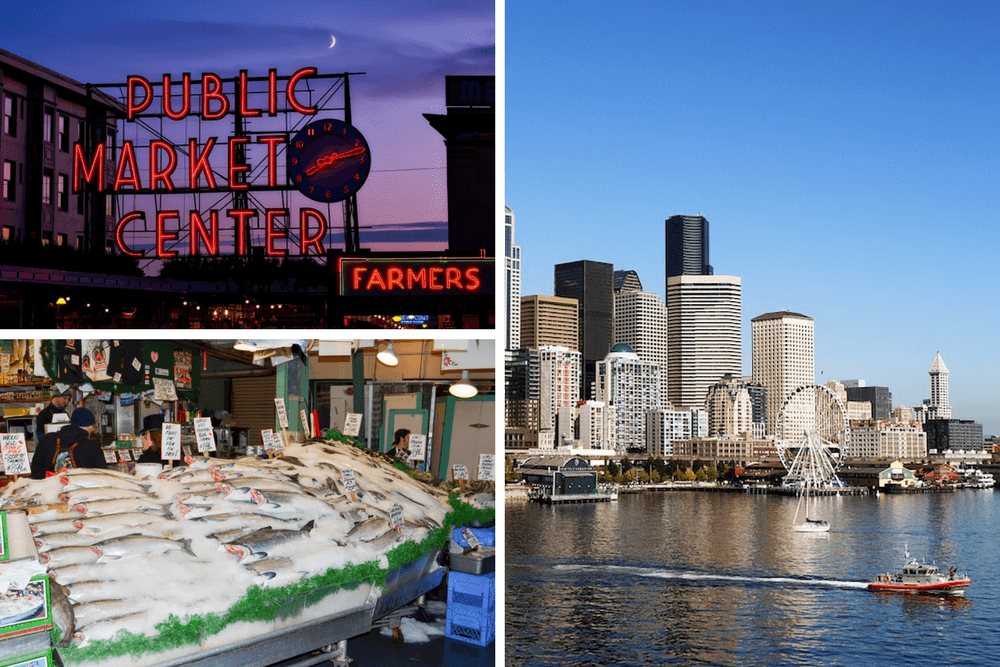 Where to Stay in Seattle: Pioneer Square
Great area for: ✓ City Center ✓ Nightlife ✓ Sightseeing ✓ Underground Seattle ✓ Sports Trips
South of Pike Place and Downtown, you'll find Pioneer Square, Seattle's 'original' downtown and a neighborhood known for getting a bit crazy at night. Home to the grunge movement back when Nirvana and Pearl Jam were just getting their start at places like the Central Saloon (Seattle's oldest bar), this area is great for heritage architecture, people watching, nightlife, and boutique shops and restaurants.
It's also the place to explore underground Seattle  — and we're not talking about the music scene. In fact, Seattle's current city is built atop an older version, and it's possible to visit this older iteration on a tour of the Seattle underground, which gives a clue to what life was like in the pioneer days of Seattle.
If you are an American football or baseball fan, be sure to take a tour of the nearby CenturyLink Field (home of the Seahawks – NFL American football) and Safeco Field (home of the Mariners – baseball) stadiums for some fun photo ops.
And definitely head to Tat's Delicatessen for the best sandwiches in the area. For a lesser known spot, head to UPS Waterfall Garden Park to eat lunch or just snap some pictures.
Skip ahead to Next Neighborhood ↓
The Arctic Club Seattle
The Arctic Club Seattle – Stately seems to be the best way to describe the lobby, bar, billiards space, Juno restaurant, and lounge area at this 4-star hotel. It's an impression that carries over to the muted, welcoming colors of the rooms, where guests are welcomed with chocolate chip cookies. The cookies are a huge hit with past guests, as is the historical look of the hotel. The hotel is in a good location for reaching the Amazon or Microsoft corporate headquarters.
Check Availability & Prices on
Booking.com / TripAdvisor
Best Western Plus Pioneer Square Hotel
Best Western Plus Pioneer Square Hotel – Situated within a historic building with plenty of character, the interior has a traditional, homey ambience and decor: think floral patterns and dark wood. Offering a free continental breakfast, free WiFi in the rooms, and a convenient location, this seems to be a great affordable option in the city centre. The hotel's location on Pioneer Square puts coffee shops, restaurants, and markets nearby.
Check Availability & Prices on
Booking.com  / TripAdvisor
Courtyard Seattle Downtown
Courtyard Seattle Downtown – An upgraded and modern 3-star with spacious and well-designed rooms and common space, past guests appreciate the comfortable beds, helpful staff, and great location. Standard rooms have two queen beds, but a large king bed or king bed + sofa bed are also available. There is a fitness center, indoor pool, restaurant, and bar on-site. Pioneer Square Station is steps away and Seattle City Hall is just down the street.
Check Availability & Prices on
Booking.com / TripAdvisor
Wondering Where to Stay in Seattle for a Sports Trip?
If you're heading to Seattle to watch football or baseball, or attend an event at one of the stadiums, The Silver Cloud Hotel – Seattle Stadium, has both right at its doorstep. The hotel features Jimmy's on First, an on-site sports-themed restaurant and bar with a slightly upscale/sophisticated menu, while still offering classic favorites. Across the street you'll find Pyramid Alehouse, featuring their own line of brews, and offering more of a typical pub fare menu. In addition to modern, comfortable rooms, the hotel features a rooftop pool and complimentary laundry facilities. You're a 10-minute walk to Pioneer Square, or a 15-minute walk to downtown.
Check Availability & Reviews
Booking.com / TripAdvisor
Where to Stay in Seattle: International District
Great area for: ✓ Local Living ✓ Convenient and Central ✓ Seattle's Famed Asian Food Scene
Also known as Chinatown or the I.D., the International District is first-and-foremost a foodie's heaven, and is the best place to sample Seattle's exceptional Asian food scene.
For a quick lunch, head to Mike's Noodle House for handmade dumpling soup. Around the corner is Kau Kau, which is the main spot for picking up the tastiest Char Siu pork, which you can ship home (depending, of course, where 'home' is). Ambrosia offers bubble tea with the freshest tapioca, and The Cakehouse is the ultimate spot to indulge your sweet tooth or try their fantastic curry beef buns. If you just have time for one foodie-themed stop in the ID, head straight to Uwajimaya which is offers a full food court on top of a gift shop and grocery store.
If you choose to stay in the International District, it's an easy walk from Capitol Hill and there's a Link Light Rail stop for getting further afield.
Skip ahead to Next Neighborhood ↓
Modern Studio with Mountain Views
4.5 / 5 (Based on 41 Reviews)
Dog-Friendly Studio Apartment – A gorgeous and modern studio apartment with equally stunning views, this apartment is perfect for a solo traveller, couple, or two friends/family members who don't mind sharing a queen-sized bed. With massive windows, the view of Mt. Rainier and location within walking distance to Uwajimaya are two pluses of this place!
Check Availability & Prices on
VRBO.com
3-Bedroom + Loft Townhome
5 / 5 (Based on 53 Reviews)
Modern & Central Town Home – Just beyond the border of the International District, this town home has 3 bedrooms and a loft, sleeping 8 for those travelling as a group. The pictures show a beautiful, modern and well maintained property, and past reviews include a long line of happy customers who appreciate both the property and the owners/hosts. Looks like a great option for family or group travel!
Check Availability & Prices on
VRBO.com
Heading to Canada Next?
If you're planning on combining your Seattle trip with a jaunt up to Vancouver, BC, or a Canadian Rockies trip, check out our posts on those places, too! Our Where to Stay in Vancouver guide will help you find the best neighborhood to stay in Vancouver, and our Canadian Rockies Itinerary should help you plan a Rocky mountain tour!
Where to Stay in Seattle: Belltown
Great area for: ✓ Hip & Trendy ✓ Nightlife & Dining ✓ Boutique Shopping ✓ Convenient & Central
If you want to veer slightly off the beaten path and stay in one of Seattle's hippest neighborhoods, look no further than Belltown.
Located just north of the downtown business district (southern Belltown is minutes from Pike Place Market), Belltown is young and fun, filled with cool spots to eat, shop and live. It has one of the best bar scenes in Seattle (Capitol Hill and Pioneer Square also have great bar scenes!), and is easily one of the trendiest neighborhoods in the city.
If you like Italian food, List is known for having some of the fluffiest gnocchi around. Hit up El Gaucho for a great steak. There's also Bathtub Gin & Co that is an alley-way speakeasy.
During the day, walk through the Olympic Sculpture Park for larger than life outdoor art and breathtaking views of Puget Sound and the Olympic Mountains.
And on a rainy evening, catch a movie at Cinerama, where you can sip local wine, beer and cider.
Skip ahead to Next Neighborhood ↓
Hotel Ändra
Hotel Ändra – A contemporary design boutique with a distinctly 'West Coast' vibe, this 4-star hotel provides a relaxing, upscale experience within the heart of Seattle. Past guests describe being treated like family during their stay, and mention the quality of food and service, and beautiful rooms and space as a plus. A minimalist, Scandinavian theme permeates the property, and guests can easily walk to Pike Place Market and the well-known Jazz Alley.
Check Availability & Prices on
Booking.com / TripAdvisor
Hyatt House Seattle Downtown
Hyatt House Seattle Downtown – A modern and well-designed Hyatt property, this hotel offers a great twist with individual kitchenettes in each room: perfect for those staying a bit longer, families travelling with young kids, or anyone with special dietary needs. Each room has a small kitchen area, terrace, and living room, which means additional space and functionality. Reviews suggest a great layout and comfortable beds are highlights, and a good location a mere 20-minute walk from Pike Place Market.
Check Availability & Prices on
Booking.com / TripAdvisor
The Inn at El Gaucho
The Inn at El Gaucho – With a comfortable and personal ambience, dark woods and plush furniture dominates the interior of this hotel. Past guests love the spacious rooms and high value of this property, as well as giving staff top marks for exceptional service. Seattle's famous El Gaucho steakhouse is located below the hotel, and the Belltown neighborhood is rip for exploring, with with trendy bars and restaurants within strolling distance.
Check Availability & Prices on
Booking.com / TripAdvisor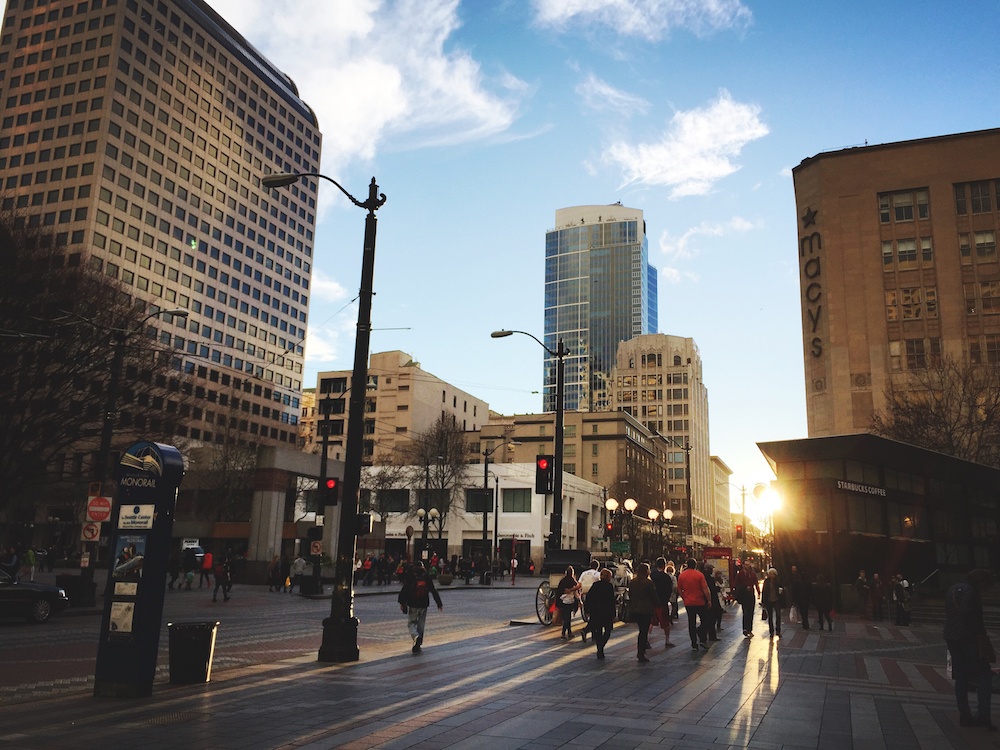 Where to Stay in Seattle: Queen Anne
Great area for: ✓ Space Needle ✓ Children's Museum ✓ MoPOP ✓ Central and Walkable
Queen Anne is best split into two parts: the attraction-ladden Lower Queen Anne (Space Needle, Seattle Center, Museum of Pop Culture, and Chihuly Garden and Glass), and Upper/North Queen Anne, filled with historic houses and upscale boutiques. Lower Queen Anne holds the most interest for visitors, and it's what we've focused on in this guide!
If you are visiting Seattle on a kid-free trip, check out the Chihuly Garden and Glass and the newly renamed Museum of Pop Culture / MoPOP (formerly Paul Allen's Experience Music Project.)  If you're up for something more thought provoking, walk across the street to check out the Bill & Melinda Gates Visitor's Center, which offers an eye-opening look at creative problem solving around the world.
Further north, Kerry Park is Seattle's ultimate Instagram spot, although it's best reached via car.
And for a spectacular (yet expensive) dining experience, it's hard to beat Canlis.
Skip ahead to Next Neighborhood ↓
The Maxwell
The Maxwell – Part of the PNW StayPineapple chain, artsy and playful best describe the décor and colorful furniture at this 3-star boutique. Past guests describe the rooms as charming and comfortable, while an indoor pool, fitness center, onsite bar and restaurant, pet friendly policy, and complimentary bicycles give guests bang for their buck. The Space Needle, beloved Chihuly Garden and Glass, and Children's Museum are all within walking distance.
Check Availability & Prices on
Booking.com / TripAdvisor
Hampton Inn & Suites Downtown
Hampton Inn & Suites Downtown – This 3-star hotel has the same clean, comfortable and value-focsued uniformity you'd expect of a Hampton Inn & Suites, and is very kid-friendly if you're travelling as a family. Breakfast is complimentary and so is the WiFi, plus each room has the chain's signature Cloud Nine beds. Only blocks from the Space Needle and restaurants along the Lake Union waterfront, this appears to be an excellent high-value option.
Check Availability & Prices on
Booking.com / TripAdvisor
Mediterranean Inn
Mediterranean Inn – Past guests seem to love the outstanding views of the Space Needle, downtown Seattle, and across to Mount Rainier available at this property. Each room has a kitchenette and updated bathroom, and the amenities — from a rooftop deck and courtyard, to an on-site fitness center — offer added value at this reasonably priced hotel. KeyArena and the Westlake Center are nearby.
Check Availability & Prices on
Booking.com / TripAdvisor
Get tickets to the Seattle Space Needle observation deck here, and experience Seattle from 500+ feet up!
($28.35 per person, discounts for seniors, children & off peak visits)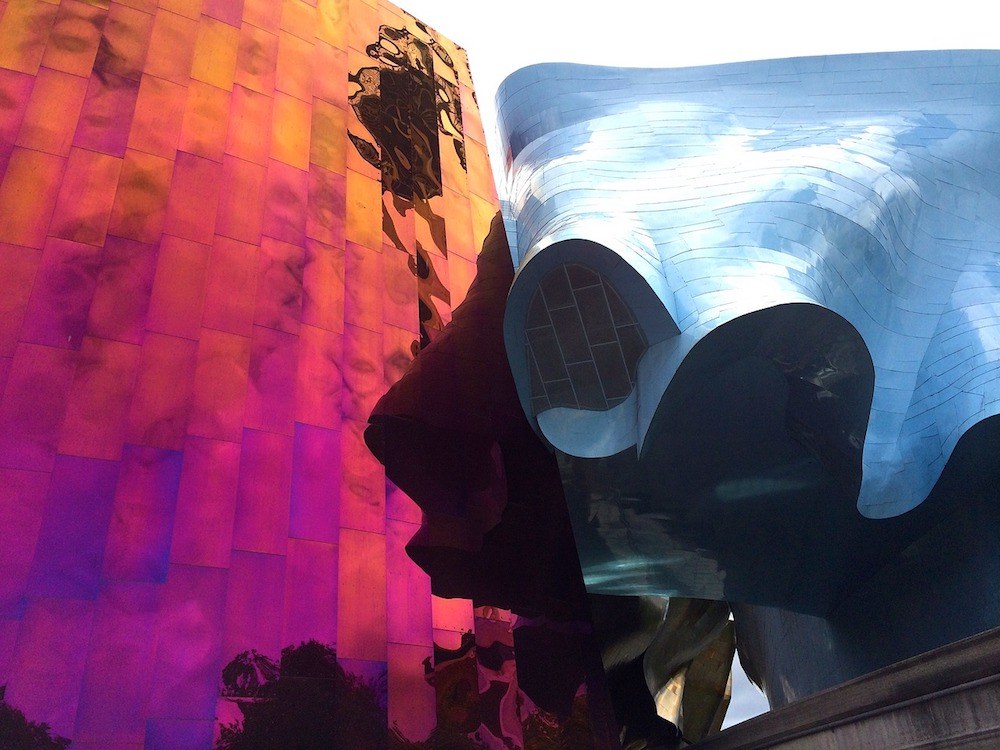 Where to Stay in Seattle: Capitol Hill
Great area for: ✓ Hip & Urban ✓ Dining and Nightlife ✓ Boutiques & Independent Business ✓ LGBTQI Friendly
This is the hipster-capital of Seattle, with tons of bars and an array of funky shops and restaurants. There's a young and urban population, a large LGBTQI crowd, and lots of nightlife to choose from!
While walking through Capitol Hill, be sure to snap a pic at the Jimi Hendrix statue on the corner of Broadway and Pine. Coastal Kitchen is a go-to brunch place for huge plates, fresh oysters, and the most amazing mimosas. There's also the Starbucks Reserve Roastery & Tasting Room, which is turning into a bit of a hit tourist attraction from visitors from all over the world.
If you come in the summer, Capitol Hill Block Party is a massive music event that's a lot of fun. Mostly, though, Capitol Hill is a great spot to see and be seen, enjoy some great food and cafés, and shop for edgier, independent fashion labels.
Note that parking in Capitol Hill is nearly impossible, so plan on using the Link Light Rail or Uber/Lyft/taxis.
Garden-Level 1 Bedroom Apartment
4.9 / 5 (Based on 104 Reviews)
Bright One-Bedroom Apartment – A fresh and modern garden-level apartment, this apartment is in a convenient location just a 10-minute walk from a Link Light Rail stop and just a few blocks away from restaurants and cafés.With one bedroom (king bed) and a sofa pull-out, this could fit four adults (two couples or friends who don't mind sharing a bed) or a family of four.
Check Availability & Prices on
VRBO.com
6-Bedroom Home
4.9 / 5 (Based on 22 Reviews)
Large Detached Home – If you're travelling as a large family or group of friends, this looks like a great bet to stay in the same place in a great neighborhood. This 6-bedroom (and lovely looking) home sleeps up to 16 and seems to have been well designed with group travel in mind. The TV as a Roku box for times when you don't want to go out, and it's walking distance to a Light Rail station for getting to other parts of the city.
Check Availability & Prices on
VRBO.com
Popular Seattle Tours
Seattle in One Day (incl. Space Needle & Pike Place)
5 /5 from 500+ reviews
Mt. Rainier Day Tour from Seattle
5 /5 from 400+ reviews
Subterranean Seattle Walking History Tour
5 /5 from 30+ reviews
Boeing Factory Tour from Seattle
4.5 /5 from 250+ reviews
Seattle's Other Neighborhoods to Explore
We picked the 6 best areas to stay in Seattle (listed above) based on what we assume matters most to most visitors to the city: being in a cool part of the city, being able to walk and use public transport to get around, and being in close proximity to restaurants, sightseeing hot spots, shops and more.
That said, the areas listed above certainly aren't the only ones worth checking out in Seattle. If you don't mind being a bit further out of the city center, you're interested in having a local experience in Seattle, or your travelling for a specific reason, the following neighborhoods might suit you better.
And even if you choose to hang your hat in one of the 6 best neighborhoods to stay in Seattle, many of these neighborhoods are still worth exploring!
Where to Stay in Seattle: Ballard
Great area for: ✓ Local Living ✓ Shopping and Dining
This is Seattle's 'Scandinavian neighborhood,' grown out of its long-time roots and maritime past. A separate city until the beginning of the 20th century, Ballard still has an independent feel, and is a popular spot for young-to-middle aged singles, couples and young families.
One of the main tourist attractions here is the Hiram M. Chittenden Locks (commonly referred to as the Ballard Locks) where you can watch boats of all sizes make their way through. You can also see salmon in the fish ladder (which is a great place to wait if you get caught in a downpour, as it's covered.) If you visit during warm weather, make sure to swing by Golden Gardens and enjoy a beach fire!
If you can snag a table at Ethan Stowell's Staple & Fancy, you're in for a real surprise with the chef's choice fancy menu: you never know what you'll get, but you can be sure it will be amazing! The other main foodie attraction in Ballard are the unbelievable oysters at Renee Erickson's critically-acclaimed The Walrus and the Carpenter.
Skip ahead to Next Neighborhood ↓
Hotel Ballard
Hotel Ballard – A lux boutique in a historic building, attention to detail is apparent across the gorgeous interiors at this property, from the renovated, marble bathrooms and trendy fitness center to the an indoor pool and lovely bar. With an onsite restaurant/bar to relax and unwind, and on-site parking to make arrival and departure a bit easier, past guests seem to appreciate the hotel's décor and attentive staff. Located near the water and situated among local restaurants, cafés, and shops.
Check Availability & Prices on
Booking.com / TripAdvisor
2 Bedroom with Loft
4.9 / 5 from 53 reviews on VRBO.com
2 Bedroom with Loft – It looks as if you get a real taste of Seattle living at this loft-style apartment. There are two bedrooms and two loft spaces, for sleeping up to eight people, and guests describe the apartment as urban, functional, and tidy. There seems to be an urban vibe throughout the apartment, with views of the Space Needle from a loft and area to park bicycles. With buzzing San Fermo and Ballard Avenue within walking distance, there are endless dining and drinking options in the area.
Check Availability & Prices on
VRBO.com
2 Bedroom Townhouse
4.8 / 5 from 42 reviews on VRBO.com
2 Bedroom Townhouse – From top to bottom, this two-bedroom townhouse has cozy, carefully chosen décor and furniture that gives the appearance and atmosphere of being at home. This rental sleeps up to four people in queen beds and has two bathrooms, in addition to the full-kitchen. The back patio with a garden and small fire pit are a hit with guests. Within walking distance is the Ballard Market and a number of restaurants.
Check Availability & Prices on
VRBO.com
Where to Stay in Seattle: University District
Great area for: ✓ Foodie Scene ✓ University of Washington ✓ Young & Relaxed
Encompassing the University of Washington, the U-District is known for not-as-cheap-as-you-might-expect eats.
Voula's was featured on Diners, Drive-Ins and Dives and serves up a hearty breakfast that can easily be split between 2 people. Almost next door is Northlake Tavern which has one of the most amazing deep dish pizzas in Seattle. For those who love ramen, hit up Samurai Noodle (and add extra eggs and a pat of butter for a decadent treat!)
Once you're full from all the food, be sure to check out the University campus itself, which is lovely. This part of town also has some quaint movie theatres worth a visit, and there is a solid Farmer's Market that runs year-round.
Skip ahead to Next Neighborhood ↓
Staypineapple at Watertown
Watertown Hotel – Another great offering from Staypineapple, this is a newish and trendy option with loads of color and flair. Past guests have appreciated the pet friendly policy and comfortable beds. The most frequent guests are those visiting the University of Washington, just minutes away, but it is also less than 10-minutes driving to central Seattle. A second Staypineapple — University Inn — is just down the road.
Check Availability & Prices on
Booking.com / TripAdvisor
Residence Inn by Marriott
Residence Inn by Marriott – A large 3-star hotel that has all of the expected amenities for a stay near the university. The rooms are colorful and functional, with a small kitchen space and seating areas that offer some additional space. There is an indoor pool and fitness center, and past guests mention the complimentary breakfast as a value-add bonus. Walking distance to the University.
Check Availability & Prices on
Booking.com / TripAdvisor
Where to Stay in Seattle: West Seattle
Great area for: ✓ Local Living ✓ PNW Beach Vacation
West Seattle is probably the most chilled-out of all of Seattle's neighborhoods, and Alki Beach is the highlight.
If fish & chips (Spud's has the best), bidding the day farewell with a dusk beach fire, and visits to the city centre by water taxi sound good, staying in West Seattle could be a good option for you.
If you just want to visit, take the water taxi from downtown and chow down on SPAM Musubi sliders and shave ice at Marination Ma Kai. If you love brunch, you have to do the Salty's weekend brunch buffet for fresh seafood, scones and traditional brunch offerings. If you head up to the Junction, grab a mighty tasty steak at Jak's (splurging for their buttery mushrooms to go on top comes highly recommended!) You might also swing through Husky Deli for ice cream. Finally, Ma'ono Fried Chicken and Whiskey is a must-try for foodies (try their shave ice in the summer months.)
Skip ahead to Next Neighborhoods ↓
2-Bedroom Craftsman
5 / 5 from 6 reviews on VRBO.com
2 Bedroom Craftsman – This colorful cottage offers a lot of space for your buck, with two bedrooms and space to sleep four adults. The full kitchen is ready to cook most meals, and there is outdoor space with seating and a BBQ – nice for feeling right at home! The cottage is in a quiet, residential neighborhood, but public transport to busy downtown Seattle is nearby.
Check Availability & Prices on
VRBO.com
Upmarket 5-Bedroom near Stadiums
4.9 / 5 from 33 reviews on VRBO.com
Luxurious 5 Bedroom – The plush furniture and spacious outdoor space at this property seems to create an atmosphere of coziness and comfort within the space. As former guests confirm, this house is spacious and can sleep up to 12 people. Situated in a residential neighborhood, it is easy to get into the swing of local restaurants, grocery shopping, and playing house in Seattle.
Check Availability & Prices on
VRBO.com
West Seattle Cottage
4.9 / 5 from 45 reviews on VRBO.com
2 Bedroom Cottage – Certain vacations or long-term stays require a cozy place to rest your head, and this private accommodation seems to provide just that. Past guests adore this two-bedroom, one-bathroom cottage for its outdoor space, which has a hot tub and fire pit for unwinding. Clean and safe, West Seattle is a great base for families wanting access to Alki Beach or adults interested in a more local flavor during their Seattle stay.
Check Availability & Prices on
VRBO.com
Where to Stay in Seattle: A Few More Suggestions
Fremont: If you watch Grey's Anatomy, you may remember the episode with the naked bicycle race. That takes place in Fremont as part of the Fremont Solstice Parade. Fremont is the self-proclaimed "Center of the Universe" and is known as an artsy area. If you appreciate chocolate, take the Theo Chocolate tour and taste their inventive fair-trade and organic confections. Also, stop by Gas Works Park (made famous by 10 Things I Hate about You) for an awesome view of the Space Needle! And you HAVE to take a photo of the Fremont Troll who lives under the bridge (Aurora Avenue Bridge not the Fremont Bridge, as you might expect.) They have the best outdoor movies during the summer and a great Fremont Sunday Street Market. A must-eat stop is Paseos, known for their amazing Cuban sandwiches.
Wallingford: is across the freeway from the U-District, but it has a similar college-vibe. There are several retro movie theaters. A landmark drive-in food joint is Dick's Burgers and just down the street is Molly Moon ice cream. If you are looking for a quirky gift (or just to browse one of the most unique shops) I recommend Archie McPhee's. And stop by the Hawaii General Store for a fresh flower lei, Hawaiian snacks or simply to inhale the smell of Hawaii for a few moment.
Greenwood: This neighborhood tends to be really quiet, but features a lot of small businesses and community events including the Greenwood Car Show in June and a full Seafair parade in August. One of the coolest places in Greenwood is Chuck's Hop Shop that's known as "The Land of a Thousand Beers." My favorite place to eat in Greenwood is Gordito's. It's a family from Hawaii who makes burritos bigger than the size of a newborn baby and they are so good.
Phinney Ridge, stop by Red Mill Burgers for one of the most famous burgers in Seattle that actually lives up to the hype. My main tip for this area is to avoid Aurora Avenue.
Georgetown: This is an up-and-coming neighborhood that's mostly industrial. If you like Greek yogurt, head to the Ellenos Greek Yogurt factory for the most decadent yogurt you'd ever tasted. If you love fried chicken, head to Marco Polo Bar and Grill for the tastiest chicken I've ever had (or get their cheeseburger featuring WSU's famous Cougar Gold cheese!) If you are adventurous, you can try out the flying trapeze at the School of Acrobatics and New Circus Arts. My favorite things to do in Georgetown is to check out the oversized "Hat and Boots" at Oxbow Park or watch the Blue Angels practice before Seafair.
Skip ahead to Seattle Travel Tips ↓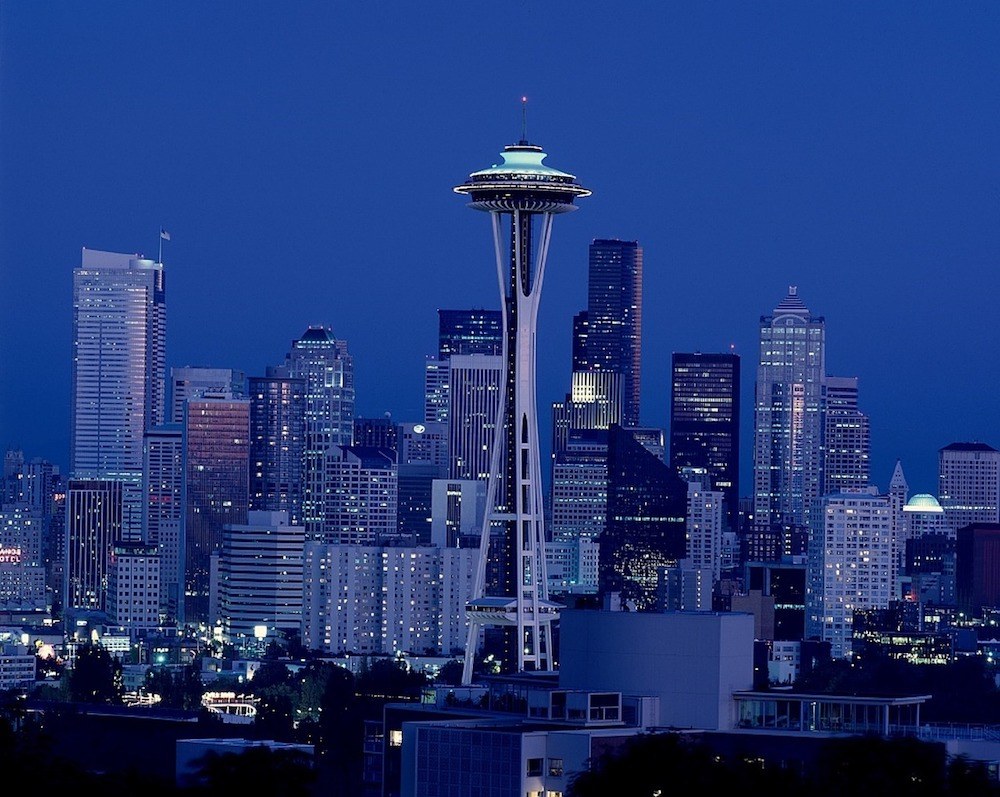 Frequently Asked Questions
So Where Should You Stay in Seattle?
Seattle has plenty of interesting areas, some of which are ideally suited to tourists visiting the city! If you're still wondering where to stay in Seattle, we've put together a bit of a summary below:
We recommend first-time visitors stay in one of the downtown neighborhoods of Belltown, the downtown core, Pioneer Square or the International District. These areas are very central, making them perfect if you're without a car and will be walking most places.
Lower Queen Anne is another very central area, perfect for those interested in visiting the attractions within the neighborhood: Space Needle, Seattle Center, Museum of Pop Culture, Chihuly Garden and Glass, Children's Museum and Bill & Melinda Gates Visitor's Center.
If you're wondering the best place to stay in Seattle for nightlife, Pioneer Square, Capitol Hill and Belltown take that prize.
For laid-back, young and fun neighborhoods, Belltown, Capitol Hill and Ballard are good bets. Capitol Hill is known as being particularly LGBTQI friendly.
Seattle Travel Tip: How to Get Around Seattle?
Getting from SeaTac Airport to Downtown Seattle
Most people arrive in Seattle by plane or car. If you're arriving via a flight at SeaTac, know that the airport is only about 10 minutes South of Downtown Seattle, and has a few convenient options for getting into the city center:
Light Rail: The cheapest and easiest way to get from Seattle airport to downtown is by taking the Link Light Rail service. The rail station is connected to the parking garage on the 4th floor, via Skybridge 6, close to baggage claim carrousels 15 and 16. There are plenty of signs to lead the way, and it's a covered walkway the whole time (great in a rainy climate!). You'll need to purchase a ticket from the vending machine before you board the train, or download the TransitGo Ticket App. Fare from the airport will be $3.00 per person to downtown stations.
Uber/Lyft: At the time of writing, both Uber and Lyft ride sharing services operate in Seattle, and to/from Sea-Tac Airport. There is a specified ride share pick up area on the 3rd floor parking garage, in the Ground Transportation Area. Signs leading to the area will be marked "TNC/Rideshare." A typical Uber ride will cost $35-$40 to downtown, but expect to pay more during surge pricing. Alternatively, Uberpool is available for less money of you don't mind sharing.
Taxi: You'll find taxis waiting in the Ground Transportation on the level 3 parking garage. Rides to downtown will cost about $40 plus tip, depending on traffic.
Private Transfer: Book a private transfer from the airport to your hotel or holiday apartment here. It's possible to book a sedan, limo, or a van – a convenient option if you're in a hurry, travelling as a group, or simply want get there comfortable and stress free!
Getting Around Seattle
If you decide to take the Subterranean Seattle Tour, you'll learn that many years ago, the original Seattle was basically built on sawdust and sank, and the new city was built on top, essentially rendering it impossible for an underground metro in most areas. Instead, you'll find an extensive bus network, two street car tram lines, and the Link Light Rail train.
Tickets are based on distance and usually range from $2.25 to $3.25 per trip. Consider buying an ORCA card which you can purchase from a ticket vending machine at any station for $5.00, then load the card with some money, and you can just tap the card as you board.
The Link Light Rail has recently opened some new stations, making it easy and cost-effective to travel around University District, Capitol Hill, Downtown, Pioneer Square, International District and the Stadiums and airport.
There is also a monorail running between Westlake Center and Seattle Center (Space Needle/Science Center/Museum of Pop Culture), however, the monorail does not operate as part of the public transit system. Tickets are $2.25 each, payable in cash only at the ticket counter.
Uber or Lyft are great options for those not renting a car. If you do rent a car, keep in mind that most hotels charge for parking and you will have a hard time finding (paid) parking in most Seattle neighborhoods. If you wish to get around by car, consider using Car2Go or Zipcar. You'll need to have a membership for either site, and it takes several days and may require a driver's abstract — so best to sign up in advance in your home city.
You can also bike around the city (Seattle has lots of dedicated bike lanes,) but be prepared for many hills!
Seattle Discounts and Deals
If you live in the US or Canada, consider picking up an Entertainment.com digital membership before your Seattle trip – you'll be able to get loads of deals in and around Seattle during your vacation, and then use it once you get home in other cities across the US and Canada. If you don't live in the US or Canada, but you're visiting more than one US or Canadian city on your trip, it still may be worthwhile — the memberships are only $19.99 per year, and you can collect hundreds of dollars in discounts fairly quickly! Once your vacation is over, you can change your location to move the savings over to cities across the US and Canada.
Example Entertainment.com Discounts in Seattle (subject to change):
Buy One Get One Admission to the Seattle Art Museum (Est. Savings of $20)
Buy One Get One Admission to the Seattle Aquarium (Est. Savings of $10)
Buy One Get One Admission to the Seattle Children's Museum (Est. Savings of $8.25)
Buy One Get One Tour of Safeco Field (Est. Savings of $5)
Various Dining Discounts (Mostly fast food, pizza and pub grub!)
Another great money-saving option for Seattle sightseeing is the Seattle CityPass. You can get access to nearly all of the major tourist attractions for one ticket price – which ends up saving you nearly 50%!  It includes (as of 2019):
Space Needle
Seattle Aquarium
Argosy Cruises Harbor Tour
Museum of Pop Culture OR Woodland Park Zoo
Chihuly Garden and Glass OR Pacific Science Center
The Seattle CityPass is currently $99 ($79 for kids) – so it's a great option if you plan to spend some time in the city and see all the major sights.
And of course, don't forget about Living Social! Start checking the website in the months leading up to your trip. The  deals are always changing, so you need to stay on top of it. When I checked last, Living Social had deals for shopping, dining, and a few activities Seattle. It's worth a check!
A Note About Our Hotel Recommendations In This Seattle Neighbourhood Guide
Our hope with this Where to Stay in Seattle Guide (and our Where to Stay in Vancouver, Where to Stay in Montreal, Where to Stay in Calgary Guides…you get the idea) is to make it painless for you to find the best area to stay in Seattle…no matter your travel budget, style or goals for the trip.
To do that, we hire locals to write these guides. We are always on the lookout for experts who can impart their knowledge to make your trip better, by sharing the best areas to stay in a city as well as some tips in terms of what to do when you get there! But here's the thing…locals don't live in hotels, and rarely have reason to stay in a hotel in their own home city! And as disappointing as this is to us, we're not descended from wealth media czars, and so it's not financially feasible for us to send someone to 30 different hotels to try them out. In the past, we've simply outlined the neighborhoods, and left the hotel research up to you. But based on all the emails we received, people also wanted help choosing a specific hotel, and so we've tried to strike a compromise.
Basically, we end up doing loads of research into hotels and apartments, and list the properties that — based on our research — we would love to stay in, or would be happy suggesting to a friend or family member. We haven't personally been to these hotels, but we've ask ourselves things like: Have past guests left fantastic reviews? Does it look like somewhere I'd like to stay? Does it seem to be in a great location for enjoying Seattle? If it ticks those boxes, we've added it to the list.
Really, we want to help you have a fantastic vacation to Seattle, be it a grand Pacific Northwest tour or a short Seattle city break. And, we want you to be able to do so without spending hours on the internet, reading reviews and cross-checking locations on a map. Hopefully we've succeeded…but please don't blame us if we haven't – at the end of the day, we expect you'll check the most recent reviews and specific conditions in the city, using our listings as a starting point and framework, and choosing then selecting the best hotel and area to stay in Seattle for your own trip!
Read More To Plan Your Pacific Northwest Trip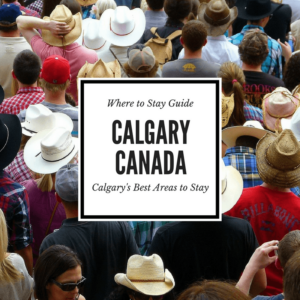 Did You Know We Have Guides for Cities All Over The World?
Click Here to See All Our Free Travel Guides
Like this Guide? Pin it for later!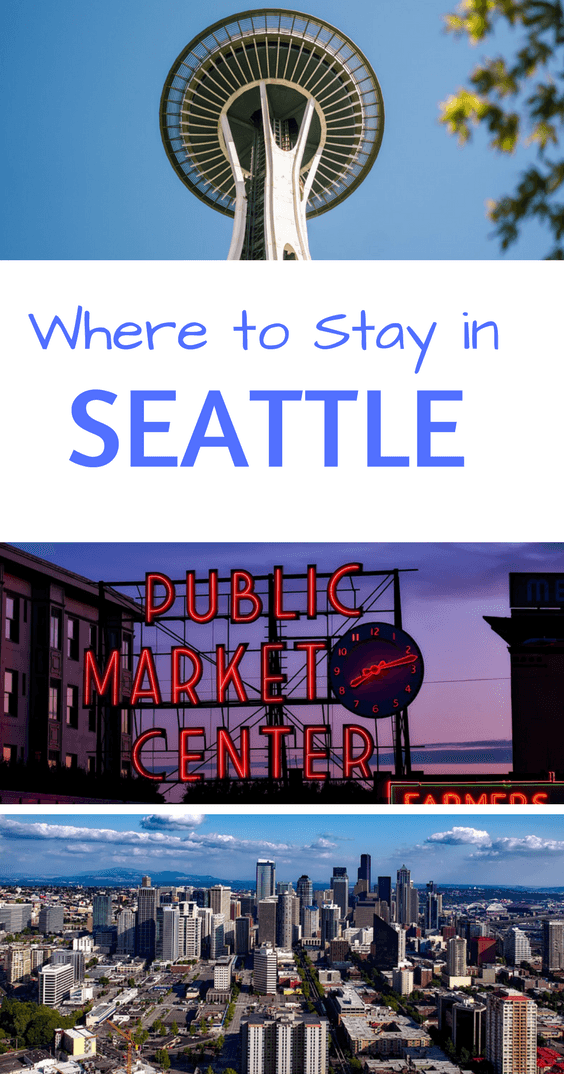 What do you think about our suggestions for Where to Stay in Seattle? What are we missing, what questions do you still have, and when are you planning to visit Seattle?