Where to Stay in Portland: Advice from a local blogger about the best neighborhoods to stay in Portland, Oregon, USA! (Plus 27 hotel and holiday rental listings)
We created this guide in collaboration with Cara Villarreal, writer, blogger and photographer at Cara State of Mind. Cara currently lives in Portland, and we're happy she agreed to share her passion and knowledge of Portland as our local city expert for this Where to Stay in Portland Guide!

Disclosure: This Where to Stay in Portland Guide contains affiliate links. That means we earn a commission when you use the links on this site to book a hotel, buy your travel insurance, etc.. You don't pay anything extra. If you'd like to learn more about how this works, you can read more under our Disclaimer page.
Portland, Oregon, is probably best known for its hyped food and coffee culture, ironic style, and – let's be honest – for keeping it weird.
A place well known around the world for a laid back lifestyle and breathtaking views, Portland is a charming city to explore. Bike rides to the waterfront and picnics at Mt. Tabor consume daily life here. The community exudes an overwhelmingly positive and creative atmosphere, with many local businesses and artists contribute to make this city truly one of a kind. I have been actively exploring this city for 4 years now, and still find the best local gems regularly!
Bisected East and West by the Willamette River, and North and South by Burnside Street, Portland is broken into four quadrants: SW/NW/SE/NE. On the Westside, you will find Downtown, the Pearl District, and Nob Hill. These are touristy neighborhoods: very convenient and nice, but definitely not the 'weirdest' side of Portland! These are great areas to stay if you're without a car, but if you have a vehicle, you might want to venture into one of the more local neighborhoods.
If you take one of three bridges from downtown over to the East side, you will end up in the industrial Central Eastside neighborhood. Here you will find some of the best coffee in the country.
In Southeast, neighborhoods like Hawthorne, Division/Clinton St. are worth the trip, and embody the artistic, creative vibe you probably imagine when you think of Portland.
In Northeast, the go-to neighborhoods are Alberta Arts and Mississippi Ave. Compared to the Westside, the Eastside generally has a more laid back, local vibe.
Deciding which neighborhood to hangout in can be tough, especially when there is so much to do! People here tend to gravitate toward certain neighborhoods, depending on their lifestyle and what they like. We hope this Where to Stay in Portland neighborhood guide helps you find the best area to stay in Portland for your own trip, and you end up loving the city as much as we do!
Best Areas to Stay in Portland: Our Picks for the 8 Best Neighborhoods to Stay in Portland, Oregon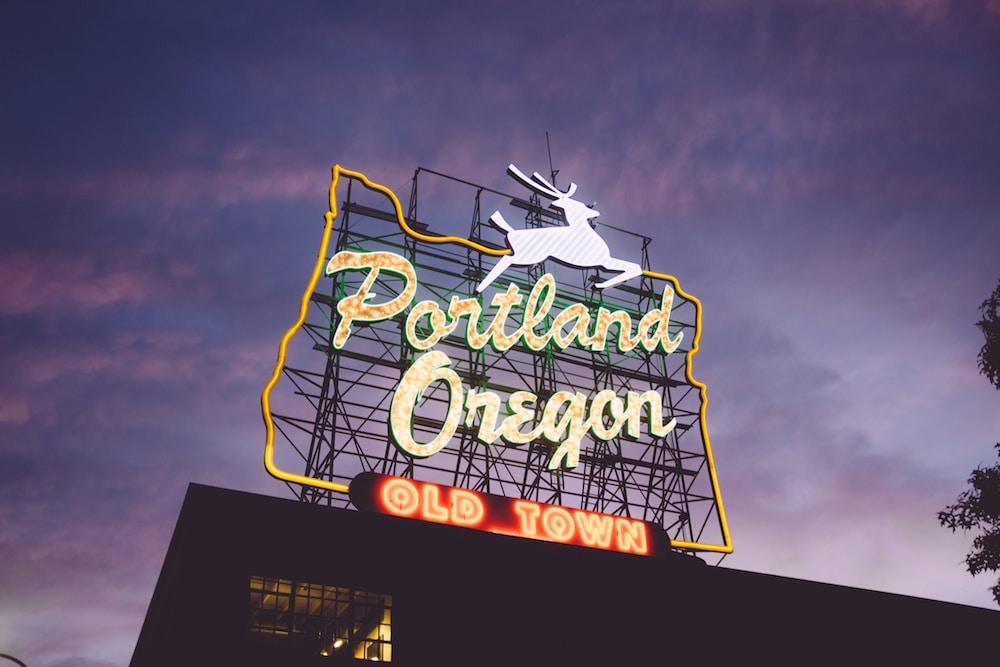 Southwest (SW) Portland
Where to Stay in Portland: Downtown
Great area for: ✓ Food Trucks & Farmers Markets ✓ (Tax Free) Shopping & Dining ✓ Central & Convenient
Places to Check Out in Downtown Portland
Pine Street Market, Food Carts Pod Portland, Alderwood St. Food Cart Pod, Fifth Avenue Food Carts, Clyde Common, Tasty n Alder, Stumptown Coffee at the Ace Hotel, Heart Coffee, Mother's Bistro & Bar, Luc Lac, Kenny & Zuke's, Sizzle Pie, Voodoo, Bunk, Jack Knife, and Departure.
Bordered by the Willamette River to the east and the 405 freeway to the west, Portland's downtown is small, walkable, and filled with places worth your time. If you're a foodie, Downtown might be the best neighborhood to stay in Portland; with too many food carts to count, this neighborhood is every foodie's dream destination. It's also home to the well-known Voodoo Doughnut, which offers up doughnuts in very creative flavours, and the Keep Portland Weird mural, just across the street.
Saturday Market (also open on Sunday) is a local outdoor arts and craft market worth a visit. Located in the Tom McCall Waterfront Park, it is the largest continuously operated outdoor market in the US. If you love markets and don't mind a bit of a 'touristy' vibe, this should be near the top of your list.
Another pro about Downtown: thanks to the streetcar that runs through Downtown and the Pearl District, accessing Downtown is quite easy.
Kimpton Hotel Monaco Portland
Kimpton Hotel Monaco – A 4-star boutique that has a bit of an 'enchanted forest' vibe (but in a good way), this property screams upscale eclectic and 'keep Portland weird' (again, in a good way). Uniquely decorated rooms with 4-star amenities, free wine and beer hour with local treats, optional use of bicycles, and an on-site wellness centre and well-rated restaurant with an extensive whiskey library. Right downtown, with easy walkability to food trucks, shopping and dining.
Check Availability & Prices on
Booking.com / TripAdvisor
Sentinel, a Provenance Hotel
Sentinel Hotel – A luxurious 5-star property with a posh interior and first-class service that channels old world European traditions. Rooms are air-conditioned and spacious, and include pillow-top mattresses, plush linens and terry bathrobes. Free Wi-Fi, toiletries, pet amenities, a pillow menu, and an iPod menu are available. When you're not out exploring, there's a fitness centre, steak restaurant, and bar on-site. Sitting in front of a streetcar stop, it offers easy access to all of downtown.
Check Availability & Prices on
Booking.com / TripAdvisor
AC Hotel by Marriott Portland Downtown
AC Hotel by Marriott – A 4-star (and pet-friendly) hotel offering a modern and upscale-hip interior, every room comes with a flat-screen TV, great bathrooms with toiletries and hairdryer, and comfortable beds and bedding. Some also have a sitting area for extra space, and the hotel offers free Wi-Fi and an on-site restaurant if you don't feel like venturing out. The hotel is just a stone's throw from Tom McCall Waterfront Park (home of the Saturday Market).
Check Availability & Prices on
Booking.com / TripAdvisor
Kimpton Riverplace Hotel
Kimpton Riverplace Hotel – A 4-star boutique right on the river, this property features a beautiful interior and large windows offering riverfront views. The modern rooms offer plush bathrobes, a flat-screen TV and a coffee maker, and guests have access to a fitness facility and bikes for exploring! The evening wine reception is a hit, as is the waterfront restaurant with a heated porch and rocking chairs. At the south end of Tom McCall Park, and walking distance to the best of downtown!
Check Availability & Prices on
Booking.com / TripAdvisor
The Paramount Hotel
The Paramount Hotel – A 3-star located in the heart of the city, this property is highly-rated by past guests for offering a beautiful stay and great service. Rooms include a flat-screen HD TV with premium cable, free high speed Wi-Fi, and a fridge and coffee maker. There is also a business centre, same day dry cleaning, 24-hour gym and on-site restaurant. The property is in the heart of downtown, just 3 blocks from the Art Museum.
Check Availability & Prices on
Booking.com / TripAdvisor
Hotel Deluxe
Hotel Deluxe – A 4-star hotel with a warm and welcoming traditional interior, this property offers small but stylish rooms with flat-screen TVs, comfortable beds, and great bathrooms with robes and hairdryer. The on-site bar, The Driftwood Room, is a hit with past guests, and was apparently featured in Reese Witherspoon's Wild. The hotel is just beyond the technical border of downtown, but still within an easy walk of the city center, and is just 15 minutes walk to the Art Museum.
Check Availability & Prices on
Booking.com / TripAdvisor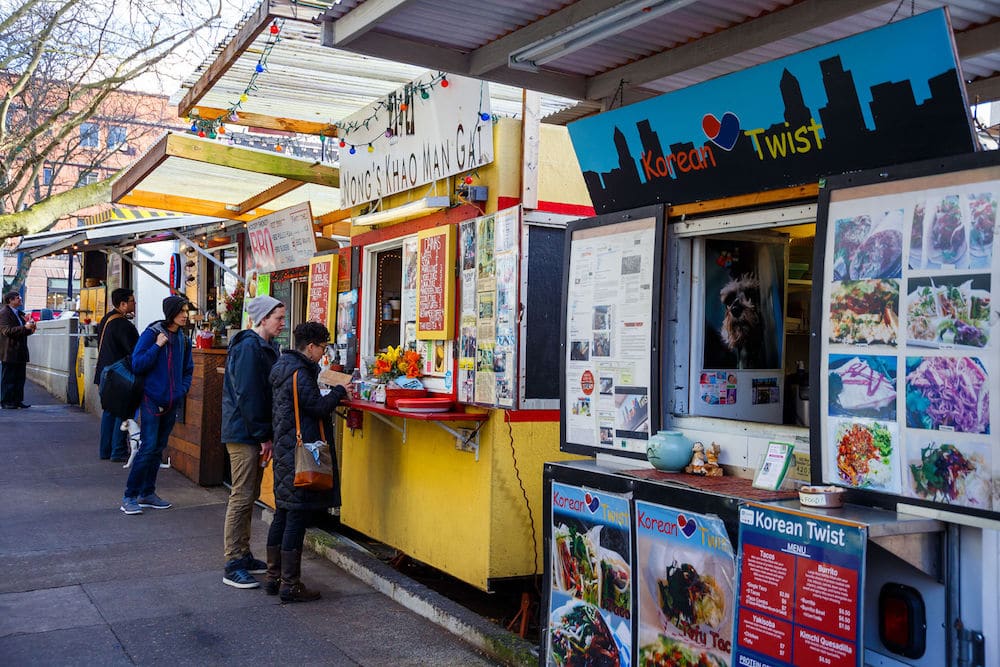 Northwest (NW) Portland
The Pearl District, Nob Hill & St. John's
Where to Stay in Portland: The Pearl District
Great area for: ✓ Galleries & Boutiques ✓ Refurbished Warehouses ✓ Upscale & Trendy ✓ Central & Convenient
Places to Check Out in the Pearl District
Brix, Adina, Ovation Coffee & Tea, Barista, Tea Bar NW, Froelick Gallery, Pearl Gallery, Sister's Coffee Company, BridgePort Brewery, Deschutes Brewery, 10 Barrel Brewery, Powell's City of Books
A neighborhood once dominated by industrial warehouses and rail yards, the Pearl District is now notable place for art galleries and upscale living. Walking along the cobblestone streets, taking in the architecture of the old warehouses, and stopping in at the Pearl's many eclectic galleries is the perfect way to spend any afternoon in Portland.
Union station is situated on the waterfront nearby, hidden behind an array of cherry blossoms when the season is right. Walk through the waterfront park and watch the Amtrak pass over the Willamette River on the Historic Steel Bridge.
Powell's City of Books is a city landmark worth visiting on any trip to Portland. It is the world's largest independent bookstore, and it's easy enough to spend an entire day there, marvelling at the treasures!
Personal Recommendation!
The Mark Spencer Hotel
The Mark Spencer Hotel – We loved this hotel! The daily complimentary wine & cheese reception, afternoon tea and cookies, great breakfast, great staff, and the room was wonderful. The beer growler in the room was a nice touch :) A locally owned 3-star located in one of those classic Portland brick buildings, this hotel offers affordable rooms while still channeling a boutique feel. Rooms include free Wi-Fi, a coffee maker, ironing facilities, cable TV and some have kitchenettes. The hotel is only a 2-minute walk to Powell's Books.
Check Availability & Prices on
Booking.com / TripAdvisor
McMenamins Crystal Hotel
McMenamins Crystal Hotel – Keeping Portland weird is the name of the game at this 3-star. Offering a unique and artsy ambience with musically themed rooms, the hotel offers free Wi-Fi, robes and toiletries, a saltwater pool, and an on-site café. Bathrooms at this hotel are shared, but past guests mention they are clean and plentiful. There are loads of bars and entertainment options in the neighborhood, and the hotel offers live music and weekend comedy. Voodoo Doughnuts is 10 minutes on foot.
Check Availability & Prices on
Booking.com / TripAdvisor
Residence Inn by Marriott Portland Downtown/Pearl District
Residence Inn by Marriott – A bright and fresh 3-star, this property offers in-room kitchenettes, making it a great option for longer stays or those who want to prepare simple meals or heat-up food truck leftovers. Rooms are air-conditioned with a flat-screen TV, coffee machine, fridge, and microwave, and the hotel offers a free breakfast as well. The property offers an indoor pool, fitness center, and laundry facilities. You can reach the Willamette River and Jamison Square in just a 3-4 minute walk, and the NW 10th and Northrup light rail stop in 2 minutes.
Check Availability & Prices on
Booking.com / TripAdvisor
Where to Stay in Portland: Nob Hill
Great area for: ✓ Boutique Shops ✓ Victorian Architecture ✓ Local & Upscale Living
Places to Check Out in Nob Hill
Bamboo Sushi, Blue Star, Saint Cupcake, Poplandia, Fat Straw, Ken's Artisan Bakery
A beautiful, upscale neighborhood commonly referred to as Uptown (and sometimes called 'Snob Hill'), NW 23rd is notable for its densely populated boutiques, shops, and historic preservation. Colorful Victorian buildings line the streets in this 'Alphabet district,' nicknamed for the streets, which run parallel and are in alphabetical order.
Be sure to venture beyond the city streets to the nearby Forest Park for a hike. Surrounded by lush, green, and giant PNW trees, hike these trails for a great view overlooking the city.
2 -Bedroom Apartment
2 Bedroom, 1 Bath Apartment – A spacious apartment with a cozy, 'feel right at home' interior, each of the two bedrooms includes a queen bed and the bathroom has a combo tub/shower. The apartment is well-equipped for business travellers with an office, and tourists will appreciate the Wi-Fi, Comcast on-demand TV, and DVD player. The kitchen includes a gas stove and coffee maker. The apartment is an easy walk into the Pearl District, and very close to a light rail stop for exploring beyond Nob Hill.
Check Availability & Prices on
VRBO.com
One-Bedroom Apartment
One Bedroom Apartment – A lovely, compact apartment with a bright and modern interior. The bedroom has a queen bed, a big closet and dresser, while the bathroom is equipped with a tub/shower combination. You can find a coffee maker, microwave, refrigerator and gas stove in the kitchen, the apartment has Wi-Fi, a TV and air-conditioning, as well as a small patio with a private garden. Just a short walk to the Pearl District and Downtown, a 3-minute walk to both light rail and bus stop.
Check Availability & Prices on
VRBO.com
One-Bedroom Basement Suite
One Bedroom Victorian – A beautiful Victorian basement apartment with a cozy design, this suite offers a private entrance so you can come and go as you please. Offering Wi-Fi, ROKU TV with Netflix, a lounge/living area, and queen bed with marble bathroom, this looks like a comfortable base for a short or long stay. The kitchen has a coffee maker, microwave, refrigerator, stove and toaster, and the apartment is right in the middle of Uptown /Nob Hill, with great walkability.
Check Availability & Prices on
VRBO.com
Also Check Out: St. John's
Great area for: ✓ Cathedral Park ✓ Vintage Boutiques ✓ Local Bars & Restaurants
St. John's neighborhood in north Portland is a but far out, but is a charming, quiet place to spend your time in the 'under the radar' neighborhood. Home to local shops, the iconic green bridge, and Cathedral Park, St. John's is a little off the beaten path but well worth a day trip.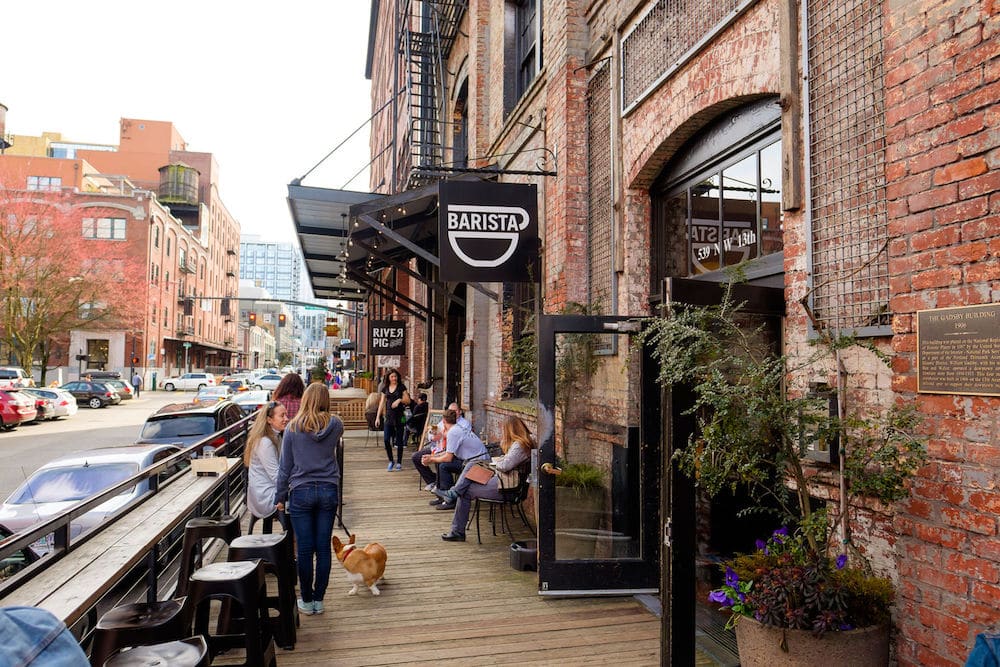 Southeast (SE) Portland Central Eastside, Hawthorne & Division
Where to Stay in Portland: Central Eastside
Great area for: ✓ Coffee Culture ✓ Dining and Nightlife ✓ Local Living
Places to Check Out in Central Eastside
Coava Coffee, Good Coffee, Water Avenue Coffee, Olympia Provisions, Associated, Sizzle Pie, Trifecta, Screen Door, Le Pigeon, Ox, Century Bar, Noble Rot, Doug Fir Lounge, Montage
I call the Central Eastside home, and find my love for coffee flourishes here. The heart of Portland's coffee culture is here in the Central Eastside, and the neighborhood is pretty well rounded when it comes to Portland daily life and great spots.
Coava Roasters has a beautiful industrial space where minimalist design and simplistic options are key. Grabbing a coffee and taking a walk down the Eastbank Esplanade is a very charming way to spend your morning. Water Avenue Coffee and Kure Juice Bar are along the waterfront neighborhood as well, and are local favorites.
This is also the best neighborhood for a 'Portland nice' night out. Portlanders keep it pretty casual as a rule, but this is where you're going to find 'date night' restaurants such as Oympic Provisions, Le Pigeon, and Ox. If a metal (as in, the music) pizza bar is more your style, Sizzle Pie is the best place to grab an iconic Portland pizza.
It has to be noted, this neighborhood has an extensive list of options for nightlife. Sports bar by day, dance party by night, Century Bar is a locals favorite for going out. As with most Portland bars, this bar has an appetizing menu, too. Doug Fir Lounge is another overwhelming favorite, great for shows, drinks, or both.
Hotel Eastlund
Hotel Eastlund – A 4-star hotel with a playful and contemporary vibe and unique design touches, past guests consistently mention the extra comfortable beds and top-notch linens at this property. Room are temperature-controlled, and include USB charge ports, a mini fridge, coffee machine, flat-screen TV, and free Wi-Fi, and the hotel has a fitness and business centre and two on-site restaurants, one with skyline views. The hotel is just down the street from the Oregon Convention Center with public transit close by – a bit of a walk to the hippest spots in the neighborhood.
Check Availability & Prices on
Booking.com / TripAdvisor
2-Bedroom Riverfront Condo
Two Bedroom Condo with Balcony – A bright and modern dog-friendly property with a balcony, this condo is decorated in neutral tones with natural wood. There is Wi-Fi and air-conditioning throughout, and each bedroom has a queen bed and large windows, plus there is a pull-out sofa in the living room. The kitchen has a large table, dishwasher and an electric grill on the balcony. Just across the Burnside Bridge is downtown, with Voodoo Doughnut and Ristretto Roasters nearby. Bus and light rail stops are just a 3-minute walk.
Check Availability & Prices on
VRBO.com
One-Bedroom Riverfront Condo
One Bedroom Riverfront Condo – This *appears* to be in the same building as the two-bedroom riverfront condo, and is similarly decorated, channeling a bit of a loft feel with modern furnishings and neutral tones. With one queen bed and additional sleeping space on the sofa bed, this could be a nice base for a couple or young family, offering Wi-Fi, a flat-screen TV with Netflix and DVD, and a music dock. A private washer and dryer are available for laundry, and the kitchen offers the basics plus a blender.
Check Availability & Prices on
VRBO.com
Where to Stay in Portland: Hawthorne
Great area for: ✓ Vintage Cool ✓ Craft Beer ✓ Food Carts ✓ Laid-Back Portland Cool
Places to Check Out in Hawthorne
Cartopia Food Cart Pod, Harlow, Lardo, Next Level Burger, Blue Star, Fat Straw, Jam, Apizza Scholls, Sapphire Hotel, Teote
When I think of Portland, I think of Hawthorne Blvd. Here's where you will find that Portland vintage aesthetic in full force.
The vintage Bagdad theater serves craft beer and food in a beautifully detailed theater seven stories high. Down the street, House of Vintage is every vintage lover's dream, with five rooms curated by local thrifters. The mid-century furniture finds are in abundance on Hawthorne, with Lounge Lizard and Vintage Pink.
You won't go hungry while you thrift, either, if you stop at Cartopia, one of Portland's favorite food cart pods. Jam, Harlow, and Cup and Saucer are local-favorite brunch stops in the neighborhood.
If you're looking for a laid back Portland experience, be sure to spend time on Hawthorne.
Family-Friendly 2-Bedroom Craftsman
Two Bedroom Craftsman – A 2-bedroom + den, this is a kid friendly house with a distinct 'feels like home' feel to it. The main bedroom has a queen bed, and the den has a queen futon; the second bedroom has kid-sized bunk beds. The kitchen is fully equipped and the living room has a cozy and welcoming feel thanks to the wooden fireplace. Street parking available at no charge, and Downtown is about 10 minutes away. Free Wi-Fi, cable, washer and dryer are included, and it's just a 1-minute walk up to Hawthorne Blvd, where you'll find loads of amazing cafes, restaurants and boutique shops, as well as easy access to public transit.
Check Availability & Prices on
VRBO.com
Private Apartment in a Restored Heritage Home
One Bedroom Restored Craftsman – A private main floor apartment within a subdivided historic craftsman home, this property has a lovely front porch, wood floors and high ceilings. The bedroom has a queen bed, and the living room has a sofa bed fit for 1 adult. Past guests mention a great owner and location just 2 blocks away from Hawthorne Blvd.
Check Availability & Prices on
VRBO.com
B&B (Bed & Beer) Loft Apartment
One Bedroom 'Beervana' – Beer-themed accommodation for those coming to experience Portland's legendary craft beer scene! This is a detached apartment (kind of like an alley home or tiny home) with one bedroom in a loft and one bed on the main floor. A back patio, full bathroom, and kitchen with outdoor grill are available for those who want to cook at home. Past guests rave about the hosts, who provide a craft beer sampler pack to get you started. Walking distance to some of Portland's best craft beer spots!
Check Availability & Prices on
VRBO.com
Where to Stay in Portland: Division
Great area for: ✓ Dining & Food Trucks ✓ Vintage & Independent Shops
Places to Check Out in Division
Tidbit Food Cart Pod, Bollywood Theater, Pok Pok, Ava Gene's, Salt & Straw, Broder, The Woodsman, Good Coffee, Tea Bar
Walking down Division Street, you're sure to find some great places to eat without even trying. Some of Portland's best restaurants are based here, and that's not limited to brick and mortar places: one of my favorite new food cart pods (Tidbit) is located on 28th and Division.
There is something for everyone here, with what seems like an endless array of 'very Portland' food carts. Back to Eden Bakery, one of the best bakeries in town, has a sweet little yellow house cart with the best almond macaroons and rosewater cupcakes! Grabbing a beer goes hand-in-hand while you eat your way up and down Division. Whiskey Soda Lounge and Salt & Straw are necessary stops for anyone visiting.
If you can stop eating long enough to check out some local shops on the block, you won't be sorry. Little Otsu is a small independent publisher that sells awesome prints by some local artists (and those from all over the country). Cart & Rose is another great place to find gifts from local makers. Stay awake by stopping in at the many great coffee and tea shops: Good Coffee, Five Point Coffee Roasters and the very modern Tea Bar are great bets.
As you can probably tell, I highly recommend spending some time on Division St.!
2-Bedroom Craftsman w/ Hot Tub
Two Bedroom "Sunshine House" – A cozy yet modern 1910 Craftsman home with original features, this 2-bedroom home has one queen and one king bed, plus 1.5 baths over 1450 square feet of floor space. The house has a large backyard with a deck and hot tub, and a large dining and living area. 2 blocks from Division and a 10-minute walk to Hawthorne Blvd. Bus stop right on the corner.
Check Availability & Prices on
VRBO.com
Charming 3-Bedroom Bungalow
Three Bedroom Bungalow – A clean and classic bungalow with a big front porch, this bedroom sleeps up to 6, with two queen beds, two twins, and 1.5 baths. The living space has darts, table football and a piano, and the home comes with Internet, a washing machine and dryer, coffee maker, and towels. The home has off street parking, and it's walkable to food trucks, Bollywood Theatre, Hawthorne Blvd, and more. Bus stop at the corner.
Check Availability & Prices on
VRBO.com
Industrial Chic 'Barn'
Two Bedroom "Urban Barn" – A super cool and modern urban barn guesthouse! There are two bedrooms (one of which is a loft) with queen beds; the bathroom has soapstone countertops and modern fixtures; the gourmet kitchen is fully stocked. A washing machine and dryer, cable TV and Wifi are all included. Division Street is only a couple minutes away, and public transit very close by as well. Past guests like the unique building, great host, and location!
Check Availability & Prices on
VRBO.com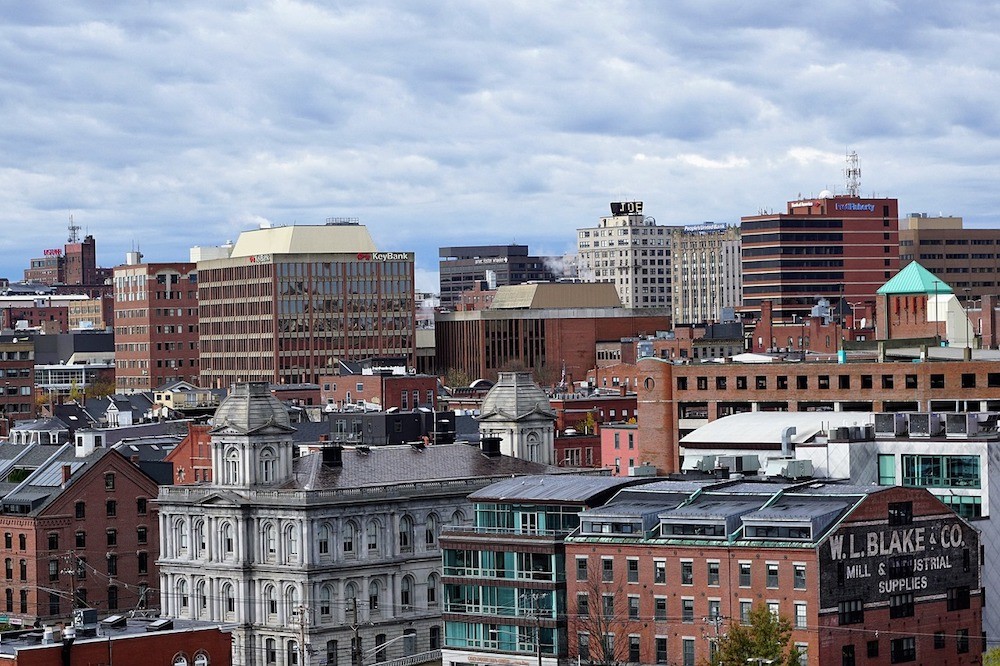 Northeast (NE) Portland Alberta Arts District & Mississippi Ave.
Where to Stay in Portland: Alberta Arts District
Great area for: ✓ Arts & Culture ✓ Independent Shops ✓ Food
Places to Check Out in Alberta Arts District
Aviary, Vita Cafe, Back to Eden, Bye and Bye, The Grill Cheese Grill, Bunk Sandwiches, Pine State Biscuits, Tin Shed, Bollywood, Petite Provence, Great Notion
The Alberta Arts District is technically not a neighborhood, though many locals treat it like one. This street has seen the most transformation in the last 10 years, going from a grungy and bad part of town to an independent thriving area for art, shops, and, like most places in Portland, food.
If you find yourself in town on the last Thursday of the month, you may want to check out Last Thursday, a free art walk that stretches 15 blocks. Many locals and tourists make it out to support the arts community for this event.
The Doctor's House
The Doctor's House – A B&B in a (more than) century-old home, this property has a cozy, vintage feel to it, and past guests consistently rave about the host, Bill. Features free WI-Fi and private parking. Offering both a queen and king room, the bathroom is shared between guests. The dining and lounging area are cozy and the fireplace is a nice touch. Downtown is a 20-minute bus ride, with a stop right on the corner. Everything you need in terms of shops, restaurants and cafes are just steps from the door along Alberta Street.
Check Availability & Prices on
Booking.com
McMenamins Kennedy School
McMenamins Kennedy School – Another 'keeping Portland weird' place, as one past guest commented, "It's an experience." This 57-room hotel in a former historic school also has multiple bars and a brewery. Pet-friendly, free Wi-Fi, air conditioning and private bathrooms, plus unique and eclectic décor throughout. In addition to the drinking available on site, the hotel has a restaurant, Jacuzzi, gift shop, and more. 10-minute walk to Alberta St and a bus stop just outside.
Check Availability & Prices on
Booking.com / TripAdvisor
2-Bedroom Townhome
Modern 2 Bedroom Townhome – A modern two-storey townhouse, this property can sleep 5 adults with a king, queen and a sofa bed, and 2.5 baths. The property includes a backyard patio, outdoor grill and a gas fireplace, and a great location in the heart of the Alberta Arts district. Looks like a great option for a friends or family getaway to Portland!
Check Availability & Prices on
VRBO.com
Where to Stay in Portland: Mississippi Ave.
Great area for: ✓ Hip & Historic ✓ Quirky Shops ✓ Food & Music
Places to Check Out on Mississippi Ave.
Beech Pod, Blue Star, No Bones Beach Club, The Rambler, Gravy. Near by are also Tasty 'N Sons and Toro Brovo
Mississippi Ave. is often referred to as a hip, historic neighborhood, with a lot of love.
My favorite venue in town, Mississippi Studios, is located on this street. The intimate venue is a great place to see local music, and even hosts 'secret shows' when bigger artists are touring and want to pop in. Attached to Bar Bar, this venue has good eats and delicious drinks.
Beyond music, many unique Portland shops call Mississippi Ave. home, like Paxton Gate, an ethically-sourced taxidermy shop with weird and fascinating wonders from around the world. Hang out in the listening station at the vintage record shop, Mississippi Records. Browse the beautiful plants at the always dreamy Pistils Nursery. Worn Path is your go to for camp inspired goods, and don't forget Animal Traffic for your well curated vintage finds. By that time, you'll be ready for a snack, so head to Blue Star for a doughnut!
Cozy 1-Bedroom Basement Suite
One Bedroom Garden Apartment – A basement suite in a 1925 duplex, this place offers large windows, a shared patio area and an outdoor grill. The one bedroom has a comfy queen bed, and the living room has a futon to accommodate another guest. The bathroom and kitchen are fully equipped; Wi-Fi, washing machine and dryer, and towels are included. Located right behind the vibrant and fun Mississippi Ave, and public buses are just around the corner.
Check Availability & Prices on
VRBO.com
Bright 4 Bedroom House
Four Bedroom Bungalow – A fully-remodelled 1920s house that's family friendly, this place is bright and charming with funky touches and a great front porch. Three of the bedrooms have queen beds, and one has a twin bunk bed; the home has two full bathrooms and can accommodate up to 10 people. The basement features an entertainment area with TV and games, and the kitchen is fully stocked (even if you want to bake cookies!). Only a few minutes' walk from Mississippi Ave.
Check Availability & Prices on
VRBO.com
3-Bedroom Design House
Three Bedroom 'Designer' House – A designer-owned detached home with an eclectic, upscale vibe, unique art pieces and a wonderful back deck are the stand outs here. With a queen and a double bed in the two bedrooms, and a queen hide-away in the living room, this house can comfortably sleep 5 to 6. 1.5 bathrooms, a fully equipped kitchen with great coffee options. Wi-Fi, HD TV, washing machine and dryer, and an outdoor grill round out the offering.
Check Availability & Prices on
VRBO.com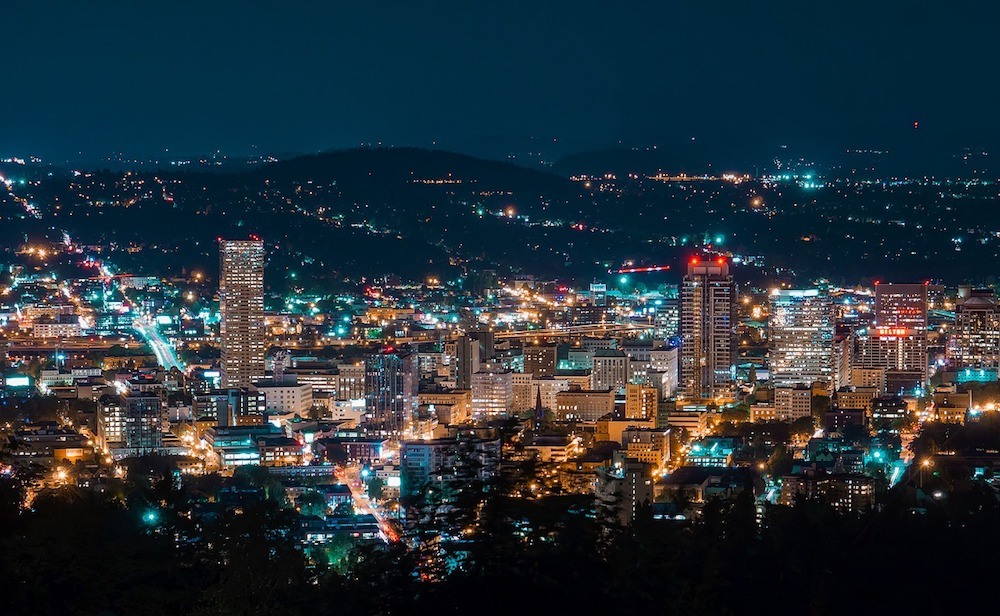 Popular Portland Tours & Activities
Best of Portland Walking Tour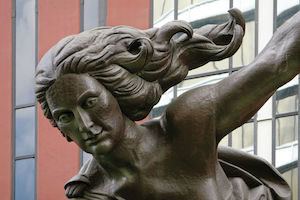 rated 5 / 5 from 25+ reviews
Underground Portland Tour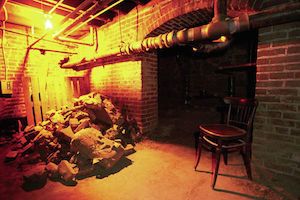 rated 4.7 / 5 from 115+ reviews
Multnomah Falls & Gorge Tour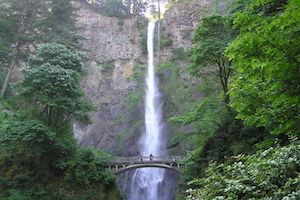 rated 4.6 / 5 from 15+ reviews
Click to See a Full List of Portland Tours
Frequently Asked Questions
So Where Should You Stay in Portland?
Portland has a lot of interesting neighborhoods ready to be explored, and we hope it's not too overwhelming deciding where to stay in Portland. In general, it's a very safe city and is extremely tourist friendly — you don't need to worry about finding yourself in a 'bad' area if you stick to these suggestions. Where to stay in Portland really comes down to what kind of trip you're planning: whether you find yourself craving the upscale tourist flow on the Westside or the laid back vibes on the Eastside, there is a neighborhood for you.
Generally, I tend to suggest the Eastside to friends who appreciate the allure of living like a local when traveling. Hawthorne is a great 'first timers' neighborhood if you're new to Portland's quirky, laid-back culture and want to experience the best of it. Beyond Hawthorne, the Eastside neighborhoods/areas of Central Eastside, Division, Alberta Arts and Mississippi Ave. are great bets as well.
If you'd prefer to have a more 'big city' vibe, downtown is the closest you'll get in Portland. This is where you'll find international brands for tax-free shopping, and there are some great restaurants in downtown as well. A bit more upscale, Nob Hill has a thriving community, and the Pearl District is full of lovely galleries.
Portland is a vibrant, cool and very eccentric city with a lot to offer, and it's hard to go wrong deciding where to stay in Portland…we hope this guide helped, and hope you enjoy your stay!
How to Get Around Portland
Public transportation in Portland is excellent, and most locals don't even have cars because the city transit is so well thought out!
The best Portland neighborhoods are readily accessible from the MAX (Metropolitan Area Express), the cheapest and easiest way to get around at $2.50 one way, or $5.00 for the day. The public bus system is great, too, so don't be shy about exploring via transit. I recommend downloading the free TriMet app for MAX and city bus schedules, which also lets you easily buy your tickets on the app.
How to Get From Portland Airport to the City Centre?
Public Transit: The Metropolitan Area Express, or "MAX" is basically Portland's streetcar/tram service with 5 color codes lines: blue, red, yellow green and orange. The red line goes to and from the airport and connects though downtown where you will be able to connect with all other tram lines at Pioneer Square. The airport station is very convenient outside the baggage claim area near concourse B. You can buy tickets from the ticket vending machines for $2.50 per person for a single journey of up to 2.5 hours, or $5 for a day pass. It takes 35 minutes or so to reach downtown. The first tram leaves the airport at 4:57am, and the last train to leave is at 11:49pm.
Taxi: There are many taxi companies operating from the airport, and you can find them outside the baggage claim area. Depending on traffic, the journey could take 20 to 40 minutes to downtown. Expect to pay $35-$40, plus tip.
Uber/Lyft: At the time of writing both Uber and Lyft operate to and from the airport, and in and around the Portland area. Both sites estimate $20 to $30 from the airport to a downtown hotel, but be aware of surge pricing.
Private Transfer: Book a private transfer from Portland International Airport to your hotel or holiday apartment, click for more info. $27.78 per person (based on two travellers), for a sedan, 5-passenger SUV also available.
A Note About Our Hotel Recommendations In This Portland Neighbourhood Guide
Our hope with this Where to Stay in Portland Guide (and our Where to Stay in Seattle, Where to Stay in Vancouver…you get the idea) is to make it easy to find the best area to stay in Portland for your particular travel style, goals and budget. Portland is a city of neighborhoods, and it's worth figuring out where you want to base yourself and where you want to explore!
As we hired a local to write (Cara) this guide and impart her expertise about Portland, we're a bit limited in terms of hotel knowledge…because, of course, locals don't live in hotels! So, what we've done is go through and choose some of the highest rated hotels in each neighborhood, and when we couldn't find a hotel, we listed a holiday rental. Basically, we put in the research for you, and chose the places we personally would want to stay, and the places we felt we'd be comfortable recommending to a friend or family member, across different budget ranges.
Really, we want to help you have a fantastic vacation to Portland, be it a grand Pacific Northwest tour up to Seattle and Vancouver (or a Canadian Rockies tour beyond!) or a short Portland city break. And, we want you to be able to do so without spending hours on the internet, reading reviews and cross-checking locations on a map. Hopefully we've succeeded…but please don't blame us if we haven't – at the end of the day, we expect you'll check the most recent reviews and specific conditions in the city, using our listings as a starting point and framework, and choosing then selecting the best hotel and area to stay in Portland for your own trip!
Read More To Plan Your Pacific Northwest Trip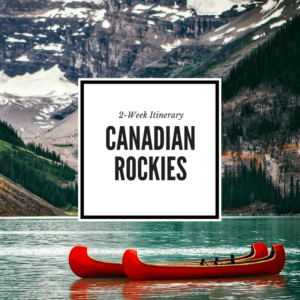 Did You Know We Have Guides for Cities All Over the World?
Click Here to See All Our Free Guides
Like This Guide? Pin it for Later!