Is Warsaw Worth Visiting? Heck, Yes! Our Where to Stay in Warsaw Poland guide is about far more than just finding the best places to stay in Warsaw. It includes  everything you need to know about getting around, visiting Old town Warsaw, and getting off-the-beaten-path to explore vibrant neighborhoods, world-class museums, historical sights, amazing day trips, tours and more. Warsaw is a thriving European capital begging to be explored – and we're here to help!
This where to Stay in Warsaw city guide was created in collaboration with Monika Komar, a journalist, and blogger at Travelling Encounters. She spent some of her formative years growing up in Warsaw, and returns to the city frequently. We're thrilled that she agreed to share her knowledge with us as our city expert!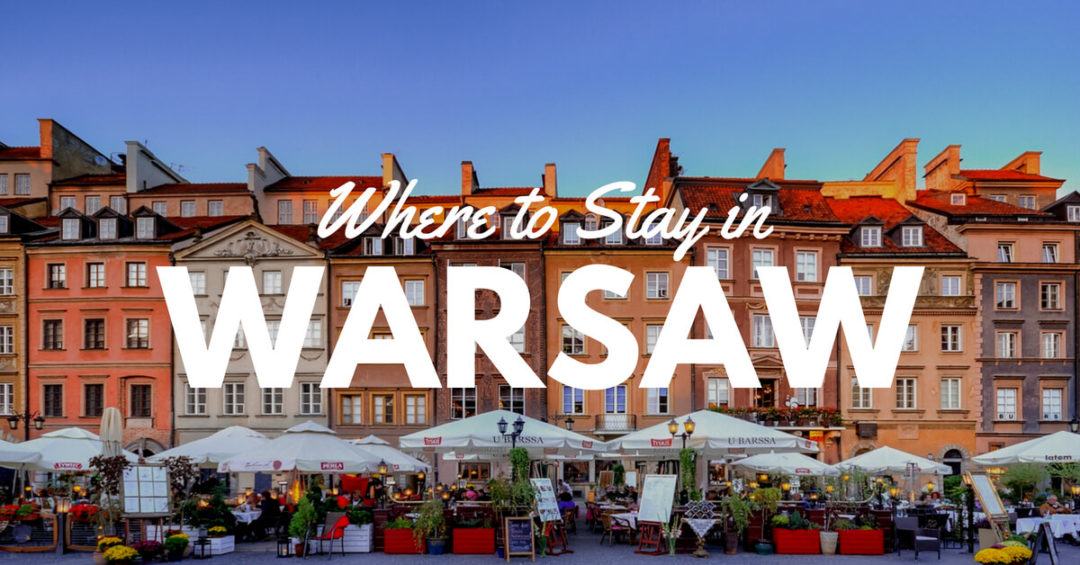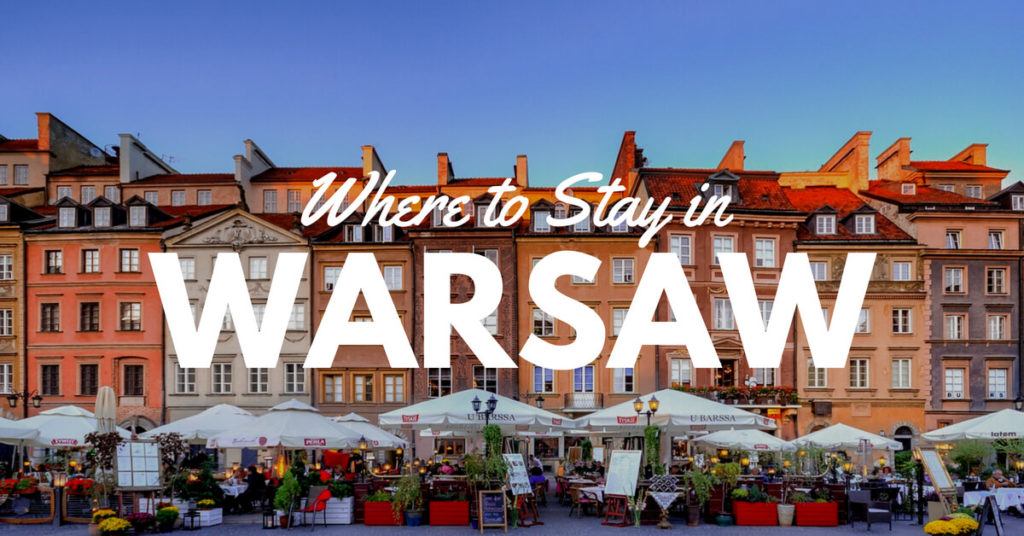 Disclosure: This Warsaw Where to Stay travel guide contains affiliate links. That means we earn a commission when you use the links on this site to book a hotel, buy your travel insurance, shop for travel essentials, etc.. You don't pay anything extra. If you'd like to learn more about how this works, you can read more under our Disclaimer page.
Destroyed in the war, many parts of Warsaw were meticulously reconstructed, earning it the beautiful title of "a phoenix that rose from its ashes".
And risen it has – the city is blossoming. Main Warsaw tourist attractions have never enjoyed as much attention as they do now. More and more people are exploring the up-and-coming Warsaw neighbourhoods and some of the more hidden gems. And overall, it's a great time to visit the Polish capital.
Since the time I lived in Warsaw as a teenager, the Polish capital has come a long way. During my three years there, I watched it change and grow in slow motion, but when I go back now – about once a year – the improvements appear much more conspicuous. Boring blocks of flats turn into vibrant, sought-after residential areas. Public spaces have information in English. The neighbourhoods I was not allowed to go to on my own before are now buzzing cradles of artistic life. Warsaw has truly opened up to the world!
Where to Stay in Warsaw Table of Contents – Start your search here →
Day Trips from Warsaw – If you're based in the city, there are some amazing Warsaw day trips to Auschwitz, Krakow, and Gdansk.
Popular Warsaw Tours – Find a Warsaw walking tour or a Warsaw bus tour to get to know the history and legends behind the city's fascinating sights.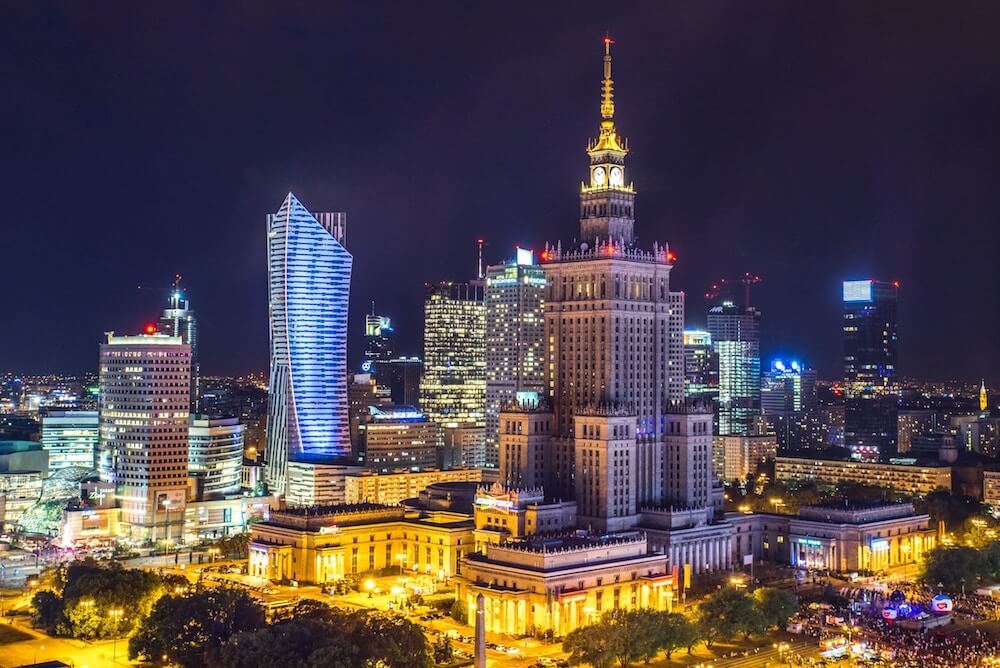 Photo by Kamil Gliwiński on Unsplash
Inside Warsaw: Getting to Know Warsaw Poland
Warsaw has so much to offer, from a somewhat bizarre mix of abundant churches, shiny offices and Communist-era concrete slabs. The city's look and feel mirrors its turbulent history.
The most popular area of Warsaw is its heart – Stare Miasto (Old Town Warsaw), but there are a few other notable areas to consider when deciding where to stay in Warsaw. Nowy Swiat (literally New World) and the most centrally-located Srodmiescie, with all the key monuments and unique architecture. Sitting riverside in the once-undesireable-now-fashionable Powisle is the place to be in the summer, and across the Vistula River, the booming district of Praga is increasingly loved by locals and tourists alike. Green and peaceful Mokotow is known as a convenient place to stay in Warsaw, and further south, Wilanow tempts with its royal Palace and lush gardens. Warsaw is a diverse city and it's worth exploring it beyond what the guidebooks recommend, going further into some of its less obvious spots.
Srodmiescie (and Nowy Swiat): City Center and Warsaw New Town
Making up a large part of the Warsaw city center, Srodmiescie is where business, politics and entertainment happen, and also where the city's history began. It's conveniently linked with other Warsaw neighborhoods, making it a good starting point for sightseeing or trips to other areas of Poland. There are two train stations in Srodmiescie, including Warsaw Central Station (Warszawa Centralna). Being central, and with convenient access to Warsaw public transport, makes this one of the best places to stay in Warsaw.
Srodmiescie is where you'll find some of the main Warsaw tourist attractions and monuments, like the Palace of Culture and Science, and lots of shopping, especially at the huge Zlote Tarasy shopping mall. There are also all sorts of businesses, cafes, and some of the best restaurants in Warsaw. It's a stone's throw away from Lazienki, the city's largest park, where you'll find the Palace on the Water, Belweder Palace (the Polish president's official residence), and the University of Warsaw campus. Definitely a true mix of people going about their day. There are plenty of excellent spots for people watching, and we suggest hunkering down at one of the Wedel cafes, a Polish hallmark chocolate manufacturer. Pro tip: try Wedel's smooth and creamy hot chocolate!
Follow the steps of the locals, and take a walk through the gardens of Ogrod Saski, have a cocktail at Zamieszanie bar, or grab some food at Der Elefant. Then head to Nowy Swiat. This is where old meets new in a mix of boutiques, bars and hostels. Also make sure you stop by Pawilony, a unique, tiny street with over 20 small bars.
MDM Hotel
Hotel MDM City Centre – This 3-star hotel is well connected, just steps from the metro station (Politechnika) and surrounded by restaurants and coffee shops in the city center. Modern and spacious rooms come equipped with satellite TV, mini bar, and many rooms will have views of Constitution Square. The Upstairs Bar & Bistro is onsite serving an assorted breakfast (included in some room rates) and specializing in international and Polish cuisine. Guests can wind down the evening with a fun cocktail and views of the city at the bar. Old town Warsaw can be reached in about 20 minutes on the tram.
Check Availability & Pricing
Booking.com / TripAdvisor
Hotel Sixty Six
Hotel SixtySix – Stylish 4-star found on Warsaw's famous Royal Route. This boutique hotel is classic and modern, from the newly renovated historic building to the inspiring designs and amenities. Rooms are well equipped with flat screen TV and satellite channels, coffee machine and minibar, bathrobe and slippers. Breakfast is included with each room and guests can use the fitness center in the adjacent building. Fine wines paired expertly with tasty food can be found in Winebar Sixty-Six. A 10-minute walk to the Presidential Palace, 15 minutes to the castle, and 1 minute to Nowy Swiat metro station.
Check Availability & Pricing
Booking.com / TripAdvisor
Hotel Bristol
Hotel Bristol, Luxury Collection – Historic and luxurious, this hotel is a cultural landmark itself. Centrally located on the Royal Route and less than a 10-minute walk to the Royal Castle and Old Town, with the Presidential Palace and National Opera right around the corner. Multiple dining options including an Italian restaurant, Bristol Café serving delectable sweets, and two different bars. The Bristol Spa is complete with a gym, steam room, sauna, indoor pool and offers a variety of services and treatments. Elegant and spacious rooms include coffee machines, breakfast (included in some room rates) and satellite LCD TVs.
Check Availability & Pricing
Booking.com / TripAdvisor
Hotel Indigo
Hotel Indigo – Set in a newly renovated historical building near Nowy Swiat street and across from the National Museum, this  stylish boutique hotel offers designer touches and rooms with heated bathroom floors, bathrobes, minibars, coffee makers, flat screen TVs, and walk-in showers. The hotel has a fitness center with sauna, an onsite restaurant specializing in Middle Eastern inspired cuisine, and the Bourbon Lobby Bar, with an impressive collection of bourbon to choose from. Lots of restaurants, cafes and bars nearby. Across from a small park, and easy access to many public transport options.
Check Availability & Pricing
Booking.com / TripAdvisor
Mercure Centrum
Mercure Warszawa Centrum – A centrally located 4-star within a 5-minute walk to the central train station and metro (Rondo ONZ). The Palace of Culture and Science, the Modern Art Museum, City Park, and Warsaw's largest shopping center (Zlote Tarasy) are all a 5-minute walk or less, and it's a 20-minute tram ride into Old Town and the castle area. A buffet breakfast is included in some room rates, and receives top marks from past guests, along with the highly rated Winestone restaurant. Newly designed and large rooms include coffee/tea makers, safes, satellite TVs and minibars. The hotel also has a fitness center, hot tub and sauna.
Check Availability & Pricing
Booking.com / TripAdvisor
Hampton by Hilton
Hampton by Hilton – Great amenities and a great location (9.1 location score on Booking.com), this hotels offers complimentary daily buffet breakfast, a fitness center, and bar onsite. Rooms feature flat screen TVs and coffee machines, safes and complimentary toiletries. The hotel is within easy reach of the Palace of Culture and Science in about a 5-minute walk, or just steps from the main train station and public transportation connecting you to other popular sites in the city – Old Town Square in about 20 minutes by tram. Surrounded by cafes and restaurants and right next to the Zlote Tarasy shopping center. Past guests recommend requesting a higher floor for the best city views.
Check Availability & Pricing
Booking.com / Trip Advisor
Stare Miasto: The Charming & Historical Old Town Warsaw
Old Town Warsaw is the best place to stay in Warsaw for most tourists – but the locals love it too. Despite this part of the city being almost completely destroyed during the Second World War, Stare Miasto went through a full reconstruction as thousands of people worked to bring it back to life. These efforts earned this neighbourhood a UNESCO Heritage title in 1980 and its cobbled streets and colourful buildings look just like they did before the bombs flattened the charming historic centre of Warsaw.
With that in mind, take a stroll down Starowka's (another name for old town) nostalgic alleyways and alongside the barbakan (fortified wall), up to the Castle Square. The Royal Castle, too, was almost completely destroyed, but restored after the war. It's truly impressive, and one of the main things to see in Warsaw.
In the warmer months, the walk around Warsaw old town square is best enjoyed with ice cream – and my favourite has always been from Lody Hodun.
See below for some great options for old town Warsaw hotels.
Bez Kantów Boutique Rooms
Bez Kantów Boutique Rooms – A truly unique boutique hotel in Old Town Warsaw. Each room has a distinct contemporary design, vintage furniture and modern comforts such as a flat screen TV and coffee making facilities, toiletries and hairdryers. There is no 24-hour reception so it's important to note check-in and check-out times. Breakfast is included for all guests at a nearby café and the vouchers are redeemable all day. Popular sites such as Presidential Palace, Warsaw University and Pilsudski Square are less than a 5-minute walk away. Market Square in Old Town can be reached in about a 10-minute walk.
Check Availability & Pricing
Booking.com / TripAdvisor
Ibis Warszawa Stare Miasto
Ibis Warszawa Stare Miasto – A great budget option, centrally located just a 10- to 15-minute walk to Market Square in Old Town,  and close to a few pubs and cafes. There are multiple public transport options very close to the hotel. The onsite Ibis Kitchen restaurant serves a daily buffet breakfast (extra) and drinks can be had in the Lounge bar. The air conditioned rooms are comfortable and modern with satellite TVs and a working space. Complimentary fruit and bottled water are also available to guests. 10-minute walk to the History of Polish Jews Museum.
Check Availability & Pricing
Booking.com /  TripAdvisor
Mamaison Hotel Le Regina
Mamaison Hotel Le Regina – Upscale 5-star accommodation centrally located in a historic palace. Just a 10-minute walk to the Royal Castle and Market Square, and 5 minutes to the Multimedia Fountain Park and bank of the Vistula. Fine dining can be found onsite at La Rotisserie, which offers indoor and outdoor seating, but lots of decent restaurants in the area. Luxury services include a spa and wellness center complete with gym, indoor swimming pool, and sauna. Rooms are quiet and well equipped, including flat screen TVs, minibars, coffee/tea making facilities and turn down service.
Check Availability & Pricing
Booking.com / TripAdvisor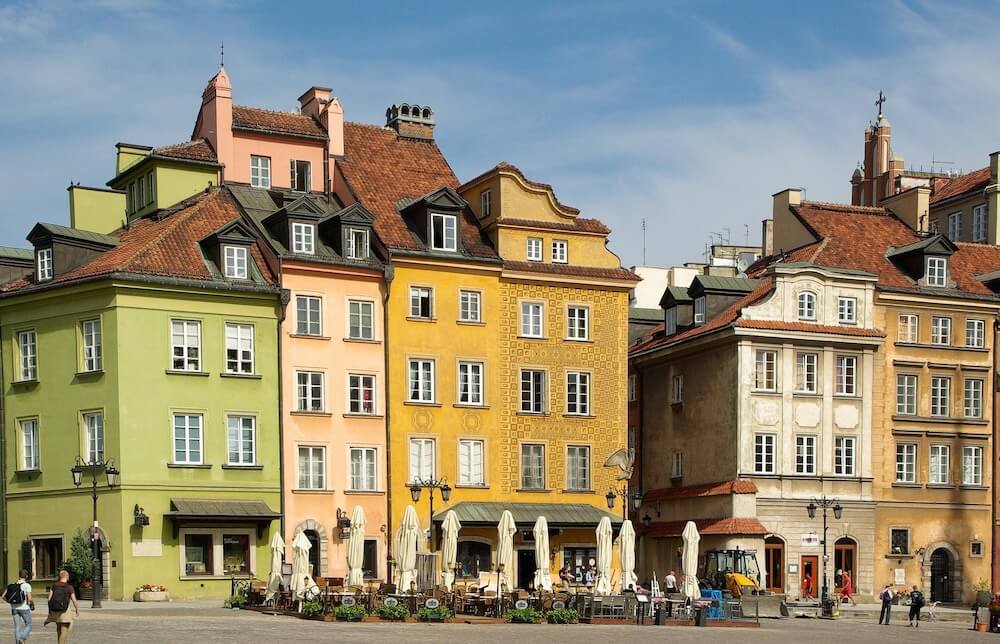 Old Town Square in Warsaw, photo via Pixabay, CC0 licence
Also Visiting Krakow? Check Out Our Where to Stay in Krakow City Guide!
Powisle: The Riverside Area of Warsaw is a Favorite for Locals
When I lived in Warsaw, and through much of its history, this riverside spot was not a particularly fashionable place to visit. It still may not be considered one of the 'official' big Warsaw neighborhoods, but it's worth mentioning – and while it may not be the best place to stay in Warsaw, it's worth visiting, especially in summer! It has changed tremendously in recent years, becoming one of the locals' favorite hangouts, particularly in the summer.
Emerging from being a poverty stricken 'not much to talk about' area of the Warsaw center, Powisle has become a vibrant hotspot full of life. On a warm summer evening you can grab a drink at Cud nad Wisla or Pomost 511 – or one of the many pop up bars coming and going each year – and relax on a deckchair by the water.
If you're visiting Powisle during the day, The Copernicus Science Centre has been an absolute hit with locals and fast moving up the ranks of top things to do in Warsaw. Also make sure to check out Park Kazimierzowski and the statue of the Warsaw Mermaid (Warszawska Syrenka). It is the symbol of the city, found on the coat of arms, and you can find the sword wielding mermaid of Warsaw right next to the Centrum Nauki Kopernik metro station, or in the center of Warsaw old town square.
Warsaw River View
Warsaw River View – Located in the heart of the city on the Vistula riverbank, and well connected with the Centrum Nauki Kopernik metro station across the street. The Copernicus Science Center is less than a 3-minute walk. The hotel restaurant serves a buffet breakfast daily and specializes in European cuisine. Clean, bright and comfortable rooms feature flat screen satellite TVs and a work desk. A 5 minute walk to some good restaurant and bar options, a 20-minute walk to most old town Warsaw attractions including Market Square and the castle.
Check Availability & Pricing
Booking.com / TripAdvisor
Apartment Powisle
Apartment Powisle – A perfect home away from home, this apartment comes with a fully equipped kitchen, balcony, washing machine and dishwasher, coffee making facilities and a satellite flat screen TV. Located in-between the Old Town and New Town and within walking distance to attractions like the Copernicus Monument. There is a convenient minimarket located just downstairs from the apartment and the area is bike friendly for those that like to explore on two wheels. A 15-minute walk to Old Town Square and the castle, 5 minutes to the river and the nearest metro station (Centrum Nauki Kopernik). Close to the university, so lots of decent restaurant options nearby.
Check Availability & Pricing
Booking.com
ASKI Powisle Apartment
ASKI Powisle Apartment – A fully equipped and quaint one-bedroom apartment next to Copernicus Science Center and surrounded by cafes, restaurants and a bustling night life. Perfect for small families, couples or solo travellers. Bike rentals are available onsite, and many Warsaw attractions like Markt Square and the castle can be reached within a 15-minute walk or less. The apartment is fully operational with refrigerator, dishwasher, oven and washing machine. There is also a seating area, balcony and flat-screen TV with Netflix.
Check Availability & Pricing
Booking.com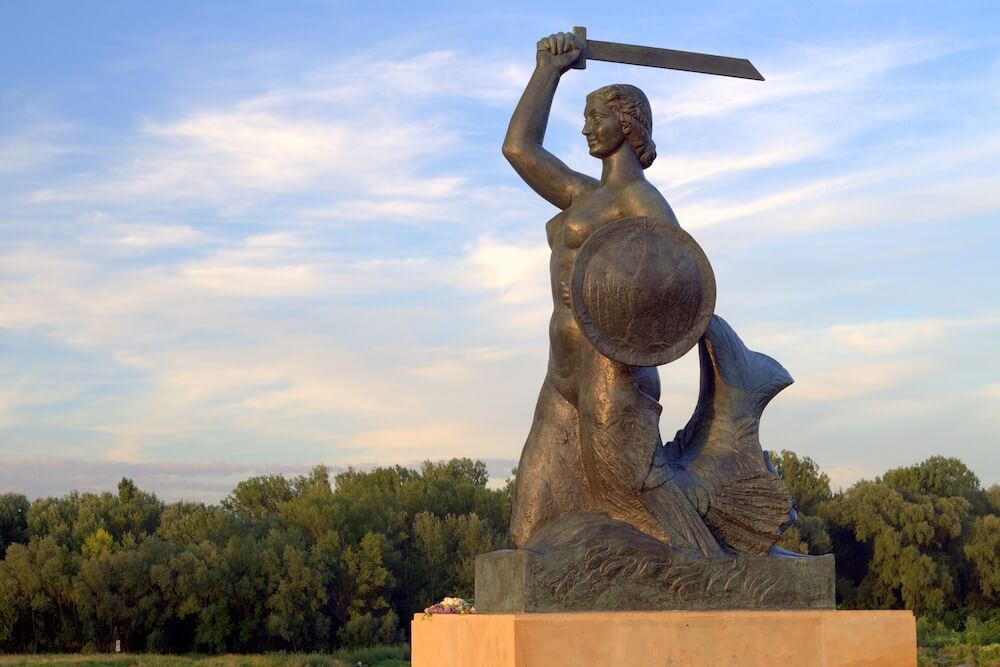 The Warsaw Mermaid has a few locations, one in the center of Old Town Square Warsaw, or near the Centrum Nauki Kopernik metro station (Pictured), photo via Pixabay, CC0 licence
Praga: A Resurrected Warsaw Neighborhood
Across the river, Praga has been undergoing a true – and long overdue – revival. Previously known as a pretty dodgy place ravaged by the criminal underworld, where unemployment and crime rates were the highest in the city, Praga has given way to a safer and cleaner Warsaw neighborhood. It's come to fame as a hipster favourite as well as an artists' haven, making it one of the cool places in Warsaw. It was one of the few places in Warsaw spared from the wartime destruction, and pre-war factories and warehouses are now turning into alternative clubs and galleries. One of the oldest streets in Warsaw, famous for tenement houses built in 20th century (Zabkowska street), is full of cafes and restaurants, cheaper than those in central, and old town Warsaw.
This 'Warsaw Praga district transformation' is breathing a new life into the Praga suburb, but it isn't to say the neighbourhood is becoming mainstream. With its alternative culture spots, such as Neon Museum, underground bars, street art and mural ads dating back to the communist times, Praga still has its shabby feel. The Soho Factory is part of an initiative which brings lots of cultural events and openings to the area. Also be sure to check out Warsaw's oldest market, Bazar Różyckiego.
To experience its wild side, stop by W Oparach Absurdu, one of the most iconic and best bars in Warsaw, and explore the district of 11 Listopada Street, one of Praga's major clubbing centres with places like Hydrozagadka.
Arthotel Stalowa 52
Arthotel Stalowa 52 – A stylish hotel housed in a 100-year-old post-industrial, renovated building in the Praga district. Artsy and hip with exposed brick and original industrial design touches give it a cool loft vibe, and each room is uniquely designed and full of character. Rooms feature all the modern amenities like flat screen TVs, modern bathrooms, and complimentary mineral water. Traditional Polish cuisine is available in restaurant Artbistro Stalowa 52 as well as a highly praised breakfast served each morning (included in most room rates). The surrounding neighborhood is energetic and perfect for city walks and taking in the inspiring architecture. Old Town is a straight shot down the road and can be reached by bus in about 20 minutes.
Check Availability & Pricing
Booking.com / TripAdvisor
Hotel Hetman
Hotel Hetman – Located a 4-minute to the metro and just one tram stop away from the Royal Castle and Old Town, or a 20-minute walk over the bridge, this hotel is housed in a charming restored Art Nouveau building from the 19th and early 20th century. Each room is nicely furnished, and well appointed with a coffee and tea maker, satellite TV and refrigerator. A buffet breakfast (included in most room rates) is served daily in the hotel restaurant, which has received top marks from past guests.
Check Availability & Pricing
Booking.com / TripAdvisor
Mokotow: Leafy and Quiet, but still convenient to Warsaw City Center
Less dramatically beautiful and more quietly comfortable, what Mokotow has going for it is a very convenient location with quick and easy access to Warsaw city centre. Home to some embassies and businesses, it remains a mainly residential area with plenty of parks, cafes and shopping options. For tourists, it makes for a lovely place to stay if you want to avoid the central Warsaw buzz, and slightly cheaper accommodation than hotels in Warsaw old town.
If you're staying in Mokotow and are after hearty breakfast before heading off for a day of sightseeing, Bulke przez bibulke is just the place you need. For a truly 'Polish' experience, you should also try one of the local cafeterias called bar mleczny ('milk bar') – rare, wonderful relicts of the past serving very affordable homemade food, typically simple traditional dishes. Then walk those delicacies off in the Park Morskie Oko – one of many beautiful green spaces in Mokotow.
Hotel Reytan
Hotel Reytan – This quiet 3-star hotel offers cozy, air conditioned rooms with satellite flat screen TVs, coffee and tea makers and working spaces. Rooms are housed in two different buildings, one with an elevator and one without, that are joined by an outdoor patio – make sure your preference is known when you book.The onsite restaurant serves a buffet breakfast each morning (included in some room rates). Public transportation is easily accessible to other Warsaw neighborhoods around the city: Old Town Warsaw can be reached directly by bus 222, or tram 4 in about 25 minutes, and both stops are 5 minutes from the hotel. Plenty of restaurants and cafes nearby.
Check Availability & Pricing
Booking.com / TripAdvisor
Best Western Hotel Portos
Best Western Hotel Portos – A bright 3-star with everything you can expect from the Best Western hotel chain. The rooms are spacious and bright and feature an LCD TV, coffee machine and working space. The hotel restaurant offers both Polish and international cuisine and serves a buffet breakfast daily (included in some room rates). There is also a bar onsite. Public transportation is conveniently located right out front and there are parks and monuments to explore in the surrounding neighborhood – great if you're travelling with the kids. Old Town can be reached by public transit in about 30 minutes.
Check Availability & Pricing
Booking.com / TripAdvisor
Wilanow: Ritzy & Glamorous with Former Homes of Royalty
As far as finding the best place to stay in Warsaw, Wilanow is a bit off the beaten path. If you're in town for sightseeing, you're better off staying at one of the old town Warsaw hotels, and visiting the neighborhood.
It sits slightly out of the way – about eight miles from the old town Warsaw, but you can easily access it by bus, or bike (there is no metro or tram). A posh Warsaw neighborhood home to the rich and famous, it's also where you can find Wilanow Palace Warsaw. Dubbed 'the Polish Versailles', it's a truly impressive spot, with fantastic gardens and a beautiful lake – and one of Europe's most beautiful baroque buildings. On a warm day, it's the perfect setting for a stroll and picnic, or spending a day with the kids. A visit to the Poster Museum is worth a look as well, just a four-minute walk from the Palace.
You cannot leave Warsaw without trying Wuzetka (city's trademark chocolate and cream cake) and the royal feel of Wilanow together with its numerous upscale cafes and restaurants make it the perfect spot to indulge a little.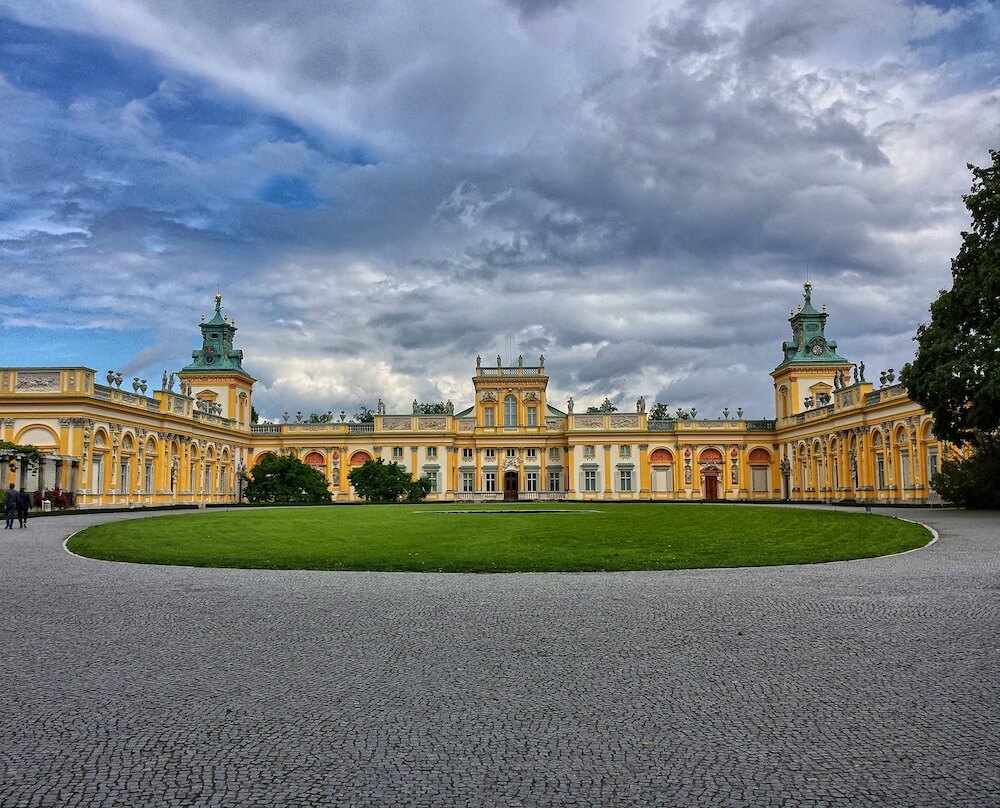 Wilanow Palace Warsaw, photo via Pixabay, CC0 licence
Warsaw Tips & FAQs
Getting Around: Using Public Transport in Warsaw
Warsaw public transport is an extensive network of buses and trams linking the entire city. There is also a rather new metro system – all two lines of it – running from north to south (M1) and from east to west (M2). There are also lots of train stations, big and small, connecting other parts of the country, and to the rest of Europe.
Public transport is cheap, rather fast, and efficient, most of the time. Make sure you buy your ticket before you hop on the bus or tram, however, as ticket controllers regularly appear out of nowhere and you will be better off spending your money on some delicious pierogi instead of a fine.
The Warsaw public transport network has 2 zones. Zone 1 covers most of Warsaw and its surroundings, including Chopin Airport. If you are travelling to and from Modlin airport, or visiting the outlying areas, you'll need a 2-zone ticket.
Single Journey Ticket Options
20 Minute Ticket (1/2 zone): 3.40PLN ($1.00US) *if only travelling one or two stops
75 Minute Ticket (1 zone): 4.40PLN ($1.25US) *most common – good for Warsaw airport tranfer
90 Minute Ticket (1/2 zone): 7.00PLN ($2.00US) *multiple transfers/longer distances
75 Minute Group Ticket (1 zone): 22PLN ($6.35US) *up to 10 people travelling together – great for families
Warsaw Public Transport Pass Options
24 Hour (1 zone): 15PLN ($4.30US)
24 Hour (1/2 zone): 26PLN ($7.50US)
72 Hour (1 zone): 36PLN ($10.40US)
72 Hour (1/2 zone): 57PLN ($16.50US)
Warsaw Airport to City Center
Thanks to the surge of discount airlines across Europe, the city of Warsaw is now served by two different airports. The main international airport serving the city is Warsaw Chopin Airport (WAW), and the secondary airport is Modlin Airport (WMI). Warsaw Modlin Airport is located 40km (25 miles) north of the city and was created to serve budget airlines like Ryan Air. If you have arrived from overseas, or are flying on a flagship carrier, you'll be landing at Warsaw Airport 'Chopin' (WAW). There are train services from both, making either Warsaw airport transport pretty easy.
Warsaw Chopin Airport to City Centre
Train: Warsaw Airport to Downtown in 25 Minutes
The Warsaw airport train station is served by urban rail lines S2 and S3, as well as a regional RL train. All three go straight through Warsaw city center with RL and S3 stopping at Warsaw Central, and S2 stopping at Śródmieście Station, literally across the street, and both very central. The S2 also stops in Powisle, and the RL and S3 stop in Praga if you happened to be staying in those neighborhoods.
The entrance to the Warsaw train station, which runs under the airport, is at the south end of the terminal building. Trains go approximately every 15 minutes from about 6am until about 11:30pm, and the journey time is usually around 25 minutes. A single ticket will cost 4.40PLN ($1.25US), good for 75 minutes and must be validated. Tickets can be purchased at the Passenger Information Centre in the Arrivals hall or at vending machines. This is the same ticket as used on regular Warsaw public transportation and will allow for transfers within the 74 minute validation period. See the public transportation section above for more about tickets and fare options.
Taxi
A Warsaw airport taxi from Warsaw airport to city centre locations will cost between 40-60PLN ($11.50 – $17.25US). There may be unregistered companies trying to "offer" better deals, but don't fall for it. Ele Taxi and Sawa Taxi are safe bets. All taxis are metered, and the rates should be clearly displayed.
Uber & Taxify
Both Uber and Taxify operate in Warsaw. Both are app based taxi companies where you set up a profile in the app, keep track of your ride, follow along on the map, and never hand the driver any cash! Sample rates with Uber are 48-74PLN ($13.80-$21.50US) from Warsaw Airport to old town. Note, with Uber, surge prices will be higher; Taxify does not have this although their rates may be slightly higher.
Bus: Public Transportation from Warsaw Airport to City Center
Multiple bus lines serve the Warsaw main airport, buses 175, 188, 148, 331 and the N32 night bus. Which bus will depend on where in the city you want to go…
Bus 175: From Warsaw airport to train station (s), Centralna and Śródmieście, will be roughly 30-40 minutes depending on traffic. In about 50 minutes it will reach the opera house and presidential palace which is about a 10 minute walk to Warsaw Old Town.
Bus 188: This Warsaw airport bus goes closer to Old Town Warsaw, within about a 4 minute walk to the main square.
Bus N32: If you arrive at night, this bus operates between 11:15pm and 4:50am and goes between the Chopin Airport and the train station.
Warsaw Airport Hotels (Chopin)
Courtyard by Marroitt
8.5 / 10 on Booking.com
*at the airport terminal
Check Availability & Pricing
Booking.com
Renaissance
New Hotel!
*at the airport terminal
Check Availability & Pricing
Booking.com
Airport Hotel Okęcie
8.9 / 10 on Booking.com
*free 24hr airport shuttle
Check Availability & Pricing
Booking.com
Warsaw Modlin Airport to City
Train
A Warsaw Modlin Airport Transfer by train will take about an hour. There is a shuttle bus every 15-20 minutes that takes passengers to and from the Modlin train station, which takes about 10 minutes, then the train journey itself is about 45 minutes. Any train going in the direction of Warsaw will stop at Warsaw Central Station and the ticket price will be 13.80PLN ($3.95US).
Bus
ModlinBus currently offers direct trips to and from Warsaw Modlin Airport to Warsaw city centre for 33PLN ($9.50). You can buy tickets online (mobile display is acceptable, you don't have to print), or from the staff on board the bus. The buses are equipped with wifi, and are modern and comfortable. The trip takes between 40-50 minutes but traffic delays in busy times can happen. There are multiple buses per day beginning at about 4am from the center (in front of the Kinoteka movie theatre behind Warsaw Central Station), and 5am from the airport. Find more information about the bus schedule here.
Taxi
Sawa Taxi currently lists a flat rate from Modlin airport to the central areas as 159PLN/199PLN ($45.50/$57.00US) – the higher price is for midnight – 6am trips and holidays.
Warsaw Airport Hotels (Modlin)
Hotel Sokołowska Airport Modlin
9.2 / 10 on Booking.com
Check Availability & Pricing
Booking.com
Great Day Trips from Warsaw: Gdansk, Krakow, and Tours to Auschwitz From Warsaw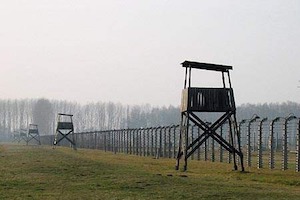 Auschwitz and Krakow Guided Tour from Warsaw
It is possible to take an Auschwitz tour from Warsaw on a day trip. This is a guided tour that visits both Auschwitz and Birkenau concentration camps, and continues to explore the wonderful main sights of the charming city of Krakow before returning to Warsaw.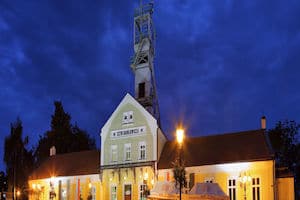 Krakow & Wieliczka Salt Mine Tour
This day trip to Krakow from Warsaw includes a stop off at the fabulous Wieliczka Salt Mine. The mine is famous for its salt carvings, underground lakes and even a salt cathedral. This is a guided tour that includes a city tour of the gorgeous medieval city of Krakow.
Visit the beautiful port city of Gdansk in a day trip from Warsaw. After visiting the sights, you'll move on to the nearby shipbuilding city of Gdynia. The tour also includes a visit to one of Poland's most popular summer destinations, Sopot, before returning to Warsaw.
Popular Tours of Warsaw: Get Acquainted with a Warsaw City Tour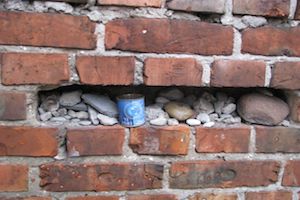 3-Hour Tour of the Warsaw Ghetto
On this Jewish Warsaw Tour you'll visit the synagogue, and see the remains of the old walls where 400,000 Jews were forced to live. You'll learn about the makings of Europe's largest ghetto and the uprising in 1943.
Take a Warsaw bus tour and follow the Royal Route. See all the sites of the old town of Warsaw, Lazienki Royal Park, the castle, the monument to the Warsaw Uprising, the Holy Cross Church, where Chopin's heart is encased in one of it's columns, and more.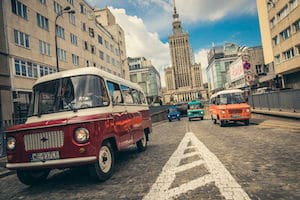 Off the Beaten Path 4-Hour Tour
See some lesser knows areas of Warsaw from a restored communist era vehicle. Discover Muranów and Praga, visit the Communism Museum and try some traditional Polish food at an old time Warsaw milk bar.
A guided Warsaw bike tour that leads you through the Royal Route, finds amazing vistas of the city, and explores local hang outs. Visit the historic center of Warsaw, the Palace of Culture and Science and lots more.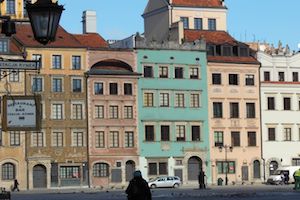 Private 3-Hour Sightseeing Tour
Your expert guide will show you the Royal Route, learn about the Warsaw Uprising and visit the Warsaw Ghetto. See and admire the sites of Old Town Warsaw, Łazienki Park gardens and more on this private combined car and walking tour.
Hop on board this comfortable, 18 seat, air-conditioned, family friendly Warsaw tour bus and take in the sights around the historic center, the castle and barbican, Market Square, the old ghetto, a famous bunker, Holy Cross Church, and much more.
Further Reading: More Trip Planning Resources