Everglades National Park is a vast, 1.5-million-acre wetlands preserve on the southern end of Florida. Called the River of Grass, the Everglades consists of sawgrass marshes, coastal mangroves, and pine flatwoods that provide a home to hundreds of wild animal species. Visiting the Everglades should be on everyone's bucket list, and bringing a family on a few days or more of exploration is probably the best vacation your kids will ever have. Make your base in one of the surrounding towns such as Homestead, Shark Valley, Marco Island, and Everglades City—there are no hotels in the park—and spend your days looking for alligators and evenings enjoying the local delicacies and the comfort of one of many comfortable hotels, inns, and apartments.
There are nine entrances to the Everglades. One of these entrances, along with the Ernest Coe Visitor Center, is located about seven miles from the city of Homestead. 
Where to Stay When Visiting the Everglades
If you're planning to stay a couple of days in the Everglades but struggling to find somewhere to stay, here's a list of the best accommodations that one of the wildest places in the U.S. has to offer.
Homestead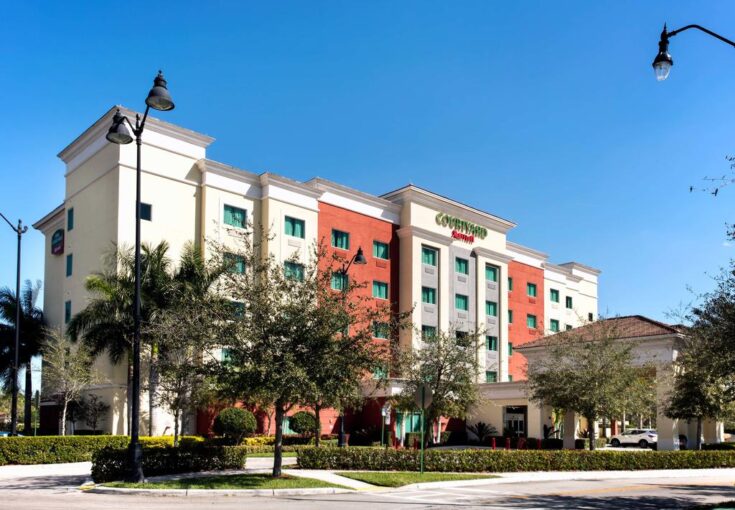 Photo Credit: www.booking.com
Courtyard by Marriot Miami Homestead is a modern hotel that is close to Everglades National Park (less than 23-minute drive), Biscayne National Park (7.7 miles away), and Coral Castle Museum (2.4 miles away). The hotel's spacious and contemporary rooms all have free WiFi, desks, ergonomic chairs, flat-screen TVs, mini-fridges, coffeemakers, a microwave, and tea and coffee makers. Suites also have separate living areas. 
Guests will enjoy a living room-style lobby, an outdoor courtyard, an outdoor pool, a gym, a business center, a meeting room, and a laundromat. 
The American restaurant The Bistro serves complimentary breakfast and dinner, all-day drinks, and Starbucks coffee.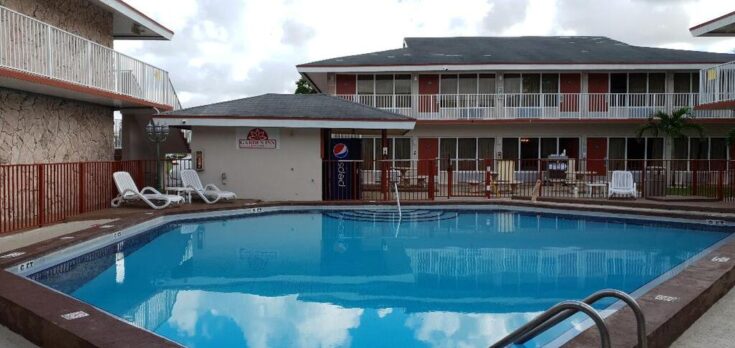 Photo Credit: www.booking.com
Garden Inn Homestead is a cozy inn located 3.7 miles from Homestead Miami Speedway, about five miles from Fruit Spice Park, and less than six miles from Homestead Air Force Base.
Each room has a flat-screen TV, refrigerators, free wifi, and a private bathroom with complimentary toiletries. Some rooms have a separate seating area and some offer a view of the pool or garden.  
Guests will enjoy a complimentary continental breakfast, an outdoor pool, and free private parking.
This inn is an affordable option for families and couples, providing all comforts required by tired tourists who spent the day exploring the famous Sea of Grass nearby.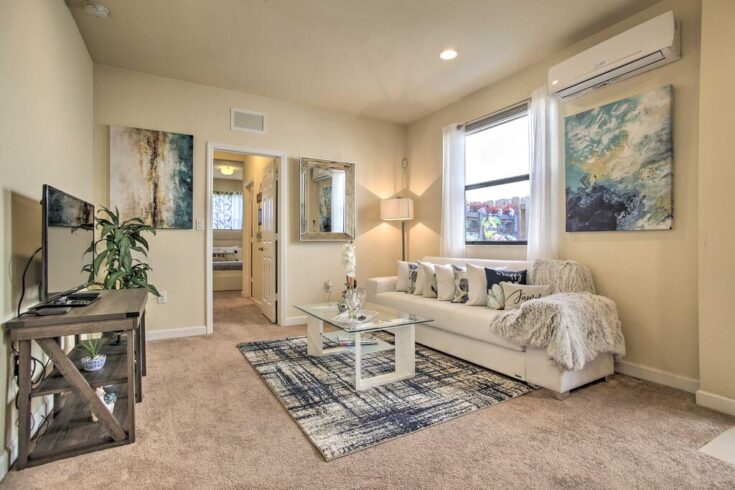 Photo Credit: www.booking.com
Bright South Florida Getaway Near Parks & Bay in Homestead is a lovely holiday home about 4.3 miles from Homestead Air Force Base, 6.8 miles from Homestead Miami Speedway, 7.5 miles from Fruit Spice Park, and 7.5 miles from Homestead Sports Complex.
This comfortable home has one bedroom, a living room, free wifi, and a modern, well-equipped kitchen. There is also a playground in the yard.
This private home is popular with families who like to enjoy the privacy and the facilities of this home after exploring the waterways and trails of the Everglades.
Marco Island
If you want to combine wilderness exploring and a bit of pampering in a luxurious resort, stay in Marco Island, at Florida's southwestern-most point.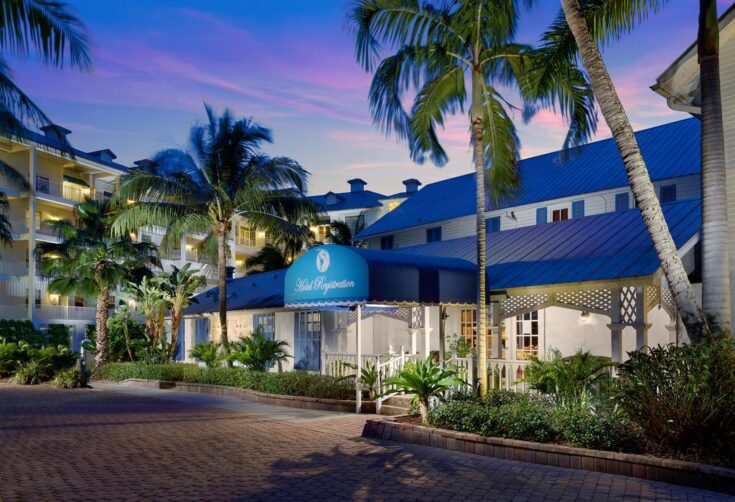 Photo Credit: www.booking.com
Originally constructed in 1883 as a guesthouse, Olde Marco Island Inn and Suites is an upscale hotel located in a charming Victorian near The Collection at Olde Marco with its numerous shops and restaurants. It is also about three miles from Tigertail Beach Park, an 11-minute drive from Rookery Bay National Estuarine Research Reserve, and 3.9 mi from Hideaway Beach Golf Club. 
All luxury suites are individually decorated in the bright, beachy style; have two bedrooms and two bathrooms; private patios; kitchens with an oven, a refrigerator, and a stovetop; free Wi-Fi; TVs; and DVD players. The opulent penthouse has a third bedroom, a wraparound lanai overlooking the garden, a great room, and a home theater. Parking is free. There's an elegant bistro serving upscale fare, an outdoor pool surrounded by tropical gardens, coin-operated laundry facilities, and a bike rental. Beach toys, chairs, and umbrellas are also available for guest use.
Guests will enjoy an on-site restaurant—Bistro Soleil—which offers French cuisine, an outdoor swimming pool, bicycle rentals, photocopying facilities, fax, and a vending machine. 
This romantic, old inn is often booked by couples who are looking for a bit of a romantic atmosphere after spending the day in the wilderness of the Everglades.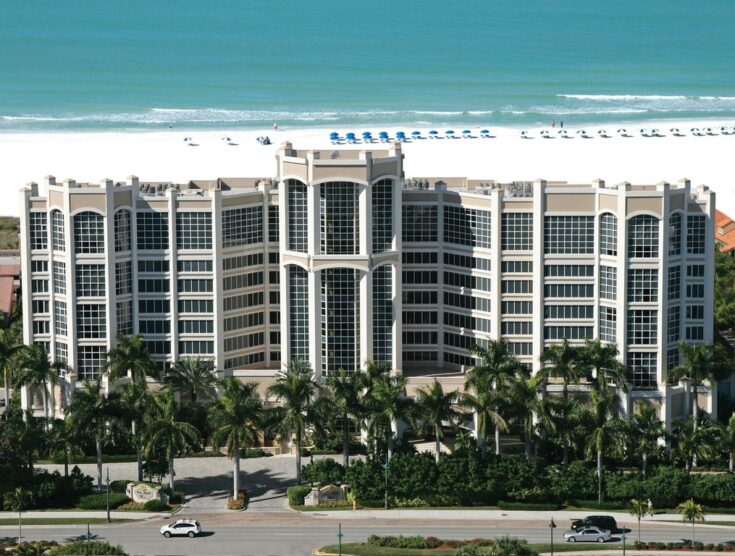 Photo Credit: www.booking.com
Marco Beach Ocean Resort is an upscale, all-suite hotel located right on the beach overlooking the Gulf of Mexico. The resort is only a 5-minute walk from the exciting shopping at Marco Walk Plaza.
Traditional suites are luxuriously furnished and decorated. All have patios or balconies, fully equipped kitchens, iPod docks, free Wi-Fi, and flat-screen TVs. Many suites also enjoy spectacular views of the ocean.
Guests will enjoy food and drinks service right on the beach as well as complimentary towels, lounge chairs, and umbrellas. There is a rooftop pool with a bar and grill that serves free smoothies in the afternoon. The resort also has an upscale Italian restaurant, an outdoor terrace, a casual cafe, and a lounge. Guests also have access to an exercise room and a luxury spa.
This resort is a perfect spot for a bit of luxury after a day of exploring the Everglades. It is popular with families with kids, who love the large private beach and with couples who appreciate all the amenities.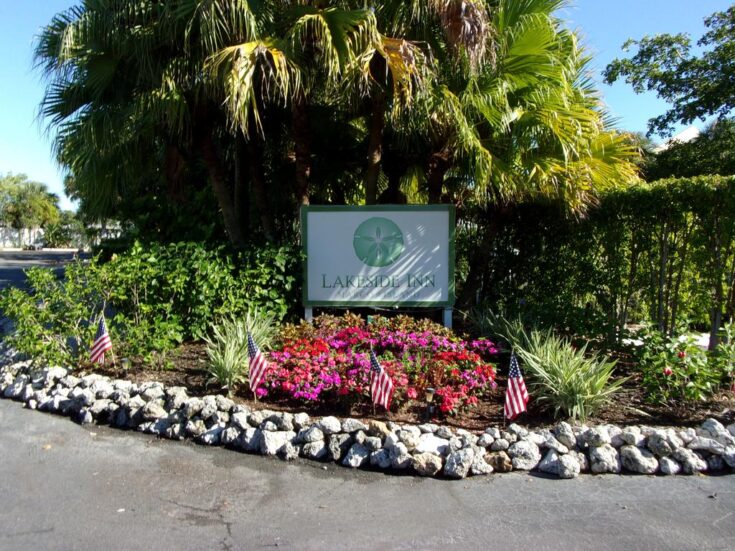 Photo Credit: www.booking.com
Located on the coast of the Marco Island's freshwater lake, Marco Island Lakeside Inn is a relaxed hotel about two miles from the beach and Marco Island Historical Museum, a 10-minute walk from the Marco Town Center Mall, a 5-minute drive from Tigertail Beach, and a 15-minute walk from Marco Island Sea Excursions.
Studios and suites at the inn are spacious and nicely decorated with wicker furniture and bright colors. Each room has a full kitchen or kitchenette, a cable TV, DVD players, free wifi and iPod docking station. All rooms have lovely views of the pool or the lake. Upgraded suites also have decks with outdoor seating and hammocks.
Guests will enjoy a heated outdoor pool, free parking, barbecue facilities, laundry facilities, bike rental, a DVD library in the lobby, free lemonade, coolers, beach chairs, umbrellas, fishing poles, and parking. This inn is equally popular with couples and families.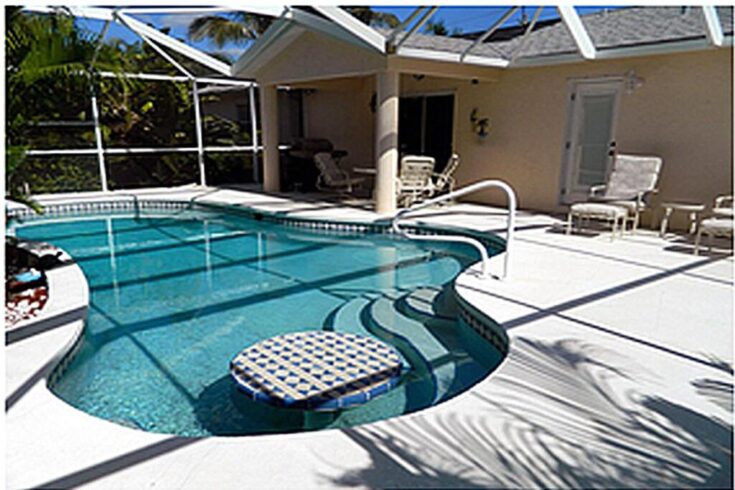 Photo Credit: www.booking.com
Mango Oasis is a lovely, large, private vacation home in Marco Island not far from Marco Island Water Sports and a short walk from Marco Walk Plaza. Marco Island Historical Museum is 1.9 km away, and the beach is within walking distance.
Very popular with families, this vacation home is wonderfully decorated, has a fully equipped kitchen, spacious bedrooms, bunk beds for the kids, and a large, screened pool. It is a perfect spot to have a relaxed home-cooked meal after a day in the Everglades.