Rocky Mountain National Park is an outdoorsy person's paradise! Stretching over three hundred miles of various beautiful, challenging hiking trails. Ranging from flat lakeside strolls to steep and strenuous mountain climbs, there's a little something for everyone here, from families traveling with small children to the most experienced mountain climbers.
If you're currently plotting a visit to Rocky Mountain National Park, chances are you are feeling as overwhelmed as ever choosing what trails to chase. Luckily, you can do many of them on a short visit, especially if you opt to go after relatively short, simple, sweet trails.
From easy, gentle walks along thick green meadows in search of breathtaking alpine lakes to trails that will have you conquering heights you never dreamed possible, these are just a few of the best hikes in Rocky Mountain National Park to add to your bucket list.
Hiking Essentials
Before setting off on your hike, you must make sure you have the hiking essentials. These basic things will help make your hike more comfortable, safe, and memorable. Make sure you have working navigation of some kind (app, atlas, map, etc.), water, snacks, sweater, firestarter, flashlight, whistle, multi-purpose tool, and sun protection. Tell someone where you're going and approximately how long you should be. Wear comfortable hiking shoes, and don't have your earbuds cranked up because you need your ears to listen to the environment. Ready to get hiking? Let's explore the thirteen most epic hikes in Rocky Mountain National Park.
Most Epic Rocky Mountain National Park Hikes
Emerald Lake Trail
The Emerald Lake hike is arguably, one of the most loved trails in Rocky Mountain National Park for all the right reasons. Not only is it a relatively simple hike accessible to pretty much everyone, but the dreamy alpine scenery accompanying hikers every step of the way makes it a true treat. What's best? The hike will have you passing three picture-perfect alpine lakes ((Nymph Lake, Dream Lake, and Emerald Lake), giving you plenty of excuses to stop and catch your breath.
Aside from the three main lakes along the trail, you can also opt to go the extra mile (literally) to see a fourth lake: Lake Hayiaha. Of course, this detour adds an extra mile to the feat (and another one on the way back), but it's worth the effort if you're still keen to relish even more mountain goodness.
Gem Lake Trail
Gem Lake Trail is approximately 5 kilometers long. It takes a seasoned hiker approximately two hours to complete. The terrain is rocky, rough, and in some parts, quite challenging. Hikers get to see exciting boot formations as they climb up massive steps to see the gorgeous Gem Lake.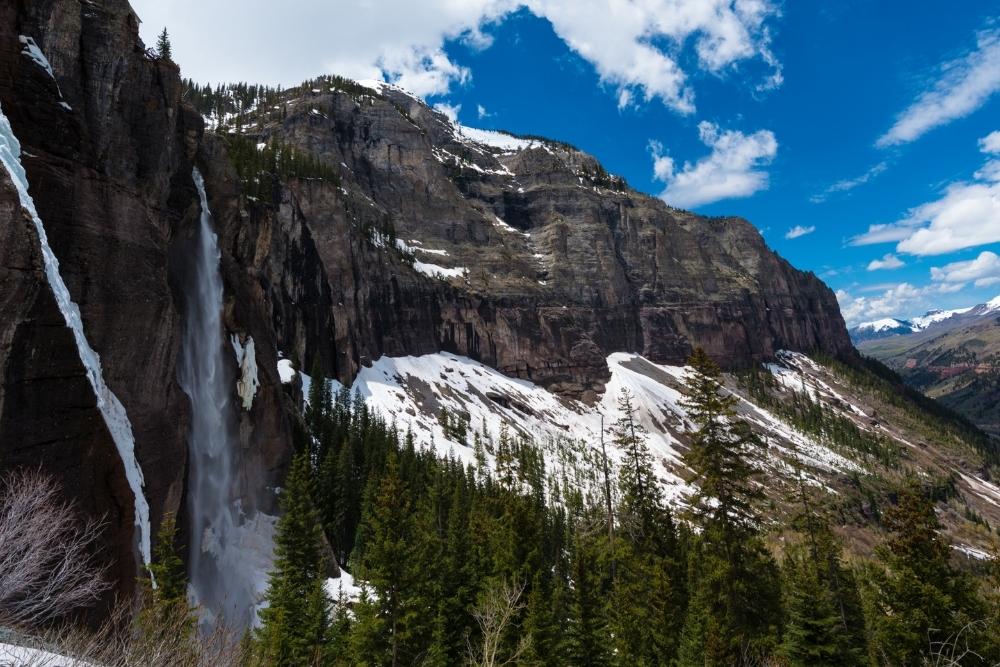 Bridal Veil Falls Trail
Colorado may be known for its unparalleled natural beauty, but here's a little fact even we find hard to believe: there aren't many amazing waterfalls in the state.
An exception to the rule? Bridal Veil Falls is a beautiful 20-foot tall cascade considered a pretty unusual sight in Colorado. The hike itself is 6.1-miles long and takes roughly 3 hours to complete. While it's considered moderate difficulty, the trail follows along the scenic Cow Creek, which brims with wildlife sighting opportunities (keep your eye out for elk and mule deer) and gorgeous aspens and meadows to keep you entertained along the way.
Sky Pond
If the Emerald Lake Hike sounds a tad too easy for you, Sky Pond is an excellent alternative for those looking to put their legs to the test. Tucked among towering granite spires, this 15 km long hike isn't for the faint of heart, but the views of dramatic valleys, soaring peaks, and two perfect alpine lakes make every step of the way an absolute delight. Hikers might even spot wildlife on their trail. Sky Pond is a terrific trail comprised of everything needed to make an awesome trail. Hikers will find plunging waterfalls, ever-changing views, and sparkling lakes.
Longs Peak via the Keyhole Route
Are you keen on a true challenge? Being the highest tip in Rocky Mountain National Park, Longs Peak may just be the most iconic mountain in the entire state. While several routes are available to conquering this sought-after Colorado 14er (some of which are easier than others), the Keyhole Route is the best route to follow if you're keen to put your hiking skills to the test.
The Keyhole Route on Longs Peak hike is a long 14.5-mile trail that's rated as extremely challenging, especially considering it has an elevation gain of a whopping 4,991 feet. As you start the ascent, you'll face humongous vertical rock faces, loose rocks, and several steep cliffs. Scrambling is a must to reach the top, making it a challenge even for experienced hikers.
In essence, this is not a hike to be taken lightly. Prior experience is required, and wearing a helmet is a must. Moreover, don't start the hike before checking that the weather conditions are right for summiting.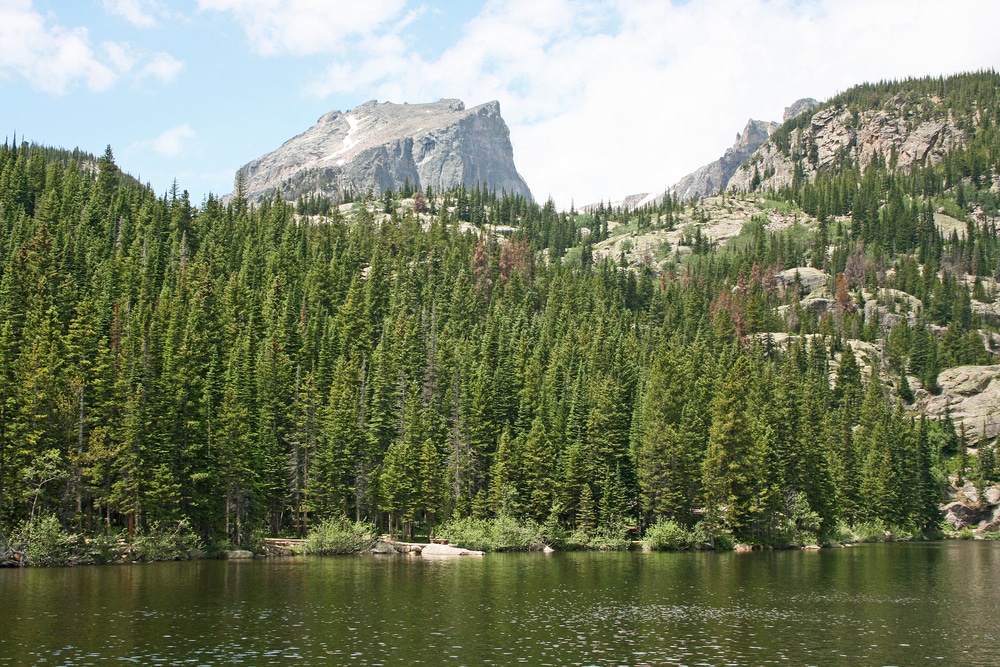 Bear Lake
Commonly dubbed the most uncomplicated hike in Rocky Mountain, its easy difficulty level doesn't quite take anything away when it comes to extraordinary views. The trail is short (less than a mile long), but during the stroll, you'll be treated to scenic views of close peaks and the breathtaking Bear Lake, a sparkling lake guaranteed to leave you in awe. Bear Lake trail is perfect for those new to hiking. Follow the trail in a counterclockwise direction to take advantage of the fun interpretive guide, and make sure to have your camera ready to snap pictures as you hike through the thick forests.
Note: Bear Lake is an accessible trail, meaning it's stroller and wheelchair-friendly.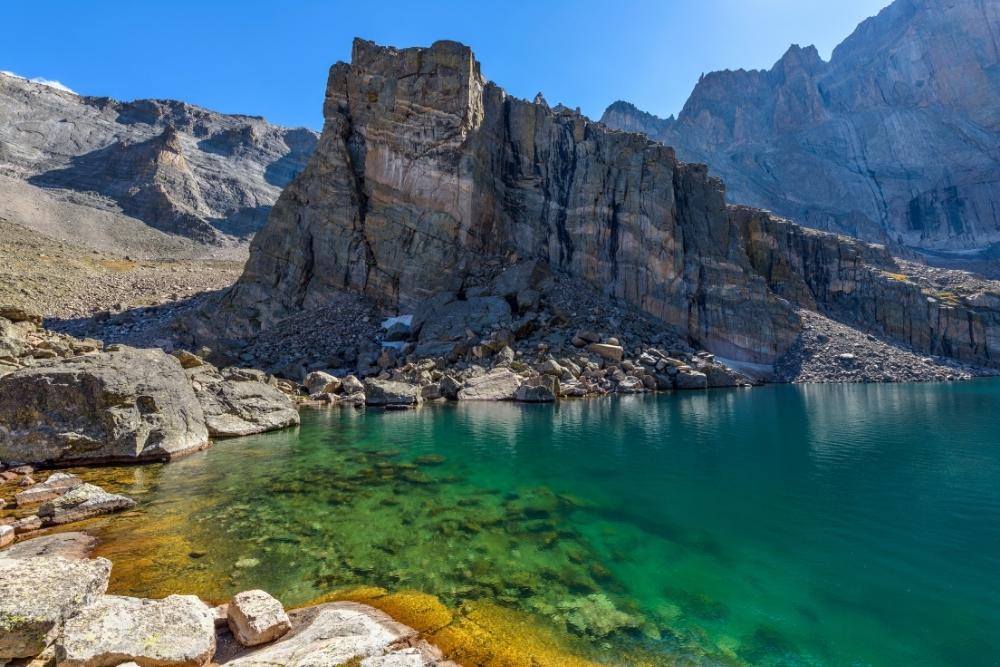 Chasm Lake Hike
If every hike on this list mentions at least one lake, that's because Rocky Mountain is the king of dreamy, picture-perfect alpine lakes. Another must-do on your hiking list, especially if you're in the mood for a longer hike, is heading up to Chasm Lake.
Aside from the alluring lake, you'll see at the end of the trail that the entire hike brims with charm and will have you making multiple stops along the way to take the scenery in. Think dramatic vistas of Long's Peak (one of the most iconic mountains in the park), a dramatic amphitheater of rock formations, and a delightful waterfall to give you a pretty good idea of what walking this 7.7-mile long trail is all about!
Alberta Falls Hike
The Alberta Falls hike is approximately 1.6 miles in length. It is a beginner-friendly trail, but caution should be taken because it's also rugged and rocky. Visitors enjoy the Alberta Falls Hike because of the cascading waterfall you see! It's a gorgeous short hike that you'll definitely love.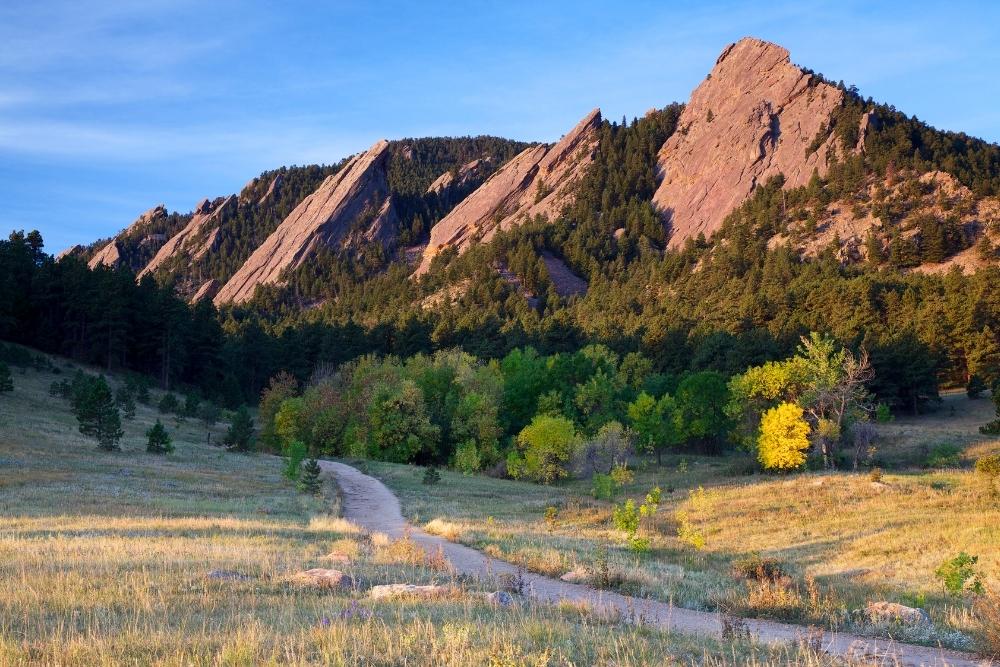 Boulder Brook Loop
Boulder Brook Hike is approximately 4.6 miles long. It takes a seasoned hiker about 2-3 hours to complete. The hike is rocky and rugged, with a moderate difficulty rating. In addition, the hike follows a beautiful creek and treats visitors to incredible foliage. This hike is typically less crowded, so you'll be guaranteed to get some great photos without worrying about anyone photobombing you!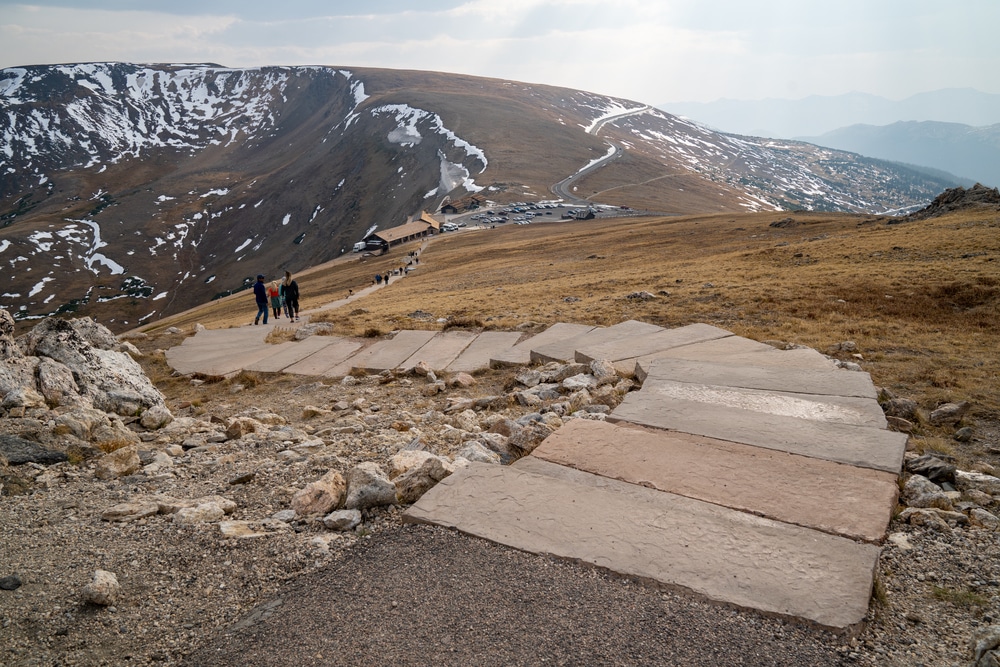 Alpine Ridge Trail
Don't pass on this hike just because it's short, because where it might lack in length, it makes up for with heavenly views! The Alpine Ridge Trail is fantastic. It has an incredibly high elevation and promises incredible sights.
The Loch Hike
The Loch trail is typically crowded. It's approximately 5.4 miles and takes roughly 2-3 hours to complete. The hike treats its visitors with unparalleled views, exotic birds, and other wildlife sights.
Don't Miss These Hikes!
Dream Lake Trail
Lake Haiyaha
Twin Sisters Peak Trail
Rocky Mountain National Park is a dream to visit. There is something for everyone, regardless of your physical abilities. Visitors will enjoy sights of sky-high mountain peaks, gorgeous alpine lakes, gentle waterfalls, and so much more. We hope this list of the best hikes in Rocky Mountain National Park helped you develop a perfect hiking itinerary. Even though there are virtually enough trails for you to dedicate an entire year to hiking here, these are great ones to get started and see some of the most iconic sights in the park!