First Time Taipei Guide: Taipei Travel Tips for First Time Visitors. If you're planning your first trip to Taipei, this 3 Days in Taipei city guide has all you need to know! We've included what to see and do in Taipei in 3 days, including what to eat in Taipei, must see places in Taipei, and top activities to do in Taipei. Everything you need to plan the perfect trip to Taipei, Taiwan!
This is a guest post by Nick Kembel of Spiritual Travels, who has lived in Taipei for 10 years.


Disclosure: This 3 Days in Taipei guide contains affiliate links. That means we earn a commission when you use the links on this site to book a hotel, buy your travel insurance, shop for travel essentials, etc.. You don't pay anything extra. If you'd like to learn more about how this works, you can read more under our Disclaimer page.
***
If you've never been to Taipei, Taiwan's bustling and unapologetically hip capital, or you are planning a trip, this Taipei visitor guide is for you.
Taipei is a city where the traditional and modern coexist, it's super convenient and safe to travel, and literally everyone is obsessed with food. Read on to find out the best things to see, activities to do, and foods to eat when you step foot in this mesmerizing East-Asian metropolis! We hope this info will help you plan your Taipei itinerary!
---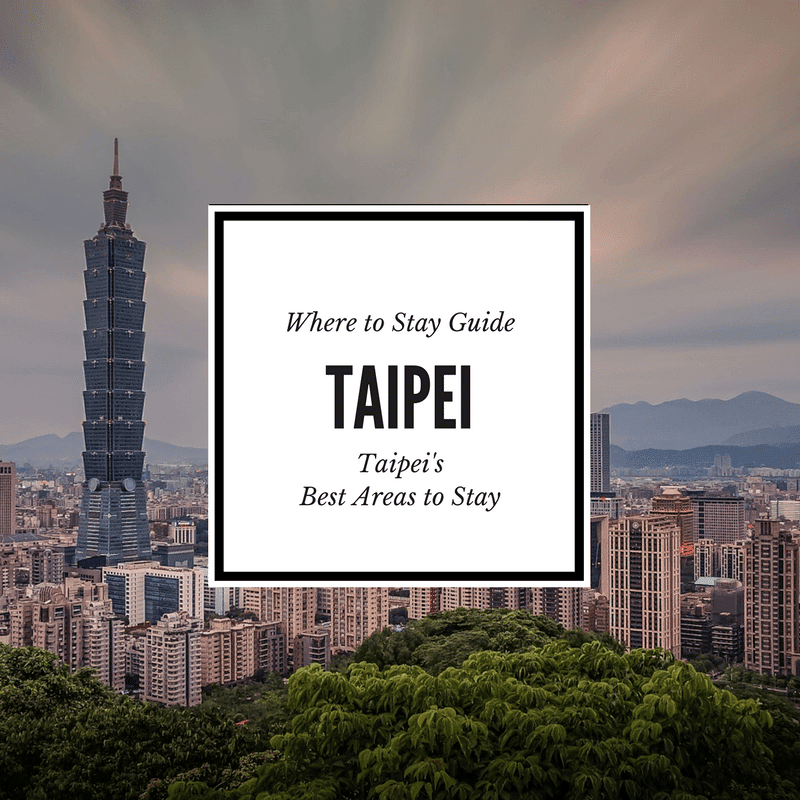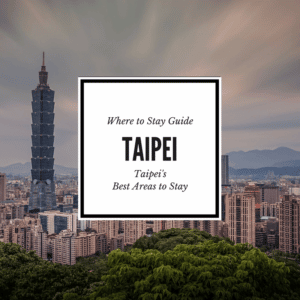 ---
How to Spend 3 Days in Taipei: Table of Contents
Included in this guide, Nick has picked out the best things to see, do, and eat in Taipei on your first trip to the city. The activities listed here are perfect if you have three days to spend in Taipei: you'll be busy, but not run off your feet. If you have less time, pick and choose from the suggestions below. And if you have more time, spread the activities out for a more relaxed pace.
---
Before You Go: Consider a Taipei Attraction Pass and a SIM Card
✓ Entrance to Taipei 101
✓ Entrance to National Palace Museum
✓ Unlimited Public Transport
✓ Many more attractions & other offers
Pick up at TPE Airport, or Main Train Station
✓ No registration required
✓ 4G coverage island wide
✓ Unlimited incoming calls/outgoing call credit
✓ Unlimited text messages
Pick up at TPE or KHH Airport, 5, 7 or 10 day plans available.
---
Must See in Taipei: The 5 Best Sights to See in Taipei on Your First Trip
1. Taipei 101: One of the Most Popular Places to See in Taipei
Once the tallest building in the world, bamboo stalk-like Taipei 101 still holds some records. It's now the tallest "green" building in the world, and visitors ride the world's fastest elevator to reach the glass observation deck on the 89th floor.
Taking in the 360-degree view of Taipei and the surrounding mountains from this iconic building is a great way to kick-start your Taipei explorations. It's popular every day or the week and there can be a long line at the fifth-floor entrance, so try to get there early.
Also don't miss the enormous 730-ton stabilizer ball hanging in the middle, which helps prevent the building from falling during earthquakes!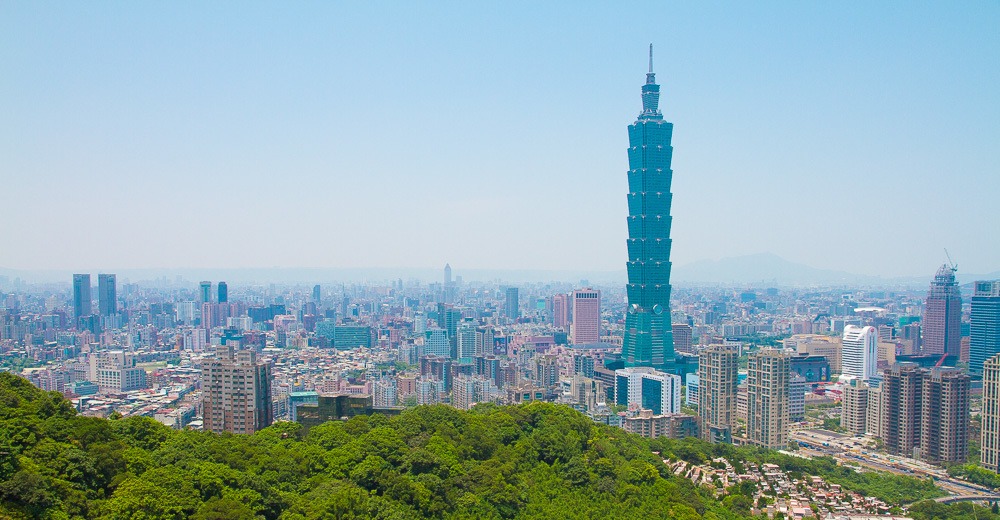 2. Chiang Kai Shek Memorial Hall: CKS Taipei is a Beautiful Spot, Great for Photos
Another iconic Taipei site, CKS Memorial Hall was built to remember the controversial Republic of China leader who fled China to Taiwan and imposed 20+ years of martial law.
Politics aside, the blue and white memorial is striking in appearance, along with the classical Chinese-style National Theater and National Concert Halls on either side, so the square makes for great photo ops.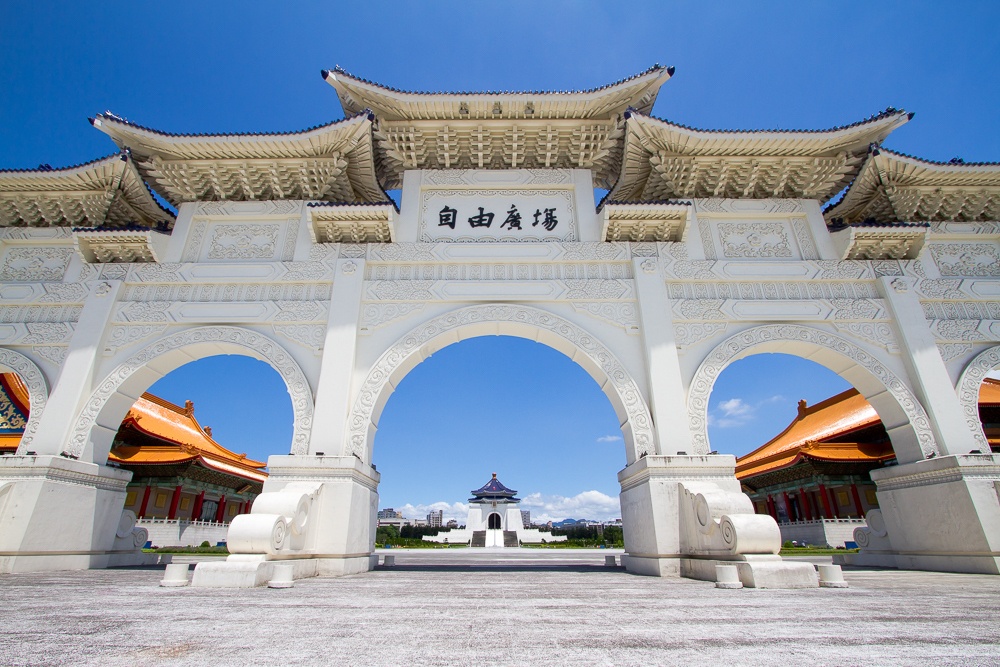 3. Longshan Temple: One of the Most Popular Places in Taipei
The most well-known temple in Taiwan, and also one of Taipei's oldest is Longshan Temple in Wanhua, the old city district of Taipei. It's also the most popular among tourists, but deservedly so for it's constantly bustling atmosphere of devotion.
There's a large koi pond and waterfall, fortune tellers lining the street out front, and interesting Herb Alley, where Chinese herbs and medicines are sold, next to it. The Buddhist-paraphernalia shops in the neighborhood are also interesting to peruse.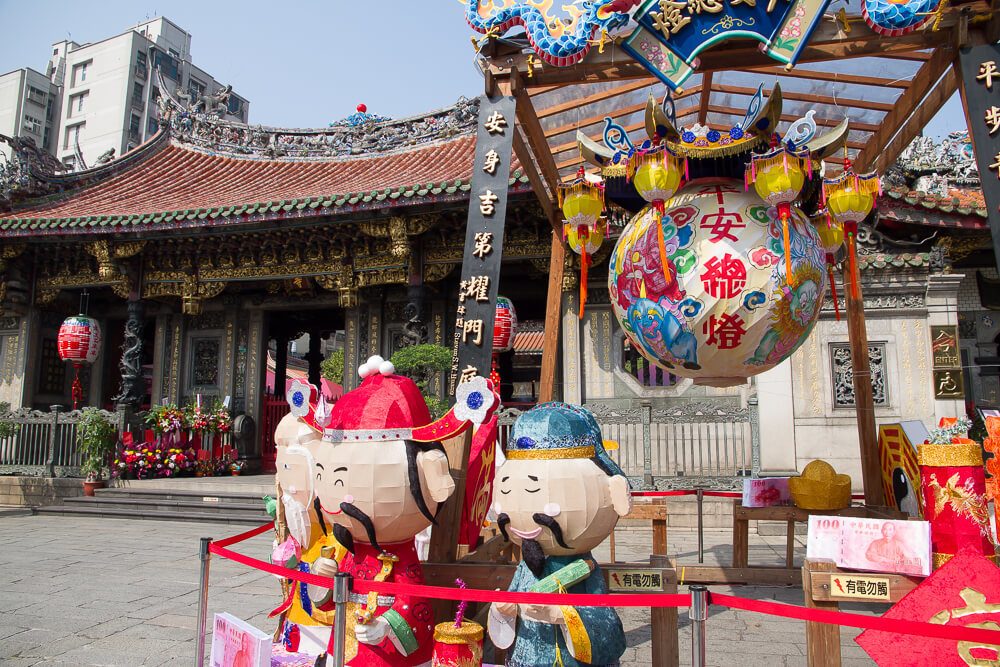 4. Hua Shan Creative Arts Park: One of the Most Interesting Places to Shop in Taipei
A big trend across Taiwan in recent years has been the conversion of old derelict buildings into art centers or villages, and Hua Shan is the most popular one in Taipei. A sake and ginseng wine factory built when Taiwan was a Japanese colony, the buildings on site have now been repurposed as cutesy shops, eateries, and music and art show venues.
Behind the main buildings lies a huge field that is one of the top spots among Taipei residents for a weekend picnic.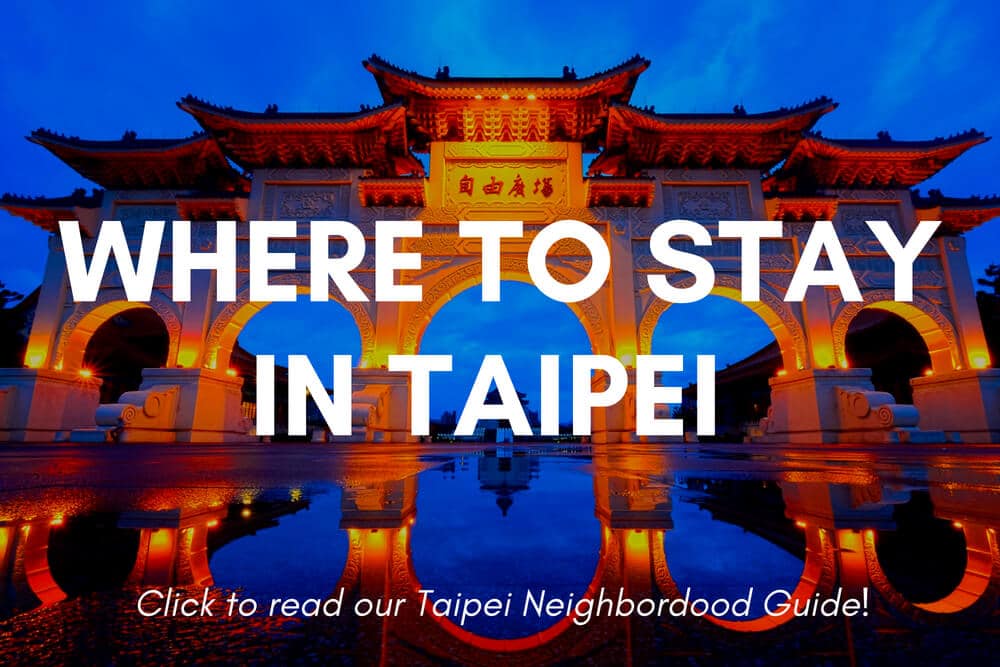 5. National Palace Museum: The Best Place to See National and Chinese Treasures
When two million Chinese fled to Taiwan in 1949, they also carried with them hundreds of thousands of ancient Chinese artifacts, many of them originally from the Palace Museum in the Forbidden City of Beijing. These are still housed in the National Palace Museum in Taipei, making it the most important museum in the Greater China region.
Even if you are like me and get bored in museums, it's impossible not to be impressed by both the permanent and rotating exhibits on display. For example, a recent exhibit brought a collection of ancient Chinese scrolls to life by digitally animating them on screens, bringing all the little ancient scenes to life.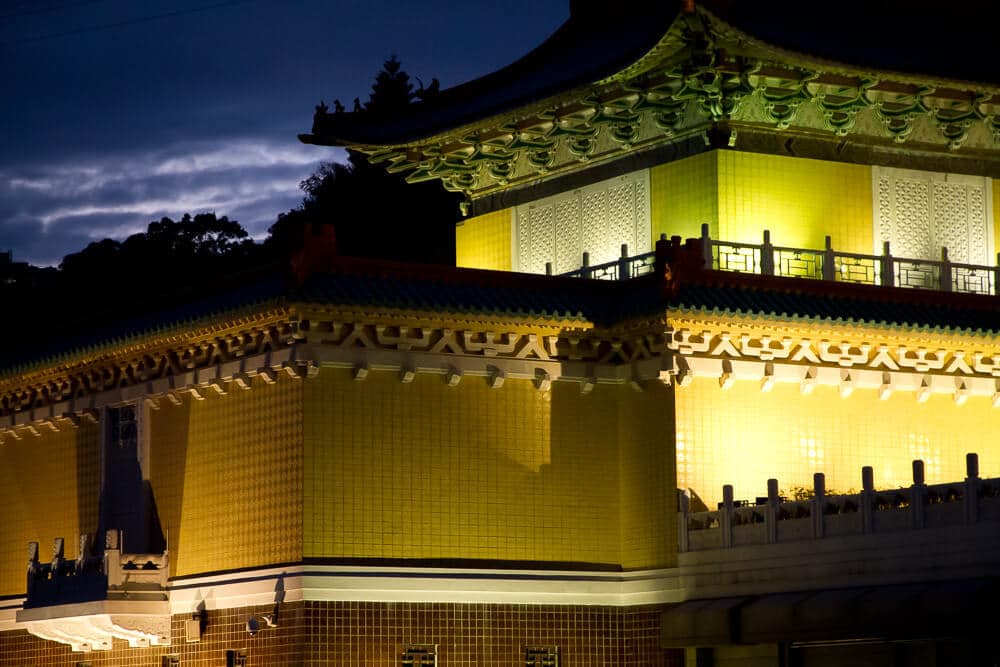 What to Do in Taipei: The Best Things to Do in Taipei on Your First Trip
1. Climb Elephant Mountain: One of the Best Views of Taipei
If you don't want to fork over the money for the Taipei 101 Observatory, you prefer hiking for a view, or you want the classic Taipei postcard panorama that includes 101 in the shot, then head to Elephant Mountain, one stop past Taipei 101 on the MRT.
Elephant is actually one of the four "beast" mountains, all interconnected with hiking trails, but it only takes about 30 minutes up the most accessible one to enjoy amazing city views. Sunset is a popular time, and don't even consider trying to get a spot for the Taipei 101 fireworks display on New Year's Eve!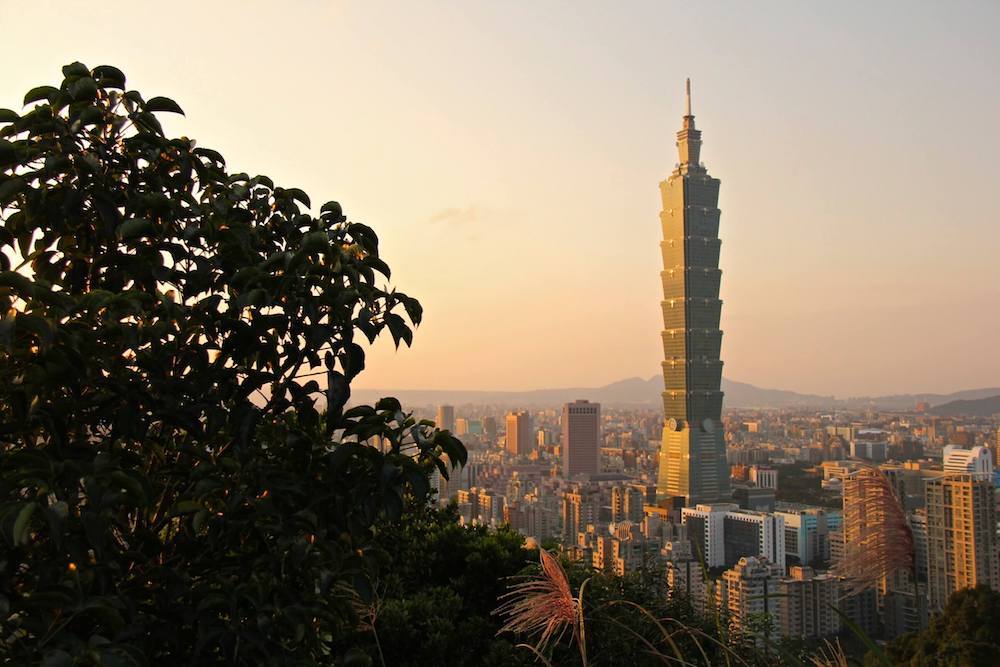 2. Ride the Gondola to Maokong: Enjoy Traditional Tea in Taipei
Right beside Taipei Zoo, the Maokong Gondola takes passengers on a 25-minute ride above the hills overlooking Taipei, where oolong tea is grown and numerous traditional tea houses offer fine views.
Make sure to ride one of the Crystal Cabins, which feature a glass floor, for a more exhilarating ride. Doing tea the traditional way in one of the tea houses at the top is a little pricey and better with a group; a good alternative is the mouthwatering tea flavored soft ice cream for sale.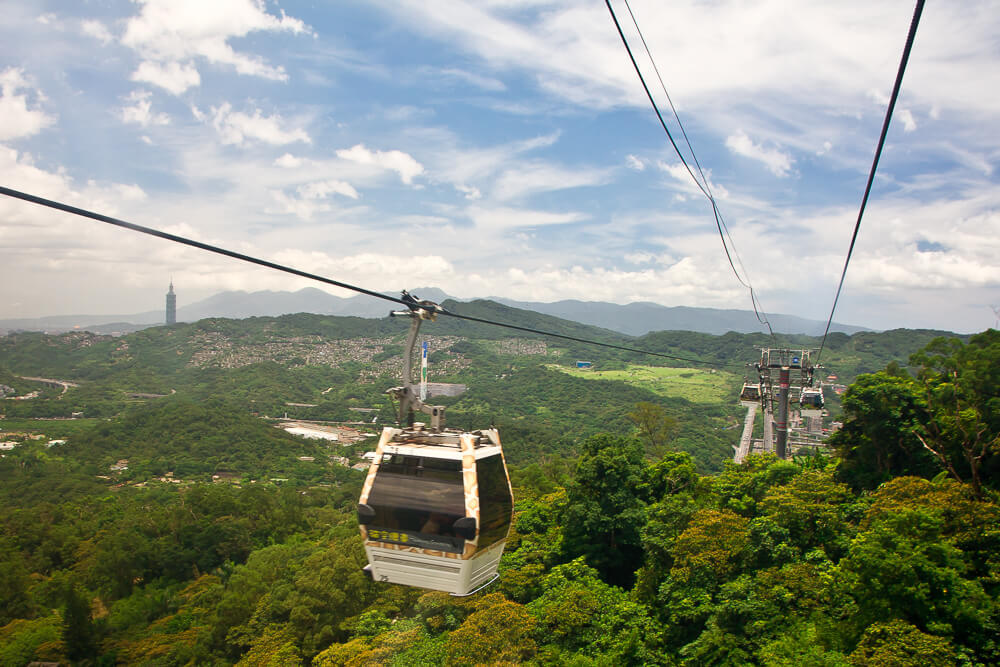 3. Take a Hot Spring at Beitou: East-to-Visit Hot Springs Near Taipei
Perfect for winter or a rainy day, Beitou is the only thermal area accessible by MRT in Taipei. First developed by the Japanese, the neighborhood at the base of Yangming Mountain (a dormant volcano) boasts numerous hot spring hotels, an eco-friendly library, and hot spring museum.
The hot spring park, with a hot creek flowing through it, is right in front of the MRT station. If you follow it up past the cheap public spring, you can also find the source, a huge steaming spring called Hell Valley. For US$30-40, you can enjoy a private hot tub room at one of the many hotels in the area. Don't forget to try hot spring eggs or hot spring ramen!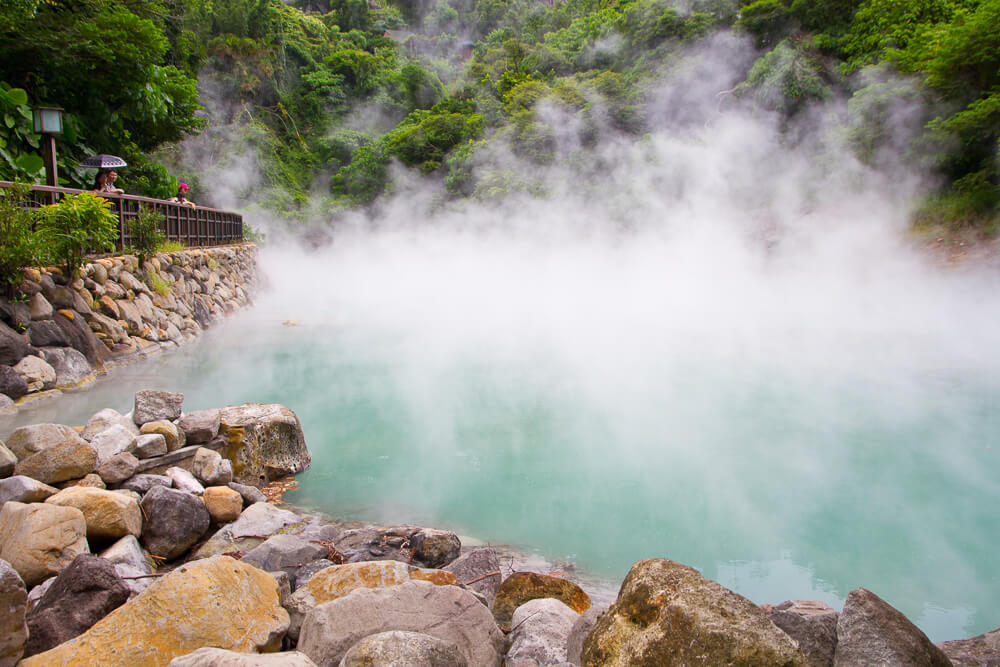 4. See the Sunset at Fisherman's Wharf: A Picturesque Side Trip from Taipei
The northernmost MRT station is practically on the northern tip of Taiwan. From Danshui MRT station, you can stroll the riverside promenade, which is lined with shops and food stalls, then board a 10-minute ferry to picturesque Fisherman's Wharf, where the river meets the sea. It's easy to pay; just swipe your MRT card!
Lover's Bridge, which goes over the harbor, is famed for its beautiful sunsets.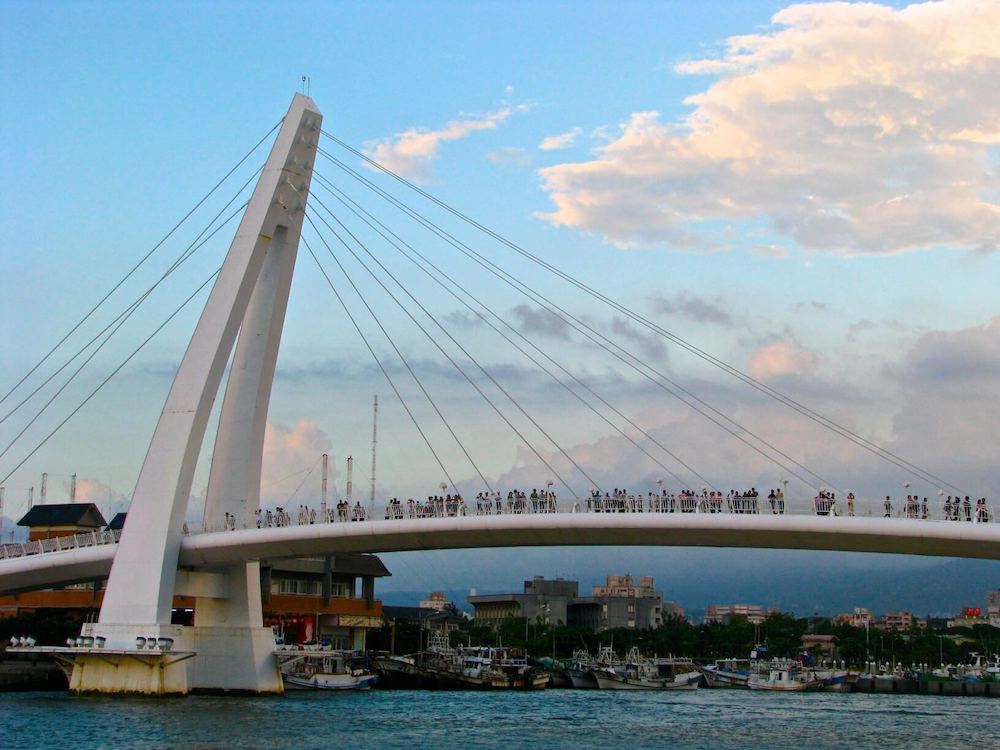 5. Shop for Quirky Items in Ximen: Visit the Harajuku of Taipei
Sometimes called the Harajuku of Taipei, this pedestrian shopping district of Ximen has been cool since the times of Chiang Kai-shek. It's a good spot for cheap souvenirs and fashionable clothing, but don't be surprised by the penis-shaped cakes or street-side tattoo stalls. Oh, and there's a poo-themed restaurant (Modern Toilet) and a choo choo train conveyor belt sushi bar!
Also visit Red House, a Japanese-era market theater, and beside it the city's best collection of LGBT-friendly bar patios. There's also a great weekend craft and design market here.
Eat Taipei: The Best Food in Taipei to Try on Your First Trip
1. Night Market Eats: Night Markets in Taipei are Made for Eating
If you visit Taipei and don't go to a night market, then you haven't really been to Taipei. The city's dozen or so major night markets burst to life at dusk, usually becoming so crowded as the evening progresses that you have to squeeze your way through.
Night market "snacks" are quintessential Taiwanese food. There are simply too many delicacies to name them all, but some favorites include oyster omelets, gua bao (Taiwanese hamburgers), pig's blood cake, deep-fried whole cuttlefish, sausages, fried chicken fillets, and infamous stinky tofu.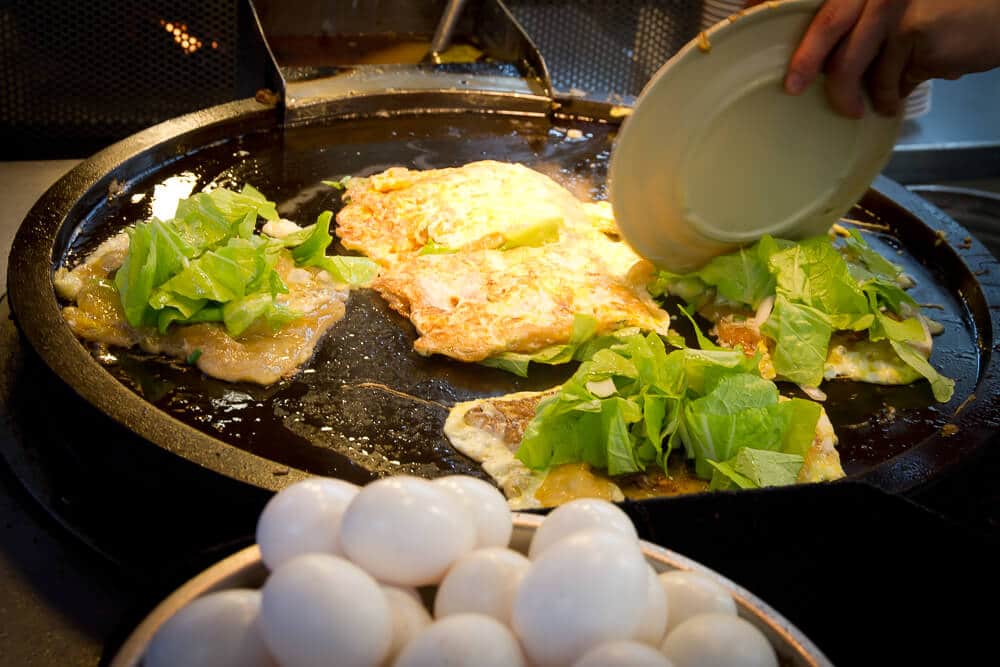 2. Quick Fry: Cheap Eats and Cold Beer
These hole-in-the-wall restaurants are ubiquitous in Taipei and are the best place to go with a group of friends and spend the night eating cheap, tasty pan-fried dishes watered down with Taiwan beer.
The seafood-heavy menus include classic dishes like Kung Pao chicken, three cups abalone mushrooms, clams with fresh basil, sashimi, miso grilled fish, teppanyaki tofu, steamed green veggies, and much, much more.

3. Din Tai Feng Michelin Star Restaurant Taipei: The Best Place for Xiao Long Bao
Taipei's affordable Michelin star restaurant makes every list of best places to eat in Taipei for its gorgeous xiao long bao, or soup dumplings. To eat one, you need to place it in a large spoon, break it open to let the soup spill out, add some soy sauce and fresh ginger, then stuff the whole thing into your mouth.
There are several locations, and you can watch the chefs preparing the dumplings through a window. Besides the dumplings, pretty much everything on the menu is delicious here; even the simple fried rice is perfect.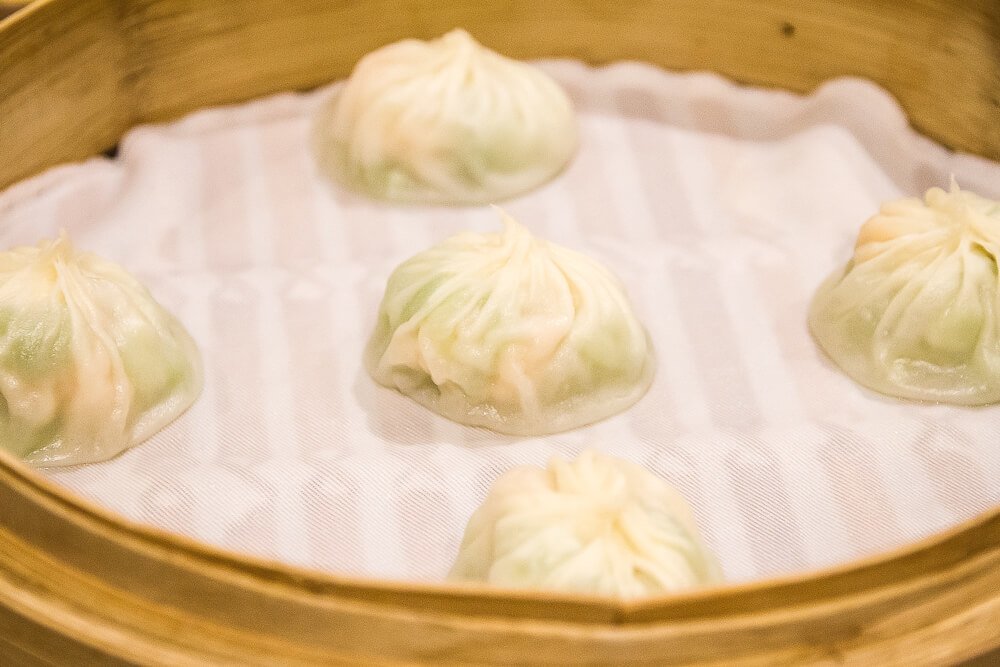 4. Buddhist Vegetarian Buffet: A Pay-by-Weight Veggie Heaven
Not to worry, vegetarians. Taipei is not all meat and seafood! It's actually one of the most vegetarian-friendly cities in Asia, with hundreds of vegetarian restaurants. Just about every neighborhood has a vegetarian pay-by-weight buffet. Watch for the buffet table and Buddhist imagery, including the Buddhist swastika, and sometimes monk and nun diners.
Mock meat dishes, including versions of famous Taiwanese meat dishes, are abundant, but you aren't a fan there are lots of legumes, regular tofu dishes, and veggies too. A fully loaded plate is only US$3-5. And non-vegetarians will probably like it too!
5. Addiction Aquatic: Where to Eat Seafood in Taipei
The old Taipei seafood market has been converted into an upscale seafood grocery store. Seeing the giant lobsters and spider crabs when you first enter is an attraction in itself, but most come for the standing sushi bar or super fresh and reasonably priced take-away sushi trays.
Customers usually gobble up their sushi at the standing tables near the exit, but we usually take it to nearby Rongxing Park for a sushi picnic!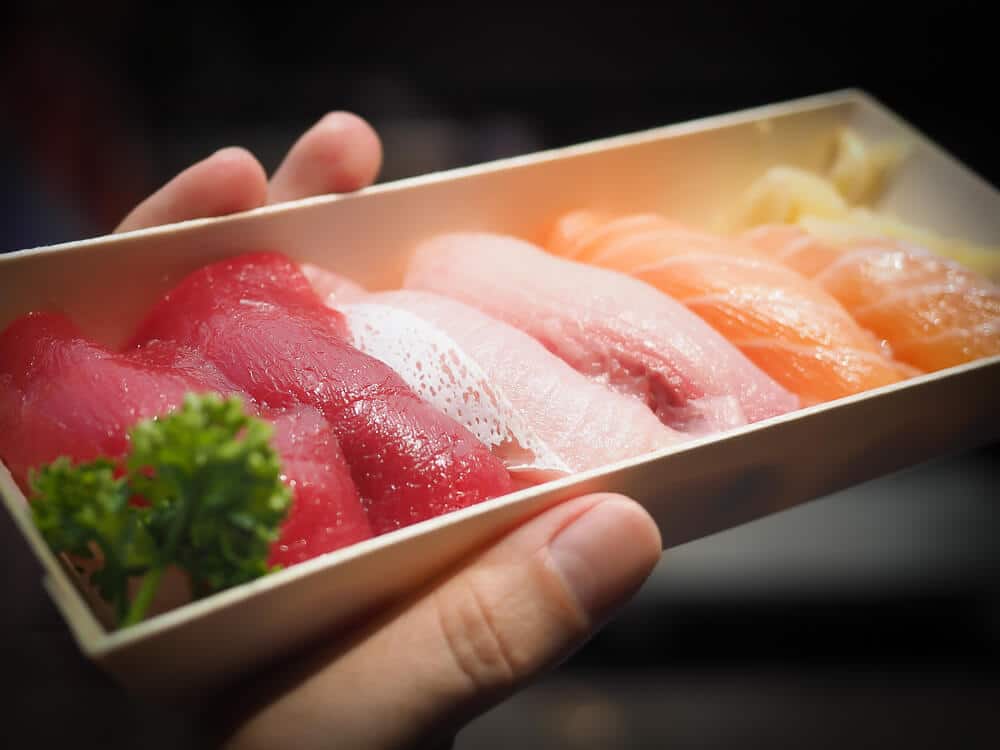 6. Taiwanese Breakfast: Start Your Day with the Best Breakfast Food to Eat in Taipei
Veer into any residential lane in Taipei in the morning and you will see breakfast shops full of people. The menus are mostly the same: breakfast burgers, toasted sandwiches, dan bing (thin green onion crepes), fan tuan (sticky rice rolls), and fresh soy milk or milk tea. A great start to any day in Taipei!
7. Beef Noodles: A Taiwanese Classic
I don't eat meat so I've never tried it, but I might be killed if I don't mention Taiwan's classic noodle dish. OK, Taiwan has many classic noodle dishes, but this one is really talked about a lot, so it must be good!
8. Food Courts: Convenient Eats in Department Stores
Seriously? Yes! Food courts in Taiwanese department stores offer a full range of quality local and foreign meals. There seems to be a competition for who can offer dishes on the largest and most visually appealing plates, bowls, and even mini hot pots with fire below.
A convenient one to try occupies all four sides of the second floor of Taipei Main Station.
9. Shaved Ice: The Best Taiwanese Treat to Beat the Heat
This traditional dessert is a must in summer in Taipei, or anytime really. Traditional ones usually feature your choice of 3-5 jelly pieces, beans, fruit jams, etc., topped with brown sugar syrup.
Fresh fruit ones are really popular now, often topped with ice cream and sweetened condensed milk. In summer, mango shaved ice reigns supreme, but you can get it year-round on Yongkang Street by Da An Park, where it was supposedly invented.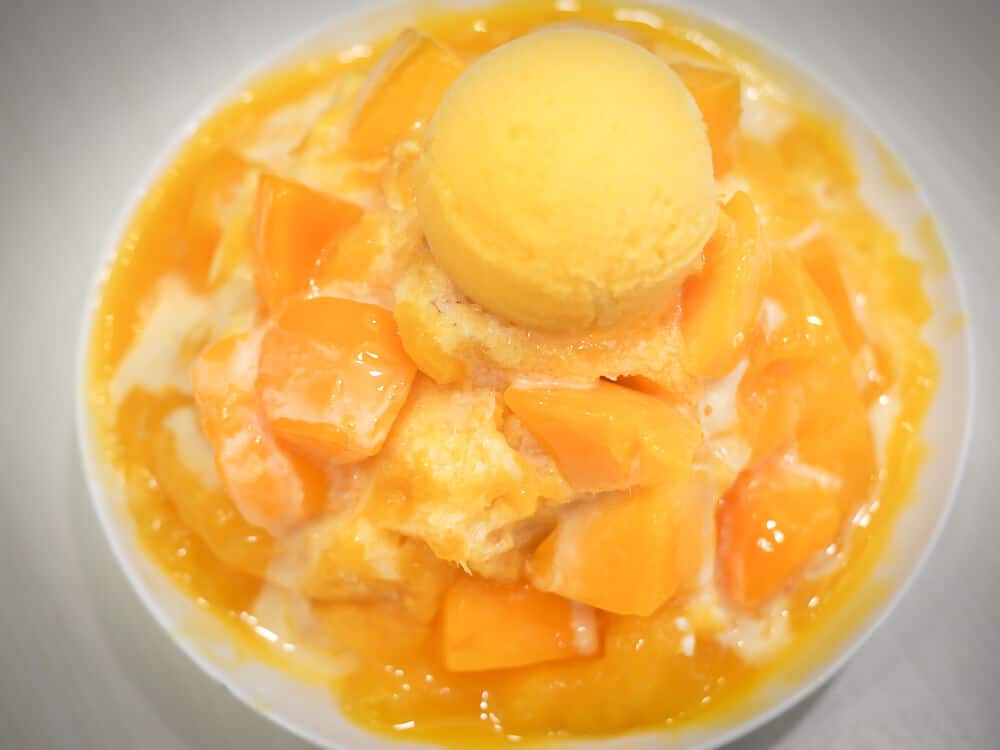 10. Bubble Tea: Taiwan is the Homeland of Bubble Tea
What? You came to the homeland of bubble tea and didn't even try it?
While many locals still prefer the original version, simple milk tea with black pearls, there are all manner of concoctions on tea stand menus. Some are meals in a cup, with all kinds of jelly cubes, coconut chunks, passion fruit seeds, fruit chunks, and more.
While Taiwanese mostly don't like very sweet desserts, these iced tea beverages are sickly sweet, even if you go for "half sweet." Ask for "very little" sugar. Many stalls have a sugar chart, and they'll also ask you about the ice (many locals want little or no ice).
About the Guest Author
Nick has been living in Taipei for 10 years and is the author of the book "Taiwan in the Eyes of a Foreigner."
---
More Asia Trip Planning Resources
Like This Guide? Pin it for Later!