Are you ready to make a splash at one of the most epic water parks in the world? Aquaventure Water Park at Atlantis Bahamas is the ultimate destination for those who love water slides, river rides, and endless pools. But with so much to see and do, it can be overwhelming to plan the perfect day. Fear not, my friends! We've just returned from a fun-filled trip to Atlantis – here are our top tips for having the perfect day at Aquaventure Water Park.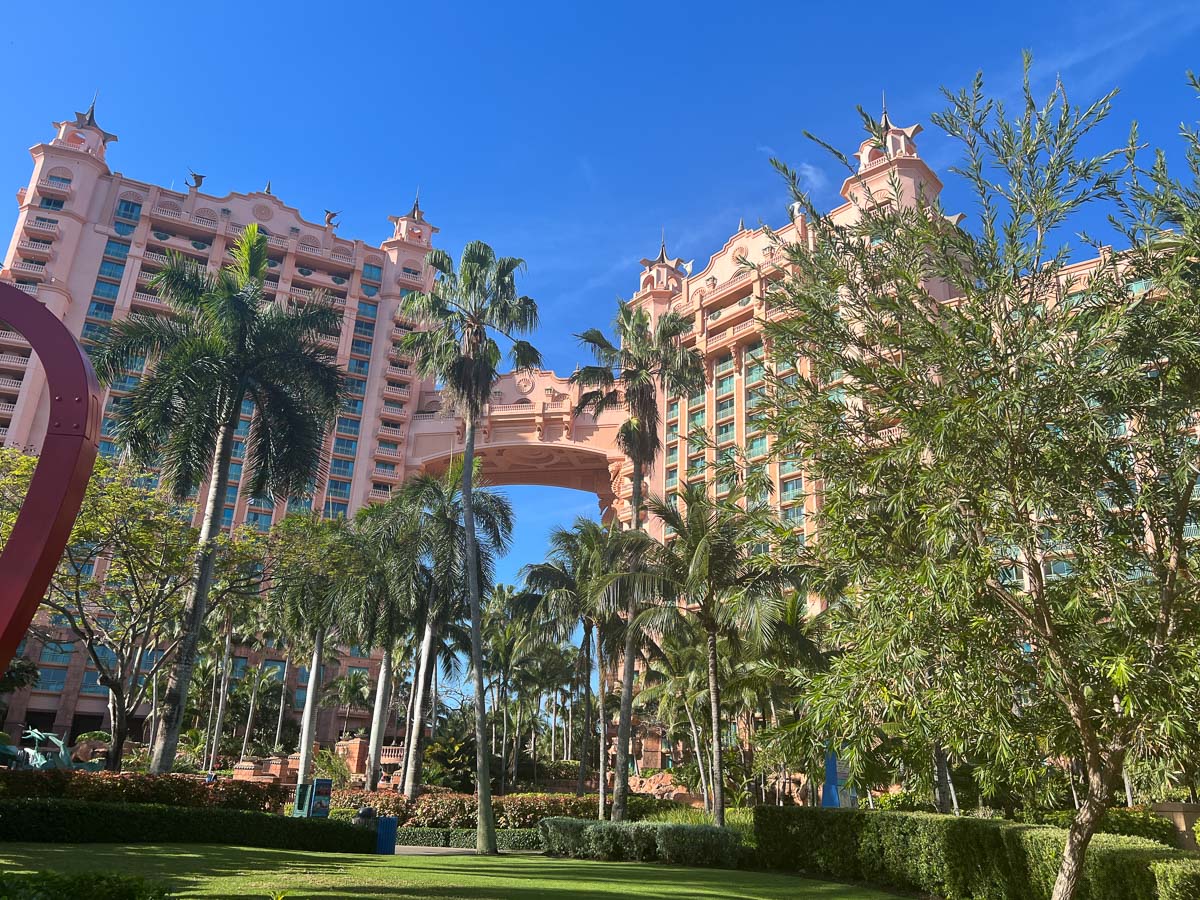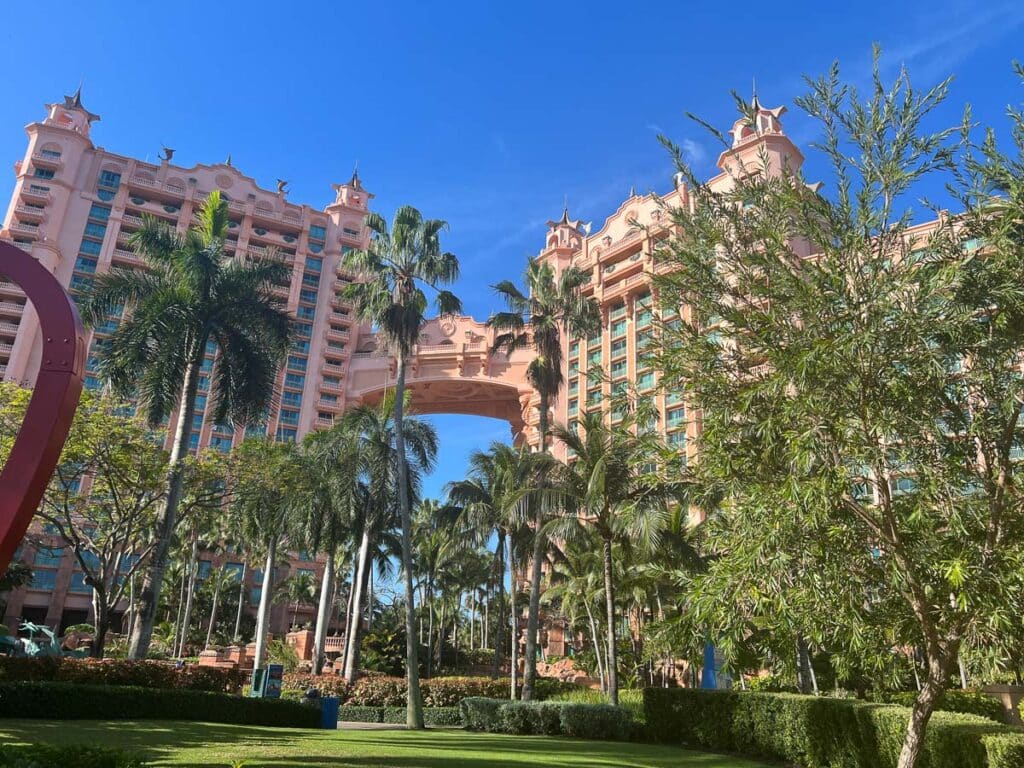 What is Aquaventure?
Atlantis Aquaventure is a massive water park located within the Atlantis resort on Paradise Island in the Bahamas. It boasts over 20 swimming areas, 18 thrilling water slides, a mile-long rapid river ride, and a kids' water playground. It's the largest water park in the Caribbean and the 4th largest water park in the world!
About Atlantis Day Passes
If you're visiting the Bahamas on a cruise ship or staying at another resort outside of Atlantis, you can visit Aquaventure water park by purchasing a day pass to Atlantis Bahamas Resort. The day passes include access to all of the key amenities, including the water park, pools, beaches, and The Dig aquarium.
There are a few ways to purchase day passes to Atlantis:
Cruise Ship Excursions – If you're arriving via cruise ship, you can usually purchase tickets from the cruise line, which will typically include transportation to the resort as well. This is a good option, because the cruise line will refund you if the ship misses port for some reason, while the tickets purchased from the resort directly are nonrefundable.
Direct from Atlantis – You can purchase day passes directly from the resort itself. This may save you a few bucks over cruise ship offerings, and is your only option if you're staying at another hotel. You can grab a taxi to the resort, where you'll check in and get your wristbands.
Comfort Suites – A popular "hack" is to book a room at the nearby Comfort Suites, whose guests have access to the Atlantis amenities. You don't need to actually be staying in the room – you can simply go there to "check in" when you arrive and they will give you room keys. You take your room keys to Atlantis and receive your wristbands for resort access. Depending on how many people are in your group, this may be a money saving option, although it's certainly less convenient.
The cost of Atlantis day passes varies by season and even can vary based on demand for a particular day. I've seen prices as low as $135 and as high as $250 (for each adult, per day). Children's prices are a little lower than adults. You will get the best price by visiting in the off season (typically September – November and February – May).
Is it worth it to stay at Atlantis hotel instead of getting day passes?
Now if you have the option of staying the night at Atlantis, it's worth considering. We just spent a long three day weekend there, so here's my two cents. If you're only interested in the water park – you really only need a day pass. While very fun, there's only so many times you can ride the same water slides and river ride, and you will be able to see it all in a day.
However, it will take you a full day to enjoy everything at the water park. So if you also are hoping to enjoy some relaxing beach time or participate in any of the dolphin encounter programs (definitely one of the best Atlantis activities), then staying a night or two at the resort is definitely worthwhile. We recently stayed a The Reef Atlantis – you can see our full review here.
The Aquaventure Attractions
Water Slides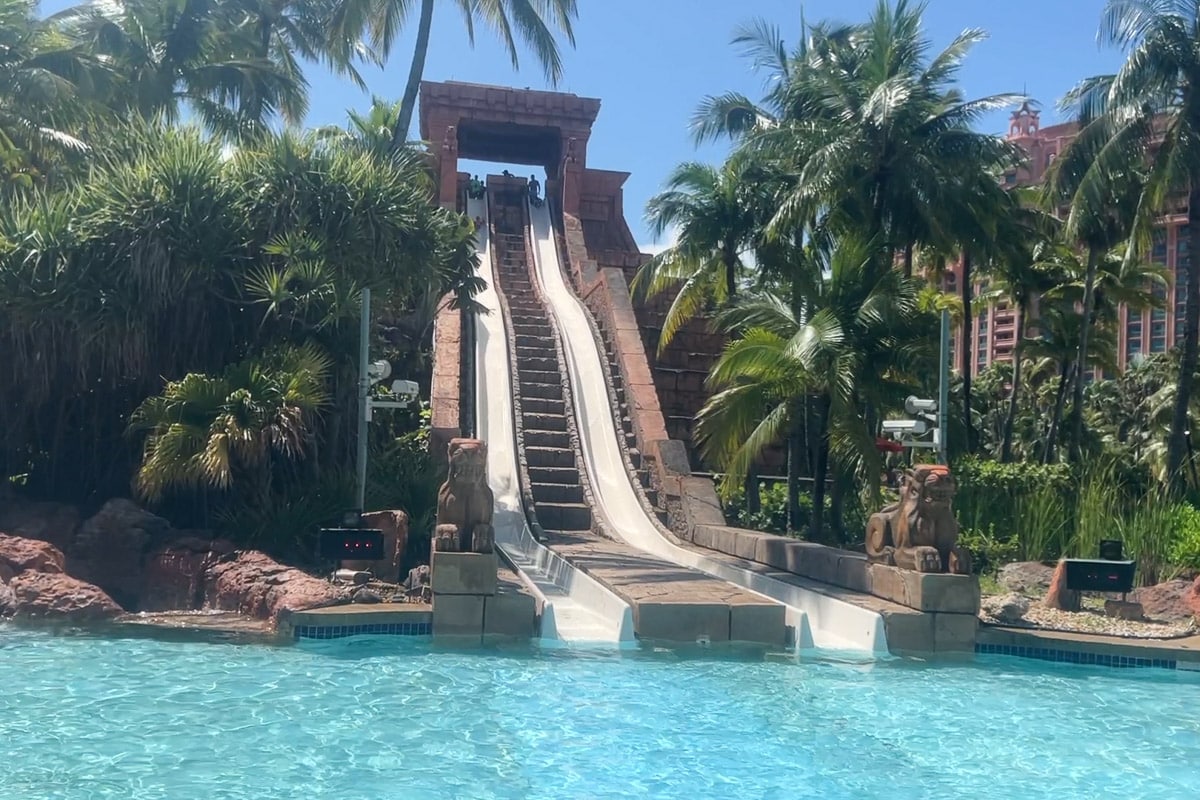 For most guests, the water slides are the big draw at Aquaventure. And there are a ton to choose from!
One of the most iconic attractions is the Leap of Faith, a nearly vertical 60 foot tall slide that sends riders through a clear tunnel that passes through a shark-filled lagoon. The slide is not for the faint of heart, but the view of the sharks swimming around you is truly unforgettable! It's pretty fun to just watch other people do this slide too. ;)
Some of the other popular slides are the Challenger, a dueling slide that lets riders race against each other, the more kid-friendly Jungle Slide, and the daredevil slides over in the Power Tower.
Just don't forget that the majority of water slides require a minimum height of at least 48″.
Rapid River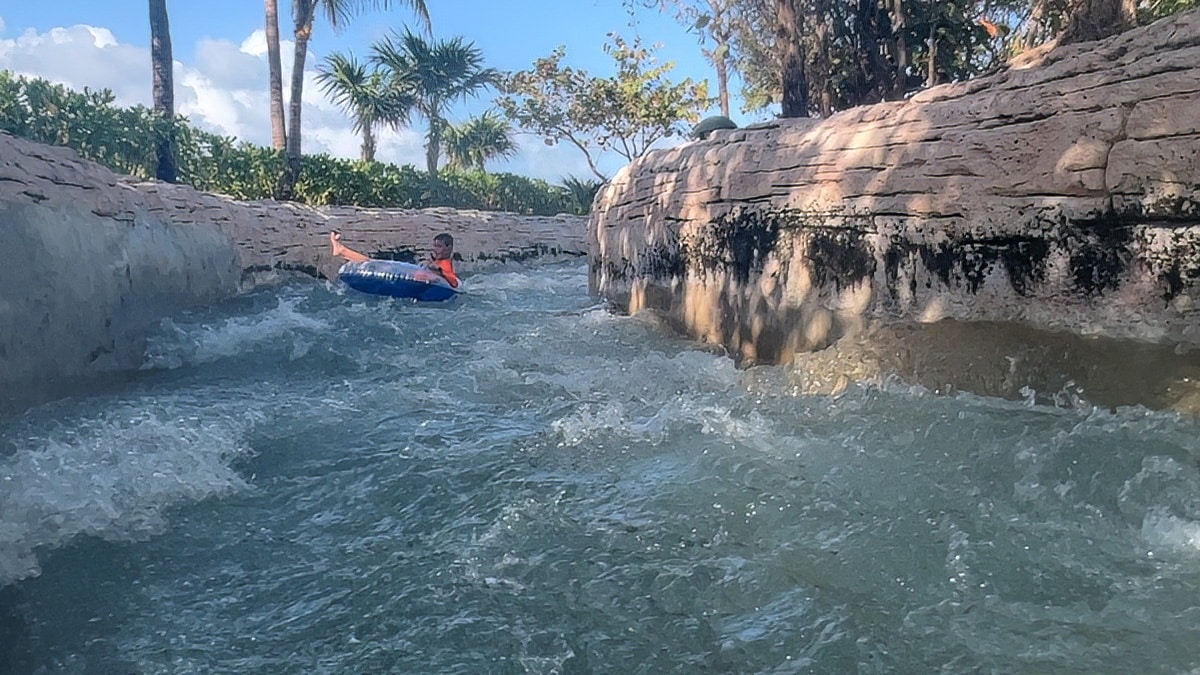 Don't jump on this ride expecting a classic lazy river experience. The Rapid River is a super fun tube ride through a series of rapids, wave surges, and even a conveyer belt ride. I have to say this was by far my favorite attraction at Aquaventure – and my son's too! Be sure to save yourself time to ride this a few times – once will definitely not be enough.
The Pools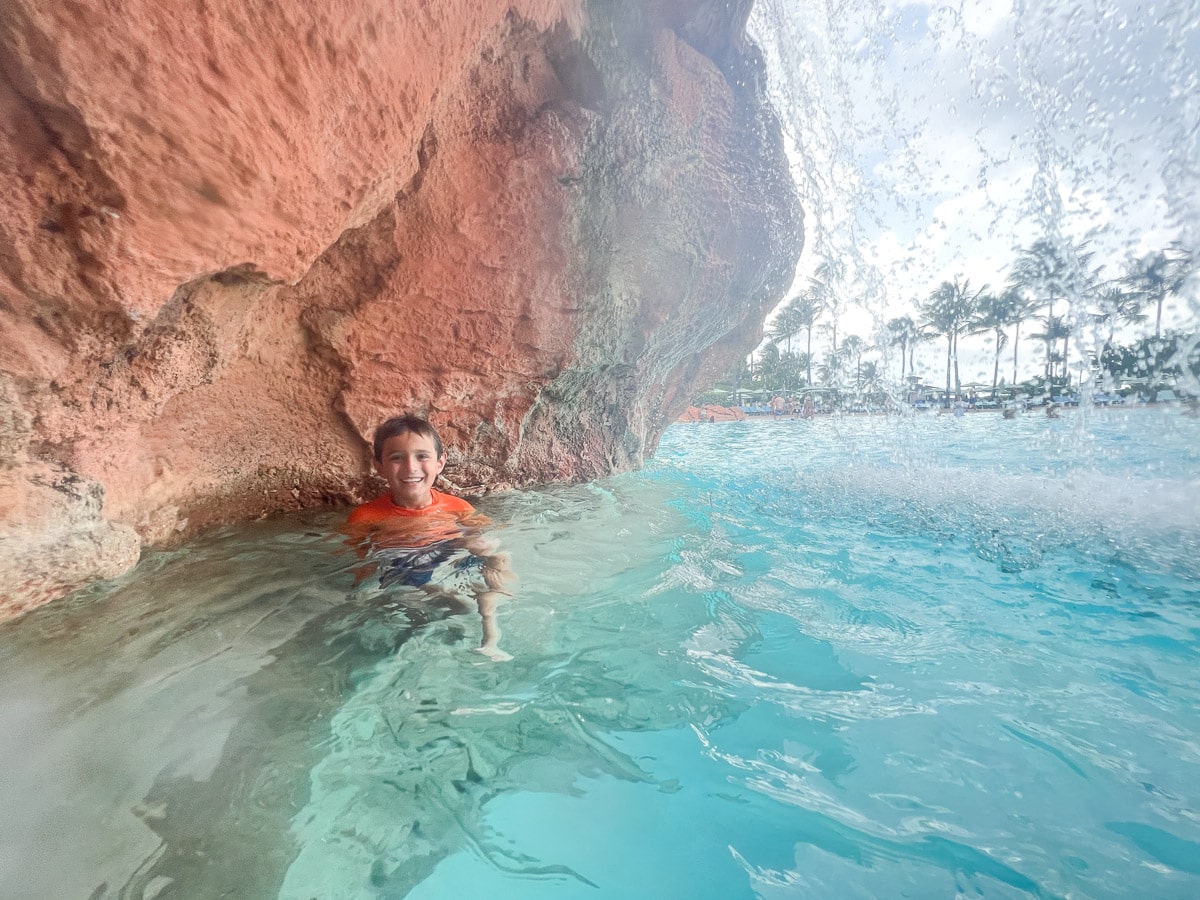 You'll find 11 different swimming pools tucked into all the corners of Aquaventure – perfect for lounging, playing, or just soaking up the sun. From the sprawling zero-entry Mayan Temple pool to the sparkling waterfalls at the Grotto Pool, there's a little something for everyone. The Coral Pool is a great place to stop for a break, with its swim up bar and volleyball net.
Poseidon's Playzone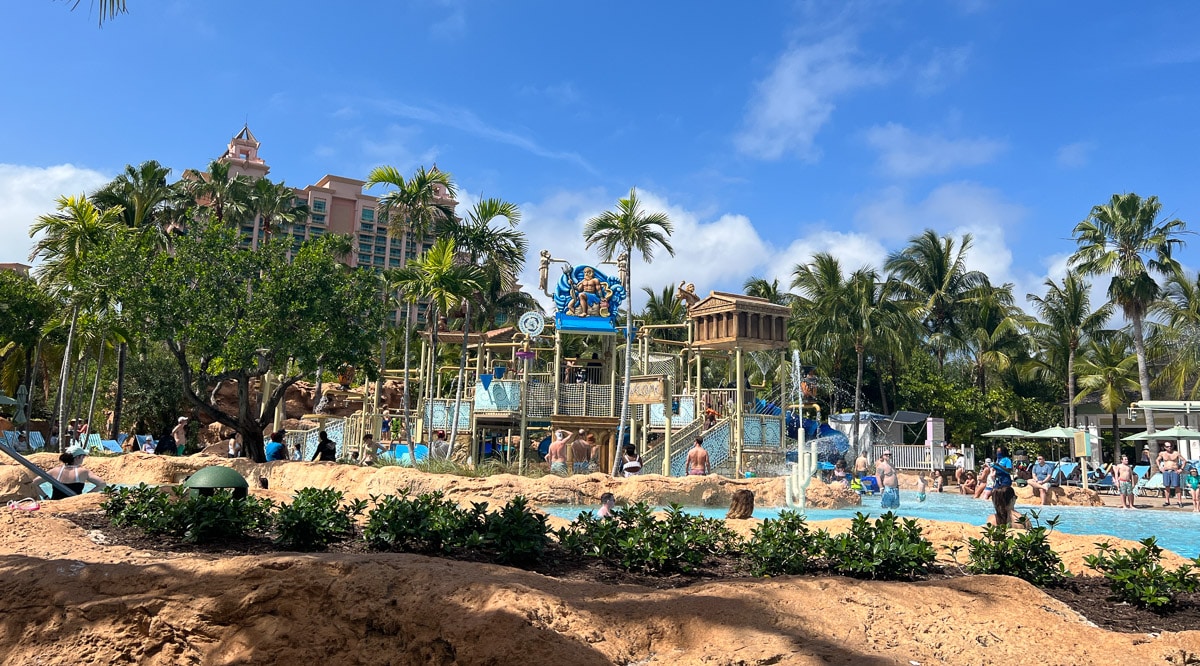 For the younger visitors, you'll want to park yourself near the Poseidon's Playzone – a kids pool complete with a climbing fort and spraygrounds. This is a great area for families to base themselves for the day, as you can also easily grab snacks and drinks from Triton's, right next to the pool.
Beaches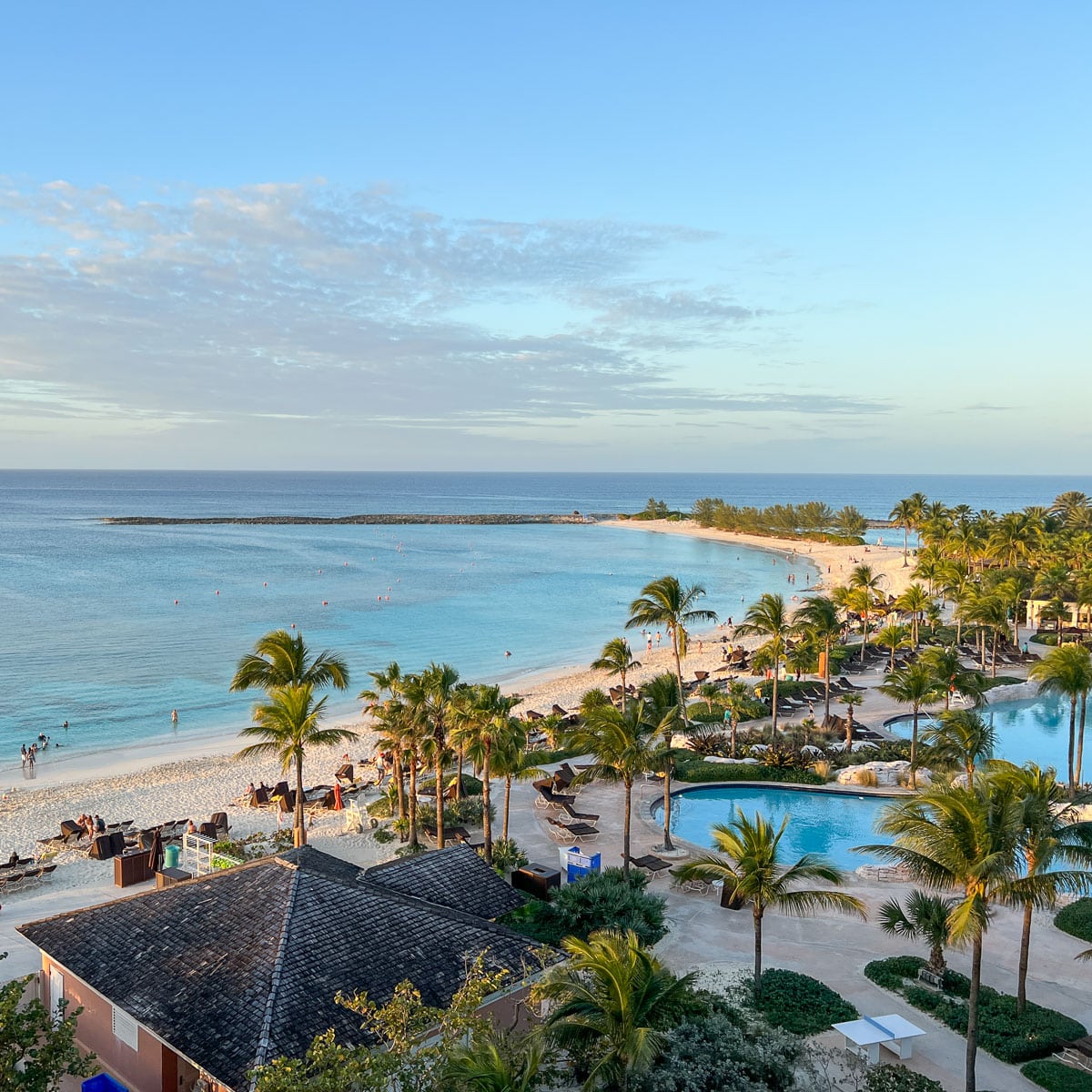 There are three main beach areas at Atlantis – Atlantis Beach, Paradise Beach, and Cove Beach. I personally think Paradise and Cove beaches are the nicest, but they are all pretty spectacular. The water is aqua blue and crystal clear. And don't forget your snorkel gear, because there is plenty of sea life around as well!
Tips for a Perfect Day at Aquaventure
Get started early. The pools open up at 9am and the water slides and rapid river follow at 10am. It will take a bit of time to get your wristbands (expect a long line), walk over to the water park from the resort entrance, and get yourself organized in a spot by the pool. So get there as early as possible. The lines for water slides and other attractions are shortest in the first hour and last couple hours of the day. One benefit of staying at the resort is that you'll get a little time in the park before and after the cruise passengers each day.
Don't miss the rapid river. In my opinion, this is by far the best attraction they have going on at Aquaventure. Don't be fooled into thinking it's a lazy river – it's a fast paced tube ride that goes through tunnels and rapids and even takes you up a conveyor belt. Very fun!
Be aware of height restrictions. Many of the water slides have a minimum height requirement of 48″, leaving smaller kids with only a few options. For this reason, we held off on visiting Aquaventure until our son was tall enough to ride the slides. For smaller kids, there is a great kids pool with a sprayground and climbing structure and a couple small kids slides. I do not believe the rapid river has a height requirement, but it is a rough ride that most young kids will not appreciate. And of course, kids of all ages can enjoy the aquarium and the beautiful beaches.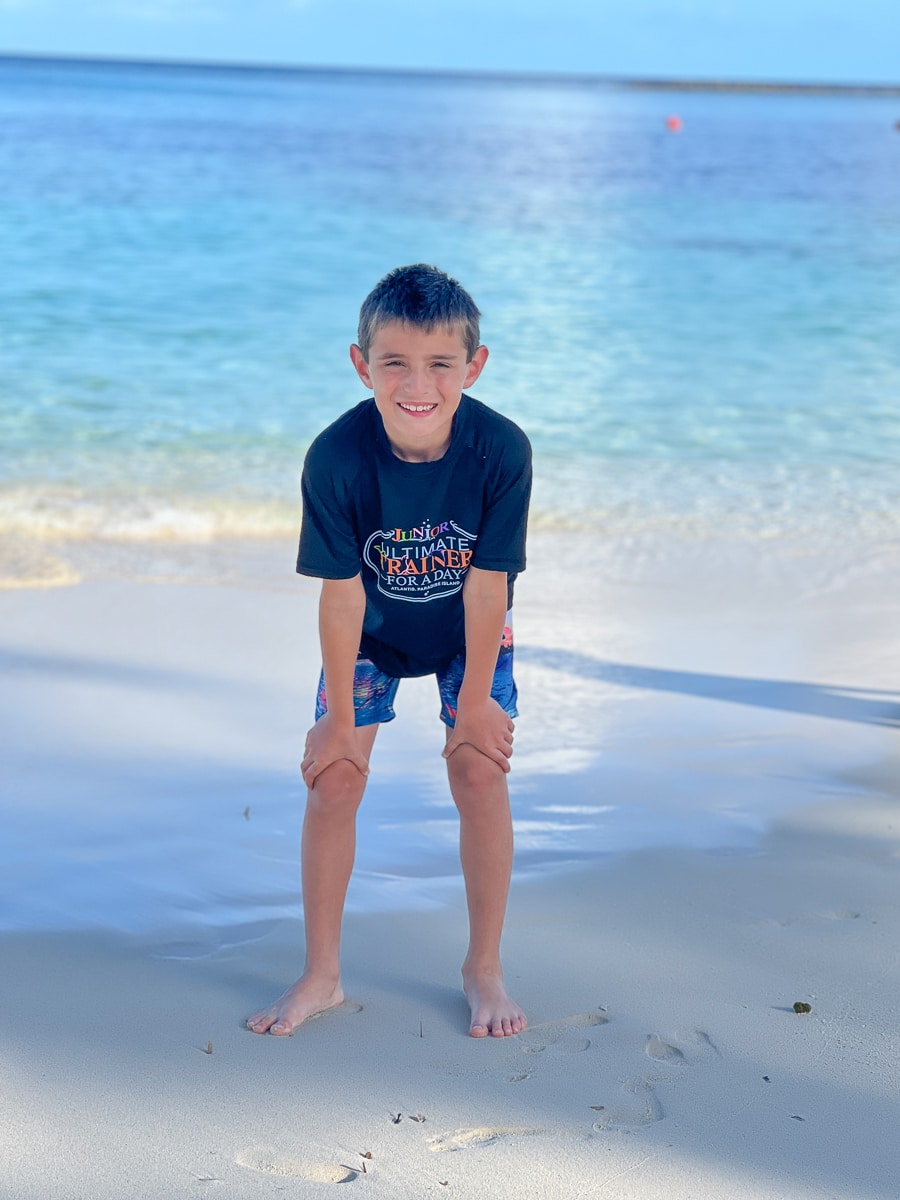 Finish the day at the beach. Once you've had your fill of water slides and tube rides, try to save at least an hour at the end of your day for a stop at the beach. The water truly is spectacular here – crystal clear and aqua blue. Don't miss your chance to take a dip! In my opinion, Paradise Beach and Cove Beach are the nicest areas.
Embrace the lanyard. Get yourself one of these waterproof phone pouches. Yes, you will look like a dork. Do it anyway. You won't need to worry about leaving your phone unattended and you can get great photos while enjoying the rides.
Bring a water bottle. It's easy to forget to drink water when you're having so much fun, but it's important to stay hydrated, especially if you're having a few adult beverages. Bring a refillable water bottle (these Yeti Rambler bottles are by far the best for keeping drinks cold!) and take advantage of the water refill stations located throughout the park. They do not sell disposable plastic water bottles at the resort.
Don't Forget Sunscreen. With so much time spent in the water, it's easy to forget about sun protection. Be sure to apply sunscreen regularly and wear a hat or sunglasses to protect your face and eyes. Get reef safe sunscreen if you plan to enjoy the beaches or any marine animal encounters.
And be sure to check out my Atlantis Bahamas Packing List for some more helpful tips on what to bring along.
Is the Aquaventure Water Park at Atlantis worth it?
I think it is! In fact, I think it's the highlight of the famous Atlantis Resort and well worth spending a day of your vacation. So what are you waiting for? Grab your swimsuit and head to Aquaventure for an unforgettable day of fun and adventure!
More Atlantis Trip Planning Guides