Bath City Breaks Travel Guide: Advice from a Bathonian travel blogger about the best things to do in Bath, England. This is a guest post from Emily Peters, the blogger behind Emily Goes Forth. Emily is a Bathonian (a person from Bath), and we're very happy she agreed to tell us all about her hometown of Bath, England.


Disclosure: This website contains affiliate links. That means we earn a commission when you use the links on this site to book a hotel, buy your travel insurance, etc.. If you'd like to learn more about how this works, you can read more under our Disclaimer page.
***
Bath City Breaks: An Introduction to Bath
Together with London, Edinburgh, and York, Bath is one of the most popular cities in the UK, with people travelling hundreds and thousands of miles to visit the city since Roman times.
It's a city of culture, history and arts, has gorgeous architecture (and is famous for its Palladian buildings), loads of national festivals, and is surrounded by beautiful countryside.
If that wasn't enough, the centre of Bath also happens to be a UNESCO World Heritage Site.
There is something for everyone in Bath, and as a Bath local, I hope I can encourage you to come visit Bath, and help you find the best activities in Bath!

Bath City Guide: A Quick Guide for Bath City Breaks →
Most Popular Things to Do in Bath:

Visit the Roman Baths: One of the most popular attractions in south-west England, you can wander through this ancient bathing complex, exploring history and artifacts. If you want to experience some thermal baths for yourself, the nearby

Thermae Bath Spa is a great bet.

Bath Abbey: The site of the coronation of the very first king of England, Bath Abbey is still massively impressive today. Head to the roof for panoramic views of this UNESCO-listed city.
Find the Best Photo Spots: Pulteney Bridge and the Royal Crescent are some of the the most photographed spots in Bath, and once you see them you'll understand why.
Visit the Jane Austen Centre: No trip to Jane Austen's hometown would be complete without a trip to the Jane Austen Centre, where you can live about her life and work. If you visit in September, you can catch the annual festival.
Hop-On Hop-Off: If you're limited in time or have mobility issues, City Sightseeing offers a tour that includes Bath's main attractions.

Bath City Breaks Map: A Google Map you can save to your smart phone and use on your travels.
Where to Eat in Bath: Emily's picks for the best cheap eats, traditional treats, and more.
Where to Shop in Bath: Whether you're looking for high street favorites, unique boutiques, or souvenirs, Emily explains the best places to shop in Bath.
Where to Stay in Bath: We've picked out some top-rated hotels in Bath for every budget and travel style.
Getting to Bath: How to get to Bath from London and Bristol.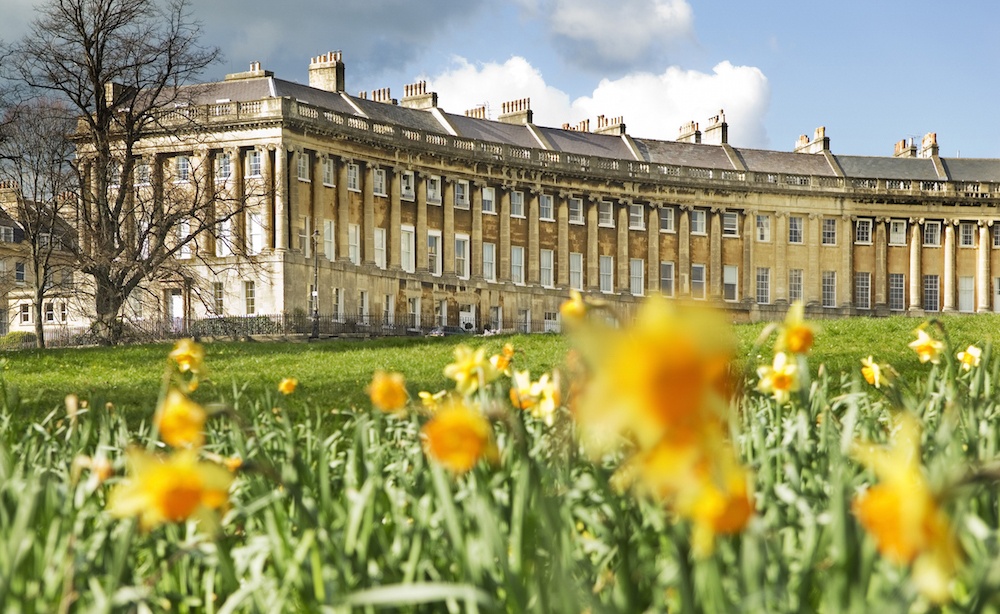 ---
Short on Time? Read how to get the most out of 24 Hours in Bath
---
Bath City Breaks: The Best Activities in Bath for a Visitor
1. Visit the Roman Baths: One of the Most Famous Activities in Bath
People have been making trips to Bath since the Romans first discovered it. In fact, the Romans built an impressive public bathing complex here, which you can still explore today. The Roman Baths are one of the most popular places to visit in the southwest of England. I recommend you visit this attraction early in the day in order to miss large queues. You can walk around the still-standing baths themselves, before heading downstairs to explore the history of the area and some of the treasures found in the hot waters over the years.
Unfortunately you're not allowed to use the baths for swimming or relaxing any more. However if you're feeling particularly indulgent, you can still do as the Romans did by relaxing in the natural hot spring waters at Thermae Bath Spa, just five minutes away. If you decide to 'splash out' (pun intended!), then I highly recommend getting the Twilight Package, which allows you to use the rooftop pool on top of the spa, and be sure to watch the sun set over Bath. It's one of the cheaper tickets at £88 for two people, and includes three hours in the spa and a light meal in the restaurant.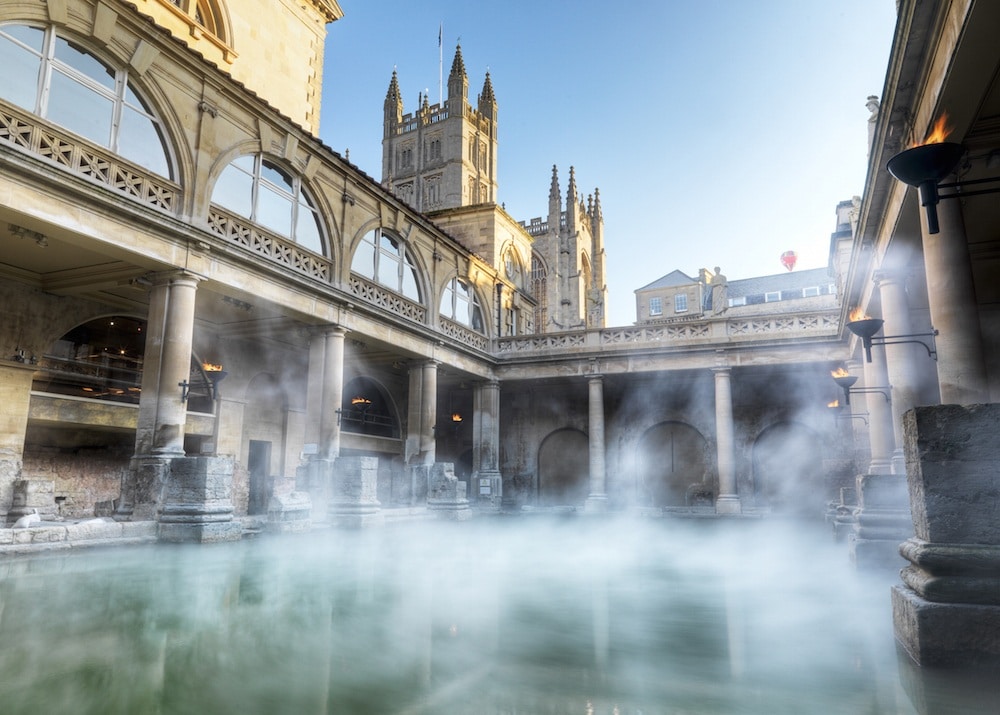 2. Bath Abbey is a Must-Visit During Bath City Breaks
Right next to the Roman Baths is Bath Abbey, where King Edgar (the first King of England) was crowned. It's free to visit (but giving a small donation is suggested), but you also have the opportunity to take a Tower Tour for £6, during which you can climb one of the two towers for a panoramic view over the city.

3. Get the Most Iconic Photos at Pulteney Bridge or the Royal Crescent
For a picturesque view of some of the most photographed sites in Bath, head over to Pulteney Bridge or the Royal Crescent. Both are frequent film sets (Les Miserables and The Duchess were both filmed here, to name a few) and date back to the 1700s, with museums and shops close by.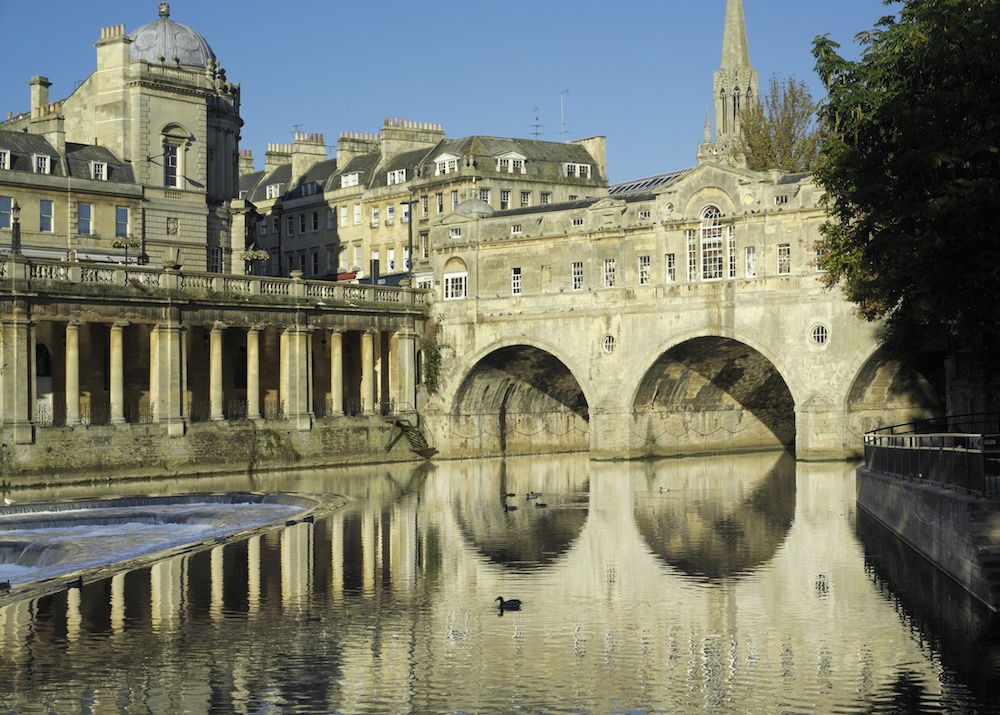 4. Visit The Jane Austen Centre, or Come for the Festival
In between Pulteney Bridge and the Royal Crescent, you'll find the popular Jane Austen Centre. One of the best-known female writers, Austen used to live in Bath, and there's now a permanent exhibition about her in the city. You'll be able to spot it fairly easily by looking for the gentleman in period dress who stands outside for photos and welcomes people in!
For super fans, time your visit for the 10 days in September when the Jane Austen Festival is held.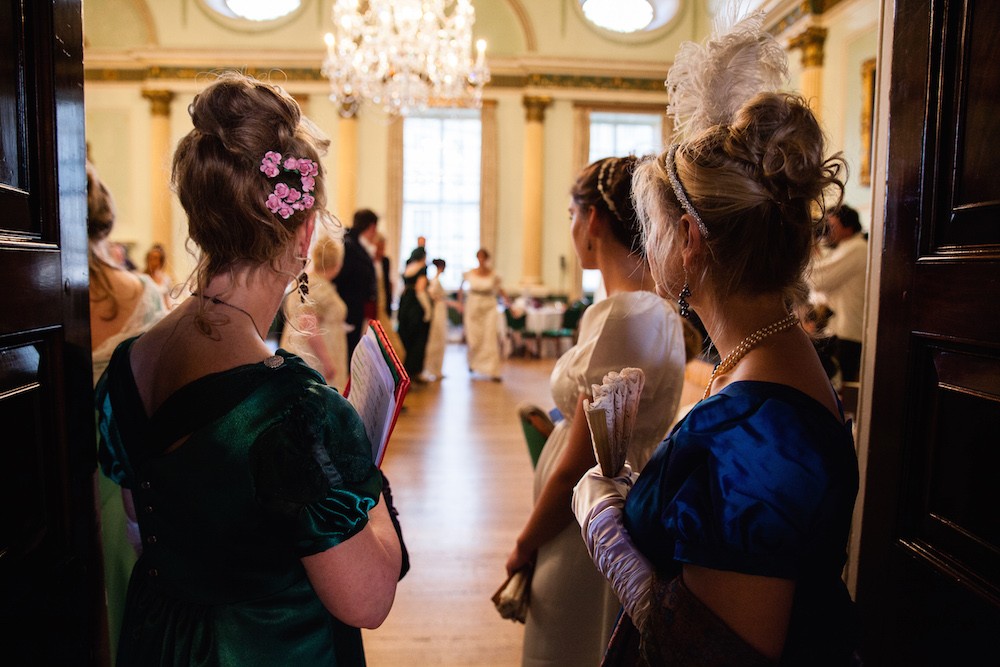 5. Take a Bath Hop-On Hop-Off Tour
Although it's easy to walk everywhere in Bath, you could also try a City Sightseeing bus ride. These are a great option if you want to pack as much as possible into a short visit, as they include information about each stop.
If you've been travelling around Europe in the last few years, you will no doubt recognize the red double decker buses. They run regular tours of the city, with tickets from £14.50 for 24 hours. You can find more info and book here.
---
Bath City Breaks Map
If you're planning a trip to Bath, save this map to your Google Maps account, so you can view these locations while you're in Bath (on your Google Maps app on a smart phone). To save the map, just press the star icon to the right of the map title.
---
Bath City Breaks: Where to Eat in Bath
There are enough restaurants, cafés, and quick eats spots in Bath that finding something to suit any palate or budget shouldn't be a problem. My advice is to steer clear of the expensive eateries in and around Stall Street, and find some gems off the main roads instead!
For cheap, tasty and filling, head towards the Theatre Royal. There are loads of independent cafés and food shops around here that are popular with locals, with The Kingsmead Kitchen (1 Kingsmead Street) and the much-loved Chai Walla (42 Monmouth Street) being particularly popular. Despite its tiny premises, Chai Walla is normally easy to spot by the queue of people waiting to get their hands on their home-cooked Indian food. The queues are fast-moving and the vegetarian/vegan food is delicious, but be warned there aren't any indoor tables (plenty of benches outside, though). If you'd rather sit down, The Kingsmead Kitchen provides hot lunches in a laid back atmosphere, often with live jazz music.
If you want to try something traditional, visit Sally Lunns (4 North Parade Passage), a famous tea house based in one of the oldest houses in Bath. You can get lunch or dinner here, or try one of the famous Sally Lunn buns. Because of its history, it can be a little crowded and pricey. If you don't mind paying a bit extra for the ambience and caché of the place, it's worth it if you fancy an old-fashioned treat.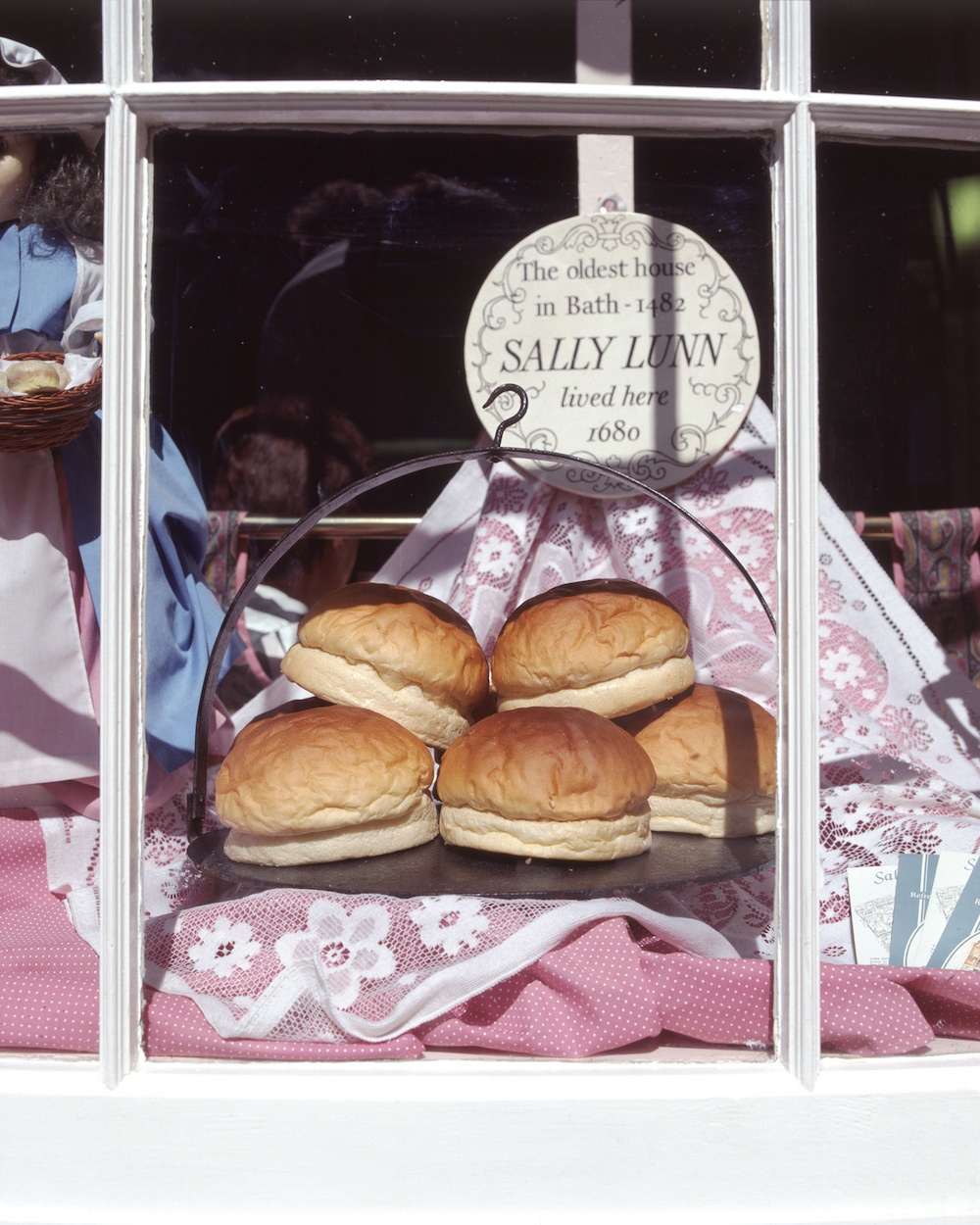 Bath City Breaks: Where to Shop in Bath
Bath's city centre has everything your inner shopaholic could wish for, from designer boutiques, to international chains and small independent shops.
There are two main shopping streets running through the centre of Bath, Stall Street and Union Street, are connected to Bath Abbey and the Roman Baths. This is where you'll find the majority of well-known shops. There are also many, many side streets that lead off from these streets, each with hundreds more shops waiting to be discovered. Whilst Stall Street and Union Street are a good starting point, I highly recommend venturing off these main drags and exploring further afield!
Bath also has some amazing independent shops. Book lovers should visit Mr B's Emporium of Reading Delights (14-15 John St), an award-winning bookshop with its own record player, fireplace, and super comfy chairs. The staff are all very knowledgeable, and they have evening events almost every week.
If you're in need of a gift to take home for someone, or a souvenir for yourself, try Bertie & Jack, a year-round market stall onBurton Street, near the top of Stall Street, that sells pretty, feel-good artwork.
There are also an abundance of independent shops further up the hill along the Upper Borough Walls if you want to keep going!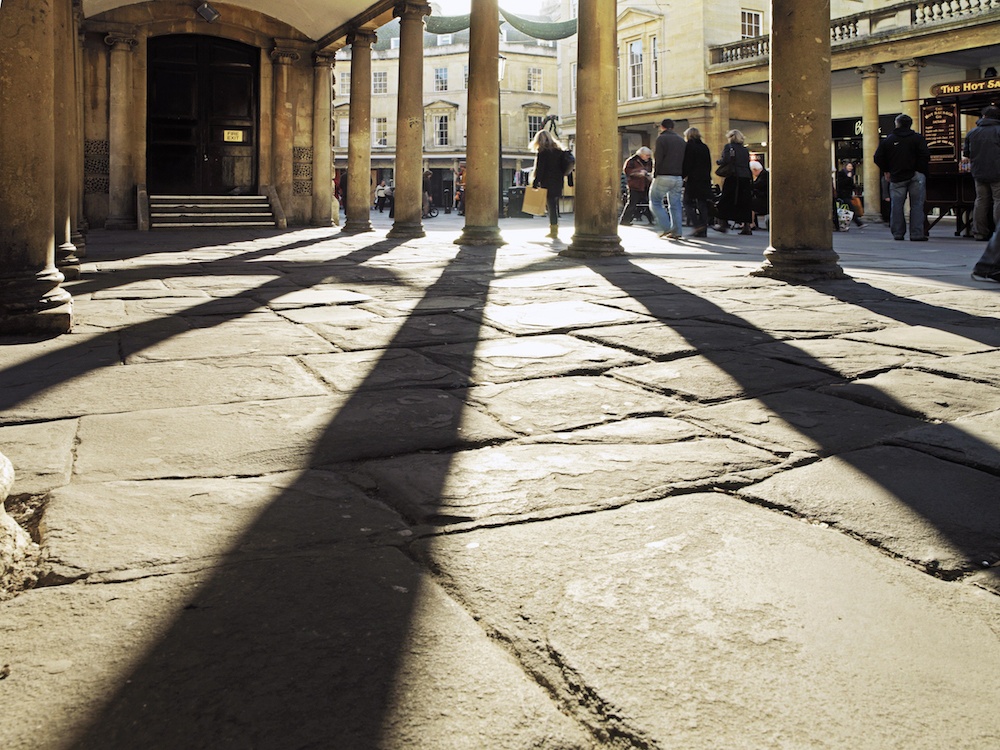 Bath City Breaks: Where to Stay in Bath
There are hundreds of accommodation options in Bath, and with a little digging it's possible to find something for any budget and travel style.
If you're willing to splash out, check out the Royal Crescent Hotel. Located right in the middle of the Royal Crescent, it has its own spa.
If you want to stay somewhere that's friendlier to your bank account, I suggest staying outside of the city centre. Bath is an expensive place to live and stay, but the bus system is very good, with the main bus station located in the centre. There are some absolutely stunning country villages on the outskirts of Bath, and if you fancy a break from city life these villas offer access to beautiful, scenic walks and cosy country pubs, with quick access to the city as well. Check out Ivy Cottage or the lovely-looking Brittons Farm Estate to get a feel for what's on offer.
If you do decide to stay outside of Bath, double check the price of a single ticket against a return if you're using First bus company. They are the main bus company for the area, and their ticketing price system is a little off. Sometimes, it's much cheaper to get two singles than it is to get a return. Ridiculous, but useful to know as a visitor!
Bath City Breaks: Getting to Bath
Bath is lucky to have a highly connected bus and train station, both of which are located close to the bottom of Stall Street, next to one another.
You can get direct trains from London Paddington to Bath Spa twice an hour during peak times, and roughly once an hour otherwise, with the trains from Paddington starting at 6.22am and leaving Bath Spa at 10.46pm at the latest. The trains take between 90 minutes and 2 hours each way, making it possible to visit Bath as a day trip from London (although I absolutely recommend staying longer!).
Buses with National Express also run regularly, and are generally cheaper than trains. They also run almost hourly and generally take under 3 hours.
You can also reach Bath from Bristol Airport. The Air Decker A4 bus service does round trips between the two via Bristol. The bus is very recognizable – an emerald green double decker! There is a large amount of luggage storage on the bottom floor, and the buses run roughly every hour.
---
Huge thanks to Emily of Emily Goes Forth for sharing her best Bath tips for city breaks and longer visits! Be sure to follow her adventures on Instagram!
---
Like this Guide? Pin it Now, and Read it Later!