5 of the Best Day Trips from Bucharest. Includes Detailed Recommendations and How-To Instructions for Day Tours from Bucharest to Veliko Tarnovo (Bulgaria), Horezu Monastery (Romania), Potcoava (Romania), Ruse (Bulgaria), Brasov and Bran Castle (Romania). Also includes basic information about trips to Budluzha (Bulgaria), Constanta (Romania), Sibiu (Romania), and the Transfagarasan Highway (Romania). If You're Planning a Trip to Bucharest, this guide will help you get out of the city!
(This is a guest post by Stephanie Craig of History Fan Girl and Sofia Adventures)


Disclosure: This Day Trips Bucharest guide contains affiliate links. That means we earn a commission when you use the links on this site to book a hotel, book a tour, buy your travel insurance, and shop for travel essentials, etc.. You don't pay anything extra. If you'd like to learn more about how this works, you can read more under our Disclaimer page.
---
Bucharest is a beautiful city, full of tree-lined boulevards, monumental architecture, and restaurants positively stuffed with polenta. While there is more than enough to do in the city to fill an itinerary for a few days, it would be a shame to come to such a beautiful part of the world and not get out of the city a little. Within just a few hours, there are historic castles, rustic farms, and gorgeous monasteries. There is even an entire country just a hop away over the Danube river. So, if you are looking to explore more of Romania and discover Bulgaria, here are five fabulous day trips from Bucharest.

The Best Day Trips from Bucharest: Table of Contents
Pin This Post for Later!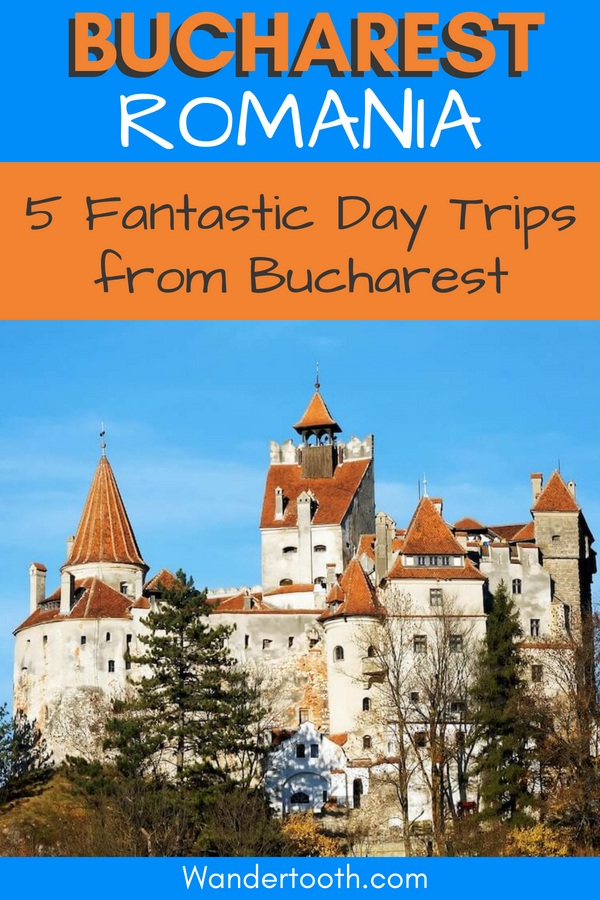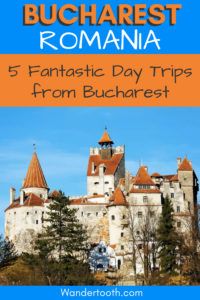 ---
Day Trips from Bucharest to Bulgaria
Veliko Tarnovo is One of the Best Day Trips from Bucharest
I have been based out of Sofia, Bulgaria for over a year, and during this time I have gotten to travel all over the country. One of my favorite places is Veliko Tarnovo, which was the capital of the medieval second Bulgarian Kingdom and boasts gorgeous Bulgarian Revival Style houses along with Tsaravets, its medieval fortress. The city is a popular day trip from Bucharest since travelers get to taste a bit of Bulgaria in the middle of their Romanian tour. This is perfect for those who don't have more time to explore Romania's southern neighbor but would still like to see a small corner. After arriving, there are tons of fun things to do in Veliko Tarnovo, many of which are free. There are also beautiful Bulgarian monasteries nearby, like Troyan, which is the third largest and most important monastery in Bulgaria.
To get to Veliko Tarnovo, utilize the train and bus schedule. It changes seasonally, but there are typically morning buses from Bucharest to Rousse, and regular buses from Rousse to Veliko Tarnovo. Trains are also possible, although they might not be timed quite right for a day trip depending on the time of year. If you've rented a car in Romania and would like to drive, just note that you'll need a green slip from your car rental company to cross the border. Typically, you need to let your rental agency know before your arrival but check with them about the exact amount of time that is required for them to get you the correct paperwork. It is also possible to arrange a driver for the day but check with your accommodations for recommendations ahead of time.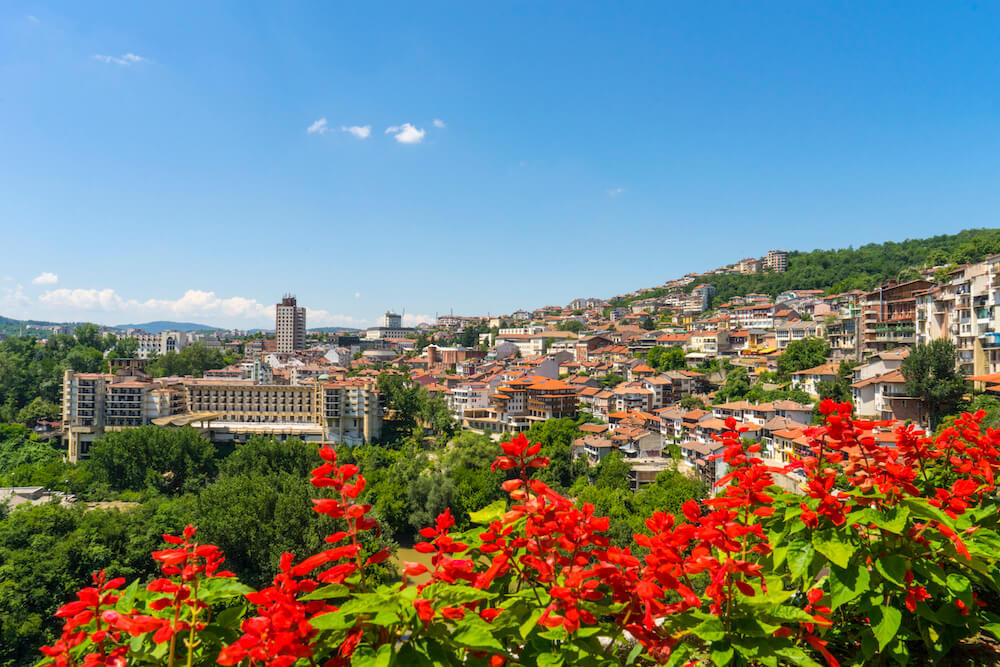 ---
Organized Tours to Veliko Tarnovo from Bucharest
Let someone else do the driving and make sure you don't miss anything on one of the best day trips from Bucharest. The great tour options below will have you there and back in a day!
---
Ruse, Bulgaria (Rousse): Another Bulgarian City That Makes a Great Day Trip From Bucharest
For travelers who love the charming towns and cities along the Danube river, Ruse is a great spot to explore. Just a little over an hour from Bucharest by bus, train, or taxi, Ruse is directly across the Danube in Bulgaria. Nicknamed "Little Vienna" for its streets and squares full of Neo-Baroque and Neo-Rococo architecture, Ruse is a beautiful city to explore when you need a break from the chaos of Bucharest. Just a quick walk from the city's center is Sexaginta Prista Roman Fortress, a Roman fortress that also has ruins from ancient Thrace. Once you're in Ruse, take a taxi to the Rock Churches of Ivanovo, one of Bulgaria's ten UNESCO World Heritage Sites.
To get to Ruse, you can go easily by bus or train. Just check the time tables in advance, as they change from season to season. It is also possible to hire a taxi but confirm with your accommodations first so that you have a driver for each leg of your journey.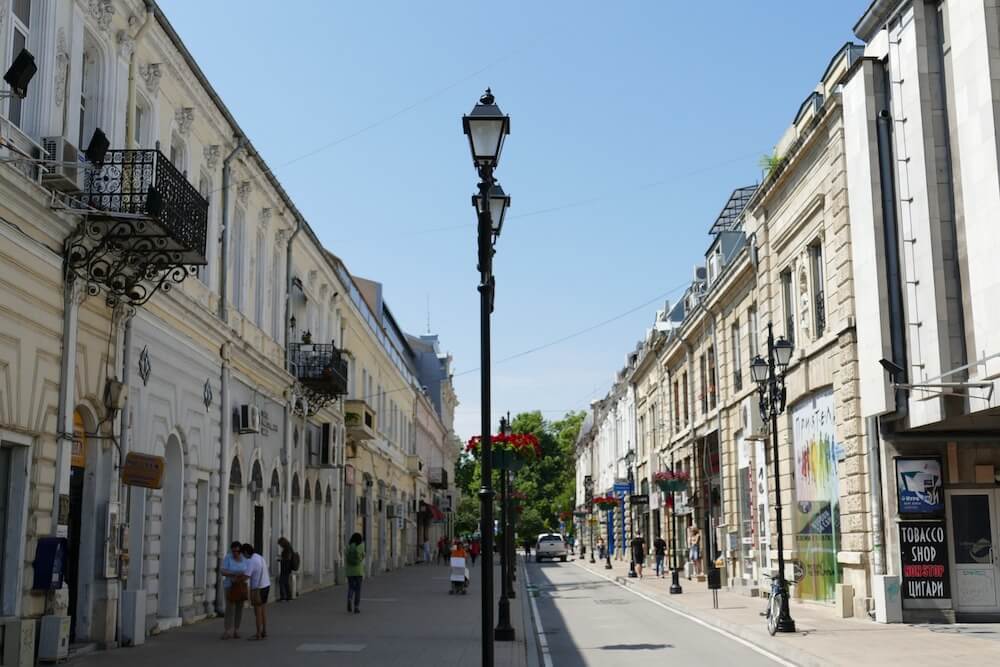 Ruse, Bulgaria is a great idea for a day trip from Bucharest. Photo via Pixabay, CC0 license.
---
Day Trips From Bucharest Romania if You Want to Stay in Romania
Horezu Monastery: A Scenic Day Trip from Bucharest to the Carpathian Mountains
Romania boasts many lovely UNESCO World Heritage Sites, a number of which are monasteries and churches. In fact, four of their eight sites are either a single monastery or a collection of monasteries and churches. These span different architecture styles and historic periods, and therefore are all worthy of being visited in their own right. However, while the painted Churches of Moldavia in the north are gorgeous, if you're looking for a World Heritage site that you can easily visit as a day trip from Bucharest, head to Horezu Monastery in the southern Carpathian Mountains.
Located about three hours away from Bucharest by car, it's an easy and scenic mountain drive. Give yourself extra time to stop and take photos of the picturesque tin-roofed village churches that dot the mountain landscape, along with following some of the other historic markers to hidden chapels and other points of interest. Horezu Monastery dates back to the 17th century and is an example of Romanian Brancovenesc style. The region is also famous for its namesake Horezu pottery, which is a popular gift to take back to those you left behind during your adventures.
The most practical way to get to Horezu is by car. You can rent a car from Bucharest-Otopeni airport for a reasonable day rate. When I went, the car rental agency had cancelled my reservation without notifying me, and I had to go by Uber or skip the journey altogether. Uber for the day was pricey (about $175); however, if you can split the cost among four people it wouldn't be too expensive per person. The cheapest option, though, is to rent a car. Just call to confirm it the day before.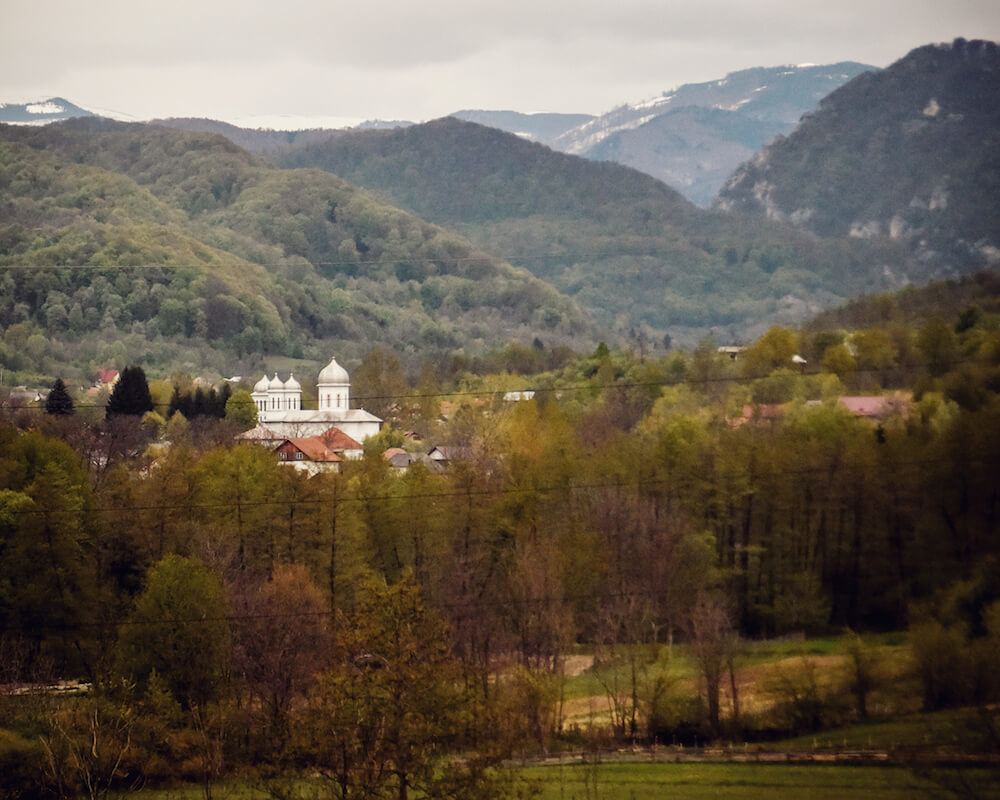 Driving through the Carpathian Mountains to Horezu Monastery, photo © Stephanie Craig, used with permission
Potcoava: A Mountain Retreat Day Trip from Bucharest
Potcoava is a collection of villages about two hours outside of Bucharest in the Leaota Mountains. The highlight is Potcoava Mountain Hideaway, a retreat where visitors can go horseback riding and take lessons on how to train horses. It had been years since I'd been horseback riding, but it was wonderful riding a haflinger named Sassy through the mountain trails, breathing in the fresh air and enjoying the cool autumn morning. I also loved learning how to train Stewart, one of the sweetest horses I've ever been around. Potcoava is famous for their horses, but they also occasionally bring in outside horse trainers and showmen to put on special performances and other events.
To visit Potcoava, call ahead for a day trip or make reservations for the night. It's easily accessible from Bucharest by car.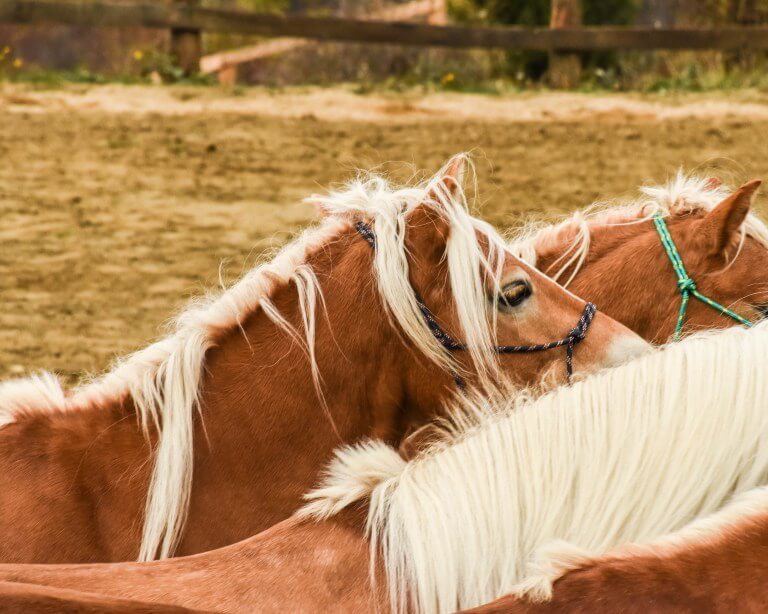 Photo: © Stephanie Craig. Used with permission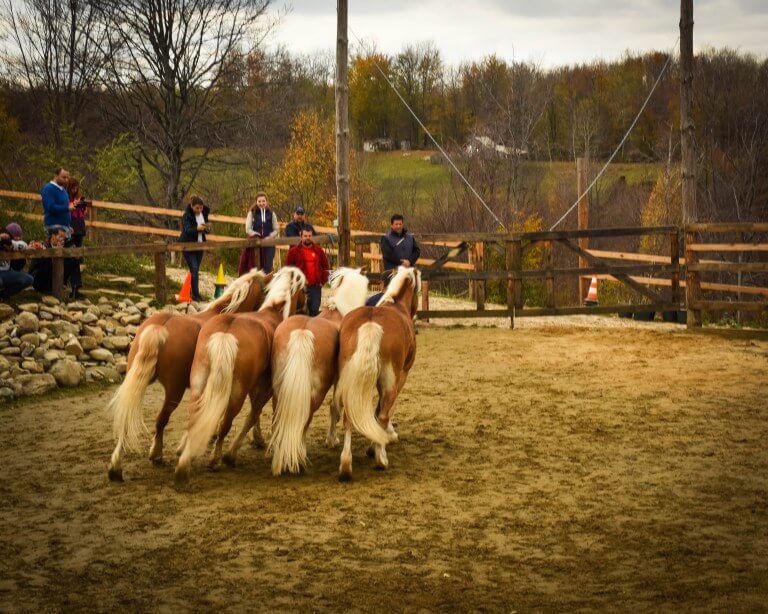 Photo: © Stephanie Craig. Used with permission
---
Transylvania: Day Trips from Bucharest to Bran Castle and Brasov
I've tried to give an overview of some of the cooler and less touristy places that you can go from Bucharest, but if you want to do one of the classic day trips from Bucharest to Transylvania, then Bran Castle and Brasov are always great options. While not the home of either the historic Dracula, Vlad the Impaler, or the Dracula of Bram Stoker's novel, Bran Castle has taken on the role as the "Dracula's Castle." This combines legend, descriptions from the novel, and tourist expectations, but it is a truly fun day trip nonetheless. In addition, the town of Brasov and the nearby ski resort of Poiana Brasov are both lovely, photogenic towns that shouldn't be missed!
To visit, you can book a pre-packaged tour or come by public transit. Tours will go to more places, but you will have less time per place. However, you'll have the peace of mind knowing that you've seen the important sites in the area. There are also other "castle tours" that combine Brasov with Peles or other great Romanian architectural achievements.
If you choose to travel to Brasov yourself, note that Bran Castle is outside of the town. I would recommend renting a car and not relying on public transportation if you want to do both sites yourself.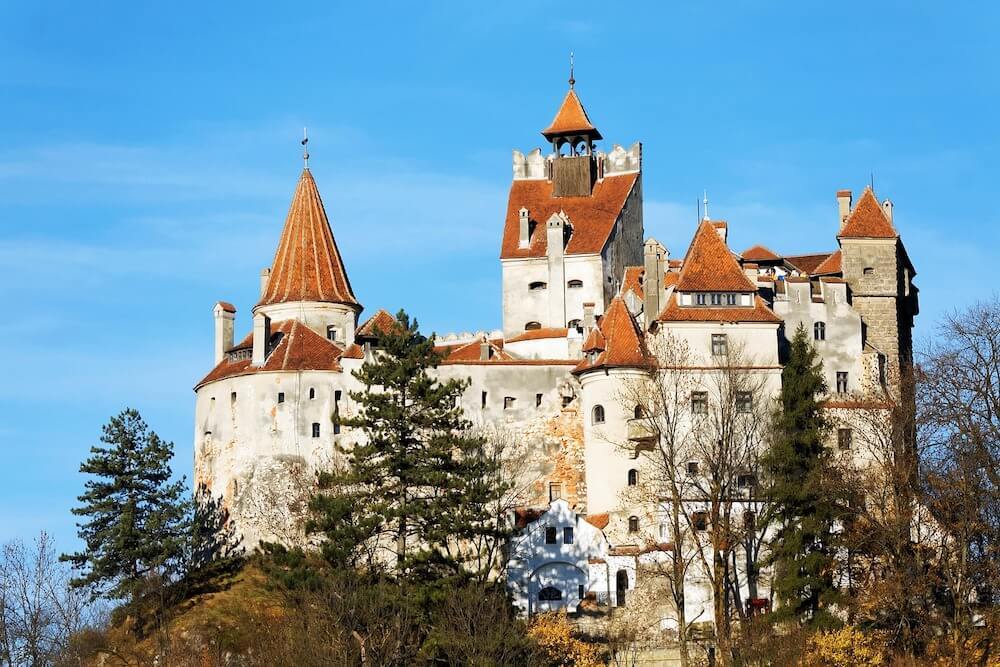 A Bran Castle tour from Bucharest is a great day trip, photo via Pixabay, CC0 licence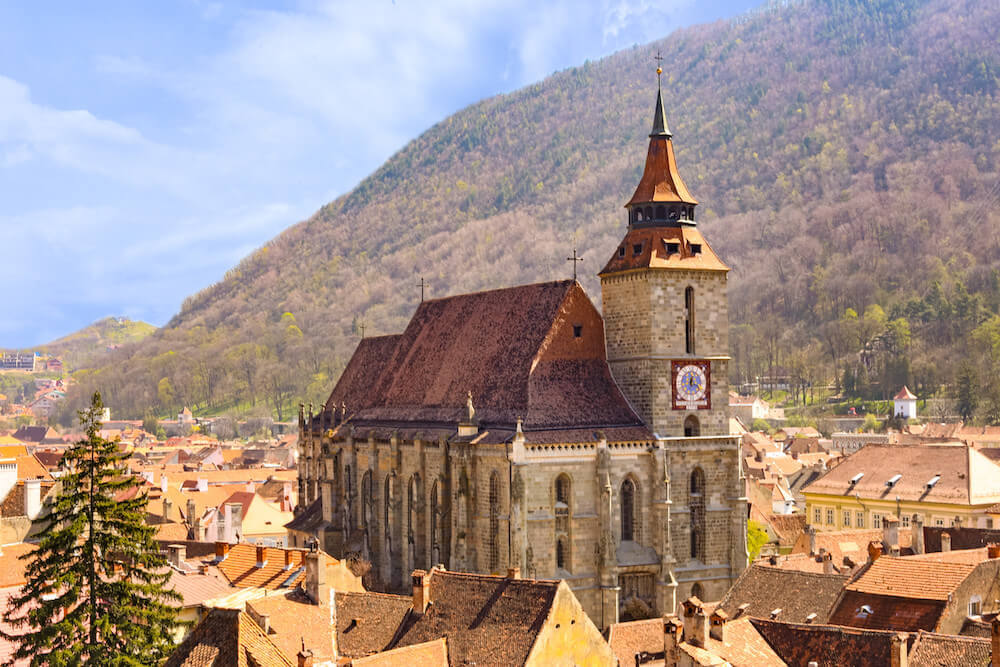 Visit medieval Brasov as a day trip from Bucharest
Organized Tours from Bucharest to Transylvania
Check Out These Amazing Day Trips from Bucharest to Bran Castle (the legendary home of Dracula), Peles Castle, the medieval city of Brasov and much more!
---
Other Ideas: If You Need More Day Trip from Bucharest Ideas, Some Honorary Mentions Below
These are five of my favorite things that I've done that are easily accessible from Bucharest. If you want to go a little further from the city and have a more ambitious day, you could:
Budluzha: The Communist stadium in central Bulgaria, which is about four and a half hours from Bucharest. Give yourself time to cross the border and make sure you have the documentation from the rental agency that your car is allowed to pass into Bulgaria.
Constanta: Have a beach day on Romania's Black Sea coast. The drive is only about two and a half hours; but give yourself enough time to enjoy a full day of surf and sun. You can also check out Romania's UNESCO World Heritage Site the Danube Delta, which is nearby.
Sibiu: A charming medieval Transylvanian town about four hours from Bucharest. Sibiu was the European Capital of Culture in 2007, and the town's has been nearly completely restored to its medieval glory. If you're up for an overnight trip from Bucharest, you can combine a trip to Sibiu with driving the jaw-dropping Transfagarasan Highway.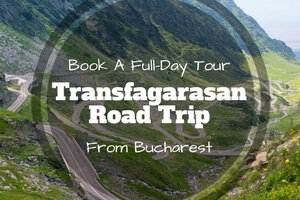 Click Here For More Information
It's also possible to drive the Transfagarasan Highway as a day trip from Bucharest. It's a long day, but 100% doable. Read more with Geoff and Katie's Guide to this beautiful drive, here.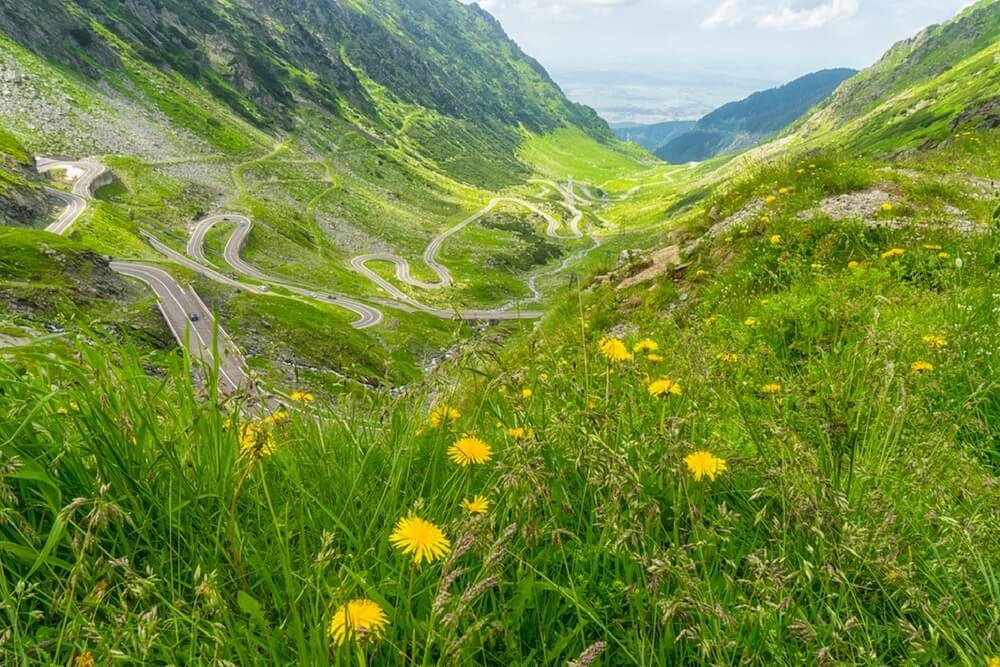 Iconic switchbacks of the Transfagarasan, which Geoff and Katie did as a very long day trip from Bucharest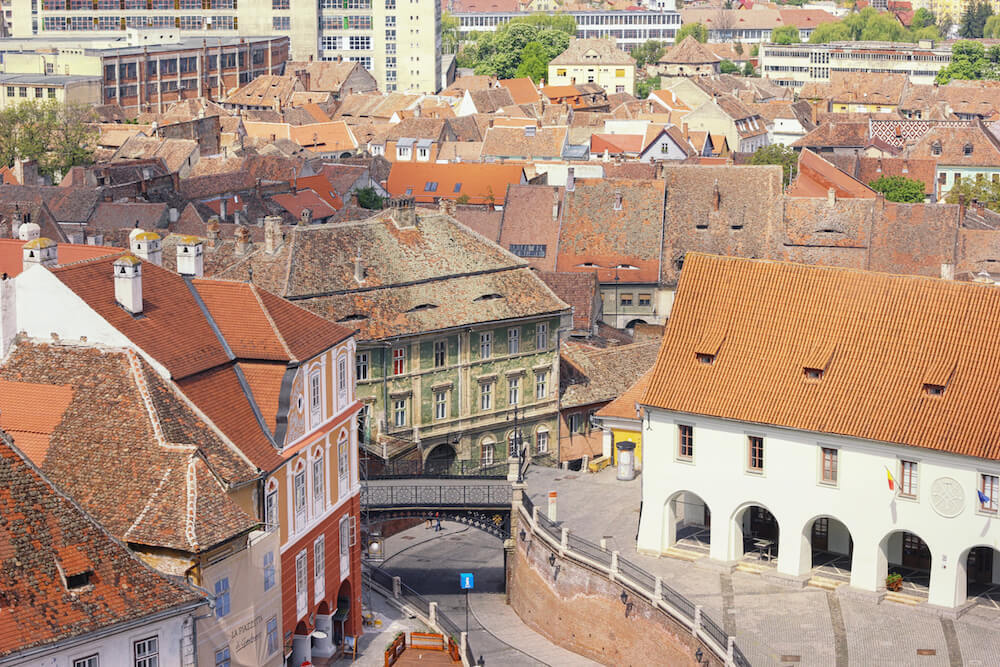 Sibiu, Romania
Tips for Driving in Romania
You may have noticed that many of the coolest day trips require your own transportation. Renting a car in Romania is easy and typically very economical. Here are some tips for driving in Romania:
Plan for things much longer than Google maps estimates
Don't be afraid to stop and ask for directions if your GPS doesn't seem like it is on the right path
Give yourself extra time to stop and take pictures along the way or to add in activities you hadn't planned
Romanians drive on the right side of the road
Go slower than the marked speed limit – you never know when there will be a sheep or a political protest blocking the way
Stop and buy gas when you need it – you may not see it for long stretches of country roads. However, the larger highways are well equipped with modern gas stations.
---
About the Author
Stephanie Craig is a history and travel writer. She writes about history travel at History Fangirl and hosts the show "The History Fangirl Podcast." Currently Based in Sofia, Bulgaria, you can read her recommendations for travel in the Balkans at Sofia Adventures.
---
More Reading To Help Plan Your Trip
Click here to see all of our Free Guides!
---
Like this Day Trips from Bucharest Guide?
Pin it for later!