A DIY Guide to Driving the Transfagarasan – the Best Road in Romania. Includes routes and instructions for completing the Transfagarasan from Bucharest.


Disclosure: This website contains affiliate links. That means we earn a commission when you use the links on this site to book a tour, book a hotel, buy your travel insurance, etc.. You don't pay anything extra. If you'd like to learn more about how this works, you can read more under our Disclaimer page.
The Transfagarasan Highway Might Be The Best Driving Road in the World
If you're a fan of the British TV show Top Gear, you might remember seeing the Top Gear Romania episode, which featured the hosts driving a switchback-laden but jaw-droppingly beautiful Romanian highway with a seemingly unpronounceable name: The Transfăgărășan. (Trans-fah-gar-shan). After driving the road, the Top Gear hosts declared it might be the best driving road in the world. And after renting a car in Bucharest to drive the Transfagarasan Top Gear road trip ourselves, we found ourselves nodding in agreement.
We drove Romania's Transfăgărășan highway in late June 2017 after finishing up Viking's Budapest to Bucharest river cruise. Because we had some difficulty finding information about it online and in English, we wanted to share our experience, and create a bit of a DIY guide to driving the best road in Romania.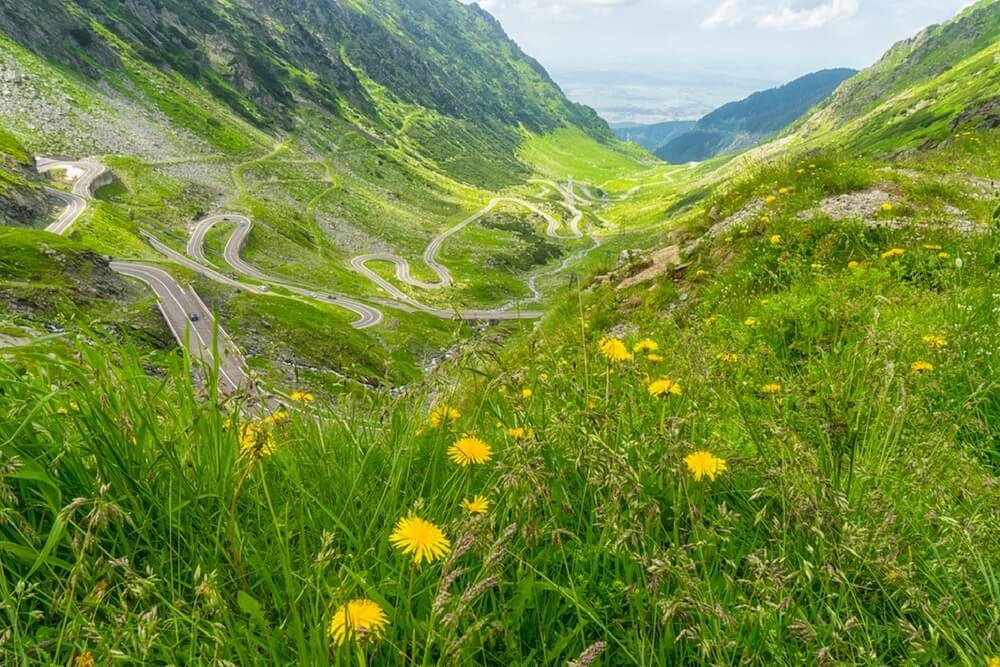 The Transfagarasan Highway: The Story Behind the Famous Top Gear Romania Road
Despite the fact that the Transfagarasan today has earned a reputation as Romania's most famous (and arguably most beautiful) road, it hasn't always been appreciated by the Romanian public.
While Transfagarasan is it's official name, it's also referred to as Ceausescu's Folly, a reference to the megalomaniacal communist dictator, Nicolae Ceausescu, responsible for the road's construction. Ceausescu enlisted soldiers to build the road over four years in the 1970s, investing massive sums in the project, as well as sacrificing the lives of at least 38 workers who were killed during its construction.
It's not entirely clear why Ceausescu ordered the construction of the road, and different stories exist. Whether it was a strategic choice (apparently Ceausescu wanted a way to get soldiers north quickly in case the USSR invaded; this reasoning kind of falls apart when you realize the road is covered in impassable snow for 7 months or more each year), or a display of his characteristic megalomania to bring glory to himself and Romania, it never panned out in terms of having much of a functional purpose. Thankfully, today it serves as a huge draw for leisure, and is massively popular with Romanian tourists. With the Top Gear Romania episode, foreign tourists now know Romania has one of the best roads in the world. and more and more people are interested in driving the best road in Romania. On our drive, we saw families, couples and groups of friends camping, picnicking, and generally enjoying the drive along the way, and there were plenty of motorcyclists enjoying the drive as well.
And the thing is….driving the Transfagarasan is really, really fun. It was well worth the effort, and we'd recommend it to anyone who loves a good road trip and gorgeous scenery!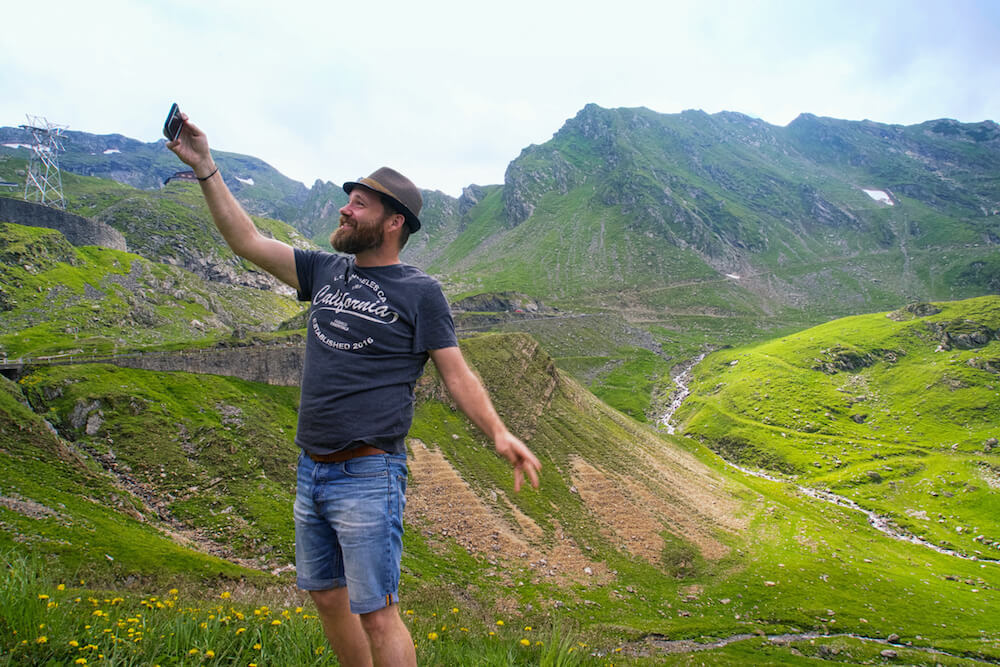 The Transfagarasan Highway: Where Is The Best Road in Romania, and How Do You Get There?
On a map, the Transfagarasan Highway is listed as the 7C highway. The 7C starts in the town of Bascov, and ends just past Cârțișoara, where it meets the E68, which runs between Brasov and Sibiu. You can see it clearly on Google Maps, which is what we used to navigate.
Fair warning, the southern section of the 7C between Bascov and Lacul Vidrarau is fairly unremarkable. The beautiful part of the road starts after Lacul Vidrarau (if you're driving south to north, starting in Bascov). Once you hit Lacul Vidrarau, the scenery turns into pretty, albeit not amazing, forest and lake scenery; it's nice, but the mind-blowing stuff requires a bit more patience.
Push on a bit further, and quite suddenly the forest will break away, the landscape transforming into lush, green-covered mountains, complete with sheep grazing picturesquely on the mountain sides. This is where the switchbacks start, gradually taking you 2042 metres up (6699 feet) to a ridge that bridges Romania's two highest mountains, before switchbacking down the other side to Cârțișoara.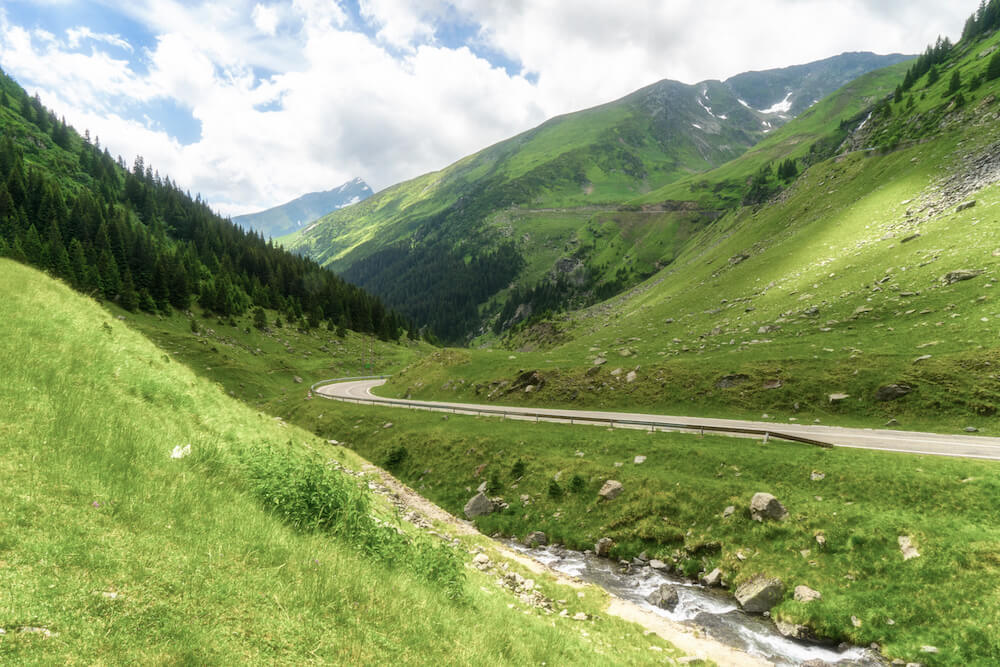 What's The Best Route For Driving The Transfagarasan Highway On Your Own?
There are a few different routes you can take when driving the Transfagarasan Highway. We only had one day, and tackled it as a very long day-trip from Bucharest, driving from Bucharest to Bascov to Cârțișoara, and then on to Brasov and back to Bucharest. It took us about 11 hours to complete the circle, including renting the car from near Bucharest airport, getting to the Transfagarasan from Bucharest, driving the road, stopping for dinner in Brasov on our way back, and a very quick stop at Peles Castle on the road back to Bucharest. So it is possible to drive the Transfagarasan as a day trip from Bucharest, but it's a long and tiring day.
If you have more time, we'd suggest adding in overnight stops (or a few nights each) in Sibiu and Brasov. We've visited both on a previous trip, and were low on time this trip. But both Sibiu and Brasov are lovely, and well worth the stops.
Alternatively, you could drive the Transfagarasan as a day trip from Sibiu, doing the route round-trip in one day by simply backtracking once you finish the drive. This would be shorter than the big loop we drove from (and back to) Bucharest.
Tackling it from Brasov is also possible, but would be longer than the trip from Sibiu (although probably a bit shorter than doing it as a round-trip from Bucharest).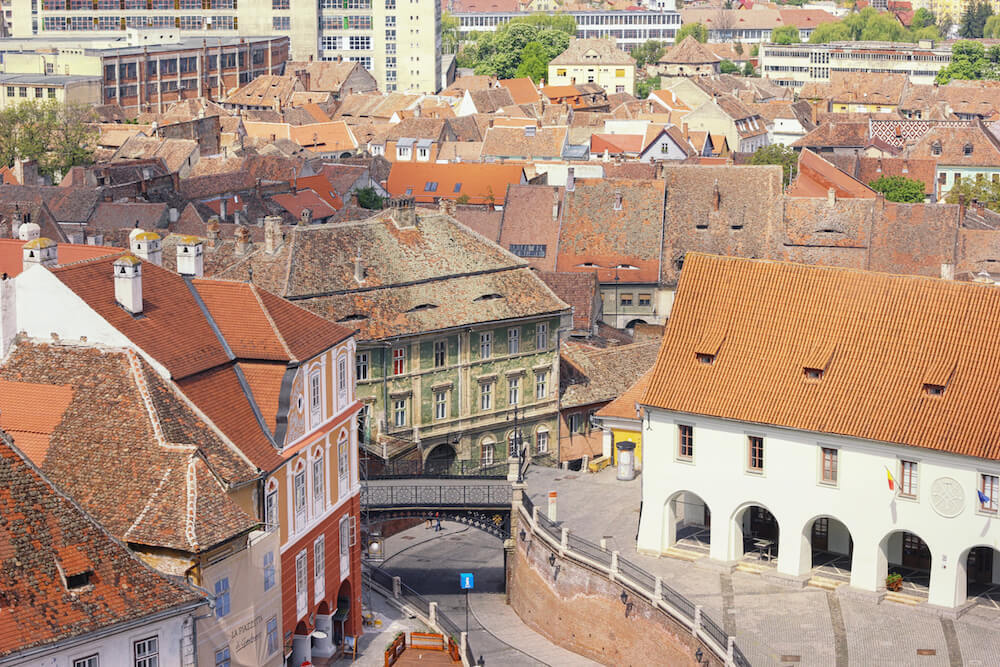 ---
Ready to Drive the Best Road in Romania?
---
Need-to-Know Info Before You Drive The Top Gear Romania Road On Your Own
The highway is only open in the summer because of snow; it's typically open from some time in June until some time in October, depending on the weather. We drove it in late June, although the official opening date for that year was listed as July 1 on the government road website. There was a little bit of snow on the mountains, but the roads were clear at this time of year (although this, obviously, will vary from year-to-year). We drove it on a weekend, and it was quite busy, so if you can time it for a weekday, it will probably feel a lot more relaxed.
It is worth checking on the government road website before making your plans, as sometimes the road closes for special events (i.e. cycling races), weather, and general road interruptions. You can use this website for help checking road closures: http://www.cnadnr.ro/index.php
It's also worth noting the road is very windy, and involves traversing your way up (and then down) a mountain using very sharp switchback turns. It's not an easy drive, so you need to be a confident driver to do the Transfagarasan.
Finally, note there are plenty of places to pull off the road to take pictures, have a picnic, or do a bit of frolicking on the mountainside. So don't worry about whether you'll be able to get photos – you will have many, many opportunities!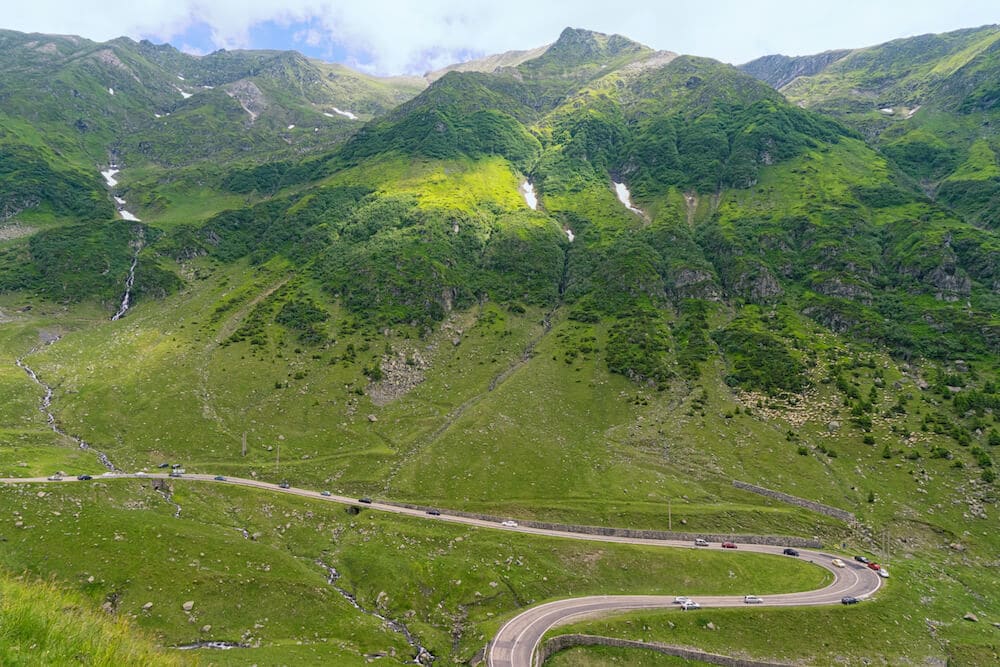 About Choosing A Car Rental For The Transfargarsan
You need to be confident in your car. We saw two cars overheat during our drive, so if you pick-up a rental car that doesn't seem up to the job, insist on switching the car for a new model that you're comfortable with.
Pick a small car that's easy to handle. We'd definitely suggest you get a manual transmission (assuming you know how to drive one confidentiality), as it will give you more control around the turns and during inclines and declines along the way.
Also, a word of warning: we rented a car via RentalCars.com, and chose to purchase the optional insurance. When we actually went to pick-up the car, we were told the insurance purchased online wasn't valid, and that Romanian law stipulates you must buy insurance from within Romania. So we ended up paying twice for insurance. We don't actually know if this was true, or if we got scammed. But either way, the rental company wasn't going to let us go without buying their insurance, so it's something to be aware of.
As with any rental car, be sure to check you know how to turn on your headlights before you start driving. There is a long tunnel at the top of the pass that is very dark, and we realized about halfway through we were driving without lights. Whoops.
In terms of cost, the entire trip probably cost us about $80 US for one-day, including the car rental and fuel, making it a pretty affordable way to see the road.
It was worth every penny…this makes for a really, really, beautiful day in Romania.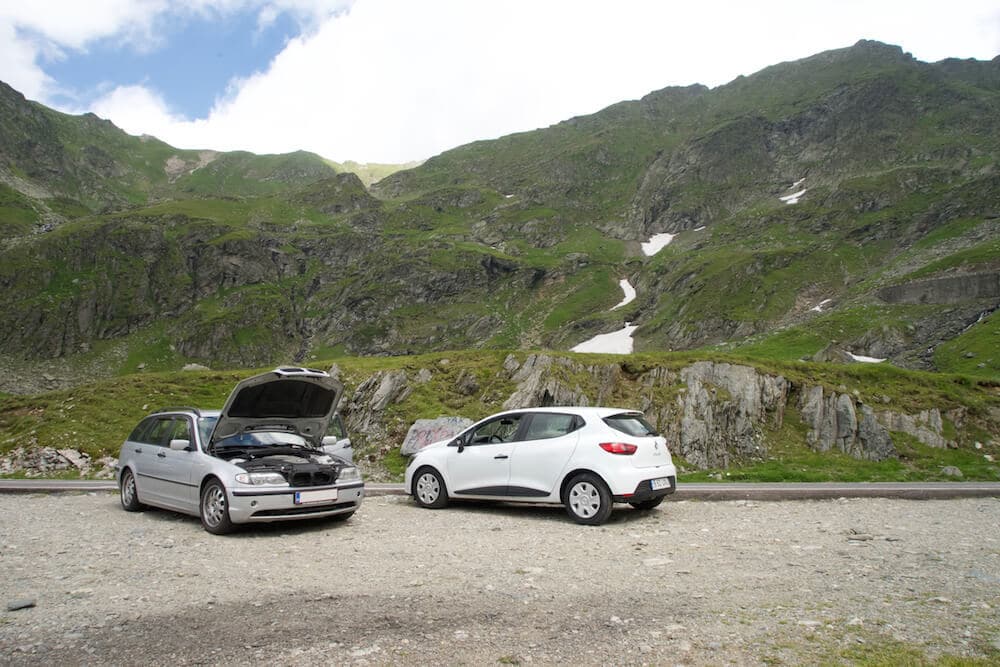 About Driving in Romania
Romanian drivers are a bit…maniacal, so it's worth considering if you'll be comfortable on the roads. The Transfargarasan actually isn't that bad, as you simply can't speed or pass, and there aren't any massive transport trucks to contend with. Getting to and from the Transfagarasan, however, is a different story: a lot of speeding, tailgating, and what we'd consider to be dangerous passing. If you're worried about this, the option with the least amount of general highway driving is doing it as a return trip from Sibiu.
If you're really, really concerned, you can organize tours to the Transfargarasan, and pass off the driving on someone else!
---
If you're not comfortable renting a car and driving the Transfargarasan on your own, you can arrange a round-trip tour from Bucharest here.
Click here for tour information
---
Further Reading to Help You Plan Your Romania Trip
If you want even more, check out our Romania home page for more articles!
Pin this Post