The Best Tours in Dublin: A round-up of our favorite experiences during our 6 days exploring Ireland's vibrant capital


Entering Dublin for the first time, I had a feeling that we were both going to love the city. There's so much history, and so many prominent artists, musicians and writers found their inspiration in these very streets and alleyways, it's almost like there's something in the water. Dublin, we found, is an alluring combo: sophisticated, yet relaxed; fun-loving, with plenty for culture lovers too.
After spending a total of six days in the city, on a jam packed itinerary, we have compiled a list of our favorites — what we feel are the very best tours in Dublin, based on our own experiences. We know many travellers will have less time in the Irish capital, and will still want to see the main highlights before striking out for the south, and the famous Ring of Kerry, the Wild Atlantic Way west coast, Ireland's Ancient East, or to Belfast and Northern Ireland, a place that is both similar and different from the Republic, and in the midst of its' own revival.
With that in mind, our goal in summarizing the best tours in Dublin is to highlight the tours that, in our experiences, are the most worthy of your time, and help you make the best use of a short visit to the city. And if you have a few extra days to base yourself in the city, be sure to check out our Best Day Trips from Dublin advice as well!
Whichever tours in Dublin you choose, however, we hope the city impresses you as much as it did us.
Best Tours in Dublin, Ireland: What You'll Find in This Post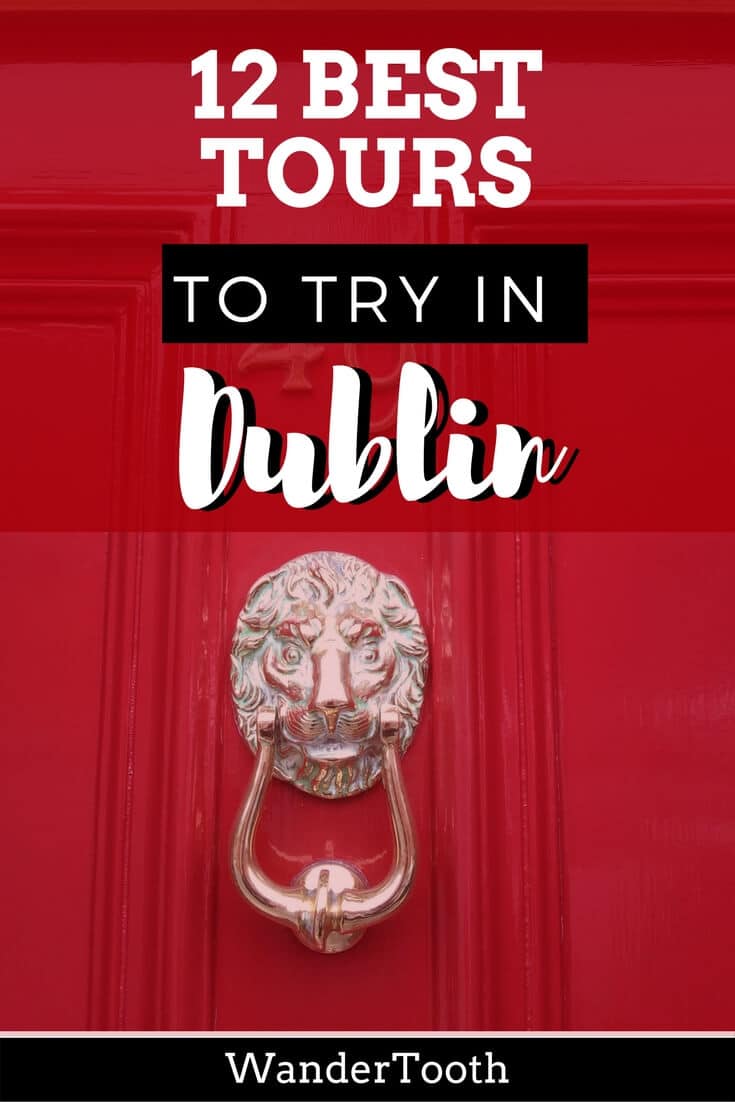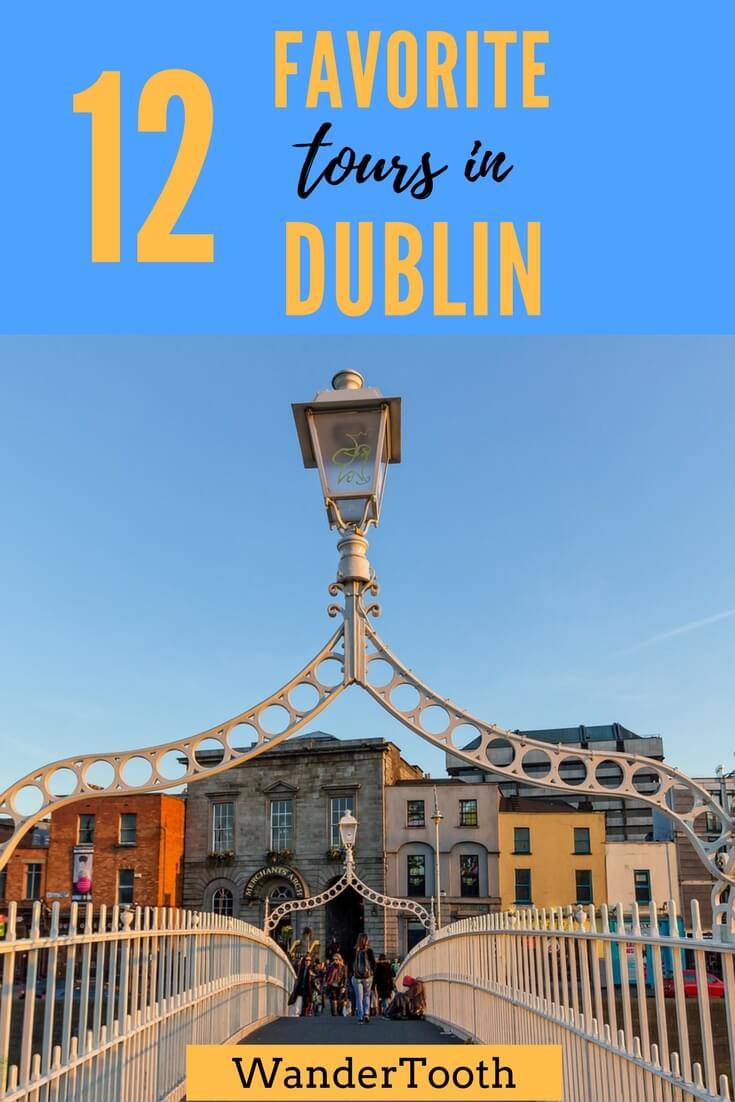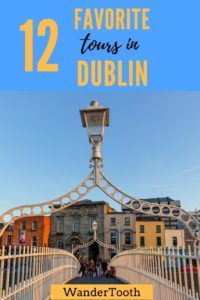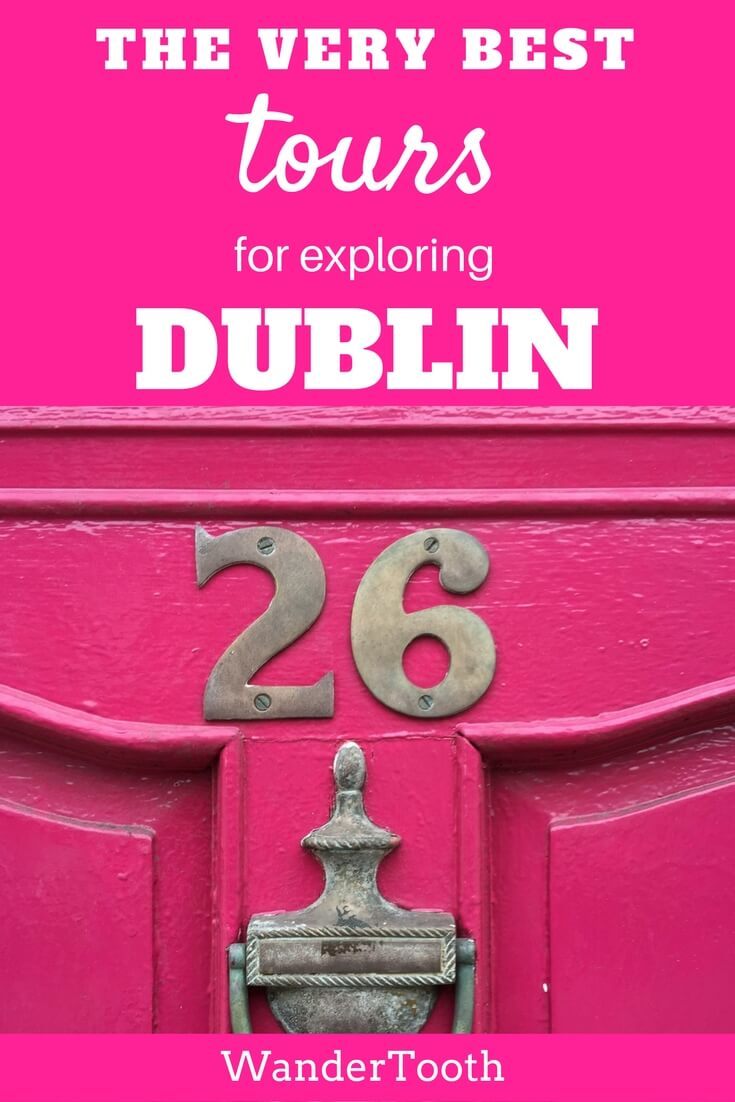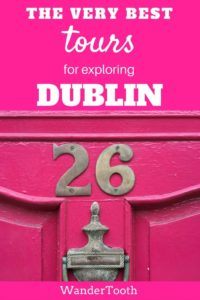 Electric Bike City Tour
Get your bearings and get briefed on Dublin's rich history with LazyBikeTours. If the name didn't already give it away, you don't have to be über fit to enjoy this tour, and if we're being totally honest, you don't have to be even remotely fit!
The tour uses electric bikes to shepherd you around the city…all you need is a little bit of balance! If you've never been on an electric bike before, fear not: the bikes we used are in excellent shape, super user friendly, and the tour guide was sure to stay put until everyone in our group was 100% comfortable. As you go, you'll learn about the history of Dublin's most notable buildings, including Dublin Castle, Trinity College, Kilmainham Gaol, St. Patrick's Cathedral, and more. Our tour guide made frequent stops for photos, pointed out the old city walls, explained Dublin's ancient history as a Viking city, and took us out of the center and into the surrounding areas. We also got to know a bit about the city's most famous residents, and where they lived and worked.
If you'd prefer something that's a bit more active, they also have human-powered bikes (i.e. normal peddle bikes) available. Dublin is very flat, so don't worry about hills.
Lazy Bike Tours
Start/End: 4 Scarlet Row, Essex St W, Temple Bar, Dublin, Ireland
Tours offered 7 days a week, 10:00am or 12:30, and last about 2 hours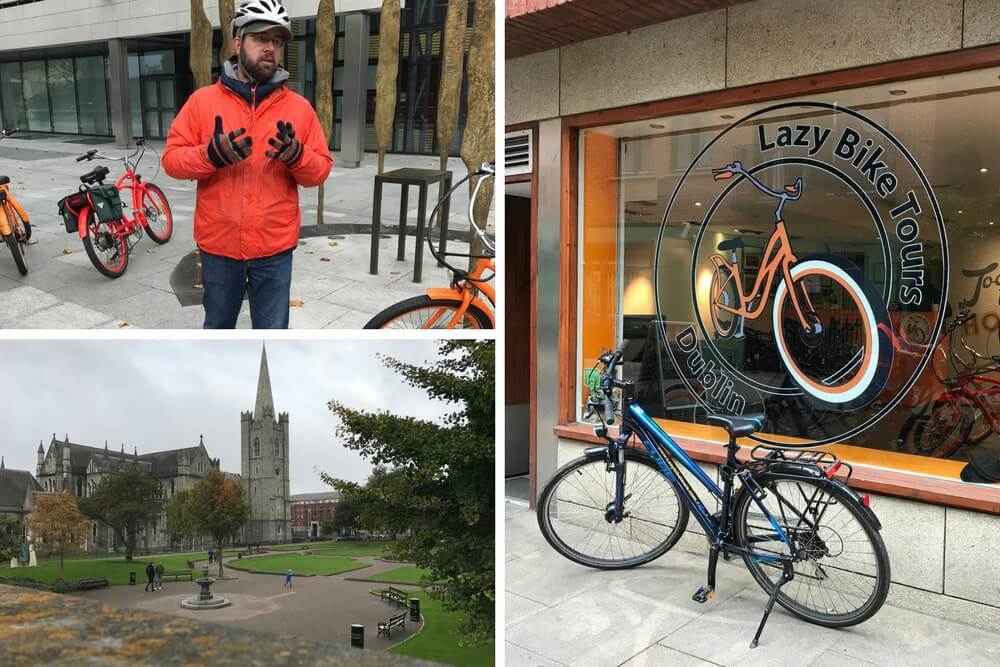 ---
Looking for more ideas in Dublin and Ireland? Check out our Where to Stay in Dublin and Where to Stay in Belfast Guides, and our guide to the Best Day Trips from Dublin. Our Country Guide to Ireland will be updated as we add more content!
---
Epic Ireland – Irish Emigration Museum
Seventy million people around the world claim Irish ancestry, and yet the population of Ireland is just 4.5 million. Emigration has amplified Ireland's contributions to the world, and Epic Ireland, a modern, interactive museum that opened in 2016, tells those stories! It was one of Geoff's favorite stops in Dublin, and we highly recommend it.
Part of the museum tells the 'why' behind Irish emigration. The potato famine in the mid 1840s, which saw a mass exodus from the emerald isle, is part of the story. But the museum goes back even further. It also lets you follow the journeys of Irish emigrants. What happened once people reached wherever they were going, laid down roots, and had children? What became of those children, their grandchildren, and others further down the family tree? Epic Ireland tells the story of Irish emigrant inventors, thought leaders in medicine, science, research, religion, arts, design, and even the 22 US Presidents who have Irish heritage.
Henry Ford, whose father emigrated from Ireland in 1846, is just one in a long list of emigrants from Ireland who rose to prominence. Some of the stories are quite surprising, like Che Guevara, whose grandfather, Patrick Lynch, emigrated to Argentina from Galway. Others are more obscure, like James Martin, who invented the ejector seat! Barack Obama once said, "there's a little green behind the red, white, and blue," and even he can claim Irish lineage through his mother!
We won't spoil them all, but we do think you'll be fascinated to learn just how many of the world's most notable people trace their roots back to Ireland. Well worth the time.
EPIC The Irish Emigration Museum
Address: CHQ, Custom House Quay, Dublin 1, Dublin, D01 T6K4, Ireland
Open Daily, 10:00am – 5:00pm
More Information & Get Your Tickets Here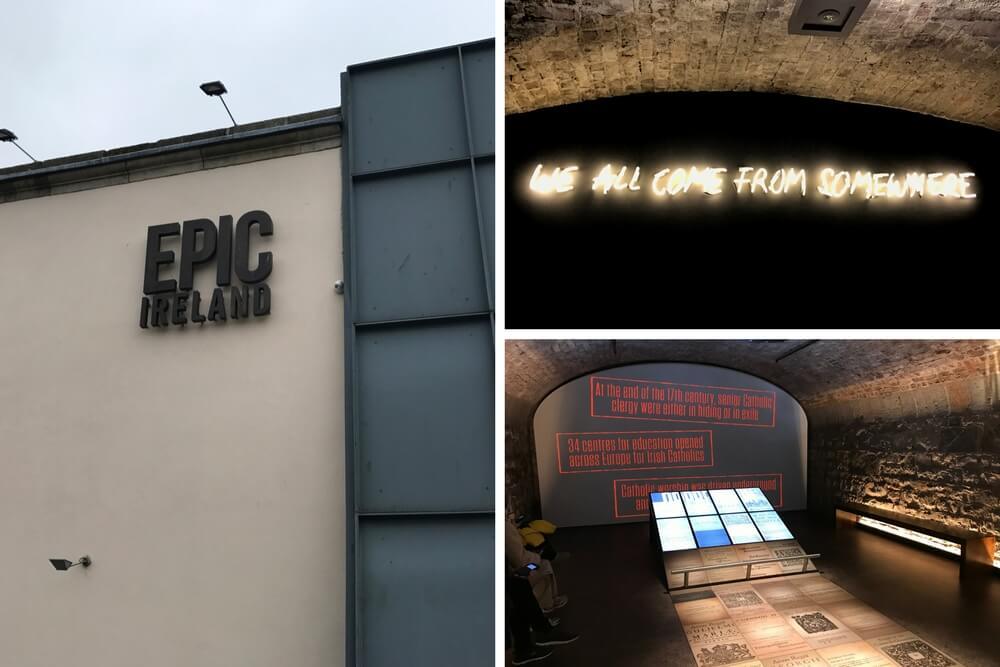 ---
The Guinness Storehouse
Perhaps the most obvious attraction in Dublin is the Guinness Storehouse, so we do recommend booking priority tickets in advance for the standard experience, or choosing one of the upgraded tour packages.
Whether or not you like the beer, the Storehouse is still worth a visit. It tells the story of the brand from company's beginnings, and the ridiculous 9000-year lease signed in 1759, all the way through to the current era, during which the company has positioned itself as a trend-setting, global leader in marketing strategy.
The building itself is also impressive, and there are a number of informative and entertaining tour options throughout. At the end, learn how to pour the perfect pint of Guinness – there's much more to it than you might think! Learn about the shape of the iconic Guinness Glass, the proper pouring angle, the 90-second cascading process, and more, and then sate your thirst with a sample.
Head up a few floors to the famous Skybar to finish your perfectly crafted pint and enjoy splendid views of Dublin. If your liver can take it, combine it with a whiskey tour, and do both the Guinness Storehouse and the Jameson Whiskey Distillery on your trip. Click here to learn more.
Guinness Storehouse
Address: St James's Gate, Ushers, Dublin 8, Ireland
Open Daily, 9:30am – 7:00pm (5:00pm last entry)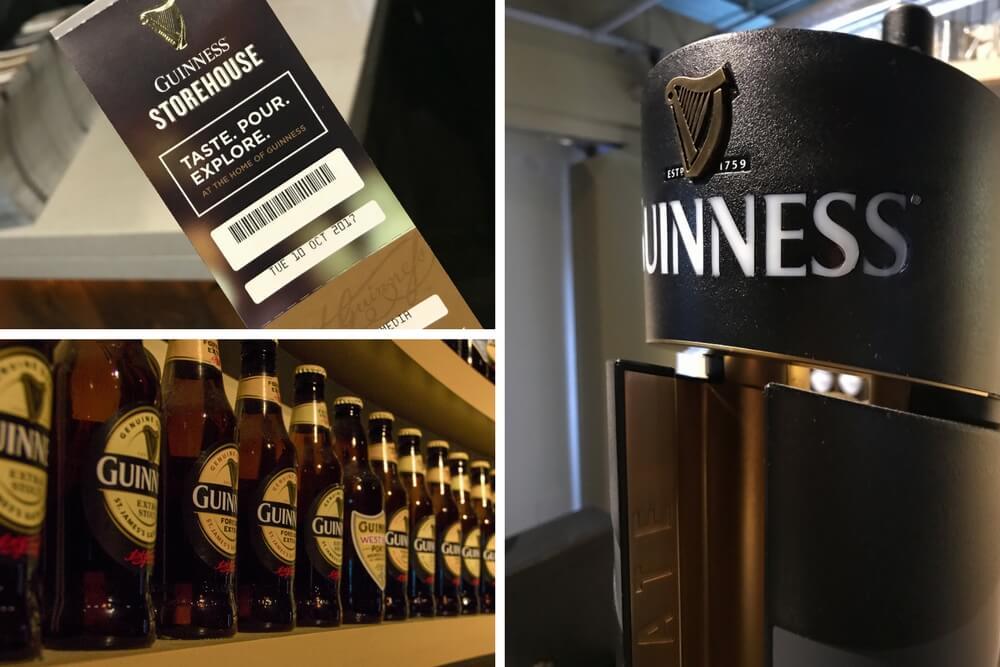 ---
Literary Pub Crawl
Dublin is as well-known for its pubs as its literary chops, with the likes of James Joyce, Samuel Beckett, Sean O'Casey, George Bernard Shaw, Oscar Wilde and so many more once strolling its streets.
This literary pub crawl combines storytelling and lifting the elbow (drinking), and we both found it to be a highlight from our time in Dublin. Listen to excerpts from some of Dublin's greatest writers performed by actors, hear about historical events, and walk the very same streets, as Joyce, Wilde, et al., all while enjoying a drink and a laugh in the very same pubs these great writers once spent their time in. It makes for a wildly entertaining evening – we had a blast, and hope you will, too!
Dublin Literary Pub Crawl
Start/End Point: "The Duke Pub" 9 Duke Street, Dublin 2, Ireland.
Start/End Time: 7:15pm – approx. 9:45pm
More Information & Book Your Tour Here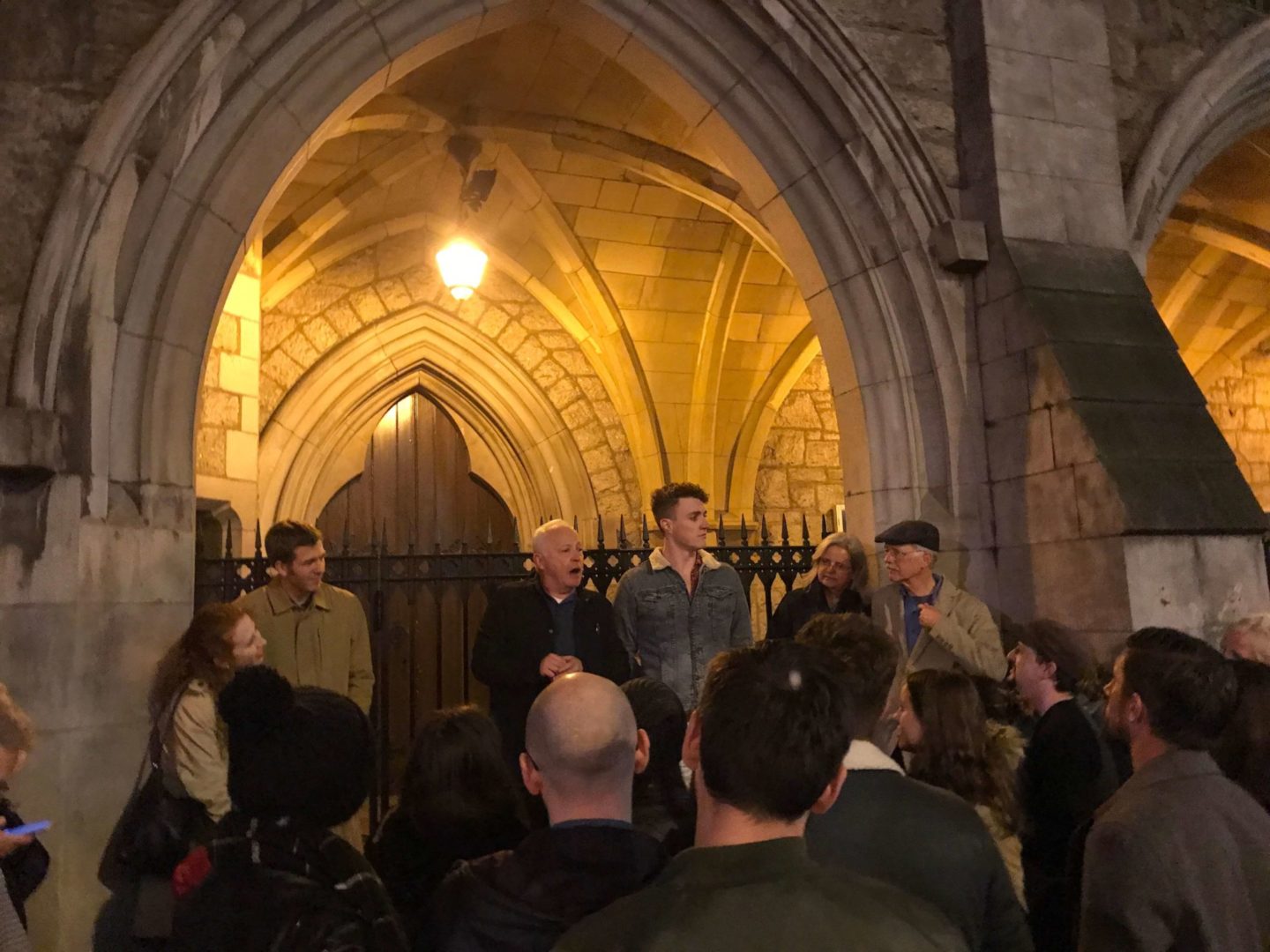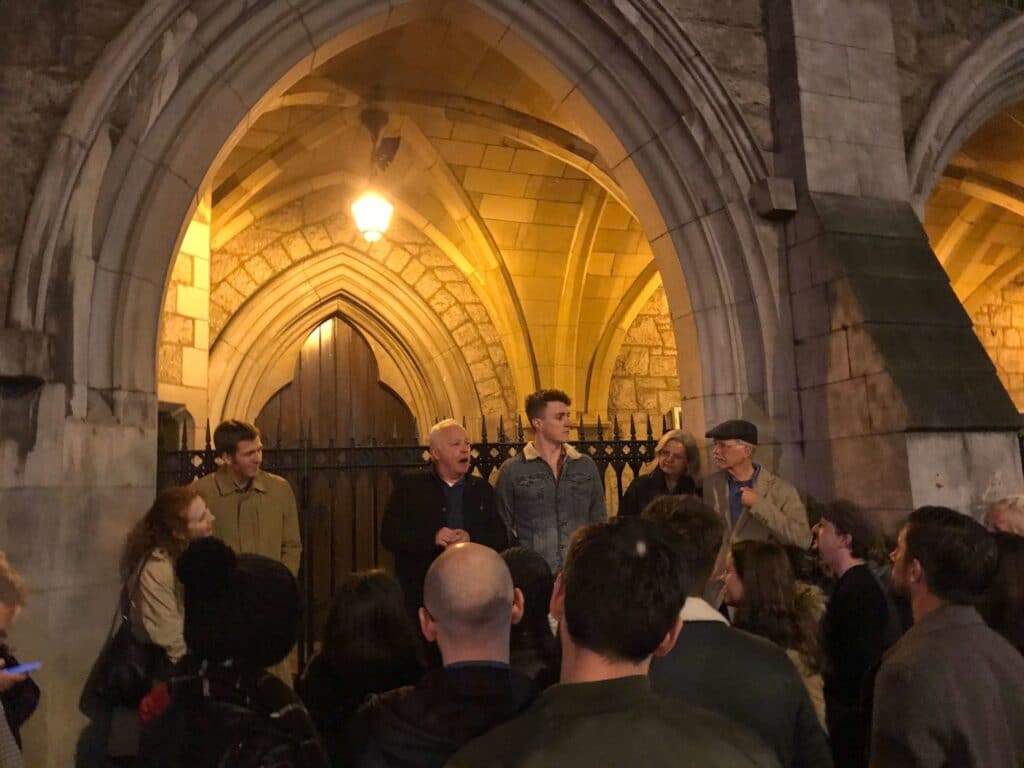 ---
If a literary pub crawl isn't your style, you might want to check out a Traditional Irish Music Pub Crawl. Most nights, traditional celtic music can be heard from many pubs across the city, but you'll likely be around the Temple Bar area if you're staying anywhere near the city center. Go with professional musicians as your guide, and learn about classic Irish ballads, a mix of some comedy, some storytelling, a few beers, and some wonderful live music in a couple of Dublin's classic pubs.
---
Trinity College & The Book of Kells
What does a book written more than 1,200 years ago look like? What is it made out of? What is it about? How big is it? These are all questions Geoff had when we were on our way to Trinity College to see the Book of Kells, which is considered one of the world's oldest books and has been kept at Trinity since 1661.
Referred to as Ireland's most cherished treasure, the Book of Kells is so intricately detailed it has been called the work of angels. More factually correct, however, it is the work of monks. How they were able to produce such fine craftsmanship with the tools they would have had at the time (c. 800 CE/AD) is nothing short of bewildering! At one point, The Book of Kells existed as one book. Today it exists as four volumes, divided into parts as a way to better protect it.
Two volumes are on display, while two are in safe keeping. The display volumes are behind glass, and they turn the page every few months. There is an informative display as you enter explaining why this work is so amazing, particular details to pay attention to, and the illumination techniques they would have used. After seeing the book, you go into the beautiful Trinity College Library, which contains books dating back to the 16th century, still there on their original wooden shelves!
Regarded as one of Ireland's most important national treasures, visiting the Book of Kells is a busy experience, so expect lineups (or book a fast-track tour in advance). The fast-track tour gives early access to see the Book of Kells and the library, as well as an exterior tour of Dublin Castle.
Early Access Book of Kells & Dublin Castle
Starting Point: Trinity College, College Green, Dublin 2, Ireland
Early Access Tour begins at 8:45am (summer) or 9:15am (winter), 2.5hrs
More Information & Book Your Tour Here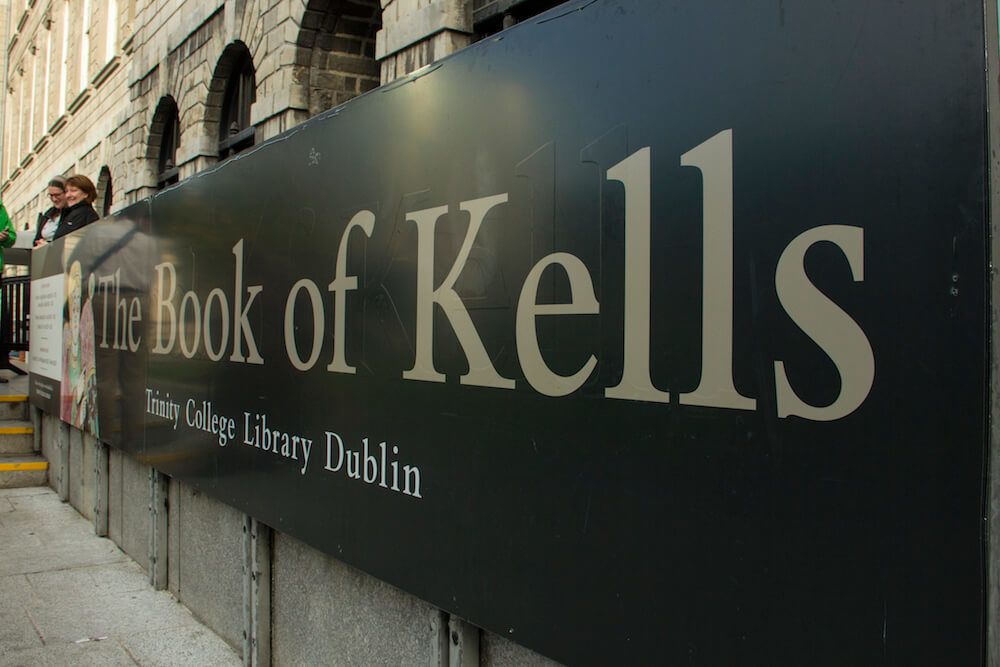 ---
DIY Irish Whiskey Tour
For whiskey and drink lovers, Dublin is a bit like an amusement park filled with great rides…you want to do it all, but may have to choose due to time constraints.
Not wanting to skimp on the research (it's a tough job we have), we did our best to try out as many whiskey experiences as we could, visiting the Irish Whiskey Museum, Jameson Distillery Bow St., and Teeling Distillery. Each had their own unique flavour (see what we did there?) and take on the story of Irish whiskey.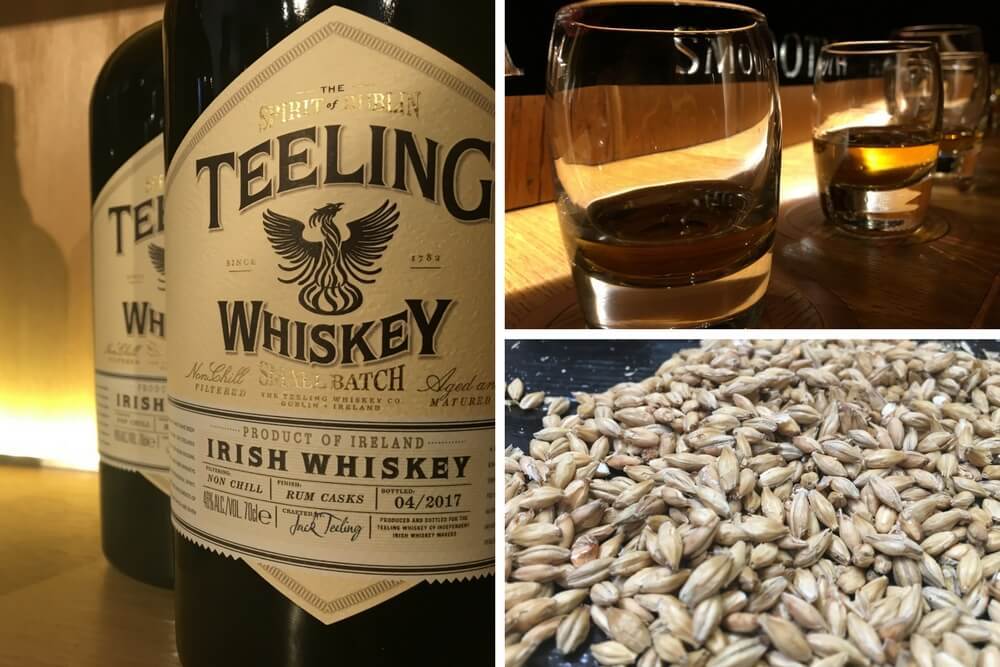 ---
Fabulous Food Trails – Food & Fashion Tour
Fab Food Trails has been showing tourists a unique side of Dublin for around a decade now, and we were thrilled to join our guide Bríd on their Food and Fashion tour, which combined stops at artisan food shops, market stalls, local and international designers, and more along the way.
Over the course of the morning Bríd took us on a casual walk around Dublin, pointing out some local spots as we passed, while also taking us in to meet cheese mongers and parfumers, shop proprietors and cooks. Like many of the other tours we did in Dublin (see: whiskey), Bríd told us a similar story of how Ireland's capital has gone through a renaissance since the beginning of the 2014 economic recovery from the 2008 Celtic Tiger crash. It's really only been a few years since Ireland has begun to show signs of prosperity again, and the impact of the crash sill shows its mark on the capital – and how Irish consumers choose to spend.
While you can find high street shops and chain restaurants in Dublin, words like craft and locally made seem to be on the tip of everyone's tongues. From both the fashion and the food perspective, most of the stops Bríd took us on during our tour were just that: either local entrepreneurs focused on selling and serving locally-sourced goods and ingredients, locals importing small batch goods from a well-curated line of international products, or small batch European makers with a location in Dublin.
Some of my favorite stops included Parfumerija, a perfume bar with brands and scents sourced from London, Paris, Berlin, Oman, and Rome; OM Diva, a fashion shop showcasing young Irish designers and vintage pieces; and Temple Bar food market (Saturdays only), where the Food Market Cafe cooks up a daily recipe based only on whatever they can source from the market vendors themselves!
This is a very fun way to spend a few hours, and if you want to do some shopping along the way, there's plenty of time built in.
Food & Fashion Tour is €55 and booked via their website
The tour runs daily Monday through Saturday and lasts 1.5 to 3 hours
More Information & Book Your Tour Here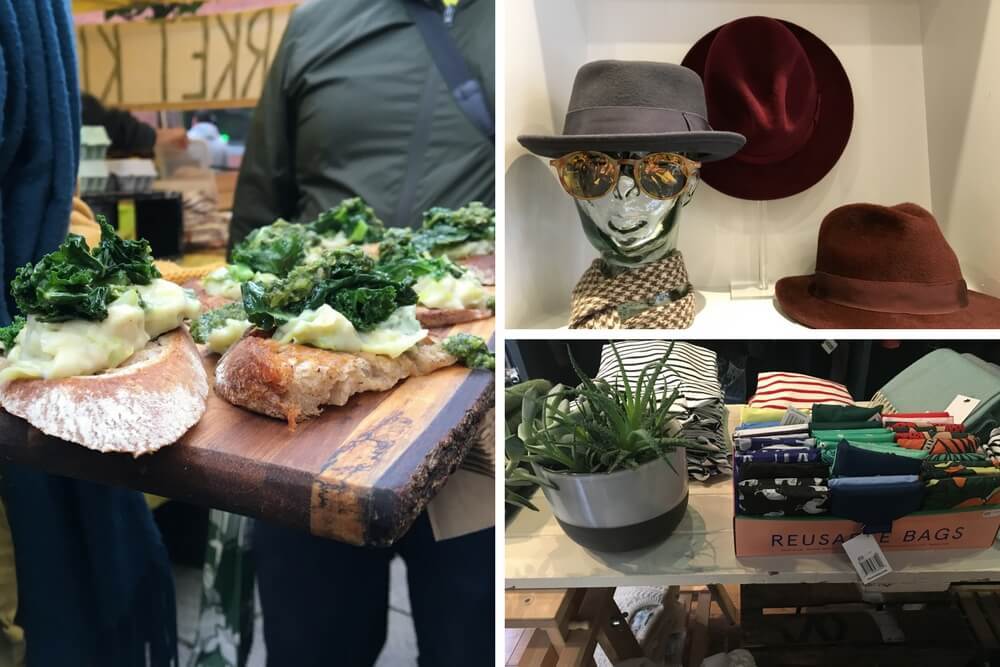 ---
Georgian Dublin Architecture Tour
Dublin is one of the world's great Georgian cities, and this tour, put on y the Royal Institute of Architects, introduces you to Georgian Dublin with a practicing architect as your guide.
Starting at O'Connell Street, our guide Carol introduced us to the 'wide streets commission' that gave modern Dublin its look and feel during the Georgian Period (1714-1837), with a goal of putting order upon the medieval city. If you walk around Dublin on your own, you'll probably notice the difference in parts of the city: north of Temple Bar around Grafton St., for example, it's more medieval, with curved streets and, to use Carol's words, a 'highly piggly' layout to things. Once you know what to look for, you can easily spot the difference between the medieval parts of the city, and the Georgian parts.
This tour is really the story of boom time Dublin during the Georgian era. During the 18th and 19th centuries, Dublin was the British Empire's second city after London, and given the prominence and importance of the British Empire at the time, it was really the world's second city. There was lots of money and lots of land, which came together to create the beautiful Georgian city you can wander through today.
On the tour, we stopped at landmarks like the GPO (General Post Office), which was taken over by Irish nationalists during the 1916 Rising; "The Spire" which replaced Nelson's Column, which was bombed by the IRA in the the 1960s; the Former House of Parliament (now a bank); Trinity College; the New House of Parliament; and the Georgian Houses on Merrion Square.
It ended up being an enjoyable walk through the city, and we left with a fresh perspective on Dublin.
Georgian Dublin Architecture Tour
Starting Point: Suffolk Street, Outside the Tourism Office
The tour lasts about 1.5 hours, and can be booked by emailing [email protected]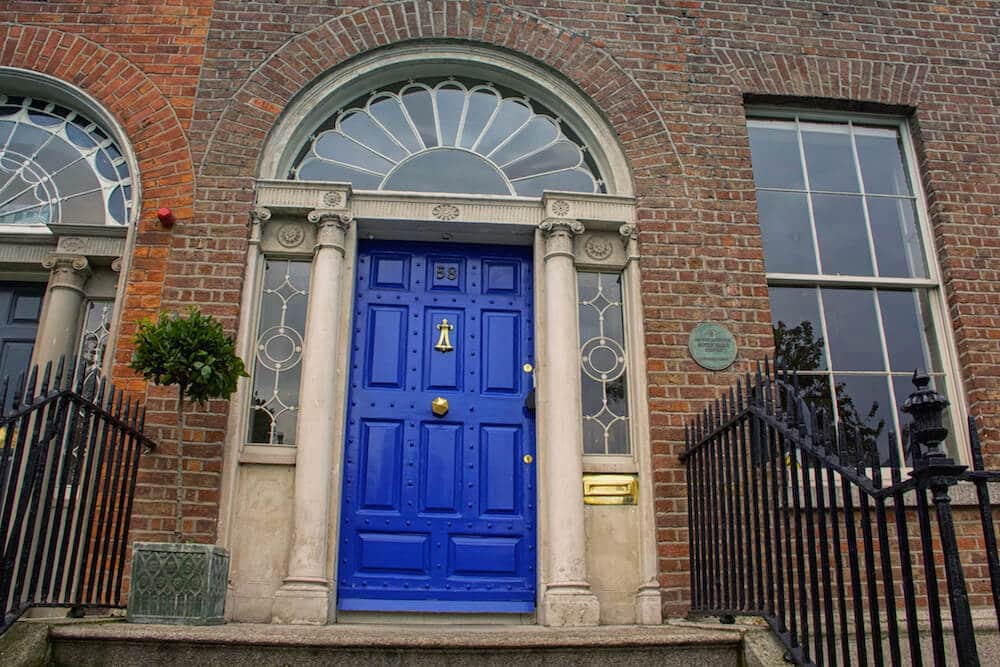 ---
Two Unique Ideas for Afternoon Tea
If you'd like to try an afternoon tea experience with a bit of a twist, Dublin has two unique and fun concepts – both of which Katie tried – that might suit your tastes.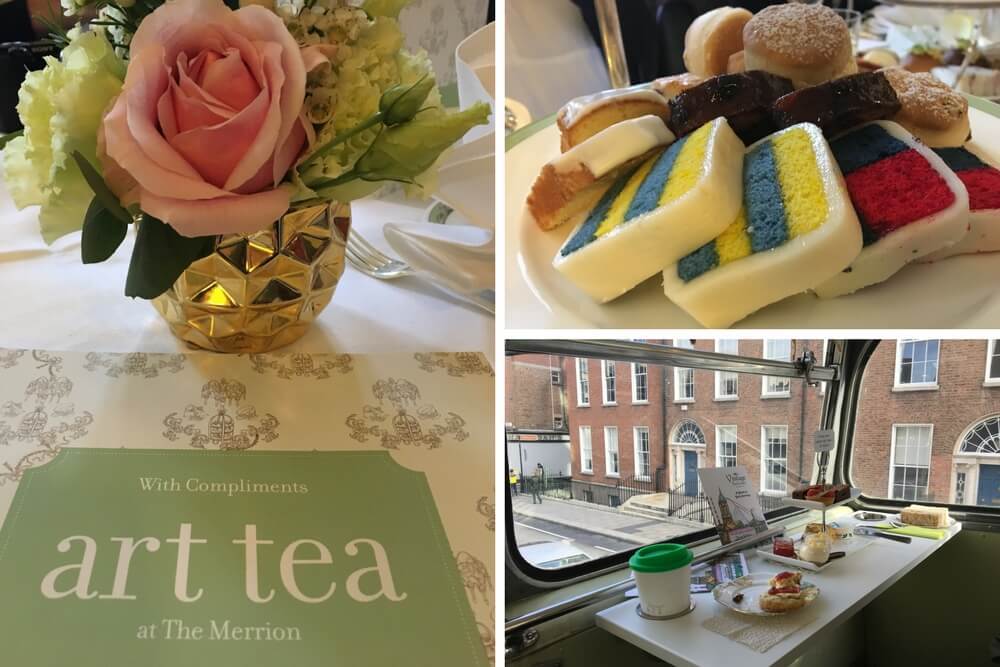 ---
That's our round-up of the best tours in Dublin. We hope these ideas help you plan your trip, and enjoy Ireland!
---