Best Travel Water Bottle: A Comprehensive Guide to Finding the Best Water Bottle for International Travel, Including Things to Consider, Reviews, and Recommendations for Different Travel Styles.

Disclosure: This post contains affiliate links. That means we may earn a commission when you use the links on this site to book a hotel, buy your travel insurance, shop for travel essentials, etc. Learn more here.
After traveling to more than 50 countries together, we're ashamed to admit we've used and trashed far more disposable, single-use plastic water bottles than we'd care to admit.
Unfortunately, many parts of the world don't have potable tap water, and buying drinkable water from plastic bottles is the only option if you don't plan ahead and bring your own refillable water bottle. Even in countries where the tap water is perfectly fine to drink, we sometimes find ourselves caught thirsty and unprepared when we're out for the day, and again have to resort to buying a single-use disposable plastic bottle (which we do reuse for as long as we can) to slake our thirst.
For us (and hopefully for you), that ends now: we're trying to say no to single use plastic in as many parts of our lives as we can, and that includes water bottles. We're on the hunt to find the best travel water bottle for all types of travel, and we're sharing our research below so you can do the same, while also making a small but meaningful impact on the environment and your travel budget.

How to Find the Best Travel Water Bottle: Table of Contents
01. Compare the Best Travel Water Bottles
02. What is a travel water bottle and how is it different from a normal water bottle?
When you're at home, in the office, or shuffling between home, work, and the gym, you'll likely care about different things when choosing a reusable water bottle than when you're planning for a trip. While some water bottle characteristics are important no matter where you plan on using it (think: leak-proof), some things are vastly more important when you're on the road.
If you're traveling to destinations where the tap water isn't potable, you'll probably want to get a travel water filter bottle; different bottles provide different layers of protection by filtering or purifying the water, or both.
Regardless of where you're travelling, you'll likely want to consider weight of the bottle, as you'll probably be carrying it with you all day, every day. Taking a bit of extra time to find the best lightweight water bottle will go a long way towards your physical comfort, especially if you're carrying it in your bag 12 hours per day.
Whereas breakability isn't much of a concern when you're sitting at a desk all day, it certainly comes into play when purchasing a travel water bottle. Glass might make sense as the best material for water bottle when you're at the office, but finding a glass travel water bottle takes a bit more consideration. We haven't included any glass options on this list, but if you do decide to go in that direction, be sure to find something with a good protective sleeve, like this bottle.
In reality, there are a host of things you need to consider when choosing the best travel bottle that you don't have to consider when you're at home: how easy is it to pack, how easy is it to clean, and how easy is it to carry are just some of the things that matter far more for a travel drink bottle than for one you'd use at home.
Skip Straight to the Reviews ↓
03. What are the Benefits of Buying a Water Bottle for Travelling?
Health and safety, cost, convenience, and eco-friendliness are four great reasons to bring a reusable water bottle on your trip.
Health and Safety – When it comes to safety, bringing your own water bottle allows you to control both water quality and the materials you're storing your water in. As the tap water is perfectly safe to drink in many destinations, such as much of Europe and North America, investing the time to find the best water purifier bottle for travel probably doesn't make sense for a European vacation.
Regardless of whether you need a portable purifying or filter water bottle or not, you will want to consider the materials your water bottle is made of. The best safe water bottle is one that is non-toxic and free of chemicals such as BPA, and uses food-grade materials in its construction.
Cost – Cost is another factor that should motivate you to find the perfect travel bottle. When we were in Rome, we were thrilled to have reusable water bottles with us, as we could load up on fresh, clean water from the city's fountains for free, saving our Euros for more important things (hello, wine; hello, gelato). Even in cities where the cost of travel is relatively affordable, like Prague, bottled water can be grossly overpriced in the tourist areas, which can significantly eat into your pilsner budget. Same goes for airports, where bottled water is always priced ridiculously high compared to normal costs in the city or country. Here in Budapest (where we currently live), a one litre bottle of water in the supermarket is less than $1, but at that airport, it can run 5x that much. If you bring an empty reusable water bottle through security with you, you can fill-up in the bathroom or using water fountains on the other side, saving your hard earned cash for museums, tours, hotels, and having fun on your travels!
Convenience – I always get terribly dehydrated on flights, and find we're rarely offered enough water in-flight, or aren't offered it when I really need it. This motivates a near-obsession with loading up on water in the airport, which is always a pain in the butt, especially when we're running late. And that's not to mention the fact that on the flight, airlines are serving bottled water from…you guessed it…disposable plastic bottles (and serve it in a disposable cup). While this certainly isn't the worst environmental impact of air travel, it does provide an extra level of motivation to find the best drinking water bottle for a trip.
Same goes for when we're out exploring on a hot day. These days, we often don't have small local currency because we pay for so much on our credit card (all the better for tracking expenses and collecting points). Carrying my own water is much more convenient than finding a convenience store, waiting in line, and hoping I have enough in the local currency (and sending Geoff on a frantic ATM hunt if we don't).
Environment – Finally, using a portable water bottle is a no-brainer in terms of the environmental cost. In our experience, more countries don't recycle their plastic than do, leading to the horrible fact that, in many countries, we see plastic bags and bottles littering otherwise pristine beaches and natural areas and city streets around the world. Even in countries that have good recycling programs, it's much more eco friendly to reduce the amount of plastic that you use, and reuse your own bottle, than it is to keep consuming more and more plastic, even if it does get recycled. Just like the old saying about cameras (the best camera is the one you have with you), the best eco friendly water bottle is the water bottle you bring with you, refill over and over again, and commit to using for a long time.
04. What are Some Drawbacks of Bringing a Water Bottle for Travel?
While the pros are pretty clear, it's worth noting there are a few cons to BYOTB (bringing your own travel bottle). Carrying a bottle will obviously add some weight to your luggage and daypack. While a full reusable travel bottle likely won't weigh that much more than a full plastic water bottle, once it's empty you'll still need to carry it. If you travel with a shoulder bag, having a little extra weight all day, every day can make a big difference to your back, neck, and shoulder comfort and long-term health. Similarly, a travel water bottle will take up some luggage space and space in your daypack, so it's worth considering size.
Skip Straight to the Reviews ↓
05. Finding the Best Travel Water Bottle
We've put this guide together to help you find the best water bottle for international travel, taking all of these points into consideration in our search for the worlds best water bottle! If you've decided to make the leap to travelling with your own bottle, we've outlined some of the criteria you should look for when choosing the best reusable water bottle. And if you'd rather just skip straight to the reviews and recommendations, you can do so by clicking this link.
Skip Straight to the Reviews ↓
5.1 – Filtration and Purification. What is the Best Filtered Water Bottle for Travel?
When it comes to choosing the best water filter bottle for travel, there are really only a few brands on the market that have stood the test of time. Steripen and Grayl are two of the brands that come to mind, and I still remember using a Steripen on my first-ever backpacking trip to Southeast Asia almost 20 years ago! At the time, Steripen was hands-down the best travel water filter…quite possibly because it seemed like the only option on the market when we bought gear for our trip! Thankfully, things have changed somewhat, and you now have a bit of choice when it comes to choosing a travel filter water bottle that will keep you safe, no matter what type of travel you have planned. So what do you need to look for when trying to find the best filtered water bottle for travel?
Filtration vs. Purification: Filtration will get rid of sediment, whereas purification will remove microscopic bacteria and other nasty things hiding in the water. If you're mostly doing city travel and are concerned about unsafe tap water in the cities you visit, a travel water purifier should do the trick. If you plan to be beyond reach of tap water, and need to get water from lakes and streams, you'll want to take the time to choose the best water filtration bottle with purifier.
What Does it Remove and Purify? There's a pretty wide range in terms of what each water filtration water bottle brand can handle. Whereas some travel water purifying systems only kill nasty bacteria, protozoa, and diseases, others will filter out heavy metals, which is a huge plus in my mind, especially when we're travelling somewhere with outdated and questionable infrastructure.
Lifespan and Tech Requirements. Consider the length of your trip, what's required to make the travel purification / filtration system work, and how long it will last. The Steripen Ultra, for example, will purify about 15,000 litres over its life, and roughly 50 treatments per charge. It's rechargeable, meaning you need an outlet, computer, or solar charging to keep it going.
Unlike the Steripen Ultra, the options for the best filtered water bottle don't require charging, but the filters do have a total lifespan, after which point you'll have to replace the filter to ensure it's still effective. The GRAYL bottle, for example, lasts for about 150 Litres, or 2 to 3 months of drinking water. The considerably more expensive Lifesaver Bottle Ultra goes for much longer, and has a failsafe system that won't let you operate the bottle once the filter has reached its lifespan.
Integrated Travel Filter Bottle vs. Standalone Travel Water Purifier. One option is to go with a stand alone water purifier, like the Steripen Ultra, which you can then use to purify water in any bottle. As long as you can fit the Steripen into the water bottle, you can use any water bottle with this filtration method. The big downside of the Steripen is it doesn't filter out sediment, making it a good option for city travel — where you want to sterilize tap water, but don't have to deal with silt and other sediment — but not great for hiking or trekking, where you may need to sterilize creek or lake water.
Option 2 is getting an integrated self filtering water bottle and purifier, like the Grayl Ultralight. The upside of this is you just have one integrated unit to carry; the downside is you have to put water through the bottle itself. If you want purify water in a mug, for example, you'd need to run it through the bottle first.
Skip Straight to the Reviews ↓
5.2 – How to Find the Best Leak Proof Water Bottle for Travel?
You only need to have one leaky bottle disaster before realizing the merit of spending time to find the best non leak water bottle. For me, that disaster came in 2011, on a Chinese New Year trip through Thailand, Malaysia and Singapore. On a bus ride from KL to Singapore, the flimsy screw top cap came undone in my purse, causing half-a-bottle of water to soak the contents of my bag, passport and (gulp) camera included. Had I taken the time to research and buy the best non leaking water bottle I could find, that camera would have survived the trip. Instead, our first stop in Singapore was an electronics store, and our trip budget went up considerably when we bit the bullet to buy a new camera.
Needless to say, I'm a lot more careful about where I put my water bottle these days. And while I certainly pay more attention to how well caps are screwed on, I also am more aware of water bottle materials (especially the top) and construction.
Leak Proof vs. Spill Proof Water Bottle. While they're often used interchangeably, leak proof and spill proof are not identical concepts. When the lid is on, a leak proof or no leak water bottle will prevent water from escaping. Realistically, very few bottles are going to be 100% leak proof, even with well designed caps – leak resistant feels like a more reasonable goal to shoot for, and being aware of where you keep the bottle when it's full (and what damage could be done if it's near electronics and important travel documents).
Spill proof is slightly different, and is there to save you in those moments when you accidentally knock your water bottle over. Spill proof water bottle tops are by default closed, so if you accidentally knock the bottle over, the water won't spill out. While this is a huge concern when you're shopping for the best water bottle for the office, it's less of a concern when you're traveling.
Type of Cap or Lid. Some lid styles are going to be more prone to leaking than others. A flip top, for example, is more likely to be leak resistant, and a screw top with deep screws is more likely to be leak proof. Some of the bottles suggested below have a double cap system; this extra layer of protection should result in an extra tight seal!
Attach-ability. If you're not 100% confident about the leak-proofing on your chosen water bottle, or if it's marked leak resistant rather than leak proof, you may want to look for a bottle that can attach to that outside of your bag or backpack, rather than being stored inside next to documents and expensive electronics. Many bottle caps can be used with a simple carabiner (one of my favorite travel accessories!), whereas others come with wrist and other straps to attach the bottle to your wrist or bag.
5.3 – Insulation & How to Find the Best Hot Cold Water Bottle for Travel in All Climates?
Personally, I'm not too fussed about having really icy cold water when I'm out exploring a new city; even if it's hot out, I'm fine with room or tap temperature water. I do, however, find it pretty gross when I take a swig of my water, only to discover it's hot enough to make a cup of tea with. Especially in hot climates, I want my water to be a least mildly refreshing. And that means finding the best cold water bottle and bringing it with us when we go to hot and humid climates. Conversely, I enjoy drinking hot water when I'm out exploring on a cold winter's day, a habit picked up during our years living and traveling in Asia.
When it comes to finding an insulated travel bottle, your best is the one-two punch of a double walled water bottle that is vacuum sealed. This combo of insulation, and a design that prevents heat or cold from escaping through the seals ensures your ice water will remain cold and your hot drink will remain hot for hours, even if you're experiencing extreme temperatures yourself. The best insulted water bottle will include both of these features together, giving you the best chance of icy cold or steaming hot water, depending on your preference!
5.4 – Ease of Cleaning
While having a dishwasher safe water bottle is great when you're at home, chances are you won't have access to a dishwasher when you're on a cruise, in a hotel, or on an overnight train through Europe. As such, "easy to clean" takes on a whole new meaning when you're travelling, and really comes down to a few factors:
Can you reach all the nooks and crannies in the water bottle to scrub them without needing a special bottle brush?
Is the material durable enough to use any kind of basic cleaning supplies (hand soap, dish soap, a rough 'scrubby' sponge?) to get it clean? You don't want a water bottle that has overly complicated cleaning instructions.
Is the water bottle easy to get completely dry? This is especially important if you're traveling to hot and humid climates, where mould is a concern.
5.5 – Non-Toxic
For the past few years, finding a BPA-free water bottle has been top of mind due to health concerns associated with the chemical, but the best non-toxic water bottle will also be free of phthalates, which may disrupt the endocrine system.
These are mostly a concern when shopping for a bottle made of plastic; thankfully these days, these chemicals are easier to avoid in bottles, and the best plastic water bottle you can buy will be both BPA and phthalate free!
When it comes to shopping for a non-plastic water bottle, you want to look for bottles constructed of food grade materials, whether it be silicone, metal, or something else.
5.6 – Size, Weight and Capacity
Keeping in mind you'll likely be carrying the water bottle with you all day, every day, you'll want to strike a balance between the bottle's capacity (how much water it can hold), durability, and weight.
5.7 – Durability
While glass seems to be the hottest water bottle material these days, I'm not convinced it's the best choice for travel. When I've traveled with a reusable water bottle in the past, it's had to take a bit of a beating, falling out of my day pack on multiple occasions, getting accidentally tossed under the bus with my luggage, and getting generally dropped, bumped, and abused throughout my day-to-day.
That's not to say a glass water bottle can't work for your travel bottle, but rather to remind you that whatever bottle you buy, it will likely have to take some abuse, and you need ton consider durability when shopping.
5.8 – Brand Trust
While it's possible to get good cheap water bottles, some of the best water bottles these days are considered more of an investment, running at $30 or more for a single bottle. If you're planning to drop that much on a water bottle, it's certainly worth getting one from a trustworthy brand that is going to stand by the product in case you have any problems with it.
The GRAYL Ultralight is a Great Choice For:
✓ Filtering & Purifying Water ✓ Wide Mouth for Easy Cleaning ✓ Easy to Use ✓ Non-Toxic Construction
Disclosure: This post contains affiliate links. That means we may earn a commission when you use the links on this site to book a hotel, buy your travel insurance, shop for travel essentials, etc. Learn more here.
The Grayl Ultralight is our pick for the best filtered water bottle for travel. It's a purifier-filter combo bottle, which means it will kill bacteria, filter out sediment, and filter out extras, like heavy metals and many chemicals. The fact that it filters out lead is a huge plus for me, as I worry about old pipes even in countries where the water is potable.
The Grayl:
Removes 99.9999% of viruses, including Hepatitis A and Rotavirus.
Removes 99.9999% of disease-causing bacteria and protozoan cysts, including E. coli, Salmonella, Cholera, and Giardia.
Filters out sediment and silt
Filters out many chemicals, including chlorine, and heavy metals, including lead and arsenic.
A few other features about the Grayl that we really like include relative ease of use (you just press it down, although it does require a bit of force) and the fact that it's quite lightweight (10.9 ounces / 309 grams) for what it is. Ultimately, though, traveling with a GRAYL Ultralight to countries where the water isn't potable means you won't leave behind a pile of empty plastic bottles polluting the very country that's hosting you. In my mind, that's well worth the $60 or so this bottle costs.
>> Click here to check the price and to read more reviews.
The Nomader Collapsible is a Great Choice For:
✓ Light Weight & Space Saving ✓ Wide Mouth for Easy Cleaning ✓ Double Cap for Leak-Prevention ✓ Non-Toxic Construction ✓ Freezable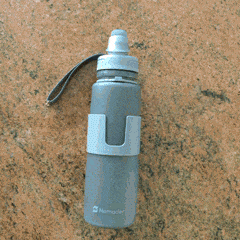 This is a great choice for a European vacation, or for travelling to any destination where you can drink the tap water, where you'll have access to filtered water, or in conjunction with a water filter like the Steripen Ultra. When it's full, it looks like a normal water bottle, but feels a bit squishy. The genius of this option is that it's a collapsible travel bottle when it's empty, and it rolls up to get super compact with a strap and hook system to keep the bottle from unrolling.
The Nomader bottle was designed by a traveller for travelling, and it shows. Bryan, the bottle inventor, designed this bottle after 8 months of full-time travel, and basically considered all the things that personally frustrated him about the water bottles he used on his trip, and then fixed them, incorporating his own experiences into a single travel water bottle.
Worth noting, don't order this bottle the day before your trip, and expect it to perform perfectly right out of the gate. With all silicone bottles, you may need to pre-condition them a bit to get rid of the silicone taste. Nomader provides instructions for pre-conditioning the bottles, which gets rid of any taste you might experience if you simply use the bottle out of the box.
>> Click here to check the price and to read more reviews.
The Square is a Great Choice For:
✓ Easiest Bottle to Clean & Dry (Anti-Mould) ✓ Won't Roll if Dropped ✓ Non-Toxic Construction ✓ Light Weight
It doesn't sound like much to the inexperienced flier, but if you've ever dropped a traditional water bottle while sitting in the middle or window seat, only to have it roll under your seat to the person two rows back, you'll quickly see the genius in the square (okay – rectangle, really) design of this BPA-free plastic water bottle. Indeed, the shape alone makes this the best water bottle for air travel.
Besides the unique roll-proof shape to it, the Square is also super easy to clean, due to the fact that you can open it from both ends: that makes it way easier to scrub every nook and cranny, and make sure every part is completely dry before you pack it away in your luggage. When you're travelling somewhere hot and humid, mould is a legitimate concern, so being able to really go to town on this bottle in terms of scrubbing every surface is a huge plus.
If you're concerned about using tap water when you're abroad, you could easily pair this bottle with the Steripen Ultra for a portable filtration + water bottle solution.
>> Click here to check the price and to read more reviews.
The Kleen Kanteen Wide Mouth is a Great Choice For:
✓ Easy to Clean & Dry ✓ Ultra Durable ✓ Non-Toxic Construction ✓ Fits Ice Cubes
If you want something that's fairly indestructible, it's hard to beat going with a stainless steel option. You can smash them, drop them, and stuff them pretty much anywhere, and they'll just keep on ticking, so to speak. The other nice thing about stainless steel is you can boil them in a pinch, if you need to purify water.
What I really like about this version is it has the wide mouth, which will make it a bit easier to clean when you're travelling, without having to use a bottle brush. If you happen to be somewhere you can get ice, you'll also be able to fit ice cubes into the wide mouth, which will keep your water colder for a bit longer. It's worth noting, however, that this water bottle isn't insulated, so the ice will eventually melt and the water will warm up over time.
This bottle actually wins in two categories: in addition to being the best stainless water bottle we found, it is our pick for the best wide mouth water bottle.
>> Click here to check the price and to read more reviews.
The Vapur Eclipse is a Great Choice For:
✓ Ultra Lightweight ✓ Tight on Space and Weight ✓ A Backpacking Trip ✓ Access to a Kitchen for Cleaning ✓ Non-Toxic Construction
The Vapur Eclipse is our pick for the best water bottle to use if you're short on space and concerned about weight. At 4.8 ounces, it's the lightest water bottle in our list, and like the Nomader Collapsible, it folds up quite small. I also really like the built-in carabiner, which allows you to hang the bottle on the outside of your bag, and gives a bit more peace of mind in terms of carrying a full water bottle and expensive electronics at the same time.
Overall, I think this is a great water bottle choice for a backpacking trip, where you'll be staying in hostels and can use a dishwasher to clean it, and for trips where you'll be staying in holiday apartments with a dishwasher. Otherwise, cleaning the bottle might be a slight challenge, as you really need a bottle brush to get into the crevices. For some, the trade-off is absolutely worth it, especially given how compact and light this bottle is!
>> Click here to check the price and to read more reviews.
Kleen Kanteen Vacuum Insulated is a Great Choice For:
✓ Keeping Water Hot & Cold ✓ Durablity ✓ Non-Toxic Construction
Just as Kleen Kanteen's wide mouth is a top choice, so is this model for the best double insulated water bottle. Hot will stay steamy for almost a full 24 hours, and ice will stay icy for double that….certainly more than long enough to enjoy a day of sightseeing!
Made of food-grade steel and a BPA-free cap with a place to put a carabiner through, I also have to admit that I love the huge variety of color choices on these bottles, which make them both functional and stylish. One downside of the hefty construction is the weight – this is the heaviest of the bottles on our list, weighing in at 17.6 ounces. While it doesn't sound like a lot, it certainly adds up when you're carrying it for the entire day in a shoulder bag, so consider carefully the value vs. weight trade off of keeping your icy cold water cold!
>> Click here to check the price and to read more reviews.
There you have it – the best water bottle to drink from, no matter what style of trip you're taking. We hope you found the perfect water bottle for your travels!
Like This Post? Pin it for Later!