The Only Scotland Packing List You'll Ever Need: If you can't figure out what to pack for Scotland, we've put together this 4-season Scotland packing list to help. Includes what to wear in Scotland in winter, spring, summer and fall!

Read More About Scotland: 23 Places to Go in Scotland • Where to Stay in Glasgow • One-Day Glasgow Itinerary • Where to Stay in Edinburgh • One Day Edinburgh Itinerary • Tips for Visiting Isle of Skye and Lewis & Harris • Scotch Whisky Experience (Review) • Edinburgh Indie Shopping Guide

"In Scotland, there's no such things as bad weather, only the wrong clothes."
~Billy Connelly
Scotland is just as much an experience as it is a destination. It's two largest cities, Glasgow and Edinburgh, couldn't be more different from each other, and the many beautiful Scottish islands all have their own unique look, character and charms. East is different from West, Highlands are different from Lowlands…even the whisky tastes different based on which region it's from! Indeed, Scotland is a country of contrasts and change, which makes it all the more intriguing for visitors, and all the more difficult when it comes to figuring out what to pack for Scotland, and when to visit Scotland to get the best bang for buck.
We've tried to answer those questions below, introducing Scotland's climate and weather throughout the year, and suggesting a Scotland packing list that will work for all seasons.
A Perfect Scotland Packing List: What to Wear in Scotland Across 4 Seasons
What's the Best Time of Year to Visit Scotland?
Late Spring to early Fall is the best time of year to visit Scotland, as you'll have the best weather during that window. We've personally been to Scotland in Winter, Spring and Fall, and have managed to have a fantastic time, even during the inevitable wet and windy days we experienced along the way.
The key word when it comes to Scotland's weather is unpredictable. As long as you keep that word in mind while you're planning your Scotland wardrobe, you should be good. As a general rule of thumb, pack for the average weather that you are expecting on your trip, but also add-in some layers for warmer, cooler, wetter, and drier weather than what you're expecting.
When it comes to location, I used to think about Scotland as being roughly the same latitude as southern Canada, but this is really wrong. Scotland is quite a bit north on the map, sitting roughly between 56° and 59° North, which puts it in-line with southern Alaska. Thankfully (in our opinion), Scotland is more temperate than Alaska because it's an island, and it's rare to experience weather extremes. Expect winter temperates to be around freezing, plus or minus a bit. Skies change between sunny and clear, and grey and rainy, but there is almost always wind to contend with. In summer, temperatures hover around 15°C /59°F (highs), and you can expect more sunshine and less wind than in the winter, although you can't discount the possibility of rain and wind.
So what can you expect for average weather in Scotland throughout the year? Well…it really depends on where you're going. The east coast sees the least amount of rainfall per year, with the western highlands receiving the most. On the whole, expect the least amount of rain to fall from April to July. The weather also changes quickly so it likely won't rain the entire day in the warmer months (although it may rain all day in the cooler months). The averages below are for Edinburgh, and are sourced from Holiday Weather.
Scotland in January Weather: Pack for average highs of 5°C (41°F) and lows of 1°C (34°F). January averages 70 mm (2.75 inches) of rain throughout the month, with 24 days of rain.
Scotland in February Weather: Pack for average highs of 6°C (43°F) and lows of 1°C (34°F). February averages 50 mm (1.97 inches) of rain throughout the month, with 20 days of rain.
Scotland in March Weather: Pack for average highs of 9°C (48°F) and lows of 2°C (36°F). March averages 70 mm (2.75 inches) of rain throughout the month, with 22 days of rain.
Scotland in April Weather: Pack for average highs of 11°C (52°F) and lows of 3°C (37°F). April averages 44 mm (1.57 inches) of rain throughout the month, with 22 days of rain.
Scotland in May Weather: Pack for average highs of 14°C (57°F) and lows of 6°C (43°F). May averages 50 mm (1.97 inches) of rain throughout the month, with 21 days of rain.
Scotland in June Weather: Pack for average highs of 17°C (63°F) and lows of 9°C (48°F). June averages 60 mm (2.36 inches) of rain throughout the month, with 20 days of rain.
Scotland in July Weather: Pack for average highs of 19°C (66°F) and lows of 11°C (52°F). July averages 70mm (2.75 inches) of rain throughout the month, with 20 days of rain.
Scotland in August Weather: Pack for average highs of 19°C (66°F) and lows of 11°C (52°F). August averages 50 mm (1.97 inches) of rain throughout the month, with 21 days of rain.
Scotland in September Weather: Pack for average highs of 16°C (61°F) and lows of 9°C (48°F). September averages 70 mm (2.75 inches) of rain throughout the month, with 19 days of rain.
Scotland in October Weather: Pack for average highs of 13°C (55°F) and lows of 7°C (45°F). October averages 80 mm (3.15 inches) of rain throughout the month, with 23 days of rain.
Scotland in November Weather: Pack for average highs of 9°C (48°F) and lows of 3°C (37°F). November averages 70 mm (2.75 inches) of rain throughout the month, with 21 days of rain.
Scotland in December Weather: Pack for average highs of 7°C (45°F) and lows of 2°C (36°F). December averages 70 mm (2.75 inches) of rain throughout the month, with 21 days of rain.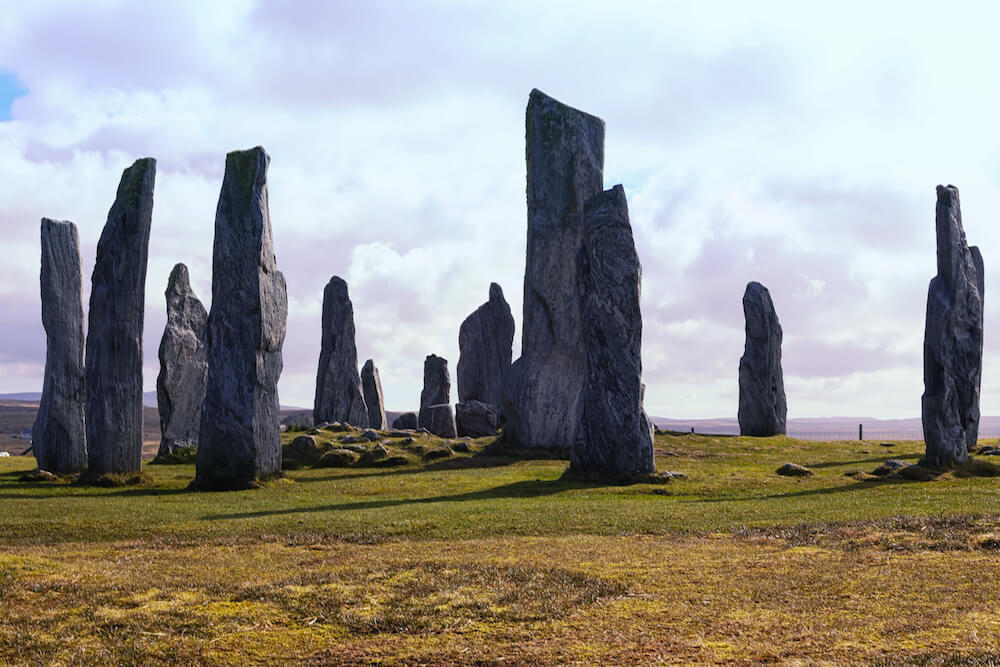 General Rules for Planning What to Wear in Scotland
There's no 'one size fits all' packing list for Scotland that will work for all people, all styles of trips, and all seasons. However, after a few different types of trips around Scotland throughout 3 seasons, we've figured out a few general rules that are helpful to follow when planning what to wear in Scotland.
Rule #1 – Think Layers
You know that joke that locals seem to make about every city, everywhere — if you don't like the weather, wait five minutes!!!?
In Scotland, it really is true. A few winters ago, we were up in Aberdeen, and we experienced hail, snow, rain, and blazing sunshine, all within a 15-minute window. On our latest trip to Scotland (we were there for just over a month in late autumn), the temperature fluctuated between +10˚C and -6˚C (that's 50˚F and 20˚F); between rain, snow, frost, and sunshine; and between howling, knock-you-over wind and silent, calm and windless air. The Scottish weather is notoriously fickle, and can change on a dime.
In our experience, the best way to be prepared for all types of weather is to build a packing list around LAYERS. That's what we did, that's what we recommended to my parents when they came to visit us in Scotland, and that's what we're recommending to you. For cool weather, pack an outer, waterproof shell jacket, a thick and warm inner layer, and a thinner inner layer.
We're calling the first rule of packing for Scotland to layer, layer, layer.
Rule #2 – There Will Be Rain
The last time we lived in Canada, we lived in a city (Vancouver) that has words like rain and wet embedded into its nicknames (Raincouver and the Wet Coast). There's nothing like living in a city that is consistently drenched 6 months of the year for learning about how to dress in the rain. We almost immediately realized that walking around the city with wet feet can very quickly transform a great day into a miserable one. And this lesson is something we're pretty mindful of when travelling, knowing we're going to spend all day outside on some days.
Enter a pair of high-quality gumboots/rubber rain boots, footwear we now consistently travel with when we know it's going to be wet. Tretorn and Hunter are two brands to check out when looking for good rain boots. They've honestly been a lifesaver for us: knowing that I'll have dry, warm and comfortable feet means I don't hesitate to explore new places in the rain.
Of course, our feet aren't the only thing we waterproof. If you're coming to Scotland in the fall or winter, know that there WILL be rain, and build that assumption into your Scotland packing list. If you choose your clothing carefully so you know you'll stay dry despite the weather, you'll have a much better trip!
Rule #3 – There Will be Wind
On our first trip to Scotland, we were actually shocked by how fierce the wind is here…we had no idea. Even when we were inside our warm and cozy apartment, we could often hear the wind howling outside, sometimes strong enough to wake us up in the dead of night.
When you're packing for Scotland and looking at temperatures, you might be tricked into thinking Scotland has a temperate climate in the winter. Temperatures of 5 or 6˚C / 41 to 43˚F aren't that uncommon through the winter.Temperature wise, you're right that Scotland is relatively temperate. But when you factor in the wind, everything feels that much colder. And while it does have the side benefit of giving you awesome, windswept hair, it's something you have to plan for when packing for Scotland in the winter.
Plan to include wind-proof and wind-blocking items in your Scotland packing list.
Rule #4 – Bring Clothing That Are Warmer Than You Think You'll Need
You know that rule for travel take twice the money and half the stuff? Well for Scotland, I'd say take stuff that is twice as warm as you think you'll need.
I think most of us tend to plan our packing list around what we'd wear in our home cities if it was that temperature. On paper, Scotland's weather (at least in Edinburgh and Glasgow) isn't that different from Seattle's in the winter. But here's the thing: planning what to wear when you'll be outside for 10 minutes at a time, going from home to work or a café and back, is way different than planning what to wear when you'll be outside All. Day. Long. In the driving wind.
If you let yourself get cold, you eventually just won't be able to warm yourself up anymore without going inside. So plan to bring things that are warmer than you think you'll need when looking at the forecast. Plus, if you follow Rule #1 (Layers!), you'll always be able to adjust your wardrobe if it's not as cold as you expected.
Key Pieces for Your Scotland Packing List
Scotland is a wonderful country filled with natural beauty, fascinating history, and a unique culture that's begging to be explored. Despite these many positives, it's best to simply admit that "great weather" isn't one of Scotland's many virtues. During our first visit to Scotland, we didn't give much thought to a specific Scotland packing list, but after spending several months bouncing around the country and the islands, it became very clear the difference having a few good quality and key wardrobe pieces made.
No matter what season you visit Scotland, we'd advise packing a few key pieces for your Scotland wardrobe: a good waterproof jacket (preferably one that can block the wind); base layers that fit the season you're travelling in; and good shoes that will keep your feet comfortable and dry. We've outlined what to look for and some of our favorites below. We also recommend considering what kind of luggage you'll bring, as you'll want something you can get up stairs fairly easily, and something that can withstand the cobblestones.
The Perfect Travel Coat
What kind of coat you pack for Scotland depends on two things: when you plan to visit Scotland (the season), and what you plan on doing while you're there. If you're planning a trip where you'll spend most of your time in cities and towns, you'll probably care a bit more about finding a travel coat that nails that difficult balance between stylish and functional. If you're planning to be out of the cities more, exploring Scotland's boundless nature and beautiful islands, style may take a backseat to function.
Things to look for when choosing a travel coat for Scotland include:
For city travel, women should consider a coat that is thigh-length. If you get a jacket that stops at your hips, expect to have cold legs while you're out exploring. Katie finds longer coats are much more comfortable than shorter ones when travelling in the winter, fall, and spring because they keep her legs warm and dry. When the biggest muscles in your body get cold (basically your bum and upper legs), you'll get cold, too. Added bonus, thigh-length coats look slightly more stylish and urban, so you'll look like less of a tourist. In winter, early spring, and late fall, obviously go for something that's fairly thick, or something you can fit layers under. For late spring to early fall, a thicker, thigh-length waterproof trench could work well, so long as you have some room underneath for a warmer layer as needed. For women, check out the Colombia Splash a Little Coat for a thin outer shell coat, and consider buying a size up so you can fit layers underneath.
For outdoor and adventure travel, look for a hip-length shell that you can fit layers under. If you're going to be spending most of your time exploring the great outdoors, a length shell will give you more flexibility in terms of layering, and will be less restrictive when it comes to your movement. A shell should do year-round duty, taking you through all four seasons by adjusting the layers you wear underneath.
A coat that is thin and easy to pack. We both have outer layers that are thin and stuff-able. A big puffy coat may seem like a good idea in the winter, but a thin outer layer that you can layer is much more practical for packing and wearing on airplanes.
A coat that is windproof and waterproof. Ideally, your coat will be wind-proof or wind-resistant. However, if you can't find a coat that blocks wind, just add a wind blocking layer underneath.
Consider the features. As with everything these days, some rain jackets are better than others, so it's worth considering the features: a velcro 'storm flap' that covers the front zipper, and covered zippered pockets, will prevent water from seeping through the zipper; a deep hood with a chin flap will help keep your head and neck dry on windy and rainy days; inside pockets are helpful for preventing pickpockets; vented underarms help regulate your temperature, etc. If you're in need of some inspiration to get started, take a look at The NorthFace Venture 2 Rain Jacket.
Men's
See it on Amazon
Women's
The NorthFace Venture 2 Rain Jacket – A relaxed fit, packable 'good for all seasons' rain jacket. It's breathable, waterproof (duh) with zippered exterior pockets, and the thing I like, is that it's also got inside pockets. Not a lot of rain jackets have them. It packs up tight into its own pocket so it won't take up a lot of room. It's got a nice, deep hood, and venting under arm zippers. In addition to being wet, Scotland is also windy, you'll want something like this.
A Few Good Base Layers
Choose your coat first, and then once you've made a decision on your outer most layer, you can decide what layers you need to warm things up in cool weather, and what layers will keep you comfortable when you want to take your coat off.
Personally, we recommend two inner layers: one that's basically a warm shirt (merino wool is excellent, with Icebreaker being a reputable brand), and one that's a thin jacket in and of itself – if it's a sunny or warm day, you can leave your outer layer in the car/daypack. and simply wear this light jacket. Super thin and lightweight quilted down jackets work great for this inner layer, as they can be stuffed into various nooks and crannies in your suitcase, are super lightweight, and are warm. A quick search on Amazon for packable down jacket gives a massive selection you can choose from.
Comfortable Travel Shoes
For a general Scotland trip, we'd recommend bringing 2 to 3 pairs of shoes: general walking shoes, rubber boots with good insoles, and a dressier pair of shoes for going out in the evenings.
When it comes to walking shoes, look for well-made shoes with a stiff sole and good arch support. Edinburgh, in particular, is full of cobblestones and hills, both of which can wreak havoc on your feet and legs if you're not wearing the right pair of shoes. When we moved to Prague several years ago, Katie got plantar fasciitis in just a few weeks from walking on cobblestones with cheap shoes. Buying a pair with stiff soles helped the problem go away almost immediately. Look for tried and trusted brands like Ecco, Dr. Scholl's (which have some surprisingly stylish women's options, but are lacking for men), and Rockport (which again, have some surprisingly stylish options).
For boots, we swear by traveling with a good pair of high-quality gumboots/rubber rain boots. As mentioned above, Hunter is a great brand and they make an ankle version that are pretty nondescript, and could almost pass as leather boots when worn with a pair of jeans. Style aside, having dry feet when out exploring is non-negotiable for us, and gumboots have proven the most reliable in this regard. Add your own pair of insoles to ensure you get enough arch support, and double check the soles have good grip so you're not prone to slipping.
Finally, depending on what you plan on doing in Scotland, you might want to bring a pair of dressier shoes you can wear to dinner, drinks, etc.
Sturdy, Lightweight Luggage
If you're planning to travel independently in Scotland, you'll also be carrying your own luggage. And that means considering what kind of suitcase you bring, bearing in mind that: 1) cobblestones destroy wheeled luggage, 2) many old buildings (including hotels) in Scotland won't have elevators. So you want to bring a bag that is both sturdy and durable. If you think you might be flirting with your airline's weight limit, bring along a portable luggage scale so there are no surprises.
A few things to consider if you need to buy new luggage before your trip:
We prefer soft-sided suitcases. This comes down to personal preference in part, but we like soft-sided luggage because it's generally lighter than it's hard-sided sisters, which makes it easier for hoisting, and it can fit a bit more when the sides flex and give (making more room for souvenirs).
Look for something with an amazing warranty/guarantee. We personally both use and love Osprey suitcases, which offers a confidence-inducing lifetime guarantee. Luggage is expensive, so it's worth finding something that will last across many years and trips.
Look for large, sturdy wheels. This applies for any trip to Europe where you'll be walking around old towns with cobbled streets. Small suitcase wheels will not work on cobblestones: they'll get stuck in the cracks, and possibly even break. Look for heavy-duty wheels that can go over rougher terrain, and those should work for cobblestones. We also recommend a two-wheeled suitcase for Europe, rather than a four-wheeled model. While the 4 wheels work really well on smooth, flat surfaces, it's much nicer to be able to tip your suitcase and pull it behind you when you're walking down uneven city streets.
As mentioned above, we both use Osprey bags. I use the Osprey Ozone, and Katie has the Osprey Meridian. Katie opted for the Meridian because it can convert into a backpack for the times she needs to carry it up a few flights of steps by herself. She's only used the feature once in more than 2 years, but was very thankful for it at that moment! If you prefer a backpack, check out this handy guide on how to choose the right one.
Osprey Ozone
Osprey Meridian
What to Pack for Scotland
Packing List for Scotland in Winter:
Rain Jacket – The NorthFace Venture 2 Men / Women, or similar. Women may opt for a longer style, like the Colombia Splash a Little coat.
Warm Base Layer – The wind will cut straight through a rain jacket, so you'll need something warm underneath. I had a cheap faux wool hoodie which I bought out of necessity, but I did wish I had something a bit better. A soft shell jacket, a thin, quilted down jacket, or a thick fleece would work well. Look for something like the Campshire from The NorthFace for men or the Osito 2 jacket for women.
Thin Base Layer – A relatively warm long sleeve shirt would work. Something made out of Merino Wool would be even better, and Icebreaker is the king of Merino wool layers.
Socks – Pick up some Merino Wool socks; they dry quickly and are nice and warm. If you find you haven't brought enough warm socks, you can usually pick up cheap, thick socks at Primark once you're in Scotland.
Insulated Rain Boots – It's a bit harder to find a good looking, yet functional rain boot for men, but check out the Rockport World Explorer Chelsea or the Hunter Original Refined Dark Sole Chelsea Boots. For women, we like the Hunter Original Short Rain Boots and the Columbia Heavenly Shorty.
Walking Shoes – Choose something with a stiff sole, especially for walking along Edinburgh's cobblestones and hills. Bonus if these can double as "nice" shoes for going out for dinner, cocktails, etc.
Hiking/rain pants – We usually wear jeans when we're exploring a city. If you're planning on longer treks through the incredible landscapes, however, you might want to take a pair of these along: Men / Women.
A thick scarf, gloves, and hat. You can pick these up for cheap at Primark if you forget.
A couple of sweaters
A few shirts
Jeans, and warm leggings for the ladies.
Long underwear – This is really only necessary if you plan to do some outdoor activities, like hiking. If you're mostly in the cities, skip this to save space.
Toiletries
Pajamas – if you're staying in a B&B or holiday apartment, note they can be quite cool in the winter.
Packing List for Scotland in Summer:
Rain Jacket – Yes, this is still a must! The NorthFace Venture 2 Rain Jacket is a good one: Men / Women, or similar.
Thick Base Layer – The wind can still be a factor in warm weather, so get something that can also be worn by itself as your jacket when it's not raining. Evenings, especially, are cool.
Thin Base Layer – Cotton T-shirts, or long sleeve shirts
Socks
Rain Boots – If not rain boots, waterproof shoes, or something that'll dry quickly. Take a look at Tretorn (Men / Women).
Walking Shoes – Choose something with a stiff sole, especially for walking along Edinburgh's cobblestones and hills. Bonus if these can double as "nice" shoes for going out for dinner, cocktails, etc.
Hiking/rain pants – Again, jeans are usually fine for everyday wear, unless you're doing some hiking. If you're planning on hiking, bring a pair of specialized pants: Men / Women.
A light sweater or two.
A few shirts
Jeans, and leggings for the ladies.
Toiletries
Pajamas – Even in summer, the old buildings remain on the cool side.
All Season Scotland Packing List:
Now that we've hopefully helped you to figure out what to wear in Scotland, it's worth considering what else you may need.
Check out our Where to Stay in Edinburgh and Where to Stay in Glasgow guides for more helpful trip planning tips.

Frequently Asked Questions About Packing for Scotland
Is it Still Worth Traveling to Scotland in Winter?
Yes, it's absolutely worth visiting Scotland in winter! We have been to Scotland twice in winter, and wouldn't hesitate to go back during the coldest (and wettest months) of the year. One one winter trip, we travelled all through the Highlands, Isle of Skye, and Hebrides islands in late February/early March, and had a fantastic time. On another trip, we based ourselves in Edinburgh during the month of November. We had a car, so we drove all over, heading as far north as Aberdeen and as far south as The Borders.
The downside of travelling in Scotland in winter is obviously the weather; there will be rain, and there will be wind. However, if you're prepared for it, you can still have a great trip. The upside of travelling in Scotland during the offseason is the lack of crowds. Whereas in the summer you'll likely need to plan everything in advance, book hotels far in advance, and get skip-the-line tickets for main attractions like Edinburgh Castle, in winter you'll have a lot more flexibility to wing it, because you won't be battling any crowds.

What to Wear in Scotland Throughout the Year?
No matter what time of year you visit Scotland, you need to pack or some amount of wind and rain, and think in layers. Our suggestions for the best things to pack for Scotland throughout the year are below:

What to Wear in Scotland in January, February, November, and December: Pack a wind-proof, waterproof jacket or coat; a warm hat, gloves and scarf; and waterproof shoes. If your outer layer is a shell, pack one thick inner layer that will keep you warm under the jacket, as well as one thin inner layer, so you can adjust according to the temperature. Merino wool is an excellent choice for socks and base layers, because it "adjusts" to your body temperature. If you plan to spend a lot of time in the cities, consider getting an outer-layer/jacket that can pass for being somewhat stylish; Glaswegians and Edinburgers are a fairly well-dressed bunch, and both cities have a a great food and drinks scene, so you'll want to pack a jacket that you can feel okay wearing to nice restaurants and cocktail bars. Women could get around this with a massive wool shawl or cape to wear over a jacket. Bring a compact, travel-sized umbrella for when you're in the cities, although note it will probably be useless against the wind if you're on the islands! If your jacket isn't long enough to cover your thighs, consider an under layer of merino wool tights. Make sure you have a waterproof daypack that will keep your camera and other electronics dry, or get dry bags to store your electronics in.
What to Wear in Scotland in March, April, May and October: What to pack for Scotland in Spring and Fall is largely the same as what you need in the winter. We'd definitely suggest layers for a trip around this time, choosing a wind-proof, waterproof shell jacket with layers underneath, rather than a thick winter jacket. You still need to bring a warm hat and gloves, and should bring a medium-weight scarf to keep the wind off your neck and an umbrella for city use. Waterproof shoes (we like Hunter and Tretorn rubber ankle boots) are also essential. Bring a few different weights of inner layers. You can still expect a fair amount of rain at this time of year, so you'll have to make sure your electronics are protected within your day bag. Despite the rain, you can cross your fingers for some sunshine as well, so bring your sunglasses!
What to Wear in Scotland in June, July, August and September: This is when you'll get the nicest weather in Scotland, although you can still expect between 19 and 23 days per month of at least some rain, so keep the need to stay dry in mind when you're packing your suitcase. The biggest challenge about packing for Scotland in summer is the fairly large difference between daytime high temperatures and nighttime lows, so don't skip on a relatively warm jacket (windproof is still a good bet), and/or layers that you can adjust based on time of day. A mid-thigh Spring-weight trench would be perfect for city wear during this time of year. For sleeping, keep in mind a lot of the old stone buildings throughout Scotland remain fairly cool, even in summer, so you'll want PJs that can keep you comfortable throughout the night. It's rarely "shorts weather" in Scotland, so planning on wearing mostly jeans or something similar is a good bet. If women want to wear dresses or skirts, we'd suggest also packing leggings or medium-weight tights to wear with either, both due to the temperatures and the wind! Again, think about your feet, and how you can keep them comfortable and dry during a rainstorm – there's nothing worse than being out exploring all day with soaking wet feet (we speak from much experience on this!).
Is Scotland Safe? Do I Need to Worry About Personal Belongings?
Scotland is a very safe country to travel in, whether you traveling solo or in a group. Having said that, there's always one in every crowd, right? Keep an eye on your things, and if they will be out of sight, either on a bus or train, for any length of time, consider locking your luggage, and lock it to something with a TSA approved Lewis N. Clark Triple Security Lock.
You may also wish to consider PacSafe products, or use some of our other sneaky tricks to stop pickpockets in Europe.
We've spent several months traveling in Scotland on different occasions, and the worst problem we've dealt with was a frozen ATM bank card after withdrawing money from a compromised ATM in a mini market.
Like This Guide? Pin it for Later!
More Scotland Trip Planning Articles