Imagine yourself standing in a white room; I mean completely white: all the same shade of white and no shadows.  Now add in a hot, bright sun over your head and a crisp breeze bringing with it just enough unfamiliarity to tell you you're truly somewhere unique.  You are standing in the Bolivian Salt flats, aka Salar de Uyuni (ooo-you-knee).  This is a truly unforgettable — and likely a once in a lifetime — journey over landscapes that yield beauty and colours just not found anywhere else.
Uyuni, Bolivia, in mid-February. The weather is…well, it's summer in this hemisphere, but let's just say the weather and temperature are frustrating.  At this altitude, the air is thin and cool, but being closer to the sun it's also hot: too hot for a sweater but also too cool for a sweater.  It's remote, but there are tourists here as this is the last stop before the desert you need to cross to go to Chile; coming from Chile, the Salar de Uyuni is the key to the rest of Bolivia.  Here, in the town of Uyuni, you must search for and figure out which tour company you trust your life with (drunk driving is common in Bolivia, even for professional drivers), book a driver and a Land Cruiser, and remember to get the all important exit stamp post-dated for the day you will likely make it to the border with Chile, where there are regular shuttle buses that will take you to the Atacama Desert town of San Pedro de Atacama.  Three days in a Land Cruiser in a desert, but this is no ordinary desert. The Salar de Uyuni was actually an ancient salt lake; it holds most of the world's lithium deposits, making some people wonder if Bolivia is due for a rags to riches turnaround.
With the bags packed in the lobby of the tour company, you meet your driver and notice that he has no GPS, no compass and no map.  No problemo!  What's the worst that could happen?  It's only a desert!  There are three groups of two that jump into Julio's ride and set out.  After all the horror stories you've read about, you sniff for booze and cross your fingers he isn't drunk, and that he knows how to fix the Land Cruiser in case of a break down.  You head out in the direction of the desert, but before arriving he makes a stop on the edge of town for the first of many photo ops: the train cemetery.  As Uyuni, the town, gives way to Salar de Uyuni, the desert, there is an image straight out of the old west.  There are old train cars and locomotives half buried, rusting, sporting some graffiti and baking in the sun, just waiting to be trampled on and explored.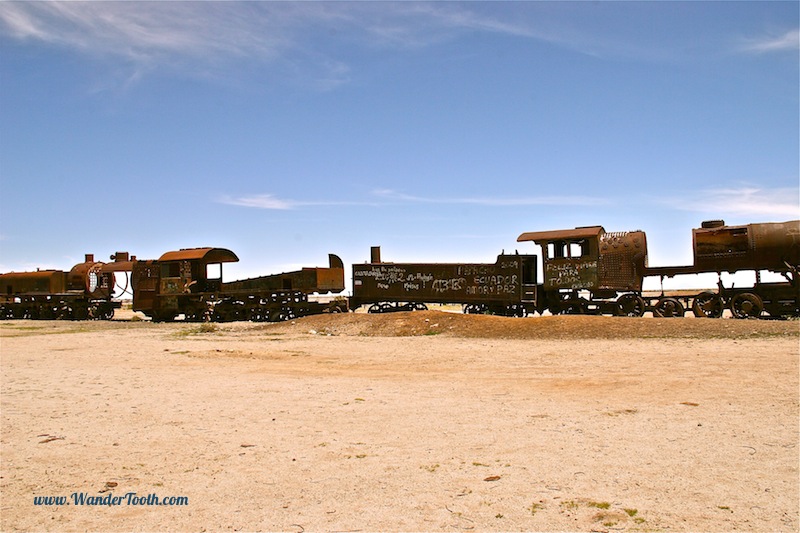 Finding yourself all too eager to play your best Bond, you hop onto the top and leap from train car to train car.  After playing double 'o' seven for a spell, it's out into the stark, whiteness of the Bolivian salt desert; no turning back now.
The further you go, the whiter it becomes; blindingly white.  You ask your driver to stop here and there for photos as it's quite surreal.   If there is a slight overcast, there appears to be no horizon at all.  Immediately after a rare rainfall, you can have great photo fun with your reflection as it's like walking on a mirror.
There are other salt flats in the world but this one is heralded as the largest, and because it once was a body of water, it has "islands" scattered about.  After a few hours racing across the flat white salt you come upon one of these islands, a large one, where your driver will stop for lunch.  All the other drivers stop here for lunch as well.  Julio pulls in beside some other Land Rovers, opens the hatch and fires up the small propane grill.
The island is covered in cacti and home to some ostriches that mill about.  You hike to highest part of the island and take a 360 degree look round.  You're standing on a mound of golden rock and dirt, covered in cacti, and completely surrounded by flat white, salt, as far as the eye can see.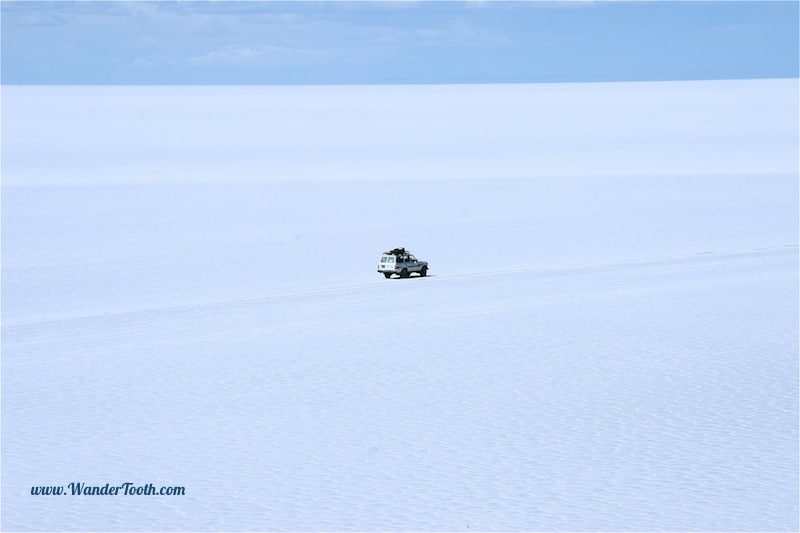 Lunch is simply grilled chicken, white rice and a soft drink, but after having been in a vehicle for this long, and considering where you are in the wold, it's perfect. You take as many fun photos as possible before climbing back in for another round of your desert rally.
As the sun begins to set in over the mountains, which are now appearing in the distance, you approach a cluster buildings, one of which will be home for the night.  Julio tosses bags down from under the tarp-covered roof of the vehicle as you stretch your legs.  This building is completely made of salt:  salt floors, salt roof, salt walls, tables, chairs and even the beds, although they do have a non-salt mattress on them and the toilets are just toilets, thankfully.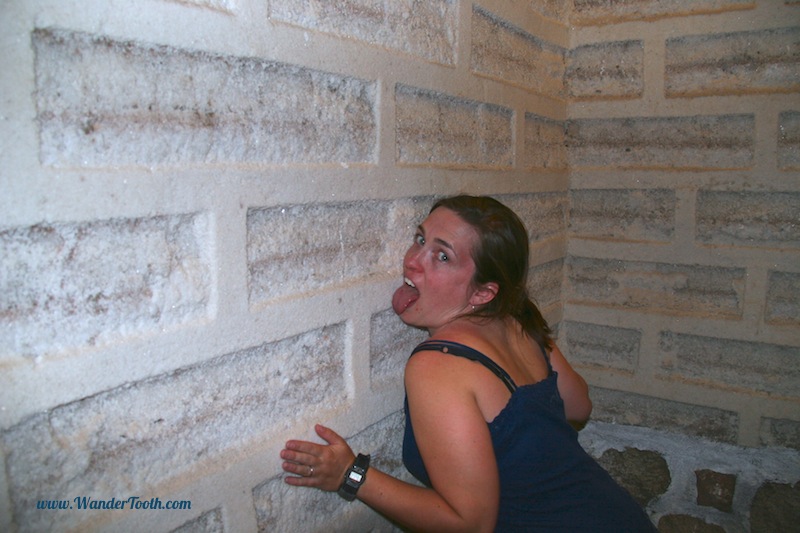 You are shown to your room and close the cactus-wood door behind you and lay down.  You close your eyes and envision a map and remind yourself where you are.  Fatigue comes quickly at this altitude and other travellers begin to complain about sickness.  The sun is down and it quickly becomes very, very cold.  Some under cooked pasta with tomato sauce and a well deserved beer, and it's off to sleep.
After a quick tasteless breakfast the next morning, the first part of the drive begins like the last…white.  A few hours pass and the Mountains that were creeping into view yesterday suddenly don't seem so unreachable.  As the vehicle speeds across the flatness, the colour of the ground begins to change, becoming slightly pink and then red with more and more loose gravel.  The salt portion of the desert has passed.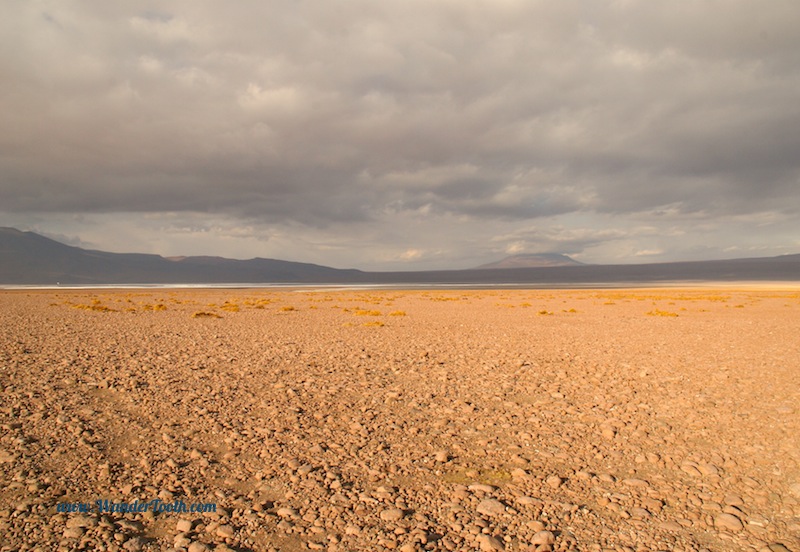 A lunch stop is at a scene like a Salvador Dali painting – The Rock Tree.  A strange wind shaped rock formation that resembles more of a freestanding tree than a rock.  As you let this image sink into your mind, you begin to worry that you'll wear out the shutter on your camera, so you a find a rock against which you lean while you enjoy a sandwich, a piece of fruit, and a soda.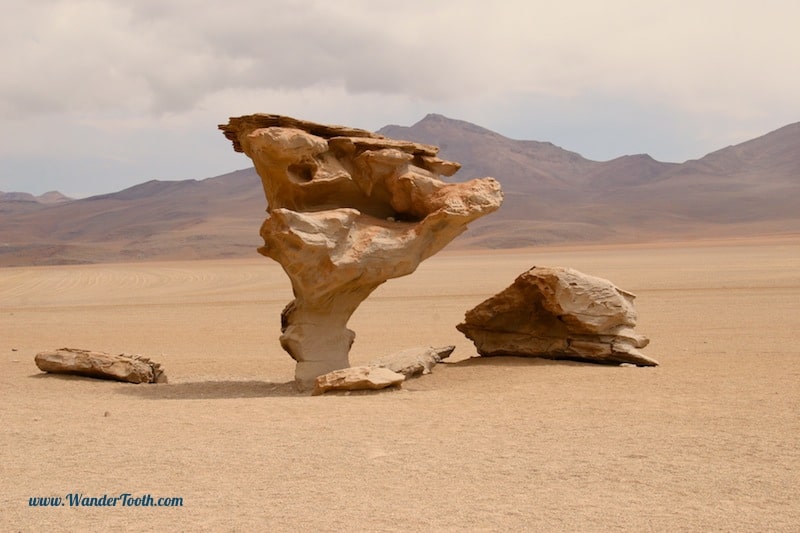 You've now entered those once distant mountains and the pinks, blues, oranges and yellows of mineral deposits and volcanic rock have become ultra-brilliant.  Beautiful flamingos bathe at the edge of crystal clear ponds as white smoke puffs from the tops of sleeping volcanoes.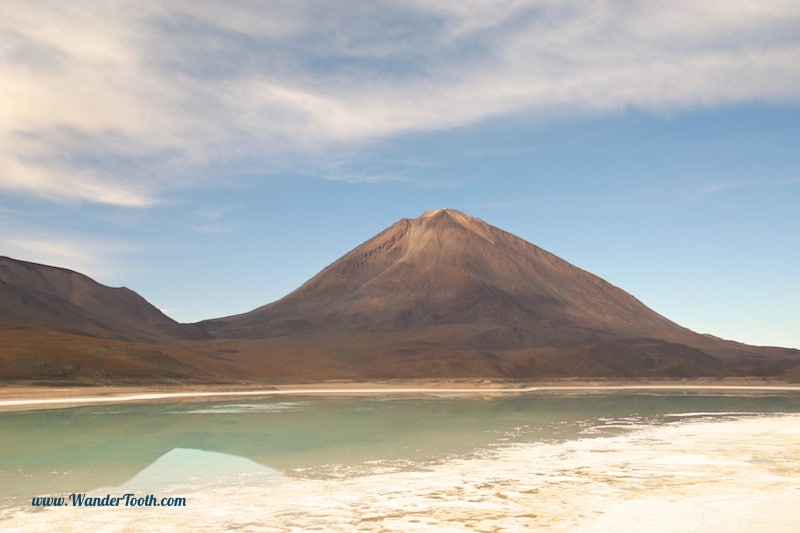 The sun fades and the next cluster of buildings is upon you.  Like the night before, the altitude makes you tire quickly and after a bland dinner, it's lights out.  This guesthouse is not made of salt; those long hours are behind you, but it's just as cold.  Sleep comes quickly, which is just as well as it's a dawn departure tomorrow.
The third day begins with a visit to some geysers that provide a welcome blast of heat in the cold desert morning.  The steam that gently warms your face will, however, also melt your shoes, so watch your step!  A few more photos are added to the thousand or so taken already and its back into the Land Cruiser for the final stretch.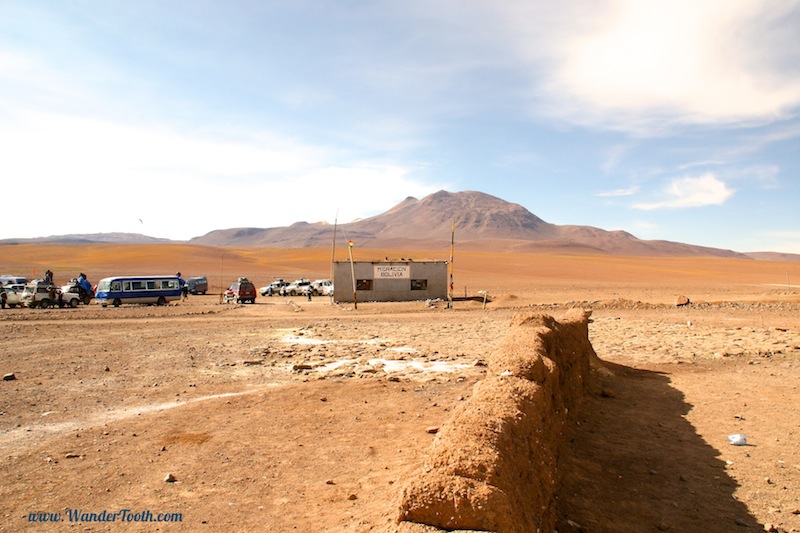 The next little building — in the centre of nowhere — is the border crossing.  You collect your belongings, bid adieu to Julio, and head into the hut to present the exit stamp, which was post-dated for today. With formalities taken care of, you find a piece of dirt to set your things, and wait for the bus that runs from here to the Chilean town of San Pedro de Atacama.
This is an old beater of a bus with a rusty shell and torn seats, but it swiftly becomes one of the best rides of your life.  The bus descends and keeps descending, and with each passing hundred meters, life and colour begin to flow back into your cold veins.  A rush of energy like a warm blanket covers your body; descending a thousand meters, then two thousand, a smile creeps across your face as you think about where you just came from. And just like that, the bus spits you out in the centre of a busy Chilean town, and it's all over.
Now that you've journeyed across the Bolivian Salt Flats in your mind, it's time to do it for real and book your tickets. In the mean time, enjoy these next couple of pictures, and then GET BACK TO WORK you slacker!