We recently had the chance to take a bucket list trip to Iceland! And it sure was amazing. We spent the first night of our trip at the Center Hotels Plaza in Downtown Reykjavik. Here's our full review of this hotel!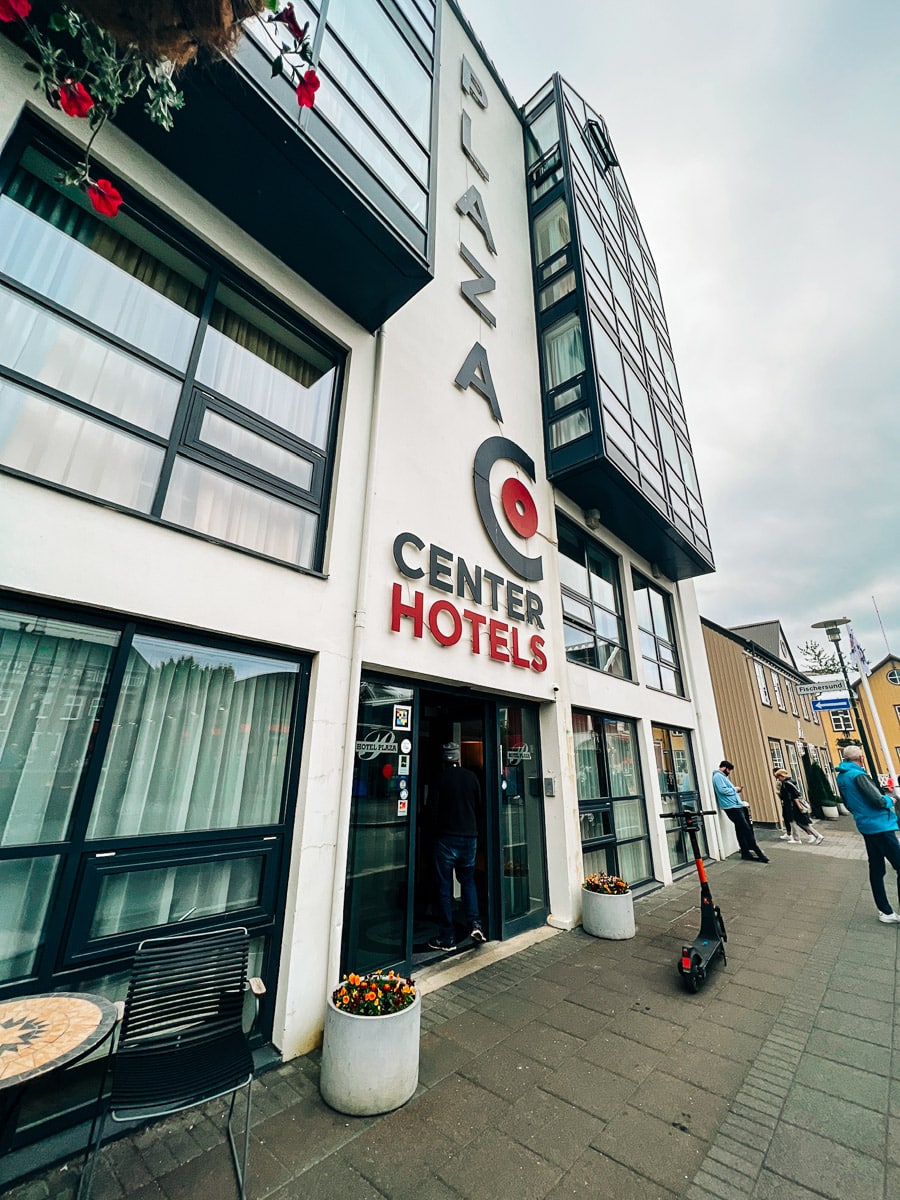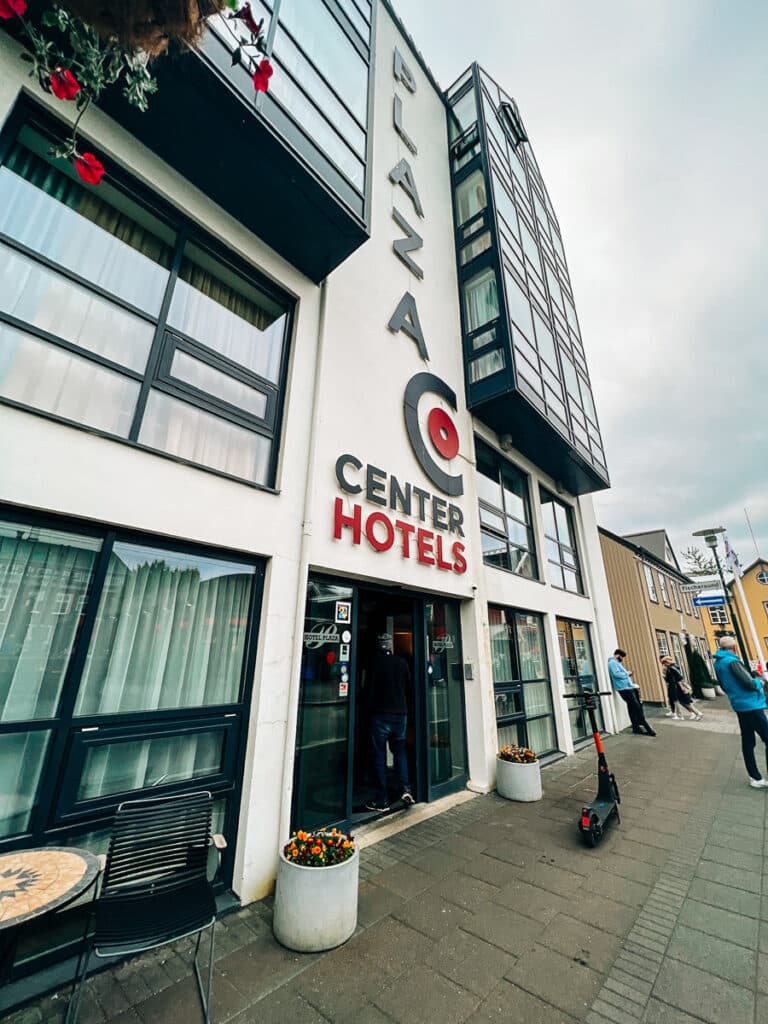 Location
First, the location is great! It's very convenient for exploring Reykjavik. Lake Tjornin is just a block away from the hotel, the harbor area is a short walk in one direction and the Rainbow Street area is a short walk in the other direction. So simple to get to all of the best attractions in Reykjavik!
There are many restaurants just outside the hotel with the immediate few blocks, the popular Settlement Exhibit is right there as well.
Based on the location alone, the Centers Hotel Plaza Reykjavik easily makes it on to our list of the best places to stay in Reykjavik.
Parking
As with most hotels in Reykjavik, there is no designated parking lot or garage for the hotel. There is also no valet or any easy place to drive up and drop off luggage, So you do need to find street parking nearby and walk over with your bags.
We found it easy to grab a parking space just a couple blocks away next to the lake, and didn't mind the short walk to the hotel. If you have a lot of heavy luggage, you could try pulling up right at the hotel to drop one person with the bags and then sending the other person to park the car.
Make sure you download the Parka app before your trip – it's the most convenient way to pay for parking in the city. Much easier than trying to use the machines on the street.
Rooms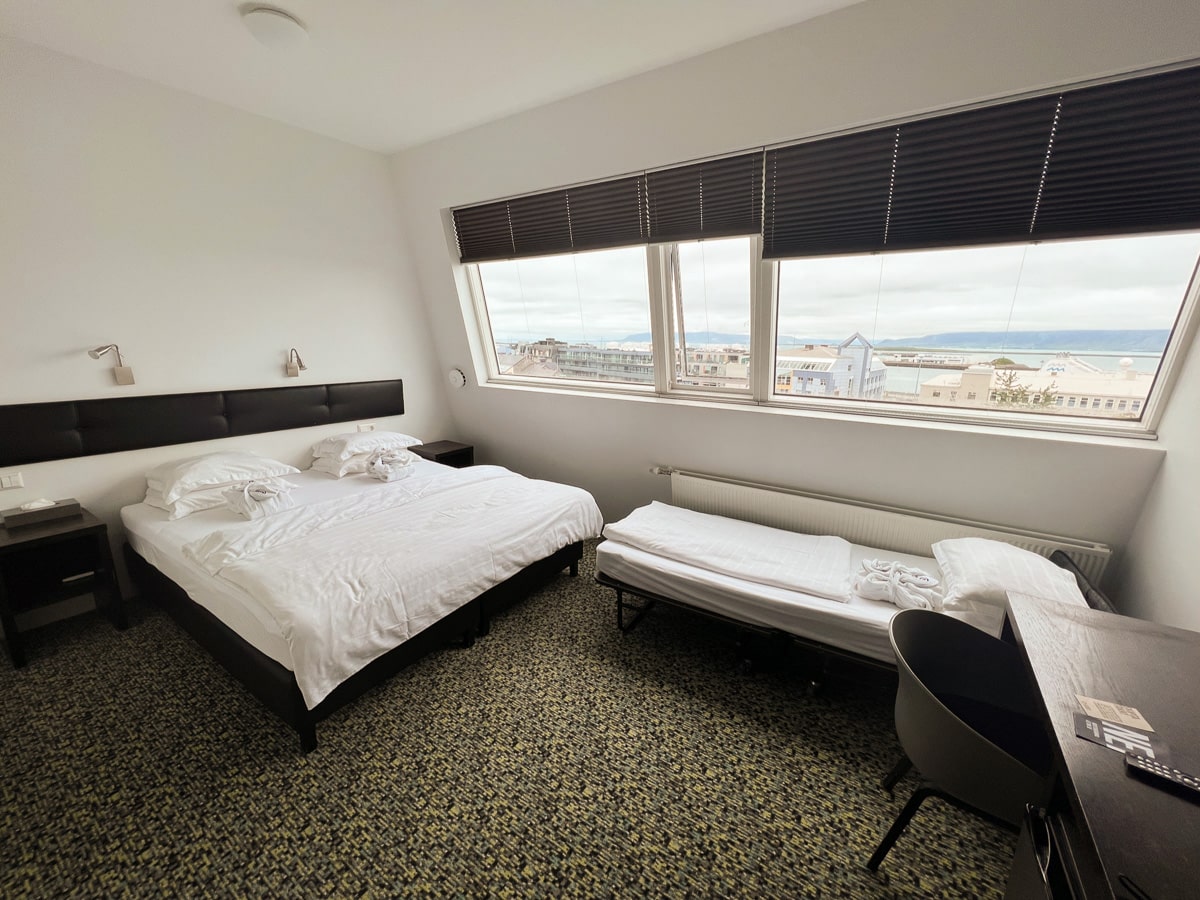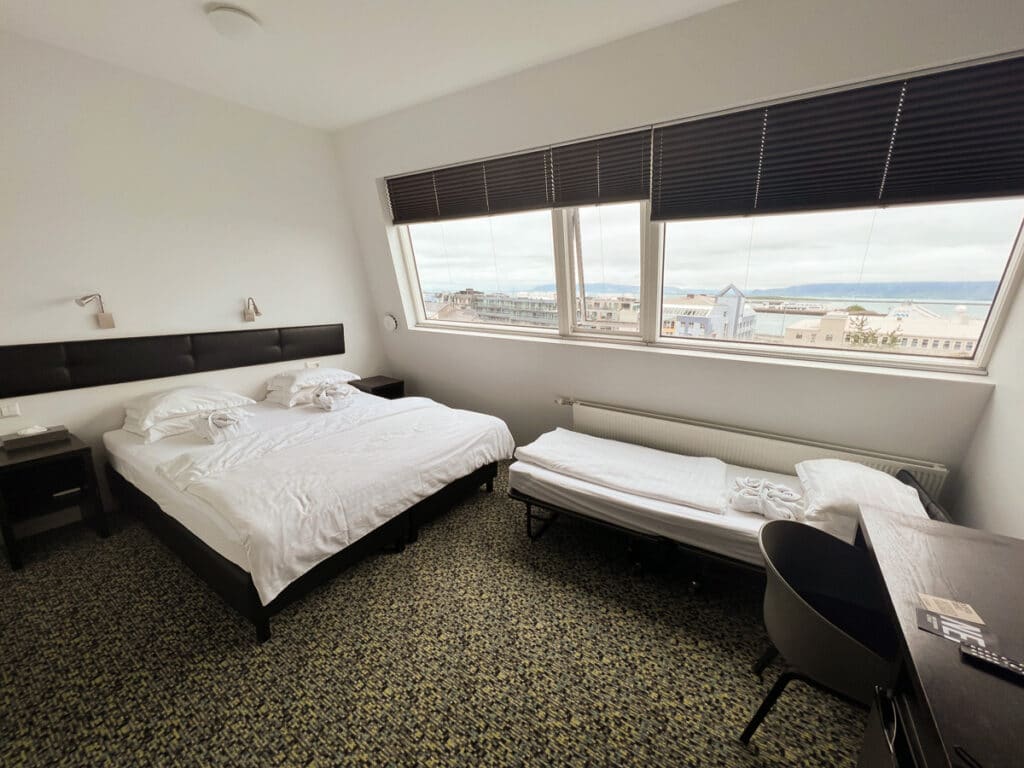 We booked an Executive Room on the 8th floor, with an extra rollaway bed for my son. I chose this room because I read in other reviews that some of the lower floors could be noisy from the nearby bars or events in the town square just across the way.
The room was clean and simple, and they had the third bed all set up and ready for us. I would say it's a very comfortable hotel – nothing too fancy but well done.
I was hoping there would be more of a view, but you could see a bit of the city from the windows. Some of the rooms do have views of the side of other buildings, so this was a win. (Another reason I upgraded to the executive room.)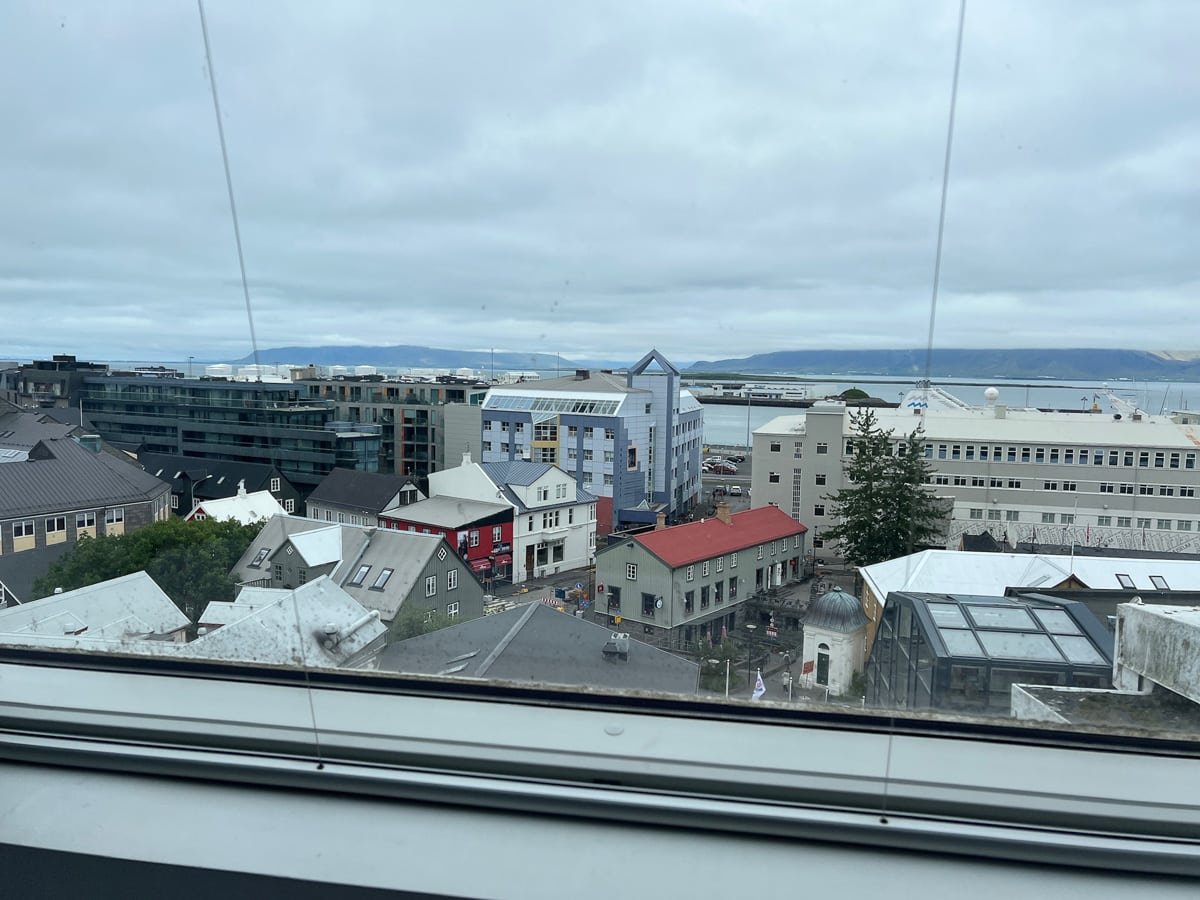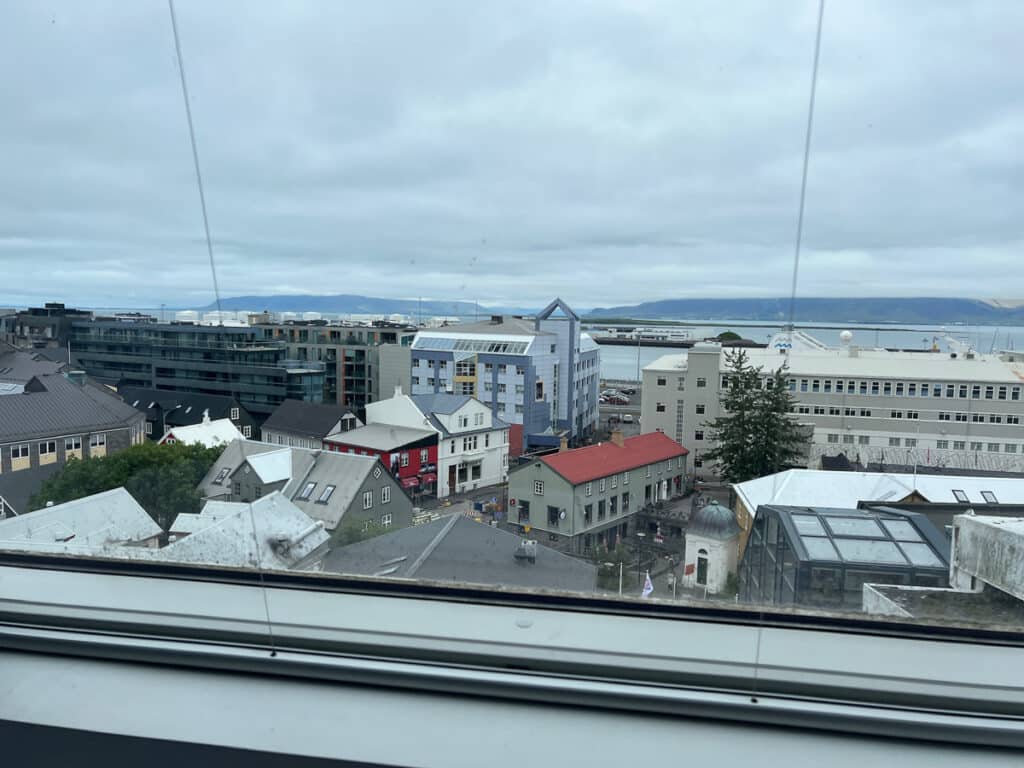 And there was a little balcony area up on the 8th floor as well. It was a bit awkward as it goes right in front of some of the hotel room windows, but we did take a quick peek at the view from there too!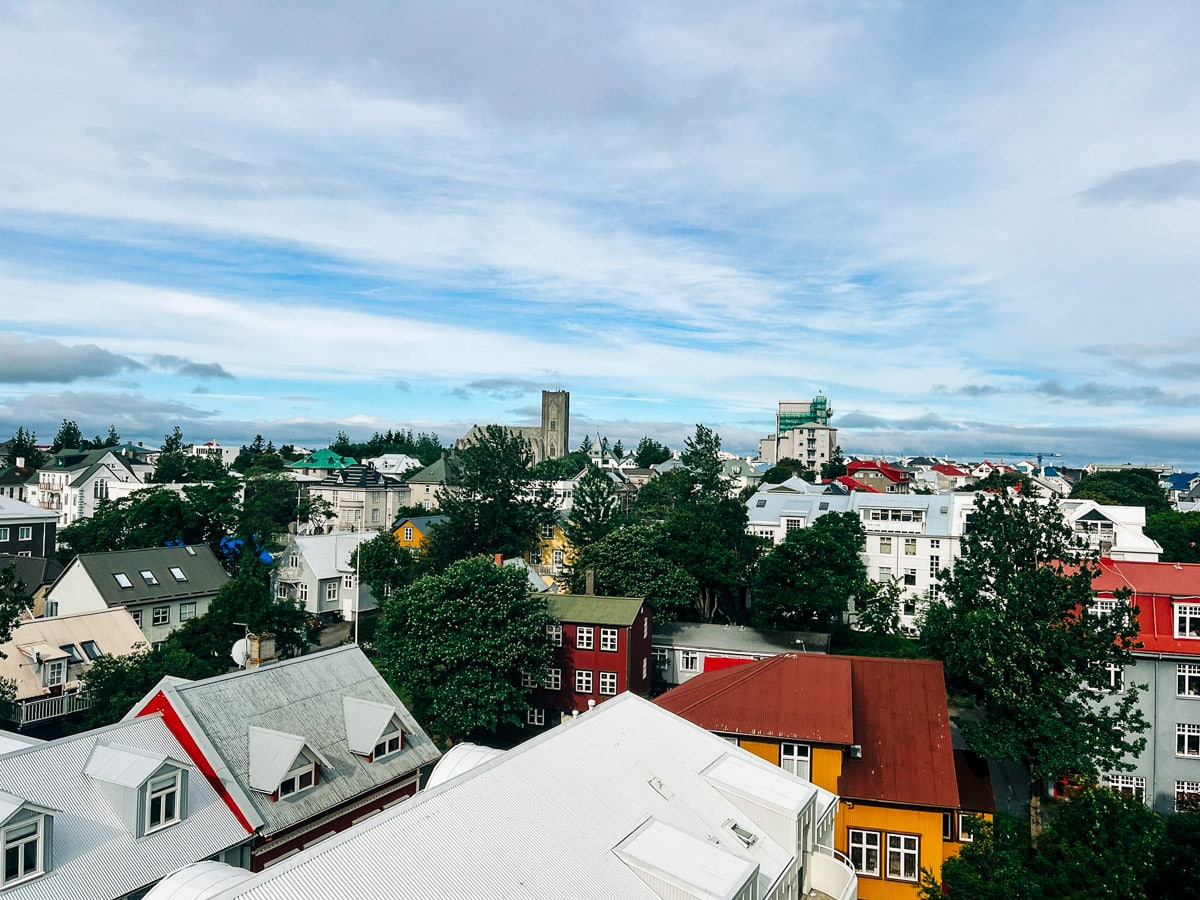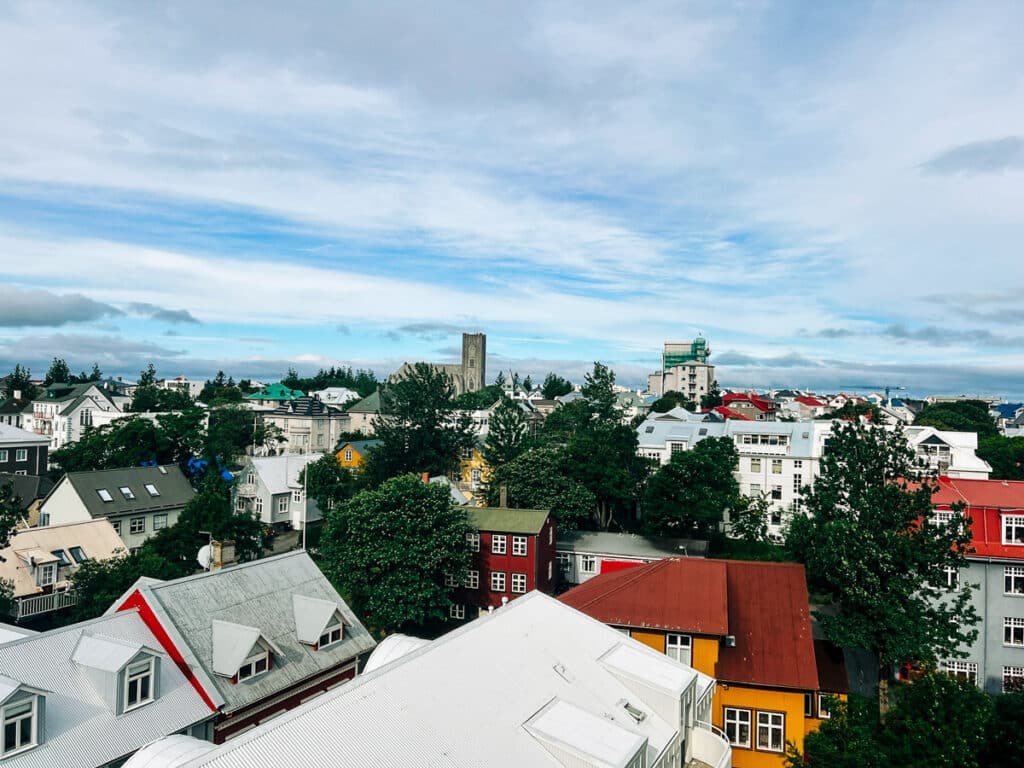 The bathroom was nicely done. It was on the smaller side without much counter space. But very modern and clean. And you can't expect rooms to be all that big in the city center where space is at a premium!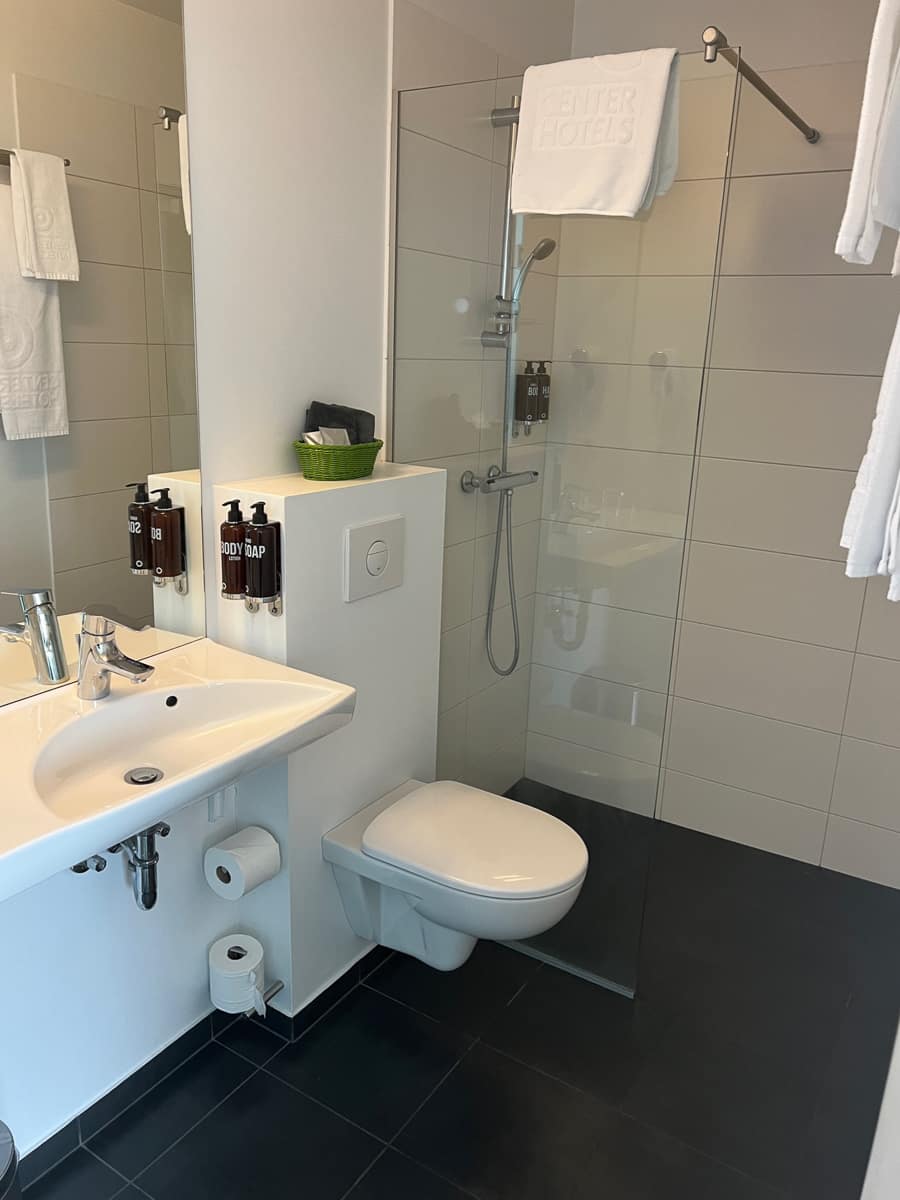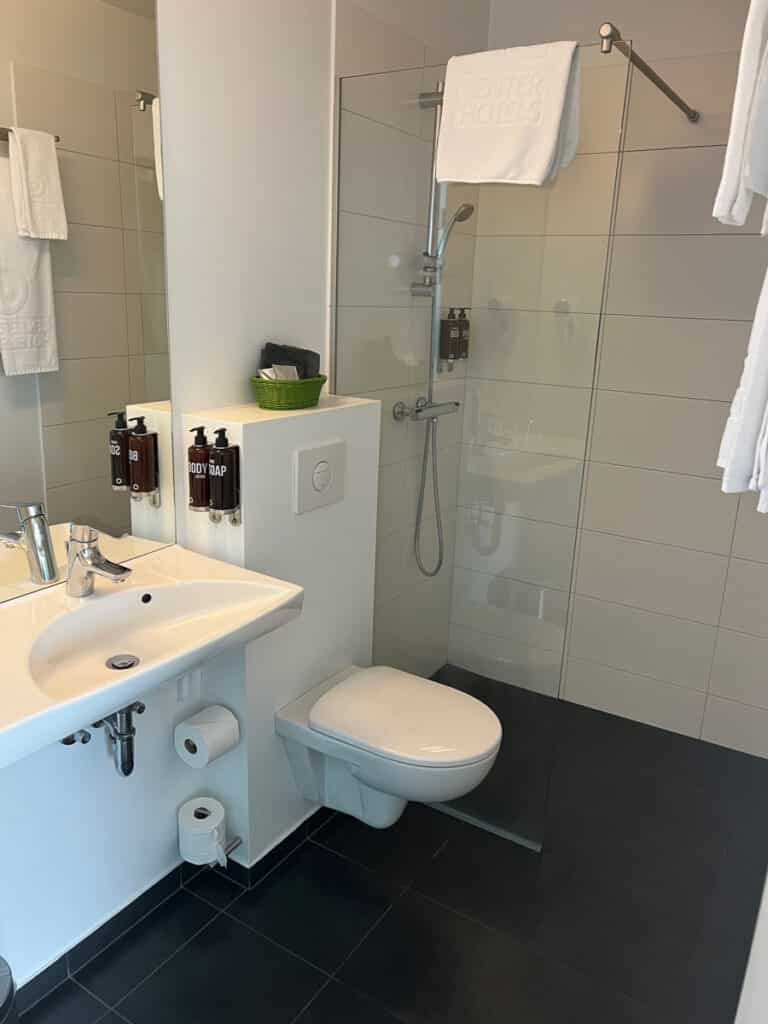 There was also a mini fridge– very convenient! Plus a small desk area where you could easily use a laptop. And outlets by the beds- a must these days.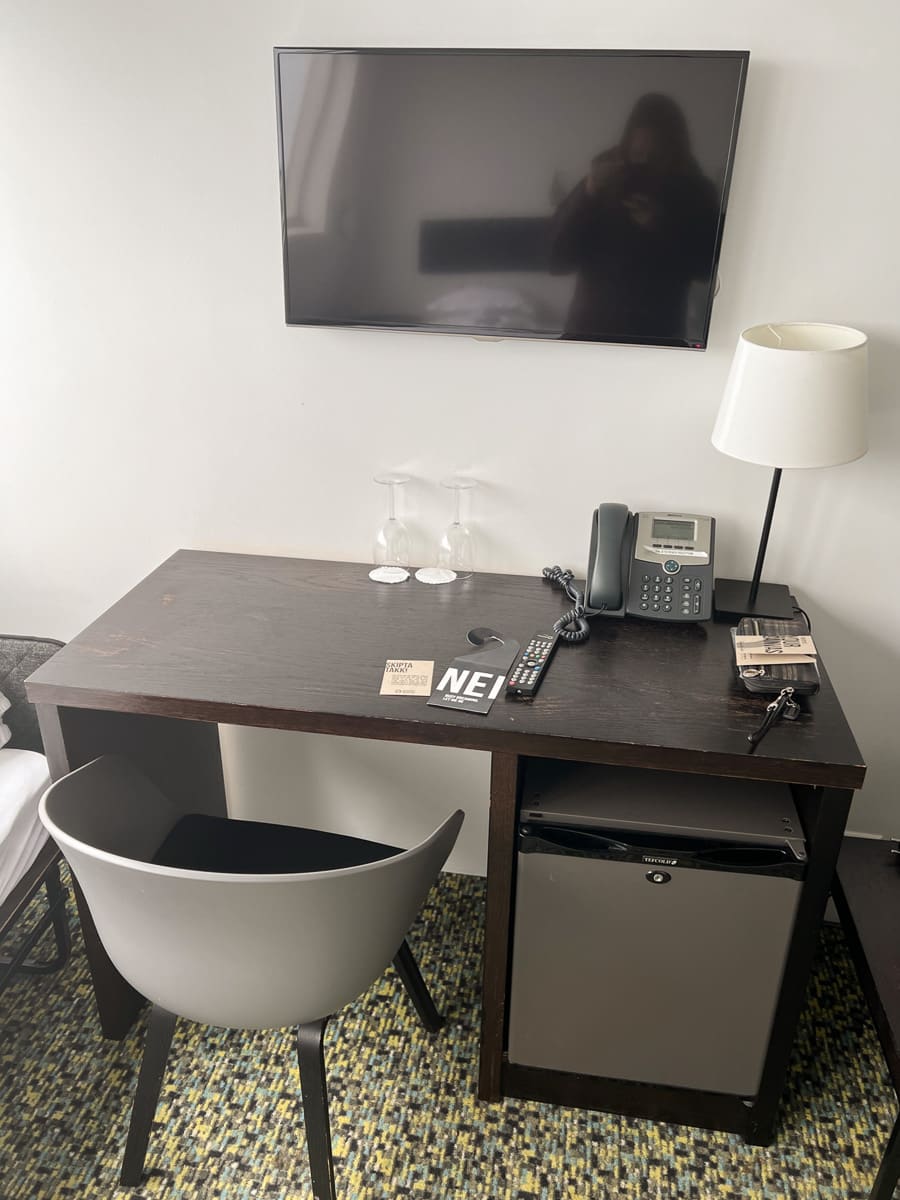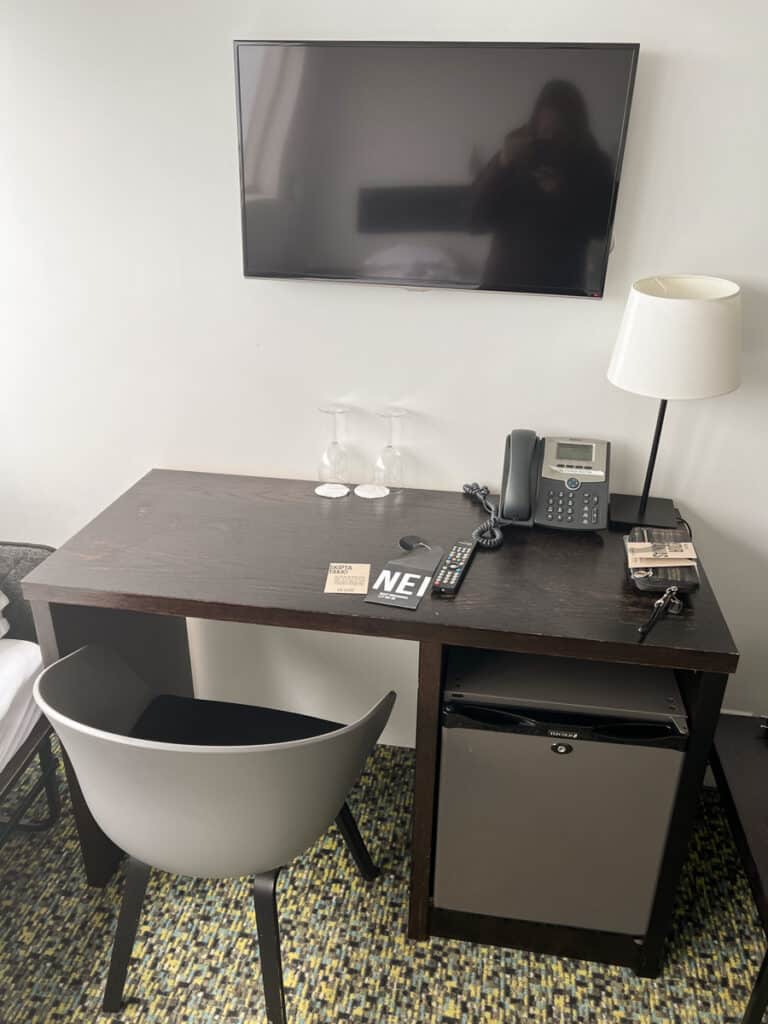 On the downside, the water pressure was really low in the shower and they only gave us two very thin towels for three people. (I'm sure I could have called for more, but didn't bother.) The hair dryer was one of those built in wall types – not a fan.
But obviously, those are some real first world problems. I would definitely stay here again for the convenient location – and it was a pretty good value too.
This is also probably a good place to note that the hotels in Iceland do not have air conditioning. So don't be surprised – you're not going to find it anywhere! We found it stayed cool enough and you could crack a window if needed.
A note about noise!
If you're travelling with little ones, you might want to take note that there is a large courtyard – think town square – right outside of the hotel.
This is really fun of course. But it can get noisy. On the night of our stay there was a full blown concert happening there. We thought it was actually pretty cool, and it wrapped up at 10pm, so didn't bother us at all. But I ran into another family that stayed at the same hotel on a different night and they reported a soccer match happening until late night with a rowdy crowd at the bar downstairs after.
So just something to keep in mind if the noise would bother you.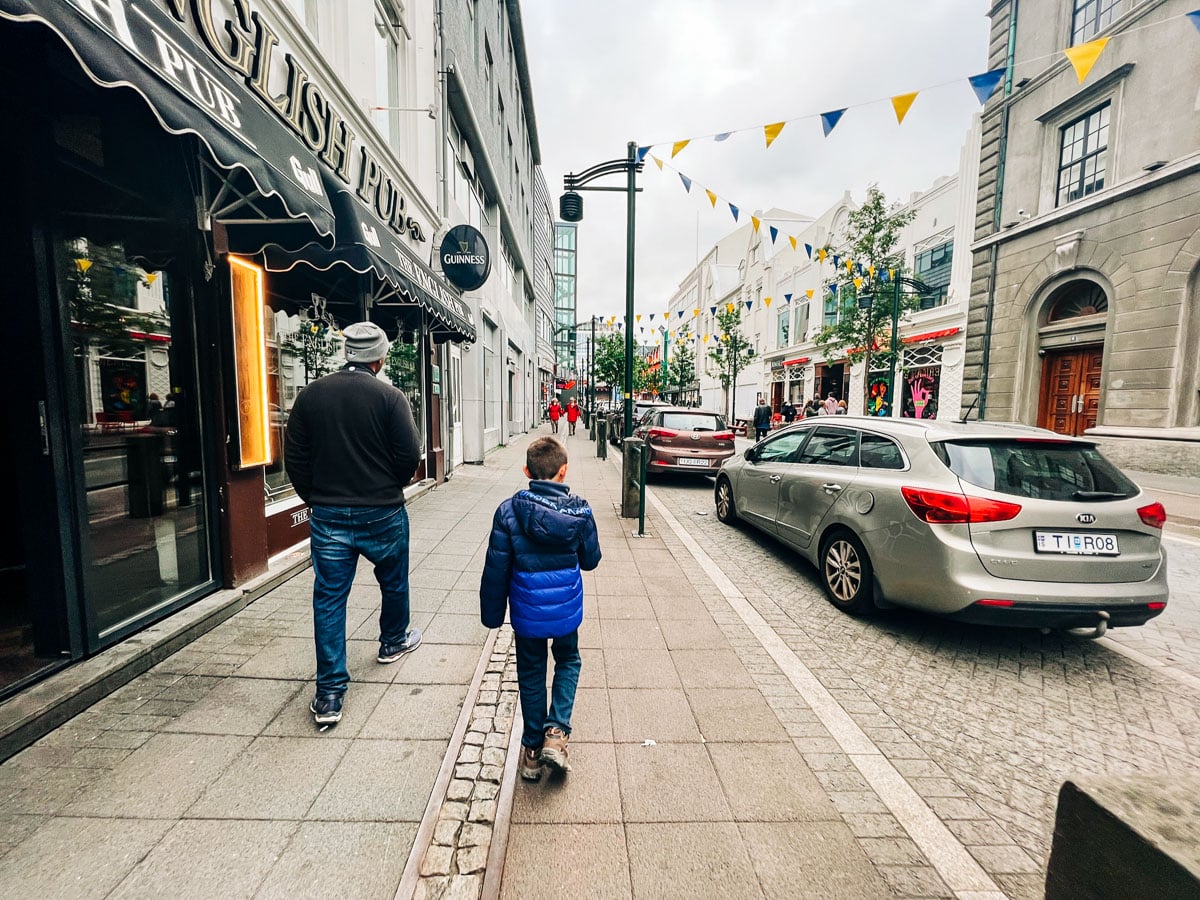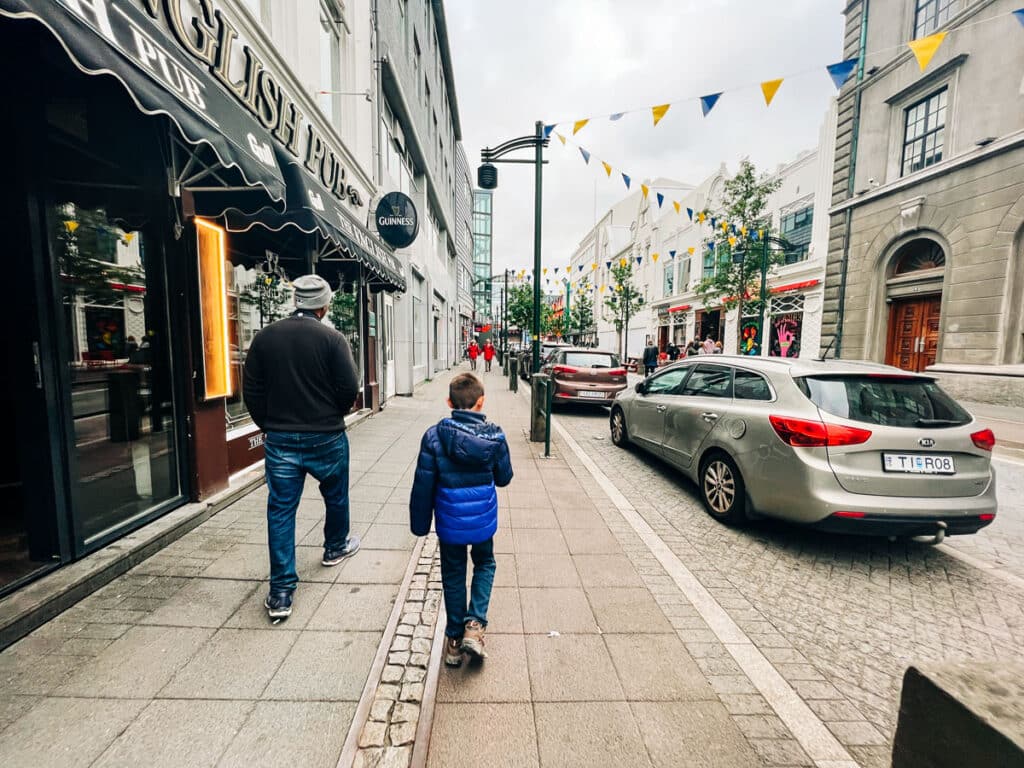 Service
We arrived at the hotel at about 1:40 PM and our room was ready. They initially said it wouldn't be ready until 2 and offered to hold our bags while we grabbed something to eat. But before we handed off the bags, they called housekeeping to check and the room was actually ready. So… I wouldn't plan on checking in early unless you've made prior arrangements. But it should be ready to check in after 2pm – which is one of the earlier check in times to be found in Reykjavik.
We didn't have too much need to interact with the staff here, but everyone we did meet was pleasant and helpful. There is a very small bar in the lobby, and the bartender was friendly when we grabbed nightcaps to take up to the room.
Would I stay here again?
Yes, definitely. I really thought the Center Hotels Plaza was a great choice for Reykjavik. The location is perfect as a home base for exploring the city, the rooms were clean and comfortable, and service was friendly. And the price was pretty reasonable compared to others in the immediate neighborhood.
Check Rates & Availability
We book our rooms via Booking.com whenever possible and the reason is simple – they have much more flexible cancellation and refund policies than you'll find when booking direct at most places. In this case, I wasn't charged until just a few days before our trip and I could have cancelled with no penalty up until then. Very important with international travel – you never know what will happen.
You can check availability and rates for Center Hotels Plaza Reykjavik here.
More Iceland Trip Planning Resources
If you're planning the ultimate trip to Iceland, be sure to check out these other helpful articles: