Planning that bucket list family vacation to Iceland? Here are our picks for the best things to do in Iceland with kids!
Explore Downtown Reykjavik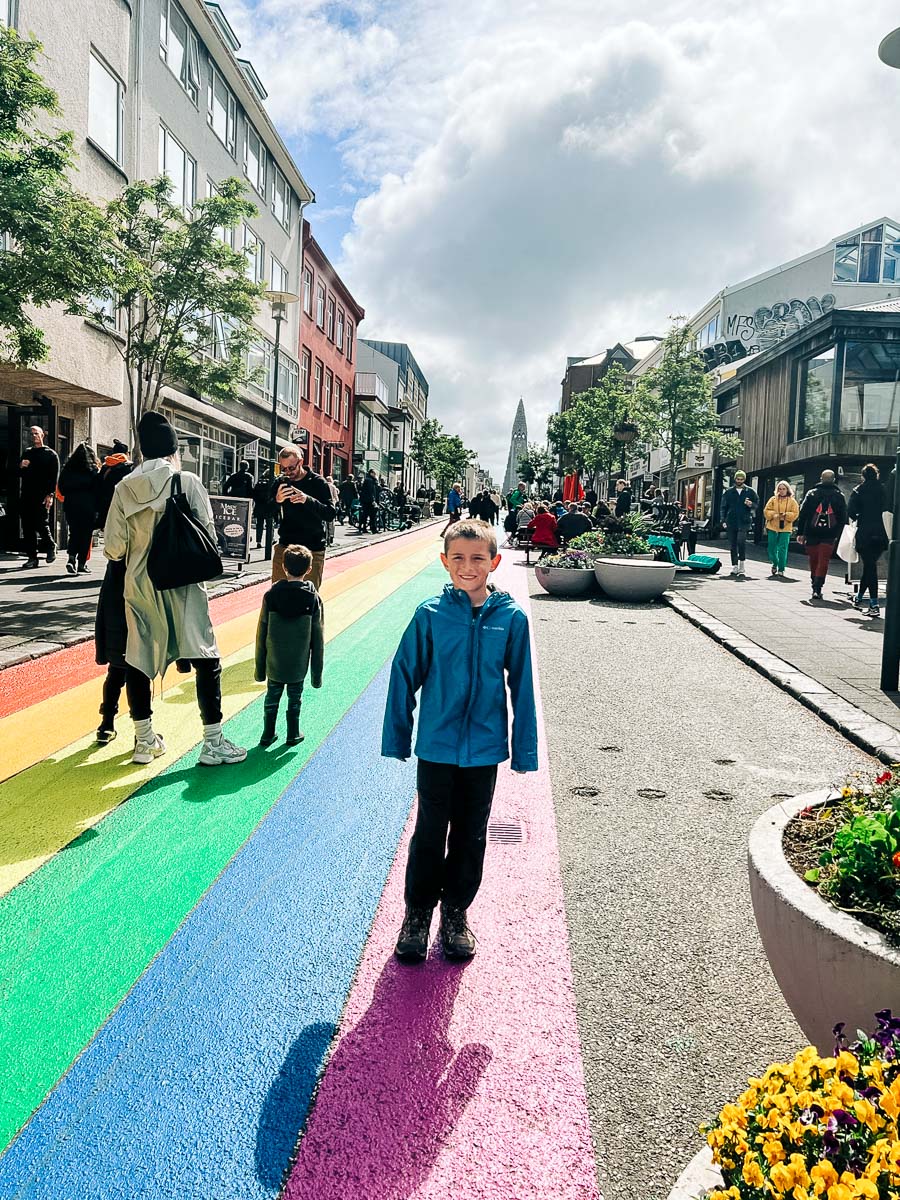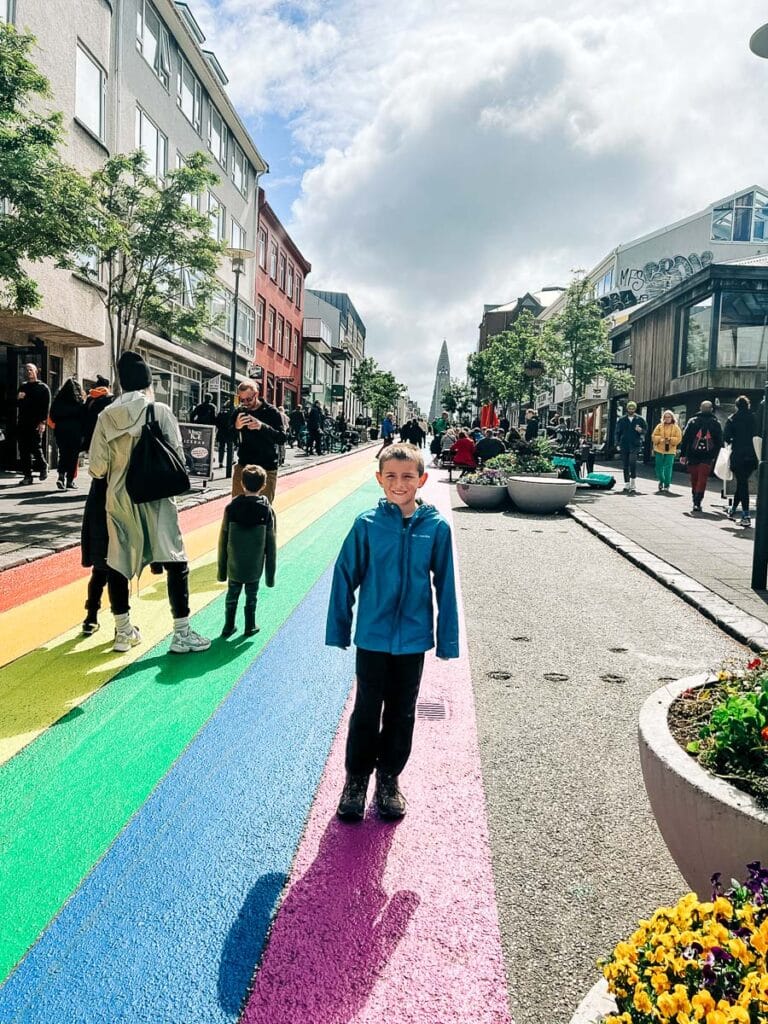 Downtown Reykjavik is a great area to explore with kids. On our recent Iceland trip we enjoyed taking a walk around the iconic Lake Tjornin with our seven year old. Don't miss the quirky exercise course or the playground (complete with a zip line!) on the south side that comes complete with trampolines and a zip line.
Take a stroll down the famous Rainbow Street and grab lunch at one of the tasty food shops. Grab a coffee for mom and dad at Reykjavik Roasters, and then head over to the Omnom Chocolate and Ice Cream Shop for a gourmet dessert.
For more ideas, check out my list of the best things to do with kids in Reykjavik.
Flyover Iceland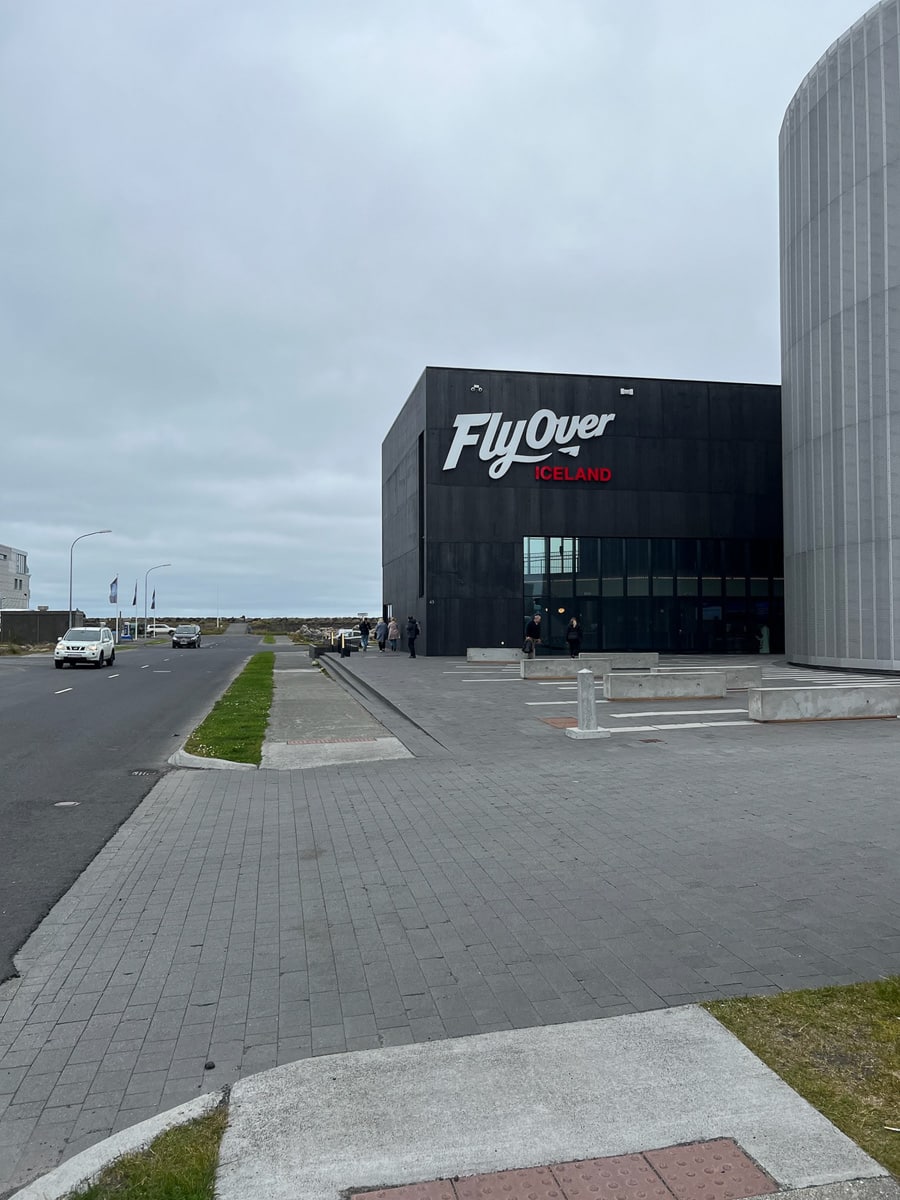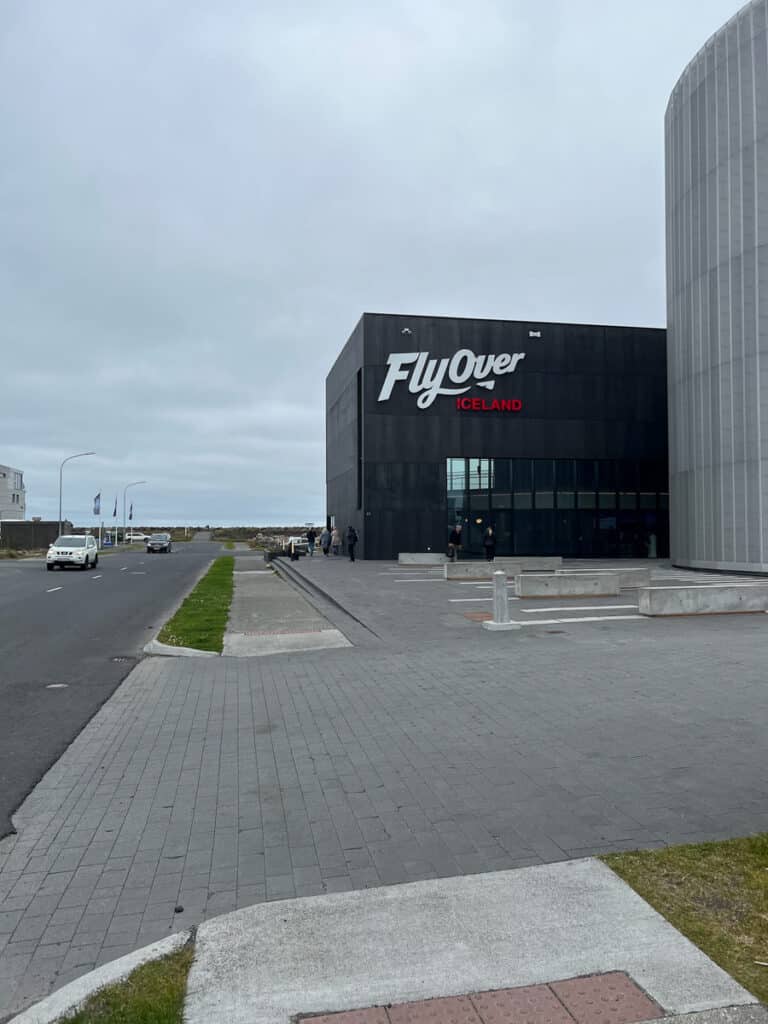 If rides are your thing, don't miss out on this simulated flight over the country of Iceland. It's shockingly well done and way more fun than I anticipated.
In fact, my son enjoyed it so much that we went twice on our recent trip. You can book tickets here. And pro tip – you can get a 50% discount on a second visit if you stop at the front desk and ask on your way out.
Swim in a Geothermal Pool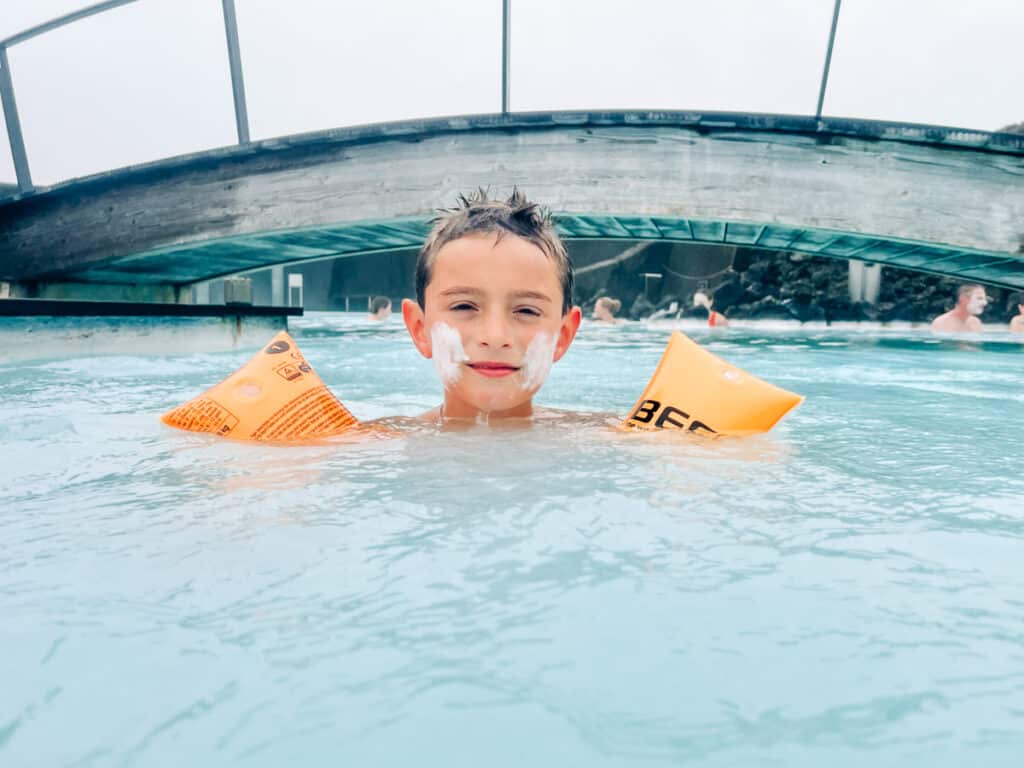 You might be surprised to find out just how many pools there are in Iceland- and they're all warm thanks to the natural geothermal water flowing throughout the country.
You can check out the famous Blue Lagoon or one of the many local community pools that you'll find in just about every town.
Hike a Glacier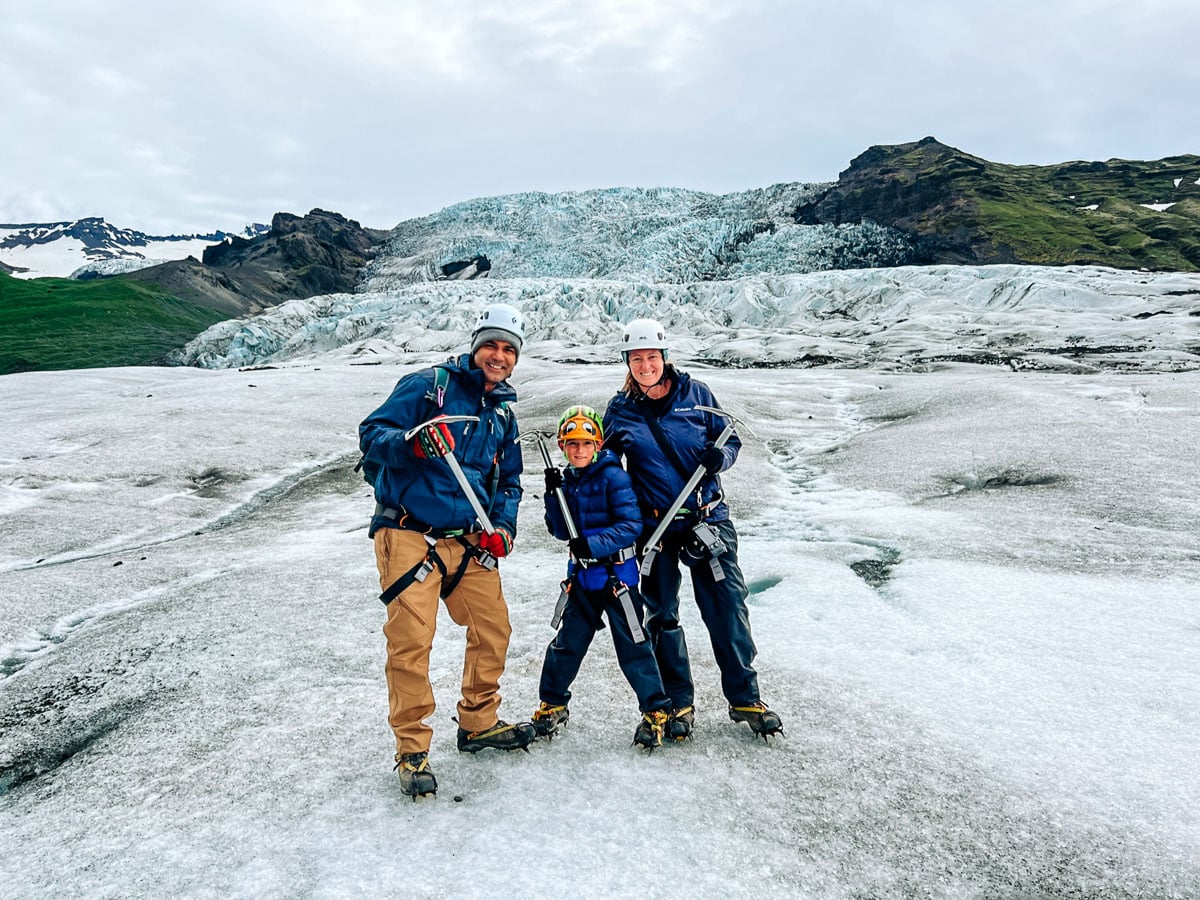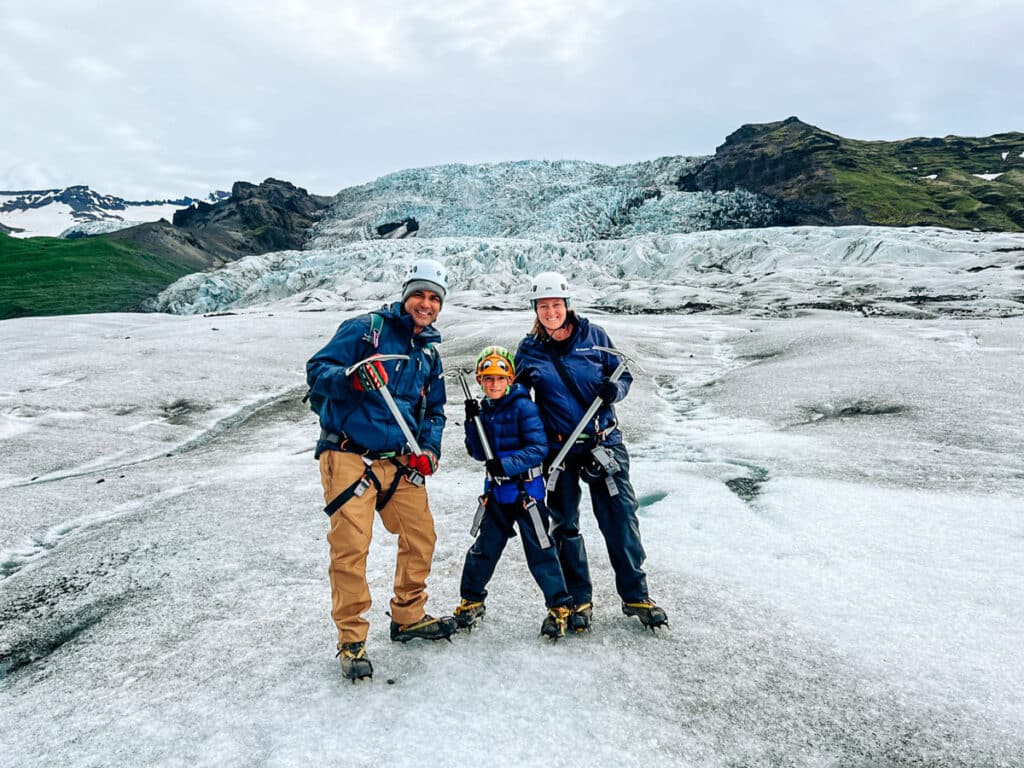 Don't be scared- this is totally do-able! If your kiddos are at least eight years old, you'll be able to find an age appropriate glacier hike that you can enjoy as a whole family. Here are some tips for finding the best glacier hike to do with kids.
We had so much fun getting outfitted up and tackling our Skaftafell Glacier Hike. It was one of the highlights of our whole trip!
This is the exact tour that we booked – I loved the extra small group size.
Go Horseback Riding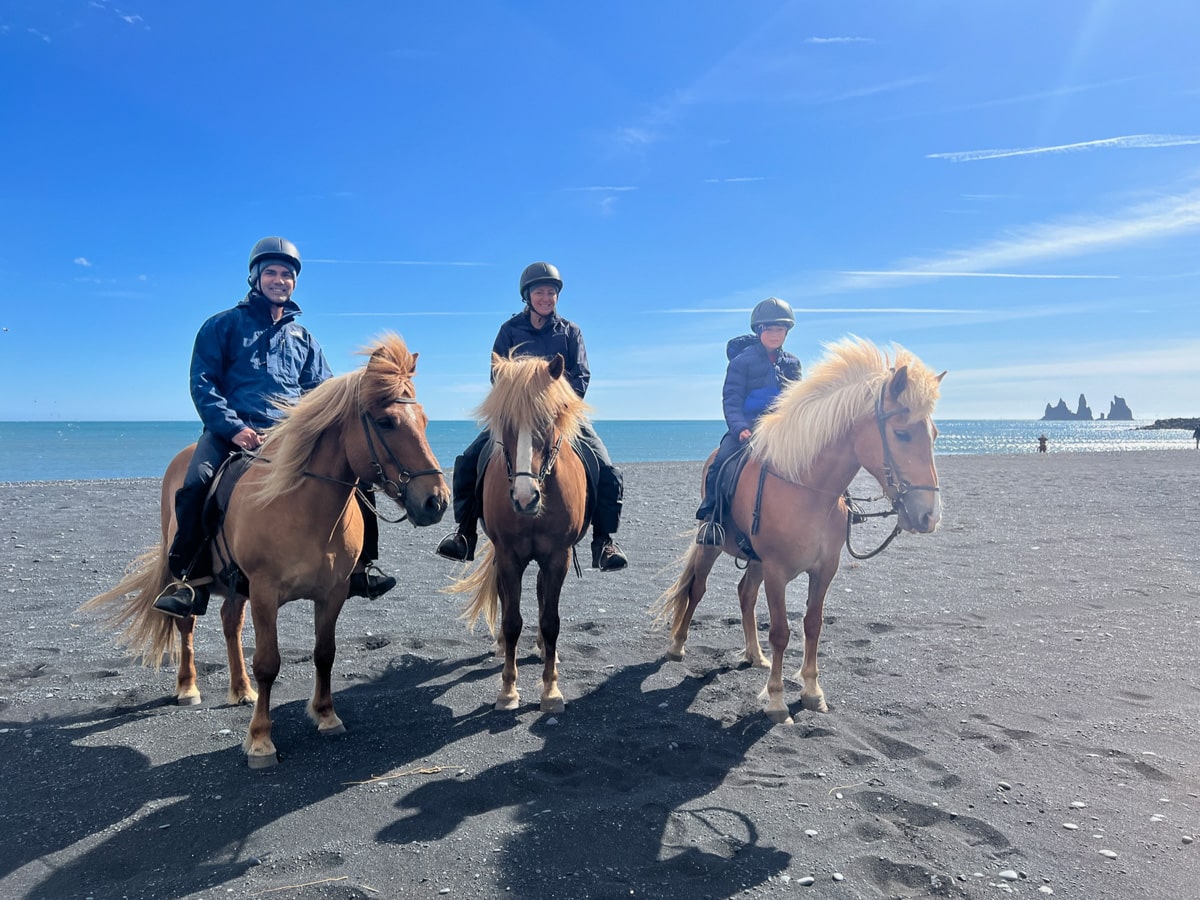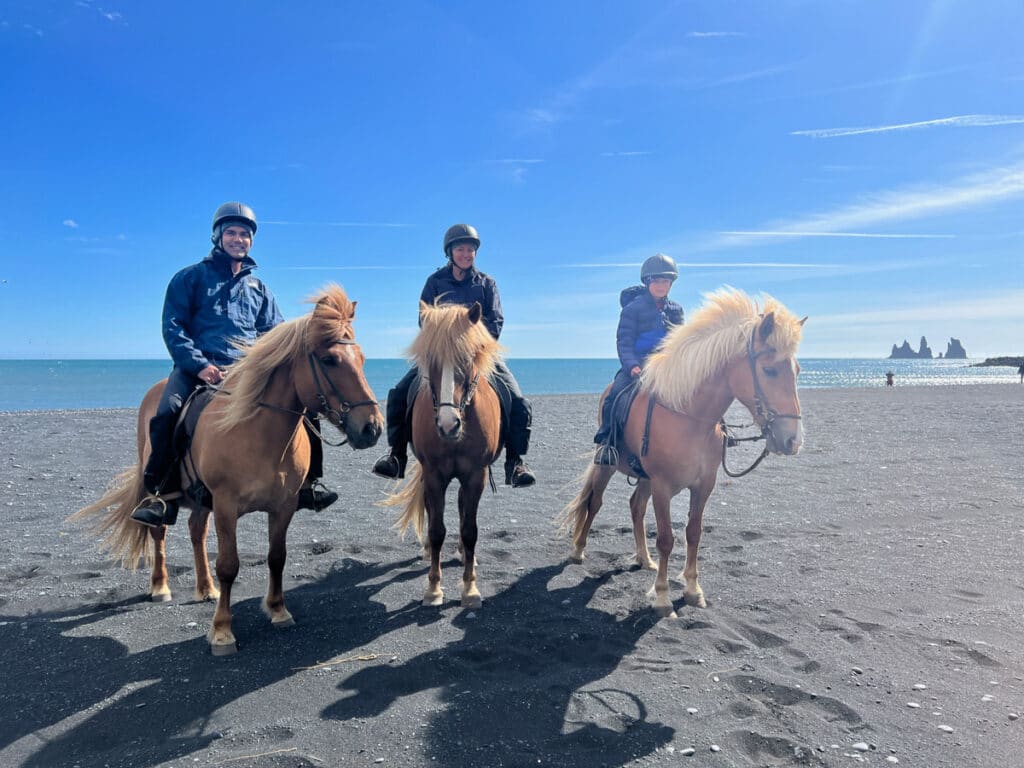 Icelandic Horses are a breed of their own. Literally. In fact, importing any other horses into Iceland is illegal. They want to keep the breed pure. And I can understand why – they sure are magical creatures.
We enjoyed a family horseback ride on the beautiful black sand beaches in Vik, but there are many places to take a family horseback ride all over Iceland.
Play on a Black Sand Beach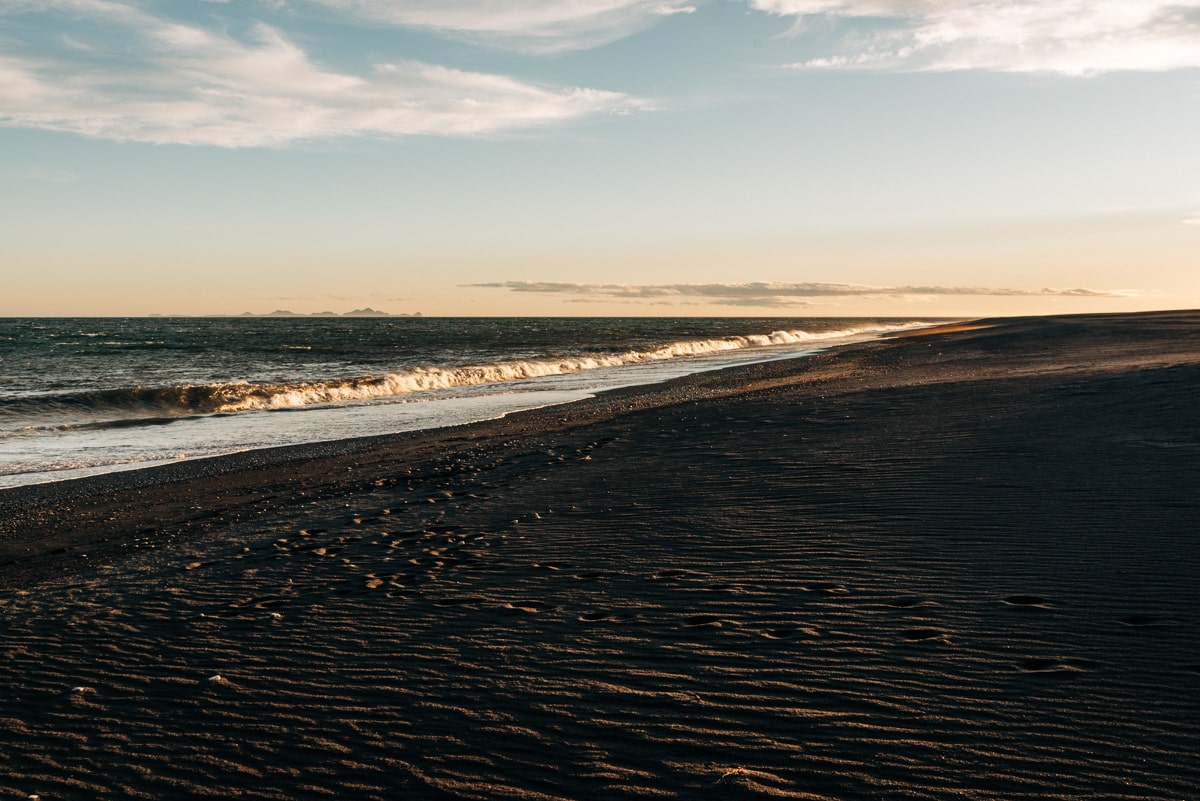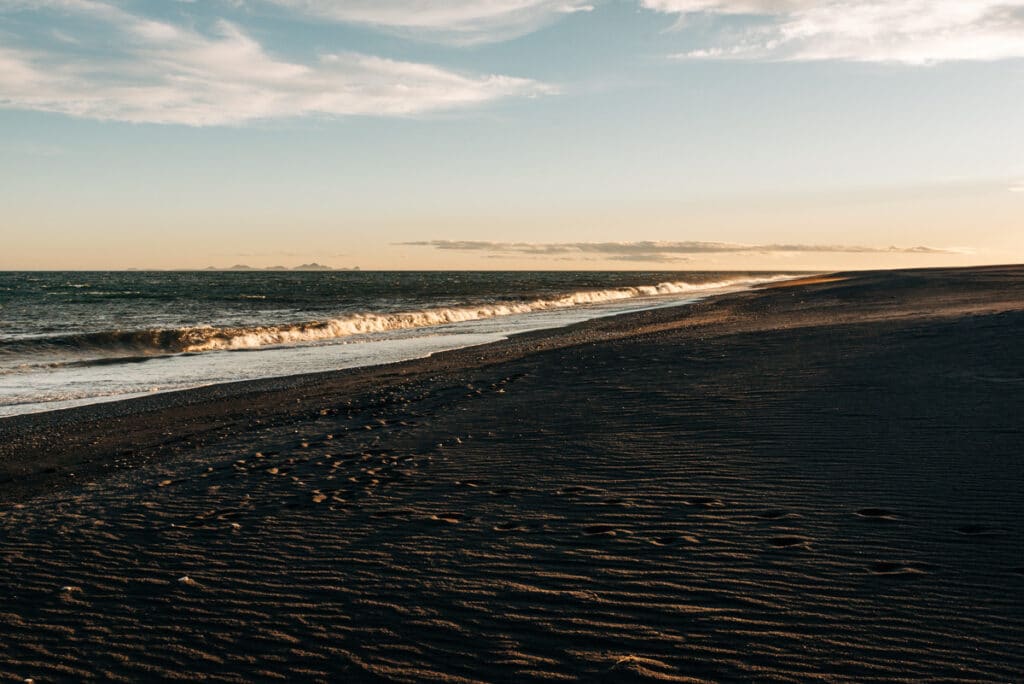 Iceland's black sand beaches are famous for their stark beauty and untamed oceans. Take a stroll and enjoy building your own black sandcastles!
Most tourists visit the famous Reynisfjara Black Sand Beach in Vik, but there are many beautiful beaches to be found all long Iceland's southern coast. But be careful – Iceland is also famous for its sneaker waves, so give that ocean a healthy distance.
See Puffins!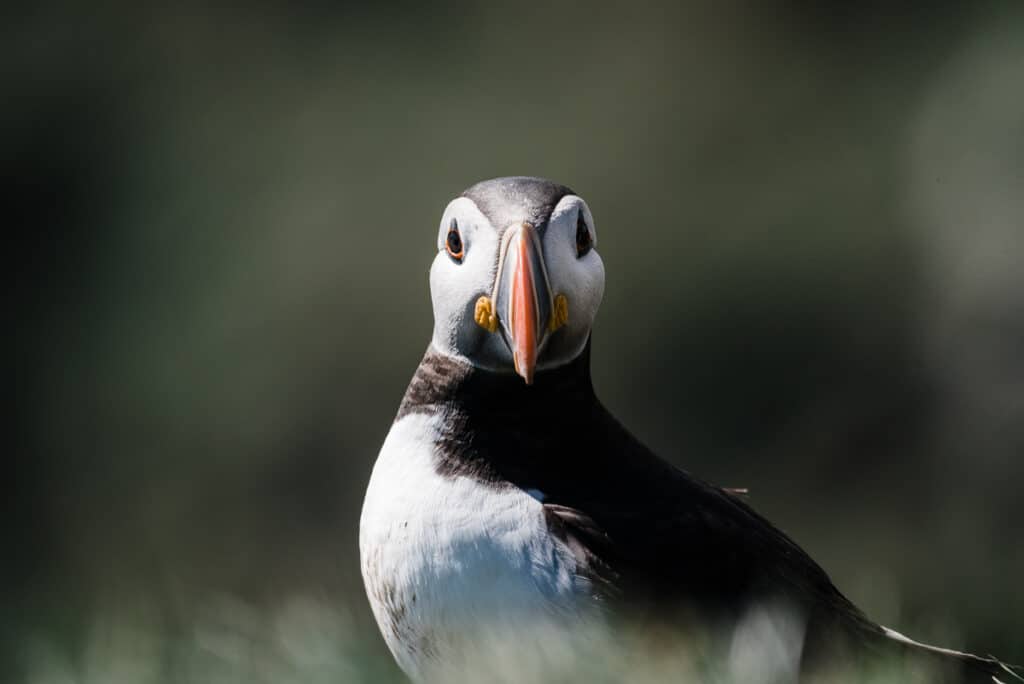 Puffins may just be the coolest birds in existence. And we hit the puffin jackpot with this tour to Ingolfshofdi, a natural reserve that's famous as a nesting spot for puffins.
And as a bonus – you get driven out to this magical island in a big wooden wagon pulled by a tractor. Doesn't get more fun than that!
Whale Watching Boat Tour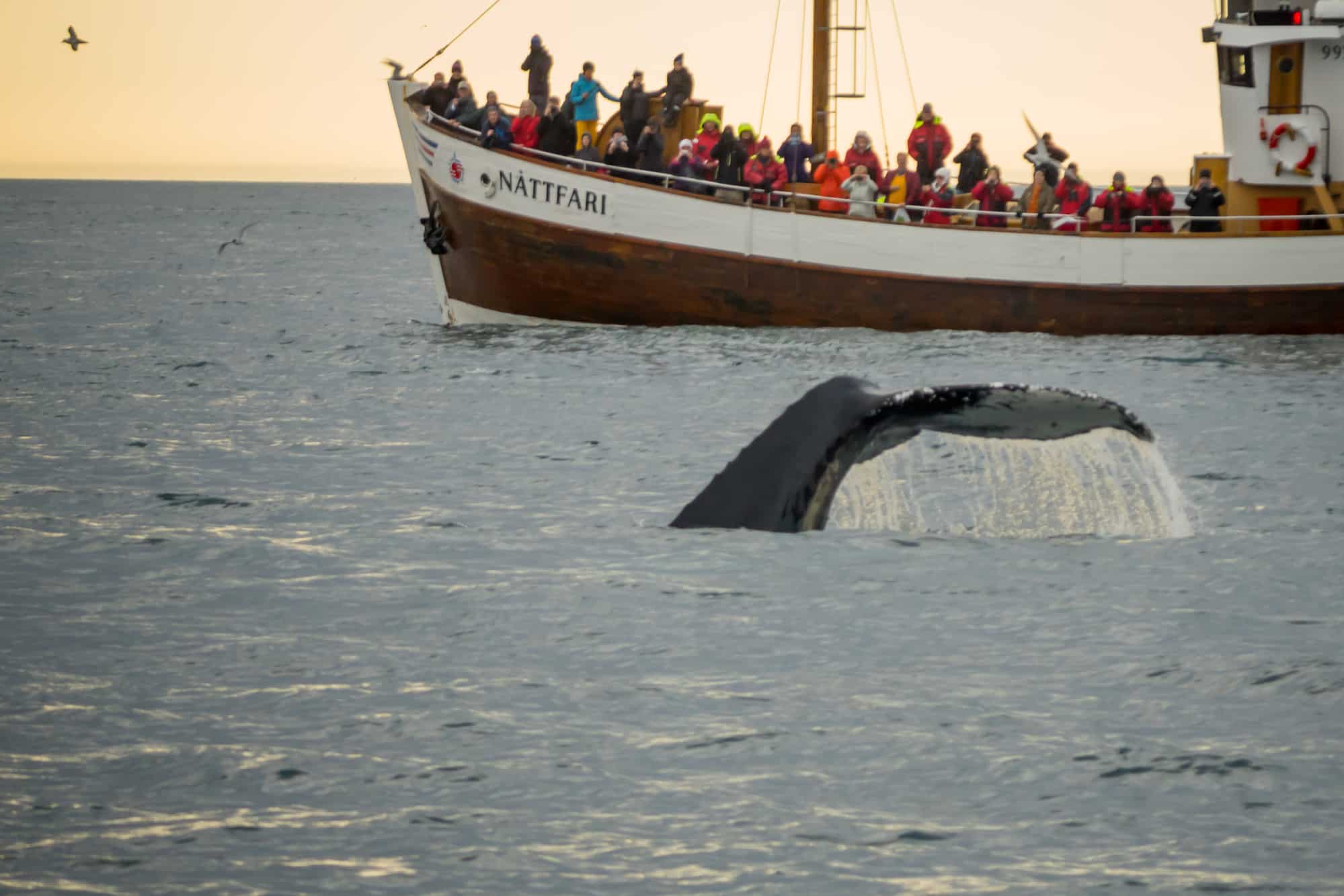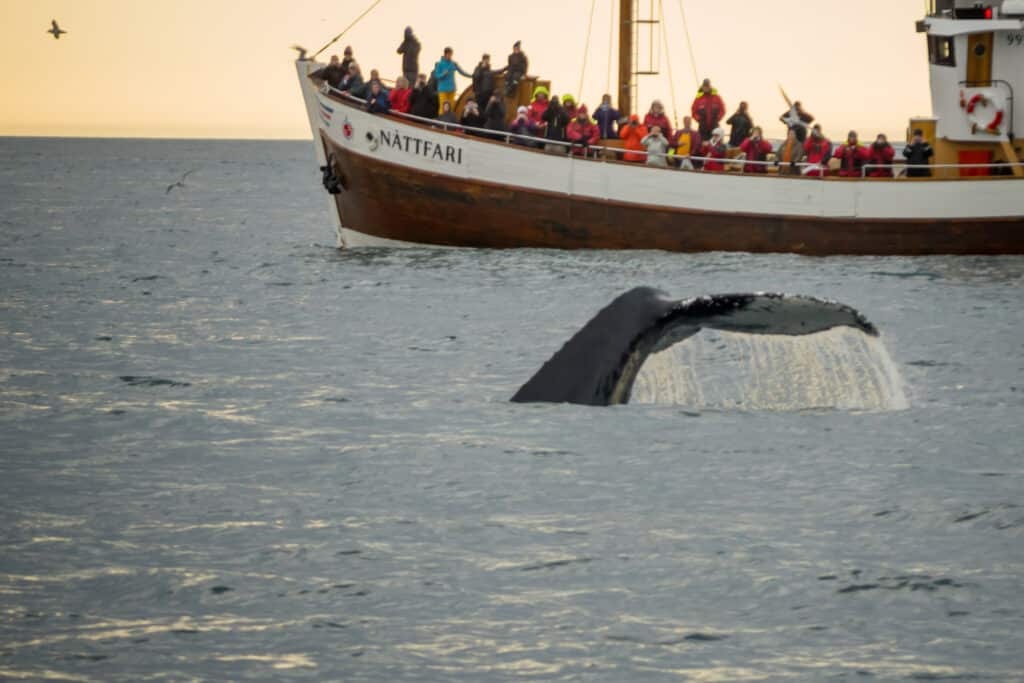 If you've never had a chance to see whales up close, than a whale watching trip is a must do in Iceland. You can book a boat trip from Reykjavik or Akureyri.
But why book an ordinary boat tour when you can book a yacht? This awesome tour takes you on a luxury yacht with a smaller than usual group, so you can get all the whales without all the tourist vibes.
Visit a Hydroelectric Power Plant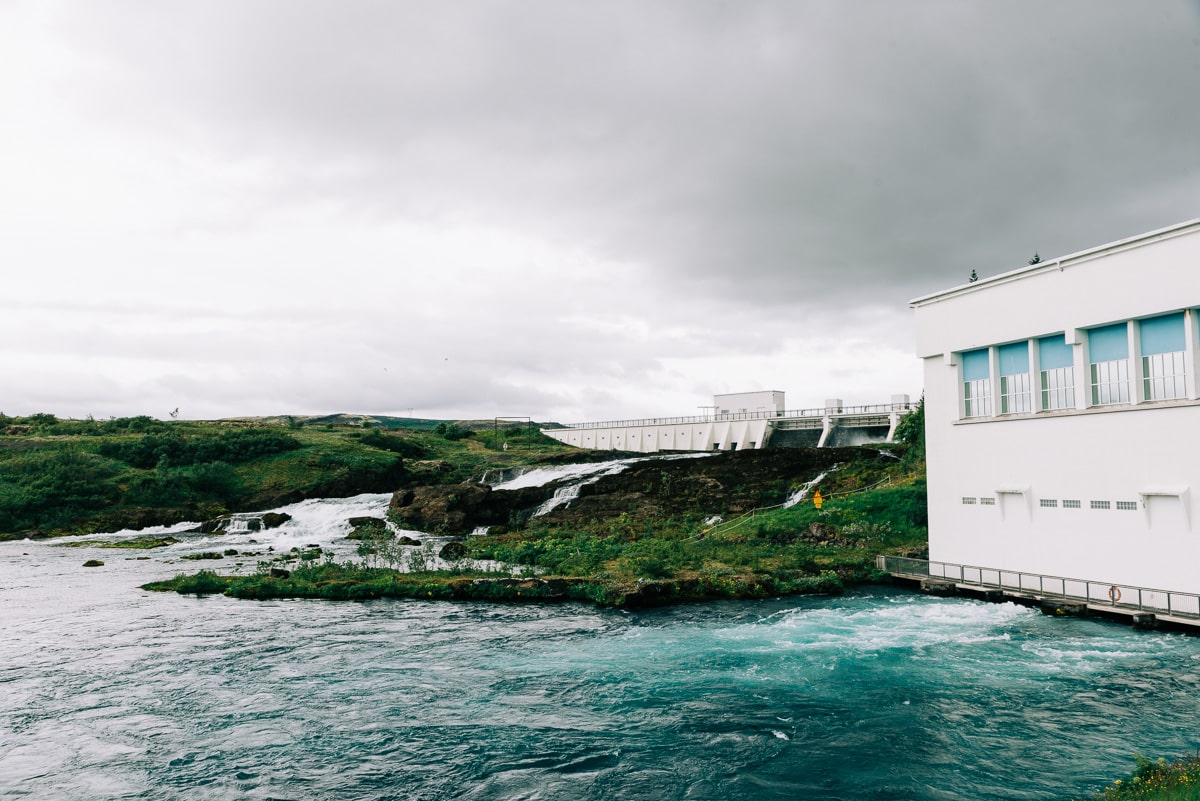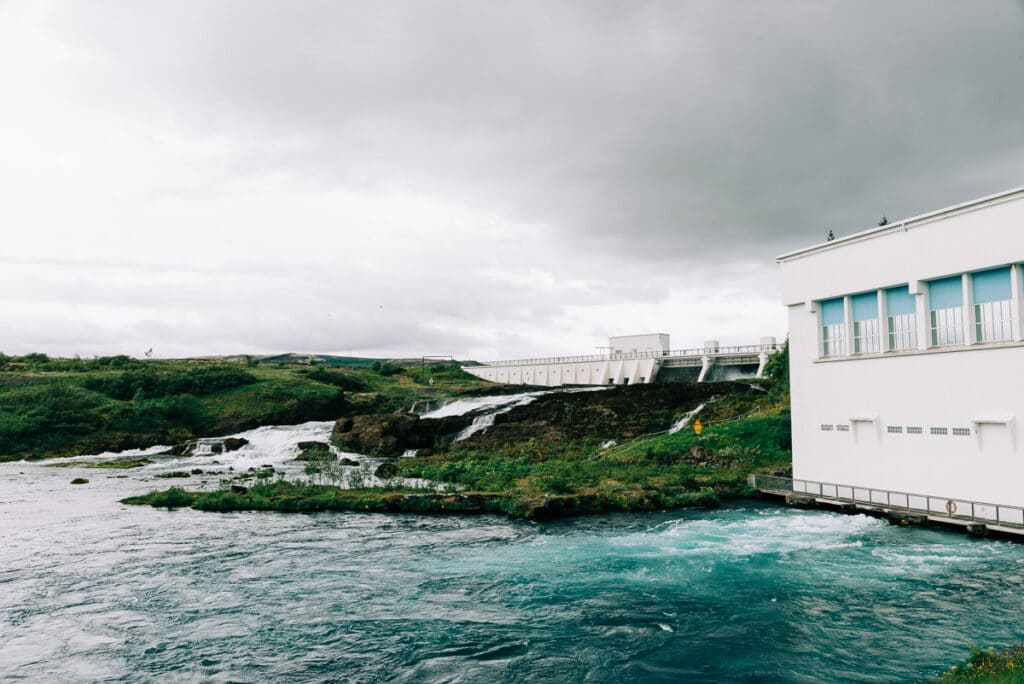 The small power plant, Ljosafoss Power Station, in the Golden Circle, might not be a major tourist attraction. But it sure is worth a stop when visiting Iceland with kids. Inside it's packed with interactive games and demonstrations where you can learn all about hydroelectric, wind, and geothermal energy.
My son loved this place on our trip – and I swear it was better than any of the hands-on kids museums we've been to in the states.
See a Lava Show!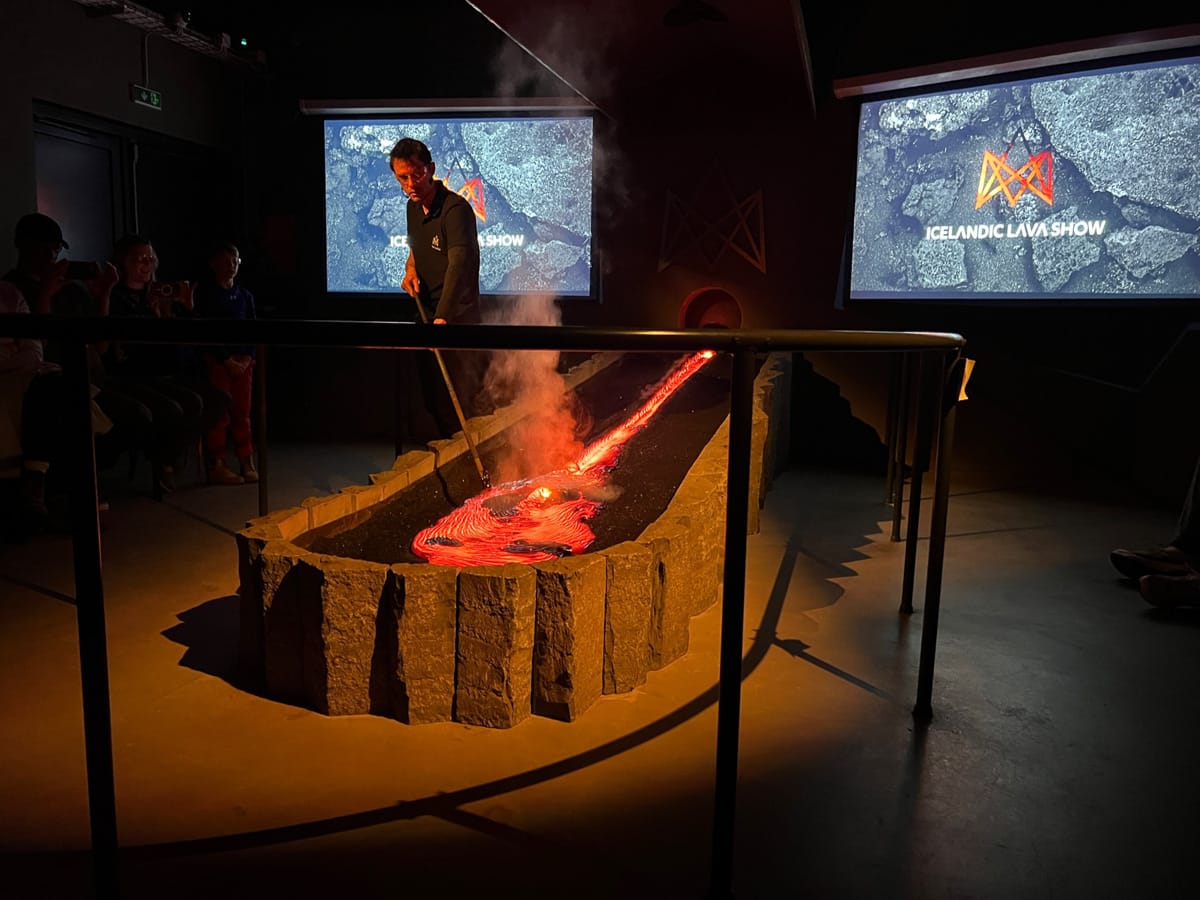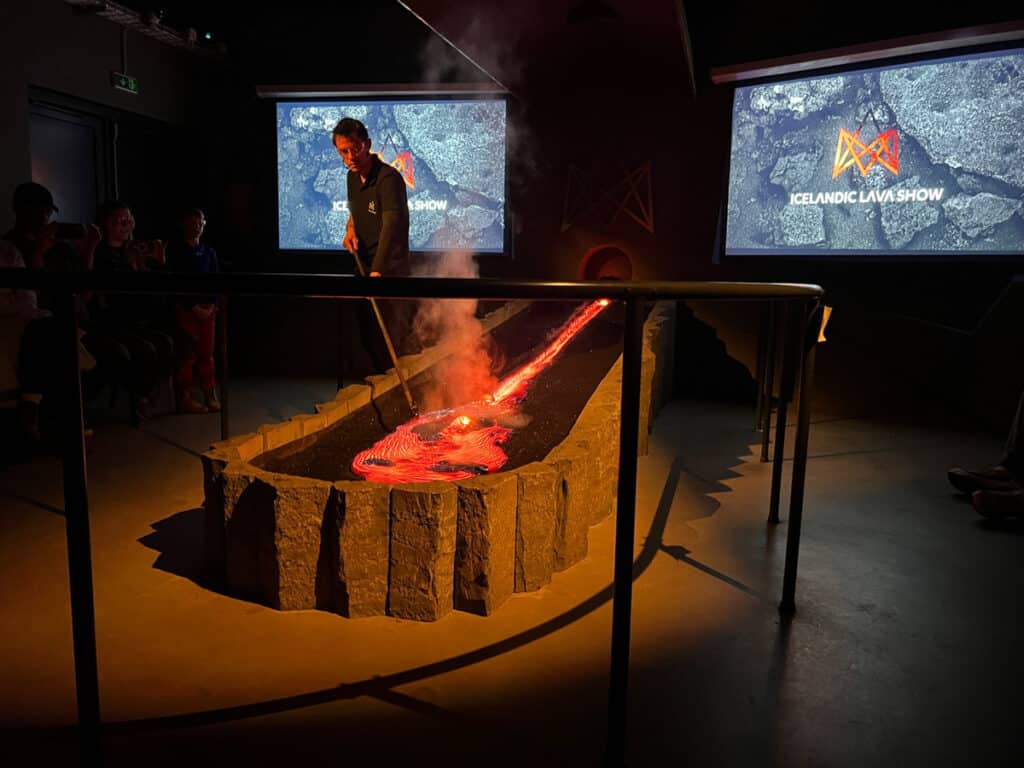 Ever wanted a chance to see real lava flowing in person? Well you can do it in Iceland – even if there's no volcano erupting! This great little show in the heart of Vik teaches you all about the volcanic activity in the area, and gives you a chance to see real lava made from reheating and melting the lava rock from past eruptions.
And as a bonus, the kids will leave with a piece of volcanic glass as a fun souvenir.
The Lava Centre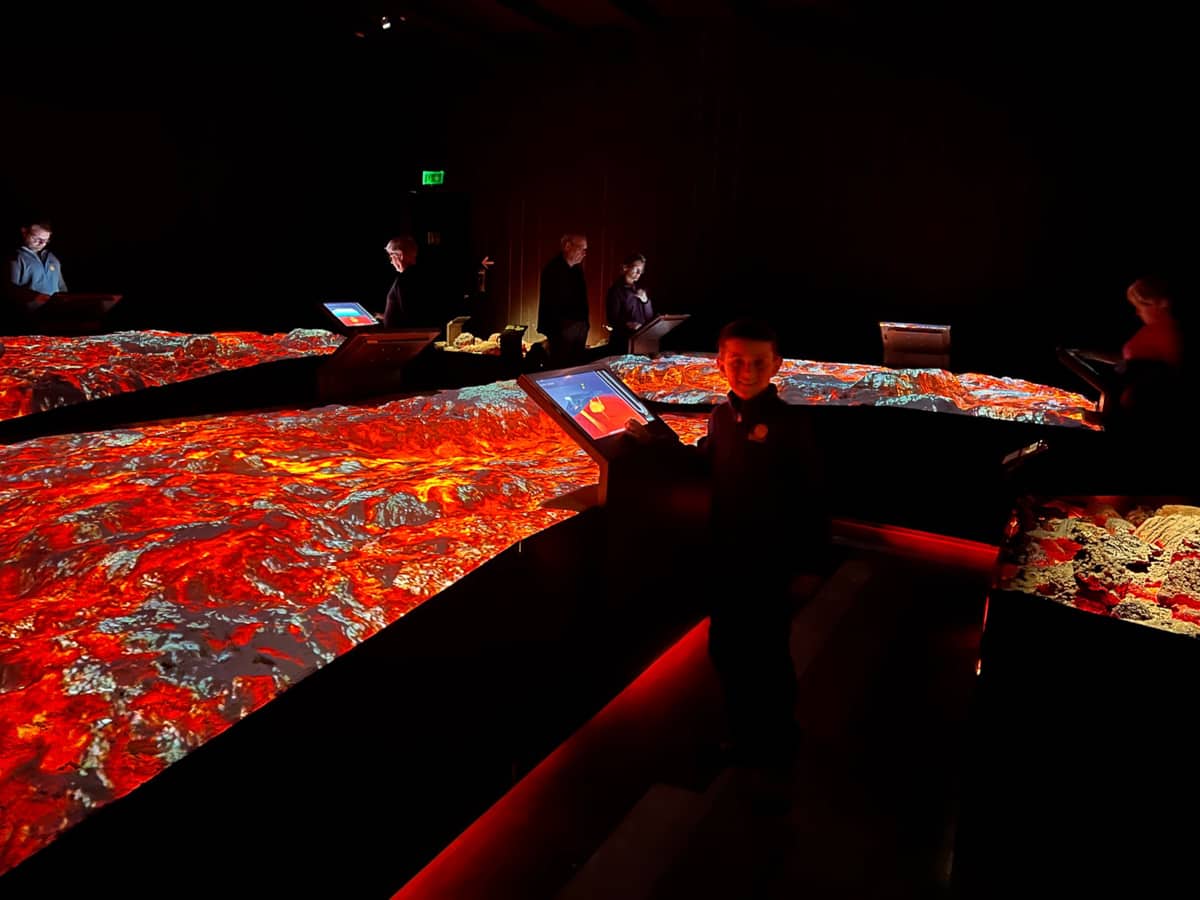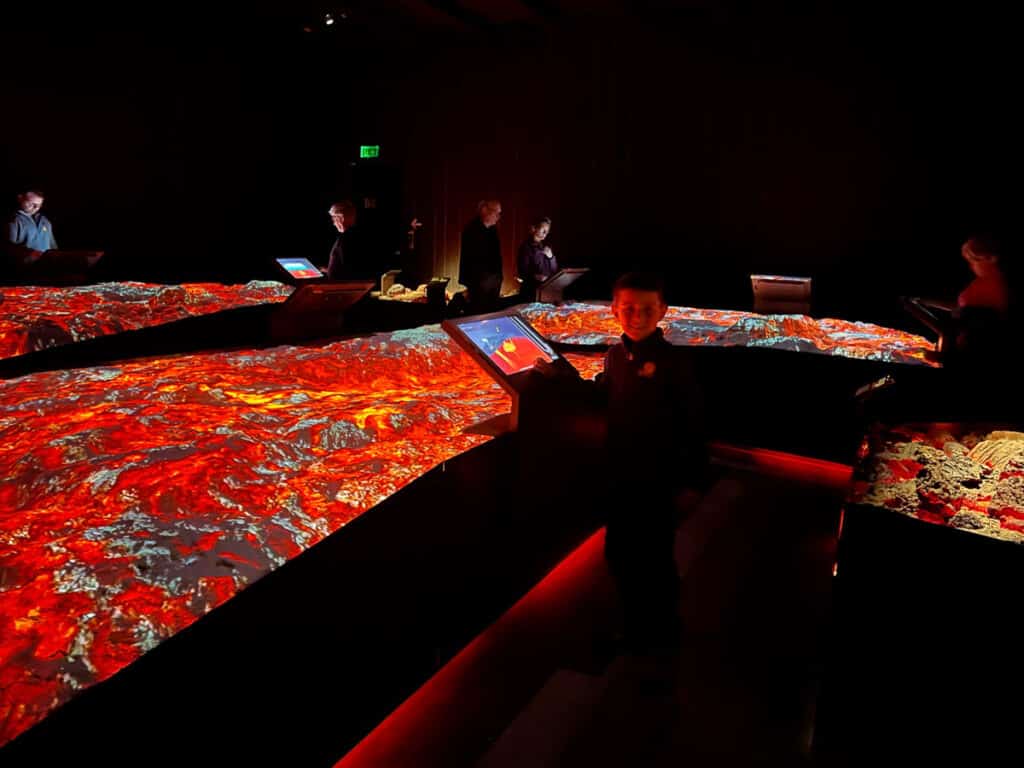 And if you don't get your fill of lava at the show, make a stop at the nearby Lava Centre. This small museum has some of the coolest interactive exhibits I've ever seen, and was a big hit with our seven year old.
Plus you can pop onto their rooftop where you can get a view of several real life volcanoes from that one spot! Check availability and book your tickets here.
Eat Icelandic Hot Dogs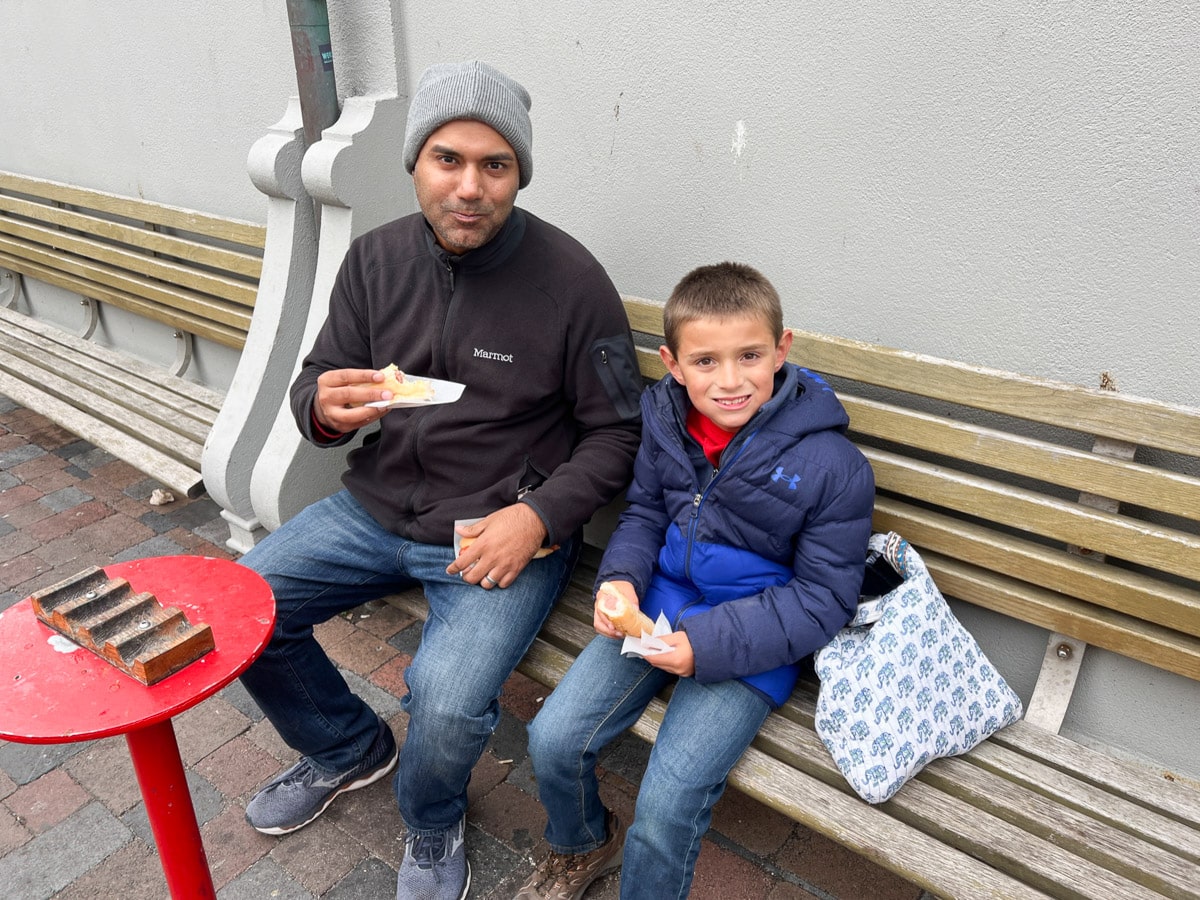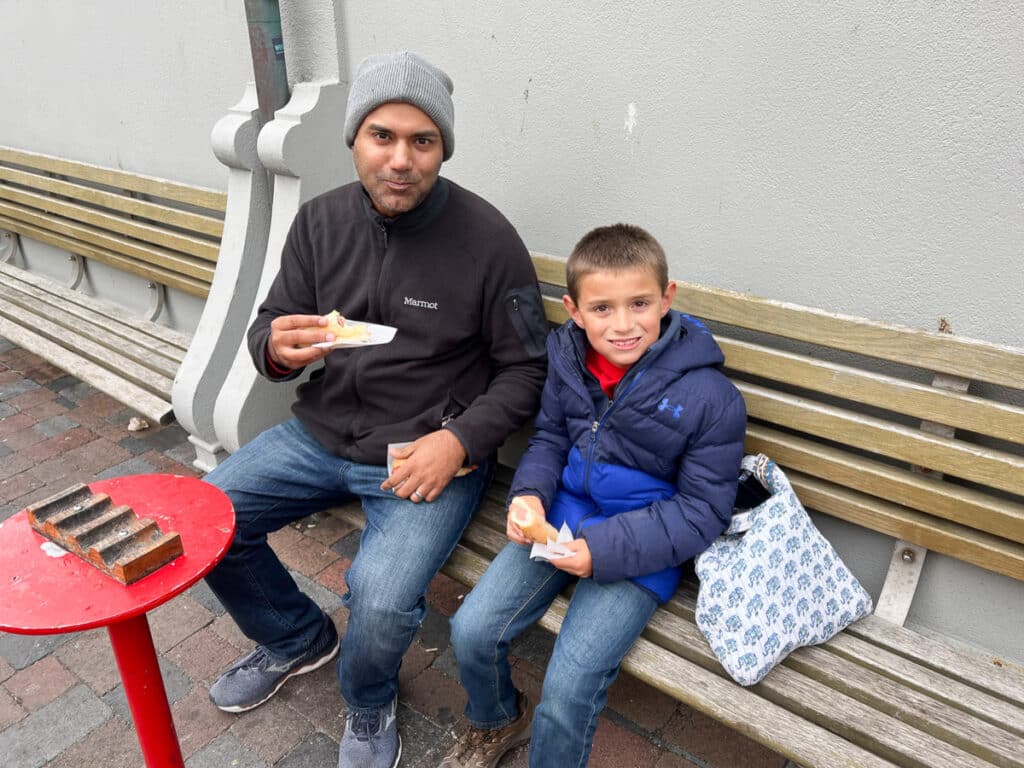 I do not know why hot dogs are a thing in Iceland, but they are. A very big thing. And I don't know any kids that can turn down a hot dog.
Stop at the famous hot dog stand in Downtown Reykjavik or just grab a hot dog at a gas station along your way. Gas station food is also a thing here. :-D
Get up Close to a Waterfall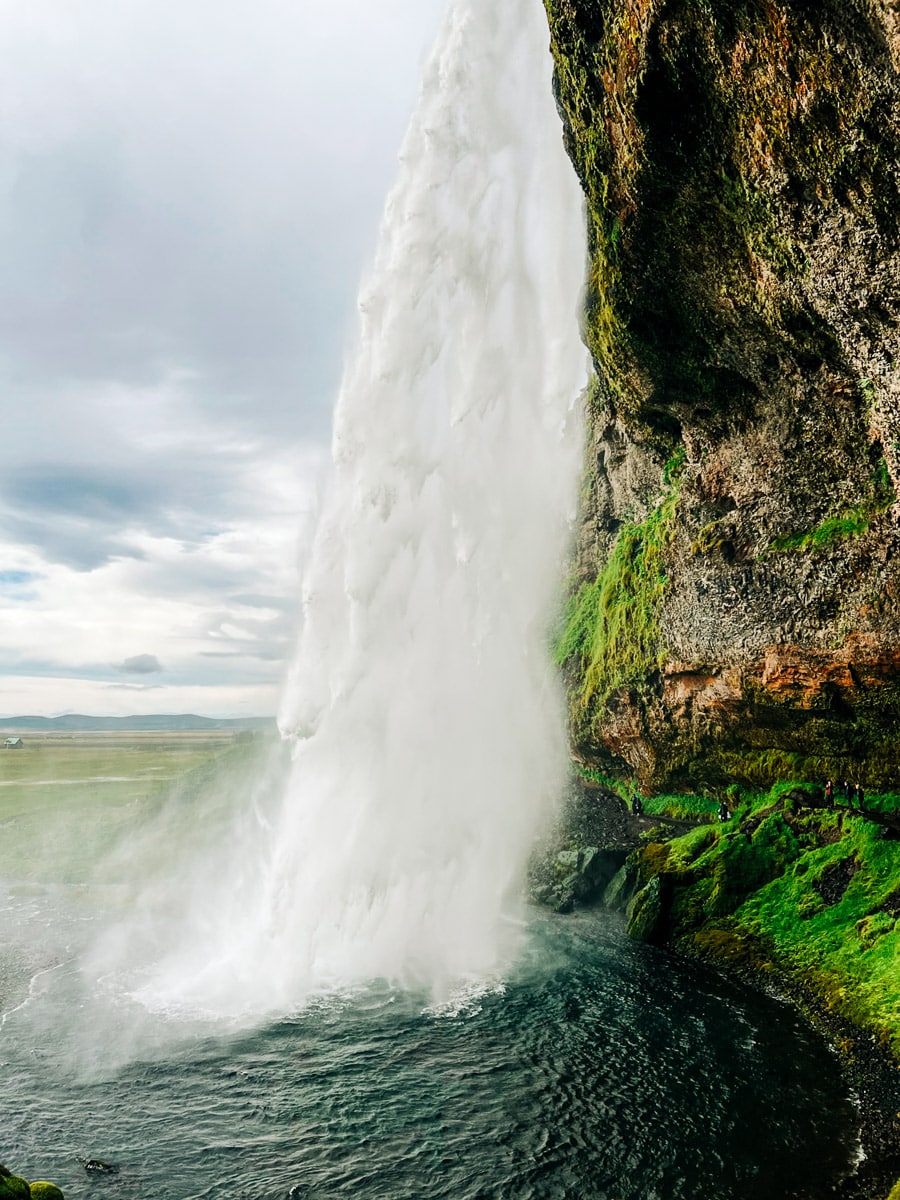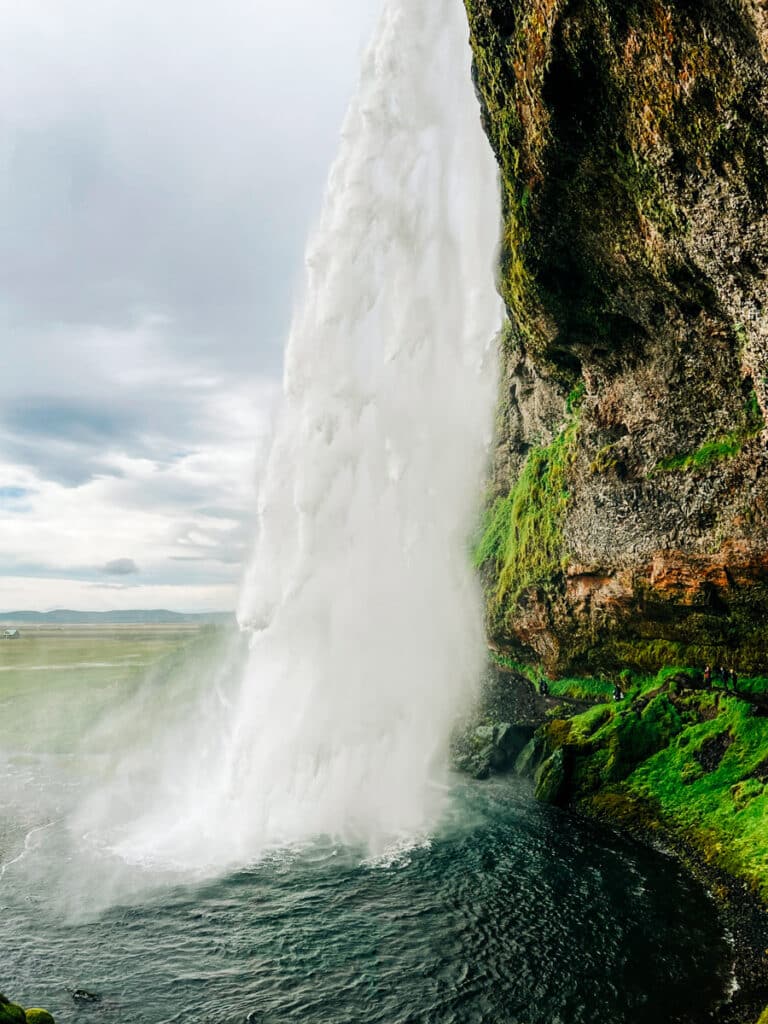 If you're traveling Iceland's South Coast or the Golden Circle, you'll have plenty of chances to get up close and personal with Iceland's famous waterfalls.
We loved walking behind Seljalandsfoss Waterfall (warning – you will get soaked!) and hiking to the charming Kvernufoss. And we were so amazed by the massive Gulfoss Waterfall in the famous Golden Circle area.
Take a Family Friendly Hike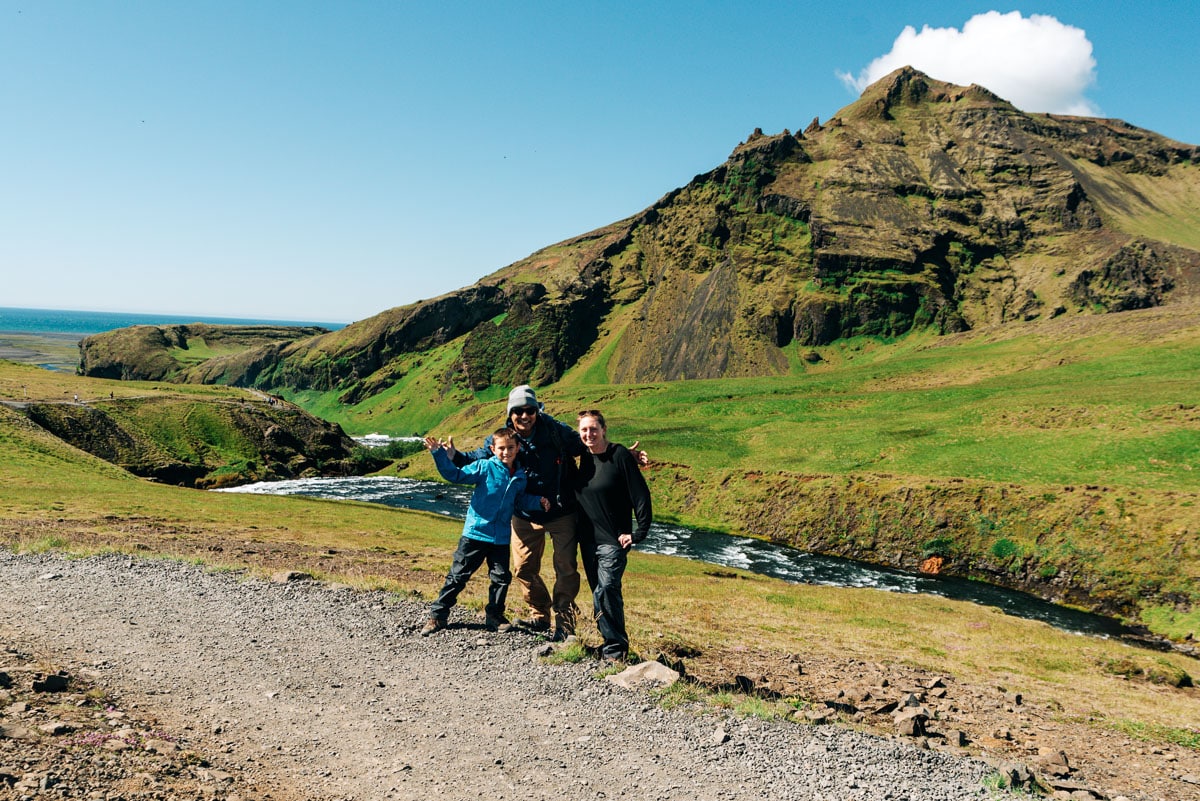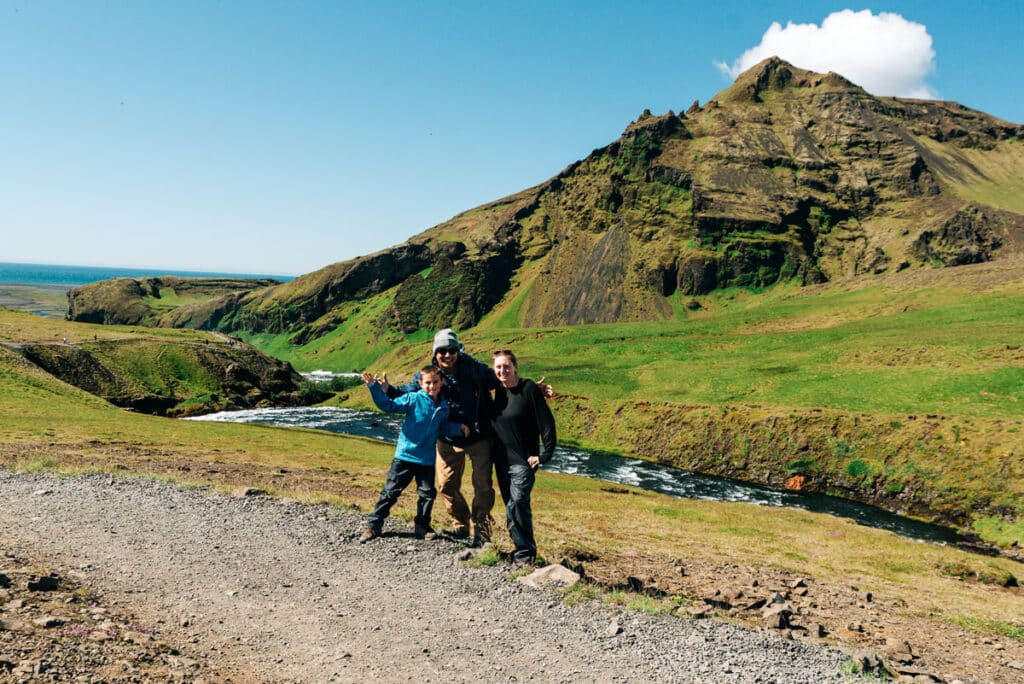 There are so many great places to hike throughout the country, and many of them can easily be done as a family with kids. Two of our personal favorites were Waterfall Way (starting at the top of Skogafoss Waterfall) and the hike to Kvernufoss Waterfall.
If you're up for a bit of a longer hike, you can tackle the Reykjadalur Hot Springs Hike, where you'll be rewarded with a warm geothermal for soaking at the end!
More Iceland Trip Planning Resources
If you're planning the ultimate trip to Iceland, be sure to check out these other helpful articles: