We recently took a bucket list family vacation to Iceland, including the famous Golden Circle. And we found so many kid friendly adventures! So if you're planning to visit Iceland's Golden Circle with kids – here's the full scoop on the best things to do, places to eat, and more.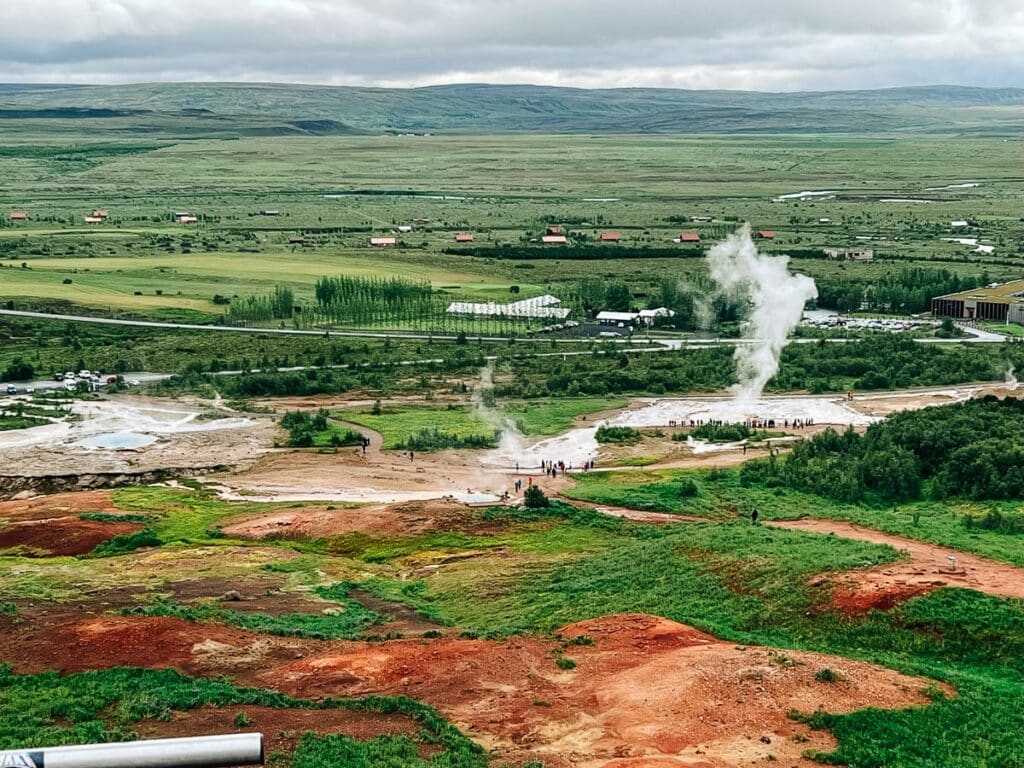 Many people do the full Golden Circle in just one single day, and that is totally do-able as long as you don't mind a very long day.
So I am going to outline all the best family friendly stops going around the full loop of the Golden Circle – and heading back to Reykjavik. I recommend doing the loop counterclockwise, starting from the south, and I'll explain why as we go.
And if you are headed back to Reykjavik, make sure you check out our picks for the best places to stay in Reykjavik and the best things to do with kids in Reykjavik too!
But another option is to stay the night along the way – and I have a few recommendations for that at the end of this article too! Or check out my recommended Iceland Itineraries for a more detailed step-by-step plan.
Lava Tunnels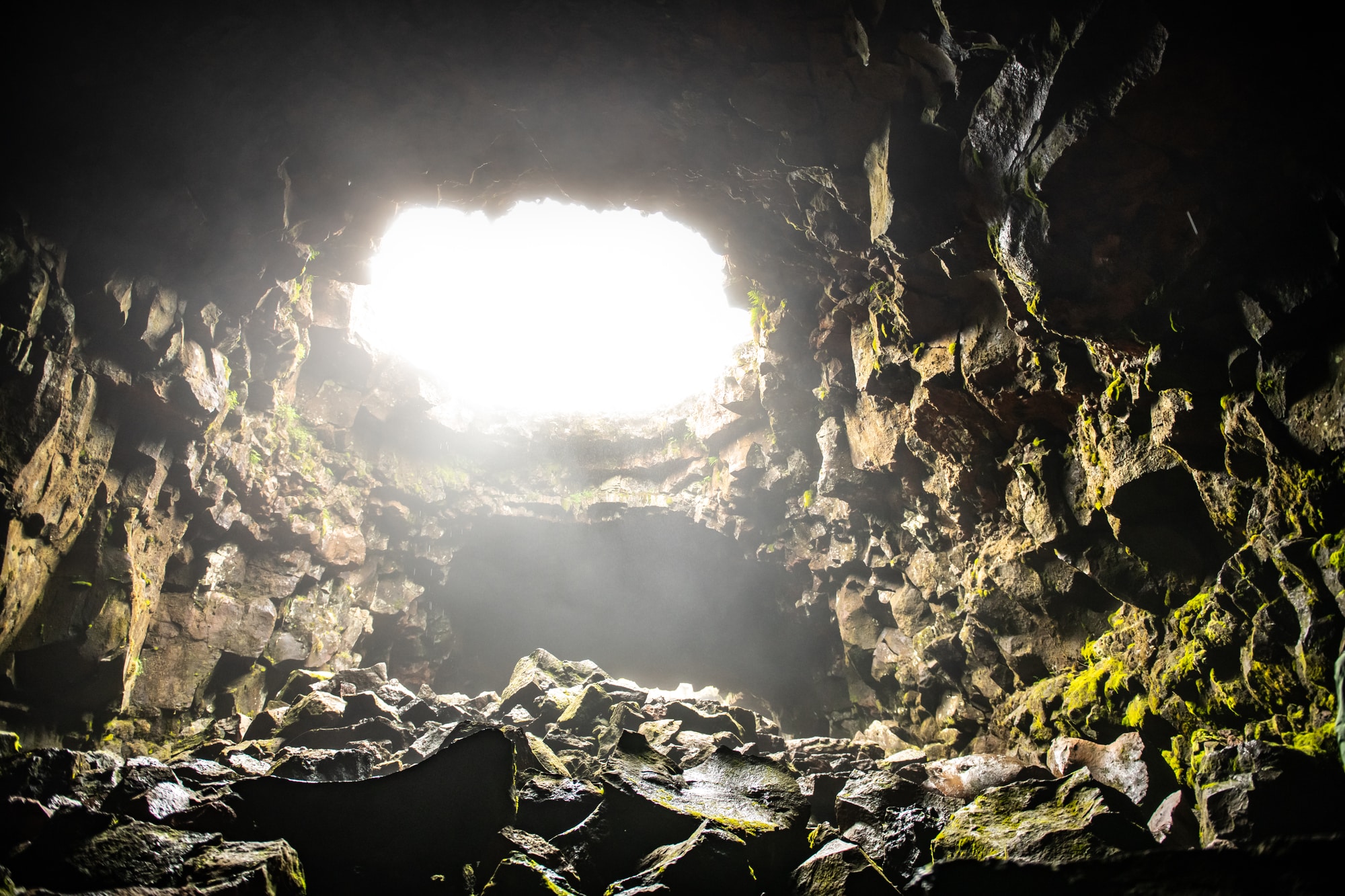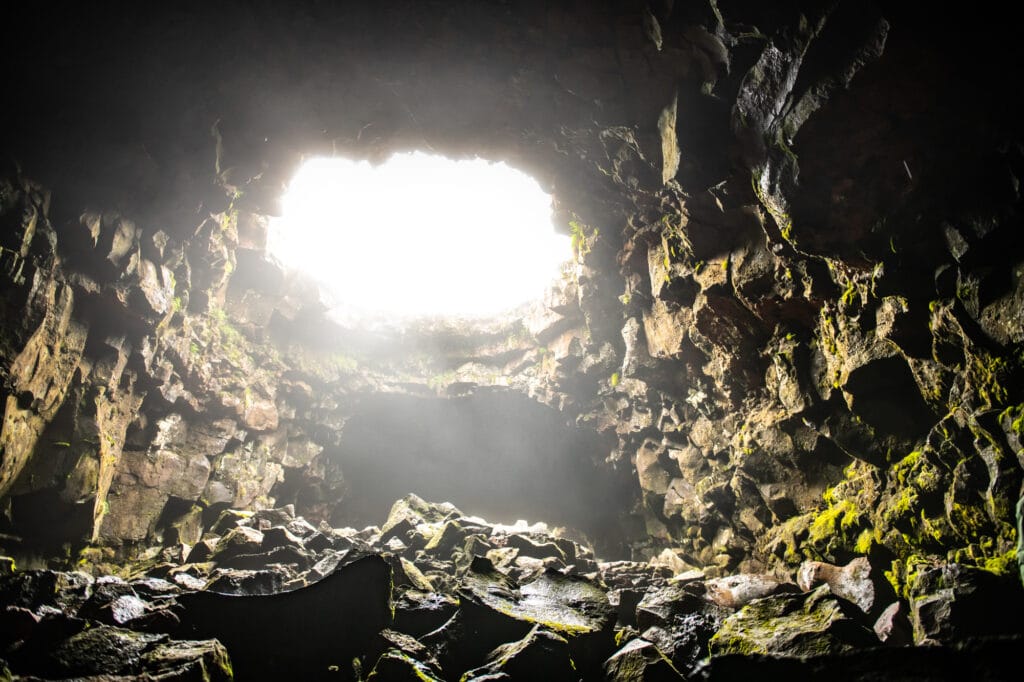 First up, is the Raufarhólshellir Lava Tunnels, where you can actually hike down into tunnels that were formed by hot flowing lava many years ago. How cool is that?
Note that the tours go out every hour. It's best to book in advance so you can be sure to get the time slot you want. If you're planning to do the full Golden Circle in one day, I would book the 9 or 10am tour. You can check availability and book tickets here.
There's also a small stand here where you can get coffee and snacks – very important for an early morning tour with kids!
Ljósafosss Hydroelectric Plant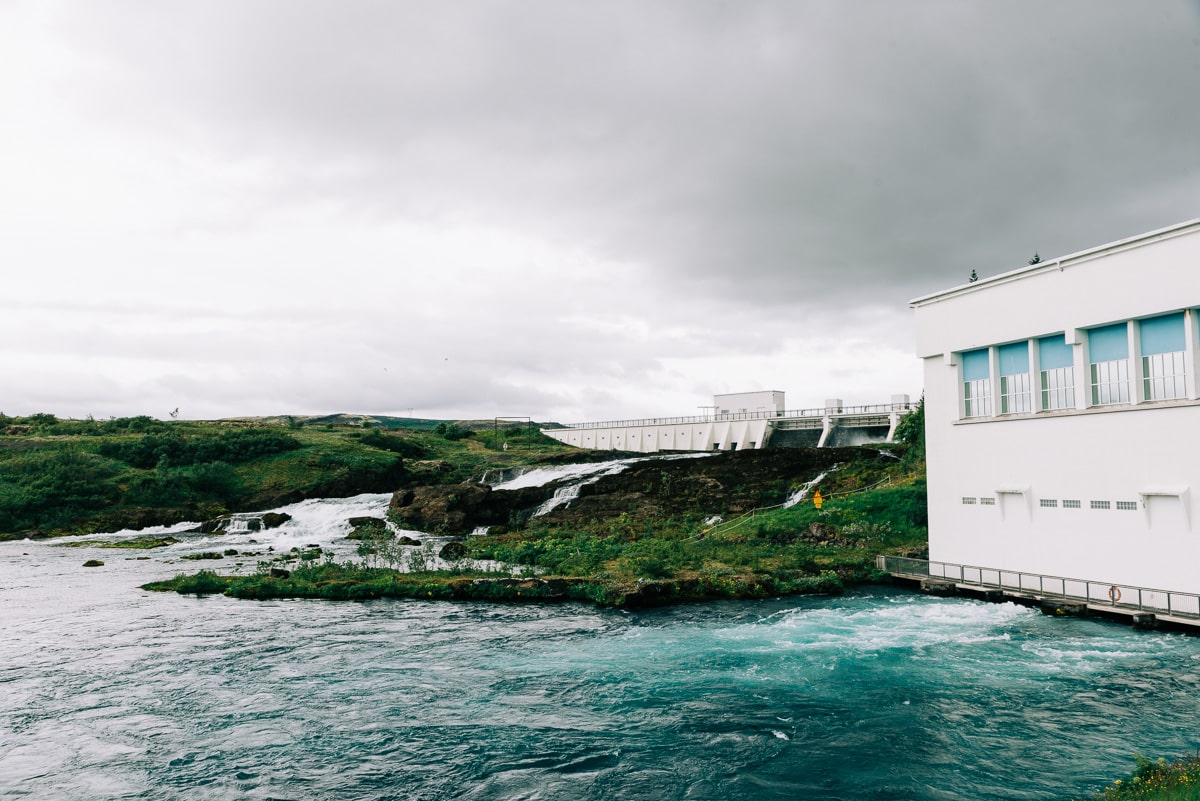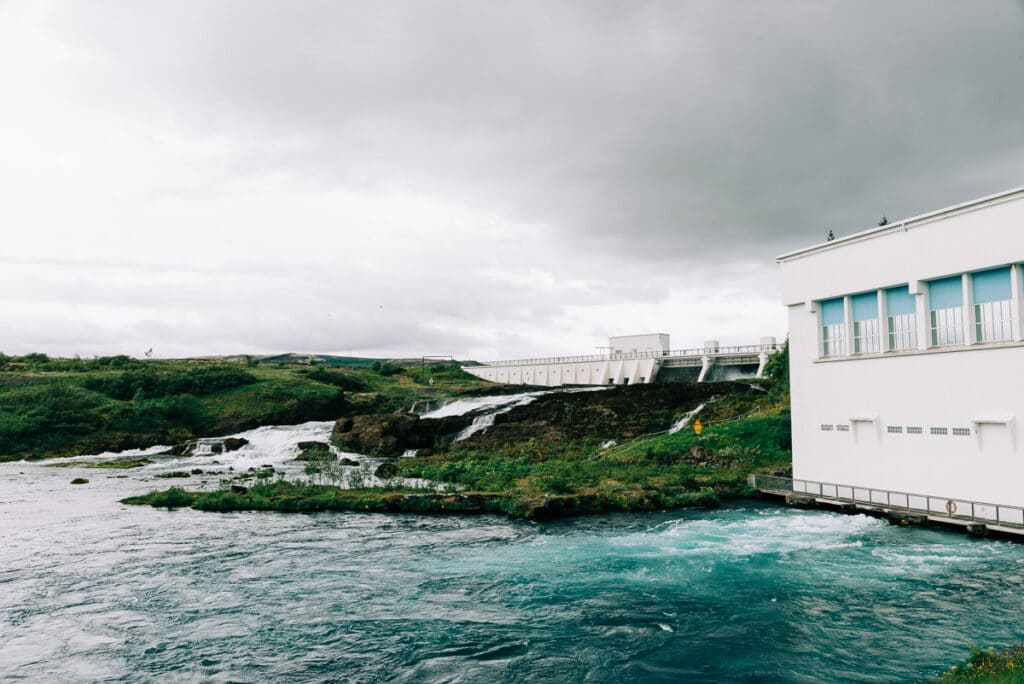 Next up, head over to the Ljosafoss hydroelectric power station. This one will be a short drive out of your way, but I do think it's worthwhile if you have kids in tow because it was a huge hit with our son.
This completely free exhibit is packed with interactive educational games that teach you all about the various natural energy source sin Iceland – hydroelectric, geothermal, and wind.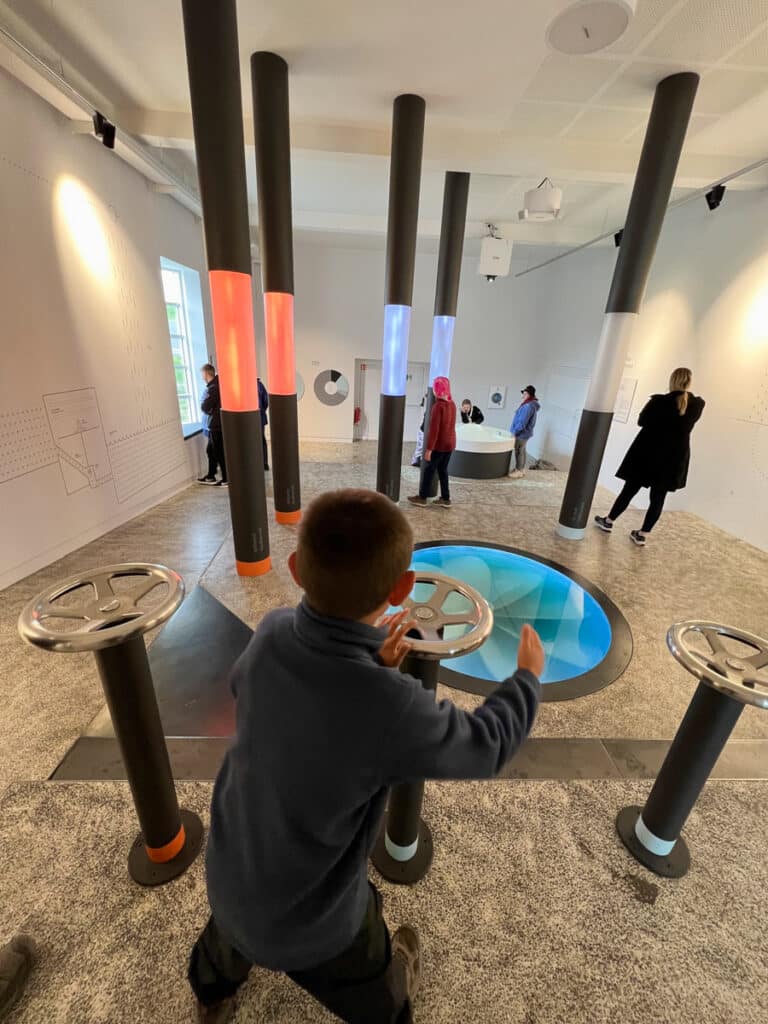 My seven year old totally loved this place. We spent about 30 minutes here exploring all the exhibits.
They also have clean restrooms and a water refill station.
Selfoss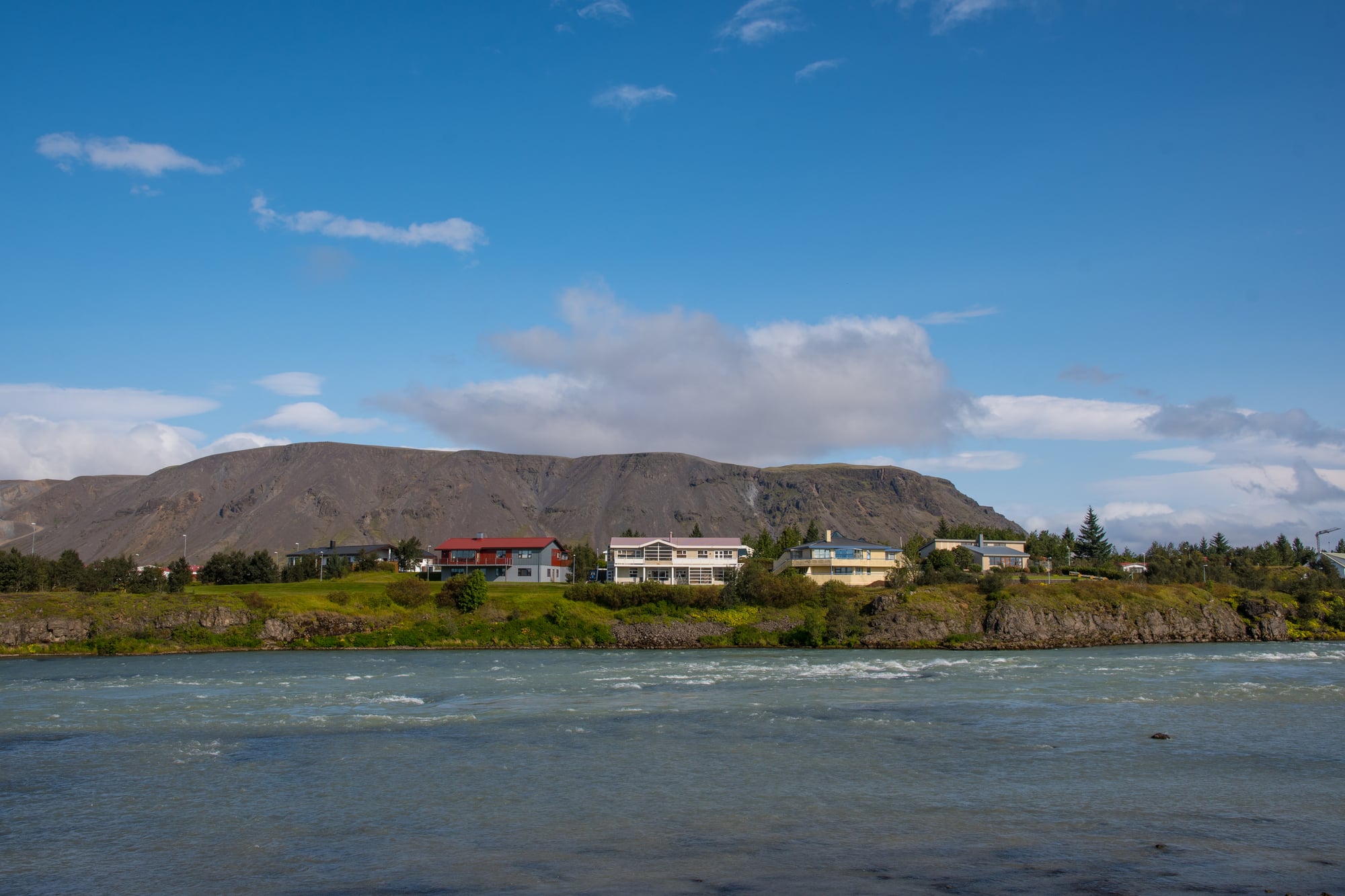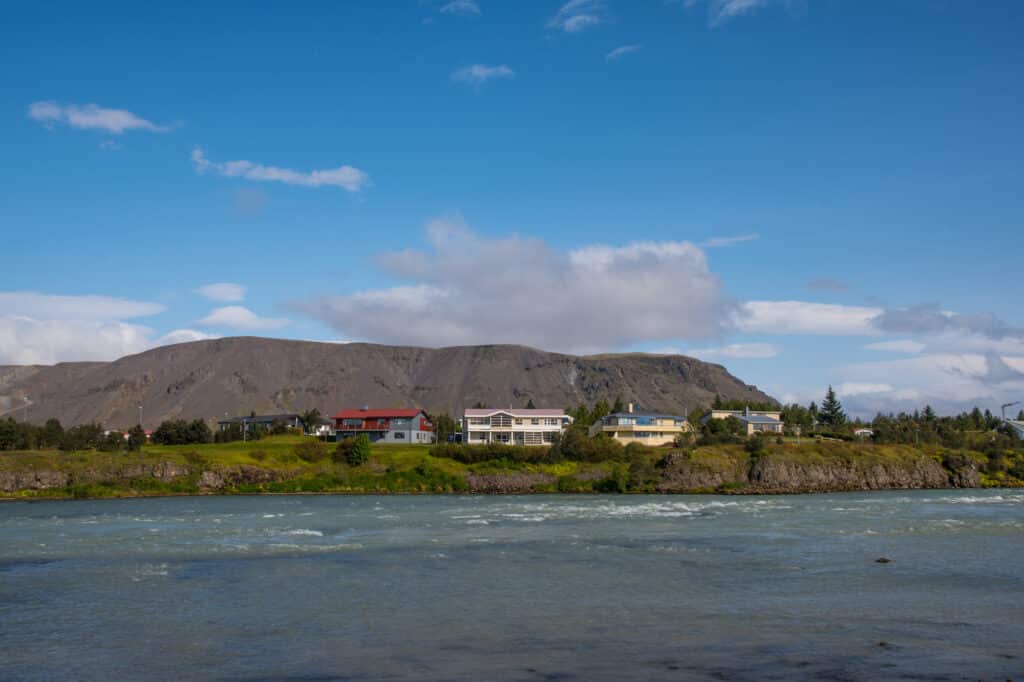 At this point, you'll probably be ready for some lunch. So I recommend heading over to the town of Selfoss to grab a bite. Try The Old Dairy Selfoss, Smidjan Brugghus, or Vefjan Food Truck for lunch.
This is also a good place to fill up on any snacks or water needed for the rest of this Golden Circle road trip. And if you're not hungrey yet, this is a great place to grab lunch fare for a picnic later in the day.
Kerid Crater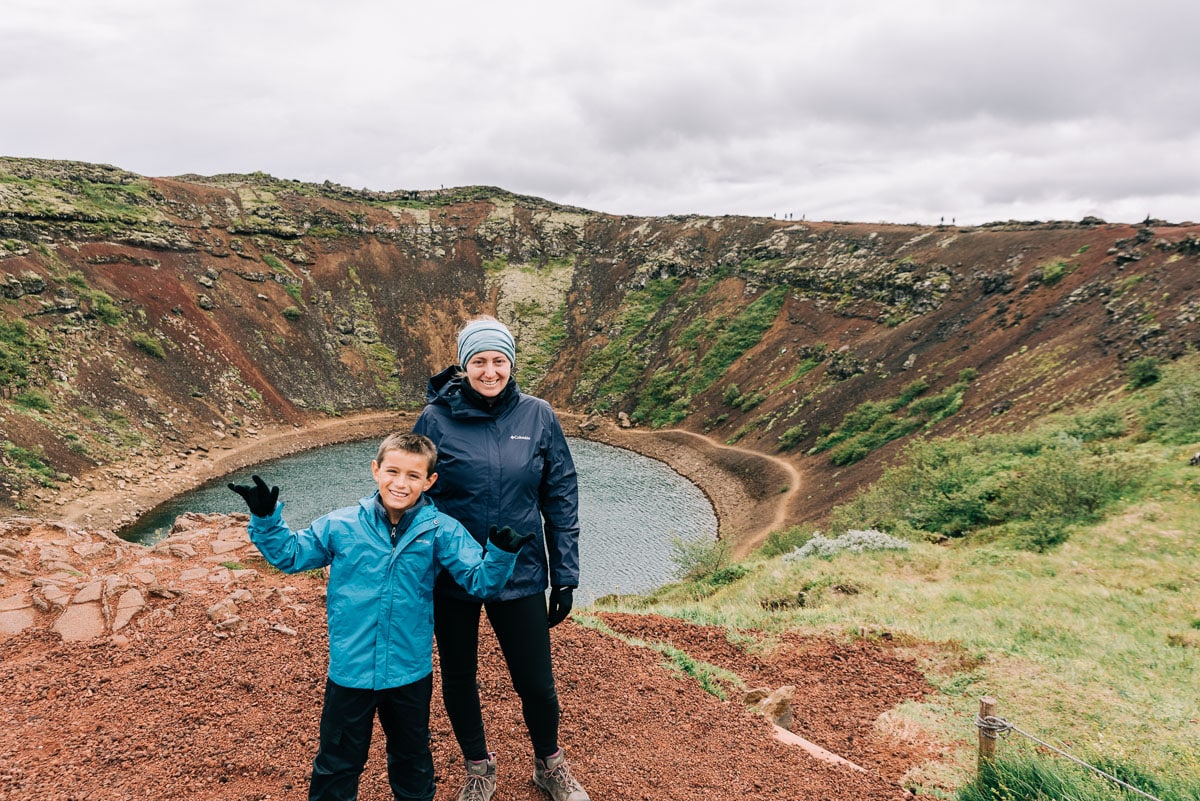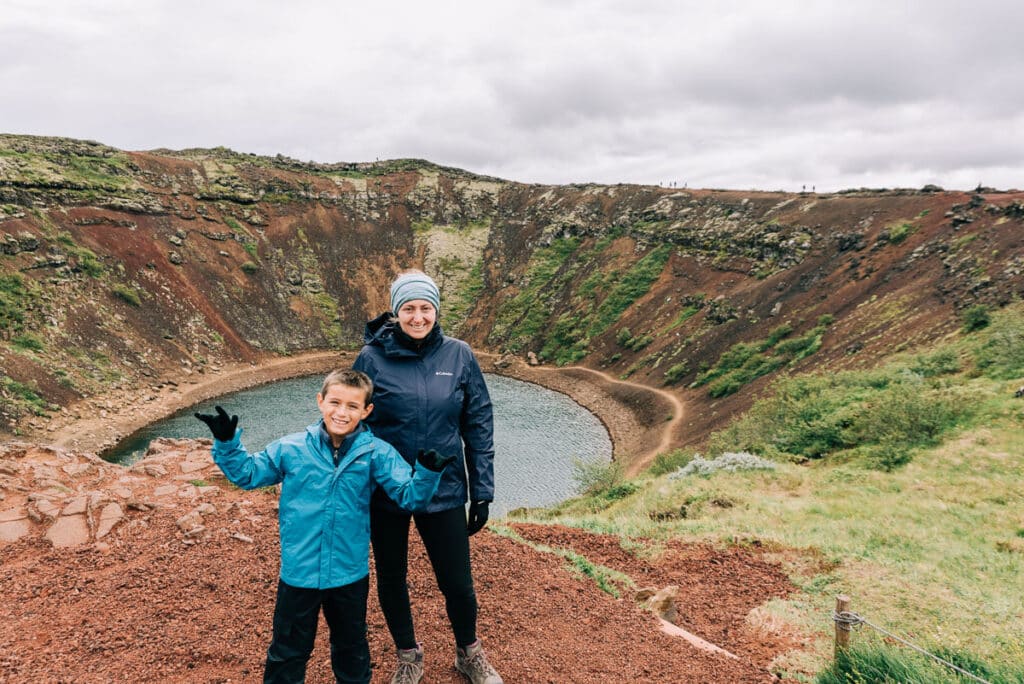 After leaving Selfoss, you'll start heading north on the Golden Circle, and you'll come to Kerid Crater. This small lake is actually formed in the caved in crater of a volcano. Very neat!
This stop can be very short – just walk over the parking lot and take a peek. Or it can be a longer stop if you choose to walk the pathway around the top or bottom of the crater.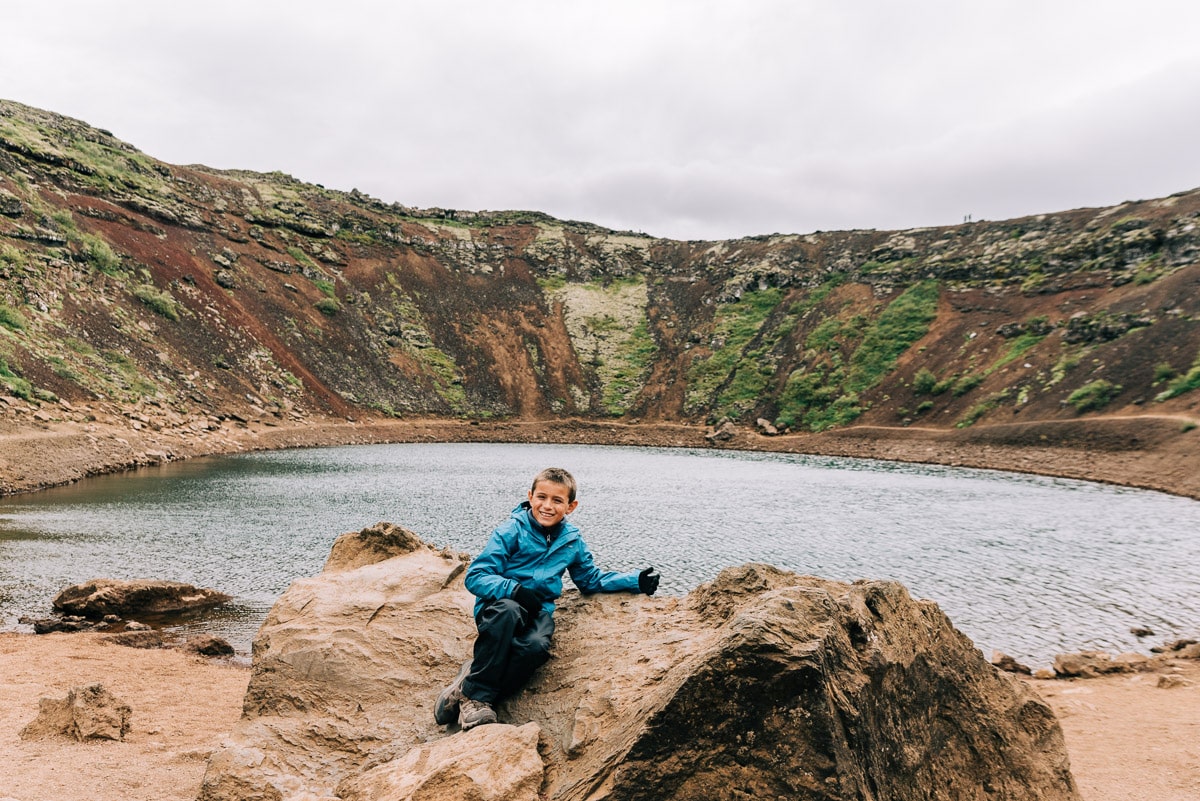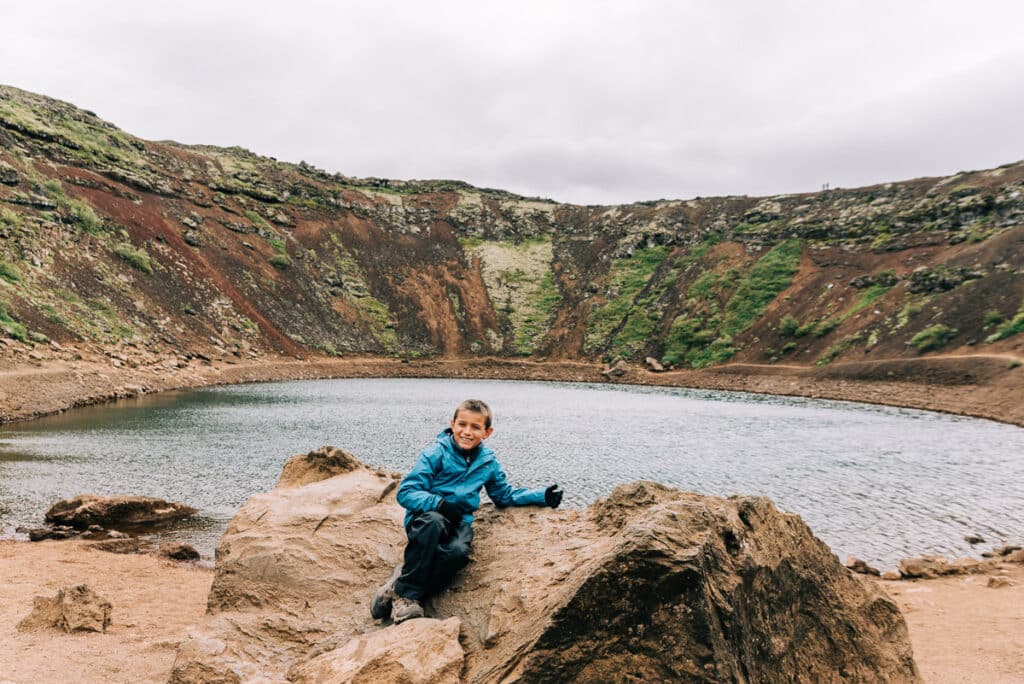 We opted to hike down the short (but somewhat steep) steps to the lake and then walked the pathway around at the bottom. We spent about an hour total here, but really took our time. It can definitely be done in 30 minutes.
Note that there is a small entrance fee for adults at Kerid Crater, and there are no bathroom facilities or shop here.
Bru Horse Farm or Slakki Animal Farm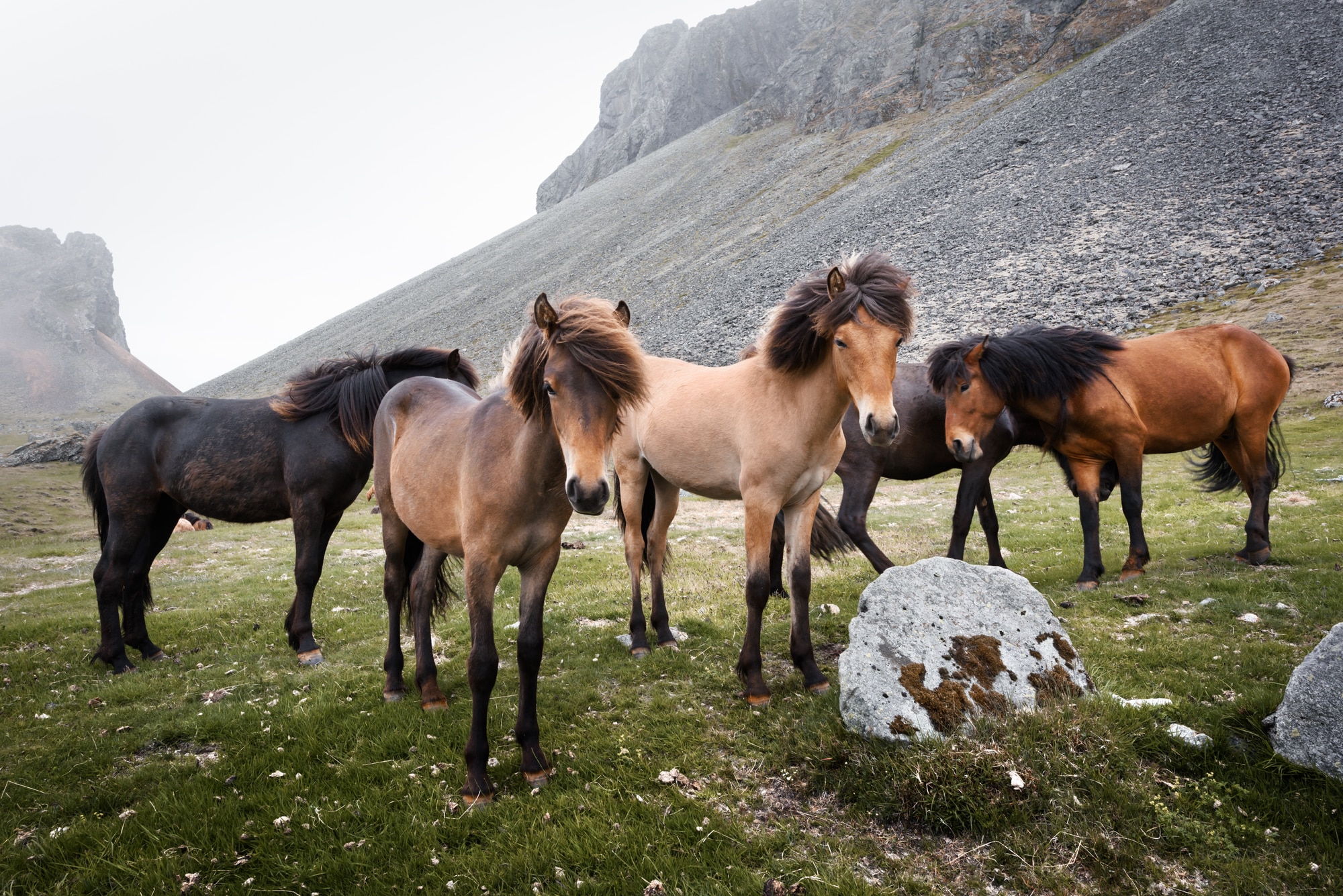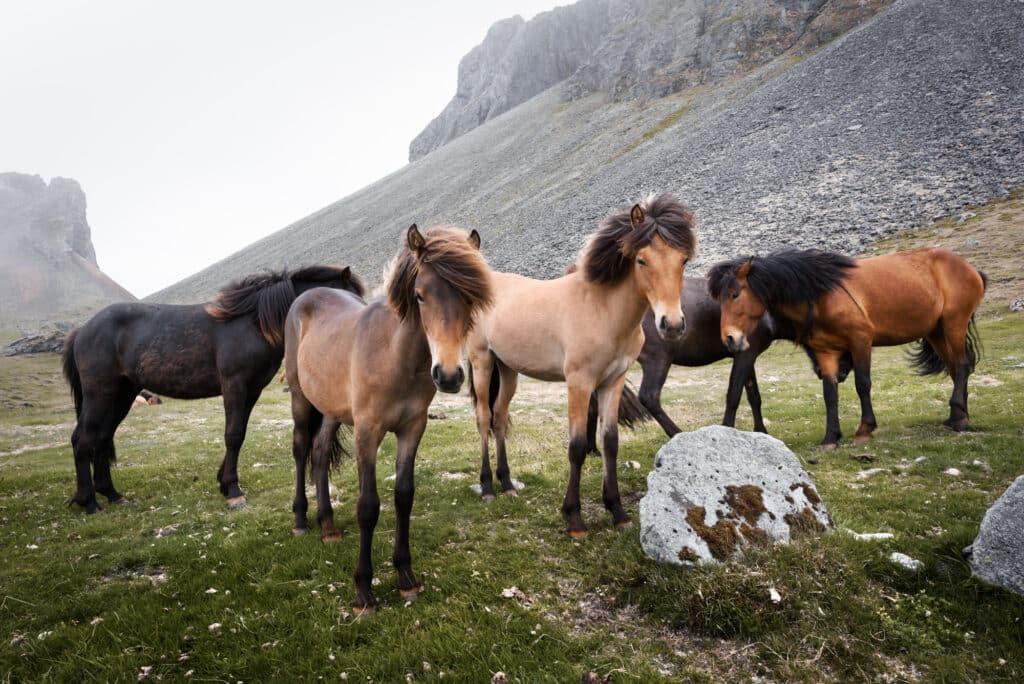 Both of these make for a fun stop for kids, but I would choose just one for the sake of time. At Slakki Animal Farm you'll find a great petting zoo with small animals like pigs, ducks, and rabbits. Plus they have a restaurant on the property and a playground.
Bru Horse Farm is really a working private farm, but the owner has set up a small parking area where visitors are welcome to stop and pet some of the friendly Icelandic horses. There are even some treats you can buy to feed the horses!
Gulfoss Waterfall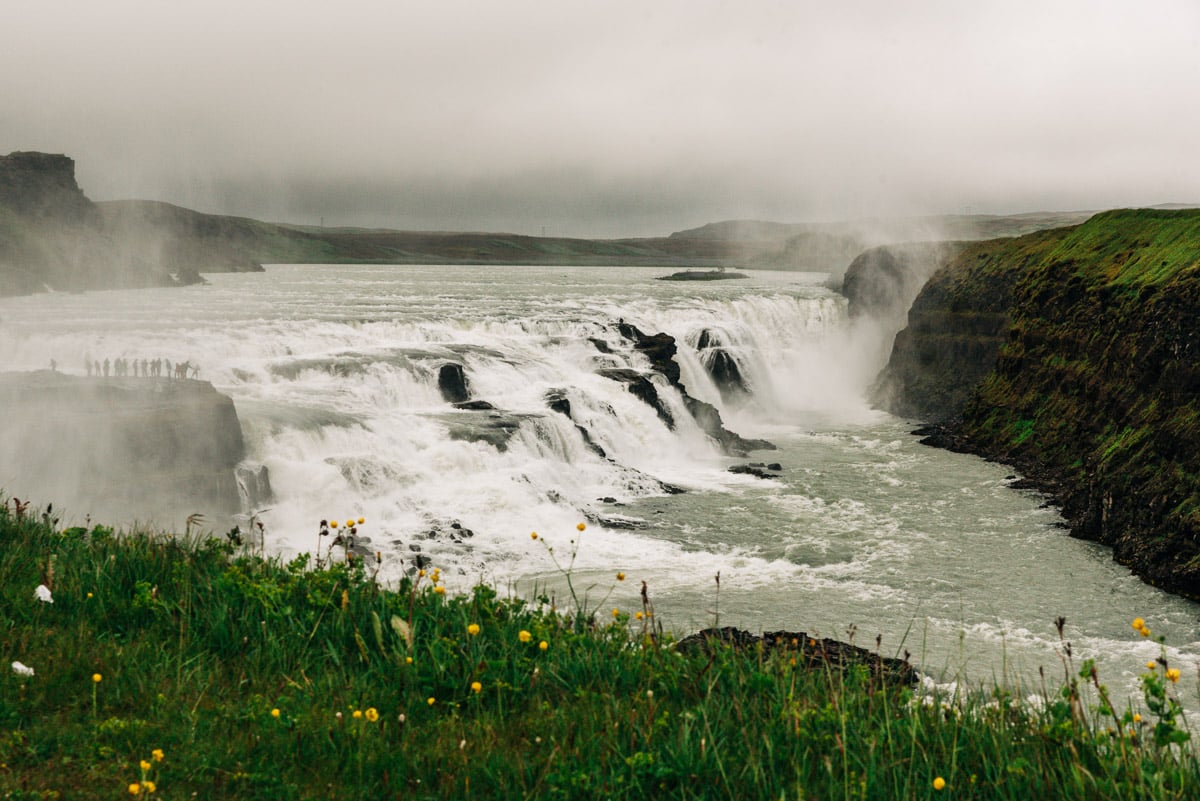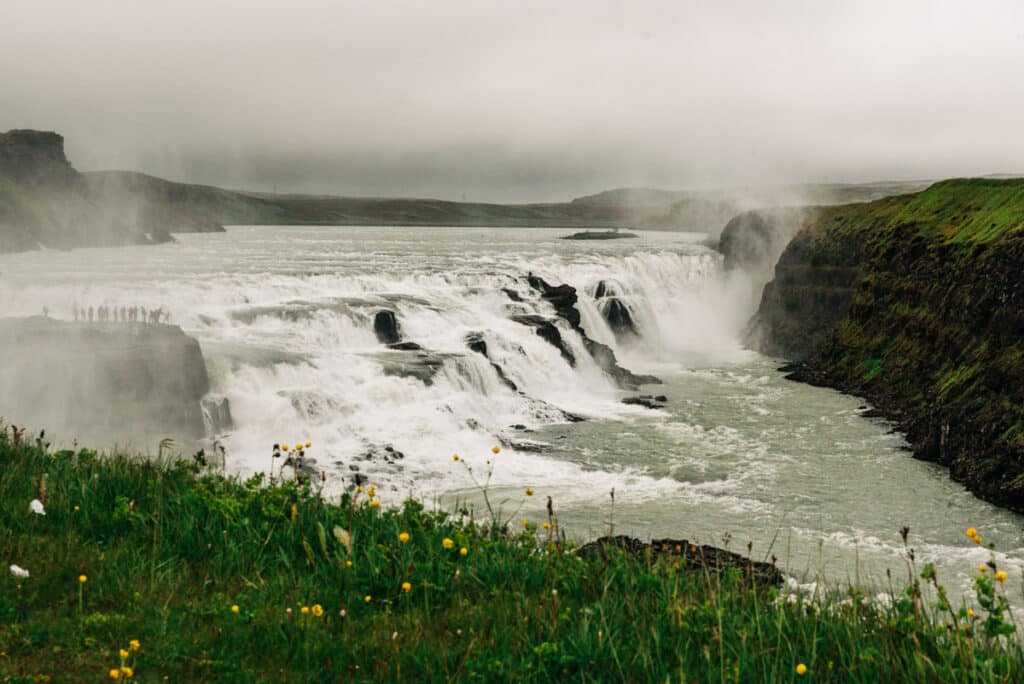 Next you'll head up to the most northeastern corner of the Golden Circle. And prepare to be amazed by one of the largest multi tier waterfalls in the world – Gulfoss Waterfall.
It really is a massive waterfall. And the kids will enjoy getting up close and personal with it on the lower walkway. Just be warned – the closer you get, the wetter you will be!
This stop also has a large visitor center with a big cafeteria, gift shop, and restrooms. We spent about 30 minutes at Gulfoss.
Geysir Hot Springs Area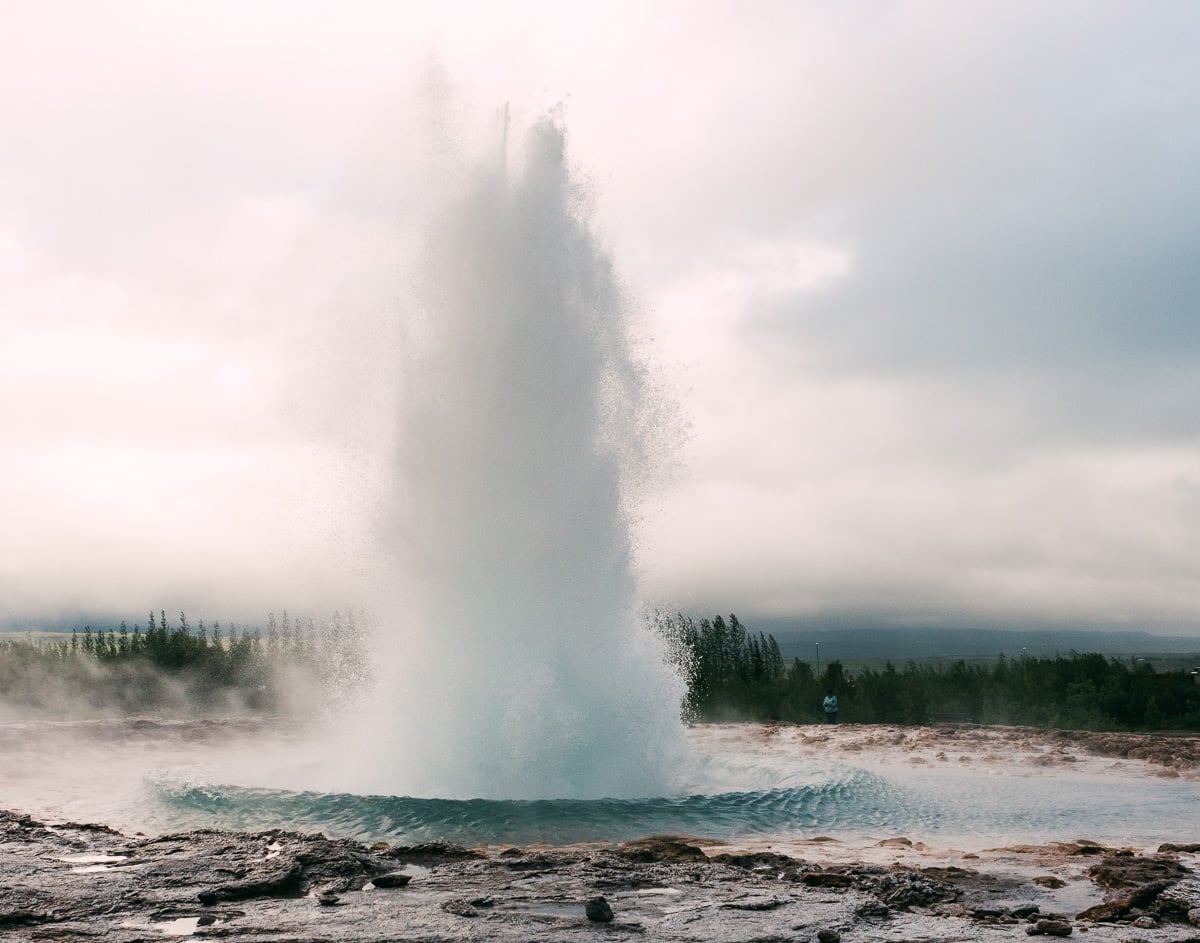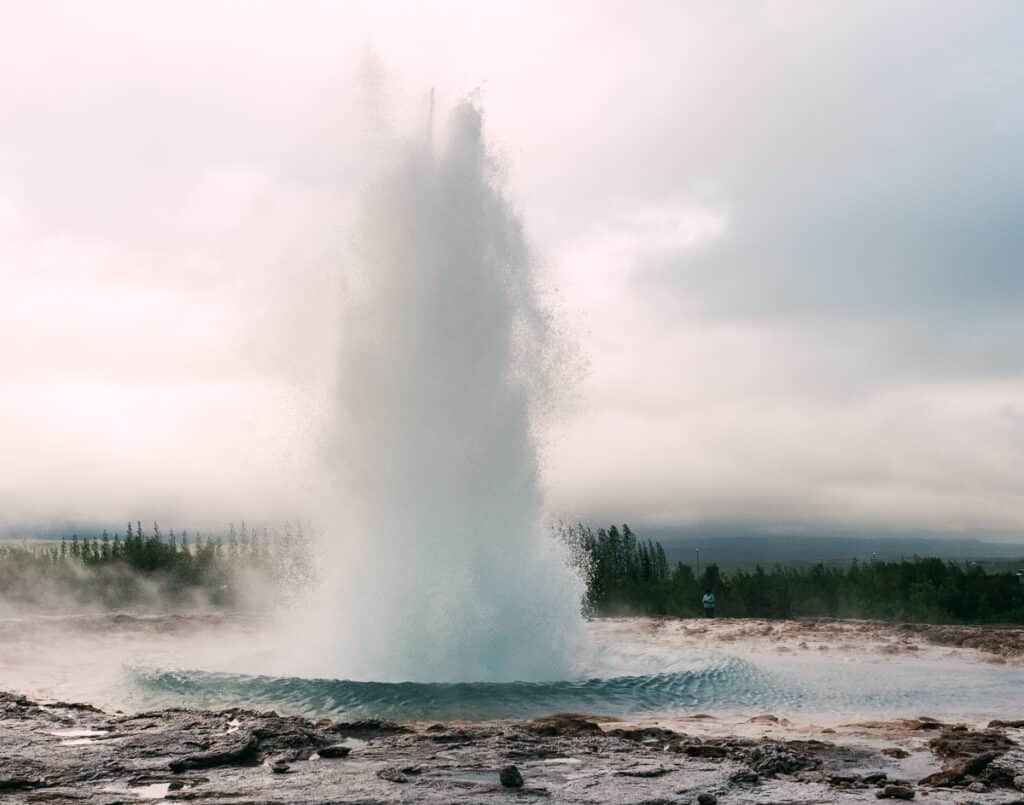 Next, head west again and you'll come to the geysers! We really enjoyed the geothermal area. This can be a short and easy stop if you like, or you can spend more time here.
The short version is to simply walk around the pathway that winds through the geyser area. You'll see the famous Geysir, which is a large but dormant geyser. And the more popular Strokkur, which is currently erupting every few minutes!
It's very fun to sit and watch for a while, trying to countdown until the next eruption.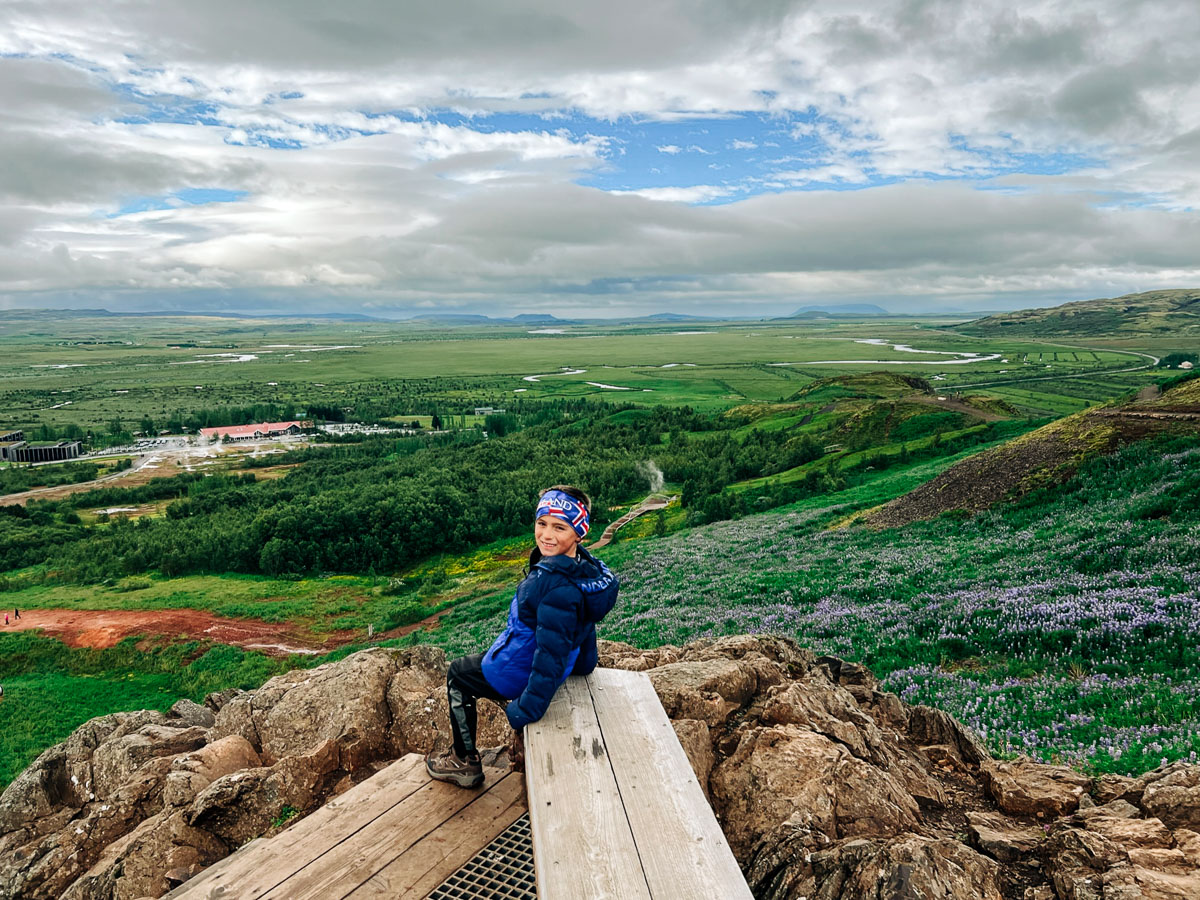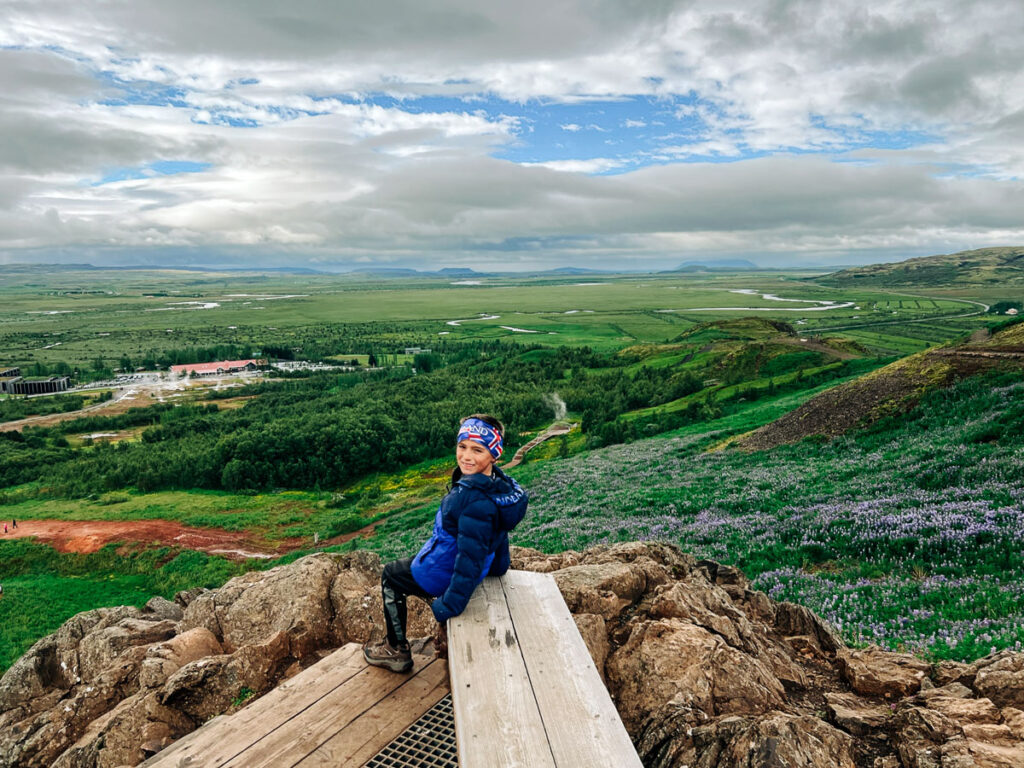 There is also a short hiking trail that leads you up to a viewing platform at the top of the hill (mountain?) above the geysers. The views are beautiful and it's definitely worth the short (but steep) walk.
Efstidalur II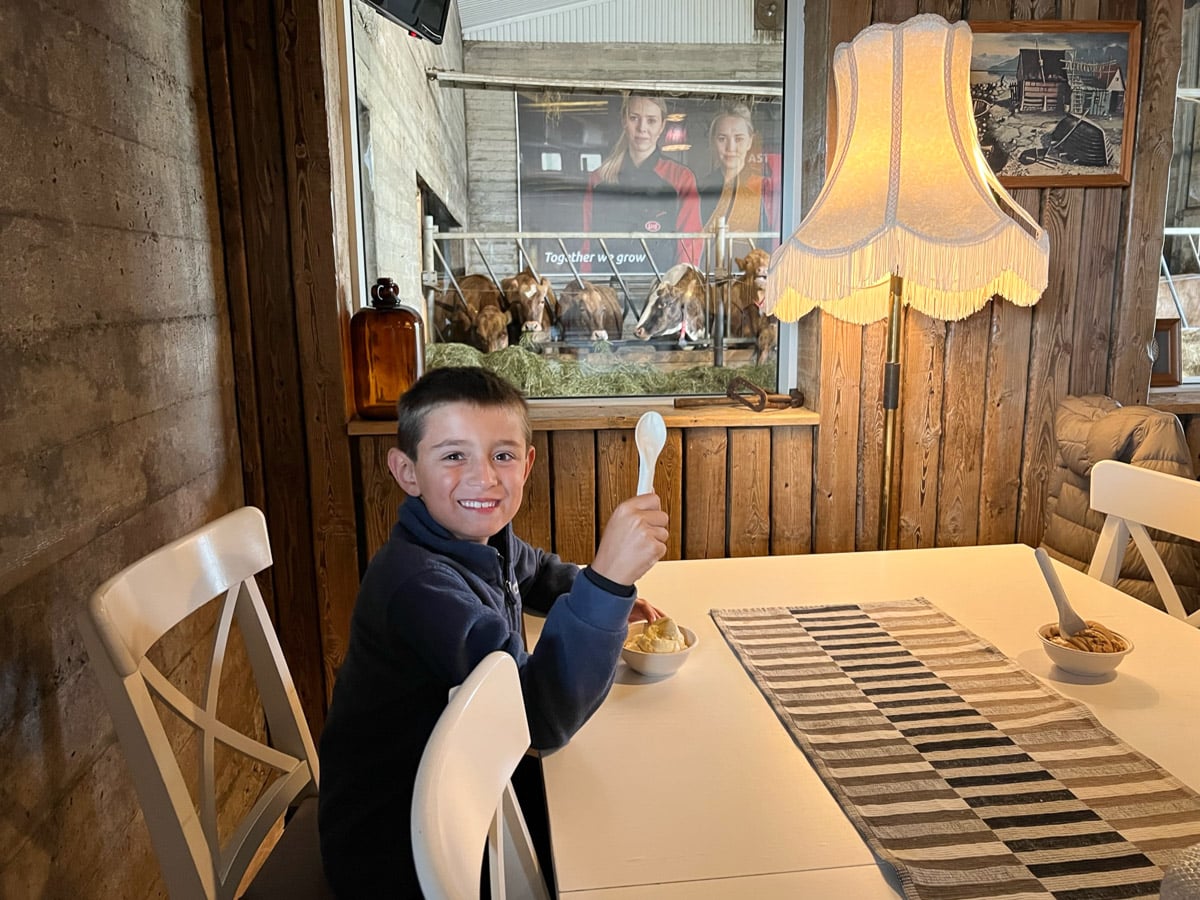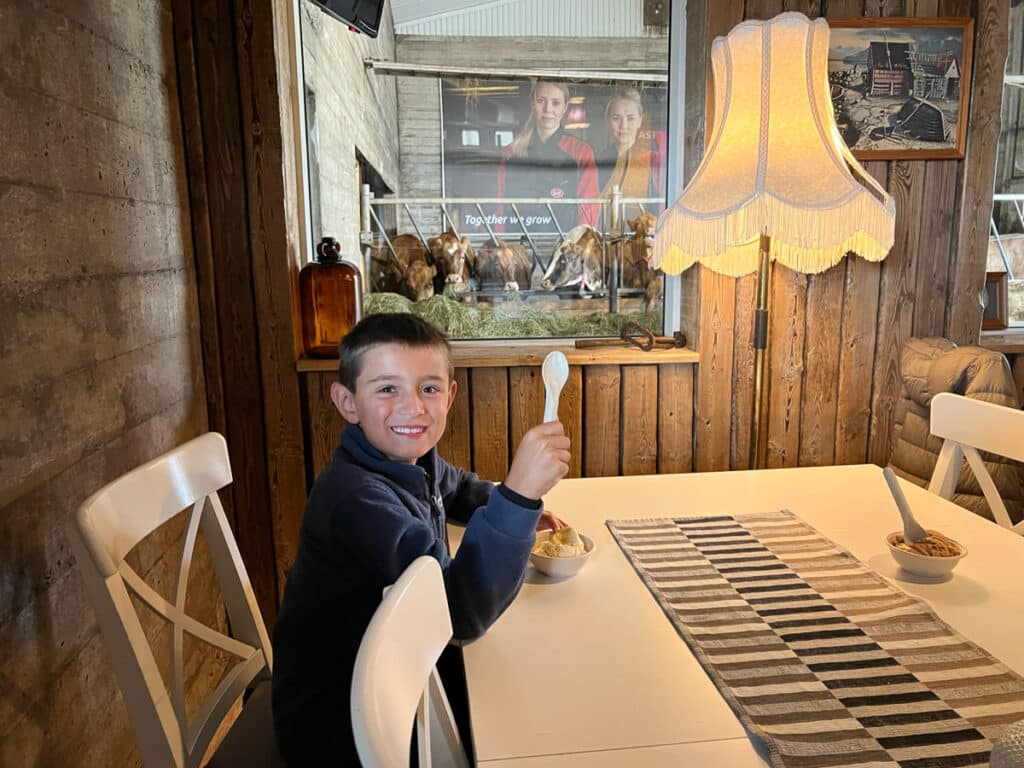 .Next head west to this adorable dairy farm and their famous ice cream barn. You can grab a frozen treat and enjoy watching the dairy cows in the barn as you eat. They also have a great little playground with a jumping pillow for the kids to burn off some energy!
Laugarvatn Fontana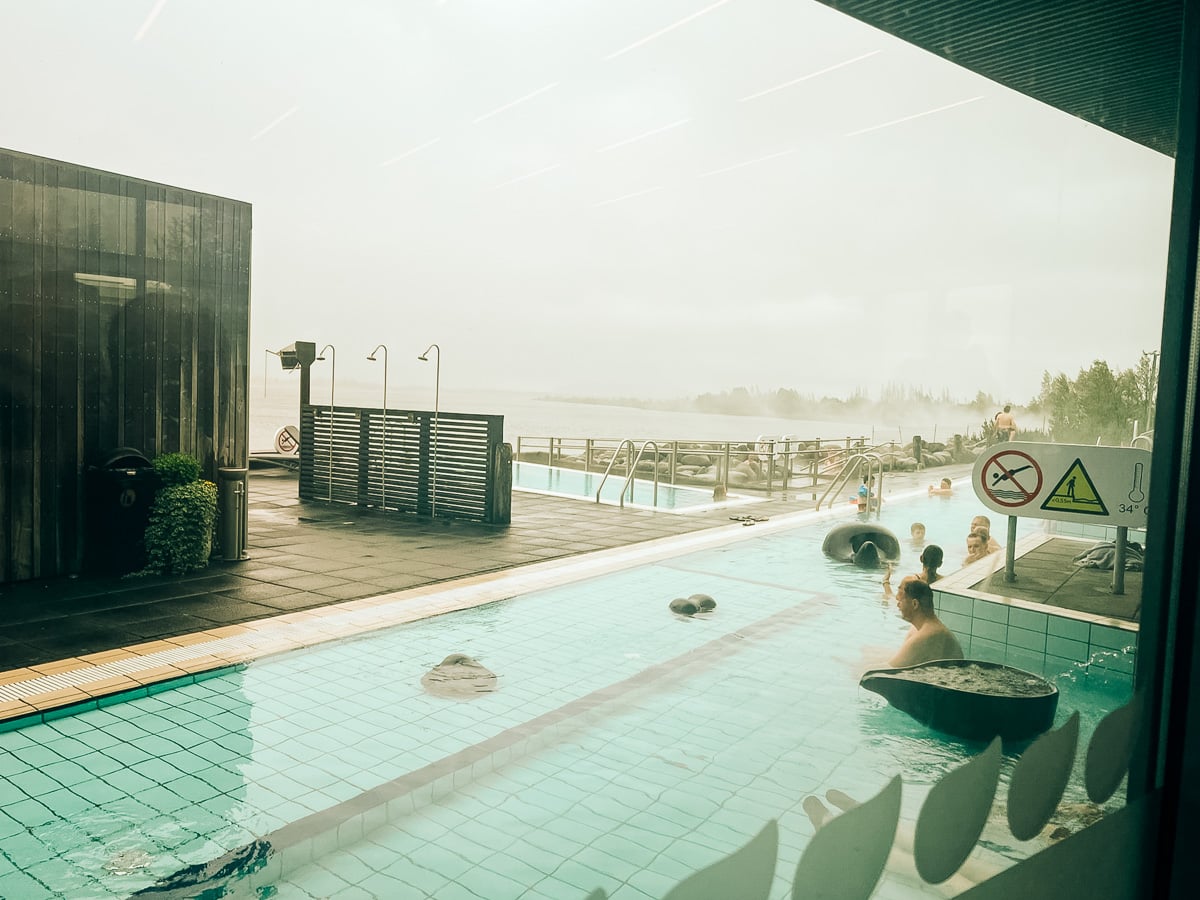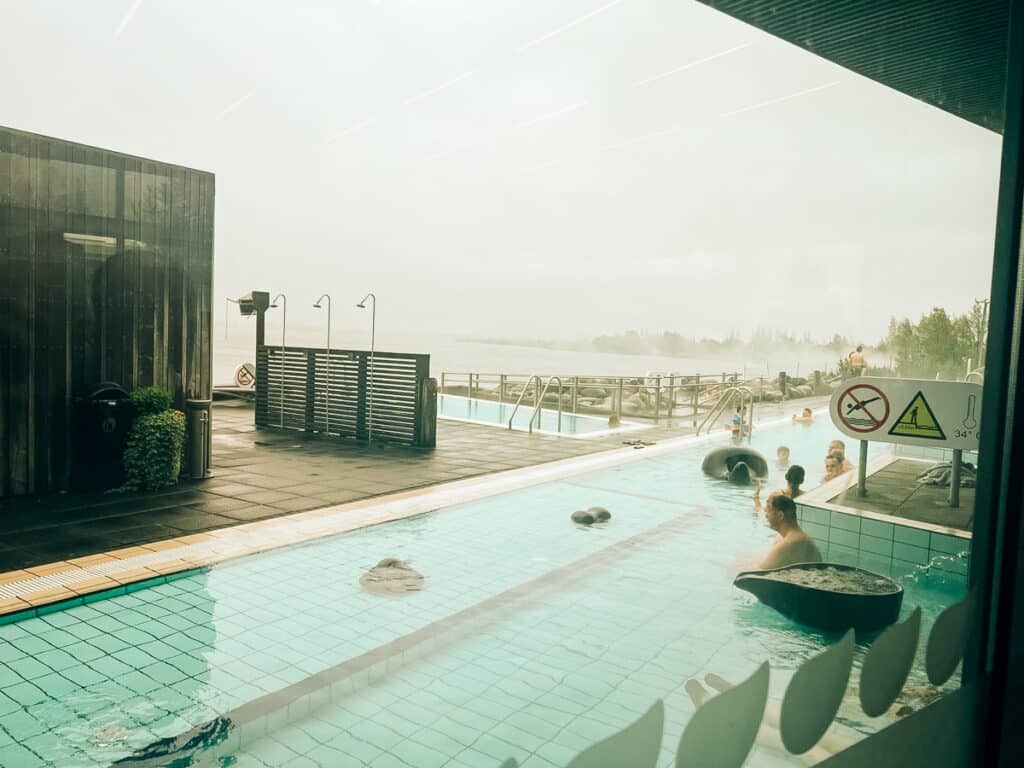 A bit further down the road you'll find this geothermal spa, made famous by the likes of celebrities like Zac Efron. You can opt to spend time here swimming in their geothermal pools – with a beautiful view of the lake and a volcano. But what I really recommend is booking the geothermal bread baking tour.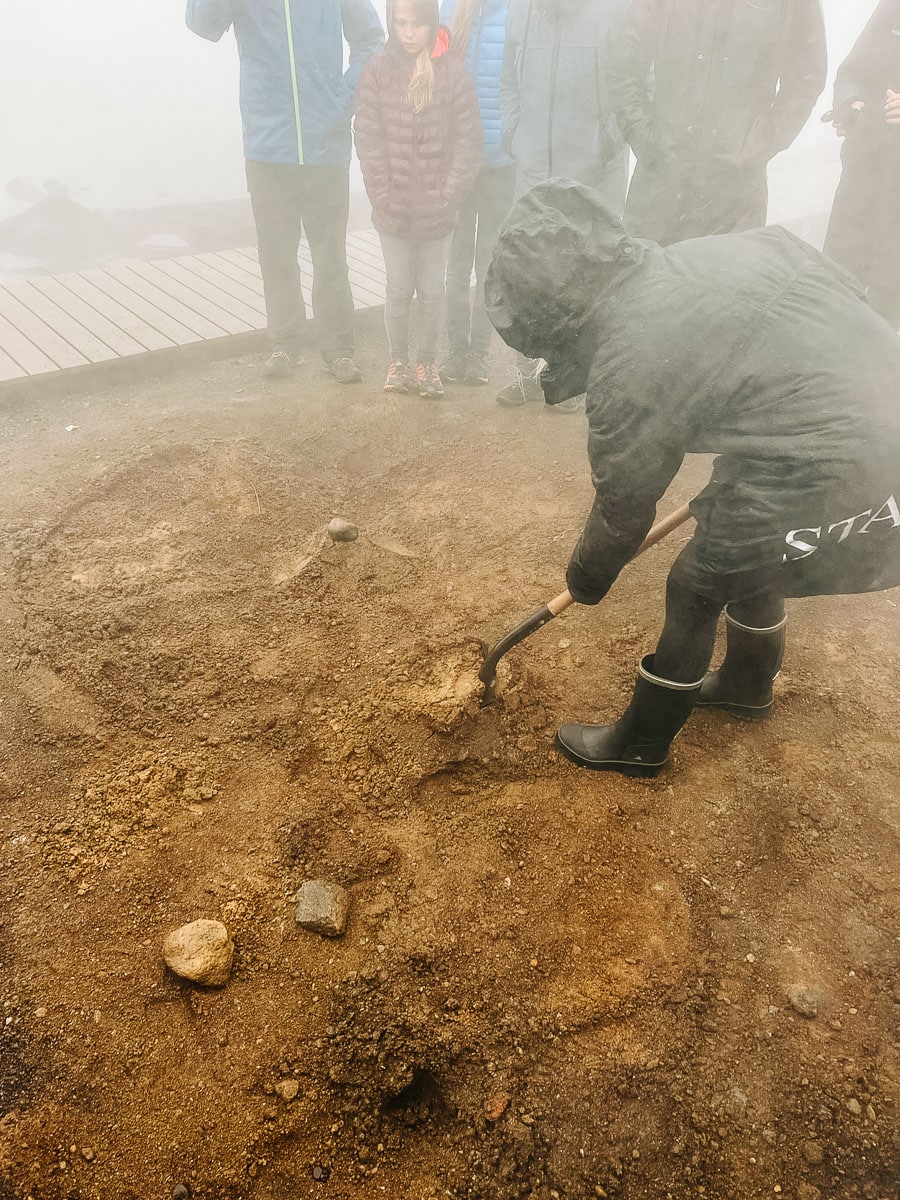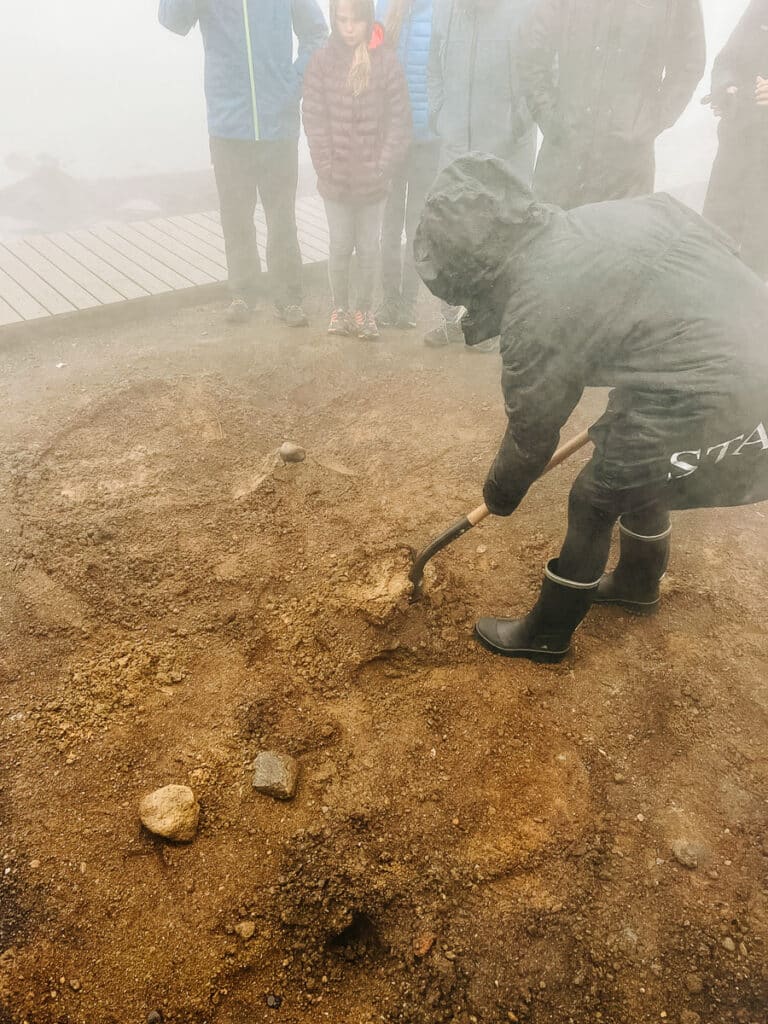 It's a short 30 minute demo where they show you how they bake bread in the ground, using the geothermal heat. Yes, the ground is that hot! It's a fun little demonstration and everyone gets to enjoy the rye bread afterwards.
You can check availability and book tickets for the bread baking tour here.
Thingvellir National Park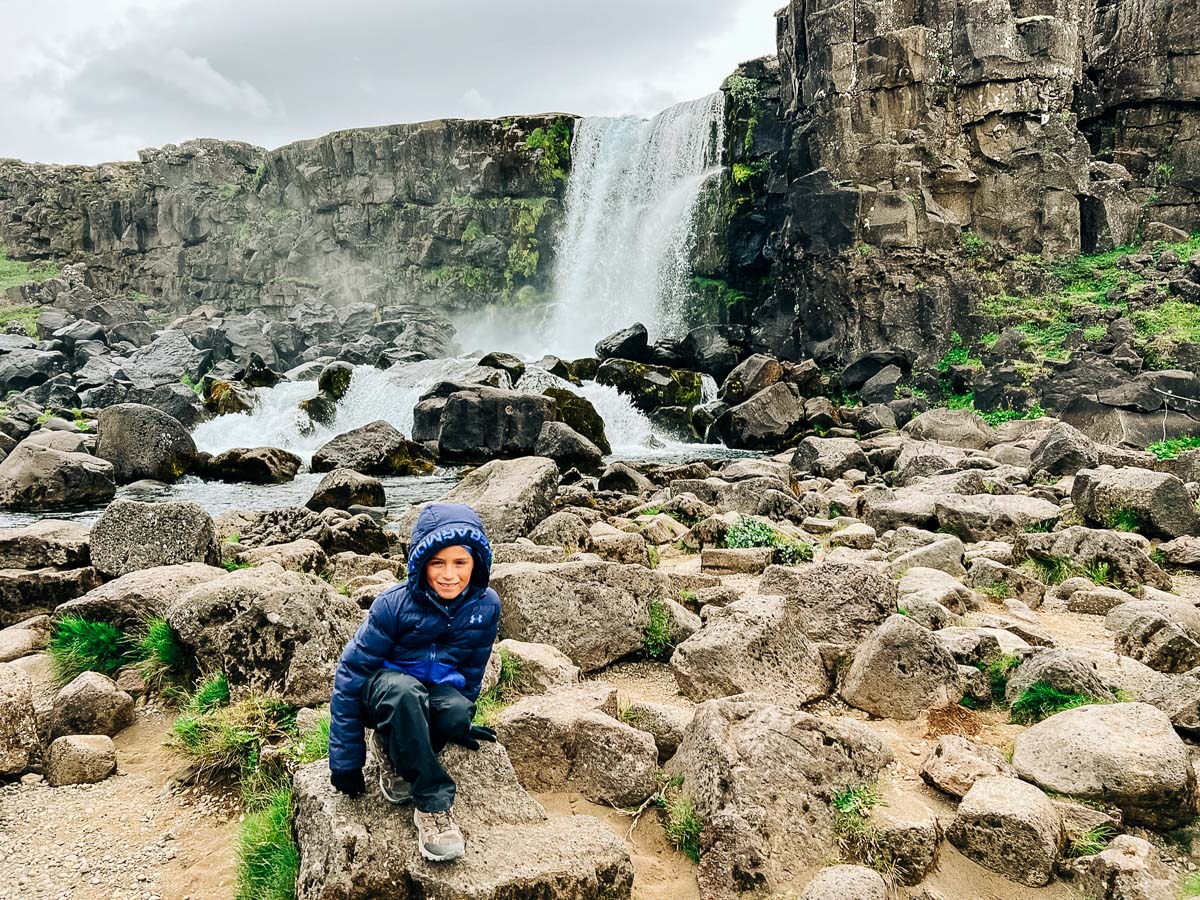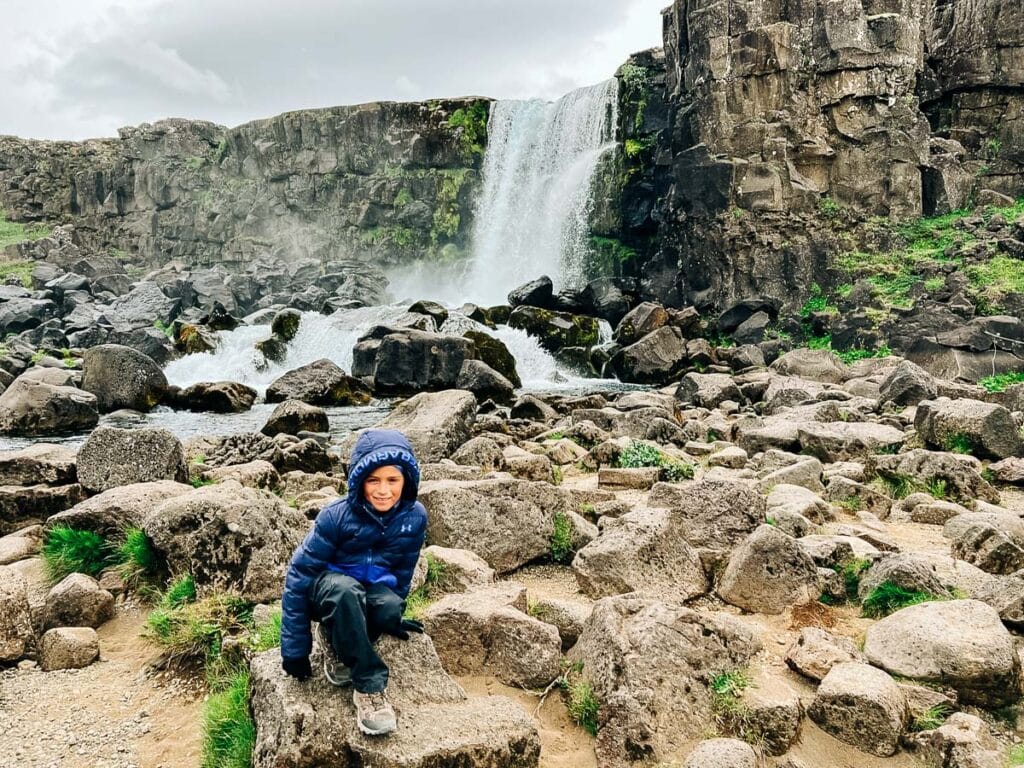 The popular Thingvellir National Park has beautiful scenery and an easy hiking path that ends at Oxarfoss Waterfall. Now I recommended making this the final stop of the day because it was one of the less interesting stops on the Golden Circle for my family. Putting it at the end means you can spend as much or as little time as you like there, without impacting your itinerary for the rest of the day.
This is also the place where you can snorkel the famous Silfra fissure – but kids will need to be at least 12 years old for that!
More Golden Circle Options:
If you find yourself with more time in your Golden Circle itinerary, here are a few more sights that could be fun to explore with kids. I wouldn't consider any of these to be "must do" stops, but they are great additions if you choose to spend the night out in the Golden Circle and visit the area at a slower pace.
Fridheimer Tomato Farm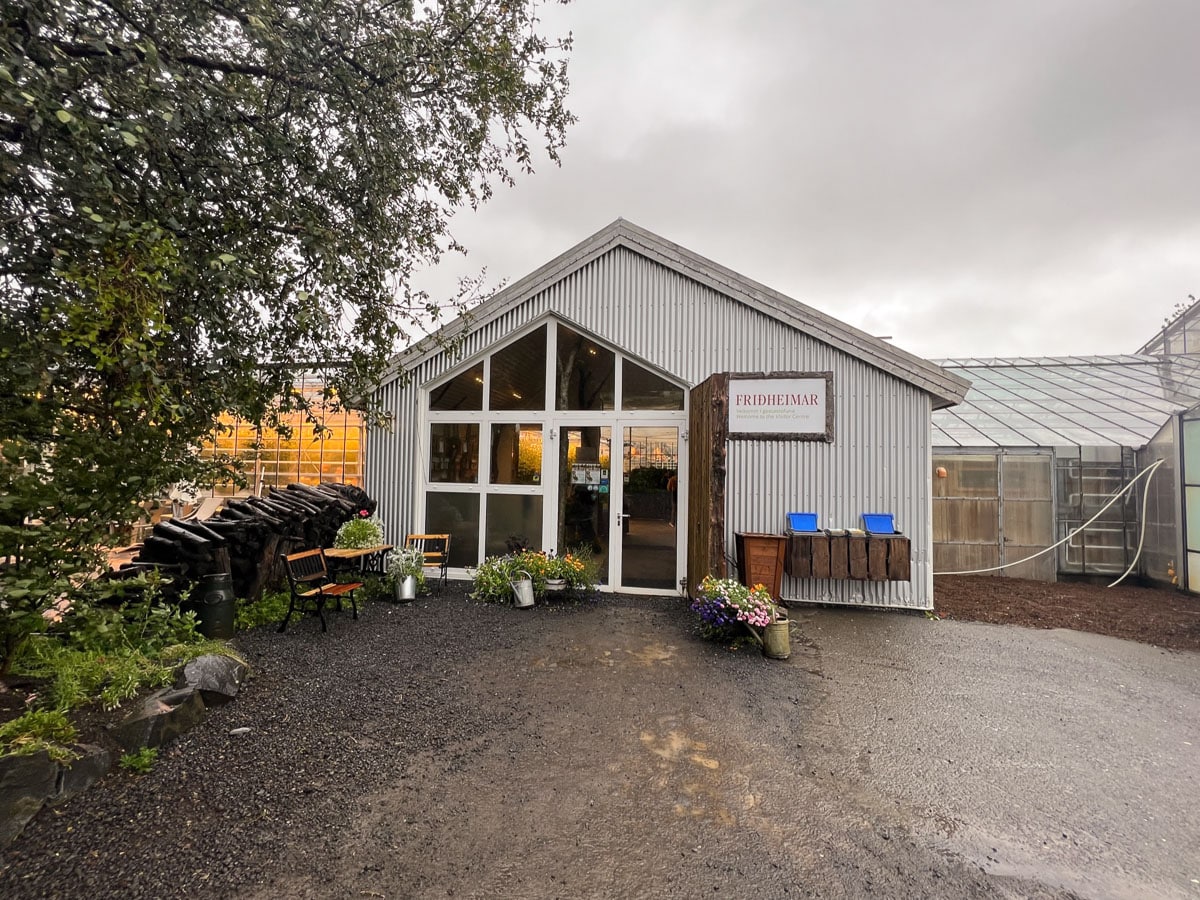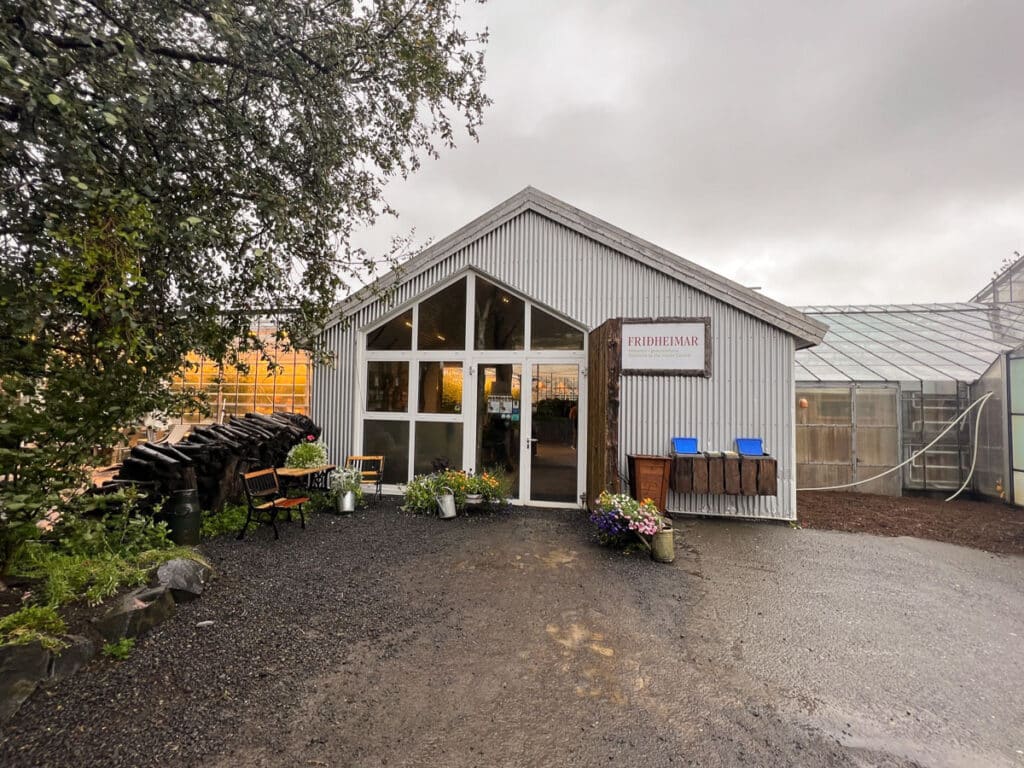 An alternative to lunch in Selfoss is stopping at this unique tomato farm and restaurant. They grow 40% of the tomatoes in Iceland in their greenhouses here, and every dish on the menu features tomatoes! I put this as optional because my own kid was not super impressed by this. But it was fun for mom and dad!
You'll definitely want to make a reservation on their website, as they book full most days in the summer months.
Reykjadalur Hike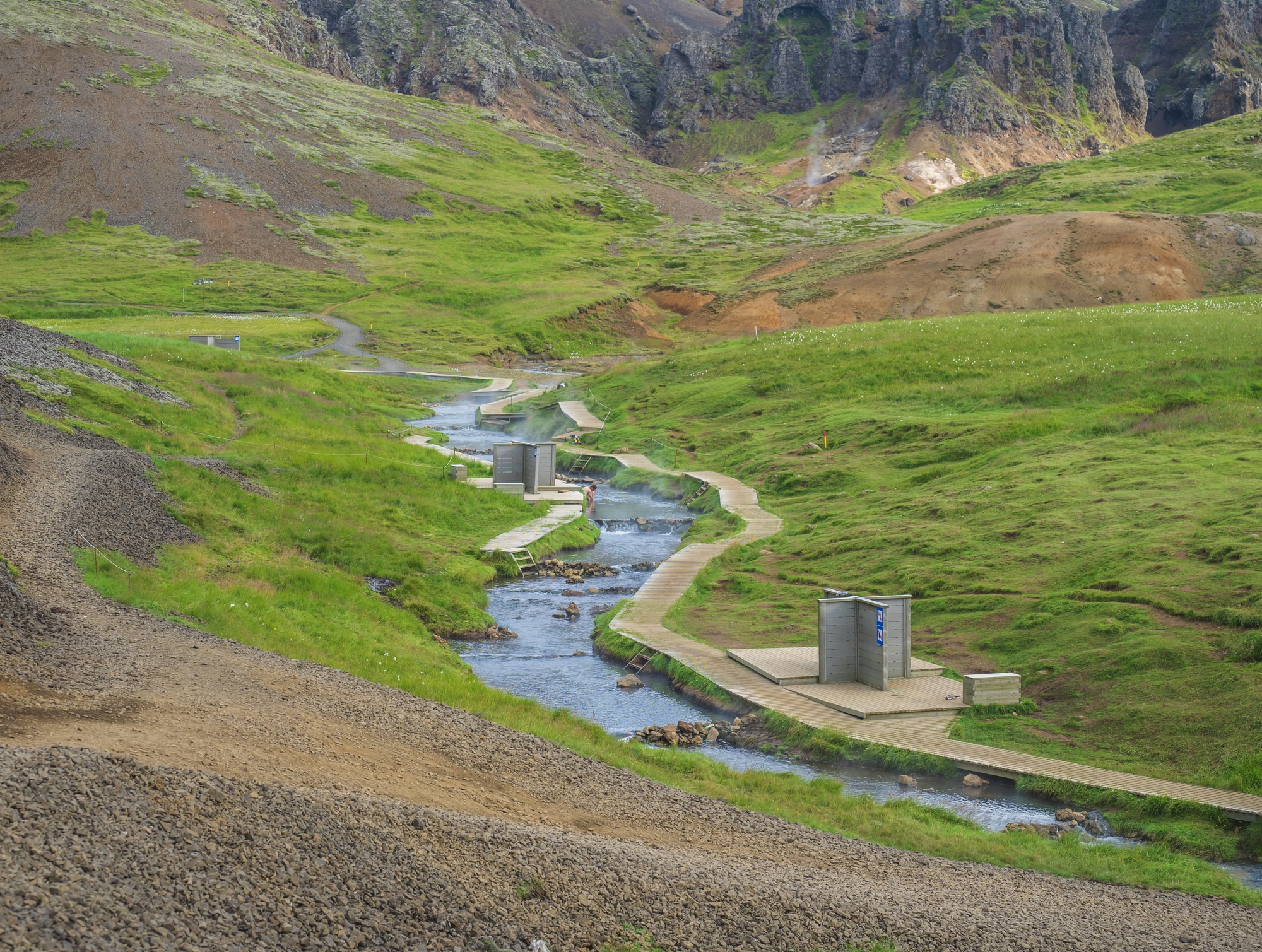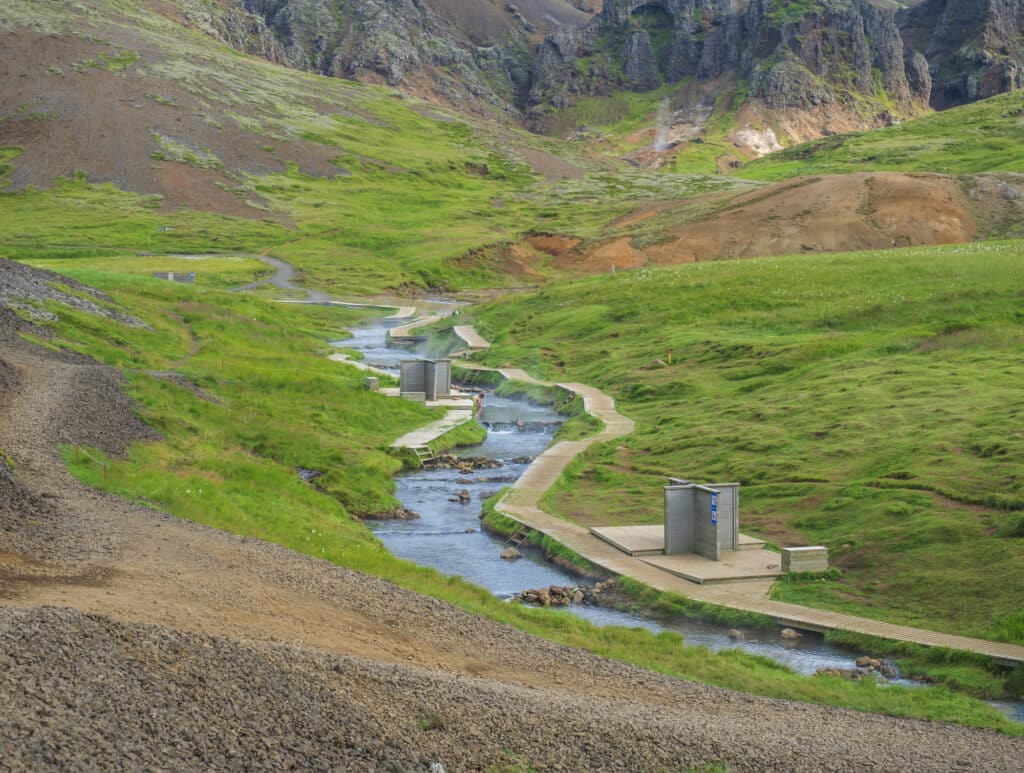 If you're family is into hiking, the adventurous Reykjadalur Hot Springs Hike is a really cool option to add to your Golden Circle trip. This five mile round trip hike takes you down to a warm geothermal river where you can hop in for a soak!
Go early in the day to beat the crowds and plan on a good 3-4 hours to complete the hike and have some time to soak in the water. Note that there won't be any restrooms or changing facilities.
This one is only recommended for older kids (or ones little enough to ride in a carrier) due to the length – and there are some steep areas too.
Swim at the Secret Lagoon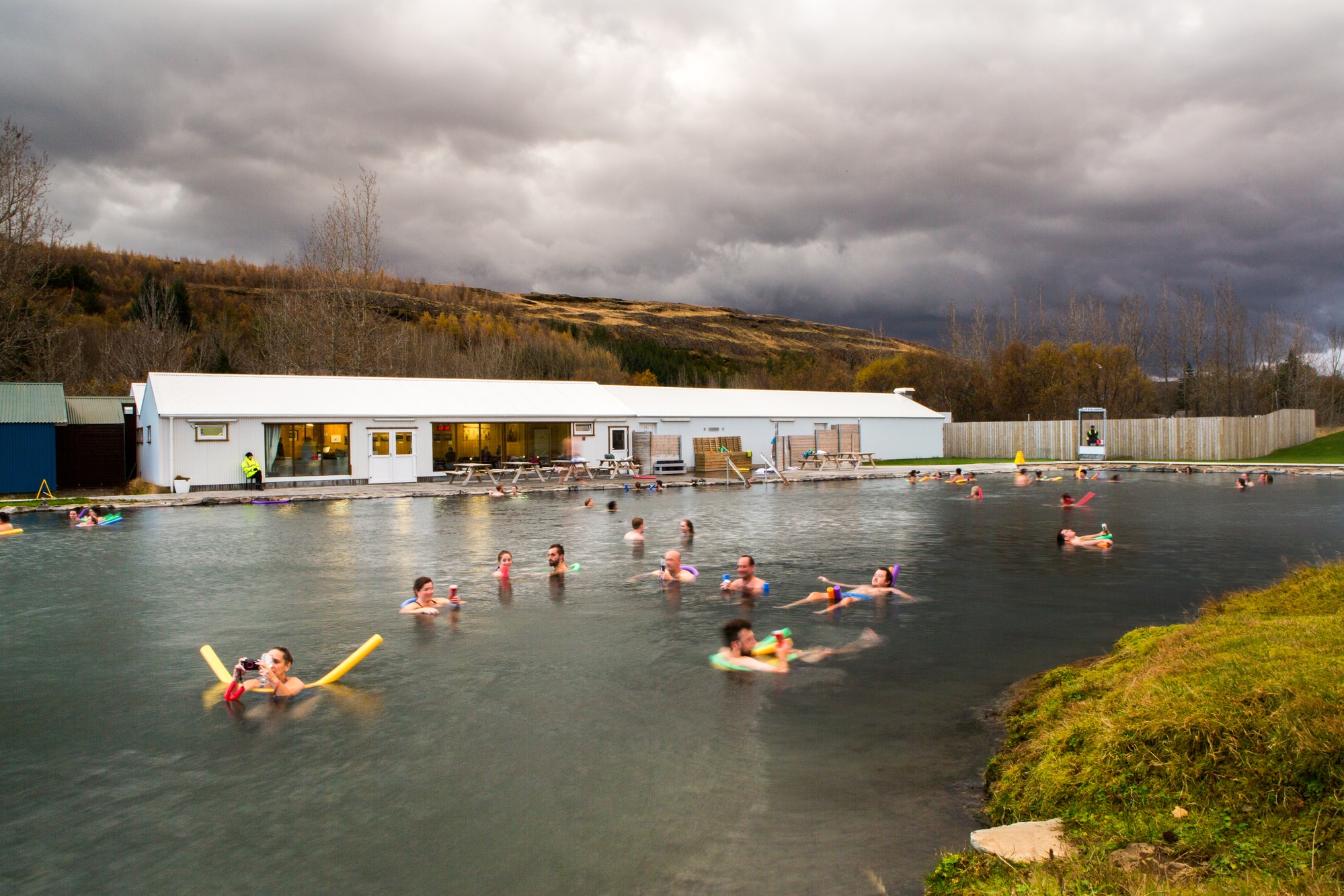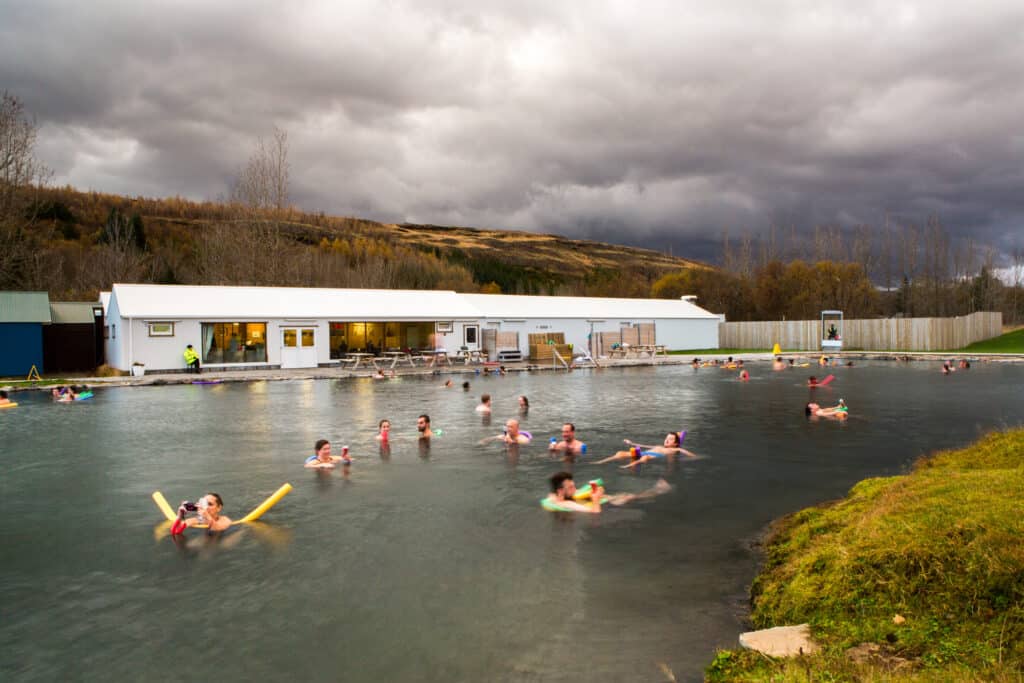 If the idea of swimming in a geothermal hot spring sounds amazing, but without all the hiking, go check out Secret Lagoon. This laid back pool is fed by a natural hot spring, and is a great way to visit one of Iceland's famous geothermal pools without the price tag of the famous Blue Lagoon.
You can check availability and book your entry tickets here.
Staying Overnight in the Golden Circle
As I mentioned earlier, if you prefer sightseeing at a more leisurely pace, you may want to consider breaking up the Golden Circle into two days and spending the night there. This is what we did on our family vacation to Iceland.
Depending on the sites you plan to visit, you can opt to stay on the north or south side of the Golden Circle. On the north side, I strongly recommend staying at the lovely Hotel Geysir – they have beautiful rooms, a great restaurant, and you can walk across the street to visit the Geysir Hot Springs. (Check rates and availability for Hotel Geysir here.)
On the south side, I recommend staying in or near Selfoss. Hotel South Coast is a good choice, as is the Frost & Fire Boutique Hotel in nearby Hveragerði.
More Iceland Trip Planning Resources
If you're planning the ultimate trip to Iceland, be sure to check out these other helpful articles: