Thinking of staying at the El Tovar Hotel inside Grand Canyon National Park? Here are all the details you need to decide if this famous lodge is the right home base for your Grand Canyon adventure.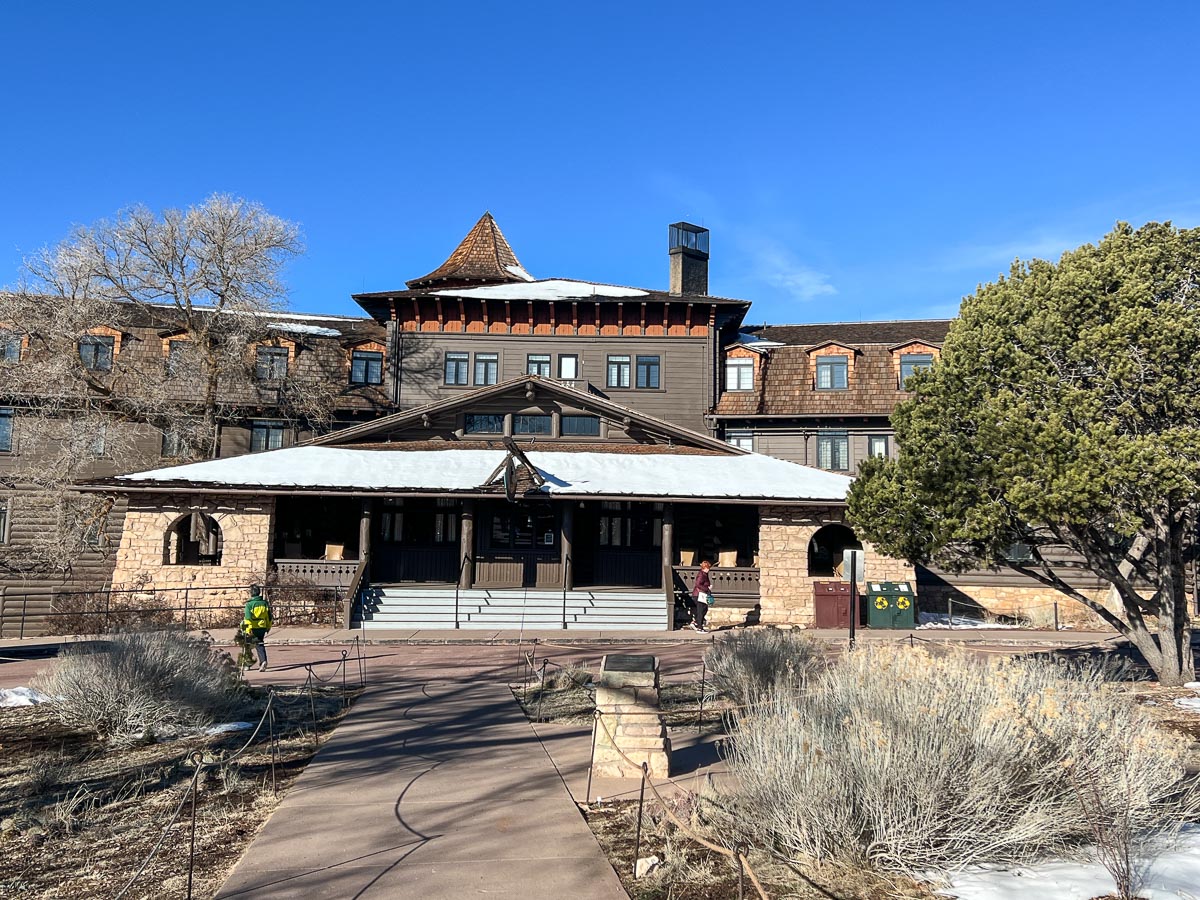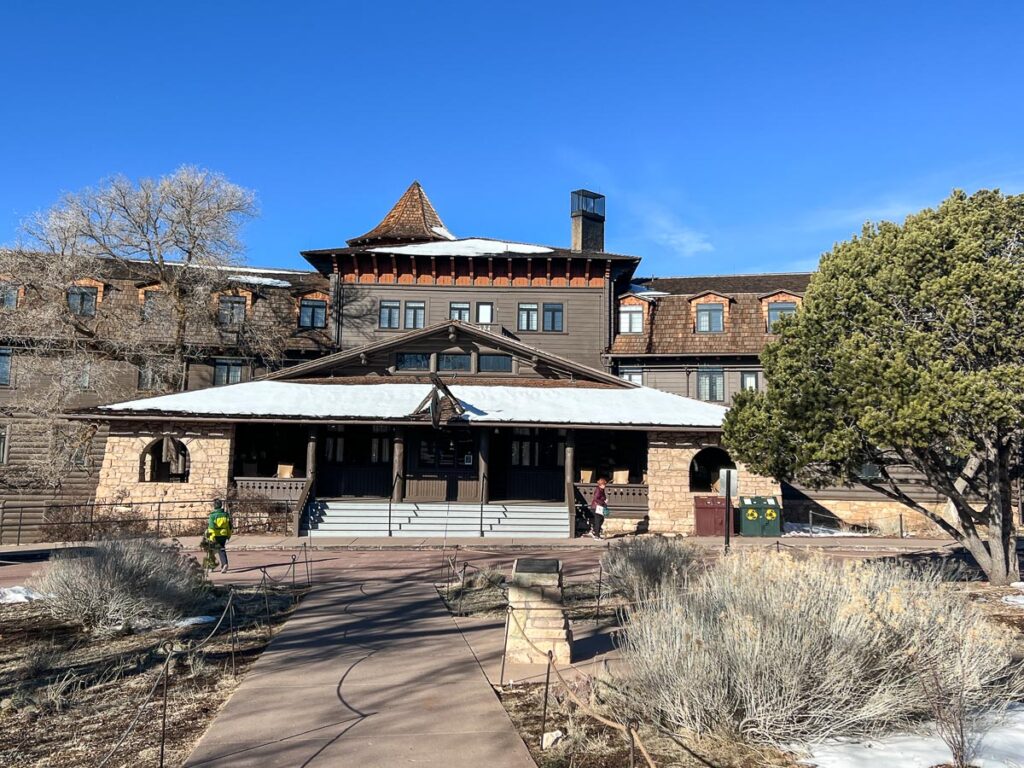 If you've done any research on the best places to stay in the Grand Canyon, you've likely come across El Tovar Hotel. It is long considered the most premium option inside the Grand Canyon National Park. And there are a lot of good reasons for that! The hotel is dripping in historical charm and has a truly magical location perched right at the canyon's rim. That's pretty hard to beat.
But it's also important to understand that you are still getting a hotel inside a US national park. It's run by Xanterra, and like most of their properties, it's not going to be a five star experience. That's okay, you're there for the canyon after all, but it's good to know what to expect.
So without further ado – here are all the details on our experience staying as a family of three at El Tovar Hotel.
Who are we?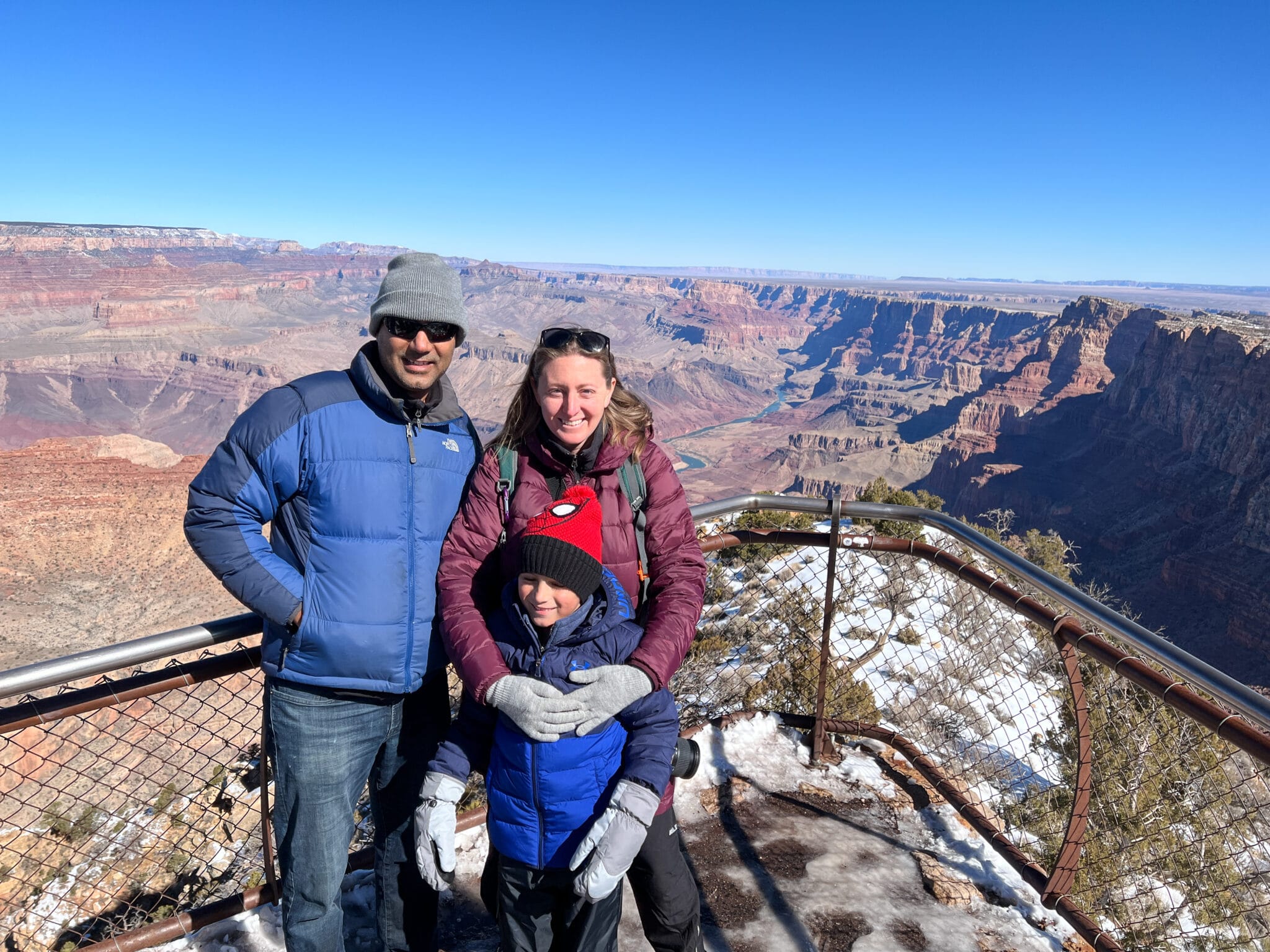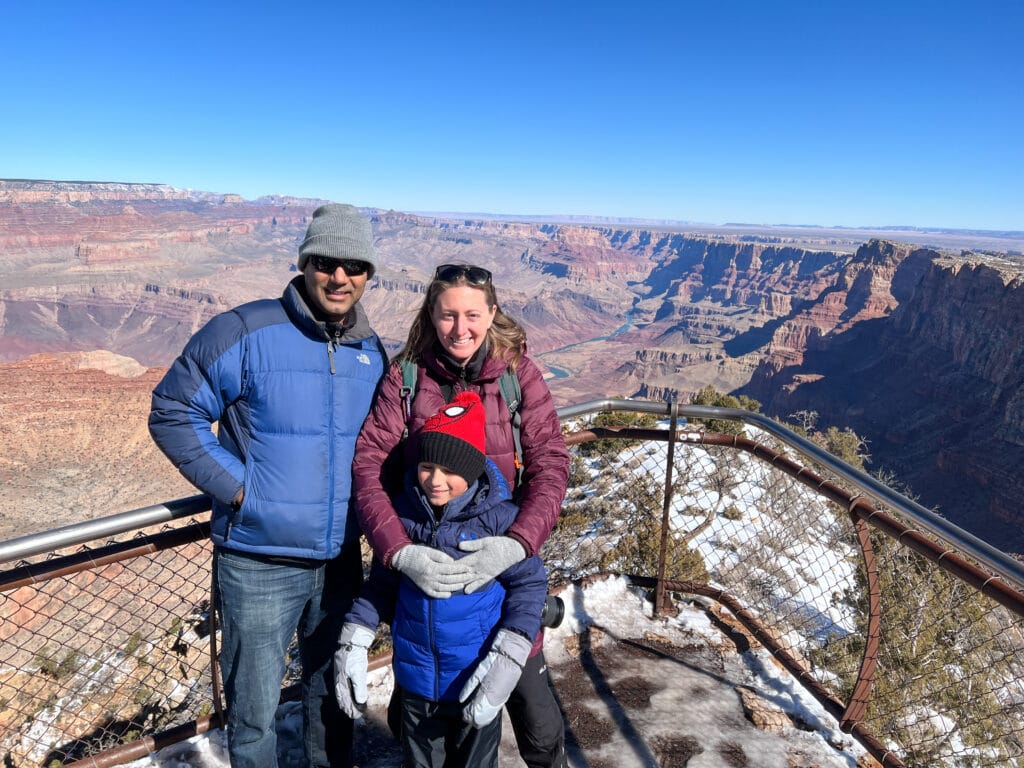 Ok, whenever I read a hotel review, I find it helpful to know who exactly wrote it. I don't necessarily mean the person's name. But what kind of traveller are they? Because a review from a retired couple or a single twenty-something may not be the most helpful for a parent like me who is planning a family vacation.
So for your reference… we are a family of three with a seven year old child. We are fairly adventurous , or at least as adventurous as you can be with young kids in tow. And we are very experienced travelers. I mean, duh, we run a travel website.
So if you're planning a family vacation to the Grand Canyon, this is probably information for you. Now onwards with the review!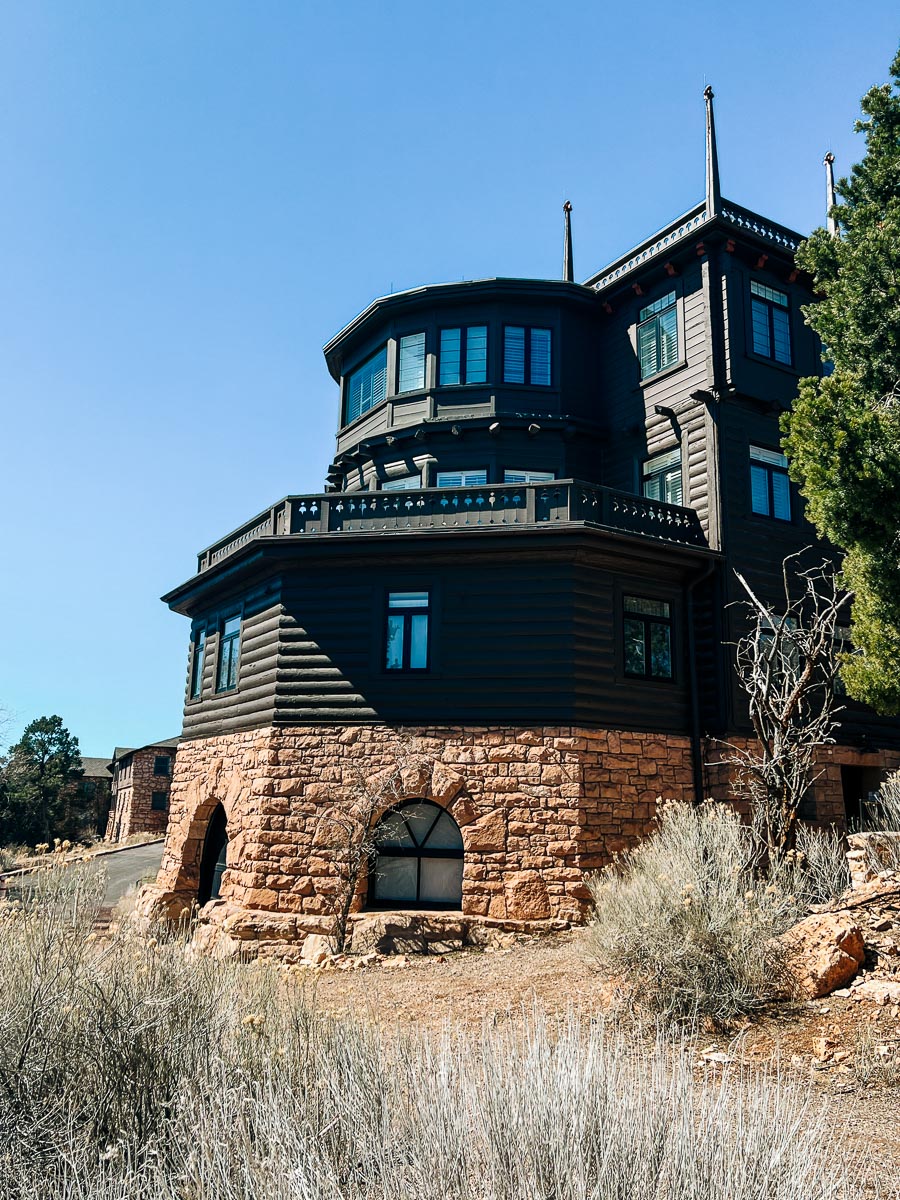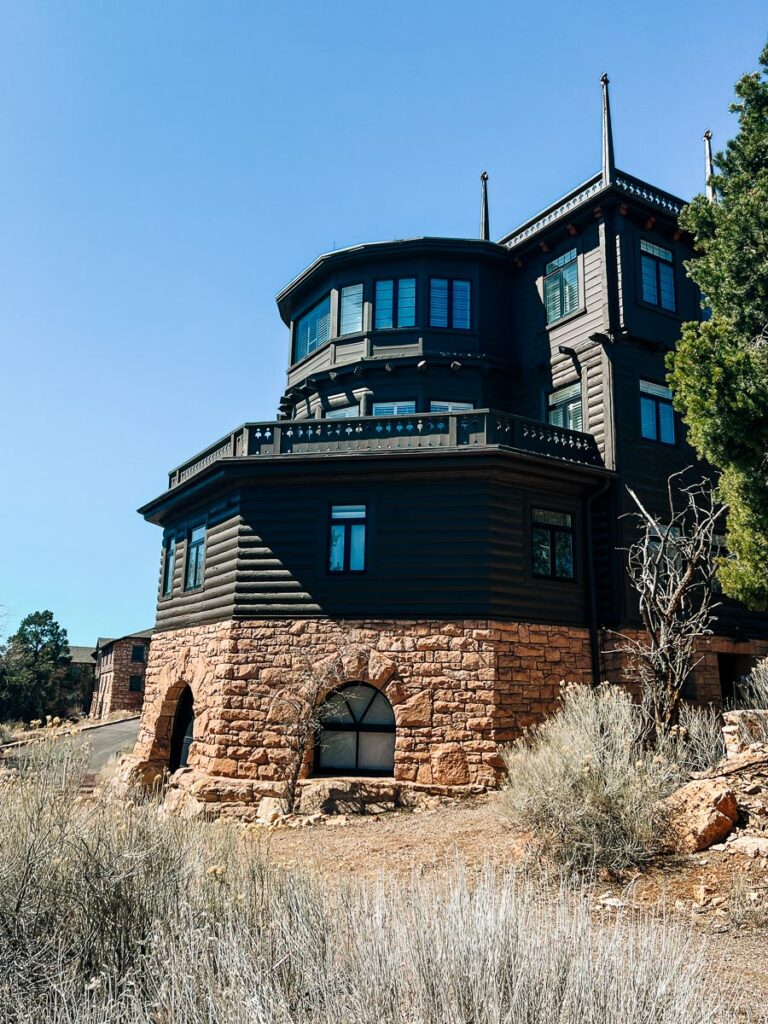 Review of El Tovar Hotel
The Hotel & Amenities
First, let's talk about the hotel itself. The El Tovar Hotel is over 100 years old, having opened its doors way back in 1905. It was considered one of the most sophisticated hotels of its time, and is now a designated national historic landmark.
And the building is really quite amazing. It's truly beautiful both outside and inside. It's full of cozy fireplaces and beautiful old wood beams, and is just really warm and charming. It really makes you feel like you're in a lodge.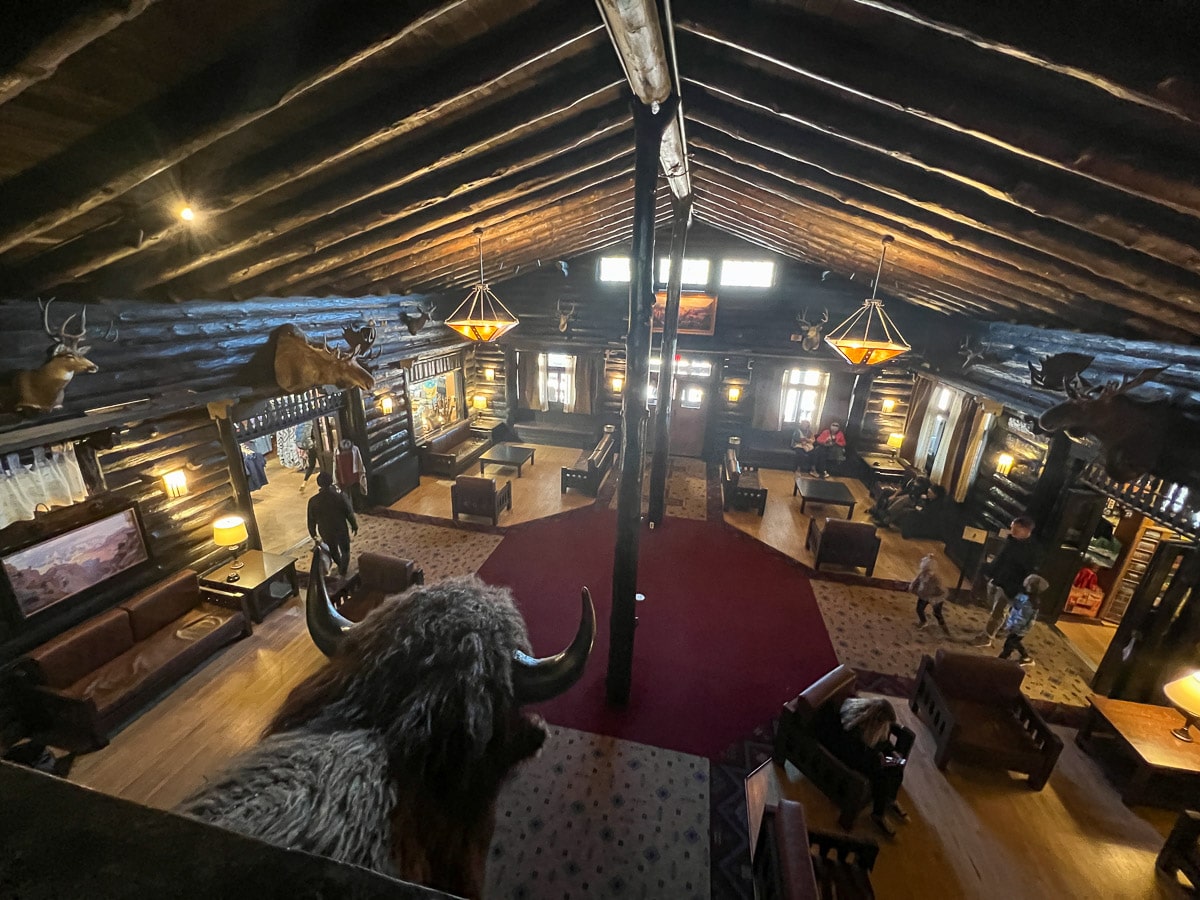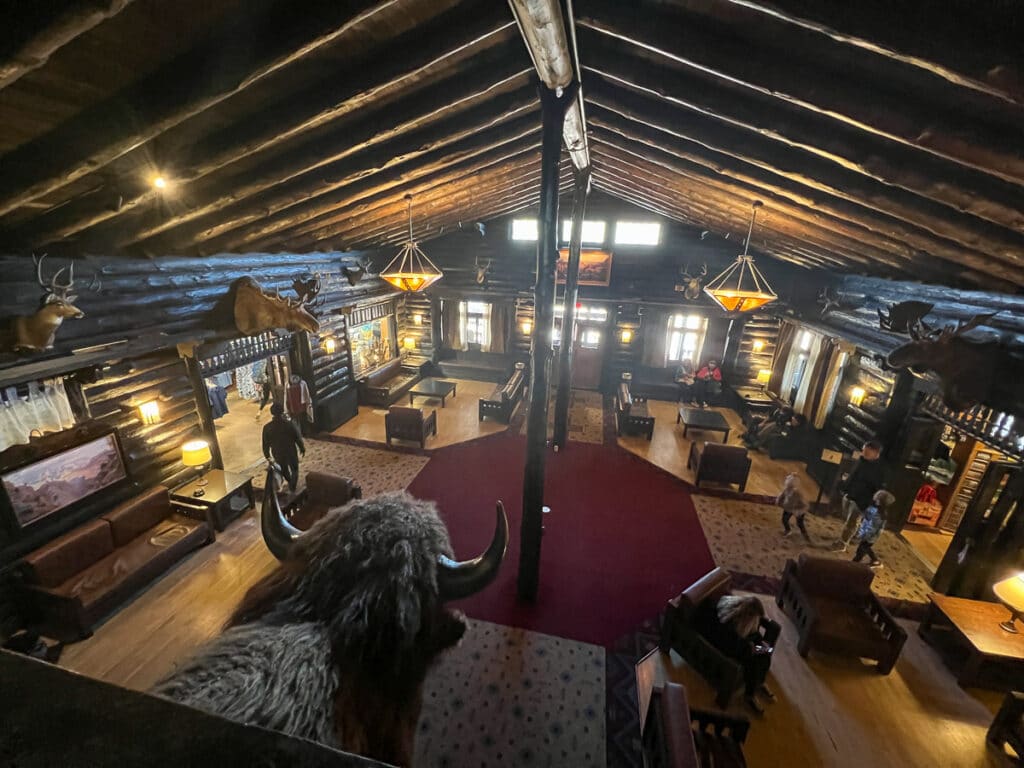 You won't find much in terms of amenities – there's no pool or gym or game room or any of that other stuff. But you will find big front and back porches, with plenty of rocking chairs and porch swings to go around. We enjoyed sitting out on the back deck with a glass of wine, and admiring the incredible canyon view every evening.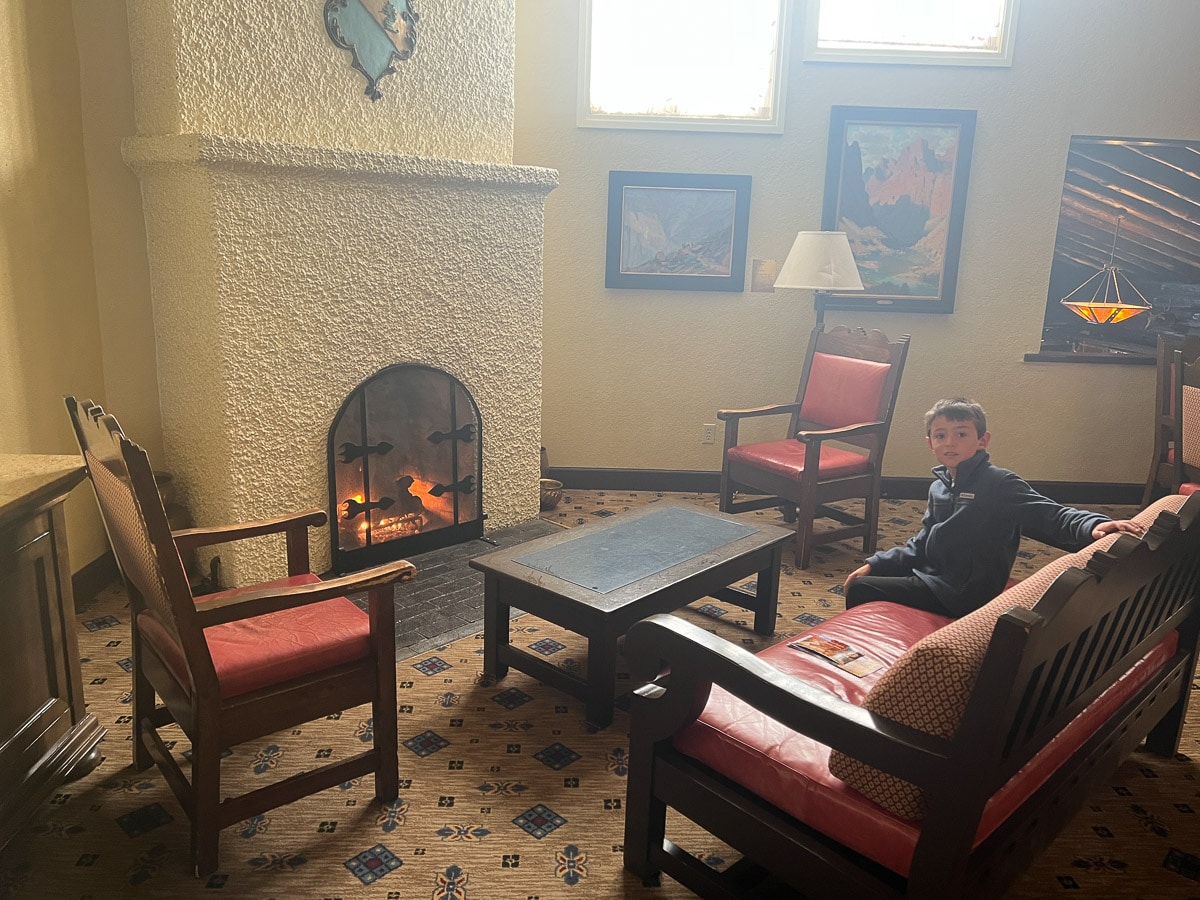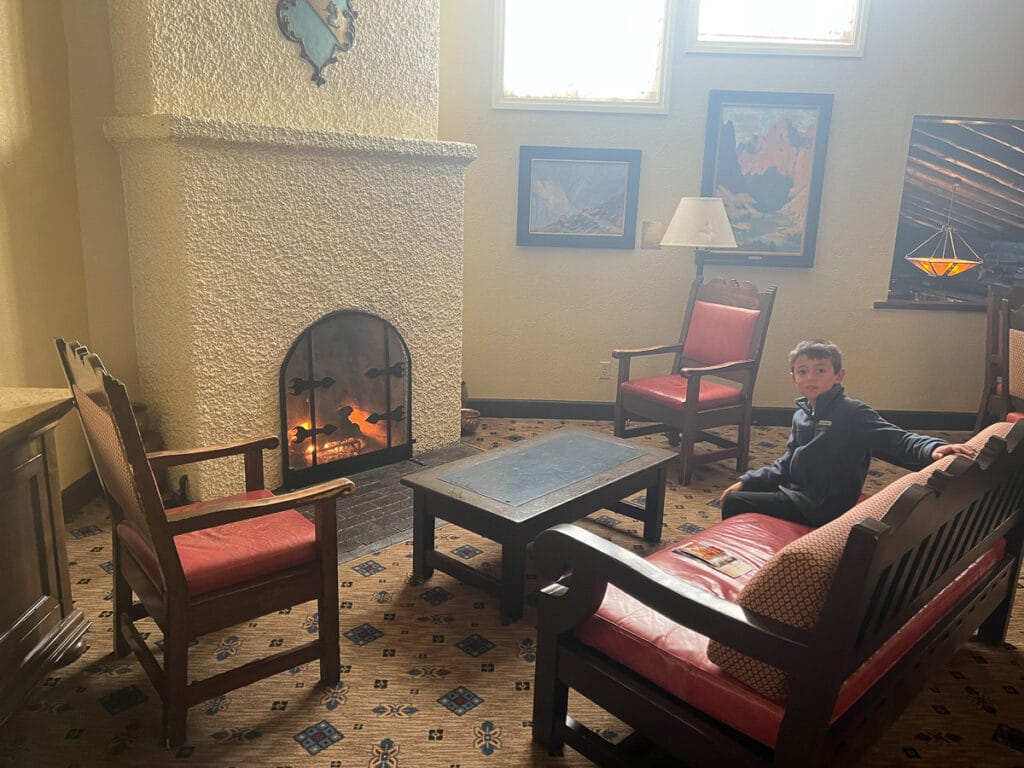 If you go up the stairs from the lobby to the first landing, you'll find a cozy sitting area with a fireplace and plenty of seating. This area definitely feels dated compared to the lobby, but we really enjoyed sitting there and playing card games in front of the fireplace before dinner in the evenings.
One important thing to note is that there is no elevator in the hotel. That's something I just didn't think about until it was time to schlep our suitcases up three flights of stairs. Now, not a big problem for us, but could be an issue for a less able-bodied group.
There is also only one ice machine, which is all the way down in the basement, so it's a trek if you want ice in the room.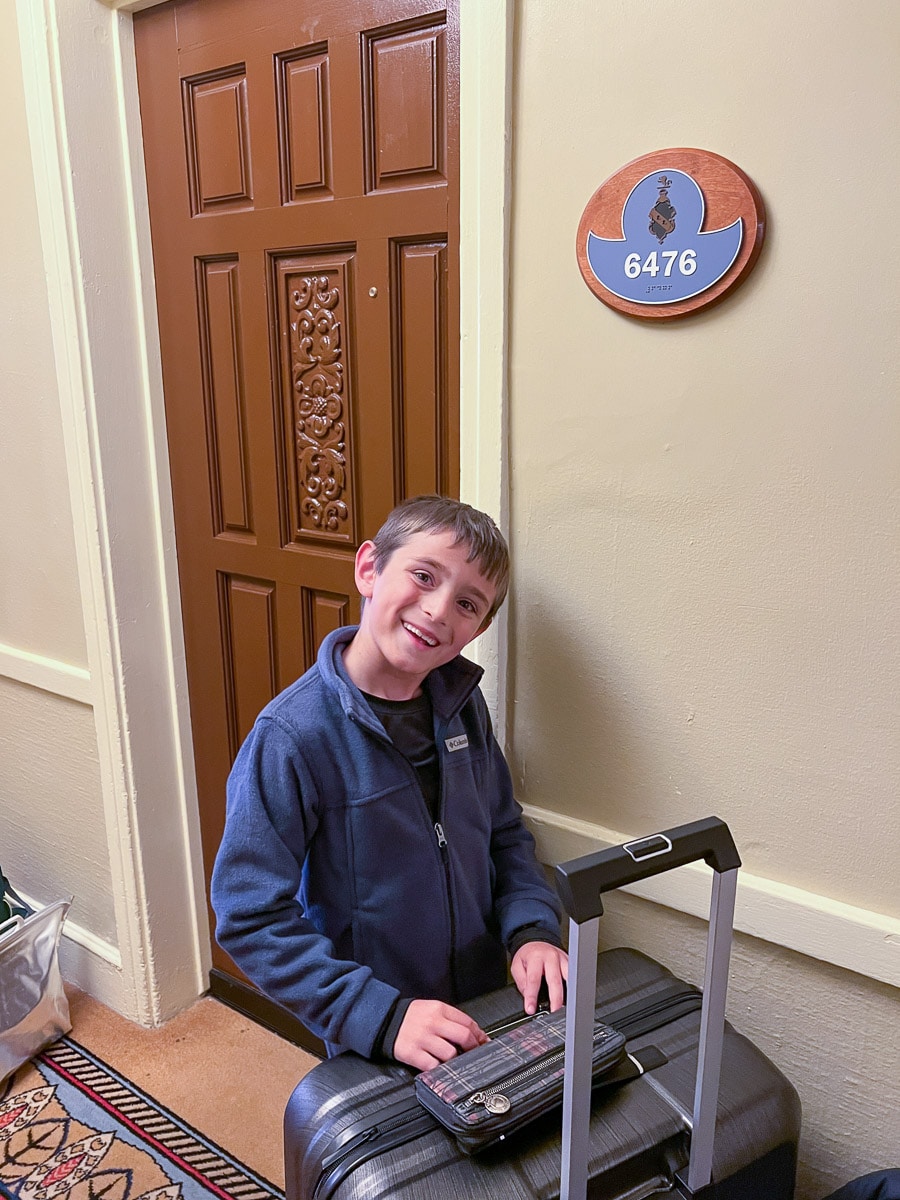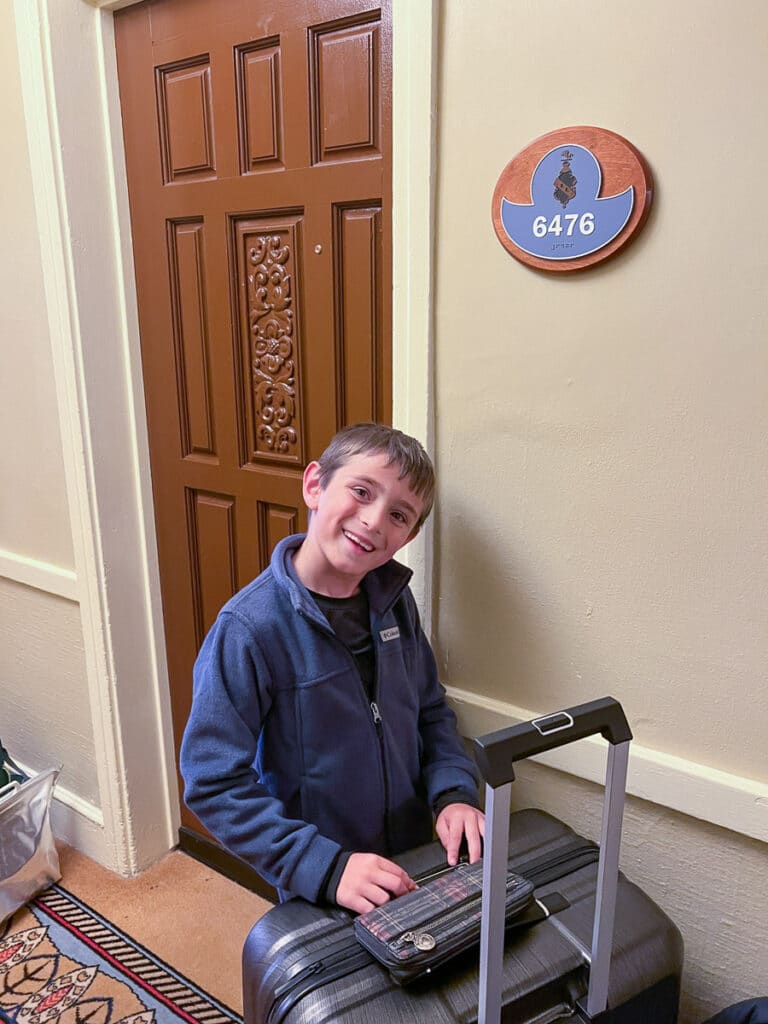 The Rooms
First, I think it's important to know that almost none of the rooms at El Tovar have a view of the canyon. There are a few pricey suites that have a view and big balcony, but that's it. For us commoners, the rooms face east and west… so not towards the canyon. More towards the parking lots. So don't go in expecting some spectacular canyon view.
While we there, a tour guide indicated that this was by design. He claimed the architect designed the hotel in this way because he wanted guests to get out and explore the canyon, rather than staying in the comfort of the hotel. I have no idea if that's true. If it is… that is the dumbest thing I've ever heard.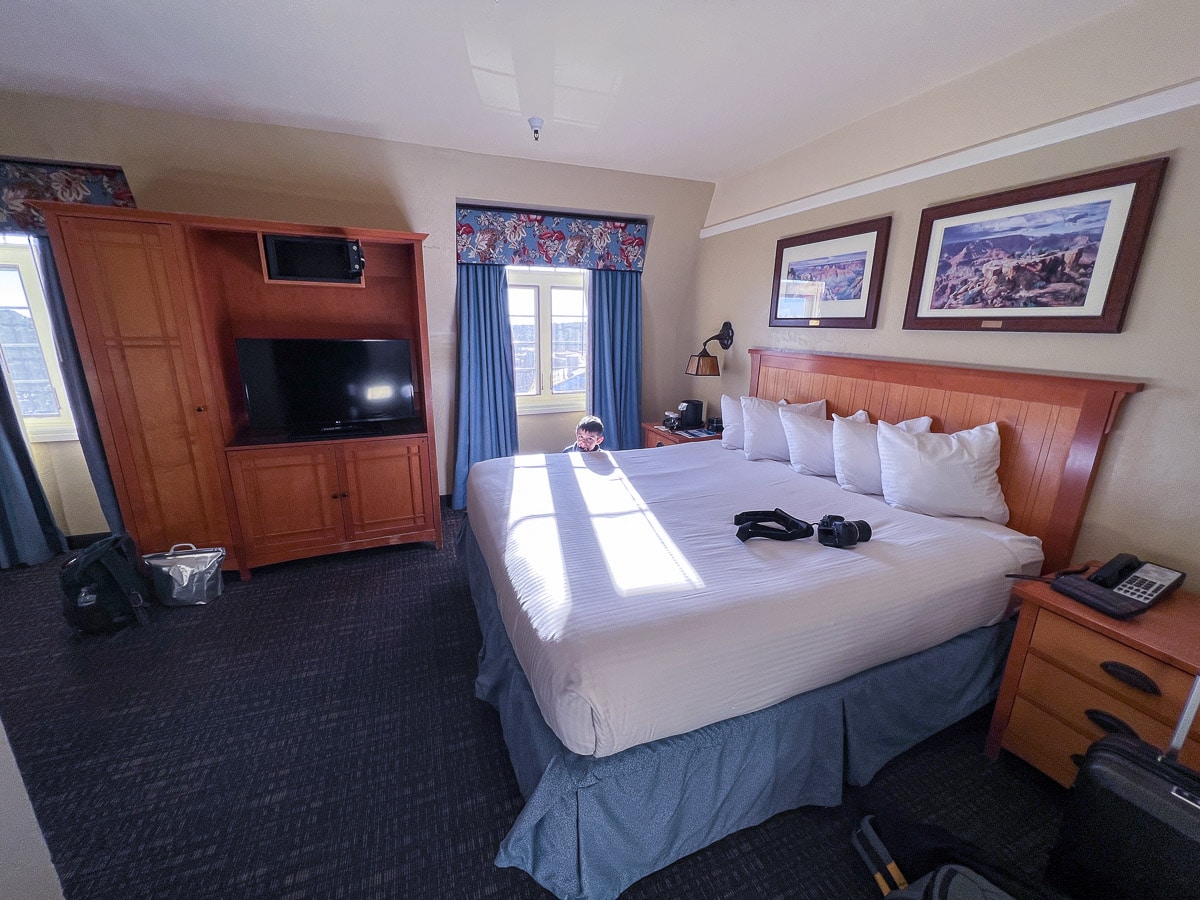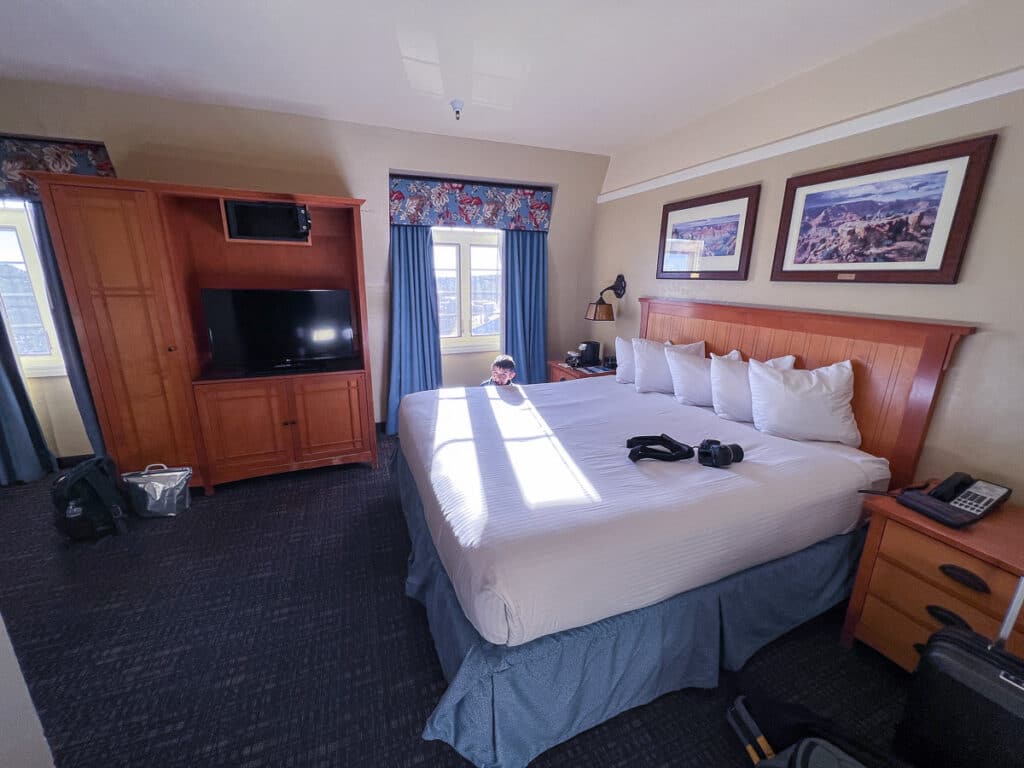 But ok, so on to the rooms themselves. Our room was… fine. I guess that's the best way to describe it. Frankly, the rooms are very very dated. And not really in a charming way. But it was also adequate.
There was plenty of space – and we were even able to get a rollaway bed in the room (extra $20/night charge). The bed was comfortable, although the bedding was way too light for the cold weather.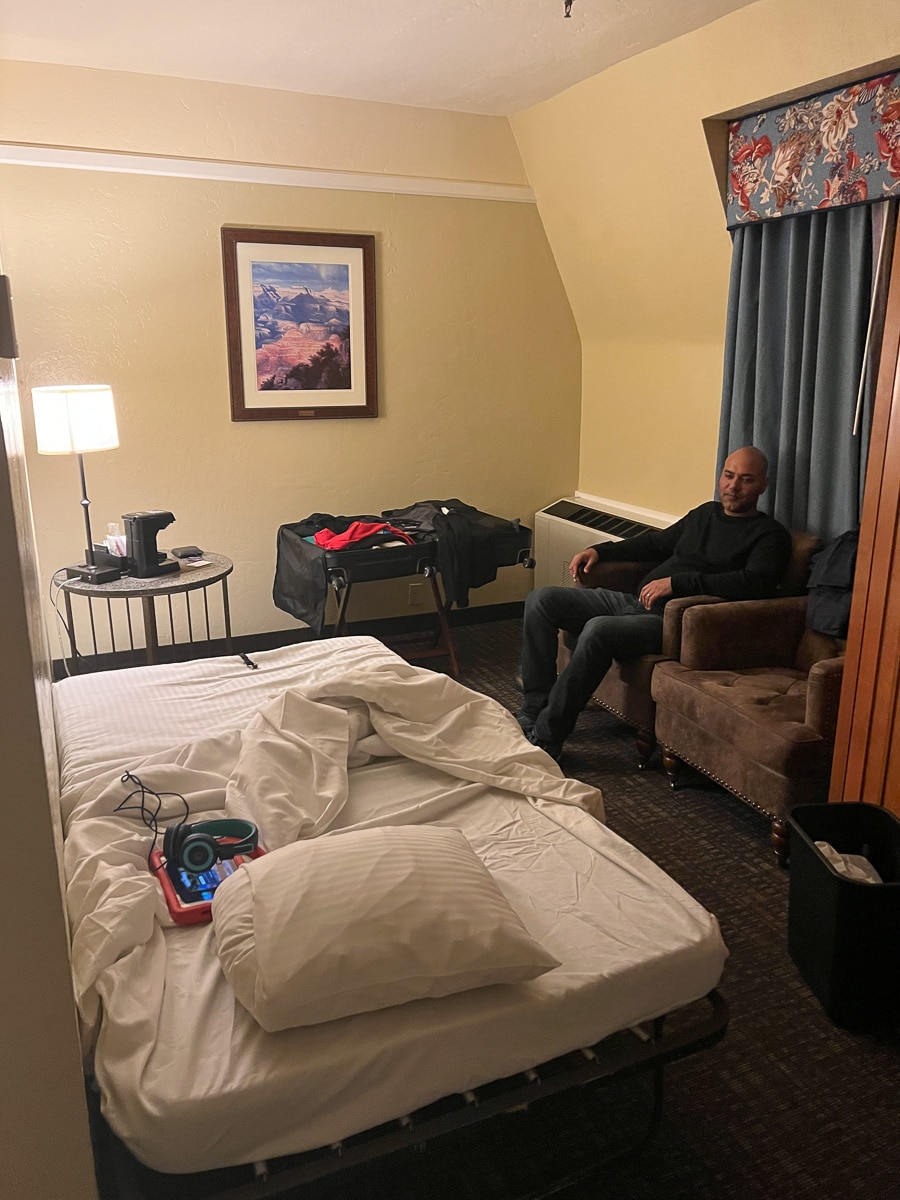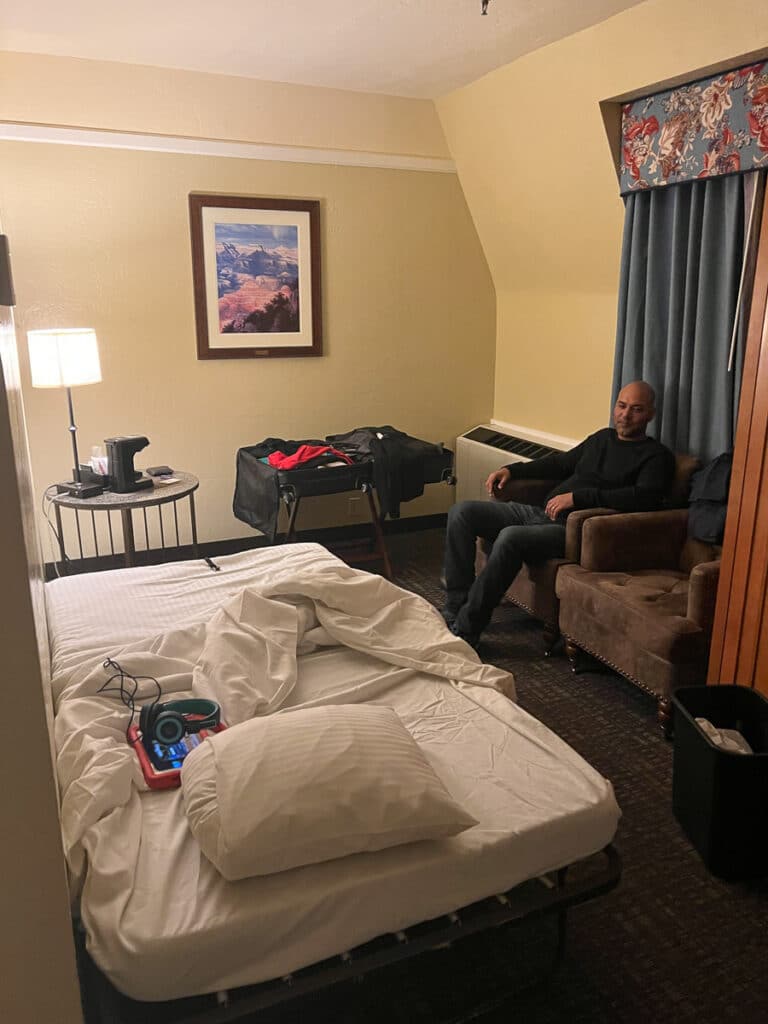 The bathroom was very small, but reasonably clean. There was a wall mounted hair dryer and there were toiletries provided in the shower. But there were not nearly enough towels – just two threadbare towels for a family of three for four nights.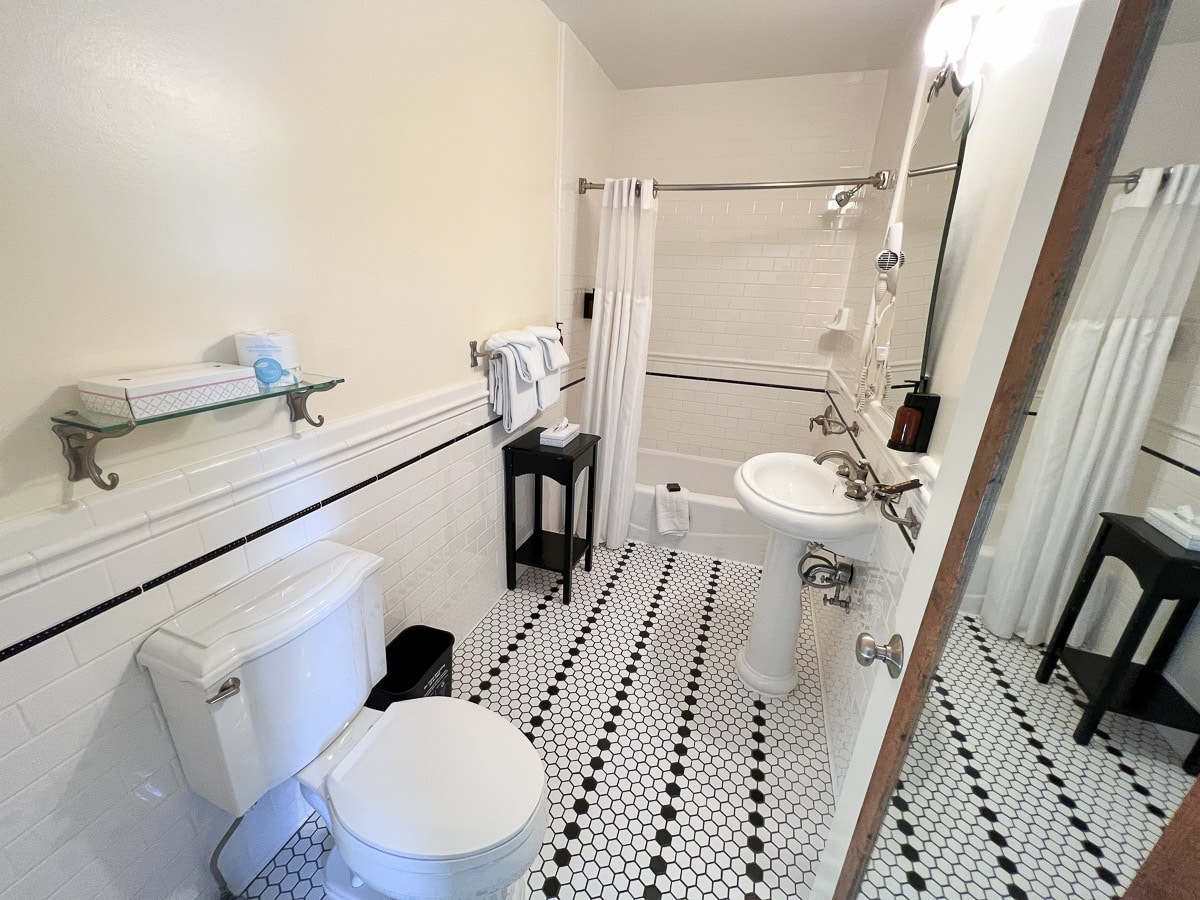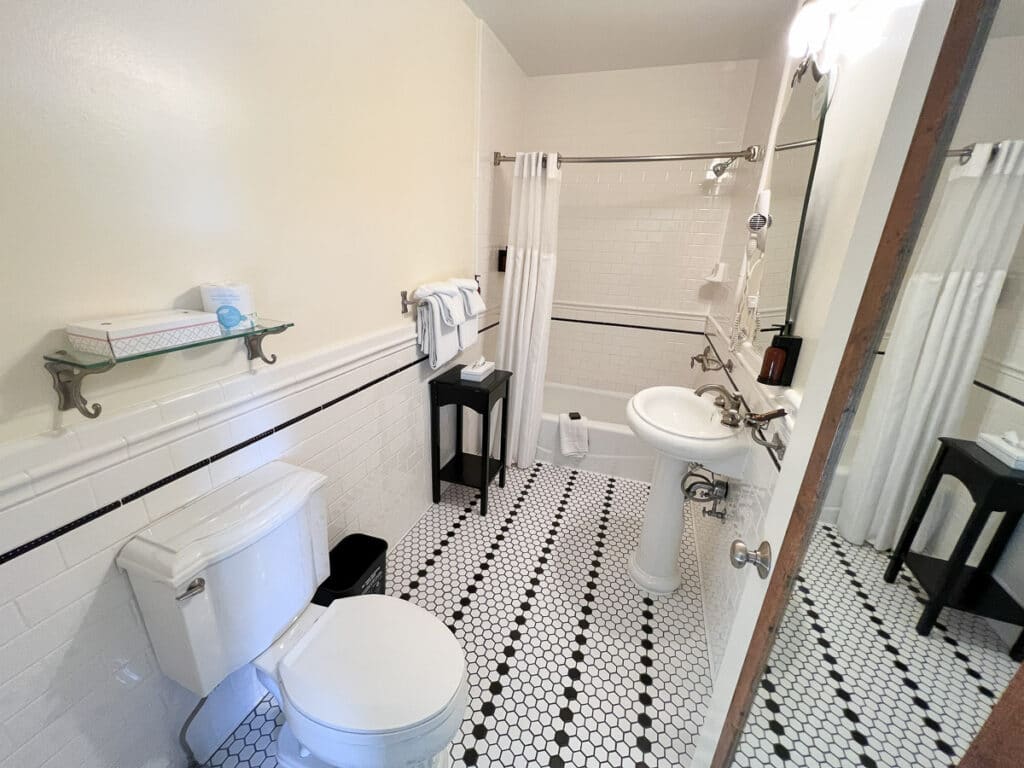 There was a coffee machine in the room, which is always nice. There was a safe, which we didn't use but is always nice to have. And a mini fridge – which is absolutely essential when travelling with kids!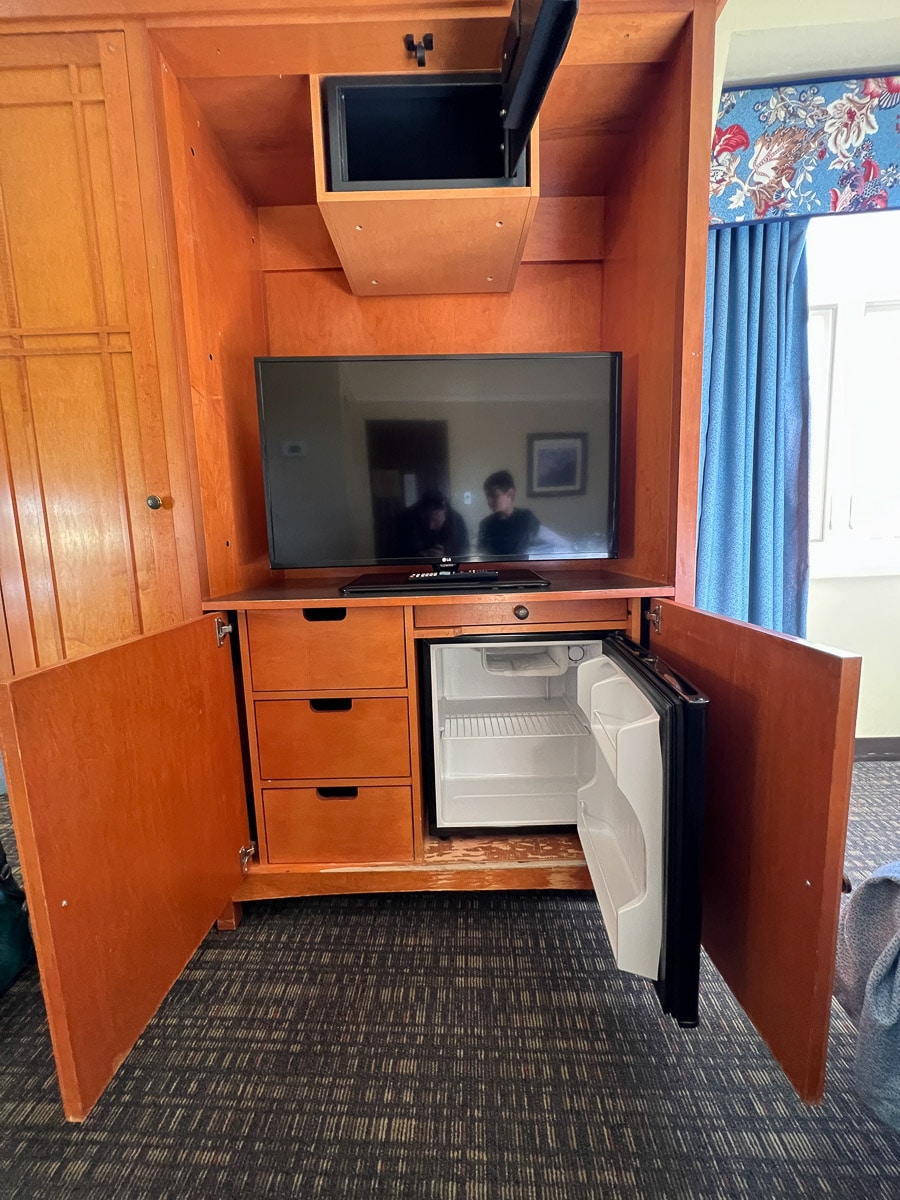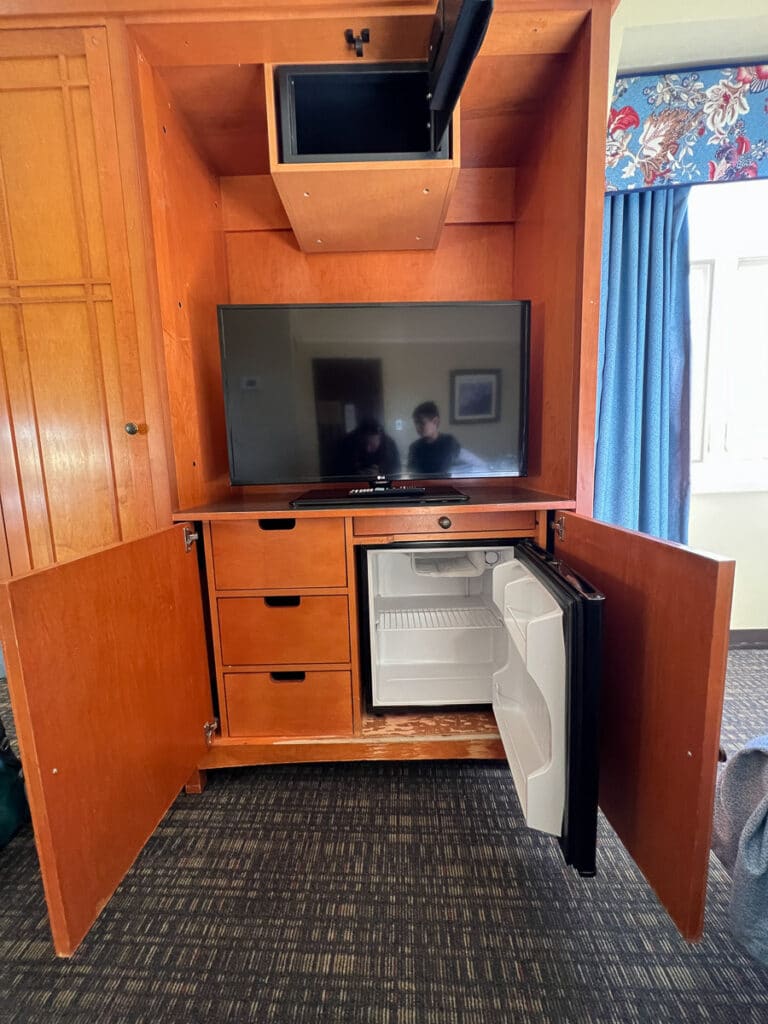 The Service
On our recent trip, they had still not resumed daily housekeeping services. (To be frank, I really don't think they ever will. If people are willing to go without it, why would they incur the expense?) But we were told that there would be housekeeping service on the third day and that we could call for fresh towels or coffee or whatever. Fair enough – that's the way it goes these days.
But… yeah… there was no service whatsoever. As I mentioned, we only received two barely absorbent towels for our family of three. Look, I am down to reuse my towels a couple times, no problem. But I at least need a towel for each person in the room to start with. So we called for some more towels, which never did come. It took a couple calls a day over the next three days for any more towels to materialize.
Same thing with coffee. Thanks for the coffee machine, but if you only are going to give me four coffee pods for two adults on a four night stay, why bother? Again, we had to track down a housekeeping person in the halls to ask for more because the front desk wasn't interested.
The trash can was full after the first day since it was a miniature hotel sized trash can, with no trash bag, and we were making packed lunches to take on hikes every day. But when asked to have someone come empty it, no one ever came. So trash was piled up in grocery bags.
On another day, we decided to order room service so called the front desk to ask if there was a menu somewhere. I get told that there is a menu by the TV, but there isn't. I search the room – no menu. No problem. I go down to the front desk, assuming they can just give me a menu, they must have copies right? They send me to the restaurant to ask instead, where I have to wait in the long queue of people trying to check in to the most popular restaurant in the canyon. They tell me the room service menu is the same as their dinner menu, which is online. Ok, great. Can I just place an order then? No, that would be too easy. I have to go back upstairs to my room and call down to place the order. Lol.
So… let me just save you the aggravation. Here is a link to the menu.
Comical for sure, but no one has any idea what is going on at this place. These are all first world problems, obviously. And we can just laugh and move on with our vacation. But if this kind of stuff would drive you batty, this is not the place to stay. (Although note that all of the hotels in the park are run by the same parent company.)
I'd like to think that all of this is related to staffing issues, and perhaps they will improve over time. But no promises, I guess.
The Restaurant & Lounge
The El Tovar Dining Room is by far the most coveted place to dine inside the Grand Canyon National Park. Ok, it's the only coveted place to dine. And I have to say, we really enjoyed it. That's great since there was basically no where else to eat and we had dinner there almost every night.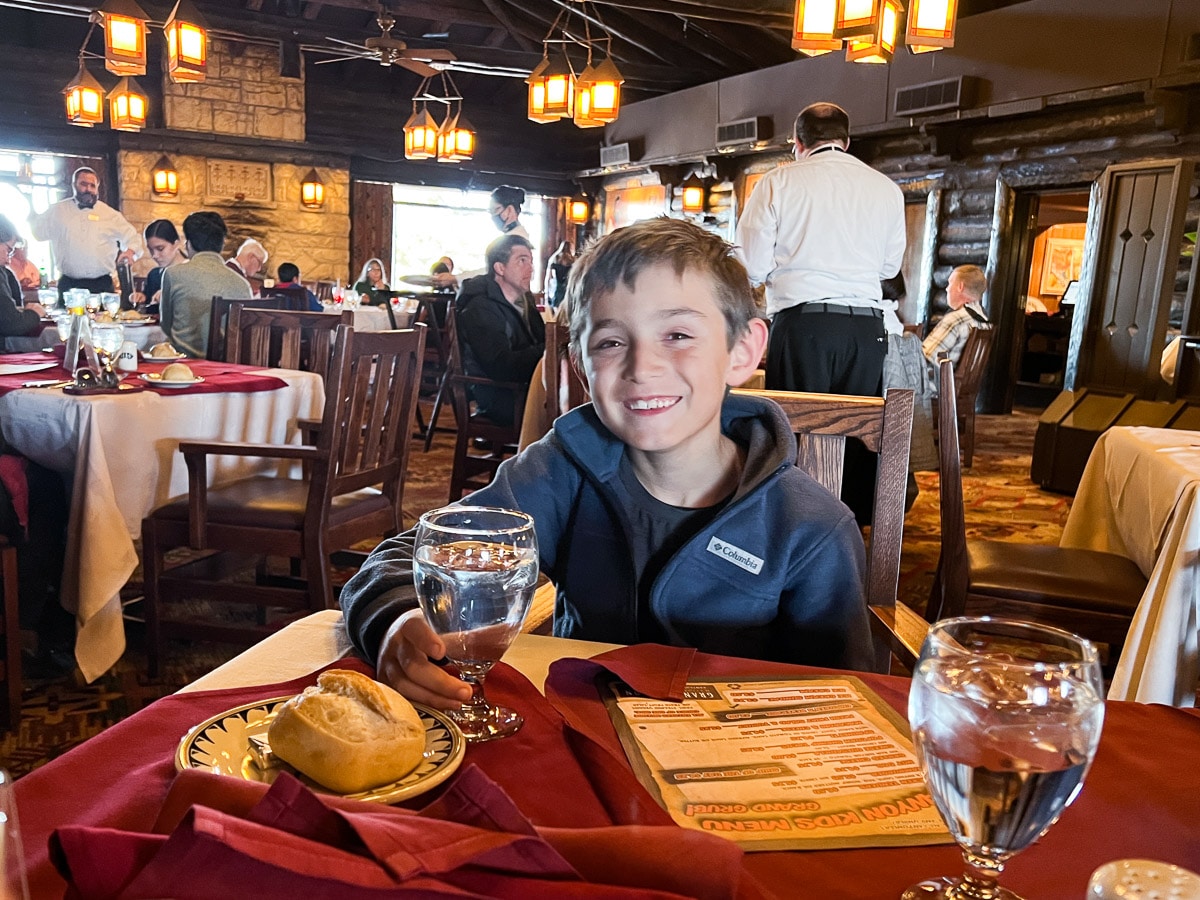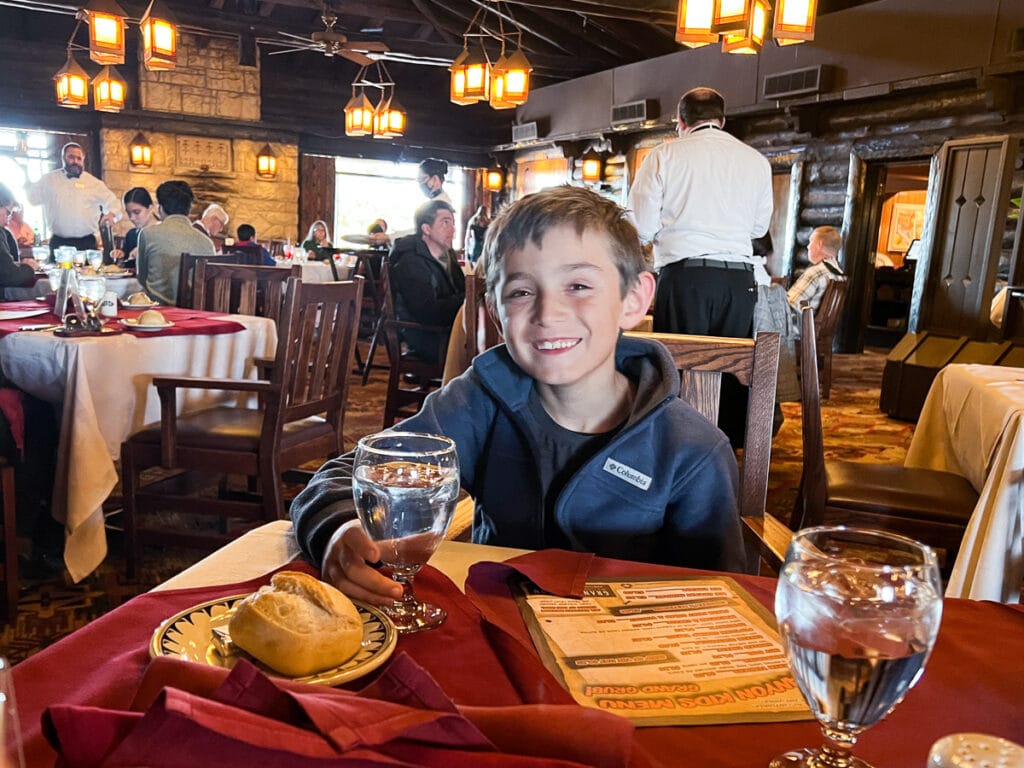 Be sure to make dinner reservations as early as possible – like as soon as you book the hotel room. Reservations open to the public 30 days in advance, and are usually snapped up the day they open. If you are a hotel guest, you can fill out this form to request dinner reservations more than 30 days in advance. I booked several months before our trip, and availability was limited.
First off, understand that they attempt to position the restaurant as fine dining. If you look at their website, it suggests a formal dress code for dinner. And no one will look at you funny if you show up in your Sunday best. But remember… the guests are people that have spent the day hiking around a canyon. Your jeans are fine and perfectly acceptable. Your kids can wear whatever they have on. No one cares and no one is going to tell you you're not dressed up enough.
The food was really pretty good. I'm not going to claim this is one of the best places I've eaten or anything, but it was definitely better than I would expect to get inside a national park. And there were many good choices, including several vegetarian options every night.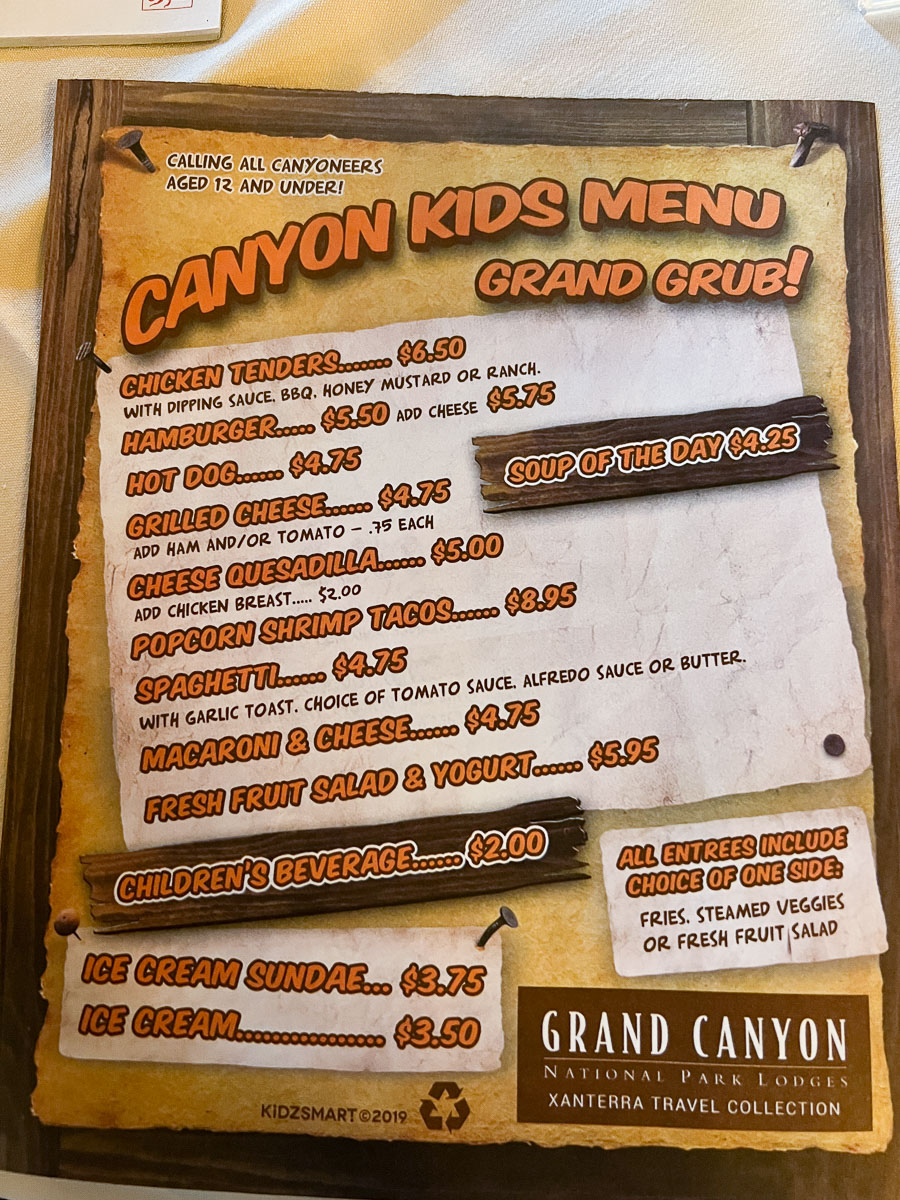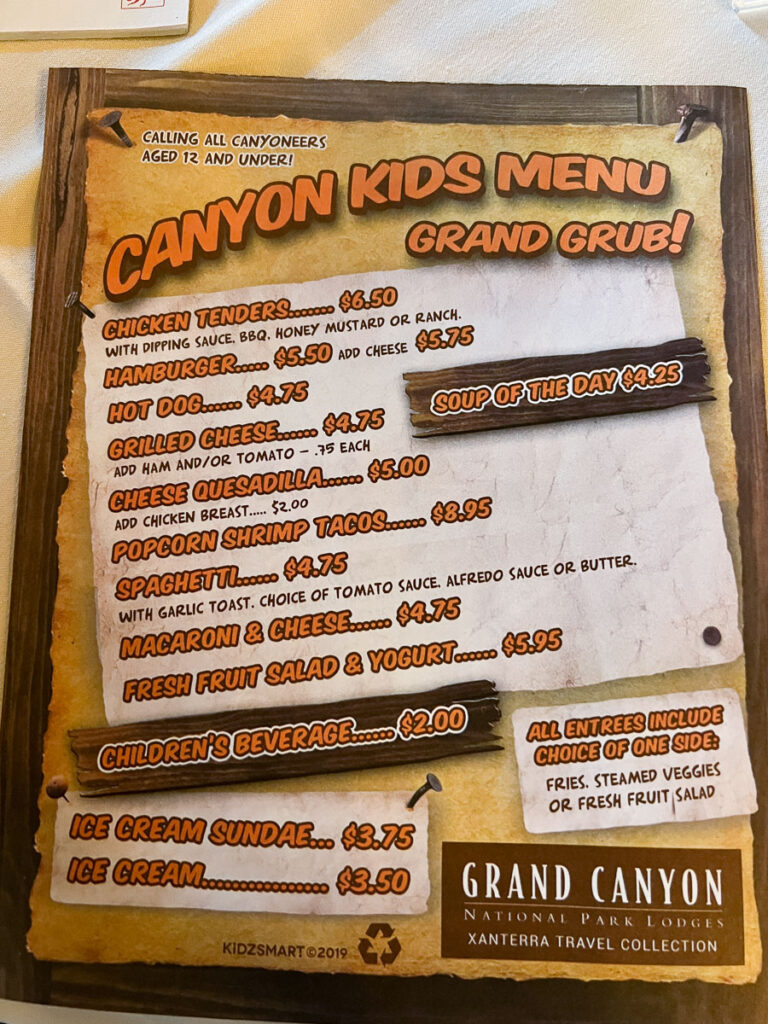 The kids menu was basically perfect. It's a laundry list of everything kids eat – grilled cheese, burgers, pasta, etc. And they had milk. My son was in heaven.
The dining room is aesthetically very beautiful, sharing the same historic charm as the rest of the hotel. There is a lovely view of the canyon from the big picture windows, but frankly most of the tables aren't close enough to the window to appreciate the view. And if you go after sunset, you won't be able to see anything out that window anyway.
So enjoy the view before dinner (ideally with a glass of wine in hand) and then head in for your meal!
P.S. We did end up getting that room service dinner eventually, and it was just as good as the food in the restaurant.
The Location
Now this is the reason to stay at El Tovar. The location is truly perfect. The doors to the hotel open right up onto the Rim Trail, with spectacular views of the Grand Canyon.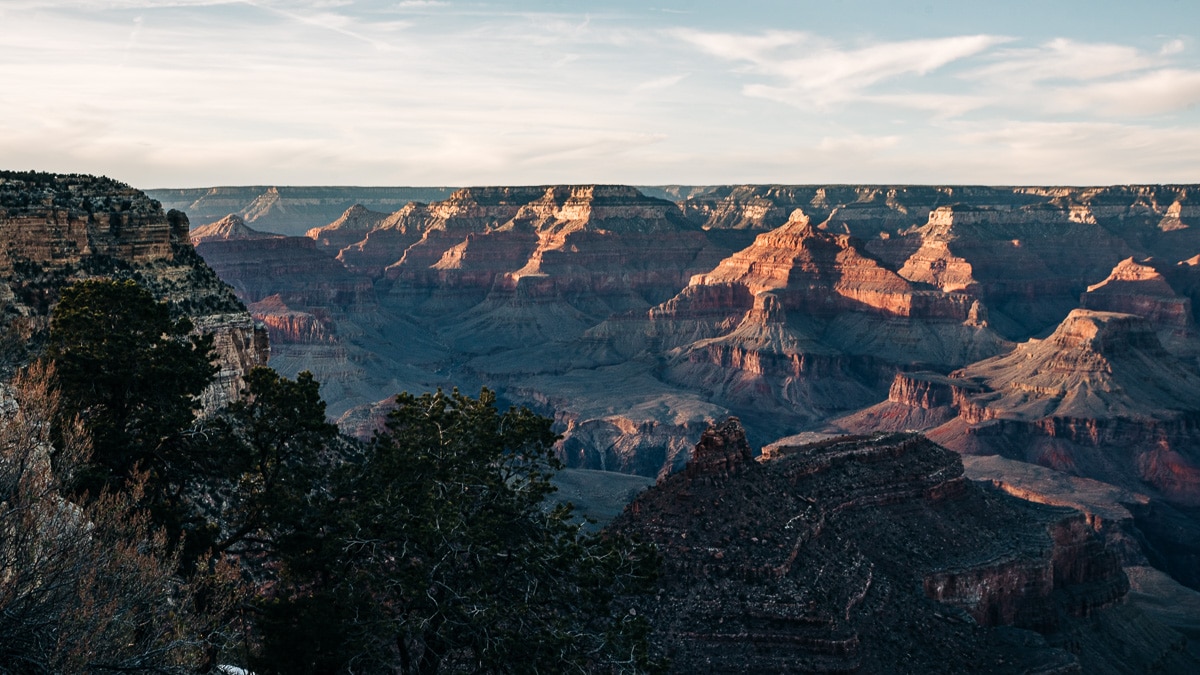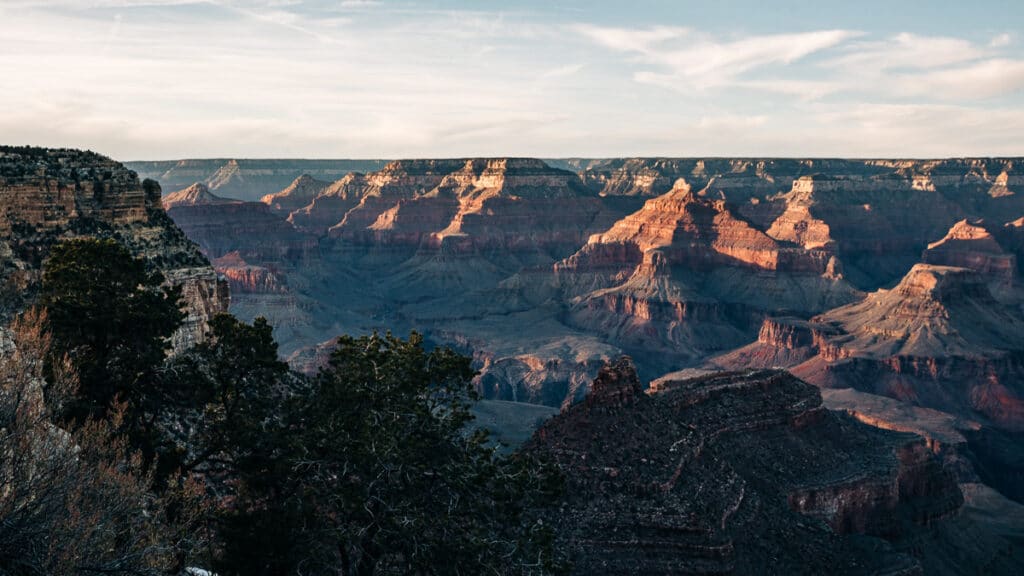 And it's also located right in the middle of Grand Canyon Village, which is sort of the hub of the park. There are gift shops, exhibits, ice cream, and coffee all within steps of the hotel. It's easy to hop on one of the free shuttle buses and get just about anywhere else in the park too.
So yes, it is worth a premium to stay in this super convenient spot. Especially if you only have a few days to explore and don't want to waste too much time driving in and out of the park or shuttling around.
Parking
While the hotel website touts free self parking, you should really understand that there is no dedicated parking for the hotel. There is just public parking that is available to any park visitor. There is a small lot adjacent to the hotel, but you are extremely lucky if you find a parking spot there.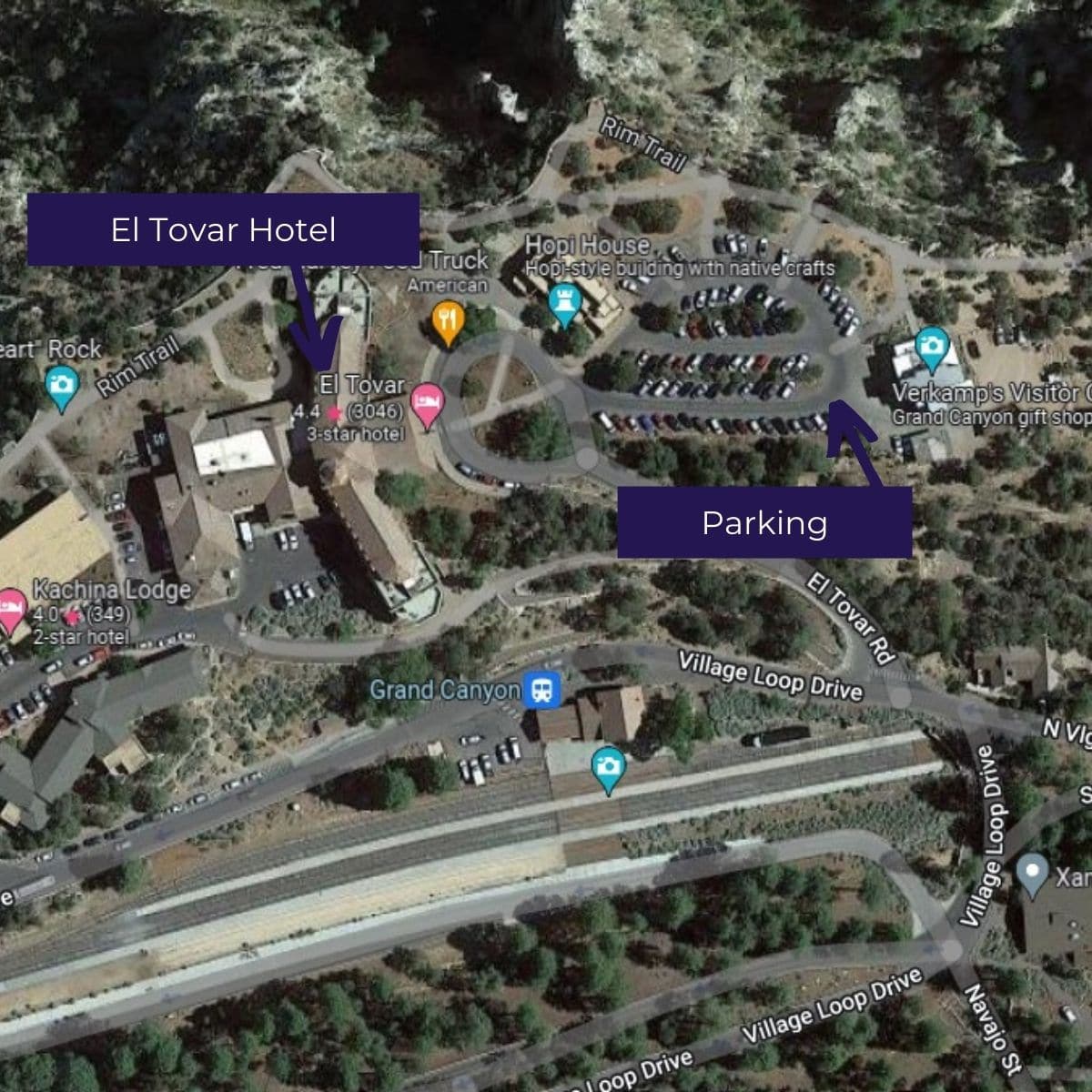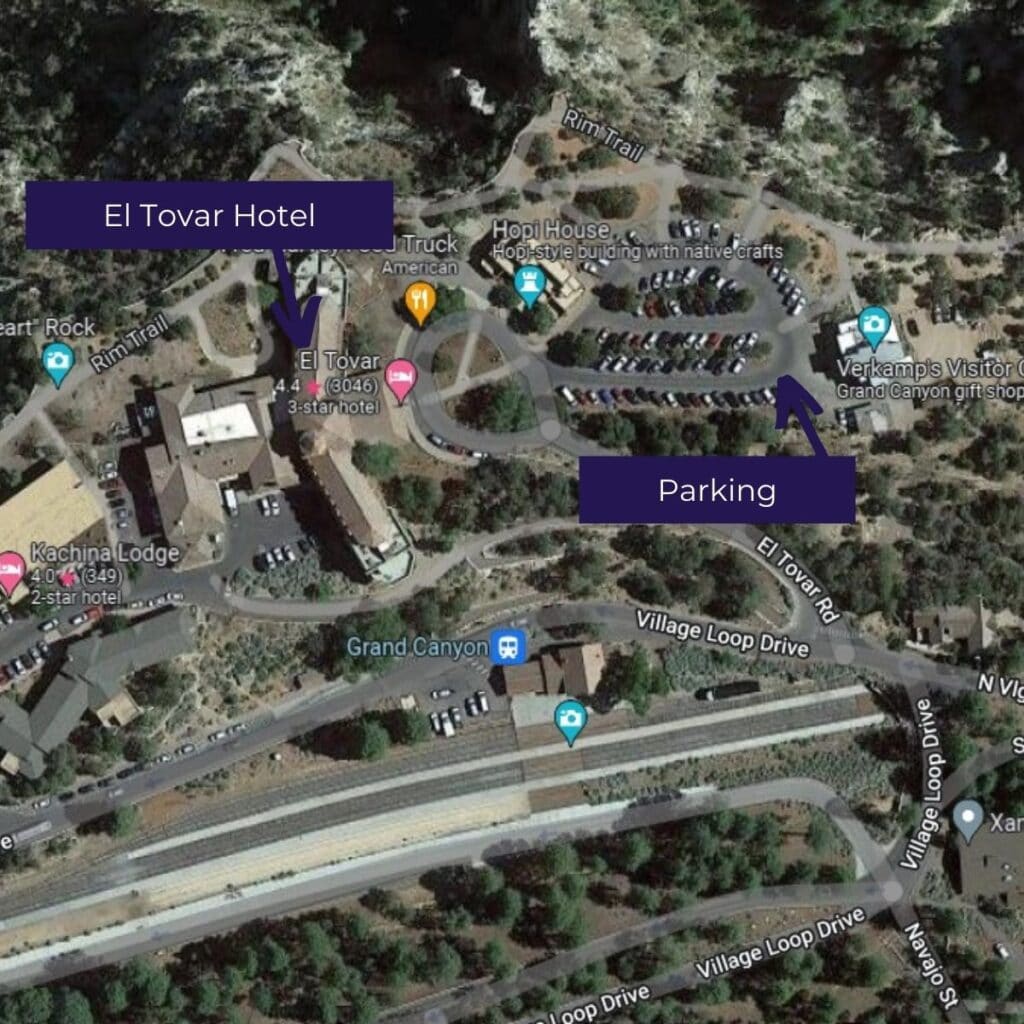 You will have better luck finding parking nearby the hotel if you arrive super early or super late in the day, when the day trippers are not around. But if you don't find a spot nearby, you can park at the Visitor's Center and take a free shuttle back to the village. (Drop off your bags first.)
Would I stay at El Tovar again?
Yes, I think I would. While it was not a perfect experience, the location within the park is really the selling point. I also really enjoyed having the sitting area available for the evenings and the priority access for dinner reservations (we likely wouldn't have gotten a reservation otherwise).
However, I would also have to consider the other options that are located right near El Tovar in Grand Canyon Village. Thunderbird Lodge is basically next door and would also be a good choice at the right price. You can check out all of our recommended Grand Canyon hotels here.
More Grand Canyon Trip Planning Resources
Here are a few more resources to help you plan the perfect trip to the Grand Canyon.