Have a trip planned that requires some stylish and practical travel shoes for men? This guide is here to help you find the best mens shoes for travel! We've compared 8 top-rated men's shoes for travel, and outlined what you should think about when choosing a new pair of shoes for travel.

Disclosure: This Mens Travel Shoes guide contains affiliate links. That means we earn a commission when you use the links on this site to book a hotel, buy your travel insurance, shop for travel essentials, etc.. You don't pay anything extra. If you'd like to learn more about how this works, you can read more under our Disclaimer page.
It's Worth Taking the Time to Find the Best Men's Shoes for Travel: Your Feet (and Back, and Knees…) Will Thank You!
Geoff's been feeling rather fashionable lately, diligently checking out the best men's travel clothing, such as his awesome lightweight travel blazer. Today, we're doing a little shoe recon, and we're in search of the best mens shoes for travel.
Speaking from personal experience, having sore feet when traveling really sucks.
When you have limited time, and have invested precious vacation days and precious dollars on a big trip, you don't want to be sidelined by sore feet, blisters, or something worse, like plantar fasciitis or shin splints.
When you're exploring a new place, you spend way more time walking than when you're at home. Add to that, your body has to deal with different types of surfaces (we're talking to you, cobblestones). If you're the type to skate by with cheap and cheerful shoes with very little support at home, we promise you that's a bad strategy if you're on your feet all day. Think of a good pair of travel shoes like travel insurance: it protects the investment you made in your trip
With this in mind, it's worth taking the time to find the best mens walking shoes for travel. We're talking about shoes that are super comfy and supportive, but also look great. We're talking about shoes that are versatile enough to take you from an adventurous cycling day trip from Prague to a reservation at the city's coolest cocktail bar (which is Hemingway Bar, BTW). We're talking about shoes that are relatively lightweight, and won't require you to shell out on excess baggage.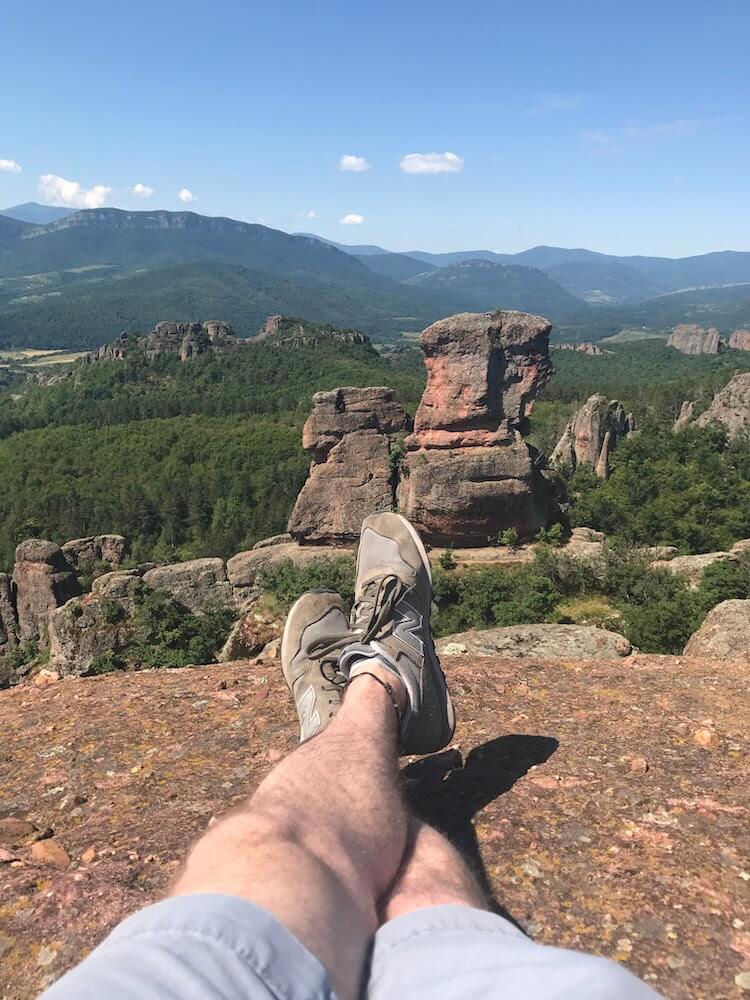 If you think we're talking about a unicorn here, think again. Just as travel clothes for men have evolved massively over the last decade (brands like Bluffworks make clothes that look nothing like the dorky travel clothes of yesteryear), so too have the best men's shoes for travel.
It's possible to have your cake, and eat it too. Or, more appropriately to this article, it's possible to have your lightweight mens walking shoes, have your feet feel supported, AND look stylish, too.
Not quite as catchy, but hopefully you get the idea.
In this guide we've outlined a range of good mens walking shoes you might want to consider for your next trip. We also look at the various considerations you need to think about before hitting the buy button. It really is worth doing a bit of research so you end up with the best walking shoes. Mens shoes come in a variety of shapes, styles, sizes, and functions: hopefully by the end of this guide you'll have a clear idea of the best shoes for your trip and feet.
A Pair of Great Walking Shoes Can Make or Break a Trip: Here's What You Need to Think About When Shopping for Men's Travel Shoes
Factors to Consider When Choosing the Best Mens Shoes for Travel
When you're choosing among top mens walking shoes, you need to consider how you're going to wear the shoe. Generally speaking, mens shoes for walking come in a range of designs, fabrics, styles (and, of course, prices).
Shoes for travel aren't a one-size fits all situation (ha – shoe pun!).
The pair of shoes you're going to buy for a soggy fall day exploring Seattle is going to be totally different from the shoes you need to climb Tikal in Guatemala, or walk around Bangkok.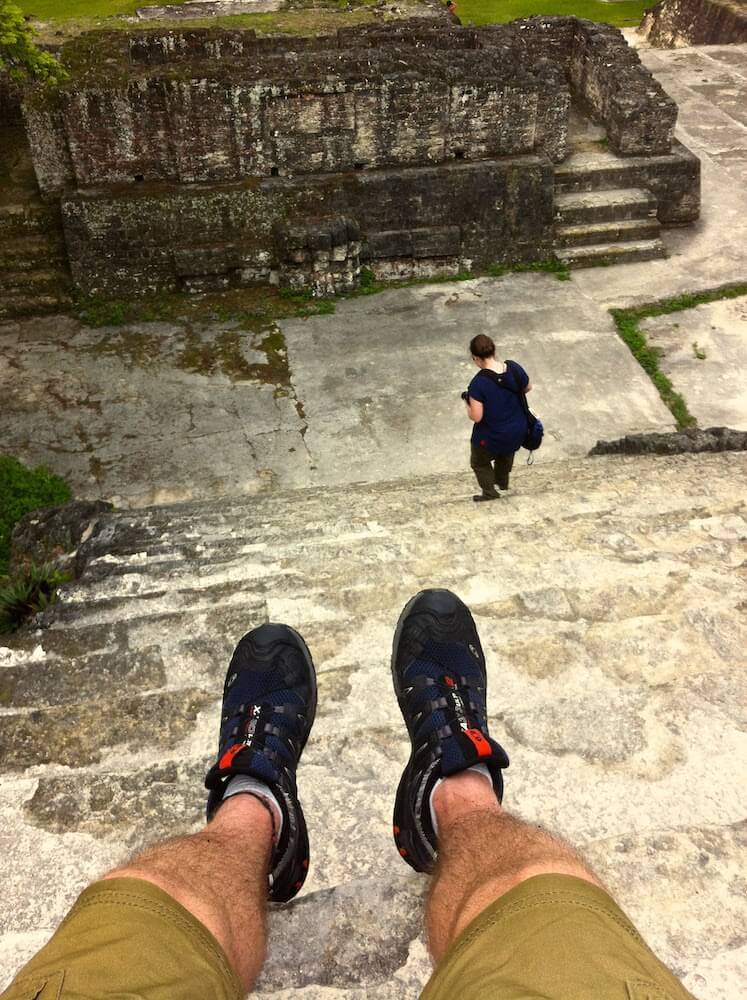 When choosing the best travel shoes for men, you need to consider:
Climate of your destination: Are you going to be drinking craft beer in Portland in January or exploring Beijing by bike in July. Two totally different pairs of shoes.
What kind of trip you're planning. Heading on a river cruise, or a city trip that involves cultural activities and dinners out, will require different shoes than, I dunno, hanging on a resort in Mexico.
Your own specific body and needs. Geoff has weird feet and bad knees. He needs a lot of support. Katie can generally get by wearing $2 market flip flops. It really depends on you.
The below section will take you through the various factors to consider when you're shopping for men's travel shoes.
1.1 Climate
Consider the climate of your destination. Will it be hot? Cold? Rain a lot? The best shoes for hot weather are going to be pretty different than mens shoes for cold weather
If you're looking for the best walking shoes for summer travel, look for shoes made from a breathable upper, or shoes that incorporate mesh for extra ventilation. There's a pretty massive range of summer mens walking shoes. Merrell and Ecco make some good options.
If you're heading somewhere wet, the men's walking shoes you choose should be waterproof.
If you're traveling in the colder months, it's well worth getting a pair of specific walking shoes for winter. Personally, we find winter boots can be a bit burdensome to pack, and can be a bit overkill, depending on the destination. Add to that, if you're in and out of restaurants, cafés, shops, museums and other attractions all day, it's not going to take long for your feet to overheat if you're wearing super warm boots.
While this obviously depends on the destination and time of year (footwear for Iceland in winter, for example, is going to be different than footwear for Budapest in winter), you might want to consider getting a good pair of warm and waterproof walking shoes for men, plus a warm pair of socks.
A word of warning with this strategy: consider the sole of the shoe if you expect icy sidewalks and surfaces, as you'll want something nice and grippy.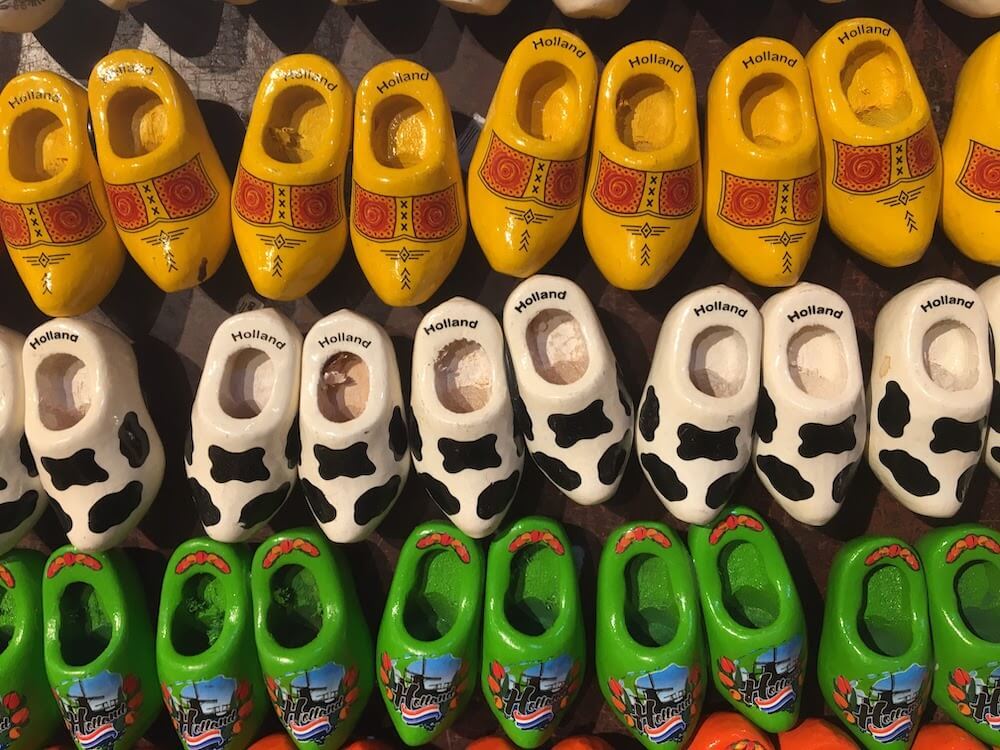 1.2 Destination & Activities
Your actual trip – where you're going and what you plan on doing – is a huge factor.
Mens travel shoes for a Europe trip or shoes for a cruise need to be a bit higher on the style scale than mens shoes for a beach vacation. A mens walking sandal is a good bet for an active vacation in warm weather, whereas mens walking dress shoes are a great choice for city travel.
Before you order your shoes, think about what you'll be doing on your trip. Will you be doing any hiking, walking over uneven terrain, or sports on your travels? Ensure your shoes are versatile enough to handle everything you're planning on doing.
1.3 Style
If you're traveling to a fairly cosmopolitan destination – think Paris, Berlin, etc. – style is probably going to factor into your decision. If you're doing more of an active trip – like exploring the Canadian Rockies – There are lots of really great mens dress walking shoes out there that will let you go from an afternoon walking tour to the theatre, without changing shoes. We've also noticed some of the best mens casual walking shoes for travel are also pretty good looking.
Brands have gotten the message that men don't want to sacrifice form for function, so you'll have plenty to choose from if you want something that's stylish and functional.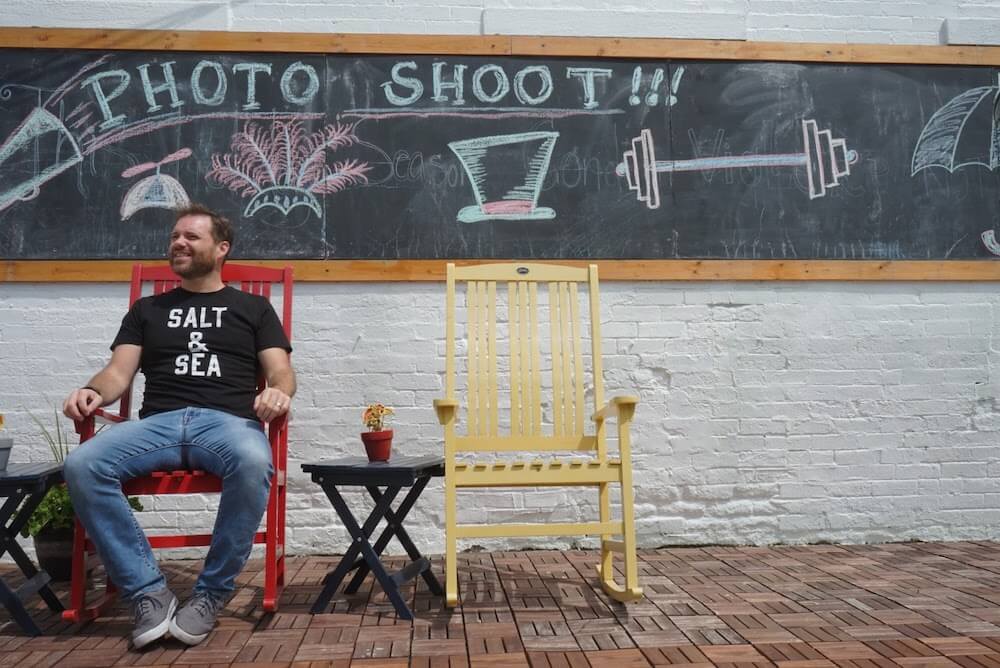 1.4 Lightweight and Packable
Shoes make up a massive percentage of luggage weight. While you generally want all your stuff to be fairly lightweight when packing for a trip, getting lightweight travel shoes for travel can really make a difference in how much you have to carry.
Spending a bit of time finding the right pair of shoes will also be better for your body: wearing lightweight walking shoes for travel will mean fatigue over the course of a long day of sightseeing.
When packing shoes for travel, wear your biggest and heaviest shoes on the play. This will give you more space in your luggage. For the shoes you pack in your suitcase, stuff your socks, boxers, and other little items into your shoes to save space and help them keep their shape.
Then place your shoes at the bottom/back of your case, and pack other items around them. If you're using packing cubes, you can fit the cubes around the shoes – this is how we pack.
If you're concerned the soles of your shoes are dirty, use shower caps to cover them when packing. If you don't have old shower caps, please don't buy any for this purpose: the world has enough single use plastic. Instead, re-use the clear produce bags from the supermarket.
Mens Walking Shoes Reviews: How to Find Mens Best Walking Shoes for Your Trip
Waterproof and stylish shoes for autumn, winter and spring; good for looking good and staying dry and comfy in wet weather. Check them out on Amazon.
Created in the 1950s, it's fair to say these shoes have stood the test of time!
The Red Wing Heritage Men's Classic are a great option if you're looking for mens leather walking shoes that are suitable for temperate and cool climates.
They're also ridiculously good looking. Mens stylish walking shoes are easier to find these days than in years past, but you do have to do some digging. These shoes make it easy to be super comfy and super stylish, without really trying.
The upper is leather, and the sole is synthetic. This gives a nice combo of water-, stain- and perspiration-resistance, while also having a natural look. Despite how they look (kind of dressy), it's fair to classify these shoes as walking shoes.
While researching this article, we got sucked into all the mens waterproof walking shoes reviews and mens leather walking shoes reviews on the website. Interestingly, a few customers noted these shoes have worked well for them in the snow, which makes it a great all-round option for city travel in fall, spring, and winter in temperate and cool climates like North America and Europe.
Who Will Love These Mens Waterproof Walking Shoes?
They're well-suited to travelers looking for comfort and quality and a nice looking pair of waterproof shoes.
They will fit a variety of foot shapes and sizes. They have a bit of extra room in the forefoot and instep for easy entry.
Over time, these shoes will mould to your feet, creating a custom fit.
Available in brown, black and charcoal.
Our Verdict
A perfect choice for anyone looking for mens winter walking shoes. Comfortable and quality made, but also stylish. Great choice if you want to go from walking around the city all day to a Michelin-starred restaurant without changing shoes. These would make great shoes for European cruises as well, as they'll suit daytime shore activities and evenings on the ship.
Urban waterproof boots for autumn and spring; they can pass as a more stylish boot, while still keeping you dry in wet weather destinations like Ireland, Scotland, and the PNW. Check them out on Amazon.
If you're planning a trip to a wet weather and temperate destination like Ireland, Scotland, or the Pacific Northwest, do yourself a favor and bring some rain boots. Seriously: speaking from experience, trudging around Scotland and Ireland with wet feet is the worst.
Katie has long traveled with rain boots, but it's harder to find lightweight rain boots for travel that are also somewhat manly, and look okay with a pair of jeans.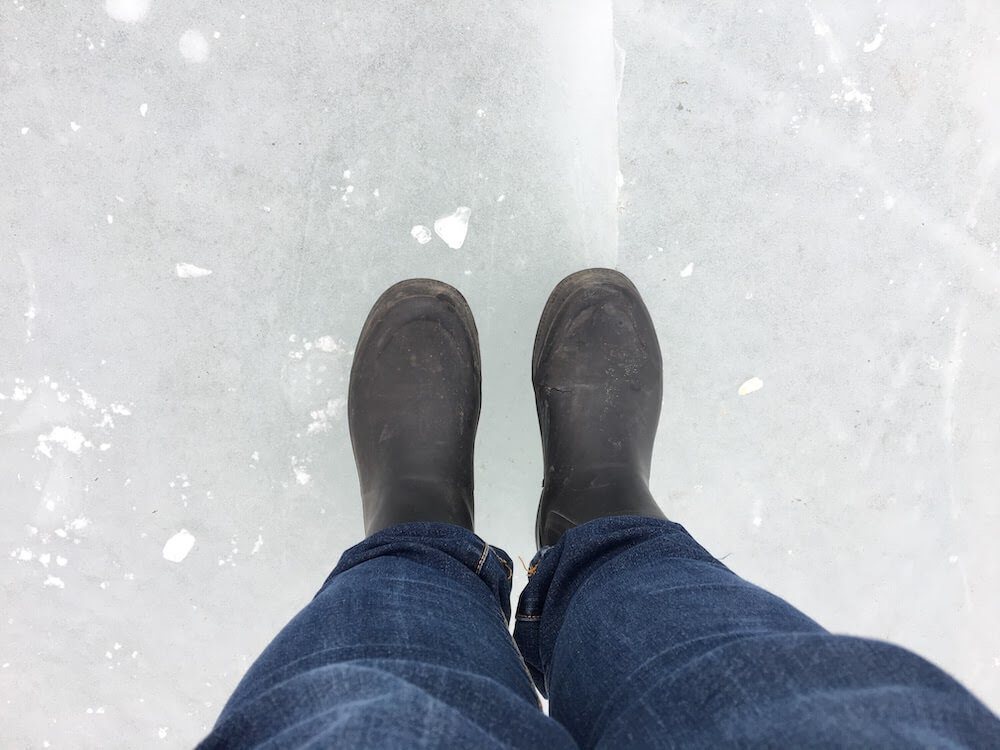 These boots do a fair job at checking off what you might look for when buying the best rain boots for travel.
They're 100% waterproof, with rubber soles.
They're super comfy, and have a four-way stretch inner bootie that makes them easy to pull on and off, and comfortable to wear.
They're stylish enough. I don't think anyone is going to give these boots a style award, but they are more than passable with a pair of jeans.
These are a great all-in-one men's travel shoe for later spring, summer, and early fall weather. They'll take you from daytime explorations to a nice dinner out, without a footwear change. These are a great choice if you're searching for mens shoes for Europe travel or men's summer walking shoes! Check them out on Amazon.
If you're looking for a pair of mens lightweight walking shoes for travel, the Merrell Men's Downtown Lace Sneakers are a good bet. In particular, these look like a great pair of men's shoes for European travel, because they combine style, functionality, and could serve as that elusive "only pair of shoes" you need to pack.
Generally speaking, these shoes suit a warmer climate: spring, summer and early fall in the northern hemisphere. They could also work as a good evening shoe in hot and humid destinations like Southeast Asia, or if you need something with better support for more active explorations in hot weather, like climbing the Angkor temples in Siem Reap. That said, they are probably going to be too hot to wear everyday in hot weather – more like an "in a pinch" solution when your sandals won't do. The EVA midsole/outsole offer some stability and support whether you're exploring a city or climbing up a temple, without looking like a hiking shoe.
It's hard to find cool men's walking shoes. So many of them look super dorky, but these guys do a good job at actually looking good, which also makes them more versatile. They are made from perforated full grain leather, and are lace up, which puts them firmly in the mens dressy walking shoes category. They come in brown, stone and slate.

If you're looking for a pair of casual and comfortable walking shoes for city travel in warm weather, and something that's also great for airport security, look no further. Check them out on Amazon.
Hello, comfortable shoes for summer travel! Hello, perfect solution for airport security!
If you're on and off of airplanes a lot, you're probably sick of taking your shoes on and off. These men's slip on walking shoes are a good solution, and you'll actually want to keep wearing them when you arrive at your destination.
The supple leather uppers allow the foot to move naturally in the shoes – this makes them some of the most comfortable men's walking shoes for travel.
The breathable textile lining helps keep moisture away from your skin, and the leather covered insole helps keep everything relatively fresh and dry on the inside. These are thoughtful features for anyone wearing these shoes in hot weather, and help earn these shoes a place on our (imaginary) best walking shoes for summer travel list.
These are also a good casual shoe for a cruise – you can slip them on and off when exploring the ship, and can wear them ashore.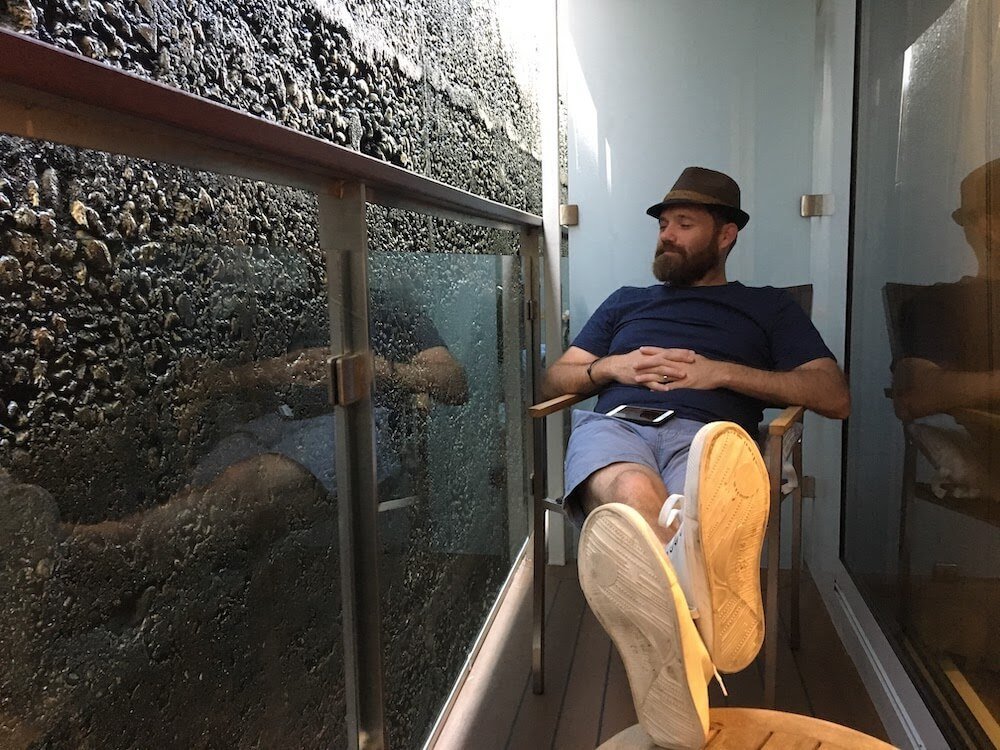 A great choice if you are wanting some men's walking shoes without laces for your upcoming travels. Bonus: they're fairly lightweight and come in a range of colors.
Sneakers are in, and no longer make you stand out like a sore thumb in Europe. All you have to do is find a stylish pair. Check out New Balance's website to find a pair!
New Balance is currently popular all over the continent, and they're super comfy to boot. Or, should we say, to shoe?
Men's walking trainers haven't always had the best look, prioritizing comfort over fashion. These days, that's changed, and you'll find trainers are a great option for finding the best men's casual walking shoes for travel that look good and function the way you need them to.
Yup – sneakers are in. Throwing on a pair no longer makes you stand out like a sore thumb. And from Barcelona to Oslo, we've noticed a lot of men rocking a pair of New Balances. Geoff has the iconic 574 sneaker, and finds it's a great choice for a pair of mens fashion walking shoes.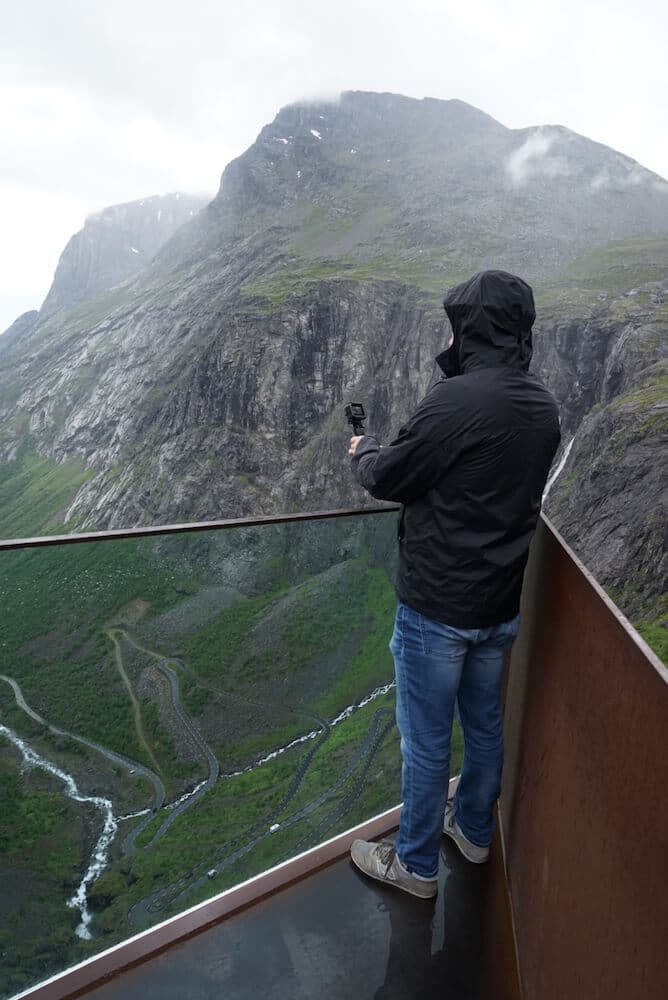 These sneakers feature a rubber outsole and suede/mesh upper for ultimate comfort. Perfect for getting through long airport terminals or even a super comfortable choice for men's walking shoes for Europe
These shoes also offer a TPU heel clip, rubber sole and removable insert, and are available in a few stylish colour options.
A great choice if you want to have ultimate comfort for your feet as well as being stylish wherever in the world you may go.
Good for active travel, light hiking, and exploring the city. Check it out on Amazon.
If some light hiking is on the agenda, along with some city explorations, these men's outdoor walking shoes are worth a look.
Geoff has long used and loved Salomons as a lightweight hiking-walking shoe combo, and has worn them through 25+ countries, if I had to guess. Salomon makes some of the best men's walking shoe options on the market: perfect balance of ruggedness and lightweightness.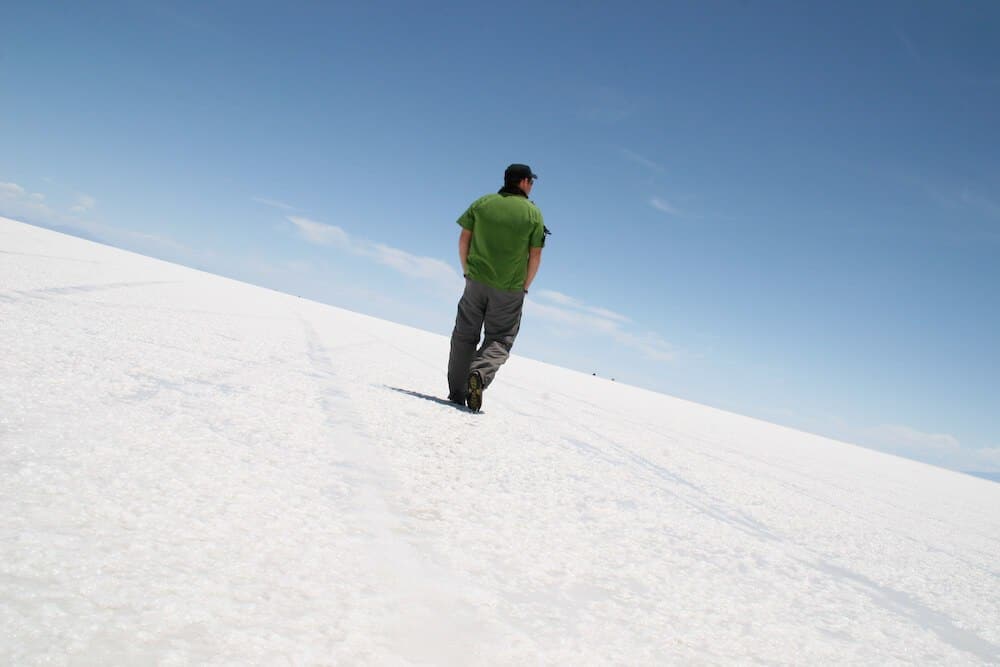 Made with a rubber sole and a cushioned insole, you'll get max comfort for your feet in all sorts of terrain.
The traditional lacing system and breathable upper are other great features for hikers that like to move fast.
These are some of the best men's walking hiking shoes combo. You can get them in black, grey and blue.
A good all-round walking sandal for travel that doesn't immediately mark you as a tourist; good for beach, city, and light hikes. Check it out on Amazon.
If you are looking for travel sandals that work as "all-rounders," consider these Chacos. They can easily take you from beach, to city, to a light hike.
The Chaco Men's Z1 Classic Athletic Sandals are one of the most comfortable walking sandal options for getting around the city or down to the beach. If you don't plan on doing a lot of hiking, but need something that will cover you on a light adventure, these can work too. I don't know that they're the best hiking sandal options out there, but they'll do.
The way the shoe is designed adds to the comfort: the upper wraps around the foot and then back through the midsole to create a custom fit. Other features of note include a non-marking rubber outsole and antimicrobial application for odor control.
Overall, these are a great all-rounder travel sandal option for warmer climates. They come in a range of colors, too.
Casual walking sandals that are great for resort and city. Check them out on Amazon.

Generally speaking, I'm not a huge fan of the way Keen shoes and sandals look. They are a bit too technical/functional, with not enough focus on style for our personal tastes. That said, people seem to love them for their comfort and function, so we can't write them off completely!
And as far as Keens go, the Uneek Men's slip on sandals are not a bad look. They are a casual walking sandal, good for general day-to-day exploring on your travels.
The two-chord construction allows these men's slide on sandals to mould to your feet. The midsole is lined with soft microfiber to add to your comfort. They also look very unique, but don't stand out as being a technical sandal.
Whether you are looking for the best travel sandals for Europe, or some travel sandals for walking from the resort to the city, these Keens are worth considering. Reading the many mens walking sandals reviews for these shoes, you'll probably note how versatile they are.
The Keen Uneek sandals are a great option if you are after the best sandals for Europe or any other travel destination, especially if comfort and versatility are primary motivators.
---
Pin This Post